Typhoon Shelter (Apr 19, 2004)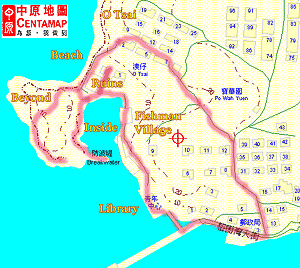 Are you a nature-lover looking for an amazingly scenic walk, but are too lazy to follow the tourist trails?
Here's a 20-minute highly scenic walk that includes:
library, fishermen's village, typhoon shelter, dense forest, rocky beach, ruins, secluded sandy beach, tree-lined alleys and several hills with great views over the bay.
And it's all within minutes from the YSW ferry pier!
A photo gallery that's been two years in the making, I'm presenting the best photos from my repeated visits into one of my favourite areas on Lamma (see map). Enjoy!
The local fishermen and Lammadonna have been lobbying the government (unsuccessfully so far) to "extend" & "clean up" this smallish typhoon shelter, to make room for a larger number of boats during a serious typhoon. I hope this photo gallery doesn't turn into another "historic" one soon...
Click to jump directly to one of the six subsections:
(Map: click to enlarge map, click on labels to jump to photos)
Views from the ferry pier, plus library, The "Fishman Village", Inside the typhoon shelter,
Beyond the typhoon shelter, Ruins & secluded beach, O Tsai Village.
---
Views from the ferry pier, plus library:
---
---
---
---
---
---
<!/td><!/tr><!/table>