Up Close and Personal with Lammadonna

After months of trying, I've finally managed to get an exclusive interview with the most powerful woman on Lamma, Ms Yu Lai Fan. One balmy Tuesday afternoon, Feb 24, we started our pleasant chat outside Spicy Island, ending 3.5 hours later with al fresco dinner at B&B.
It took her friend Pinky Chan (many thanks!) to introduce us and to interpret between us, even though Ms Yu's English is OK for basic conversations. We exchanged name cards (a still rare happening on Lamma). Besides her heavily made-up district election campaign photo on the name card's front, it was most impressive to notice the list of 15 (!) official functions on the name card's backside, in addition to District Council Member (Elected). Most powerful woman on Lamma, indeed, at least in theory. But she's so low-key, almost unknown to non-Chinese till the recent DC Election saw the photo above on posters and flyers all over the island. I've had all her job titles translated (thanks to Samson and Lily Li) and they're certainly a mouthful: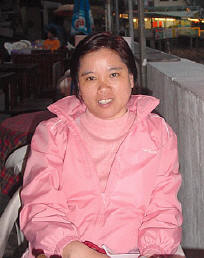 Resident Village Representative, Yung Shue Wan
Executive Member, Rural Committee, North Lamma
Director, Primary School, North Lamma
Vice-Chair, Tourism, Fishery and Agriculture Industries Committee, Islands District Council
Vice-Chair, Lamma Island Area Committee, Home Affairs Bureau
Honorary President, Marine Police Youth Group
Honorary President, Scouts, Outlying Islands
Honorary Advisor, Youth Association, Outlying Islands
Executive Member, Sports Commission, Outlying Islands
Member, Environment, Food and Hygiene Committee
Member, Community Affairs & Leisure and Cultural Services Committee
Member, Fight Crime Committee, Islands District
Member, Democratic Alliance for Betterment of HK
Vice-Chair, Women's Association, Outlying Islands
Member, HK Women Alliance Group
Member, HK Women Development Association

After introductions in Spicy Island, the three of us retreated to the privacy of the harbourfront area of B&B Rest., where she later invited us for dinner, sharing all the food and even paid for everything!
She likes me doing this magazine for Lamma (not sure if she's ever read it, though) and we connected on our shared love of Lamma. She laughed at being nicknamed Lammadonna, regarding it as kind of a compliment. I have to admit to have been a bit biased before meeting her. But after this interview I really like her as a person. We got on very well, sharing quite a few laughs. She comes across as a friendly, down-to-earth, honest, simple, unpretentious, rural woman. After having been quite camera-shy before, she even let me take these photos, without make-up, not even lipstick!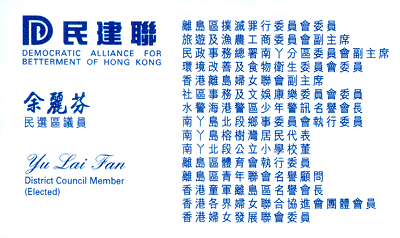 Ms Yu Lai Fan was born in the Lamma Clinic and attended Northern Lamma Primary School of which she is now the Director. She's had a hard, poor upbringing, together with 11 brothers & sisters, their parents selling home-grown vegetables. Attending a Caritas middle school she went on to complete Form 4; quite an achievement in her days when only very few students attended university. But she stresses that she still loves to learn, to improve herself, to study new things.
She's lived on Lamma all her life, loves the place and has friends & family here. She describes Lamma people generally as very nice, very sincere, very down-to-earth, the same way she sees herself. Still being single and not afraid of dating. She'd even consider going out with a Gwailo! But he has to own at least $6 million, she added with a hearty laugh!
But, in general, she seems to have very little contact with non-Chinese Lammaites, unknown to almost all of them till the DC election, it seems. The only Gwailo she mentioned repeatedly as a "friend" was Dan Peterson. But he says that he knows her only vaguely from some govt. enquiries.
Since 1975/76 she's been helping Lamma people constantly, especially with small stuff. She claims that people call her all the time for help & favours, almost like a one-woman band, a Ms Fix-it! Being an intermediary between the govt. and the local villagers, she applies for govt. funds and facilitates for many local projects, some big, but most really small. For example, she even collects pension money from town every week to distribute to local elderlies (who will probably mostly vote for her). In 1997 she went into politics full-time, as an appointed District Councillor. Let's list some of her more specific comments on local political issues: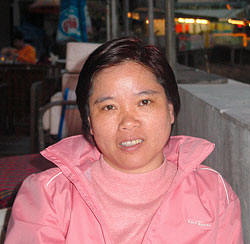 Typhoon shelter (behind library): Part of Ms Yu's election platform was to enlarge it. She thinks it's much too small now, needs more room for boats during typhoons and needs to be "cleaned up", looking like a slum now. She couldn't believe it and shook her head when I mentioned that I like it the way it looks now, the stilt houses, the colourful boats, the romantic bay. Actually, there'll be a photo gallery in the next Lamma-zine...
Helipad & Clinic: She was eager to point out the new temporary helipad opening close to the clinic. She was also very excited and happy to mention a video link from the Clinic to Queen Mary Hospital that was just installed for emergencies. She didn't claim the credit for these improvements, but it showed her eagerness to improve local services and infrastructure for Lamma, working hard to make life better for its inhabitants. It's just the details of how to achieve these goals where opinions differ frequently.
Local Middle School: She's applied for it, fighting for it, to be built near the police station in Hung Shing Yeh. It's in very early stages now, applying for the preliminary location now, many more permits needed.
Public toilet renovation: She revealed that it cost $1.5 million of taxpayer money! She used it as a "good example" that the HK govt. is willing to invest money to improve the island's infrastructure. She'd like to see a lot more of these improvements and advises people not to resist them, not to refuse the govt's generosity. Turning the govt. down on new projects repeatedly will make them back off from sorely needed improvements, she claims.
Democracy Wall: I was enquiring who painted it over and why it can't be used anymore for posters. She dismissed it by pointing out that the wall looked so dirty before, especially to arriving visitors! They "complained" about the ugly wall and the posters falling down, messing up the street! In her opinion, it needed to be cleaned up and "beautified", giving tourists a good impression of our island. She dismissed the need for a public message board.
Harbour reclamation: Basically, Ms Yu sincerely doesn't accept the arguments against the reclamation, even refusing to meet Save Lamma so far. She still sees their successful stopping of the reclamation as a kind of bothersome meddling by foreigners who're only living here for a short time. Me living here for only 2+ years was laughed at (nicely) as "just a new arrival".
There was a plan by Save Lamma till recently of a raised wooden road on stilts above the beach which she ridiculed as "chee seen" and impractical. It would never be able to resist a really strong typhoon which us temporary residents have never experienced yet. In the end, this is not a disagreement fought with arguments only, but with emotions & prejudices, on both sides, between modernisation and protecting the status quo...
Ring Road: She's really pushing for the construction, declaring it as important for emergency vehicles. She's argued in the District Council monthly meeting that the ring road objections of a small vocal minority do not represent the local views which are mostly pro-ring road, she says...
She cannot understand all the objections and why people want to turn down the govt.'s money to improve the local roads. She's truly bewildered about Westerners who keep complaining about everything. Why resist progress and development, especially when it's paid for by the govt.???
We didn't get into details of the ring road as there were some translation problems and Ms Yu's basic English is OK for simple topics, but not for discussing technical details. But it seems that they're improving the ring road plans now, following the recent flood of objections. They're proposing to connect the planned emergency access road to the fire station, for example.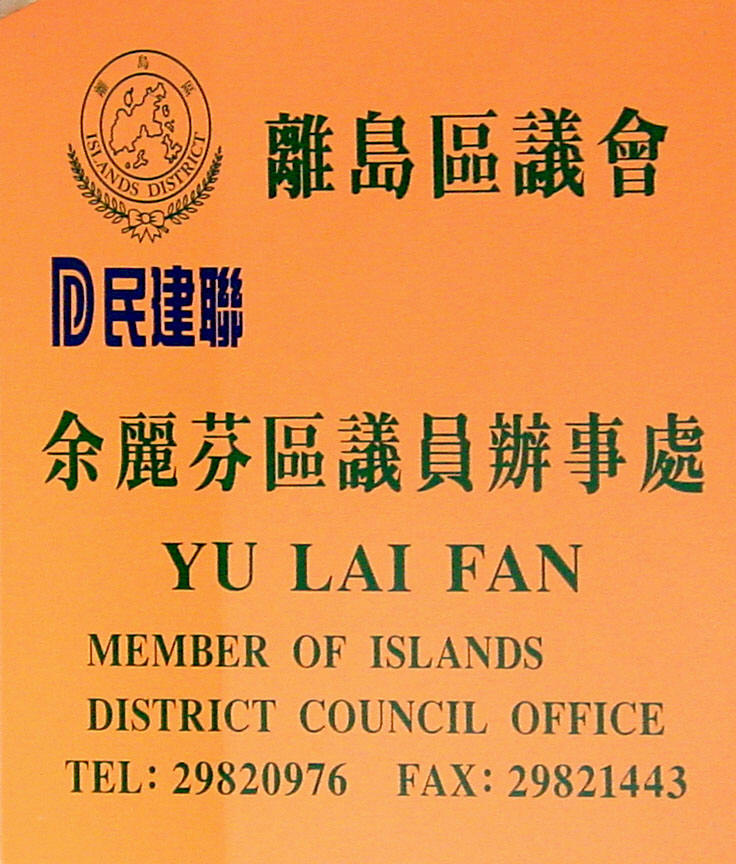 Basically, we have a clash of cultures, world views and priorities here. She didn't strike me at all as a cynical, tricky politician, obsessed with self-interest and profit, but as a honest, open person. As a life-long Lammaite, she tries to help to "improve" Lamma's infrastructure, believing in development, modernisation, wider streets, more buildings, more tourism, better business, prosperity for everybody; like many rural communities around the world. I have to admit that she's representing a majority of the locals, who voted for her, after all. Democracy in action...
Ms Yu opened a new office at Chinese New Year, in the former location of the "Lamma Gourmet", open during the usual office hours all week. She's working with one full-time secretary & several occasional volunteers. She's even got an English sign on her office door now and you can stop by for questions & comments. But it might be good advice to make an appointment by phone (not email!) and bring along somebody bilingual for easier communication.
I took this great opportunity to present the questions from voters to her again, the SAME ones I asked both candidates before the DC election. She promised several times to answer them. Weeks later, despite several reminders, not a single question has been answered...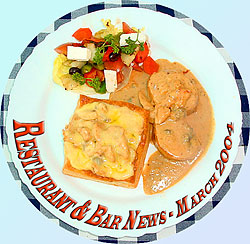 One new restaurant is scheduled to open late in late March (or April?): "The Full Monty" fish & chips take-away on High Street. Review in next issue! The photo below shows just one of the many local places also offering "Fish & Chips".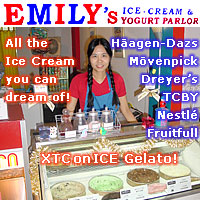 The delicious Indonesian take-away behind the Scorpio Business Centre has closed, unfortunately. The owner and his Indonesian wife have left Hong Kong, taking up a new job posting. Kumar has departed from Y2IKEA a few weeks ago. Mark has left Aroy Thai, again. Manager Keith will leave the Island Bar end of March to run the entire large operation of an Australian Bar & Restaurant north of Macau in Mainland China. Guess who'll replace him? Kumar, formerly of Spicy Island and Y2IKEA!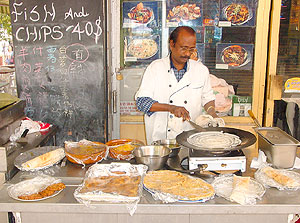 Bobsy the Bookworm is working full-time on opening an up-market "health food" vegetarian restaurant in SOHO, Central, in early April, called LIFE. Catch a taste of it during the March weekends in the Bookworm, as the new Canadian chef is in HK already for an Organic Orgy (click for more info). The Deli Lamma put on the first wine tasting I've ever seen in Yung Shue Wan, including a free wine snacks buffet, on Feb 28. Have a look at the Deli Wine Tasting photo gallery. Above left, one of Lamma-Gung's Deli Lamma favourites, Chicken Supreme.
Please, let me proudly present: Lamma Dining Tips for Parents, from the Funday organiser, my "Mr Language Person" and occasional Lamma-zine proofreader, Doggy.
Plus a little food review from yours truly about a new option for High Street "street food" (see right):
Doggy:

Unlike HK side restaurants, I can't really think of anywhere in Lamma where I would be reluctant to bring the kids - everywhere seems to be relatively child friendly, with high chairs and the like. The main thing you have got to watch out for is the VVs roaring past any of the roadside restaurants.

I've found the Bistro is a good place for us to scoff and booze while Kaia dashes about and gets under people's feet - at least it keeps her occupied.

The Bookworm is good because it has a selection of kiddies books for her to pick from and there are usually other kids in there.

Of course, for kiddie diversions the best has got to be the Concerto (even if it is lacking in other ways), because you are right there at the beach, and as long as they are in sight, the kids will kick sand at each other for ages while you sup the sundowners. They've got a good little area of kiddies slides as well.

Lamma-Gung - Amateur restaurant reviewer

I was staggering by Spicy Island at 11:30am, after finally rolling out of bed after a very late night at the Sexy Biaatch party in Diesel's (photo gallery in the next issue). I tried Spicy's Masala Dosa and curry potato pancake (photo above) for a late breakfast.

It was so tasty that I stayed on and had a proper Indian brunch, trying several dishes, fried street-side. Plus lots of coffee, of course. Many friends were passing by during my al fresco brunch, some of them stopping by for a quick chat and fresh input for the Lamma-zine.

At $10-20 per item these freshly prepared dishes are great value. Well spiced, mouth-watering, succulent, but not too hot. One of the two full-time cooks of Spicy Island is preparing these original Indian delicacies on weekends and some week nights. Try them when you see them.

Get quick, friendly, smiling service from proprietor Amar Singh; enjoy one of the best people-watching spots on High Street. A great but little-known brunch location, opening at 11am.

I'm looking forward to Spicy's Naan bread making demos on Sunday afternoons, starting this month. Think flattened dough - similar to *real* pizza making - swirling above High Street!
For more restaurant & bar news, presented as a photo gallery, including many recommended dishes I've enjoyed personally this month, click on Restaurant & Bar News - March 2004.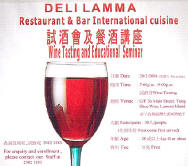 The Deli Lamma put on the first "Wine Tasting and Educational Seminar" I've ever experienced in Yung Shue Wan, even including a free wine snacks buffet, on Sat, Feb 28. A fun event with a crowd of "sophisticated, cultured, wine-loving gourmets", with just a few freeloaders sneaking in for free booze & buffet, like Lamma-Gung.
Have a look at the classy Deli Wine Tasting photo gallery, full of Savoir Faire. More tastings are planned to follow on a monthly basis in the Deli! It's even rumoured that other restaurants might follow this successful example. Click on the poster on the right to find out if any of YOUR friends belong to the crowd of "sophisticated, cultured, wine-loving gourmets"!

Photo taken from Ling Kok Shan behind SKW, by Richard. Unobstructed view all the way to YSW and the power station!
Click on the name cards below to enlarge them.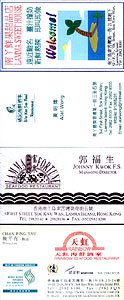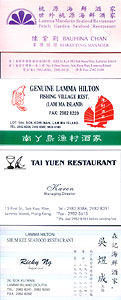 After living in Yung Shue Wan for over two years, I've finally made it over to Sok Kwu Wan. Following the tourist path through the "other" famous village on Lamma Island, Lamma-Por and I explored the well-known tourist spots and enjoyed a seafood dinner, of course. Here's the photo story of our little SKW Dining Adventure, incl. many photos of the recently burnt-out, famous, 150-year old Tin Hau Temple.
According to the Lamma Island Visitor's Guide, Sok Kwu Wan is "a famous seafood paradise with lots of restaurants along the shore area, and a wide variety of seafood for your selection. Tourists also favour local specialty food such as baked egg rolls, local spices, shrimp cakes and salted fish. The sweet tofu custard and ginger-flavoured milk custard are some of the most beloved desserts".
Another quote from an old friend of mine, Knippy, who emigrated from HK to work for the Washington Post. As ex-HKTB, he knows all too well how to write for tourists: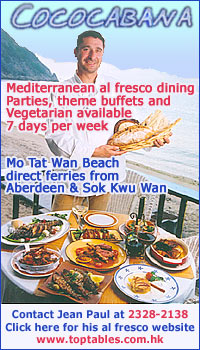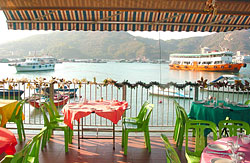 "But one of my favorite places to dine is in the wee village of Sok Kwu Wan on Lamma Island, where a dozen small seafood restaurants sit along the waterfront. A number of large glass tanks line the street, each one alive with all manner of sea creatures - lobsters, crabs, prawns, scallops and beasts that bear no English name.
With a waiter's advice, you simply create your own menu. It will then be steamed or stir-fried with a dash of ginger, garlic, sea salt, fresh pepper and soy - freshness being the key culinary secret of the Cantonese. The opening round of icy San Miguel beer is served just as your first course arrives. Does life get any better?"
Click here for the Sok Kwu Wan photo story.
Interview with Jean Paul, manager/chef of Cococabana (see right) in Mo Tat Wan (ferry ride or 20 minute walk from SKW) in the next issue...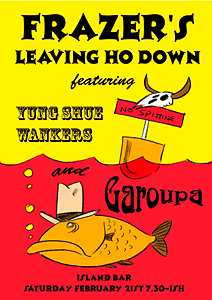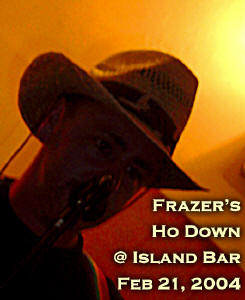 Some Laudable Lamma Luminaries are so famous & popular, it makes us mere mortal Lammaites green with envy!
If I was leaving Lamma, would they put on a huge party in my honour with TWO bands, in "Lamma's leading hostelry, and also its oldest, liveliest and nearest to the ferry pier" (according to their own ad banner above)? No way, José!
"Good riddance!" might be all the farewell I'd ever get!
Plus, Frazer got TWO original posters by Harry, a 3-part photo gallery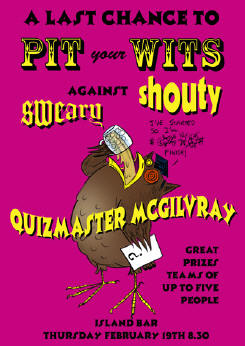 and this feature story in this Lamma-zine, all in his honour! He's so darned lucky! Why? Could it be that he's just such a sweet guy? Nah! Or could it be that so many people are happy to see him finally leave? We'll never know... In the meantime, have a look at photos of his Leaving Hoedown, called "Ho Down" (spelling was never one of Frazer's many talents). Plus a few historic photos of Frazer's many community activities on Lamma Island:
Member of THREE Lamma bands (YSWankers, Gaelic Gall and Ex-Cons, see Harry's Poster Gallery), Quizmaster in the Island Bar for 5 years (see right poster), Treasure Hunt organiser, Women's Dragon Boat helm, Meatfest chef in Aroy Thai, very active member of Lamma.com.hk under several pseudonyms, fishy Live Fish expert (Garoupa above left, beware!), Executive Director of the International Marinelife Alliance, a man of way too many talents & passions...
He'll be sorely missed by his many friends; even his foes, as it won't be easy to find another formidable, sarcastic & quick-witted opponent like him. Well, he's just an email away: Email Frazer. Now that he's left for a new life in Sydney, you can tell him what you REALLY think of him, without fear of retributions, hehehehe!
Here's Frazer's very own farewell message, written for the Lamma-zine. Short'n'sweet from a man of action, not of many words, a not-lonesome cowboy riding into the sunset; plus a friend's message.
Afterwards, don't forget to click on any of the 3 posters above for the party photo gallery!
Frazer:

Dear all,

Many thanks to everyone for some great times in the last 9 years on Lamma. For those of you who turned out to make our leaving party one of the best seen on Lamma for a long time, you won't be forgotten. I will miss Hong Kong terribly, it became my home very quickly, and was a real wrench to leave.

Cheers, Frazer

The Devil's Beard:

It was indeed a sad day (for some) last Sunday when Frazer finally left the Island (Bar). When asked how he would be remembered, regulars were unanimous and said that he wouldn't be.

Close friend and confidant, Clive B.F., a local joker, said he could now drink in peace as he would stop being mistaken for Frazer and being told it was his round.

Frazer earned a unique reputation with the local fishermen as the helmsman for the dragon boat teams and was fondly known as "dong shut lo" or "get lost" because when he helmed, that's what they did.

Local celebrity Mr. Frank Paul was quoted as saying "Wasn't he French?"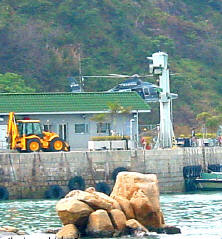 On Feb 9, I posted the appeal below from the newly formed LAEC on Lamma.com.hk, calling for info on David Slough's death for a pending coroner's enquiry. They managed to collect a lot of valuable info up to the deadline, but they are still interested to hear about any medical emergency you have experienced. It's all for the common good of improving the severely deficient local A&E services. Help to save lives!

In the few months since David's unfortunate death, it seems that the govt. has been rushing ahead with some initiatives of their own, probably pushed by the public outcry of locals and the media alike about the inadequate services. The temporary helipad in the reclamation (see below) was built and opened in record time a few weeks ago. On the right, the (maybe first) MedEvac helicopter landing there, shot from Sampan Restaurant.
There's also some great news from District Councilor Ms Yu Lai Fan, who revealed during my interview with her, that there's a video link from the

Lamma Clinic's treatment room to Queen Mary hospital now. A medical member of LAEC spoke to the Clinic doctor on March 12, who confirmed that they've had it for the last month. But when the LAEC medical member asked to see it and how it worked, the doctor refused, saying "This is not an exhibition!". Let's hope the video link is still operational and the staff know how to use it in any emergencies!
Lamma Accident & Emergency Committee:

At approximately 6pm on Monday September 8th, 2003 long-time Lamma resident David Slough fell in a serious accident outside his apartment at Tai Wan Old Village, Yung Shue Wan. David subsequently died from his injuries.

Reports at the time of the accident indicated that failures in the procedures of the Accident & Emergency (A&E) services for Yung Shue Wan - an issue that has long concerned residents of the Island - may have significantly contributed to David's death.

In order to clarify the evidence and to ensure that the Coroner's Court has the fullest information and recommends any possible improvements to the A&E services for Lamma, witnesses to the accident and subsequent events are invited to make their information known on a confidential basis to the Lamma Accident & Emergency Services Committee (LAEC).

The Committee, a group of concerned residents, has been created with the sole objective of ensuring that A&E services provided for Lamma are much improved and attain the highest standards possible.

If you have any contribution to make to the evidence on this tragic accident please make it known by noon on Sun, Feb 29th, 2004 to laec@lamma.com.hk or phone 6147-5140.

To bolster the effectiveness of this campaign to ultimately upgrade Lamma's A&E services (Ambulance, Fire, Police), residents are also invited to provide clear and concise information regarding other medical emergencies in Yung Shue Wan and other villages which may reflect on deficiencies, including those of the Lamma Clinic.

Your assistance will be greatly appreciated by LAEC, whose membership includes Mrs Mui Ying Slough, David's widow.

---

LAEC Spokesman:

A group of long-time Lamma residents last month formed a 'Concerned Citizens' group, the Lamma Accident & Emergency Committee, to look into how to ultimately to improve the level accident and emergency procedures for the island.

LAEC continues to seek information on recent medical emergencies that could have received more prompt and concerted action on the part of the authorities so the situation can be improved.

If you have any such information please send it to: laec@lamma.com.hk
<!/li>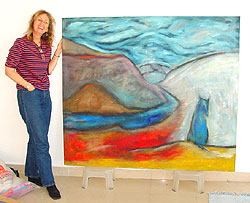 The Lamma-zine Artist of this Month is a friendly lady who's become well-known for her imaginative, colourful, semi-abstract paintings of cats in many poses. She used to live in the artist's loft high above Y2K, but has opened a proper studio in Central now. Still a busy full-time art teacher right now, she'll make the daring transition to full-time painter this summer. All the best of luck, Diane!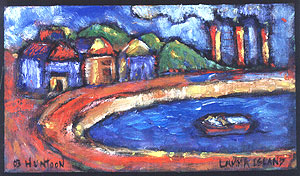 Check out her new online gallery where you can notice that she has a much wider artistic range than most people ever suspected, an amazingly wide variety of techniques and subject matters, from YSW harbour to pure abstracts. Click on any of the two paintings for her gallery. Her new official website is in progress by yours truly, to be announced very soon.

Most paintings are up for sale, email Diane directly.
Artist's Statement:

Painting is a very important part of my personal identity. I may move around, or my friends and family may circulate in and out of my life, but I have cultivated a relationship and dialogue with paint that I expect to continue for the rest of my life.

My focus is on the contemplative act of painting and how contemplation can bring us closer to a sense of truth in life and its creative mysteries. The act of painting definitely taps into some kind of energy and I believe it is akin to a spiritual endeavor. I am familiar with this now and that is what I love and am drawn to. I enjoy the sensuousness of paint and prefer non-referential painting more than pictures filled with a lot of content. However, I try not to limit myself. Painting kind of reorganizes my brain cells (back to normal) after daily exposure to the crazy world of consumerism and political folly.

My favorite artists are Franz Marc, Chardin, Picasso and especially the quiet work of Giorgio Morandi. I enjoy immersing myself in art history as it is enlightening to know what others have done. But, in essence, painting is in response to one's confrontation with existence. It is a great companion on the road of life.

A

bout the paintings on this page:

All of the paintings here were done on Lamma in the past 2 and a half years. They are examples of the main images I usually focus on, which include the stick figure icons, cats, and big abstracts.

The sizes range from 8"x12" to 4'x6'. Prices start at $2,000 and go to about $20,000. I am working on newer abstracts that I am very excited about and are not shown here but will be on the new website in April.

I am happy to show my work to anyone who may be interested. Please feel free to email me at variousart@yahoo.com and to make arrangements to visit my studio in Central, Hong Kong.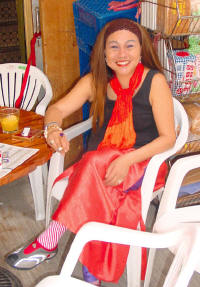 It all started when local icon Pinky Chan submitted a long letter to the last Lamma-zine. The pinky-haired Divine Ms D was so impressed & smitten with the letter that she started a new discussion topic on Lamma.com.hk, "Pinky Chan rules":

"Just read the new Lamma-zine and I'm converting to Pinkyism. Anyone who can write this:
'China is shaped like a chicken. How many air balloons we need to tear down one eagle? Guess? I don't know. Have you tried it?' and admires Bin Laden because he's 'physically slim' has my undying love. You go Pinky!"
In this issue, I'm happy and proud to present a true Laudable Lamma Luminary, our local 3G (Great Guru Goddess), the founder & mother of Pinkyism: The Venerable Ms Pinky Chan!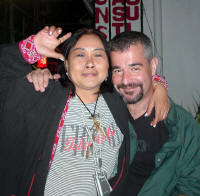 I've had the pleasure of meeting Pinky myself only recently and we've shared a few meals, drinks & lots of laughs together. According to Toad in the Hole, Pinky opened Lamma's first hippy guest house, back in the days when she was a multi-dating "hot chick". This put Lamma on the backpacker trail and started the place we see today. All of us who love Lamma owe her a big debt of gratitude.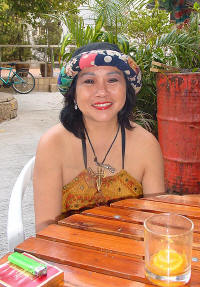 In ancient, almost biblical times, before recorded history, she ran the (in)famous Banyan Café, a temple of wild hedonism and freely flowing intoxicating liquid sustenances. She grew wealthy as a landlord of ancient, often "illegal structures" which she's saved from demolition. A fun-loving, carefree lady-of-leisure these days, she's surrounded by many friends & admirers (see above).
Devout, subservient disciples of Pinkyism listen fervently to her almost daily sermons in front of her local temple, Spicy Island, divulging pearls of wisdom to all voluntary & involuntary listeners. Even the occasional (OK, frequent) raunchy joke or colourful swear word escapes her blessed lips, cheering up her happily grinning followers, amazed about the sheer earthiness & worldliness of their admired idol.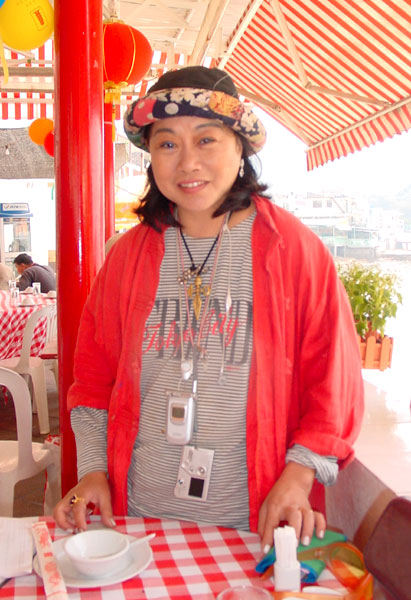 She's frequently traveling, at her own expense, to spread her gospel to new areas, offering her spiritual guidance to all heathens, steaming Bangkok last month, freezing Calgary right now.
May she live long and prosper and entertain us for many more years, hopefully guiding many more of us lost souls on our way to the Nirvana of Pinkyism: a devil-may-care attitude to the trials & tribulations of life, a cheerful acceptance of the daily ups & downs, a Buddha-like serenity in the face of adversity, plus a heart-felt swear word or two when we need some urgent emotional release!

The all-new photos of our guru in this story of praise to Pinkyism show her broad, serene, Buddha-like smile, her hip fashion sense and her clued-in, newly-found high-tech awareness (email her!) with mobile & digicam (& protective Thai dagger!) dangling on her neck (see right). Well, even Lammadonna was dressed up all in pink for her interview, with multi-lingual Pinky interpreting!

I've asked The Divine Ms D to share how she found Pinkyism and the impact it has had on her life:


As an object of desire and breathtaking beauty, fans often ask me what it's like to have everything: high cheek bones, great hair and a body that makes men weep.

But ladies and gentlemen, secretly I have been nursing a large hole at the centre of my being. A huge, echoing chasm that couldn't be satiated, even by buying really great accessories. It was my soul. Yes, my soul.

I had not always been so spiritually bereft. As a youth, I would frolic amongst the hassocks, carefree in my Sunday best. Then, one fateful evensong, I was discovered in the vestry, sewing communion wafers together to make a dissolvable bikini top. The ensuing palaver made me turn my back on religion forever.

For many years disco, cosmetic enhancement and Thai kick-boxing provided me with all the moral strength I needed. But, as the world turned sour in the Bush years of the early 21st century, everything that I stood for began to seem frivolous and vapid.

Who could I turn to? Who would guide me back to the path of righteousness?

Then, in January, I read Pinky Chan's email to the Lamma-zine editor. Like a pink glow from heaven, Pinky represents all that I admire in a woman: she's barking and has unusual political views but what do we care? Only a woman of true moral fortitude would have the guts to smash up an ATM, piss in the street, throw bricks through the windows of her own business, smoke 'Buddha Sticks' in front of the police box and, in acts of extreme sacrifice, sleep with some of Lamma's most famous ex-residents.

As Pinky says, I am a woman, I like to dress well, eat well, fuck well, sleep well,..... I want to fly like bird, shit like bird, piss like dog.

She does. And she gets away with it, too. What's more she's got great bone structure.

Pinky Chan, you are a guiding light to us all.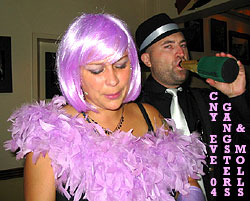 Did you recognise the "church windows" besides The Divine Ms D's confession? Yes, I snapped them in a major local cathedral of HK's most powerful Evil Cult, its millions of worshippers all devoted to the all-powerful god Mammon, MONEY: Standard Chartered Bank headquarters in Central (click to enlarge).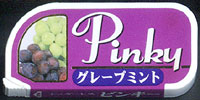 So we can safely and definitely conclude that Pinkyism is not an Evil Cult at all, but just a harmless, cheerful, fun activity. It fits in so well with Peace, Love, Lamma, it even pre-dates that slogan by years!
On the left, a "Happy Pill" dispenser from the Japanese chapter of Pinkyism. Right, a devout disciple (with bodyguard) at a recent wild party in Pinky's honour. Pinky has gloriously blessed the Lamma-zine with a promise of becoming a regular contributor, in English & Chinese. Chinese calligraphy below by Pinky, translated as The Occasional Diary of Yung Shue Wan Girl. Click for the much raunchier Chinese version of her English text below: Stinky Tung, give us back Lamma Island!: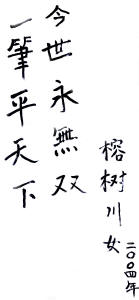 Pinky Chan, starting a new topic on Lamma.com.hk: Become a shareholder of Lamma Island!

Can all Lamma residents become shareholders of Lamma Island?

How can we combine our financial resources, technological know-how, cultural background, and the experience that we all have to achieve this? Can we float Lamma Island on the Stock Exchange of Hong Kong? Get rid of stupid Tung, become independent, so we all can run our Lamma Island ourselves!

At the moment, there is no international school, hospital, dental service, pharmacy, theatre, public swimming pool,... Lamma has nothing!! But Lamma is so big with plenty of sun and sand – God-gifted people – artists and farties – all nationalities – all backgrounds.

If we achieve good financial backing, we can put all our money in one pocket to invest and develop Lamma Island. If you don't have money? Work some overtime for Lamma Island and exchange the pay for shares!

Good or bad idea?

Alan - Moderator:

We wouldn't need any financing. Just nationalise the power station and sell electricity to HK.

We could also raise crops of marijuana, coca and opium poppies, exporting those we didn't consume to trade for beer.

---

Norseman

, confused member:

What's a fartie, and am I one?
____________________________

Beware the fury of a patient man.

---

The Rogue Sperm, new member:

Of course Norsey and a wet one at that.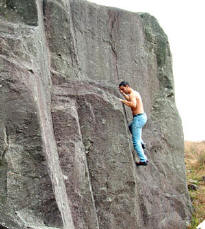 The following story has been submitted by Lamma newbie Ran (left), from his personal Blog (featured before as Website of the Month): a few unique impressions about his new life on Lamma:
(Text & pictures by Ran, shot of Alain supplied by Island Gym)
There is always the sudden steam off pigs' stomach as I walk past the dumpling shop. On this small island where I live, Lamma, I have to walk every morning to catch a ferry to Central Hong Kong. The walk takes me by a store called "Brothers," where the gruffly tender man is gently sitting with an encouraging word, be it for cider or beer. He has 7 different kinds of kitty litter, but not the kind that my cats crave.
"Crystals? Do you have crystals from California? The Japanese ones smell too much like apples... Simian doesn't like apples."

Keep walking, and you find other shops and 2 storey blocks. There's Diesel's bar, the Thai place that sells skewers of squid or chicken and spicy sauce, the shop where I buy water or natural gas for the stove-top, a candy store. Various seafood restaurants; one serves Japanese food, one sells Chinese. One makes Indian food that ranges from the eye-wincingly bad to the lick your fingers clean good. There are more, more shops, more junk. A couple of Laundromats. There's also the place I go to twice a week, now that I've started martial arts again.
At the Island Gym, I get to be whipped into shape by the sweetest motherfucker you've ever met. He's a muay thai champion of some international order, has won body-building championships, and he's an imposingly-fit looking fella; marry that to a friendly smile, and you've found the guy who got me so sore that it hurt to hold up my arms, even after a week. We train to Eminem.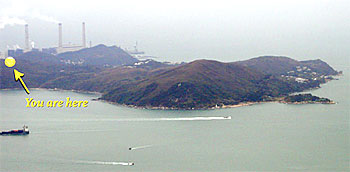 Ahh... Our little corner of industrial paradise. The pier is where the nipple would be, the gym is where the hand is, and those three smoke stacks are where the power plant is at.
This is me, and this is where I live..
."
---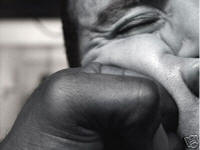 This is Ran's face after Alain found out what his student called him! Just kidding, The Panther wouldn't hurt a fly OUTSIDE the Island Gym. This great photo (taken INSIDE the gym, I believe) is No 4. (Mar 11, 2004) in Ran's new, inventive & imaginative self-photography series of 350 Rans - everybody's connected. It's titled "Alain N'Galani: fist; Ran: face; any questions?" No questions, Ran, none at all!
This great photo - and future ones - available on eBay, but only till Mar 18, in the following category: "Home > All Categories > Everything Else > Weird Stuff > Totally Bizarre". Appropriate category?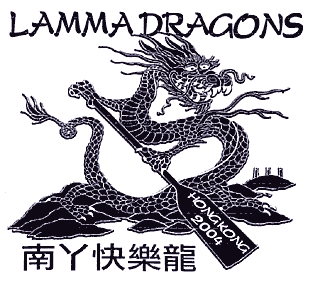 DO YOU WANT TO GET FIT WHILE SITTING DOWN?
DO YOU WANT A TONED TUMMY, BACK AND ARMS?
Join the Lamma Dragon Boat Team for this and so much more....
Yes, the Dragon Boating Season 2004 has started up and training is now in full swing! Check out the schedule of the training sessions in the Lamma Events Calendar. They're still looking for paddlers, I believe!
Their brand-new website should be ready any day now, but in the meantime, check out their former website on Lamma.com.hk, with loads of photos of the last four seasons, their many triumphs & famously wild parties!
You can discuss their progress and cheer them on in the dedicated Lamma Dragons forum on Lamma.com.hk.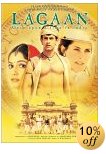 I have a confession to make. I know NOTHING about cricket, growing up in a place that is sadly deprived of this most mysterious (to me) sport. Even watching the entire great, 4-hour, all-cricket Bollywood flick Lagaan - nominated for Best Foreign Language movie Oscar in 2001 - didn't do much to kill my total ignorance. Cricket's a lot like baseball, isn't it? But the bats are funny-shaped, they have their own language (Cricketish?) and it can take DAYS to complete a single game!
Oops, sorry, I hope I haven't upset any LCC players with this introduction. I wouldn't want them to chase me down Main Street with their "funny-shaped bats." Anyway, I'm very happy that our expert intrepid LCC Correspondent has submitted another update on the progress & conclusion of the 2003-04 season, not having to write it myself! All you many Lamma cricket fans out there, enjoy! (All photos & captions by LCCC)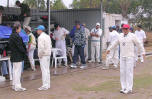 Chilly cricketers during the interval

Our intrepid scorer, Kim Leung, feeling a bit under the weather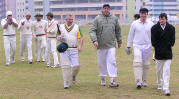 Last man out: Brad leaves the field with Al

Cunning stunts: When he's not opening the Lamma bowling, Alec Price moonlights as a crash-test dummy

LCCC - Lamma Cricket Club Correspondent:

Lamma Cricket Club's title aspirations fell at the last fence to a six-wicket defeat by a strong LSW Warriors squad at Po Kong Village Road in the islanders' last fixture of the 2003-04 season. The loss came just a week after LCC had narrowly beaten last season's rivals, St George's, by 11 runs at the same venue.

On what proved to be the coldest day of the winter, Lamma were put in to bat and got off to a promising start with a 39-run partnership between Butt Hussein (14) and Derek 'Dexter' Wintle (25). Big Terry Pontikos chipped in with a handy 20 before a classic Lamma middle-order collapse after Terry was caught behind.

Despite a spirited last wicket stand by Brad Tarr (24) and Al MacMillan (14 n/o) Lamma could only come up with a total of 144 runs, which is never going to be easy to defend against a strong squad such as Warriors.

And it wasn't easy either – despite Terry taking early wickets from catches off the bowling of Ian Beck and Hussain and Ian off that of Sher Lama, Warriors proved impossible to shift, taking the points with a six-wicket victory.

The result left Lamma out of sight of the championship in a still respectable fourth place, regretting missed opportunities from earlier in the season, and looking forward to the HKCA Perrier Saturday League Cup/Plate competition, which begins on March 6. Watch this space.

<!/li> <!/li> <!/li>

From Hunter's Beach to Helipad ― Reclamation Photo History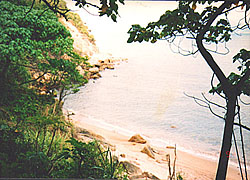 For the first time in the Lamma-zine: a photo history, putting photos from various sources about the same subject into a sequence, showing the development of a local landmark. The temporary helipad in the far end of the reclamation was completed around Chinese New Year, so I thought it good timing to put the very best of hundreds of photos into a chronological order.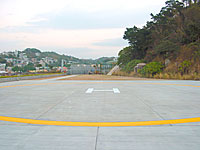 Rarely has a local area been more transformed than the former secluded, idyllic, sandy Hunter's Beach, location of many a wild party or concert in Lamma's "good old days" (as the old-timers keep on telling us), pre-Handover. Having been reclaimed a few years ago, it has now become the location of the new temporary helipad, used to MedEvac emergency cases from the nearby Lamma Clinic. Let's look at the changes it has gone through over the last 40 years: Click here for the Reclamation Photo History.
To learn more about the many political & environmental controversies surrounding the harbour reclamation, check out the SaveLamma website, several past issues of Lamma-zines, plus the Environmental & Political forum of Lamma.com.hk, of course.