Frazer's Leaving Ho Down @ Island Bar,
w/Garoupa & YSWankers (Feb 21, 2004)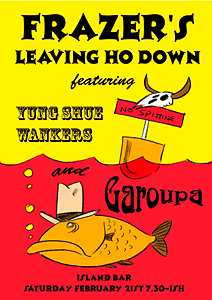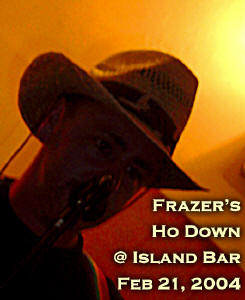 Some Laudable Lamma Luminaries are so famous & popular, it makes us mere mortal Lammaites green with envy!
If I was leaving Lamma, would they put on a huge party in my honour with TWO bands, in "Lamma's leading hostelry, and also its oldest, liveliest and nearest to the ferry pier" (according to their own ad banner above)? No way, José!
"Good riddance!" might be all the farewell I'd ever get!
Plus, Frazer got TWO original posters by Harry, a 3-part photo gallery and this feature story in this Lamma-zine, all in his honour! He's so darned lucky! Why? Could it be that he's just such a sweet guy? Nah! Or could it be that so many people are happy to see him finally leave? We'll never know... In the meantime, have a look at photos of his Leaving Hoedown, called "Ho Down" (spelling was never one of Frazer's many talents). Plus a few historic photos of Frazer's many community activities on Lamma: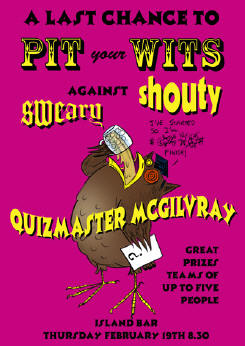 Member of THREE Lamma bands (YSWankers, Gaelic Gall and Ex-Cons, see Harry's Poster Gallery), Quizmaster in the Island Bar for 5 years (see right poster),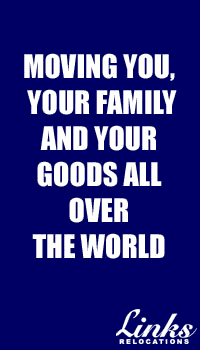 Treasure Hunt organiser, Women's Dragon Boat helm, Meatfest chef in Aroy Thai, very active member of Lamma.com.hk under several pseudonyms, fishy Live Fish expert (Garoupa above left, beware!), Executive Director of the International Marinelife Alliance, a man of way too many talents & passions...
He'll be sorely missed by his many friends and even his foes, as it won't be easy to find another formidable, sarcastic & quick-witted opponent like him. Well, he's just an email away: Email Frazer. Now that he's left for a new career and life in Sydney, you can tell him what you REALLY think of him, without fear of retributions, hehehehe! By the way, Frazer moved to Sydney with Links (see left).
Here's Frazer's very own farewell message, written for the Lamma-zine, short'n'sweet from a man of action, not of many words, a not-lonesome cowboy riding into the sunset; plus a friend's message:
Frazer:

Dear all,

Many thanks to everyone for some great times in the last 9 years on Lamma. For those of you who turned out to make our leaving party one of the best seen on Lamma for a long time, you won't be forgotten. I will miss Hong Kong terribly, it became my home very quickly, and was a real wrench to leave.

Cheers, Frazer

The Devil's Beard:

It was indeed a sad day (for some) last Sunday when Frazer finally left the Island (Bar). When asked how he would be remembered, regulars were unanimous and said that he wouldn't be.

Close friend and confidant, Clive B.F., a local joker, said he could now drink in peace as he would stop being mistaken for Frazer and being told it was his round.

Frazer earned a unique reputation with the local fishermen as the helmsman for the dragon boat teams and was fondly known as "dong shut lo" or "get lost" because when he helmed, that's what they did.

Local celebrity Mr. Frank Paul was quoted as saying "Wasn't he French?"
---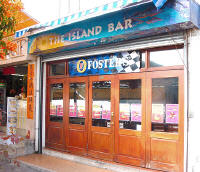 All pictures & captions by Lamma-Gung: Getting ready for the big night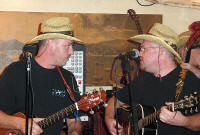 Staring contest?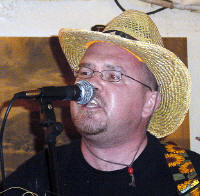 Soulful Harry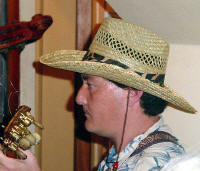 What song's next?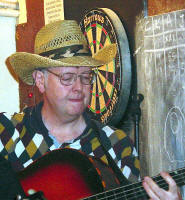 "I'm the coolest dude up here!"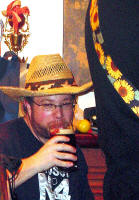 Magnus from Garoupa guest-starring, guest-drumming & guest-drinking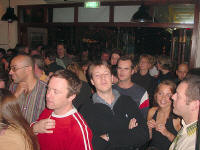 The standing-room-only crowd is warming up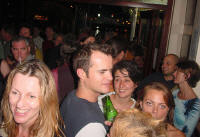 "Frazer's leaving? Who's Frazer?"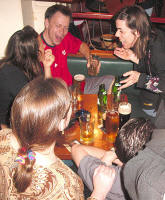 Garoupa's Alex entertaining the ladies after their gig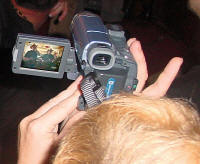 Are you ready for your close-up?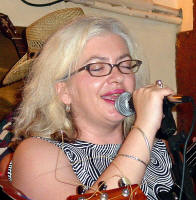 First guest star of the night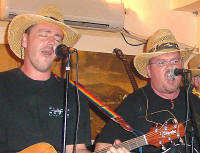 Silly-putty faces contest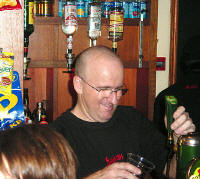 "So many drinks sold, hehehe!"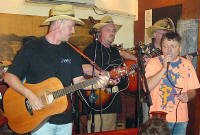 Guest star Dan, by popular demand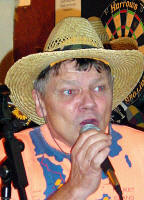 Dan performing old bastardly favourites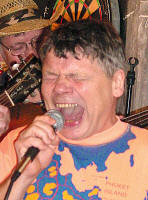 Singing his heart out, as usual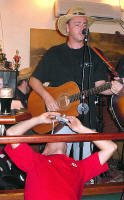 Garoupa's Alex getting the very best shots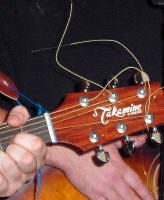 Frazer's guitar - a messy close-up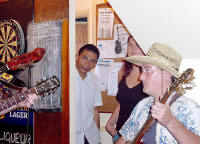 Toilet exit blocked by the band!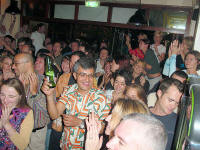 The crowd is going wild, finally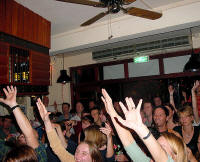 "Frazer, don't go !!!"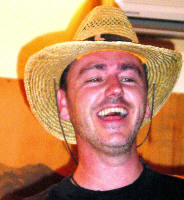 Basking in adulation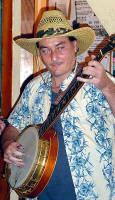 What about me?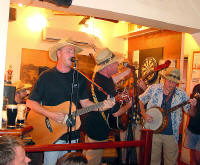 Another encore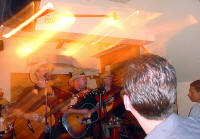 SPECIAL EFFECTS SECTION: Whoosh!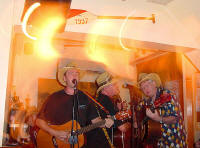 Yippee!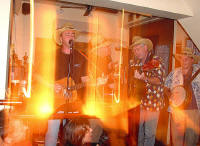 Lift-off!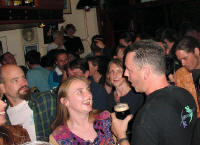 Frazer's personal farewelling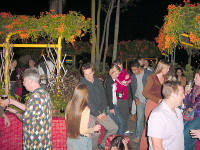 The Beer Garden's busy as well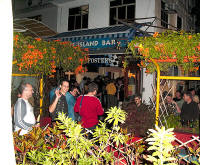 A great night was had by all!
---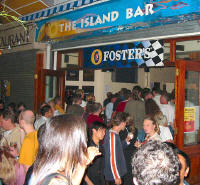 ...plus 6 photos submitted by Dan Peterson
---
Wait! Don't go! There's more!

Historic photos of some of Frazer's most memorable & embarrassing times on Lamma! All supplied by Paul Davis (the photos below where Frazer looks like a prat) and by Frazer himself (where he's the cool dude).

Captions by Frazer:

(click to enlarge)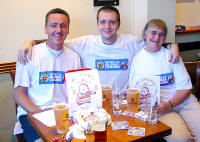 Treasure Hunt 2001 organizers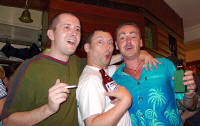 Paul, Danny & Frazer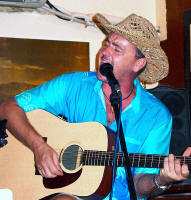 Island Bar (Frazer has no idea when this was taken. Memory loss due to too many free beers while performing?)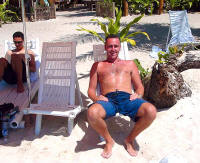 White Beach, Boracay, The Philippines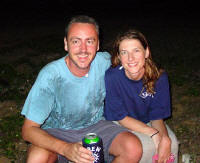 Frazer & Rachel, Soko Islands, SW New Territories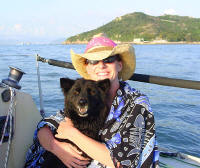 Rachel & Burnie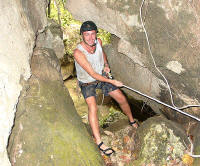 Frazer disappears down a crack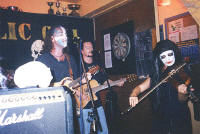 Gaelic Gall, Hallowe'en, pre-1999!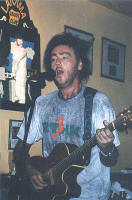 Charcoal is good for the complexion!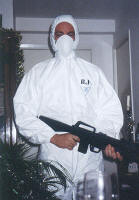 Dress to Survive party, Xmas 1999, Island Bar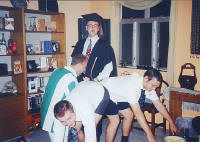 Suits you, Sir! (CNY Eve school party in Island Bar, MC Frazer)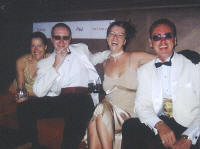 Canadians, eh?!
---
To send comments, get more info, get high-res files for printing, or to publish your own Lamma-related photos & galleries on Lamma.com.hk or in the Lamma-zine: email Lamma-Gung.

All pictures and text may be freely reproduced for non-commercial purposes only,
but only with explicit permission from the author, photographer or artist.

Commercial enquiries are most welcome! Last update: September 29, 2019 11:12 AM

© 2018 Lamma-Gung, Compunicate! Web Publishing, e-Marketing & Photography.
All rights reserved.

<!/td> <!/tr> <!/table>