Restaurant & Bar News (Mar 2004)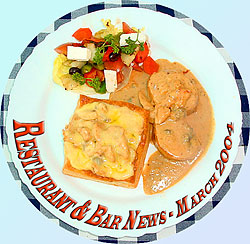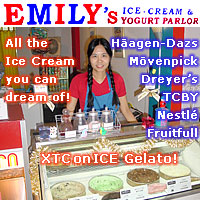 One new restaurant is scheduled to open in late March (or April? or May?): "The Full Monty" fish & chips take-away on High Street. Review in the next issue! The photo below shows just one of the many local places also offering "Fish & Chips".
The delicious Indonesian take-away behind the Scorpio Business Centre has closed, unfortunately. The owner and his Indonesian wife have left Hong Kong, taking up a new job posting. Kumar has departed from Y2IKEA a few weeks ago. Mark has left Aroy Thai. Manager Keith will leave the Island Bar end of March to run the entire large operation of an Australian Bar & Restaurant north of Macau in Mainland China. Guess who'll replace him? Kumar, formerly of Spicy Island and Y2IKEA!
The Bookworm's Bobsy is working full-time on opening an up-market "health food" vegetarian restaurant in Soho Central in early April, called Life. Cat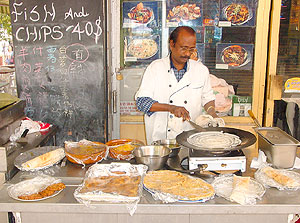 ch a taste of it during the March weekends in the Bookworm, as the new chef is in HK already for an Organic Orgy (click for a LOT more info).
The Deli Lamma put on the first wine tasting I've ever seen in Yung Shue Wan, including a free wine snacks buffet, on Feb 28. Have a look at the Deli Wine Tasting photo gallery. Above left, one of Lamma-Gung's Deli Lamma favourites, Chicken Supreme.
Please, let me proudly present: Lamma Dining Tips for Parents, from the Funday organiser, my "Mr Language Person" and occasional Lamma-zine proofreader, Doggy.
Plus a little food review from yours truly about a new option for High Street "street food" (see right):
Doggy:

Unlike HK side restaurants, I can't really think of anywhere in Lamma where I would be reluctant to bring the kids - everywhere seems to be relatively child friendly, with high chairs and the like. The main thing you have got to watch out for is the VVs roaring past any of the roadside restaurants.

I've found the Bistro is a good place for us to scoff and booze while Kaia dashes about and gets under peoples feet - at least it keeps her occupied.

The Bookworm is good because it has a selection of kiddies books for her to pick from and there are usually other kids in there.

Of course, for kiddie diversions the best has got to be the Concerto (even if it is lacking in other ways), because you are right there at the beach, and as long is they are in sight, the kids will kick sand at each other for ages while you sup the sundowners. They've got a good little area of kiddies slides as well.

Lamma-Gung:

I was staggering by Spicy Island at 11:30am, after finally rolling out of bed after a very late night at the Sexy Biaatch party in Diesel's (photo gallery in the next issue). I tried Spicy's Masala Dosa and curry potato pancake (photo above) for a late breakfast.

It was so tasty that I stayed on and had a proper Indian brunch, trying several dishes, fried street side. Plus lots of coffee, of course. Many friends were passing by during my al fresco brunch, some of them stopping by for a quick chat.

At $10-20 per item these freshly prepared dishes are great value. Well spiced, mouth-watering, succulent, but not too hot. One of the two full-time cooks of Spicy Island is preparing these original Indian delicacies on weekends and some week nights. Try them when you see them.

Get quick, friendly, smiling service from proprietor Amar Singh and enjoy one of the best people-watching spots on High Street. A great but little-known brunch location, opening at 11am daily.

I'm looking forward to Spicy's Naan bread making demos on Sunday afternoons, starting this month. Think flat breads - similar to *real* pizza making - flying & whirling high above High Street!
More restaurant & bar news, presented as a photo gallery, including many recommended dishes I've enjoyed personally this month. By the way, all these photos are clickable, like MOST photos in each Lamma-zine:
---
(click to enlarge)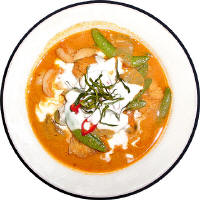 Aroy Thai: Typhoon No.8, seafood curry cooked by Deng, Mrs DanKwaiFong. Lamma-Gung's #1 favourite this month (digital Lamma photo #8,000)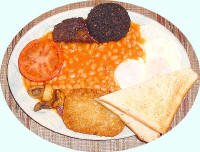 Aroy Thai: American Big Breakfast, $60, biggest & best-value brunch in the village.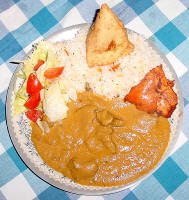 Spicy Island: Lamb curry set dinner, $60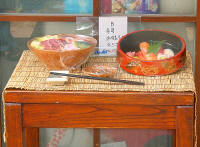 Blue Bird Japanese: Daily set menu: $50. I wanted to try it, but the place was full, inside and harbourside!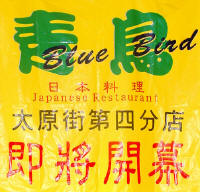 Blue Bird Japanese: Translation: New branch opening in Wanchai!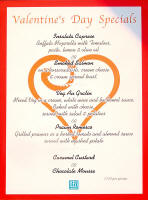 Deli Lamma: Valentine's Day fine dining menu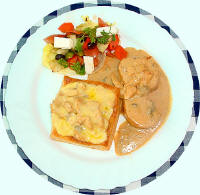 Deli Lamma: Chicken Supreme: really supreme!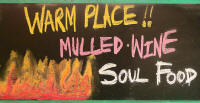 Diesel's: Warm place thanks to a huge gas heater during the cool days in Feb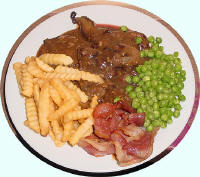 Diesel's: Delicious liver & bacon: $45. One of my favourites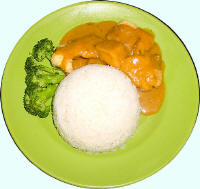 Man Kee: Curry fish fillet (w/extra salad, soup & coffee/tea: $38!)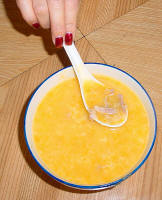 Lung Kong, left of Deli: Pumpkin & pork congee. Unusual, but very tasty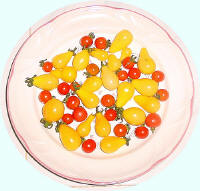 Herboland, Hung Shing Yeh beach: organic mini tomoatoes, $25/pound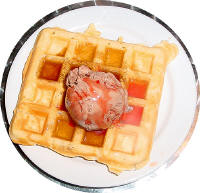 Emily's: Fresh waffle w/ice cream, $25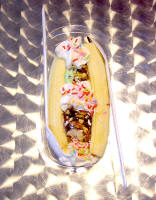 Emily's: Banana Split: $40. 2 ice cream balls of your choice. Yummy!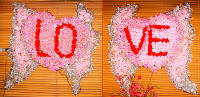 New Holiday Mood: Valentine's Day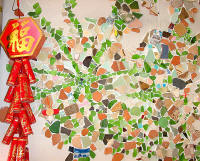 Green Cottage: Wall tiles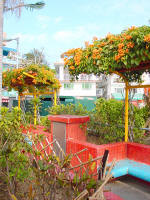 Island Bar: The romantic Beer Garden in full bloom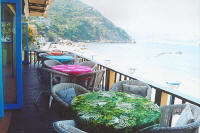 Cococabana, Mo Tat Wan: Fine dining on the sea view terrace (photo from Cococabana)
---
Finally, something amusing & creative I found in the Green Cottage's fancy new menu:
Directions for alien outer space tourists on how to find them, via a "cosmic zoom":
(designed by brothers Ron & Dan; click to enlarge)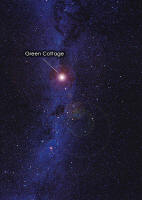 Cosmic zoom starting from our Milky Way galaxy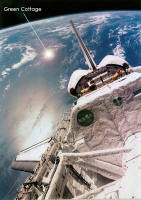 Passing by a Space Shuttle, approaching planet Earth in the Sol system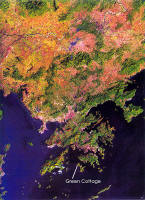 Breaking through the clouds, approaching China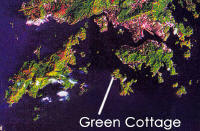 Closing in on Hong Kong and Lamma Island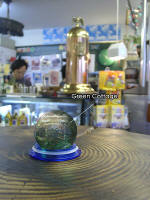 Arriving at a table ornament in the Green Cottage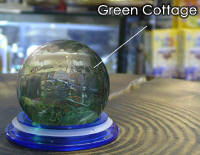 Recognise the guy inside the crystal ball?
---
To send comments, get more info, get high-res files for printing, or to publish your own Lamma-related photos & galleries on Lamma.com.hk or in the Lamma-zine: email Lamma-Gung.

All pictures and text may be freely reproduced for non-commercial purposes only,
but only with explicit permission from the author, photographer or artist.

Commercial enquiries are most welcome! Last update: September 29, 2019 11:12 AM

© 2018 Lamma-Gung, Compunicate! Web Publishing, e-Marketing & Photography.
All rights reserved.

<!/td><!/tr><!/table>