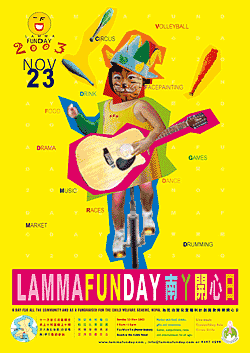 Lamma Fun Day again! The 4th year in a row now, it's gone from strength to strength. This year looks like becoming the biggest and best so far! According to the organisers, it'll be "the usual blend of booze, market, games, live bands and general silliness - fun for all the family. And again all the proceeds are going to the Child Welfare Scheme in Nepal (www.childwelfarescheme.org)."
Music: For the up-to-date music schedule, go to www.LammaFunDay.com. So far, the following bands and DJs will be performing live:
Mike Barry, Sarah, Odyssey, Garoupa, DJ Steve Bruce, Bricker, Papa Jack, Chris B & friends, Yung Shue Wankers.
Doggy's short history of the Lamma Fun Day &
the Child Welfare Scheme
Charity of the Month - Holistic HK newsletter
Newsletter of the Child Welfare Scheme (PDF file, 500kB)
For details of some of the myriad of activities going on, click on the posters below to enlarge:
Doggy: (Tel. 9497 4599, info@lammafunday.com)

Lamma Fun Day 2003 is aimed at raising the funds to sponsor a group of students through their third and final year at the JYOTI Vocational Training Centre. This group of ex-traffic girls and street children have been successfully sponsored through their first two years by our past events.

Volunteers wanted - get involved in any way you fancy!

We can always use more helping hands during the Fun Day. From herding kids through hoops on the beach and face-painting, to helping shift speakers for the stage, or simply encouraging people to head on down to the beach. One minute, one hour, one whole day of help - any amount would be useful, and you will have the satisfaction of knowing that you are not only taking part, but contributing to this great day of fun and fundraising."

---

Webdog & La Mig (webdog@lamma.com.hk):

We are still looking for volunteers, either for helping on our drinks booth directly, or maybe one person for helping us stock up on things we run out, as we can't plan the consumption so well we thought it is best to have some of everything around and then buy more if necessary, otherwise a lot of money is wasted on leftovers.

Drink list, at the moment, it's as follows:
Daytime: Caipirinha, Mojito, Sangria and Brandy Alessandria (that's Brandy Alexander with ice cream)
Evening/chilly weather: Mulled Wine, Irish Coffee.

Rachel:

(Tel. 6256 4200, racheloliver@netvigator.com):

"I am in charge of organising kids' activities on the day for the huge numbers of schoolchildren we are expecting, who will be coming to Lamma from all over the SAR.

The question is, do you know anyone (including yourself, of course) who would be willing and able to spare a bit of time on the day entertaining a bunch of kids? I am open to all ideas - it could be face painting, acrobatics, magicians, beach games, involve musical instruments (as long as it's not too loud as we will be having bands playing on the day)."

"If you know of any companies that do this kind of stuff on a pro bono basis too - that would be great if you would be kind enough to give me their details. If we had a bouncy castle or something like that it would go down a storm. Also it wouldn't be a bad branding and PR excercise for the company either as a fair amount of people are expected during the day and evening. And if necessary, we do have a very tiny budget, but the less we have to spend, obviously the better.

If you have any ideas, then let me know. Look forward to seeing you on the day."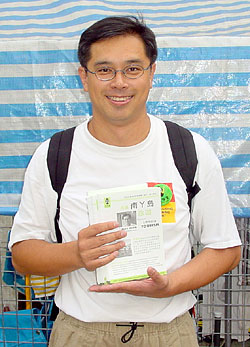 The heat is on! Just a few days left to Election Day, 11/23, only two candidates left standing for District Councillor of Lamma & Po Toi. On one side, 5' 11" tall Alex Chan, nicknamed "Big Guy" by his many friends, on the other side Ms Yu Lai Fan, the incumbent District Councillor - nicknamed "Lammadonna" by Samson in Tai Peng.
Like Madonna in the entertainment industry, Ms Yu seems to be powerful, wealthy and in charge on our island, ruling together with the Fongs. She's already in control of most publicly electable or appointed positions. But I've only met two people who've ever met her. An incomplete list of her positions:
Full-time Appointed District Councillor
Member of the Executive Rural Committee
Resident Village Representative, YSW (elected in July 2003 with 229 votes)
Vice-Chairman of HK Outlying Islands Women's Association
Vice-Chairman of Islands District Tourism Promotion Organising Committee
Vice-Chairman of Lamma Area Committee
Director of Northern Lamma School
Vice Chairman of Tourism, Agricultural, Fisheries, Industry and Commerce Committee of Islands District Council
Member of Islands District Fight Crime Committee

Here's what I found on the govt.'s website:
Miss YU Lai-fan

---

Capacity:
Appointed member
Political Affiliation:
Democratic Alliance for Betterment of Hong Kong
Occupation:
Full-time District Councillor
Address:
2/F, 35A Main Street, Yung Shue Wan, Lamma Island
Tel. No.:
2982 1308
Fax No.:
2982 1448
E-mail Address:
yulaifan@netvigator.com

Links: Click to learn more about "1123 District Council Election 23 Nov":
It mentions 5,500 people living on Lamma and 2,200 registered voters.
Click for details of the elections: Your vote can make HK a better place
Have a good look at Alex Chan's comprehensive election platform & info on his campaign website.
No web page for Ms Yu available...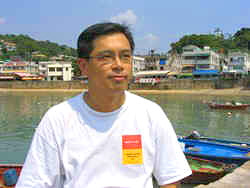 See above the sign of the District Council office (Mr Fong & Ms Yu) on 35A Main Street, 2/F, back side, above the laundry opposite the Deli Lamma. The sign says "Care about the community - Meet with citizens - Complaints welcomed", inviting you to stop by for questions & suggestions. Try it!
Via Lamma.com.hk's extremely lively election forum (over 100 messages and 1,150 views) I've collected questions for BOTH candidates. Only Alex Chan answered, while the Lamma-zine got NO REPLY WHATSOEVER, not even a refusal, from the camp of Ms Yu, despite repeated emails & faxes and leaving my phone number, for over a week. The same with my very friendly request for an interview, no reply of any kind.
She has also turned down an RTHK election debate recently and even ignored SaveLamma's local Chinese members who have tried to meet with her for over 1 year already. Publicly accountable govt.?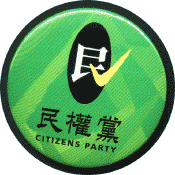 Check out the DAB website, listing their general policies and bragging about having "105 DAB Distirct Councillors" (out of 400). There's a $45,000 campaign budget from the govt. for each DC candidate and a $18,000 salary.
The answers from Alex Chan on relevant issues below speak for themselves, no further promotion from the Lamma-zine necessary. He's been using the Q&A on his campaign website as well and sent them out to friends & supporters. Ask your friends, many of whom have met Alex Chan in person recently. He can always be called directly at 9336-6908 or email him.
VOTE! You CAN make a difference on Lamma!

Alex Chan, Chair of Citizens Party,
Candidate for District Council Elections, Lamma & Po Toi:
1) Why are you standing for the District Council election?

I really enjoy working with people, understanding their needs, resolving issues and building consensus. This is how a society can excel and move forward. I find it very rewarding to myself, being able to make some difference in social, environmental & economic development. From working on the Save Lamma Campaign, which pushes for community participation in public planning, I learned that many residents on Lamma find their views not represented in the District Council, and there was a general lack of communication with the government. It prompted me to run for this election – I think my experience in facilitating public, government and private sector engagement, together with a fresh and unbiased background will help make me become a good district council member.

2) How would you improve emergency services in Lamma?

Lamma residents really need better access to emergency healthcare. The clinic should be open on weekends & public holidays and there should be night professional attendants to accept emergency patients. Lamma residents need a helipad close by the clinic. The one at the Power Station is simply too far away.

We all remember David Slough's unfortunate accident. He could have lived if there were a helipad close by the clinic and the pilot could land there free of hindrance. The Civil Engineering Department (CED) has long agreed to provide for a temporary helipad on the site reserved for the sewage treatment plant, pending a permanent helipad to be built beginning 2004/05 as a small extension into the harbour. Unfortunately, to-date, there is still no sign when the temporary helipad would be available & it is terribly overdue. I emailed CED on Nov 5, 2003 to check on the status. Mr. Jimmy Chan of the CED promised to reply me shortly. I'll follow up with him and get back to the community.
3) What are your plans for developing Lamma?

Lamma has great potential. It can become increasingly recognized as a place rich in diversity, in enterprise and history, a place with a human scale and touch, a unique seaside village which people are proud to call home. We see Lamma a thriving village community with lots of creative people, delicious food, scenic views & cultural richness. It is the best to enhance these qualities of Lamma to make it a preferred place to live and a favoured destination for leisure and rural tourism.

It is most important that we'd be sensitive and refrain from over-engineered projects so as to maintain a quality living environment. A good example is the proposed Phase II reclamation which was planned for an estimated future population of 16,000 people. But in reality, the population has been only about 5,500 and is even in slight decline. Houses are now built very closely together, and in a pace so fast that we couldn't even catch up to make proper maps and an effective drainage system. Haphazard construction work should therefore not be permitted.

We must focus our efforts and our valuable public resources on addressing real needs, such as:

- Upgrading essential emergency services and healthcare.

- Clearing rubbish sites in the villages and at potential sites of focus, such as large banyan trees along the main streets; Preventing further illegal dumping of unwanted objects and construction waste.

- Re-planning the uses of much of the land on the Phase I reclamation, which has been sitting there vacant for years.

- Provision of a community centre: I have received lots of comments, during the last two months while I went around Lamma meeting residents, about the need for a good indoor public space where people can gather for different events

- Better elderly care, as many old people live by themselves on Lamma Island

Little changes can make lives a lot better:
Lockers for YSW Hung Shing Yeh Beach users; appropriate signage to help guide visitors; bike parking friendly railing… this can be a long list.
4) Do you support providing an English-language primary school curriculum on Lamma? If yes, what will you do to advance this?

On November 8, 2002, I had a meeting with Ms Jennie Yuen, Northern Lamma Primary School Principal to discuss the issue of language education at her school. Subsequently, I wrote Ms Yuen a letter; stating Citizens Party's support for a multicultural curriculum in language education. We saw that with a good integration of local and expatriate students, it should be an excellent opportunity to foster quality bi-lingual speaking environment in school. Children can most readily learn two languages at the early age. I offered to help make this happen because a successful bilingual curriculum could well become a role model for other primary schools in Hong Kong.

Unfortunately, I was not given more opportunity to get more involved beyond just a meeting. It is unfortunate that recently more and more parents send their children to attend primary schools outside Lamma. I believe that it needs a higher passion from both school faculty and parents to foster such a bilingual school environment in Lamma. I will continue to engage with parents and educators on this.

5) What are your views on the planned Lamma ring road (Yung Shue Long Valley-fire station-Tai Wan)?

I don't see any logic for building such a ring-road. The Citizens Party opposed to the plan right from the start. You can view our response submitted on June 16, 2003 to Dr Sarah Liao, Secretary for Environment, Transport and Works on the CP website: http://www.citizensparty.org/community/YSW_ring_road.htm

The main justification for this project is "emergency vehicular access", however from the plan provided, this proposed road does not seem to connect to neither the police station nor the fire station. Putting it simply, we don't see any connection of this proposed ring-road with any needs regarding emergency vehicular access. My stand that is that these infrastructure projects need a higher degree of transparency and public involvement. To cite one excerpt from my letter to Dr Liao: " we also need to point out that the need for emergency vehicular access has frequently been used as a justification for various construction projects in the Yung Shue Wan Community and other outlying islands, such as Peng Chau. While everybody should be concerned about saving lives, decisions on massive construction projects should be based on hard analysis of needs and an overall development and conservation strategy consistent with sustainable development. Sizable but non-integrated projects do not necessarily fulfill the intended purposes but often end up causing unnecessary spending of public money and damages to the environment and existing aesthetics."
6) You identify that infrastructure improvements are needed. Please can you advise what you consider the priority projects are?

Better drainage systems and less haphazard construction to clear dead water that form mosquito sites; more public toilets in YSW for the convenience of local residents as well as tourists; provision of a community centre that serves the real needs of community residents. Please note that none of these requires further reclamation of the Yung Shue Wan Harbour.

Regarding YSW waterfront and potential focus points, I support Save Lamma Campaign's proposal to build a light-weight walkway across YSW harbour, which would provide people with enjoyable access to the waterfront and free-sitting space and not damage the semi-natural harbour or affect outdoor dining.

It is a constant debate how to improve the current narrow paths that are shared by pedestrians and vehicles. The experience of narrow lanes and small shops is part of what makes Lamma so unique. However I agree that during the weekends, these paths become congested with people, inconvenient and potential dangerous to people, bikers and drivers. Therefore these paths need careful and detailed improvement, decisions contingent upon environmental integration and comfort.

7) Your opinion about using the newly painted white "poster wall" at the ferry pier as a local community message board?

The wall plays a critical community role by allowing people to buy and sell second hand goods and to let people know about community events. Other topical uses are also welcome, as freedom of expression should be respected. But of course, I urge people to observe good etiquette as well.

8) How to deal with controlling dogs fouling the paths on Lamma; and how to find the dog/cat poisoner.

I doubt if anyone has the perfect quick-fixes to these problems. I fully support the work of Lamma Animal Protection (LAP), and I would hope to discuss with them and other dog owners for solutions. I hope to hold public meetings to gather ideas and volunteers to help find root causes and solve, or at least improve the conditions. In the meantime, I'll help promote dog owners' responsibilities and campaign against animal poisoning. Besides, deliberate dog poisoning should be illegal and I'll push for law enforcement.

9) Do you or any member of your family have an interest in any company that receives government contracts on Lamma?

Absolutely NOT. I only have one job. I work for a company that sources Mainland Chinese products for international retailers. It has no business interest in Lamma whatsoever.
10) How about introducing a regular time and place so your constituents can contact you?

I already have an office in Central where I meet visitors by appointment. Once I set up my office in Yung Shue Wan, I'll have regular office hours. Besides, I'm always just a phone call & email away. Even if I am not available at the time of call, I usually promptly return phone calls and answer emails on the same day.

11) How to submit suggestions & ideas to you? By fax, email, phone or in person?

Call me directly at 9336-6908. If I am in a meeting or otherwise not available, just leave me a voice message. I'll call back very soon. Or email me at achan@citizensparty.org.

12) Do you have any election message or statement for our readers?

Yes, I do: Dear Lamma & Po Toi residents. This is Alex Chan, candidate for the 2003 District Council Election. I genuinely believe active engagement of residents and stakeholders in the public decision-making process will produce the most credible solutions to community issues. With objective viewpoint, proactive & creative approach, genuine concern & fresh energy, I will strive to raise the openness of Islands District Council to a new level and bring real improvements to Lamma and Po Toi Islands. EACH VOTE COUNTS。PLEASE VOTE for Alex Chan, # 1 on the ballot list.

Additional critical questions for Alex Chan only:

1) You don't live on Lamma. And do you think this will be a hindrance to getting things done here?

I believe that where I live is a non-issue in the DC election campaign. In other parts of Hong Kong, it is common that a candidate lives in one district and seeks election in another. Outlying Islands should be of no difference. Hong Kong is a tiny place afterall. The important and relevant considerations are whether I have the ability to serve the community and push for their good cause; whether I can handle issues objectively, impartially and offer credible solutions; whether I have the leadership skills to resolve complicated issues so that the community can stay cohesive and move forward in the common accepted direction and whether I am a person of trust and integrity.

2) Your political experience in rural politics and getting things changed out here?

I am a result-oriented person. Very against "little work, big propaganda" line of act.

My involvement in the Save Lamma Campaign had led me to work through various complicated government processes. When we first started, it was almost an impossible task as the Planning Department told us that all consultations were completed. With our passion, strategy, skills & actions, we have successfully turned things around- we pushed for communication, public consultation non-stop, consulted private engineers and planners, generate overall concerns of harbour conservation via the media. We are further pushing for a better planning process to improve the Yung Shue Wan Harbour.

With regard to rural politics, I definitely respect the local village leaders and pay serious attention to their opinions. But the local political institutions should be more open up and transparent so that residents can better monitor the political leaders' performance, recognize achievements as well as enforce accountabilities.
3) Why does the Chairman of a political party care to run in such a small constituency like Lamma?

Citizens Party is the Party in Hong Kong with a distinct concern for the environment. We are a small party and quite a number of our members are Lamma residents. The Citizens Party feels very much at home in Lamma and we'd like to make Lamma our home base.

4) Do you have larger political ambitions? Some may think DC is only stepping stone to a more significant political role in HK?

Oh yes, I do. I am never shy away about it. My ambition is to build a political party, popular and commonly accepted by the people of Hong Kong. I believe that political participation can empower people to advance their good causes. I really like to recruit more members who would stand in future elections in Lamma, other constituencies in the Outlying Islands District and elsewhere in Hong Kong. I myself want to run for LegCo someday, although it is way too early to speculate whether I would get to that stage.

5) Your platform states that you will seek 'Universal Suffrage', assumingly you mean in HK. As DC how will balance dealing with district needs to your wider political agenda?

Universal suffrage is very much relevant to the District Councils. Of the 18 members in the Islands District Council, only 8 are returned by direct election. The majority of the seats are either appointed by the Government or automatically taken by the heads of the Rural Committee. That is the root cause why residents don't get to know and participate in public decisions that could seriously affect their communities. That is fundamentally why you have had no voice in all of these weird community projects which sprang up out of no where. Therefore, universal suffrage is of crucial important at the district council level! You can only see real improvements in public governance if and only if you can directly elect all District Council members who have no ties with the local undemocratic political institutions. I happen to be such a candidate.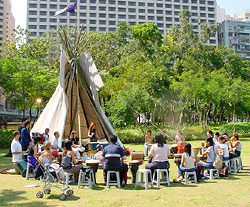 THREE Lamma bands playing at the recent Rockit festival in Victoria Park: Garoupa, Nude and Polyrhythm. And the famous native-Indian Tipi from Lamma made an appearance as a chill-out place for Lammaites and backdrop for another great Drumjam by Kumi & friends.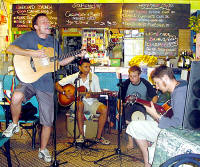 Garoupa made it into the SCM Post as the "Pick of the Day", described as "Lamma-based band Garoupa open the Rockit Festival, with a mix of original acoustic-based blues/rock/funk and Moroccan songs.". They even used a photo I shot of them during their gig in the Bookworm Café on July 15.
For the Lamma-zine's very first Multimedia Gallery with photos, short video clips & sound bites, click on Lamma @ Rockit - MM Gallery.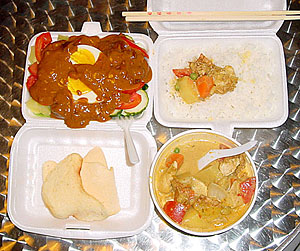 Lots of stuff happening again in the local dining & drinking scene in the last few weeks!
Two restaurants have unfortunately closed their doors (My Café on Back Street, and Table for Two, behind the public toilet).
Diesel's has started to offer Indian & Western food.
Fish Night & Tex-Mex Nights in Aroy Thai every week.
$16 Dim Sum set menu in New Holiday Mood.
Celtic Fest @ Island Bar Photo Gallery
A great new Indonesian take-out place (West of Java) has opened behind Scorpio's biz centre (see right photo).
Thai Thai (most popular Satay place on Back Street) is moving to a newly-redecorated restaurant opposite.
Yes, and we're still waiting with bated breath for The Retired Beast's The Full Monty to open in January!<!/li><!/li>
For more details & info & photos & menus: Restaurant & Bar News (Nov) - Photo Gallery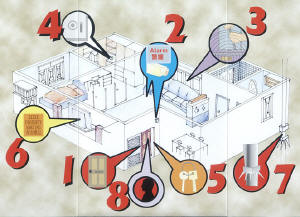 There was a "Domestic Security Seminar for Overseas Residents" in our town hall recently, only the 2nd public event I've EVER seen held in there. The local police force and the Crime Prevention Bureau did a PowerPoint presentation, giving some facts on the recent massive surge in burglaries all over North Lamma, educating us on how to burglar-proof our flats and trying to answer the many critical questions from often very upset residents.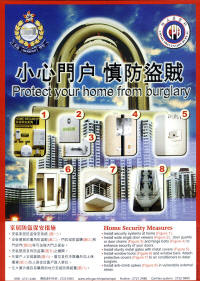 It was definitely a most lively event, people shouting at the police officials and at each other, community feedback in action. We were flooded with colourful leaflets on burglary prevention. Help yourself by clicking here:
Invitation, Security of Bicycle, Home Security Assessment 1, 2, Secure Your Windows, Protect Your Home, Protecting Your Property & Vehicle,
The police claims only 3 (!) burglaries w/breaking have taken place on North Lamma from Jan-Sep this year, almost 90% less than last year, but doubling the number of burglaries without any break-in (22), meaning going in through open windows and balcony doors. Read all about the latest cases and the many questions raised by the obvious failure by the police to catch even a single suspect all of this year:
Burglaries forum on Lamma.com.hk (80 messages, 1655 views!).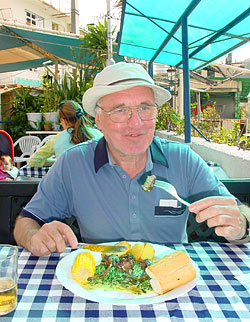 I got an email from "Chris in Wales" a few weeks ago:
"Congrats on your e-zine which astonishingly combines completely off-the-wall barminess with valuable information. Keep up the good work. I say this because although I live in the UK I am coming to HK to visit my son (I am an old geezer of 61; he's an old geezer of 31). He lives on Cheung Chau (silly man - even I know Lamma is the centre of the universe, not Cheung Chau). I want to spend some time on Lamma between 5th and 19th of November and am interested in what's on in the evenings, plus doing two or three day's walking on the island..."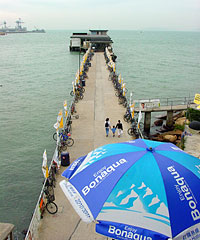 We emailed back and forth and I helped him to book a place to stay on Lamma (see left). I managed to "persuade" him to write a piece for this Lamma-zine, about his impressions BEFORE and AFTER his visit here. Despite the sad fact that his hilarious story contains several outrageously slanderous & libelous remarks about the Lamma-zine - and about people posting messages on Lamma.com.hk - I'm publishing it here anyway, unedited. After meeting this funny & cheerful guy several times during his 2-day visit on Lamma recently (see photo taken in the Deli Lamma), let's see what he'll come up with in the next issue, reflecting on his changed perceptions (or not) AFTER his first-hand experiences.
Dear Editor,

Here in the UK, it was with great unease that I heard that the faraway island of Lamma had been rocked by as many as 25 e-zines in the last year alone. Despite a complete ignorance on my part as to whatever an e-zine might be, my concern was undiminished.

What was this e-zine contagion? Was it like a typhoon – you could shelter and it would pass, leaving damage and crap in its wake, but it might be good for a day off, if you got the timing right?

Or was it like SARS – hide behind a mask and pretend that it's not happening, again with a bonus – this time the rather perverse one of being able to put the shits up someone you didn't like by cunningly arranging for your mask to slip just before you cough all over them?

It reminded me of how little I knew of Lamma. Half-forgotten memories of an island community of dyslexic dog-fearing people, where there was no alcohol and people drove around in cars all day (or was it the other way round?) before they invariably retired to bed at about 8pm to listen to the BBC World Service whilst sewing together blankets for the Third World, a routine to be broken only on special occasions by travelling across to the other side of the island to witness a skein of flying pigs silhouetted against the magnificent sunset at Suk Mai To Bay.

Of course I knew that in reality, the sewing of blankets for the Third World had suffered a serious decline from which it had never recovered, after that embarrassing day in 1996 when the morning ferry had delivered a huge crate marked "Blankets for Lamma Island – kindly donated by the British Red Cross". As ye sew, so shall ye weep, or something like that.

And what of the inhabitants today? Could it be that there might, even now, still be some hardy survivor able to recall, with wizened face and misty eyes, a time when people smoked pot and drank to excess? Was it really ever true that one sturdy Lammalian was so overcome by hallucinations that he even had a vision that he had caught the ferry to Central, disappeared into one of those shiny towers and actually – I hope you'll pardon the expression – gone into gainful employment? Just about believable, you may think, but the story grows too big for its own boots with the preposterous assertion that he was invited to return for a second day.

Many questions – but where to find the answers? And then it came in a flash. But, putting my personal problems at one side for a moment, I recalled the wonder of the Internet. By the simple expedient of logging on to www.lamma.com.hk, and then returning to my computer a couple of days later when it had downloaded, I entered the wonderful weird world of Lamma as it is today.

I was immediately exhorted to "laugh at it". Well, yes, I suppose some of the web design was a bit elementary and garish, but would the grown-ups be able to do any better, I mused. The style and theme was certainly eclectic. Of course I have no idea what the word eclectic means, but I do know that no-one has ever successfully sued for being called eclectic, and I'm a cowardly sort of bloke by nature. Scrolling down, I found that disturbingly practical nuggets of information appeared without warning, shining out from the surrounding thickets of wall-to-wall drivel that only an Editor desperate for copy could countenance.

And then there was something called a forum. Well, in my day this was some form of special-interest magazine but it would appear that its modern electronic namesake is so much more. As far as I can make out from its content, the forum is some kind of enlightened social experiment designed to act as a social outlet to all sorts of people that no-one has bothered to speak to for years. There is not even a discreet hint that the whole thing might be sponsored by the Hong Kong Council of Social Services as one of its more thoughtful outreaches into what has to pass for the minds of the intellectually dispossessed.

The venture clearly fulfils a great social need and it is pleasing to think that its many contributors no longer have to seek the social contact that they clearly crave through the medium of hissing and spitting at passers-by in the crowded recesses of Yung Shue Wan Main Street. How much the lot of the modern Yung Shue Wanker has improved. A far cry from the days when that faintly edible smell that occasionally emanates from those who live on their own was the dominant fragrance that greeted the nostrils of the first-time visitor to Lamma's many sophisticated night-clubs.

And yet even as I scrolled, I became ever more conscious that something was missing. Lamma seemed to have everything that mattered to a person of creativity, intelligence and discernment – or that mattered to me, for that matter. Perhaps what was missing was me. A growing conviction that - well, it's only 8,000 miles away - rapidly morphed into something more tangible – an air ticket to Hong Kong and a ferry to Lamma. Time to see for myself.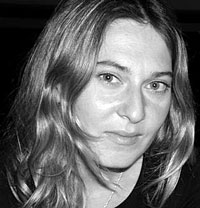 Email from Lisa:
"I would like to know if I can do an informal interview with you this week. I'm doing some initial research on Lamma before I do my PhD in anthropology - which I am doing at The Chinese University of Hong Kong. Anyhow, I can tell you all about the project when I see you if that's possible. Naturally I am contacting you as I am told that you are a mine of information on all things Lamma."
Obviously, flattery got her everywhere... In return for picking my brain for most of an afternoon (it still hurts a bit) and evoking bitter-sweet memories of my own university days, I got her to write up her thesis in a light & non-academic way below, plus a link to a most impressive academic intro, "so people can get mind boggled, try and do it tomorrow for ya with a little photo of moi attached (see right), so I can get publically approached!!".
You're all very welcome to "publically approach" Lisa and get your brain picked by her as well, all in the name of science! It was actually a very pleasant experience, I have to admit...

I case you wonder about the title of Lisa's thesis, she explains that "at the origins of my own pomposity is the homage to a great thinker, the Indian anthropologist Arjun Appadurai, whom in my opinion is the
most profound thinker in 21st century anthropology - particularly his work on global-scapes; and his query of 'the production of locality' ;)"
I especially like the conclusion of her most impressive academic intro:
"Thus Lamma as a sense of physical space that is home to a diverse overlapping community of communities is both a traditional yet alternative starting point to try and unravel and make some sense out of the new ways that cultural diversity is organised in this age of 'near-universal modernity'".
Hi Everyone,

This beautiful little dot in the South China Sea has suddenly become more than just a place that I have called home for the past two years. I am delighted to find myself back in the world of Cultural Anthropology where I am currently doing postgraduate research at The Chinese University of Hong Kong; and plan to make this unusual enigma of a place the subject of my research (read the introduction!!!).

It's amazing how the people I have spoken to so far about Lamma ways of life talk about this place. To some, "it's like living in China, without actually being in China", "it's like a little Manila"; for others, "it's an alternative reality to living 'over there'".

It's a place of memories, "Sunday night Monty Python-style sketches in the Corner Bar aka 'The Hippy & Dog'". A place where you "actually 'met' people on the ferry" at a time when they had "carpet and sold food".

A place where people may leave, but are remembered, their names etched on to the landscape...Hunter's Beach, Johnny Coleman's Beach, memories of people dispersed all over the world, but increasingly finding their ways back both physically and metaphysically via cyberspace. The 11th Dec Corner Bar closure anniversary is a great example of this. Just a couple of days ago I got an email off Rupert, an ex-Lammarite, who is organising the event in London - he was joking about getting a satellite link-up, so all involved could look on as the events unfold!

It's a place of rites of passage… births and deaths, a place of stories "people tell themselves about themselves", a place with an identity that's recognised as something unique to all inhabitants, no matter what their background or ethnicity. In many respects Lamma Island is a village square, a place in this vast urban metropolis that you can still have face-to-face relationships with people of value, share a sense of community - have the best of both worlds.

Most of the time, us anthropologists turn up at places and stay for the obligatory year before we disappear back to the relative normality of home wherever that may be. For some, that's not enough, reflecting the mood of anthropology today, I no longer want to or feel it necessary to just study cultural phenomenon of cultures as different as possible from that of my own, postmodernism turned all that type of stuff on its head, as we now acknowledge the fact that we are inseparable parts of the same coin, not some higher authority on matters, looking in from above with an objective gaze...

You're now about to be 'exposed' to a small part of the introduction to my research. ...BEWARE for those with an aversion to all things academic, the following pages are likely to cause nausea or other afflictions of the mind, body and soul.

One more thing...for those of you that don't know me already, feel free to stop me and chat about Lamma life - especially if you see me in my 'outdoor office' at the back of the Deli ;-)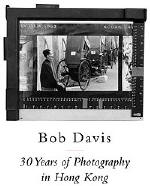 FIVE photographers living on Lamma have been exhibiting in town and/or published books in the last few weeks! They're a most interesting and very creative mix of individuals:
1. Bob Davis - "30 Years of Photography in HK" exhibition:
Fringe Club, Oct 23 - Nov 12; permanent exhibition in Island bar.
Click for our new Bob Davis Online Photo Gallery.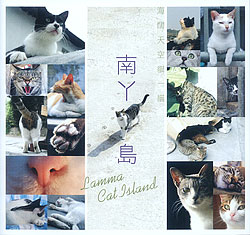 2. Peggy Yuen - "Lamma Cat Island" book: Get one from the Selling Point shop in Tai Yuen for $68!
Sheila from LAP:
"The series of photographs is a testament to the success of the Trap/Neuter/Vaccinate/Release project. LAP has desexed 400 cats and many of these beautiful animals feature in the book. They can be recognized by their ear tips. While under anesthetic the tip is very simply removed which means the cat can be identified as sterilized and not be trapped and operated on again!
An unspayed female, her mate and all of their offspring, producing 2 litters per year, with 2.8 surviving kittens per litter can total in 1 year: 12 extra cats; in 5 years: 11,801 extra cats! So a huge number of kittens have been saved a short, hard life and the adults have lived healthy lives with much less stress and danger. Desexing 400 cats obviously makes an enormous impact.
This is a wonderful and successful project and we would like to thank Peggy for highlighting it in her lovely book. We still have some way to go and would love to have more volunteers willing to help, with trapping, muscle power or caring for a cat colony."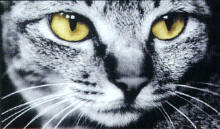 3. André Eichman: - "Dry Fish Alley Cats" exhibition: until Nov 30, 5 opt studio/gallery, G/F, 5 Prince's Terrace, Mid Levels:
Town Crier Magazine's Pete Spurrier describes the exhibition:
"Acclaimed photographer André Eichman makes his Hong Kong debut this month with a photographic exhibition entitled "Dry Fish Alley Cats". The pictures were shot in a little side street in the unplumbed depths of Kennedy Town, lined by pungent fish hung out to dry. An endless supply of camera-ready stray moggies gravitates to this slice of old Hong Kong."
Sounds almost like Main Street in the mornings when preserved and "fresh" fish is being sold, no?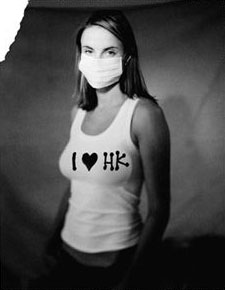 4. Marcus Oleniuk - "Living with it" - SARS exhibit & book:
from his website www.firstlight.com.hk (Website of the Month):
"Living with it is an evocative body of photographic portraits by Marcus Oleniuk that captures ordinary people attempting to come to terms with life in a city gripped by SARS. Today it acts as a compelling collective record of, and by, people living in Hong Kong in the Spring of 2003.
On April 1st, 2003, photographer Marcus Oleniuk returned to Hong Kong after a one-week working assignment. His home had changed beyond recognition. In that first week of April, Hong Kong transformed into a city paralysed with fear - of a disease and of the unknown.
For the next 50 days, Oleniuk approached people throughout Hong Kong - on the street, in coffee shops and stores, anywhere - and invited them to his studio where he photographed them using rare, large format black-and-white Polaroids. The subjects were also invited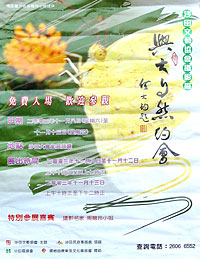 to write on their portraits. There was no standard question, just a chance for them to write about SARS, their fears, their hopes, their lives. Marking the period of the unprecedented WHO advisory that warned against travel to Hong Kong, Living With It is a unique and compelling picture of a city's attempt to come to terms with isolation and a deadly disease.
Canadian photographer Marcus Oleniuk has lived in Hong Kong since 1993. He is a commercial photographer and photojournalist whose work has appeared in Time, Newsweek, Le Monde, and other international publications."
5. Chow Chung Ling (Chow Yun-fat's sister) - "A Date With Nature": photographic exhibition in Shatin City Hall, Exhibition Room, Nov 8 - 13: This poster on the right has been spotted only on a single house in Wang Long by our Alert Reader e, a real rarity! She had to draw me a map, so I could get there to shoot it. Thanks, Ah-e!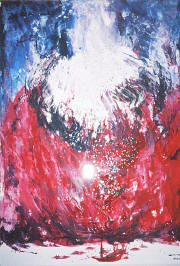 You might have noticed the paintings of Lamma exhibited in the Central to Yung Shue Wan ferry pier waiting area, left side along the iron grids separating the area from the Sok Kwu Wan ferry pier? Via the HK & Kowloon Ferry co., I managed to get in touch with the artist, Dr. Yip. He's a retired professor, Qigong master, a man of many talents, with more letters after his name than most people I know: BSc. PhD. MIEnv Sc. Cert. Ed. Ad. Dip. Qigong, Cert. Psychoneuroimmunology.
His paintings, just a hobby he claims, are a mix of Western watercolours with Chinese brushstroke technique. They've been given to the ferry co. for free for an open-ended exhibition and he's not eager to sell them. But if you're really eager to own one, email him!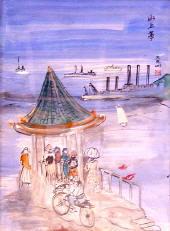 Artist info: "Dr. David Yip Lai Lam was born in 1937 in Hong Kong. In his early years, before going abroad to further his study in England and in North America, he apprenticed under artist Wong Hai and had attended various famous artists' demonstrations such as Mr. Wong P-yeh. Dr. Yip took advantage of the unique opportunity by his study abroad to visit many museums and galleries. For years, Dr. Yip worked as a senior Lecturer in a local higher institution while privately engaged in a non-professional artist pursuits. In 1996, he held his first one-man show entitled "The Anti-Japanese War" in Vancouver. Another more recent show "Illusory War-Ridden Life" was held in the Hong Kong Museum of Coastal Defence in 2001. He is a former part-time Lecturer in Zen & Qigong Therapy at the Open University of Hong Kong and a member of the Vancouver Chinese Artist Society in Vancouver, Canada".
Click here for Dr. Yip's online Art Gallery.
And while we're talking about art, there's a big Artwork Contest going on Asia-wide till Dec 31, where you can win up to US$10,000 for your painting! More details at The Sovereign Art Foundation.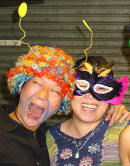 "Terrifying but Cute on Halloween" seems to have been this year's motto of Halloween on Lamma. Positioning myself strategically outside Emily's - a must-stop for all trick-or-treaters - I managed to shoot rambunctious crowds of children of many nationalities swarming up and down Main Street, stopping in most restaurants & shops along the way, repeatedly!
Later in the night, the bars were doing pretty good business to a different crowd of revelers. I've been out exploring and getting a few good but maybe embarrassing shots?
Click for the Halloween on Lamma Photo Gallery
"Hongkong Electric launches inquiry on dumping site
The utility orders a cleanup after hikers find its industrial rubbish on Lamma."
This was the story in the SCM Post a few weeks ago:
by Peter Michael

In what has been condemned as a "shocking" example of environmental vandalism, outraged Lamma residents have uncovered a hidden dumping ground with industrial waste bearing the Hongkong Electric logo.

The dump is disguised in bushland and half-covered by dirt and debris. It contains more than 50 electric fuse boxes as well as various other metal containers, wires, cables, poles and old brackets.

Two local bushwalkers who discovered the site, in a gully near Lamma's water reservoir, said the dumped material looked to have been discarded "very recently".

"I would not necessarily say it was a major act of vandalism, but it is a shocking way of treating Lamma," said resident Oliver Armistead, who stumbled across the site on Wednesday.

"The big question is what else has been dumped on the island and where. Are we just looking at the tip of the iceberg? It looks to me like a blatant act of dumping by HK Electric or one of its subcontractors."

The utility firm ordered an immediate inquiry into the incident yesterday after it was contacted by the South China Morning Post.

"Please be assured that our company would not tolerate any improper handling of used materials," a company spokeswoman said last night.

"The company is looking seriously into details of how this could have happened. Meanwhile, we have also given stern warnings to all our contractors concerned that they should abide by the contractual terms and conditions in regard to the proper handling of used materials after their works."

The spokeswoman said some of the equipment at the site had been used for the installation of the island's overhead power network, which has since been replaced by underground cables.

She said site inspectors had been ordered in to clean up the site and remove the material.

Mr Armistead, an engineer, said his own company insisted subcontractors on industrial and engineering sites provide certificates of waste disposal when dumping materials.

"We expect them to show us a receipt from the site of landfill. I would have thought this was standard practice for an organisation as big as Hongkong Electric."

Hong Kong is under pressure to alleviate shrinking landfill space. The city's ever-growing load of rubbish results partly from a scaling down of reclamation projects which use such materials.

It has been predicted Hong Kong will run out of space to accommodate the estimated 14 million tonnes of excess construction and demolition waste expected to be accumulated by 2005.

© 2003 SCM Post

I contacted Oliver and asking him about the clean-up and "Subcontractor fined? Lessons learned? How to avoid this in the future?". He replied that "after the SCMP reported the dump site to HK Electric on Friday afternoon the site was already cleared up by Saturday afternoon (the day the story broke). Looks like a few other VVs were coming from other areas of the island with old cables and so on, so there must have been more than one site. I doubt that HKE would be prosecuted as they responded so quickly."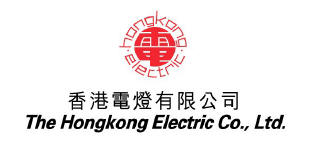 Upon my inquiry, HK Electric's Public Affairs Dept. commented on the phone that the subcontractor had to pay for clean-up next day by HK Electric. No fine for the subcontractor, but they have a demerit point system for subcontractors (similar to car drivers) which can lead to them being taken off their list for new contracts. HK Electric has a tightly controlled and logged scrap yard in Ap Lei Chau. 250 cubicles have been removed on Lamma, only 7 were dumped. 7 too many...
HK Electric sent me the following press statement right away, followed by the results of their internal investigation a few weeks later:

We refer to the press report concerning the old cubicles found near the reservoir area on North Lamma.

Our engineers have immediately carried out a preliminary investigation last Friday.

They have found that some old cubicles were being dumped at the location near the reservoir. At our instruction, our contractor has already cleared the site.

Please be assured that Hongkong Electric would not tolerate any improper handling of used materials by our contractors. The company is looking seriously into details of how this could have happened.

Meanwhile, we have also given stern warnings to all our contractors concerned that they should abide by the contractual terms and conditions in regard to the proper handling of used materials after their works.

Nov 29: With regard to your enquiry about the materials disposed by our contractor's foreman, we return the following results of our investigation:

We have completed our investigation and have identified that the materials located by our engineers were seven old cubicles and one overhead line pole dismantled by one of our contractor's site foremen. After receipt of the complaint, we have carried out an extensive search and joint inspection with the contractor and the site foreman concerned to ensure that all remaining scrap materials have been returned to our designated scrap yard, and that no unused construction materials are left over.

We have also taken disciplinary action against the contractor and the site foreman, who have failed to ensure that all scrap materials be returned to our scrap yard. Meanwhile, we have tightened our control on the handling of site materials to ensure that all disposed materials are returned to our scrap yard in full after the work.

All contractors were also seriously warned that they should abide by the contractual terms and requirements regarding the handling of site materials.

The company wishes to apologize for this incident and please be assured that we will do our utmost to preserve the environment on Lamma Island.
A happy ending this time and well handled by HK Electric, I think. Let's hope that the subcontractors will be more careful in the future. Otherwise, I'm sure somebody will quickly report any future transgressions. We've also just added a brand-new Blackspots on Lamma forum on Lamma.com.hk, for you to "report illegal garbage dumps and hygiene hazards. Let us all witness and monitor the progress."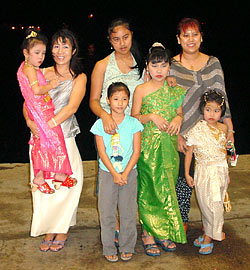 Walking by the "Thai Thai" restaurant on Sat night, Nov 8, I noticed colourful contraptions, constructed from paper, styrofoam, flowers, candles and incense sticks. They were made for the Loy Krathong Festival, to be set afloat into the harbour that night at 11:30pm at the ferry pier. I was getting ready for one more Lamma festival photo shoot!
This ancient Thai custom of placing handmade floats on waterways goes back over 700 years to the Sukhothai period. This elegantly beautiful annual Festival of Light is observed by Lamma's Thai community, held on the full moon in November.
Instead of setting the floats free on the traditional river, Lamma's Thais use the harbour - due to a lack of rivers on Lamma - the receding tide carrying the floats (krathong) out into the harbour looking like a silent procession of lights. Click on the picture for a quite beautiful & unusual photo gallery.