<!table cellSpacing="6" cellPadding="0" width="100%" border="0" style="border-collapse: collapse" bordercolor="#111111" bgcolor="#EFEFEF"> <!tr> <!td style="font-family: Verdana, Arial, Helvetica, sans-serif" bgcolor="#EFEFEF">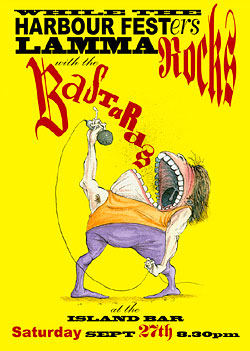 Another big night at the Island Bar!
After the recent concert by Bahouki, local favourite The Bastards brought down the house, after filling it up first!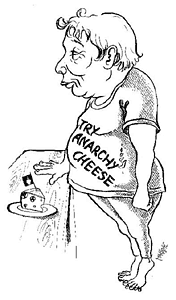 Billed as the event of the season, many local celebrities (see photos) attended this rare local performance by Lamma's oldest band who's still performing.
The photos have been shot by Keith, the jolly barman & manager. Quite an achievement, while at the same time serving the huge crowd of people crowding the crowded Island Bar!
No need to wait for the government's massively hyped Harbour Fest, join Lamma's own Harbour Fest (see poster on left, another masterpiece by Lamma cartoonist extraordinaire Harry). Click for more Bastards posters.
The cheesy cartoon (see right) was created by the Official Court Artist of Lamma.com.hk, The Stick Insect Hunter.
Where have we seen Dan's trademarked striped golden-orange leggings before? Yes, DickStock 2002!
Below, you can also see some scans of the first CD of The Bastards. Highly recommended for fans, friends & foes alike. To buy this rare work of pure musical genius, a true milestone in the history of punk rock, contact Dan directly on his HOT (like Aroy Thai chilies) website: www.DanKwaiFong.com
(click to enlarge)
---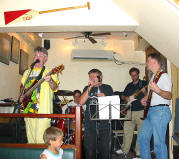 The Bastards live - first set!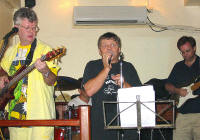 Fresh 'n' sober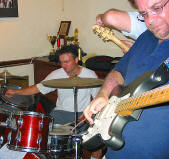 The band working hard, especially the drum-a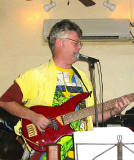 Dr Dave the singer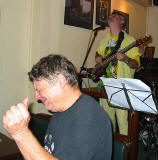 Dan giving birth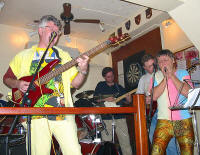 Second set, dress change for Dan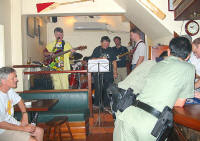 THE LAW enjoying the music over a pint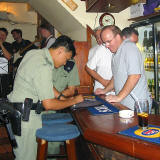 Young man filling out a Job Application Form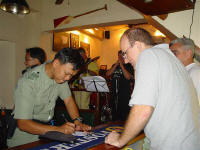 Keith getting a policeman's autograph
Some of the usual suspects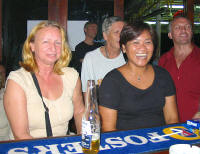 Luci finding inspiration for Diesel's jam nights...
8 beers into the second set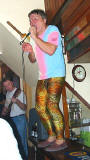 Table-dancing on top of the bar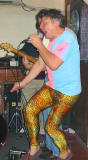 Tip-toe thru the tulips...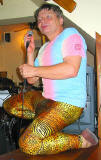 "Will you marry me?"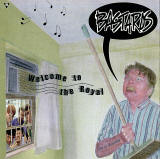 Bastards CD: Welcome to the Royal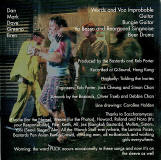 CD back cover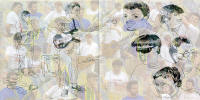 CD inside cartoon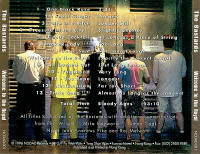 CD backside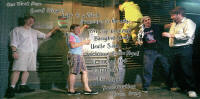 CD inside back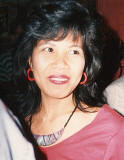 Rhodie (former manager of The Wanch), who named The Bastards
---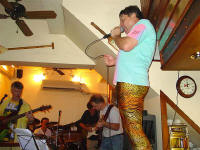 a few more photos, from Frazer: Dan is getting ready to jump!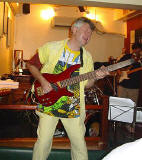 Dr Dave's bass player's look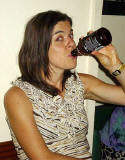 Over 18?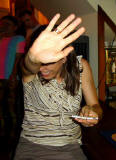 Talk to the hand!
---
To send comments (very welcome!), get more info, get high-resolution files of any photo for printing,
or to publish your own Lamma-related photos and galleries on
Lamma.com.hk
or in the
Lamma-zine
:
email Lamma-Gung@Compunicate.com.
---
Last updated: August 12, 2006 06:01 PM

All pictures and text may be freely reproduced for non-commercial purposes only. Commercial enquiries are most welcome.
© 2003 Lamma-Gung, Compunicate! e-Marketing & Website Development. All rights reserved.

<!/td> <!/tr> <!/table>