---
Tue, Nov 30: 'Loitering with Intent to Commit an Arrestable Offence'
I've just received this email from the Cheung Chau HQ of the Lamma police force. They asked me "for widest circulation to our Lamma islanders, please."

Well, this law-abiding citizen & part-time court interpreter is happy to oblige, as official news from the authorities will always be most welcome in this Lamma-zine Blog, Lamma-zine & the discussion forums. Have a read, this is most informative, even entertaining:
Mr SIU Man-hon, Mann, Cheung Chau Police wrote:
Subject: Suspected Mainlander Burglar Arrested in Pak Kok, Lamma
Dear Lamma-Gung,
May I have your assistance in disseminating to our Lamma foreign islanders, particularly for those in Pak Kok, a piece of information that relates to a recent arrest of a "Two-Way Permit" Mainlander male in the early hours of 2004-11-24.
The arrested Mainlander was first discovered intruding Pak Kok in the evening of 2004-11-23, by a local villager. Though he tried to disguise himself as a visitor, there was nothing to convince a normal person with reasonable mind that he was a genuine visitor (carrying no camera and wearing relatively shabby clothing, etc). As a result of the information, police deputies were immediately deployed to seal off the area to bait that suspected Mainlander.
Eventually, by 0330 hours, the Mainlander was spotted acting suspiciously in Pak Kok New Village. He was immediately intercepted while about to tamper with the window of a village block. He gave an unbelievable account for his presence during such early hours of the morning: that he had lost his way after enjoying the scenery on hills of Lamma. He was then arrested for "Loitering with Intent to Commit an Arrestable Offence", as there was strong circumstantial evidence that he would burgle if not stopped. Police then found that the arrested Mainlander bore a burglary conviction record in 1999 and he had been awarded 2 years' imprisonment.
The arrested Mainlander has been charged with one count of "Loitering with Intent" and has appeared before court in the morning on 2004-11-27. An adjournment until 2004-12-03 was granted for further elimination with those undetected burglaries on the islands of Cheung Chau Division.
While police will remain vigilant for burglar intrusion and we are determined to protect the people on Lamma who we serve, I would also like to take this opportunity to remind our foreign islanders again of the need to secure their homes properly. The success of crime prevention relies much on their home-safety cooperation and awareness, which we do opine has some room for further improvement.
It is also not uncommon to see that windows (specially those in kitchens and toilets) and drainage pipes leading directly to balconies, etc are unguarded with any window grilles or security means. In some occasions the main doors were also left ajar by occupants for convenient access of their family members.
Electronic anti-theft devices, that bear only reasonable costs, are also recommended.
Best regards,
SIU Man-hon, Mann
ADVC OPS & CRM CCDIV
Office: 2986 0210, Fax: 2981 1450
---
Mon, Nov 29: Harry - one of the Three Wise Men?


SCMP website: "Operation Santa Claus presents a wonderful evening for SCMP Book Club members. Come and join SCMP columnists and wise men Kevin Sinclair, Jake van der Kamp and cartoonist Harry Harrison in celebration of their latest book debuts – just in time for your Christmas shopping!"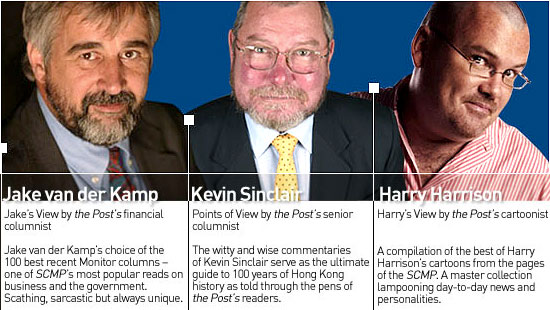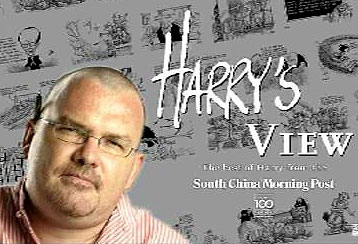 These book launches will be happening on Mon, Dec 6, from 6:30pm, in the LaO2 Theater of the HK Fringe Club, Central!
Click on Harry's nose on the left to reserve a place ($180)! Or grab him in the Island Bar to sign your copy of Harry's View!
Or click here for regular Lamma-zine contributor's Harry's art gallery and his own website!
---
Sun, Nov 28: Lanternbug, Slightly Damaged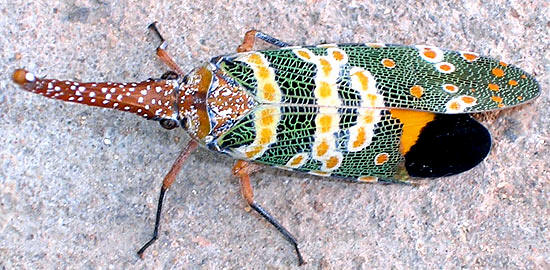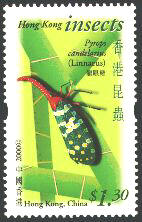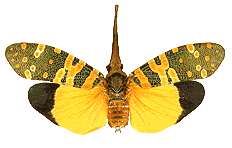 I've photographed my favourite bug on Lamma, Pyrops candelaria, on the side of the road during a morning hike. 2" long, this specimen lost part of its wing cover, revealing its bright-gold & black wings.
This beautiful bug, also called HK Lantern Fly,

made it onto an official HK stamp in the year 2000.
On the right, with open wings, from InsectCompany.com.
---
Sat, Nov 27: Speed-Drinking Beer Through a Straw?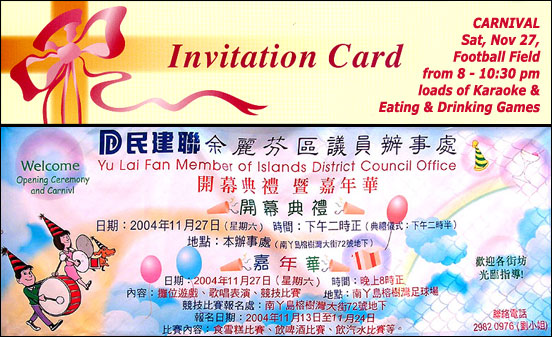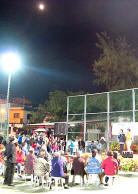 Lammadonna will personally be opening this event tonight.
Expect lots of Karaoke and speed-eating & drinking games: sipping beer & soft drinks through a straw, being fed ice cream by a blind-folded partner, stuffing yourself with Wasabi-stuffed, tear-jerking sushi... all the usual, typical Saturday night entertainment on Lamma...

Here's the photo gallery of this very interesting event. Not my idea of a good time, but a really local event for the whole family. The children loved it and got really into the spirit of the fun & games.
---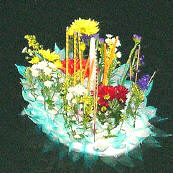 Fri, Nov 26: Thai Lantern Festival Tonight (Loy Krathong)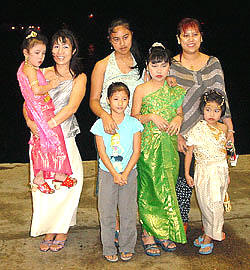 Stunning candle boats floating serenely and romantically in Yung Shue Wan harbour at night. Is that something you might want to enjoy with your friends or, even better, with a date? Yes? It's Loy Krathong tonight and our active local Thai community is celebrating their yearly Lantern Festival at the ferry pier, starting at 9:30pm this year. You're invited!
For more info, check out my last year's Thai Lantern Festival photo gallery.
---
Thu, Nov 25: Organic Vegetarian Thanksgiving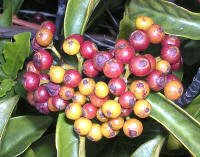 How do Lamma's many Vegetarians celebrate a traditional Thanksgiving, usually heavy on meat and fowl? Well, here's an interesting Thanksgiving menu from Life restaurant, the half-year-old offspring of Lamma's Bookworm Café: click on the left.
These colourful (cran?)berries are growing wild on Trig Point hill (below), but I can give no guarantee on their edibility or toxicity!
---
Thu, Nov 25: View from the 'Trig Point'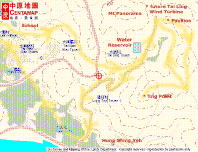 I've just discovered the best 360-degree panoramic view of North Lamma, from a 130-metre-high hilltop beyond Mt Panorama (click on map - or any photo - to enlarge). A pleasant, slightly challenging hike.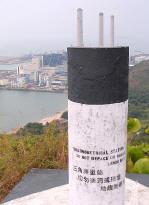 It's already become my favourite spot on Lamma, views from high above into Yung Shue Wan (above), Mt Panorama, Luk Chau, Hung Shing Yeh, Power Station, etc.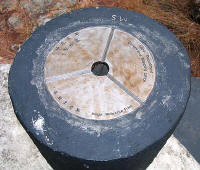 Its unofficial name comes from having a little man-size, chest-high concrete tower at the top, a so-called "Height Reference Point" or "Trigonometri-cal Station". It's set up and used by the surveyors & cartographers of the Lands Dept., the very people who keep the extremely detailed internet maps of Hong Kong up-to-date, where you can find any address in all of HK, incl. Lamma Island.
---
Wed, Nov 24: Does Lamma Have an In-Crowd?
Best Message of the Day in the forums came from a long-time, active member:
Beanburglar wrote:
... Lamma consists of a variety of small social groups, all following their own agenda, whether that be dragon boating, beating people up or sitting outside Spicy Island becoming alcohol-soaked, to name but a few.
This one big happy Lamma community baloney is a myth and there is no in-crowd, just a load of acquaintances thrown together by the smallness of the village and the ferry who have to get on or put up with one another...
Of course, you've created a sort of virtual in-crowd here, but it doesn't exist in the analog world.

Agree? Disagree? Join in this brand-new discussion topic, where Beatrix Kiddo (fresh from Killing Bill, probably?) is raising the sophistication level by talking about "The paradise of dysfunction" & describes Lamma as "This little sparkling enigma of village life".
---
Tue, Nov 23: Wanted: Your Best Fun Day Photos!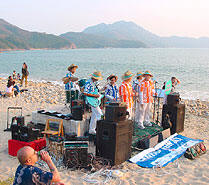 I'm putting together the "official" photo gallery of the 5th Lamma Fun Day 2004 for the Lamma-zine and the Fun Day website I'm webmastering.
Click on photos above to enlarge. I need more photos! Full credits and email/website links will be given to all contributors. Show off your best shots in this collective community photo gallery!
Please email info@LammaFunDay.com with your photos. I can scan in non-digital photos for you, if necessary.
---
Mon, Nov 22: Welcome to Waterfront Bar & Restaurant!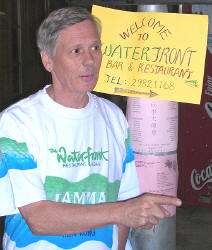 Have you heard about Bob Davis new freelance job as a "PR Boy" (like the ubiquitous beer PR girls) for the Waterfront Bar & Restaurant? See him on the left, standing at Nick's the Bookman's Corner, pointing the way, luring new customers to visit this newly opened place. His 10-year-old T-shirt, worn for the very first time, from the former Waterfront is a nice & classy touch. Below, is Bob claiming his "PR Boy" fees?
The Waterfront reopened on Nov 14. Our first visit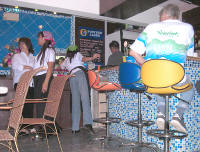 was a positive experience: great terrace, reasonably-priced Italian-style menu, good spot to meet friends.

More details & reviews to follow soon!
Check out more Restaurant News, discuss the new Waterfront!
---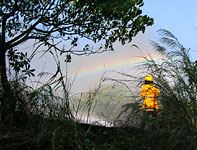 Sun, Nov 21: First Funday Fire Fotos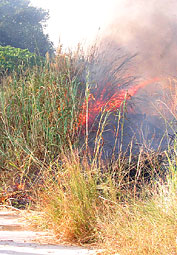 It was a really great Funday today, lots of fun & food, friends & families. Sunny, warm weather all day, loads of people milling around, live bands & lots of entertainment.
But the main thing everybody kept talking about was the small bush fire that started around 3pm behind the main stage. Firefighters from the Power Station doused it quickly,

but it got people talking for days...
See photos submitted by Barry Swerdlow. See more photos by V J and myself by clicking Talkback!
---
Sat, Nov 20: Funny Funday on Sunny Sunday!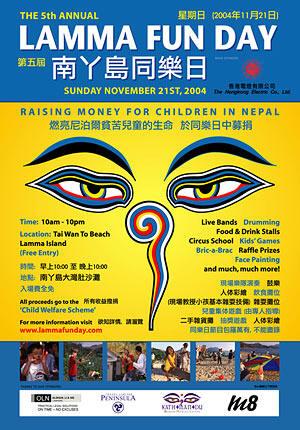 If you're in HK on Sunday, come over to Lamma! The social event of the autumn season, a day full of fun & games for the entire family await!
Live Bands (Odyssey, Jacknife Sugartruck,
Fantastic Day, HK Electric Band, Papa Jack,
YSWankers, etc.)
Drumming
Australian Bush Dance
Face Painting
Circus School (Juggling, Diablos, Spinning)
Kids' Games (Pillow Case Race, 3-Legged
Race, Egg & Spoon Relay, Yucky Dip, Faust
Drama Workshop, Parachutes, Rounders, etc.
Raffle Prizes
Food & Drink Stalls (last-minute stall
application)
Bric-a-Brac & other stalls (last-minute
stall application)
and much much more!
See the map on how to get there.
---
Fri, Nov 19: Signs you've lived off Lamma for too long
The worldwide community of ex-Lammaites, named LOVE (Lamma Overseas Visitors Empire), is among the most

loyal visitors of this site. Often homesick for "the best place they've ever lived in", some of them have come up with great "Signs you've lived off Lamma for too long", describing some of the more "unusual" aspects of life here. Click on Talkback!
---
Thu, Nov 18: Autumn is upon us...

Finally, my favourite season of the year has started. Deep blue skies, fresh breezes, all-day sunshine, cool & dry air, marvelous for hiking & enjoying nature, especially on beauuuutiful Lamma Island!

Click on banner above to enlarge. We've started an autumn leaves collection in the discussion forums. Send us your photos & scans for posting. Click on Talkback!
---
Wed, Nov 17: Photo Gallery of DIXSTOCK '04


Finally, here's my photo gallery of DickStock X from last Sat, Nov 13. Selecting, cropping & processing the best of my 303 photos took a little while. Click on 10-years-of-DickStock banner above!
High-resolution pictures for printing are available, just email me.
---
Tue, Nov 16: Burglary Prevention Leaflet

The North Lamma Police asked me to publish this leaflet on this website. With the start of the cooler season, burglaries have started to happen again occasionally, after a welcome break of several months. Click Talkback! for more tips & a lively discussion.
Police research on a number of recent burglary cases on Lamma Island indicates that the inadequate burglary prevention measures and awareness are the main causes leading to an opportunity offered to the burglars.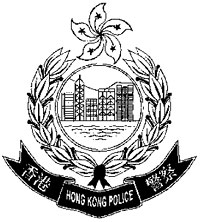 Your attention is drawn to the following useful tips:

Windows and Balcony Doors
Before you sleep or leave your home unattended, all windows and balcony doors must be securely closed and locked. For ventilation, windows must be guarded with proper window grilles if they are left opened. Never leave your balcony doors opened.

Balcony
It is common that drainage pipe system on exterior wall is so close to your balcony that it offers good opportunity for burglar to climb up and reach the balcony to burgle. Putting some barbed wires around the drainage pipes or installation of suitable device is a good idea to stop your home from becoming next target.

Adoption of sufficient precautionary measures is generally perceived by our islanders an impedance against their wish to enjoy the natural environment of Lamma Island but you are reminded of the utmost importance of a more secured home.
To fight crime, your concerted efforts, sound crime prevention awareness and alertness can always help.



Should you require further advice, please contact us:
Yung Shue Wan Police Post:
2982 0251 / 2982 1577
Sok Kwu Wan Police Post:
2982 8272

Hong Kong Police
Cheung Chau Divisional Headquarters
---
Sun, Nov 14: Bakery Opening 6:30am, Plus Ownership Statement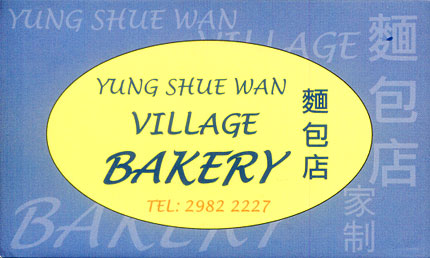 From tomorrow morning, Monday, the Village Bakery will be opening at 6:30am, to serve the early morning ferry crowd.
All their usual wares, plus the new HERO 6-inch

baguette, white or whole-wheat, with various fillings. More new products in the pipeline; "official opening" party in December.
---
Due to some recent rumours, the Village Bakery and other local businesses asked me to publish the following statement:
"The Directors and Proprietors of the following Businesses would like to state that nobody else besides the person(s) in parentheses has any interest - financial, administrative or otherwise – nor does exert any influence over:
Deli Lamma (Prafull)
Lamma Bistro (Dave & Charlie)
YSW Village Bakery (Charlie)


Lamma.com.hk discussion forums
(owner Webdog, site admin Lamma-Gung)
Lamma-zine, Blog, Calendar & Galleries (Lamma-Gung)"
---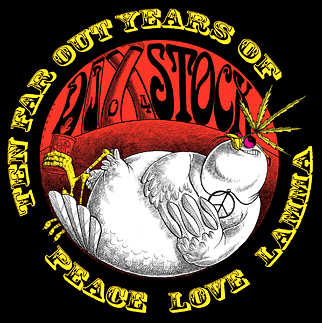 Sat, Nov 13: DickStock X Happening Today!
Thinking Out Loud: 8:30pm
The Bastards
Semi-Nude
Yung Shue Wankers
from 7pm @ 1 Nga Kau Wan,
just beyond Po Wah Yuen,
on way to Pak Kok, Lamma,
10 mins from YSW ferry pier.
from town: ferry to Yung Shue Wan, then ask in the Island Bar,
or just follow the crowds uphill!
Food and drink available on site.
For details and map contact:
RichardFJones@gmail.com
or call 9104 5358!
---
Fri, Nov 12: Butterfly Season's Ending

If you love butterflies, hurry up and get out into the forests and bushlands of Lamma right now. The best season to watch and photograph

butterflies, moths & bugs is slowly drawing to a close for this year. These four shy & skittish specimens were shot in the last three days, with a lot of patience.
Click to enlarge. For more and better pictures, click on Talkback!
---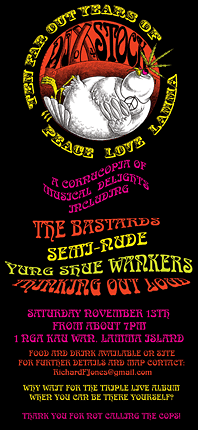 Thu, Nov 11: DickStock X = DIXSTOCK!
Ten Far Out Years of Peace Love Lamma
A Cornucopia of Musical Delights including
The Bastards
Semi-Nude
Yung Shue Wankers
Thinking Out Loud
Saturday November 13th,
from about 7pm,
1 Nga Kau Wan, Lamma Island
Food and drink available on site.
For further details and map contact:
RichardFJones@gmail.com

Why wait for the triple live album
when you can be there yourself?
Thank you for not calling the cops!
(Click on poster to enlarge!)
---
Thu, Nov 11: Stallholders & Volunteers!
For the Lamma Fun Day on Sunday, Nov 21, 2004 (Power Station Beach, Hung Shing Yeh, Lamma Island, www.LammaFunDay.com),
we're still looking for:
Stallholders!

Volunteers!

Make some quick & easy cash!

Food & drink stalls at $500, all other stalls at only $250!

So far, we've got stalls reserved in the following categories:

Bric-a-Brac, Information, Massage, Food, Education, Games, Handicraft, Jewelry, Gift Items & "Stuff".

Make up a new category yourself!

Alcohol stalls need prior registration and proper licensing!

For more info, please contact Li Liao or pick up an application form from the Green Cottage, Yung Shue Wan Main Street.

Or view & print the form right now!

Li Liao: Tel. 9539 5602, email.

We are looking for volunteers to help with..

F Setting up in the morning,

F Handing out flyers on ferry pier,

F Collecting food (8.45am +/or 12.45pm),

F Helping out on stalls (cakes/ bric-a-brac/ kids face painting),

F General lifting and moving stuff,

F Packing up in the evening.

If you would like to donate just an hour or two of your time, please call Hazel on 9490 1334, or email her.

Many thanks from all at Child Welfare Scheme and Lamma Fun Day!!!
Wed, Nov 10: Music Programme of Lamma Fun Day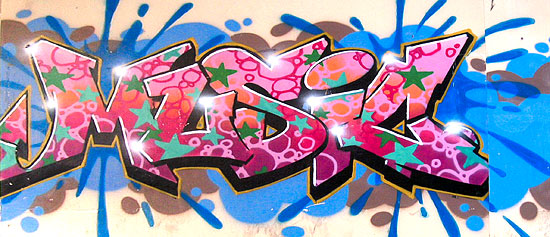 A MUSIC graffiti inside a deserted house above Tai Peng which I've discovered & explored today. Isn't this the ideal illustration for today's topic, the schedule for the Lamma Fun Day bands?
On Sunday, Nov 21, these bands will be playing on Power Station Beach:

1pm: Odyssey; 2pm: Jacknife Sugartruck; 3pm: Fantastic Day;
4pm: Sponsor presentation, followed by the HK Electric Band;
5:30pm: Papa Jack; 6:30pm: Yung Shue Wankers.
Any questions re: the bands, call Fred at 9374-0277.
---

Tue, Nov 9: Restaurant & Bar News - Nov 2004

What's new & happening in the restaurants & bars around Yung Shue Wan this month?
Click to find out: my latest photo gallery with detailed Restaurant & Bar News - Nov 2004.
---
Mon, Nov 8: A Taste of the Sea
From the HK Tourism Board website (Text, photos & icons: Copyright 2001 HKTB):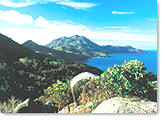 "Lamma Island Lying just a half-hour ferry ride from Central, Lamma – the third largest of Hong Kong's islands – offers a great escape from the city. There are no cars here and few buildings are over three storeys high.

Trails meander along hills and coastline. There are fine bathing beaches and the island is home to some of the Hong Kong's most popular seafood restaurants. Our walk leads from north to south, linking the island's two main villages. There's a gentle hill climb but the hike can be completed in a leisurely couple of hours."
Yung Shue Wan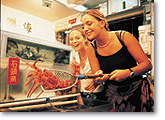 "Until a few decades ago, Yung Shue Wan was a small rural village, depending chiefly on agriculture and fishing. It has expanded in recent years, mostly to accommodate people attracted by lower rents and a more laid-back lifestyle.
Walking the narrow streets between the tightly packed buildings, you'll see shops and restaurants that reflect this mixed heritage: stalls with dried fish, shops selling hi-tech appliances and outlets that look as if they've been established by latter-day hippies."

More about our other five "official" Tourist Attractions: Tin Hau Temple, Hung Shing Yeh Beach, Pavilion, Lo So Shing Beach, Sok Kwu Wan & a Walking Map.
This reads all so nice and safe, the very traditional view of Lamma. For newer, deeper, more exciting info on daily life on Lamma and its secrets - by people actually living here - continue reading this Lamma-zine Blog!
---
Sun, Nov 7: Preview of Lamma Fun Day Attractions
The popular beach volleyball spectacle! Popular Lammaite Zara Hannaford surrounded by her friends/band members! Many more bands, Drumming, Australian Bush Dance, Face Painting, Circus School, Kids' Games, Raffle Prizes, Food & Drink Stalls, Bric-a-Brac, etc. All in benefit of a children charity! How could you resist a visit? No way!
See you there on Sun Nov 21! Prepare for a great lot of fun & games for all the family!
Click on posters above to enlarge, www.LammaFunDay.com for more info.
Disclaimer: I'm part of the all-volunteer organisation committee of the Lamma Fun Day. That might explain my enthusiastic enthusiasm & excuse my non-stop promotion of this event?
---
Sat, Nov 6: Paradise for Nature Lovers
I'm making a determined, but strenuous effort to hike around Lamma every single day nowadays, trying in vain to get fit, slim & handsome. But the amazing variety and surprising diversity of the local plant & animal life makes it all worthwhile. Without any special effort, the sharp-eyed can come across so many delights for nature lovers!

I'm presenting a small selection of flowers, fruits and bugs, mostly photographed during the last 3 days. Click for a lot more great photos by a senior Lammaite with his first-ever digicam!
Tips: Take along enough spare memory & batteries! Click to enlarge:
---
Fri, Nov 5: Panoramic Harbour View


Photos taken this morning from the top of the hill between Yung Shue Wan and the Power Station, then stitched together in Photoshop into a panorama. Click to enlarge.
A tough descent followed, partially sliding on my behind and abseiling along ropes into The Lost Valley of the Hippies. Check out the two photo galleries of "Hunter's Deserted Village".
---
Thu, Nov 4: Granola Eater - New Fight Club Moderator

Congratulations to the newest moderator in the Lamma.com.hk forums, Granola Eater (see left), who has been appointed after winning a fierce election battle by a landslide of public votes. His campaign against "Guy Miller" paralleled the US elections in many ways, but was much more entertaining and had a better outcome.
Granola will take over tomorrow when the currently closed Fight Club will be reopened, after some extensive clean-up and overhaul.
---
Wed, Nov 3: David May - Lammaite of the Day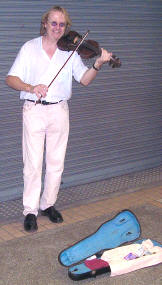 Lamma's "Fiddler on the Roof", Ravey Davey, has been practicing in public for his performance with the Yung Shu Wankers at DickStock X on Nov 13 (DIXSTOCK for short).
This photo was shot in the evening today when David was playing to the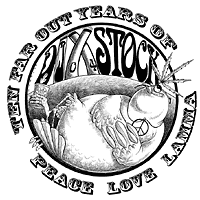 evening rush hour crowds in Central. People were gathering to listen to his amazing fiddling skills, dropping coins and even bills into his violin case!
Lammaites have long been fortunate to enjoy his music for free at concerts in the Island Bar, together with his band mates John, Frazer (back from exile just for DIXSTOCK!), Harry, & co. Email David and tell him how you found out his email address!
---
Tue, Nov 2: 1 Million Hits per Month!
The Lamma-zine (this daily Blog & the monthly magazine on Compunicate.com),
together with the interlinked discussion forums on Lamma.com.hk have reached a very important milestone: 1 million hits/month in October, for the first time ever!
This is mostly due to this daily Blog which has really rocketed our number of visitors in a very short time! Thank you very much for visiting this Blog. Welcome!
If you're numerically or even statistically inclined, here are some traffic details:
Summary by Month
October
2004
Daily Average
Monthly Totals
Hits
Pages
Visits
Sites
KBytes
Visits
Pages
Hits
Lamma-zine
16,714
1,020
247
4,992
7,179,169
7,684
31,639
518,149
Forums
16,513
2,808
361
5,491
5,175,626
11,211
87,068
511,918
TOTAL
33,227
3,828
608
10,483
12,354,795
18,895
118,707
1,030,067
Warning, house commercial!
If you'd like to promote your goods or services to a highly targeted & (mostly) affluent audience of people either living on Lamma or very interested in Lamma for many reasons, you should consider advertising or sponsorship in the daily Lamma-zine Blog and/or the monthly Lamma-zine!
Many options are available for your needs & budget: from HK$50 personal classifieds, $115 sponsorships, $450 ad banners, up to $2K title sponsorships, all per month.
Place your ad at the top of this home page! Check out our ratecard, email us anytime for more info. Thanks! Welcome to new advertiser ToughBlogWare, starting today!
---
Mon, Nov 1: Soft Opening of Village Bakery

Today at 1pm, the Village Bakery opened its doors to the first eager customers. Crowds gathered quickly and the Chinese-style bread products were sold out quickly. The huge variety of Western-style *real* breads, cakes & pastries is wider than in many hotel bakeries in town! A range of gourmet sandwiches will be offered later, after the *official* opening. See recent official announcement.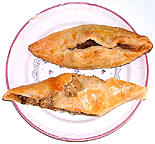 Warmest congratulations to owner Charlie, project manager Dave & his capable crew, jolly baker Tommy and the cheerful & friendly counter staff!
First food tasting review by Lamma-Gung: Very wide selection; clean,

appetising presentation; crusty, *real* bread; yummy, savoury fillings; great-looking cakes; many flavours of "Flavoured Spring Water"; friendly, bilingual service; expect to pay a little extra for quality!
---