Feb 28: Objection to Temporary Land Allocation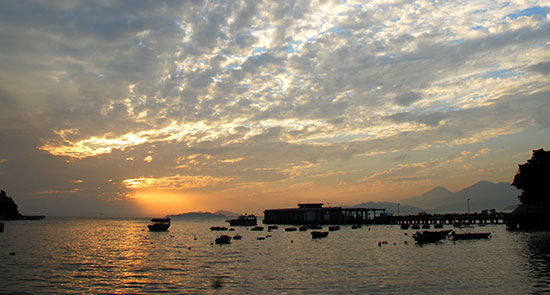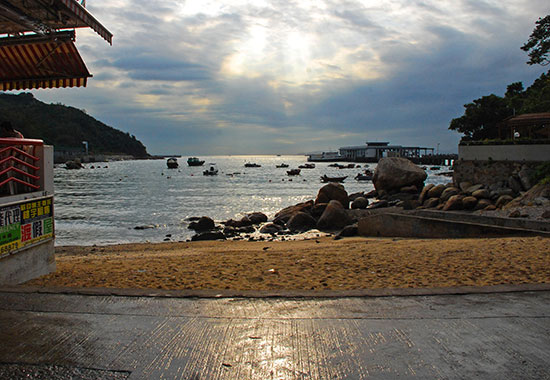 Do you want this view obstructed by construction on this sandy beach (just outside the Green Cottage Rest.) for the next three years, starting next month? The Sewage Dept. wants to use it as a construction site for the new drainage channel in construction right now, flowing into the harbour on the right of the above picture.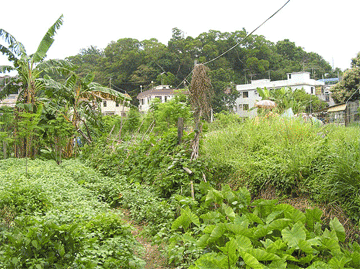 This has been a hot topic in our forums now since the Lands Dept. notice has been posted just before Lunar New Year. Today is the last day for objections by email and, much better, by mail. All details are in the long-running Yung Shue Long drain proposal forum. My objection to messing up one of my favourite sightseeing and photo-taking spots has been emailed and snail-mailed... What about yours? Some objections HAVE worked out in the past...
One more pair of photos, a before-and-after shot of the currently in-progress construction of the same drainage channel behind Green Cottage, Sampan and Lung Wah Restaurants. As nkarraker said in the forum: "Those before and after photos speak a thousand words."

Feb 27: The Year of the Great Golden Flying Pig of Fire
Daniel MomentEye has solved the controversy if this is the Chinese Zodiac's Year of the Golden Pig or the Fire Pig. In this week's HK Copy News he suggests to simply combine them, in the true "Peace, Love, Lamma!" style!
Click below for another little stroke of genius from Lamma's resident weekly news writer, designer, programmer, reader, distributor, cheerleader and Lamma Celebrity (as featured in the SCMP)...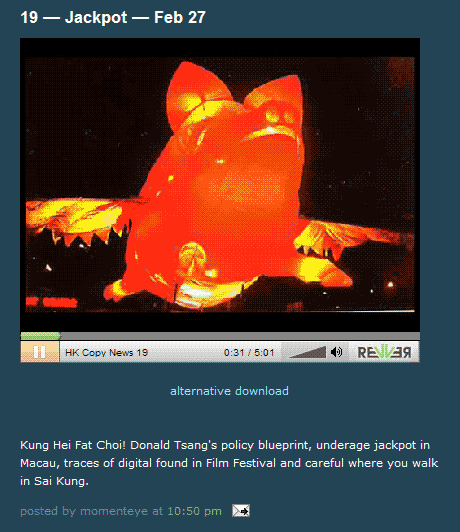 Feb 26: The Frivolous Antics of Rock Goddesses
Photo and quote by Dan Peterson:
"Here's a teaser in the form of a small sample of photos of the frivolity resulting from the antics Saturday night, Feb 24, at The Island Bar. A riotous time was had by a few celebrating birthdays who, together with an inspired band (a composite of many talents), provided great entertainment for the many."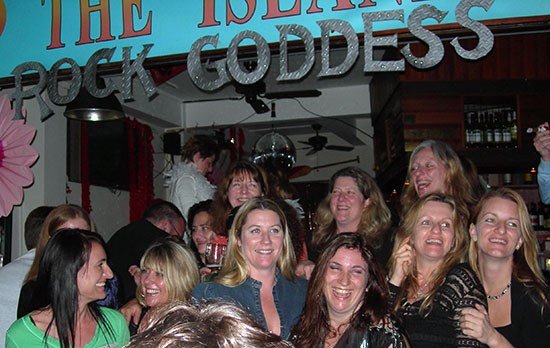 Photos by Insomniac: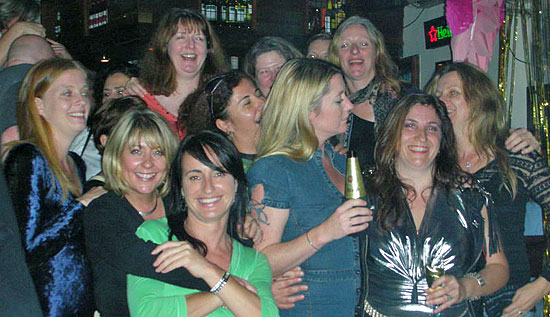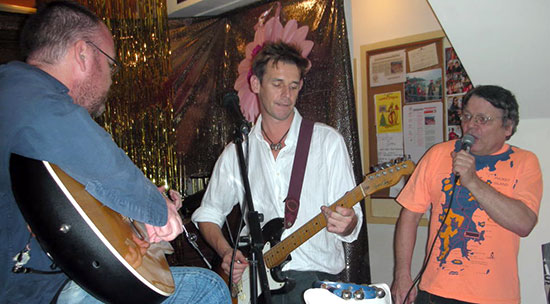 Sorry, the most frivolous pictures cannot be published in this family newspaper, eh, Placeblog. We don't want to see Lamma's Rock Goddesses blush...

Feb 25: Strolling the Family Trail
Strolling from Yung Shue Wan over to Sok Kwu Wan on another glorious, warm, clear winter day (Friday, Feb 23), I took a few (275) photos along the way. It took me about 4 hours with detours and photo/rest stops. The huge number of tourists overtaking me were all faster than me on this most popular walk on Lamma, the so-called Family Trail. Did I set a new record for slowest walk?
I spent quite some time sitting atop rocks at the edges of steep cliffs/hills, one of my all-time favourite things to do on Lamma. You can call me the Humpty Dumpty of Lamma, even though I've never fallen off (yet). Below are a few of the acceptable shots. Photo gallery in progress. Send me your Family Trail photos!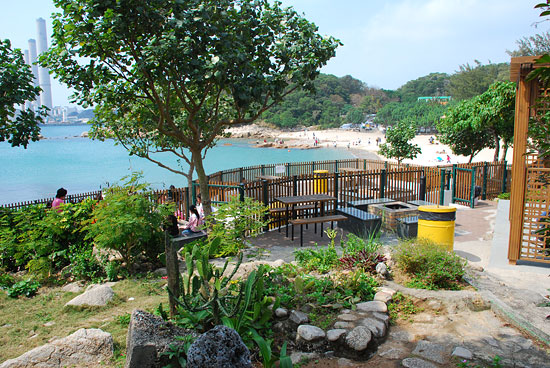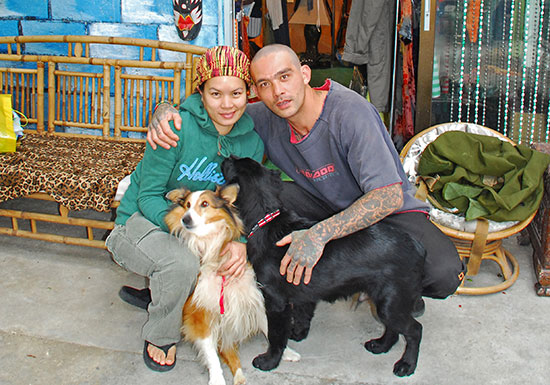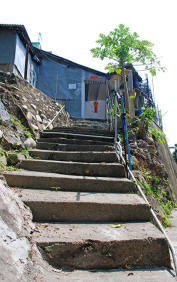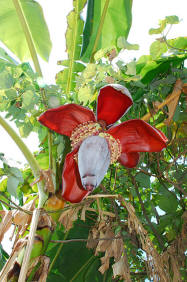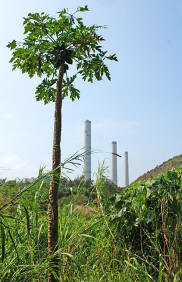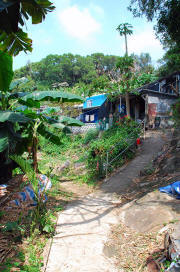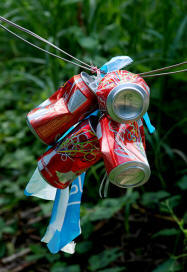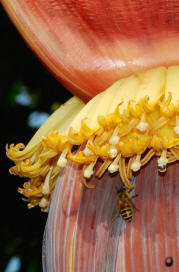 Feb 24: Kung Hei Fat Choy Sum!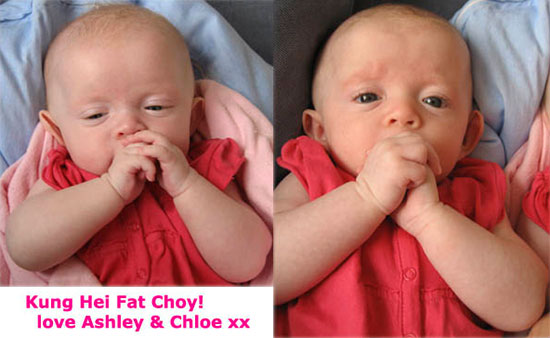 Local babies seem to learn the traditional two-handed Chinese New Year greeting at an early age. Just a few months old, these twins have just left Lamma on Feb 12 - together with the former local celebrity couple bbchrishaun after 15 years of living here - and have just become ex-Lammaites. So this greeting above could also mean "Farewell to all Lammaites!".
As today is also "Everybody's Birthday" in the Chinese calendar (7th day of Lunar New year), their greeting could also mean "Happy Birthday to all Lamma-zine Readers!"
The twins & bbchrishaun & the Lamma-zine are "Wishing you all heaps of prosperity & joy & excellent health for the Year of the Pig!!" We're sure these two cuties above will return to Fertility Island frequently for a visit! They sure look healthy, eating their (mashed) Choy Sum and other vegetables. As they're already honourary members of (now former) Lamma Band "Guitars & Nappies" they might even play a live gig here in just a few years or so.
In the meantime, I'm sure the Lamma-zine will receive many more e-cards from their Rock Mum bbChris - formerly self-proclaimed "Rock Goddess" - showing their progress in growing up in the 21st century, becoming "Twin Rock Goddesses" someday. See how they've grown just since Christmas two months ago: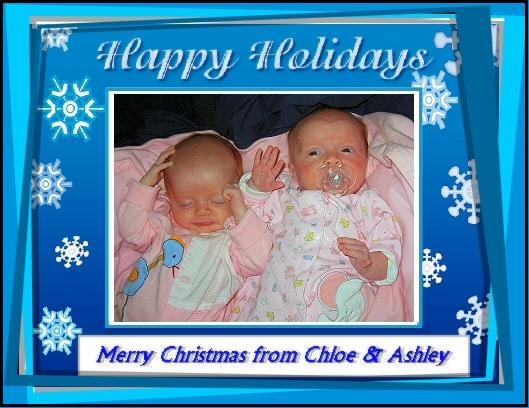 Lamma-Gung3 has become a step-granddaddy for the 3rd time (Gung3) on Feb 5, so you might forgive me the recent increase in number of baby pictures, I hope. I'll try to restrain myself, only occasionally publishing "really special" baby pictures.
Email me some (Lammaitian babies only, please)!

Feb 23: Seasonal Variations of Gluttony
Official Court Glutton (all photos by Official Court Glutton):

Hot Pot Review

In my opinion, gluttony has seasonal variations. Although I am not a fan of colder weather, there are two aspects to cooler weather that I like:

My beer stays cooler, so I can occasionally buy the 1-litre can of Asahi and drink it before it warms up.

Hot pot. In a variation from my previous reviews in restaurants, this review is about home-made Lamma hot pot made with village-sourced ingredients.

In my decade of being on Lamma, I've had only a few hot pots in the village and normally have been under-whelmed by the result.

Considering that it is not that difficult to do a good hot pot, I do not understand why the restaurant version of hot pot is so feeble in the village restaurants.

In reality, you only need three things:
a device to heat the pot/wok, broth, stuff to cook in broth.

In our case, an electric unit was deployed. I never used the electric version before. The disadvantage is the time lag between changing the setting and the result in the pot. Gas units have the advantage of instant control, but have the risk of fire and tantrum-inducing aspect of running out of gas.

In this review the broth was home-made by our mystery hostess. A whole frozen chicken was thawed and boiled in a pot with ginger, lemongrass and spices until cooked. No canned broth for this hot pot!

All the stuff (see picture) was easily sourced at the frozen meat shop conveniently closed for Chinese New Year. Fortunate pre-shopping was done to obtain the sliced beef, shrimp ball, octopus ball, squid ball, other balls filled with crab roe, plus some condiments. Mushrooms and veggies are sourced in the shops on Main Street.

Actual process of hot pot cooking/eating/ talking is a slow but delicious process. Huddling around a warm pot cooking the food and talking means that the conversation never stops.

Each person has their own little bowl to add spices according to their own taste. In my case, some twit (me) used too much Guilin Chilli sauce requiring two-handed guzzling of my 1-litre beer can to extinguish the flames in my mouth. Other more sensible people did not seem to have the same problem.

At several points, more hot water has to be added to the cooking bowl as the broth does boil away. By the end of the meal, the broth has the flavours of everything else cooked in it. I am not normally much of a soup person, but this hot pot broth is truly remarkable.

In summary, this was the best hot pot I have had in my whole time on Lamma! Having home-made broth made a world of difference, and easily beats the local restaurant version.

Many thanks to our mystery hostess for cooking the broth and providing a venue for our experiment. I highly encourage others to give it a try at home (even a vegetarian version is possible). It is not that difficult, the cost is modest, and the results are terrific .

The way things should be, but rarely are...

Feb 22: Do Moon Bears Rock?
Angela Leary - Moon Bear Rock organiser (all photos by Angela, except the 1st photo - showing Angela - and Black Seraphine below left, both shot by Cristobal de Lamma):

This Sunday's Moon Bear Rock at Delaney's Wan Chai was another great success, thanks in part to the generous support of Lamma's talented musicians and the island's even more talented drinkers.

Starting at 4pm on Sunday, the Chinese New Year event rocked on past midnight and raised a swag of money for Animals Asia Foundation's Moon Bear Rescue (not sure how much yet as we're still tallying up the takings.) About 300 punters packed into Delaney's first floor for the gig.

In the line-up were the fabulously talented Aussie singer/guitarist Greg Thomas who kicked off the show, and Scarlett Lewis with her sassy blend of folk, jazz, blues and rock – not to mention stunning looks and stunning voice.

Next on were the gorgeous and gifted guitar-strummin' gals from the Shotgun SheRas with their fun take on Country and Western.

Lamma's own Red Star Rising, led by the inimitable Steve Cray, really got the show going with their original blues rock numbers.

Poor Steve still can't work out why the SCMP, HK Mag and BC Mag chose to run a photo of the Shotgun SheRas, when they could have run one of him. Still, he managed to put this behind him and deliver some amazing guitar solos as frontman of Red Star Rising, while drummer Hugh Whitby's pounding beat kept the crowd jumping.

Next came the electrifying, gravity-defying Black Seraphine – Hong Kong's greatest covers band. Wild-haired John Prymmer's forays into the crowd almost scared off the punters, but fortunately the music was such fun that most stuck around regardless. Lamma also claims two of Black Seraphine's members as its own – Ivy Fernie and Dave Campbell – and guitarist Brendan Delfino is a refugee from Lamma's ferry schedule.

Animals Asia founder and CEO Jill Robinson brought tears to the eyes of many in the crowd with her moving presentation about the more than 7,000 Moon Bears still being tortured on bile farms throughout China.

Lamma's answer to Annie Leibovitz (for pets), Andre Eichman and Vicky Baker of Petographer, donated a photographic session, which was auctioned off for an amazing $3,200.

Another long-time Lammaite, Maureen (Mo) Gerrard, gave what appeared to be half the stock of her Central jewellery shop, Saturn Essentials, to the cause.

And Delaney's lovely manager, Claire, also hails from our fair isle. Delaney's Wan Chai is donating a large percentage of bar takings to Animals Asia as well as providing a delicious veggie buffet. San Miguel and Stella Artois generously offered to stock the bar with beer.

For more information about Animals Asia Foundation, go to www.animalsasia.org.

Jay Scott Kanes - Lamma Author (all photos by Jonathan Wong, SCMP):

Benefit Boosts
'Stunningly Beautiful' Bear Bottom and Buddies

Even pranksters can contribute to good causes. A donor to the Animals Asia Foundation's Moon Bear Rescue efforts, a man with "a dubious sense of humor", once insisted on naming one of the animals Bottom so he gleefully could show friends pictures of "his bear Bottom".

Less deviously, hundreds of people enjoyed live music by the likes of the Lamma Island rock band Red Star Rising, drank beer and consumed a vegetarian buffet to help tormented animals during the AAF's Moon Bear Rock fundraiser. The event took place on February 18 at Delaney's Irish pub in Wanchai on Hong Kong Island.

Red Star Rising spearheaded the entertainment, stepping up to the microphones and letting loose before a capacity crowd, including many Lamma Islanders. Moon Bear Rock is an annual function in support of the AAF's ongoing China bear-rescue efforts. At the latest event, five musical acts performed.

Australian singer/guitarist Greg Thomas began, followed by Scarlett Lewis with her original folk, jazz, blues and rock, and then the Shotgun SheRas, Hong Kong's all-girl country band. After Red Star Rising, the high-energy band Black Seraphine concluded with old rock favorites.

"People of all ages gather to help end the brutal practice of farming Moon Bears for their bile," said the AAF's founder, Jill Robinson. "Moon Bear Rock celebrates our achieve-ments, but also has a serious side. More than 7,000 bears still endure lives of agony, enclosed in tiny cages on bear farms in China. They desperately need our help."

Animals Asia has rescued 218 bears from such bile farms. These animals now prosper at a sanctuary in Chengdu, Sichuan Province. During a musical intermission, Robinson spoke fondly of the bears, many of them named by financial donors.

One of those is Bottom, a medium-sized female. "Although her name has caused some degree of embarrassment to us, she doesn't seem to mind at all and revels in the fact that she's a stunningly beautiful bear."

Feb 21: The Red House on the Cliffs

Marcanthony, Eileen, Blazenski, Foxy, Insomniac -
A great piece of "collaborative creative writing" - started by Marcanthony (see his avatar on the right) and continued by the other writers, all adding various pieces to this fable.
(edited together by Lamma-Gung3, see the original forum that started it all):
The Land of Pak Kok
Have you ever heard of the mysterious "Land of Pak Kok" on Lamma Island? It is believed to be located over the mountains to the north of the capital, Banyan Tree Bay. But most of us Lammaites have never been able to find it or even visit it.
The other day, scaling the vertiginous crags - called Heart Attack Hill for obvious reasons - north of the prosperous and powerful Po Wah Yuen Village through the hazy smog wafting in from the distant Mainland, my eyes descried the gleaming spires of this foreign land - Pak Kok!
A mysterious country, no doubt, where colourful maidens wander amidst their flocks, and simple goat-herders raise their children in splendid isolation. A land apart and at peace with itself. At least, so they say in the teeming, cosmopolitan streets of Banyan Tree Bay. But is it true? Can anyone shed any light on the people and politics of this strange land?
It's true that they lead an idyllic life, unburdened by the concerns of modern-day urban existence. The maidens are quite comely, although of a potentially aggressive disposition. I took a sketch of one I met emerging from her vegetable patch:
Further enquiry finds that the good people of Pak Kok are not, in fact, shepherds - they till the earth, growing an assortment of fruit and vegetables - potatoes, carrots, tomatoes, lychees and cabbage. Doubtless, this wholesome diet explains the abundance of voluptuous maidens typified by the pictures in this fable. The Land of Pak Kok is also well-known and widely famed for being the home of the elegant, slim and beautiful.
I met a nameless man - a traveller - who said he'd heard many tales in his time, but few stranger than those relating to this mysterious land. 'Tis said - he said - that these people are matriarchal. That the wimmin-folk rule the roost, thus explaining the frustrated, addled appearance of the men, who live their lives in bondage. Travellers in dead of night have reported the strange and pitiful wailing of these poor souls - ganged upon by their feverish and lustful wimmin, who enjoy the sport noisily. Men of Banyan Tree Bay, beware!! And if you wear trousers, don't go there after dark!

Some of these mysterious inhabitants live in very nice Red Houses on the edge of the sheer cliff in this green and pleasant Land of Pak Kok. These ruby-red houses are overlooking the open sea all the way to Hong Kong Island. They're rumoured to have big gardens - safe for even small children to play in - and even big pools, a luxury almost unheard of on Lamma Island. Some of these houses, little pieces of heaven, are even available for rent to outsiders, non-Pak-Kokians! Contact Eileen (see her avatar above right) to rent a Red House on the Cliffs.
But how to get there? It's not that hard - simply follow the coastal path. If you are coming from the capital Banyan Tree Bay, don't forget to bring your torch, mandatory big bottle of water, hiking gear, weather-proofs and passport. Or just get on the direct, one-stop ferry from Banyan Tree Bay. Even the extremely smart 3-year-olds from the Land of Pak Kok seem to be able to do it! Visit the Land of Pak Kok today!

Feb 20 - 3rd Day of Lunar New Year: Bangs & Fangs
Jay Scott Kanes - Lamma Author (all photos by Jay Scott Kanes):

BANGS AND FANGS:
Fireworks Fan Unfazed

A peculiar thing caught my attention at midnight recently as Lamma Islanders greeted the Lunar New Year with fireworks.

My wife and I had arrived at a prime viewing place – near the temple, the football pitch and the harbour. Zigzagging, we reached the crowd's front row and gazed upward expectantly. Unauthorized fireworks are illegal in Hong Kong (see poster on the right), yet Lamma launches each New Year with an impressive pyrotechnic display. Discrete police officers stay away.

We'd locked our family dog safely indoors. Most canines detest the tumultuous noises of the Chinese New Year. Fireworks make our dog cower and tremble, even when hugged or petted reassuringly.

Folks at the Lamma Animal Welfare Centre had posted notices: "Every year dogs and cats get frightened by fireworks, run off and are never seen again. Please make sure that this doesn't happen this year to your pets! Keep them securely indoors during the festivities."

As expected, the fireworks erupted in glorious brightness and near-deafening noise. Firecrackers exploded. Smoke wafted. Yet in front of the crowd, his head tilted to the sky, stood a furry, brown dog. Although recognizing the animal as one who wanders freely in the village, I knew neither his name, nor owner.

Several times, the dog turned slightly, craning to view the show. Even when a chain of firecrackers erupted near enough to blast red wrappings at him, the dog never flinched. Evidently, no one enjoyed the festivities more. Amid the noise, I (almost) heard him thinking: "Jolly good show!"

Dogs on distant rooftops and balconies howled in fearful protest. Yet this silent fireworks-fan held his position, hoping for more, long after the human spectactors had strolled away.

Again, I (maybe) deciphered the dog's thoughts: "Encore, encore!"

Feb 19 - 2nd Day of Lunar New Year: Freya - the Silent Heroine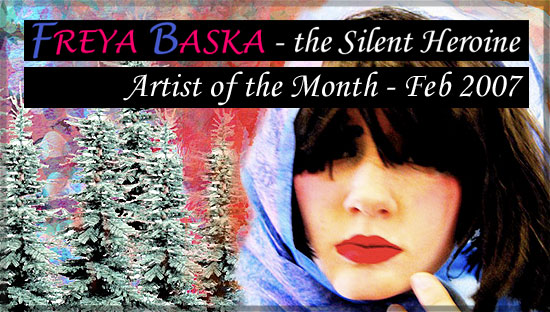 This month, we feature a different type of artist, a digital artist using photographs of herself and Photoshop to show different aspects of herself and her relationship to the world around her. I have to admit that I just love her photos. Part of an artistic family, she's lived in Pak Kok Village till a few days ago, just moving to Norway. Her HK exhibition was on for two days in a Soho gallery at the end of January (click here for photos from the exhibition):

Freya Baska - Lamma-zine Artist of the Month (email, website):
My creative journey
I am half Norwegian, half Polish and full Australian. I have lived in Hong Kong for three years, having just completed my final year at the Australian International School Hong Kong. I am currently pursuing my dream of being a (part time) artist in Norway, while learning Norwegian.
For eleven years I went to a Rudolf Steiner school, which I am sure contributed significantly to the way I perceive my creative world.
Artist Statement
With the medium of self-portraiture, I embarked on a journey of self-exploration through colour, costume, expression, posture and symbolism. The photographs are a reflection of my inner feelings, ambitions, desires, emotions and spiritual discoveries.
By observing my lifestyle, behaviors, interests and values, I created a total body of work reflecting a deeper understanding of aspects of my self, environment and cultural influences.
My inspiration came from a variety of different artists including Norwegian painter Edvard Munch and Chinese painter Wang Yi Dong, American photographer Cindy Sherman and Australian photographer Tracey Moffatt. I either directly appropriated aspects of their works, or incorporated their styles, use of colours or poses. They contributed to the cultural backgrounds of the works.
It is up to the audience to make the full observations on the person in the frame. Happy, serene, free, or determined, it is entirely up to the audience to create their own interpretations:

Feb 18 - 1st Day of Lunar New Year:
Greeting the New Year of the Fire Pig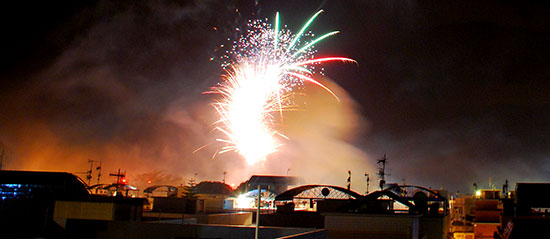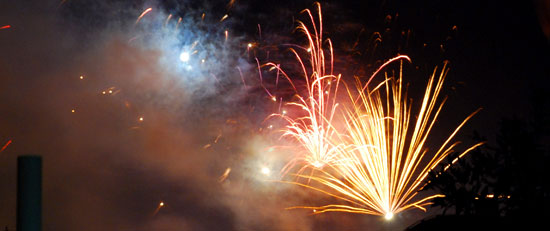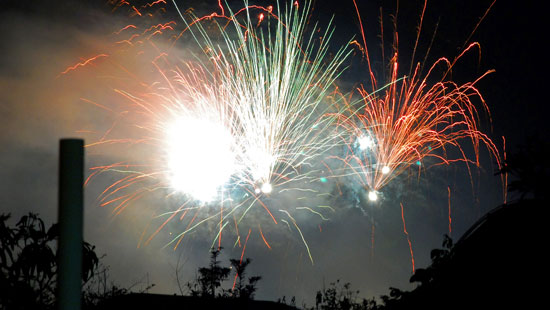 (All photos shot with Nikon D80 by Lamma-Gung3 from his rooftop in YSW,
2-8 seconds exposure time. Click to enlarge.)

Feb 17: Tree Doctors & Tree Nurses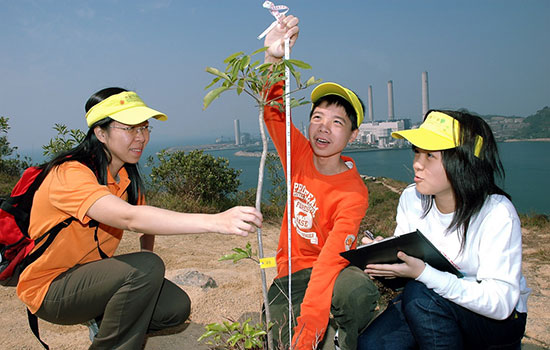 Quite a few Tree Huggers call Lamma home (myself included), but did you know that there are also Tree Doctors and even Tree Nurses? Neither did I. Till one of the informative and oh-so-educational press releases by our main sponsor HK Electric taught me all about these environmental volunteers.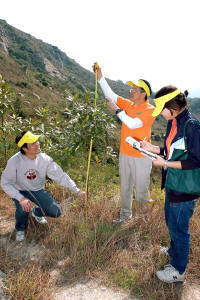 It's all part of their 3-year Green Lamma Green campaign together with the Conservancy Association. It's an important part of HK Electric's "green PR" and "aims to enhance Lamma's ecological and educational value; to promote eco-tourism and to achieve sustainable development on the island." It all sounds like very noble goals, indeed!
Since 2005, they've planted more than 2,000 seedlings up at the pavilion above Hung Shing Yeh beach, along the tourist trail to Sok Kwu Wan. They write:
"A team of more than 50 "Tree Doctors" from Hongkong Electric and The Conservancy Association (CA) called at Lamma Island recently to perform "check-ups" on seedlings planted there in the past two years under the "Green Lamma Green" project.
Led by Dr. Chu Wing-kin, General Manager (Group Commercial) of Hongkong Electric, and Dr. Alvin Kwok Ngai-kuen, one of CA's directors (see right), the tree doctors measured, watered and pruned the young trees. They also used tree assessment cards to help look for any disorders in the seedlings caused by pest, disease or fungal infection.
The tree doctors also carried out a close search for a foreign species called Mikania which preys on other plants making them weak and causing them to die. Dr. Kwok said, "We must eliminate these plant killers to protect our ecology."
For more info, here's the full press release.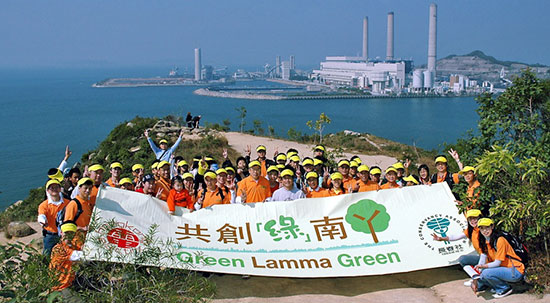 ---
HK Electric's Public Affairs Dept. has been keeping very busy recently, sending out quite a number of "green" press releases - hoping to make us forget about the 2.5% tariff increase on Jan 1? Here are the other recent releases:
10 Feb 2007 - Giving Up Bad Habits for a Greener Chinese New Year:
"With Chinese New Year just round the corner, Green Power and Hongkong Electric have joined forces to call on the public to give up some festive habits that threaten the environment. These include using self-adhesive red packets instead of reusable ones and new banknotes for Lai See; using more gift wrapping than is needed, discarding too many things during the traditional 'spring-cleaning' ritual and eating endangered species such as reef fish and shark fins..."
2 Feb 2007 - Short story competition on the importance of power supply:
"Hongkong Electric is launching a short story competition to highlight the importance of reliable power supply. It will be held under two categories, one for the general public and the other for students and will last for six weeks from 5 February to 15 March. The competition is part of a series of activities of the Smart Power Campaign 2006/07 which will run throughout the year to raise public awareness of both the benefits of power supply and the need to use it efficiently..."

Feb 16: Bruce the Bodyguard
Jay Scott Kanes - STBWFLA (Soon To Become World-Famous Lamma Author

(Story courtesy of Cairns Media Magazine, photos by Jay Scott Kanes.)

On Duty, on Alert, on Top
in the Guarding Game

When Lamma Islander Bruce McLaren performs his job well, high-profile events unfold more smoothly. Soft-spoken and favoring finesse over fisticuffs, he's one of Hong Kong's leading security directors and celebrity bodyguards.

A co-founder of Signal 8 Security, Bruce guards famous people who visit Hong Kong. Recently, former U.S. vice-president Al Gore became a client. Bruce also has protected Arnold Schwarzenegger, Sylvester Stallone, Elton John, The Rolling Stones, Cindy Crawford, Jennifer Lopez, Phil Collins, Sting and many others.

"Often the work's dull," Bruce said. "You meet famous people and see interesting things, but sitting outside someone's hotel room for hours can be very tedious. There's lots of reading magazines or pacing up and down to stay active. The hotels often help by providing sandwiches, coffee and water. Bodyguards receive a list of people allowed to knock, and we turn everyone else away. If we do the job right, it should be dull. Any trouble means that we underestimated the situation or didn't prepare properly.

"With celebrities, we also focus on crowd control and escorting them through fans. Scenes at the airport can resemble rugby scrums, especially with the boy-bands. Then I like to bring at least two guys for each person we're protecting.

"Although I've never been caught in a really dangerous situation with celebrities, the media pursuit is stressful. We've nearly been run off the road by fans and the press chasing us. Often drivers want to speed up to get away, but I tell them to slow down. It's more important that no one gets hurt.

"At events, you constantly scan the crowds. You take the best position, not too close to the client to avoid getting in the way. At a cocktail reception with Al Gore, I stayed against a wall, always within 20 feet and with Al in clear sight. If someone acted suspiciously, I'd move closer. You watch for anyone with hands hidden or acting strangely, maybe agitated and with eyes darting. If something's wrong, you usually get warning signs."

Bruce operates from a modest office in Hong Kong's Central Business District. When duties prevent him from catching a late-night Lamma ferry, he sleeps at the office under the gaze of celebrity clients peering down from autographed posters on the walls.

"Late hours and strange schedules affect your sleep patterns," Bruce said. "Usually, I can relax on Lamma, but I never switch off my phone." He most enjoys strolling on Power Station Beach with his girlfriend and their four pet dogs – Bart, Cookie, Hannah and Spike the Bulldog.

Originally from near Glasgow , Scotland, Bruce arrived in Hong Kong one week after a Chinese atrocity, the Tiananmen Square Massacre in Beijing on June 4, 1989.

"At first, I worked as a waiter, barman and cook," Bruce said. "I started in security to earn extra money. After watching security at concerts, I told the promoters that I could organize the jobs better and cheaper.

"A few days before the Planet Hollywood restaurant opened in Hong Kong, I was asked to handle the bodyguards for that, which became a huge logistical nightmare. Ten days later, I'd lost 12 pounds from sleeping just two hours a night, but things went smoothly. Money from that first big job allowed us to set up the company."

In 1994, Bruce and his Australian business partner Kim-Maree Penn, a former karate-world-champ and martial-arts-actress, launched Signal 8 Security. Last year, Kim-Maree opened a branch office in Los Angeles.

Bruce employs a core group of 10 full-time bodyguards, some Chinese, others Western, usually working in shifts of 10-14 hours. Altogether, he has about 40 regular staffers. For big concerts or sports events needing yet more security people, Signal 8 collaborates with other companies.

The basic cost for a Signal 8 bodyguard starts at US$50 per hour. Protection may be high-profile, as when shielding singers from screaming fans, or low-profile to facilitate business meetings. Bruce pledges efficiency and confidentiality.

"We travel around Asia with celebrities and into China with business people," Bruce said. "Most attacks come from behind so you walk behind and slightly to a client's left, which keeps your right hand free."

Hong Kong laws forbid bodyguards from carrying firearms, stun-guns or pepper spray. "We rely on our bare hands and maybe umbrellas or walking sticks," Bruce said.

Threats need constant assessment. "Professional assassins strike from a distance to avoid getting caught," Bruce said. "They use bombs or high-powered rifles. Against them, you keep your client away from areas of visibility. You use underground carparks, put up canvas screens and constantly change schedules or routes. An assassin needs to know who, where and when. We try to keep those secret.

"Most attackers with knives or handguns have grudges or mental problems. They're after the person we protect, which means the weapons don't point at us, and we can deal with them. In crowds, we watch the first three rows, where an attacker needs to be for a clear shot.

"Priority one is to remove clients from danger. In a two-man team, the bodyguard nearest an attack deals with it while the other gets the VIP away. As a lone bodyguard, you do just enough to drop an attacker before extricating the client."

Signal 8 protects individuals, events and venues like nightclubs, offices or homes, often 24/7. The corporate client list includes the Hard Rock Café, Elite Models, Microsoft, DKNY, Universal Music and Warner Brothers.

"For business people, the most dangerous places are their homes and offices because they need to go there," Bruce said. "We may recommend alarms, motion detectors, CCTVs, razor wire, metal detectors and secure car-parking spots."

Signal 8 supplies security for various bars and nightclubs. "If I use reasonable and proportionate force in doing my job, then I have no serious problems with the police," Bruce said.

No matter how enraged others become, Bruce and his staff must stay calm. "We need humor and a tolerance for verbal abuse," Bruce said. "But being spat on or poked is physical assault and justifies restraint. If someone pokes menacingly, I'd grab the extended finger, bend it back and bring the person to his knees. Then we'd talk.

"Ideally, Signal 8 avoids the nightclubs prone to triad troubles," Bruce said. "But some difficulties are unavoidable. Then we may be outnumbered 20-to-one, so we try to recognize the top guys. Sometimes we may tell club management, 'Music off, lights off, everyone out.' If the triads fight each other and we have no control, our priority becomes making sure that all the customers and staff stay safe."

Bruce has training in marksmanship, unarmed combat, defence and restraint, protective driving, secure escort, searches for explosives, anti-sniper measures, electronic counter-surveillance and first-aid.

Some precautions are hi-tech. "When sweeping offices for bugs, we start at the top, probably in false ceilings, and work down, sectioning the space so that nothing's missed," Bruce said. "We cover entire rooms and every object in them. It takes a long time."

Bruce began his working life as a marine engineer and a firefighter. To share some of what he's learned in the security business, he teaches "real-world" self-defence classes.

"People assume that the main thing is an ability to fight," Bruce said. "But if you do everything else right, you avoid fighting situations."

Feb 15: Lamma Pétanque Tournament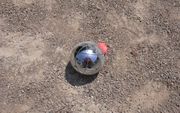 Our more and more numerous French-speaking Lammaites got a Pétanque league together, opening it up to the public next Saturday!
What the heck is Pétanque? It's the sound the ball makes makes when hitting another one in this game: Peh-tonq! On a flat open space, you throw or roll your metal ball as close to the target point as possible, hitting existing balls away from the target. The ball closest to the target at the end of a round wins. Simple, but a sport passionately played by all ages, especially, but not exclusively, in French-speaking countries, and now on Lamma as well!
Check out the rules on Wikipedia and then stop by for the tournament, maybe even participate on Sat, Feb 17, 11am! The location is Tai Peng, near the shop. There'll be signs, of course. Watching is free, players contribute $50 to costs.
For more information, call Eric at 2982 0185, mobile 6104 5977.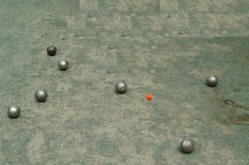 Romain writes (translated from French by Lamma-Gung3, no guarantees for any translation errors):
The matches will be played in 3 rings: Ring 1 and 2 inside the Grand Field, Ring 3 in the Triangular Field.
11am: Forming the teams (A,B,C,D Pool 1 and C,D,E,F Pool 2), distribution of materials and explanation of the rules.
11:30am: Start (3 rounds per group).
11:30am F / G E / H A / B
12:15pm B / C A / D E / F
12:45om E / G F / H C / D
13:30pm A / C B / D G / H
2:15 - 3pm: semi-final in the Grand Field (Ring 1 and 2)
3 - 3:45pm: grand final in the Grand Field and little final in the Triangular Field.
4pm: Prize ceremony and lots of applause!
Marianne - one half of Lamma's PPP (Pétanque Power Pair):
A Short History of Pétanque on Lamma
The Lamma Pétanque Club needs YOU to promote this new activity on Lamma. This game is already well-known to the people living around Tai Peng, as the usual players gather every weekend and sometimes even during the week.
The idea came last year from Romain who asked a friend going to France on holiday to bring him back a few Pétanque balls to play around Wang Long Village. Then more and more people passed by and tried to play. As we moved to Yung Shue Long New Village, we went to look for another playground nearby. We found a great place in Tai Peng. We first cleaned the playground and took out all the weeds and even the centipedes. After taking out all the rubbish (several tons!), we could put in the "little stones".
Many people were passing by and were asking us what kind of game we were playing. More and more people joined in from many nationalities: British, Australian, Canadian and, of course, French. Then Romain and Eric decided to create the Lamma Pétanque Club. They bought more than 100 balls and cleaned another much bigger playground. It took a few weeks to prepare and now it's all ready.
As Romain and Eric are very much into Pétanque, they decided to organise a tournament this Saturday, Feb 17, in order to show to other Lammaites this French game that is more than 100 years old. We will organise this tournament in teams and play from 11am - 4pm. The winner team will win the Lamma Pétanque Club trophy.
We ask $50 per person to participate. The money will serve to buy more equipment and organise another tournament later. The goal is also to create a strong Lamma team to play against the HK Island team later; even against other Asian cities! In many of them, this kind of club already exists.

Feb 14: 'Musical Mayhem, Mirth & Murder'
Nick the ReviewMan - Official Court Music Reviewer:

(All photos courtesy of Dan Peterson, poster by Harry Harrison.

Harry described his own band:

"The Yung Shue Wan Curs are the YSWankers, featuring the usual suspects, including Frazer who's back in town for a few days. Hot Ginger and Dynamite are Dave, John and Ollie who have a nice twenties swing set that they do.")

There's quite a crowd gathered at The Island Bar for tonight's menu of musical mayhem, mirth and murder(ous) re-workings of cult favourites, obscurities and ranting pop/folk. Yes, it's the newly re-spelt Yung Shue Wan Curs entertaining their demented revivalist fan base with a stirring pre-St. Valentines Day concert. I've arrived in time to hear the final 3 songs from the opening set by Bahouki, with John on guitar and mouth organ, Davy on fiddle and Ollie on accordion. Other assorted Curs are getting lubricated to the woozy blues waltz of "Shanghai Lil" - a sort of weird cross between Tom Waits, Robbie Lakatos (the virtuoso gypsy violinist and Indiana Jones 2. As the song winds down like a dying gramophone, a shout of "absolutely brilliant" is heard from in front of me.

A brief hiatus and Ollie is playing Pachelbel's "Cannon" on the recorder while Davy cuts loose with some searing Swarbrickian fiddle breaks. Whack on a skittery drum-and-bass beat and you've got a great dance single. Final track of the set takes us to bluegrass hell with the old Charlie Daniels track "The Devil Came Down To Georgia". John growls the lyrics in a cod-midwest accent, while Davy seems to channel both Charlie Daniels and the prog touches of Jerry Goodman of Flock. Fraser is spotted making an ironic? wankers gesture as the tune unfolds.

So who's in the crowd as the band start to prepare for the second set. Big up to Dawn and Andrew, Vivian and Marcus, Sarah. Theo and Don by the door, John Transnoodle, Frank in the corner with his cigar, Simone and Holger in front of him. All mentioned for free, gratis and absolutely nothing. Should I mention Kelly? She says she hasn't got "a pithy comment tonight."

A big thanx to Dan and Kumar behind the bar for keeping the creative (lime) juices flowing. Gavin is doing a splendid job of keeping the sound coherent and chaotic. He thinks it would sound better if the band could be by the entrance, playing back into the bar. Mystery reviewer "Official Court Glutton" has plonked himself next to me as the music resumes. The original 3 are joined by Gavin on bass, ("he got rid of his box and broomstick after Dickstock and decided to buy a bass" sez John TN). Fraser and the original Reverend Hank "Harrison" Williams are on guitars. Davy has moved front and centre. Everyone is wearing straw Stetsons.

John kicks off with a drawly yee-hah version of "Folsom Prison Blues" which flows into a mournful cover of "These Boots Are Made For Walking". Jules is unaccountably missing on co-leadvox. Johnny Cash gets a second workout with a feisty stride through "A Boy Named Sue". The good Reverend now exhorts the sweaty masses to heed "the blessed Saviour calling you" - the first of his fiery/brimstone sermons of the night. Raj makes the first call for "Plastic Jesus" which is ignored or unheard. There's the old favourite "Lonesome Pine" which is a kissin' cousin to "Shanghai Lil" in execution.

Some new surprises in store tonight as the Curs channel the buzzing spirit of The Horseflies" in an unexpected rendition of "Fixing-To-Die-Rag" by The Fish. I''ve just mixed this into a recent CD and it's nice to have a shared musical memory with you John. A warped version of "The One That I want" is mingled with whoops and heehahs. Could be the Greasy Rawhide splice. Enough to get Rae and John TN bopping while Dave and Richard Cook look on. There's "Gin-n-Juice" by Snoop Doggy Dogg re-worked as a "lost" track by The Waterboys from their Big Music period. Dan James joins in for a splenetic "Sympathy For The Devil". The lyrics start making sense after about 3 minutes of buildup. Davy is back in the 70's again, re-kindling memories for me of High Tide and String Driven Thing. This song could by their "Dazed And Confused (live-Zeppelin versions) if they want it to.

Don comes over gobsmacked as Fraser leads the Curs through the most explicit song of the set. It's "Piss Up A Rope" (or maybe that's the chorus) by Ween. "I can't believe they did that", he gasps. "Ween will play anything, go from death metal to this song". Rae, Ruth, Sally, Olivia, Louise, Teresa, Natalie are now dancing as Harry sing's "I Saw The Light" and John ups the ante with a fucked-up vocal intro to "Still Haven't Found" before sending the tune into inspired folk/ punk terrains. Finally, a few mangled riffs that sound like "Smoke On The Water"/"Sweet Jane" mutate into a soaring version of "Plastic Jesus". Raj's prayers have been answered.

There's time for one encore as the midnight ferry passengers wobble through the crowd outside. Harry sings a song about playing a song and it's all over. Although you didn't play "Surfin' Bird", I still think you guys are a Lamma Living National Treasure. Long may the musical mania remain undiluted by the merciless ravages of pampered packaged Top Ten Pap.

Feb 13: Yung Shue Wan Flower Market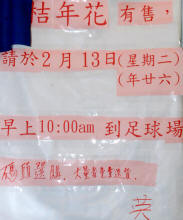 A Chinese-only note above Ah-Ying's fruits and flowers stall (outside the electrical shop) alerted me to the yearly Chin. New Year flower market this morning, 10am on the new boat pier in the reclamation (opposite the Football Pitch).
This low-key event - visited almost exclusively by locals - is the best, biggest and cheapest local opportunity to buy the all-important blooming flowers and plants to decorate your home or business for the Chinese New Year holidays next weekend (Feb 18-20). But you've got to arrive there early, as it has the feel of a "Grand Final Sale" and all the nicest plants are sold out within minutes! Got to run, it's 9am already right now!
I'll bring back some photo souvenirs, of course: auspicious kumquat trees, peonies, narcissus, chrysanthemums, pussy willow branches, plum/peach/quince blossoms: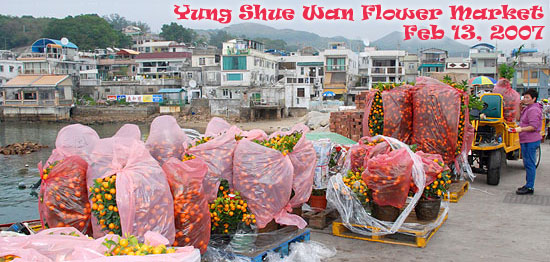 Click above for my complete CNY Flower Market photo gallery!

Feb 12: 'Video Blogger Gets a Big Head'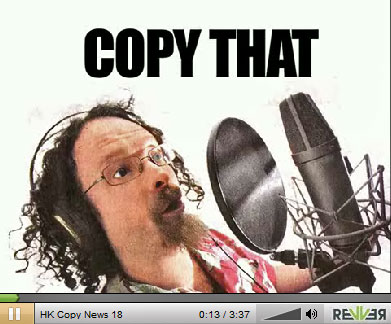 Defribillators for security guards, SCMP conspiracy, the HKIEd soap opera, the KCRC's new swamp hotel, and, last but best, a HK Copy News item about the formerly secretive creator and evil mastermind behind it all. He titled this segment as "Video Blogger Gets a Big Hit", corrected to "Big Head" by himself later.
Lammaite Daniel Clarke is hitting the big time now with his weekly video blog "Hong Kong Copy News". As I've reported last week (Feb 7 - "Shooting from the lip"), he's been prominently featured in the SCM Post. He writes:
"Hooray! Fame and fortune at last!
"After last week's SCMP there are a whole lot of new viewers. But you guys are still the hard core.
"I'm also going to be on a show called "What's Up After 8?", which you can get on Cable TV 's Channel 27 and HKBN Channel 47 or www.tictv.com.
"But most importantly there's a brand new episode up. Get it here or here or subscribe via iTunes."
Let's hope that Daniel "Fame & Fortune" Clarke will remember me and his other poor old friends after moving into the Lammarina luxury development for multi-gazillionaires soon, frequently taking his super-duper yacht out to cruise to even more interviews and appearances on local and international TV channels...

Feb 11: Chin. Forum's Chin. New Year Update
Samson - Official Court Moderator of All Chinese Forums
(Photos by Siuyu, Mo and nicole_kam)

Feb 10: Wired Rabbit Massacre!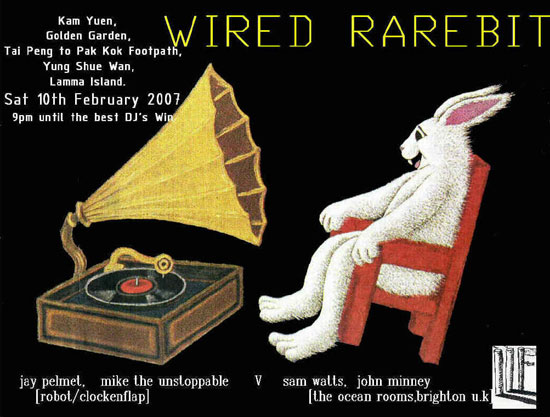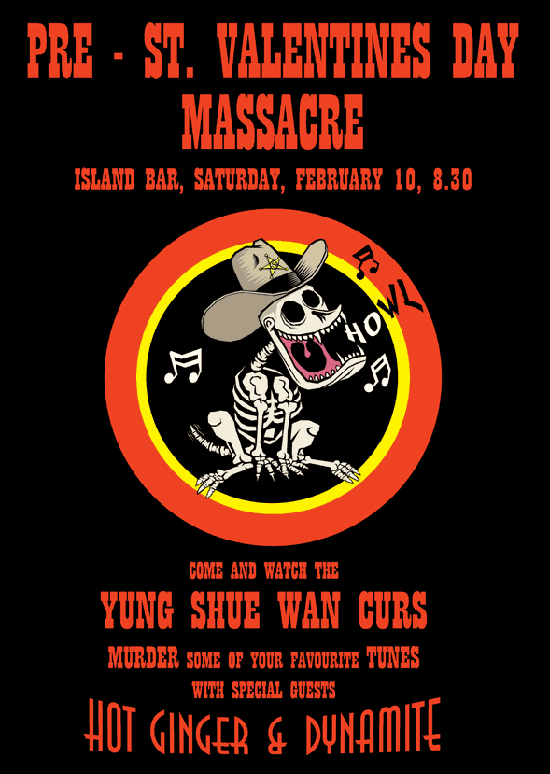 Feb 9: 'I only stayed for a few weeks...'
Fred Baines from frosty Nova Scotia (self-portrait photos by Fred Baines)
I only stayed for a few weeks but wish I could stay forever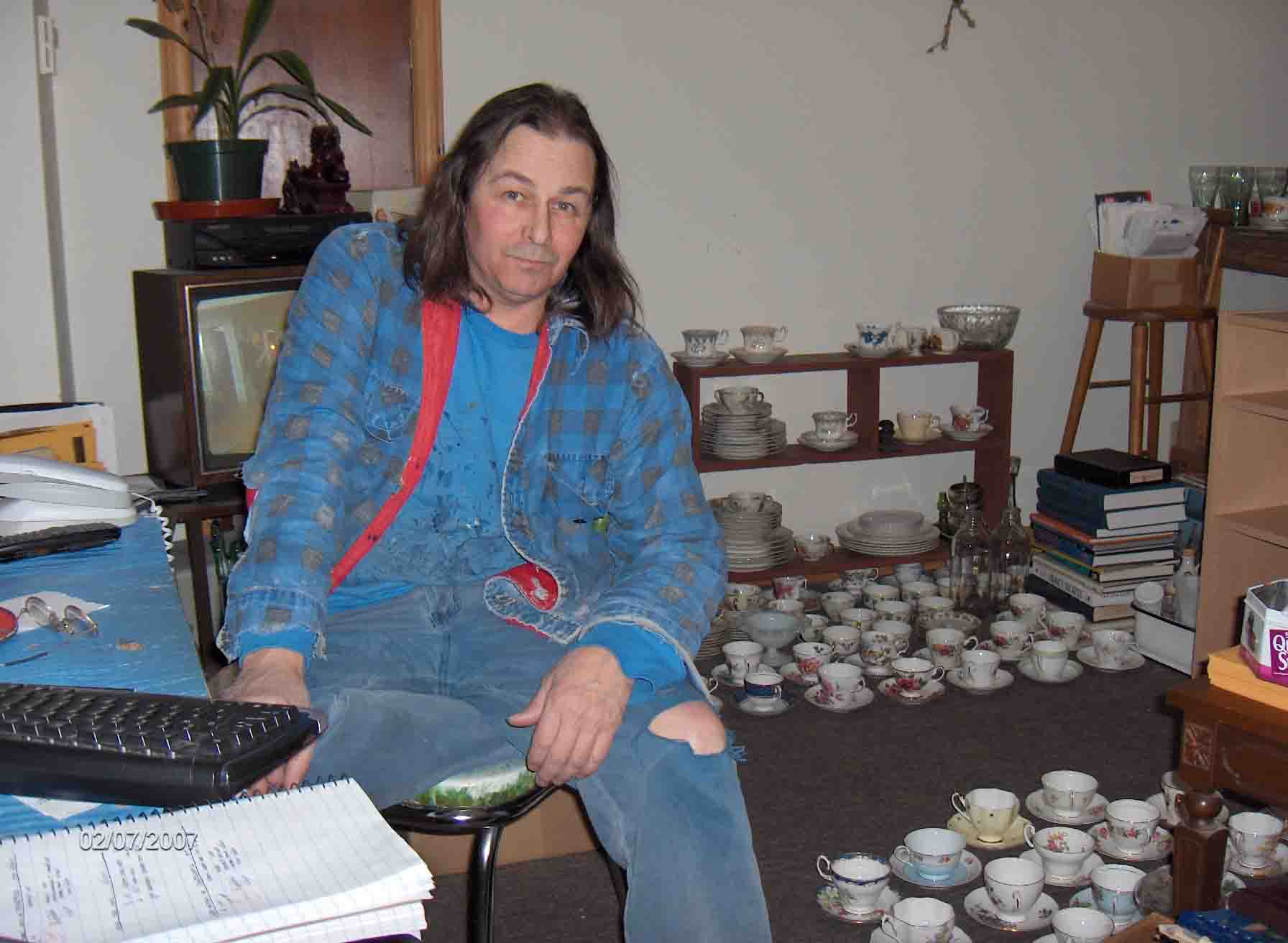 You know, tonight here in Nova Scotia it is -30 Celsius with the wind chill is factored in. Tonight it is snowing, not a lot, maybe 5 to 10 centimeters.
Would I rather be there tonight, you bet... I first went to HK for business reasons. The company I work for sells parking meters. A few years ago the Hong Kong Parking Authority bought 30,000 of our meters.
Needless to say some needed repairs so I was sent there to fix some meters. I could tell as soon as I made the trip into town I was going to like this town...
That time I stayed over in Tsimshatsui in Kowloon.
The second time I was there I stayed on Lamma Island.
Back then I used to use ICQ to chat with folks and one day a girl from HK asked to chat. I thought, wow, a girl from HK wants to chat. Ok, I can do that. Later on she says why not drop by for a visit. Okee-dou-kee, I can do that too. That is how I came to stay on Lamma Island for a few weeks...
I just thought the place was so neat, no cars, great people, great food, fun times every day.
Here the population is small, maybe 12,000 people. Everyone knows everyone and knows what is happening in the neighborhood. I get the same feeling with Lamma Island. Your e-zine certainly keeps everyone up to date, even me who spent all of three weeks there. If there were some way I could get a job on the island I would be there so fast it would not be funny...
Do they have estate auctions in HK? That is how I make some cash here, buying and re-selling things I pick up at estate sales. I wish I could provide pictures of my travels there, but my pics are buried in a closet. My scanner is there also.
I have so much stuff in my place that I have bought for resale I can hardly move around my flat. I have a path that goes from my front door to my kitchen, to my bedroom, to the bathroom and to my computer. The rest of the space is full of stuff I have or will have for sale.
These days the girl I knew there is long gone. I have not talked to her in a couple of years. Alas, a new girl is in the picture, again living in HK. Maybe a return trip will not be too far off.

Feb 8: Finally, Back Online!!!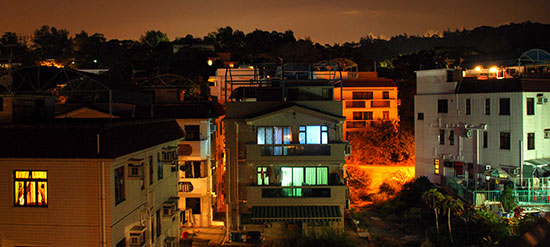 After being offline for almost two weeks - thanks to PCCW's amazingly stupid incompetence (see separate story) - I can finally continue this blog. I'll try to back-fill stories up to Feb 1st, but Jan 26 - 31 will remain empty as a testament to PCCW's monumentally incapable customer non-support.
The two photos above show the view from the rooftop of my new 2/F flat. After 5 years on Lamma, we've just officially graduated from Lamma Newbies to Junior Lammaites (20 years to become a Senior Lammaite). Now we've finally become entitled to a reasonably-priced rooftop flat (just kidding!) You can jump that 5-year queue if you're willing to pay the increasingly exorbitant rents charged for rooftop flats these days (just kidding again, or am I?)
Our flat move, 200 metres down the road, took an almost record-breaking 6 days (more on this later, or earlier, as it will be in the back-filled stories below). Months of unpacking await us; I still can't find my favourite trousers...

Feb 7: 'Shooting from the lip'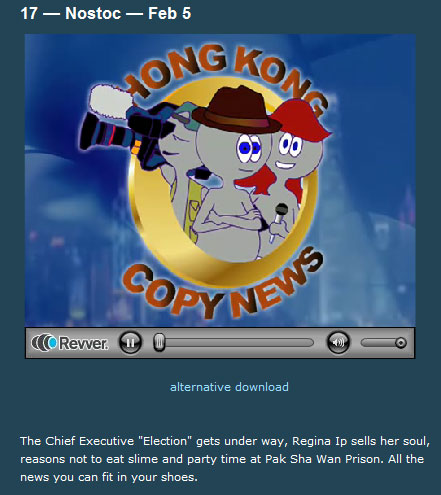 Click above for the latest edition!
David Momphard from the SCMP contacted me 2 days ago for my comments on Daniel MomentEye's weekly HK Copy News. But before I could reply - in the middle of unpacking - the deadline had passed, unfortunately.
Pretty nice and in-depth story about Daniel in the SCMP on Feb 8! Now we can finally reveal how Daniel looks like, from this really fine photo by the SCMP's Dickson Lee below, subtitled "Daniel Clarke says Hong Kong needs more satire such as HK Copy News as part of a a mature political landscape." As most of the SCMP website is not publicly accessible, I'm re-publishing the story here, assuming friendly permission from HK's leading daily English newspaper, as I've almost contributed to this story:
David Momphard - Features reporter. Story and photo © SCMP, Feb 8 2007.
(Photo by Dickson Lee)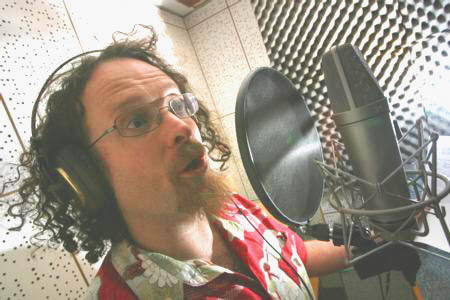 Shooting from the lip
Politicians, pregnant mainlanders and even the Post -
they're all fair game for Daniel Clarke's spoof news website.
The tenor is evident when the newsreader intones, "Legislative Council calls for more legislation; accountants call for more accountancy" - and political appointments are "popular with political appointees". Spoof news site HK Copy News says it is "just like the real news, but cheaper".
Founded by video-production manager Daniel Clarke, the website takes pot shots at politicians and pokes fun at the government's policy gaffes.
And Clarke, 35, reckons we could do with a lot more political satire. "There might be a political comedy troupe out there, but not that I've heard of," he says.
The Briton has been involved in a number of creative endeavours in the 13 years he has lived in Hong Kong, from an improv-comedy troupe and life-drawing classes to Hong Kong's first - and surely only - unicycle hockey league.
But until Copy News, he didn't have much interest in local politics, partly because he, like almost all Hongkongers, doesn't get to vote for the chief executive.
"For years, I basically flipped over the Hong Kong news section of the paper," he says. "It's very hard to stay with it, but it is fascinating when you get into it."
An article written by former security chief Regina Ip Lau Suk-yee for the opinion pages of the South China Morning Post spurred Clarke to create Copy News.
"She said something like, 'For Hong Kong to develop a proper democracy it's going to need political parties and it's going to need to develop a bunch of stuff'," he says. "I thought, well, the other thing it needs to develop are proper satirists. There's got to be more people who tell the likes of Regina Ip that she's an idiot.
"She's involved in demagoguery of a sort. And, you know, free speech and all that. Of course, to have free speech is to stand up and speak freely. And that's partly how [HK Copy News] came about."
Launched last September, the weekly news review is now in its 17th instalment. Clarke writes the script for each episode during the week and puts it together at the weekend. He does the animation at home and records the voice of the cartoon newscaster at his office. His wife, Kate Allert, a freelance voice-over artist, coaches him on the delivery.
The current edition touches on the announcement by Donald Tsang Yam-kuen that he'll be running for re-election as chief executive - a mere formality for a process with a foregone conclusion.
"It is a testament to Mr Tsang's fairness and commitment to the democratic process that he managed to restrain himself from immediately announcing victory," the newscaster declares.
Clarke insists his beef with local politicians isn't personal. "In terms of themes, I guess I come out for free speech, democracy ... and honesty," he says.
Bureaucracy often takes a beating. For instance, a November episode sideswipes the government's lumbering efforts at implementing its vision for a cultural hub. "The West Kowloon Cultural District Consultative Committee on the Core Arts and Cultural Facilities is probably the last group of people you'd want to let near any kind of creative project," the animation newscaster says. "Their greatest achievement on which they can all agree is their name", which Clarke abbreviates as WKCDCCCACF.
In a December episode, he unveils a board game, Consultation, in which one player representing the government can do whatever he or she pleases with a lump of "Basic Law modelling clay" and a stack of "easily dismantled national heritage building blocks". One player takes the role of the government and everyone else plays the public. The public can comment on what becomes of the blocks and modelling clay, and the government can throw pieces of the clay in their faces. Play ends when all the national heritage building blocks end up in a landfill.
Food scares, pregnant mainlanders, Christmas and the Post have all been in Clarke's sights.
But if he can dish out criticism, he seems also to be able to take it. He receives a modest income from the service that hosts his site and, in a recent post, he told readers he had reinvested his earnings by buying two books on comedy writing.
"Does that mean it will start getting funny?" one wag asked.
"Even the heckling will reach minimum standards eventually," Clarke shot back.
Ryanne Yeung Lai-hiu is a weekly viewer who subscribes to the RSS feed of Copy News.
"It's a gem, very entertaining," she says. "I especially appreciate its light-hearted humour and the funny look and voice of the news reporter. It also shows that expats really care about what's happening in the local community, so much that they'd spend time to put together a show every week."
Clarke isn't sure how many hits the site gets each week, but says he receives a small fee for every viewer who watches a whole episode - currently just over 100 people a week.
"Sometimes I look at that and think it's a pretty small number when Bus Uncle can get 30 gazillion hits in a day," he says. "But if you think of [the site] as being like a comedy club, 100 people every week is a pretty good turnout.
"[News satire] is more and more of a phenomenon in the US and in Britain, where shows like The Daily Show is where people want to get their news from," he says. "It's well-informed and presented with a bit more character in a way that people actually want to listen to."
Although comedy is what drives Clarke he says that he enjoys having a soapbox.
"It feels good to have a platform where I can say something. I don't know how much I really want to stand up and say, 'Yeah, I want to get people informed', but I'd be happy if that happened."
HK Copy News can be found at http://hkcopynews.blogspot.com

Feb 6: 'They Keep Me Afloat!'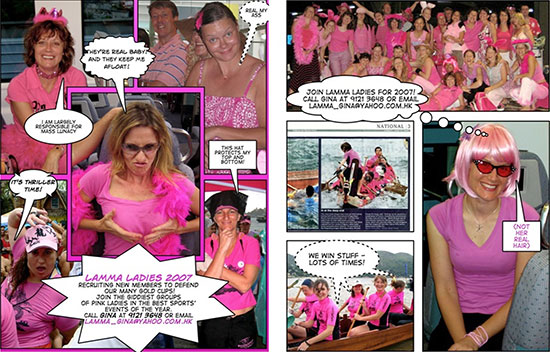 Click to above to read the latest instalment of Gina's Photo Comix (proudly created on a Mac). More to follow all through the season, I hope! Gina writes:
"We need new paddlers!
As with most dragon boat clubs in Hong Kong, the Lamma Ladies lose paddlers each and every year to horrible things like pregnancy, relocation, and - very occasionally - the demands of what some people call "real life". (Though some of us are unfamiliar with this term, others insist that it does, in fact, exist; along with "good salary" and "men who clean bathrooms"). "
Join the multi-award-winning team by emailing Gina or phone her at 9121 3648 - after checking out their rambunctious blog - and soon you'll be pinkified!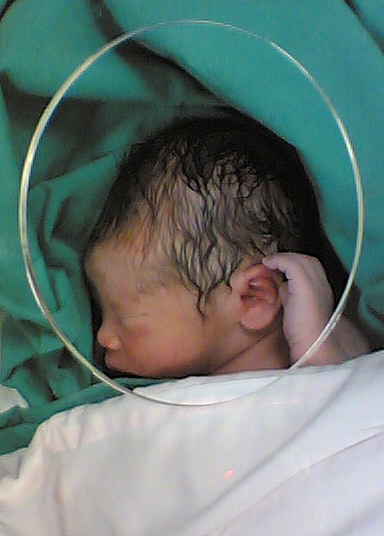 Feb 5: Lamma-Gung-Gung-Gung
This morning at 8:07am, I became a third-time step-grand-father. You could call me Lamma-Gung-Gung-Gung or Lamma-Gung3 now.
We had to get up at 5pm, taking the first ferry to town to the hospital, our first time ever to take the very first ferry at 6:20am...
A bouncing baby boy of 2.85kg was born to Lamma-Por's eldest daughter by Cesarean Section. They're both fine, thanks for asking!
I've got 3 step-grandsons now, no -daughter, coming from a 4-boys-no-girls family myself.
The photo on the right was taken with my camera phone just a few minutes after birth, when all four of us were taking pictures of the new arrival after he emerged from the operation room.
And how did the new mother see her son for the very first time? On the screen of our camera phones shown to her in her room while she was slowly coming to from her general anesthesia... Welcome to the virtual age, grandson!