The Lamma-zine has some of the nicest readers of any (place)blog! A group of wonderful regular readers sent me this fruit basket today, together with a signed "Get Well Soon" card. It's for my recovery from weight loss surgery two months ago, a little bit late, but better late than never!
This beautiful fruit basket was delivered to our "City Hall" (opposite HSBC) today. I had to pick it up from there as the off-island shop couldn't find my home address. My hands and back still ache a little bit from carrying this huge, 26-pound fruit basket home for ten minutes! I didn't expect it to big that huge and heavy, not bringing a trolley with me, being a bit stupid and overly confident. One of the healthy-gift-giving friends commented afterwards that "It is great to know that you are fit and strong enough to lift a 26-pound basket! I can't do it!"
A great many thanks to my wonderful friends who prefer to stay anonymous! Generous AND anonymous, a rare but great combination! This surprising and unexpected cornucopia of fruits will last us longer than this entire long holiday weekend. There might be even some left for my upcoming 100-pounds-lost rooftop party, an intermediate goal I hope to reach in just a few more weeks.
With so many great photographers living on Lamma Island, we should stand a good chance of winning some of the prizes offered, up to $1,000. Check out the details in the competition brochure: part 1, part 2, entry form.
(Click to enlarge photos; all photos by L-G)
Pétanque Competition @ Tai Peng International Boulodrome
1st official competition of HK Petanque Club Championship 2008:
Sun, Apr 27, 10am sharp, HK Int'l Boulodrome, 71 Tai Peng Old Village (near the shop): See website.
Tin Hau Temple Guided Tour
Sun, Apr 27, 11am: Click for poster & website.
Meeting Place: Tin Hau Temple next to the football pitch.
Medium of Language: English Duration: about half an hour.
No. of Persons: 15 maximum (first-come-first-serve).
Mad Dog Motorcycle Poker Run
Sun, Apr 27, 11am, Granville Sq., Tsim Sha Tsui, Kowloon, HK: $120 rider's fee. Click for website and poster. (Lammaite president and several Lamma members.)
Human Constructions @ The Cyan Gallery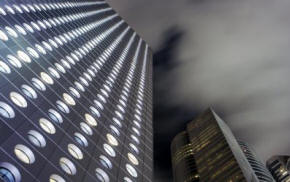 Elizabeth Briel: "Stop by and Visit the last show at The Cyan Studio's Lamma location! The exhibition will take place in the studio and on the stairwells and rooftop of a village house near the sea.
"We'll feature Hong Kong's urban architecture reflected in diverse ways, through the work of three Lamma Island-based photographers: Elizabeth Briel, Barnaby Bruce, and Darren Hayward, from 2-6pm on this Sunday, April 27th.
From slick Central highrises and the ruins of Kowloon's Wedding Card Street to voyeuristic balcony scenes printed on silk, the show will feature a new take on the 'everyday scenes' familiar to many Hong Kong residents. See them before they go the way of Queen's Pier!
"Map and directions available at the studio's website: www.thecyanstudio.com [Attached Photo by Darren Hayward].
"The Cyan Studio, 6252 6839, 2/F 21C Back Street. Yung Shue Wan, Lamma.
Cantonese Opera @ YSW Football Pitch
Fri, Apr 25 - Tue, Apr 29, YSW Football Pitch: Hing Fung Ming Group, afternoon shows on weekend & Monday (Lamma Day).
Click for poster, programme page 1, 2, 3.
Tin Hau Festival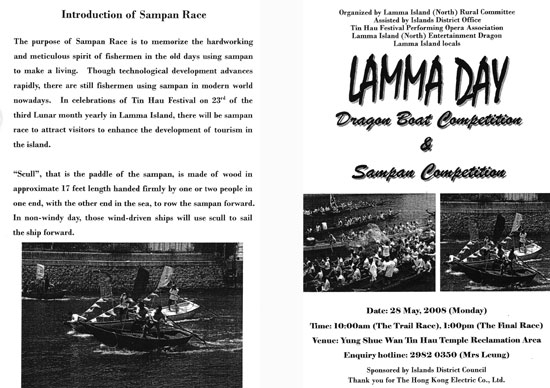 Click for programme in English: page 1, page 2;
Chinese: page 1, page 2.
Latest updates, "Sent from Dr David Green via BlackBerry from 3":
Saturday, Apr 26, 4:30pm - early, Power Station Beach, Lamma Island:
Start 4.30pm with Transnoodle.
Next up, after 6pm, The Bastards (1) featuring Nigel Pike (original founding Bastards and drummer) all the way from Bangkok. Also Alf Hodges from Bangkok Bastards. Also Dan, Dave + Mark.
Next up The Bastards (2) featuring Dan, Dave (bass) Mark, Brendan and Dave Campbell (guitar) (Classic 90s line up).
Yung Shue Wankers up next. John, Harry, Gareth et al. Have kindly agreed to give us a break mid-evening.
Next up The Bastards (3) featuring Dan, Dave (bass) Mark, Tony Greenwood (drums) Jim Shorthose (guitar) Campbell (Classic 90s line up).
Grand Finale: Megabastards: All The Bastards at once.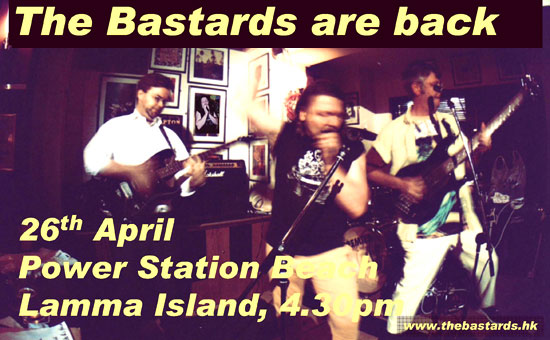 Overnight:
Parksy has kindly agreed to provide power and will be doing the lights and should be able to provide music in the intermissions and through the night, if the weather holds.
Please ask everyone to pray for good weather and to sign the guestbook. Please express our thanks to all who have put in so much time and effort to help us.
The stage is built on Lamma Island. All we gotta do then is pray for no rain and hitch up to the Lamma Power Station... Oh yes, and remember how to play the songs.
Jim, Tony and Mark arrived in HK safely. We are looking forward to seeing Nigel and Alf tonight at The Wanch (The Bastards, Fri, Apr 25, 9pm).
Keep on Rockin' in the Free World!
---
P.S. We'll put up more directions with B/W poster from the Democracy Wall.
Please also remind people to bring their own snacks and drinks purchased in YSW shops. Just found out that the gigs will be filmed for posterity.
All merchandise (old CD, just released CD & downloadable songs) available from the www.thebastards.hk online shop.
Stop Press!
Dan the Bastard (who's just turning 60! Happy birthday, Dan!) may have acquired some new trademark colourful tight trousers for the show!
Sincere congratulations to Lamma's #1 bird photographer, anonymous guy! He's just succeeded - for the first time in 3 years of trying - in being awarded Image of the Week in the very active, huge, worldwide forum of Naturescapes.net, a leading nature photography website and forum. Well deserved, anonymous guy!
I'm proud to feature his amazing photos frequently in the WILDLIFE OF THE DAY spot on our home page. He's also the main contributor of our most successful forum, Lamma's top 10 birds, started in 2004 by self-proclaimed Bird Nerd Zep in our Flora & Fauna forum (1,258 posts, over 31,500 views, an all-time record for the Lamma forums!)
Anonymous_guy - Bird-o-grapher Extraordinaire, from the Images of the Week forum on Naturescapes.net (registration required):
Blue Rock Thrush (Male)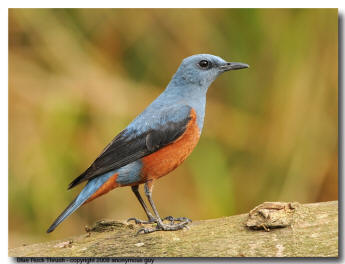 Congratulations! This is the Birds Forum image of the week for the week ending 04/11/2008.
Saw this chap and his mate a week or so ago....., but no camera.
Went back several times with all the gear and no birds.
A local birder told me they'd moved.
I went to the location, and sure enough, there he was perched on top of the public toilets by the beach.
Put some maggots down for him & before I could get back to my camera..., he was upon them. But I didn't think it was right for me to photographing with a 500m lens by the toilets and changing rooms.
Over the next 4 hours I gradually lured him round the back of he toilets (not as bad as it sounds).
Only problem was, it was a path travelled by cyclists and small village vehicles, and every time I'd set up a perch somebody would come along to clear it out of the way......., even with a big fat gweilo (foreigner) lying flat on the ground with a 500mm & tripod pointing straight at it. Duh! Mind you, I was blocking the whole path.
Got some shots, but by this time the sun was too high.
Returned early the next day & set up.
Apologies for the perch, but it was the only one I could find nearby that a passer-by wasn't going to casually pick up and toss. It weighed a ton.
Sure enough he came down & I rattled off my shots.
Neil (a co-photographer) arrived an hour and a half after me, I moved out of the way.
He set up his D3, 500 f/4 & tripod. The Thrush came down. Stood and posed. Neil got all his shots in about 15 minutes. We went to breakfast.
Moral of the story. Let your mate do all the hard work.
His turn next time, and he can get the bad rep by hanging outside the toilets with a bloody great lens for about 6 hours.
Now for the female. Maybe I need to hang around the public toilets a bit more.
Nikon D3
2008/04/06 07:51:29.8
Lens: 500mm F/4 D
Focal Length: 500mm
Exposure Mode: Aperture Priority
Metering Mode: Spot

1/200 sec - F/7.1
Exposure Comp.: -0.7 EV
Sensitivity: ISO 400
White Balance: Color Temp. (5260 K)
AF Mode: AF-S
Flash Sync Mode: Not Attached
This title is a quote from Lamma-Por, my HK-Chinese wife, at breakfast time a few days ago. Her choice of words and the manner she addressed me, like sternly advising her private butler to hurry up preparing her daily breakfast, made me burst out laughing and immediately inspired me to write this little story.
Many Lammaites, like myself, work from home. The income might be OK, but it's often unsteady and irregular. Often, our spouses/partners work as well, often in regular, salaried jobs in town, joining the flock of ferry commuters 5 or 6 days a week. Often, we home office (SOHO) workers might be expected to do housework and cook for our spouses as we spend more time at home. As most of us seem to be male, we're becoming de facto house husbands and the traditional family roles are being reversed.
This presents no real problem for modern males who are "sure of their masculinity" and do not feel denigrated or diminished in their self-esteem in any way by doing most of the housework. But the power balance can shift occasionally and the Western ideal of a life partnership, with both sides having equal rights and duties in a great, long-term relationship, becomes a bit harder to maintain. Expectations can rise and roles become entrenched in firm, hard-to-change patterns.
Lamma-Por works 5 days a week, basically 9:30-5:30. I work 7 days a week, mostly on this website, a similar number of hours per day (except when having to go to town), but usually without a lunch break and additional work in the evenings. I'm also getting up before 7am and prepare a different breakfast for us every day. I enjoy this quality time a lot and it keeps me in control of my strict, high-protein, 1,000-calories weight loss diet.
Making breakfast for her is very much appreciated by Lamma-por, but it has become expected and I get hurry-up reminders if I don't perform on time, like the quote in the title. The traditional wife/husband roles get reversed and become almost as entrenched as the traditional cliché. Well, after 20+ years of living together so happily, we know and love each other and our relationship keeps evolving and has withstood several economical tidal waves.
Home office worker & house husband Lamma-Gung signing off for now, watering all the plants, cleaning up from breakfast, washing the dishes, collecting and taking out the garbage and going shopping for more breakfasts and dinners at home...
This morning, an email with the above headline arrived in my email box. The Blogged.com website (motto "find better blogs") has selected this (place)blog as #3 in Hong Kong - Travel category. They wrote:
"Dear Lamma-zine blog author,
Our editors recently reviewed your blog and have given it an 8.6 score out of (10) in the Travel category of Blogged.com. This is quite an achievement!
We evaluated your blog based on the following criteria: Frequency of Updates, Relevance of Content, Site Design, and Writing Style. After carefully reviewing each of these criteria, your site was given its 8.6 score."
A very nice little honour, adding to the #1 Blog in HK we received a while back.
Rate the Lamma-zine or even write a review, click above right!
To find great blogs by Lammaites or Lamma-related ones: Lamma Links page. Add your own blog!
With all these heated discussions about Global Warming, have you ever wondered what your personal carbon footprint is? You can find out now, thanks to a link provided by Lammaite Dr Andy Cornish, Conservation Director of WWF HK. They added a Carbon Calculator to the WWF Website recently, it even accounts for Lamma ferries. Have a try, just for fun, click below!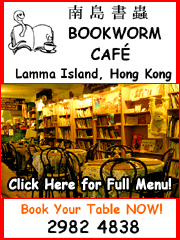 After many years of using their tested, proven and popular menu, our advertiser Bookworm Cafe has updated their menu with new dishes and a colourful contemporary design. Have a look at their new online menu and choose from their extensive menu in the comfort of your own home. Try some new dishes instead of their perennial favourites, the Veggie Burger, daily soup, daily Hearty Dal and the yummy, moist cakes! There are now four different versions of my personal favourite, their amazing carrot juice.
They've also added a fine new counter at the left side of the building, from stone slabs and driftwood from Power Station Beach. It's called Bookworm Corner Stone and it's open to everybody and a great spot for people watching along Main Street.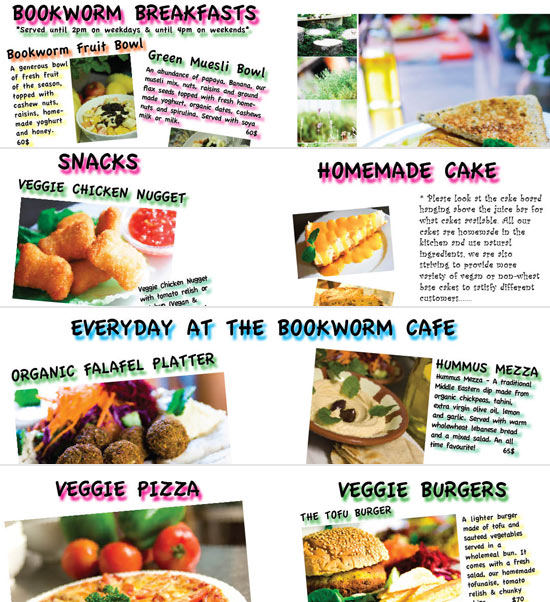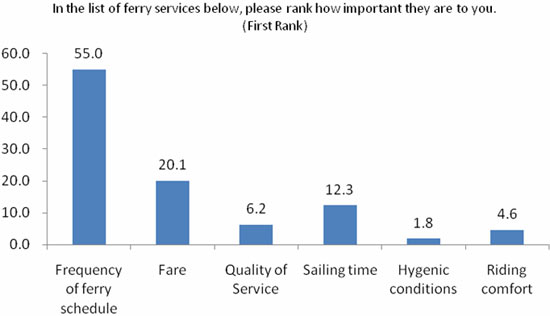 The online survey about the re-tendering of the YSW-Central ferry route are available now from the LammaKiosk website. Check out the detailed results and informative bar charts in English and Chinese at:
www.lammakiosk.com/survey.php.
I've put together a summary of the 23-question survey:
Surveys were collected from 475 respondents, among them 94% are YSW residents or work in YSW.

On weekdays (Mon-Fri), half of the respondents take 10 ferry rides between YSW and Central.

60% go to work or school between 6-9am (peak hour).
57% come home in the evening between 6-9pm (peak hour).
57% use monthly pass.

Frequency of ferry sailings: 35% think there are enough now, 31% not enough.

Level of comfort offered: 33% feel unsatisfied, only 21% feel satisfied.

Standard of hygiene: 41% feel unsatisfied, almost double of those who feel satisfied (21%).

Half of the respondents think the current ferry fare is good value.

63% of respondents feel there is not enough financial transparency provided by HKKF and almost 60% respondents think the management of HKKF have not done enough to make it a profitable business.

Frequency of ferries (55%) is ranked as the most important service. Ferry fare and journey time are similarly ranked.
Most of the respondents (86%) disagree that reduced number of sailings is an acceptable proposal.
In the case of a reduced number of ferry sailings, more than 70% and their family would be affected.

More than half agree to add a daily 5.30am sailing.
70% agree to add a daily 1.30am sailing. They agree that these should be compensated by a small fare rise, but without reducing the number of sailings.

Providing only a single vessel type: 52% disagree, only 33% agree.
If a single vessel type were used, more than 60% think 21-30min would be an acceptable journey time.

33% cannot accept more than $1 price rise.
63% cannot accept more than $2 price rise.
78% cannot accept more than $3 price rise.

81% think the government should subsidise the ferry operator.
71% choose "sub-letting premises at piers" as the preferred govt. subsidy.

Should the government apply the "price adjustment mechanism" in the ferry fare? 46% yes, 23% no.

District councilors, Transportation dept and ferry operator get similar share (20%+) of first approach to express opinions about the ferry services.
Almost all (96%) think YSW residents should have greater participation in the decision making process for setting ferry fares and schedules.

16% have a monthly income below $10K, 41% $10-25K, 20% $25K-40K and 14% over $40K. The higher the monthly income, the higher ferry fare rise would be acceptable.

In the case of a ferry schedule cut, 89% of tourists' decision would be affected to visit YSW.
In the case of a ferry fare rise, 74% of tourists' decision would be affected to visit YSW.
TVB Pearl Report will be covering the Outlying Islands Ferries issue today, Sunday, 6:55pm. LegCo will discuss this issue again on April 25 and a re-tender decision will be announced in May. Add your comments to the ongoing Ferry Re-tender update forum.
Paul Lau - The Butterfly Man of Lo So Shing - Tue, Apr 8, 2008

(text & pictures by Paul Lau)

I'd like to report to you my misfortune today.

Copper water pipes to my house and my neighbour's were stolen! Probably in the early hours of this morning. Water was running out from the mains when we found it. Though it was not bursting as dramatic as the following repair work in progress:

Reported to the police, the policemen provided two ways of handling:

Formal investigation: Everything will remain untouched and we'll have to wait for CIDs completing all the work before repair works can begin;

Informal investigation: Repair works can start right away and the case will not be established formally. The Villagers wanted the water back first. Probably, this has helped HK to reduced the crime rate!?

Water Department was surprisingly quick to respond and did a good job to restore the water supply, though it took a long half-day's hard work, with a team of five.

At the crime scene, outside of the former Lo So Shing School, villagers later found the fence of the school was broken in two places. I reported this to the police in the evening. It is not known if anything in the school was stolen, too.

The former Lo So Shing School, closed just a few years ago, is a waste nowadays and not in any use anymore. It's getting lots of wild vegetation, is decaying and is probably getting visits from thieves occasionally. They got lots of brand-new facilities and a good renovation just before closing.

Since the illegal (?) Chinese boats are operating in So Kwu Wan, it is natural to suspect that the copper pipes were sold to a Chinese boat. They were buying tin cans, broken washing machines and other stuff today, without Marine Police's attention, even though I had reported the suspicious Chinese boat to the Police.

Environmentally it is a very good practice to recycle, the Chinese boats are doing something good in this sense. But it might indirectly be promoting the theft of copper pipes and other "recyclable" materials!

Take care of your valuable metals!
Another little "Lamma Drama" erupted recently among the many tree-huggers (including myself) of Lamma. Some people were worried about a beautiful, old cotton tree inside the future Lamma-1 luxury property development, locally nicknamed "Lammarina", on Ngau Ka Wan beach, directly below the (in)famous DickStock Residence.
Some concerned citizens worried about the tree being poisoned after seeing syringes with yellow liquid attached to the tree (see right) which had a trench dug up around it. Another lively discussion erupted in a new Tree poisoners at work... forum and emails were sent to the relevant govt. dept. (District Lands Office/Outlying Islands) and the developers, King Wong Development.
Fortunately, the worries were unfounded. The developer actually tried to save the tree from being killed by a nest of white ants invading the tree! Here are the official replies from the architect and the General Manager of the developer, replying to my enquiries very swiftly. Kudos and thanks to the developer are due for trying hard to save this beautiful landmark cotton tree!
Now I really hope they'll grant the Lamma-zine an interview soon, answering some of the numerous questions Lammaites have about Lamma-1, like "When will it be finished, after more than 10 years of on/off-construction?"
Artist's Impression of the future Lammarina (from developer's website)
Thomas Cheung - Architect of Lammarina:
(all photos by Marc Anthony, from the self-appointed "Banyan Bay Senate")
...please be advised that the tree in concern was found infected with "white ant" as advised by our landscape consultant last week. The action you found on site in recent days are that the workers are giving "medicine" to the tree to save it and not "poisoning" it.
This tree is actually the most valuable one in the site & the developer is very concerned about it. Therefore, all houses are located as to avoid unnecessary damage to it.
Thank you for your kind concern.
Paul Lam - General Manager, King Wong Development Ltd.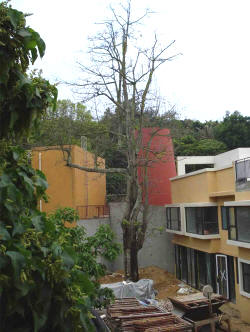 Dear Lamma-Gung,
Thank you very much for your mail of April 15 relating the concern of some Lamma residents that a cotton tree at Lamma-1 might be being endangered.
I would like to let you know that the concern is totally unnecessary. The cotton tree is being helped to restore its healthy condition, instead of being poisoned. Earlier this year we noticed that the tree's condition was deteriorating, possibly due to white ants that had nested at the root of the tree. Actions were therefore taken to prevent further disturbances from white ants and to feed nutrients to the tree to help it grow better.
I am happy to share with you the good news that new leaves are budding from the tree and I am of the opinion that it is getting better.
We very much appreciate your concern and would like to assure you that we at King Wong love trees as much as you or anyone else on Lamma. We will do our best to protect the trees on this beautiful island.
P.S. Just received on Apr 21, the Report on Status of Infested Cotton Tree at Lamma-1 (pdf format, 466KB) from the arboriculturist who was hired by the Lamma-1 developer to save the tree, including before/after photos.
Public Affairs Dept. - A soft reminder message from our main sponsor as the weather is getting warmer and more people will go swimming on Power Station Beach:
(photos by many different contributors)
Trespassing on Lamma Power Station prohibited
Tai Wan To Beach goers have been reminded not to swim close to Lamma Power Station and that trespassing on the power plant is strictly prohibited.
HK Electric's General Manager (Generation), Mr. Francis Cheng cautioned against the potential risk that swimmers are facing for getting unduly close to the industrial environment near the power station.
The reminder came at the beginning of the swimming season as HK Electric noticed from its CCTV system last year that some young people were trying to come ashore on Lamma Power Station near Tai Wan To Beach.
"Trespassing will not be allowed for security and safety reasons. We have put up additional signs around the outer boundary of the power station to draw the attention of swimmers and we will keep a close watch with our surveillance cameras placed around our premises," Mr. Cheng said.
After posting this reminder above, I've been updating the Photo of the Day Archives. It was surprising how many great shots of the Power Station have been submitted by our readers over the years. It seems to inspire photographers for some of their best works. Here's a selection of shots, all have been featured as Photos of the Day on this site before. Click on the banner above to access the photo archive and see the photos' titles, plus the photographers' credits:
Jay Scott Kanes - Official Court Correspondent of Lamma-zine:

(text & pictures by Jay Scott Kanes)

Surely, Alain Robert, "the real Spiderman", would plunge into misery if he lived on Lamma. Alain derives his happiness from tall buildings, and Lamma has none.

Remarkably, he goes where no one else dares - up the outside of the world's skyscrapers. This one-of-a-kind urban climber uses no ropes, hooks or safety gear.

"It's dangerous," he says, "but ordinary life's dangerous too. In everything we do, there's potential risk.

"Once, I was afraid of heights. But I decided that instead of living with my fears, I'd reach for a goal to become more courageous. Instead of failing to live, I moved forward by climbing - not using ropes and without safety devices, which is unusual."

This week, Alain visited Hong Kong to launch an autobiography, With Bare Hands (2008, Blacksmith Books, 306 pages). [Editor: Blacksmith Books is a new Lamma-zine advertiser]

"It's an incredible thing he does," said former Lamma Islander Pete Spurrier, the boss of Blacksmith Books. "It makes for an incredible and scary story, but it's inspiring, even funny, too. Alain couldn't take such risks without a sense of humor."

A day after meeting readers at a Bookazine store, Alain scaled another lofty building, the Four Seasons Hotel, as a stunt to lift awareness of global warming. "Hong Kong has plenty of tall buildings, for sure," he said. On previous visits, he climbed others.

Forty-five-year-old Alain, who weighs just 52 kg, simply ignores vertigo. He's climbed about 80 skyscrapers in dozens of cities. Clearly, he's never fallen.

"Sometimes people compare me to Bruce Lee or to a little Arnold Schwarzenegger," Alain said, stressing the need for strength and determination. He trains by practicing and "eating properly. I have a climbing wall at home and do a little jogging too."

But is he insane? "No," Alain smiled, responding calmly. "A crazy person is one who doesn't follow his dreams."

Using only powder on his hands for a better grip, Alain has conquered the Petronas Towers (Kuala Lumpur), Taipei 101, the Sears Tower (Chicago), Canary Wharf (London) and many more. "Usually I climb from the bottom to the top," he said. "Sometimes I climb down too."

The Sears Tower delivered a scare when the weather turned misty and wet. Holding on became extra-difficult, Alain's confidence ebbed and he expected to fall. He dislikes strong winds too.

"Sometimes I meet problems on an ascent, but I must find a way," he said. "If there's no solution right away, then I'm dead.

"Before every ascent, there's a fear factor. But once I start to climb, I'm focused and have no time to think of fear."

Yet a few times, Alain has started to climb, but changed his mind and returned to the ground. "If I decide it's the wrong kind of day and climb down, then I'll return and do it later."

Not every building can be climbed. In advance, Alain studies them with binoculars, looking for grooves, ridges and recesses. "I just need something to grab. But since buildings are man-made, they're not as regular or perfect as they look. Some have impossible sections. They're too smooth, and there's no point trying to climb them. In Hong Kong, the Bank of China's like that. I could try using suction cups, but that's not my technique. My way is with just my bare hands."

Clutching at sharp edges and rough corners scrapes his hands. Muscles in his forearms take a huge strain. Does anyone else dare to attempt such climbs? "I've never heard of anyone, so I don't think so," Alain said.

He's gained fame and raised money for charities, but also often been arrested on trespassing or reckless endangerment charges. "But people selling junk food endanger the public too," he said.

Alain's gone to jail in several countries, sometimes after beatings from the arresting officers. "I like to play with life, and I enjoy freedom, even if sometimes I go to jail," he said. "That just means there's a price for the freedom."

When Alain approaches some famous skyscrapers, the security guards follow him, intent to prevent more urban mountaineering. At times he waits until one security guard goes right, another left, and then darts between them. Once he's climbing, no one can interfere.

Earlier in his career, Alain focused on rock-faces. Eventually, he graduated to tall buildings.

He's married and has three sons, aged 20, 18 and 14 years. When young, the children climbed a little, but then stopped.

"Maybe it's selfish for me to still climb and live my life the way I love," Alain said. "But my family doesn't ask me to stop. This is something we don't discuss much at home.

"My wife used to watch sometimes, but not so much anymore. She works in France, and it's complicated for her to travel.

"I've climbed all my life. It'd be difficult for me to stop. I'd have to change not only my way of life, but also my way of thinking."

Eventually, the physical limitations of age may deter him. "If I don't think too much about what I'll do in 10 years, it's fine," Alain said, vowing to continue for "maybe another five years.

"Honestly, I meet people and discover cultures around the world. That's a reward too," he said. "By climbing, I've met both national presidents and jail inmates. People may think that jail's such a bad punishment, but it's also something different. At times, I can appreciate just lying on a bed or on the ground and discussing things with some nice guys, really authentic people.

"You know, once I spoke to (former French president) Jacques Chirac, but he didn't have much to say -- just simple chit-chat. We didn't go into a deep conversation.

"In jail, it's much deeper. You learn more about people's lives. The inmates are much more sincere."

P.S. Photo gallery of Alain Robert climbs the Four Season Hotel building 215m in HK on Tue, 15 April 2008.

On popular demand, you can subscribe now to this daily placeblog, adding it to your news/feed reader to remind you of any new Lamma-zine story as soon as it's published. Click on the RSS icon on the right!
RSS, "Really Simple Syndication", is used by many blogs and news sources to let viewers subscribe to their favourite sites and list all the recent headlines in a single place, their news/feed reader. There are many free readers available, you might have a favourite, I recommend Google Reader.
Any more improvement ideas for the Lamma-zine, contact me!
Pete Spurrier - ex-Lammaite, publisher of Blacksmith Books

,
and a new Lamma-zine advertiser:
Two chances to meet Alain Robert, the Human Spider,
on Monday 14th April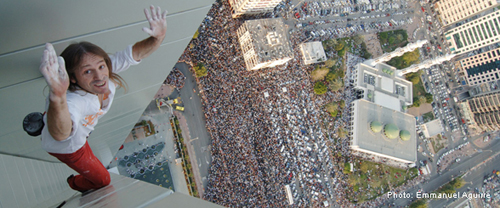 Fresh from appearing in the Channel 4 television documentary The Human Spider (clips of which can be seen at this link), French daredevil climber Alain Robert arrives in Hong Kong next week to promote his new autobiography: With Bare Hands. Join us at either of these events!
1. Book Launch: Overcoming vertigo — and countless injuries which have left him officially disabled — Alain Robert has scaled over 70 skyscrapers worldwide: from the Petronas Towers in Malaysia to Taipei 101, from Chicago's Sears Tower to the Cheung Kong Centre, using nothing but chalk and a pair of climbing slippers. The flamboyant Frenchman has gained international fame and raised thousands of dollars for charity, but has also been arrested, beaten and prosecuted. This is the inspiring story of a man who has conquered fear and exceeded his own limits: the world's greatest urban climber. Join us for French wine and cheese and meet the Human Spider himself!
Where: Bookazine, 3/F, Prince's Building, Central, Hong Kong
When: Monday 14th April, 12:30-2:00pm
What: Wine and canapes sponsored by Wineshop.hk
RSVP: enquiries@bookazine.com.hk, Tel: 2525 0218
2. Literary Dinner: Acclaimed daredevil Alain Robert joins HK Magazine for a literary dinner at SoHo SoHo. Alain will introduce his new memoir With Bare Hands — the true story of his dramatic life as the world's greatest urban climber. Alain has scaled most of the world's tallest buildings with his bare hands. He has always been determined to become a top climber; when he was just 12, he climbed eight floors to get into the family apartment because he had forgotten his keys. In 1982, he fell 15 metres head first. He suffered a five-day coma and multiple fractures: to his cranium, nose, wrists, elbows, pelvis and heels. The prognosis was that he would never climb again, but this didn't stop him. In 1994, Alain climbed his very first skyscraper and the real Spiderman was born. Many people ask whether it is madness to undertake such perilous ascents without safety equipment of any kind. But in Alain's view, it is madness not to follow your dreams!
Where: Soho Soho, 1/F, 4-8 Arbuthnot Road, Central, Hong Kong
When: Monday 14th April, 7:30pm
What: HK$400 includes a glass of wine, a 3-course dinner and tea or coffee
Enquiries: 2850 5065 or www.asia-city.com/events.
Tickets on sale at all Dymocks stores.
Event flyers can be downloaded at www.blacksmithbooks.com/events.htm. Hope to see you there!
Gina Meana - Captain of Lamma Ladies Dragonboating team:
(republished with friendly permission from FIT! HK Magazine)
'L-plates' Laura
Picking up a new sport is never easy but Laura Bryant chose to give up Lan Kwai Fong for Yung Shue Wan, and learn what looks deceptively simple: paddling a dragon boat for Hong Kong's Stanley Champions. Laura speaks of her 'early struggles with a paddle'.
投入一項新運動從不容易,難得Laura Bryant下決心暫別蘭桂坊,勇闖榕樹灣,划起龍舟來,為赤柱龍舟錦標賽積極備戰。一項看似簡單的運動,卻叫Laura吃盡苦頭,且聽她娓娓道來。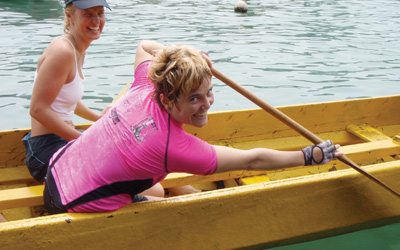 Laura Bryant, arrived from the UK two years ago and had only lived on Lamma Island for just two weeks before she went to her first dragon boat training practice. She gamely made her way down to the waterfront in Yung Shue Wan Village to meet with her new team mates, sign away her life in an imaginative team waiver, and slosh through a murky spring tide to get into the Lamma Ladies' dragon boat.
"Going down to the first session was hard," she says. "I was going through a large transition in my life, and my self confidence was low, but everything was okay when I arrived."
Laura had never paddled before: not in a kayak, a canoe, or a dragon boat, and she found learning the stroke much harder than it first appeared. "I felt awkward, like I had no clue, and I didn't get to paddle much because I was just getting used to being in the boat and actually holding a paddle."
The exercise was hard for her, she says, as she'd lived in Hong Kong for a few months on Hong Kong Island, and throughout that time, she'd spent a lot of time in Lan Kwai Fong, "drinking too much and partying… I put on weight and felt unfit."
The transition to being a member of a competitive dragon boat team wasn't easy. "The exercise was hard because I was out of shape. Those first days in the boat, I used to say to myself, 'this is what it must be like in the army!'".
It took her a full season to feel more confident about her stroke, and another season before she felt confident about her ability to get it right most of the time. "Learning the technique was, for me, the worst experience. There were times when I wasn't sure if I was fit enough, and I found it hard to be criticized about technique. The worst was when I was moved further back in the boat to practise my timing and technique - I felt awkward. Sometimes I would get it, and sometimes I wouldn't."
One thing Laura never struggled with was finding friendship in the crews. "The people made me feel really good about myself. They welcomed me and talked to me. There were other new people when I joined, so it was good to be in the 'same boat' with other people in that way. Many of us who started that year are still together."
She said that realizing you are a member of the team meant that you had to be committed. "I think that I always felt committed; I went to every practice and exercised more and tried to take better care with my diet. And the result was that it improved my self-esteem. Dragon boating with the Lamma Ladies made me the happiest I had been in a long time. I made many new friends… I wouldn't have stayed in Hong Kong for so long if I didn't paddle with the team," she said.
In her first year, she remembers her favourite event as the fisherman's races in Cheung Chau. "We did really well and won that race. I was excited and chuffed for the team because I hadn't been paddling long."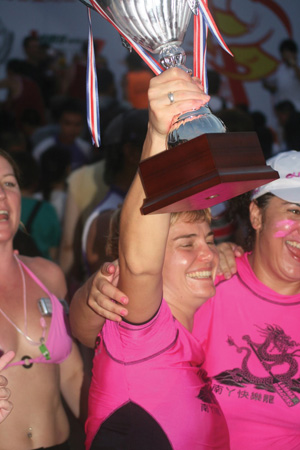 Her best experience, she says, was the 2007 Gold Cup the Lamma Ladies won at Stanley. Though she had raced in a heat in 2006, when the ladies had also won the gold cup, she didn't feel the same connection to the event as she did the following year, when she paddled in every heat. "We won that race, and the last race felt so good. The second (heat) wasn't great for me, I think I came off my seat a few times."
Laura says that in her view, the motivation among the Lamma Ladies has always been at 100%. "We work hard and play hard," she says. "I feel good this season because I know I am fit, and I know the technique — I'd love to sit at stroke sometime when I am ready." Laura admits that the first season was one of the hardest things she'd done, "but Lamma makes you feel welcomed and special. I think we're the best team in Hong Kong."
Katie McGregor - Publisher/Editor of FIT HK!
For more on paddling in Lamma check:
lamma-outrigger.blogspot.com
lammaladies.blogspot.com
And for some paddling action on your own doorstep:
Laracy Gall Lamma International Dragon Boat Festival 2008:
11 May, 2008, Tai Wan To (Power Station Beach):
lammadragonboat.com
Fit! HK is a free, bilingual magazine covering sport, fitness and health in Hong Kong and is published by Katie McGregor, herself in her 19th year paddling for the Lamma Ladies (the best team in Hong Kong).
Click through to the Fit! HK web to for more articles and check the calendar to see what's on. www.fithk.com.
Nick the Bookman & Official Court Music Reviewer:

(pictures by Andy Maluche, see below)

When Stevie met Tommy
26/3/08 at The Wanch

This gig has been a long time birthing. After much deliberation, it was agreed that the showdown would take place at The Wanch on 26/3/08. Two of Hong Kong's top blues-rock guitarists all set to go head-to-head with guitars on stunning and amps on 11 and beyond. Should be a fantastic night. So, I'm a bit stunned when I enter The Wanch on the due date to find the bar staff outnumber the customers by 3-2. Have I got the right night? Perhaps the place will fill up soon? The showdown features the Tommy Chung Trio and Red Star Rising. Tommy is going to open, Steve will guest for a couple of tunes and Red Star will conclude the musical festivities.

As I enter, Tommy is setting out his stall. We chat briefly. He's been in HK a long time and used to run The House Of Blues in Tsim Sha Tsui. He's played at one of the early Underground sessions. He spends a lot of time touring and recording in America where he has a devoted fanbase. Although Tommy is Asian, he's steeped in the Chicago blues. Meanwhile, Steve is English, but has a fondness for Asian licks and beats. Should be an interesting night.

The Wanch is slowly filling up. Tommy's 2 sidemen are bassist Alvin, a heavy-metal biker look-alike with a pony tail. Laurence is the clean cut drummer wearing a black t-shirt with "Unlocked" on the front. Alvin wears his 5-string bass down low. Laurence has an easy fluid style with no unnecessary effort. Most of Lamma band Nude have arrived. There's Kevin, Matt, Justin, Hamada, Magnus (the drummer from Garoupa) and Tony (saxman with Thinking Out Loud). They've apparently been rehearsing new/old material for Nude's pending rebirth. Tony says, "We're just here to heckle." They get their drinks and sit outside for the duration of the set.

Tommy has two identical, interchangeable white guitars with runty necks (like the top third of the guitar has been sawn off). He makes a hellacious racket on them. As I'm not steeped in the blues, all my references to the style of music and the songs are coming out the Hard Rock Handbook. An opening instrumental to get the band breaking sweat choogles along pleasantly. Sort of Eric Clapton mid 70's style of playing rather than the more Clapped-out later years. The 3rd song reminds me of the epic guitar ending of "Free Bird" by Lynyrd Skynyrd. Tommy seems to be playing the twin-guitar attack most capably on his own. About 40 minutes into the set comes a tune I recognise. It's "I've Got My Mojo Working" which I mainly remember for the awesome version by The Electric Prunes. The trio do a damn good rendition as well. The more I enjoy myself, the less legible my notes become. I feel like I'm having a Hunter (S. Thompson) moment when he invented Gonzo. There's scribbles and scrawls like "bit like Jimi Hendrix doing Red House". Or "this is almost techno-fast playing, but the band are keeping up". Tommy's voice is "a grizzled, gruff, whisky-soaked effort - almost Tom Waits". Later in the set, Tommy plays the chorus of "She'll be coming round the mountain when she comes". A few tunes later, he drops a few bars of the "Robin Hood" theme. An unexpected treat, which keeps the band on their toes.

Steve wanders past me to the bar and say's "He's full-on tonight" with approval. The band are kicking out the jams with a vengeance. The fifth song has a line "son of a gun" which is spat out in "Great Balls Of Fire" style while the band wander into surfpunk guitar territory. Either "Wipeout" or "Miserlou" by Dick Dale. Dick Dale once recorded with the late Stevie Ray Vaughn on "Pipeline" (I think). The guitar styles are memorably different, but each man is recognisable. Tommy seems to blend their styles together like a magical mashup. A bravado performance.

It's coming up to 22:30 when Steve takes to the stage for his guest appearance. Tommy keeps the songs going along, but leaves plenty of space for Steve to pluck and noodle over the top. His guitar seems a bit quiet though. Later, I learn that his amp hasn't gone to 11, so to speak. There's an evident feeling of mutual respect and enjoyment. With a few more gigs, these guest jams could really turn into something splendid. The crowd are united in approval, except for one mellow semi-drunk who wants to play darts and is acting like a one-man South Stand.

The Tommy Chung Trio have finished, leaving Steve playing along quietly to himself as Alex and new drummer Neil get set up. Neil joined Red Star Rising last December after Hugh and family returned to London. This is the first time I've seen him with the band and sadly, I'll only get to hear "Megaphone Man" as my dodgy knee has flared up again and the "Last Ferry To Lamma" is beckoning. Neil has a slightly more military precision to his playing. Very fast drum rolls and fills. Flurries of explosive action while maintaining a steady beat. I can't wait to hear how he handles the more indie-rock numbers in the Red Star Rising catalogue.

While Alex and Neil set up, Steve has been quietly playing away, entertaining the crowd with some lovely liquid licks. He receives warm applause. It reminds me of the story about Ravi Shankar playing The Monterey Festival in 1967. Ravi and his fellow musicians received a standing ovation after their first number. He said something like thank you very much for enjoying our sound check/warm-up.

It was a very good night, guys. Here's to the next one and I hope I'll last the pace. Maybe a double bill at one of the Pier Pressure parties is in the future?
Click to enlarge
A Wonderfully Shambolic Performance by
Those Mangy Critters
Nick the Bookman & Official Court Music Reviewer:

(pictures by Dan Peterson)

Island Bar reviews with
Shep Woolley and The Curs

Well, the 2008 Rugby Sevens has ended with a predictable Cup Final result. That means it's time for Shep Woolley's annual piss-up-cum-pub-crawl around the remote areas of Hong Kong and Lamma. It's Thursday, the 3rd of April, and the one-man band is back for a 2nd engagement at The Island Bar. The gig is supposed to start at 20:00 hours, but with Lamma time, well, you know...

I've arrived at The Island Bar shortly before 21:00 hours, having asked all I pass if the show has begun. Everyone says no, including Dave the Fiddler, a man I expect to know about these things. I've stepped inside. It's semi-full and rather quiet, mainly because Shep Woolley has enthralled everyone with a hypnotic version of "Road To Dundee". His singing is precise and warm in a trad/folk-Al Stewart sort of way. I think it's his opening number, but Sharon says "He Started On Time!" This might be a historic first for any Lamma performance!

His HK mate Ray is sitting adjacent to me. John Hutton walks in and is commended for the fine sound. I grab my usual table. Shep spots me, winks and says the next song is by a live artist (an in-joke reference to my review of his show on March 26 last year - read it on Lamma-zine). The song is Dylan's "Just Like A Woman", done more like a strolling troubadour than Bob's whiny/nasal tones. It proves to be the last tune of the first set. Shep comes over and we discuss the rugby. Ray buys me a 7-Up (off the booze tonight, are we?) and tells me he's bought Shep's guitar off him. "It's a Timothy - handmade" (and it can play in C).

The second set begins in a more rock tempo. "Mighty Quinn" segues into "Love Potion #9" in an Americana/blues style. Next up is "All Shook Up" and Shep makes a decent fist of the "uh-uh" chorus. It's somewhere between Elvis and Hank Wangford, the singing gynaecologist/country artist. Some acid-folk-fuzz guitar notes lead into "Summertime Blues" and Andy Windebank is right there on full throttle choral duties. The fun factor is rising as (dead) Elvis gets a second look-in with "His Latest Flame". A highlight (among many) is "House Of The Rising Sun", which seems to start with some bars of "Hotel California". I'm thinking this could be an interesting mashup. It's a different level of brothel opulence, but the vices remain the same. Bring on the (John Lee) Hooker(s). Shep's vocals suck you in slowly. He's not a shouter. There are no anguished castrato yelps and yips to mar the tunes. Another highlight is a song called "Running For Home". Similar in style and pacing to "Dundee" and a return to tradfolk, via The Little River Band of the early 80's.

Shep starts up the next number and I'm thinking this is just like Lindisfarne. In fact it's (as Shep sings "Hey, Mr. dream-seller...") and I'm thinking (Mr. dream-seller) aka "Meet Me On The Corner". Great minds, passing by in the night (and we're about to do it again in a few songs time). The mood goes sombre after that with "Pinball" by Brian Protheroe (from the early UK 70's). Shep's giving the strings some welly and Ray's shouting "Don't break MY guitar". "Pinball" is a great lost one-hit wonder and so is "Angie Baby" which follows it. They're real "wrist-slitters" as Shep eloquently explains.

He concludes with a stunning version of "Where Do You Go To (My Lovely)" by Peter Sarstedt. I got admonished by Tilly once for playing this at a massive party she and hubby Richard (Cook) threw for his 40th birthday. Was worth it though to see Bob Davis sort of dancing and other old hippies crawling out of the vegetation. It's still a brill' song, especially the live version I've got with extra salty-sweet accordion. I find myself mumbling almost all the words in unison(g) with Shep. It was meant to be the last song, but he still manages to squeeze in "I Saw Her Standing There" before legging it gracefully for the 22:30 ferry with Ray and family in tow. Great fun again, mate. I've already booked my front row seat for 2009. (blink, b...l...i...

---

i...n...k..., blink). I'm back in the Island Bar as those mangy critters, The Yung Shue Wan Curs are dishing up another night of gender-bending, time-traveling tunes. On this occasion, Lamma time is working faultlessly (it's Sat, Apr 5), depending on what song you've arrived to. The famous 5 are as usual: Gavin (upgraded to 4-string bass from twangy 1-string broom). Davey on fiddle. Harry and Fraser on acoustic guitars and John on electric guitar. Parksy is taking care of all the electrics and knob twiddling (except when he isn't).

There's a mighty crowd of The Usual Suspects, Various Mutant Inbreds and Passers-by Sucked Inexorably Into The Maelstrom. So it's business as normal.

I'm sharing my usual table with Kelly and Lisa. Canadian Fred and Claire are nearby. Terry is working overtime pulling pints. Dan is snapping away and Sharon is schmoozing the far end of the bar, Most of the "true fans" are hanging out in the garden. The Curs kick-start proceedings with a "muddy" (ta, Kelly) gruff-sozzled version of "Hear A Train A-Coming" which serves as an admirable sound check. Davey does his best Bob Wills and the Texas Playboys fiddle licks. Gavin is hidden at the back. All I can see are some nimble walking fingers. Harry and Fraser share one mike, while Davey appears to thrust his fiddle bow into John's ear several times with no deleterious effect.

The late Man In Black (aka Johnny Cash) gets some more pennies trickling into his trust fund as the band do "Folsom Prison Blues" (maybe not, could be the after-effect of all those cumulative 7-Ups) and "A Boy Named Sue". All times are being mangled tonight so the songs mentioned are in any order you like. Harry gets all ecumenical on our asses with "Blessed Saviour", "Plastic Jesus" and "Lovesick Blues", prompting the immortal response of "no lager blues". This situation is quickly corrected. Cue some wonderfully dire results further down/up the timeline.

Very strange letters are arriving at my table from anon, unknown and who-the-hell. Can't keep a good critic down. Someone is asking "Who knew Harry Harrison was a Southern lapsed Baptist?" Someone else is entranced by this "white trash gwailoh fiesta" and wishing "I was back in the trailer park." I know, I know. Some nights, you just gotta have your excess of Preening Porcelain Percy and his Pirouetting Perverts. "We put the BLUE into bluegrass, don'tcha know?" Basically, The Reverend does all the Bod-gathering bits. Fraser takes care of the songs that sound like the Waterboys and other Celtic Bards. Davey channels up all sorts of fiddle mayhem ranging from Country AND Western to String Driven Thing freakouts. Gavin survives the mayhem while John's guitar seems to be all that's holding him up. He takes lead vox duties on "A Boy Named Sue", "Trail Of The Lonesome Pine" (which sounds like some demented remix of The Whiffenpoos and Splodgeness Abounds) and a reasonable flirt with "Still Haven't Found...". All that's missing is John's unhinged, unique take on "Surfing Bird" by The Trashmen. Maybe, he'll get to play it at forthcoming guest stints with El Destroyo?

Basically, this was a glorious, ramshackle, rambling performance, studded with fits, giggles, short bursts of lunar music, odd non-sequiturs and the occasional outbreak of genius. This is especially apparent when Dan the Bastard takes the stage for 2 mighty renditions of "The Young Ones" and "Sympathy For The Devil". The latter is possibly the finest version I've heard in years without drums. Everyone is singing along (I think). If not, they should be. The wheel is going round and round and the painted ponies are going up and down. A nifty way of returning to the start of these stories, The Curs was a WONDERFULLY shambolic performance. (All right, Fraser?) I had fun, I promise. Worth every moment of my time....
This is a photo of one more reason that the Lamma-zine has been out of order from April 1-6: the turbo-charged, oversized, short-circuited power supply of the Green Mean Machine, my custom-built PC the Lamma-zine is usually published from, located in the worldwide headquarters of "Compunicate! - Web Publishing, e-Marketing & Photography" in Sha Po Village in Yung Shue Wan, Lamma Island, HK SAR.
It took several days to get my PC guy to do a home visit and replace it today, while I had to rely on a borrowed laptop to perform at least basic emailing and forum moderation in the last number of days.
If anybody's interested in this piece of abstract sculpture of historical importance, having empowered the Lamma-zine creation for almost 2 years, contact me!
Leaving hospital today, I got this Discharge Form to take to the Accounts Office ("Shroff") to pay the fees. Isn't this just a wonderful example of medical humour?
I can just hear the designer of this form think:
"The ONLY ways you'll ever get out of this hospital and away from our congee-3-times-a-day is to be officially discharged or if you die!"
I'm so glad they circled the correct term above! It might have taken me months to clear up the mistake in the hospital bureaucracy, convincing them that I'm still alive...
I was just a little bit nervous and suspicious about the extremely inauspicious date of 4/4, a double-4 (very unlucky!), pronounced like "Die! Die!" in Cantonese.
The final diagnosis and advice from the Surgeon/Professor, after 3 days of tests:
"We don't really know what's wrong with you, but it's probably nothing serious. Take our standard painkillers and come back if the pain doesn't go away by itself in a few weeks... or months."
Aaah, the grandiose triumphs of modern medicine never cease to amaze me!
But the weight loss is still amazing, at a rate of losing 1 pound every day since the operation... and my health is improving dramatically as well!
The Lamma-zine is going on a short hiatus, because I'll be spending a few days in hospital as a Class III in-patient (the lowest of the lowest) in Queen Mary Hospital, checking up on my persistent stomach pains after my weight-loss stomach-reduction operation 5 weeks ago.