Nov 30: Joanne Blue Tongue - Artist of the Month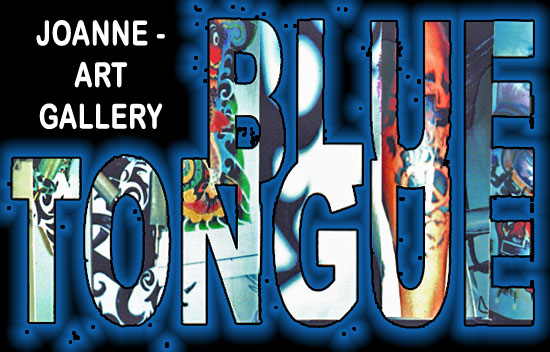 Click above for an online art gallery, including the opening party of "Blue Tongue" and an exclusive interview with Lamma tattoo artist Joanne.

Nov 29: Unexpected Discoveries at the Christmas Fair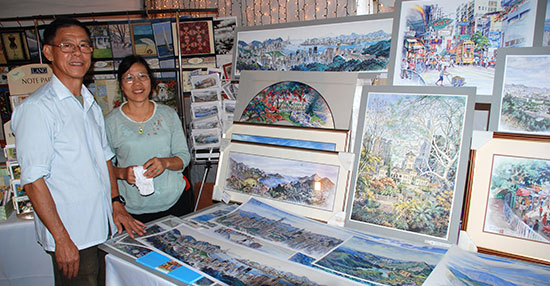 Artist Eddie Chau Yuen Wing (email) and Lo-Por at the Christmas Fair outside the IFC mall. Only till tomorrow... "Got anything showing Lamma Island?" "Yes, sure!"

Click to enlarge watercolour painting of Lamma Island as seen from Mount Kellet.

Loads of Christmas ornaments and arts & crafts are available.

Another little discovery at the Christmas Fair... my first-ever Krispy Kremes...
dessert for our 15th wedding anniversary dinner in Lambcombe tonight...

Nov 28: Christmas Fair in YSW Shopping Mall

From today till Thu (Nov 28-30, 7am-10pm) there'll be a Christmas Fair outside the Yung Shue Wan Shopping Mall (also IFC mall, as some non-Lammaites still insist on calling it) - to the left of the flyover from Central's Lamma ferry pier into the mall. So what's on offer this year?
Press release of Christmas Fair - Click for website.
(This is kind of an unpaid advertorial for an off-Lamma event - not usually published in the Lamma-zine. But as quite a number of current and ex-Lammaites are involved in organising and exhibiting - and several charities will directly benefit - I'm making an exception in this case. Any Lamma-based events are always most welcome to get free publicity, of course.)
The festive season is growing nearer. What better way to do your Christmas shopping than in one central place with many gifts unavailable in shops!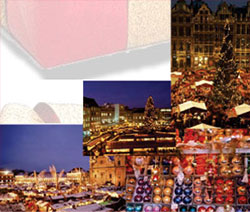 After the success of last year, the fair will once again take place on the lawns in front of IFC mall, though this year it promises to be bigger and better. Stalls at the fair will offer products such as:
Kids Toys and Accessories

Health and Lifestyle Products

Clothing and Fashions

Books, Art and Photographs

Christmas Decorations

Designer Jewellery.
The stalls will be run by some of Hong Kong's most recognized names as well as individuals and small companies.
You will also be able to order your Christmas tree directly from one of Hong Kong's major suppliers during the three days of the fair.
As Christmas is the season for giving, the fair will be raising money for various charities that benefit Hong Kong. The chosen charities this year include the St. James Settlement, Hope for Children, the Christina Noble Foundation and Operation Santa Claus.
The fair will be open 10am - 7pm from Tue, Nov 28, to Thu, Nov 30. For more information you can visit the website at www.hk-christmasfair.com or call Ironmonger Events on 2973-0372.

Nov 27: Red Scare and a Good Celt

A double dose of weekly satirical original comedy Hong Kong news round-up animation today! Enjoy!
Daniel (Moment Productions, ph: 9122 2849, www.momenteye.com), the sole creative mastermind and multimedia producer behind HK Copy News writes:
"I didn't get around to thanking you for last week's write up... awesome!"

Nov 26: A Harmonious Day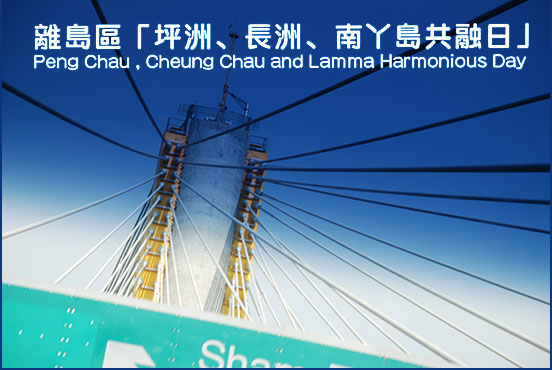 Click above for a comprehensive photo gallery of a fun Sunday bus trip for Outlying Islands residents to the new Wetlands Park - organised by the Lamma Area Committee and sponsored by the Islands District Office.















Nov 25: Making Hong Kong a No-Kill City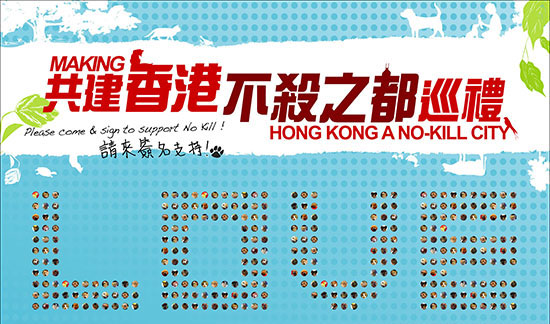 Dr John Wedderburn - LAWC; AAPN; Chair of Hong Kong No Kill City Forum, Tel: 9097 8352, email. Click for poster and website.

Nov 26, 2-6pm, New World Centre Plaza, Tsim Sha Tsui:
This event tomorrow isn't specifically about Lamma but it is generated and organised by Lamma people and we would like Lamma people to attend. The idea is to persuade the Government to control the supply of companion animals onto the market so that it will no longer be necessary for the Govt to kill 2000 a month or for people like LAWC, HKDR and LAP to devote so much time and energy on finding homes for unwanted animals.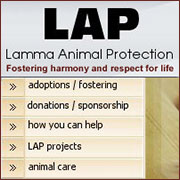 "No Kill" is a short-hand phrase for a policy that aims to prevent the need to kill homeless pets by controlling their production. For at least the last 50 years the Government has maintained an expensive, inhumane and ineffective method of rounding up dogs, cats and other companion animals to kill them, at more that 20,000 a year.
We believe that a few simple pro-active measures can prevent the accumulation of these surplus unwanted animals. - this is called the No Kill Policy. This is a policy supported by all those who hate to see dogs and cats roaming the streets uncared for and posing nuisance and danger to society. Besides the 3 well-known, Lamma-based animal protection organisations above, there are:
LAD Laboratory Animal Defenders
AAPN Asian Animal Protection Network
---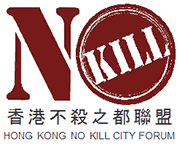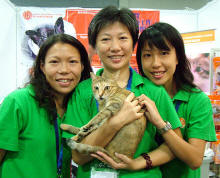 I am attaching a picture of some of the organising committee of tomorrow's event - all Lammaites. The feline member is a paralysed cat who uses a wheeled cart and was successfully homed by LAWC.

Nov 24: Final Days of a Gracious Lady Cat
John Cairns - Lamma Author. This story appeared first in the Lamma-based Cairns Media Magazine, republished here with friendly permission.
All photos by John Cairns.
The tragic main character, Lady, is a real Lamma Celebrity and has been featured in the Lamma-zine several times before: Valentine's Day story The Isle of Love, Photos of the Day (Cat in a bowl, Lamma office life):
November 2 – Within a few months, a cat named Lady has taught my wife Eva and I more than we ever imagined on important topics, like unflinching courage, gritty determination, positive thinking, quiet dignity and firm friendship.
While battling paralysis and an inoperable spinal tumor, Lady refuses to surrender, stays active and relies on a steadfast friendship with Gail, the family dog.
Lady first appeared at our door in 2004. When working in a home office, I often stepped outside for fresh air and noticed an unfamiliar cat lounging on the patio chairs to socialize with Gail. Sometimes the cat stayed all-day and all-night, snoozing in an empty flower box. Soon she followed Gail indoors and joined the family.
We called her Lady in tribute to her formidable social-skills. Unfailingly sweet, she disliked being held, but enjoyed pats and belly-rubs. "For once, a pet chose us," I told Eva, flattered. "Usually, people select animals, not vice-versa."
Actually, Lady chose Gail. When not sunbathing together, the disparate duo shared the living-room couch. Lady devoted hours to groom-licking her bigger girlfriend. Sometimes Gail returned the favor.
Nightly, I escorted Gail to a sandbox where she relieved herself. Lady insisted on trotting along too. If unfamiliar dogs or humans approached, the street-smart Lady vanished off the footpath into bushes before rejoining us back at the house.
In early June 2006, Lady began to limp. Initially, we wondered why she had a sore leg. Her problem worsened, and within four days, she lost all use of her back-legs.
By foot, ferries, taxis and underground trains, we carried Lady for consultations with three different veterinarians. One promptly urged euthanasia: "I see a lot of spinal cases. Lady's a serious one. There's not much else to do."
Eva and I shook our heads: "No way. Not yet."
Despite paralysis and then incontinence, Lady showed no hint of physical pain. She stayed alert and hungry. Determination glinted in her eyes.
"She's still the same old Lady," Eva said.
"We'll help her for as long as she wants to live," I vowed. "If she loses interest, we'll know."
One veterinarian performed a series of acupuncture treatments – 10-20 needles per time, plus wires and electricity -- that didn't cure Lady, but seemed to please her.
We discovered the cause of Lady's troubles when a tumor emerged on her back. Pressing on her spine, it blocked signals to her back-legs.
"The tumor's position makes it inoperable," a trusted veterinarian said. "A surgeon could try to remove it, but Lady might not survive."
Although unsure of Lady's age, we knew that veterinarians had checked her teeth and declared her to be a "senior" citizen. Our best guess puts her at 15 years old. A huge medical operation late in life sounded unappealing, as did chemotherapy injections and their side-effects. We vetoed those ideas. And Hong Kong lacks facilities for radiotherapy on small animals.
"Will the tumor kill her?" I asked.
The veterinarian nodded. "Even if the tumor's benign, it takes more space each day, crowding her internal organs until they fail. If it's maligant, well…. Large tumors may burst too. Then blood vessels rupture, and the animal bleeds to death internally."
The prognosis sounded dire. So Eva and I simply strive to keep Lady happy and comfortable one day at a time. That means feeding her extra well and providing a bed near Gail. Every few hours, we squeeze her lower torso, emptying her bladder. Twice a day, I manipulate her back-legs, exercising the muscles.
With advice from the charity Lamma Animal Protection, we built a cart to restore Lady's mobility. But we strap her into the cart only when she's closely supervised. Even without it, she stays active. Using her front legs, she drags the unresponsive hindquarters. She avoids bedsores by moving often. Luckily, our smooth floor-tiles don't cause abrasions.
By day, Lady visits with Gail. At night, they stretch out together. Often Gail looks worried. Sometimes she licks at Lady's defective back-legs while the cat purrs.
Each night, I carry Lady, her head bobbing as she sightsees, and we follow Gail on a short stroll. Some days, Eva and I awaken early, rouse Gail and place Lady in a pet-travel box. Then we take both animals to watch the sunrise at a nearby beach. Prodded by snout-nudges from Gail, Lady drags herself across the sand. But rocks frustrate her. When able-bodied, she'd have leaped across them. Now they loom like the Himalayas.
At moments when Lady's problems distress us, we pay extra attention to her. She stares back, and we understand the message in her eyes – that she remains unbowed and determined, that we can't quit on her.
So Lady's battle continues. The tumor has grown huge, yet she shows no physical pain, refuses to concede defeat and seemingly enjoys each day. As we watch and learn from her example, our admiration for her deepens and expands.
The time for euthanasia may arrive. In fact, we expect it. But that'll be later, much later… we hope.
---
UPDATE (November 21) – At the Lamma Animal Clinic, Lady the Cat, who had deteriorated rapidly in the previous week, received a lethal injection and went to sleep for the last time.

For months, we'd watched closely for her to signal if and when this might be appropriate. We believe that we finally received that message from her.

She'll be missed and remembered, but let's take a positive view. By now, she may be walking and running again elsewhere.

<!/font>

Nov 23: A Drunken Lion in Police HQ!
Imagine the outrageous and scandalous shenanigans I witnessed personally last week in the garden of the Cheung Chau headquarters of the Islands District police force! A friendly lion being fed with multiple bottles of beer, getting more and more drunk till he was out of his mind, stumbling all over the place, spewing beer into the air and finally passing out, legs pointing to the sky!
Was all of this just a silly prank, juvenile horseplay or signs of serious debauchery and animal cruelty going on in Police HQ? You decide for yourself, after looking at the photos below.
A bit of background:
I was invited to the yearly Public Relations Reception of the Islands District's police force on Fri, Nov 17. A police launch picked up the District Councillors, local dignitaries and community group heads - plus one "Managing Editor of Lamma-zine" - from the major Outlying Islands (Lantau, Peng Chau and Lamma), taking us to Police HQ in Cheung Chau and back.
The happy celebration consisted of the usual blessings, roast pigs, a drunken lion dance (see above), policemen presenting awards to each other, and, last but most important, a big buffet & bar! I even got a guided tour of the HQ, including the tiny, harsh holding cells. Maybe, this served as a stern warning for me if I'd ever publish anything "naughty" about our valiant police force? Oops, too late! This might have been the last time they've invited me to their party...
Click any of my photo slices below to browse the photo gallery w/captions: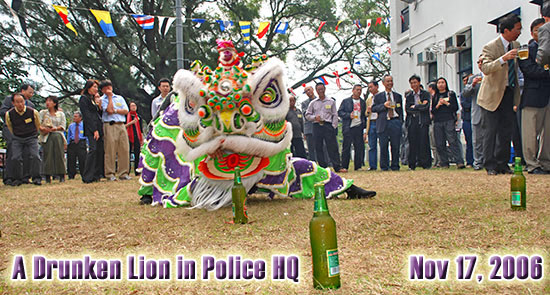 Nov 22: Herbs, Herbivores & Herboland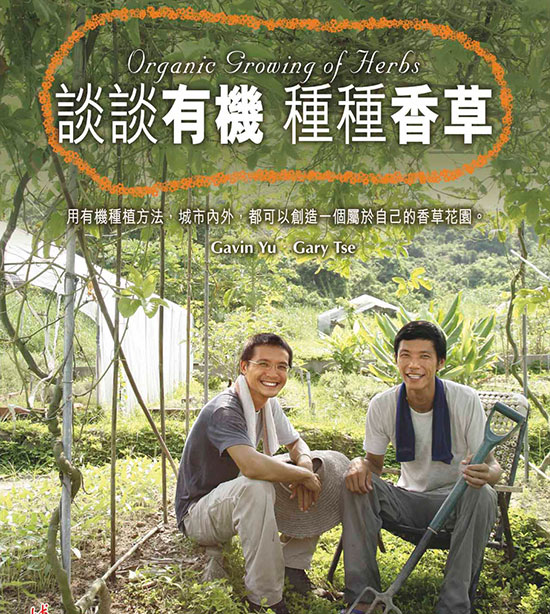 What are these two friendly guys smiling about? Lamma's two most popular (and only?) organic farmers are enjoying a rare moment of rest. Besides running their organic farm Herboland, they've even found the spare time to publish the book above, with the catchy title of "Organic Growing of Herbs". It's all you ever wanted to know but didn't dare to ask about... the organic growing of herbs!
Illustrated with beautiful photographs, you can now learn about all the plants used to flavour your food, make herbal medicines/cosmetics from, etc. We're all Herbivores (plant eaters) after all, and growing herbs on your balcony or rooftop could be a most rewarding hobby in so many ways. Click on the cover above or the photos below to learn more about the book (in Chinese only).

The book will be available from Friday in bookstores and directly from Herboland (besides Hung Shing Yeh beach). Stop by for a herbo tea and herbo cookie, pet a kitten or rabbit, have a chat with bilingual Gavin or Gary, and get a freshly signed and dedicated book, of course. If you purchase 5 copies or more - and you're female - you'll even get a freebie, a kiss from one of these two handsome guys! Rush there NOW, all ye Lovely Lamma Ladies, the kiss will only be available as long as stocks last! Afterwards, you could even join one of their many workshops...
Never mind that the book is in Chinese only, you'll be supporting the great work of two genuinely nice and passionate guys and real do-gooders, Lammaites in the best sense of the word. And the book's got beautiful plant and flower photos, mostly taken on Lamma! Click here to post a message to them or click below for their own fine website, forum and extensive photo galleries:
herboland - organic herbs / veggies / products / flowers

Nov 21: Santa Bikers, Jungle Bells & Lamma Xmas Kids
The season of Conspicuous Consumption, eh, Christmas, has truly started in HK and even on Lamma. Decorative, blinkey lights in the shops, rooftop parties being scheduled, Christmas shopping trips to town ramping up to their yearly frenzy, the better-off members of our community planning their dutiful overseas family visits or their Christmas getaways to distant tropical isles...
What kind of good and noble deeds are Lammaites up to during the Xmas season this year? Lammaites are well-known for organising, participating and generously donating at charity events, raising big amounts of funds every year. Let's list and promote the charity events that have been emailed to me recently:
Mad Dog Motorcycle Club - Toy Run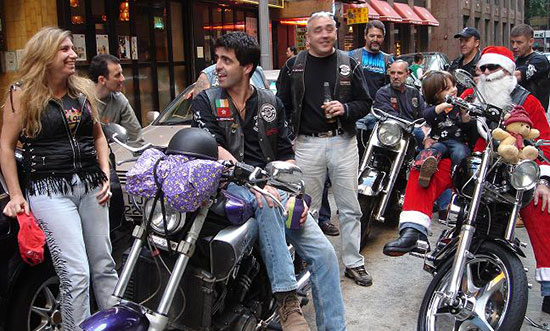 Do you recognise Lammaite Rob - Mad Dog MC Club President (center) - without his beard? There's at least one more Lammaite in this picture. A Santa biker with a child on his lap and a teddy bear, isn't he soooo CUTE! I was teasing them about it and got this reply:
Doug Netzel - PR Cheerleader of the Mad Dog Motorcycle Club:
Ok... so we have a soft side... Hey, we are humans also... and it's getting closer to Christmas!!
Mad Dog MC is not just a bike club full of mean-looking, tattooed, beer-drinking bikers chasing the girls in Wan Chai (not to mention Lamma Island)! We try to pool our efforts and resources to help in the HK community and support children's charities and their needs.
Short video by Operation Santa Claus... take a close look at the biker Santa (brings a tear to my eye).
---
Over the past three years Mad Dog MC, HK chapter, has held our Annual Christmas Toy Run: click here for info and photos.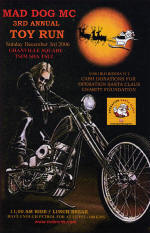 This year is no exception, and will host our 3rd Annual Toy Run on Dec 3rd. Meeting at Granville Square, Tsim Sha Tsui, Kowloon at 10:30 am.
Riders and pillion riders' fee will be $100 and all proceeds will be donated to Operation Santa Claus 2006 Foundation.
Also, we will accept cash or children' s toy donations which could be dropped off at Handle Bar, Jaffe Road, Wanchai.
The Toy Run will leave Granville Square at 11:00 am for New Territories ride with lunch/noodle break at 1:00 PM. The ride will end approx. 3-3:30 pm at Handle Bar, Wanchai, for refreshments and pictures, of course. All riders welcome, of course. We'll have enough petrol for at least 100+ kms.
Hope to see Lamma Island bikers join us once again!!
Thanks for the support! Ride Hard - Ride Safe!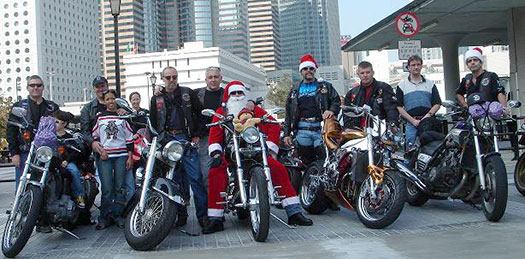 Click above to enlarge. Christmas Craft Corner by Tamara is not for charity,
but it's such a nice Christmas-related event, let's plug it here as well!
JUNGLE BELLS 2006
Drum & Bass mash up
Hosting some of the finest Hong Kong Drum & Bass DJs.
//All-stars all-styles DJ LINE-UP:
Arkham, Blood Dunza, Kas, DJ Wash, Stef:Fun, Teem, Epz, Le Libertin, Kay C
//WHEN: SAT 02/12/2006, 10pm - 5am
//WHERE:
Yellow Devil (ex Quarter/Bling), 3/F, 21 Lyndhurst Terrace, Central (near escalator, above Pizza Express). Tel: 3102 2066
//PRICE: HK$100 incl. 1 drink
The year's come near to an end and we feel like giving you something special.
Tune your ears, wax your trainers, pimp your styles, get ready when some of the finest of Hong Kong's Drum & Bass playaz unite for one big pre-Xmas bash.
Nine DJs in seven hours of body-shaking goodness. Music so full of bass, you may want to give dinner a miss that night...
//UPDATES: www.kongkrete.com
What's the Lamma angle on this you might ask? I've asked Lamma's "Electronic Mistress" and she replied:
"My hero DJ Wash (above left) and I are Lammaites. We're part of the organisers of this gig. We are and run the crew "Kongkretebass", promoting Drum & Bass gigs around HK. "Jungle" is name of the music that Drum & Bass originates from. Put Drum & Bass and Xmas together and you get "Jungle Bells".
"Because it's the season of compassion - I am going to donate part proceeds of the night to charity (Kely Support Group)."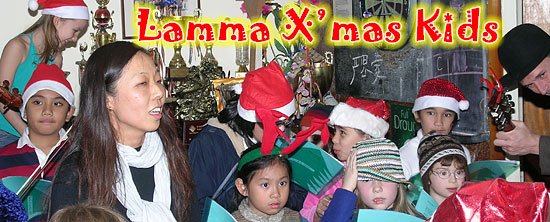 Rie Wada (above left) and her violin child prodigy Louie are looking for young and adult singers for their yearly charitable Christmas Carol Singing in Main Street.
Rie informs me that she wants to recruit members (all ages) to organize a quite professional carol singing this year. Mr. DickStock has agreed to shoot a video, but he's still looking for a video editor. Any volunteers? The carol singing will collect donations for Operation Santa Claus. Contact her!
Her daughter Louie is now 9 years old. She got a scholarship from the Academy for Performing Arts and has got a 1st violin seat in the Academy's orchestra!
---
P.S. More Christmas charity events will likely be announced very soon. They'll be featured prominently in the Lamma-zine, of course. The Island Bar's 7th Annual Treasure Hunt (Sunday, Dec 10) and O.S.C. Quiz Night, anyone?

Nov 20: China's Smiling Faces – Charity Gift Book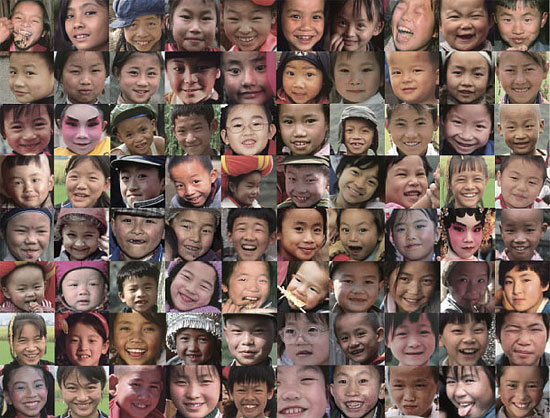 Paul Lau – Lamma's Butterfly Man and travel/wildlife photographer extraordinaire:
Dear Lamma Gung,
I would like to ask for your kind assistance for the following charity project.
Published Soon In Lamma - A Charity Gift Book For World Vision's Environmental Projects In China.
China's Smiling Faces: Children Across The Land is a photography book by Paul Lau that shares images of smiling multi-ethnic children from diverse backgrounds across urban and rural China. It is now calling company and individual sponsors for the coming X'mas season.
Hope you will kindly assist in introducing this project to the Lamma-zine readers for the charity cause. 75% of the retail price will go to World Vision without deducting any costs.
For details and more info, please visit here or phone me on 2982 8157 or Skype:spoonbillbooks.

Nov 19: Monk in a Hole on the Beach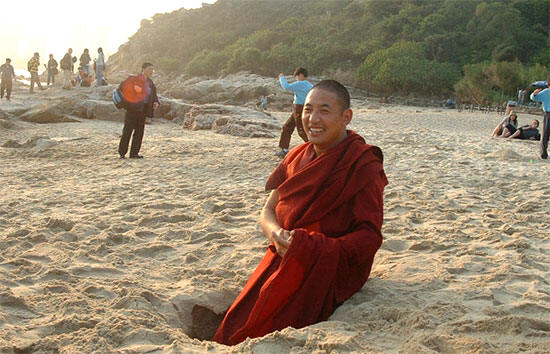 The stuff one can find on the YouTube video sharing website is sometimes surprising and even occasionally amusing. Most of the millions of videos are boring crap, to be completely honest, but there are unexpected discoveries, hidden pearls, and even real treasures to be found - if one just digs deep and long enough.
Speaking of digging deep, here's the best and most hilarious Lamma-related video I've found, about "an epic construction project": digging a hole on Hung Shing Yeh beach, selling it to other beach-goers and creating an absolutely brilliant video about it. Yes, it's the kind of thing that some of Lamma's many young English teachers might get up to when they've too much free time on their hands on our "Island of the Ghost Teachers".
It's an almost professional report mocking the style of a "BBC World Special Report", subtitled "An experiment in 'anti-real estate' - The Monk-in-a-Hole Project:
"The day we sold a hole (and put a monk in it) on Lamma Island in Hong Kong. A special news report from Phil Grieve, Angus & Fergus Gallagher and Tom Grundy."
It contains a "Lamma Rap", Breaking News ("Elvis glasses lost in the hole"), and interviews with "Kevin - Attracted to hole", "Random Girl - Likes the hole", Herboland's "Gary - Easily excitable", the Construction Manager and other LLLs (Laughable Lamma Loonies, not to be confused with Laudable Lamma Luminaries or even the exalted Living Lamma Legends!). (All photos and video by Tom Grundy.)
Afterwards, they even went on to concoct a poem about the experience, containing phrases like "In visions of Lamma, A sea-salt Nirvana". They read the poem at The Fringe Club's monthly poetry evening to a "semi-disinterested and confused audience", filming another video about it (Monk in a Hole - Epilogue). And there's a final announcement: [monk-in-a-hole merchandising range coming soon].
An extremely inventive and fantastically well-executed prank, dear lads! Congratulations for maintaining the true Laughable Lamma Loony spirit and demonstrating it to the huge, worldwide YouTube audience! Great job, lads, free beers for everybody involved in this absolutely brilliant project!
---
There are two more worthwhile Lamma-related videos I just found on YouTube:
Garoupa at the HK Finals of the World Battle of the Bands - where they came 2nd! - performing live at the Edge! Thanks to Alex the Facial Contortionist (and lead singer) for emailing me this link.
Plus a really strange and surprising video, not sure if this is serious or another prank, just uploaded one week ago:
An apology from two Chinese on a ferry from Lamma Island:
"Two Chinese would like to apologize to a guy on a ferry leaving from Lamma Island to Central (Hong Kong) on Nov 11, 2006 at around 5:45pm."
Looks like a great idea to me. Can we demand public video apologies from ANYBODY misbehaving on the Lamma ferry from now on?
---
P.S. The late Halloweenies photo gallery is ready now. Sorry for the delay to all the parents who've been asking me about it, because I took photos of their own Halloweenies. Click below and enjoy!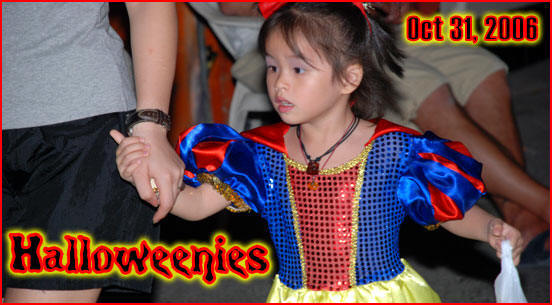 Nov 18: Viva Deli Lamma Central!
Alain the Panther – newly minted World Champion and ex-Lammaite:
Hi Lamma-Gung,
It's Alain the Panther. I just came back from Singapore where I won for the second time the world title at the Grand Final of the 2nd World Kuoshu / All Styles (of Martial Arts) Championship Tournament, Nov 9-11.
The attached knockout video [Editor: 12 seconds, MPG format, 2MB] is one of my bouts. I dedicate this win to all Lammaites!
Joey also won a bronze medal in this World Title competition. Competing just 2 months after giving birth to our baby boy Joshua. She's really amazing to fight so soon after having a baby. She just had one month to train; winning a bronze medal in such a tough competition is a great achievement.
We are also planning to have a celebration for our win this Friday in the new Deli Lamma Central. Would be great if you could join us. Perhaps you can take some more photos of us with our medals.
[Editor: all photos by L-G, except the Singapore and trophy shot]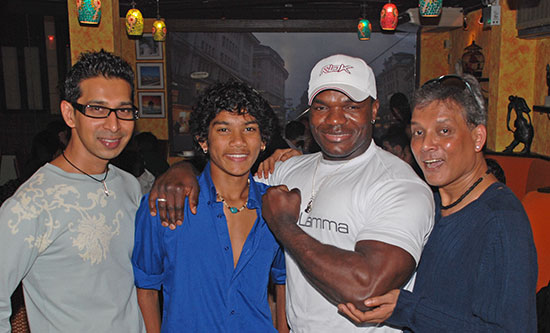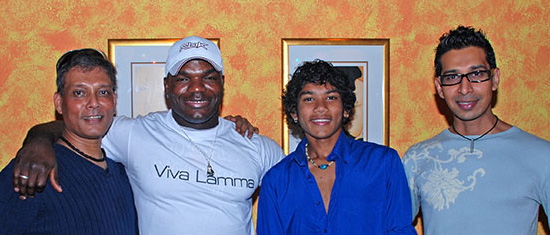 Prafull, Alain the Panther/new world champ, his eager & talented student Saheb (Prafull's son) and Deli Lamma Central manager Aslam, last night in the Deli Lamma Central. I love Alain's T-shirt!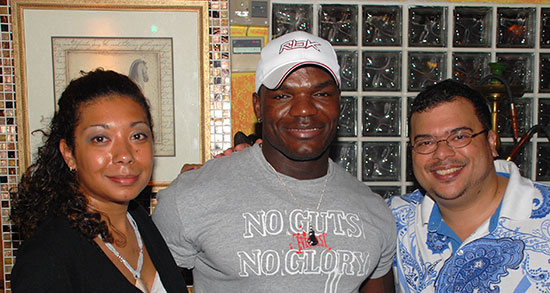 3 recent ex-Lammaites and happy Deli Lamma customers: Colette ("The Very Vain Lady" of Molokko the Blogging Catster), Alain "No Guts No Glory" N'Galani, and
The Josh (Colette's hubby and lead singer of Lamma Band Transnoodle)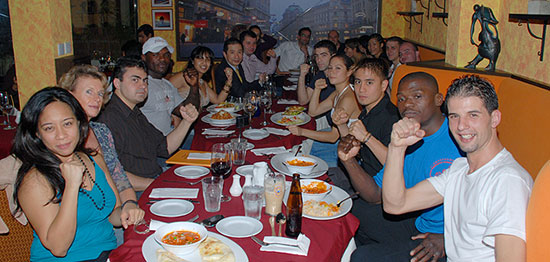 Victory party of Impakt Martial Arts and Fitness Centre teachers and friends.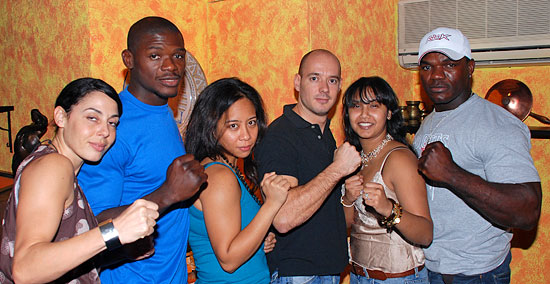 To learn more about most of these "tight-fisted" people, click here.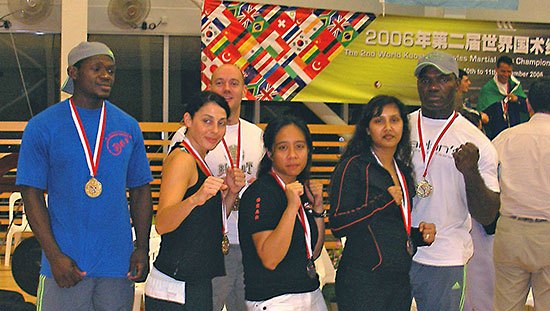 The winning Impakt team in Singapore
Happy birthday, Joey! Alain with medal and trophy. Click to enlarge.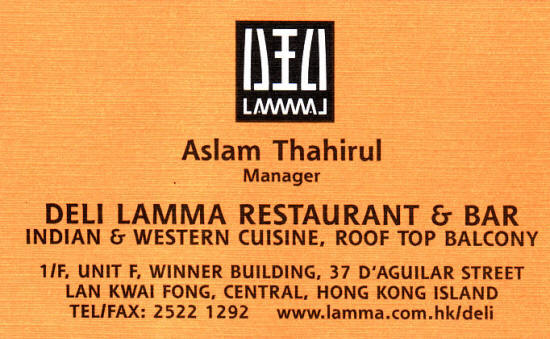 Winner Building is close to the top of D'Aguilar Street,
between Al's Diner and Hardy's, on the 1st Floor.
Opening hours: 11:30am-2:30pm and 6pm to midnight.

Nov 17: Guitars & Nappies!?

Well, DickStock's been completed successfully for another year, the hangovers have been cured, the DickStock Residence's garden has been cleared of cans and condoms and Mr DickStock has gone into hibernation till next spring, I think. Meanwhile, let's take a look ahead at next year's potential lineup of Lamma Bands for DickStock 2007:
Have you already heard of the latest, newest and wettest Lamma Band: Guitars & Nappies? At first, they considered calling themselves the "ABC Girls" (Ashley, bbchris and Chloe), or even "The Amazing Bowers Girls". It's a just renamed all-girl band and they're already practicing hard (and very loud!) all night long for their first gig at next year's DickStock. You have been warned! Here's the announcement of this renamed and now even more exciting band:
bbchris – Music forum moderator & founder of Guitars & Panties
(Photos submitted by bbchris, logo above updated by Lamma-Gung):
Finally, the 'bb' at the beginning of bbchris's name has an explanation! Not only is our own bbchris a live music events organiser, a colourful palette for local hairdressers and a "Rock Goddess", she's adding "Rock Mum" to the list of achievements under her PVC belt.
Announcing the arrival on 2nd November - just before lunchtime - of Chloe Anne (6.4 lbs) & Ashley Anne (4.6 lbs). [Editor: Worldwide-exclusive pictures, not published yet in any other media, see below! Brangelina, eat you heart out, the bbchrishaun twins are way cuter than your Maddox!]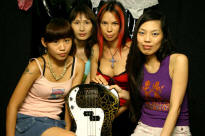 Both look like their Daddy [Editor: Huh? Poor girls! See below! Not true!] and are feeding well. Both have long fingers and great lungs - displaying the potential to become vocalists with deftness on guitars!
bbchris has denied that the band she founded, "Guitars & Panties", will change its name to "Guitars & Nappies".

Well, we know better, don't we? Not only have they been renamed to "Guitars & Nappies" - see their new logo above for proof! - but bbchris will be adding Ashley & Chloe to the band as "junior" members soon, making it a six-girls band!
Looking ahead even further, when might the first album of "Guitars & Nappies" be coming out? Will its production last another full nine months? By then, they might have so many songs (babies crying as backing vocals?) recorded that they'll have to release them all as a double album! Thinking about it, they'll ALWAYS release DOUBLE albums only from now on!
It's great for bbchris to have the twins so early in her life, as she's only 20 years old, according to her comprehensive and VERY detailed MySpace profile. She looks 20 in her profile photo (see left): "About me: I am a Eurasian Rock Goddess!" Fun reading, but it might need a bit of updating...
bbchris has only one fear for her girls' future:
She hopes they won't grow up to become accountants or civil servants! They might even become "nice girls" some day and - unlike their "Rock Mum" - never want a colourful tattoo or a painful piercing, never colour their hair red, green or blue, never join a rock band or become a groupie! A real nightmare for a "Rock Mum"!! So better get them into a rock band as early as possible!
This kind of fear could keep bbchris awake at night... if she wouldn't be awake at night already to feed her double bundles of joy. Send her your congratulations and all your best wishes for the founding of a true next-generation Lamma Band!
Meanwhile, paparazzi-wannabe Lamma-Gung will be hiding in the bushes and undergrowth around the bbchrishaun residence in Tai Peng with a massive zoom lens trying to capture potentially lucrative candid snapshots of the twins, NOT!

Nov 16: Loony Creativity & Horripilatory Tingles @ DickStock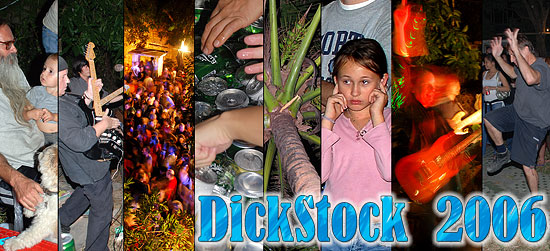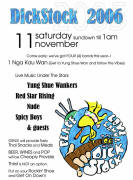 Nick the Reviewman - Official Court Reviewer for Lamma Bands:
Check out his website or send him an email.
All photos above and below by Lamma-Gung. Click on any photo in this article to get the DickStock 2006 photo gallery of several photographers.)
No, I didn't know either what "horripilatory" means, till I googled it:
Only 8 relevant uses of this word on the entire Internet, 2 of them can be found in 2 of Nick's former reviews on his very own website.
Welcome to Dickstock 2006!
Things are getting scatty and tardy. First, Parksy locks himself out of his house, causing a delay in loading the gear. Then the VV breaks down... Everything arrives up at the DickStock Residence about 10 seconds before sunset. Final set up is under muted lights, while the crowd slowly ambles in.
The stage faces the beach so the sound should carry away from Po Wah Yuen and provide a wider space for the audience to sit down, stand up, chat, drink, make merry and occasionally boogie. The smart dogs gather backstage and near Geng's barbecue (Hmmm, free bones!) A copy of the CD that Timo Maas gave me after his recent HK gig is playing while the first band of the night gets ready.
Transnoodle are Jamnoodle tonight. Josh, mainvox, can't be here, so Johnny sings "Transnoodle" and "Deli Lamma". The sound is a bit more Pogues folky, less ska, with plenty of jamming between Andrew on lead guitar, Kevin on bass and drummer Magnus There's a new tune "Bury the Harbour" which has some near-African guitar melodies snaking through it. Jamnoodle play a shorter set than at Lamma Fun Day, but it's still a groove.
---
Time to get ready for The Spicy Boys. "Mushrooms" by Lee Burridge is faded down as the quintet amble on stage and plug in. They are Dan the Bastard, on typical leather-lunged vocals, Hugh on drums, Dennis (the Menace) on bass, Phil and Gabriel on rhythm and lead guitar. Opening song "The Passenger" by Iggy Pop is as close as they get to the 21st Century. It's a no-frills, satisfying trawl through some of the seedier songs of the 60's and 70's. There's "Roadhouse Blues" and "L.A. Woman" from The Doors. They crash up against "Sweet Jane" and "Waiting for my Man" (Lou Reed/The Velvet Underground). There's almost a singalong on J.J. Cale's "Cocaine" and the Boy's tart it up for "Should I Stay/Go" (the Clash). All that was missing was Dan's spandex leopard-print trews! They depart to applause as "Bankrobber Dub" by the Clash echoes around the garden before fading into some live Tubes "Crime Medley" and "I was a Punk before You".
There's probably about 300 people here, enjoying the craic and roll, while Willem, Lamma-Gung and Bob Davis are going snap-happy. Dick appears every so often, beaming through the crowd. Earlier, he put down little guide messages along the path, asking the neighbours NOT to call the police. So far, it's working. Three friends of mine from the Timo gig - Julia, Chris and Casey - are here, in full-on fun mode.
---
Hugh is back on skin-bashing duties with Red Star Rising

. They haven't played since the recent Bikers Daze gig in the N.T. so this is the Lamma debut of Alex, the bassist. Steve plays some sweaty synth guitar on eponymous opener "Red Star Rising" and there's a wired blues-buzz to the second tune "When Worlds Collide" The next 2 songs "Dollar Arcade" and "Finishing Line" are more pop-exploitative and lead nicely into a new number "In Your Arms" with a hint of The Beatles in the melody.
I'm sharing a gag backstage with Nikki and Nitai who have just realised that Hugh is "a great drummer". They can't remember seeing him play before. He and Alex then perform an impromptu drum and bass duet as Steve's amp aborts midway through "Bags and Belts". He fixes the problem and the trio rock out to the end. "Shopping Malls" should feature a backwards guitar solo in the break, but technical difficulties arise again and Steve can't play it properly. Never mind, this is still a great fuzzydelic beast of a song and leads nicely into "Escalator Girls". The final tune is "Walking with the Devil" which showcases Steve's blues playing. It's a Taste-y version, recalling prime Rory Gallagher. Steve is chuffed with this when we speak later, telling me he knew Rory well and that they've played together.
---
A heaving horde of humanity is hopping happily as The Beatles sing "It's All Too Much" and the Electric Prunes pay tribute to Roger (Mcguinn)'s ringing Rickenbacker. The DJ sound cuts out and returns with "Get Ready" by Rare Earth as Nude get their shit together. They're a cool collective, reminiscent in many ways of Lamma's Mothership in that they can shed members, find replacements and get guest musos to join in and jam.
Hamada is sitting in on lead guitar for the departed Mark. Justin is having major drum fun. Kevin is back on bass. Sam Bruce on trumpet and Makha on percussion. They're joined by Tony B. on sax. Last, but not least, is Matt the keyboard kommander who meshes smoothly with Hamada's rhythmic worldbeat guitar licks. Paul's still the rapmeister voxman, but Donna's not well and is sorely missed tonight. The set features some tasty jams on tunes by Fela (dad) and Fema Kuti (son) amidst the original compositions like "Articulated State" and "The Art of Flipping". Little, spontaneous outbreaks of Happy Feet are occurring all over the place. A fine blend of vintage Santana jams, crossed with the horny horns of The Blues Brothers. You can't NOT dance to Nude!
---
Armand Van Helden's mix CD of rock breaks and New York party tunes is playing as Kumi's drum collective invades the stage for a short unscheduled show prior to the Yung Shue Wankers set. The guys are banging away happily to the beats, but Kumi's in a strop about something or other and wants the music off. When it IS turned down, she's arguing about something else, so it comes back up. Someone says she tried this a couple of years ago during Gaelic Gaul's gig, prompting a frosty request from Fraser to "shoot the fucking drummers!" Mick Farren's "Memphis Psychosis" - an epic tale of drug debauchery leading to an inability to visit Graceland - helps set the mood for The Yung Shue Wankers appearance.
---
The Yung Shue Wankers are more Bouzakai tonight. Ollie's turned up with his accordion and spends about 10 minutes trying to get plugged in. Success, eventually, as he joins Davy on fiddle, John on guitarvox and Harry on 2nd guitarvox. Opening song is "Folsom Prison Blues", but Harry soon departs as he can't hear anything he's playing. The other 3 perform a fine set, comprising some material from Lamma Fun Day. Ollie's accordion causes horripilatory tingles on "Still Haven't Found What I'm Looking For". There's also a semi-falsetto romp through "YMCA" and some instrumentals that recall Bob Wills and the Texas Playboys.
The absolute highlight is a near-totally unhinged cover of "Surfing Bird" by The Trashmen. Davie's fiddle recalls prime Kaleidoscope playing Flock, while John channels the spirit of Wild Man Fisher on vox. The most psychedelic song of the night - full stop. Jules returns with her party piece "These Boots Are Made For Walking" and it's pretty much "Th-th-that's a-a-all ff-ff-folks!" for the live music.
The police haven't turned up all night. The overall vibe veers between semi-controlled chaos and loony creativity and Timo is playing us out as the musical wheel goes full circle. Something IS happening, Mr. Jones. Hope you all enjoyed it as much as I did.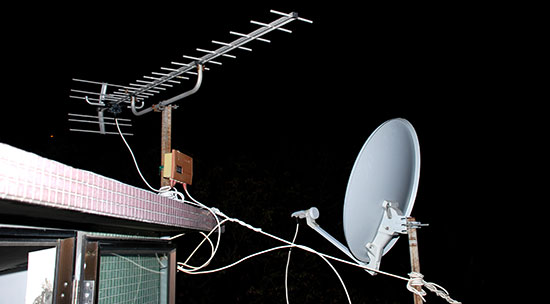 Looks like DickStock 2006 is being broadcast live & worldwide from the rooftop!

Yung Shue Wankers getting into the groove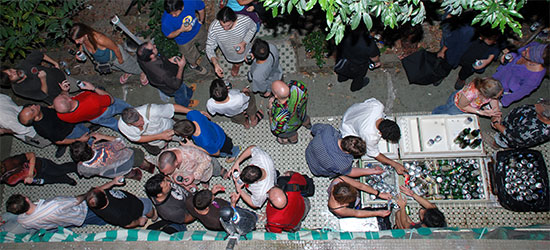 Best view of the event: from Mr DickStock's balcony

More photographers snapping other photographers, unintentionally this time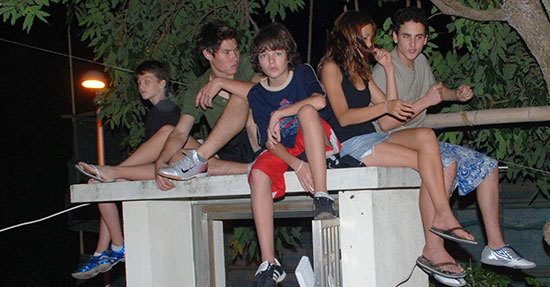 The entrance gate to the DickStock Residence

A friendly, peaceful, joyous community event: "Peace, Love, Lamma"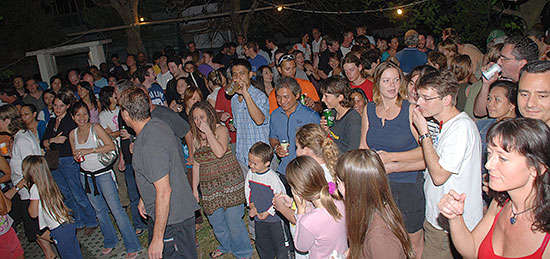 Most of your local friends are here as well, stepping on your toes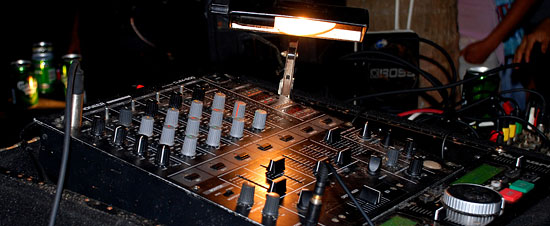 Parksy's pre-digital sound mixer causing a few technical hiccups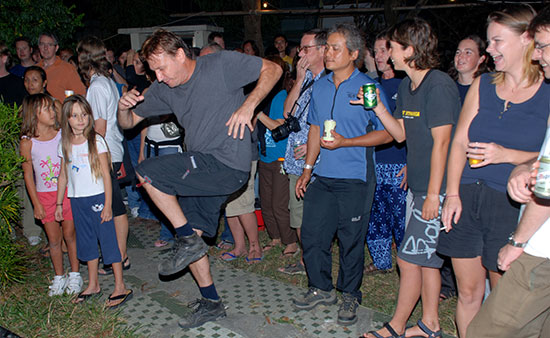 Some people got uncontrollably Happy Feet!
---
P.S. Finally, an appeal from Switch, a well-known and popular musician himself:

"What's up Lamma? No jams, no open mics, no impros, no JAZZ...!!!
I haven't seen/heard of one proper jam since Dan's (the Bastards) time at the Aroy . What's this caused by? Have we turned into responsible busy people? Or we just can't be asked to do this anymore? Come on, you all. Let's get to-gether, n' do something fun! Can I have a count of hands all of you interested?"
Join our Music forum and let him know that you're interested!

Nov 15: 'A Deadly Outswing Bowler Who Destroyed England'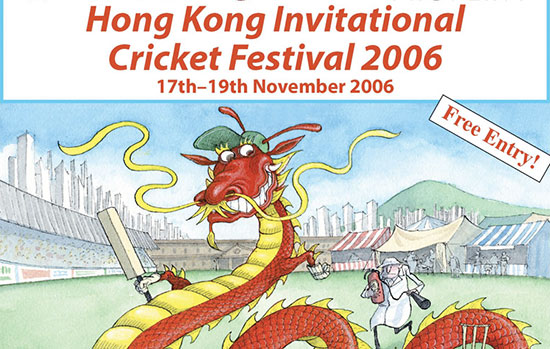 Hong Kong Invitational Cricket Festival 2006: Fri-Sun, Nov 17-19, 9am - 5.30pm daily Po Kong Village Road Cricket Ground, Diamond Hill, Kowloon.
Entry - free for all spectators, organised by Lamma Cricket Club. www.hkicf.com, email, Tel: 9636 5545. Official Charity - Make A Wish Foundation. Click for poster (another Harry Harrison classic).

Kevin Bishop - Lamma Cricket Club
Ashes Fever!
Festival Tournament Director Brad Tarr confirmed that former Test stars Terry Alderman (Australia) and Jack Richards (England) would be appearing at the tournament. Alderman, formerly of Western Australia, Kent, Gloucestershire and Australia, and Wisden Cricketer of the Year in 1982, was a deadly outswing bowler who destroyed England taking 41 wickets during the 1989 Ashes series which Australia reclaimed. He also took 42 wickets in the 1981 Ashes series (Botham's Ashes).
A record number of 32 teams will be featured, 18 local teams, as well as 14 clubs flying into Hong Kong from all over the world. The Women's divisions includes a team from Shanghai consisting almost entirely of Chinese nationals.
This annual Festival of cricket is the largest club cricket sixes tournament in the world. Men's & women's cricket teams will be flying into Hong Kong from Malaysia, Thailand, India, Pakistan, UK, Australia, Taiwan, Philippines and Singapore to compete against local sides in this ICC Award winning tournament, now in its 5th year.
Spectators are welcome to enjoy the Festival Village on the weekend days (Nov 18 & 19) featuring bouncy castles, food & beverage stalls from Delaney's and Jashan Restaurant, and fun kids stalls with proceeds raised going to the 'Make A Wish' children's charity. The 2005 Festival raised over HK$30,000 for 'Make A Wish'. Entry for spectators is free. Directions are available from the tournament website.

Nov 14: HK Copy News #9
Another weekly installment in the satirical news programme by Lammaite Daniel MomentEye. He writes: "The new HK Copy News is up! Okay, so this one is late... tell you what, you can have it for half price. Tung Chee Hwa gets a free doctorate and Beijing swaps Margaret Chan for Bird Flu."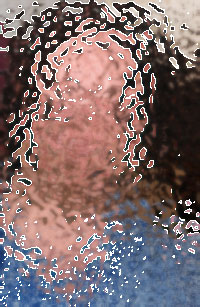 I met fun-loving, great guy Daniel in person (see right, he's shy) for the very first time at the recent opening party of Joanne's Blue Tongue Design Tattoo Parlour (1/F, just before the Bookworm Café). Yes, Joanne's really got a beautifully blue tongue, ask her to show you!
Daniel MomentEye looks and sounds so amazingly different from his alter ego, the cheeky, bubble-headed, helium-voiced pipsqueak newsreader in his HK Copy News! Yes, he's truly mastered the mysterious miracles of modern, all-digital CGI, sound processing and video editing...
Many of us wonder how long he'll be able to main-tain the writing, designing, editing, recording, producing and publishing of his very creative, hilarious and professional Flash-animated videos all by himself on a weekly schedule? Let's hope it'll be for a long, long time! Click below for the index of all 9 HK Copy News so far: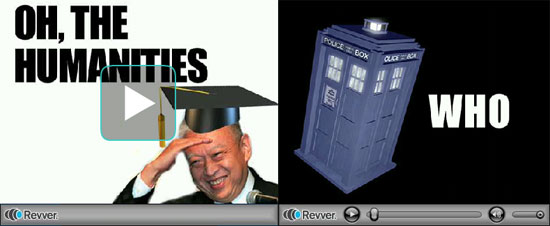 Nov 13: Lamma Fun Day Raises $158,000!!
Fun Day Sonya - Lamma Fun Day chief organiser
(SCMP cartoon of "Lamma Legend" Sonya - according to the SCMP - by Harry Harrison, a Laudable Lamma Luminary himself):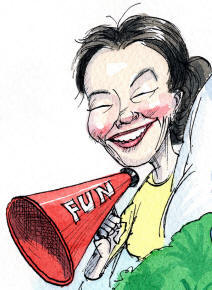 Dear ALL Lamma Fun Day Participants and Volunteers,
THANK YOU ALL for your hard work and efforts leading up to and including the day in making it a FANTASTIC LAMMA FUN DAY!
We are thrilled to report that this year's Lamma Fun Day was the best year ever!
The total amount raised was just over $158,000!!
Looking down the road and along the beach and seeing all the people having a great time was brilliant. We could not have done this without your help.
We look forward to seeing you again next year! Stay tuned for details regarding this year's Funkraiser!
Many thanks,
The Lamma Fun Day Committee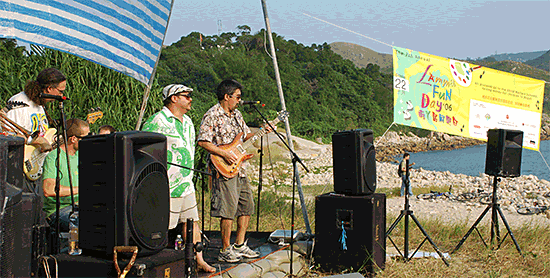 Nov 12: Send Me DickStock Photos!
Yes, another "iconic DickStock" music festival last night! All the Lamma Bands played up a storm and a wonderful time has been enjoyed by all. Lamma's vast hordes of amateur, semi-professional and professional photographer were out in force, shooting the action in literally thousands of shots, illuminating Mr DickStock's garden with a lightning storm of flash lights, fitting in well with all the multi-coloured spotlights, flashes and lasers of the professional stage light show.
Having turned down a $1,000 photo shoot in Sai Kung last night myself to be at DickStock, I shot exactly 488 photos, hoping for at least a handful of acceptable shots, maybe. I was stalking world-renowned photographer Bob Davis half the night, hoping to learn from the master and pick up a few tips. He's already submitted his first shots this morning, being not just great but also fast.
But to my great surprise, he didn't email me shots of the bands but of other photographers taking photos! Hey, Bob, where's the good stuff? Well, anyway, very first DickStock photos by Bob Davis: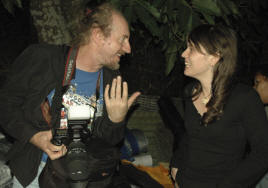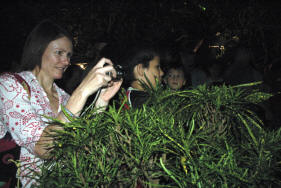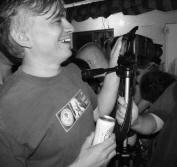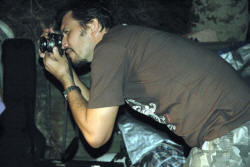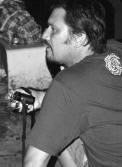 Wait, I've got one more! How about a photo of Bob himself I shot while he was shooting other photographers shooting photos? Watch the professional at work: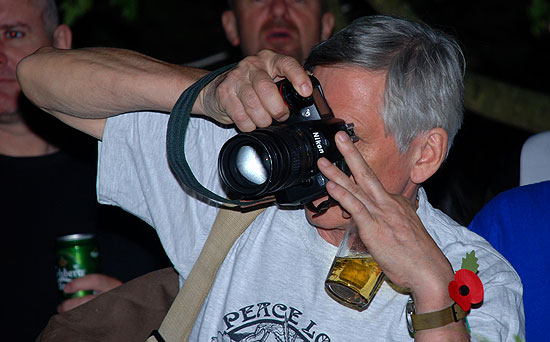 the precise positioning of the arms, high elbow and stretched-out fingers (click to zoom in for a closer look);

the choice of camera (a sheer-black, professional Nikon dSLR with a top-quality Nikkor lens, nothing else or lesser will do);

creative shooting angle with camera body askew;

the photographer's fully loaded kit and accessories bag;

appropriate, event-related attire (DickStock T-shirt, charity plastic flower);

watch on the inside of the wrist - to be able to tell time while holding the camera in the correct, double-handed grip;

the ultimate focus and maximum concentration expressed in his pose;

and, last but not least, by far his most impressive skill of all:

the amazing and obviously well-practiced dexterity of being able to balance a glass of cool beer with just two fingers while taking pictures!
All the telltale signs of a true professional photographer! It took him more than half a century of full dedication to the high art and craft of photography to reach this Zen-like level of a venerated master! I'm not worthy to be your disciple, Sifu Bob! Teach me more, please, please!
Send me YOUR DICKSTOCK PHOTOS for publication ASAP!
P.S. DickStock band reviews by the newly appointed Official Court Music Reviewer of Lamma Bands, Nick the Reviewman, will follow soon...

Nov 11: Scary Lamma Hippies!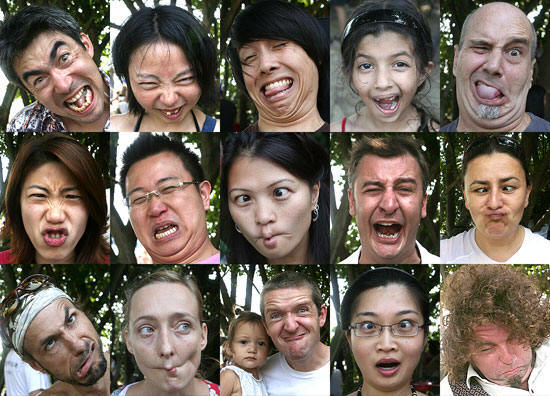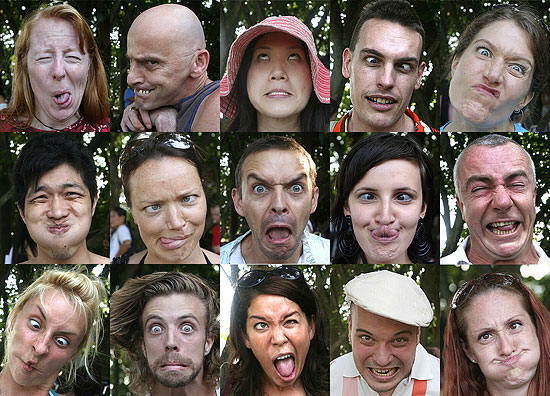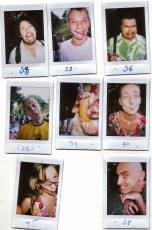 Click to enlarge. All photos by Darren, shot at Lamma Fun Day, Oct 22, 2006. They have all been cropped, processed and arranged by L-G. Darren set up a "Gurning Competition" stall, raising a lot of money for the Children Welfare Scheme. Great idea, Darren!
This is final and definitive proof that we really have the scariest people living on Lamma. Some of them didn't even have to pull a face, that's how they look all the time! How many faces can you recognise and name?
Approval for publication was obtained from the subjects. But if you mind being featured here, just let me know and you'll be removed.
For a gurning slide show by Daniel of MomentEye Productions - part of HK Copy News #7 - click below: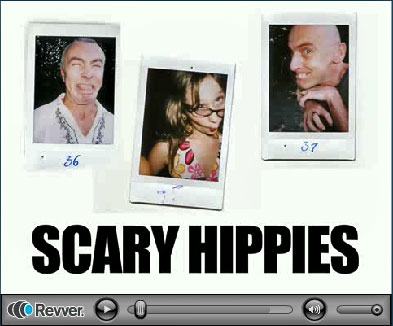 Nov 10: DickStock XII, Tomorrow!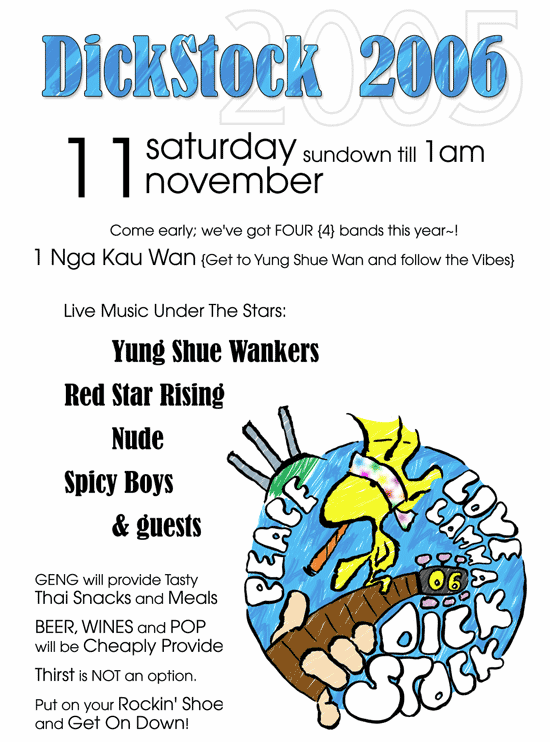 Mr DickStock - Laudable Lamma Luminary:
After the unfortunate incident with the patrolman's handcuffs last year, we here at DickStock Acres are working with Law Enforcement to mitigate any spill-over of noise to our neighbors in the hills above the lovely valley of Nga Kau Wan.
My downstairs neighbor Ah-Wong has proposed a possible reconfiguration of the facility which will minimize noise impact, and also possibly expedite his 'marketing' initiative. Wong will be distributing beer, wine, and soft-drinks at a very low 'investment'.
And Geng from the Lamma Gourmet will again be cooking up snacks, 'Geng-Burgers', and who knows what - all-Thai food for hungry rockers.
Things will roll around 7pm or so; kids and friends are welcome; dogs, less so.
LAMMA BANDS performing:
| | |
| --- | --- |
| 7pm | DJ & acoustic music |
| 8pm | The Spicy Boys |
| 9pm | Red Star Rising |
| 10pm | nude |
| 11pm | Yung Shue Wankers |

P.S. If you're going to take photos, email them to me. They'll be published in the DickStock 2006 photo gallery. See former galleries:
DickStock 2005, 2004, 2002 & 2002.
Check out the DickStock 2006 forum for the latest info and a map.

Nov 9: Deli Lamma Opening in Lan Kwai Fong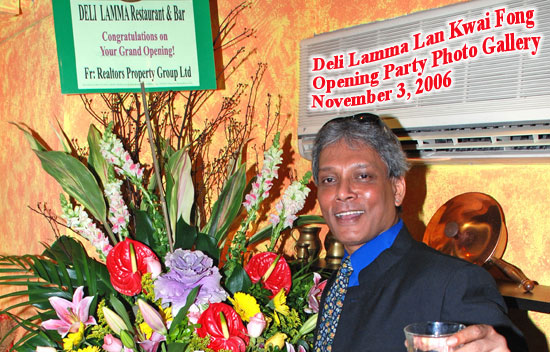 Click above for photo gallery of opening party of Deli Lamma LKF, Nov 3, 2006.
Sam Chambers - Writer, Deli Lamma Publicist & Cheerleader:
That New Deli Lamma
Opening from 6.30pm this Friday, November 3, Lan Kwai Fong will finally have the kind of watering hole that people have been craving for the past couple of years - a non-pretentious, non-faux Irish bar where you do not have to think about taking out a second mortgage in order to buy a round of drinks.
Moreover, run buy a seasoned restaurateur this exciting new development will bring a slice of island life to the heart of Central. The hugely popular Deli Lamma bar and restaurant, open for more than a decade on the Main Street of Yung Shue Wan, Lamma, is spreading its wings and opening a Central offshoot, also to be called Deli Lamma.
Bringing the same relaxed, cool mood that its island original has enjoyed since 1992, the new Deli Lamma, set out over 1,800 sq ft on a first floor, has a sprawling balcony, curvaceous designs, vibrant colours, a jukebox, both Indian and Western cuisine as well as a startling array of drinks and cocktails.
Come along for the official launch party this Friday, Nov 3, from 6.30pm.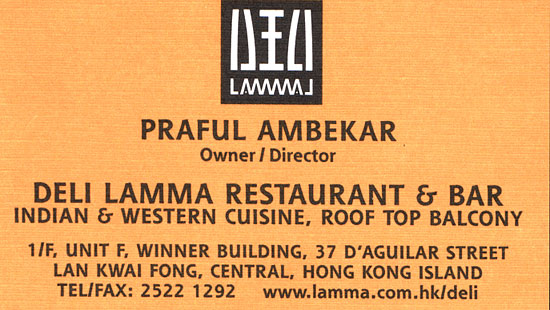 Full contact details; click for website.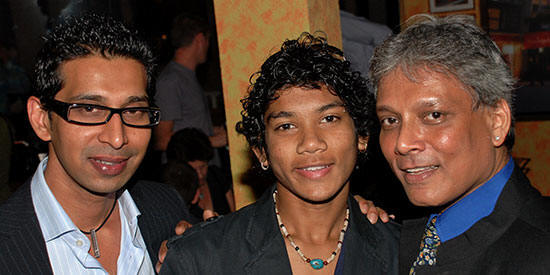 New manager Aslam Thahirul, Lamma Football Club Captain Saheb and Praful.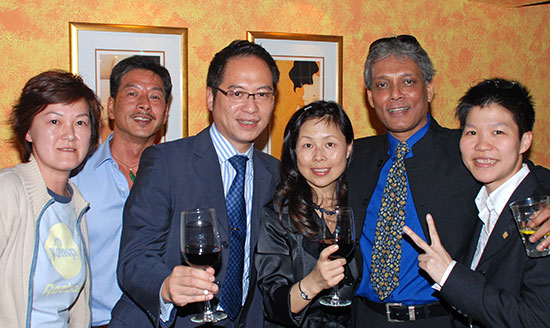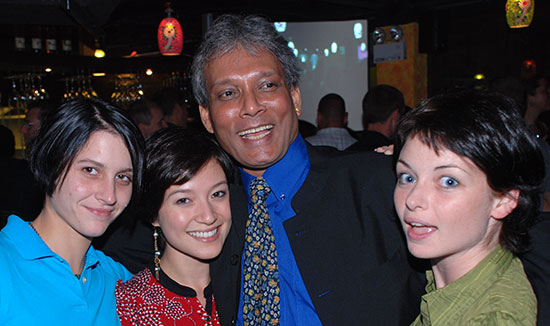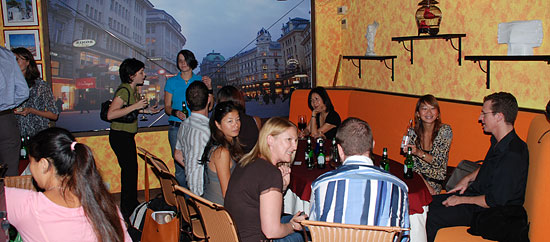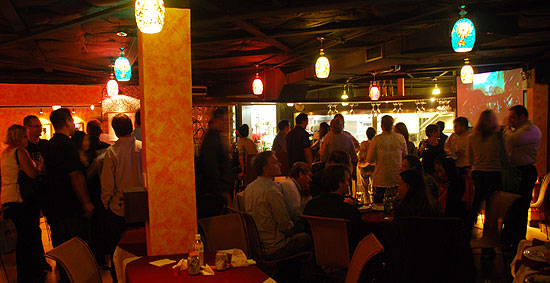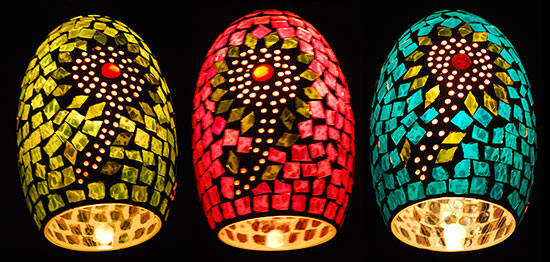 Nov 8: Big Success of No Hillfire Campaign!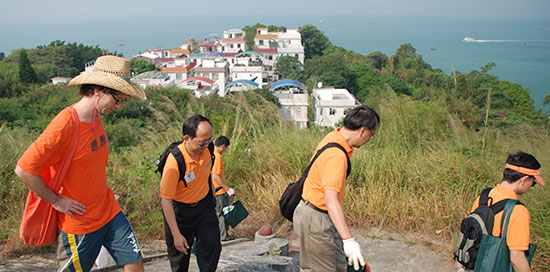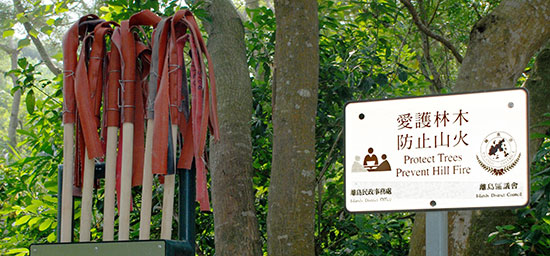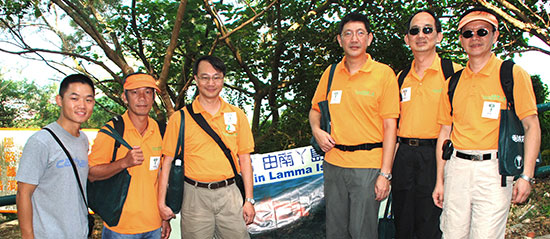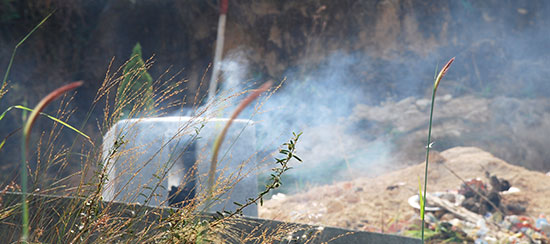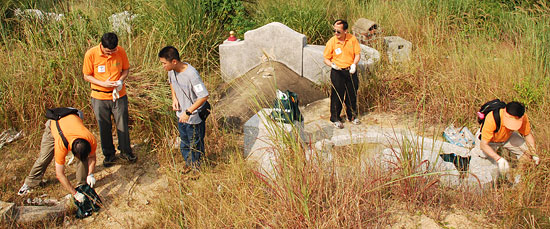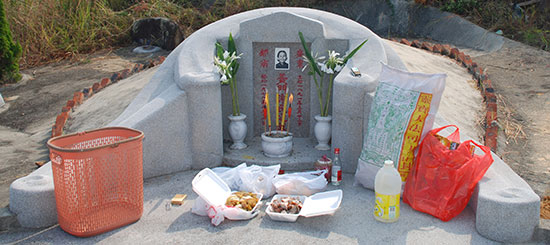 There wasn't a single hillfire on Lamma Island at the Chung Yeung "grave-burning" festival this year!
Who should we thank for this wonderful achievement?
The Conservancy Association (CA) and the HK Electric Volunteers, that's who!
The SCMP published a column by Kevin Sinclair today, praising their efforts.
Click here for the full text of his column. Here's the link, if you have access to the SCMP website.
The CA also just sent me a thank-you email today for my helping and consulting them with their campaign (Lamma-zine, Oct 26: "No Hillfire Campaign"). I've also been joining one of their fire patrols to take pictures for them and for the Lamma-zine, see above!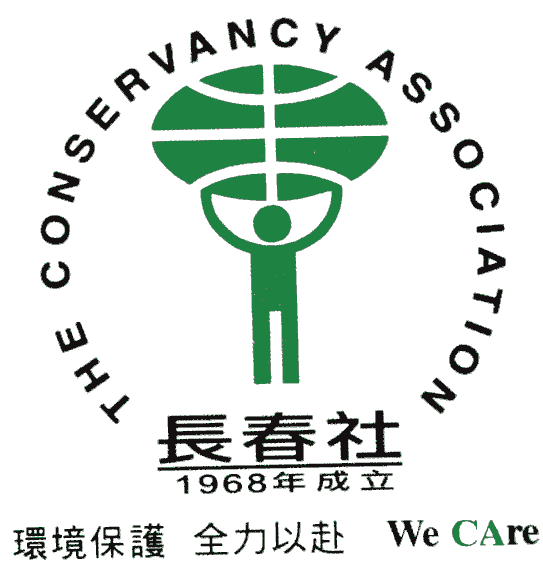 Dear Lamma-Gung,
Congratulations for our effort in preventing hill fires in Lamma Island! The "No Hillfire" Campaign in Chung Yeung Festival was a great success!
Without your help, we could not have achieved our goal of preventing hillfire under such dry conditions. Cheers!
Enclosed please find the SCMP column for your reference. Would you mind sending me some pictures that you took when they are weeding or any other pics on that day.
Thank you very much!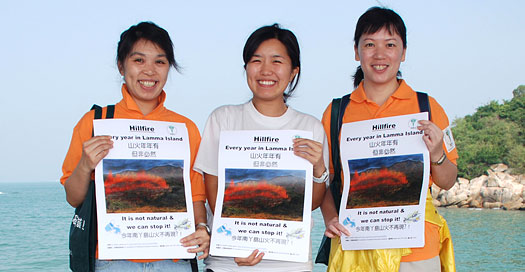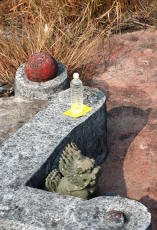 But ALL the credit should go to the CA and the HK Electric Volunteers who did such a great job on Chung Yeung day and the day before. They worked for free on a hot day up in our hills (mostly behind Po Wah Yuen, Tai Peng, Yung Shue Long, Pak Kok and Sok Kwu Wan), weeding graves, distributing posters, leaflets and water bottles (see right), informing grave sweepers they met.
Our longtime moderator Alan brought up this idea of fire patrols and got the ball rolling in a "village meeting about environmental issues" that the CA initiated a few months back. A few weeks after that meeting, the CA decided to take action on Lamma first, setting a good example. I stayed in touch with them after the initial meeting, consulting them (dates of their patrols, grave locations, promotions, etc).
The CA tried to find local volunteers, asking me first, then Lammadonna, but we found only one local volunteer. So they went to HK Electric's Volunteers group (orange shirts) who joined the Conservancy Association's own people in this 2-day campaign.
They also work together on the 3-year "Green Lamma Green" campaign, planting and maintain-ing trees up at the pavilion above Hung Shing Yeh beach, on the tourist trail to Sok Kwu Wan.
Three cheers and many thanks to
the Conservancy Association and
the HK Electric Volunteers!
P.S. Let's find more LOCAL volunteers for the next grave-sweeping festival (Ching Ming) - under the guidance of the CA - hopefully continuing to prevent hillfires on Lamma for a long time into the future!

Nov 7: 'I Moved to Lamma Because of Lamma.com.hk!'
Randy Roach - Newly minted Lammaite from the Hawaiian islands:
Learning Lamma
Lamma is the best place to live in Hong Kong.
How did we who live here find out about this gem? Word of mouth, a quick visit to the many islands here in Hong Kong, maybe checking out the seafood restaurants that line the village. Mine was a different experience.
I met a woman in China on a business trip. She was from Hong Kong but doing business in China as well. We took our time, fell in love and I decided to move from Honolulu to Hong Kong to be with her, learn her culture and be able to travel in and around Asia. I did some research about Hong Kong. I did the usual Frommer's, Lonely Planet, but that was fruitless. I was going to live there, not just visit.
I hit the Internet. Pulled up all I could about Hong Kong. I was interested in a site named Lamma.com.hk. I pulled that up and read it all. My last months in Hawaii getting ready to make my big move, I read every page on Lamma.com.hk. I got to know some faces that were making news and doing interesting things on Lamma.
My lady had already rented a place for us when I moved to Hong Kong in North Point. WOW! Terrible. Noisy and too many people jostling into each other. I made several visits to Lamma looking for the right place within our budget. Many of the contacts came from my reading of Lamma.com.hk. Without that Internet publication I doubt that my transition to Lamma would have been so smooth.
Becoming a resident now on Lamma is a great experience. Lamma is filled with wonderful people and filled with silence, peace and tranquility. Making it to and from the ferry is sometimes tough. I seem to be pulled into the Island Bar, but that is cool, too. Great people who own the place and great people who frequent the place.
Lamma.com.hk made this possible for me. It showed me, an island boy, a place to live in Hong Kong without living in the hustle and bustle that Hong Kong is known for.
Lamma is a bit of Hawaii in Asia. Cool people, good food, and serene surroundings, quiet except for my exodus to the Island Bar where you always feel welcome. Thank you, Lamma.com.hk, for helping me to discover this bit of paradise.
So, if anyone who reads this knows of a 700sqft 2/F with a rooftop in Tai Peng, let me know. Thanks again, Lamma.com.hk!

Nov 6: Chin. Forum Update & HK Copy News #8
Daniel Clarke - Moment Productions, ph: 9122 2849, www.MomentEye.com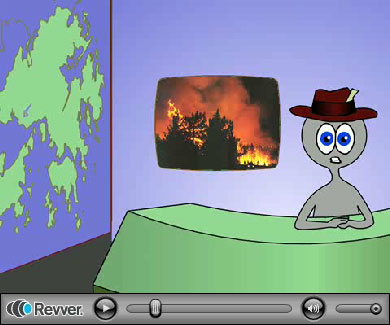 I've just posted a new HK Copy News. Check it out here:
This week we have hill fires, altruist developers, Henry Fok and dangerous driving.
Obviously I'm trying to publicize this as much as possible, so please pass it on [Editor: by clicking on "Send to Friend" in the "Monday" bar above]. Thanks!
Alternate Link: http://revver.com/video/92582
Samson - Official Court Moderator of All Chinese Forums (even though there's only one Chin. forum so far, his upgradeable title allows for future expansion!)
(Photos by Miu, Wingman, bobby, simonltk and Lamma-Gung)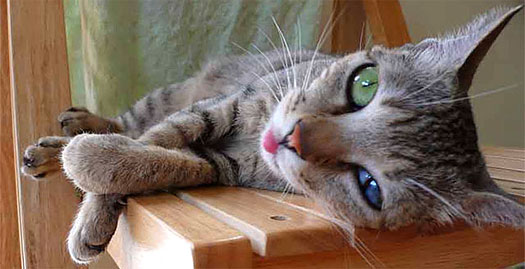 Nov 5: Dazed Bikers Seeing Red Stars @ DickStock?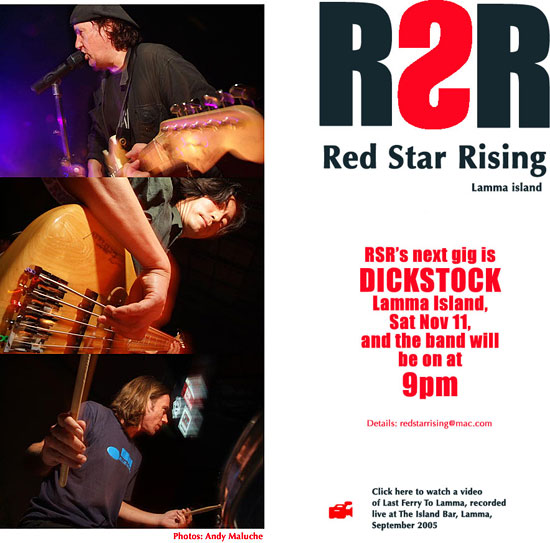 For a photo gallery by Andy Maluche of the last

gig at the Mad Dog Motorcycle Club's Biker Daze event on Oct 28: click here.
Here's a little montage I made from cropping Andy's amazingly cool pictures. Click below to see ALL his photos from Biker Daze: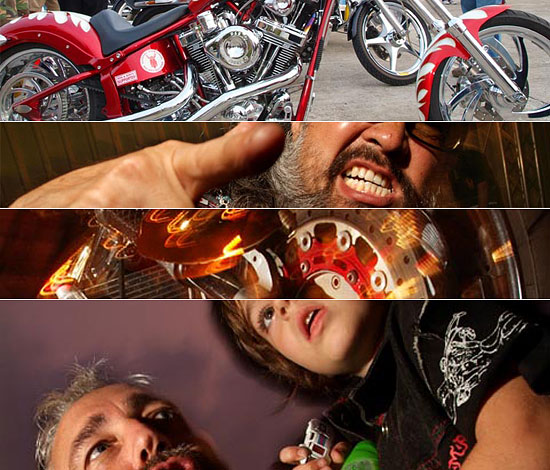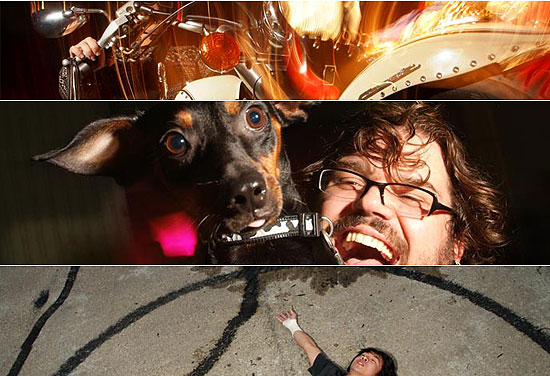 Doug Netzel - Biker Daze Promoter: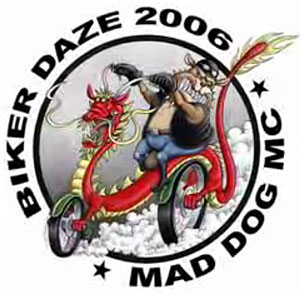 Dear Editor of Lamma- zine,
Thank you for all your postings of Mad Dog Biker Daze 2006 Event...
It was a huge success with more than three hundred bikers and guests attending this unique event, a first for HK.
Mad Dog Motorcycle Club of Hong would like to thank all the Lamma residents who attended... the special bus was full !!
Also I would like to thank the Lamma Bands "Garoupa" and "Red Star Rising" for their outstanding performance at this event.
Now here is a first for Lamma !!
Sharon, a Lamma Island Resident, won the Biker Daze Wet T-shirt Contest...
A very close contest won by two points! Pictures will be posted soon... but censored !!
Check out the first of many short videos of the event. Hong Kong Mad Dog Members:
Final cut of this fun video: Biker Daze video!
Cheers....to all
Ride Hard... Ride Free !!
Doug=162=
Weelin'n'Deelin' - Biker Daze guest reviewer:
I was at the Biker Daze and someone asked me to write all about the Lamma Bands:
I hadn't seen Red Star before and someone told me they were a blues band before the set, but they are more rock than blues, really. They produce a very big sound and were welcome after listening to a covers group who were very good but sounded a bit like a juke box.
It was a surprise to hear the opening notes sounding more like Pink Floyd than a blues outfit with big synthesizer sounds opening the title song (Red Star Rising), the sounds coming from frontman Steve's Fender Stratocaster. It was an unusual combo of rock and blues, but it worked. After that it was rock all the way through for an hour and a quarter.
Great guitar work and a Japanese bass guitarist who is something else. The band certainly have power and their self-penned songs stay in the mind, especially that "Last Ferry" song which they said was going to be a single.
The only problem was the acoustics. Red Star and the other bands played in a film studio that was huge and most people hung about at the entrance or outside. This meant that the band's sound echoed around the huge room. It was strange because the organisers had a great stage with lights and dry ice - proper rock concert style - and then put speakers outside. So, of course, most people stayed there. The first band, Garoupa, played to an empty room.
[Editor: Garoupa came 2nd in the HK Finals of the World Battle of the Bands! Congratulations, guys!]
Never mind, it was a great day (although there weren't many entrants for the wet t-shirt competition, although at least two of them did get their kit off).
Hope they do it all again next year - and top marks to Red Star Rising! Look forward to hearing them when there not in a big film studio. A smoky music club would be perfect.
Finally, a few more words about DickStock next Saturday, Nov 11:
All the info available about DickStock '06 so far, besides the

poster above, is that the following Lamma Bands have been announced to be performing live:
7pm: Dan the Bastard and friends
8pm: the Spicy Boys
9pm: Red Star Rising
10pm: nude
11pm: Yung Shue Wankers
More might be announced in due course by the organiser, hopefully well BEFORE the event, but no guarantees on that. It's a Lamma event after all, very "loosely organised", but also very informal and flexible. The only sure thing is that you'll have a fantastic time at DickStock '06!

Nov 4: Lamma Lunch – 2. Course
A few more photos from Mrs. Arroyo's Lunch on Lamma yesterday, all submitted by Diesel's Lucy! Many thanks! Great smiles, ladies!
(Click on any small photo to enlarge them)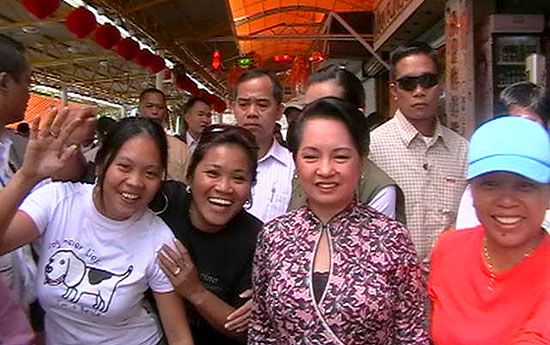 Arriving from the ferry pier. How did Lucy get so close?
Everybody's welcome to take photos & The Island Bar's Kumar's Finest Hour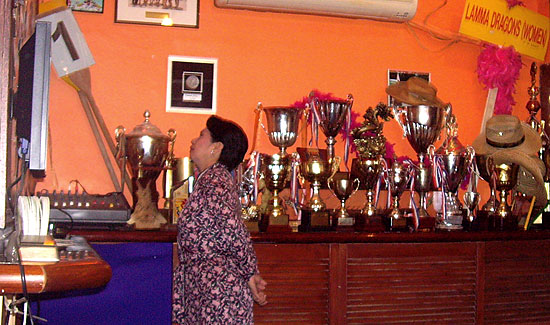 Mrs. Arroyo admiring the Lamma Dragons' trophies & noticeboard in The Island Bar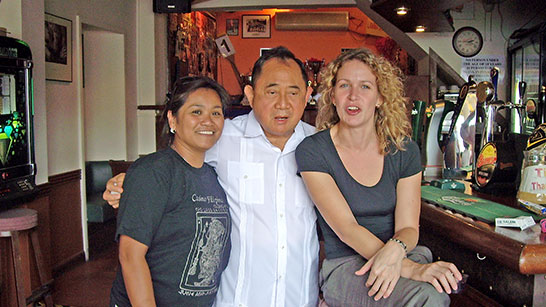 Lucy & the Speaker of the Filipino House of Representatives,
the Hon Jose de Venezia

Nov 3: Philippine President's Lamma Lunch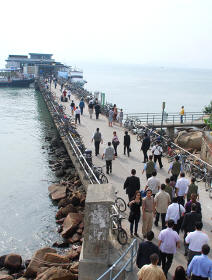 Lamma Island can be so quiet and peaceful on most days. But sometimes it turns into a frenzy of activity and excitement, getting our "unique, fascinating inhabitants" all excited! For example when a famous personality is visiting our little island, like Philippine president Gloria Macapagal-Arroyo just did today, unexpected and unannounced on a private visit. She's been traveling to several Chinese cities, after attending the ASEAN (she's the chairwoman this year) summit in Beijing. Not meeting HK politicians or the media, she just enjoyed a Chinese seafood lunch in our touristy Man Fung Seafood Restaurant.
Three friends called me to inform me and urge me to rush to get pictures for this Lamma-zine! It's really great to have good friends all over the island! Thank you, Kumar, Dan and Lucy! Then the SCM Post called and wanted to buy some of my pictures, as even they didn't know about the unannounced visit. A leisurely lunch and Mrs. Arroyo and her entourage of more than 40 people were walking back to the ferry pier (see right), boarded their reserved boat and were gone. Farewell, Gloria, see you back soon?
It was fun being a paparazzi reporter for once and no other reporter seems to have covered this visit. So you're hearing it here first, a breaking and exclusive story in this Lamma-zine, well before any other media. Some quick photos first, more of my pictures to follow tonight, plus Diesel's Lucy's best shots!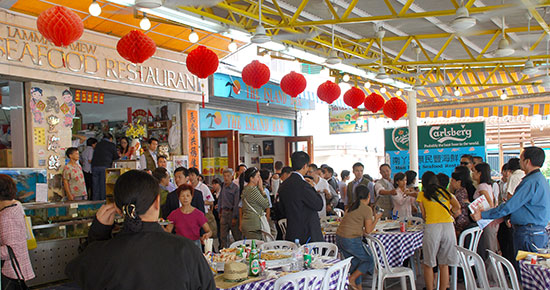 Lunch in Man Fung Seafood Rest. and taking pictures in front of The Island Bar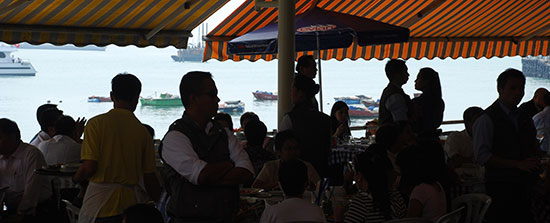 Heavy security keeping a watchful eye: "No photos!"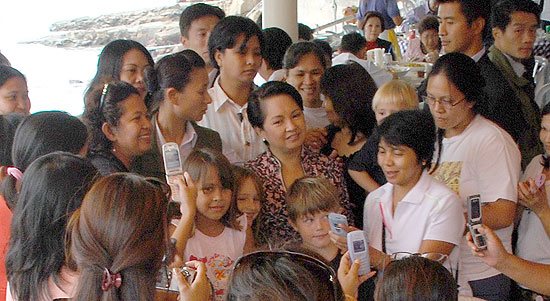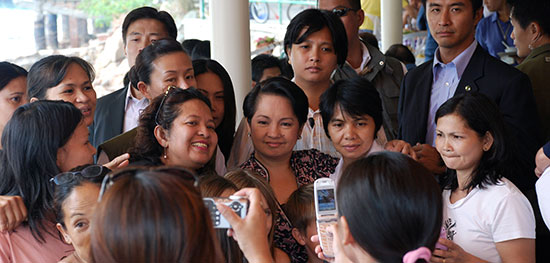 The photo above has been published in the SCM Post on Sat, Nov 4.
Click on photo to read the full story.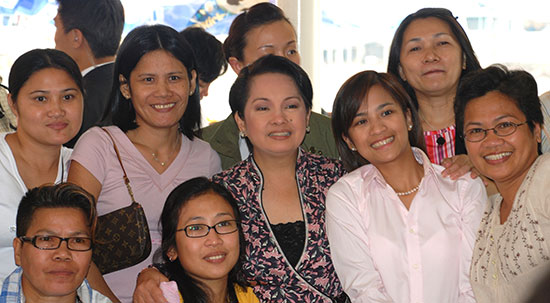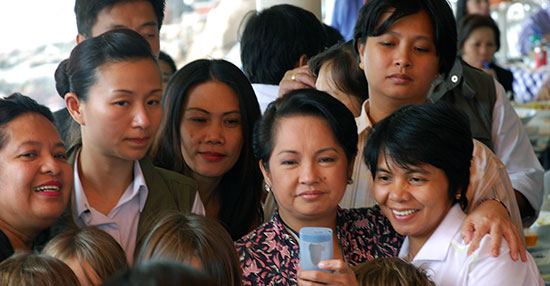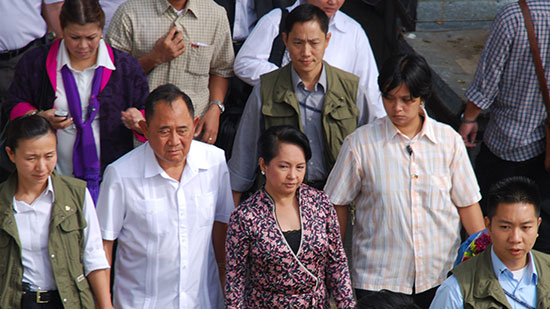 On the way back to the ferry, picture taken from Man Lai Wah hotel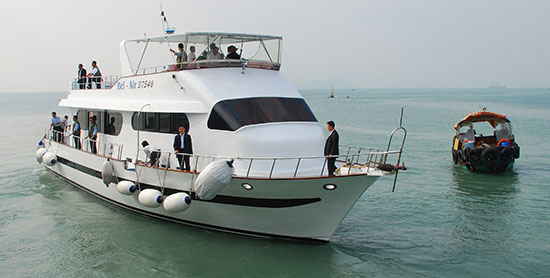 Govt. boat leaving from the ferry pier, ending the 2-day HK visit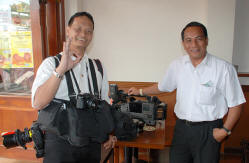 This namecard above is one of the most impressive I've received in a long time:
Presidential TV Cameraman! He and the "Presidential Close-in Photographer" - traveling with Mrs. Arroyo all the way from Beijing through China to HK - were fun to talk to while we all waited in The Island Bar for her to finish lunch. Due to the heavy security, I couldn't get close enough to Mrs. Arroyo to get her namecard! ;-)
P.S. 1: High-quality A4-sized prints are available from me on request. Email me.
P.S. 2: A photo above has just been published in the SCM Post. Click for full story. My new Nikon D80 has already begun to earn back its cost, job by job.
Need some good photos for selling your flat or furniture; for your party, wedding, concert or any event; for your company; for your own presidential visit or just for your family and friends overseas, then I'm your man!

Nov 2: Halloweenies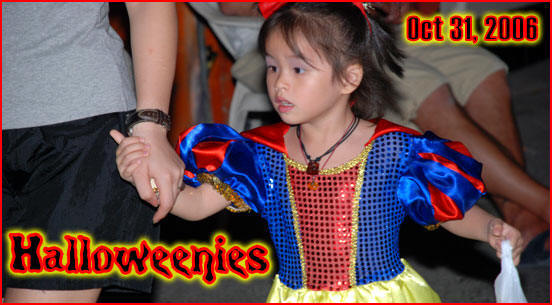 Click above for photo gallery by Lamma-Gung

Nov 1: Lammaverse: Graceful Flight
Our frequent contributor Eric, the "Official Court Poet" of this website, has sent in another one of his Powerful Photo Poems today. Enjoy! Any more hobby poets, writers and reporters out there who'd like to be published here? email me!