Like every year, I was planning to do a review of Lamma highlights this year, selected from over 300 Lamma-zine stories and thousands of forum postings I've published this year. It's usually quite a bit of tiring archive searching/copying/ pasting work, till I noticed a Facebook feature I hadn't noticed before:
"Year in Review - A look at your 20 biggest moments on Facebook".
So here they are, quick and easy, 2013's 20 top postings on my Timeline, as selected automatically by Facebook, including a nice Lamma 2013 slide show. The many important 2013 stories NOT included are NOT my fault, blame Facebook!
This time-saver leaves me with more free time to enjoy the last, beautiful hours of a happy 2013! For more stories, you can always check out the 11.5 years of my complete Lamma-zine Archive. Click for some of Lamma's big 2013 moments: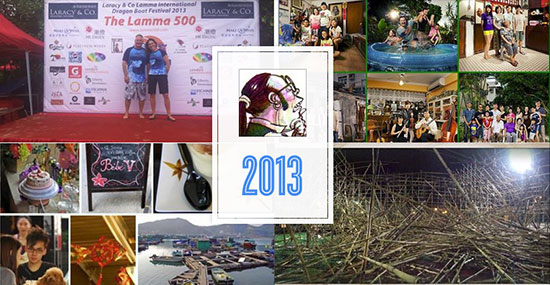 Some of the 20 top moments Facebook picked from my Timeline:
Auction of Lamma Oil Painting to support Lamma.com.hk
Aerobot Panoramas
CHOW YUN-FAT having lunch in Andy's Seafood today (52 Likes)
Hovering above the Lamma 500 - by Joe the Quadrocopter Aviator:
Home... (my January picture for the Lamma 2014 Calendar, 44 Likes)
"May I know if Lamma Island is open whole year?"
YSW Harbour at the lowest tide of the year.
http://LAMMA.COM.HK/ is working again for now!
Lamma Families Portraits (76 Likes)
Best of Lamma-zine Photos (31 Likes)
New Observation Platform Above Power Station Beach?
FREE DINNER FOR TWO for your best Lamma Halloween photos
See you tomorrow on Power Station beach? (Lamma Fun Day 2013)
Noisy wild boar family @ night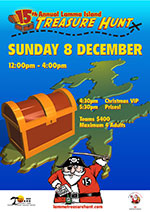 Better late than never! Nov and Dec are such socially busy months on Lamma, with me running around taking pictures of major events. So busy taking new pictures that I can't always process and publish all the old ones in a timely manner sometimes. Some low-urgency photo shoots have been waiting for publication for years... But not this one! 3 weeks late, but still just before end of the year!
Treasure Hunt, Dec 8, The Island Bar photos have been published on Dec 10. But the other yearly event happening immediately afterwards - Santa in the Village, for Operation Santa Claus, also organised by our 15-year OSC veterans, The Island Bar - took a bit longer. My favourite Santa photos below, plus a lot more in my Facebook Album: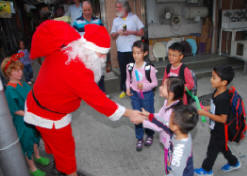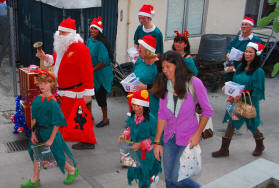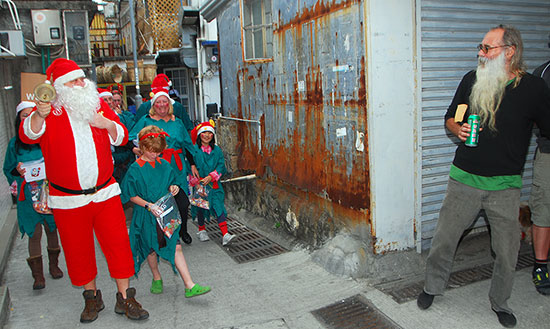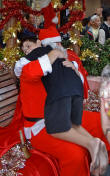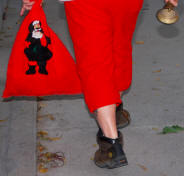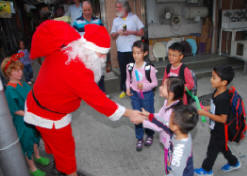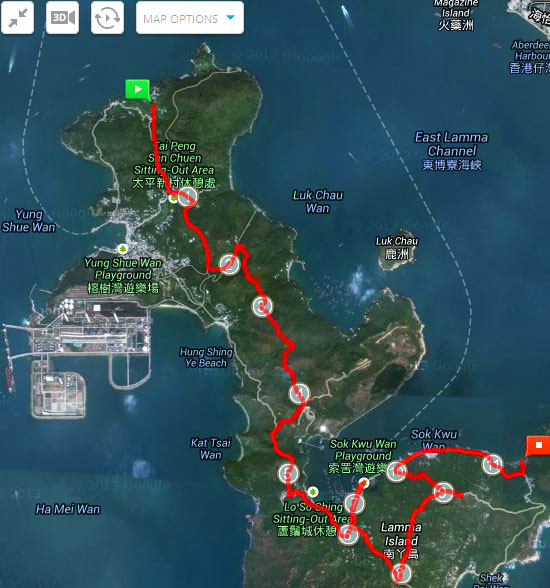 Pak Kok - Tai Peng (1) - Lamma Winds (2) - Snake Trail (3) - Youth Hostel (4) - Lo So Shing (5) - Sok Kwu Wan (6,7) - Ling Kok Shan (9)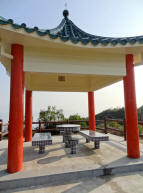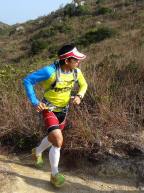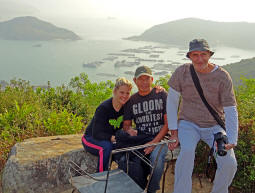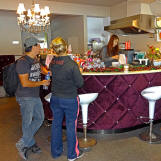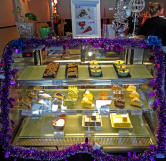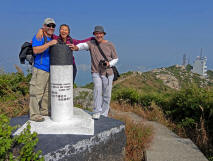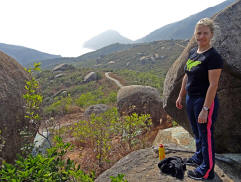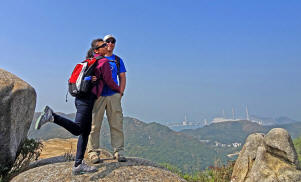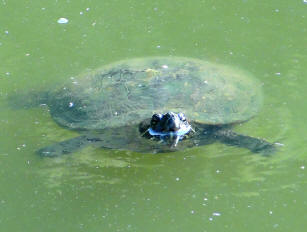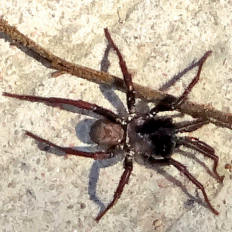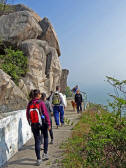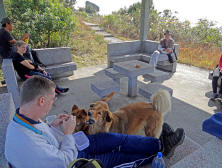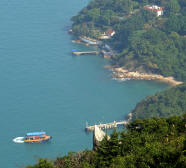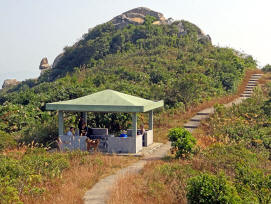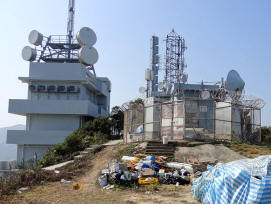 Descending from the Telecom Tower's helipad (9) atop Ling Kok Shan straight down the very steep, non-touristy path to Sok Kwu Wan Bay (10):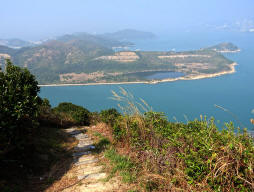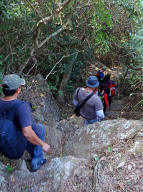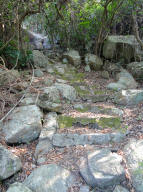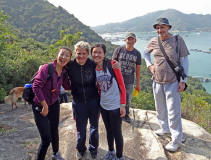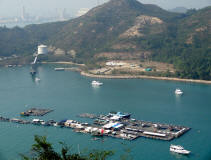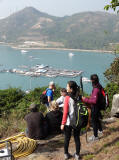 Continuing on the coastal path to Mo Tat Wan (11) for a late, great lunch in The Bay Mediterranean Rest., as usual on my South Lamma hikes. Return by ferry from Mo Tat Wan to Aberdeen, then back to North Lamma: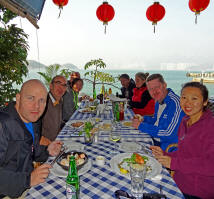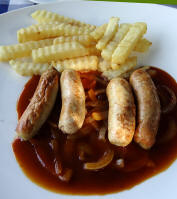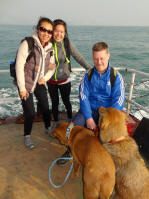 Hiking Lamma, the hard way (Facebook album)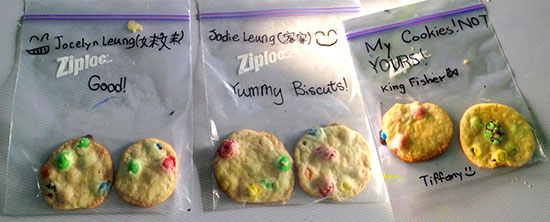 Guess where on Lamma have these colourful and probably "Yummy Biscuts!" been baked? Would you believe:
Inside the ex-Lamma Quarry in Sok Kwu Wan? Yes, correct!
Cooking, baking, archery, Frisbee golf, campfire,... are just some of the many campy activities the "Juniors" in there enjoyed over the last 3 days in the YMCA Lamma Island Outdoor Centre: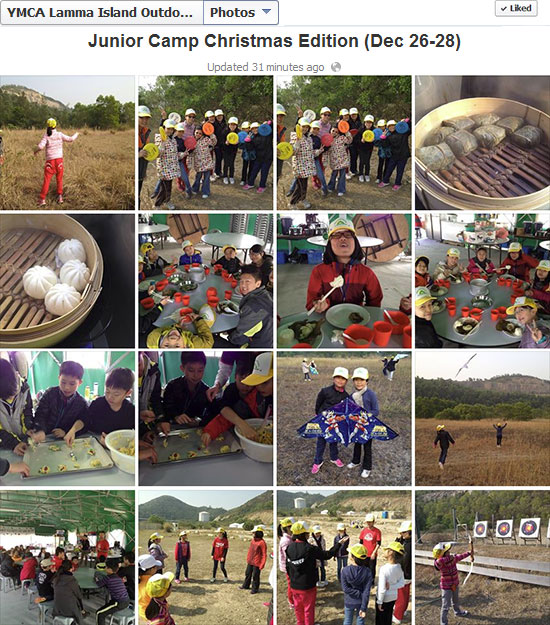 If you're not part of any YMCA camp, you'll encounter these signs at the Luk Chau gate and security guards. Call the number to learn about getting access:

Click above for our ratecard in English and Chinese.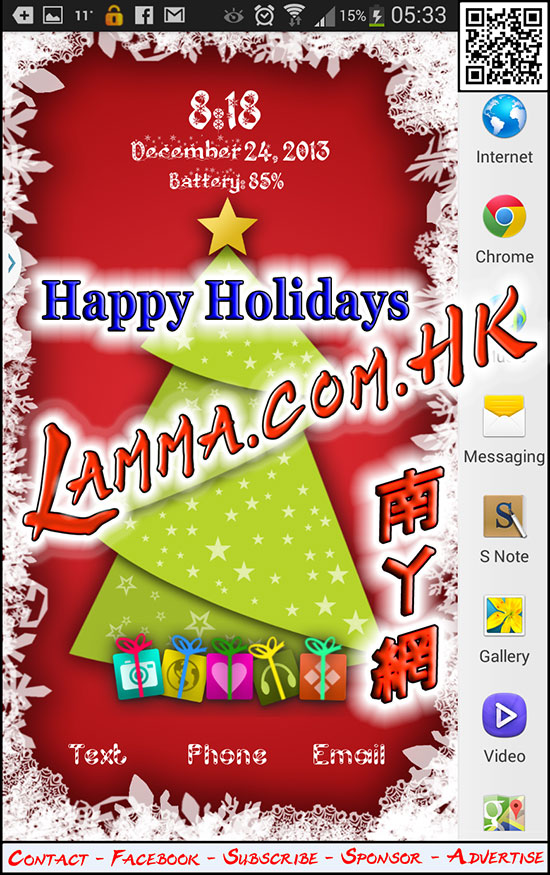 Have you decided yet where on Lamma to celebrate with a festive meal? Here are a few suggestions for special set menus (click to link to their websites):
The Bay, Mo Tat Wan - Waterfront, YSW - Concerto Inn, Hung Shing Yeh:
Prime Bar & Grill, YSW - Green Cottage, YSW:
More Christmas/New Year lunches/dinners in Bar & Restaurant News forum...
Opening ceremony of the new YSW police station, Tue, Dec 17, 2013, 11am;
located harbourside besides the just opened YSW Plaza, behind the Football Pitch, replacing the now closed police station close to Hung Shing Yeh beach: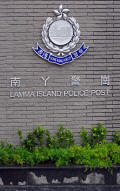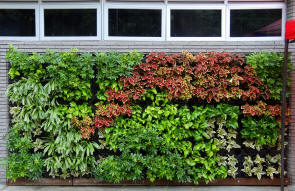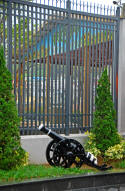 Green wall - First and only (?) cannon on Lamma (YSW Plaza in background)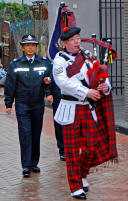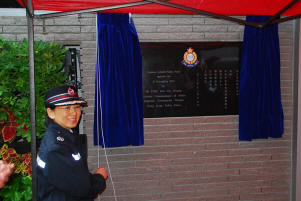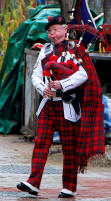 Ms CHIU Wai Yin, Winnie, Asst. Commissioner and Regional Commander of HK Police Force; plus the official Police Pied Piper, err, bagpipe player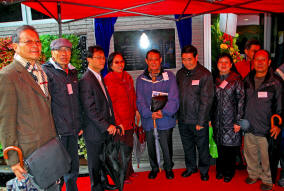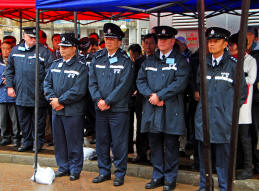 Local VIPs and more high-level police force than I've ever seen on Lamma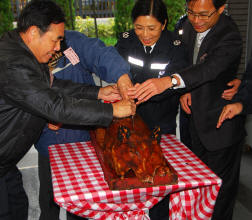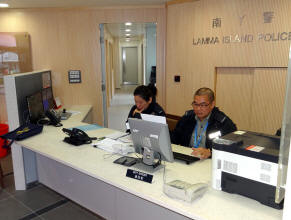 Vicious chopper attack on cute, innocent suckling pig
Call 2982 1577 for non-top-urgent matters, 999 for emergencies.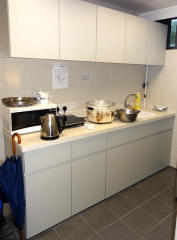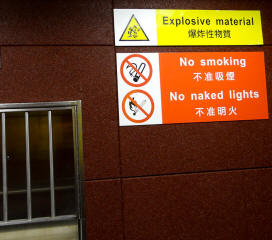 Guided tour for Lamma-zine: Staff kitchen and Armoury reception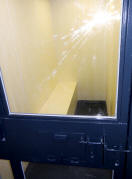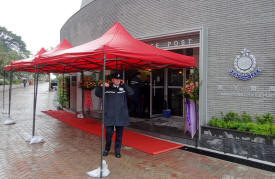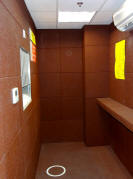 Holding cell without any comforts, so beware if you get into a bar fight!
View when approaching the station from the village
Armoury reception area with bullet-absorbing walls, for accidental discharges. Inside the armoury and the entire upper floor are no-go areas,
even for media and other (supposedly) law-abiding citizens.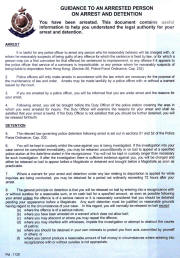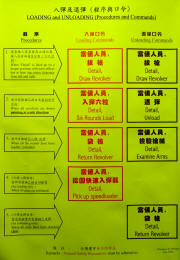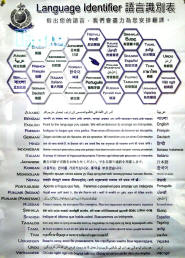 Guidance to an Arrested Person (This impressed me most as
I've never had the interesting experience of being arrested... so far.
This is posted outside the Holding Cells, to read before they lock you up.)
How to load and unload your firearm - Language Identifier
Need an interpreter? If you point to German, they might have called me,
years ago, working occasionally as a freelance, court-approved interpreter.
Badger: Guest blogger: (Photos by L-G)
Thanks for the Butts
I would like to thank the recent BBQ party on Power Station Beach.
You have saved me. Really, you have. Everything is clear to me now. The anxiety is over. The worry has subsided. You guys have made me see the light.
I used to worry about the state of the planet. I was concerned that the world my daughter's children would grow up in would be a toxic cesspool. But I can lean back in my chair and fold my hands upon my tummy and stare with asinine stupidity into the blank sky. You see, I now know after that walk along the beach that the Earth is truly doomed. Thanks for confirming that for me.
Yes, that is how it is.
We went for a walk on Sunday morning in the rain. Down to the beach we traipsed, wrapped up warm and relishing the solitude, my daughter full of questions – 'Are rivers long?' 'Who made water?' 'Why is a cloud a cloud?'– until we got to seaside.
And there we saw the remnants of the party – a blackened patch of sand, some half-burnt branches and…the glory of it… at least 40 cigarette butts. Yes, I counted them. I was intrigued. I needed to know. I wanted to appreciate the message in all its magnificence. I needed to be drawn inexorably closer to the pristine realisation that it is true: the planet is lost. Yes, it is.
Why? Because despite the warnings, the protests, the messages, the education, the hand-wringing, the call to arms, the efforts of many people to tell us what is happening to the environment, the message that one should clean up after oneself has failed, it has crashed and burned, it has imploded with a simpering poof. Why? Several humans sometime recently went to Power Station Beach to have some 'fun', eat, drink and chat, and to help themselves have 'fun' they smoked cigarettes and they stubbed them out in the sand!
What gall! What temerity! These people must know. They are visionaries. They see that it is totally pointless to recycle, re-use, re-new. There is no need to be green or consider the world around them. It is over. The planet and human civilisation are slop. Nothing more and nothing less.
So why pick up stubs? Why bring along a small can in which they could have disposed of their stubs cleanly? Why?
We can all relax, move along, go indoors and make a cup of tea. The world is going to the shitter in a big way.
Enlightened, we made our way home, wiser and thankful. On the way my daughter slipped in wet dog poo and cried because her trousers stank of shit. But this was ok. I appreciated this. I wanted to personally thank the owner who had let his dog freely poo over the path. That owner had offered me the key to another dimension. I was like a convicted killer whose last-minute appeal for a stay of execution had been denied; the inevitable was now welcomed.
We walked past the rubble from a nearby building project that had been deposited in what had been until very recently a pretty patch of grass and bushes. I felt overjoyed and basked in my new-found serenity. Yes, illegally dumped, or legally dumped? It did not matter for I had seen the discarded butts on the beach. All was clear to me now.
I went home, washed the poo off my daughter and while she sat and drew a picture of a blue sky and a yellow sandy beach with children playing in the clean water, I crawled into bed, put on some Bach and grinned.
I am humbled. Thanks for showing me how we threw the world away.
You guys are the best.
Please share your feedback and comments...
Muay Thai class with Lamma kids - เปิดสอนมวยไทยแก่เด็กในเกาะทุกเช้าวันเสาร์ครับ.
Jeanne: Communications Manager of professional boxer, trainer and Lammaite Ekapol Juke: (Photos from his Facebook Athlete's page)
Quick information about Ekapol:
He is Thai, from Surin city in North-East of Thailand. He is a professional English boxing and Thai boxing (Muay Thai) fighter. He started boxing at the age of 9 in his father's Muay Thai gym, in Thailand.
Records: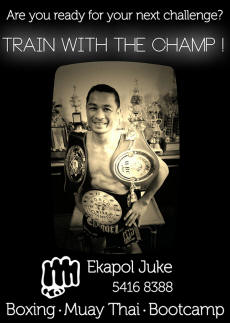 386 professional Muay Thai fights:
win 349, K.O. 227, lost 35, drawn 2.
16 professional Boxing fights:
win 15, K.O. 13, lost 1, drawn 0.
Titles and belts, just to mention some:
World Boxing Council WBC Asia Silverweight Champion (in May 2013 in Hong Kong)
World Champion Muay Thai WMC
World Champion Professional Kick-Boxing WFKB
World Champion Kick-Muay Thai Network WKN
#1 International Boxing Federation IBF
#1 Lumpinee Stadium
#1 Ratchadamnern Stadium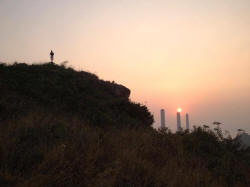 He has been living in Hong Kong, in Lamma Island for 3 years now. Lamma people may know him as the boxing champion with the Thai smile! ;)
He is starting his own business: boxing, muay thai, and bootcamp trainer freelance. He'll be happy to share his passion for boxing with some Lamma students.
If you need more information about Ekapol Juke, just ask. Or if you want to meet Ekapol, I will arrange that for you.
"December 13, 2013 - JUNGLE JIM
(Open Space (Lamma Island); Vivid Rhythms; Eklectronic; Secret Circus; DJ Na Rua (Macau); Hush Up Events; Frequencies; Heavy HK; )
After decades of being collected and appreciated, Jim Brockman's music collection became a sentient entity in the Autumn of 2007. With its new-found awareness, it took hold of its human master and began sharing underground music to poor souls living in Macau at a time of great musical strife.
Since then, Jim has kept his collection in check and moved back to his birthplace of Hong Kong. Thanks to various circumstances, his DJ persona has now split into two resulting in both promotional confusion and a warped sense of musical harmony. Not being overly hung up on his image however, Jim likes to concentrate on 'rocking the party' instead. Stringing together Old Skool Dance, House, Hip-Hop, Breaks and Drum n' Bass with that 70's pop song you've forgotten about is what turns him on.
Vote Jim! Be the listener.
https://soundcloud.com/jimbrockman"
Here's the fun and insightful interview with Jungle Jim Brockman today on ArtofBeatz.org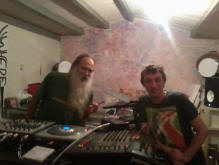 Jim Brockman writes on his SoundCloud page (with many great mixes!):
"Hitching a ride on my SoundCloud page for a while, Nick The Bookman and DJ Nipper continue their long-running psychedelic mix series here with Mix #44. It's yet another outstanding collaboration featuring the encyclo-delic bearded selectah (AKA the unofficial mayor of Lamma Island) and additional mix-melding from the DJ's DJ and old-skool hero of mine, DJ Nipper. Lots of classics, ambiance and random warpiness on this one!"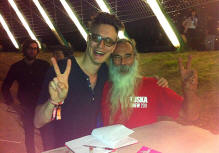 Read more about Nick & Jim's post-Lamma Fun Day collaboration at Open Space:
Lamma Fun Day - 23/11/2013 - by Nick the Bookman.
Plus Nick's highly entertaining and in-depth Clockenflap review:
A sunrise DJ party on Sun, Dec 22 @ Open Space, maybe, perhaps?
Long-time Lammaites often take our island for granted, its good and bad sides. But even sights that many of us are not enamored by at all seem to amuse many visitors, getting them to ooh and aah, clicking away on their smartphones. Case in point: The much commented on and widely disliked graffiti on the YSW seawall:
Chris writes on WeAllTravelTogether.com: (bold type by L-G)
"As we approached the jetty of the island we noticed the artistic graffiti sign, Welcome to Lamma painted on the concrete barrier. A warm greeting to an island that is about 30 minutes from Central Hong Kong.
Lamma offers a different side to Hong Kong, an island where there are no cars, roads or high rise buildings. To get around the island you have option A bicycle or option B to walk.
The people of Yung Shue Wan, mainly a western community looking for an alternative lifestyle seemed a friendly group. They greeted each other with smiles and stopped to chat, craft shops selling unique hand made goods, cafes serving vegetarian lined the streets, while one man had even set up his own little stall selling second hand books. We sat and watched the local soccer game, two teams mixed with foreigners and Honkanese. It was interesting to see them go about their normal days, living together in peaceful harmony...
...Lamma Island, like the rest of Hong Kong had been occupied by the Japanese during World War 2. The Japanese had hidden their kamikaze boats in three caves along the cove. The Japanese had never used these boats until the day of the Japanese surrender when a British fleet sailed into the waters. The Kamikaze sailed out to defend their waters, having not heard about the surrender, the British fleet blew them away..."
What is it with Lamma and zombie videos? After the first smash hit, Isle Be Damned, and the epic live performance of the Lamma Dragons on the winners podium at Disco Bay's Dragonboat Festival last year, here's another short film in a series (?) of Lamma zombie videos: GUNK.
What's happening in some of the many abandoned houses in the wild forests of Lamma? Is it something in the air, the soil, the water, or even in the drinks in the many bars? The ones who might know first-hand aren't capable of talking anymore, staggering around in Lamma's remote hills, moaning and hungry, waiting to feed on unwary passersby, visitors, hikers and bikers...

"You think your job is bad? Can't be worse than working with a bunch of zombies, can it? We invite you to the Leviathan office staff training. Away days will never be the same again."

Where on Lamma to go for grass skiing, hot air balloon flying, organic farming, weekend markets, recycled craft projects, rope courses, etc... someday in the far future, maybe, perhaps? Click below for a proposal full of wild, creative ideas.
A great vision or just a lot of hot air? You decide!
"Innovative Idea From Our Fellow Interns (2013/11/13)
We are glad to share with you an innovative idea, the "Backyard of Lamma", from one of our fellow interns in 2013. The suggested concept is designed for the abandoned farmland in Tung O and is proposed to develop the site as a multifunctional area for the local residents, tourists and the public to truly enjoy the fun and stay closer to the natural environment.
To know more about it, please click here to download the PDF file."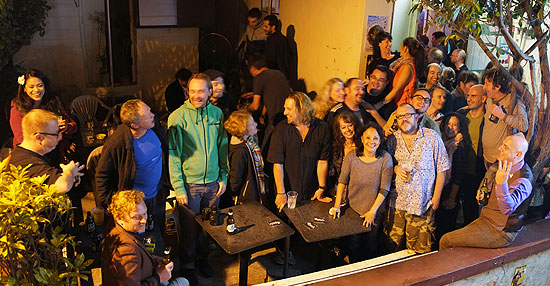 Sat, Dec 7, 2013, photo by Bob Davis
For more photos and memories, see our Bar & Restaurant News forum...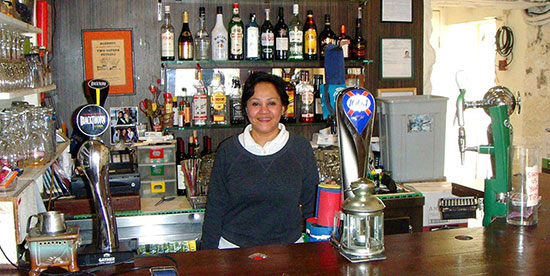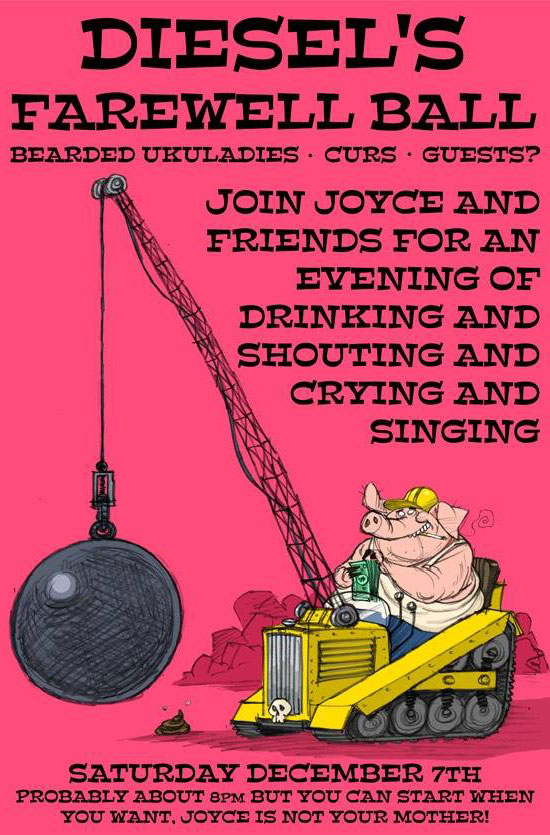 Read more about why they have to close and the 2-year efforts to prevent this:
Saving Diesel's from closing down.
Please leave your best memories and photos in our Bar & Restaurants News forum, or email them to me directly for publication.