In the meantime, the Town Planning Board's decision about the BoL zoning change application has been delayed, on the developers request to fine-tune their application reacting to the already received objections, for 3 months to Oct 2011.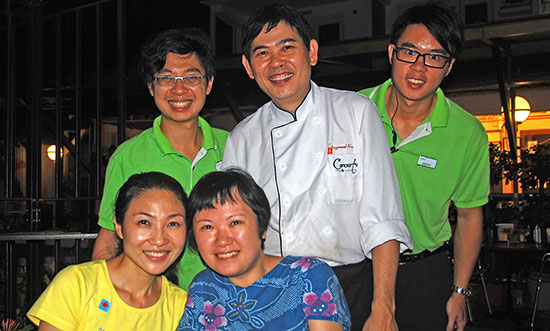 from top left: Concerto Inn's Coffee Master Carl, new Master Chef Raymond Ting, Master Server Jacky; Marketing Master Jackie Chow, plus Stella of s+clicks designer's shop in Tai Yuen Village.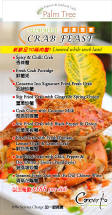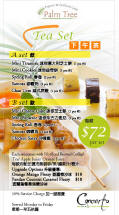 Concerto Inn Hotel's restaurant on Lamma's most famous beach, Hung Shing Yeh, has been relaunched by new 5-star chef Raymond (ex-Shangri-La, Intercontinental, etc.) It's now called ... see logo above right.
Lamma-Por and I were invited by Lamma-zine prime advertiser Concerto Inn Hotel for a tasting dinner a few days ago, to meet Raymond the Master Chef and staff. This was happily accepted as this rest. is now probably the best non-Chinese restaurant on our island. And well worth their prices, I hasten to add, with many budget options for lunch & teatime, almost all well below $100. These are some of the dishes we enjoyed: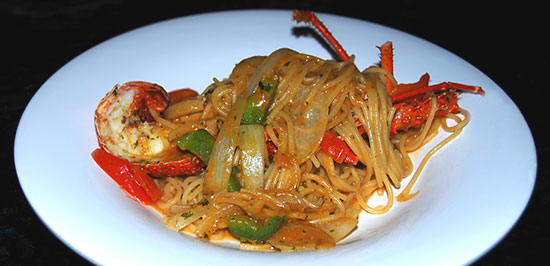 Boiled Fresh Lobster (outstanding pasta & sauce!) - French Apple Tart with
Vanilla Ice Cream (our favourite dessert) - Tiramisu.
For more photos of their dishes (& rooms), see their Facebook albums,
or check out their website and very active Facebook group.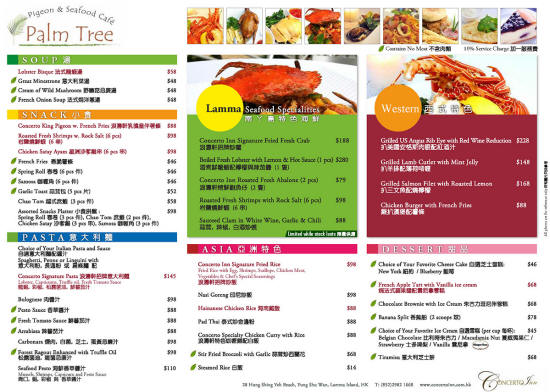 This place also offers some really great coffee, one of the top 3 places on Lamma, IMHO. Certified Coffee Master Carl can hold his own when discussing beans and brewing techniques. As a coffee connoisseur myself - there would be no Lamma- zine without my French press and my freshly burr-ground special blend - I've quizzed Carl extensively while he expertly demonstrated his brand-new, high-tech Italian Gaggia coffee machine:
I'll be returning soon for their Leisure Afternoon Tea set for only $72, so yummy and enticing, definitely big enough as my late lunch, well-protected by their new canopies, reading the newspaper, ogling visitors frolicking at popular HSY beach.
Just in case you were wondering about the title of this Lamma-zine story, "Privileged Lamma Residents": YOU could become one of them, with the brand-new Privilege Card from Concerto Inn, giving you 30% off on all their food:
This VIP card will launch on Jul 31, 2011. Here are the basic terms & conditions: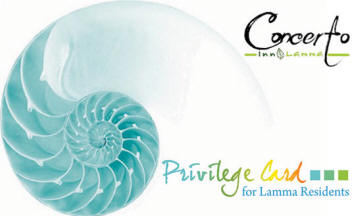 1. Address proof of Lamma residents is required as this special offer is exclusive only to Lamma residents.
2. Guest can enjoy 30% on all food purchase, and 15% off on all drink purchases.
3. First purchase of $300 net spending is required for card issue.
4. Valid for 1 year.
5. Privileged guests can accumulate bonus points using the card. Bonus points can be used to redeem food/drink at Palm Tree Cafe.
6. 10% service charge applies to all purchases.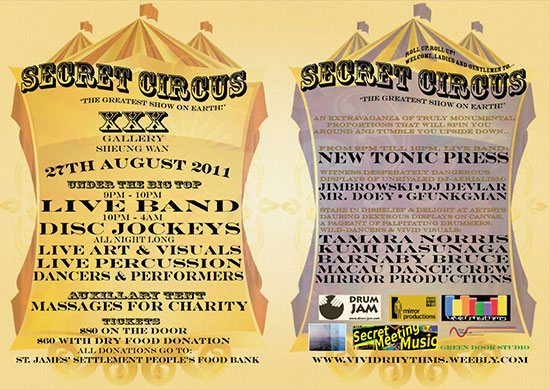 Former and current Lammaites galore organising and performing at this major event by the Eklectronic crew from Vivid Rhythms Studio.
Let's have a look at some former live painting creations by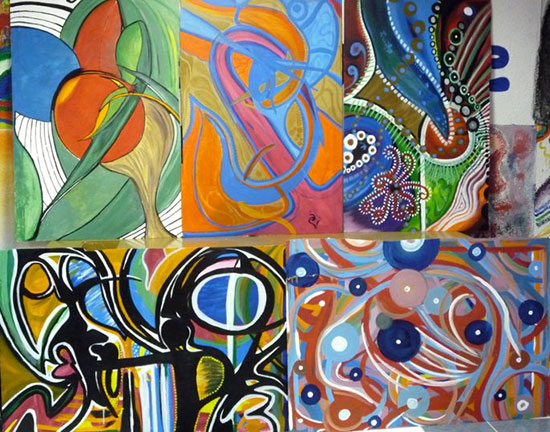 I just received an email from the webhosting co. of this website, Jul 24, 2011:
Final reminder: Pay by tomorrow or we'll switch off Lamma.com.hk!
OK, let's see ... $190 in my wallet (which I'll need for another hospital outpatient visit tomorrow), $200+ in the bank, no savings, no stocks or investments, no assets to sell, no credit lines or cards, no loans, no monthly salary or retainer, cheques for two small recent freelance jobs long overdue ... not enough left to settle this small, yearly, but top-urgent US$59.95 invoice, just below HK$500.... Being poor but happy and free can feel great much of the time, but there are severe downsides....
The yearly bill for the 2nd webhosting (for historical, practical, legal and technical reasons) for this site is 25 days overdue: HK$1,440. I hope they can wait for a while longer while I fully recover from my second surgery a month ago.
There are also two domain name registrations outstanding: $500 and $552 for 3 years each.
And my 10+ year old colour inkjet printer, used almost exclusively for this site, is at the very end of its useful life, not able to print in colour anymore, replacing it will cost at least $500-$1,000. And the power supply's fan in my antique Lamma- zine PC just stopped working (again), crashing the PC repeatedly ... and the hard disk is starting to make loud, very worrisome clicking noises....
After 9 years of self-exploitation and still shrinking ad revenue (losing two more top advertisers this year so far), it's really getting harder and harder to keep this site up and running. It all gets a bit too much and depressing sometimes, when I wonder about the future, if any, of this community site. It's the people, content contributors and friends offering moral support that have kept this labour-of-love- cum-almost-fulltime-job going for so long. It's still not financially viable at all, far from even covering my home office rent which just went up by 30%!
If you've liked this site over the last 9 years, how about helping out with some of the website bills above, with a simple donation (maybe $100, or even $500? But any amount would be great!) or a private or company sponsorship which would be very gratefully accepted. Lamma-zine bank account: HSBC 499-064061-001;
or click Pay Now at the very top right of this page, or grab me
on the ferry or on Main Street anytime!
Email me for more details, please!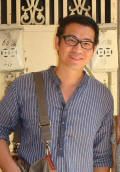 TVB has been filming in Yung Shue Wan once again today, along Main Street and at the ferry pier, another soap opera episode for "Be Home For Dinner" on Jade, 8pm, 5 times a week. Alarmed and introduced by Lamma-Por, I had a great little chat with very friendly, jovial actor, martial artist, TV presenter and TVB senior artiste Stephen Au Kam-tong.
Both of us being Bruce Lee fanatics - he's even been running a non-profit Bruce Lee museum before - we had a lot to chat about. He referred me to his website for more info. It's a fine and comprehensive artiste site: StephenAu.com. Have a look at his impressive profile (scroll down for English): Profile.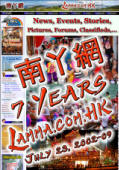 9th Anniversary today: from a little community forum to the website you see here nowadays. Over 2,500 Lamma-zine stories, hundreds of photo galleries, tens of thousands of Lamma photos from many hundreds of people.
Forum started: Tue, July 23, 2002, 10:07 - No. of posts: 50,860 - Average # of posts per day: 15.46 - No. of topics: 5,579 - No. of registered users: 7,887.
I still find it amazing personally that it has survived for so long, despite many adversities, attacks and problems over the years. Will it make it to a full decade? Maybe, hopefully....

This is currently running on the TVB Jade channel, a new Chinese commercial for the Prime Credit moneylenders. The story shows Christopher Columbus visiting the courts of Europe to borrow money for this voyage to the West-Indies (which led to the re-discovery of the Americas, you might have heard).
In this TV commercial, another one of his growing number of TV appearances (look out for his next appearance as a shopping cart-pushing hobo in another commercial soon), Nick plays a doctor at the French court when Christopher Columbus visits trying to borrow money (unsuccessfully). Blink and you'll miss his very short background appearance. It's quite amusing for Nick to be in this moneylender ad as he would probably never qualify for a loan from them himself.
Full TV commercial and photos provided courtesy of the production co.

If you own a "fishing vessel or a mariculture raft" yourself, maybe you can apply to get one of these nice solar panels for free? Their costs seem to be become quite reasonable these days, 500 panels for HK$1 million, only $2,000/panel?
The same media release mentions the Lamma offshore wind farm project. The fishermen were originally almost the only vocal opposition to the project, worried about losing some of their traditional fishing grounds off Lamma Island. So this big solar present and the smiles all around in the photos, do they mean that they've made up now and the fishermen accept the windfarm, I hope? Peace, Love, Lamma (with Renewable Energy!)
By the way, we Lamma residents also just got a HK$1 million present from HK Electric, to build our new covered Activity Centre later this year. It'll be located close to the Cargo Pier behind the Football Pitch and will be available for fun and games to all residents.
For more on this story, see HK Electric's media release:
Fishermen go low carbon with HK Electric-sponsored micro PV panels

There are a full nine years; worth of Lamma photos on this website, selected from hundreds of talented photographers, plus loads of even older and historic photos, not even counting the tens of thousands of photos uploaded to our forum. Have a look at some of (mostly) my own photos, "randomly" selected by Google's image search of the Lamma-zine (click below):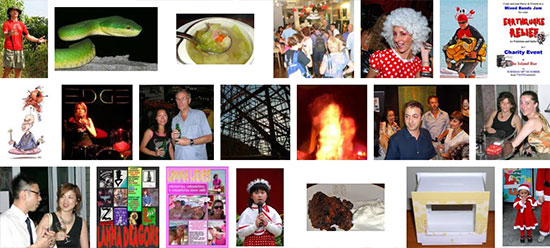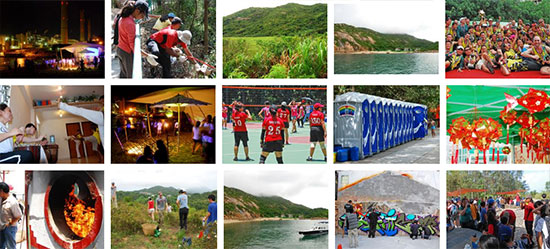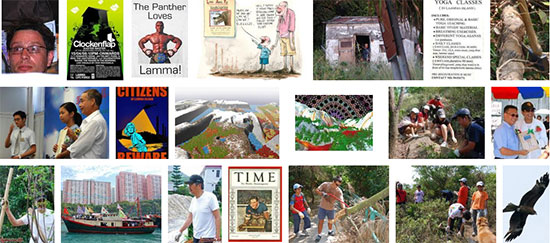 This year we might get a very interesting, maybe even exciting election for District Councilor for Non-Indigenous Residents. This important office has been occupied by Lammadonna, Yu Lai Fan, for the last 8 years. Back then, she had a single opponent in the elections, from the Civic Party, but he lived off-island and managed a respectable 30% of the vote. In the last election, 4 years ago, Yu Lai Fan ran unopposed and won by default (similar to almost all recent Village Representative elections.)
This year, in the Nov 6 elections, there might be another opponent, maybe even two! No new candidates have been announced yet, but People Power (Chin.-only website) and Living Lamma (bilingual website) seem to be trying to recruit, promoting new voter registrations via various channels, even on the ferry pier. They've got till mid-Sep to find a viable candidate who has to be reasonably bilingual and live on Lamma to stand any chance, in my humble opinion.
Register as a voter by tomorrow, July 16! It's quick and easy, any HK permanent resident can register, even if you have lived on Lamma only for a short time! Registered voters can update their particulars, for example their Lamma address, till Aug 29. Pick up a form at LaLa mama's or Green Cottage Restaurants.
Click here for all the info and online registrations: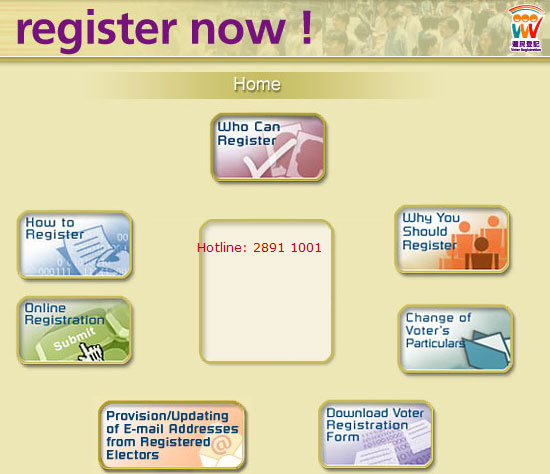 Read more in our forums and post your questions and comments:
Please register to vote in the District Council elections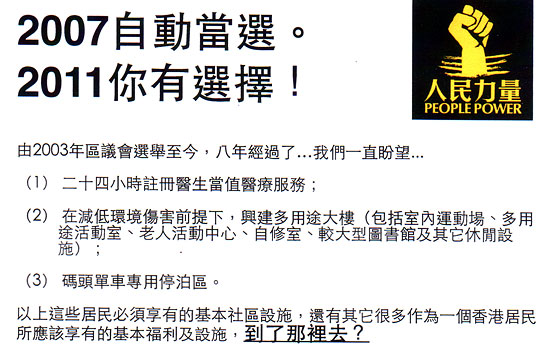 RTHK, Radio 3, Tue, July 12, 2011 (wait to load fully, click on 2011-7-12, then on Around Town: Recommendations for visiting Lamma Island. (Photos by RTHK):
"Hello there, Teen Timers, it's time for this week's Around Town with me, Andrew Dembina.
This week we head out to Lamma Island and speak to a group of young adults, who spent their childhood and teens growing up there. We get insider recommendations on what to do and where to go from Yolanda Miller, Saheb Ambekar and Andy Peterson."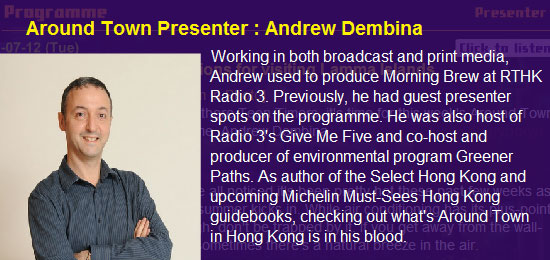 P.S. Congrats to all the 4 Lammaites above. When Andrew Dembina contacted me (again) to be interviewed on RTHK, on his weekly Teen Time, I politely declined this time as I'm definitely not a teen anymore! I recommended several of my "Friends" and gave him the contacts. All of them agreed to be interviewed, fortunately, even Outrigger Canoe Club's Claudia.
I've just received Andrew's email today about his programme being broadcast, right in the middle of me listening to it online already, after just having been alerted on Facebook by one of the proud dads! Yes, proud dads are faster than radio presenters and Facebook's faster than emails once again....
---