Dragons, Stallions, Vipers
Step Ahead
LAMMA ISLAND, Hong Kong - Sun, April 22
Dragons roared, Stallions galloped and Vipers hissed on April 22, the first game-day in the revamped Lamma Island Pinoy Basketball League (LIPBL). Three teams, the Golden Dragons, the White Stallions and the Purple Vipers, share first place after opening victories.
Under blazing sunshine following a week of rainy weather, two strong teams, the Golden Dragons and the Brown Lions, squared off in an energetic opening contest at Yung Shue Wan's outdoor basketball court. Impressively, the Dragons flew to a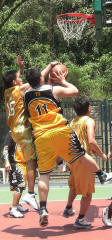 big lead and held off the gritty Lions 65-54.
Led by hard-driving, perpetual-motion man Kervin Yu, and by a tall, agile newcomer, Sunny Wong, the Dragons looked at times like the best team ever to appear in the LIPBL. They out-roared some powerful Lions, including Anthony Bito-Onas and Alvin Diego, from last season's title-winners, the Lamma Archers, and the perpetually potent Makha Diop.