Jess King: "We will PARTY like mythical creatures of Hagrid-like proportions!
WHY? The HARRY POTTER and ORDER of the LAMMA DRAGON Fund-raiser!
FEATURING in this year's PRIZE DRAW:
a devastatingly handsome & awfully handy Apple iPad!
a cautiously understated, regulation Lamma Pink Nine West Handbag!
ludicrously tasty & magically potent Pink Champagne!
Plus the usual wondrous assortment of Bar Tabs, Romantic Dinners, Gift Vouchers & *Magical Trinkets*, donated by our fabulous local business supporters, here on Lamma. Oh, and did I mention MUSIC, WINE & BEER & other *magic potions*?
As always, more prizes mean MORE FUN!
All proceeds from the Door Tickets go to Club Funds, which go to help subsidise membership, race fees, training fees, team shirts, etc."
Sorting My Records - A PowerPoint Mix about Record Collecting: Sat, Apr 2, 5pm: Lung Kong rest. (Sichuan cuisine, left of Deli):
Free, poster, email, more details.
Sri Lankan New Year Festival: Sun, Apr 3, 9am-9pm: YSW Football Pitch:
Free food, musical show 5-9pm. Poster & more details.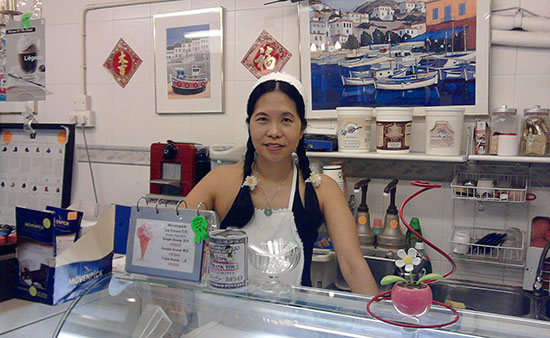 Emily the Ice-Cream Lady - Ice-Cream Express, YSW Main Street:
A Message From Emily Ho
Just days before the Chinese Lunar New Year in February, I received a call from my landlord as I scooped ice cream at my shop. He seldom called (nor I him) unless I forgot to pay the rent, which I seldom did, so the situation felt slightly strange.
On the phone, he told me that someone had offered a higher rent for my premises and asked if I wished to keep the shop. Without asking how much he wanted for a new lease, I knew instantly that I would not pay even one dollar more. My rent already was very high for an ice-cream shop on Lamma.
"The time has come," I told myself. "I'll no longer be Lamma's 'ice cream lady'."
Many people looked shocked when I told them I would close the business after more than eight years. "No way! You're joking. This shop's like your baby!" Such responses hinted that people doubted if I would close after working so hard to sustain the shop. But I wasn't joking.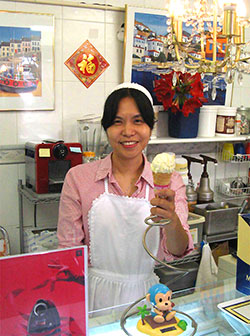 Anyone who knows me well would agree that I badly needed a break.
Of course, the decision took a toll. Honestly, I never wanted to close the shop, even at the most critical times. Maybe I love challenges. The reason I kept going wasn't for lack of courage to leave my "comfort zone", but due to my sense of attachment to the shop. When diagnosed with an ear-equilibrium problem (now healing) last winter, I sensed a "final notice". Then I found tears rolling down my face, as if I had gotten a terminal disease, when a doctor told me to rest for my health. How could I rest without closing down?
My landlord's phone message made me realise I couldn't delay again. It felt like sitting in the window of a high-rise as fire licked toward me. If it had been "just a job", I'd have resigned long ago, but this was my own shop that I'd dreamed about and worked hard to establish.
I thought of other difficulties too. What about the Lamma children, many of whom I had the pleasure to watch grow up? They'd be disappointed. Earlier, I'd planned to hang on for as long as my health allowed, meaning as long as I could scoop ice cream, or until my landlord told me to leave.
Now it almost seems like my landlord and the real-estate agent had spied on me and answered my "call". Maybe I should be grateful that they took the initiative with a future tenant to raise the rent so I'd have to go. Otherwise, I couldn't reach my exit decision.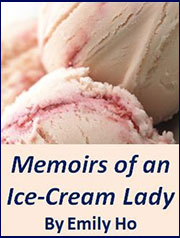 Even now, I'm afraid to consider how I may react on the closing day. Will I cry in front of my friends and customers or laugh giddily at the prospect of finally resting? Two things are certain – I'll miss everyone, and I'll treasure the wonderful memories of events at my shop.
Somehow I believe that everyone always finds the best way to reinvent in times of change. Usually we just don't anticipate it. After the shop closes, I hope to finish writing my semi-autobiographical Memoirs of an Ice Cream Lady (partially published at www.CairnsMedia.com).
So this is it! Please take care, all of you. I hope to see you again, even after the shop closes. I can be reached at (852) 9094-8848 or by email: icecreamladyhk@gmail.com.
---
Before ending, I'd like to express special gratitude to the following people:
Gary Dyer has kept me company in some of my toughest times and provided support all the way. I always appreciate his kindness and patience. Without him, my shop couldn't have survived so long.
John Cairns made an unselfish effort to turn me into an "accidental" writer. Without his help, I never would dream to write my own novella, much less to pursue publication.
Vivien, Marcus, Isabel and Sasha were among my first and most-loyal customers. Sasha had plenty of ice cream even before birth. How sad they had to leave Hong Kong for good! I miss them.
Takamaru-san, Reiko-san, Rian, Yoshiki and Yullia are regarded by locals as one of Lamma's most friendly, cheerful families. They show the best example of courteous and considerate Japanese culture. I hope their nation quickly regains strength after its earthquake-tsunami disaster.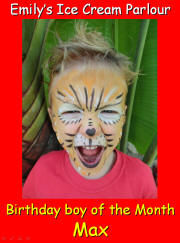 Jo Wilson showed everyone positive ways to improve the Lamma community.
Millicent (five years old) regarded Gary as my dad. I love her for making me feel so young.
Joe-Joe (also five years old) became my youngest suitor. Not only will I keep the "plastic" ring he used to propose, but I'll lock it in a safe-deposit box. He's very cute, but far too young for me. Maybe someday I'll change my mind if I enter an elderly home and need someone to look after me.
Salma and Penny posed with me for the loveliest photo I have ever taken.
Andy, Laura, Don, Chris, Eva, Richard, Mary and Serge listened to my joys and sorrows. What true friends!
John Smith named his daughter after me. I'm so honoured.
Richard Jones organized the always-festive DickStock.
Ruben made crap jokes and cared for my pets when I travelled.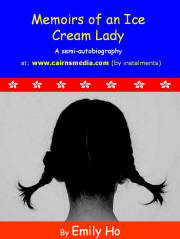 Laky and Bob Davis helped with my first book's cover.
Lamma-Gung and Lamma-Por covered my stories and promoted my shop in the Lamma-zine.
Marcus, Jane, Louie, James, Eddie and their Banyan Bay Football Club supported my business to the end.
All the Lamma children and children-at-heart brightened my shop and filled it with laughter, especially the "Birthday Boys and Girls" and their parents who contributed photos for my shop's banners.
The list should go on and on, but I have to stop. Above all, thank you once again for the happy memories we shared. I will miss everyone.
Good-bye.
P.S. A Farewell Party for customers & friends will be held this Sat, Apr 2: 11:30am-3:30pm: Emily's Ice-cream Express, YSW Main Street:
Snacks and non-alcoholic drinks. Home-made food (like sandwiches and salads) will be most welcome! Games and Lucky Draw at 2pm. For info, call 9094 8848.

For a message from her niece Julia and to post your condolences, click here.

Jay Scott Kanes - Official Court Senior Correspondent - Cairns Media:

(Pictures and story by Jay Scott Kanes)

A usually quiet basketball court nestled among tall trees on northern Lamma Island has come alive with almost unprecedented Sunday activity. That's when dozens of players in the new Lamma Island Pinoy Basketball League swing into action.

After watching much of the initial action, I noticed no spectacular dunk-shots or alley- oop maneuvers. But there's plenty of fancy moves, hustle and entertainment value. Fans watching from the court's edges find frequent reasons to cheer.

Complete with team uniforms, referees (from elsewhere in Hong Kong), a scorers' table and enthusiastic fans, the games make an impressive and colorful spectacle. Usually only pickup games or exercise sessions happen on the basketball court in Lamma's largest village.

The four-team league, with players from the Philippines, launched its first Inter-Color Tournament on March 6. Action continues every Sunday (for six weeks) from 11 a.m. to 3 p.m., leading to a title game in April.

"It's the first-ever basketball tournament organized by Filipino residents of Lamma," said league spokesman Robert de Biro.

The four gung-ho hoops teams are Pak Yue (orange uniforms), D-Lau (yellow), Glamorous Tigers (green) and Alleywood Super Stars (red). Aged from 14 (the tallest player) to 50, the players are Filipino professionals, domestic helpers or students living on Lamma.

For added glamour, one team, the Alleywood Super Stars, has taken the unusual strategy of wearing the movie stars names (W. Smith, K. Costner, J. Bond, etc) on the backs of uniforms. Even so, probably the best-looking uniforms belong to the Glamorous Tigers.

This summer, the organizers hope to hold other events. Ideally, they should expand to allow non-Filipino participants. By now, Lamma hoops enthusiasts from elsewhere must be craving to join the action.

(Text and middle photo below by Dickie, other pics by L-G, click to enlarge)

The Japanese community on Lamma would like to say a huge thank you to the people of Lamma and all the tourists who visited Lamma today, who helped raise $16,970 for the Japanese Earthquake and Tsunami appeal.

Special thanks go to Ida from Fa Fa House, Gary from S-Mart, Emily from Ice- cream Express, Helen from Just Green, Brother's shop, Brother's laundry, The Animal Welfare shop and all the volunteers who made today such a success.

We look forward to seeing you all again for the Bake Sale this Sunday, Apr 3. We fully intend to hold other events on Lamma to support the people of Japan recover from this disaster.

Arigatou Goizaimasu. Ganbare Nippon
(Thank you and Good Luck to Japan)


南丫島日本社群感謝各位島民及遊客 為日本義賣振災籌得港幣16,970, 謹在此鳴謝 Fa Fa House的Ida, Just Green的Helen, 兄弟士多, 兄弟洗衣店, 南丫島動物保護組織及所有義工, 少了您們任何一位也不能成功籌到上述金額.

我們期待在4月3日舉行的義賣日與大家再見, 並全力支持所有為日本災民及重建的有關活動.


衷心感謝大家的支持及慷慨, 祝願日本人民安康.

"Be a Considerate and Responsible Dog Owner," says our District Councilor for Non-Indigenous Residents, Lammadonna. Miss Yu Lai Fan is well-known locally as Fan Tse (Sister Fan), but this is definitely the first time she's ever used this familiar nickname on an English poster. Listen to your Sister Fan's Gentle Reminder, you unruly children, eh, dog owners, or you'll be sternly admonished and might even be punished by THE LAW!
You'll need to click on the poster above to read the very detailed instructions and follow them precisely and to the letter, like a good boy/girl!
Be a Considerate and Responsible Dog Owner!

Breaking news just in, Friday afternoon, well before the printed media tomorrow morning: just announced today by Transport Dept:
Lamma ferry tickets will go up by 11-12% more for both weekday and weekend fares, plus Holiday Return Tickets, all from July 1st.
Monthly tickets will go up by "only" 7%.
No change to Pak Kok-Aberdeen ferry fares announced yet.
For more details on some other Outlying Islands ferry fare increases today,
click the future fare tables below:
Discuss these steep increases, far beyond inflation, in our Lamma Ferries forum. Not a word anymore about the formerly suggested and widely publicised govt. subsidy for fare increases of Outlying Island ferry services....

As usual, in times of big, tragic disasters anywhere in the world, the Lamma community is stepping up, giving help and raising funds for the victims. Here are the first public ones I've been notified of, this Sat and Sun and next Sun. Please attend and give generously!
Click on any poster below for Facebook updates and comments, or check out our Lamma Events Calendar:
Organisers Kel & Josh write: "A random jam to fundraise for Japan. Invite your friends. Bring your instruments. Let's make some noise and raise some cash."
Check out their Facebook group. Breaking news: groups just added to what looks like the biggest musical event of the Lamma year so far:
THE CURRS; MICHAEL, NINA & NEIL ART; HAMADA; NUDE KIERAN.
NUDE KIERAN??? Kieran the Clown? Not sure if that will attract many generous patrons or clear out the bar.... If Kieran wants to streak in public (again), send him to the Rugby Sevens this weekend instead!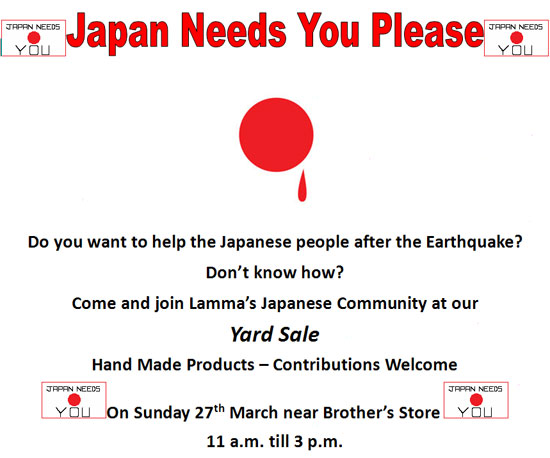 Organiser Naoko writes:
"We, the Japanese community on Lamma in HK is organising a YARD SALE for Japan. Please come and visit us!! If you have any second hand stuffs or hand-made stuffs, they'll be more than welcome!!! Looking forward to seeing you. Thank you for thinking about Japan."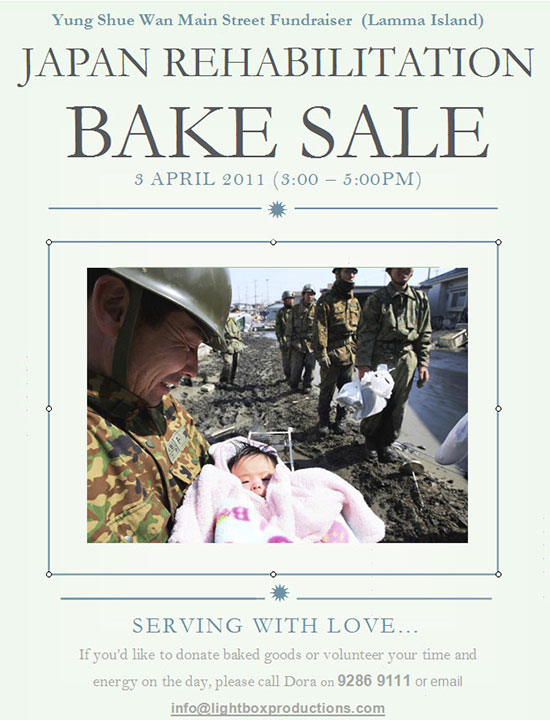 Robert de Biro - Team A.S.S. (Alleywood Super Stars):
Lamma Island goes hoops-crazy at first-ever
All-Pinoy basketball tournament
After two months of preparation and amid much fanfare, the Lamma Island Pinoy Basketball League fired up its Inter-Color Tournament on March 6, 2011 at the Yung Shue Wan Basketball Court.
The event is the first-ever basketball tournament organized by Filipino residents of Lamma Island. It features four teams, namely Pak Yue, D-Lau, Glamorous Tigers and A.S.S. (Alleywood Super Stars).
The opening ceremony resembled a circus walking into town or a Manny Pacquiao match, with each team coming into the court to the blare of rock music.
Team Pak-Yue, whose players are from Pak Kok and Yung Shue Wan villages, marched in to the chants of "We Will Rock You."
Team D-Lau's players sported faux bushy whiskers at their entry, throwing yellow candies at the crowd behind a triumvirate of lovely muses.
Team Glamourous Tigers prowled into the court in their green jerseys to the tune of "We Are The Champions."
Team A.S.S. (Alleywood Super Stars) strolled to different entrance music for each of its players. Written on the back of the team's jerseys were the names of Hollywood celebrities such as Stallone, Downey Jr. and Banderas.
The team parade was followed by a moving rendition of "Lupang Hinirang" by the Our Lady of Lourdes Chapel Choir. Then the players pledged to conduct themselves to the highest standards of sportsmanship and vowed to play in the spirit of brotherhood during the sportsman's oath.
Founder Bodgie Herrera congratulated the league's organizers, the players, their families and other Lamma residents for their respective contributions in making the dream of a Lamma Island basketball tournament a reality.
Depending on the tournament's success, organizers are considering other events this summer, including a possible mixed tournament with the participation of non-Filipino basketball fanatics who are residents of Lamma.
After the ceremonial toss, the Glamourous Tigers drew first blood by trouncing D-Lau, 72-57. The Tigers led from start to finish with Jun Togle showing the way with 22 points and 19 rebounds.
Anton Marsh delivered a monster performance for D-Lau, registering a triple double with 22 points, 12 rebounds and 17 blocks.
In the second game, A.S.S. erased a four-point deficit in the final two minutes to turn back Pak-Yue, 58-57. EJ Nocedo top-scored for the red shirts with 15 points, including the game-winning three-point shot.
Main gunner Anthony Bito-Onas led Pak-Yue with 26 points and 14 rebounds.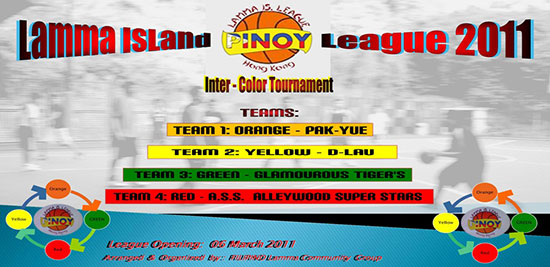 Very soon after the HK Govt. announced a $6,000 handout to all HK permanent residents, this banner appeared on the Banner Fence on YSW Main Street, close to Emily's Ice-cream Express. It shows the DAB party chairman and our very own District Councilor and DAB member, Yu Lai Fan (nicknamed Lammadonna on this website). The two small pictures show the chairman and other DAB politicians personally lobbying the Financial Secretary. The banner text implies that it's the DAB party who succeeded in getting this most welcome $6,000 handout, taking (at least partial) credit for it. We should all be sooo grateful, shouldn't we!?
The new semi-official Lammadonna logo on her jacket above, I made that up myself and added it to the banner. I photoshopped a "Donna" brand label on a jacket she was wearing when we enjoyed Dim Sum recently with her and her two lovely & professional assistants. This new logo, which she liked a lot, is my own little thank you for the Dim Sum and, ah, yes, the $6,000 as well, of course. Did YOU thank Lammadonna and the DAB party already?

Breaking news: The missing woman, Briton Janet Gilson, has been found dead in her niece's flat in Tai Yuen Village today (just besides the Yan-Yan store). She has been moved from the flat off-island this evening around 10pm, police forensics is examining the scene now. Foul play is suspected but not confirmed yet. A suspect (29-year old expat) has been arrested off the Yung Shue Wan ferry arriving in Central tonight before 6pm.
That's all we know for sure for now from eyewitnesses, awaiting more official info from the Police's PR Dept. tomorrow. For several first-hand eyewitness accounts of some of these events, see the Missing Woman discussion in our forums.
P.S. on Sunday: Links to several detailed newspaper stories & photos outlining the facts as known so far: Missing Woman.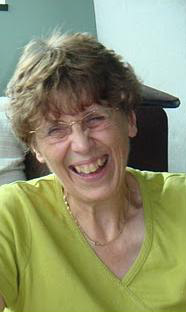 A British tourist, Janet Gilson, went missing on the way from Yung Shue Wan to Sok Kwu Wan on Tuesday, Mar 15. She's 64, 1.6 metres tall, of thin build and weighs about 45kg. If you have seen her, please contact Lamma police on 3661 1714 or any police station.
Her niece Julia has put up posters and also contacted the media and the Lamma-zine, asking for any news from Lammaites. 20 police officers with tracker dogs yesterday, dozens of Civil Aid Service staff today, even helicopters have all been unsuccessful so far to find Miss Gilson.
Last message from Tue morning:
"Went to Sok Ku Wan. Will have something to eat here, then ferry to Aberdeen. I will call when can come back. Love Janet."
Our Lamma police chief said that it was not known if she made it onto the ferry to Aberdeen on the day.
Details in our forum: Missing Woman.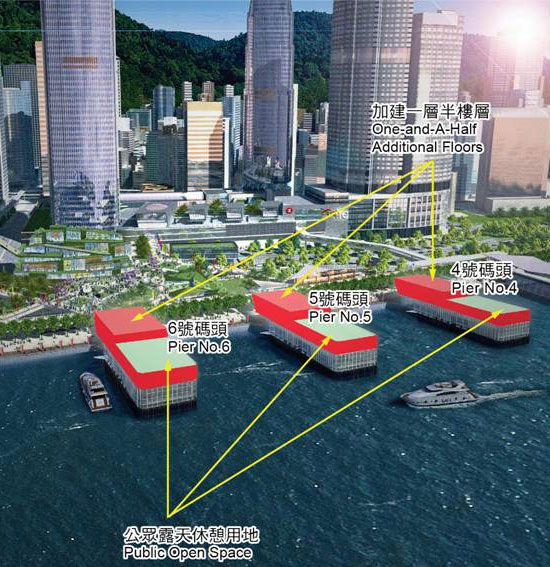 The HK Govt. intends to construct one-and-a-half additional floors on the rooftop of the existing Central Piers Nos. 4 (Lamma Island), 5 and 6 to "improve services to the ferry passengers" and to integrate with the Urban Design Study for the New Central Harbourfront. There's a new, special website with all the basic info:
www.Piers456.com.hk.
They're organising public forums on March 31, April 2 - part of a wide-ranging "Public Engagement exercise [with all the major stakeholders] will be carried out to collect views from the public on the design of additional floors, mainly on the design styles, colour matching, design of public open space, outlook design, etc." Enroll if you're interested to learn more and/or get your opinions heard.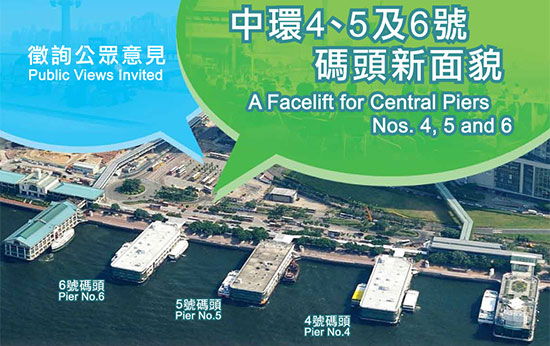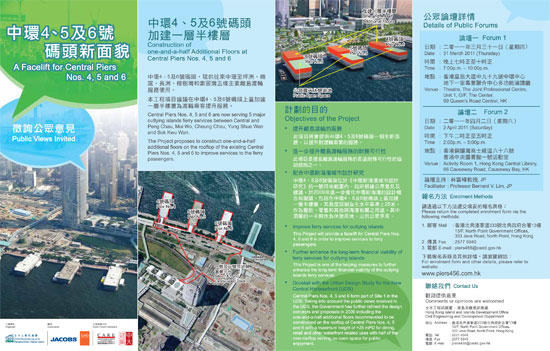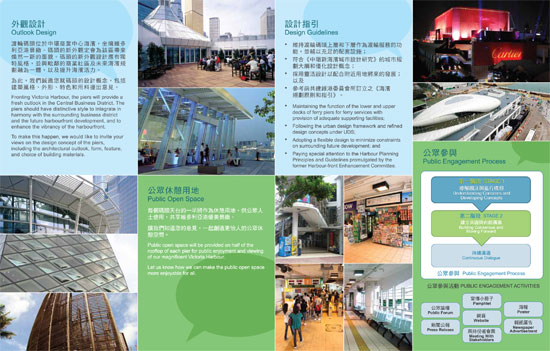 (click to enlarge)

Today, Nancy the Frog Lady has submitted a most outstanding Lamma Wildlife of the Day photo to this website, featuring a small flock of spring transients only ever spotted on Lamma so far! Shot from her home close to the Tai Peng Community Garden at maximal zoom, the quality of the photo is not as fantastic as most of our Wildlife of the Day photos. But as this is a first sighting of this trio EVER to be featured in the Lamma-zine, I gladly accepted it. Nancy was worried that getting too close to this curious but very shy trio might scare them off.
Lamma's intrepid wildlife photographer Anonymous Guy managed to identify all three of these strange creatures as, from left to right, a Big-Bellied Squatter, a Black Spotter and a Red Snoozer. These are their colloquial, local names, their proper scientific Latin names are still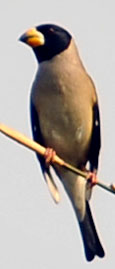 unknown or not even assigned yet. Anonymous Guy writes:
"Wow.... you're very brave to get so close.
Is a unique but often seen trio & easily identified...
Coincidentally I was up there by the People Allotment....., seems I don't have your spotting skills though... I only saw..
Chinese Bulbuls, Red-whiskered Bulbuls, Sooty-headed Bulbuls, Red-billed Starlings, Blackbird, Crested Mynah, Black-collared Starling,
and I think I now know where the sweetest bird on Lamma nests."
The "sweetest bird" replied from her nest:
"I don't think there were any sweet birds near the People's Allotment this morning, only a Disheveled Albinistic Tousle-Tufted Chat.
I do know that all women in two buildings were heartily cinching down their bathrobes in fear of that digiscope this morning!
Nice Black-tailed Hawfinch [photo by Neil the Digiscoper], by the way! I have yet to see one. Professor Smith makes too much noise around the Tai Peng Community Garden and scares them all away."
Follow this topic in our forum's most popular discussion: Lamma's top 10 birds.

The disastrous and devastating earthquake in Japan yesterday afternoon has rattled much of the entire planet. Our hearts go out to the victims of the quake and the resulting tsunami racing across the Pacific Ocean. The tsunami reached Hong Kong last night around 9pm but fortunately the tide was low and the wave height was far below half a metre, see map above. I've added H.K.'s location to this map from the NOAA website, showing the Pacific Ocean between Asia, North America and Australia. It's the most impressive and scariest image of the global reach of this historic catastrophe, I think.
Seeing such a heart-rending catastrophe happen so close to us in global terms makes me wonder about the fragility and wisdom of us living on an island, just a few dozen metres away from the ocean shoreline in a house just a few metres above sea level.

From the Great Outdoors Hong Kong! - Activities Guide, published by the HK Tourism Board. Click each page to enlarge and read. This is the impression of Lamma that the govt. is promoting overseas via this high-volume printed publication distributed worldwide in many languages. Agree? Disagree?

These new particpants of the Philosophy Cafe (Lamma Spirit Branch) listened, mesmerised and astounded, to Tricky Dycky's insightful, incisive and intriguing discussion points expounded last Sunday evening in the Bookworm Cafe.
Tricky Dycky (left) presented on the weighty, worthy, worthwhile topic of "What is the purpose of education?" - close to the heart of many expats on our "Island of the Ghost Teachers". Tricky Dycky left his multi-coloured, woolen winter cap at home this time, even though quite a few people have been asking him about it since he was featured as Lammaite of the Day recently. Bookworm Ken the Prayer Warrior was our jovial host for the evening.
The Bookworm has introduced a new blueberry tart, real food for thought, inspiring the intellect and creativity of our philosophising this evening. See the pretty active Bookworm Cafe Facebook page for more pictures and reviews, to check out the menu beforehand and even to make reservations.
The Nite Cafe & Wine Bar opposite the Bookworm Cafe has unfortunately closed down due to lack of patrons. Wine expert Wayne of Chateau Lamma (who used to run the Wine Bar) has move his premium wine shop from Tai Yuen to this much better location, just opposite the Bookworm Cafe. No more wine by the glass, but he's added quite a few more high-quality bottles below $100.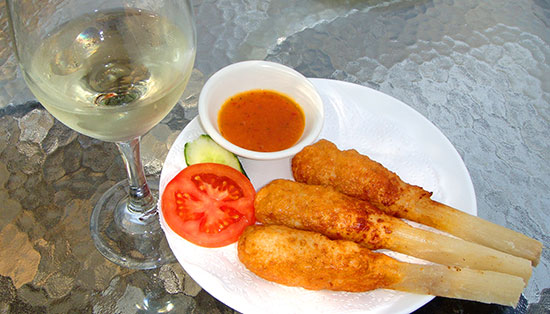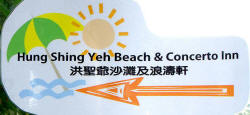 After a morning hike via the windturbine, Snake Trail, Youth Hostel and back to Hung Shing Yeh beach via the Family Trail, I love to stop over at the Palm Tree Cafe on the cozy beachfront terrace of the Concerto Inn Hotel. I love to visit the advertisers of this website personally, checking out what's new and hot, see below.
The above simple Vietnamese dish is my current favourite in Palm Tree Cafe, Chao Tom ($38 for 3 pieces). Together with a glass of their fruity, refreshing house white, it's as close to a perfect snack in a wonderful, public location as I can find on Lamma. I love watching life go by on the very clean, public Hung Shing Yeh beach, while dipping these pretty, caramel-golden fried sticks into the sweet'n' savoury, slightly spicy sauce. The crispy, crunchy outside, the soft, fried shrimp paste inside and the warm, sweet cane juice complement each other so extremely well. Chewing hard on the sugar cane stick, sucking every drop of juice out of, is a most satisfying pleasure all by itself, reducing it to a sucked-dry, woody pulp.
Cleansing my palate with the cool, delicious house white wine in-between bites - smelling, sipping, swirling, savouring, swallowing it - sheer bliss! I even forgot to ask about the type and origin of their house wine, it doesn't really matter.
All of this, including the micro-salad of one slice of tomato and cucumber, makes for a great snack for normal people and a full lunch for my tiny stomach. I walk home a happy man, eager to share the experience with the Lamma-zine readers.
While visiting Hung Shing Yeh beach for any reason or while passing by on the way to South Lamma via the "Family Trail", stop by and try this dish or some of their other appetisers yourself. There's even an Assorted Snacks Combo ($98) that includes two of these Chao Tom sticks.
After my lunch, an older Chinese gentleman was walking by the beachfront terrace, stopped and asked me in good English if I'm staying in this hotel, where I'm from and other standard touristy questions. He was amazed that I actually live and work permanently on this "holiday island". "Yes," I agreed, "I'm a lucky man!"
---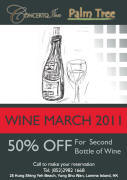 On a more promotional note, beside their Wine March and Early Bird specials, Concerto Inn is currently running a monthly contest for a free room. Email them or post on their Facebook Fan Page your "happy memories of your journey in Concerto Inn and Lamma Island". Win a free room for a friend or family member!
Maybe my story above qualifies as a "happy memory" and I could also win a free room? Then Lamma-Por and I could spend a free, comped, romantic night in Concerto Inn Hotel? Afterwards, I'd do one more Lamma-zine story about that experience! Oops, sorry, it sounds suspiciously like I'm fishing for a freebie here....

Back Street between Tropicana takeaway (Ah-Can's) and Shelly's Cake Express will be closed off for sewerage construction works from today till Apr 21, Mon-Fri, 9:45am-6pm.
Submitted to Lamma-zine by Kaden Construction: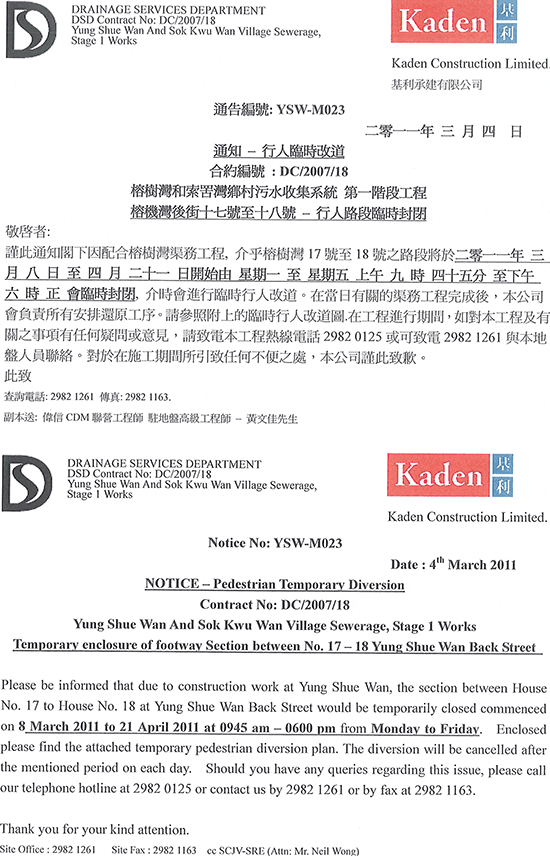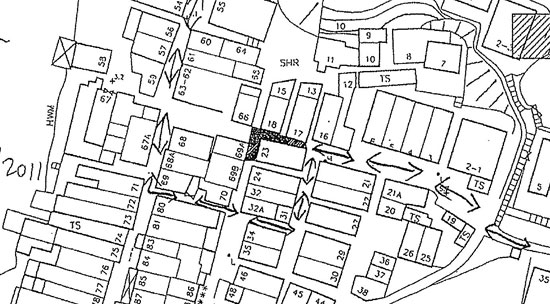 The spring season is heating up on Lamma, lots of fun events being organised these days - parties, potlucks, ceremonies, carnivals, sports, etc. Let me feature and promote some highlights here, all happening this weekend in Yung Shue Wan:
YSW Catholic Kindergarten is celebrating their 50th Gold Anniversary tomorrow, Sat, with a major ceremony. All are welcome!

A brand-new Filipino Basketball League with FOUR full teams will be starting their weekly tournaments this Sun morning in the Basketball Court!

Fitness Carnival in the YSW Football Pitch on Sun afternoon.

Dragonboat training on Sat afternoon and Sun morning in the harbour,
plus the last in the series of Sunday-morning Boostcamps. Tue and Thu evening workouts will continue.

Lamma Spirit Philosophy Cafe will be discussing "What is the Purpose of Education?" in the Bookworm Cafe on Sun night, 7pm.
Expect to see me running around taking hundreds of pictures at these and other events this weekend, for stories to be published early next week. You're most welcome to approach me anytime, anywhere if you have any news or stories you'd like me to cover in the Lamma-zine, or just to have a chat!
Robert de Biro writes: "In behalf of the Filipino basketball fanatics of Lamma Island, kindly mention our small tournament in your Web magazine.
"The Lamma Island Pinoy Basketball League will launch its 1st Inter-Color Tournament on Sunday, March 6, 2011 at the Yung Shue Wan Basketball Court (below the Catholic Kindergarten). The event is the first-ever basketball tournament organized by Filipino residents of Lamma Island.
"Four teams are participating, namely Pak Yue, D-Lau, Glamorous Tigers and A.S.S. (Alleywood Super Stars). Games will be played every Sunday, 11am to 3pm. The competition has a single-round classification and knockout stage, and will culminate in a championship game by early April.
"Tidbits:
- The players consist of professionals, students and domestic helpers.
- Youngest player: 14, oldest: >50.
Depending on the tournament's success, organizers are considering other events this summer, including a possible mixed tournament with the participation of non-Filipino, other-basketball-crazy Lamma residents."
Fitness Carnival: Sun, Mar 6, 2-6pm, YSW Football Pitch: Organised by LCSD, sports & games w/prizes, bouncy castle, clowns making balloon animals, all free.
See Chinese poster above.
Purpose of Education - Lamma Spirit Philosophy Cafe: Sun, Mar 6, 7pm, Bookworm Cafe: Introduced by Tricky Dycky. For more info, email Tavis. He explains the goals of this branch as follows:
"The Lamma Spirit Branch of the Hong Kong Philosophy Cafe provides a friendly place for the exploration of ideas, where we may question our own assumptions and the assumptions of the various circles of culture within which all of us struggle to find our own 'right path'. It will not always be comfortable, but as we learn to embrace our differences and celebrate our commonalities, we will build a community of sharing where we will learn it's safe to be ourselves - to be different.
"What is 'The Lamma Spirit?'
"Lamma Island is home to a hugely diverse community in terms of ethnic/cultural background, profession, disposition, temperament, etc. An informal poll on the Lamma community forum numbered Lamma residents as hailing from at least 60+ different countries. This cosmopolitanism within the context of a bounded village community definitely gives rise to a special ethos, which we are calling 'The Lamma Spirit'; while it's distinct, it's also many-faceted.
"It is expected that this philosophy cafe will reflect the Lamma ethos of diversity by providing a venue through which diverse elements of the community, whether reflecting some particular & identifiable religious position or a secular worldview, will build greater mutual understanding through dialogue."

Organised every year by OIWA (Outlying Islands Women's Association) a night of seafood, Karaoke, souvenirs and a Lucky Draw, of course.

Philippe Colin in Lo So Shing (Photo courtesy of Chris Hall)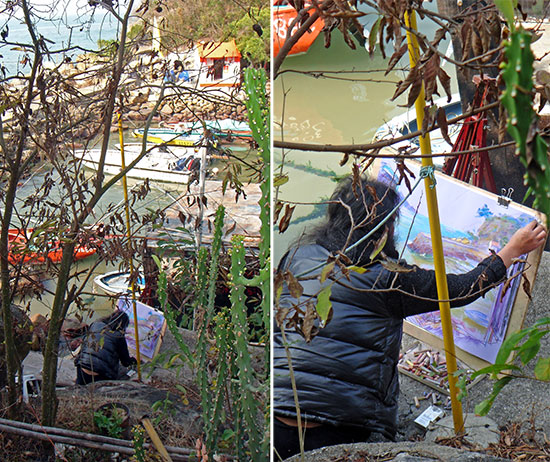 Japanese artist Miso in the Fishermen's Village, Feb 24, 2011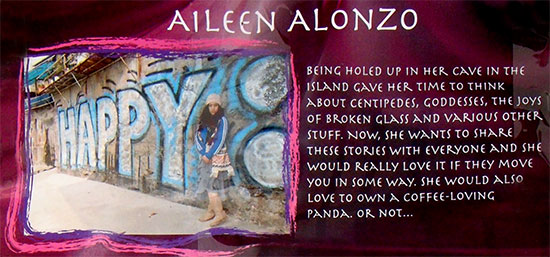 Another (anonymous) Lamma Artist has already been hard at work very late at night these last few months, putting up much more controversial artworks; for example this graffiti painting on the YSW seawall. This photo is showing part of a poster on the Democracy Fence promoting Aileen Alonzo's performance at The Underground concert on Mar 18. The concert will also feature Thinking Out Loud with bbChris, a famous ex-Lammaite still organising The Underground concert series after all these years.

Another favourite Lamma pastime:
Watching and photographing sunsets, usually while sitting in one of our numerous harbourside restaurants.
While shooting the first row of photos above, having early dinner in Man Kee Rest., two more people had the same idea and were jostling for the best position. This was on the same day, Feb 28, when I shot the "Foggy Sunrise" photos below. Yes, I'm working for the Lamma-zine from sunrise to sunset....