Soundpocket press release:

(Photos by soundpocket)

AROUND is a month-long sound art festival about listening. Internationally renowned artists stay in Hong Kong on a 10-day residency, developing original live performances and installations at the tranquil Tung O Beach in the south of Lamma Island and in old Chinese brick houses in Motat village nearby. Sound objects and audio works are concurrently presented in multiple venues in the city. Public talks and workshops on sound in different cultural contexts take place throughout the month.

AROUND is grounded on the place-making potential of the aesthetics of sound. The unprecedented festival brings visitors out of the routines of urban space and back, enabling extra-ordinary and lasting listening experiences.

AROUND is a direct and positive response to the domination of visual culture and noise pollution in the city, the numbing of our sense of hearing as a result, and the growing interest of artists working with sound. AROUND is an occasion for ear cleansing and deep listening.

AROUND presents international A-list artists and emerging sound art talents from Hong Kong. They are:

Mike Cooper (UK), Kawai Shiu (USA/ Singapore/ HK) with Hong Kong New Music Ensemble (HK), Phoebe Hui (HK), Jerome Joy (France), Jaffa Lam (HK), John Lee (HK), Jason Lim (Singapore), Simone Merli (Italy/USA), Donna Ong (Singapore), Beatrix Pang (HK), Kacey Wong (HK), Patrick Shek (HK), Su Hei (HK), Akio Suzuki (Japan), Anthony Yeung (HK), Yan Jun (PRC), Miki Yui (Japan/ Germany)

Presented by soundpocket,
curated by Yeung Yang. Co-organizers – SEE Network, The Bookshop by MCCM Creations, aco_books, kapok, hulahoop, Hong Kong Architecture Centre, Friends of the Earth.

Supported by: Hong Kong Arts Development Council, Le French May, Consulate General of France, Dawei Charitable Foundation Limited, alive not dead, San Miguel.
There's already been another Tung O Beach cleaning by HK Electric Volunteers, GreenLammaGroup and the festival organisers on March 26:
see our forum and Facebook photo gallery.
Program & timetable at a glance below, click for more details, plus the complete A5-size AROUND booklet (pdf, 3.5MB) which you can also pick up at the YSW ferry pier kiosk. South Lamma events on May 1, 2, 9.
The May 1, 6-7pm, Tung O beach concert will feature Lammaite viola player William Lane (HK Philharmonic member):
"Join Kawai Shiu and performers from the Hong Kong New Music Ensemble for an outdoor musical performance on Lamma Island at sunset this Labor Day, May 1. Kawai Shiu has composed a work called 'Tung O Processional' especially for this event.
Members of HKNME (viola, cello, two french horns and trombone) visit the beach, paths, rocks, pier, temple, and deserted houses in this remote fishing village. The audience follows the music and listens to the murmurings of the wind and waves.
This performance is part of the 2009 Around Festival, affiliated with Le French May Arts Festival. Cost: $150."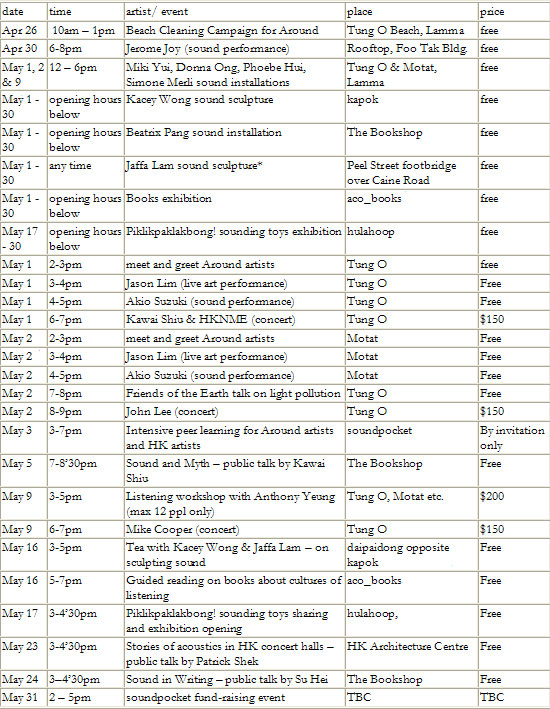 HOW TO GET THERE:
By ferry (May 1/2 are holidays, click below for schedules):
Aberdeen to Sok Kwu Wan Chuen Kee ferry (get out in Mo Tat Wan),
or take the Central - Sok Kwu Wan HKKF ferry, then switch to the Sok Kwu Wan - Aberdeen Chuen Kee ferry (get out at Mo Tat Wan);
then walk from Mo Tat Wan ferry pier to Tung O beach (30 mins).
or bike/hike from Sok Kwu Wan to Mo Tat Wan (15/30 minutes) and Tung O Wan (30 mins/1 hour) - I'll be biking, the fastest way to get from event to event;
or take the very scenic walk over the 150-metre tall hill from the Sok Kwu Wan Tin Hau Temple to Tung O Wan (the saddle in-between Mt Stenhouse and Ling Kok Shan, via Balcony Rock), about 45 mins;
or hire your own junk/sampan/speedboat to Tung O beach with your friends!
Refreshments will be available on Tung O beach and there's always the fine The Bay Rest. on Mo Tat Wan beach, my own stop-over when biking in South Lamma.
---
P.S. Just received - after my urgent request to the organisers - a detailed map (click to enlarge). For any questions, email or call me (see top of this page.)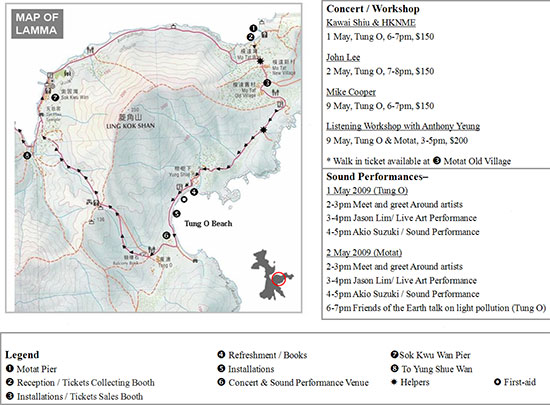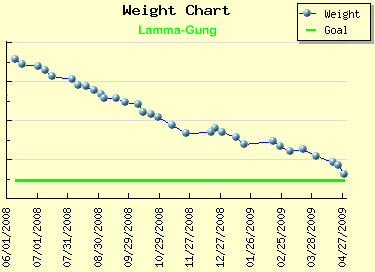 At my weekly weigh-in this morning, I discovered that I have lost exactly 150 pounds since starting my personal "Weight Loss Journey" a little over 1 year ago. Another little milestone - the biggest weight loss of my life - getting me closer to my mid-term dream of shrinking to Onederland (weight loss support forum term for the Wonderland dream/goal/ aspiration of weighing below 200 pounds, 1xx, Onederland.)

Do these 150 pounds qualify me as The Biggest Loser of Lamma, like the Survivors-style TV show of competing "morbidly obese" teams, where "The Biggest Loser" will be the actual show winner. Well, from being probably The Biggest Lammaite before I might have progressed to become maybe "The Biggest Loser" (in terms of weight)? It really sounds bad, doesn't it, like my entire life is heading in the wrong direction!?
I'm power-hiking, eh, Stumbling Randomly Through the Hills of Lamma like a madman possessed these days, almost every day for as long as the hiking weather still holds up so beautifully. It's great cardio to get the metabolism going and lose weight faster, overcoming the dreaded "plateau phases" (see Weight Chart above.) In the meantime, I'm surviving on small portions of still delicious salads, soups, fruits, veggies, dairy, seafood (and occasional unhealthy snacks).
I might have climbed all major hills of Lamma by now, at least once, always preferring dirt paths to concrete. The so-called Snake Trail - Lamma Winds to Youth Hostel - has remained my firm favourite. Snake Trail? What snakes? Just stories to frighten island visitors, methinks! Occasionally, maybe once per hike on a weekday, you might even meet a lone jogger or mountain-biker up there, but they (usually) don't bite. The photo below shows my first-ever OK photo of most of the Snake Trail, seen yesterday from atop the highest hill (140m) above the Lamma Quarry; from top left to top right:
Trig Point, Mt. Panorama, Lamma Winds, Pak Kok Shan, Green Island, HK Island: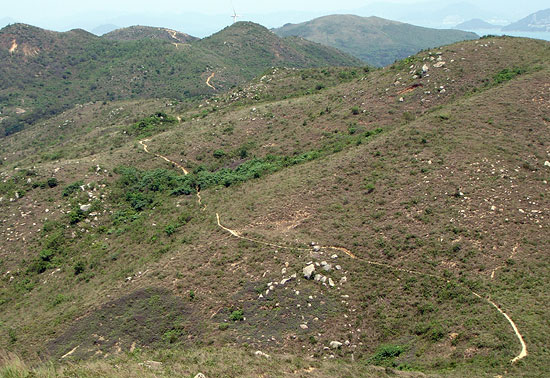 Biking to enjoy and cover the AROUND Sound Festival in South Lamma (Tung O Wan, Mo Tat Wan) on May 1, 2 and 9 will be great exercise as well. See tomorrow's Lamma-zine story and see some of you there, I hope?
Bicycle-Powered
Water Pump For
Tai Peng Community Garden

Eco-Adventures of the Valiant Eco-Warriors
Growing the Tai Peng
Community Garden!

First, all the bits and pieces.

Start with the cylinder...

...input pipe in the water.

Point the output pipe towards the garden.

Tighten the pipe.

Bring on the bike.

Connect the cylinder shaft to a pedal.

Anchor the back wheel...

...tightly.

And it does actually pump water.

Is everything connected?

So connect the hose &
start pedaling.

It works!

What better way to spend
a Sunday?
Are you eager to see (or even participate in) some more Eco-Adventures?
Let us know!
Angela Leary & Bernadette Carney - AnimalsAsia:

(Photos by Angela)

You'll remember "David" the sun bear rescued by Animals Asia from a bile farm in Vietnam and named by Barbara Kerr after her brother long-time Lamma resident, David Kerr. David, who died in 2006, had left instructions for a generous donation to be made to Animals Asia.

I thought your readers might like to read this lovely update about David meeting his new girlfriend, another sun bear whom we've named "Lamma" because of David Kerr's love of his island home. This was written by Animals Asia's Bernadette Carney (also a long-time Lamma resident):

---

Our big sun bear David arrived at the rescue centre in Vietnam in September 2008, one of the first sun bears to join our family. Soon afterwards, Lamma, a small, angry little sun bear arrived. Long alone and trapped in a double cage, Lamma was suspicious and defensive, lashing out at all who came near. David on the other hand, has never been anything but relaxed and gentle since his arrival, and in size and temperament these two bears couldn't be more different.

Recently housed next door to each other, the preliminary interaction between these bears has been a pleasant surprise, with David keen to connect from the first moment he saw Lamma. He often waited at the top of his hanging basket for her to join him on the other side, where he would gently paw, sniff, lick and play through the separating bars. David has never had any aggressive vocals or behaviours towards Lamma during the eight weeks they have lived side by side, and was often seen taking enrichment toys full of fruit and placing them against the bars for Lamma to help herself to.

Lamma wasn't quite so keen at the beginning, and was nervous when David moved into the den next to her. Previously having a neighbour who avoided contact, it came as quite a surprise to suddenly have this great, lumbering male come straight to the bars keen to get to know her, and Lamma avoided him for the first day. Her first contact with him was swiping and growling, and she kept a very close eye on him wherever he moved, but David was oblivious to her defensiveness, and continued to pursue his new friend. By day two, Lamma was much more relaxed and did not show any aggression but continued to watch David closely. Finally she began to play and was very soon happy to flirt, nibble, paw, and even steal his food through the bars.

After the development of such a successful new friendship, the bear managers and vet team in Vietnam decided the time had come this week to do a full integration and no longer keep these two bears separated. David's calm, almost dopey, demeanour was predicted to be a good match for Lamma, who is feistier and a little nervous about new people and situations.

And the outcome of the integration? Senior Bear Manager, Bec reports, "Both bears were walking on their hind legs before meeting, then instantly wrapped their arms around each other, with not a moment of aggression. There was no hesitation from either bear to engage in play, bear hugging one another and play biting. David had never been in this den before, so he wandered in to check it out, interested in sniffing and exploring, only to be wrestled by Munchkin [Lamma's nickname before receiving her official name] every step of the way. He is very gentle with her, which is comforting to watch, as he is much larger, although a lot of him is excess skin, with Munchkin is using to play-bite and pull! The first hour was non-stop wrestling, with no aggressive behaviours or vocalisations displayed."

Throughout the day, their obvious joy continued, with even a lot of enrichment items ignored in the pursuit of cementing their friendship. David and Lamma did however, share a large fruit ice-block, pawing, biting and licking at it without any aggression shown towards each other. With all this play tiring them out, they retired together to one basket later in the afternoon to rest up before carrying on the game.

Sharing enrichment again later in the day and eating close to each other, David ventured over to Lamma once he had finished his own food, where he casually joined her to eat. Lamma allowed him to eat her food, but very slightly raised the corner of her mouth, which David saw and took to mean "back off", which he did. "It was a very cute, and very tiny, display of aggression over the evening food" said Bec. "David's reaction definitely suggests that Munchy [Lamma] wears the pants in this relationship!"

With release into the great outdoor enclosures planned for the future, David and Lamma look set for a lifetime of friendship together.
Dan & Sharon - Island Bar - 25 April 2009:

(Photos by Dan Peterson, click to enlarge)

El Destroyo builds on previous success

By an amateur reviewer (in the absence of resident sage and scribe Nick the Book)

The Lamma music scene was once again enlivened with another rip-roaring Friday night session at the Island Bar. Lamma's own The Curs (formerly YSWankers) opened the show with their typically crowd-pleasing performance, this time accompanied by drummer Babatunji Heath from El Destroyo. The Curs performed their usual fantastic job on a number of great tunes with vocals mostly by lead singer John Hutton, more than ably accompanied by Harry Harrison. With Ollie on banjo, Roy on slide guitar and Gareth on bass, they closed off to great acclaim with a U2 hit favourite 'Still haven't found what I'm looking for'.

Feature band El Destroyo then played a return engagement to a very appreciative and enthusiastic crowd. Dean, Maggie and Tunji, who play together often and wonderfully well, were great as always with a tight routine executed smoothly and professionally. Despite some early glitches with the vocals caused by the equipment gremlins, El Destroyo performed to their full capability and to the delight of all in attendance.

El Destroyo are billed as a rockabilly band but they have a wide range of musical genres and certainly have the talent to make it all sound great. At one point they even branched into some country music to the delight of the crowd – and the amazement of John Hutton, who later joined in vocals for a couple of numbers.

The whole evening got off to a rocking good start with early dancing by a few people and as the collective enthusiasm and numbers grew the Island Bar staff cleared away the alcove table and chairs to let some of the more boisterous party-goers let rip.

After El Destroyo finished to boisterous applause and then departed as planned on the infamous 11:30pm ferry, the evening mellowed into a friendly jam session with the addition of some big bass accompaniment, keeping the mood in place and the audience satisfied.

The renovation works, which were supposed to have been started on the garden area opposite the IB, dampened the atmosphere to a minor degree since those people who would have liked to have sat outside could not. But generally the audience were in such a good mood they just worked around it. During the latter part of the evening several people spilled over into the neighbouring restaurant area and we all thank the folks at the Man Fung hugely for their patience and cooperation.

So all in all, another fun evening at the Island Bar with big thanks to The Curs and El Destroyo for making it possible and to the customers who made it all so worthwhile. THANK YOU.

An important footnote:
Kayoko: "This is one of the reason I love living here in Lamma. There are so many cats and cat-loving people!"
Today's photo feature is a catty mosaic created by Kayoko from her beautiful portraits of Lamma cats. Click to enlarge. Wallpaper sizes are available on request. Email me.

Kayoko's cat TORA (2-1), AMOR (2-2), Library Cat (1-3), model for LAWC banner (1-4), Big Fat Lamma Welfare Cat (3-4),...
Kayoko: "Others are mostly strays and pet cat walking around in Lamma. If you know the names of these, please let me know!"
For many more amazing portraits of Lamma cats, or to post your very own:
Pet pictures forum.
Forum moderator Leggova got a brand-new fisheye lens and she loves it, rarely ever taking it off her dSLR camera these days! Here are some of the eye-warping results taken inside the Fisherman Village behind the Library at the YSW ferry pier.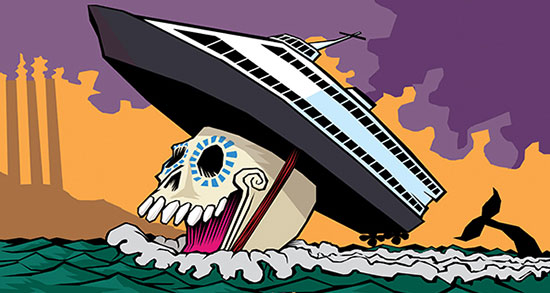 Website -- Facebook group -- Story on HolisticAsia
Promotional video -- Internet TV interview with Bobsy
(Photos by Lamma-Gung, click to enlarge. Click above for photo gallery!)

An excellent start to the 2009 dragonboat race season saw the Lamma Ladies take Silver at the Sha Tin Hong Kong Club Championships, with nearly half the boat new paddlers! Well done, guys! Our next race is Boracay in the Philippines. Then we fall off the plane and compete in the Lamma 500. This is one fast, furious, action-packed race schedule.

A record-breaking $30,000 was raised at Cirque Du Soleil Du Lamma on Apr 4 for Lamma Dragons Dragon Boat Club.

As the pictures shows, tremendous effort was put into costumes by the party-goers and The Island Bar was transformed into a miraculous Cirque du Soleil Stage Set.

The Beer Garden, decorated for the first time, was festooned with coloured lights and sprinkled with hand-decorated umbrellas - a ubiquitous feature of a Cirque Show.

With the last partygoers closing the Island Bar at 4am, we think we can tick this one a very, very, very successful fundraiser.


The Grand Door Prize - a return trip for 2 to Macau, a nights stay for 2 in a Venetian Suite and tickets to the Cirque Du Soleil show Zaia was won by Anthony Ha.

We gave out over 30 prizes on the night and this could not be done without the generous donations of our sponsors and contributors. Many businesses in the village give every year and we could not raise the kind of money we do without their help. We would like to take this opportunity to say a special thank you to:

The Island Bar, Hipfish, Dymocks, Beer & Babble, New Holiday Mood Rest., Diesel's, Lamcombe Seafood Rest., Deli Lamma, Banyan Bay Cafe, The Amber Shop, Best Kebab, Pizza Milano, Forget Me Knot, Emily's Ice Cream Parlor, Sun Salon.

For a list of Door Prize winners, click here.

This has been a fantastic season so far with great attendance at practices which bodes well for the competitions. The men are doing really well, having a solid core of experienced paddlers as well as keen newbies. We have more team members this year than ever before - between the two teams, we have 70+ paddlers all hailing from Lamma!

For more photos, see L-G's & Julian's photo gallery.
(text & all photos by Katie Flowers)

Eco Arts Are the Way Forward

Cutting edge Eco Art teachers Katie Flowers and Claire Kirk have developed an innovative new approach to educating young minds on how human activity impacts on our local Hong Kong Oceans. Their latest creation at Hong Kong International School lower primary school is Operation Pinky, named after the Gavin Coates novel about Hong Kong's Pink Dolphins. The story was used as basis for creating a giant installation, which spans four floors of the Lower Primary school to express the images of Hong Kong Oceans rich past and the sad plight of oceans present.

Through the creation of artworks, students have learned about the richness of local seas in the 1950's, the abundance of life and diversity of species that used to flourish here and the current state of play for those creatures who still do inhabit our seas, and the impact of man and pollution on the marine habitat.

Katie and Claire have worked on various projects alongside the local WWF group and this time they have used the WWF Oceans 10 list to show the most endangered marine species in our sea. Which of course includes our very own Green Turtles, which have not been seen on Sham Wan South Lamma for 3 years.

The project not only raises awareness for the 180 students grade 2 (7-8 years old) who worked for 4 months on the creation, but also for the whole of the rest of the HKIS students from 4 years to 18 years who visit the installation.

The project is pertinent, crucial and cutting edge and has already been visited by various local conservationist groups, such as the Hong Kong Living Seas group, Ark Eden group and Project Kaisei. It will feature on the Living seas website as a flagship project.

Katie Flowers has been studying an Ma Ed in Environmental Education for 3 years, stimulated by her years of leading the Lamma Island Earthkeepers groups.

She is PASSIONATE about the need to educate young people of all ages about every aspect of our beautiful natural world in Hong Kong.

As Katie states, The urban environment in which we live has made it difficult to learn about or appreciate how to just 'be' in the countryside, so taking to caring steps towards environmental nurture may not seem obvious. Believe it or not Green environmental attitudes are not built into our hard drive...we need to learn how to load those in!

Having intimate and exciting encounters with nature in large and tiny ways needs to come first.

It is vital to feel powerful & excited & even intrigued about our wonderful world!!!

There is so much out there right now concerning Environmental Problems both locally and globally. It can be hard to know how to act and respond. In Hong Kong, we are being told daily that our planet is heading quickly into crisis; films like the Inconvenient Truth tell us what lies up ahead if we don't make some right choices.

It's easy to feel over whelmed and uncertain as to how we can help. The news can be very negative, but we have to balance that with some kind of affirmative action. We have to help ourselves and our kids look for the positives and the possibilities. If we and our children realise that we can each be part of the solution then the problem becomes way more realistic!

We can celebrate our "Place".
We can help our children learn to develop connection with the natural world inside the city and out beyond the housing estate and therefore develop a sense of care for that.
We can foster a better understanding of the world around us.
We can contribute to the voice for sustainable development.
We can protect and restore the environment around us.

We need to be as feisty and tenacious as nature teaches us to be!!

With the recent Ching Ming holiday and graves all over Lamma still covered with candles, joss sticks, half-eaten buns, rotting fruits and open rice boxes from the holiday picnics, I paid a return visit to the Lamma Garden of Remembrance columbarium up just beyond the Youth Hostel on the path to Luk Chau. See our forum.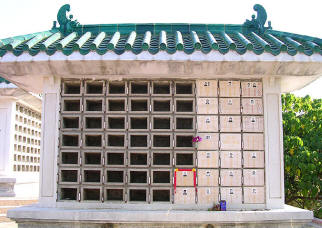 This is still one of the most exclusive places in all of HK to get buried and only a few people/year, only Lamma residents of at least 5 (?) years are granted this privilege upon special request in a very pretty, secluded columbarium which definitely cost quite a few millions to build.
Here's a picture from Dec 13, 2004 (above) and a picture from April 14 (below). This means that only 17 people have been laid to rest there in the last 4.33 years, meaning only approx. four people/year! In the first approx. 15 years before 2004 it was only 19 people in total. So it's really, really exclusive! Where do I sign up?
At the current rate and with Lamma's population actually shrinking a bit in the last 5 years (-300), this Lammaites-only columbarium will be spacious enough for about the next 120 years (504 niches/4). The 4 empty blocks are actually double-sided, so this looks like real long-long-term planning by our govt., appropriate for such a place of eternal rest?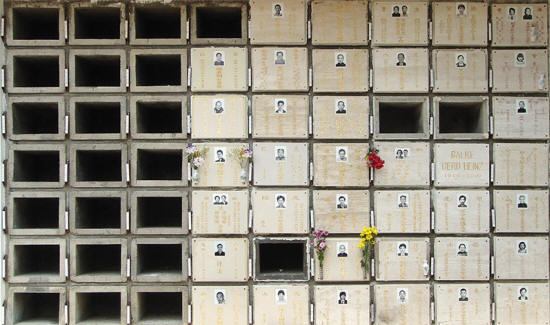 Click above for Lamma-Gung's photo gallery
More of Lamma-Gung's photos above in the Tin Hau Festival 2009 gallery.
By the way, I'm always available for paid photo shoots! Email me!
Plus some mighty fine photos in Grahame's Lamma Day 2009 photo gallery.
Email me your own Lamma Day 2009 photos or link to be added here!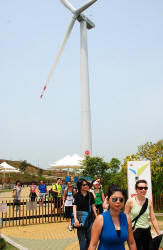 Remember the hot and controversial topic in Feb 2008 when HK Electric was occasionally running diesel-powered vehicles for some of their corporate visitors to Lamma Winds from their Power Station? See our Light buses to Windturbine? forum.
I've just received the announcement below from them today, specifically written for Lammaites and for publication in the Lamma-zine. HK Electric is applying for an "emission-free, 4-person, electric cart" for this occasional, on-demand-only route. Sounds great! If this really good example works out, can we start pushing the local VV drivers to switch over to electric carts as well?
I'll be on the lookout for these electric vehicles while trying to bike to Lamma Winds myself very frequently, using human power only. So far, for a third of the route I'm still pushing my bike uphill instead of riding it all the way which is my goal. The fun downhill ride from Lamma Winds afterwards makes it all worthwhile. Maybe HK Electric could rent bikes to some of their corporate Lamma Winds visitors for free?
Public Affairs Dept., HK Electric:

(Photos by Lamma-Gung)

Emission-free vehicle to be used to Lamma Winds

HK Electric has taken on board Lamma residents' suggestion to use an emission-free electric cart to provide, on a need basis, special transport trips for visitors to Lamma Winds.

An application has recently been filed to Lands Department for permission to use a 4-seater electric cart to take visitors from Lamma Power Station to Lamma Winds in the event that transportation is required. This electric cart will only be used when special arrangements have to be made for visitors who may not be able to travel on foot, in particular the elderly and physically-challenged. All other visitors will be asked to walk up.

When HK Electric applied for the same service with a minibus with Euro IV emissions standards back in February 2008, Lamma residents expressed concerns even though it was the cleanest available diesel vehicle on the market at the time. We have since explored the feasibility of using an emission-free electric cart for the purpose.

We believe the proposed arrangement represents a balance in respecting the environment on Lamma while at the same time, allowing visitors with special needs to travel to Hong Kong's only wind power station.

We will exercise extreme care and prudence in the event that the vehicle has to be used. Support by Lamma residents is highly appreciated.
Jay Scott Kanes - Official Court Correspondent and author:

(Story & photos by Jay)

Rubbing sticks together starts fires. Hitting people with sticks constitutes assault. And by a special brand of building magic, tying sticks together means it's time for Chinese opera here.

Each year, workers on Lamma Island bind together thousands of bamboo poles to create an impressive, but temporary, opera house bigger than some sports stadiums. Again this year, the bamboo opera house rose like a mythical phoenix, "setting the stage" for popular Cantonese-opera shows.

The Celebrate Tin Hau (Goddess of the Sea) Festival runs from April 16-20. As the main attraction, the "HK-renowned" Hing Fung Ming Cantonese Opera Troupe performs.

Starting in late March, piles of bamboo poles arrived at a village soccer pitch. Agile and skillful, busy builders added one pole at a time to create a large stage, partial walls and a sloped roof.

Now, the "culture palace" dwarfs nearly every other building on the island. Colorful flags flutter outside. Rows of chairs wait on the surface where soccer balls usually bounce.

Despite such elaborate preparations, the bamboo opera house operates for less than a week. Once the final costumed performer sings, the workers return, cut loose the bamboo poles and carry them away. Within a few days, the huge structure vanishes until next year.

This unusual opera house lacks the grandeur and permanence of the famous Sydney Opera House. But it's even more fascinating.

For a lot more of Jay's photos, click here.

Despite using a second-hand mountain-bike almost every day as part of my ongoing quest for health & fitness, I hadn't dared to leave the safety and comfort of Lamma's concrete paths until yesterday...
Biking to remote areas and then hiking on dirt paths are among my favourite pastimes, as long as the weather is still pleasant and cool enough for sweaty outdoors activities. But my trademark Stumbling Randomly Through the Hills without a map gets me into trouble sometimes.

Yesterday, I rode my bike past the wind turbine and down the other side to Lo Tik Wan, then trying to continue to the Youth Hostel via Luk Chau, following the nice, big metal signs. But suddenly I found myself on a totally overgrown, washed-out, drippingly-wet, mosquito-infested, spider-webs-in-your-face forest mud path, being forced to turn back or carry my bike up an extremely steep and rocky slope.
Reaching the top after a lot of swearing and cursing, I still couldn't locate the existing concreted path from Luk Chau to the Youth Hostel, but found myself in the middle of my favourite hiking trail, the so-called Snake Trail from Lamma Winds to the Youth Hostel (see the trail below, viewed from Trig Point, the highest spot on North Lamma.)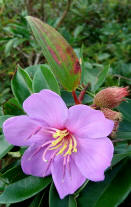 I've met Lamma's intrepid and often victorious mountain-bikers up there a few times (Congrats to local TV celebrity Siuyu for his HKCA race win on the Project X trail on March 1). So I really didn't have much choice but to actually attempt mountain-biking for the very first time in my life.
Lamma-Gung as a mountain-biker? Who'd ever have thought about that, after seeing me wadding along Main Street just one year ago, never having ridden a bicycle in 35 years!
Well, trying to mountain-bike to the Youth Hostel on the Snake Trail, not just watching the Lamma Enduro race, made me finally experience first-hand why it's such a physically tough and demanding sport and why even young, fit and experienced Lammaite bikers wear elbow casts sometimes (Hi Andy!)
Balance seems to be the absolutely paramount concern and one little mistake could send you rolling down a very steep and long slope full of sharp rocks and thorny branches. Balance is definitely something I need to work on a lot more, as my Personal Trainer and Fitness Guru Fred keeps telling me during our weekly workouts. Riding along those steep hillsides is definitely an adrenaline-pumping balancing act between abject fear and great exhilaration....
A few crucial questions come to mind:

How to choose a dusty day for riding, not a muddy one after a rainy night?
How to avoid hitting these big rocks on the very narrow trails with your bike pedals?
How to prevent the brushes from scratching your hands clenching the handle bars?
How to avoid flipping over the handle bars while braking hard on a steep downhill?
Maybe someone in Lamma's friendly mountain-biker community would advise a complete beginner?
Fortunately, the day before I'd bought a soft-gel bike-seat cover at a yard sale (another Lamma family leaving Hong Kong due to job loss). So my tender behind was well protected from the very bouncy, rocky trail. I was far too pre-occupied with my own safety and survival during this ride to take pictures, so all the photos within this story come from my former Snake Trail hikes.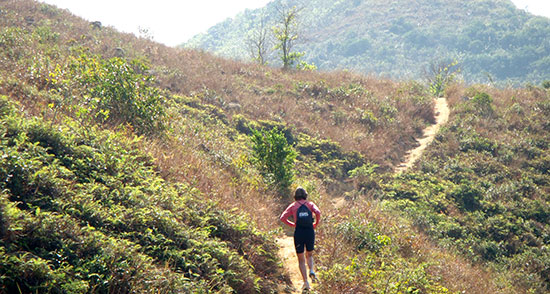 Finally, I reached the Youth Hostel, having taken much longer than on my usual "power hiking" and actually pushing my bike uphill instead of riding it. Then, in true "Stumbling Randomly" style, I decided spontaneously NOT to return to Yung Shue Wan via the Family Trail, but to continue the off-road adventure by exploring the entire huge area of the Lamma Quarry.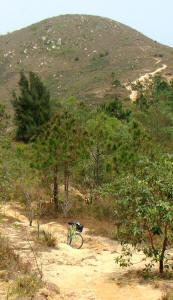 But that's a future story....
So, how did I like my first "real" mountain-biking experience? Despite getting aching knees, blistered hands, tired legs and sun-burnt arms, I'm eager for more! Will you see me biking through the hills again soon? Well, maybe....
Should I have to get myself and my ride pimped out first, especially removing the very uncool shopping- basket from my cool, bright green mountain-bike?
Should I replace my soft, floppy, sweat-absorbing sunhat with a fancy, streamlined, ridged, multi- coloured safety helmet?
Should I dress up in ultra-hip, metallic-neon attire and the coolest sunglasses, plus a fanny pack and black spandex shorts?
Scary thoughts, I know! L-G as a "real" mountain- biker? Well, at least the Lammaites and visitors usually staying on our concrete paths should feel safer again. I'll keep you posted on my progress (or lack thereof).
Cantonese Opera by Hing Fung Ming Troupe: Apr 16-20,
YSW Football Pitch: Click for programme page 1 & page 2.
Lamma Day/ Tin Hau Festival/ Dragonboat races:
Sat, Apr 18, 10am-3pm:
Reclamation area in front of Football Pitch: Click for programme 1 & 2.
Photo galleries of Tin Hau Festival:
2004, 2004 (Canto Opera), 2004 (Dragonboats),
2006, 2006 (Canto Opera), 2007, 2008.
Plus another 49 references you'll find when searching this website only by typing "tin hau festival" into the Search box at the top of this page, or click here.
Jay Scott Kanes - Official Court Correspondent and author:

(Story, photos & captions by Jay. Ferry pier photo below left by L-G)

City Hordes Conquer
by Force of Numbers

When too many thousands of big-city folks arrive on an outlying island like Lamma, the place deteriorates lickety-split. That happened on the Easter weekend.

As a sparsely populated place without motor vehicles, Lamma usually offers quiet serenity, a welcome refuge from the crowded, tumultuous urban districts a short ferry ride away. Not at Easter.

On those few days, long queues formed at the Lamma Pier in the Central Business District. There, city-dwellers jostled for places on the Lamma ferries. Some prospective day-trippers saw the backlog of fellow travelers and turned away. Any Lamma Islanders reaching the city gawked in amazement at the unusual sight of such queues. Then they wondered how best to battle through the masses on the way home.

Ferries filled to capacity brought thousands of extra visitors pouring into Yung Shue Wan, Lamma's largest village. They clogged the narrow Main Street and streamed along the popular hiking trail.

Leisurely strolls or vigorous hikes amid nature's splendor, the prospects for which attracted many of the visitors, turned problematic. Human chatter drowned out singing birds. Time spent waiting for gaps in the crowd caused delays and frayed tempers. Lineups to buy popular snacks nullified the pleasures of eating. The outlying paradise descended into aggravating congestion, no better than urban areas.

Why did so many people visit Lamma on the same few days? One theory is that the global recession has taken a terrible toll. People wanted to enjoy the holiday weekend, but no longer could afford trips to Beijing, Bangkok or Singapore. So Lamma became a cheap local alternative.

Another theory blames a popular Chinese TV show that recently interviewed a few leading Lamma Islanders about why they love the place. One big reason cited was the island's friendliness and how its residents routinely greet each other on the street.

Hopelessly outnumbered, Lamma's 5,000-plus residents spent much of Easter hiding, avoiding the marauding hordes by ducking down side-streets and along back-alleys. There, they met friends and neighbors doing the same.

When day-visitors invade in such large numbers, Lamma Islanders react with mixed emotions. Most mutter, moan and curse, resentful that "city influences" sully their home turf. But those with shops or restaurants sniff gold in the flood of traffic.

If the sun shines next weekend too, city dwellers will invade Lamma again, but hopefully in lesser force. Too many more days like those on the Easter weekend may erode the island's friendly hospitality.
A few photos from the yearly Easter event organised by the evangelical Lamma Church, attracting over 100 primary school children from all over HK for an Easter Sunday afternoon of fun and games on Power Station Beach. Main event: digging for styrofoam Easter eggs in the sand, to be exchanged for participating in ring and basketball throwing games with big prizes donated by a toy manufacturer.

---
P.S. Photo gallery from Sendya just in: Easter photo gallery.

P.S. II from the Lamma Church:
"On 12th of April 2009, a sunny Sunday afternoon, 250 children joined digging for Easter eggs on the Power Station Beach, Lamma Island. 100 adults also swept the sand pool for Styrofoam eggs with their kids. We could see smiles and happiness on all faces, children and adults alike.
"The 'Digging for Easter Eggs' event has been organized annually by the Lamma Church, the Churches of Christ in China for 30 years since 1979. The number of participants increased each year. Many of them came from all over Hong Kong. It was the highest number of attendants in record this year.
"Besides digging for Easter eggs, children also took part in singing, story telling and fun games. They won small toys upon completing each activity. Through the activities, children learned the story about Jesus Christ who had died on the cross to pay the penalty for our sins and rose from the grave to purchase a place for us in heaven.
"'Digging for Easter Eggs' activity was a great success. It has become one of the popular events in Easter Holiday amongst Hong Kong people with young kids. The Lamma Church is considering co-organizing the Event with the Islands District Board. Hopefully, more children can come digging eggs next year."
Look what I've just found on Facebook where big virtual crowds of Lammaites are gathering and socialising these days. It's a most unusual but perfectly timed photo gallery named Excavate Lamma, by Rambo Lai (who recently got married to my Friend Lorraine, as I found out only from Facebook ;-).
With so many Lamma streets being dug up right now - or soon to be dug up for the Lamma-wide sewerage project worth several hundred million HK dollars - we'll be seeing a lot more of these excavators outside our homes soon.
And where does much of this huge amount of construction waste from the dug-up streets and the recently demolished Nam Wah Yuen Rest. (see Rambo's photos below) go? Yes, into the Yung Shue Long valley, the stream and the Lily Pond...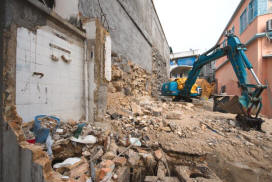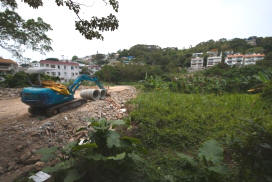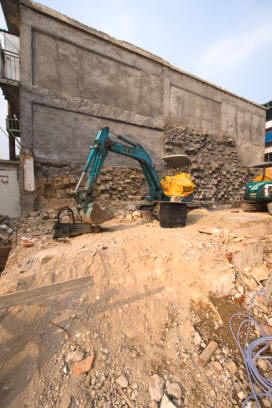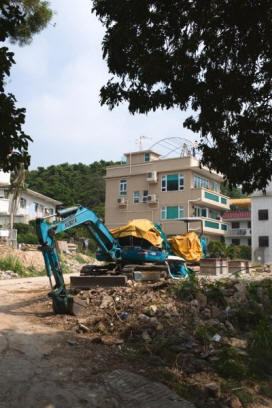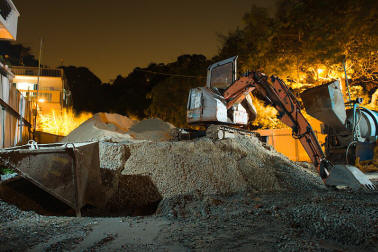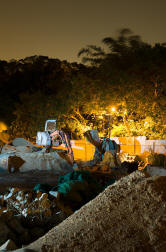 And what will happen to many of these little excavators after construction has finally ended? For an all too typical and frequent example, see my own photo taken in my own neighbourhood: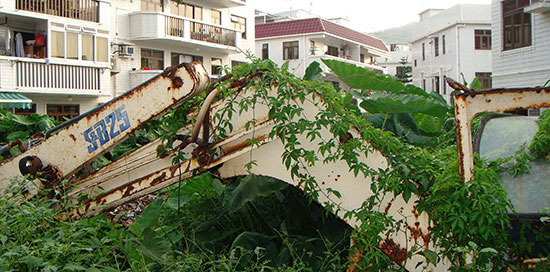 The SCM Post sent a photographer today for a story (maybe on Easter Sunday) about the recent near-destruction of the beloved Lily Pond and the construction waste dumping in the beautiful, wildlife-rich Yung Shue Long valley. About 50 people showed up to have their picture taken; see my own pictures (click to enlarge) of this cheerful but passionate event.
Afterwards, a lobbying group was organised and we'll hear a lot more from them very soon. The very active debate continues in our English & Chinese forums.

P.S. The SCMP story has been published on Easter Sunday, April 12, click here.
Plus an SCMP cartoon (Easter Saturday) from Lamma's very own Harry Harrison: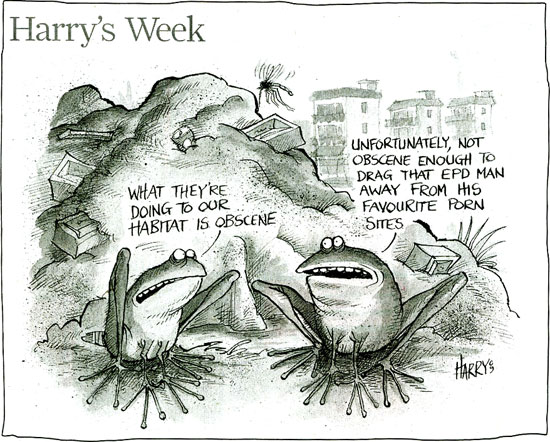 Tavis - Co-moderator of Environment, Politics & Development forum:

(Copyrights: all photos by Cindy Poon, except giant turnip by Jayne.
Click any photo to enlarge.)

What's the Tai Peng Community Garden
all about?

You might think it's all about growing juicy and delicious fresh organic veg. Yes and no – John has enjoyed a constant supply of greens to supply his healthy raw food diet. Geoff has had a tremendous crop of cherry tomatoes that never seems to stop giving. Jayne and her son Tai grew a turnip large enough to require VV truck assistance at harvest time.

But on the other hand there are many of us who remain undaunted by sparse harvests. Nancy's Mexican food fetish has prompted her to become our bean expert. But, her enthusiasm for bean growing seems to be growing faster than the beans themselves. She proudly informed me the other day that her efforts so far have yielded a small tin of beans – I forget the exact number something like 57 beans and counting! She's not alone in her story of somewhat modest vegetable gardening success. So, why do some of us vegetatively impaired gardeners keep coming back when the veg lure itself seems as small as a protected Roemer's Tree Frog and nearly as hard to find?

For one thing there are always the flowers; the path-side portion of the garden is just for flowers. You eat first with your eyes as you pass through it toward the vegetable gardens at the back. And for some, the flower garden fills their appetite enough. Skye is our Flora, our Goddess of Flowers, and she, along with a few others, has made the garden delightfully beautiful this year. I have heard local people passing by refer to our garden as the 'Tai Peng Fa Yuen' or Tai Peng Flower Garden.

For some, the garden is a great photo opportunity. Sendya has used her photographic magic to transform our few humble flowers, vegetables, and old furniture salvaged from the bins into an outdoor cathedral – colourful stain glass scenes depicting life, joy and laughter. For some the garden provides a much needed spiritual respite – a quiet place to meditate – a place to gaze up at the night sky and wonder at the falling of a star.

If you ask the children what the garden's all about, they'll tell you about the tadpoles and the catfish in the pond (and, unfortunately, exactly how best to catch them). They'll expound the delights of mud pies and birthday cake. (Last Sunday, Tristan, Avi, Jette, and Younas all had birthdays so we had a communal cake-making effort.) They'll tell you about blind snakes – they'll explain that bananas are actually plants and not trees, but mostly they'll tell you that the garden's a great place to play with their friends.

And I think that's perhaps the most important part of the garden; meeting friends, working together, learning how to make our differences more of a strength than an obstacle.

It is after all, not just a garden, but a community garden. In this way it's a laboratory, a playground - it's more than metaphor but a focused point of connection and learning that speaks to the bigger issues and the life of community that extends beyond that garden and through the busy streets of Lamma communities. It speaks to the community that includes not only human kind, but plants, trees, insects, amphibians, water and sky. It's a place to build and strengthen relationship among people and with nature. This garden is a place where we can learn what 'community' really means.
BEFORE: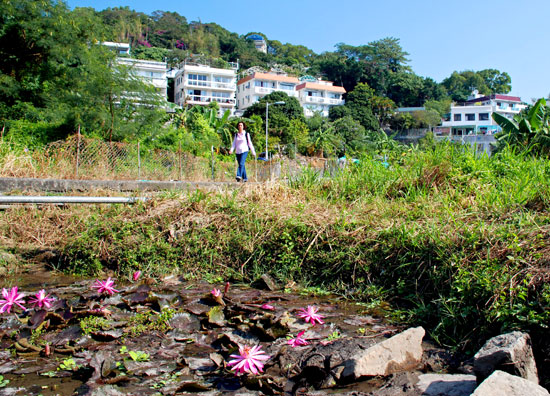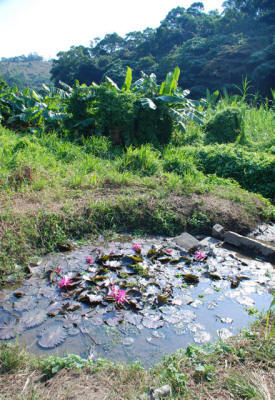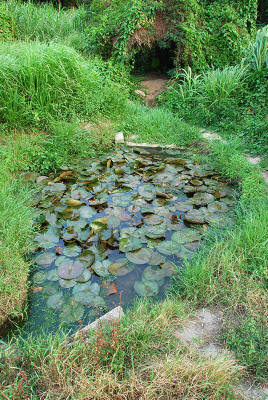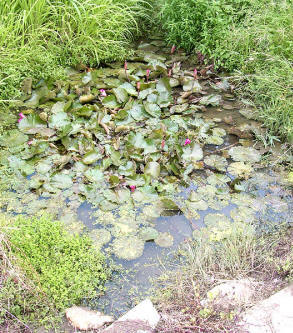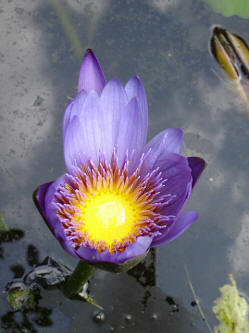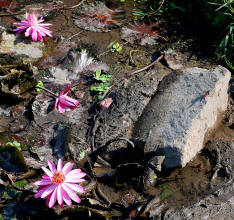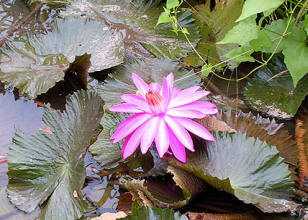 NOW - April 8, 2009: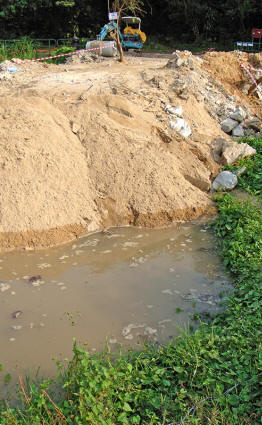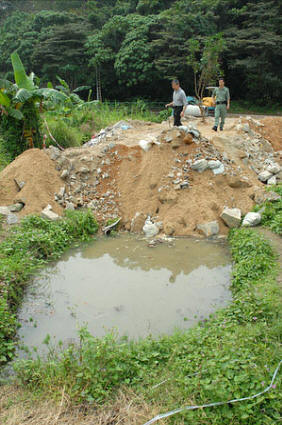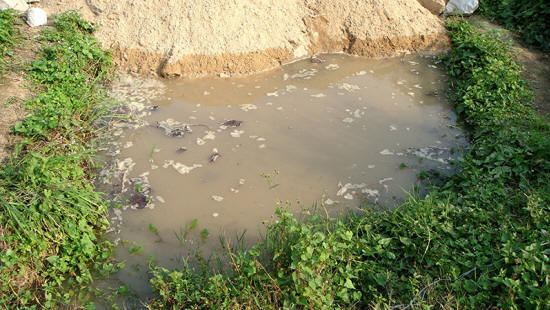 Discuss this very heated topic in our Yung Shue Long Valley Development forum and the Chinese forum.
A bit of history and background in former Lily Pond Lamma-zine stories:
| | |
| --- | --- |
| Oct 13, 2004 | |
| Aug 2004 | |
| Apr 15, 2007 | |
| Nov 16, 2007 | |
| Aug 18, 2008 | |

YSW Ferry Pier - Po Wah Yuen - Pak Kok Village - Tai Peng - Lamma Winds (via Snake Tail and Back Passage trails) - Trig Point - Cable Route 2 back to YSW.
Photo gallery in progress...
Click for Lamma-Gung's photo gallery
Plus some more photos in Julian's photo gallery.
View from the top of Ling Kok Shan (Click to enlarge)
I've taken this on an unusually clear day, May 30, lying on a huge rock at the top of Ling Kok Shan, the 250-metre hill (2nd-highest on Lamma) - right above Sok Kwu Wan with the TV antennas for South HK. Quite a tough but beautiful little walk all the way from YSW via Lamma Winds and the Youth Hostel and back.
Bens71 created an an entire series of panoramic shots of the same views throughout the different seasons and weather conditions. Click below to see them all in full size:
Plus a few fantastic panoramic photos from GreenLammaGroup's Siuyu, from our Long Photo forum:
Exploring some of my favourite areas of Lamma by bike, this is what I came across in the former temporary helipad at the end of the harbour reclamation, just behind the new helipad and the collection refuse collection area. This area has been going through several complete makeovers in the last few years (see my Reclamation Photo History). This will completely transform once again into our future sewage treatment plant for Lamma North; almost all our homes will be connected to it once they finish the sewage piping works in the next 1-2 years.
Formerly locked behind a tall wire fence, this old helipad is currently open and accessible. Have a look yourself, fine views with unusual angles of the bay, ferry pier and most of Yung Shue Wan, before this typical Lamma furniture and graffiti vanish in this ever-changing area. Let me document it here for posterity: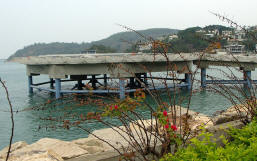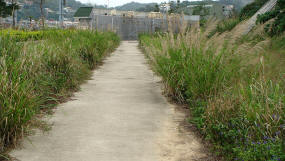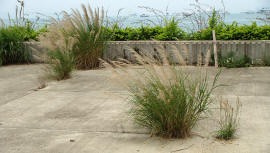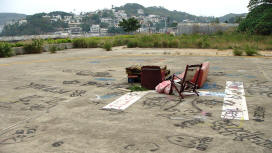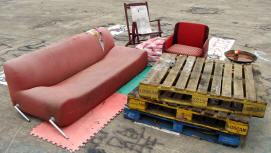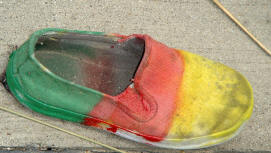 This year's Lamma Dragons fundraiser is happening on the grave-sweeping Ching Ming Festival holiday, this Sat, April 4. The potential connections and overlaps boggle the mind, inspired by the ghastly, ghostly masks in the poster:
Cirque's famous fire breathing performances during this grave- and hillside-burning holiday? Party revelers dressing up as ghosts dancing on graves? Macau's Zaia show visiting Lamma's Gaia Valley, Zaia @ Gaia? A dragonboating-inspired, Cirque-like performance in the Island Bar, paddles chasing the ghosts away? Maybe even trapeze and high-wire acts happening above the party?
Let's join in the fun, be surprised and contribute generously to the fundraising!
Lisa Dragon writes:
"This Saturday, Lamma Dragons host their annual Fundraiser. Kicking off at 8pm with Games, Jelly Shots and Door Prizes, it is set to be an event to remember. This year, our Theme is Cirque Du Soleil, so come on down in your best circus costume and take your best circus turn. Starting at eight and finishing late, excellent music and cheap drinks - come, party and dance!!!"

Lamma-zine Blog started on Sep 1, 2004, and will be updated frequently with anything vaguely related to Lamma
Island or its residents, be it news, stories, events, photos, videos, etc.
Contact Lamma-Gung with anything relevant to Lamma or Lammaites that you'd like to see published on this home page!

All text, photos & graphics by Lamma-Gung, if not otherwise credited. Click on button on left for Creative Commons license.

Twice a month, the Lamma-zine Blog will be promoted via an email newsletter to all registered subscribers and forum members, currently over 3,600. Free subscriptions!
All former posts are stored in the Blog Archives, see below.
All materials and photos © 2009 Lamma-Gung. Some rights reserved.
---
Top | Home | Forums | Lamma-zine | Events | Galleries | Links

About | Contact Us | Poster | Ratecard

Lamma-zine archives:

all stories 2004: Aug, Sep, Oct, Nov, Dec
2005: Jan, Feb, Mar,
Apr, May, Jun, Jul, Aug, Sep, Oct, Nov, Dec
2006: Jan, Feb, Mar, Apr, May, Jun, Jul, Aug, Sep, Oct, Nov, Dec
2007: Jan, Feb, Mar, Apr, May, Jun, Jul, Aug, Sep, Oct, Nov, Dec
2008: Jan, Feb, Mar, Apr, May, Jun, Jul, Aug, Sep, Oct, Nov,
Dec
2009: Jan, Feb, Mar, Apr, May, Jun, Jul, Aug, Sep, Oct, Nov