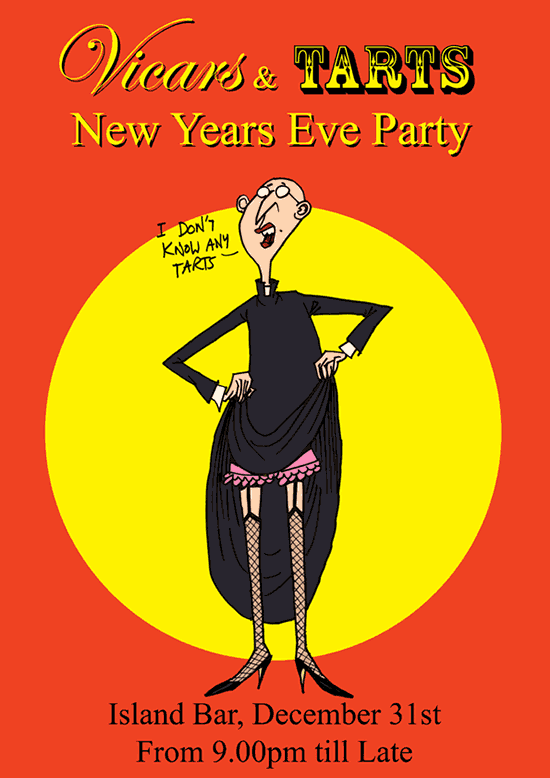 Submitted by Senior Inspector Woo-Woo, chief of Lamma's Valiant Police Enforcers: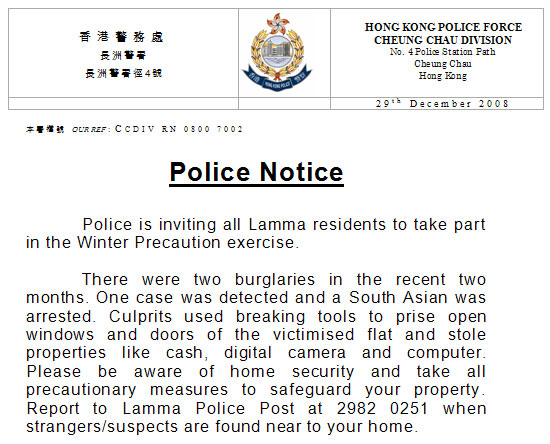 Lamma-Por and I are out flat-hunting once again, so let us know when you know about a sunny 2/F+rooftop flat, 600-700 sqft, max. $8K, max. 15 minutes from the ferry pier. We're in no hurry as we can move anytime with one month's notice. Our current nice landlord welcomed us to stay for "as long as you like" after the two-year end contract will end on Jan 31. Two quiet professionals, always paying the rent on time, no children, no pets, long-time, "reputable" Lammaites, we seem to be easy and "desirable" tenants. ;-)
We found a great place in Po Wah Yuen recently, but then Lamma-Por got a bad feeling from the two big graves bordering the building. She got worried about the Fung Shui of the place and ghostly sightings, so she changed her mind about renting it the next day. All these silly rumours about ghostly appearances up there, but I've never seen one yet. Wow, that would make a fine story!
Asking friends living up there about this particular address, one longtime female Po-Wah-Yuenian commented, "Dead neighbours are quiet neighbours!" This great quote sums up very nicely the laid-back, relaxed attitude and down-to-earth wisdom of many longtime Po Wah Yuen residents & families, I think. Our flat-hunt continues and we're open to discover new areas of North Lamma Island!

Biking really extends your reach, for example having lunch at the opposite end of our island. A few days ago, I've been biking from Yung Shue Wan to Sok Kwu Wan to Mo Tat Wan (half an hour by foot, south of Sok Kwu Wan) and back. I was enjoying a late lunch in The Bay Restaurant, probably the most remote (and most expensive) restaurant on Lamma. A fascinating experience...
in progress...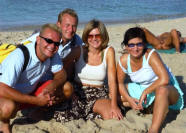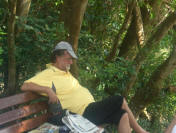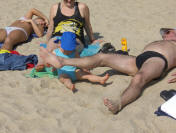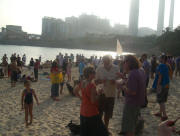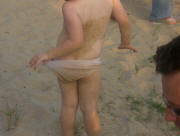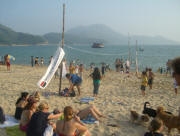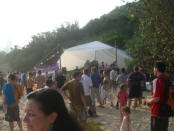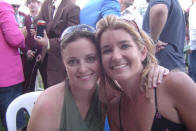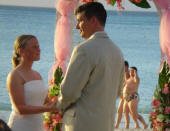 Mici - Christmas email:
Subject: Xmas Eve...
Dear friends,
Thanks for all your Xmas wishes! We had a really good time with a big beach party on Power Station Beach. We had fantastic weather and the party started already in the afternoon. Chillin'........and great music.
One couple got even married on the beach and some of the Brits and Aussies got really drunk very early.
We had a lot of fun until late night and didn't miss the Xmas tree and snow at all.
Hope we will have a similar big fun party on New Year's Eve. Maybe some of you come over and join us.
So enjoy some pics from this great party. Look very carefully, maybe you can recognise some of your friends.

Animated e-card from Greenpeace,
click here if you can't see it. Wait for the unicorn!
Send this "rainbow-coloured magic" e-card to your friends.

Dan & Sharon - The Island Bar - press release (abridged):
Operation Santa Claus 2008
The Treasure Hunt at The Island Bar, Yung Shue Wan, Lamma Island
21 December 2008 (Sunday)
Santa Claus – Jim Birkett
Elves – Andy Griff, Sallie Shaw, Vicky Medcalf, Kelly Morgan
Much support from other people including Rachel Hodgson who very ably marked the completed Treasure Hunt Clues, and Amanda Levin and Andy Griff for helping to set the trail. The trail takes approximately 25 hours of walking time to set. This has been established over the past 9 years. Some great gifts were donated from both local businesses on Lamma and from Hong Kong.
Sponsors in alphabetical order: Best Kebab, Blue Bird Japanese Restaurant, Cath's Banyan Bay Café, Carlsberg, Curves, Deli Lamma, Diesel's, Emily's Ice Cream Parlour, New Holiday Mood, Lamcombe, Lamma Cricket Club, Limestone Wines, Lung Kong, Pizza Milano, Stella Artois, The Waterfront.
Eleven teams of four competed for this year's honours. Team names included (in order of registering):
The Ditzys, Green Formica Tables, Hot Trackers, H K Team, Hamilton Academicals, Carna Pies, The Solstice Santas, The Dirty Two-thirds of 12, Lamma Dudes, Santa's Shoe Slingers, Fact Hunt.
Carna Pies won the grand prize of high quality wines, with every team winning a prize of some kind. This year's Best Dressed Team award went to the team with children in fancy-dress, who received vouchers of ice cream from Emily's Ice Cream Parlour.
For the third year running, Santa and his elves paraded through Main Street , arriving at the sitting out area outside of The Island Bar in time for the children of the village to have a photo-op with Santa and receive sweets.
Overall, a really fun family day (with perfect weather) which raised over $4,500 for Operation Santa Claus, taking us well over half way to matching last year's total of $20,000.
Still remaining are Adult Carol Singing on Christmas Eve when traditionally, Dan James leads the caroling with his wonderful melodious voice as the Operation Santa boxes are passed around for all those participating.
January 10th will see The Island Bar holding its first OSC Bingo Night.
Other annual OSC events already completed this year include the Christmas Music Quiz (Nov 29th), a concert by local entertainers The Yung Shue Wan Curs (Dec 13th) and the Lamma Xmas Kids (Dec 19th).
For all photos, click here for Santa's photo gallery - by L-G
(I'm now disqualified - due to lack of girth - from ever playing Santa again,
like I did for my former company for years)
---
Another Lamma Christmas tradition, happening at the same time in front of the "Beer Garden" outside The Island Bar: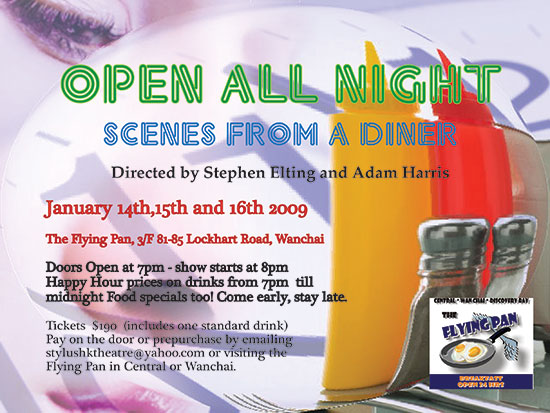 Adam West - Stylus HK Theatre
Lamma resident Andy Fullard is contributing originally-scored music to a forthcoming theatre production that is set to steam away the post-Christmas blues. Splice is a unique theatrical concept - it is actually two plays interwoven so that they unfold together. And the theme? Human sexuality in all its glory and the eternal struggle between love and lust.
The two plays are The Blue Room by Sir David Hare (which shot to infamy in London because of Nicole Kidman's nude betrayal) and Steven Berkoff's The Secret Love Life of Ophelia, a fascinating exploration of the depths of feeling between Hamlet and Ophelia beneath the surface of Shakespeare's text.
Splice runs Wed January 7th - Sat Jan 10th (but the Saturday show is already sold out) in the McAulay Theatre, Wanchai. Tickets are $200 and can be obtained from www.urbtix.hk.
Also in January, don't miss a unique night of intimate theatre in Wanchai's Flying Pan. Open All Night is a collection of scenes and short plays all of which are set in a diner. The action will unfurl in and around a moving audience to provide a real sense of eavesdropping on slices of life - the comic, the poignant and the real. Tickets are $190 which includes one standard drink. The venue will provide happy hour prices all night and food specials.
Tickets can be ordered from stylushktheatre@yahoo.com.
(Advertorial)


You might have noticed a few ads on this home page, the cover page of the Lamma-zine. These are the sole means of keeping this magazine alive and paying all its various little bills to run and update it 7 days a week. We need a few more advertisers to upgrade and further develop this barely self-supporting, not-for-profit (and not profitable) Lamma-zine further! Can you help us out?
In contrast, our separate, non-commercial, free-speech forums are hosted on a different web host in the US and are supported by just a handful of small, anonymous, private sponsors. Posting your own Lamma/Lammaite-related classifieds in the Buy & Sell, Rent & Let forum has always been free, with strict no-spamming rules applied and enforced.
But for really wide and successful advertising, the best option is this home page, of course! As the #1 website for Lamma Island, #1 in Google, with over 4 million hits/month and 3,600+ email addresses, this is a great place to attract new clients & customers for your products & services! Have a look at our rate card in English and Chinese, with special rates valid only till Chinese New Year.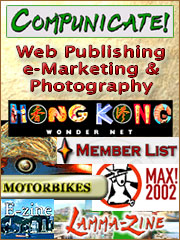 All ad design, production and unlimited updates are included for free in the basic rates. I'll even do a free photo shoot for your business, if necessary. The ad banners can be animated and linked to your website, advertorial or email. If needed, I'll create and host a web page or even a small website for advertisers, all for free. See examples: Deli Lamma, Bookworm Cafe, Waterfront, Island Bar, Lambcombe, B&B. Always wanted your own website for your little shop, business or services? Here's a really low-cost way.
Including an advert into our regular email newsletter to 3,600+ active email addresses is also available. I offer occasional advertorials (always clearly marked as advertorials.) Other advertising options can be negotiated, like ad banner swaps (Holistic Asia) and barter deals (Movieflys).
Free ads are available for local charities, religious/ welfare institutions, non-profits and some good causes; see lower right side (LAP, LAWC, HKDR, BOG, Lamma Church,...).
If you know of any potential new advertisers for Lamma.com.hk, tips and referrals will be most welcome. My eternal gratitude will be yours, plus 33% commission!

Click to enlarge menus & restaurant websites of our advertisers below: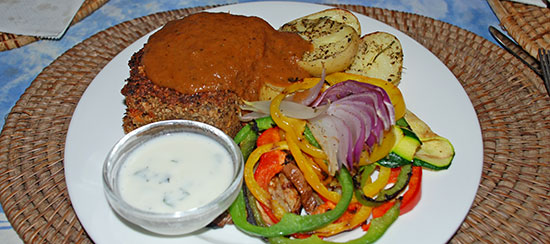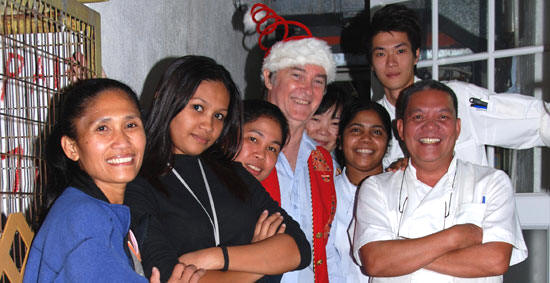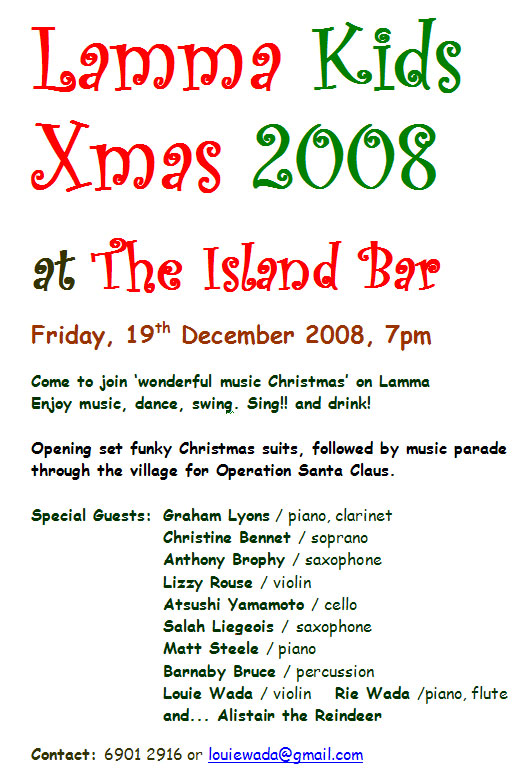 During my more and more frequent biker-hiker tours of discovery into the rolling hills of Lamma I rarely ever meet anybody. Almost all tourists and visitors stick to the "Family Trail" from Yung Shue wan to Sok Kwu Wan, with an occasional detour up to Lamma Winds. The only people you ever meet up there in our beautiful, green and extremely peaceful hills are fellow Lammaites, usually walking their big, fit & friendly dogs or the occasional but rare mountain biker.
I was biking to the top of Cable Route and then leaving my bike on the roadside (I don't dare to mountainbike, yet.) Hiking the stunning Project X mountainbiking trail again, to the very top of Pak Kok Shan, I didn't see a single biker the entire time. But to my surprise I met an artist - without a bike or a dog - up there the other day, high above Tai Peng, close to Pak Kok Shan, a Lamma Newbie I had never met before:
Welcome to Lamma, Daniel the Landscape Painter! He's only been living on Lamma for six months and he didn't even know this website and the Lamma-zine yet! Hard to believe, I know, despite all my promotional efforts. ;-)
Well, now he does know about this website, as I rarely miss an opportunity for promotion, especially to Lamma Newbies, even up there in our wild and yonder hills. If you know or meet Daniel, let him know where you saw his photo and painting. Ask him to show off more of his landscapes in the Lamma-zine!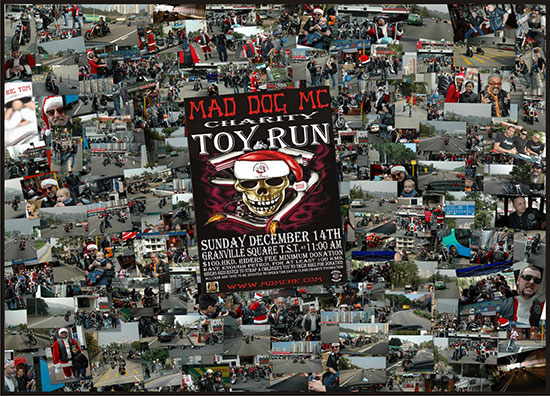 Doug Netzel - Sgt at Arms, Mad Dog Motorcycle Club
(text, photos & collage by Doug Netzel, more info: mdmchk.com, mdmc.org)
Charity Toy Run for SCMP's "Operation Santa Claus"
Just like to say "Thank-You!" to all who attended our Charity Toy Run! What a great day, sunny and cool weather made the ride perfect.
38 bikes and over 40 riders/pillions in total attended, with support from members CruiserHongKong, MDMC Friends, and Independent Riders. It was nice to see old and some new faces out for the New Territories Ride.
With lunch break at "Luca's Italian Restaurant", then back trough East tunnel to tour Central Hong Kong's shopping district circling back to end ride Wan Chai's Bull and Bear Pub, where cold beers and snacks were served thoughout the night...
We lost only two bikes through out the entire day, due to one breakdown and another one had to pull out due to other commitments.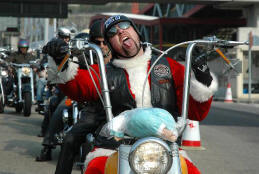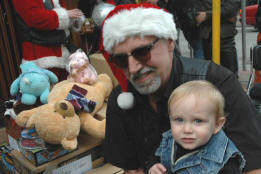 One of the most memorable moments that day was when Big Tom, dressed as Santa Claus [see above left], was pulled over by police, questioned and warned about the excessive noise we were all making thru Hong Kong island with engines streaming at excessive RPMs to the impressed thousand of shoppers who were taking pictures and yelling "Mad Dog" in support.
Only wish we'd gotten a picture of that...
We raised just over HK$16,000 and still counting, as cash donation boxes are still being added too, until next week sometime. The big reason we do this is the toys for needy children, and what can I say, we have enough high quality toys for over 200 children (we split equality two large groups of toys for beneficiaries Unison Hong Kong and Chi Heng foundation.)
Special Thanks to Big Tom Arthur who was our Biker Santa Claus and lead the pack and Road Captain Brian Gillon, and help from Mad Dog MC hang-a-round Gareth Roberts, who took pictures and collected money and wrote down names of all riders, well done!! He also rode with Mingo and Bill in Brian's wife Jayln in the MDMC support car.

Another Special thanks to Andrew Miller from "SpinMaster Far East Toy Company Ltd." for their large donation of high quality toys.
Also thanks to MDMC members Jon and Dog and Keef for coming over from Macau to ride and support MDMC -HK events.

I regret now that I have stepped down as event organizer, this event made me proud to be a member of the best MDMC chapter... Good luck Mad Dog MC Member Keef, as event organizer for 2009. He'll have his hands full!!
Merry Christmas to all....
P.S. Link to all my pics: Picasa photo gallery.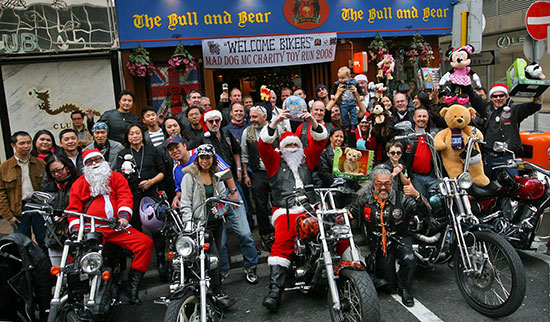 I admit to enjoying HK Electric's press releases quite frequently. Besides being informative and newsworthy about Lamma Island's #1 employer and supplier of all our stable & very reliable electricity, their press releases are often very amusing and even entertaining. Who else would send a priceless picture like this one above, titled "New experience for participants: doing eye mask with sliced oranges and tomatoes." It really looks like Third Age Citizens Enjoy Christmas Party Fun.
These funny & friendly guys 'n' gals in HEC's Public Affairs Dept. seem to have good fun putting together releases like this one, about 40 members of the HK Electric-sponsored "University of the Third Age" enjoying a "Christmas party where they shared the fun of learning skincare and roasting turkey." In these pictures, aren't their pampered skins just glowing and their stomachs feeling happy and full with freshly roasted, yummy turkey? I wonder if the turkey got some final skincare before being roasted as the skin below looks really tasty:
More good news from our good friends at HK Electric who've helped to support this website for years. They'll be soon adding an ad for the Home Management Centre (which organised the classes and party above) to their existing Lamma Winds ad. They've also just won another major award for their awareness-raising and

innovative Smart Power Campaign, featuring a writing competition, a comic book, Lamma Winds Naming Competition, Go Green Fashion Design Competition, heartthrob Cantopopper Leo Ku as "Smart Power Ambassador" and lots of other "environmental education". Congratulations for this award!
"The award winning Smart Power Campaign 2006/07 invited the Hong Kong community to seriously reflect on the importance of a reliable electricity supply and to take action on conserving energy for a better future.":
HK Electric Smart Power Campaign Awarded for Excellence in Public Relations
Finally, there are even more, even better news for all of us Lammaites (and the few people living on that other little island, called HK Island):
HK Electric Announces Tariff Reduction for 2009
In short, it means that the electricity tariff for us domestic domestic customers will go down by 6.4% from Jan 1. In addition to the current 12 months of $300 electricity bonus per household from the govt., this might mean $0 electricity for many of us during the aircon-free winter months. Now that's really great news!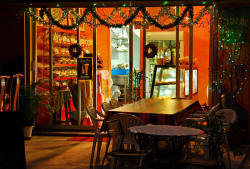 Getting up uncharacteristically early at 6am, biking through a mostly deserted Main Street before sunrise is a pleasure all by itself. Almost all shops and restaurants are still shuttered up...except for the delilamma bakers & confectioners opening their glass doors at the amazingly early hour of 5:30am!
They're getting ready for the first ferry passengers at 6:20am, consisting of many teachers, schoolchildren, parents/helpers, office workers and other early birds. One single baker has been hard at work all night, starting at 11pm, to prepare all these delectable goodies above, supplying most local Western restaurants with their daily bread and baked goods.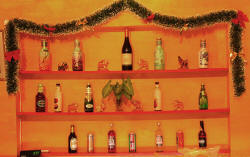 The last patrons - ambling over occasionally from the Deli Lamma and other bars after their closing - have left well before sunrise at around 7am. It's a fine place for your freshly brewed morning coffee and - presented with a big smile and friendly words - a wide range of pies, pizzas, pasties,...but, alas, no croissants! Too much work for a single baker, they say.
It's just so relaxing and peaceful to sit out front any time of day, enjoying a freshly brewed coffee, a delicious cake, burger, sandwich and a good read, watching Main Street life passing by.
By the way, the above might sound like an advertorial, but the bakery is not a Lamma-zine advertiser. But it's run by Prafull whose other establishment, the Deli Lamma, is a loyal advertiser. I just happen to like a lot what they've done with the bakery, repainting, redecorating, reviving and upgrading it a lot, making it into a real little community bakery again. Great job, Prafull!

Not having a single escalator or lift anywhere on Lamma (yet), we have to take a ferry to enjoy escalating ourselves to new heights. Best and nearest escalator from Lamma ferry pier in Central: Mid-levels Escalator, of course.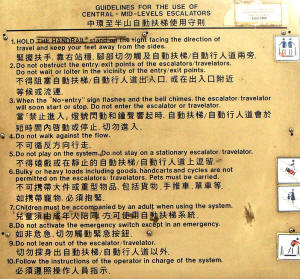 Riding it all the way to the top (upwardly mobile) and walking down the steps besides it is an amazing journey of discovery, especially all the new and varied little shops, restaurants, galleries and other businesses that have sprung up all along it, hopeful to take advantage of the never-ending stream of jaded locals and excited tourists being escalated past them. But my favourite part of this long uphill ride/downhill stroll are the little side alleys that have been largely unaffected by the massive stream of commuters passing them by non-stop. I couldn't resist a few quick snapshots (click to enlarge):


Perfect weather for biking & hiking on Lamma - warm, sunny and dry. As part of my on-going weight loss/fitness regiment I've started to get serious with almost daily excursions into Lamma's lush & verdant hills. But sometimes I seem to overdo it, going nuts and not being able to resist my own self-imposed challenges. My itinerary from the other day: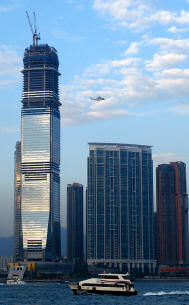 Bike-hike from Yung Shue Wan to Sok Kwu Wan.
Ferry from Sok Kwu Wan to Central ($11 for the bike), find a parking space at pier.
MTR (1 stop from ifc mall) to Elements mall at Kowloon Station (view from Lamma ferry pier).
1 hour speed walking through mall and rooftop Civic Square, encircled by skyscrapers.
Catch a movie in the 12-screen multiplex (The Day the Earth Stood Still - major disappointment).
MTR and ferry to Yung Shue Wan ($11 for the bike).
Bike-hike up to Tai Peng after sunset, up Cable Route, down to Hung Shing Yeh, back to YSW.
Ouch, my knees were hurting and I went to bed very early. Too much exercise can be hazardous to your health, especially for a Third Age Citizen. Anyway, where to bike-hike tomorrow? Suggestions are most welcome. Beware, here comes the Intrepid Biker-Hiker, eager to overdo it again and conquer all major mountain peaks - eh, more like hills, actually - all over Lamma Island!
Elements shopping mall, above Kowloon Station:

Lammaite Mark & friends in Kraftwerk attire, ready for the concert
Nick the Bookman - Official Court Music Reviewer of Lamma-zine:

Kraftwerk in Hong Kong - Dec 5, '08

It's the summer of 1976 and The Tuesday Night Music Club is in session at my tiny bungalow behind the Stanley Temple, now obliterated by a mega Park N' Shop. My bungalow, I mean, not the Temple which has a rather threadbare, but authentic tiger skin hanging on a wall behind a thick perspex screen. Anyway, there's post-school mates, Gary, Rich and Ollie. There's Jane, my then girlfriend. And me. We've had a regular dai pai dong outdoor sitdown dinner. About $50 a head including beers. Back to mine for dessert: vanilla ice cream with a (generous) dribble of Southern Comfort. Coffee. A little weed, ("Thai, like tied to the stick" - Cheech and Chong). Some incense, dim the lights and the music starts...

First choice is always "Autobahn" by Kraftwerk, a mind-bending slice of melodic electronica and the signpost to the multidelic digital sorcery that encircles the globe today. Faster than a speeding bullet, no less. Or a speeding Mercedes/Daimler on the German superhighways. "Autobahn" puts you in the driver's seat and the electronic traffic zooms past in a barrage of Doppler effects. Then, there's some cool electronic drums... The evening's would mutate after that. Everyone got to choose something. Weird mixes of "Phaedra" by Tangerine Dream. "Tubular Bells" by Mike Oldfield. "Zero Time" by Tonto's Expanding Headband. Up against "Space Ritual" and early Gong. Blue Oyster Cult, live, with a side order of Mona" live by Quicksilver Messenger Service. There'd be tangents into Fairport Convention/Steeleye Span/Horslips. Lots of proggy Genesis/Yes/Tull/BJH etc. Jane would usually play the soppy stuff. Like Rice-Webber musicals and female pianists. Rick rocked out, Gary was quirky and Ollie was drums and horns. Lots of variety, except for the constant opener "Autobahn"... I wonder if I'll ever see them live (sigh).
Remember my recent Lamma-zine story about Lamma Beach Rock Piles multiplying after typhoon Hagupit? Another miracle of nature has just been discovered where supposedly inanimate objects on Lamma Island are giving birth to healthy offspring, despite the widely accepted laws of biological reproduction. Life works in miraculous ways on Lamma, as we residents have come to accept a long time ago, keeping us living in "interesting times."
Our cute little wind turbine and beloved tourist attraction Lamma Winds has grown up so quickly since her birth in Feb 2006 - less than 3 years ago - and has become a mother herself now! It must have gotten a bit lonely up there on her windy hill (Mt. Panorama) overlooking Yung Shue Wan, as the one and only commercial-scale wind turbine in all of Hong Kong. Very proud daddy HK Electric has just announced the happy news in a cheerful press release (see below).
It's a litter of 64 (!) baby wind turbines, wow! Who's going to name them all? Baby shower, anybody? So in another 3 years or so we can expect each of them to procreate into another 64 wind turbines, we hope?
All the best wishes to all these healthy offspring of Lamma Winds! May they grow and prosper in their windy nursery in Dali, Yunnan province, producing copious amounts of clean and renewable energy! Hopefully, some day in the not-too-distant future, will HK get some more local wind turbines as well, we hope?
HK Electric - press release (abridged), Dec 8, 2008

(text, pictures & captions by HEH)

HK Electric celebrates completion of first wind farm project in Yunnan

HK Electric announced today that its first wind power project in China, a 48-megawatt (MW) wind farm located in Dali of Yunnan Province, has been completed and will come into commercial operation in early 2009.

The Dali project, being the highest altitude wind farm in the mainland (2,400-2,800 meters above sea level), is jointly developed by Hongkong Electric International (HEI) and its local partner, Huaneng New Energy Industrial Company Limited, with an investment of about RMB 500 million.

HEI owns 45 per cent of the joint venture project, which comprises 64 wind turbines of 750 kilowatt each. The project qualifies for Clean Development Mechanism under the Kyoto Protocol.

"This is an important milestone for HK Electric as the project is our first completed renewable energy (RE) project in the mainland," said Mr. McGee after the ceremony, adding that it also demonstrates the Company's commitment towards the development of RE.

Wind energy has become one of the most important renewable sources for power generation in the world, with substantial development potential for wind power in the mainland, Mr. McGee noted.

The project, he continued, is an example of the seamless cooperation between HEI and Huaneng which has made it possible for an on-time and on-budget project.

HEI is looking forward to the commissioning of its second joint venture project with Huaneng - a 49.5 MW wind farm in Leting, Hebei Province, in 2009.

Mr. McGee further said that the wind farm projects would contribute to the Group's growing investment portfolio outside Hong Kong, which includes investments in Australia, New Zealand, the United Kingdom, Thailand and Canada.

Doug Netzel - Sgt at Arms, Mad Dog Motorcycle Club
(President Rob and several members are Lammaites.
See last year's Lamma-zine story. More info: mdmchk.com, mdmc.org)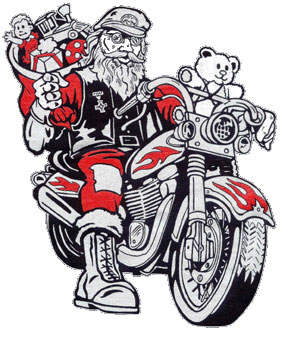 Charity Ride for SCMP's "Operation Santa Claus"
Just to let you know, Mad Dog Motorcycle Club Hong Kong is holding our Charity Toy Run 2008 this coming Sun, Dec 14 at 11am.
This is our 5th year being involved with Operation Santa Claus, and last year we raised $25K and a truckload of children's toys, all for donation.
Hopefully, we can beat or match that amount this year, but due to world financial recession, we have a big order to fill.
All bikers are invited to join this worthy cause to raise money and children's toys to those less fortunate, and are asked to strap a child's toy to their bike, to be donated at end of the ride.
Ride meets at Granville Square, Tsim Sha Tsui, at 11am. The ride will get underway at about 11:30 am for a New Territories ride with a short lunch break. After lunch we;ll be riding back thru Central to end the fun ride at the Bull and Bear Pub, 52-58 Jaffe Road, Wanchai, who are the hosts of the MDMC Toy Run.

A rider's fee of $100 is required and you're asked to be generous as it's for the kids. Mad Dog MC member biker Santa Claus 'Big Tom Arthur' will lead the ride.
So far, we have collected cash and boxes of toys from the general public, out of town members of MDMC, and a large private donation from Spinmaster Toys Far East Ltd....
And to our surprise we also received many toys from the past visiting USA Warship 'USS Essex' naval officers.
We thank them all !!
We hope to see many riders come out this Sunday and join this fun ride event. All are welcome! It does not matter what you ride, from custom Harley Davidsons or Japanese race bikes or cruisers or even scooters, the ride will be within maximum road speeds and our road marshals will do their best to keep it all safe.

Regards. Merry Christmas and thanks again.

---
My pride & joy, my little unruly rooftop jungle & pond, now 1.5 years old:

Our Chinese forum has grown into a really friendly, good-neighbourly community meeting place, thanks to our three moderators Samson, nicole_kam and Yogesh. The latest hot topic is Chinese, mostly Cantonese home-cooking, even including photos, recipes and advice on ingredients.
Especially forum regular CY Lo loves to show off his wife's very tasty-looking dinners, see below (click to enlarge). This isn't fancy, decorated restaurant food, but the real, down-to-earth, delicious food many Lammaites enjoy at home. Lamma-Por's mouth is watering just looking at the pictures and she hopes to be invited there someday, like many forum members. For even more home cooking photos by CY Lo, tomato, Ahmee and other Lammaites, recipes by nicole_kam and free advice, see our Chinese forum.

Jay Scott Kanes - Official Court Pet Correspondent:
If H Is For Hong Kong, as specified in a new children's book, then the next letter of the alphabet represents the intriguing illustrations inside. And "L" is for the Lamma artist who makes the book special.
Written by Tricia Morrissey, who lives in California, and illustrated by Lamma's Elizabeth Briel, H Is For Hong Kong, A Primer in Pictures (2008, ThingsAsian Press, 36 pages) is bilingual (English-Chinese) and makes quick reading. But it should fascinate children (or adults) keen on Asia.
On December 3, Elizabeth presided at a book-launch party in the Karin Weber Gallery on Aberdeen Street in Central. Many Lamma residents attended.
For readers from beyond Hong Kong, the book gives an irresistible invitation: "Imagine visiting a new city today. Imagine flying to Hong Kong! Journey through this wonderful, busy place and what will you see? Soaring skyscrapers? Shiny, amber goldfish? Ferry boats sailing on a sparkling bay? Turn the page and imagine...."
Elizabeth's illustrations highlight the journey. Initially photos, they're transformed by a "blueprint" process to resemble paintings. Each attracts readers' eyes, invites study and pleases brain cells.
Interestingly, the book focuses on big-city Hong Kong, yet Elizabeth captured many of the published images on Lamma. For example, she shot photos at the Sampan Restaurant, at the Tin Hau temple and at Hung Shing Yeh.
There's a temptation to pounce at Morrissey and scold her for failing to write enough text. Each page has only a line or two, but the few words often enhance the illustrations. A page showing goldfish for sale in plastic bags reads: "Carry home a sliver of gold swimming in a silver bubble." That stirs the imagination, so maybe the minimal wording works.
Elizabeth's work stresses details: swords waved by a kung fu practitioner and suspenders holding up his pants; smoke curling from incense sticks; markings on wooden chess pieces; contours of buns in a dim sum basket; and glass jars in a Chinese-medicine shop.
A graduate in painting from the University of Minnesota, Elizabeth processes her "blueprint photos" using the sun and cyan chemicals. As for the Kenyan-born Morrissey, she earlier had another well-titled children's book: My Mom is a Dragon and My Dad Is a Boar.
To quote more of the author's best lines about Hong Kong:
-- "Buildings reach into high clouds like rockets ready to launch."
-- "Inside a spider-web of bamboo cages, up grows the city."
-- "Step, twirl, fold and unfold: an early morning dance draws ladies to the park."
-- "Songbirds in cages swaying overhead serenade the teahouse with warbling chatter."
At other times, Morrissey, working by "imagination" from the United States, badly misses the mark. She writes: "City streets rumble with endless waves of shiny motorbikes." Unlike some Asian cities, Hong Kong has no abundance of motorbikes. Its people prefer Mercedes automobiles.
The illustrations alone make this book worthwhile. For the most part, it's like visiting Hong Kong – and much less annoying than jostling with the crowds on city sidewalks.
For more information: www.thingasianpress.com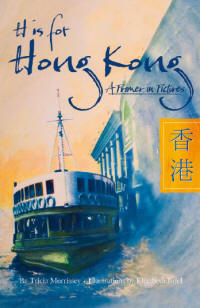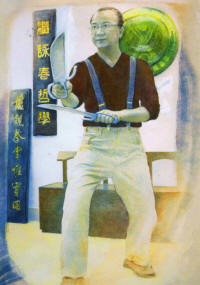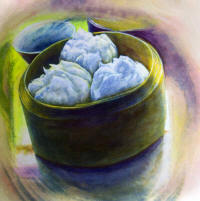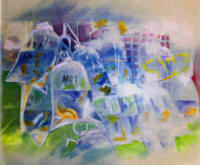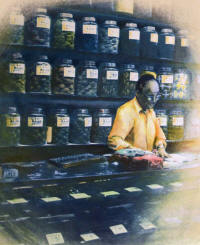 "A short boat trip from the noise and bustle of Hong Kong Island lies a car-free, bohemian, green oasis. Harriet O'Brien sets sail for peaceful Lamma."
That's the beginning of a pretty nice story, titled Lamma: Hong Kong's leisure island about our home in the British The Independent newspaper. We can live with that description, can't we? For the full story, click here.
But that photo above, the sole photo of the entire long story, showing Sham Wan "Turtle" beach, looks mighty antiquated. There haven't been any turtles spotted on that beach for over four years, till a single track sighting a few months ago. Let's hope that this nice photo from Ag&Fish isn't just historic but also prophetic and the Green Turtles will return to our shores soon...

Examining this historic photo, do you recognise some of the faces? But if you've been part of this wild party about 15 years ago, you might not remember much of it anyway. Below are some close-ups of those wild-looking party animals (photos by Jerry Sousa.) Thanks to Deborah Hosking and clivus nondog for adding this legend below to the photo above. No guarantees for correctness as she was there, too. Contact her for any mistakes/corrections or to confirm the ? marks:
1. Mark Reynolds

6. Laura Faye, now in LA

11. Clive "clivus nondog"

2. Kumi

7. Mike Brophy?

12. Emma? (her son turned 17 in March or Feb this year?)

3. Jackie

8. Dave Parker

13. Helen (Mike's girlfriend)

4. Alan English (the Irish French teacher)

9. Dave Wilkinson

5. Colin (McSomething)

10. Phil Reeve & Niyati

B

etween 1 & 7: Sabina (Dave Parker's girlfriend, a "wild Canadian vixen")
Check out the Corner Bar Veterans Facebook group ("Veterans of the Corner Bar, Lamma, Hong Kong. Tragically closed 11th December 1993"):
Nice photo gallery, 44 members and quite a number of them still living on Lamma! (These Facebook pages are public, no need to be a Facebook member, just click on the links.)
There were two parties celebrating the 10th anniversary of the Corner Bar closing, one on Lamma and one in London. See the Lamma-zine story and photo gallery of those historic parties: Corner Bar Closing - 10th Anniversary.
There's also a Lamma Oldsters forum. where you can connect with old friends and meet other ex-Lammaites.
But this year, for the 15th anniversary party on Dec 11 2008, only London is organising a reunion party. One of the organisers, Rupert Winchester, contacted me recently, asking "We'd obviously like to get as many people along as possible, and with your unrivalled access to Lammaites past and present, I can think of no better way of reaching as many people as you can. There's no harm in asking, right? Thanks for your help with this. I think you do a great job."
Well, all his sweet-tongued flattery gets him everywhere, so how could I resist? Below you can find Rupert's little promo for this epic party on Dec 11 2008 in the Red Lion pub on Kingly Street, London, W1 (nearest tube Oxford Circus).
To see more details and RSVP, follow this link: Facebook event and map.
Rupert Winchester - Ex-Lammaite & Corner Bar Veteran:

The Corner Bar was the heart of Lamma life for lots of people for a while, and epitomised the spirit of the place; relaxed, friendly, unpretentious and dedicated to having a good time. And that's got to be a good thing to remember, and celebrate.

Last time, at the 10-year reunion party 5 years ago, nearly 100 people turned up, and everyone had a blast, catching up with like-minded people, many of whom they hadn't seen for years.

We chose the Red Lion because it's very central, and because it has many of the virtues of the Corner Bar; it's cheap, unpretentious, and subject to gravity pockets. But there's no pressure on anyone to come along. It's not a nostalgia-fest, just a reason to have a cheerful drink or two or three with some old mates. I've attached a picture of the pub. RSVP, please.
P.S. After seeing this story above, Rupert's sweet-tongued flattery continues unabashedly: "Sir, you are a genius. It looks brilliant. Thank you very much for that; I'm terrifically grateful. Pictures and a full report will certainly follow."
Thank you to such a sweet guy; but we expect a really detailed report of all the wild party shenanigans and loads of most embarrassing photos, we hope!
Vivien Jones - Banyan House (text & photos by Vivien Jones)

Started by a small group of Lamma parents earlier this year, Banyan House is a new English language play space which provides children with a nurturing and fun-filled early learning experience on the island. We currently offer three groups for babies and young children to the age of 5, plus a weekly art and craft session for primary children.

Our Parent and Child sessions for parents and carers with babies and young children up to the age of 2 (every Thursday afternoon).

Each session is guided by an experienced leader and is arranged with a balance of active, outgoing activities and quieter, more focused activities.

Our Bauhinia Group (afternoons of Mon, Wed, Fri) offers an intimate, homely atmosphere within a small group where children aged from two to three-and-a-half are eased into the transition between home and school.

Children move to the Bamboo Group (weekday mornings) from three years onwards when they are ready for the challenge of a larger group of mixed-age children. This is a longer session, with many varied activities and, like all our play sessions, is planned and led by our trained teacher.

Banyan House will hold its first Christmas Fair this coming Sun, Dec 7, 10am - 4pm. There will be lots of children's activities on the day - making Christmas decorations and cards, spin painting, henna tattoos, and more - as well as storytelling and lots of music. There will be hot food, mulled wine and plenty of home-baked cakes, cookies and Christmas treats from around the world, all baked by our lovely parents and volunteers.

Plus we have been busy sewing lots of wonderful toys and gifts for Christmas. We will have a second-hand stall selling quality children's clothes, toys and book, as well as UNICEF cards and toys for charity. All in all, a great opportunity to taste some delicious food, entertain the kids, and pick up a few home made treats for Christmas - while supporting early learning in our own community!

The fair will be held from 10am - 4pm on Sun, Dec 7 at Banyan House, 32 Yung Shue Long (past the Waterworks - look for signs!). Click for poster, website.

If anyone has any questions, call Banyan House on 2982 2585 or email.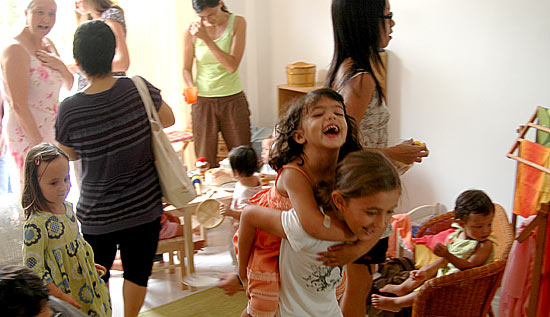 Did you ever hear of the Lamma Simpsons? The Lamma Ups and Lamma Downs?
Me neither. Or maybe you're a cricket fan or a good friend of a Lamma cricket player and will cheer on the Lamma CC teams this weekend in the Ichor International Hong Kong Cricket Festival 2008?
The Lamma Simpsons won Cup Runners-up last year! The Lamma Ups team will compete against the Brickbats (10.20-11.40am) and then Tokyo (3.30-4.50pm) this Fri, Dec 5. On the same day, you can cheer on the Lamma Downs vs the Shanghai Pirates (10.20-11.40am) and then Frenz Club (11.40am-1pm). This is FAST cricket and a game doesn't take all day! The next games on Sat/Sun depend on the outcome of these two initial ones, of course, see below.
Mark Burns - Mark Burns, Director, Asian Cricket Sixes Tour:
HK Cricket Festival press release:
Teams Flock to Hong Kong for Cricket Festival!

Cricket teams from Japan, Australia, Macau, China, the Philippines and Korea fly into Hong Kong this week to compete against local opponents in the 7th Ichor International Hong Kong Cricket Festival being held at Mission Road Cricket Ground from 5-7th December.

Seventeen teams in total, including the defending champions from Shanghai, will compete for honours in this award winning annual tournament designed to celebrate the diversity of the sport with it's motto of 'friendship through cricket.'

"There's hot competition on the field of course, but friendship and camaraderie at the Festival are as important as winning," said Tournament Director Brad Tarr of Lamma Cricket Club.

"For seven years we've run our Festival by this mantra of 'friendship through cricket' and the strong support from cricketers who travel to enjoy Hong Kong from all around the world is evidence of the popularity of the message," Mr Tarr continued.

The action gets underway at Mission Road Cricket Ground (Tin Kwong Road) at 9am on Friday morning and concludes with a trophy ceremony on Sunday evening.

Spectators are very welcome and entry is free.

In addition to the cricket action there are a range of social activities for participants to enjoy including a Players Party and a Gala Dinner.

The Ichor International Hong Kong Cricket Festival supports the Make A Wish children's charity activities in Hong Kong.

The Festival won major awards from the International Cricket Council and Asian Cricket Council in 2005 for contributing to the development of cricket.

For further information about the Ichor International Hong Kong Cricket Festival 2008 and directions to the ground see the tournament website www.hkcricketfestival.com or call 9422 5907.

The Hong Kong Cricket Festival is organised by Lamma Cricket Club and received an International Cricket Council Award for contributing to the development of cricket in 2005. The tournament is a part of the Asian Cricket Sixes Tour circuit of events which also includes Phuket, Philippines, Australia, Shanghai and Bangkok.

Being on a lot of mailing lists keeps the voracious-for-news Lamma-zine constantly fed with new story ideas. If you've got one with occasionally Lamma- or Lammaite-related content, add info@Lamma.com.hk to your subscriber list, please! Here's a press release from Lamma's #1 employer, HK Electric, about another one of their very frequent, on-going philanthropic community services, ranging from Major Community Programmes to Donations and Sponsorships.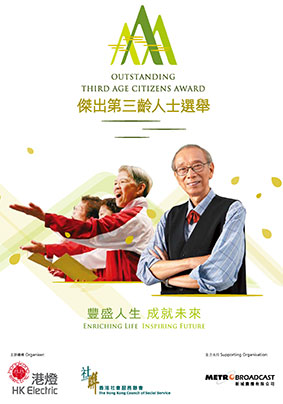 What's really astonishing about it is that I've just recently become a Third Age Citizen myself, as they define it as anybody over 50! Quite a bit like "Silver Age" in the West. But hey, recently I feel more like half my age after all my weight loss and fitness regiment! I'm not even sure if I have successfully completed my First Age, not even talking about my Second Age which is supposedly the "successful, high-flying career, saving up enough for old age" stage?
Anyway, could I ever qualify for this "First Ever Award to Recognise Outstanding Third Age Citizens" and win one of the coveted ten $5,000 scholarships HK-wide? The criteria for this prize are:
"Nominees must demonstrate outstanding achievements and contributions in all of the following aspects in their retired life:"
Pursuing lifelong learning and knowledge sharing;

Enjoying and promoting a balanced and healthy lifestyle; and

Active participation in social services, voluntary and charity work."
Nah, definitely not me! I certainly aspire to live up to these very worthy criteria in my own "Third Age", but there must be hundreds of thousands of much worthier winners. I think that quite a LOT of these worthy recipients live on Lamma, fulfill all these criteria above and would have a great shot at winning one of these prizes! Nominate them and get a piece of the action as "their proposer will receive a Certificate of Recognition and a $1,000 cash prize".
All you need to do for now is read this bilingual pamphlet and then fill in this nomination form for a worthy Third Age Citizen. The form is full of intriguing, thought-provoking questions like, "Please describe in no more than 200 words how you find your retired life rewarding and meaningful as well as your plans for the future."
Anybody, not just Third Age Citizens, could fill in this comprehensive, well-planned form, just for yourself and about yourself, listing your own life's "achievements and contributions", helping you to think seriously about your own station in life, your direction and your future. Try it!
"For enquiries or further details, please visit www.heh.com/award, or contact the Award Secretariat at 2876 2446, or email el@hkcss.org.hk."

It's not every day that an Asia-wide project is being launched from Lamma, especially such a very ambitious one. It's full of noble and worthy goals, events, resources and products, subtitled "...where heaven and earth meet..." I'll refrain (only this time) from my usual ironical remarks about such a "...lofty motto..."
Peter Lloyd, Senior Lammaite, Earth Champion and Asia's first Interfaith Minister, upgraded and relaunched his long-running website (even a bit longer than Lamma.com.hk), HolisticHongKong.com, for a target audience of all of Asia. All the best wishes from one Lamma-based senior website to another. Let's exchange free ad banners and add this new website to our free Lamma Links page as well.
May HolisticAsia's reach, readership (and advertising revenue) grow and prosper and surpass their wildest expectations! To register for their newly launched forum and biweekly email newsletter, click here.
Holistic Asia - Press release:
'Holistic Hong Kong' magazine evolves into 'Holistic Asia'
Hong Kong's prime online gateway for spiritual, green and health news and resources - www.HolisticHongKong.com - is now becoming Holistic Asia, www.HolisticAsia.com.
Holistic Hong Kong has been providing monthly news on the local holistic scene since its inception in October 2001.
The magazine which has helped champion the holistic world view in Hong Kong was described as 'excellent and comprehensive' by HK Magazine and acted as the key inspiration for South China Morning Post 'Holistics' column. Holistic Hong Kong has long had a section dedicated to the region, including Asia Events and Visitors, and now it is growing into a magazine for the whole of Asia.
Peter Lloyd, the editor, added:
"Our aim is to be the ultimate destination and solution when it comes to spiritual, eco and health related information with inspirational articles and videos, and holistic resources for a better life in the Asia region, which is what we have been offering here in Hong Kong for over 7 years already.
"Holistic Asia will have a completely fresh look and expanded functionality, with extra features such as a forum. Other new features include Resources and Events for the region. So if you need to know where to practice yoga, learn meditation, find a good spa or eat organic food, in Hong Kong or the region, Holistic Asia is the website to visit and access is free."
Enquiries: Peter Lloyd, 2982 2807 or 9270 0654.
Email: peter@holisticasia.com, Website: www.holisticasia.com.

Lamma-zine Blog started on Sep 1, 2004, and will be updated frequently with anything vaguely related to Lamma
Island or its residents, be it news, stories, events, photos, videos, etc.
Contact Lamma-Gung with anything relevant to Lamma or Lammaites that you'd like to see published on this home page!

All text, photos & graphics by Lamma-Gung, if not otherwise credited. Click on button on left for Creative Commons license.

Twice a month, the Lamma-zine Blog will be promoted via an email newsletter to all registered subscribers and forum members, currently over 3,600. Free subscriptions!
All former posts are stored in the Blog Archives, see below.
All materials and photos © 2008 Lamma-Gung. Some rights reserved.
---
Top | Home | Forums | Lamma-zine | Events | Galleries | Links

About | Contact Us | Poster | Ratecard

Lamma-zine archives:

all stories 2004: Aug, Sep, Oct, Nov, Dec
2005: Jan, Feb, Mar,
Apr, May, Jun, Jul, Aug, Sep, Oct, Nov, Dec
2006: Jan, Feb, Mar, Apr, May, Jun, Jul, Aug, Sep, Oct, Nov, Dec
2007: Jan, Feb, Mar, Apr, May, Jun, Jul, Aug, Sep, Oct, Nov, Dec
2008: Jan, Feb, Mar, Apr, May, Jun, Jul, Aug, Sep, Oct, Nov, Dec
2009: Jan, Feb, Mar, Apr, May, Jun, Jul, Aug, Sep, Oct, Nov, Dec
2010: Jan, Feb, Mar