There are so many hobby, wannabe and even professional photographers calling Lamma home, but have you ever encountered an architographer? Late today, we were enjoying Emily's wonderful Swiss Mövenpick ice cream and a Nespresso coffee with good friends after another Lamcombe farewell dinner.
A tall guy I didn't know introduced himself and started telling me passionately about his Photoshopped artworks. As I was looking for him anyway, having heard of his current exhibition via the Lamma grapevine - while meeting the visiting parents of an acquaintance up at Open Space - this was another one of these fortunate chance meetings that happen so frequently and serendipitously in a small place like Lamma.
Having dabbled myself in computer art a bit over the last 25+ years, even exhibiting in a number of art galleries, I was intrigued to meet a fellow practitioner of the still arcane and widely unpopular hobby of creating computer-assisted art. Amazingly, he told me that he already sold several of his "architecture photographs manipulated with Photoshop filters", some to people working in the same skyscrapers he depicted! I really love your work and I bow to thee, oh Master Andy, please teach me how to become so successful, actually selling artworks instead of just giving them away for free, like I do!
Can you tell which famous HK skyscrapers Andy used to create these amazing & intriguing pictures? Click to enlarge them and find out:

Lammaite Andrew Cattrell's "Architography" exhibition is showing in the Culture Club, 15 Elgin St, SoHo, tel 2127 7936 - where quite a few Lamma artists have been exhibiting over the last few years - till Jan 9, Mon-Thu, 2:30-10:30pm, Fri-Sat; 2:30pm-12:30am. Check out the Culture Club website and Andrew's new website as well which has just been added to our list of all Lamma/Lammaite websites we're aware of. He introduces himself: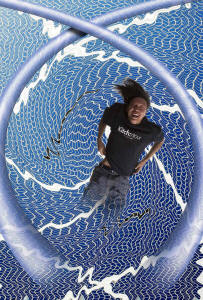 "Andrew Cattrell , Interior Designer/Artist
"After growing up in the 60s and 70s in the UK, where 'psychedelia' was reflected in the artwork of the time, Andrew moved to Hong Kong in the late eighties. His work is a reflection of his passion for Hong Kong's architecture, photography and art. Passionate about photography, after a day shooting in Central, Andrew was suddenly inspired by the details of the Cheung Kong Center. Manipulating his photography digitally, he was able to bring a fresh perspective to one of Hong Kong's iconic buildings.
"As an interior designer, Andrew worked on the details of various renowned buildings, and today he applies this eye for detail to the façade of architectural landmarks familiar to any Hong Kong resident or visitor.
"In the same way that modern photography allows the photographer to take and remodel portraits of celebrities, Andrew applies these techniques to buildings, pushing the boundaries of peoples' perspectives of architecture, photography and art. Andrew invites you to explore and revisit the familiar through his metamorphic lens."

P.S. on Jan 12: The exhibition is over now and there are some prints still available at $1,500 each. Contact Andy if you might be interested to have a look.
P.S. For photos of most of the many major parties of the last ELEVEN years in this local hotspot, check out their website (created & maintained by L-G).
Lamma Dragons & Outriggers paddling for Operation Santa Claus:
Sat, Dec 26, 2:15-3:30pm: Island Bar:
Captain Dawn: "Paddling for the final time this year (in Santa hats), before retreating to The Island Bar for turkey sandwiches (for a small fee which will go to Operation Santa Claus, probably with mince pies.)
"Our Santa Hats paddle will commence promptly (alcohol permitting) at 2.15pm at Power Station Beach and 2.15pm from our usual spot outside The Island Bar. Why the two locations, you are asking. Glad you asked.
"The event has now managed to stir up the collective imaginations of the teams and we currently have 34 paddlers signed up (not bad for Boxing Day), plus we are expecting a last minute flurry of sign-ups as we are opening up the paddlefest (with emphasis on fun on the day) to any visiting relatives or friends and will paddle in our old and trusted 'Pig' and the new kid on the block 'Piglet' paddling round from Power Station Beach to 'race' against the other boat in YSW harbour.
"Plus the latest news is that Lamma Outrigger Club also hope to take out a few boats and join the dragonboats for our very first race off dragonboats versus outriggers. Exciting stuff (for paddlers; I understand if the rest of the world doesn't quite understand how momentous this is!)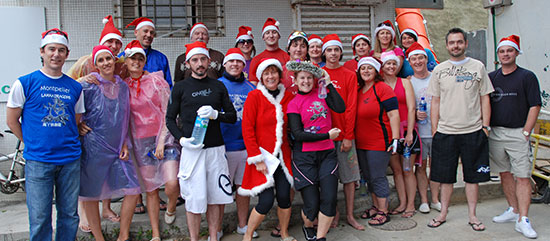 "So, Lamma-Gung, I believe it has always been your deepest desire to get into a dragonboat, so if you want to come along and get a ringside spot taking photos from inside the boat - please accept this as your official invite. You will get wet though, so give it some thought as the club cannot be help responsible for damaged cameras or other bodily parts!
"Official attire for the day is Santa hats and as much other Santa stuff as we can find. We will finish promptly around 3.15-3.30pm depending on when people start yelling for turkey and mince pies at The Island Bar afterwards! We are asking paddlers or anyone else in the bar who wants a bite to eat for $50 or more if feeling generous, so hope to raise quite a wedge of cash for Op Santa Claus!"
Mrs. Santa Claus - The Island Bar & The Waterfront co-owner:
(all photos by Lamma-Gung, click to enlarge. Click above for photo gallery)
Paddling for Operation Santa Claus
Boxing Day saw some incredibly brave and somewhat cold paddlers taking to the waves whilst dressed as Santa. The Lamma Ladies, led by Cap'n Dawn and accompanied by a surprising number of men, waded nimbly into the water on what was certainly a day much colder than Christmas Day. In overcast and windy weather, the intrepid paddlers made their way out to the headland of Banyan Tree Bay, where they were met by their counterparts, the Outrigger crews!
Also courageously facing the elements, the outriggers had brought their boats around by sea from Power Station beach, no doubt giving them a chance for an extended warm-up. The race which followed showed just how talented and very fit the members of the clubs actually are. Frankly, it was hard to see which boat came in first (particularly for those of us hiding in The Island Bar to escape the mega breezy wind). But relatively speaking it didn't matter since the whole cause was for Operation Santa, the last event of Lamma's Op Santa activities.
Returning to The Island Bar, those dripping people warmed up with mulled wine and turkey sandwiches which had been donated and prepared by several team members, for a small fee of course, all of which went straight into the Operation Santa box. As of writing this we are still waiting for the final count raised from this event, but just for everyone's interest, the amount collected prior to the paddling race was a whopping $19,534. We'll be letting you know the total as soon as we receive it.
This year's Op Santa activities were a lot of fun and all particularly well organised by the different parties involved. (You know who you are, go ahead and pat yourselves on the back.) Thanks everyone!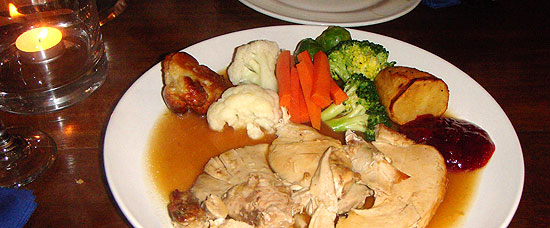 Christmas Tree, Christmas Cheer & Christmas Seaview on this very foggy night.
A very romantic & delicious dinner shared with Lamma-Por in this full restaurant.
For the usual night view from The Waterfront, see below: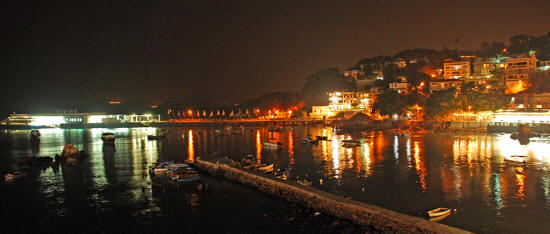 (The Waterfront is a Lamma-zine advertiser, click for their web page.)
I've been riding my bike again for the first time in 2.5 months, while slowly recovering from my double vision, see health update. Rolling down from Lamma Winds - oh, what fun, I've been missing this! - I came across this impressive sight close to Power Station Beach: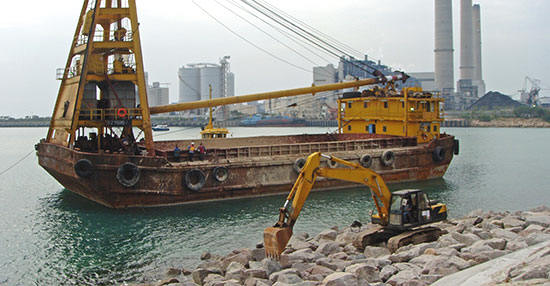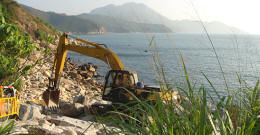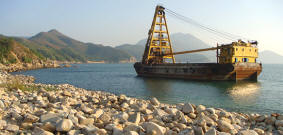 While taking these pictures from the rocky beach one of the workers was approaching and trying to convince me to leave the area, because of "safety reasons." So I took the opportunity for a little ad hoc interview about what's going on here.
He turned out to be a nice engineer working for Kaden construction (the guys behind major local construction works like our sewage treatment works.) This is a Lands Dept./HK Electric project and the barge is bringing these huge boulders from Mainland China to our beach. They're increasing the height of the entire rock slope to "make it more stable" and able to withstand typhoons.
These boulders are huge, weighing several tons each, it'll take at least a month to finish this job. The earthmover piling them up made me wonder if we could convince Kaden to build some new really tall rock piles while they're at it, adding some new "tourist attractions" to the beach. Rocky Malcolm would be so proud!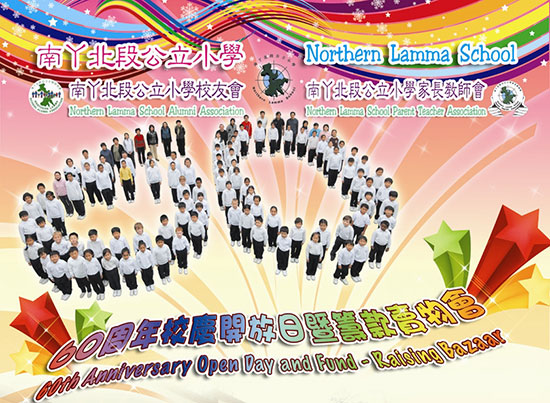 60th Anniversary Open Day & Fund-Raising Bazaar: Sun, Dec 20, 10am-4pm: Northern Lamma Primary School: game booths, rummage sale, fashion design contest, performances, exhibitions. Website, email, poster.
Kindergarten Christmas Carnival: Sat, Dec 19, 9:30am-1:30pm: Our Lady of Lourdes Catholic Kindergarten: invite.
Santa on the Beach: Sat, Dec 19, 5pm: Power Station Beach: "Bring your children's presents to the tent before 5pm, placed discreetly. Please make sure that you label them clearly with both first name and surname.
Santa will be arriving at around 5.15pm, we will sing some carols, drink some mulled wine, hang out around the fire. Then the presents will be handed out."
Xmas Market: Sat/Sun, Dec 19/20, noon-6pm, FaFa House, G/F 39 Sha Po Old Village (opposite LAWC shop):
"Artistic handmade goods by HK craft makers Get some one-of-a-kind gift for Xmas."
Call 9640 0036, poster, email.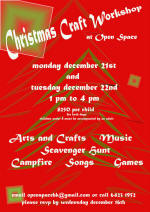 Christmas Craft Workshop: Mon/Tue, Dec 21/22, 1-4pm, Open Space Art Studio & Community Centre, 2 Tai Ling Village (below the windmill):
Email, call 6423 1952, poster, Facebook, map, website.
$250 per child for both days. Arts & crafts, music, scavenger hunt, campfire, songs, games.
Hans Andersen Christmas Party: Wed, Dec 23, 2-4pm, Hans Andersen Club: $20, party food, games, lucky draw. Call Ms Lau at 2928 2173, poster.
P.S. Do you know of any other public events happening this month?
Email me for inclusion

in the Lamma Events Calendar!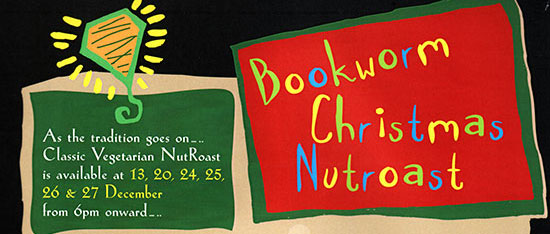 Christmas specials of The Waterfront and B&B Restaurant
Mrs. Santa Claus - The Island Bar & The Waterfront co-owner:

(all photos by Lamma-Gung, click to enlarge. Click above for photo gallery)

Volunteers from Lamma were very busy at the end of last week, putting the final touches to Santa's sleigh!

Hand-made by artisans of Lamma, whose regular day jobs include working as event organizers, the Islanders proved just how handy they can be by recycling the wood used for a stage made previously for another great Lamma charity tradition – The Fun Day.

By Sunday morning, the finessing touches of paint and glitter were being added. An astonishing amount of effort was required for the design, carpentry and colourful trimming of Santa's sleigh. Splendid in brilliant red and glittering with black trim, and with a hidden sound system playing carols, it finally set off to tour the village of Yung Shue Wan with a most effective Santa cracking the whip, surrounded by elves of various sizes and led by children cleverly camouflaged as reindeer.

With plenty of sweets for all (provided by an elf and distributed with great panache by Santa) the spectacle stopped for a rest outside The Island Bar in a space kindly made available by the neighbouring Man Fung Restaurant, where a lengthy photo-shoot took place for keen parents.

An extended trip this year took Santa on his sleigh and accompanied by his colourful entourage right to the ferry pier before returning to retire at The Waterfront for more photos. Two visiting husky dogs added to atmosphere and joined in for photos as well.

No-one knows how much this particular parade collected for Operation Santa – that won't become apparent until the boxes are opened at the end of the Operation Santa period. But one thing is for sure. The efforts put into making the day a success go back a long way and took a long time. As well as Santa and the elves, The Island Bar thanks Parksy, Sean, Jill and everyone on the team for the foresight in creating the sleigh which made such a wonderful and memorable impression this year for all who saw it.

Kelly "Elf" Morgan - Fundraiser for Operation Santa Claus, Senior Lammaite:

(sled in progress photo by Kelly)

Santa rolled through Yung Shue Wan on a seriously pimped out sleigh for the Waterfront/ Island Bar's efforts on behalf of Operation Santa Claus 2009.

What began as a simple request, "Parksy, can we borrow your trolley again this year?" became a massive production as Parksy and Sean deconstructed the old stage on Power Station Beach and recycled it into a sleigh, then painted and trimmed it, and with help from Jill Eason (featured elsewhere on this page this month.) Sharon and Gavin, put the finishing touches to it. (Including a massive boom box hooked up to an iPod to play Christmas carols.)

We had a rotating roster of elves this year (including some elfish "blokes" for the muscle power required to push the sleigh) but Santa was, as Santa is, the same as he was last year. One small boy was overheard to repeat, "that's not Santa, that's not the real Santa, that's just Jim dressed up as Santa…." Only to be shot down in flames by a little girl who retorted sharply, "shut up! You're ruining Christmas!" Bless.

The money raised by the venture has yet to be counted, but the money boxes were certainly looking healthily full. What's less easily quantified is the spirit of Christmas and sense of community that the event inspired. The effort and endeavour that went into the day, behind the scenes and "front stage" as it were, was nothing short of remarkable.

And for that reason alone, you've just got to love Lamma.
Email from Annie: "Jill's having a show of her jewellery, chandeliers and candle bowls next Tuesday at Cath's bar (15th Dec) -- a unique opportunity for everyone to see her beautiful, original creations lit up in their full glory in a lovely ambient environment!
Would you kindly put this flyer on Lamma.com.hk? And please do come along and join us! I will buy you a glass of wine! Thanks so much."
How could I resist such a nice invitation! Lamma-Por and I stopped by for a nibble at the delicious snacks buffet, a glass of white wine. We chatted with old friends, took photos and admired the beautifully lit up glass, crystal & gemstone creations.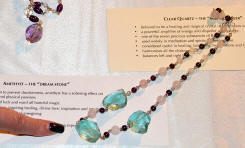 (Un)fortunately, Lamma-Por found a turquoise quartz necklace she liked a lot, making me buy it for her as a Christmas present! Well, I'm happy to be a Christmas shopper supporting the Lamma economy. Call Jill the Crystal Artist @ 2982 1276 (2nd from right in photo below) or email her "official publicist" Annie (middle) to choose your own present for Christmas, New Year, birthday or any other festive occasion worthy of a really

unique creation.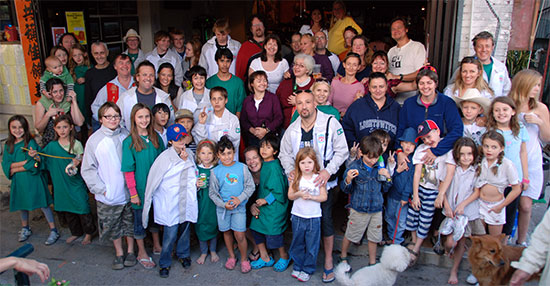 Mrs. Santa Claus - The Island Bar co-owner:

(photos by L-G, click to enlarge.)

11th Annual Treasure Hunt a Grand Success

The hills were alive on Lamma Island yesterday, with dozens of intrepid Treasure Hunters in search of elusive clues in the annual Island Bar Treasure Hunt on behalf of Operation Santa Claus.

Fourteen teams of 4 apiece, set off in the blazing sunshine to trek over hill and dale from midday Sunday! At $400 per team, all donated to Operation Santa Claus, participants felt the two-to-three hour trek was excellent value for a very good cause and a prize was available for every team at the end.

Organised by a few very generous customers of The Island Bar, Yung Shue Wan, Lamma Island, the Treasure Hunt was the 11th in a series since we first joined in the Operation Santa appeal. Of course, we were extremely fortunate that the Hunt was on Sunday, not Monday when it rained!

Donated prizes came from many sources, including Carlsberg, various restaurants, hair salons, Moseley interior design and Thirsty Horse promotions amongst others. We sincerely thank each and every one of our very generous sponsors. We raised a little over $5,600 and a lot of fun was had by all!

Next weekend Santa will parade through the village of Yung Shue Wan on a trolley (yes, yes, we are still working on buying him a sleigh) and in the coming few weeks leading up to Christmas, traditional events like Children's Carolling, Adult Carolling, and a Bingo Night will be organised by enthusiastic customers of the Island Bar, all in aid of Operation Santa.

Two new ideas will be incorporated this year, in addition to the 'regular' Operation Santa events.

So think about joining us for a Christmas Dinner Quiz at The Waterfront (2982 1168) and for a really special Boxing Day treat, come and watch the Lamma Ladies Dragon Boaters, kitted out in Santa Hats (and possibly little else) taking their final training of the year, by dragon-boating around Banyan Tree Bay. Then join them for turkey sarnies and mince pies afterward for a minimal cost, all to Operation Santa of course, and perhaps a warming mulled wine in The Island Bar.

'Tis the season to be silly – at least that's the way we look at it!

Any newcomers to the The Island Bar will be welcomed with free membership to The Island Society Bar.
P.S. A little photo feature got onto the SCMP's Operation Santa Claus website.
I've also just updated and expanded The Island Bar website to include 11 years of historic photos, 1999-2009!
And the new CNN GO website just listed Lamma.com.hk in their "Local Blog Buzz" shortlist of favourite HK blogs, the first one listed! They write:
"As the only local medium on Lamma Island, this website has become a kind of de facto daily Lamma newspaper for many people."
After over 2,000 Lamma-zine stories published over the last 7.5 years, wouldn't it be nice to follow up on some of them occasionally, checking out what happened to the people, issues and topics highlighted in the past? It would demonstrate that even in a place like Lamma time moves on, albeit at a slower, more relaxed and ultimately more comfortable pace.
Here's a simple example, referring to this story:
Apr 28, 2009: Eco-Adventure #1: Bike-Powered Water Pump
This is how it looks today, reclaimed by nature (Mikania, the fast-growing, all-engulfing Mile-a-Minute weed) within just a few months: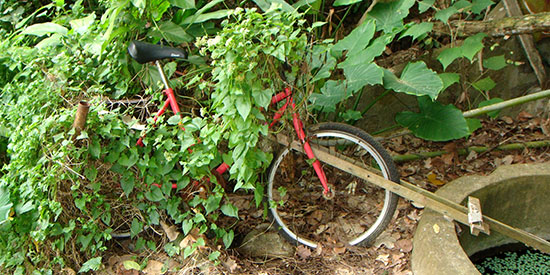 After recently losing several top advertisers for various reasons like business closures or major business changes, I've offered free advertising for this month. Hearing the word FREE, Lammaites came running, as expected! Let's give these fine local business additional exposure in this story, hoping some of them will decide to continue to advertise next year?
Click on the ad banners below (most of them designed by myself) to check out their special offers, fine products and friendly services.
Do YOU want a free ad, too? Contact me!
Lammaite Newbie and multimedia artist Stratoponjak has created the first 360-degree, sphere-shaped panorama from the highest location on North Lamma, the Trig Point, reachable from the windturbine via the Snake Trail. Click above and wait patiently for a little while to download the Flash-movie-panorama from his website in Sweden. Then you move around in ANY direction with the mouse, rotate the picture full circle and even zoom in on any spot. Try it!
More fun multimedia to come very soon from this new Lamma-zine contributor!
Here's the explanation if you'd like to create an interactive panorama yourself:
"I used a Canon 7D with a 15mm lens, that is equal to 24mm in a full frame sensor, and just shot 15 vertical shots free hand with the horizon in the lower part of the frame, and then 15 more aiming a little bit lower, and then a few in the sky and a few right down on the ground. Using a tripod would have been better.
The magic was then made in a software called "PTGui Pro" where images automatically, and manually, where put all together in a spherical 360 degree panorama. For ground and heaven I then used Photoshop, open the PTGui panorama image, created a 3D sphere object in Photoshop and added ground and heaven.
Later I created a Flash movie using open source 3D engine Papervision, made a 3D sphere and added the panorama image to it. Next version could also include labels in the Flash 3D-world, pointing at different areas in the panorama."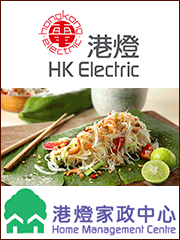 China Light & Power is increasing their electricity tariffs for most of HK by 2.6% from Jan 1. HK Electric proudly announced on the same day that they won't, freezing their tariffs for next year. Good news for all of us HK Electric customers on HK Island and Lamma Island! But I still miss the govt.'s $300 monthly electricity subsidy, ending last July after a full year. Any chance of continuing it?
HK Electric has also committed to gradually reduce their emissions by increasing the use of natural gas, burning much cleaner but being much more expensive. Gas-fired power generation is expected to double from about 15% to 30% in 2010.
"Our power supply in 2010 will basically come from 'clean energy' with emissions in sulphur dioxide, nitrogen oxides and respiratory suspended particulates reducing by 40 to 70% in the year as compared with 2005 levels." Press release:
HK Electric to Freeze Tariffs for 2010 [8 December 2009]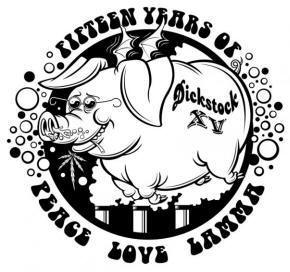 Mr DickStock (email) writes:
"I would like to offer people the chance to get their very own DickStock XV T-shirts. Also, some of the band members didn't get theirs as promised, because Tracy and friends sold the suckers OUT...so if anyone wants one, they need to place an order with me POST-HASTE (till Sun, Dec 6). I think I can get delivery in 2 weeks. JUST IN TIME FOR X-MAS~!!!
"I need people's colour/size preferences... from baby sizes to pie- eater... STILL only $60!
"Normal colors, white black blue red, etc. Sizes from baby to XXL... maybe even XXXL, but not sure about that."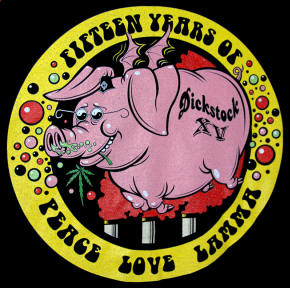 P.S. The T-shirts above are all single-colour. If you're spotting a full-colour DickStock XV T-shirt on Main Street, that would be either me or Lamma-Por sporting the ONLY limited-edition (1 black/1 white each, see right) full-colour prints worldwide. We'll receive them in a few days, for free, from a longtime fan of this website who's running a T-shirt printing biz in Canada and has never even visited Lamma! Some of our readers from a total of 97 countries (Nov '09, 4+ million hits) are just so incredibly nice & supportive, making this all worthwhile. Many thanks!
If you'd like to order some full-colour Tees as well, please let me know.
P.S. II: If you hurry up, there are still a few Lamma 2010 Charity Calendars left in Diesel's Bar! 2 for $100! Buy 5, get 1 free!
Jennifer "Doomed to Fail" Spratly - Anthropology PhD candidate:
Interviewing Lamma-Gung in the Beer Garden
about Lamma's folk tales
I am an anthropologist doomed to fail my PhD.
Why? Because I moved to Lamma.
So say the knowledgeable. "Two anthropologists in the department's nearly 30 year old history moved to Lamma Island before you. They never finished!" is the story I get. I walk off laughingly, saying "I'll prove you wrong!" (I'll show you. I will!). But I hear similar tales coming from other departments, other universities…and it appears no one knows (or cares) what happened to those who disappeared.
From where I live overlooking Yung Shue Wan I hear cat's demon-like voices at night. Giant crickets appear on the window. I hunt occasional cockroaches in the kitchen. A frog climbed up the Thai Basil on the balcony a few weeks ago and sky dived into the Aloe Vera. And a rat makes regular visits. I seem to have karaoke-loving neighbours and I sleep to the sound of the usual; guitars playing, lovemaking, and fights. Is noisy nature all it takes to make Lamma appear as Pinocchio's World? Is life so different in the Midlevels? I hear they get cockroaches and sex too.
Lévi-Strauss sits by my bed. "What is Lamma's back-story?" he asks. "We do not really need know where metaphors come from, but we need to know how and why people use them". I agree. We have an impression of people, what they are and what they do, and in the end they are often the complete opposite.

Morning comes. Cats meow. Birds circle the sky. Since I stepped on to this island for the first time in March I have learnt Lamma is where professors daydream of retiring. It's now November. I am waiting for Lamma-Gung in the Beer Garden, hoping to hear his approach to Lamma's folk tale.
He talks of Lamma fans worldwide who apparently have never set foot here but admire the place from afar. He mentions Corner bars, and restaurants now gone. Reunion parties, there have been a few. Lamma features the strong-minded, the eccentrics, the freelancers, artists, writers, househusbands and environmentalists. There are those working the stock markets, the offices, and the Dragon Boats. It's fisher folks and power dressed people in a mix. On the Dark Side: the bar scene after midnight, drug raids, Lamma burglars, and those considered trouble. "Live and let live", says Lamma-Gung. "Mentally unstable? You'll still find friends here".
I take copious notes thinking this makes a pretty good story! Honestly, little anthropological research appears to have been done on Lamma. Researchers vanish, remember… "You get help here," Lamma-Gung fills in, as my thoughts start to drift. "People chip in anonymously to help each other out." He talks of the barter economy as an important island feature and how to do favours and create goodwill. "You must manage relations well and show involvement in the community". "And you're most welcome to make fun of me!"
Pinky (R.I.P.) is whom I will envision most vividly from our long conversation this afternoon, sipping white wine like she did. I am told Pinky was appointed the guru of an imaginary "evil cult". She was outrageous and Lamma.com.hk created an –ism just for her and about her, Pinkyism. Think Disneyland after midnight. Sounds pretty much like any academic department to me.