Om the Amazing Shrinking Tai Penguin - Lamma Newbie and new Lamma Outrigger Canoe Club member
(text by Om, pictures & graphic novel by Gina Meana)
One day, just a few weeks ago, I was sitting on the the ferry back from Aberdeen. I saw people paddling in canoes. I could not avert my eyes from them as we went past them in the ferry. I was intrigued at why this looks so hard, but they all seem to be so happy.
Soon afterwards, when I was looking for a sport to get my butt off the couch, I contacted them and asked if I could join. As a new resident of Lamma, I really did not know what to expect from this Lamma club. Well... I had my first-ever paddling session at... 5:20 am in the morning!
I arrived and got to know the other team members. Everybody was so friendly, asking for my name, where I came from and always had a nice word to say. What makes them special is that we're all from different parts of the world (Canadian, South African, British, French like me, etc.. ) and naturally friendly. We also have a great sense of humour, making it so much fun. This is what makes it special: a fantastic team spirit.
A ritual before going to the boat is the "sexy time" (this is how I call it, anyway) when everybody puts on sun lotion. This is a collective ritual.
During my very first session, 3 people offered me their own drinks as I didn't bring anything. I felt very shy and declined at first, but they insisted and I took a sip, overwhelmed by their kindness. At the end, I thought people there are just so cool and friendly. I really want to do my best to reach their level and not be the one that will slow down the rhythm of paddling.
One day, one of the team members forgot to bring his water but remembered to bring coffee. Of course, I offered him my drink, too. After 10 minutes of paddling, getting away from the shore, it's time for stretching and drinking a bit before the following real workout. We were in the middle of the sea, the beach was quite far away and we had a fantastic view of the Island. I was enjoying the scenery and suddenly I heard a very courteous voice, like a waiter: "Anybody would like a cup of coffee?" That was so funny!
When you arrive in the motor boat to get a rest (before the sea change), this is a very good time to refuel your body. I got my orange juice and my horrible brown banana which tasted better than ever before! But I realized that everybody got sport drinks or gels (see Laura on the photos above.) Are these the secrets of their paddling super powers? I have to investigate this further.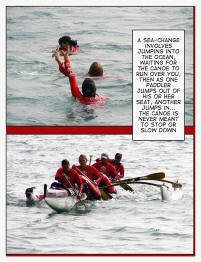 Then Karen super-excitedly shouted into the water - in the middle of the sea - "I am no longer a sea change virgin, yay!" Hahahaha! Sea changes are quite technical and stressful. It describes when one paddler jumps out of the boat while another fresh one climbs in to replace him/her. The boat has to maintain its speed throughout this change. There's a picture on the right explaining it. My virginity lasted only 3 sessions!
A very special moment was when I climbed back into the boat after my sea change. I had paddled quite a bit and felt like I was on my very last reserve of energy. At that point, Mel the boat cheerleader, asked everybody to give 5 strong strokes at the beginning of each 15 strokes set. And she counted... in French, just for me! That was so nice and gave me extra energy coming from I don't know where. I would have kissed her if I wouldn't have forgotten everything when we finally arrived! After that they counted in several languages: Mandarin, Cantonese, and others. For me, I was just joyful breezing my lungs out...
The best was when I gave it my last shot as soon as I saw the beach. I think I got "high" (Endorphins, probably?) I was crying while paddling, I didn't even know why, but I was so happy when we finally arrived at the beach. This is such a super-satisfactory feeling. I gave it all I got and everybody tapped me on the shoulder telling me that it was very good. I felt super-overwhelmed! But I know that I still have to improve a lot and build up my muscles.
At the end of each session I am just dead. I remember getting off the boat and telling the boat leader: "I am dead!" He just replied, "That's the point!" and we all laughed. Today, we've been training for the next race, the Round Lamma Race. As we went past the Pak Kok pier, I saw a ferry going to Aberdeen. I was thinking of where I stood, just a few weeks ago, seeing the outrigger gliding past. Now I got the answer to my question back then:
Yes, this is hard. Yes, I still have to get that stroke right. Yes, this is damned hard work. But despite the bruises I got from the sea changes, despite breezing my lungs out, I am doing it, our team is doing it, we are all in the same boat, and we're going forward, closer and closer back to our beach. After 3 hours of intense paddling we succeeded and that is what makes me feel so happy!

I admit that I just love the Democracy Wall. It's always the right place to learn about upcoming local events & happenings, view the latest moving sales and even have a good laugh occasionally. It might look a bit untidy, especially after a big rainstorm, but it's a real celebration of the diversity and liveliness of our home, I think. Thanks to our hard-working & cheerful Lap Sap Ladies, old posters get removed at least weekly, keeping the Wall current and up-to-date.
For example, did you know that there's a new preschool's Open Day tomorrow, that there's a new village pet psychic, that Jocelyn is looking for a new employer, that Sil-Mei, Sil-Yi and Sil-Fa need homes and, last but not least, that you can make your teenagers urgently famous? Me neither. Check it out below.
Let's see a few Democracy Wall posters I shot just today (click to enlarge):
I hope that quite a few more people will see these posters now and maybe even respond to some of them. Let's see what additional feedback these posters above will attract by being plastered onto the virtual Democracy Wall of this home page! No need to rip off, keep and remember those tiny little tabs at the bottom of the posters. I still keep finding these pesky tabs at the bottom of my shoulder bag weeks later when they've all become out-of-date.
If any of the people behind these or any other posters are looking for some more free publicity, our bilingual forums are always open, welcoming you to post your own events, classifieds, services, moving sales, almost anything. It's free and you can do it yourself!
For some real premium, prime-time exposure, this home page is also available for your low-cost but effective advertising. It will support the daily upkeep and secure the survival of this entire website. Click to learn more about advertising options in English or Chinese, or email me.
Yogesh - Co-moderator of Chinese forum (text & pictures)
If you live not too far from the Lamma ferry piers on HK side - Central and Aberdeen - love cycling, love to explore Lamma Island and have some free time in the morning on a weekday, then why not spend it on Lamma with your bike. This is exactly what I did this Tuesday morning.
The Lamma Family Trail between Yung Shue Wan and Sok Kwu Wan is famous, or notorious, for the amount of day-trippers it attracts. Therefore, the only time when it's convenient for cyclists to use the Trail is on a weekday, preferably morning time, when pedestrian traffic is very low and it's not as hot as in the afternoon.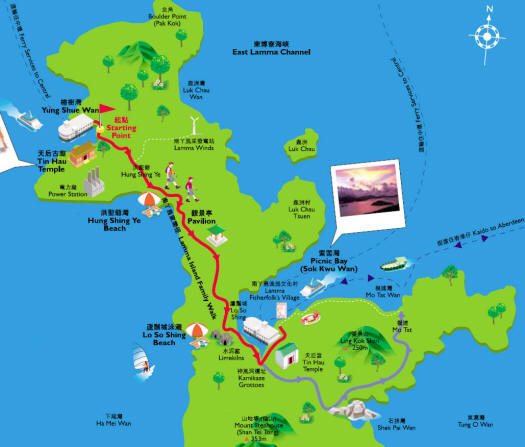 I took the 08:00 ferry from Aberdeen to Sok Kwu Wan. Chuen Kee Ferry (also the new operator of the Aberdeen-YSW route) charges $10 for your bicycle. The Aberdeen - Mo Tat Wan - SKW is probably to cheapest way to get to Lamma with your bike. Once I arrived SKW, I set off right way. I decided to take a look at the Lo So Shing Beach, which was rather well-hidden and pretty well-managed.
Sections of the Family Trail were newly-paved with rocks and it makes it rather bumpy for bikes. Luckily my bike is a mountain bike, great for gathering some speed before a steep climb.
After arriving at YSW, I decided to go to Tai Peng and to experience what most Tai Ping residents have to endure everyday - the uphill path. Sometimes I had to get off and go up the hill pushing the bike.
I went past Tai Peng and ended up in Pak Kok Village. Explored the village for a bit until realising that the SKW ferry is going to leave in less than an hour.
I had to get back quickly, so I took the Northern Cable Road. That was not the best choice since there are X-shaped grassy holes in the road. They slow you down and it goes up and down a lot. At least I can get back to Hung Shing Yeh pretty quickly.
The return journey on the Family Trail was pretty steep and it is very exposed to the burning sun. I didn't rest after my struggle with the Northern Cable Road, so I was almost exhausted. The rest of it is downhill, though, pretty easy.
It took me about 35 minutes to reach SKW from Pak Kok. Lamma-Gung thought it could be a new record?
Items to bring for a Lamma concrete path cycling trip:
lots of water, but you can get it free from the Lo So Shing and Hung Shing Yeh beaches.

some energy food. I like bananas.

wear specs and a helmet . It's a must. Your head could catch lots of cobwebs and tree branches.
P.S. Within an hour of posting the story above, I've received an email pointing out a fantastic web page giving a lot of Lamma biking tips and maps to biking trails on Lamma. Find out more about these trails:
Project X - Snake Trail - Snakes Tail - The Hump -
The Back Passage - The Sok Ku Wan Quarry.
Click on picture above for a full photo gallery!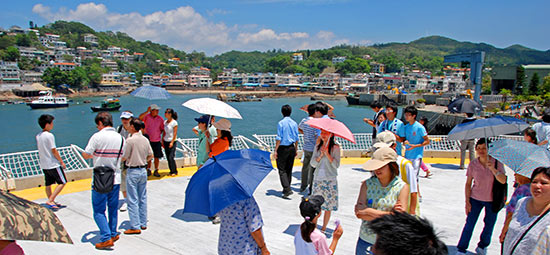 Jay Scott Kanes - Official Court Pet Correspondent. Amongst his published books is one about Lamma pets (Dog-Gone Cat Case). He also runs the Cairns Media Magazine website - News, Views, People, Places.

(story, pictures (click to enlarge) & captions by Jay Scott Kanes)

Sporty Lamma Pets Love the Olympics too

Residents of Lamma, like those elsewhere, spent much of August watching the Beijing Olympic Games. But no wonder the TV ratings soared. Even many pets became sports fans.

When human athletes play with ribbons and hoops, as in rhythmic gymnastics, fun-loving cats will notice. A feline named Coy, who lives in Yung Shue Wan, became extra fascinated, watching long and hard, often reaching to the TV screen. Sometimes her brother Batman joined, presumably to discuss sporting techniques. There's no doubt which Olympic event they like best.

But Lamma's dogs prefer volleyball, having witnessed hundreds of games on the sand at Power Station Beach or from a hillside overlooking the fire station. The canines may wonder why Hong Kong neglected to recruit the best of Lamma's beach-volleyball players for the Games.

When watching on TV, the pets may have pondered why animals other than horses don't compete in the Olympics. A few Lamma critters qualify as leading athletes. Some of the dogs leap high for remarkable Frisbee catches. Isn't that ideal for track and field? Fleet-footed canines reckon they'd outrun Usain Bolt, the "world's fastest human". The cats might work wonders on the parallel bars.

With the Games finished, one problem lingers. As a housemate to Coy, how can I explain to her that the next Olympics event in rhythmic gymnastics isn't until 2012?

Chris Hall - Photographer and digital artist (former Lamma-zine Artist of the Month) living on Lamma. He has a website at www.fotografiqx.com.

(pictures by L-G)

Show review by Chris Hall:
L-G's show at the Sarasen Gallery

Lamma-Gung, known to many of us simply as L-G, turns out a neat line in what I would call high-end digital doodling, and note that I qualify the slightly deprecatory term doodling with "high-end." I was curious to see L-G's work up close, after seeing it in the Lamma-zine on the Lamma.com.hk website.

First I had to find the Sarasen Gallery, on the 5th floor of the Winner Building, Lan Kwai Fong. So far so good, quickly found it next to Al's Diner. Then a choice of two lifts, where I carefully did NOT choose the button for the "odd" floors, ending up on an even floor, not the 5th. Oops!

Let's get this out of the way as soon as possible: L-G makes no pretensions to Art with a capital A. In fact, he protests that such a project doesn't really interest him. Personally, I'm a bit unconvinced by this insistence of being low-brow and unpretentious, but working digitally, on the computer, L-G certainly serves up a vibrant line in caricatures and colorful sketches, with a wry sense of humor.

These are skills that L-G uses to good effect in the Lamma-zine, but what is the effect, finally, in an art gallery? It's mixed. Some of the caricatures are very effective, and here I particularly liked The Gentleman Eco-Warrior, where a pair of dark brooding eyes look out, almost accusatory, from beneath a hat brim. There's empathy here, a bit of mystery. This is much more powerful close up, color laser toner on paper, than on a web page. And that's a great title.

On the other hand, Prof Red Star the Electrifying Performer doesn't really hit it. Steve looks more like a youthful member of a beefy soccer team who's had a close encounter with an electric eel. OK, that one won't be on my wall any time soon. Steve, don't take it personally. I too am electrified by Escalator Girls, by the way, the song certainly.

One of the caricatures is titled Senior Inspector Woo-Woo. This again is intriguing because any officialdom here seems to be wearing a grin. If there's a story behind this one, I don't know what it is. There's a question here, not an answer.

At the other extreme, L-G has some abstract designs with circular, dish-like formations. At their best these suggest iconic power, rather like Tibetan mandalas, but I see L-G has titled the most interesting one Double Egg Yolk. Instead, I'm seeing hints of Yin and Yang symbols, possibly carved antiques, nothing quite as literal as an egg yolk. The unfortunate line in titling comes up elsewhere. One interesting abstract design is titled Wallpaper. Myself, I'd rather L-G let us, the viewers, make our own associations, rather than make these literal gestures.

Somewhere in between these extremes are some semi-abstract treatments, notably of the Peninsula Hotel, which throws out a blare of city lights and chiaroscuro'd color.

Another of these has a swirl of color in what I guess might be a logarithmic spiral or perhaps even the Fibonacci series, Victoria Harbour. Forgive me, L-G, I know the last thing you want to be is an intellectual, but this spiral is very reminiscent of Hokusai's waves.

These are interesting works, but I'd like to see L-G pushing his very obvious figurative talents a bit closer to the edge, really losing it in some incredible abstract monster of a work.

Come on, be a mad artist, L-G, we know you've got it in you.

Overall, this is a vibrant set of high-end digital doodlings, skillfully produced on many different computers, some of them from the pre-PC era, as L-G has worked away at his various websites over the years. The vibe that comes off these unique items is a positive one. We can sense that this has all been made by someone having great fun. That's L-G's project, and that's what he intends to communicate, I'm sure.

Give it a visit. It's on until the 30th of August, but best to phone ahead to confirm opening times, at 2525-6984. Click here to find the gallery. If all fails, there's no shortage of places in which to recover over a beverage, downstairs in LKF.

Three really great Lamma after Nuri videos have just been submitted to the Lamma-zine, with absolutely hilarious narration by ropiedote, filming her own "reporting live from decimated Hong Kong".
IMHO, they are competing for Best Lamma Video Ever on YouTube with that classic "Monk in a Hole on the Beach" video, a parody of BBC World live news.
Have a look at ropiedote's videos below. I've added some of the most memorable quotes from her voice-overs to my YouTube screen shots below:
"A first look at the devastation caused by the furious winds and rain of typhoon Nuri... aloe, fig trees, refrigerator plants.
The devastation is enormous. We appeal to the international community and worldwide aid organisations to send help immediately. In particular demand are brooms such as these and people to actually USE them, so I won't have to."
"It is nothing more than the rubbish tip of Mainland China.
Medicine vials, used syringes, flip flops and occasionally a human body part line the beaches of this area of this lovely island off the shores of HK.
This has been beach rendered a biohazard zone in the wake of typhoon Nuri.
Unhappy Gwailos continue to beg for aid from international organisations to help clean up their favourite playground."
"Scenes of hopelessness and despair continue to unfold in the wake of typhoon Nuri. Children left to fend for themselves at water's edge... scrounge for anything they find useful in their survival.
The stone sculpture by the sea, once Malcolm's victorious picasso-esque piece of art, has been rendered into a ridiculous stump by the powerful force of Mother Nature.
The once pristine land of Power Station Beach has been rendered a scrap yard. Flotsam, jetsam and general codswallop litter the area, rendering it unusable for the humans who so often love to rest here.
A small dog wonders what, if anything, shall become of us."

First photos from Lamma Island, while all of HK got hit directly and went through the eye of typhoon Nuri yesterday. Typhoon signal #9 was raised, the first time in 5 years. Click photos to enlarge.


What are we Lammaites up to when we're stuck on our island for the day?
This happens ONLY about 2-3 times per year - usually for not more than 12 hours - when a Typhoon Signal #8 or higher is raised. Besides watching the Olympics on typhoon-proof digital high-def TVs and our famous Typhoon Parties, we love to post messages in the Lamma forums, of course. Follow Typhoon Nuri's progress and the impact on Lamma in our Typhoon info forum, the most active topic today, of course!
Good links from Senior Moderator Alan the Body Surfer (during typhoons only):
"Lamma ferries always run, unless there is #8. There is always plenty of warning.
Listen to radio news, see changes in ferry schedule. See Tropical Cyclone Warning info.
The typhoon signal warning definitions are here. See the Track and Positions of Tropical Cyclones which shows its predicted path."
If you dare to go out today, maybe even taking a waterproof camera along, email the photos to me. Let us share in your admirably adventurous and daring spirit!
Here's a pre-typhoon image from renowned Lamma photographer Stine Baska, taken on the ferry yesterday at sunset, showing the peace before the storm...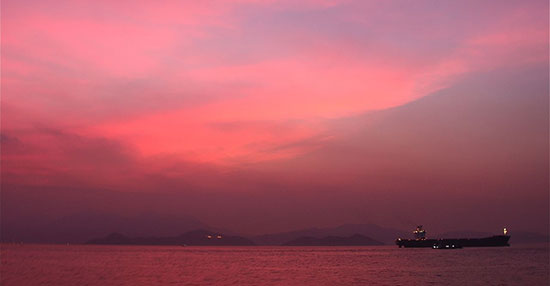 P.S. Did you know?
Which Lammaite did "almost live" outdoors reporting of typhoon updates for local TV in the last millennium?
Nick the Bookman. Ask him about it one day (not today) and you'll get to enjoy one of his usually very vivid stories.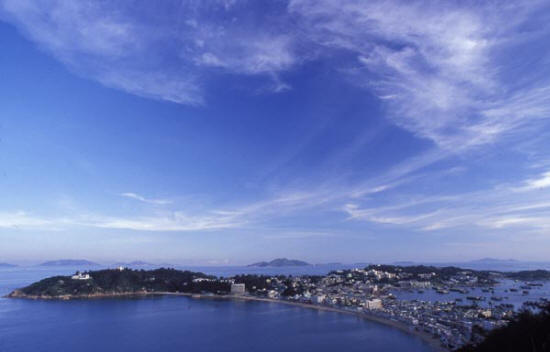 Occasionally, I get asked if I know of any other local community websites (placeblogs) in HK. There's a very active, helpful and comprehensive forum for Discovery Bay, but no placeblog, events calendar or photo galleries like on this site. Several communities have tried to start forums but most died quickly due to lack of promotion and enough active members to achieve the critical mass to keep them going. The only really good local community website I've found so far in HK is CheungChauHK.com which has just been revamped by site admin/ webmaster/ writer/ photographer/ birding guide/ conservationist Dr Martin Williams.
It's full of professionally written and photographed information for tourists and locals alike, great photo galleries by several residents, a residents' forum, and sections like "Exploring Cheung Chau; Nature on Cheung Chau; History and culture; Eat, drink, sleep; Book tour; Content creation; Book hotel."
He writes that he's just put in a real Content Management System (Drupal, improving the site navigation and integrating the forums with the rest of the site.) This is something that Lamma.com.hk still lacks, being mostly hand-made HTML, besides our mostly automated forums. Martin welcomes comments on the revamp; plus, of course, comments for the forums, new photos, etc. Check it out, there might be some really good ideas in his revamp that Lamma.com.hk could learn a lot from, hopefully.
While you're at it, also have a look at his amazing and most impressive personal website: www.DrMartinWilliams.com - Welcome to DocMartin - "Hong Kong's one-man answer to National Geographic. - Wildlife, Conservation & Environment; Travel Tales; Inspirational People; Forums; Photo Gallery."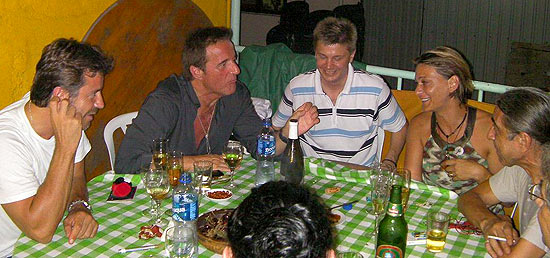 Lorena Severi - Lammaite from Italy (story & pictures by Lorena)

My name is Lorena & I've lived in Lamma since January 2008. I write to you because 2 weeks ago Mr. Christian De Sica and Mr. Paolo Conticini have spent a day in Lamma with me and my husband Stefano, Piero and some friends.

They are two of the most popular Italian actors, especially Christian De Sica. Mr. Christian De Sica is also son of the most popular VITTORIO DE SICA, father of the Italian Cinema.

They were very impressed about our community and love the "Spirit of Lamma":

The smile of the people, the courtesy, the genuine way to help each other, the beautiful seafood restaurants and shops. I think we deserve this kind of visit from such celebrities because stars meet stars!

Please find attach same pictures, if you want to add them on "our" website.

Stefano - Lorena's husband:

I forgot to tell you that Mr. De Sica & Mr. Conticini came to Lamma because Lorena Severi is the World Champion Winner of Hairdressers [Editor: Unisex Hair Design, Belgium, 1996.]

She is today recognized from many associations and brands as The Best Hairdresser in the world ever. She will work for the next movie of these actors as official hairdresser. Please find her story attached, available from the Editor.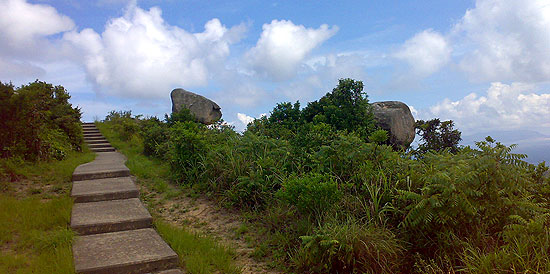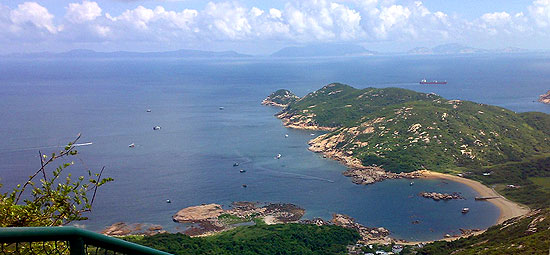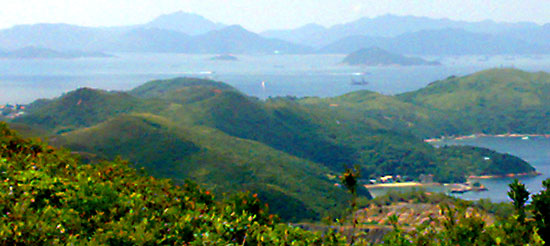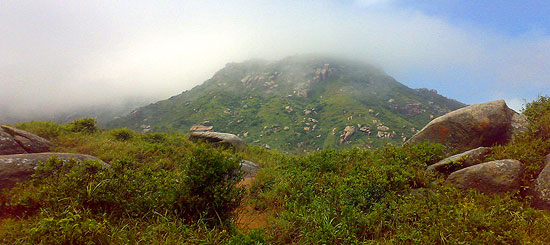 These photos were taken by Spectator Carlie, "Location: Kowloon - Lammaite wannabe", with his mobile phone while climbing up the pretty steep hill of Ling Kok Shan, just behind Sok Kwu Wan.
See more of his photos on Flickr here and here and read his vivid descriptions of his daring mountaineering excursions in our forum.

Keeping a watchful eye on Lamma-related blogs, I occasionally choose some story to be republished in the Lamma-zine - with permission only, of course. I came across this little post below by Dr Marcus. If you're looking for a wider audience for your Lamma blog, just email me by clicking Email to Editor in the weekday header line of every Lamma-zine story!
Dr. Marcus - Adjunct Professor at The University of HK, Faculty of Business and Economics - Story republished from his Blog with friendly permission:

(Story and left picture by Dr. Marcus, other pictures by L-G, click to enlarge.
For a photo gallery of this beautiful area BEFORE the construction, click here.)

The Brain Is Drained

The lower valley from Yung Shue Wan to Tai Peng on Lamma Island has been turned into a muddy concrete trench. Now Hong Kong Electric contractors give it the rest by turning it into a garbage dump.

We all have our professional targets and those of the Hong Kong Drainage Department are to turn the world into something like a public toilet. Their latest achievements can be visited in Yung Shue Wan on Lamma Island where the lower part of a charming valley was turned into a concrete trench filling up with mud and trash by the tidal effect, turning into a stinking canal every now and then.

It took over one year of noisy work to fulfil this so-called "improvement project". Well done. But when is it actually finished? Just the pavement was closed, a contractor of Hong Kong Electric broke it up again to improve the electricity supply. Since then, all trash and construction materials are left behind and the site shows no progress...

Now I wonder, when the contractors will clean up their trash left behind in a chaotic construction site. Sure, there are also residents now joining in and toss their garbage, like old beds, strollers and office printers. It is not that civilization would have reached all the minds here.

There is also good news. There was a time when the trench was protected (from whatever) with a fence that looked like the set of a movie production for a concentration camp drama. Thank god we were freed from that and it got dismantled.
P.S. Reply to Dr Marcus's email to enquiry@dsd.gov.hk (Drainage Dept.)
"You may also aware that the sedimentation and odour in the drainage channel is originated from the polluted sea water. The pollution existed well before our drainage improvement.
"We will try to mitigate the sedimentation and odour in the drainage channel as far as practicable but it will be hard to completely eliminate them if there is no improvement to the source of pollution. Our Consultant, Scott Wilson Ltd. is still exploring suitable short term mitigation measures and will advise us their conclusion soon.
"For long term improvement, proper sewer connection and sewage discharge are needed. There are and there will be sewerage improvement works under the Lamma Village Sewerage Phase 1 & 2."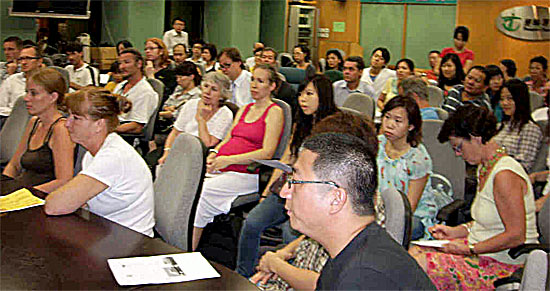 Keep up with the most newest developments on this topic in our constantly updated Aberdeen ferry forum. See the latest revised timetable.
P.S. Reply by the Transport Dept. to the concerns expressed above:
See Aberdeen ferry forum.


More about the exhibition in a Cairns Magazine cover feature story.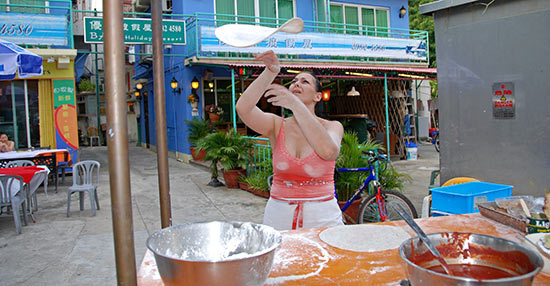 Jay Scott Kanes - Official Court Correspondent - Press release:

ART SHOW REACHES 'BEYOND THIS WORLD'

Exhibition in Sarasen Gallery & Studio Plus in Lan Kwai Fong, Central, HK Island

HONG KONG (August 12, 2008) -- Artist Lamma-Gung, who launches a solo exhibition in one of Hong Kong's trendiest neighborhoods on Friday, has visualised the fascinating landscapes of distant planets. Looking nearer to home, he also depicts colors and shapes, the markers of dynamic personalities, as they swirl around humans in some highly unusual portraits.

Alien landscapes (sometimes aliens too), extra-sensory images of unusual people and near-magical transformations of ordinary objects highlight the exhibition, titled "WONDER, WHIMSY, WEIRDNESS – 25 Years of Digital Figments of Imagination", scheduled for August 15-31. Together, more than 40 of Lamma-Gung's best artworks create a festival of bright colors, unusual shapes and astonishing images.

"It's satisfying to create new whimsical images that surprise even me," the artist said. The exhibition fills the Sarasen Gallery, 5A, 5/F, Winner Building, 27-37 D'Aguilar Street, Lan Kwai Fong (Go almost to the top of D'Aguilar Street, look for No. 37. The Winner Building, also home to the former Deli Lamma LKF, is in-between Al's Diner and Zinc, opposite Insomnia. Enter the Winner Bldg, up to the 5/F. Call Lamma-Gung @ 6498-6960 if you have trouble finding it! Click for photo of entrance.)

Lamma-Gung invites everyone, including art collectors, the media, friends and curious viewers, to attend. An opening reception begins at 6 p.m. on Friday, August 15.

Lamma-Gung's unusual in other ways too. Instead of working with paint, brushes and a canvas, he sits at a computer. "I've used computers to create art for more than 25 years, almost as long as there have been personal computers," he said.

Many of the artworks begin with photos by the artist, a professional photographer himself. Using many different computer programs, he transforms and metamorphoses them in unexpected and surprising ways. The experimental process may take days.

"I can be twisting or adding many different layers, and then suddenly, 'Wow, a whimsical alien appears unexpectedly'," Lamma-Gung said. "This artistic process is great fun. In a way, it's creative self-indulgence." Originally from Europe, Lamma-Gung came to Hong Kong in 1987. He lives on Lamma Island and publishes the daily Lamma-zine and community website (Lamma.com.hk). He's exhibited in various galleries in HK and Europe before.

For more information, please contact the Sarasen Gallery at (852) 2525-6984, mobile 6629-2060, website, email.


An email made its virtual round around North Lamma, bilingual notes for a public YSW-Aberdeen ferry meeting appeared on the walls and a petition collecting signatures was circulated. There have been almost daily smaller meetings recently between different parties (Pak Kokians, HKKF, Transport Dept., Rural Council, village representatives, district councilors, etc) about this topic:
Meeting tonight, Tuesday, 12 August 2008, with Transport Dept 8pm football pitch Yung Shue Wan.
Please pass this on to anyone who might take the Aberdeen ferry
Transport Dept, Village Reps, Yue Lai Fan will all be attending.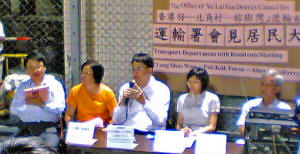 I joined in as an interested observer. Sorry, my pictures are crap, as they're from my mobile phone. I returned late from town preparing my upcoming art exhibition, so didn't have my professional camera with me.
It was an extremely vocal, even aggressive bilingual meeting, with lots of very disappointed and upset ferry customers not happy with the changes coming into effect this Friday. People got even more heated later on and there were a lot of shouts of "bullshit" and many verbal attacks, even a bit of swearing, heckling and personal abuse for the panel, plus calls for protest actions and ferry boycotts. In our usually so very peaceful island, it takes a lot to get residents this excited!
Lammadonna, one of only two North Lamma District Councilors, was even driven out of the meeting at the official end with shouts and gestures by a Pak Kokian and was seeking refuge behind two police officers. She organised the public meeting with the Transport Dept., but certainly wasn't getting any thanks for it, probably thinking twice before organising another one like this, I think. Three officers and the police chief were present to provide security for the entire heated meeting and to prevent any physicalities. No photographing or videotaping of "potential troublemakers" by the authorities has been detected and the police chief denied any such activities, more common at protests in town.
Then the microphones were switched off at the scheduled end of the meeting, but the crowd would have none of it. The two Transport Dept. officials missed the 9:30pm ferry, as local residents clo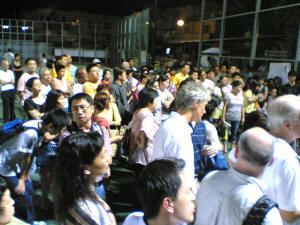 sed in on them to ask many more private questions and even offer some well-thought-out suggestions. The main official remained steadfast and unfazed throughout, a true civil servant, never raising his voice, trying to sound understanding and supportive, even though he must have been boiling inside about all the distrust and verbal attacks.
It all looked and sounded like grassroots democracy in action, I loved it! Where I come from, there'd have been a local voter referendum soon afterwards and the govt. would have to accept the will of the majority. But hey, this is HK. This meeting probably won't make any difference at all to ferry riders in the current paternalistic political system of "We know what's best for you, no need to ask or even inform you in advance, just accept our well-meaning decisions!".
The very best we can probably and realistically hope for at this late point in time are small adjustments to the all-new-and-different Aberdeen ferry schedules to accommodate early riders like children and teachers, plus the many Pak Kokians switching over to and from the YSW-Central ferry. With the currently proposed new schedules, some teachers, children and Pak Kokians working in town would arrive too late and wait for a long time to catch the connecting ferry in YSW.
Many residents were most outspoken to keep HKKF, the current Aberdeen ferry service operator. But HKKF couldn't be convinced up to now to continue the route, even at the new, 37% increased fare. So it'll be Tsui Wah ferry - a completely different and tiny ferry operator not owned by or affiliated with HKKF (as far as we know, besides sharing one director, according to the govt. website) - starting this Friday. We'll get small, not air-conditioned boats that take 40 minutes to get to Aberdeen, not coordinated yet with the YSW-Central ferries and a 37-51.5% fare increase. Sounds quite like an everybody-loses situation to me...
See our Aberdeen ferry forum to learn more and discuss this daily changing and evolving Lamma Drama.
P.S. This photo was taken a few hours later that night, Lammadonna's office door shutter, and posted in our currently hyperactive Chinese forum by freddy law. Ask your Chin. friends to translate some of all this abuse; click for larger version: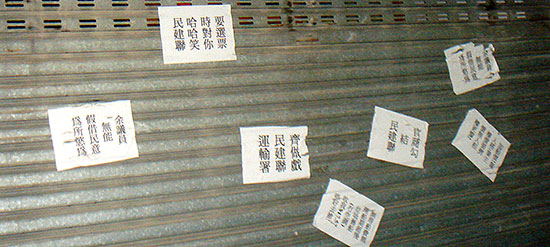 Nick the Bookman - Official Court Music Correspondent

(photos courtesy of bc magazine 2008)

Well, it's that time of the month again. It's bc Unplugged # 2 at The Wanch. Thursday, 17-7-08. Only three bands on the bill tonight, as opposed to five on the debut show. We've got Rice Magnet, Luke Chow and Hungry Ghost and Red Star Rising. Nice Oriental connection with the names - "Rice", "Hungry Ghost" and "Red Star". Good sort of interconnecting vibe. I've arrived early at The Wanch. About 20 people inside. It's not as frisky as Session # 1, when the US Navy showed up to support their shipmate in his set of scintillating strummage, but I' ve got a good seat by the door where I can mumble inanities and scrawl irrelevancies. All part of the job. Young Bjorn from Beijing is opposite me. He's a rock scribe there, on a brief holiday in Hong Kong. I wonder how his review will turn out. We seem to be writing at different times about different things... Meanwhile, "Life Is A Bitch" by The Bastards is on the jukebox. Cool!!!

All the bands will play about 45 minutes. Up first are Rice Magnet, a power trio comprising Dave Ma on vox/gtr, Ken Ling on lead guitar and Eric Ng on drums. I'm wondering where Simon is. Not like him to miss his own magazine's showcase. I'm writing this down as he walks through the door. Co-Incidence? Cause and Effect? Wishful Thinking? Instant Gratification? "You've missed about 10 seconds of the show, mate"!" Dave has a deep, sonorous voice. I'm thinking a little bit Nick Cave, some Pete Murphy (Bauhaus), but the style is more nu-gothfolkdelic with a touch of Southern rock in the guitar solos, bit of Allman Brothers Band perhaps. Meanwhile, Steve Cray sidles up and remarks on the singer's sort of similarity to Elvis. Whatever, it works. Steve also likes the way Dave treats his vocals, using effects and overdubs of sorts to create a choir sound. Something like that, I was kind of drifting off in an ethereal bliss at the time. A shorthand review of the set would be in a similar style and mood to Reign Lee, albeit more macho and muscular. Songs include "End of the Affair" (the opening song), "Mood", "Losing" and "The End" from their debut CD "Never Let Go". There's a Chris Isaak cover, "King without a Castle" and a new tune called "Forget".

It's been a good start, but not entirely adhering to the Unplugged Concept. I'm thinking that this could turn into the Bruce Springsteen type of Unplugged Session (where "un" is XXXX'd out) as Hungry Ghost amble up, turn on, tune in and slowly get an improv groove growing. This is the first time I've seen Luke play since his laid-back set at Clockenflap. Certainly, it's the first time with Hungry Ghost, minus their drummer. Luke and Paul Lam on guitars. Tiffany L. on bass It's a 60's sort of mellow glide, part Grateful Dead noodling and part Kevin Ayres/Roy Harper shades of whimsy folk. It conjures up images of a vivid floral field, scampering kids entwined within. Picnic hampers and pipes. Boats punting on a river. Day-glow flashes. Riots of pulsing colours. Sounds merge. Notes coalesce. Long camera pullback over a field and river, across a road, over a wall, across a quad, up to a window and within. Fade to grey and a shot of a little boy in school, KNOWING the grass is definitely greener and greater out there. That's sort of how Hungry Ghost sounded. Provided an evocative dreamscape with pale echoes of what once was. A very pleasant chill out set. "Songs" included "This noise", "Internally External", "Chinese Families" and "Man Waltz". Not having their drummer did allow the remaining three to experiment. I've been told that when the mood is upon them, they're capable of dislodging your genitals, so to speak. Looking forward to hearing that sometime, but this was a great expectations deleter of a set.

Haven't seen too many recent Red Star Rising or Steve's solo shows, because he will be a gentleman and let all the other acts precede him. So, it's usually "...twang-g-g-g..." (fade out). "So long Steve. We're off to catch the ferry..." (usually yelled out of a taxi window). Tonight, though, there's time. It's also the first time I've had a chance to see Drummer Neil handling the twigs. Steve says welcome to "the semi-plugged night. We've got such a good crowd so rock it, let's fuck".

The band crashes into a mighty rendition of "Megaphone Man". Alex and Drummer Neil lay down a solid drum/bass foundation and Steve goes all finger-blurry on the opening solos. Steve, Alex and Neil have been playing together since January and they are tight. Drummer Neil is more 4-to-the-floor precision rock beats, with occasional flurries. Hugh the former drummer was more whimsical, shall I say? In and out of styles and tempos like a gifted amateur, while Drummer Neil is professional. Think of Ten Years After doing "I'm Coming Home" at Woodstock '69.

Alvin Lee is in full on why-play-5-notes-when-37-will-do mode. Leo Lyons on bass and Ric Lee on drums are tweaking new extracts out of minimalist performance. Doing hardly anything that shows while maintaining a relentless beat throughout the 9+ minute performance (on film. They played about 40 minutes on the night.)

The pace doesn't relent until Steve breaks a string during "Footsteps" and takes a little longer to replace it than he usually does, because he's enjoying the inter-riffery between the other two. The set is a stripped-down Greatest Hits. Tunes include "Red Claw", the grinder blues-rock of "Walking With The Devil" and the quirkiness (somewhat overused word at times, but it still fits) of "Escalator Girls", "Dollar Arcade" and especially "Shopping Malls". These three songs form a triptych of cultural, fiscal and sociological observations of the increasing importance of Mall Culture. (And they rock, dude...)

I've always heard "Shopping Malls" as their "Dark Star". Their Grateful Dead moment to stretch out for 20-30 minutes, segue into other material, mash up other hits, give everyone a solo etc. Perhaps, I should tell him this one day. You know, be discreet and obsequious and see what he thinks. Or on the oth..., hey, wait a minute, where is everyone? Oh, Drummer Neil's still here. "Great show. Very enjoyable. First time, I've..." "Isn't your ferry leaving about now?" "What's the time?" "12:28!" "G'bye" Taxi, Tardis, whatever. Get me to the ferry in 25 seconds. The digital clock in the taxi reads 12:23. It's accurate. "Made it, Ma!" (That gig was) "Top Of The World". And as the California Governator once said when asked which classical musician he would like to play in a film, "I'll be Bach." See you next month. ntb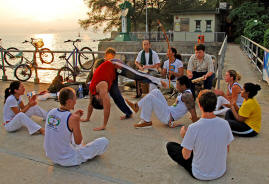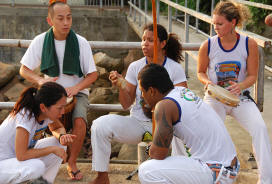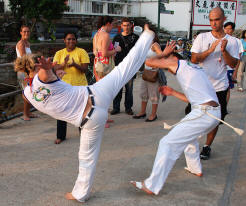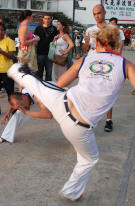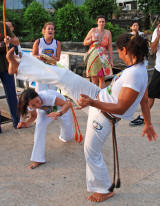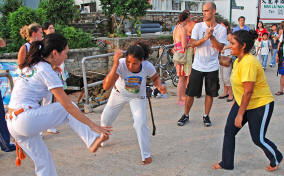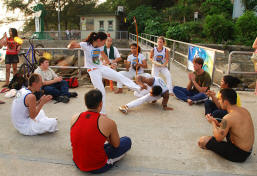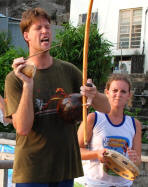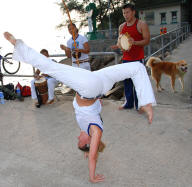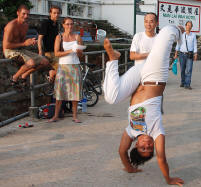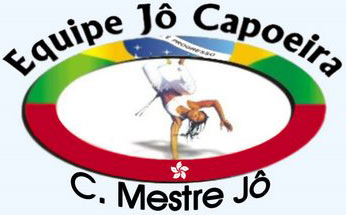 Biking to the ferry pier, I encountered a wonderful and exciting event today, a live demo of this Brazilian blend of martial art, game, music and dance. See Wikipedia.
Capoeira Open Day on Wed, Aug 13, 7-9pm at 1/F Lamma Ferry 4, Central. See Events Calendar and their website for more details.


The service operator contract of the Yung Shue Wan - Pak Kok Tsuen - Aberdeen ferry route will be running out in just five days, on Aug 14. Its future has been insecure till yesterday, when a new service operator has been announced, Tsui Wah Ferry Service, taking over from HKKF. They're a very small operator and have been running the Po Toi Island ferry service from Aberdeen plus various other ferries to small Outlying Islands.
See below one of the two ferries they'll be using for this route, nice-looking but not air-conditioned, with only 10 instead of 15 sailings on weekends and not coordinated with the YSW - Central ferries run by HKKF. To add insult to injury, a 37% fare increase to $17.50 has been announced and a $720 monthly ticket for the YSW - Pak Kok - Aberdeen route alone.
Check out the Proposed Operating Details, schedules and fares, plus backgrounds on the change-over and the new ferry co. in our very comprehensive forums:
Pak-kok Ferry results announced (English) and in Chinese.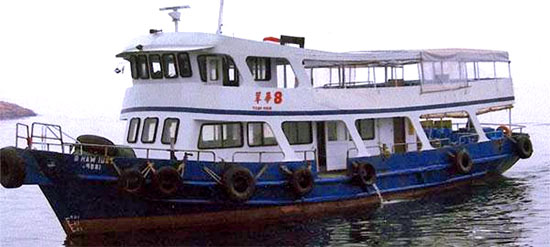 The people who will be affected by the new Pak Kok ferry had a meeting today (see below, photo by a Pak Kokian). They seem to agree that they can live with the fare increase but that the new, all-different schedules will cause a lot of disturbance; many people, especially children and teachers, will not be able to arrive at school on time.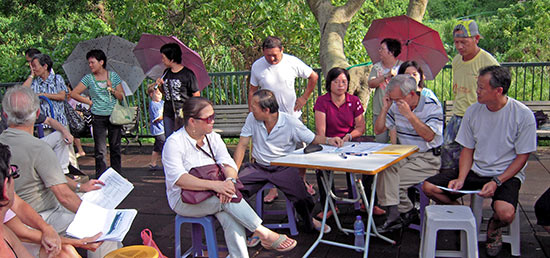 If you're also unhappy with some of these announced changes for any reason, you have only till Monday, Aug 11, to complain directly to the Transport Dept. to:
enquiry@thb.gov.hk, tdenq@td.gov.hk and janicelai@td.gov.hk.
Breaking news, just in:
A petition has been placed in Mrs Chan's shop in Pak Kok and The Green Cottage in Yung Shue Wan for people to sign. Support a request to the Transport Dept. to attend a meeting with Pak Kok and YSW residents re: the proposed new service! They need as many signatures as possible. The signed petition will be collected at 9AM on Monday morning to be forwarded to the Transport Dept. ASAP.
Hurry up, sign today or early on Monday morning on the way to the ferry!

Most Lammaites will be glued to their TVs tonight, watching the opening Beijing Olympics opening extravaganza, many of us on digital high-definition TV which has finally reached Lamma Island, just in time. Eight of the digital channels (including the 4 standard TVB/ATV channels) will cover various sports in parallel, for an all-you-can-watch buffet of sporting glory, watching China's gold medal tally go up almost daily.
The Equestrian Olympics events here in HK will also start tomorrow. But these high-brow sports with their black-tuxedoed and high-hatted riders are very unfamiliar, even exotic to the average Hongkonger who loves betting on horse racing only which is not featured in the Equestrian Olympics.
The Lamma Power Station of HK Electric has agreed to use more LPG gas during the events instead of coal in an effort to cut emission of pollutants during the Olympics and Paralympics events. "The two electric companies will increase their use of natural gas by about 20 per cent ... we hope this will help improve the city's air quality," HK's Secretary for the Environment Edward Yau Tang-wah said.
"Natural gas is still the cleanest fossil fuels, releasing 2,500 times less sulfur dioxide and five times less nitrogen oxides and carbon monoxide than coal. But so far it makes up only 17 per cent of energy generation for HK Electric due to cost concerns and technical constraints."
But as their profits have increased 15.7% from HK operations and 34.6% in international operations in the first half of this year, they might be able to afford these "cost concerns", at least for the days of the Olympics. Switzerland actually refused to participate in the Equestrian events due to HK air pollution concerns.
And be forewarned, HK Electric writes in their STEADY GROWTH - Interim Results Highlights for 2008: "The current high coal prices are expected to result in higher fuel costs for 2008 which will apply significant pressure on tariffs."
---
Another Lamma angle to the Olympics:
Ex-Lammaite Peter Danford won the Grand Prize in Beijing Tourism Administration's annual photography contest with a photo of the Olympic Swim Cube. Over 13,000 entries from 50 countries were submitted and the prize was awarded on Nov 29, 2006. This generated many articles and even TV interviews, making Peter quite well-known for a while in Beijing where he now resides.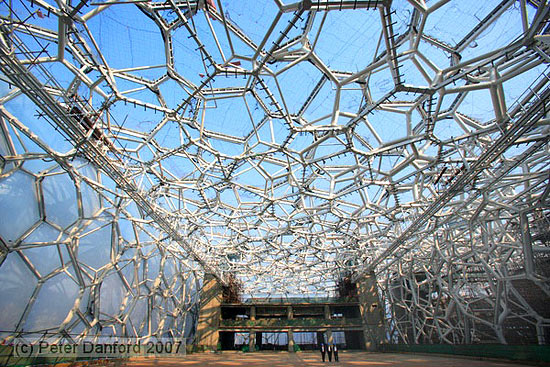 I worked with Peter when he created a virtual reality tour of Lamma for my tourism website about ten years ago. He also shot an interactive 360-degree panorama from his Pak Kok rooftop. These are lost in cyberspace these days, but there's lots more fun and interactive stuff on his website:

Join Lamma's most sophisticated party animals and snappiest dressers! They really know how to put on a great after-games party, awards dinner, Christmas ball, wedding, baby shower or any other good excuse to have a great time with their closest friends, fellow players plus their families, of course.
But in-between all these fun parties, they compete very successfully in various cricket contests around HK and even internationally, often winning and making Lamma proud. But they need new players (men and women) for this season. The men play on Saturdays starting September and the women play on alternate Sundays (September - December).
Become part of this very successful and active sports club! For example, the Lamma women's team has won the HK Women's League Trophy for the fourth year in succession! The men's team isn't too shabby either, scoring a most impressive record. The Lamma CC members love their regular awards dinners where they can show off all their shiny bling:
And if you're trying to start a family, the Lamma CC is THE hot club to join:
Three babies were born to Lamma CC parents within twelve days of one another at the beginning of 2008! Maybe that's why they'll be holding cricket coaching session for "Lamma kids" soon. The next generation of Lamma cricketers is secured and will be trained from an early age, swinging a bat even before they can walk!
Check out their comprehensive and professional website at www.LammaCC.com and contact brad@lammacc.com if you might be interested or have questions.

From my biweekly Lamma-zine e-mail to 3,600+ subscribers
(Subscribe at drop-down menu above, please):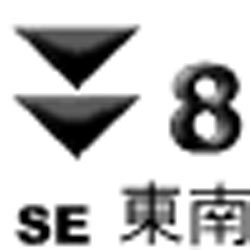 Dear Lamma-zine reader,
Typhoon Special!
Signal 8 is raised and we Lammaites are trapped on the island with no ferries this morning and probably most of the day. Well, my rooftop garden has been secured, canopies have been rolled up and Lamma-Por is so happy about a paid day off work, enjoying her high-definition TV soap operas. It's also time again for Lamma's famous Typhoon Parties!
Email just in: "And a very good day off to you all. May you come through the storm without mishap. The Island Bar will be at your service from high noon." Other bars might join in...
Also, what are we left-behind Lammaites up to while so many of our friends have abandoned Lamma for the summer to travel the world? In reverse, are you getting visits from relatives and "old friends" who suddenly remember that you're still alive and living on an island in Hong Kong? And what are all these other Lammaites up to?
- The Lamma Ladies conquering Penang
- Barflies, eh, patrons mourning the sudden end of a local landmark
- Distemper spreading on Lamma
- Lamma-Por in High-Definition TV Heaven
- Vile Spambots attacking Lamma.com.hk
- Beautiful Woodland Spiders decorating our forests
- The Japanese Sitar and the Mexican Tabla Maestros entertaining us
- Saheb, Artist of the Month, mixing it up in his Photo Booth
- Andy the former Stick Insect Hunter going corporate
- GreenLammaGroup cleaning up two beaches (again!)
- Lamma-Gung losing 100 pounds but still not being happy
- Meynard the Street Dance Champ looking for new talent
- Dofi & friends graffitising the Fountainhead (again)
Find out by visiting the website at http://Lamma.com.hk
Please also check out our active Chinese/English forums at http://Lamma.com.hk/forum if you want to:
- FIND any info about Lamma and get your questions answered
- MEET Lammaites with similar interests, hobbies or problems
- SHOW off your talents by submitting your photos and writing
- PROMOTE anything (your event, good cause, hobby, rant, praise,...)
- LOOK for any Lamma website, blog, photo, sound, video
- CHECK out the events (local or off-island involving Lammaites)
- SELL something in our free classifieds and Bilingual Yellow Pages
All these new stories - but also 1,000+ stories of the last 6 years - are all online and searchable now at http://Lamma.com.hk. Enjoy!

Cristobal de Lamma (text, pictures & captions; click to enlarge)

All good things eventually come to an end.

Sunday, July 28 marked the end of Spicy Island - well known, if not infamous - Restaurant and Bar located for many years on Main Street, Yung Shue Wan.

No more quality Indian food. No more Bollywood videos. No more idiosyncratic service delivered without charge (unlike the French). No more "best people watching" and "rendezvous location" for many of us Lammaites.

For the final night, some of our lovely local Thai ladies prepared and delivered excellent Thai food. Mrs Singh was not able to cook up a final meal as access to the kitchen is blocked by plywood sheeting. Thus, no farewell Indian meal.

Spicy Island regulars turned out to enjoy a last evening of soaking up atmosphere and memories.
At around 10:30 Amar Singh demanded all bar bills be paid, then rang the bell. Open bar after that.
Definitely a fine way to say, "Thanks for your support!" to the people who supported his business over the years. Very much appreciated by everyone that night. Thank you, Amar!

And what caused this last night to happen? The answer is real estate. Or more precisely, lease renewals. Just like Tsim Sha Tsui, businesses are forced to move because of lease changes and/or rent increases. Big City problems have arrived on Lamma. What's next? Traffic cameras on Main Street? License plates for bicycles?

Fortunately, I was able to buy a genuine Spicy Island table to use as my dining table. So I have a little bit of "Spicy Island" to keep for my own.

Now what to do? Spicy Island's uniqueness makes it difficult to replace. Location, food, service (?), pricing and informality made it more than just another pub. It was a home away from home. A place to go to, to meet friends and then make a decision of where to go or what to do. And in many cases, just be lazy and not leave Spicy. On the other hand, maybe it won't take me 12 hours anymore to get a newspaper.

Simply stated: Spicy was more than "just another pub". We can only hope to see if there will be a Spicy Island, Part 2. It will not be easy to surpass the original.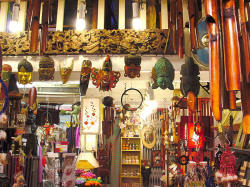 I still feel a bit odd about being quoted in newspapers and magazines more and more frequently. Some local and even overseas media seem to start treating me as a kind of unofficial Lamma ambassador, asking for interviews and photos for their own Lamma-related stories. SCMP is working on a follow-up on our Distemper story, JoongAng Daily in Seoul published my photos and Dollarsaver is just asking for my comments on a Lamma story they'll publish in the next issue. I don't mind doing all of these, but sometimes it feels a bit like working for free for these purely commercial media, as they all seem to have in common that they usually refuse to pay for any input, interviews and photos from a freelancer.
All of this promotional work cuts into my time working on my own Lamma-zine stories. Supposedly semi-retired, how come I work seven days most weeks? Saving me some precious time, instead of writing my own story today, let me do a story about a story where I've been assisting with words & pictures.
In almost all HK hotel rooms and in touristy places right now, you can find the Aug issue of the glossy CityLife magazine. It features a bilingual cover story written by their editor, quoting extensively from the email interview she did with me a few weeks ago: "A Breath of Fresh Air - Vanessa Ko explores Lamma Island, a haven from the hectic Hong Kong lifestyle." Check it out for yourself on the CityLife Magazine website.
Two of my photos from the Lamma Photo of the Day archive were used, interestingly the JoongAng Daily chose exactly the same sunset picture for their story. Some quotes from the CityLife cover story, based on my interview:
"Not quite hippies then, but the people of Lamma are indeed living alternative lifestyles, compared to their urban counterparts."
"Residents have a peaceful environment while still enjoying the major modern luxuries of air conditioning, wi-fi, mobile connections and clean drinking water... the benefits far outweigh the disadvantages."
"The close-knit community is the best part of island living...very unusual in Hong Kong to have a neighbourhood community where people know each other, care for each other and help out if needed."
"Other eateries recommended by Lamma-Gung are Deli Lamma (36 Main St, Yung Shue Wan) and the Waterfront Bar and Restaurant (58 Main St, Yung Shue Wan)."
"www.lamma.com.hk
Visit Lamma-Gung's website and blog, full of information and photographs of Lamma Island."
The story also called me "probably the island's most fervent supporter". A very nice compliment, I can live with that! ;-)

Do you have loads of weird and wonderful talents, like so many Lammaites? Maybe even got a few few hidden ones, only your closest friends know about? Have you ever thought of teaching them to fellow Lammaites, spreading and expanding your special skills? Talents like taking great photos, making your own movie, graffiti, skateboarding, or even more common skills like the ones listed in the poster below? Professional qualifications welcome, but not really necessary. If you'd like to teach this autumn and even be paid a bit, contact Gary at the Lamma Activities Centre, who's looking for people like you!

Captain Gina Meana (above left, showing her usual face) -
Lamma Ladies Dragonboat team

(All photos & captions by Lamma Ladies. Click photos to enlarge them.
Follow their exploits day by day, check out the daily Lamma Ladies blog!)

Sorry for the long silence. The Lamma Ladies have been training their little butts off and killing themselves to raise money to do International Club Championships in Penang. We leave Wednesday and are all getting a little excited and nervous. This is the highest-calibre of racing we've done thus far and our goals are not modest, as we are aiming for top-place.

That may sound mild for the Lamma Ladies, but here is a snapshot of the competition as a measure of people we will paddle against, here.

In any case, I intend to post photos, video and any comments from Penang regularly (likely in the evenings) and we would be delighted if you were interested in running these in Lamma.com.hk - not just because we are fame-whores, but because we have raised money on Lamma and we want people to know that their fund-raising donations have gone to a worthy cause.

In the event that there are photos of us hanging around sexy men, we are NOT having fun; we are infiltrating the enemy to learn new paddle tips. Honest.

I hope to post all information to the Lamma Ladies blog: LammaLadies.blogspot.com


After 20+ years in HK, I'm not really homesick for Switzerland anymore, except on National Day, today. Founded in 1291, my home country remains still partially true to many of the clichés and first impressions that most people seem to have (see fridge magnets below). Less than a handful of Swiss live on Lamma, to my knowledge. Contact me!

So what's this Swiss couple, Lamma-Por & Lamma-Gung, been up to on National Day? Well, having some Swiss cuisine, of course! Venturing off-island into deepest, darkest Tsim Sha Tsui, where only tourists dare to go, we shared a set lunch in Swiss Chalet Restaurant, our first visit in 10+ years. An amazing value for money ($142), this 5-star, authentically Swiss "Executive Lunch" even includes wine, coffee, dessert/cheese platter and petit fours in the price! I just ADORE their cheese platter! This was a rare and special treat for us, living a very modest but very happy life.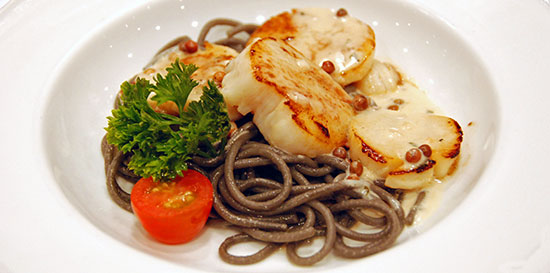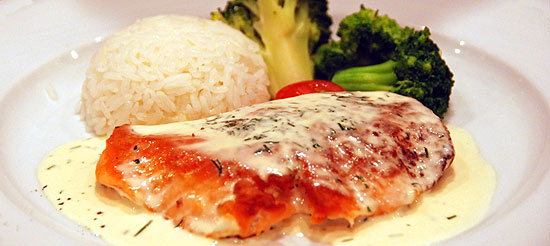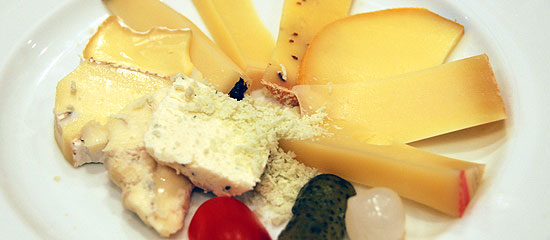 But besides being cheese, chocolate and watch lovers, did you know that some Swiss are pyromaniacs? We light up the scenic hilltops with huge wooden bonfires and fireworks will go off (legally) all over Switzerland tonight. As a rascal growing up in the rural countryside I used to spend some of my tiny pocket money on Chinese-made fireworks, competing with our neighbours for the most impressive pyrotechnic displays outside our houses, usually keeping the burn injuries to an acceptable minimum. No pain, no gain. Fortunately, eyebrows grow back, but slowly. These childhood memories make me love Lamma even more, as the wild, chaotic, disorganised, free-for-all fireworks extravaganza at Chinese New Year reminds me so much of National Days back home...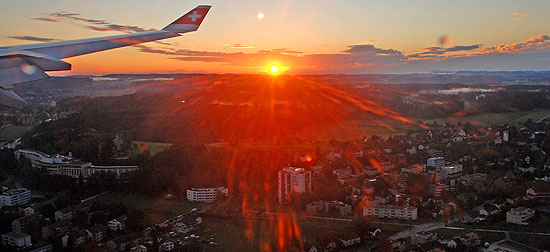 Last year was the first time in decades that Lamma-Por and I had been back in Switzerland on Aug 1 (see sunrise landing in Zurich; by Swiss Air, of course). We eagerly joined in the fireworking festivities! But enough nostalgic ramblings... bring on the fiery pictures! But first you must endure listening to a politician's patriotic speech during the National Day celebrations, just outside my primary school. Plus some Swiss yodeling afterwards, of course! (Click to enlarge pictures)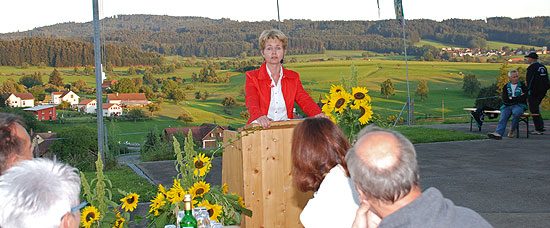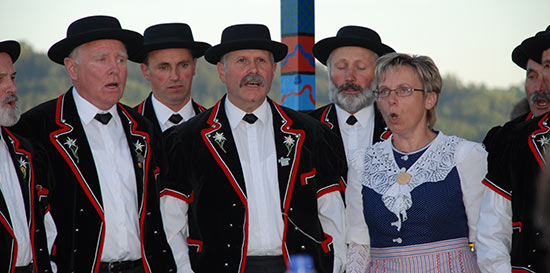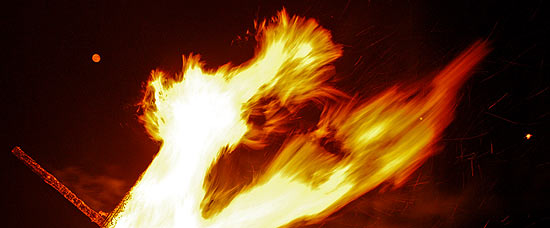 ---