Dec 31: Top 12 Lamma-zine Stories of 2006
All these year-end reviews on TV, radio, newspapers and all over the Internet and not one of them is reviewing the major events on Lamma this past year! An unforgivable oversight by the old and new media alike which has to be rectified RIGHT NOW! Here they are, my twelve personal highlights in Lamma-zine stories, one per month. It's been a good year, 365 stories, about news & events, people & pets, opinions & views, with thousands of photos (plus a few videos and animations) from so many contributors.
Here's a list of all Lamma-zine stories ever published: Archive.
It's been a good year for the Lamma-zine, the readership and traffic have almost doubled, it's become really widely read in the community and seems to have quite a loyal following, some frequent and many one-time contributors and even a few major, loyal advertisers. Thank you, HK Electric, Links Relocations, Bookworm Cafe, Deli Lamma and The Island Bar for just extending their long-running ad banners into 2007. (Our special ad offers with free website, free ad production and free advertorial are still valid till end of Jan: Advertising Special Offer in English and Chinese!
If you don't agree with my Top 12, well, that's not my problem, isn't it? But you're most welcome to submit other, better Lamma-zine stories yourself! A funny, heart-warming story about your dog, perhaps? There were quite a few dodgy, eh, doggy stories this year. How about sending me a story about your own 15 minutes of fame (or infamy), we love those! Without further hubris, hubbub and hullabaloo, let's list Lamma-Gung's personal favourites and honour the contributors who wrote and photographed them. Click on the story titles to read them:
Best of the Lamma-zine 2006

Date

Story title

Contributor

Jan 10

I got an email from Cher at "The Young Reporter". She had found this blog online via the "Best Blogs in Asia" competition where this Lamma-zine Blog was voted #1 in HK.

Cher Wang Xue

Feb 28

Quite a career for a country boy growing up barefoot in a very poor Lamma Island family, attending the local primary school!

Charlotte

Mar 6

Fountain Head Graffiti Makeover

A crack team of HK's best graffiti artists completed these paintings recently.

L-G, artists, Taipengshan

Apr 2

The Good Old Days - Lamma in the Handover Years

Arriving on Lamma was like stepping through a Tardis [Editor: Dr. Who's time-traveling policebox] and entering a completely different country from the rest of HK...

Caroline Scott

May 27

Photojournalist, Rock Idol & Biblical Scholar!

Some Lammaites are amazingly multi-talented. My own very modest talents all fade into ridiculous insignificance compared to the great blessings of some of our Lamma celebrities.

L-G, Prof Red Star

Jun 11

During this World-Cup-crazy weekend, let's hear from our home-grown talent, the Lamma Football Club!

Players of the Lamma Football Club

Jul 29

Civil Celebration of a Lamma Wedding

Lamma can be a wonderful place to get married. Several local places can handle wedding parties well. With the recent introduction of getting married outside the marriage registration offices, you can get married anywhere you like...

L-G, Steve,

Jennifer

Aug 19

Cuddly Little Fruit Bats Love Longans!

Rarely ever have we seen good photos of local bats on Lamma. Petri the Batmaaaan shot all of these from his balcony, flashing these "fruity bats" the other night with his pocket cam.

Petri
Sep 22

Disabled Dog Delivers Yippy Inspiration

Mimi, a tiny dog living on Lamma Island in Hong Kong, teaches every human she encounters valuable lessons on how best to deal with life's hard knocks.

Jay Scott Kanes
Oct 28

Lamma Fun, Food & Friends (and Music, too)

The first sets of photos from the Lamma Fun Day last Sunday are available now, plus gig reviews by our new Official Court Reviewer of Lamma Bands!

Bob Davis, Cat, Andy Maluche, Miu, Simonltk, Jessica Mak, Nick the Book.

Nov 8

Big Success of No Hillfire Campaign!

There wasn't a single hillfire on Lamma Island at the Chung Yeung "grave-burning" festival this year! Who should we thank for this wonderful achievement? The Conservancy Association (CA) and the HK Electric Volunteers, that's who!

Doris

Dec 12

Treasure Hunting for Operation Santa Claus

A Ripping Success for The Island Bar's 7th Annual Treasure Hunt.

The Island Bar, SCMP Staff Reporter

Dec 30: Santa on the Beach, With Angels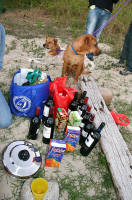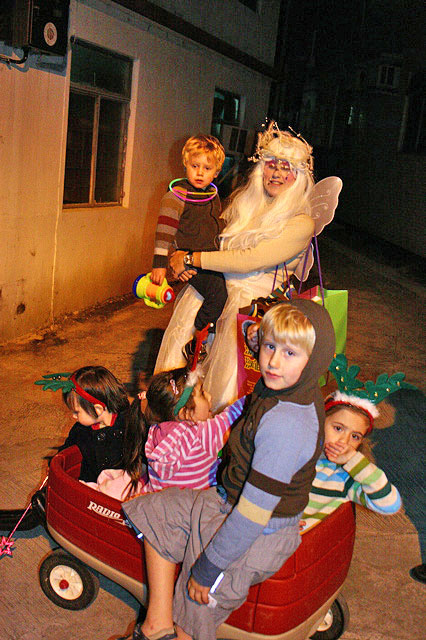 Dec 23, Power Station Beach, sunset:
A mix of a pagan winter solstice festival mixed up with Santa Claus holding court for the youngsters. That might explain Santa flanked and assisted by fairies (or are those angels?) With all the Glühwein - hot red wine, fruits and spices! - and the cosy fire on the beach, it looks like a real Lamma event: fun, friendly, for all the family. Stine submitted all the fine photos and this little write-up:
"Families gathered for an informal Santa party at the Power Station Beach on the 23 December. There was a bonfire and mulled wine for the big people.
Santa arrived escorted by lovely white angels. All the children were excited to receive their little pressies from the man with the white beard!
A few of us attempted a few carols by the bonfire. This event being on the beach may seem strange to non-antipodeans. I am sure Santa himself would find this event a great break from all that snow! I wonder where he kept the reindeers?
Fun was had by all!"


Dec 29: Sara Sene - Cartoonist of the Month
December's "Lamma Artist of the Month" is a political cartoonist friend of Harry Harrison. Harry introduced me to Sri Lankan cartoonist Sara now living on Lamma part-time. Sara described Harry as an "Angel from Heaven and a highly talented Editorial Political cartoonist who should be on top of the world. He is number one in my list. I have never ever met such a wonderful GENTLEMAN like Harry in my entire life time."
Don't we all agree with these fine sentiments? Hey, Harry, as an "Angel from Heaven", how about bringing some New Year fun and cheer to all your fans and friends? Oh, you're doing that already via your daily cartoons and many charitable deeds.
Lamma-Por and I enjoyed a very pleasant dinner in Spicy Island with Sara. Wow! He's a talker! He regaled us for hours with his fun and friendly stories of his fascinating life, travels, beliefs and many achievements. You can check them out on his biography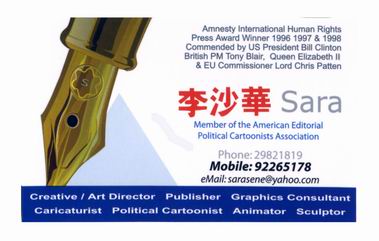 page, one of the most impressive artist CVs you'll ever come across: Sara Biography.
But let his amazing caricatures and his artworks speak for themselves. Here are just a few samples from www.SaraSene.com, which is neatly categorised into Funworld, Political, Sports, Caricatures, Drawings, etc.: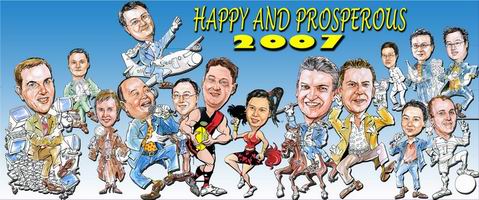 Dec 28: My Last Christmas 2006 Photos
Yes, I know that Christmas is over and you're getting ready for the big New Year's Eve parties, but I've got a few more Christmassy photos to show while the decorations are still up in the shopping malls. I shot these in the Pacific Place mall in Central, Hong Kong Island and the YSW Shopping Mall (IFC mall).
Click on photos to enlarge them:

Dec 27: Free Lamma Wildlife 2007 Calendars!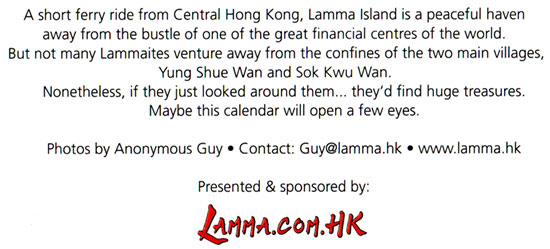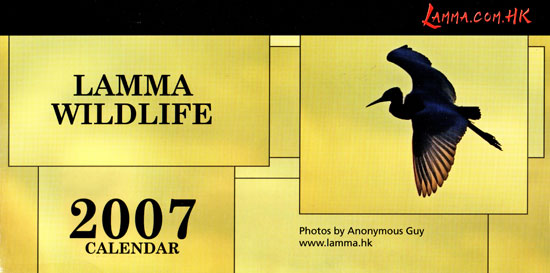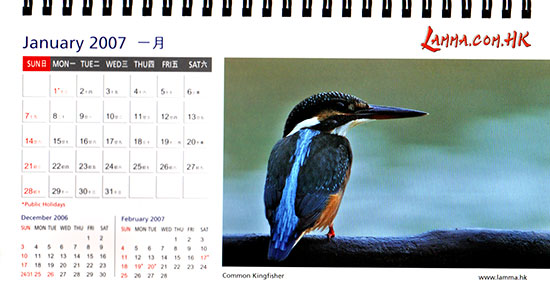 Some of you might have seen this desktop calendar at the Lamma Fun Day. I, Lamma-Por and moderators Samson and Alan were selling them at the Lamma.com.hk booth. All profits went directly to the Child Welfare Scheme, of course. Well, there are quite a few left and they can be purchased from Anonymous_Guy directly (click on name to order), as soon as he'll return from his vacation next week. Price tba. For free calendars, skip down.
Guy's shot all the pictures on North Lamma, supervised the calendar design/ production and even paid for it. Fantastic job, Guy, his first-ever calendar! It was my idea and I've been consulting - having done several sponsored desktop calendars before showing my computer art. But ALL the credit for this beautiful product belongs to Guy alone. It shows off 13 of his very best Lamma wildlife shots, selected from tens of thousands he's taken over the last two years. Most of them have been featured before in our "Wildlife Photo of the Day" spot.
Guy will make the calendars available in some Lamma shops soon as well, I hope, trying to recoup his considerable design and printing costs. This is the only Lamma calendar we're aware of and it makes a great souvenir or present for your overseas friends and relatives!
Free Lamma Wildlife 2007 Calendar:
If you're a regular contributor or supporter of this website, for example having submitted something substantial to the Lamma-zine, you can get a free calendar, courtesy of Lamma-Gung. I've bought a few dozens from Guy as promotional gifts for this website. Just email me and I'll drop it off for you somewhere on YSW Main Street, if you live here. Local and overseas order will be happily mailed out in special cases, for example if you're really eager for this calendar, for example if you're a home-sick ex-Lammaite or an off-Lamma contributor.
You can also approach me on Main Street or the ferry, don't be shy! I'll be carrying a few calendars with me these days, handing them out to all of you website contributors, supporters and advertisers, everybody who's helped to make Lamma.com.hk into the successful community website it has become today.
---
P.S. Our Advertising Special Offers are still valid, but till next week only!
Get your ad on this home page, just one click from the #1 search result in Google for "Lamma Island" (#2 for "Lamma"; almost 3 million hits/month), for just $333/month! Free websites and advertorials for one-year commitments!

Dec 26 - Boxing Day: Christmas Presents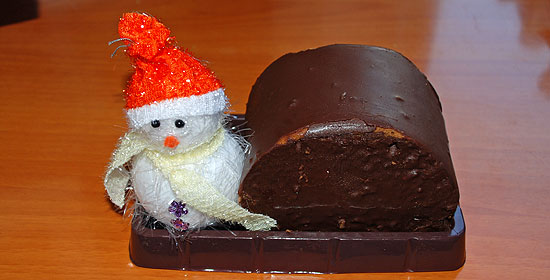 Where can you get this snowman and his (chocolate) snow roll for free in YSW?
For an answer click on the snowman above...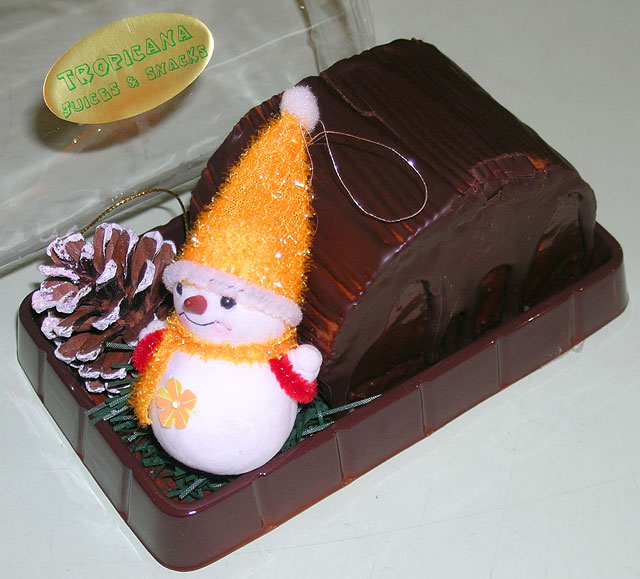 This seems to be the ONLY place in all of YSW to follow the Western tradition of handing out presents to their regular customers. This is just one of the many reasons why Ah-Can has such loyal customers and stable business, unlike most other Lamma restaurants. Smiling at every customer, having treats for their dogs and being nice to babies and pets are just a few more of the many reasons...
There's also another Christmas present for ALL of us living on Lamma, announced just in time for Christmas on Dec 21: an electricity tariff increase of 2.5%, effective Jan 1st. Electric Christmas lights will still twinkle at the old tariff till Dec 31.

Dec 25 - Christmas Day: 'Let's hope for a peaceful year 2007 and that friendship & family will be always more important than money & business!'
This is the best Christmas wish I've received so far this year. Very Lamma, but not very HK at all. The Lamma-zine hopes that you've had a fantastic holiday so far?
A Merry & Meritorious Christmas full of Merriment & Merrymaking to all our readers!

It's 7:25pm right now and we've just finished our yearly, traditional turkey-on-a-rooftop lunch, after starting 5 hours ago…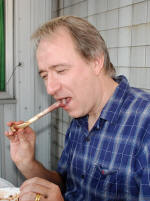 Our fridge is full to the brim with leftovers which will last us at least till Chinese New Year. I lost the Eat-a-whole-turkey-leg Challenge to Lamma's famous STBWFLA (Jay Scott Kanes, see photo on the right for proof of his win), so I had to take ALL the leftovers home... I'll be stuck with all of them by myself, as Lamma-Por doesn't eat any leftovers. It's against her deepest spiritual principles as a Noleftovertarian, she tells me. But I always thought her to be a Catholic, when did she change her beliefs? Or is it a new diet?
Would you believe that the pretty lady below is an almost-Vegetarian and a regular of Life Café? Yes, it's true, despite this incriminating photo! She ordered another turkey the next day for another Eat-a-whole-turkey-leg Challenge with another set of friends! I admire her endurance! Let's nickname her Mrs. Flintstone from now on, creating another new Lamma Celebrity.
I put my ancient (university days) cooking skills to the test, preparing the roast potatoes and Brussels sprouts to go along with the 10+ pound roasted turkey from New Holiday Mood. After my cooking, our kitchen will never look the same and might need some major cleanup...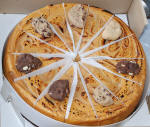 Falling into bed like a stone at 8pm, sleeping like a log for a full eleven hours, dreaming of a leftover breakfast... and lunch... and dinner... and breakfast... In my nightmare - induced by stuffing myself with stuffed turkey - there's an angry flock of turkeys chasing me through the hills above Yung Shue Wan...
But it was a great event, nonetheless, fine food and great company with great friends & family, all so much more important than money & business... Wishing you great business & loads of cash next year, nonetheless!
---
P.S. Jay Scott Kanes:
"Dear Lamma-Gung,
"Evidently, my younger brother Malcolm, who visited Lamma for Christmas in 2004 and ate a series of meals on our veranda, not only picked up the Lamma.com.hk habit, but he recognized some familiar elements in your Christmas Day story. You'll see his comments below.
"Lamma-Gung, your holiday reflections and sentiments (above) were very impressive. Would you mind if I reproduced a slightly edited version as a New Year message (guest editorial) in Cairns Media Magazine?"
Malcolm, Jay's brother:
"So now it's public record! My bro can suck a turkey leg clean in 8.5 seconds flat! Watching in horrid fascination, the onlookers murmured amongst themselves, "Sure bet the Prince Edward Island turkey population shot up after this guy moved to Hong Kong!" Other competitors could only stare in mid-bite, knowing that they'd been set up for slaughter. Kanes belched, glancing around for seconds.
"I always suspected that I came from a talented family, but - until now - hadn't been able to pinpoint the nature of our genius. Now I know. Must be some Tyrannosaurus Rex DNA somewhere in the bloodline, I reckon.
"You can just direct this note to your file for smart-ass comments from your little brother ... Don't mention it. After all, what are little brothers for? The food looked wonderful, by the way."

Dec 24 - Christmas Eve: Children's Cheerful Christmas Carols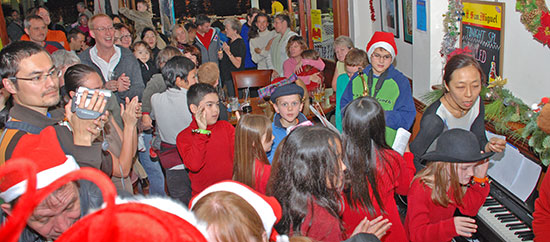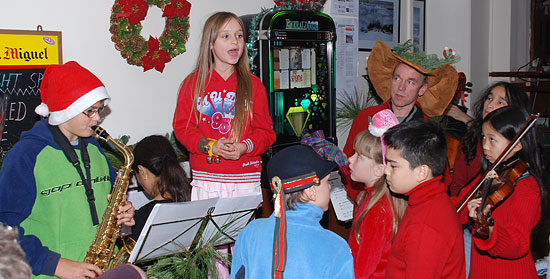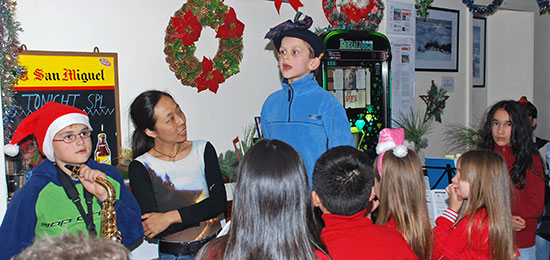 Loads of Christmas cheer in The Island Bar yesterday night while the "Lamma X'mas Kids" were carolling while young and grown-up musicians accompanied them. As Wandering Minstrels they went on to stroll along Main Street, collecting donations for Operation Santa Claus.
Click photos by L-G above to enlarge them. More pictures to follow later today...
...waiting... still waiting...
...here they are, all by Dan Peterson, proud father of Sasha (below right), the pretty & talented young woman I've seen growing up happily these last 5 years.
5 years on Lamma a few weeks ago! Do we get a survival badge of honour or something? Can we officially upgrade from Lamma Newbie to Junior Lammaite now? Still another 15 years to go till we'll become Senior Lammaites...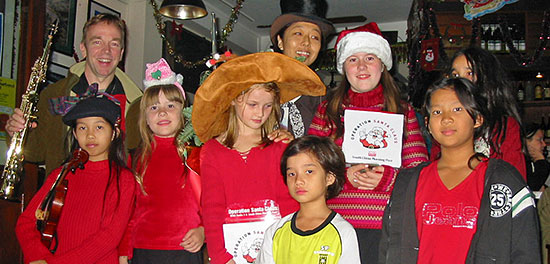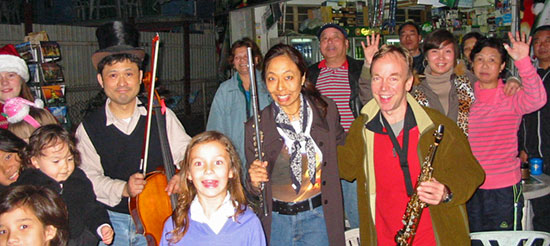 Rie Wada - "Lamma X'mas Kids" founder/organiser (photos by Dan Peterson)

The young saxophone player, Lukas, he is 11 years old, and studying in French Int'l School, (where my daughter Louie studies as well).

He is also studying in the Academy for Performing Arts. Louie and Lukas worked for French orchestra together for this winter. He came from Czechoslovakia.

The other guest player, cello man Mr. Yama-moto, is a 'violin maker' and works for the Music Chamber in Wanchai. He also works for many strings players of the HK Philharmonic and other major orchestras in HK.

My old friends John and Dave couldn't join in tonight. But they played music the whole afternoon in Happy Valley with Louie today, before Louie returned to Lamma. They also had an important gig tonight in town.

All the children wore red and sang together. I'm happy tonight that I could help to improve the musical life on Lamma.

We went through the village with the children and musicians, like wandering minstrels (see photos by Dan Peterson).

There was another gig by the Nude guys (Matt, John Saeki, Burney, etc.) Yeahhh!! These guys are all my old friends.

I and Louie have one more important gig: we'll do the music for Lamma's Catholic Church Choir tomorrow night, midnight mass.

We raised over $4,000 for Operation Santa Claus! Compared with last year, it's a bit less; probably it was a bit late to walk through the village after 11pm.

But Dan took a lot of interesting pictures. My friend walked with his big cello through Main Street and played it. He had to find a chair everywhere, it's was very funny and nice!! He usually plays cello for the SAR orchestra. I believe he had a very nice experience on that night.

I left around midnight, but the gig was still going on at The Island bar, because Matt was playing carols. Wow!! He is good at playing carols, so totally different from Nude!! John Saeki and Burney were also still playing music! Some customers enjoyed this band singing and performing carols a lot.

Anyway, we're all going to take a rest now!!

Love and Music for your life!

Merry Christmas and Happy New Year !!

Dec 23: 'Lamma Version of Rudolph Reindeer –
Googie Woogie Version'
An interesting charity event is happening at The Island bar tonight. I'm not exactly sure what it will be, but I think it's a little Christmas concert with adult musicians and children singing carols. It's starting after 8pm tonight outside The Island Bar. After the concert and singing, it'll progress through Main Street in a Wandering Minstrels fashion, collecting donations for Operation Santa Claus. It was a really nice and cheerful event last year, see photo gallery. Let's hear from the organiser: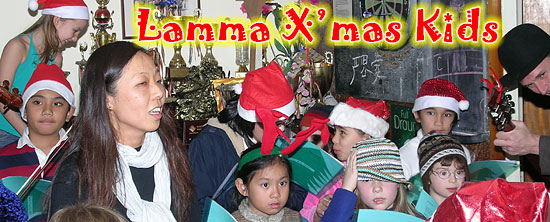 Rie Wada - Lamma X'mas Kids founder and organiser; mother of Louie the Violin Child Prodigy.

[Editor: Many edits have been made to fix most typos and improve the legibility, but I've been trying not to deter from the spontaneity and originality of the submitted text, which is reflecting the fun and "spontaneity" of many Lamma events. Some funny names have intentionally not been corrected.]

The details: We'll have a different, great Xmas show, we will have a piano. Sorry, but it's electric, but it will be decorated by nice green and real Christmas leaves, etc.

Matt / the nude will play, he does Elton John.

Burney will set up the drums (Sam's brother).

Anthony will play alto saxophone this time (first time).

John Saeki will play acoustic guitar.

This band will play at The Island Bar (not on the stage this time).

I have their PA, so it will be very specially set up near the door, all the acoustic sound go outside, they will play jazzy stuff, including some Christmas tunes.

Sam will show up later to play trumpet.

Justin / the nude will also show up later.

Hopefully, John Hutton and David will show up with Louie.

Einslie will sing Lamma version of Rudolph reindeer / googie woogie version.

I and Louie and Mr. Yamamoto (violin maker, also cellist) will play Bach's concerto for 2 violins, D minor, for the opening, followed by many many pieces of music.

Dan the Buster will show up later to sing carols with the children.

Louie just completed her final concert at the French school on the day before yesterday, today we went to the mountain to get these pine trees leaves to decorate the piano.

The show start from 8:00 PM.

You can advertise if to any music lover or whoever can play instrumental can come to The Island Bar (sorry, no jumbe and drum, please, as we have enough percussionists).

OK, sorry about late everything, I'm nearly dead end and I need my practice too...

For any info, call me at 2982 2436.

It's not only for adults, all kids and family will be welcome to sing and dance with the band at The Island Bar!

Sorry, I forgot, Alistair, he will show up with a special hat this year.

A bit PS: Alistair the Rudolph Reindeer will be Emcee for the show.
P.S. II: There'll be more carol singing at The Island Bar tomorrow, Sunday, Christmas Eve, starting at 9:30pm, for adults only. "Dan the Buster" (see above) might make a repeat appearance at this yearly event.

Dec 22: 'Self Indulgence, Debauchery & Seafood'
Daniel MomentEye: (Photo-montage below by Lamma-Gung)
Merry Christmas Everybody!
The HK Copy News Christmas edition is now online: Issue 14, Dec 22
Christmas Special!!! Last minute gift ideas, self indulgence, debauchery and seafood - Hong Kong Copy News has it all.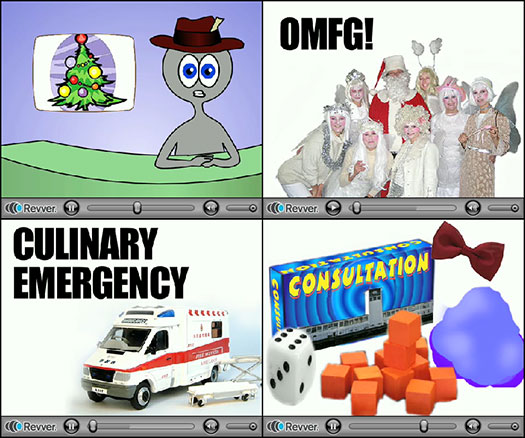 The studio will be closing for the holidays so there will be a slight interruption in transmission. Regularly scheduled service will resume on January 15th.

Dec 21: Snake Banquet
in progress...

Dec 20: Typically Lamma!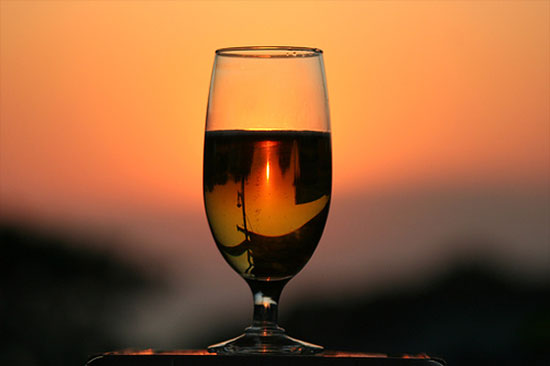 Zep, our Flora & Fauna forum moderator, writes:
"A fine way to end a cool sunny day - watch the sunset from the roof top through a beerglass darkly."
This image is so "Typically Lamma!", expressing in a single image so much of what living on Lamma is all about: Sitting on your rooftop, having a drink, watching the sunset, working from home, being at home at sunset time, relaxing, being creative by taking a great picture of it all...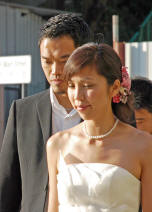 I was also watching the very same sunset yesterday, sitting in Green Cottage - right above the beach of Yung Shue Wan - seeing a fire red disk merging into the hills of Lantau Island. But I was "working", talking to a potential new client to build an education-related website for him.
I almost shot this pretty sunset myself as well, always carrying my Nikon D80 and accessories almost every-where I go, always ready for an often fleeting, temporary photo opportunity. I took a few pictures of a just-married couple walking by instead.
For more Typically Lamma! pictures and to post your own, click here! Click photos below to enlarge.

Dec 19: 'Journey to Find the Imperishable Energy'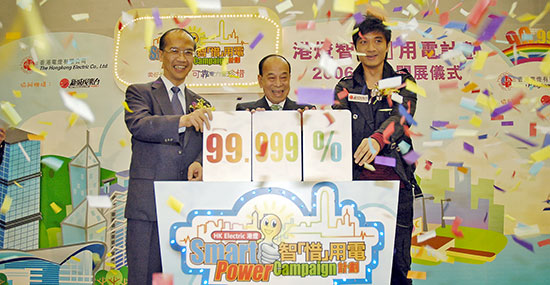 港燈義工、保良局家舍小朋友與他們合力炮製的十二雪山合照。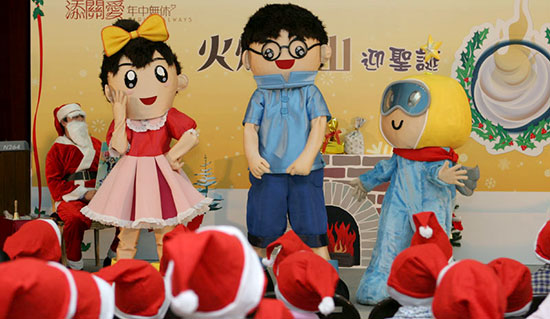 "The occasion also had educational side to it: the children were shown a popular drama 'Journey to Find the Imperishable Energy' produced especially for young people by Hongkong Electric to show them how to use electricity wisely."
Did YOU know that there is something called "Imperishable Energy"? According to a HK Electric's press release from yesterday they seem to have been searching for this mysterious new source of energy for a while now ("Journey to Find..."). It seems to be even better than "Renewable Energy" which they have been promoting so actively, especially to children and seniors through their many public relations events, like the one described above.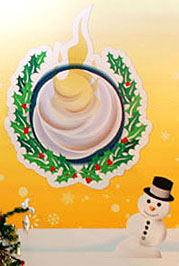 Is their logo on the right signifying this mysterious new form of energy? It could be far beyond the four basic forces of the universe discovered so far and described by scientists: weak and strong nuclear forces, electromechanical force and gravitational force. Is HK Electric suggesting a 5th basic force, the "Imperishable Energy"? This could be Nobel-Prize-worthy research, here on Lamma, inside our quite secretive Power Station? Wow!
Maybe this soon-to-be-discovered "Imperishable Energy" is the great hope and promise for the world's future energy needs and a solution for our air pollution problems: clean, free, powerful, imperishable! HK Electric should be highly commended and praised for their research efforts to find this mysterious new energy source! Let's hope that their 'Journey to Find the Imperishable Energy' will be highly successful very soon!
But this logo above looks a bit like a flaming Baked Alaska, doesn't it? You might know this popular dessert, an ice cream cake (see below). I wonder if they set it alight with liquor after the photo-taking, like their logo above, like a traditional flaming Baked Alaska? Is that flame burning fueled by Imperishable Energy, perhaps? Could flaming Baked Alaska become the future, inexhaustible, unlimited, imperishable source of Imperishable Energy? What a hot, cool and bold idea!
Imagine a Power Station filled with MILLIONS of flaming Baked Alaskas, replacing coal and gas and all other polluting energy sources! The mind boggles and falters at the sheer grandiosity and utter deliciousness of this idea! A little preview: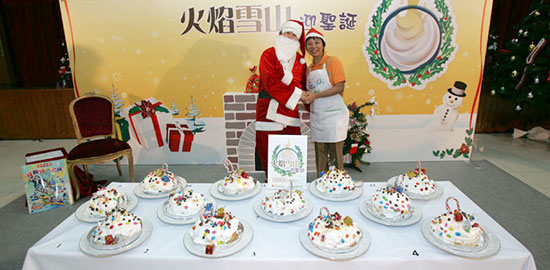 Dec 18: What's For Breakfast?
Rushing to the ferry on an early Monday morning, Lamma's huge crowds of suburbanites are supporting numerous takeaways. These make almost all their weekday business during the morning rush hour, some even close down after the rush hour. So what are your current choices if you're running or biking to catch the ferry and only got half a minute to spare? Here they are, sorted by distance from the ferry pier: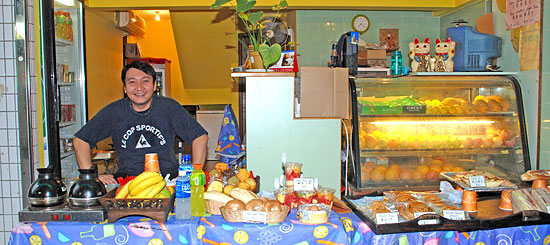 Tropicana: So many choices and low prices from the "Happiest Man on Lamma"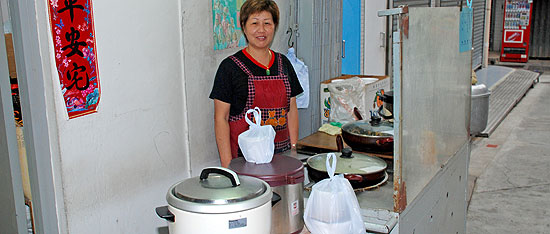 Opposite Tropicana: Congee and fried noodles, Lamma-Por's choice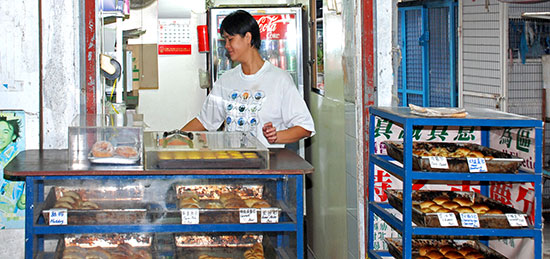 Chinese Bakery: Grab a bun and run to the ferry!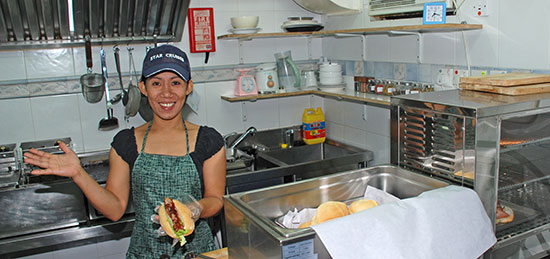 Dina's Diner: One (very popular) choice only: Bacon sandwich at $25

Sampan: Dim Sum, anyone?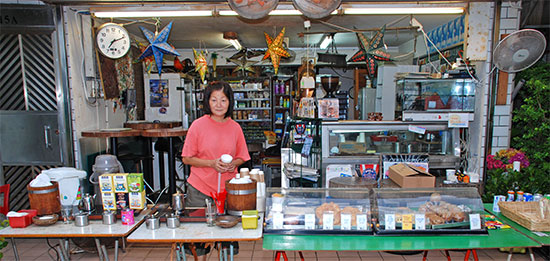 Green Cottage: The leading breakfast takeaway place in Yung Shue Wan,
even though it's all vegetarian!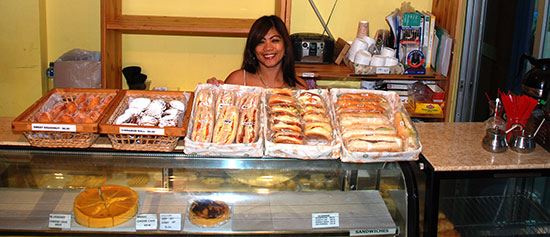 Village Bakery: Sandwiches, bakeries and coffee/tea with a smile.
Last takeaway stop before the ferry pier!
Plus one more, the raw-food brekkie choice for all of Lamma's ovo-lacto-vegans: Ah-Po selling her own home-grown organic (she claims) products besides Diesel's: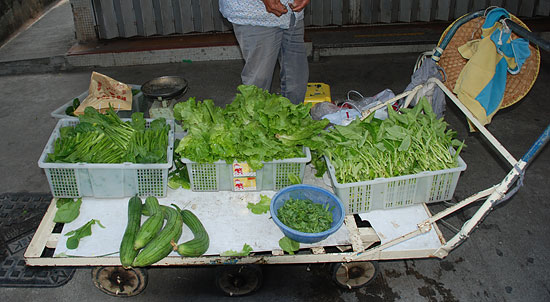 Dec 17: More Advertising Special Offers

Click here for the same low-cost advertising on this website!
(Just hyping these special offers a bit more, for a second day in a row...
The future of this website depends on gathering enough advertisers for 2007!)
Offers only valid till end of Dec!
(maybe even a little bit longer, if you ask nicely...)


Dec 16: Advertising Special Offers

Click here for amazing low-cost advertising on this website!
Offers only valid till end of Dec!


Dec 15: Falafel Shoot-out!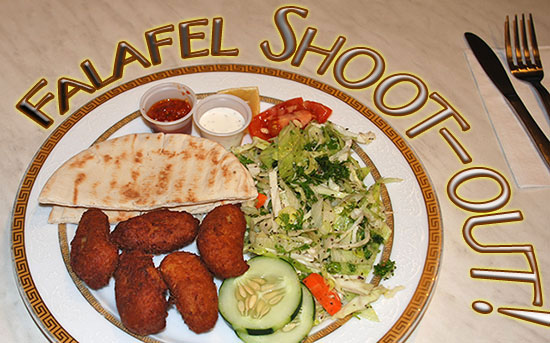 What would you guess, how many places in Yung Shue Wan are offering Falafel on their menu? It's is a pretty good indicator of the very international and mult-cultural community living here now that there are actually FOUR places to offer Falafels in a former little Chinese fishing village! Let's show them all:

Dec 14: Bob Davis – Birthday Photographer
Famous professional photographer Bob Davis has always been a frequent and generous contributor of his photos to this website. He and his trusty Nikon seem to be regular guests at many of the major parties on and off Lamma. But recently he seems to have been focusing on birthday parties, especially the ones with big round numbers, 70 years, even 80 years! Have a look at three of his recent birthday photo shoots below.
If you need a professional to shoot your birthday party, then invite Bob and he might happily oblige, especially if there are a few free drinks involved. The older you are the better, he's still looking forward to shooting a 100th birthday party!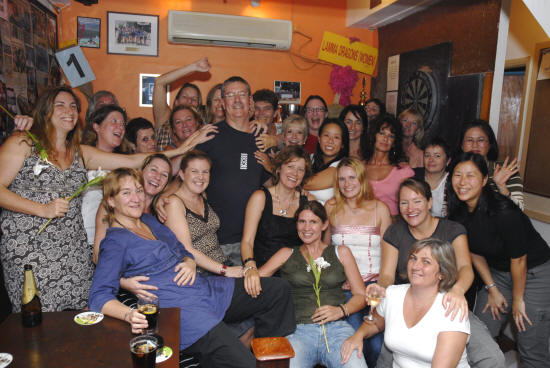 Dec 13: Living with Little Lovelies on Lamma
A. Contributor - New, first-time Lamma father. (Photos by A. Contributor)

This is the first story in a planned new series on parents and children on Lamma.
I'd love to hear from new mothers, fathers and children growing up on Lamma!

A Short Year Ago...

A short year ago, my wife would call me on my way home from work and ask me to pick up a bottle of wine. Now, possibly as a result of one of those bottles of wine, my wife calls me on my way home from work and asks me to pick up a bag of Pampers, some breast pads and a kilo of Dairy Milk.

Yes, we have joined the legions of Lamma parents, after 4 years on the island. When on Lamma… you may say. It goes without saying that life has changed. Of course, it has and what a ridiculous question! Could people without children please stop asking us?! Do we ask you if you enjoyed your socially soaked Friday night? Yes, well, there is probably a good reason. While you were only 20 minutes in your bed, we got up already and had the opportunity to watch the sun rise over Mt. Stenhouse. If you listen to anyone who lives in Repulse Bay or on The Peak, us Lamma folks may as well be living in the tundra of Siberia. Often, I have to agree with them.

It all started when the Good Lady was admitted to hospital a month early. After sitting at her bedside for what I thought was an appropriate amount of time, I took a ferry back, the 8:00pm I believe it was. Freedom beckoned and it was straight to Diesel's for a spoon bender and a catch-up. 9:31 and said Good Lady calls me to tell me that labour was being forced upon her and I should make haste back to her bedside. At this stage, I realized that time nor baby waits for the Lamma ferry and I headed home to get a bag of essentials.

Without going into details of why I had to kick my front door down because I left my keys exactly where I left them, next to a hospital bed, let's skip to the part where I sprinted down the ferry pier at 10:29:58 telling the keeper of the gates that my wife was about to have a baby.

So, finally on the ferry, sweating (it was July after all) and without said bag of essentials, but donning a fine headful of front door splinters, I was heading towards Central and closer to my wife who was barreling towards the birth of our firstborn.

It is a thing to note that when a 100-kilo, sweaty gwailo jumps into a taxi at 11:05pm and shouts 'Hospital - fai deee laaa!', he does, indeed, give it fai-dee!

And so, at 11:47, I was cutting through an umbilical cord while a nurse dabbed my brow and assured me everything would be fine. Mother and child too.

Many times since I have woken up wondering what I would have done had I received the 'labour-call' at 11:31pm, just missing the last ferry. My son would have been 8 hours old by the time I would see him.

Our first foray home was relatively painless and the HKKF staff didn't even try and make us take the slow ferry with our pram. 15 bags of gifts, large overnight bag, bunches of flowers, mother-in-law and, of course, a baby.

Before you have a child, you usually think you have good hearing. After you have had a child, you realize you were kidding yourself. You may have been hearing things but you weren't listening to how noisy they really are. 10 minutes after you have put a restless baby to sleep is when your hearing is at its most sensitive.

I do not mean that you can better hear his little whimpers and gurgles and smile when he coos like a baby gosling. No, what I mean is that everything in the modern home makes a noise. When I say everything I want to clarify that nothing is excluded here – nothing! Let's take the simple process of making cheese on toast.

The fridge door creates a mini big-bang when it is opened, the bread is packed in a bag which could not make more noise if it were an Aberdeen fish wife (thanks, Village Bakery!) The cheese wrapper is made from recycled sonic booms and the toaster pops the toast like a starter's gun. You would think that a butter tub would be silent - after all, butter is a lubricant - but no, it sounds like the four horsemen of the apocalypse cantering across a tin roof. If your progeny has managed to stay asleep through this, any parent knows what happens next.

The second you sit down and are about to put the first mouthful of food on your fork - Waaaaahhhh! Hellfire and brimstone descend. This is not a problem particular to Lamma, though, parents around the world know this.

Don't get me wrong, I really do think that orphans in Nepal should have books, the elderly should be cared for in the community and the environment should be saved. I just think that some sort of money-raising campaign for 'The Appropriation of Suspension for VVs' would go much further to alleviate tension - especially in this little pocket of the world we call home. I appreciate my charity probably needs a snappier title, but I reckon there isn't a parent reading this who would not like to see at least one VV disappear slowly over the horizon and sink into the murky depths of the South China Sea.

Although I will give the VV drivers some credit for managing to be as predictable as they are - as soon as eyelids close, one will drive past in a flurry of flapping tailgates, slipping fan belt and creaking suspension - the rest of the day the drivers can be seen eating, drinking, smoking and snoozing.

Lamma is known as a haven for young families, a good place to bring up children and a close-knit community for new mothers. If this is the case why is there only one shop that sells nappies (in exchange for 50% more of your slowly disappearing cash than in town) and not a single one sells the 1,001 other things that your baby's life is incomplete without.

We do, however, have a Mother and Toddler clinic that is, by all accounts, a fine institution. Many visitors from the Dark Side come over with their children to visit us and nip in there for a quick going over and weigh-in.

Since the arrival of Manchild Version 1.0, there has been an upsurge in the social goings-on of Monday afternoons at our place. It seems that it is imperative that a fresh quiche is baked on a Sunday night for the mothers' group, while they discuss the colour of pooh and the consistency of vomit.

This is another great thing about the island life, prams can be left at the bottom of stairwells, doors are thrown open to new mother groups and friendships are made in the important formative years of the ankle biters. There are a myriad of ways that could make our life easier, such as a few ramps, less dog logs on the paths, a smoother entry and exit to the ferries and a crèche, but we get by and our children will hopefully grow richer for the experience - I know I am.

Now, if you'll excuse me, it's been a few months now and I'm off to get a bottle of wine to take home.

Dec 12: Treasure Hunting for Operation Santa Claus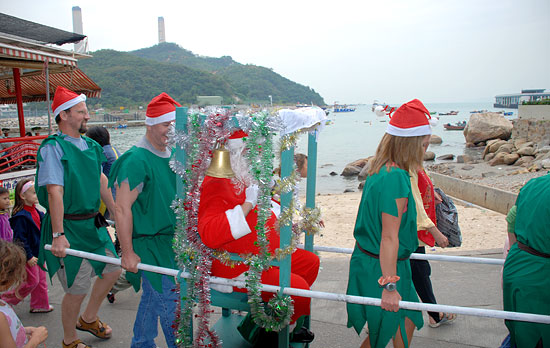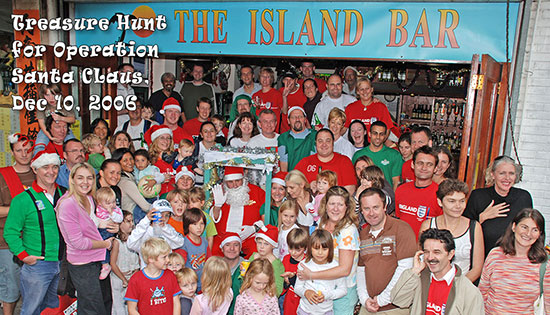 The Island Bar - This press release was also published on the Operation Santa Claus website of the SCMP. The Treasure Hunt group photo above was published as the website's cover picture today.

Click on any photo to view the full photo gallery and downloadable wallpapers. (All photos by L-G)

A Ripping Success for The Island Bar's 7th Annual Treasure Hunt

Seasonal fun and frolics at The Island Bar in Yung Shue Wan on Lamma Island resulted in a generous collection of $17,500 towards Operation Santa Claus. On Saturday, a Christmas Quiz with a musical theme was conducted with seven teams of up to five people each enjoying an evening of festive frivolity. The event was attended by the Post's very own Harry Harrison who made his own musical contribution.

Sunday saw 16 teams of four people (plus children), wending their way over hill and dale in search of very silly clues on a Treasure Hunt which eventually led them tired but fulfilled back to The Island Bar for a bevvie kindly donated by Heineken. Following this, Lamma's very own Santa was carried through Main Street on a sedan chair by a band of merrie elves accompanied by a host of children dressed as reindeer.

Prizes for the Musical Quiz and Treasure Hunt were contributed by local hostelries including Cath's Banyan Tree Café, the Deli Lamma, the Lamcombe Seafood Restaurant and Spicy Island, as well as Shaffi's in Wanchai. T-shirts from Carlsberg and Heineken were given out to each adult member of the Treasure Hunt teams. The Island Bar would like to thank its sponsors for these events, together with its members and the generous and caring community of Yung Shue Wan, who all contributed to the festivities.

Future pre-Christmas Operation Santa Claus activities organised through The Island Bar include a Children's Wandering Minstrels evening, consisting of a children's choir with accompanying musicians who will stroll through the streets of Yung Shue Wan on 23rd December. And of course there will be another chance to join in song at the ever-popular Carol Singing at The Island Bar on 24th December.

The Island Bar is pleased to have contributed towards Operation Santa Claus for the past seven years and looks forward to a successful finish for this year's seasonal events and to planning new activities for 2007.

Contact:

Sharon Chandler / Tel 2982 2800
Dan Peterson / Tel 9030 2888
Kumar Binney / Tel 2982 1376

Staff Reporter - Dan Peterson was being interviewed in the SCMP on Wed, Dec 13. My group shot above was also used.

© 2006 South China Morning Post. Click for story (no registration required)

Lamma bar's clued-up efforts a real treasure

Ho, ho, ho and a bottle of rum - or at least a cola! There was no treasure to be had but lots of fun, at the annual Island Bar Treasure Hunt in Yung Shue Wan on Lamma Island.

It's the seventh annual hunt the bar has organised and involved teams solving 78 clues around a two-hour route on Sunday afternoon. The purse was HK$17,500 for Operation Santa Claus.

Sixteen teams of four adults - plus children - walked over hills and along pathways after "some very silly clues", said Dan Peterson, one of the bar's directors. They then returned to the bar as Lamma's very own Santa was carried through Main Street on a sedan chair by a band of merry elves accompanied by a host of children dressed as reindeer.

"Every year we have done the treasure hunt and it's always been successful," Mr Peterson said. "It's always enjoyed by participants - a real family outing. We create the clues from signs, trees, house numbers, anything we can use.

"We like Operation Santa Claus because there's none better we know of to serve so many in the community. The 27 charities and the five themes are a great concept. There's youngsters, the aged and it bridges a lot of areas of need in the community."

The night before the treasure hunt, the bar held a Christmas musical quiz and on December 23 there will be the Wandering Minstrels - a group of children playing instruments along with the talented Fiddler Dave, who will make their way through Yung Shue Wan from 6pm onwards, collecting donations along the way.

"What strikes us every year is how forthcoming the community of Yung Shue Wan is. It's a community with a really generous heart," Mr Peterson said.

The treasure hunt was won by "The Deadly Codfishes" with 75 out of 78 clues answered correctly.
P.S. A few more photos I shot from the Beer Garden after the Treasure Hunt. Lamma is really a great and adventurous place for children to grow up. Who needs Disneyland when a simple big rock in the harbour will do for fun. (Click to enlarge)

Dec 11: Self-Regulating Midwifery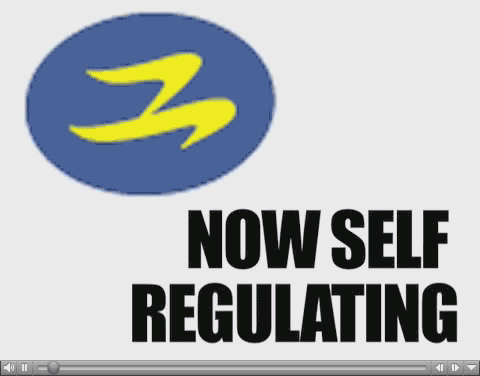 Leave your comments (MOST APPRECIATED!) on the HK Copy News Blog, but play the video by clicking above (much faster!)
Daniel MomentEye writes:
"Hello everybody! The latest Copy News is online and eagerly awaiting your attention and and enjoyment.
This weeks offering contains news of Alan Leong's campaign strategy is leaking all over the place and a special report on the joys of midwifery.
Thank you all for watching. Please forward this to people you think might enjoy the show!"
[Editor: Forward by clicking on the "Send to Friend" button - right side of the "Monday" heading above the title of this story.]

Dec 10: Who's Nuts for Nut Roast?
Whenever a longtime supporter and loyal advertiser of this website - like the Bookworm Cafe - is having a special promotion, I'll check it out, of course. So we booked a table, took along two friends and asked them for their independent views - paying for their own meals - of this tasty, extremely healthy meal which was also a real bargain. Manager/Proprietor/Lamma Celebrity Ken - often seen on TV or in Chinese newspapers - has lots of reasons to smile these days, as his cozy and friendly place was packed while we dined there today.
Healthy Advent Sunday Nut Roast in the Bookworm Cafe:
Only $108 for five courses on every Sun night: 3, 10, 17, 24 Dec, 2006!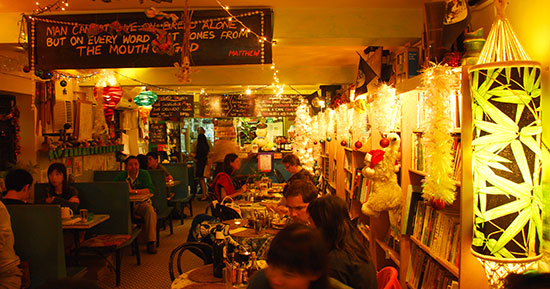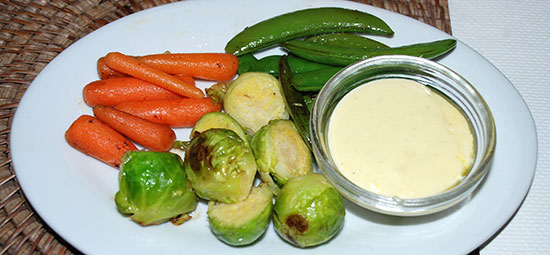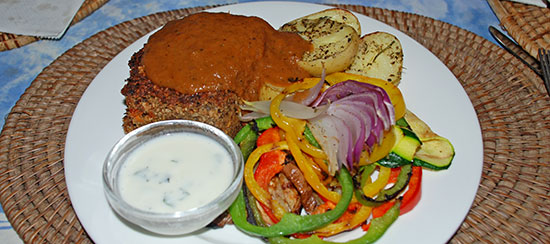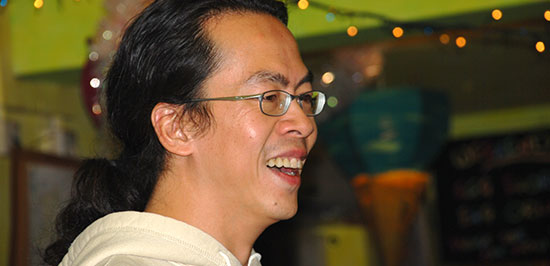 Angela - Samson's Mom, self-confessed "nut for nuts", almost-vegetarian:

Dear Gung,

Thank you for your suggestion to have nut roast, I love it! Sam appreciated the nut roast as well, even his apple crumble! Well, the vegetables are of my type, crispy and delicious indeed!

Samson - Chinese forum moderator/guest critic:

Yeah... The meal was actually better than I had expected. The extra dietary fibre from the crumbling apple and cereal mix is doing wonders for my digestive system. Enough said, me thinks...

Dec 9: 'Is the Sun Setting on Scrumptious Seafood?'
Jay Scott Kanes - STBWFLA. Lamma writer and publisher. This story is also being published today in the Lamma-based Cairns Magazine - News, Views, People, Places. (All photos provided courtesy of Jay Scott Kanes)

December 2 – Could the glorious evenings of feasting on seafood as the sun sets over Lamma Island soon fade into the past? Will seafood lovers face global shortages and steep price hikes for their favorite tasty delights?

Fish stocks and marine habitat in all oceans have declined, even collapsed. Pollution, global warming and destructive fishing techniques continue to inflict deadly damage. Even fish farms can't pick up the slack without big changes and more viable strategies.

That's according to marine biologist Dr Thomas J. Goreau, president of the Global Coral Reef Alliance, who on December 6th visited Hong Kong for the first time. After a brief stay, he left for the Philippines and then Thailand.

"The fish market in Hong Kong contributes to fisheries-habitat destruction around the world," said Dr Goreau, nudging aside a coffee cup and gesturing with both hands. He spoke to a reporter while seated alfresco near the water's edge at Lamma's New Holiday Mood Restaurant. Nearby diners may have noticed his deformed left hand, partly amputated by an aggressive barracuda in Mexican waters two years ago.

"I'd like to see Hong Kong become part of the solution, supported by sustainable fisheries, instead of such a big part of the problem," he said.

Raised mainly in Jamaica, Dr Goreau lives in Cambridge, Massachussetts, and travels to Alliance projects overseas. Starting in the 1940s, his father, another marine biologist, pioneered "diving as a research tool". Previous studies always used samples lifted to the surface.

"I grew up swimming in a reef," Dr Goreau said. "While my father dived, I swam on the surface."

Never in living memory has the fishing industry's future looked grimmer than now. "Wild stocks are dying so the future lies in mariculture," Dr Goreau said. But most fish farms can't survive global warming, water pollution and aquatic diseases without strategic and structural changes.

Rather than relying on water enclosures to feed and nurture a single species, which pollutes the vicinity and allows diseases to flourish, the farmers should construct habitats so that many fish thrive, Dr Goreau said. "The key to fisheries management rests in habitat restoration."

The Global Coral Reef Alliance, a 16-year-old network of volunteers dedicated to saving and restoring coral reefs, suggests a "biorock process" invented by a German architect named Wolf Hilbertz that sends measured doses of electricity through metal-rod frames underwater. Within hours, mineral accretion begins. Hydrogen bubbles appear, then rust converts back to iron and limestone coats the frames, creating a foundation for coral to prosper. Once in place, the coral grows up to five times faster than normal and can endure unhealthy water or unusual temperature variations.

The Alliance has coral-restoration projects in Maldives, Seychelles, Thailand, Indonesia, Papua New Guinea, Mexico, Panama and elsewhere.

"Fish appreciate three-dimensional structures full of holes," Dr Goreau said. "If we build the architecture right, they move right in. They come in incredible numbers because what we do creates fish habitat. We can make structures with any number of layers and lots of hiding places to create habitats with higher population-holding capacities than even natural ones. This works so remarkably well that nobody believes us unless they see it for themselves in their own waters. We're growing whole eco-systems, very diverse ones, by adding nothing but steel bars and energy."

Fish farms need a similar approach, he said, especially those in or near Hong Kong, where the high human population, turbidity, a mad rush to develop, plenty of dredging and toxins from the Pearl River Delta all create "an extreme case".

Dr Goreau peered across the harbor in Yung Shue Wan, Lamma's largest village. "There's no coral in that water," he said, "but it doesn't look quite as slimey as I would have thought.

"What we're trying to do, notably in Indonesia and the Philippines, is to place our technology in the hands of fishermen and fish farmers. If applied on a big enough scale, it'll change the future of fisheries and lead to a different form of mariculture.

"There's no future in traditional fishing and fish farming. We need new methods and ideas. But governments and funding agencies don't get it yet."

Is Dr Goreau discouraged that pollution persists, marine life dies and his advice tends to be ignored? "We're a bit of a lone voice in the wilderness," he said.

"All the problems would be solvable, if people had the will to put their money in the right places," he said. "I'm encouraged that solutions exist, but not that so many bone-headed idiots do exactly the wrong things in every regard. It's hard to be optimistic, except to know that what needs doing could be done."

For more information: www.globalcoral.org

Dec 8: What's Going on in the Chinese Forum?
Samson - Official Court Moderator of All Chinese Forums
(Photos by Lamma-Gung and Herbook cover)

Dec 7: While You Were Sleeping...
Getting up at 5:30am today, one hour early, because my URTI coughing keeps Lamma-Por awake. She needs her beauty sleep to preserve her beauty and she needs to catch the 7:40am early ferry today. Most of Lamma is still deep in their own beauty sleep, even though it doesn't seem to work at all for some people here (for example myself).
Brewing two mugs of coffee (Mövenpick - Mocha Java from Africa - in case you wonder what is the REAL fuel driving the Lamma-zine), then checking my emails:
Publishing the new posters (by Harry Harrison) for the The Island Bar's charity events for Operation Santa Claus this weekend (click them for details).

Making my day is one of these extremely rare praise emails - from Elizabeth Briel, a future Artist of the Month (email published with permission):
"Just a quick note to say thanks very much for your website... I often hear it mentioned in casual conversations here, and it seems to bring "wired" people (just about everybody) together more than ever. But best of all, I've gotten TWO part-time jobs thanks to Lamma.com.hk! One English tutoring gig and now the caricature job for $2,000, which is a real help while I look for more freelance work."

Email from Alastair the Sculptor, turning down the same party caricature job that Elizabeth just accepted (email published with permission):
"Ta for the offer, not my ball game, I'm afraid, too slow and no chance to cheat. I would use more rubber than pencil.
So you could say that, I ain't got no lead in my pencil unless I'm totally covered in rubber."

The monthly update of our very active Chinese forum has arrived, by talented and reliable Samson. It seems that these days the best and most productive discussions are happening in the Chinese forum. Two hours of editing, formatting, linking and adding photos, then I'll have my Lamma-zine story for tomorrow.

Starting an investigation if the contents of the recycle bins are really recycled or all just combined and dumped into landfills. There are conflicting statements so far from the authorities, the garbage collection ladies and eyewitness accounts...

Encouraging (by prodding and poking) a reluctant contributor to write a "Silly Story for the Silly Season" (his title) by this weekend. Plus a new first-time Lamma dad (Why Lamma's a great place to start a family), plus a brand-new PhD's farewell message, leaving Lamma after 8+ years.

Can I encourage YOU to write a little story as well?
OK, 6:30pm now, some Lammaites are awakening now, but not yet the ones that usually enjoy their English breakfasts in the afternoon. Time for my first break from work in my home office, time to prepare our weekdaily breakfast. Why is it that people working in home offices are considered to be "not really working" and are expected to do household chores in-between their office work?

Dec 6: 'Your Acknowledgement Is Our Encouragement'
"But ALL the credit should go to the Conservancy Association and the HK Electric Volunteers who did such a great job on Chung Yeung day and the day before."
It's strange to see my own comments above quoted in a print magazine. This sentence was part of a photo story I published on Nov 8 (Big Success of No Hillfire Campaign). HK Electric reprinted my comment prominently in their glossy magazine (CONTACT #72, page 26) - under the title above - together with a screen shot of this website and my photo below. In their very informative, promotional and professionally written and produced quarterly CONTACT magazine, HK Electric wrote:
"Our volunteers were praised for achieving the objective of zero hillfires in participating in the "No Hillfires Campaign" organised by the Conservancy Association on Lamma Island in October. Photographs and commendations from the organiser and Lamma residents were published on the website: www.lamma.com.hk..."
Thanks, but credit where credit is due, the HKE volunteers really did a fantastic job! Let's hope our local volunteers will learn from their great example and take over the hillfire prevention tasks next year.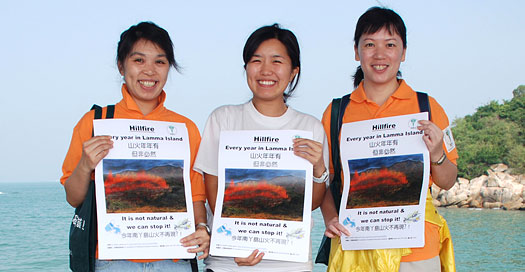 ---
More stories of interest to Lammaites in CONTACT #72 (all PDF files):

Dec 5: Discrimination in Cloudy Cuckoo Land?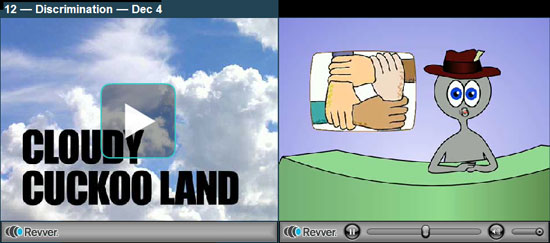 Daniel MomentEye writes: "Lots of juicy news this week. Served up with a side order of political incompetence and a faux-crocodile garnish."

Dec 4: Mad Dog Santa & His Boy Toy Bike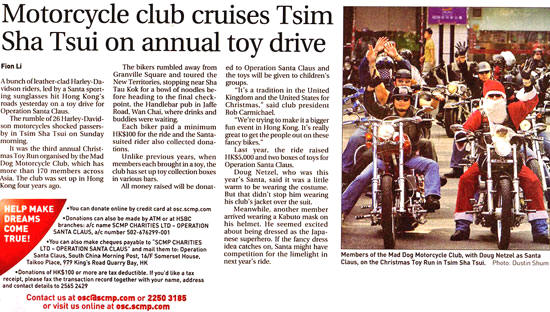 (C) 2006, SCMP. Click to read.
Photos below from Mad Dog MC Club. Click to enlarge.
Rob Carmichael - Club president and Lammaite (photo above left, on 2nd motorbike from left) - says: "The Mad Dog Toy Run is a tradition in the UK and the US for Christmas. We're trying to make it a bigger fun event in Hong Kong. It's really great to get the people out on these fancy bikes."
Doug Netzel (Santa Biker above) says: "Thanks to all Lamma Island Residents who came out to support the Mad Dog MC 3rd Annual Toy Run for Charity!"
P.S. I'm still wondering why they call it a toy "run"? Everybody, including Mad Dog Santa, seems to be driving during their annual "run". I'd love to see this Santa run in HK's weather...

Dec 3: Frequently Asked Questions From Lamma Newbies
New to Lamma? Just upgraded to full Lammaite status? Just arrived and still a bit perplexed at where to get stuff and services? Check out our new FAQs for Lamma Newbies, now available in the Quick Info section on the left side of most top-level pages of this website. Click here for a quick look!
As this is part of our forums, you can post your own questions (and answers!), so other newbies can benefit from the answers as well that will be added to this new section. Check it out and let me know what you think and how to improve it!

Dec 2: 'Comforts and Conveniences Brought by Power
Supply'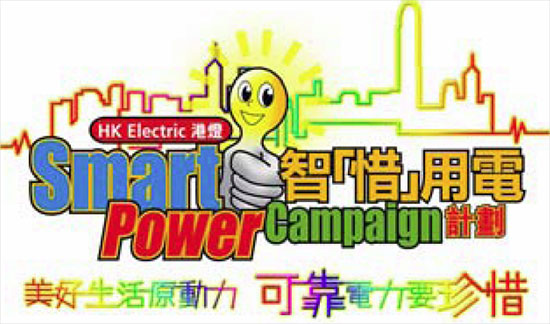 Isn't this a happy, cheerful, optimistic - and very colourful - logo! A sunny, glowing thumb with a smiley face to encourage us all to use power in a smarter way! They also want us to "appreciate and save power"! Umm, but wouldn't that would hurt their sales? It's an amazing new campaign, trying to teach us to buy LESS of their product! Have they gone all altruistic and environmental on us suddenly? Well, they try so hard to be seen as green, they employ professional and friendly staff and they're a really nice and wonderful company, I think! By the way, they're also a main sponsor of this website, that's how nice and wonderful they are!!!
Well, OK, great, but how do most of us very wasteful electricity consumers go about saving power and become smarter ourselves, reducing our big monthly electricity bills? The first step in my household might be to wean Lamma-Por off her serious aircon addiction, getting her into an aircon-less cottage on rehab...
Well, we can all start by reading the latest press release from HK Electric about the official Launch of the Smart Power Campaign (click on any photo below):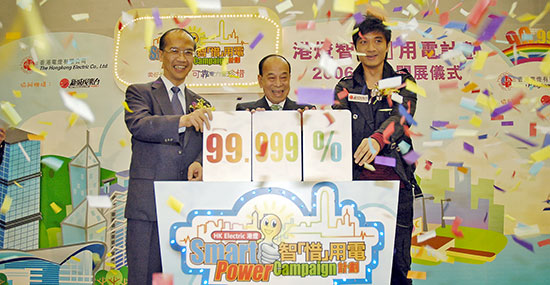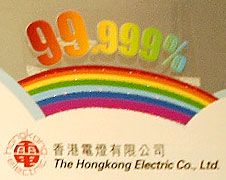 Yes, there's even a Smart Power Ambassador, Leo Ku! And he's a "singer and teenage idol", so he must be an expert on Smart Power!? I wonder if we should designate an "Official Court Ambassador for Smart Power Usage on Lamma"?
But that 99.999% sign is also definitely most impressive! I've only ever experienced one single short power outage in Yung Shue Wan in 5 years, so the figure is probably accurate. Electricity is pricey here, but it's really really reliable...
I also love the "cute little children" angle in many HK Electric press releases:
"The campaign pays special attention to schoolchildren. To better drive home the energy-saving message to them, Hongkong Electric will publish a comic book featuring two cartoon characters who tell a story about embarrassing moments they experienced during power blackouts, underlining the importance of a reliable power supply."
Embarrassing moments during power blackouts? The mind boggles and my imagination runs wild... Maybe we should create a Lamma-based Internet comic book ourselves with this most intriguing topic, calling it "Embarrassing Moments and GREAT OPPORTUNITIES During Power Blackouts"...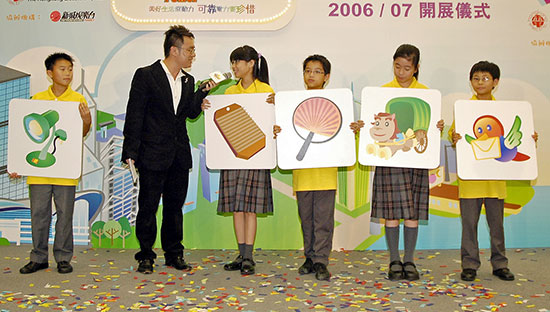 Yes, let's all be happy, cheerful, optimistic - and grateful! - about the great multitudes of "comforts and conveniences brought by power supply"! Most of us wouldn't live on Lamma without them! So let's all not be small-minded misers and envy this nice company's huge, govt.-guaranteed profits via their fixed maximum rate of return on investments! Let's preserve and protect their generous, well-deserved profits and extend the Scheme of Control indefinitely, no more pesky Scheme and rate of return reviews every few years!
That's how happy, cheerful and optimistic - and generous - I feel after reading this Smart Power press release! Let's make all these nice people below happy as well, so they'll have even more good reasons to show us their bare thumbs!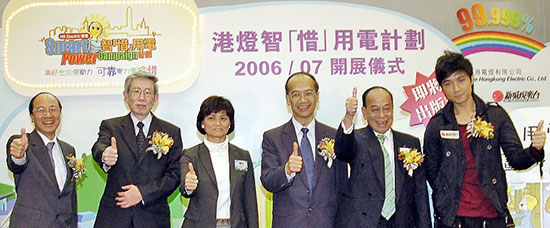 P.S. Dearest HK Electric, after reading my nice story above, could we increase your sponsorship of this website in 2007, please, please?
P.S. II. Samson writes - after reading the story above:
"Oh my gawd! It's Leo Ku! If he's into using power in a smart way, half of HK would be down with that. I'll bet many youngsters would love to experience an embarrassing power blackout with Leo...
"But dis-ing Leo Ku? You might like to reconsider that next time. People might think you're an Eason Chan fan. We don't want that, do we?"

Dec 1: Another Record-Breaking Month!
Website Statistics for November 2006
Hits
Files
Pages
Visits
Sites
KBytes
1
100.00%
1
100.00%
1
100.00%
1
100.00%
1
100.00%
1
100.00%
<!table id="table169" style="BORDER-COLLAPSE: collapse" borderColor="#111111" cellPadding="0" width="552" border="0"> <!tr> <!td width="552">

Oops, just one single hit during the entire month of November? That can't be right... Sorry, I got confused... this is the actual, correct statistics for another small business website I'm starting to build today. That single hit was probably my own from the other day, accessing this new, "virginal" website for the very first time during its lifespan. After I'll have finished building and promoting it the number of hits will start increasing dramatically very soon.

That's what I do for a living: building low-cost websites for private clients and small businesses, Internet & marketing consulting, writing/editing for websites and print magazines, interpreting, private Internet tutoring, photo shoots, etc. If you need any help in these areas, please contact me now for more details!

The Lamma-zine is self-supporting and pays a few small bills, but not my rent or any living expenses. Very special advertising deals for 2007 are available now, but only till Christmas. Contact me now for more details!

Well, after this short commercial break for the 2 house ads above, here's the correct statistics, just for the Lamma-zine, NOT including the forums. For the first time ever, we've surpassed 2 million hits per month for the Lamma-zine alone!
Website Statistics for November 2006
Hits
Files
Pages
Visits
Sites
GBytes
2,095,701
1,414,903
210,063
23,346
15,679
43.337
Our forums generated another 700,000 hits, so we're closing in on 3 million hits in total per month now. Not bad for a little site that focuses exclusively on little Lamma Island and its just 6,000+ (mostly non-English-reading) residents. Another celebration will be due when we surpass the 3-million number, maybe this month?
Many thanks to all of you (one-time, occasional, frequent or regular) readers and all contributors who've made the surprisingly big success of this website possible!