'Twas the night before Christmas Eve, when in the idyllic, remote hamlet of Pak Kok Village, on the little island called La ma doh in the South China Sea, a traditional nativity play was in progress: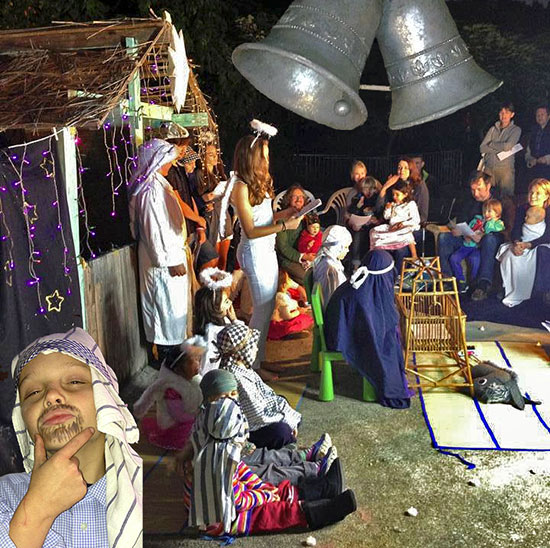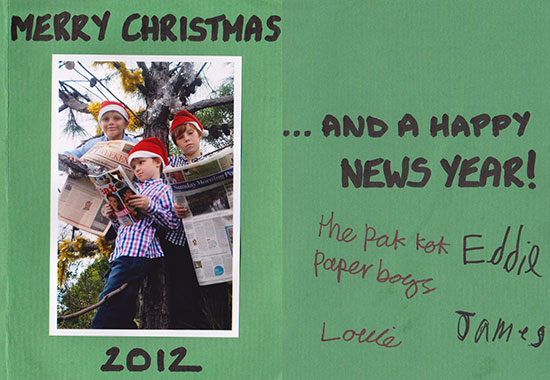 To balance all these sweet and pastoral images above, here's a more urban and WILD Xmas card I received from the professional graffiti team, The Wild Ones, occasionally invading visiting Lamma: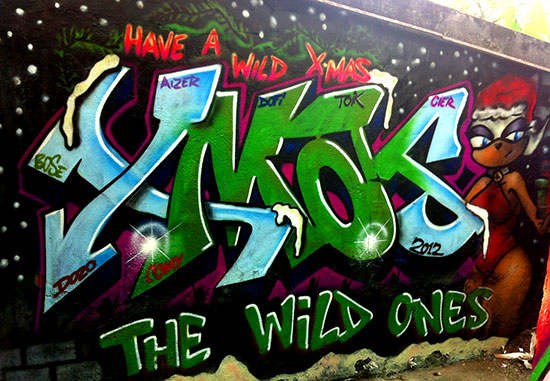 Wishing all our readers a
Wild and Happy Christmas and holiday season,
Full of Fun For Friends & Family!
What's on offer from some of Lamma's best restaurants this Christmas and New Year? Here are a few festive menus to peruse at home in leisure, before making a reservation in one of these cozy and romantic venues, all decorated tastefully for the holidays.
These are some of a most precious handful of restaurants supporting the Lamma- zine via advertising. So if you could let them know that you saw their special menus on Lamma.com.hk when visiting them, I'd be very grateful! I might even invite you to one of their mulled wines if I'll meet you in one of these fine venues!
Click to enlarge: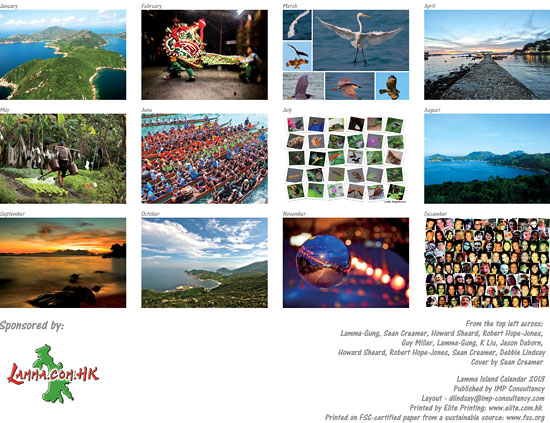 Did you get your Lamma 2013 Calendars yet? Need some more for your off-island and overseas friends and families? A few are left and available in Diesel's, 7th Avenue, Lamma Grill and Mrs. Tang's Island 1188 shop (opposite Brothers).
If you have good contacts to any additional places all over Lamma who might be willing to sell them on commission, let me know, please.
They've raised almost $5,000 for the Children Welfare Scheme already and all profits, besides the pure printing costs, are going to charity!
Calendars are still selling at $60 for 1, $100 for 2!
---
P.S. Thank you card and letter just received from the Children Welfare Scheme, to all sponsors, supporters, volunteers and helpers - click below: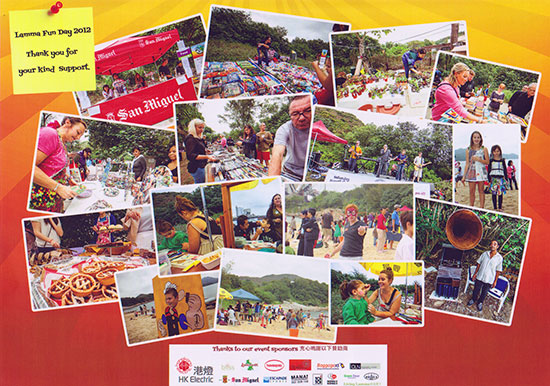 ... plus Nick's Fun Day music review.
... plus some Facebook photos from the Lamma Rush.
... plus the official Fun Day photo album.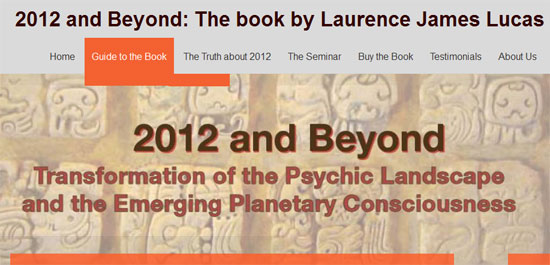 Besides all the end of the world nonsense spread in the media this year, here's a more positive spin, an optimistic vision from a Lamma Author, former Lamma Artist of the Month, Laurence James Lucas:

"... why the '2012 effect' is not just some flaky, speculative New Age fantasy, but is a phenomenon grounded firmly in scientific findings. Laurence's contention is that plasma, closely interrelated with electromagnetic fields, is the conduit for consciousness....
We are heading towards a planetary consciousness as part of the evolutionary imperative."
I just received a review copy of his new book, see and click above for more info. It's a self-published, limited-edition, full-colour labour of love, beautifully illustrated by his wife, Lamma Artist Carey "Blue Lotus" Vail. Browsing through it these days, I'll try to do an adequate review in the near future.
But my deeply rooted scientific education/mindset and a verifiable-facts-based world view might make it mightily difficult for me to grasp, understand and truly appreciate concepts like "The Enchantments of Life", "The Expansion of Consciousness towards the Galactic Frequency", "to examine chakras, endocrine glands and newly discovered planetary bodies with their attendant consciousness, as well as the idea that 'reality is what we agree to'".
It discusses ideas like "involution (the soul's journey into matter), The Expansion of Consciousness towards the Galactic Frequency", and theories like galactic alignment and the idea of ascension.
Well, it'll all definitely make for a fascinating and mind- provoking read and I admire the many years of research, devotion and passion that went into creating this book. Challenging your mind keeps you young and from getting too complacent in our little, peaceful island retreat. You can buy the book directly from Laurence.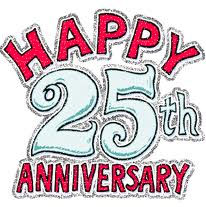 Tomorrow, it'll be the 25-year anniversary of my arrival in HK, visiting my HK-Chinese girlfriend to spend Christmas/New Year with her. I never returned home, except for visiting my family and old friends. I had met Lamma-Por over 2 years earlier on the fledgling, early Internet - no websites yet! - via online chat. By then, I had already been online for 4 years, using worldwide email, chat, forums and file transfers regularly back in the Digital Stone Age, 31 years ago.
We've been married for over 21 years now and I've been working professionally in Internet-related jobs for 17 years in HK, launching my very first website in 1995 (which is still running and has become my biggest success so far, its address appearing prominently in ads worldwide, including currently on HK TV).
It's been almost exactly 11 years since moving to Lamma from HK Island and over 10 years of running Lamma.com.hk! I'm starting to feel old, like an ancient relic, a stale leftover from the early Internet days, when we didn't have dating websites or social media yet to flirt online, but still managed to get "lucky". Time to retire early, enjoy life on the beach and join Lamma's barflies?? Well, not yet....
When was the last time you took a (dog) walk or bike ride over into the first phase of the Yung She Wan Harbour Reclamation? The reclamation has been completed over ten years ago, remaining an industrial wasteland and scrap heap for much of this time, only used for a temporary helipad, a waste transfer station and storage.
Finally, the Govt. is starting to make good use of it all by building some new and much-needed infrastructure and services for the YSW community, all to be completed within just a few months:
Activity Centre, Police Station, Sewage Treatment Plant. A few pics from today: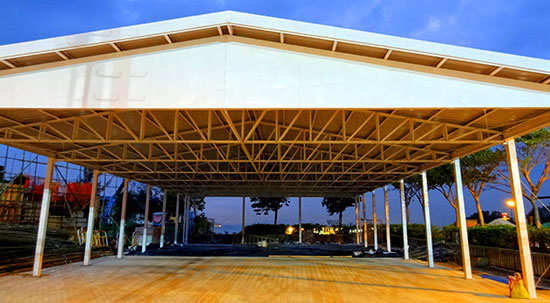 Our brand-new Activity Centre, to open around Chin. New Year, to be used only for "official" events by the Rural and District Councils, which have been held in the Football Pitch so far, but were prone to rain. Hopefully, this impressive structure, paid for by a major donation from HK Electric, can be made available soon for community events as well. Arts & Crafts fair, anyone?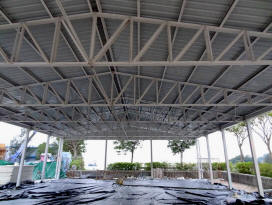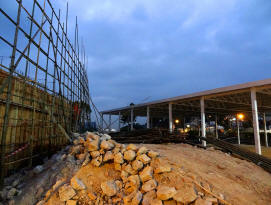 Impressive roof, pity about the walls; the budget wasn't quite sufficient to enclose the structure as originally planned. A movable stage, tables and chairs will go in there soon as well.
The neighbouring new police station, convenient to keep a close eye on all "activities" in the Centre. Completion of construction in March 2013, ready for Lamma's recently transferred new police chief, Miss Joyce WONG.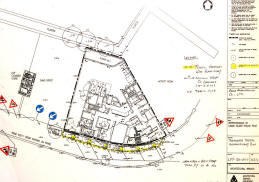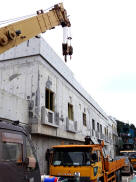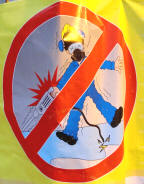 Layout of cozy new Police Station -- Sewage Treatment Plant, to be completed next year -- One of the many scary warning signs for construction workers.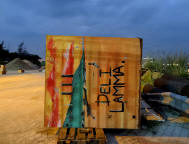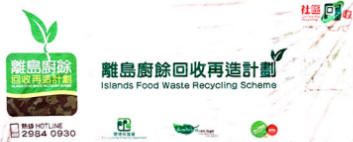 The very active gaido and goods pier: The iconic Deli Lamma painting, waiting to be shipped off-island, to an unknown destination: landfill or the private home of a former, loyal patron?
Where does some of YSW restaurants' food waste go every morning? Into the waste transfer station's new Food Waste Recycler, composting soil from leftovers! A great Govt. initiative; my Rooftop Jungle loves this freely available soil.
Considerate Contractors Site Award Scheme --
Twisted and rusted oil drums along the road to helipad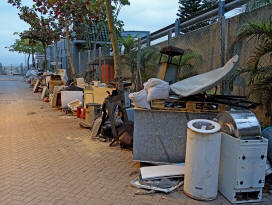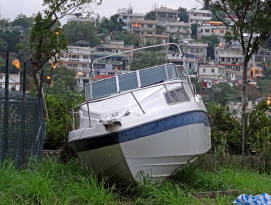 Unfortunately, outside the well-managed construction sites, the road to the helipad has turned into one long stretch of waste disposal and storage, mainly electrical and household goods, but also two entire ships.

From the YSW Harbour Reclamation, Phase I, there are still fine views of our harbour and the ferry pier.
Phase II has been under consultation for longer than I've lived on Lamma (11 years), fiercely resisted or strongly supported by different segments of the local population. It looks like the formerly shelved plans are being resurrected and will come alive and active soon again. The Lamma-zine will keep you informed, as always, of course.

These QR codes, representing web links readable by smartphone camera apps, are appearing nowadays in so many places: newspapers, magazine, even on buildings; so the Lamma-zine can't stay behind! This is the QR code for this web page. Try it! If you haven't done so yet, download any free QR reader app, run it and point your smartphone camera at this QR code above on your computer screen. It should link you directly back to this home page.
Umm, err, that's kind of circular and pointless, I might have to think this over a little bit more. But I just received an email newsletter with QR codes. Why didn't they simply use web links?
How about pointing your smartphone to this code above displayed on another smartphone, tablet, phablet or laptop? It might be easier and faster than texting, emailing, Bluetoothing or WhatsApping a web link! Show this QR code to a friend on the ferry or in a bar who doesn't know about this website yet!
Maybe I should start plastering this QR code all over Lamma Island's walls and buildings in small, medium and huge version, as stickers, flyers, posters, graffiti? Well, there's a great idea, or not? Enticing passersby to "Scan this QR code to find a secret web page and get a free Lamma 2013 Calendar?"
While I'm playing with this QR code generator, here are a few more codes. But you'll have to scan them to find out where they link to: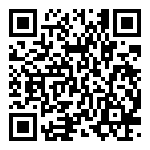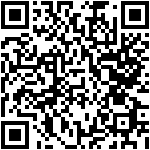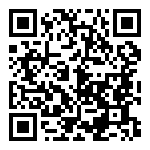 These are all the people (and some of their pets) who donated to the Children Welfare Scheme to have their photo added to the December page of the Lamma 2013 Calendar. Doesn't it look like a making-silly-faces contest? How many do you recognise? Wouldn't this make a nice Christmas/New Year party game?
Many thanks to all these charitable Lammaites! Many thanks to all the venues selling the remaining calendars to locals and visitors!
Deb writes:
"Christmas postal deadlines are coming up soon! Lamma 2013 Calendars are now available from Diesel's, 7th Avenue, Lamma Grill and Mrs. Tang's Island 1188 shop (opposite Brothers).
Great gifts for family and ex-Lamma residents overseas.
Selling out fast at $60 for 1, $100 for 2!"

This Roving Exhibition about the Govt.'s plans for the ex-Lamma Quarry is currently only shown at the Sok Kwu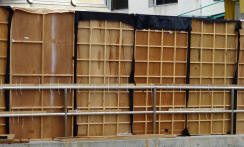 Wan ferry pier, but not available on their new website or in print (yet).
So I took a little walk to our Southside today, taking some pictures for your convenience; so you can study them at home instead of catching the very short- term ferry pier "Roving Exhibition", roving around for only about 1 week in each location exclusively! They seem to have only one set of display panels (see right), moving them from pier to pier?
It's a very informative and well-illustrated exhibition with highly controversial content. Join some of the workshops and community/public forums to make your voice heard and make sure to submit your comments!

Click below to enlarge panels:
Cover, map - The Existing Lamma
Study Overview - Planning Considerations
Vision & Guiding Principles - Initial Land Use Options
Initial Option 1 - 2
Accessibility and Connectivity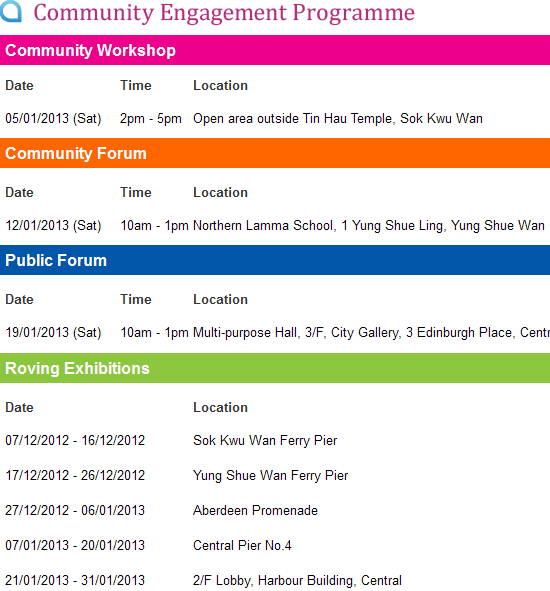 The Lamma-zine has been focusing on Lamma and Lammaites almost exclusively so far, but should I expand the editorial range to the other Outlying Islands? Maybe have a closer look, checking out how they're similar to Lamma and what makes each of them different and unique in their own rights?
Let's get started with introducing Cheung Chau, via a photo album by Lamma "Wild at Art" Artist, Katie Flowers. Click on the photos below to link to a Facebook album of her recent outing, Cheung Chau Day Out. If you're not one of her many Friends yet (for example, we share 42 mutual Friends), send her a Request. This ever-popular, always friendly Lamma celebrity will probably accept you. Check out her beautiful artworks as well, for example her latest Botanical Floralisations and Mulled Spice Girls, available as Christmas cards.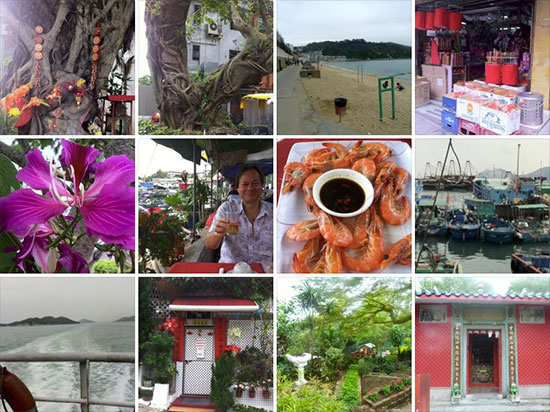 "Stage 1 Community Engagement launched for Planning and Engineering Study on Future Land Use at Ex-Lamma Quarry Area
"The Planning Department (PlanD) and the Civil Engineering and Development Department (CEDD) today (Dec 7) launched the Stage 1 Community Engagement for the Planning and Engineering Study on Future Land Use at the Ex-Lamma Quarry Area.
"The Study was commenced early this year mainly to examine the future land use and explore the development potential of the Ex-Lamma Quarry site, including residential development and other compatible uses."
Below is one of the consultants' two different scenarios and visions for the future development of the ex-Quarry - "Seaside Living" and "Seaside Paradise" - including a marina and private and subsidised housing of up to 12 floors high, for an initial 2,800 flats with a population of 7,000, but a capacity for far more in the future.
Download the Study from the brand-new www.ex-lammaquarry.hk:
"Roving exhibitions will be staged at different locations during the community engagement period. A community workshop will be organized at Sok Kwu Wan, together with a community forum and a public forum held in Yung Shue Wan and the City Gallery, Central in January 2013.
Members of the public are invited to express their views through the following channels on or before Feb 6, 2013."
In the meantime, our long-running Lamma Quarry forums are open for your free and uncensored views and discussions: Ex-Lamma Quarry and
Developments in the Lamma Quarry's Cement Factory?
Santa on the Beach: Sat, Dec 22, 6pm: Power Station Beach: Facebook.
Join us, whether you're a parent, a child eager for presents, a winged fairy assistant to Santa Claus, love to start and maintain a log fire, or know how to brew the tastiest mulled wine.
Have a look at my photos from this yearly event, another Lamma Tradition: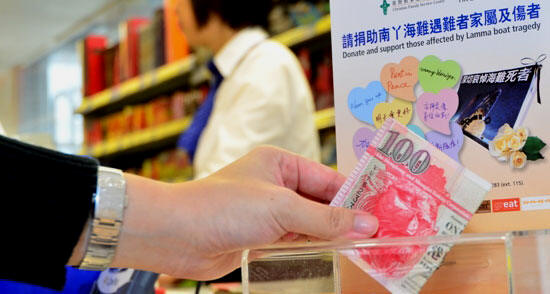 Press release by HK Electric:
Lamma Boat Tragedy Donation
Expected to Raise more than HK$6.3 million [6 December 2012]
The yearly snake season has come to a cool ending and the picture postings in the "Lamma Snake Sightings" Facebook group have dried up for the winter. I came across this very entertaining and informative blog story, with photos and videos, in the Q Language blog, posted by Q Admin:
Lamma Island, Hong Kong –
A Great Place To Practise Your English Speaking Skills
"Lamma Island, Hong Kong: The Other Expat Community
If you are coming to Hong Kong to learn English and are worried you won't have enough opportunity to practice your English speaking skills, there are many places you can go to interact with native speakers in Hong Kong.

Everybody knows Central is the "expat's hangout", but did you know there are other expat communities where English is spoken as much as Chinese? ...
Even the expats of other countries speak English to communicate with each other, so you will not be the only one trying your best English! Lamma is a truly international microcosm within Hong Kong. It's colourful characters are sure to delight you."
Baza Mac commented: "Are there snakes on Lamma?"
Q Admin replied: "There are a few, but don't worry, they all speak English! :)"
The blog even got a "Useful link" to this website, so I'm just returning the favour here with giving it a big temporary surge in traffic.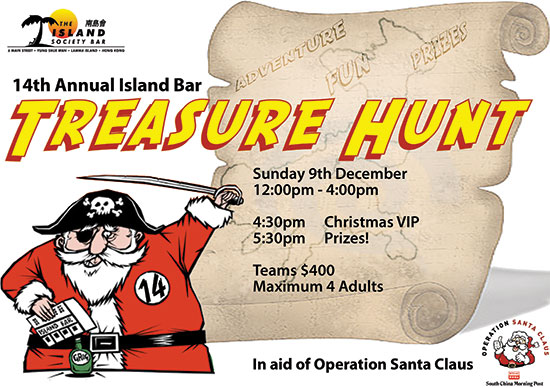 "Follow brain teasing clues on an adventurous exploration of Lamma Island.
There are creative challenges and prizes galore."
To get an idea what this ancient Lamma tradition is all about, check out the Team Photo Gallery & my own story/pics from last year: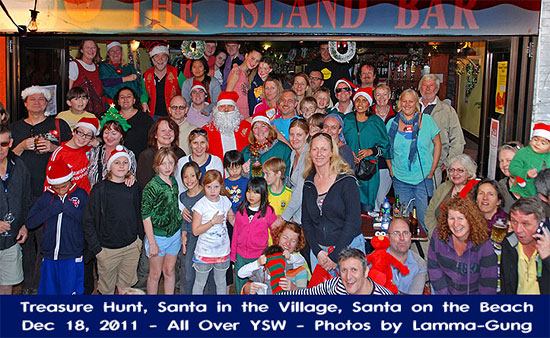 To get you warmed up and in the spirit, there'll be the yearly Music Quiz the night before, this Sat, Dec 8, also in The Island Bar, Santa Claus's Lamma HQ.
Click below for more info and the brand-new Lamma Treasure Hunt website: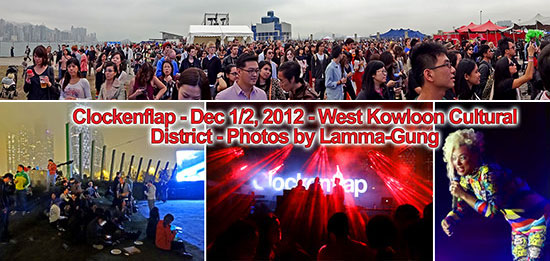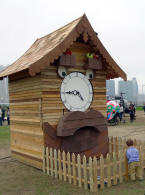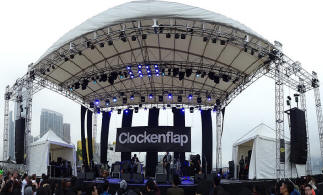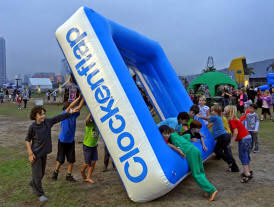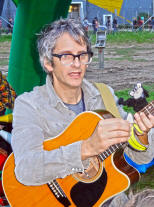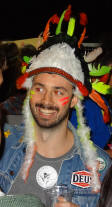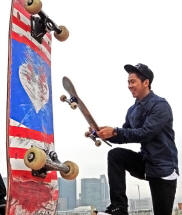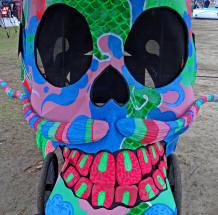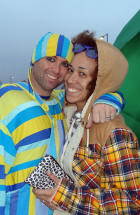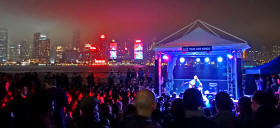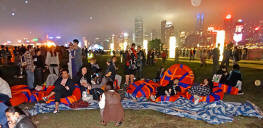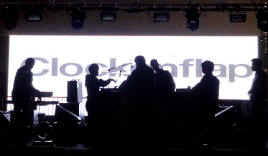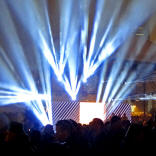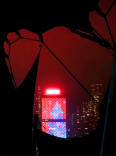 Nick the Bookman's review (5,056 words)
P.S. Sorry for the quality of the snapshots above. All were taken with my backup camera, a little, cheap Sony pocket shooter. My 6-year-old, semi-professional equipment (Nikon D80, zoom lens and flash unit) is in the repair shop right now and it's unaffordable for me to get them all fixed. Please bear with me a while longer while I'm trying to save up enough cash to get them repaired or replaced.
This might take quite some time, except Santa might judge me a "good boy" this year or, more likely, somebody would actually point and click on that severely underachieving, almost abandoned Donate button at the top right of this page.