You don't have permission to access /forum-OK/index.php on this server.
Have you ever seen this error message when trying to access the main page of our forum? If yes, did you let me know about it, so I could fix it right away? Please do so next time. If you notice any problem accessing any page on this website, please email me right away, as many or even all site visitors might have the same problem. I'll welcome any reports and will try to fix them right away, 7 days a week. Please be as specific and detailed as possible, so I can identify the problem quickly and precisely.
This particular problem happened just the other day, but only when accessing the forum main page, while all the other pages of the forum worked fine, so I didn't notice the problem myself. I got an email from a loyal and regular forum visitor, with the subject line of "Whoopsie-doopsie!" - I kid you not - pointing out this problem. Everybody accessing the forum main page would have seen the same error message for several hours at least. But it took me only a minute to fix it by simply re-uploading one of my backup copies of the program file (index.php) on the server that had gone bad.
Please bookmark the following page, it's the fastest way into the forum and will list only all the new posts added since your last visit. It's the same link when you click on Forums at the top of this website's home page:
http://www.lamma.com.hk/forum-OK/search.php?search_id=newposts
Emails from Zein at Children Welfare Scheme:
"CWS would like to thank the amazing Committee, all our sponsors, over 100 volunteers, the Scouts and the Lamma community who supported this great family event!
---
Dear Lamma-Gung and Lamma.com.hk,
Thank you for your kind support towards the Lamma Fun Day and CWS!
We were very lucky with the weather and everyone had a great time – the best time ever over the past 12 years actually! The gross income (net will be determined after all expenses come in) from the entire event was just over HK$250,000 for our educational and vocational training programmes in Nepal! We are overwhelmed by your generous support towards our work and for your continued kindness.
We will send you final information in a few weeks time; but I just wanted to send you an email now to thank you from the bottom of our hearts for the amazing support you provided to Lamma Fun Day and CWS."
---
The highest-ever bid at the auction was $17,000 for a vacation in Nepal and Harry Harrison's cartoon raised $5,200! Expenses were only about $50,000, tbc.
So it's been a fantastic success, thanks to so many great volunteers, sponsors and local businesses supporting the day in so many ways. Many, many thanks to everybody helping before, during and after the event to make it such a success!
But we need more pictures from the Fun Day! Email your best shots to me, especially from the many children's activities, bands, Lamma Rush and any special events happening. The Lamma Fun Day and I will publish them for you, giving you the full credits you deserve.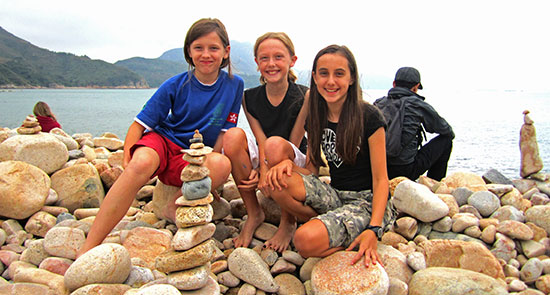 Unofficial winners at the Fun Day junior rock stacking:
Lucia, Inez and Freya who's pile reached 14 stones
(contest & photo by Rocky Malcolm)
Auction item: Harry Harrison's original drawing, B4 size, signed & framed: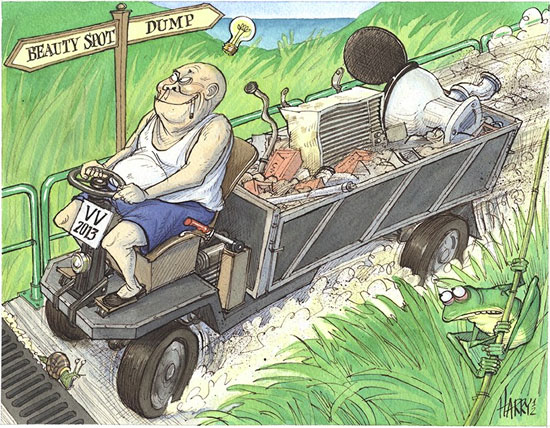 Harry will also be playing as part of The Curs, 4.30-5.30pm: "Classic and ironic country music played by an irreverent collection of maladjusted vagabonds":
Get your Lamma Calendar 2013, all profits for charity. $60 for 1, $100 for 2.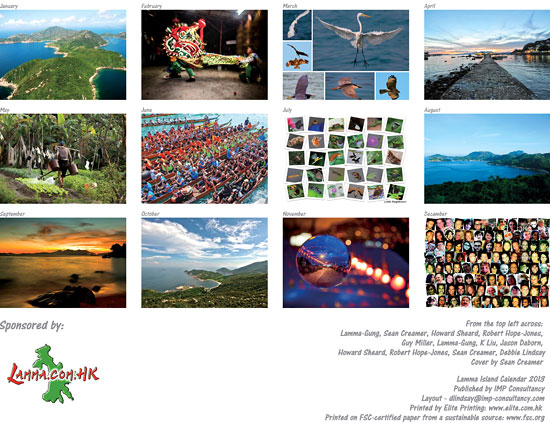 More photos and last-minute news: Facebook page and our Fun Day forum.
Who are all these people? How many of these 14 book writers do you recognise? Click to learn more or meet ALL of them on Monday, Nov 26, 6:30-8pm in Bookazine, 3/F Prince's Bldg. Organised by an ex-Lammaite, renowned and well- known publisher Pete Spurrier of Blacksmith Books, this will probably be one of the largest booksignings in HK ever.
Win one of their books in the Lucky Draw and enjoy free wine. Pete promised that he'll be serving mulled wine made to his own secret recipe. That should get some stimulating conversations going, but not causing more than a few shaky, illegible signings, hopefully. Come and join us!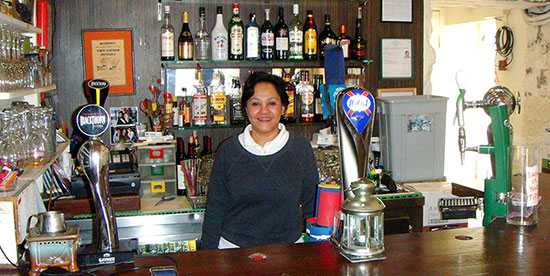 A letter from Lands Dept. to a Senior Lammaite who had objected to the redevelopment application for Diesel's, to replace it with two Village Houses: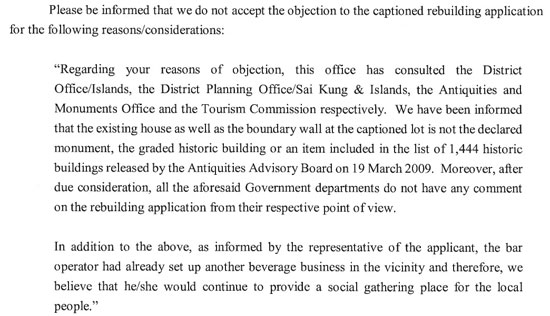 For more details, see our forum, Saving Diesel's from closing down.
Tentative and unconfirmed closing date: next June, 2013.


RocksOnTop.net, Rocky Malcolm's official website, built by himself.
It's a website about piling one rock on top of another. Why Not?!
Lamma Island Revisited - Posted by cindyxuxin on November 19, 2012: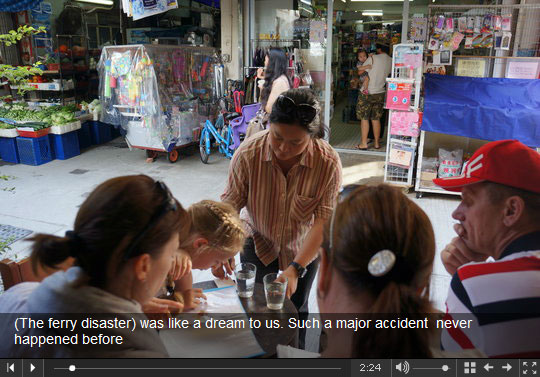 By Cindy Xu Xin and Ma Ning
"Local community on Lamma island is still recovering from the economic blow and the emotional distress caused by the ferry collision that happened a month ago.
Some local residents said their business has experienced a significant downturn due to a tourism decline, among which restaurants are hit especially hard..."
See the video (Chin. w/Eng. subtitles) and read the interviews...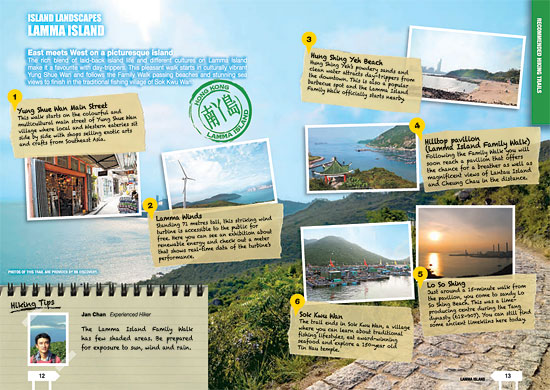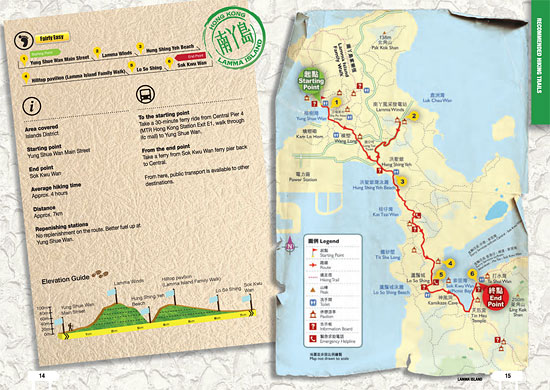 Plus the "official" version, from the HKTB: Lamma Island Family Trail.
Plus a fine, first-hand report from an actual visitor, "a long time Lamma Island lover" and blogger at You Got Me Blogging. He's been walking and photographing this most famous and popular Lamma trail and just emailed me about it:
The One With The Lamma Island Hiking Trail.
During a little afternoon stroll along the coast from Sok Kwu Wan to Mo Tat Wan, I noticed this surprising, unexpected sight from atop the hillside, overlooking Mo Tat Wan beach, the ferry pier and The Bay Rest. Closer examination resulted in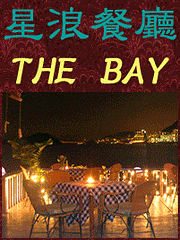 a little ad-hoc photo gallery, click below.
The MTR and their Japanese contractor for tunneling the South Island Line were enjoying a little R&R, renting The Bay rest. and all the water sports gear all afternoon and evening. They seemed to enjoy themselves tremendously on and off the beach, followed by a great dinner.
I interviewed one of the guys with 3 lines of engineer-
ing degrees & titles on his namecard. It turned out that there are no plans for an MTR stop on Lamma (yet), but that it would probably be possible to tunnel under the East Lamma Channel, extending the South Island Line beyond Aberdeen and Ap Lei Chau. Perhaps some day, if the Govt.'s secretive ideas for public housing in the Lamma Quarry are ever realised?
This story is also a little freebie for our advertiser, The Bay Restaurant. Mo Tat Wan is the only place on Lamma where you can actually rent a wide range of water sports equipment by the hour and be supervised by qualified instructors. Find out more in my photo gallery:
(Photos of this "Sponsored Feature" by Stylus HK Theatre)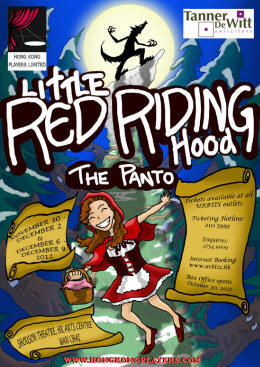 It's Behind You!!
2 Lamma residents take to the stage in this year's Christmas pantomime.
Adam Harris and Andy Fullard, 2 long-term Lamma residents and regulars on Hong Kong stages, will be camping it up in this year's Christmas pantomime, a musical extravaganza of mirth and mayhem that has been brought to Hong Kong audiences for over 50 years by the Hong Kong Players. This year the story is Little Red Riding Hood, but with a totally modern take as the fabulous cast dance and sing their way through some of the greatest songs of the last 3 decades. Harris is directing the production and has a small cameo - blink and you'll miss it - while Fullard is getting ready to be booed as he plays the villain, the ever-hungry but very sophisticated Big Bad Wolf.
Pantomime is a traditional British theatrical form associated with Christmas. It evolved in the 18th Century from Italian traditions. It is very interactive with the audience expected to show their feelings and to help cast members overcome danger and adversity. They cheer the lovers and boo the villain and hope to catch sweets from the stage. It's a show for all the family with kids delighting in the big costumes and incredible dance numbers while adults enjoy a chuckle at lines which could be taken two ways!
Little Red Riding Hood is being performed at the Shouson Theatre, Hong Kong Arts Centre, Wanchai from December 1st to 2nd and 6th to 9th. Tickets are selling fast and can be obtained from www.urbtix.hk for 330/290 HKD (stalls) or 290/250 HKD (balcony).
Coincidentally, Harris and Fullard will go on to perform a very different piece of theatre in February 2013 as they bring C.S. Lewis and Sigmund Freud to life in Freud's Last Session, a portrayal of a fictional encounter between two of the greatest minds of the 20th Century.
Detailed information on both productions can be obtained from Adam Harris at stylushktheatre@yahoo.com or HongKongPlayers.com.
This entertaining media release inspired me to ask Adam a few questions: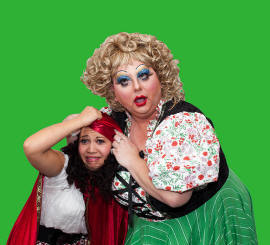 It's been exactly 200 years since the Brothers Grimm published their book Children's and Household Tales, containing this famous German fairy tale. What is its relevance in modern-day HK?

With pantomime we don't seek modern resonances so much as aim to give everybody a great time. Panto always, wherever it is staged, contains multiple topical references and Lamma is rarely spared! The wolf at the door could of course be a metaphor for financial recession but...nah...not in this show!

This is essentially a very dark and grim(m) story, some of the protagonists getting devoured alive by a wild animal! How will you inject song and dance and cheers?

It's true. Most pantomimes are based on fairy tales, many of which are very dark. Kids love that - think of Roald Dahl's books for children and even parts of Harry Potter. Having said that, nobody gets actually eaten in this production. Oops, spoiler!

You're promising a "Musical Extravaganza of Mirth & Mayhem". Sounds great! Tell us more about the "Mayhem" part.

Pantomime is a high energy style of theatre. With a wolf and a Dame on the loose, mayhem is guaranteed. This production contains the hardest scene I have ever had to direct, so some rehearsals were mayhem too. We have included a few surprises which we hope will introduce young children to the magic of live theatre. Panto was how I was hooked as a young boy.

Is Andy the Big Bad Wolf really "ready to be booed"? How did he practice? Stand-up comedy in a YSW bar?

Andy has a long history of performing in street theatre in the UK and is more than capable of handling anything. He'll be disappointed if he's not booed. He also honed his skills at handling audience participation in my production of The Rocky Horror Show where he played Riff Raff.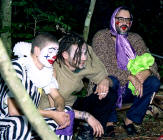 Christmas pantomime, an ancient and acclaimed Lamma tradition, has been performed in the forest at Hunter's.
Wouldn't this forest setting be more appropriate for this tale than a big city stage?

I am a big fan of outdoor theatre. I would love to stage Twelfth Night on Power Station Beach! Our wonderful designer will conjure up a forest right in the heart of Wanchai.

How will this dark nature tale appeal to us Lamma tree huggers and eco-warriors?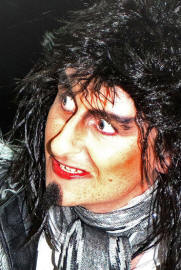 Lamma audiences may have a hard time with the love interest being a woodcutter, but I guarantee that he's the kind of woodcutter who follows the strictest ethos of sustainable forestry. The tale is one of fun and joy. It's a metaphor in itself, take something dark and put a positive spin on it. That's a Lamma vibe, methinks!

Will the audience be encouraged to dress up in their favourite Riding Hood costumes?

By all means! Panto meets Rocky Horror -
I love it!!

How much audience participation will be permitted, for example in assisting in the gruesome demise of the Big Bad Wolf?

As much as they like with the booing and cheering, but we may have to draw the line at actual stage invasions!
Ming Pao Teens, Nov 7, 2012, an interview I gave pre-Ferry Disaster.
It's also featuring Just Green, Green Cottage and Bookworm Cafe, plus Lamma's famous Rocky Malcolm, plus my summer intern who took quite an interest in the two young & pretty reporters, Cammy & Virginea. Click below to read these newspaper scans; sorry, no English version available yet.
If you can provide a translation, please let me know. The Lamma-zine is actively searching for a part-time, bilingual Lammaite as an assistant/interpreter, moderately paid by the day. Know anybody?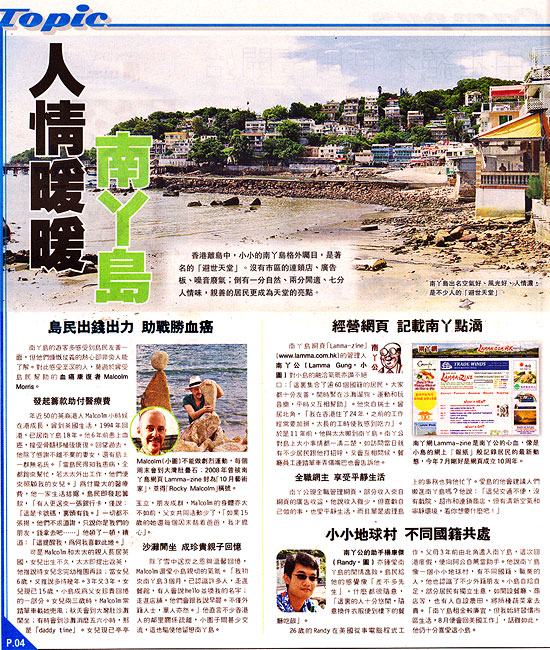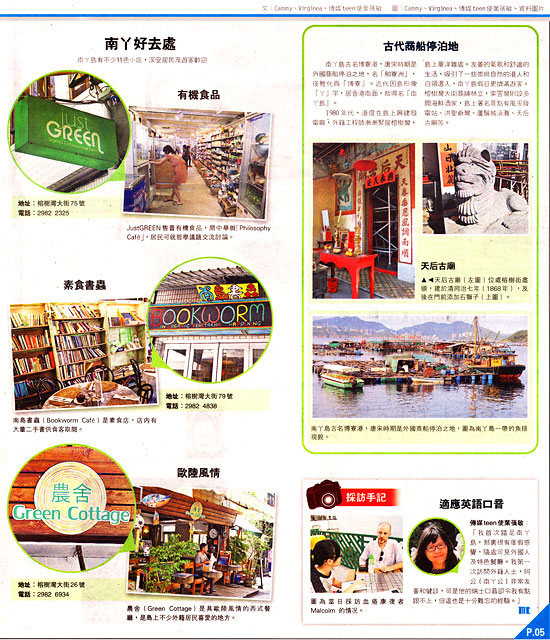 Balancing out all the very pretty, touristy shots in the upcoming Lamma Calendar 2013, let me showcase the amusing, often quirky, other side of Life on Lamma. This side is usually reserved for residents, an unusual aspect, a colourful facet of our home, showing our everyday life here and why this is such a special place.
Many of these unique shots have been published before in our popular and long- running Typically Lamma! forum.
Post your quirkiest, funniest, most unusual photos, or email them to me!
Pak Kok hat fashion, by Marcus -- Protest, maybe? by Ryan
Teddy the Scarecrow, by L-G -- Fireworking the Policebox, by Pit
Afterwards - Taking a roadside nap, by L-G
Transporting seafood - Pig's head - Dragonboating practice, by L-G
It was raining beer on the 2:30am ferry? by Howard Sheard
Birth of a new village, Tai Wan Nam, by L-G
Pigsty for sale, complete with ex-tenant? by Gary
Lamma Dragons hat, post-party, by L-G
Woodworker, by L-G -- T-shirt design, by Peter Bolt
Building a Village House, by L-G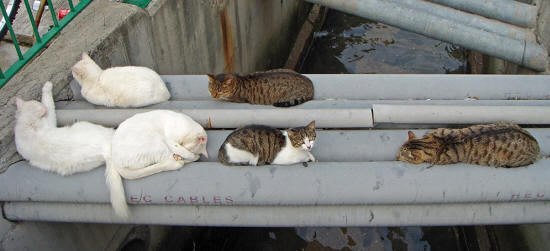 Public swimming pool with high-diving platform - No scaffolding needed, by-G
Lamma villager taking home the shopping, by Anonymous Guy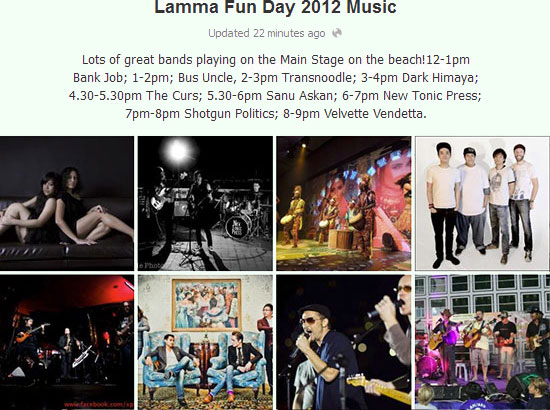 For the very latest news & updates, see our forum!

My former rooftop garden is reverting to a natural state, more of a subtropical jungle than a pretty garden. Anything is welcome to grow, mostly local plants, weeding is optional. But some less pleasant wildlife has moved in, besides all the cute caterpillars, butterflies and many birds who especially like our little fountain: Baby centipedes, cockroaches, bees and even a large frog. How did it ever get up there? There's no outdoor staircase, no neighbouring building and no trees?
All these bugs and animals are most welcome to enjoy my rooftop jungle. But there are some more aggressive residents moving in as well. I got stung twice while watering and removing dead leaves a few weeks ago, but couldn't spot the aggressors. Recently, I discovered an abandoned wasps nest, glued to a large dead leaf! Pretty fascinating and all harmless by now:

Fortunately, the views are still fantastic from our rooftop, despite the several new Village Houses being constructed, surrounding ours in the last 3 years:
Jessica Fellas writes: "Hi there,
Thank you so much for putting us on your 'WHAT'S ON' guide. Please find attached a brief write up of the event and images from Sat, Nov 3.
The night was a fantastic success, people sat back whilst enjoying 7th Avenue's specialty dishes and were transported to an underwater world through the beautiful cinematography of Wes Anderson's film Life Aquatic. The HK Electric metal box gallery displayed an array of artworks from Usedpencil and Jipola, inspired by the watery theme as well as quirky visuals on the big screen by Ko Lap Hang.
The highlight of the evening has to be the talents of five great acoustic acts, Sue Sherman, Hoping Passenger, James, Aaron Lamb, Mr E and Mr D. A special thanks to all of the performers involved and of course to the contribution of The Amazing Handstand Band.
This December we will be creating a FW: Film night with a twist. Details will be announced shortly.
Happy Creating Lamma"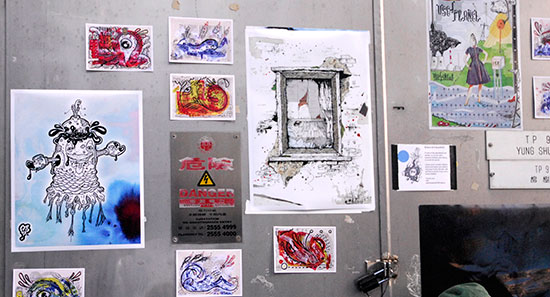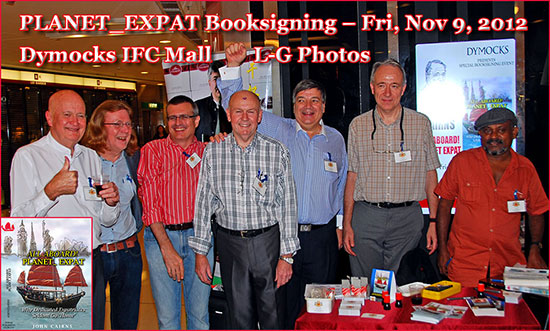 Click for my captioned photo gallery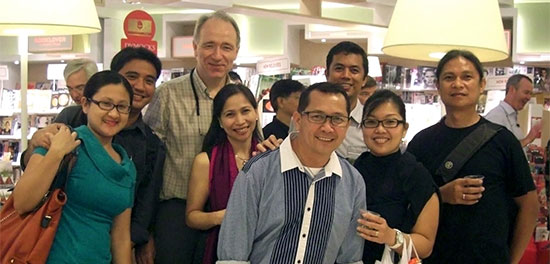 (all photos by L-G; except the middle group shot above, by Power Publishing)
Planet_Expat book launch forum
As part of the Lamma-zine research, I subscribe to all Lamma-related newsletters and blogs I come across, being flooded with news and info every day. It's my "job" to sort through all of this input to find interesting material for the Lamma-zine and the forum. Here are two of the latest newsletters from organisations with very different visions on the future of Lamma's development. I was surprised that the two newsletters below didn't self-destruct in my email inbox, after clashing or igniting each other by their sheer proximity.
Health warning: Some of our readers might experience a significant increase in their blood pressure, depending on their personal, passionately held views:
Baroque on Lamma
(Pilot Project, Measure Our RE Resources, Lack of Medical Facilities)
Living Lamma
(Gold winners, greenest team! Glass volunteers needed!)
P.S. By the way, the BoL public stakeholder workshop on Nov 3 has been postponed indefinitely, but not cancelled. The Eden Project people changed their mind about coming to HK, after receiving some "aggressive" emails. Invited by BoL, they planned to present and discuss their famous biomes eco-project, voted Best UK Leisure Attraction, and explore the potential to set up something similar on Lamma. The BoL saga continues, I'll keep you informed...
The Lamma Calendar 2013 just went into production. Many thanks to all the photographers participating and all the Lamma Faces on the Dec pages.
$4,640 have already been raised from the photographers for the Lamma Fun Day charity. The calendar will go on sale at the Fun Day and in Lamma shops and bars afterwards. Despite a considerable hike in print costs this year, still only $60, $100 for two. Get some for your family & friends overseas; there'll still be time to mail them in time for Christmas. All calendar sales profits to a tbc Lamma charity.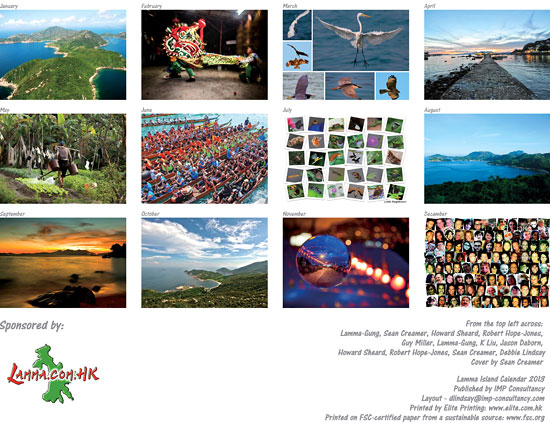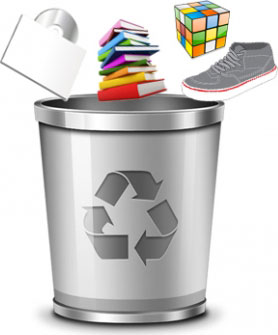 Lamma Fun Day writes:
"Dear Friends,
Lamma Fun Day is on Saturday 24th November – for the 12th time! Come join the fun!
Every year our bric-a-brac (2nd hand items) section raises a lot for children in Nepal – Thank you! We would be grateful if you could take the time to do some clearing – we take anything second hand, as long as it's clean. Books, DVDs, shoes, toys and clothes sell really well but we welcome other things too.
Remember, one man's garbage is another man's gold!
For Central drop off: Mon 5 Nov, Tue 6 Nov, Mon 12 Nov, Tue 13 Nov, Mon 19 Nov & Tue 20 Nov from 11am to 7pm at the CWS office - Suite 303, St. George's Building, 2 Ice House Street, Central, Hong Kong. Tel: 2526 8810
For Lamma drop off: Please contact Pam at pbovitz@gmail.com, or bring it down on the day!"
---
Urgent call for more volunteers!
"We really need people to help with specific behind the scenes jobs as follows:
Friday (23rd Nov) unload equipment from Gaido to beach,
Saturday (Fun Day 24th Nov) set up 8am - 10am,
Saturday (Fun Day 24th Nov) pack up 6pm - 8pm,
Monday (26th Nov) morning approx 7.30am (time TBC) re-load equipment back onto Gaido.
We also need someone to assist the bands from 6 - 8pm and 2 people to sell beer on the beach from 6 - 8pm.
Anyone interested should contact me on hazelwalpole@hotmail.com."
---
"At Lamma Fun Day every year there is a really fun and challenging volleyball tournament. This year we have decided to keep it simple and assign people to teams when they show up. If you wish to play please arrive at 11am, make a donation of HK$100, and you will be assigned to teams. If you come with friends we will ensure you are on the same team.
Teams consist of 5 people and we will aim for 4 to 6 teams in order to maximize court time for players. Tournament will end at 5pm. Please email bj@topexecutive.com for enquiries and to show your interest so we can anticipate numbers in advance.
The winning team gets a pair of Havaianas each!! So come down early and sign up!"
---
For more details and registration forms for the Lamma Rush, a "Family Fun Filled Xperience", on Fun Day, 2-4pm, a kind of treasure hunt starting at the YSW ferry pier.
---
And yes, here's the official, finally finalised, final poster, courtesy of Harry & Bill who did a really fantastic job! Bands playing will be announced soon as well!
For the latest Fun Day news, click on the poster: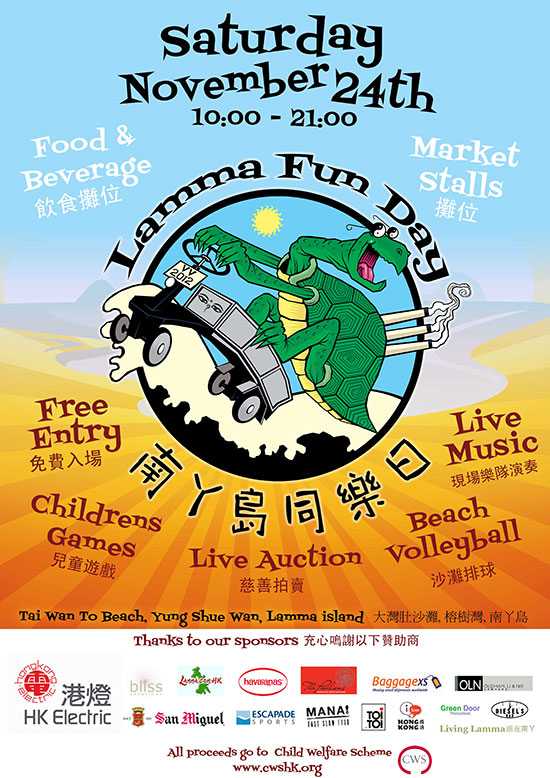 For the very latest news & updates, see our forum!
Dymocks writes: "Tall tales of entrepreneurship and adventure from the world of expatriates, with contributions from across the globe, getting to grips with new cultures and opportunities, and riding the rollercoaster of setbacks and success along the way.
We recently spoke to John Cairns about his book. Read the interview."
Dymocks Book of the Month! Many congrats to the Lamma-zine's Official Court Senior Correspondent! John has written so many great stories over the years, usually about pet- or basketball-related issues, he's definitely earned this free advertorial for his latest book. He even proudly hand-delivered it to my home upon publication and I'm currently devouring this cracking good read with 368 pages of fascinating, wild and wooly life stories. I was offered to be included in the book by publisher Paul Watt, a former long-time Lamma-zine advertiser (Junk Pub and Duk Ling junk, see above), but for various reasons decided to wait for a sequel.
This most entertaining book contains lots of caricatures and cartoons by former Lamma Artist of the Month, ex-Lammaite Sara. He hosted my solo art exhibition - Wonder, Whimsy, Weirdness - in his former Lan Kwai Fong art gallery before returning to his native Sri Lanka. Sara will be drawing caricatures of the book launch visitors and there'll be free wine! The last caricature he drew of me dates well before my weight loss, so I'm eager for a new one!
After almost a quarter of a century living in HK (11 years on Lamma), I can definitely sympathise with the tagline of the book, "Why Dedicated Expatriates Seldom Go Home". Home is where the heart is....
P.S. Discuss this book, including the book's curiously creative spellings of "Planet_Expat" in our forum, Planet_Expat book launch.
But who shot that famous junk on the book's cover? Guess who?
The South Lamma Sewage Treatment Plant is making good progress. A huge junk of the Ling Kok Shan hillside, between Sok Kwu Wan and Mo Tat Wan, has been removed and a massive hole has been excavated. The above-ground building works on the plant have just started. It'll be quite similar to the almost completed (2013) plant in Yung Shue Wan, part of the Lamma-wide sewage treatment works, budgeted at $420+ million. Current status: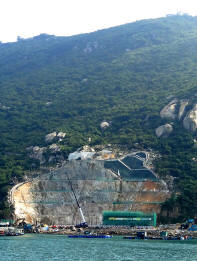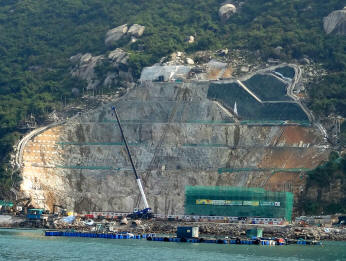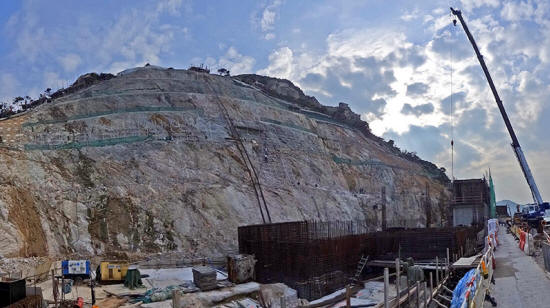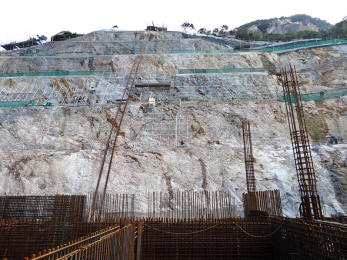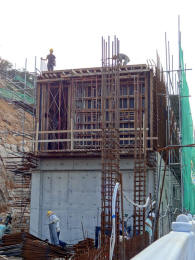 The builders write:
"The final outlook of the Sok Kwu Wan (SKW) slope will be hinged on the types of slope treatment works to be done. These works will be determined upon full exposure of the slope faces. All soil surfaces will be hydroseeded, while rock faces will be left bare in general. Sprayed concrete and hanging mesh are the probable options to stabilize fractured rock faces. Notwithstanding this, we will try to make the final slope surfaces as natural as possible.
The SKW sewage treatment plant will be a compound of low rise buildings, brown in colour - an attempt to match with the slope surfaces. The artist's impression of the buildings together with the slope will be produced when the details of the slope treatment works are finalized."

Lamma Corner writes:
"With 100 students from Delia Memorial School on last Sunday morning, Nov 4, we have cleaned up the beach of Pak Kok Village."
More photos by Lamma Corner from 4 Nov...
南丫島石排灣 Shek Pai Wan, Lamma Island 14 Nov
南丫部落、綠色力量11月24日清膠行動招集
Lamma Corner & Green Power, Pellets Cleaning Event on 24 Nov
---
Living Lamma cleanup on the same beach - Oct 27, 2012
(PDF presentation, all photos by Living Lamma)