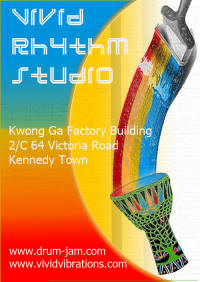 Current & former Lammaites are getting up to more shenanigans tonight, following the fine example of several Lamma Bands who are performing all over HK (shout-out to Dark Himaya, Transnoodle, etc).
DJs Tie One Toe, Barnaby Bruce and Jim Browski will play an Eklectronic mix of disco, electro house, breaks and Dub'n'Bass, with live percussion by Kumi Masunaga the Drum Queen and live painting by Tamara Norris of Vivid Vibrations. Kumi & Tamara have recently founded Vivid Rhythms Sound & Vision Studio in Kennedy Town on HK Island. Check it out, they're still looking for creatives to share this very attractive, art-jammed space (email).
Eklectronic: Sat, Apr 30, 10pm,
Insenses, L/G, 13 Lyndhurst Terrace: (ex-)Lammaites Kumi, Tamara & Barnaby Bruce performing. Free entry, for more info: 2815-0868, HK Clubbing, Facebook Event.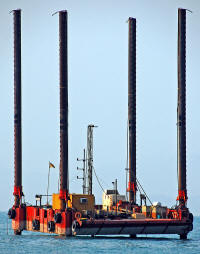 Remember all the speculations & rumours about something looking like a small oil-drilling rig appearing in Yung Shue Wan harbour last year, see right? The sewage works construction company who put it up has decided to be more pro-active this time and inform us Lammaites well in advance, in addition to the rural and district councils, by sending me this official notice:
"We want to inform you that our YSW sewage treatment plant project is on-going and there is a submarine outfall to be constructed in the sea.
Next week, after the Labour Day holidays, there will be a derrick lighter to erect a temporary platform in the sea for our marine construction and a flat-top barge will be located at the area for 3 months....
I hope this information can help you to notify Lamma people so that this time they won't be surprised about an 'oil drilling rig'."
Expect quite a bit of activity in this area, weekdays only from 7am-7pm, including "dredging, erection of a temporary working platform, underground drilling and pipe laying" by "a flotilla of vessels including 3 derrick barges, one split hopper barge, some tugs and guard boats".
The full and detailed Marine Dept. Notice has been uploaded to our forum:
Platform & pillars in the harbour?

Logan - Puppy rescued by LAWC, fostered by Louise:
P.S. on May 14, 2011:
Good news from Louise, via LAWC: Logan has quickly found a new foster home! So the next step still remains to find him a permanent home! Anybody?

It's been exactly 3 weeks since my Partial Abdominoplasty surgery, slicing off some of my extra tummy skin after my weight loss. I just got the stitches plucked out one week ago and the last wound dressings removed by the very professional and cheerful nurses in the Lamma Clinic. They even convinced me to come in twice during the Easter weekend for their careful but resolute procedures in some delicate and tender areas of my anatomy.
The North Lamma Clinic is actually surprisingly very busy on a Sunday morning; no doctor present, but lots of patients coming in for small, non-critical procedures that nurses are permitted to handle - anything for the absolute bargain price of just $17! The worst part about the recovery is not the wound, which hardly ever hurt at all, but the incredibly annoying, long-lasting itchiness caused by all the plasters some of which I was severely allergic to!
Being allowed my first full splashing shower after 2 weeks of careful wet-towel- only cleaning was such a relief. Most of us take daily warm showers for granted - yes, even on Lamma! - but try not showering for two weeks, then you'll REALLY appreciate this wonderful and pleasurable modern convenience!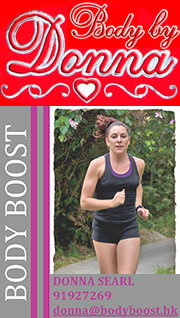 I'm over-eager to get back into my former routine of three 1-hour BoostCamps per week, as they were surely crucial for my quick recovery after surgery - leaving hospital after 6 days without complications. On my daily walkabout today, I met my Personal Trainer Extraordinaire, Donna the BodyBooster; see right, including a little (rejected) logo I designed for her. She urged me to resume my BoostCamps, but my plastic surgeon doesn't approve of me exercising yet.
He's probably worried that I might break open some of the record-length scar he stitched up so carefully and nicely. This could cause me (theoretically) to spill my guts (literally). That might look a bit messy and be probably unsanitary on the nice, bouncy floor of the Basketball Court during BoostCamp. Also, all these expensive but tiny Titanium staples (holding my permanently reduced stomach together) might create a safety hazard for barefoot exercisers. I encouraged Donna to add this potential spilling-your-guts hazard to the disclaimer form we all signed before starting classes. She didn't take me seriously, I suspect.
I've been "strongly encouraged" to wear my tailor-made "compression garment" - Don't call it a girdle! - for another several weeks (Doctor's orders!), even during this steam-room-like spring weather, 24 hours per day. So iiiiitchy! A feminist friend of mine pointed out to me that I can now sympathise with what Victorian- era women had to endure to look slim-waisted and supposedly sexy. But a girdle, eh, a compression garment looks definitely NOT sexy nowadays, especially not on a big guy like me. Actually, I shouldn't have told you about it at all! I'll probably attract ridicule wherever I'll go in the village now. But it definitely helps to prevent my guts from spilling out, just in case I can't restrain my over-zealous NEW BODY from starting exercising again way too early.
After keeping my weight pretty steady for the last 1.5 years, I've lost another 6 kg (13 pounds) since just before this skin surgery, including the sliced-off-and- discarded 2-3kgs. Well, hospital food only for a week might do that to you. I'm now well below my "ideal target weight", so where's the chocolate and wine?! Or should I try adding some muscle mass instead, perhaps? Nah! Later!

I just got emailed by a Lamma-zine reader who wants to know "every- thing" about my weight loss surgery. She's considering to follow my example, chronicled in this online publication. I'll be meeting up with her tomorrow over a plate of Chinese veggies to download some of my data and experiences, good and bad, of this life-changing, but definitely not risk-free surgery 3 years ago. But it's just the starting point for all the moderate dieting and exercise regiment which remains absolutely crucial and mandatory to make my weight loss into a hopefully long-lasting success story.
Well, so far so good...

Jay Scott Kanes - Official Court Pet Correspondent - Cairns Media:

Gentle Dog Charmed Even Cat- Lovers -- And the Cats Too!

March 30, 2011

Nothing Easy When Losing a Precious Pet

YUNG SHUE WAN, Lamma Island, Hong Kong – Who would expect cats to grieve for the sudden death of a dog? It happened after the startling and unexpected demise of Gail, our family dog.

A faithful, gentle dog, Gail died abruptly at 12:20 a.m. on March 2. Suddenly she began to feel unwell, collapsed and passed away, all within remarkably few minutes. The situation turned deadly even before my wife and I could realize its seriousness and ended too quickly even to consult a veterinarian. Until then, Gail had behaved normally.

Middle-aged at most, Gail, a black-faced, brown mongrel (with German shepherd and mystery ancestry) still had several weeks to go before her eighth birthday. Even our six housecats miss her immensely.

(all photos by Lamma-Gung, see full photo gallery.)
(all photos by Lamma-Gung, see full photo gallery.)

Easter Egg Digging & Games by Hangout Kindergarten of
Church of Christ in China (click to enlarge any photo):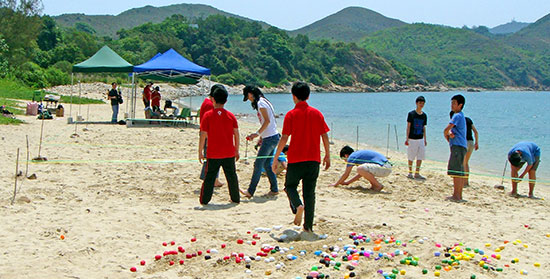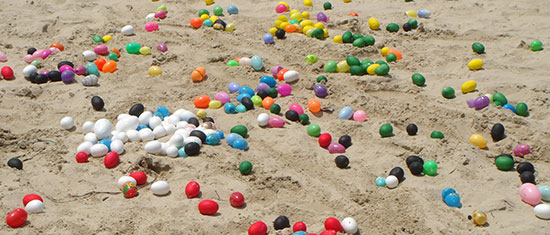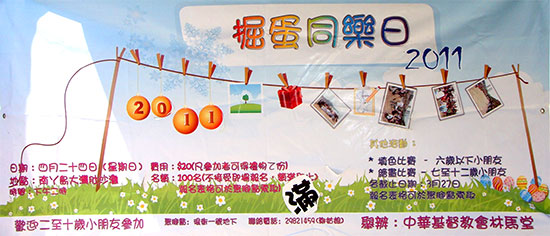 Easter Sunday Mass and Baptism of the Canaan Church: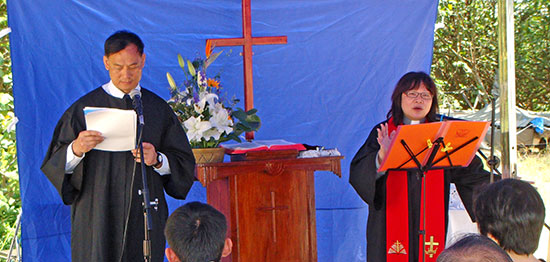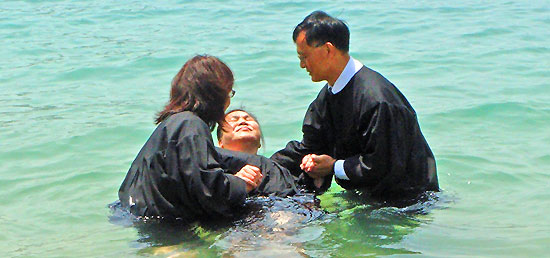 Noise warning handout for interrupted Beach Rave Party -
Nearby: old and brand-new Lamma properties:

For info & pictures of former LAMMA DAYS, click here.

Harry Harrison has been applying his tremendous creative juices to a new artistic, high-brow endeavour, a new avenue of pure, non-commercial, creative expression, moving from hand-drawn illustration into the purely all-digital domain. He's trying hard to win critical acclaim and high praise even from snobby art critics who still refuse to acknowledge his daily SCMP editorial cartoons, magazine covers and illustrations for numerous children's books as the fabulous and sophisticated artworks they really are!
So Harry's been taking artsy iPhone photos of his Lamma buddies and processing them with the Half Tone app, creating an all-digital photo comix. Here are some of his latest artworks, republished from his Facebook page with his explicit and concise permission, consisting of a one-word email reply: "yep".
So when you meet Harry on Main Street or in a bar, smile for his always on-the- ready iPhone camera, you might end up the subject of his next artwork!
P.S. New Half Tone artworks by Harry from May 2nd:

Lynley Capon - Lamma Visitor:

(All pictures and story by Lynley Capon.
Editor's Note: Originally from New Zealand, the writer lives and teaches in Thailand. Recently, she and her husband Peter visited Hong Kong
for the first time, staying with friends on Lamma Island.)

BACK STREET, Yung Shue Wan -- Everyone has heard of Hong Kong, but not many people know about Lamma Island. Until a few years ago, I too fell into the category of ignorance of this little island paradise.

Measuring 13.55 square kilometres, Lamma is Hong Kong's third-largest island. It has about 6,000 residents, many of them non-Chinese.

Low-rise housing, small settlements, bush-clad hills and sandy beaches make Lamma a stark contrast to the towering skyscrapers, bustling harbor and pushy crowds of nearby urban Hong Kong. What a pleasure to board a ferry at Central on Hong Kong Island and then sit back to enjoy a 25-minute ride to Yung Shue Wan, the main town on Lamma!

After disembarking, you hear the birds singing, smell the fresh sea-air, see greater distances without smog and notice the absence of motorized vehicles. Hundreds of bicycles are tethered along the pier, waiting for their owners to return from the city and bike along the very narrow paths to modest homes. If you don't want to bike, then walking is the only other option to get around.

On the Main Street, you can't miss the sight of happy dogs. Many large, free-ranging dogs roam the streets, mostly without fear of dog-snatchers. Many dogs live happily here after being adopted from dog shelters. One beach is designated as "for dogs". Lamma's dogs must think they're in paradise.

Yung Shue Wan's Main Street is lined with seafood restaurants, cafés, souvenir shops, fruit stalls and bars. A library and post office also provide services. It doesn't take long to walk through the town and over a small rise to the beaches. Keen walkers can cross the hills to a small community called Pak Kok and there take a ferry to Aberdeen on southern Hong Kong Island.

Lamma lies to the southwest of Hong Kong Island and is visible from Aberdeen on clear days. Unfortunately, pollution, much of it from the Chinese mainland, often obscures good views of the outlying islands, even Lantau with its high hills. When on the ferry crossing the small strait to Lamma, it's sometimes hard to see far at all. Three big smokestacks at the Lamma Power Station, the one blot on an otherwise perfect landscape, often loom out of the haze. These chimneys give Lamma a unique landmark, a dubious cause for celebrity.

It's possible to walk all over Lamma within a day. Little more than an hour away from Yung Shue Wan, beyond low hills, awaits Sok Kwu Wan, a quaint fishing village resting ribbon-like along the shoreline. Like Yung Shue Wan, this community gets overrun by Sunday visitors from the city eager to taste Lamma's rather-expensive seafood delights.

We visited Sok Kwu Wan on a Monday, and the town looked very quiet. Not wanting to spend a small fortune on seafood, we wandered along the one street until we came to a small snack bar. We went in, examined a menu and decided the fare and prices suited us perfectly.

Several people played mahjong, and no one seemed interested to serve us. Finally, we asked if we could eat and were lead to a table beside the harbor. We placed our orders, and the waiter went off for a moment, talking on his phone. Moments later, he returned, and we wondered what on the menu was unavailable that day. To our surprise, he informed us there was no one to do the cooking, so no food for us at all.

I suspect the mahjong game may have involved high stakes so that serving customers on a Monday took a very low priority. Needing a little sustenance before hiking back to Yung Shue Wan, I bought an ice cream that cost about as much as a good lunch should have.

Near Sok Kwu Wan, a pathway leads to Mount Stenhouse, the highest point on Lamma. The sides look steep, and although I'm sure the view from the top is worth the climb, I felt too lazy and unfit to make the effort. My excuse was that Gail, the dog who would have guided us, had died suddenly a month earlier and I didn't have the heart to go without her. Instead, I enjoyed a dip in the sea at the "dog beach" and felt the joy of watching some local dogs romp in and out of the water.

Having friends on Lamma, I have followed some recent events there and had looked forward to an ice-cream cone at Emily Ho's famous ice-cream shop. Unfortunately, her business fell victim to escalating rents and closed a week before we arrived. Still, it was good to have a coffee with Emily, "the ice-cream lady", and to hear her tales and plans.

Our visit to Lamma gave us a wonderful experience. We met so many interesting people and learned about the many cultural and social events (like basketball games and Chinese operas) that keep the community humming. We watched a bamboo opera-house take shape, but had to leave before its completion and the ensuing festival.

I hope that we can visit Lamma again and reacquaint ourselves with its people, places and pets. By the end of our one-week stay, the six pet cats at the home of our friends, with whom we stayed, had accepted us as family. We said goodbye to them with sadness.

Of course, once back in Thailand, we had a joyful welcome home from our own two dogs and two cats. Even so, Lamma Island now holds a very special place in our hearts.

Brucelee writes:
"If anyone is thinking of moving to Lamma from the city or abroad consider these inconveniences:
1. Paying $10,000 for a flat that was previously rented ( months earlier) to a local for $4,800.
2. Thousands of weekend tourists blocking all the streets.
3. Poisonous snakes, giant centipedes and spiders.
4. No big supermarkets.
5. Packs of semi-wild dogs running around.
6. Living next to an illegal guest house with 12 H.K. students partying till 6am.
...."
Nousername adds: "More reasons to avoid Lamma:
Speeding village vehicles and mountain bikers.
Skol beer addicts.
A new methadone clinic forecast to open in early 2012.
Everywhere turning into a construction site.
A large amount of landfill for new construction sites.
Reclamation of Yung Shue Wan harbour.
Pathways being dug up all over Lamma."
Even more reasons in this surprisingly highly popular forum topic:

Nick the Bookman, the Offical Court Music Reviewer of the Lamma-zine, attended Bob Dylan's HK gig in KITEC on Apr 13. He "burst into tears of joy" and sang along in "joyous tuneless abandon" and then wrote another passionate and hilarious review in his own unique, inimitable style. Enjoy!
Bob Dylan in HK. 13/4/2011 - by Nick the Bookman
Photos by Les Knight (click to enlarge: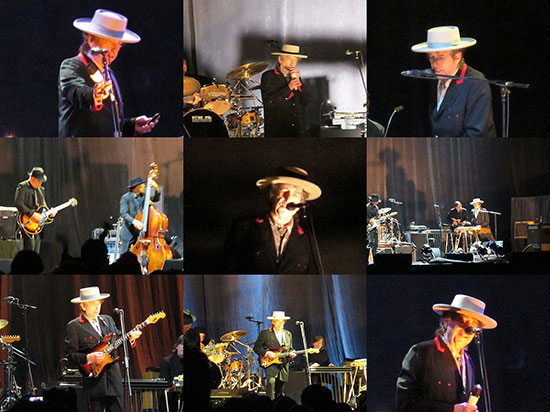 Living Lamma - "Set up in response to the continual degradation of Lamma's natural beauty and village character":
Monster Wall for Yung Shue Wan?
We've already got a monster clock. Are Lamma-ites going to wake up one day to a monster wall?
Schemes for the reclamation of the harbour have existed in various forms since the mid 1980's. In general people have been unconvinced by the arguments for these proposals and organizations such as Save-the-Bay and the Save Lamma Campaign helped convince the government at the time that concreting over Lamma's harbour front was not going to be popular.
When the plan last resurfaced around 2000, extensive bilingual surveys were carried out by local pressure groups. The results were somewhat striking - 93% of local residents and 98% of tourists were against the plan. This negative reaction was covered in local and international papers. The plan foundered at the Environmental Impact Assessment stage.
So it may come as a surprise to many to find out that a revised version of the plan has quietly made its way to the Environmental Protection Department for approval.
So what's in it? And what's different? You can download the full version of the 2011 Project Plan (pdf) from the EPD web site but here's the core.
---
Slide Shows:
YSW Harbourfront
YSW Harbour Reclamation Phase 2 - A Chronology
Peng Chau Slide Show (showing an existing similar harbour reclamation)
P.S. We've tried hard for some time now to get more info from local politicians and govt. depts. supporting this already finalised project, but not much luck so far. A secretive, unannounced 14-day "public consultation" has just ended on March 9. Construction will start in 2014, after completion of the soon-to-be-started Environmental Impact Study.
Striving to be a neutral, reasonable media, the Lamma-zine would love to hear more from BOTH sides, including official and private views supporting this project. I'll publish all views as soon as they become available.
Check out our very active harbourfront discussion forum...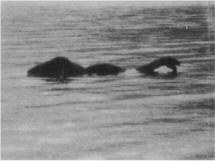 This mobile phone photo has been submitted by Alert Lamma-zine Reader Lydia C. on Sat afternoon, April 9. She called it "Loch Ness Monster visits Lamma". Why? Check out this supposedly "real", famous photo of Nessie:
I suggested these two captions myself:
Practice session for the future Olympic discipline of Submarine Dragon Boating.
Lamma Dragons checking out the seabed for the announced YSW Harbour Reclamation, Phase II.
But I'm sure you can come up with much better captions. Post them in our Typically Lamma! forum, or, even better, post them on Lamma Gung's Facebook page, where there have been quite a few comments and captions posted already, within minutes of me posting this photo. Expect a lot more Facebook shenanigans from Social Media Marketing Consultant Lamma-Gung in the near future...

You might have noticed - or not - that the Lamma-zine hasn't been updated daily for the last week or so. Well, I've been offline completely - off all electronic media, even TV - for a week spent in Tung Wah Hospital (formerly Western), just returning home last night. I'm currently recovering from Partial Abdominoplasty surgery performed there one week ago.

I was most reluctant to undergo this surgery, but the public hospital system offered it for free, even though I didn't ask for it. Overseas, even private medical insurance usually doesn't pay for this type of plastic surgery. But if you lose over 80kg (175 pounds) of body weight, like I did after Vertical Sleeve Gastrectomy surgery 3 years ago, not all the skin will shrink back to fit the new body. Imagine a deflated big balloon...and a balloon is a lot more elastic than skin.
Please be advised that this story might be disturbing to some of our more sensitive readers as it contains some potentially disturbing surgical and medical information, plus occasional portrayal of undesirable behaviour. Reader discretion and/or parental guidance is recommended!
I had heard horror stories from fellow patients, and a HK friend of mine who underwent the same weight loss and skin reduction surgeries just ahead of me. Researching extensively in weight loss patients forums made me worry even more: the huge amount of pain ("9 out of 10!"), many potential complications, a long and difficult recovery and often disappointing results. It turned out quite different and so much easier in the end, maybe thanks to my intensive preparations, like a healthy diet and bootcamping 3 times per week. If you expect the worst, almost any outcome will be better than that!
After one year of mulling it over, I finally relented. After a long wait for this low-priority, non-critical surgery - your body weight has to be at a minimum and stable for at least 1 year - they suddenly found an available date: the day right after Ching Ming Festival, the Chinese grave-sweeping festival: Apr 6. Close to this date, HK Chinese are most reluctant to have surgery as it's considered bad luck. Lamma-Por, bred and raised proudly in HK, was a bit worried and the usually full hospital ward was half-empty that week when I checked in. But I'm still just another Gwailo, even after 23+ years living in HK, so these local beliefs don't apply to me yet, or do they?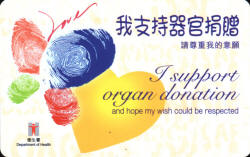 Interestingly, the hospital ward had leaflets for patients about organ donation, you know, just in case. I've already marked "All usable organs" on my own Donor card, to be carried in my wallet at all times. You know, just in case.
In a 3-hour operation, the highly-respected surgical team from Queen Mary Hospital basically sliced off about 2kgs of my lose stomach skin, 15+cm vertically, left over from my massive weight loss. But first they had me standing almost naked in the operating theatre, taking at least 5 flash pictures of my tummy for "teaching purposes", while 8 masked people prepared for the surgery all around us.
Well, the best part about full general anaesthesia is that you wake up a bit groggy and ask, "When are we starting the operation?" and they tell you, "It's all finished already!" I was so happy that there were NO tubes up my nose, down my throat and up my penis into my bladder, unlike last time when this came as a big surprise after awakening from my weight loss surgery 3 years ago! These tubes remained in place for days...Ouch! Reawakening slowly mere hours after surgery, I failed to be able to pass urine (infection risk!) while lying flat on my back. So the nurses pushed me to drink a glass of warm water every hour, otherwise they'd have to put in a catheter tube this time as well, but with me being awake this time! This really motivated me to try my outmost to pass urine finally hours later.
Well, this time I was only leaking from two tubes in my hips for over a week. I had to learn to empty the drains myself daily after leaving hospital, measuring the daily bloody output, as Lamma-Por is a bit squeamish about this kind of thing.
But I still had my old belly button - Hurray! - even though they threatened that they might have to "relocate" it, creating a new one. They also didn't touch my (well-toned, hard?) abdominal muscles and other tissues, no fat liposuction or any body-shaping, so the aesthetic results definitely won't be great-looking, more "functional". You want to look great, go to a private hospital. Well, you won't see me anytime (ever!) on Hung Shing Yeh beach in Speedos!
This has left me with an impressively scary scar around 3/4 of my circumference. I might now add another record to the "Guinness Book of Records, Lamma Edition", after my "Biggest Loser of Lamma" accolade 1.5 years ago: Longest Scar on a Human Body. What record will be next? It takes more than half an hour every day to change the dressing on this wound, but I do appreciate the caring, careful attention of the very professional nurse in the Lamma Clinic. If it all just wouldn't be so incredibly itchy....
After a few days, I actually started getting used to hospital food, including congee-only breakfasts every morning. Frightening, I know. I was really looking forward to Lamma-Por's almost daily visits, bringing me her delicious, home-made Chinese soup! To my huge surprise, my weight loss surgeon - the wonderful Dr Chan who's still following me up regularly 3 years post-surgery - visited her "poster child", the biggest loser of her weight loss program so far, even though it was her day off! She told me that it is her "passion" to make seriously obese people lose weight, restoring them to good health. Then she asked me to write about my experiences for the benefit of potential future patients in her weight loss program.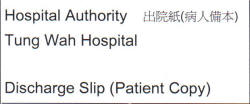 I got to read several books (dead tree versions) in bed, but then a new guy checked into the bed besides me with an iPad. Then I knew it was high time to return home, to my favourite recovery and recreation area, in front of my PC in my home office, blogging away right now. Healing well and quickly, no infections and very little pain, I expect to be back to hill hiking and bootcamping in just a few weeks. Hey, I haven't even been up Mt Stenhouse yet this year!
P.S. More details on How To Lose 175 Pounds.

Harry Potter, err, Harrison created this updated version of Quidditch for the Lamma Dragonboaters Fundraiser - Go Potty for Potter! - yesterday in the Island Bar. The original of this drawing has been auctioned off for a new record of $5,500 to Oliver the ex-Dragonboating Captain. The first prize in the Lucky Draw, an iPad 1, went to Donna Foreman! Congrats to both of them! The event raised $24,720 for the Lamma Dragons teams! More photos coming soon....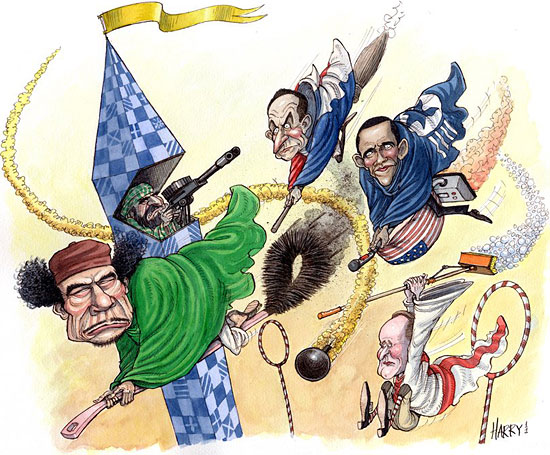 Bike Mike - Official Court Overseas Correspondent:

(Text by Bike Mike, extensively edited & expanded by Lamma-Gung, pics by L-G)

Lamma Island will soon become the sight of another world-leading, eco-friendly project.

Construction will soon begin in the small valley known locally as Bobsy's GAIA Valley (close to Lammarina and the DickStock Residence). Several technologies will be called upon to counter the effects of global warming using renewable energy sources, while at the same time treating YSW's sewage, complementing the massive Sewerage Treatment Plant currently under construction beyond the existing YSW Helipad - see Artist's Impression:

Phase One will see the installation of solar photovoltaic panels that will line the upper reaches of GAIA Valley, similar to the ones already installed on the Power Station rooftops last year. At the same time, work will begin on digging a new sewage conduit across Lamma's more populated corridor from Wang Long Village past YSW to the area popularly called "Dog Shit Beach" which lies just below GAIA Valley.

The new sewage collection trench will feature a two-metre diameter pipe, the largest of any disposal lines currently found on Lamma, allowing for the increased flows to be generated by anticipated future developments on the island.

Electricity produced by the GAIA Array will power massive pumps that will draw cold water from the deepest off-Lamma depths. The cold water will cool giant cold exchangers - similar to those found in domestic air conditioners and refrigerators - producing millions of cubic metres of chilled air. Power for the pumps will be further augmented by the erection of two new windmills in the surrounding hills, adding to the existing Lamma Winds turbine.

Lamma's sewage will be pumped to the heights above GAIA Valley where it will be sifted and blown in a fine spray through the refrigerated air, generating artificial snow while rendering the wastewater safe. Snow will fall over the valley, protected from melting by the shadows created by the giant solar panels above.

The microclimate created by this project will counteract global warming, lowering annual Hong Kong temperatures to pre-2001 levels. Lamma's new snowy abode will become a refuge for abandoned Alaskan Husky dogs that have been left behind by irresponsible expats. Angela Leary of Animals Asia announced that fugitive polar bears will also be relocated here as they have been displaced by the melting Arctic Ice Cap.

Canada's Whisky Jack ski resorts have also expressed an interest in developing a major ski resort venue here, inspired by the pretty ambitious plans for The Baroque on Lamma development in South Lamma. Lamma-Gung will be handling Internet advertising and social media marketing for the ski resort. Donna the BodyBooster has announced plans for some really cool, snow-themed BoostCamps.

A ski jump ramp will be installed from the top of the hill down to the beach, allowing skiers an exhilarating, world-first landing in the warm sea below. Lamma's tough mountainbikers are salivating at this prospect, practicing already by jumping into our Quarry Lake. The Dragonboaters expressed keen interest in using the ramp for a "flying start" in races.

Luxury-equipped ice igloos will be rented out as premium-priced holiday resorts by our eager local property agents. Lamma-Gung is rumoured to be in secret talks to import wooden Swiss Ski Chalets, competing for top- dollar rentals with the nearby (almost!?) completed Lamma Garden development.

Nick the Bookman has already volunteered as an "Abominable Snowman" mascot for the resort. Brad the Wine Baron - featured exactly 1 year ago - will provide copious amounts of Thirsty Horse Premium Wines for wild après-ski parties. Several Lamma Bands are most eager to perform live gigs in this high-class but eco-friendly ski resort.

Construction will begin today, April 1.
Forum discussion about this story:
Lamma Eco-Development Starting Construction in GAIA Valley.