The picture attachment problem in our forum has FINALLY been solved, thanks to several forum members who volunteered and helped out, after my call for HELP on Aug 17! It was a real learning experience for me about SQL database tables, phpMyAdmin, our phpBB forum software and programming in general. It all reminded me of my past, the 1980s when I got into programming for fun and then studied computer science.
But since 1995, I've been focusing on building, webmastering and marketing websites, specialising in Internet publishing and e-marketing consulting these days for a number of clients. So I'm pretty rusty at all this technical stuff, wasting dozens of hours trying to analyse and fix this tricky and stubborn problem. I couldn't have done it without help.
Dozens of emails over a 1-month period... many heart-felt and sincere thanks go to Cedris, Perksie and especially Jenny who managed to repair the corrupted database table and re-upload it into the forum. Jenny has just been named a Laudable Lamma Luminary for services far above and beyond the call of duty to the Lamma forum community!
No data has been lost and the forum is back to normal now. So you're welcome to attach your wildlife photos and stuff for sale again in our still all-free, non- commercial forum!

Debbie Lindsay - Publisher of Lamma Calendar 2011: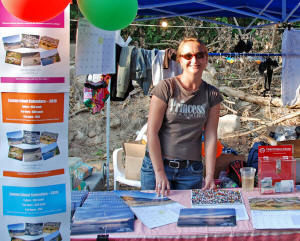 I will be publishing the calendar for a second year.
This year, I'd like to open it up and offer the Lamma community the chance to publish their photos in it. 10 photos will be chosen for the calendar. For the fee of $50 per photo (which will be donated to Child Welfare Scheme), anyone can enter, and you can send in as many photos as you like for the competition. Please click here to find out how to enter.
The popular 'Lamma faces' page will also be published as the December page again this year. The fee is HK$30 for each face and all proceeds will be donated to the Child Welfare Scheme. Space will be limited this year, so get your photos in early. Click here to find out more.
To find out more about the Child Welfare Scheme, please visit www.cwshk.org.
---
Photo competition – Calendar pages
To Enter
Please copy your photos on a disk, and put in an envelope containing your full contact details and $50 per photo ($100 for 3) entry fee. A donation box will be placed at the following outlets:
o Diesel's Bar and Cath's Bar
Photo Specs
Photos must be submitted by 5th October 2010 and must be:
- Lamma themed (see categories below)
- Landscape
- Minimum of 280mm x 215mm
- Minimum 300 dpi
- Maximum 5MB
Categories
The publisher will be looking for subjects that fit into the following categories:
Seascape/Landscape, On the beach, Up in the hills, Flora/Fauna, Lamma life, Architecture, Food & Drink, Local culture/events, Only on Lamma!, People
(note that close up face shots will not be used without written permission from the owner), Lamma Miscellaneous.
Please Note
By submitting photos to this competition, entrants are agreeing to give permission to the Publisher to publish their photograph and name in the Lamma Calendar 2011.
The Publisher reserves the right to make the final decision on which photos will be published in the calendar.
Copyright of all photos submitted remains with the photographers.
The Publisher will not use or distribute the photographs for anything other than the Lamma Calendar 2011.
---
To have your photo in this year's collage page, please submit your photos to Debbie_lindsay@hotmail.com by the 5th October 2010. Please title your email cws_calendar_YOURNAME and send only one photo per email.
Please state your payment method in the email text.
Alternatively, if you're not that technically minded, I will be carrying my camera around again this year and will be arranging a couple of dates/times I will be around in the village to take photos. Watch this space!

Photo Specs
- 1 face shot
- Minimum 300 dpi
- Maximum 1MB
Payment Methods
Transfer the money ($30 per face, $100 for 4) to CWS directly. HSBC acc no 083 465724 001.

Send a cheque made out to 'Child Welfare Scheme' and either drop it in one of the donation boxes, or send directly to CWS at Rm 303, St George's Bldg, 2 Ice House St, Central.

Put your cash/cheque donation in an envelope with your name and contact details on it, and drop off at one of the donation boxes in the village:
o Diesel's Bar and Cath's Bar
Please don't forget to mark your payment method clearly in the email when you send your photo!
Please Note
By submitting their photos for the collage, entrants are agreeing to give permission to the publisher to publish their photograph in the Lamma Calendar 2011.
Copyright of all photos submitted remains with the photographers.
The publisher will not use or distribute the photographs for anything other than the Lamma Calendar 2011.
Click above to enlarge, or learn more about last year's Lamma Calendar 2010:
The Generous Spirit of Lamma Residents

This error message has confused many visitors to this website in the last few days. The entire website went down occasionally, with both forum and Lamma-zine pages unavailable. Sorry for any inconvenience caused.
After a lot of struggling with our US webhosting tech support, resulting in almost no really helpful advice, I figured it out myself in the end: a spam attack from a single Mainland website on our Chinese Discussions forum!
This attack overloaded our shared server when our website was "using more than 250kb/s and/or 100 simultaneous connections at once." These spam attacks have been happening occasionally for years on a smaller scale, but I've closed all potential forum loopholes long ago. They (almost) never succeed in spamming our forum anymore, due to our daily, constant vigilance; plus I'm manually approving every forum member registration. But the spammers keep on trying, usually via quite stupid but extremely stubborn Spambot programs.
This temporary server overloading triggered the US webhost to shut down the entire site automatically, without informing me at all what they did and why they did it. This happened last Tue, this Mon and Tue mornings (that I'm aware off); it took me one week to hear what had actually occurred.

I've changed some the forum's PHP programs by hand today (if ($_SERVER['REMOTE_ADDR'] == "220...) and blocked the offending Mainland IP Address. After uploading the new program...WOW, amazing success! Within minutes, I could watch in real time all the spam connections simply dying away, only leaving legitimate users.
We've finally got a peaceful, quiet forum, not under constant attack anymore. What a big relief for this forum administrator, aaahhhh! Well, at least till the next spam attack originating from another website...
If you see any more 501 Not Extended error codes, or any other website/forum problems, please email me immediately at info@lamma.com.hk. Thanks!
P.S. for more technical details, plus updates on the still unsolved picture attachments problem, or, even better, to offer YOUR advice and help (still desperately seeking a phpBB expert!), see:
Announcement: Attachment problems!

Most blogs mentioning Lamma are fairly standard. Usually something like, "We took the ferry, hiked the Family Trail, ate seafood, went home." But occasionally you come across a gem of a story, or at least something very unusual or plain weird. Let me highlight a few recent blog stories about Lamma in the next few days. First and maybe best, a blog listing 10 Things to Do in Lamma.
The article opens with:
"more than just a sleepy fishing village and a weekend destination for city dwellers, lamma island is the glastonbury of hong kong. there is an unspoken allure to the island and as soon as you step foot on it, you can immediately feel its essence.
if discovery bay is the sterile suburb, lamma is the creative vortex of bric-a- bracs. it is a refuge for artists, spiritual healers, writers seeking inspiration and the bohemian dwelling quarter."

Yes, the writer's Shift key doesn't seem to be working, or he's inflicted with some mysterious phobia or dislike of uppercase letters. But, amazingly, this was actually composed by an inhabitant of our "friendly rival", the "so different from Lamma!" enclave of Discovery Bay, smalltroubleinhk! He told me so on his blog, when I asked for permission to republish his story and photos here: "Haha no I live in sterile land- discovery bay. Please feel free. I love to promote HK…"
Will they ban him for calling his own home a "sterile suburb"? Oh well, some of my friends living there are saying the same thing...
Thanks, smalltroubleink, no trouble at all! Instead of republishing the story, I'll simply link to it from here, a lot less effort and trouble from my side, hehe!

A few of you might remember this SCMP "The LoDown" lead story about Chow Yun-Fat planting trees up in Tai Yuen Village on April 21? Alex Lo asked me to use one my world-exclusive pictures, see above, even promising to pay for it. This is most unusual for the SCMP; from over a dozen of my pictures they've published over the years, they've only ever agreed to pay me once before.
Well, it took only 3 months (!) and several follow-up emails to their Accounts Dept., but I finally got paid their standard rate of the amazing amount of... HK$500 for this half-day photo shoot, see below!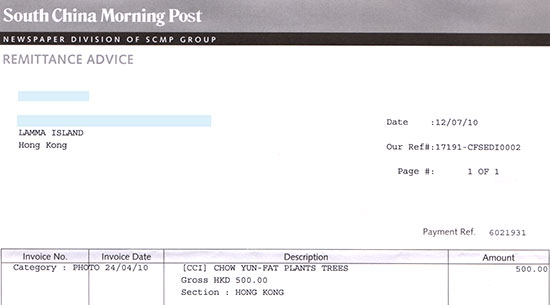 See how extremely cheap I am as a photographer! ;-)
You could definitely afford to hire me for your next photo shoot, anywhere, anytime in Hong Kong! Contact me!

Our 8-year-old forum is throwing a major tantrum! It doesn't allow forum members to attach pictures to their messages anymore and can't even display the old pictures anymore. Don't worry, the old pictures and messages are all safe and backed up on several hard disks, all part of the regular, daily maintenance I perform for our local community forum.

But to get the forum fixed I need help from somebody who knows how to restore a SQL database table with phpMyAdmin, or something similar. If you're a bit familiar with our phpBB forum Shareware, even better. Contact me urgently, please.
Here's the last message from our webhosting co.'s tech support, for your info:
"The phpbb_attachments_desc table in your database is corrupt and cannot be repaired.
A) I assume you take regular backups of your database as we are not responsible for backing up your data, restore that table from your backup.
B) Ask on the developers forum how you can recreate the table in its original form using phpMyAdmin which is available via Plesk.
After either A or B is complete your site will start working again."

Congrats to Lammaites "Elemiz" & "Bitchie" for being featured amongst the very best DJs in all of HK in HK Magazine, July 22:
Catch their blog, remixes, upcoming shows (Sonic Step Sisters and others) plus their famous Kongkast podcasts at KongkreteBass.com.


One of the many advantages of having 8+ years of fully searchable Lamma-zine stories (2,500+) is that I can occasionally republish former stories and photos.


This comes in especially handy for yearly recurring festivals, like the traditional Yu Lan "Hungry Ghosts" Festival happening today at our Tin Hau Temple and the Cargo Pier:

Aug 3, 2003: Photo Gallery: Yu Lan Festival
Aug 18, 2005: Beware of Hungry Ghosts!
Aug 1, 2006: Hungry Ghosts Roam the Island Again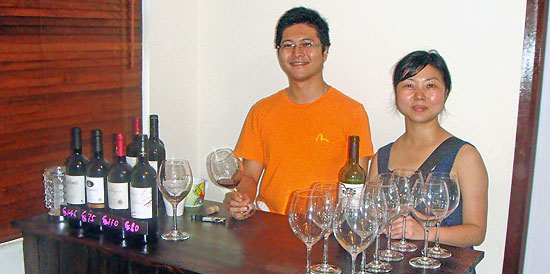 Wayne of Chateau Lamma has been offering free red wines today. Wine tastings are still a very rare occasion on Lamma, even though many wine lovers live here, myself included. Bringing a bottle to any party is almost standard practice. But Main Street shops usually offer only a very limited selection of bottles, all well below $100. They also offer no good advice, like describing the taste and which wine will complement which foods.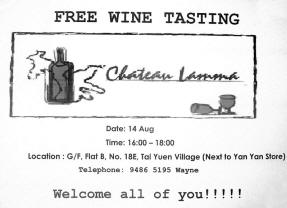 Chateau Lamma is a brand-new and cozy little place located in Tai Yuen, just after the Yan Yan store, where Selling Point workshop was located before their move. This is the only shop selling a wide selection of standard and premium wines on Lamma, ranging from $40 to well over $1,000. Check out the next free wine tasting on Sat afternoon, Aug 28, 4-6pm.
And no, this story is NOT an advertorial, just a little free promotion for a new shop from an occasional customer who's been happy with what he's bought so far, after very friendly and knowledgeable consulting by bilingual Wayne. He's a former accountant in town who's followed his passion and moved to Lamma just a few months back. Drop by during afternoons or evenings just for a chat about making his dream a reality and his hobby into a business. We Lammaites love people like that, let's welcome Wayne with open arms!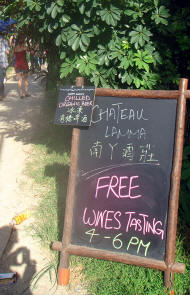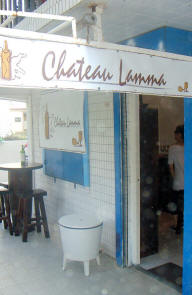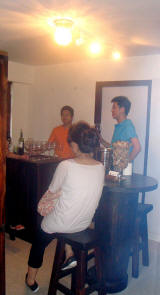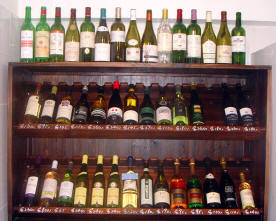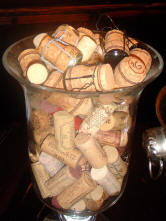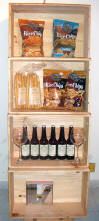 Photos by Rambo Lai from his Photos and the Days photo blog.
For more of Rambo's amazing and unusual photos, see his Lamma Life section.


Summer season is slow, cozy and leisurely on Lamma Island, even more so than the rest of the year. Very few events are happening locally while so many residents are vacationing overseas and our Lamma Events Calendar is pretty barren these weeks. So the few remaining events can get a lot of free publicity on this website. All you need to do is ask, especially if you have an unusual and eye- catching poster to show! For example this striking poster below, for an (almost) regular, monthly community event in the Waterfront Bar & Rest.: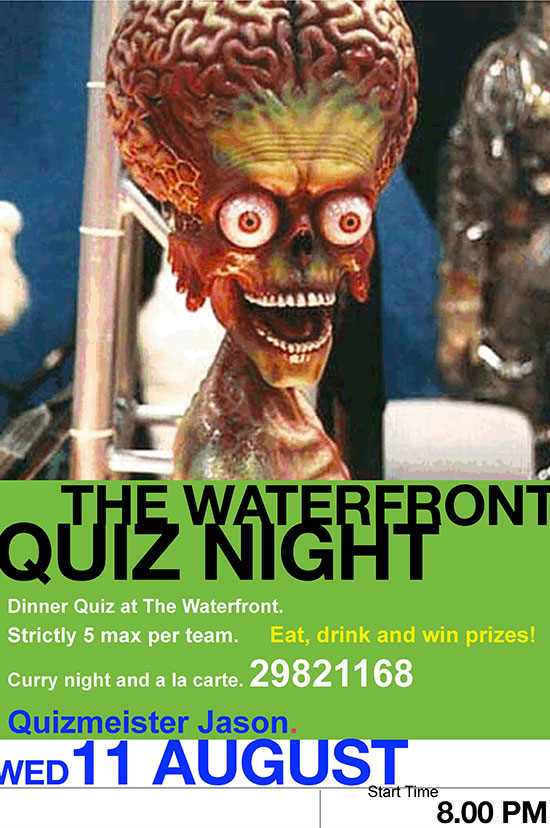 But I've got a number of questions about this poster:
Is this the famous Quizmeister Jason, veteran of so many former quiz nights; or is it a contestant suffering a brain freeze from a really tough quiz question or just getting really big-headed after finding the correct answer?

It's a dinner quiz, but looking at the expression on Jason's face below, I wonder what or who's for dinner?

Curry Night is happening there as well, like every Wednesday, and it looks like yellowish Jason is a really serious curry lover?

Did he land on our circular UFO Landing Pad, cleverly disguised as a helipad?

What are the prizes? Mars Attacks! DVDs? Jason lets you live if you win?
Alien Quizmeister Jason replies:
"Ha Ha - very funny!! Thanks for the publicity. To answer your questions:
1. Yes that is me. -- 2. and 3. Kumar has the secret recipe.
4. No, came in the swanky new ferry. -- 5. Come along and see."
This cute poster above is just the last one in a series all created by Jason:
---
While we're talking about the very popular The Waterfront - our frequent dinner place and a loyal Lamma-zine advertiser - here are a few more photos of our recent candle light dinners in this friendly, cheerful and relaxed place. Yes, I've STILL got this bad habit of annoying Lamma-Por by taking pictures of the food as soon as it arrives, delaying her from tucking in immediately.
But I'm not the only one, as you can see below. Lamma-zine reader/contributor, (food) photographer and digital artist Swapan Mukherjee from Bombay is enjoying his huge plate of fish & chips while contemplating seriously to become a Lammaite a few days ago. The Waterfront is also just a fantastic spot for sunset- and people-watching: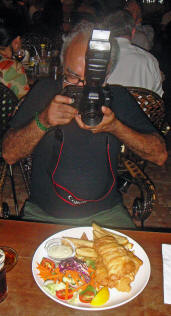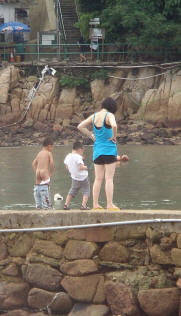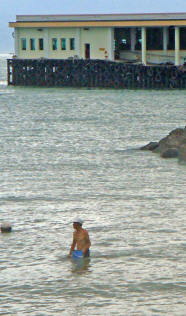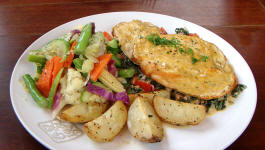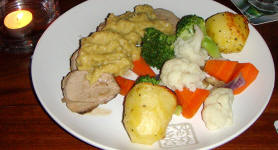 Some of our personal favourites: Chicken Dijon and pork w/apple gravy
P.S. By the way, warm congratulations to Kumar for having been promoted to Associate Director of the Waterfront and Island Bar. Well-deserved and long-overdue, IMHO!

Cédric Sam writes:
"Lamma Island has a new ferry ship! HKKF, the company that runs the ferry service between Central and Lamma Island has a new ship on this route. I don't know when it first sailed (it could have been off rush hour), but I took it on both Thursday and Friday mornings at 8:20AM from Yung Shue Wan pier.
"According to the ship's manufacturer Cheoy Lee Shipwards, the Sea Superb (or 海永 / Hoi Yong / "Sea Forever" in Chinese) is different from other catamarans operated by HKKF on the Central-Yung Shue Wan route and also built by Cheoy Lee. It is 32m long instead of the 28m basic models, like I think the Sea Superior and Sea Smooth are. The rear deck of the Superb is indeed noticeably longer.
"Now I wonder what they will do when the second boat arrives too. Is HKKF going to reassign the other boats to different routes from Central, or are we going to see the reappearance of a night ferry…"
Let's hope so, Cédric Sam, but do not hold your breath...
More pictures in Cédric Sam's blog.
HKKF, as usual, did not reply to my request for comments and more info; their rarely updated website doesn't even mention the new ferry.
But there's some very good, detailed info on this new ferry on the website of the company who built this ferry, Cheoy Lee Shipyards.

A first in Lamma.com.hk's 8-year history, a most unusual photo of a light show above our much-photographed Yung Shue Wan ferry pier.
Lightning on Aug 5 by Kevin, 7:56pm
(Nikon D300, 18mm, f/4.5, -0.7 EV, ISO 400, shutter speed 3 seconds.)
Kevin writes: "Thanks so much for your encouragement. I had to wait until the rain stopped and the wind died down. Lightning strikes last night were so frequent and bright. I took quite a number of photos with an all-bright blue sky but without any lightning. This was completely shot by coincidence. All my other photos had just a tiny fragment of the lightning.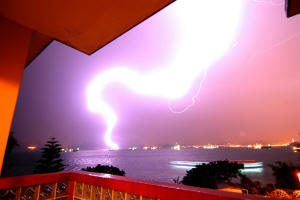 All the photos were taken under the cement ceiling. I missed quite a few great shots. All I heard were the "Wow!"s from the neighbours but I could not even see them (too busy taking care of my camera)."
After seeing this story, I got one more amazing photo of the same lightning storm, from JT in Pak Kok:
Click for more Lamma Photos of the Day and submit your own!

Yung Shue Wan has almost 20 restaurants offering "Western", Italian, Indian, Thai, Turkish, Vegetarian and various Chinese cuisines. But no Swiss food! So Lamma-Por and I had to venture to Kowloon-side for our yearly National Day fix of Swiss dishes, to the Swiss Chalet in Tsim Sha Tsui East, one of only two authentic Swiss restaurants in all of HK (Chesa in the Peninsula Hotel is the other one). What an absolute delight these guys are offering, at only $152 for a weekday lunch, everything below was included, even a glass of wine. We'll definitely return to this cozy place in Tsim Sha Tsui well before next Swiss National Day!