While Lamma-Por was still recovering from another late night of Worldcup football watching and cheering, I joined the very first early morning Bootcamp, eh, Fit'n'Fun Camp today, starting at 6:30am. Rachel, a regular, described the Camp as "We Jump Up and Down and Things!" But our our newly platinum-blonde, cropped-short Bootcamp Sergeant, eh, Personal Trainer Donna above described them as "a personal program of physical exercise, including, but not limited to, strength training, flexibility development, and aerobic exercise".
After a while of playing, eh, working out hard with our jumping ropes, balls and rubber bands, a Chinese lady entered the Basketball Court, announcing loudly and repeatedly "Tai Chi! Organised by Govt.!", trying to get us to leave the court ASAP! Even though there were only about 5 participants in her class, she seemed to need the entire court for their stationary Tai Chi exercises, not willing to share the large, standard-size Basketball Court!
We 5 Bootcampers were all pumped up after our strenuous exercises and could have taken them on easily, but some of the middle-aged or elderly Chinese ladies looked pretty fit, healthy and tough after all the Tai Chi they're doing in there 3 mornings per week, worrying us a bit. Some Chinese ladies could sometimes become quite aggressive; you might have encountered some of them and their sharp elbows in a crowd, in a queue or on the MTR?
The dire threats of "Govt.!" also had us worried that their Tough Tai Chi Mistress might call the local police boys and get us all arrested for "illegal assembly in a public place" or "unscheduled exercising inside a govt. facility". Did we maybe need a "Public Entertainment License" - making a public spectacle of ourselves while working out? - like these pro-democracy protesters trying to put up a statue in Times Square recently? In these politically turbulent times, one never knows...
So we gave in without a fight, slowly wrapped up our final stretching routines and left peacefully and with minimal protest. We simply followed the very wise martial arts philosophy that sometimes the best way to win a fight is to avoid it, taking the moral high ground. Or was that a quote from the "Coward's Handbook"? I get them mixed up sometimes. We didn't "lose" this first-ever "Tai Chi vs. Fit'n'Fun Camp" match but we defaulted, compromising on a temporary tactical retreat, preparing for an honourable rematch someday, in the distant future, perhaps...
Contact Donna at 9192 7269 if you'd be interested in joining the Fit'n'Fun Camp on the usual Tue/Thu nights at 8-9pm or in the mornings, well BEFORE Tai Chi classes in future, avoiding future schedule clashes. Or you could join these public, almost free Tai Chi classes in the Basketball Court, offered to anybody of any age by the LCSD for many years already, see old poster above. Enquire in the Rural Committee Building or with one of our 2 District Councilors' offices.

Finally, a glorious summer day after days and days of almost permanent rain. Returning to my pre-breakfast-exercise fast hikes, this is what I encountered half way up to the wind turbine this morning, about 2 metres above ground on a Fruit of Weaver Maid tree (Scarlet Sterculia Lanceolata).
At least 4 pairs of these bugs above are in in the middle of making out (back to back), crawling all over each other while enjoying these ripe, pitch-black fruits on a sunny early morning. All the red & black of the sweet fruits and the passionate bugs makes for a very sexy-creepy setup, IMHO. We've seen these bugs before in our long-running Strange Bugs forum, but they haven't been named yet. Anybody? Here are a few intimate macro close-ups as they didn't seem to mind me at all ogling them and moving my pocket snapshooter so close:


Another all-rainy day! Too wet to venture outside with my fancy, expensive, but not water-proof camera equipment. How to get some new and unusual shots today? How about from under the protection of my rooftop canopy which makes an amazing racket during a full-strength tropical downpour? My Rooftop Jungle & Pond is really flourishing in this weather and no need to water at all these days.

What's that on the overhead ledge? A tiny snail's crawling upside down, the rain enveloping it completely and then dripping off in shiny droplets!

<== My favourite shot from today, click to enlarge.
Another snail, crawling up our balcony window, shot from the inside.
The last picture is just a little flashlight mishap, but I like it:

Wendy Teasdill - ex-Lammaite Yoga Teacher:

(Pictures by Wendy)

Lamma 2010

As the plane plunged earthwards my consciousness arose in inverse proportion from its deep hypnosis and I found myself staring with suspended hysteria at the view: three tall chimneys loomed at us and as we skimmed past my wakening brain wondered: where in Hong Kong has three towers? As deserted beaches bit with delicate new moon sand at the jade green sea and the plane flipped, circled for its slot, it dawned upon me: where else but Lamma Power Station?

Fourteen years ago my daughter Iona had pointed an accusing finger out of the plane window, demanding to be there, Hong Kong. She was two, and we were just leaving, following a three-month visit. Iona generally got what she wanted and was now finally back in the land of her origins. We gibbered like wild animals as the plane finally hit the tarmac of the runway on Lantau. To those who never left Lamma, such primitive behaviour must seem slightly strange.

Sally was there to welcome us, beaming and dancing in the great glass hallway of glass and flowers, fruit and sunshine which is Hong Kong's answer to Heathrow. Sally had accidentally put her train-ticket in the bin, but all the uniformed officials to whom she spoke just waved her through barriers which magically opened as she passed. In London one can expect to shot for such a transgression, and I wondered at the dirge-like magnetism of duty and expectation which allowed me to forfeit this paradise for the pedantic treadmill of life in the UK. Where did 17 years go?

Into the form of Iona is the answer - and of course her two sisters who we had left behind. The dubious belief that they'd be better off being brought up in the country of their ancestors was completely challenged as soon as Iona set foot on Lamma.

Amazing, they painted the Moon Rock for the Year of the Tiger.

Iona wonders where the years went.

Iona back on Power Station Beach at last.

More photos coming soon in "Iona's Story"...

Art Students Exhibition: Fri, June 25, 5pm - Fri, July 2:
Banyan Bay Cafe (Cath's Bar):
Roz Keep is displaying some of the work of the kids from her art classes,
plus "Skillful Sketchers" Dina, Kelly & Flo.

Click for Grahame Collins' photos - Sat, June 19, 2010, YSW Football Pitch.

#1: Anonymous Guy (more photos) - wins 1 case of Thirsty Horse wine
(shot from Power Station Beach with his huge birdwatcher's lens!)
#2: Grahame Collins (more photos) #3: Lamma-Gung (more photos)
Both win 1/2 mixed case of Thirsty Horse Premium Wine
Many thanks to these fine Lammaites who submitted their photos to this contest:
Anonymous Guy - Damian Chan - Donna Foreman - Georgie Wheeler - Grahame Collins - Li Liao-Hanusiewicz - Marianne Hope Gable - Natalie Stenhouse-Stewart - Pete Gable - Rambo Lai - Sean Creamer - Thomas.
All their contest entries are in my Lamma 500 Photo Contest gallery.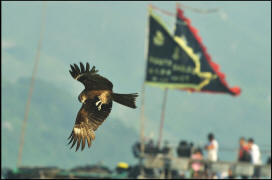 After several weeks of tough wrestling (via email only, not in person) about our widely differing selections, the 3 official judges, Brad Tarr, Gina Miller and Lamma-Gung finally agreed on the three winners. Anonymous Guy was the undisputed #1 (one more of his unique photos, see right), but there was a long, tough, detailed discussion about the runner-ups.
In the end, Brad and Gina arm-twisted modest me, Lamma-Gung, to accept the 3rd price, even though I had vehemently and repeatedly refused to be eligible at all in this contest where I've been trying to act as an honourable judge. But alas! The sweet temptation of a runner-up price of 6 beautiful bottles of delicious Thirsty Horse wines was simply way too hard to refuse and I gave up protesting, accepting the 2nd-runner up price from Brad & Gina who insisted.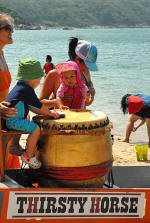 Brad sponsored the 3 prizes in this contest. His Thirsty Horse Premium Wines logo was showing up in so many of the contest photos anyway, because he had managed to plaster it all over The Lamma 500, making it ubiquitous at this event where he was chief organiser and a major sponsor. Would you believe it, there's even a Facebook photo gallery focusing solely on TH logos all over The Lamma 500 and Yung Shue Wan! It almost looks like Thirsty Horses are starting to gallop through Main Street! Besides all the obvious "watering holes" TH wines are available now, we even noticed TH wines on the Japanese restaurant's counters! Maybe soon we'll see their logo as a massive graffiti on the YSW seawall, covering entire walls of Village Houses and the entire Football Pitch floor, or even the Power Station chimneys?
Well, Brad's a successful and very experienced sports events professional, he's surely considered these "promotional opportunities" already. After all, his little hobby, a true labour of love, of importing Australian wines seems to grow into a viable, sustainable business. Today Lamma, tomorrow all of HK, the day after: THE WORLD! (Cue demonic laughter, brouhahahaah!)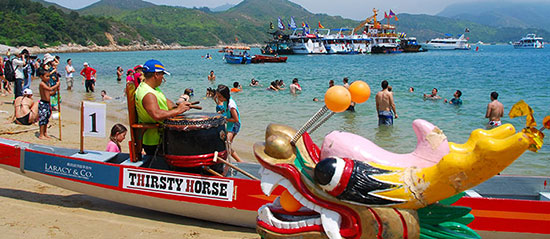 But, as part of his secret (?) world domination plans, it looks like devious Brad the Wine Baron has oh-so-cleverly managed to get me recently hooked on his Chardonnay and especially the newly imported Tawny Port to which I've taken a particular liking. It's so fruity, yummy, mouth-watering, not too sweet and simply irresistibly IMHO. I can't stop praising and promoting it these days, even in the Lamma-zine, especially after tasting another delectable glassful. Yes, the Lamma-zine has become fuelled and inspired by an occasional glass (just a single one/day, really! "Drink responsibly!") of Thirsty Horse Premium Wine these days.
Brad is even running a special promotion for my favourite Tawny Port these days, emailing his legendary legions of wine-guzzling friends, eh, true wine connoisseurs and highly appreciated customers. Brad writes: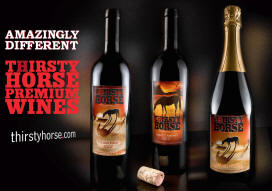 "Hong Kong Wine Lovers...
"I have a special these two weeks. Buy any case of Thirsty Horse wine, and I will also have delivered a FREE bottle of the New Thirsty Horse Tawny Port.
"I am happy to make up a mix case as well. Delivery is FREE.
100% money back if you're not happy with the wines.
Please see detail on the wines and then email me."
Hey, is this enough promotion for now, Mr Wine Baron? Where's the half case I just won in the contest!! Hurry up!!
---
Last but not least, you can have a look at the many beautiful photos entered into this Lamma-zine contest, plus some contestants' complete photo galleries,
plus a few great videos, submitted outside this photo contest:

Photo galleries: Anonymous Guy - Damian Chan - Grahame Collins - Lamma-Gung - Li - Marianne Hope Gable - Pete Gable - Rambo Lai
The Lamma 500 videos: Donna Foreman - Salavador2010ish - SO-U.TV

There was a mysterious fire happening in the Beer Garden restaurant recently, at around 3:30am, when it was closed. The police and Fire Dept. are investigating the unknown-so-far cause. Fortunately, the fire remained limited only to the bar area, nobody was hurt and the kitchen is undamaged. So this friendly, outdoor Indian-food place will remain open during the several weeks of bar renovations, still serving food and doing takeaways, see above (click to enlarge).

All of us HK Electric Customers (all of HK Island and Lamma Island) have just received this little brochure in our mail together with the last monthly bill. Among other interesting company news, it includes these two pages above, announcing their Offshore Wind Farm, planned for 2015. The Environmental Impact Analysis study by ERM Consultants has been approved recently and HK Electric will be building a wind monitoring station tower soon for a year-long study.
Details are in our Environment, Politics & Development forum, as usual.
Here's a cover story about the Wind Farm, straight from HK Electric.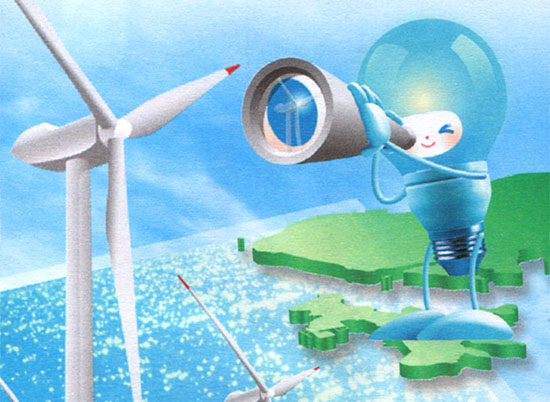 But this funny, light-bulby, bulbous character above with the spyglass got me wondering. Who or what is he, she, it? A mascot for HEC's RE (Renewable Energy) efforts? It's an energy-saving, fluorescent light bulb, so it's on the right track.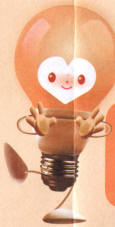 We've seen this mascot before in former HEC's promotional materials, even though it's never been mentioned in the text. But it was normal human-sized back then, never an enormous giant like seen above for the very first time! It was even a different colour in the past, with a heart-shaped face. What caused it to mutate, turn blue and grow so enormously?
But why is it standing atop Lamma Island watching the future Wind Farm turbines, 4km offshore? The big flat feet seem to be squashing a lot of Lamma's greenery - flattening Mt Stenhouse and Sok Kwu Wan in the illustration! It's like a giant electrical robot with a Power Station chimney-shaped spyglass, trampling all over our beautiful island! Is it a guardian, a sentinel for the future Wind Farm or the mighty protector of the Lamma Power Station? We should be told!
But it's not even screwed into any socket, so where does it get the surely enormous power from to be able to move around? Solar, wind, battery, nuclear? This thing might suck up most of the Power Station's output, using more power than the entire Wind Farm will be able to produce! Should we be worried about HK Electric's future plans, with this RE Giant Robot Mascot making an appearance above Lamma soon?

Two new captioned photo galleries - same location, very different participants:
Details of an eco hike to Tung O Wan - May 1, 2010...
More photos by Siuyu, our knowledgeable, orange eco guide...
This is a captioned photo gallery of a site visit by private boat to the future location of the planned The Baroque, a "six-star luxury resort and first-class Marina Club development project" in Tung O Wan, South Lamma.
The Lamma-zine was invited by the developers, together with their newly appointed Environmental/Social Impact Assessment consultants.
Discuss this project in our The Baroque on Lamma forum.

For more pictures, see my Brasil Party photo gallery.

Brazilian Party & Performance: Sat Jun 19, 4-11pm: Power Station beach:
DJs, Afro Dance Drums, Capoeira, Maculele & Puxada de Rede.
Poster, email Jo, Jo's website, photo gallery.
---
The Standard, daily HK newspaper, KIDS WORLD supplement
(June 8, 2010, all photos by Lamma-Gung, click to enlarge):
"They do not wear sunglasses or carry laser guns, nor do they gun down extra-terrestrial beings. However, they share a similar role guarding against unwelcome foreign intrusion, such as sub-standard coal shipments into our power station....
"They are the "MIB" (Men in Black) at Lamma Power Station."
(PDF file from HK Electric's always interesting and often very
entertaining quarterly printed newsletter: CONTACT 86, May 2010.
Back issues are also available on their website.)
Jo (Max's mummy) - LivingLamma.org:

(Pictures by Jo)

Monday Morning Clean Up

Max and mummy took a bag and gloves and went to pick up rubbish from the pavilion (the one you can see from the YSW ferry) this morning. We went there last week and were appalled by the amount of rubbish - particularly cigarette butts, plastic bottles and cans that are discarded there, so close to a bin.

I recently attended a World Ocean Day lunch where speakers were talking about the amount of rubbish that finds its way into the oceans and the terrible damage this is doing to marine life.

From September 19th to October 19th, Hong Kong will be part of an International Coastal Clean Up (see hkcoastalcleanup.org). In 2008, 5,000 volunteers picked up 25,000 kilos of trash from Hong Kong's beaches. On average, 2.14 kg of litter per person in Hong Kong ends up in the sea each year - that's 14,980 tonnes!

Max and mummy will continue to try to make a difference by cleaning up when we can. We would also like to ask whoever is responsible for the litter to please use the bins in future. We don't like to sit in an ashtray of someone else's creation, or have to be careful of the broken glass from someone's Smirnoff Ice bottle when looking for shells in the rock pools.

I have attached some photos of Max and the rubbish we collected, as well as one with some of the litter we couldn't get - it had already blown into the sea.

In Sydney, there was a very successful campaign called "Just One" - the idea being for each person to pick up one bit of rubbish. I know there are some people that already do this on Lamma, but I would like to encourage people to pick up litter when they see it before it gets blown into the sea.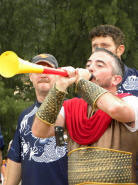 Lamma Ladies - Champions, Gold!
Lamma Men - 3rd, Bronze!
Lamma Mixed - Champions, Gold! (video)
---
"Your friendly dragonboat update" from Dawn the Wonder Woman,
Lamma Dragons Captain:
"Not sure if you've heard, but Lamma Dragons did brilliantly yesterday at Disco Bay! The mixed team in their first full year of training beat 35 other teams to get the GOLD for Lamma and beating a very strong Lantau Boat Club.
"The men managed to fight off some strong competition including against Chinese teams and managed to pull off a BRONZE in the Cup Final also. The women who were defending their title for the 3rd year running did it in fantastic form and also retained the GOLD cup. Go Lamma Go!

"We had some great supporters during the day and the team were fantastic and did Lamma proud! Then we danced, sang, made a lot of noise and things got a bit blurry around the edges. A great day all round!
"I sent you a photo of the team collecting the Mixed Gold Cup along with us showing off with the other two cups we had already collected. We were in fancy dress as 'warriors'!
"We have small boat races next in Sai Kung in July (183 teams!) and then it's the world championships in Macau!"
More Facebook photos from Tina, Leo Chung and Pete Gable.
Click for my photo gallery of a surprisingly beautiful & professional,
but free cultural performance in the YSW Football Pitch last Saturday afternoon,
presented by the Leisure & Cultural Services Dept.
The Official Court Correspondent visited Victoria Park on June 6, with quite a number of fellow Lammaites, taking many pictures and describing his impressions:
Defiantly Lit, Candles Brighten the Night

Today, Sunday morning, many Lammaites were sleeping off their hangover after the 2:30am England-USA Worldcup football game. But I got an URGENT phone call from an Alert Reader (thanks, Gavin!) that something was afoot and I've got to grab my camera RIGHT NOW, get dressed, rush out and shoot pictures! Fai-dee-lah! Bringing this 7-days-a-week Placeblog to you is a 7-days-a-week job....
It was something I've never witnessed with my own eyes in almost nine years of living on Lamma, probably because it's happening at such an ungodly hour on a Sunday morning! At first, there were religious offerings thrown into the seas at the ferry pier and the return of the dragonboat idol to the Tin Hau Temple.
Afterwards, the famous and frequently victorious Lamma Fishermen dragonboat team put two of their boats into storage in the Fishermen's Village typhoon shelter, just besides the YSW ferry pier. It's a very heavy, wet and sweaty job so early on a Sunday morning, but these guys are really fit, tough and strong!
John "Galley Slave" Stuart - Official Dragonboating Correspondent:
Beginnings
Wind and water, earth and sky,
nature's seasons passing by.
The summer solstice, celebration,
tribal groups gathering, expectation.
Boats disguised as dragons celestial,
the beast subdued by mortals terrestrial,
in races becoming organized festivals.
Duanwa,
on the fifth day of the fifth lunar month,
a tribute to Qu Yuan,
a poet and patriot of ancient times,
whose dream, a world of harmony and rhyme,
an official who fought corruption,
his final protest, self- destruction.
Carrying heavy stones,
walking into the waters,
slowly, deliberately,
ritual suicide, a sacrifice.
Through the mists of memory, sweetly true,
an absolute statement for me and you.
Qu Yuan, still honoured,
in offerings, races, dedications,
and times of triumph, exaltations,
as cultures continue, the past sustains,
from tribal traditions, beauty remains.
And now, on Lamma,
the Dragonboaters are here, living and learning,
in training and technique, becoming discerning,
local fishermen of Tin Hau fame,
expats and others seeking same,
foreign devils bedeviled by it all,
competing, comparing, answering the call,
looking for direction, practicing perfection,
as we strive together in this great game,
in dragonboats and life, it's all the same.
Many of us are afflicted by the "Lamma Twitch", according to a forum on GeoExpat where somebody enquired about moving to Lamma, but working on Kowloon-side:
Advice on where to live in Islands, NT
The "Lamma Twitch" refers to the last 12:30am ferry:
"Checking your watch regularly whilst out in town is an infliction many Lammaites suffer from."
Do YOU suffer from the "Lamma Twitch" and is this still a major reason for people NOT to move to our fair isle? Let us know in this forum:
LAMMA TWITCH: Living on Lamma, working in Kowloon?
Claudia McGregor Tarr, the creator of this new Facebook group, Lamma Snake Sightings, introduces the group and has some great tips and advice: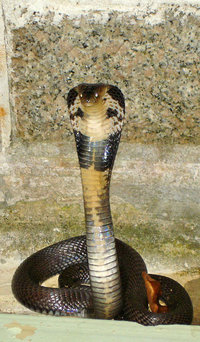 "Snakes we know and love!
It's snake season again! Have you seen your first snake yet? Post your pictures here.
Let's keep the tourists away!"
Advice:
Safety first! Get away from the snake.
Call 999 immediately! Waiting until the pain may lead to permanent tissue damage.
Do not elevate. Keep the bite below the level of the heart.
Remove constricting clothing and jewelry from the extremity. The area may swell and constricting items will cause tissue death.
If the snake is an elapid species (coral snakes and cobras), wrap the extremity with an elastic pressure bandage. Start from the point closest to the heart and wrap towards the fingers or toes.
Keep the bite lower than the heart.
Follow the basics of first aid while waiting for responders to arrive.
Be especially concerned about the potential for shock.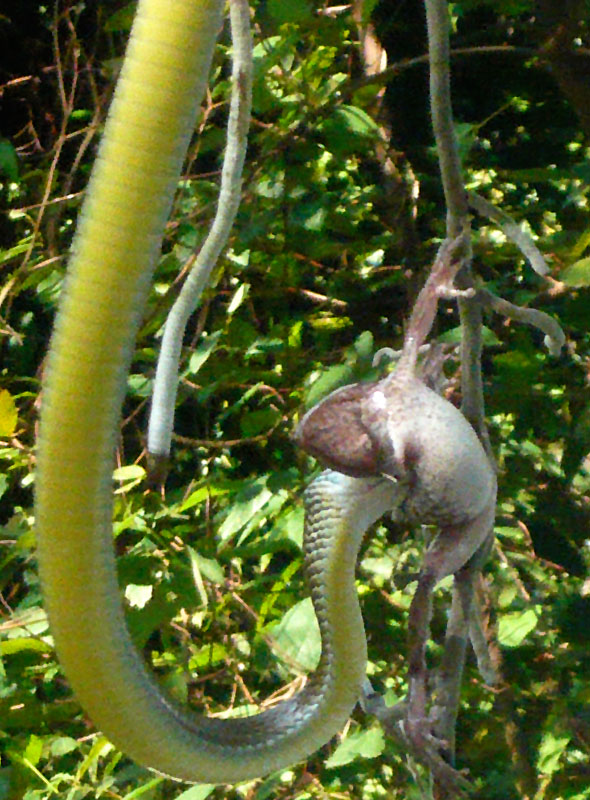 TIPS:
NO CUTTING & SUCKING!
Cutting into the wound will just create infections.
An ounce of prevention is worth a ton of first aid:

Wear long pants and boots taller than the ankle.

Avoid tall brush and deep, dark crevices.

Make plenty of noise and vibration while walking.

Do not approach snakes, avoid them.

If the snake is dead, bringing it to the hospital is appropriate. Be careful, dead snakes can reflexively bite for up to an hour.
A quick picture of the snake - even with a cell phone - will help medical crews identify the animal.
Josh writes in this group:
"Lamma OCC men's team was clearing the beach of trees to make room for a "Super-Deluxe Boat Rack" and had to move this snake out of the safety bag.
"Image shot with the new 4G i-phone/pad.
"In this photo: Brad Tarr (photos), Andrew Shields (photos), Richard Kallagher, Oliver Armistead, Ken Ng (photos), Leo Chung"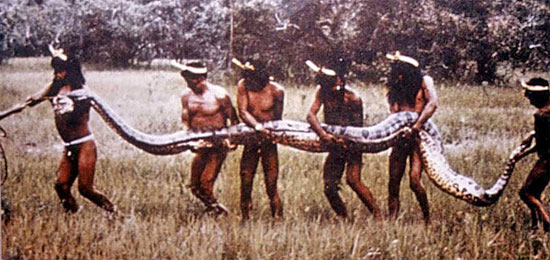 Was this shot just outside Tai "Snake Central" Peng Village?
This new Facebook group has attracted 80 members within just a few days!
As Emily writes: "It seems like snakes bring all Lamma people together!"
Join up and add your own snake stories and photos, and vote for the "Lamma Snake of the Week": Lamma Snake Sightings.
---
P.S. After reading this story, I got some great and detailed advice on how to deal with snakes, from Senior Lammaite JT in our forum:
I'm blessed with a unique group of most interesting, even fascinating friends on Lamma. People with fascinating lives, unique accomplishments, noble pursuits, important causes and intriguing hobbies. For example, at least one of my friends:
admits to being a "convoluted ragamuffin",

thinks that giving birth is not the hardest thing one can experience, but the most rewarding,

admits that you're only young once, but you can be immature forever,

gets to sing "Let it Be" solo in front of the Form 5 class graduation,

proclaims that "liberal education represents the culmination of a citizen's preparation for freedom",

likes Robot Unicorn Attack on Adult Swim Games,

fears that the "Wickedness of Eve" is still with us,

wishes he had asked a proper question that time on the beach when he was pulled outside of Earth and connected to the Insect Alien Queen,

explains that the exponential diversity of informational exchange is creating a complex dynamic geometric weave, the noosphere,

informs me that shy but passionate Muffin is looking for a loving home,

embarks on a personal program of physical exercise, including, but not limited to, strength training, flexibility development, and aerobic exercise,

looks forward to see more eco-friendly and green activities on Lamma since we have so many beautiful natural resources around us,

enquires if I need my septic tank pumped out?

Well, it's all on Facebook, as you've probably guessed after 1 or 2 lines already. I'm usually only friending people I know in real life, at least a casual personal acquaintance.
My small circle of Friends is nothing compared to Sheila the Many-Friended with 3,371 Friends and John with 2,612. But who's the currently most popular (ex-)Lammaite on Facebook, I wonder? Suggestions?
Well, if you've met me personally or have contributed to this website in any form before, you're most welcome to friend "Lamma Gung".
But should the Lamma-zine be on Facebook, too? Opinions, please!
Read the reports, comments and conclusions from Senior Moderator Alan and myself after attending this "Public Ferry Forum", w/o HKKF being even present:
Govt. subsidy for ferry fares - Public Forum
John "Galley Slave" Stuart - Official Dragonboating Correspondent:

(Photos & captions by L-G; click to enlarge)
Impressions
Those Dragonboaters! They must be crazy, they are so full on, especially the women. Going out into the harbour every weekend, and what do they do? Paddle up and down and round and about in all sorts of weather, with someone out the front beating a drum and yelling, yes, yelling at them, telling them what to do. Like galley slaves they are, surrendering their freedom, but they let this happen. It is their choice.
And they keep coming back, time after time, why? They seem sane and respectable people. I mean they are not children but grownups, yes, adults, with jobs, partners, kids and bills to pay, the usual routines. I mean, they live in a world with all the comforts but they keep coming back to this meaningless activity. It doesn't make sense! It just doesn't make sense!
---
Try it and see
Okay get in line, lefties over there. Let's see, you guys move to this side, even this out.
Alright, down to the water, watch your step. Get in, take your places.
Move it forward slowly, hold it now.
Paddles up, go... Now 1, 2, 3, 4, 5.
Pushing against an inert mass. The count is repeated several times, in time with the drum. Struggling unevenly as the pace builds up across the bay.
Stopping, stretching, exercises, welcome relief.
Alright, today we are going to do race starts, with three sets of five to get it moving.
Okay now, paddles up... 1 2 3 4 5... 1 2 3 4 5... 1 2 3 4 5. Now stretch and reach, get those shoulders down. Dig it in. Watch that timing. Follow the guys in front. Ten hard now! Come on, push, let's keep up the pace.
Again and again. Some slight spluttering, struggling to stay in time. Disconnections. Heavy breathing, as the beat goes on. And on... What am I doing here?
Okay, count down, let it run.
Some of you guys are out of it. Use your body, not your arms. Remember to twist and turn, twist and turn. And watch that timing.
More of the same, frantic activity, then a brief respite. Involvement, feeling more part of this, I will survive this session. A smooth sequence, finding rhythm, all together. A final push to the wall. Clambering over rocks. Idle chatter, relief, a sense of belonging.
---
Racing
Nervous expectations at the start, glancing around at the other boats, they look good. The glare off the water, heavy air, sweating uncomfortably.
Now! It seems sudden, unexpected. An explosion of energy, five strokes, then another five, then again. Stretch and reach, yes, it is happening. Pulsing power, smooth and strong. Ten hard now! Yes it is working, smoothly, altogether, all as one. The beat is incessant, louder, faster. I cannot go on. Ten strong now... a shift, not quite fluid, then back in rhythm... Ahhhhhhh.... a primeval cry from a team-mate courses through the blood, the energy lifts, we are flying, nearer now... ten hard... this cannot last, almost there, yes, yes, it is done, have we won? Maybe, but no matter, we were there, we are here, in the pulse, in the body, in the heart... There is no more.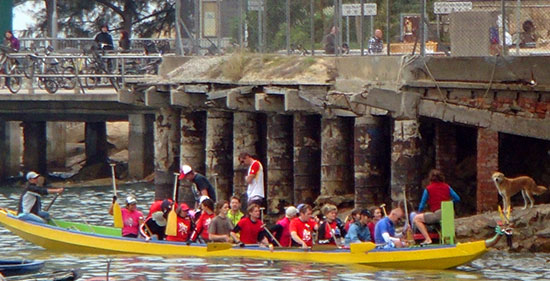 More info about this topic in our forum:
Lands Dept removing all boats & equipment from PS Beach!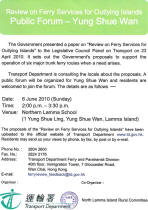 Public Ferry Forum by the Transport Dept. in the Primary School tomorrow, Sunday, 2 - 3:30pm!
This response below from Living Lamma is a great introduction to the topics and a timely preparation for the Forum for all of us Lamma ferry passengers:
Living Lamma - www.livinglamma.org - info@livinglamma.org:
Response to the Transport Department's "Review of Ferry Services for Outlying Islands"
Plus, once again, the full links to the ferry review info, the Legislative Council Transport Panel Paper and our forum, so you can be well informed for this Public Forum.
Jay Scott Kanes - Official Court Book Reviewer - Cairnsmedia.com:

(These books involved quite a number of Lammaites helping out in creating them, for example Bob Davis' photos and Big Dave's great website. Meet Senior Lammaite Paul at his usual table in Banyan Bay Cafe, "Cath's Bar".)

Children's Books From
Paul Strahan

Focus on telling stories and then writing becomes much easier. That's the approach of British-born children's author Paul Strahan, who knows how to gain admirers of both genders in the knee-high-to-a-grasshopper crowd.

Strahan's recent titles include The Never-Ending Bag of Crisps, appealing to boys, and The Farm Girl and the Butterflies, just as fascinating to tiny female readers. Both 48-page books appeared in 2009 from Hanson International Enterprise Ltd.

"Other than to generate modest income, my hope is to bring smiles to the faces of children and their parents through reader-friendly words and images that help my stories spring from the pages," Strahan said.

A former corporate executive, he long felt compelled to write: "I have been writing for many years, sometimes more years than I care to remember. During that time writing has been no more than a hobby. Commitments to my career with the inevitable time constraints, as well as bringing up and supporting my family, meant writing had to take a back seat."

Now in his early 60s, "downsized" out of the corporate world and living on Hong Kong's outlying Lamma Island, Strahan finally pursues writing and publishing as much higher priorities. "I've established my own publishing company and teamed up with a brilliant illustrator," he said.

Too often, children's books have an author keen to take credit while the best work comes from an illustrator. But Strahan writes in more detail than most and with the creative skills to give his books substance.

Absolutely, the artwork's great too. Illustrator Mike Peebles, from New Zealand, and art director Peter Wong, formerly of Hong Kong but moved to New Zealand, work with Strahan. Some illustrations, especially in The Farm Girl and the Butterflies, would look entirely appropriate framed and adorning art-gallery walls.

In The Never-Ending Bag of Crisps, 10-year-old William Walker-Smith loves potato chips and spends most of his pocket money on them. As someone who grew up on a potato farm in a region where big factories make potato chips, I appreciate this theme.

Young William gains more approval because his favorite potato-chip flavor is salt-and-vinegar, the same as mine. "He opened the bag and smelt the aroma wafting from the packet. He took one crisp out, looked at it, smiled and then placed it in his mouth. His eyes lit up as he let it dissolve on his tongue." Ah! Readers almost taste it too.

Imagine William's delight to discover a magical chips bag that constantly refills. But the magic backfires, and his fantasy-come-true turns into more of a nightmare.

Still, the dilemma isn't all bad. "William had always been a popular boy at school, but now he was even more popular. All of a sudden, he found himself with many more new friends, all of whom wanted to help him eat his never-ending bag of crisps."

Meanwhile, The Farm Girl and the Butterflies pits young heroine Elisa against Valdessa, a wicked witch who casts spells and confiscates precious food, including from Elisa's parents. The witch loves strawberries, but surprisingly, fears butterflies. Can Elisa summon the savvy and derring-do to outwit the witch?

Unlike ugly Valdessa's 1,000-room palace, Elisa's home has a "roof that leaked when the rain poured down and small wooden windows that rattled when the wind blew". That sounds a little like Lamma village houses. Come to think of it, Lamma has beautiful butterflies too!

"Elisa became tired and sat down by the stream to rest. While she was sitting there, her eyes were drawn to the most beautiful butterfly she had ever seen. It had big shiny golden wings with red velvet edges and deep blue eyes that sparkled in the sunlight as it fluttered along in the breeze."

True, these books contain some slightly annoying flaws. For example:

careless wording. Strahan writes that Elisa's family had "three brown feathered chickens which laid one egg every day" when he means one egg each.

faulty grammar. "Darling, no one can cook as good as you."

"this bag of crisps will never be empty", but really the bag refills only when empty.

fancy lettering in The Farm Girl and the Butterflies makes "K" look more like "R". References to "the Ring" really mean "the King".

text splattered on top of illustrations makes both harder to enjoy.

Even so, The Never-Ending Bag of Crisps and The Farm Girl and the Butterflies deserve high marks. Astute young readers will want more tales from Strahan and his Hanson team.

For more info: www.paul-strahan.com.

Books are available on website and in all Dymocks shops!

Click on illustrations below for page-turning previews of Paul's books:
Click above for another Lamma-Gung photo gallery