When was the last time you've hiked or biked in South Lamma?
Come along on this little eco-hike tomorrow morning, Sat, May 1, organised and guided by the GreenLammaGroup. A volunteer guide will introduce the history and the ecology of Tung O bay. They could use a few more people!
We'll assemble at Hung Shing Yeh beach at 9am, before the holiday crowds start to arrive, for a leisurely hike to Sok Kwu Wan. Bring water, snacks, sun protection and good shoes! Just before Sok Kwu Wan's Tin Hau temple, we'll walk up to the pavilion (not higher up than the windturbine, approx. 135 metres) and then down into Tung O bay (see above), the future location of the planned, huge The Baroque development by the Lammarina developer.
I'll also try to answer your questions, after my recent interviews with the developers, including the tycoon behind The Baroque and several other planned major Lamma property developments.
We'll walk along the coast in a loop via Mo Tat Wan back to Sok Kwu Wan (see Siuyu's photo and map) and along the Family Trail (or the much nicer Snake Trail above it, if you like) back to Yung Shue Wan.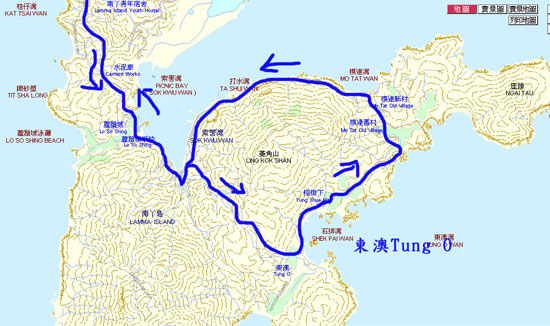 Some of us might stop for lunch in The Bay in Mo Tat Wan or somewhere in Sok Kwu Wan. Contact Siuyu on greenlammagroup@yahoo.com.hk, or sign up on Facebook, or our forum (Eng. - Chin.), or simply show up at 9am tomorrow on Hung Shing Yeh beach. The hike will take from 9am - approx. 4pm, back in YSW.
Alternatively, on the way back, how about relaxing on Power Station Beach, meet up with your family and friends, where the traditional, yearly May Pole Dance will start after 4:30pm! If you've never joined this wonderful, typically-Lamma family event before, here are a few photos from last year, by Lamma Artist Katie Flowers and Yours Truly: May Pole Power! - May 1, 2009.
Email from Julia, this morning:
"Having lived in Lamma for a little over four years I've always felt something was missing. A nagging feeling, always in the back of my mind.
"Today, having seen the fluorescent orange glow of the digital clock and temperature sign outside the Island Bar I feel content.
"What a beautiful addition to our serene, picturesque and natural island…"
Well, that was the very first, ironic, least negative comment about this new addition to the Yung Shue Wan skyline, before a firestorm of disgusted, all-negative emails lit up our new forum topic, "New Village Clock - Uglification of Lamma project continues". It was started by Lamma Celebrity Rocky Malcolm who commented about this new Lamma Landmark:
"It's truly, stupendously, spectacularly, and monumentally out of character with the rest of Lamma. It's incredibly ugly.

It's unnecessary..."
Other Lammaites called it "stunningly awful", "eyesore extraordinaire", "It's a monster", "a miniature version of most of the white elephant projects", "our new landmark. A triumph of design." and an "act of uglification".
Spy wrote: "I am deeply disappointed...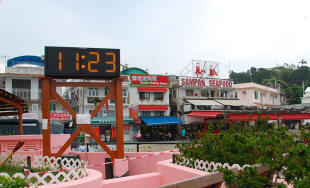 "... that they did not build this clock on top of the Lamma hills instead - easy to spot from anywhere in the village, with loud-speaker announcements every half hour - in 88 languages, a remote-controlled alarm system (people can set their preferred wake-up time via SMS), and weekend karaoke function!"
Laura wrote:
"You are telling me that this is a clock? Don't be mistaken by its appearance, this is a multifunctional device, i believe that it might be able to check your temperature as you walk past, spray you with disinfectant, scan your ID card, charge your Octopus card when you enter Lamma, and of course must be good for the fung shui of the local restaurants...
and of course there must be a CCTV camera hidden inside... you never know.."
Be careful what you wish for, Spy and Laura, our local powers-that-be might be inspired by your ideas to further uglify, eh, beautify our rural village environment!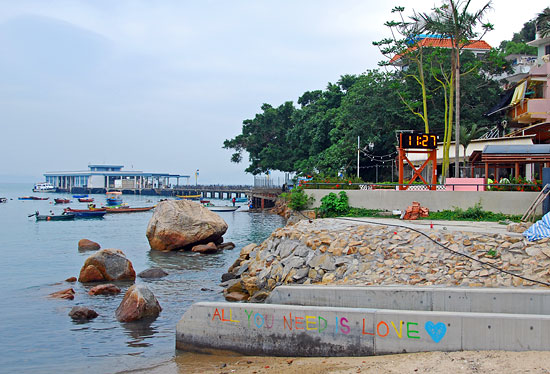 Living Lamma also started another fiery discussion group "new monster clock in YSW". It's members-only only, but you're most welcome to join their Yahoo Group.) You're encouraged to express your views to LCSD who built this Monster Clock (new "official" Lamma-zine nickname).
Jo Wilson of the Living Lamma group emailed hflee@lcsd.gov.hk: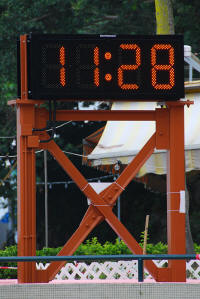 "I am writing to complaint about the new clock tower erected at the sitting out area on the harbour front in Yung Shue Wan.
"After months of work, we now have an unne- cessary eyesore on the harbour front. The design of the clock is not in keeping with the rural character of the village. The colour scheme, poo-poo brown (as my 4 year old calls it) and baby pink is dreadful.
"We know that the clock was put there at the insistence of the rural committee, but this was without consultation with the wider community. The clock tower has also taken out some of the few seats available to the public on the harbour front. It causes a huge distraction in the enjoy- ment of the view when you sit in neighbouring bars and restaurants. It flashes constantly.
"I would like to see the clock tower removed and replaced with much needed seating."
Welcome back to the Lamma Ladies dragonboaters who are returning tonight from their yearly wild'n'crazy party weekend, eh, tough Dragonboating competition in Boracay, The Philippines! Any trophies brought back, I mean besides winning several drinking competitions? For an example of the famously creative (and raucous) parties the organise by the Lamma Dragonboaters, see the recent The Mad Hatter's Lamma Island Iced Tea Party fundraising party in The Island Bar:
First photo submitted by Tina. More photos in her Facebook Photos (only visible to her vast number of Friends): click here. Tina writes:
"It was a blast...very well attended...sorry though can't think of anything that was off the cuff...except we had a few men channeling their inner Alice :)
Everyone really made an effort though to dress up, The winners of the best costume were Tweedledum & Tweedledee (see above :-) They had this little jingle that they would sing to sell the Jell-O shots, sold out in no time... Cheers!"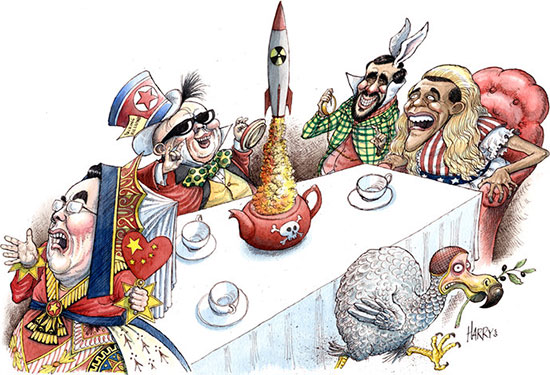 Another Harry masterpiece, auctioned off at $3,400+ for the fundraiser, showing the current Mad Hatter's Tea Party of international politics!
Captain Dawn wrote recently:
"Last weekend was a great success because both our mixed and ladies team qualified for the World Championships in Macau at the end of July. We will now take a full mixed and women's crew to Macau to compete in 200m, 500m and 2k distances and we've still got quite a lot (understatement) of boat training as well as land training to get through! Our goal for the weekend was to get as many paddlers on the water as possible to get race experience, so all of our new paddlers raced all weekend also. Our game plan wasn't necessarily to win, but to get race experience. It all worked out perfectly - we qualified and the whole team raced! Doesn't get much better than that!
Men's team was a boat of COMPLETE new paddlers and we have nothing but praise for the 100% effort they put into paddling and trying to get through to the next round. They really battled for a place in true dragon boat spirit and even got through to the semi's, but unfortunately the competition for the men's races was intense (firemen, fishermen's teams, HK Team as well as others) and they didn't qualify for Macau. We expect them to go from strength to strength in the coming weeks though and do much better at local races as they get stronger. It's all good!
Our next races are:
6th May - Tin Hau Festival on Lamma supporting the fishermen, YSW
9th May @ Deep Water Bay (home of Hong Kong Island Paddle Club)
16th May - our very own Lamma 500 @ Power Station beach
16th June - Tuen Ng Day defending our crown at Disco Bay
4th July - Sai Kung small boat races
27th-1st August - Macau World Championships
Team is all fired-up and 100% re-energised about getting in the boat! Just as well... its going to be a tough few months of training!"
OK, ladies, could we see some Boracay photos now, pleeeease? ;-)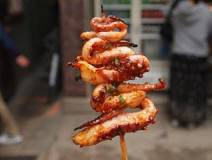 99% of all Lamma visitors (according to travel blogs and photo galleries all over the internet) seem to hike our famous Family Trail, 1.5 hours of a pleasant, easy coastal stroll with great views between Yung Shue Wan and Sok Kwu Wan. Here's one of the best and most amusing descriptions I've read so far, describing our Family Trail like this:
"This "hike" is essentially an hour-and-a-half strolling banquet from the village of Sok Kwu Wan to the village of Yung Shue Wan, which is interrupted only briefly by walk up a mountain."
With Pork Throat - Bumbling through Hong Kong: My kind of hike
The blog story concludes, after the customary and unavoidable seafood feast:
"Then it's time to waddle to the ferry and pass out on the way home. It feels so good to get exercise, doesn't it?"
For more details, my Lamma Police Chief interview and eyewitness photos of the VV crackdown and its aftermath,
click here.
Photos by Big Dave Spicer below, the offending VVs deported from the island. More photos... (click for Dave's new website.)
With Facebook being so very popular amongst Lammaites to keep in touch mostly with their real-life friends, it's surprising that not a single local restaurant or business has been using this social

media to keep in touch with their customers till quite recently.
Yung Shue Wan's ever-popular Bookworm Café has just joined up and Ken the Bookworm has put up a pretty comprehensive Facebook presence with the complete, recently redesigned menu, info, links, reviews and even an already pretty active Wall to leave messages. Check it out by clicking below and add yourself to the fast-growing number of fans, 163 so far, who Like this group.
Let's hope more local businesses and restaurants follow this great example in social networking soon. Click on the Bookworm Cafe banner ad on the left side of this page to find their public Facebook group.
Should the Lamma-zine run a Facebook Group, I wonder? I've considered the pros and cons for quite a while now; but what do YOU think?
There's a great, entertaining and illustrated Bookworm review on this food blog below ("Nerd alert @ Bookworm"):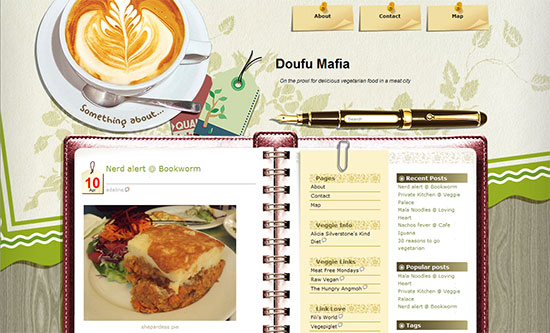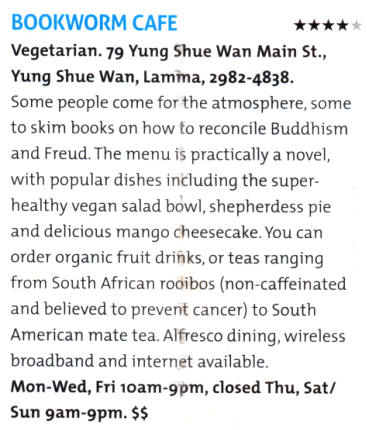 They've also just been selected as one of only TWO Lamma restaurants reviewed in HK Magazine's yearly HK Restaurant Guide (see the very positive review on the right).
The other one? The Bay in Mo Tat Wan, half an hour from Sok Kwu Wan.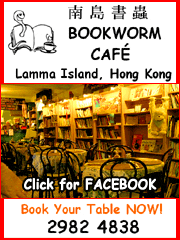 Click on any picture for the full story & a detailed photo gallery.
For many more Lamma-zine stories about Chow Yun-fat, click here.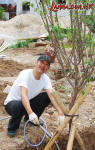 P.S. The SCM Post asked for one of my photos (see right) and made a great little story out of it, quoting extensively from my Fat-Gor story. Alex Lo writes in his regular LoDown column:
"...we have been scooped by the Lamma-zine - lamma.com.hk - the tiny internet island magazine."
Thank you, Alex! See story, SCMP, Sat, Apr 24 2010, page C2:
E-zine catches "Laudable Lamma Luminary"
in humble greening role
An SCMP freelance writer contacted me recently with the property-related questions below, for an article in their Premier Property supplement magazine, to be published around mid-May. I'm not owning any Lamma property and can't afford to buy any, so I was initially reluctant to answer the questions. I asked our forum members and some property agents for feedback, but as only one person plus the Lammarina developers have come forward so far to answer the questions, I've taken the time to reply myself as well, see below.
My email to the SCMP freelance reporter:
"Let me add the perspective of a simple tenant of 8+ years on Lamma to your story. I've been publishing over 2,000 Lamma-related stories in this time, dozens of them property-related.
The free property classifieds section on my website Lamma.com.hk (rent & let, buy & sell) is still the only regular online place to find Lamma property. Not a single one of the local estate agents lists any available properties on the Internet and HK-wide property listing sites do not cover Lamma at all. You can only find Lamma property online via the rare, occasional single ad placed by a private landlord in AsiaXpat, GeoExpat, etc...."
What new or interesting residential property developments are there on Lamma Island?
Why are people interested in living in Lamma? Is it a good investment?
What kinds of returns can people expect?
Are most buyers interested in Lamma for investment, a summer/weekend home or for a primary residence?
Is most of the interest in Lamma mainly from Westerners or locals?
For the other 5 questions and all of my DETAILED replies, plus posting your own views and opinions, click below:
---
WARNINGS before moving to Lamma Island:
For anybody considering to move to Lamma, they'll need to consider this:
Lamma's all rural villages, not a single "luxury flat" available anywhere on Lamma. Nothing is higher than 3 floors, (almost) nothing larger than 700sqft on a single floor and not a single swimming pool, gym, building security, management fees or clubhouse anywhere on the island!
There's Broadband Internet on most of the island, but no Cable TV, just ATV and TVB, only a handful of sports-only NOW TV channels. For more than basic local analogue or digital TV you'll need to get your own TV satellite dish installed.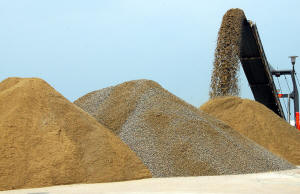 There are currently major sewage works in progress all over Yung Shue Wan and Sok Kwu Wan, plus quite a number of standard-size Village Houses being built. This means that almost every path will be ripped open, often several times, for years to come, a major and noisy inconvenience. There are no supermarkets like Wellcome or Park'n'Shop at all, no chain stores like 7-11, no fast food of any kind, no "entertainment options" like cinemas, shows and karaoke!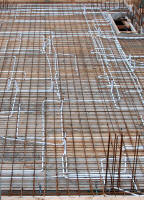 There are no ferries at all after 12:30am from Central; only a single doctor on duty on weekdays only from 9-4:30pm (Sat 9-1pm, emergency ambulances and helicopters available). There's also NO private or public traffic at all, no taxi, buses or MTR; the only way for people of getting anywhere is on foot or by bike. But you can hire open-air, single-driver carts, VVs, to transport goods only.
If all of the above doesn't really faze or worry you, then you might be the kind of person who might enjoy living here, maybe even love it like us! Welcome to the Lamma Island community! Check out Lamma.com.hk for all you ever wanted to know about our favourite place, our home.
Any more questions?

Alba the Filmmaker has just asked me to supply 10 photos for a documentary about Lamma she's been working on. It'll be added as an Extra Feature to a commercial DVD release of two of her movies, Masks and The Birthday Party, to be produced and distributed soon. You might have seen Alba these last few months shooting video all over the place and at many local events.
So which of my tens of thousands of Lamma photos did I choose? Going through our extensive Lamma Photo of the Day archive of the last 4 years, only selecting the occasional photos I've contributed myself, these are what I came up with: 21 photos to let Alba choose her 10 favourites for her DVD. Most of these are not the usual, touristy, "pretty" pictures - I've got those, too - but show some of the many reasons why I personally still love living here.
All have been published in Lamma-zine stories over the last almost 8 years. If you need captions, email me. Hopefully, they showcase a small slice of the amazing variety and diversity of our home island's nature, culture, community and people.
(Click to enlarge. All photos © Lamma-Gung, some rights reserved under a Creative Commons licence.)
How about showing all of us YOUR best Lamma photos, if it's just 1, 10 or even a 100? Email me your files, web links and galleries, Flickr, Facebook photos, etc!
Andy Maluche - Official Court Photographer, www.AndyMaluche.com,
Official Chronicler & Lensman of the Voyage of the Balangay:

(We haven't seen Lammaite Andy in any Lamma bars for a while now, so we've been wondering where he's been hiding recently?
Well, Andy's been escaping our grey, foggy and ultra-humid weather these past few weeks, sailing on another one of his major adventures.)

(Text, pictures, captions by Andy, click to enlarge. Official Balangay story.)

Balangay - Kaya Ng Pinoy

When you are sailing on a replica of a 2,000 year old wooden boat, fighting towering waves the size of angry termite hills, hull- crushing coral reefs and winds that could blow a lesser man straight off the foredeck, you learn a few things about yourself, your fellow people and the universe in general. One lesson stands out from all the others. Never, ever piss against the wind. It's just not fair to your fellow crew.

It's my job to take pictures of the ships, the villages and towns we visit, and the crew, of course. That is why it is important for me to neither piss them off nor on them. It's a hard job. You can take only so many pictures of the ships themselves. I think I covered every angle, including from below.
Shooting the crew is also getting more difficult. The blazing sun turns everybody into a paler shade of a black hole and even my strongest flash can't make them visible well anymore on my photographs.

Being on a trip like the "Journey of the Balangay" is pretty cool. It certainly works beating off in the office.
These days when people ask me what I do, I tell them that I sail. "Oh, really?" they usually ask. That gives me a chance to show off my new iPhone and my pictures of the Balangays. There are two of them - two Balangays. I have many more pictures....

People usually are interested in two things.
Without exception the first question is: "How do you make poo poo and wee wee (Filipino for relieving your bowels and bladder) when you are out at sea?" I don't want to talk about that....

The next question is: "What's the story with all of you guys on a small wooden boat, day after lonely day cruising on the vast lonely ocean?"
To this I can only say this.
Yes, the boat I am sailing on is called a Balangay. And yes, she was built in Barangay Bading, Butuan. I know what you are thinking. Bading, Balangay, a boatful of young, sun- tanned and muscular men.... But no, I have to disappoint you. There is almost no gay stuff happening on board, at least not sexually.

Sailing the high seas to spread historic pride is truly a historic event. Funny, when I now think about it. I didn't like history in school. My history teacher was ugly, dull and smelled of fish. Look at me now, here I am, making history!

But it's not all fun and mutual grooming. There are some pretty adventurous moments.
Our dingy capsized, people were getting shot not far from where we camped and one small village we anchored in had only warm beer. One particular encounter with some Muslim rebels made a lifelong dream of mine come true. I had that dream since I was a 13-year- old schoolboy... I was finally being chased by MILFs.

Spending days and weeks confined on a small wooden boat moves you out of your comfort zone. Your days are filled with hundreds of small instances that chew away on your personal space. It's a little bit like being in the army, but less gay.

I chose to wear a uniform, my cow costume. We fondly call it "Dugong", the sea cow. It gives me comfort. Whenever I need some privacy I hide behind the rudder playing with my udder. It is very relaxing.

Ok, if you really need to know:
How do we do make poo poo and wee wee? It is actually quite simple. We have a contraption resembling a children's swing. You sit on it and then we drag you behind the boat. There is no time for lengthy magazine reading, though. You want to be done before a large tuna or sailfish mistakes your moo moo (Filipino for Snidlewutz) for bait and, even more importantly, before the rest of the crew had a chance to dig out their own cameras.
P.S. from Andy: "I will keep you posted over the next 6 months, especially when we are coming near Lamma Island. I am trying to convince them that we should anchor in YSW."
My expensive Lululemon yoga/exercise mat above hasn't been getting any action since my severe double vision problem started 5 months ago, bringing all my exercise classes to a screeching halt. As my problem (6th Cranial Nerve Palsy, still no cause, cure or treatment found) has mostly resolved all by itself by now, I thought it best to continue some fitness classes. I've been looking around for some affordable options, with not much luck initially! It's expensive to get fit! Finally, I found a FREE (Hooray!) class in the forum of this website!
So I had my first yoga class this year with Edwina in her Tai Peng flat on Sat noon a few weeks ago. There were supposed to be several people having signed up via our forum, but as this was happening on Lamma it was not surprising that some pulled out at the last minute or didn't show up at all. So I enjoyed a completely private class of Hatha yoga and a long, pleasant chat on the balcony with a new acquaintance and weekend-Lammaite, Edwina from Animals Asia.
Demonstrating to me painfully how much out of shape my muscles really are, after 5 months of regular cardio ONLY, my abdominal (stomach) muscles have been hurting for several days afterwards. Ouch! Big Ouch!
Contact Edwina if you want to join in these Sat noon classes. They're "almost free", just donate into a box what you think is appropriate:
The surprisingly wide variety of events happening on Lamma and all over HK performed or organised by Lammaites is always great to see and I love to promote them on this website. Email me about your event(s) - poster, photos, web page(s), website, Facebook link, whatever you have available!
Check out our daily updated Lamma Events Calendar and support them by enjoying some of these upcoming events:
Gina Meana, from the "Lovely Lamma Dragons" writes:
"In keeping with our standards of mad dress, idiotic games and alcoholic haziness, the Lamma Dragons are hosting their annual fundraiser next Saturday, April 17th at the Island Bar. The party starts at 7:30pm and ends whenever the staff kicks you into the street with your makeup running down your face and your jaw dragging across the pavement.
"As ever – it is all in the name of athletic prowess!
"This year's theme is a Mad Hatter's Lamma (Island) Iced Tea Party. Come as Alice! Come as the White Rabbit! Come as a creepy old man who wrote stories for little girls (actually, please don't – we will call the police, and shame on you for adding modern controversy to an innocent children's story!), or come as the Cheshire Cat or the March Hare!
"And there will be games and prizes and another fantastic cartoon from Harry (yay Harry!). See the poster for details on the first prize – others prizes include meals, beverages, salon visits, fitness stuff, odds and ends, and dancing girls waving "jazz fingers" in your face as they can-can past you on the street (not really a prize, but a promise).
"However you dress, and whatever you drink: come in a great mood, with an open heart and wallet.
"Cheers – and come for an Iced Tea Party, April 17!"
Tigger - Lammaite & frequent forum contributor, quoting from her Lamment (Lamma Lament) in our old-Lamcombe forum:
I miss the Lamcombe

I haven't actually been to the new one yet, so I can't comment on the food.
However, for me personally, visiting the Lamcombe wasn't necessarily for the food. Sometimes it was great, sometimes excellent, and sometimes a 'hit and miss' affair. But prices were reasonable and the view was fantastic and the service was always great (sometimes slow but great), IMHO. Regulars were greeted by name and always with a smile.
I'm sure a lot of people who frequented there agree with me.
It's a bit like living on Lamma. I don't live here for the 'amazing accommodation' as, quite frankly, I don't think there is any. The people, the hippies, the eccentrics, the obnoxious ones, the tourists that can drive us insane with gridlock on the paths, the animals, the nature, the frogs, the snakes, the different nationalities and cultures, the Chinese culture and festivals, and the groups of all different nationalities that try and make Lamma a better place.... This is why I like Lamma and this is why I enjoyed the Lamcombe. It was part of the Lamma experience for me.
It wasn't just the food for me...... it was sometimes turning up at 2.30 in the afternoon, just as they were closing for lunch and asking for my favourite take-away dish. With a sigh and a laugh they would say OK, set me up a table, bowls, utensils, take-away boxes and an ice bucket with a beer inside, and to pay next time... and I would spend the afternoon enjoying the peace and the view. They knew if it was a sunny day, I would want to stay, even if there were no staff. There was a trust there too, which was nice.
Or turning up late at night for last orders and being invited to join the 'family' at the big table in the 'front of the shop' room, where everyone/ staff/ family/ guests would congregate.
Yes, I'm rambling.
To me the Lamcombe was more than just a restaurant, it was a 'part of the community' where as a 'Westerner' I felt incredibly welcome all of the time. It wasn't just somewhere to 'eat good seafood'.
For me it's like the end of an era.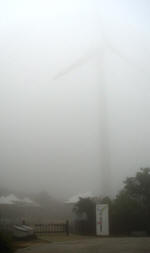 After our recent Easter Monday experience of climbing Mt Stenhouse in dense fog, I've developed a kind of affection for hiking in the fog. During HK's spring season with up to 100% humidity, our flats are often turning into veritable paradises for mould and mildew growing on ceilings and walls, even "decorating" the outside of a pair of my shoes recently. The near-100% humidity is condensing on windows, fogging them up and making Village House stairs wet and slippery.
During one of my frequent morning constitutionals of fast uphill hiking before 7am, it felt like ascending into dense clouds, pulling a veil over the view, the trees, reducing the visibility to just a few metres. For example, see this photo, taken after my usual 12-minute fast hike from Back Street to the pavilion above Lamma Winds. Sitting in this pavilion in the clouds, quietly, peacefully, all alone but not lonely, shrouded by dense mist, meditating for a few minutes, what a great way to start a busy day. The sheer solemn solitude of such an early-morning fog-hike is so appealing, especially before a hectic, busy day on HK Island. Try it someday soon!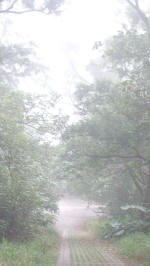 Physically and mentally refreshed, I'm descending from Lamma Winds via varying routes back to YSW, listening intently to the muffled, intriguing noises of nature all around me. It sounds like it's raining, but it's not, as the sound of raindrops can only be heard when passing underneath trees. Water droplets condense out of the fog on the leaves and slowly grow and accumulate, getting heavier till they roll off their leaf and hit the leaves below, sounding like rain falling from the clouds. Amazing!
The wet air is full of musty smells, withering plants, blooming flowers, early birds, the mist seems to amplify the intensity of smells. There's rustling of leaves, bird calls, a wealth of unidentifiable sounds engulfing me.
But all this humidity makes even this mild cardio workout very sweaty. I need a shower and change of clothes after returning home via Tai Peng Village to make breakfast for Lamma-Por and watching the 7:30am NBC Nightly News, returning my mind to the craziness of the modern world.

An RTHK Radio 3 live discussion about The Baroque, the planned marina/ clubhouse/spa hotel/residential development in South Lamma's Tung O Wan, featuring Dr Andy from WWF, Laura Ruggeri from Living Lamma and Yours Truly. They couldn't get anybody from the developer's side, King Wong co. to participate in the live radio discussion. This was a follow-up on stories on radio, TV, newspapers in English and Chinese, that "Lamma Beach project fails to win approval" on March 24. Click below to listen to the archived discussion:
2010-03-25: Lamma Development Plans
Dan emailed me afterwards: "The team from Lamma sounded well informed, rational in their approach and yet passionate in their beliefs."
Lammaite Alan emailed Backchat, read out on the air:
"Lamma may need development, but this proposed development is not the right way.
The same company has been building a small development, of a dozen houses, for more than 10 years near Yung Shue Wan with no sign of it being completed.
So aside from anything else, this company has shown no capacity to carry through even a small scheme, let alone the huge one proposed for South Lamma.
As for the "6 star hotel", sailing marina, etc, if you believe that will happen, you probably believed that Cyberport was going to be the next Silicon Valley and that Discovery Bay is a tourist resort.
Like them, it's just an excuse to get cheap land and build residential housing.
Except this is completely non-viable commercially.
Remember Lantau's Sea Ranch?"
Dr Nancy the Frog Lady emailed Backchat as well:
"I just learned that you will be having a discussion today on the proposed development of a marina and residential area on Lamma. I am a resident of Lamma Island and a scientist employed by one of the local universities. I would like to highlight a few unique aspects of the ecology of Lamma Island that may add to your discussion. There are at least four species/communities that are ecologically unique or important on Lamma and in the marine waters surrounding the island:
Romer's tree frogs were first discovered on Lamma and there are many important breeding sites on the south end of island. South Lamma, in the area of the proposed residential area, contains some good forests that are probably habitat for Romer's tree frog.
As sites are being destroyed on the north end of the island from ongoing development and dumping of construction waste, it becomes even more important that we protect existing sites on the south end of the island.
Sham Wan Beach on the south side of Lamma Island is the only remaining breeding site in Hong Kong of the green sea turtle. The green sea turtle already has a myriad of problems in the region. If we ever want to have a population breeding on Sham Wan again, a water sports marina will not help.
The waters off of SW Lamma are an important calving ground and feeding area for the finless porpoise. Water sports, and particularly motorized sports, would be detrimental to finless porpoise populations as they are sensitive to human disturbance and calves may have difficulty avoiding boats and jet skis.
While hard and soft corals occur in other parts of HK, Lamma has some important populations. I hope you will consider these points."
The passionate debate in our Environment, Politics & Development forum is still raging and an on-going hot topic, including me playing Devil's Advocate to balance the pretty one-sided discussion so far:
HK Electric has been announcing their 2010 Smart Power Campaign, promoting a "low carbon lifestyle" to primary school pupils by launching an "Electric Vehicle Decoration Competition" for their newly purchased ten "cutie electric vehicles". Pupils also demonstrated "a simple way in leading a low carbon lifestyle by wrapping vegetables with waterweeds and newspapers."
Yes, HK Electric's media releases are never dull, always worth a closer read. ;-)
HK Electric Promotes Low Carbon Lifestyle
with EV Decoration Competition [8 April 2010]
Re: Lamma specifically, the media release above contains a small announcement that the Power Station will get a solar power generation system! It is estimated to generate a bit less electricity than Lamma Winds (900 MWh and 750 tonnes CO2 per year, compared to the solar power system's rough estimate of 620 MWh of electricity and 520 tonnes of CO2 saved, see below).
Infocast News: "The solar-power electricity generation system to be installed at HK Electric's power plant on the Lamma Island is expected to generate 620 kWh electricity each year, thereby reducing carbon dioxide emission by 520 tonnes each year, Tso Kai-sum, managing director of the company, said today.
When completed in mid-2010, the system will become the largest solar-energy generation facility in Hong Kong, he said."
This renewable energy news generated instant interest and (solar-)heated discussion in our forums, of course: solar power plant on lamma?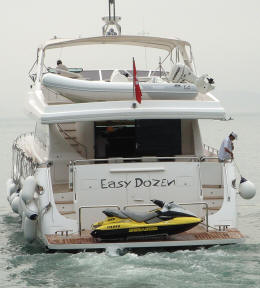 Lamma visitors have been flooding in and out of Yung Shue Wan in their thousands during this long 5-day Easter weekend. Almost all of them used the services of our HKKF ferries who put on dozens of extra ferries to cope with the huge demands (and profits) these days.
But a few lucky ones used their own private transportation, like a Chinese couple who was picked up from the very same public ferry pier today afternoon by their own yacht with several white-clad crew members.
Yes, that's a jet ski AND a pleasure boat at the back of "Easy Dozen", a most suitable ship name for an Easter weekend outing. Or does it refers to the Easy Dozens of millions a yacht like this costs to buy and maintain? Are these the kind of future buyers that the Lammarina and the planned The Baroque luxury housing developments will try to attract to move to our island? Soon we might see more luxury yachts like this?
Jay Scott Kanes - Official Court Chief Correspondent - CairnsMedia

(Pictures & captions by Jay)

Mt Stenhouse in the Fog

Eight climbers together scaled the 353-metre Mount Stenhouse, Lamma's highest peak, on April 5. But they missed the anticipated reward of magnificent views across much of Hong Kong.

Despite clear visibility at sea level, the scenery up high had vanished behind thick white cloud shrouding the slopes. Anything or anyone more than a few metres away turned invisible.

The climbers (four people, including me, and four dogs, with expedition members from Switzerland, Britain, Canada, Thailand and Hong Kong) scrambled upwards, grunting at times, lashed by branches, unable to see the summit, nor much of the trail behind. They struggled even to keep each other in sight.

Twice before, I'd climbed Stenhouse. This time, the thick, damp whiteness surrounding us beyond whatever few rocks we stood on made the experience almost surreal.

The other climbers included Lamma-Gung, Kalaya and Richard Moore, my dog Gail, the Moores' canines Kiekie and Winnie, and the nomadic mutt, Bianchino, who met us on the trail and led the way. The expedition started in Yung Shue Wan at 7:30 a.m. Seven hours later, the climbers returned, weary but somewhat satisfied, despite seeing little more than rocks underfoot and white mist everywhere else.

Easily disoriented in the fog, the climbers often recognized just two directions: "up" and "down". Once, they veered wrong and the trail vanished from underfoot.

"We took a wrong turn," said one human.

"Let's backtrack," said another.

"Once we find the trail again, we can follow it to where we went wrong," reasoned another.

They turned and tried to push back through the surrounding thick bushes, moving just a few steps. "No, this isn't the way we came."

They plodded in another direction. "Still not the way," they agreed.

"What now?" They tried to peer through the fog, sensing how easily people can get hopelessly lost.

Then they thought to look at the dogs, huddled together watching the humans, at exactly the spot to return to the trail. "Hey, they know the way. Follow them."

Too polite to comment, the dogs stayed silent.

Once back on course, the climbers soon reached the summit. There, they celebrated with a mini-feast of cake and cookies.

The descent proved equally daunting. Unable to see much, the climbers adopted a simple strategy: "just keep going down". Sometimes the smallest dog, 10-year-old Winnie, needed extra encouragement, even a lift, to conquer rocks bigger than she reckoned her short legs could handle.

As the climbers returned close to sea level, the fog vanished from around them. So did the hours of tranquility.

For the Ching Ming holiday, hordes of city people had swarmed in to tidy gravesites on the "foothills" near Sok Kwu Wan. The sight of one man severing branches off an overhanging tree angered Lamma-Gung: "He's not allowed to do that!"

Too many fearful holiday visitors flinched, gasped or hid behind friends at the sight of the dogs. Near a landmark pagoda, a pre-teen boy noticed the dogs and leaped off the path into a jumble of hillside bushes. Only good luck saved him from a much longer fall. His antics triggered scolding from his adult escorts.

The crowded footpaths and holiday commotion made some of the climbers wish they'd stayed up higher – even if that meant clinging to the tricky slopes in near-zero visibility.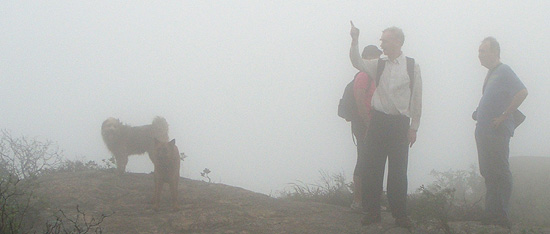 P.S. by L-G: Adding a few comments and pictures to Jay's account above:
On the way from Yung Shue Wan to Sok Kwu Wan by mountainbike, I passed Fred my Personal Trainer's home while he was lounging on his balcony. I shouted out to him about our plans for the day. He wrote this great little Lamma-zine story last Jun 19: "I'm climbing Mt. Stenhouse tomorrow", quoting my remark to him when signing up for personal training with him, one day before my first ascent. He was teasing my former, severe lack of fitness so much in his story, so I couldn't resist telling him about my SECOND ascent today.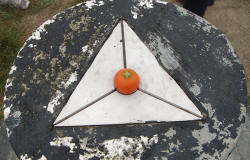 Jay forgot to mention that the evacuation helicopter he was supposed to arrange to meet us at the top failed to show up at all! Maybe due to the fog?
I won the Amazing Race Lamma, being the first one to arrive at the final pitstop, the Trig Point atop Mt Stenhouse, but I'm still waiting for the US$1 million prize!
One or even two hiking poles are highly recommended, basically giving you an additional leg for stability and support on the steeper slopes. Mine also doubles as a monopod for my camera, very convenient for any avid nature photographers.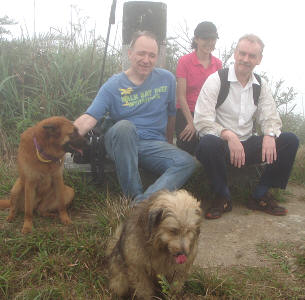 Last time up here, on Obama's Inauguration Day, I was bringing along a HOPE poster. How times have changed in just a short year.... This time, just a little Kumquat I picked up on the way up and added to the Trig Point.
I've got a few souvenirs from our mountain climb, eh, holiday hike; some scratches, abrasions and bruises in inconvenient places (it only hurts when I sit down). I was attempting a tricky rapid-descent manoeuver, by rolling down the slope sideways (involuntarily) over some brushes and boulders. This small bruises to my body (and ego) also make typing right now a bit of a challenge with my bandaged right thumb and fingers.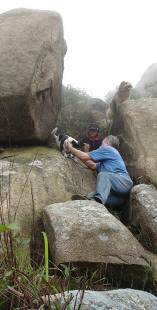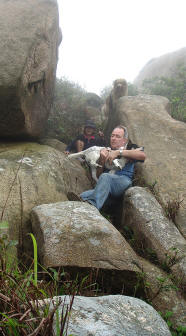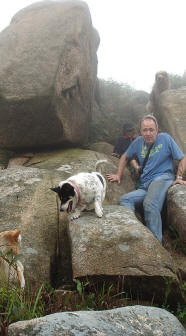 I also promise to never, never, ever again try to ride my bike on the Family Trail on a holiday afternoon, Easter Monday & Ching Ming on the same day! It was almost as congested as Main Street, swarms of hundreds and hundreds of visitors, forcing me to push the bike (slowly) much of the way! Returning from Sok Kwu Wan to Yung Shue Wan was a much worse and frustrating ordeal than ascending Mt Stenhouse, like road rage in slow motion!
Afterwards, I met up with a worried and relieved Lamma-Por in the just opened Beer Garden for a fine late lunch (see below right; half of this was my takeaway breakfast the next morning). Many thanks to my seven great human and canine companions!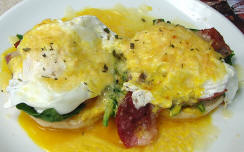 I hope to complete this little endurance test about once a year, testing my levels of fitness & health (& stupidity). I've also just heard from my friend Big Dave Spicer about his longtime ambition to climb Mt Stenhouse himself someday. Please encourage him to do so soon! ;-)
By the way, for some clear views from the top, despite the fog this time, check out Jay's fun story of our ascent last year:
Jan 24, 2009: Cunning Canines Guide Lamma-Gung to New High
Cookie from Lalamama, the new café & bakery (formerly Green Cottage.)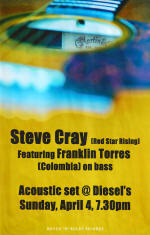 How about visiting Power Station Beach today, Easter Sunday? Besides meeting your friends' dogs, as usual, there are also several very unusual activities going on down there today:
A (first-ever?) Sunday Worship & Baptism by the new Canaan Church @ 10:30 and the famous, yearly Easter Egg Beach Hunt 2-6pm. And JollilyMusic is doing some children-related fun event in the afternoon, tbc.
Also, Beer Garden and Lamcombe Rest. (new staff, renovated, run now by the landlords) have reopened, just in time for the 5-day holiday.
To complete a great Easter Sunday on Lamma, Steve Cray will be playing live and unplugged in Diesel's @ 7:30, a repeat performance from his 'A Sort of Serious Rehearsal' on Mar 11 in the same highly popular venue.
---
P.S. First Easter Sunday pictures are now coming in from L-G the roving wannabe photojournalist: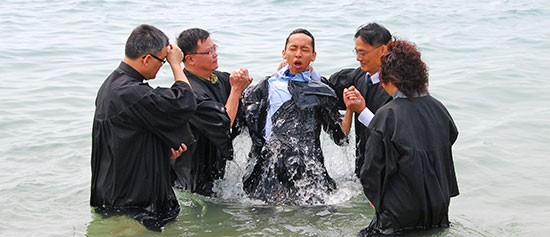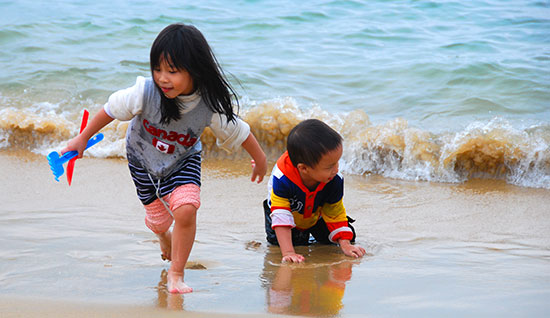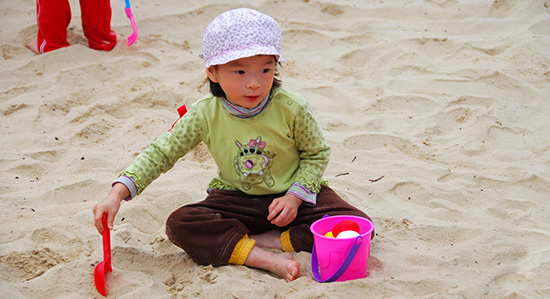 Bike Mike - Official Court Foreign Correspondent

(Lamma-zine archive pictures by Bike Mike, Andy M, Dan Peterson, bbChris and HK Mag)

Soon To Change Into
"MONTY'S BURLESQUE"!

Breaking News! In keeping with Lamma-zine's cutting edge reportage, we are the first to break the story of Lamma's Island Bar being sold to Australian wine baron, Brad Tarr, of Thirsty Horse Premium Wines. Ever the entrepreneur, Tarr's latest acquisition will (in Tarr's own words) "provide a new vehicle for the marketing of our fine Australian vintages".

In keeping with Tarr's "Let's try something new!" credo, The Island Bar will be re-branded "Monty's Burlesque". "Any comparison to The Full Monty is entirely intentional", said Tarr. "Monty's Burlesque will offer mature entertainment, catering to those who appreciate the skill and artistic talent of male dancers."

Studs of Lamma on Lo So Shing beach

Tarr did not need to look far to recruit his troop of entertainers who will be debuting on Monty's stage. Headlining Monty's will be Brad Tarr himself, promising to reveal what every Australian man carries "down under". Lamma's own Mr DickStock will join the cast, bringing new meaning to his DickStock moniker.

"Monty's Review will indeed be international", said Tarr. "In keeping with Lamma's international community we will feature entertainment from all over the world." Joining Australian Tarr and American Mr DickStock will be well-known man-about-town and Scot, Gavin, who promises to show all what a Scotsman really has beneath his kilt.

Local icon Nick the Book will dance in tandem with Lamma artist, Dave Parker (England) (see right). Nick's stage name will be Nick the P...k, in keeping with this new art form.

Bobsy (Lebanon/UK), Lamma's Super Environmentalist, will take to the stage as Mr Greenie, wearing an entirely eco-friendly costume of palm leaves and vines which were culled from Bobsy's Gaia Valley abode.

Island Bar icon and permanent fixture Rajen will act as a consultant choreographer for the new incarnation of the Island Bar, having demonstrated an endearing tendency toward exhibitionism at times in the past.

Indo-Canadian Shyle promises to "heat things up with more than the spicy Madras Curry which has tantalized The Waterfront Restaurant diners in recent months." Asian Football Professional, Sham, will appear on stage, promising fans a novel "ball routine", one that is rarely seen on any football pitch, all choreographed to a Reggae beat.

On that topic, Rocky Malcolm, famous for his beach rock piles, will display his latest "hard rock creation". Irish Paul is seen frequently astride his wind surfer off Power Station Beach. Paul will strut Monty's stage demonstrating "a different technique at handling one's mast". Lamma Dragon Paul, often found steering an OC 6 will give new meaning to the nautical term Cox'n.

Rounding out Monty's star-studded cast, Lamma-zine's Bike Mike will pedal, eh, peddle his ass to Monty's centre stage, followed by our very own Lamma-Gung, showing off his new, lighter and buff bod, wearing nothing but socks and sandals.

As with any commercial venture, Monty's has generated new business on Lamma. Maria's Tigra Da Lua shop will now carry a line of "pasties" which many of Monty's line-up will wear. Lamma fashion photographer, Josh, will produce a 2011 calendar, Men of Lamma, the profits from which will be equally split between Lamma's Outriggers, Dragons and Animals Asia. Animals Asia's Angela Leary is ecstatic, "The Lamma Bare will contribute to the preservation of Asia's bears."

Monty's Burlesque, Lamma's newest hot spot will re-open today, April 1st, late at night!
P.S. from Bike Mike:
"I went to view Lamma-zine's page today. You made a silk purse out of my sow's ear of a story. And the photos from your archives! Wonderful!"
Let the Lamma-zine make a silk purse out of YOUR fun/sad/silly/informative story!