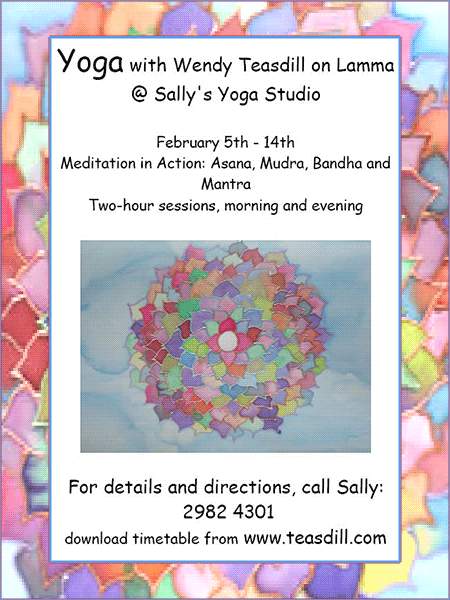 Click on this little poster I designed for Wendy for her timetable & programme. See Wendy in action on her website and in her Lamma-zine story and photos, 3 days ago, Tying Yourself in Knots.
Wendy will also be doing an in-depth session at Yoga Central, Sat, Feb 7, 12 noon-6pm - The Flowers of Yoga. Yoga Central was set up by Robin who was a student of Roberta who was a student of Wendy.
Here's more about the long and illustrious history of yoga on Lamma, written by Holistic Asia's Peter Lloyd in his in-depth Lamma-zine story, Diggers and Dreamers - Holistic Lamma - one of the very best Lamma-zine stories ever, I think - from the historic monthly Lamma-zine #25, Oct 2003:
"The Lamma Yoga Room was set up by Roberta Raine and Robin Tassie in 1997. Earlier, Wendy Teasdill, who became renowned for her walk to Mt. Kailas in Tibet, had been teaching yoga. She passed on her classes to Roberta who ran classes on the beach before the advent of The Lamma Yoga Room, situated near Toochka's.
"After a year Roberta and Robin moved to Ko Long village where they set up the Lamma Island Yoga & Health Centre which they ran for another year before Roberta moved to California and Robin to setting up Yoga Central, the first HK Island yoga studio, 4 years ago. In addition to yoga, The Yoga and Health Centre offered other health treatments: aromatherapy, acupuncture and therapy. In 1995 Sugar Das arrived as a travelling yogi and conducted daily yoga classes at 6am for one full year.
"One of his students, Katherine Jureidini, later went on to India for a year to study and then came back to start The Lamma Yoga Room in 2000, a Satyananda yoga centre, on the Backstreet behind the Bookworm. This ran for 2 years and closed down last year as Katherine moved into teaching classes on HK Island."
---
By the way, this story is an advertorial for Wendy. I've bartered her two private yoga sessions for it and she's already sent me a scary Health Form to fill in, but promising to make it "safe and appropriate" for a yoga first-timer like me. She hopes that I'm "not quaking at the thought of the suggested barter of Yoga sessions - I'm actually a much nicer teacher than I used to be... used to people who are not necessarily fit and bendy." Well, this describes me pretty well! Lamma-zine story to follow, of course, as soon as I'll have successfully untied all the knots in my body afterwards.
In the meantime, sign up for some of Wendy's sessions yourself, Feb 5-14 ONLY!
Jan 30: RIP, Clive Brook-Fox
Sharon, The Island Bar:
Clive Brook-Fox - 11.4.48 -29.1.09
Clive died at Queen Mary Hospital on Thursday morning, 29th January, after an illness which was without doubt uncomfortable but well-borne in only the way that Clive could do.
Clive will be remembered by many Lammaites for both his innate Englishness and his pipe!
After almost a lifetime in Hong Kong, spent initially, whilst he was working in insurance, at living at The Peak and later for about 20 years on Lamma, Clive made the lifestyle decision to move to the northern regions of China about 3 years or so ago. Here, he believed the air was cleaner and the scenery fascinating. Naturally enough, he was of course accompanied by his beloved dogs.
Clive has since made regular visits back to Lamma, where he retained a foothold in the form of a flat at Hung Shing Yeh Beach. At times, during these trips, we would see him either ambling along, or at Cath's Banyan Bay Café or The Island Bar and barely remember that he was no longer a 'permanent' fixture on Lamma.
Clive will always be remembered for his dry sense of humour but more for his sense of precision of the English language, and his consistent presence as a 'True English Gentleman.'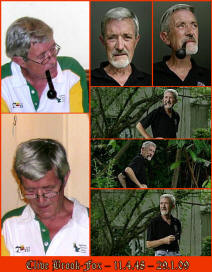 Clive influenced our lives in many ways as well as this. He was a great contributor over the years to activities such as the annual Treasure Hunt for Operation Santa Claus at The Island Bar [Editor: see right, in his Lamma Cricket Club polo shirt, another passion of Clive's; 2 photos by L-G, Dec 19 2004; more photos.] and to many other charitable excercises.
Members of Clive's family, including his son Ralph, who was in attendance with Clive during his last days at the hospital, and Clive's brother Julian will be present at his cremation at Cape Collinson at 12.30 on Sunday and later at The Island Bar to share in a toast to Clive. Friends are welcome at The Island Bar from 3.00 pm onwards to raise a glass to celebrate Clive's life and his contribution to the Lamma community.
Please forgive the writer for omitting the many facts and accolades which may seem more pertinent. Clive's life has been sadly taken short and with little notice to prepare a more detailed obituary.
RIP Clive
P.S. by L-G: Clive was also the mastermind behind Lamma.net, an early, ambitious and trail-blazing predecessor of Lamma.com.hk, over ten years ago. It even featured a short-lived discussion forum for the Lamma community and a great Virtual Lamma Tour!
Leave your condolences and share your best memories in our memorial Clive Brook-Fox forum.
Here's an in-depth SCMP story from June 15 2006, featuring Clive and his pet project, research into the origins of humankind. Click on the cover photo below to read the full story or read it in our forum.
Amid all the economical gloom and doom in the news these days it's so refreshing and uplifting to get some great news for a change! I got this optimistic headline and story today via my daily Google Alert informing me of all Lamma-related news on the World Wild Web. Yes, LAMMA will fare even better next year, as the story (one of several dozen new LAMMA-related stories) explains:
"If the tens of thousands of people attending this year's LAMMA event are anything to go by then 2009 looks promising considering the financial climate. The need to keep tabs on inputs and protect the environment was reflected..."
Click here to find out more...
You can even learn about a "Hypro nozzle for pesticide containers" on LAMMA.
There's even a new LAMMA picture gallery and video footage from LAMMA.
Wendy Teasdill - Ex-Lammaite Yoga Teacher. She'll return on Feb 3 to Lamma for a few weeks, giving yoga classes here and in Yoga Central. She writes that the Lamma-zine "has been a lifeline for those of us whose bodies inhabit different continents but whose dreams remain on Lamma."

(Historic photos/captions & brand-new story by Wendy)

Lamma Island rose up out the South China Sunday afternoon sea in all her glory as I hung over the rail of a Yau Ma Tei ferry for the first time in 1987. A friend from the hostel where I was staying in Kowloon had a friend who had a friend on Lamma.... I'd been travelling in Asia for about a year. On that first visit I swam in the waters of Yung Shue Wan and went to John Fox's party. I disregarded the party, ignored the snake slipping down the railing outside, and marvelled at the bookshelf: so solid, so home-like. So people actually lived on Lamma!

The friend of a friend needed his house looking after while he went to Korea.... So within the week, four of us (Richard, Andy, Rachel and I) packed our rucksacks and stepped again onto the ferry for the first of many journeys. Our abode was the Piggery in the raw: all the pigsties at the back had been vacated for long enough for the smell to have departed, and they formed convenient, separate rooms. In one sty we cooked in my camping pots on a fire contained in a clay tub; another sty became the shower, where we sloshed ourselves in turn from the generous (and chilly) outpourings of the hose-pipe. Another became my bedroom and I'd sleep there looking up at the stars. We slept soundly and arose each day with joy in our hearts.

As always I did yoga every morning, and soon the others were joining in, wanting to know what they 'should' and 'shouldn't' be doing. I did Iyengar yoga and stretched everyone hard, but nobody complained as we sweated away on our rice-straw mats (sticky mats weren't in use at the time). The weather was warm and we had no real troubles to stiffen our shoulders: we just stretched.

When we returned from our various jobs in town each evening, Richard and Andy would command Rachel and I to sit down to watch their magic shows. They were both already proficient jugglers, but they needed to practise their sleights of hand. Rachel and I applauded enthusiastically, especially when Richard chopped up a cabbage in place of Andy's head. That one didn't go down so well with Chinese audiences but it was to us brilliant high drama.

The owner of the Piggery returned and we had to move. Amazingly, somebody knew of a little yellow house in search of tenants. We crept in, tiptoeing over the black and white tiles, unable to believe our luck. The landlord had cut all the electricity in a fit of pique because the previous tenant had left his bills unpaid, but we had candles. Richard and Andy started juggling fire on the apron of concrete out front, and the yoga classes dissolved as I moved my practice to the beach.

In time, and over the years, the Piggery got a make-over, the Yellow House changed into Sally Trainor's capable, transformative hands, and we all went our separate ways. Richard and Andy are now professional clowns, still doing Yoga in different parts of the world. I made regular forays to Tibet, Nepal, India and Japan, always returning via that irresistible centrifugal force to Lamma. And somehow, there was always a place to stay on Lamma...
I asked Bike Mike for a little wrap-up note about his very unusually long visit of several months on Lamma. Did it give him any deep insight into what's going on here, maybe too deep? Could he jot down his most vivid memories, good & bad, serious & silly, please? Any parting Words of Wisdom for us Lammaites? ;-)
Bike Mike - Long-time Lamma visitor & Honorary Lammaite:
Farewell message:
Another early morning on Lamma! I stumble out of bed, throw on my paddling shirt & shorts [and his trademark pink Crocs shoes - Editor], and head to the beach on my bike. Brrrr! It sure is chilly today! Wait a second! This sure ain't Kansas, Toto! It's not Lamma either! There's frigging snow everywhere!
How cold is it? If I stripped, you'd think I had two navels. I guess I better trade in the paddle for a pair of skis.
It's almost two months since I left Lamma and do I ever miss the island and all the wonderful people I met there! It's great to be home in Nova Scotia, Canada, but part of me will always remain on Lamma.
On Wednesday I head to Baffin Island, in the Arctic for 15 days. I'm looking forward to seeing some polar bears and igloos. It will be a contrast from feral dogs and pagodas. They're bringing me up to conduct 3 coaching seminars in 3 communities. Yesterday it was a balmy -27 degrees Celsius there. I'll probably get even more homesick for Lamma there!
Thank you to everyone who made my stay so memorable. I'll be back! See you in two years!
Jay Scott Kanes - Official Court Pet Correspondent

(photos & map by Lamma-Gung, click to enlarge)

On January 20, the day when President Barack Obama made history by taking charge in the United States, I had the pleasure to watch a good friend make personal history with a lofty adventure on Lamma Island. Three dogs helped him do it.

For the first time, Lamma-Gung, the kingpin of Lamma-Zine (Lamma.com.hk), reached the 353-metre-high peak of Mount Stenhouse, the highest point on our home island. It's the latest highlight in a fitness campaign that saw Lamma-Gung lose more pounds than most Hong Kong people weigh.

"That climb was the most strenuous thing I've ever done in Hong Kong after more than 20 years," Lamma-Gung said. "Until a few months ago, I wouldn't have dared to dream of making it up there. It took more than five hours of grueling up-and-downhill walking, often climbing over sheer rock-face and crawling through densely-vined jungle. Up there is wild, steep and totally remote, just beautiful, well worth my slightly aching knees and a few scrapes and scratches."

As for me, I'd made the trip once before and knew much of the way. Lamma-Gung recruited me as "a guide", but mostly wanted a witness that he reached the top. Despite our tropical location, the journey resembled an Arctic expedition in that we relied on a team of trusty dogs who did the real guiding.

My dog, Gail, always enjoys hikes. Near home, we encountered Bianchino, one of her furry friends, an infamous two-timer with multiple homes in different villages. Instantly, this fluffy, grey canine appointed himself the expedition leader and led us along the trail to Sok Kwu Wan where we joined Lamma-Gung (who'd bicycled that far). There, Bianchino recruited two more pals, both brown dogs.

As we climbed, the dogs employed a strategy. Bianchino and Gail always led, showing us where the indistinct trail meandered. Bianchino's buddies followed, guarding our backs.

At extra-steep spots, Bianchino and Gail showed us better options by detouring slightly. When getting too far ahead, they doubled back to check on us. At forks in the trail, they bounded forward. If I challenged them, insisting on the other way, a few steps brought us to a dead-end. The dogs knew best.

Realizing that we'd go for the summit, one brown dog, handicapped by having just one eye (the other lost in a fight long ago), gave up and returned to Sok Kwu Wan. Bianchino's other recruit stayed behind us, patient and concerned, quietly watching our unorthodox climbing and tardy progress.

At the summit, Gail stayed alert, attentive to my actions, but Bianchino and his disciple flopped down to power-nap until the descent. Lamma-Gung and I ate cookies packed by my wife, took photos and briefly displayed an Obama poster. I rationed two bottles of water among the dogs, and they lapped up every drop.

Then Bianchino and Gail led us back down by a different trail. Once more, the brown dog followed, gently herding us and making sure we didn't falter entirely.

Back in Sok Kwu Wan, we watered the dogs again. As Lamma-Gung and I sat in a restaurant for coffee and a recap, Bianchino and his sidekick dozed nearby. Beside our table, Gail showed fatigue too, her eyes closing, her head bobbing.

The hardworking dogs had contributed strongly. Lamma-Gung's climbing success became a victory for them too.
P.S. A big discussion and poll ensued in our forums: Climbing Mt. Stenhouse.
Large numbers of people seem to follow the Lamma-zine, but actual, specific feedback on recent stories is still a quite rare, precious and most appreciated commodity, unfortunately. But the fascinating content contributions coming in make it all worthwhile, especially if they are unsolicited and spontaneous. Case in point, the picture above, submitted by new forum member Barry F.
He writes that one of his grand daughters in the UK has just won a prize for this picture above. It was entered by her school for a national photographic wildlife competition organised by the Born Free Foundation. They just invited her to London for a special presentation, honouring her for the best photo taken by an 11-12 year old, winning a printer for her school and a camera for herself.
Her name is Mia Foster and she took this photo in the back garden of her house in Chesterfield. Barry F, her proud granddad on Lamma was hoping that I could find a space somewhere on this website for the picture, so he could show it to Mia and all the family.
Being a triple granddad myself, I couldn't resist such a sweet request. I hope that this is a suitable and adequate space, Barry F? Congratulations from the Lamma-zine, Mia, this is a really beautiful picture!
Mici Reinold - living in Yung Shue Long New Village, writing to the Drainage Services Dept.

Subject: TRASH and GARBAGE EVERYWHERE...

Dear Mr. Yee,

After our last email conversation, the places along the Yung Shue Long drainage channel were cleaned up very well.

But now everything looks even worse, after just a few months!

After some construction in Yung Shue Long New Village, which has fortunately finished a few days ago, there are now leftovers all around. In addition to the leftovers from the construction work, there are "leftovers" from everywhere, old doors, fences, trolleys, etc. It would be nice if you could remind the construction company to clean up everything before Chinese New Year.

In the case of the end of the new drainage canal, nothing has happened until today. It's still disgusting to see all the rubbish lying around or floating in there. Is there nobody responsible to clean this mess up at least once a week?

The place on the opposite side again looks like a dump from construction sites and other work-related leftovers.

All neighbours around here would appreciate your help to clean up all this waste before Chinese New Year.

---

From: Dr. Marcus Schuetz,
Executive in Residence, Visiting Adjunct Professor & Assistant Dean EMBA Global Asia, HK University:

Dear Mr. Yee,

Unfortunately, I have to support my neighbour's comments. We actually just yesterday moved away from Yung Shue Wan Main Street, because:

firstly, it looks like the noisy construction work would never end, and

secondly, the so-called "improvement works" turned the creek in front of our house into a muddy stinking trench with garbage and even dead cats and dogs floating around.

The contractors leave their construction material behind and simply do not finish the site. I am really surprised that Hong Kong Government Departments can afford working with such badly managed contractors.
Unfortunately, afterwards some residents follow the contractor's bad example and pile up even more trash.
P.S. Amazingly, these appeals actually worked and the Drainage Services Dept. got the contractor to clean up the canal, see below. Kudos to them!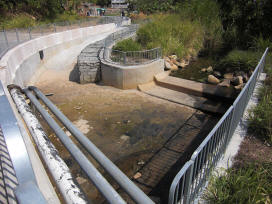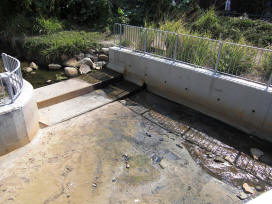 Becoming No. 1 in Google - the first result in all searches for "Lamma" or "Lamma Island" - has been a hard-fought virtual battle for this website and took several years to achieve. With some dismay I discovered that a few weeks ago we had been overtaken by a formerly lower-ranked "competitor", the www.Lamma.co.uk website above!
Have a click and check it out, including a flashy promo video on YouTube. The LAMMA show is happening from Jan 21-22 in the Newark and Nottinghamshire Showground, Winthorpe NR Newark, Nottinghamshire NG24 2NY, United Kingdom. It's being organised by LAMMA, the Lincolnshire Agricultural Machinery Manufacturers Association and is now in its 28th year! It features over 520 trade stands showing products and services from companies from the UK and overseas, showcasing the widest range of products for the agricultural and rural industries at any show in the UK, they claim.
LAMMA is a very worthy and worthwhile association and show for sure, IF you're a farmer looking to purchase any "agricultural machinery". But it's been stealing the #1 ranking away from our website, at least temporarily! How dare they! Harrumph! Frown! Pout!
Well, after this show ends on Jan 22, very soon we hope to recover our crown as the top website on all things "Lamma" on the entire World Wide Web! At least till next year's big LAMMA show...
Photo poem submitted by Lamma Artist Katie Flowers who also took these additional pictures in a Lamma crystal cave: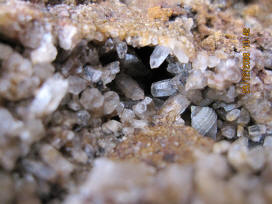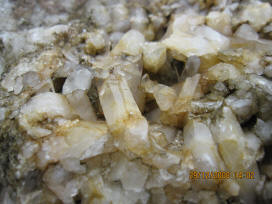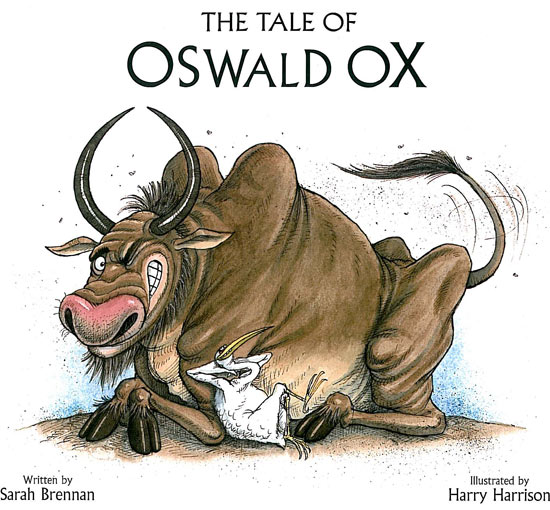 A new Chinese Calendar Tale has just been released by Harry & Sarah (see below) - "The odd couple" and "dynamic duo behind HK's bestselling English-language children's books" as Timeout Magazine called them in a great story in the current issue:
"Harry Harrison is one of Hong Kong's most iconic names. As an award-winning political cartoonist for the South China Morning Post, he has earned a formidable reputation for his perceptive sketches that ridicule daily headlines." He's been featured prominently at least 29 times (according to Google) in the Lamma-zine's 6.5 years. This illustration below by this Laudable Lamma Luminary is the first self-portrait I've seen in several years (republished here with Harry's permission):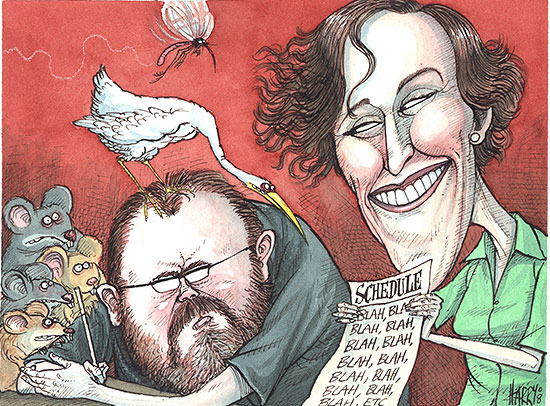 A little email interview I've done with Sarah:
"Inspiration for the book? The story and images revolve around a typical Chinese farming hamlet.
"The book is officially launching at Bookazine, 3rd floor Princes Building at 1.30pm Sat, 17th Jan, with proceeds going to the Lantau Bovine Association.
"The Tale of Run Run Rat and The Tale of Chester Choi are at numbers one and two for six weeks over May to June 07.
"I wrote this book for the Year of the Ox as part of my series of Chinese Calendar Tales. But with the current financial crisis, it's turned into a bit of a parable really about the value of hard work and caution and thinking before acting, in a world where a lot of greedy individuals have been stealing other people's stores when they weren't looking!
"Meet Oswald Ox: Bone idle on the farm, just chewing his cud and rolling in the mud while all the other animals are hard at work. No wonder he's in trouble! And then the winter stores go missing... Another funny, fabulously-illustrated story in rhyme to tickle the imagination of children everywhere!
"I've always said to Harry that we should keep politics out of our books but he snuck in his dedication to Barack Obama and I couldn't find it in me to disagree!"
A proper book review with more of Harry's illustrations is in progress, as soon as I'll receive my signed review copy this week...
Meet both of "the odd couple" at the book launch: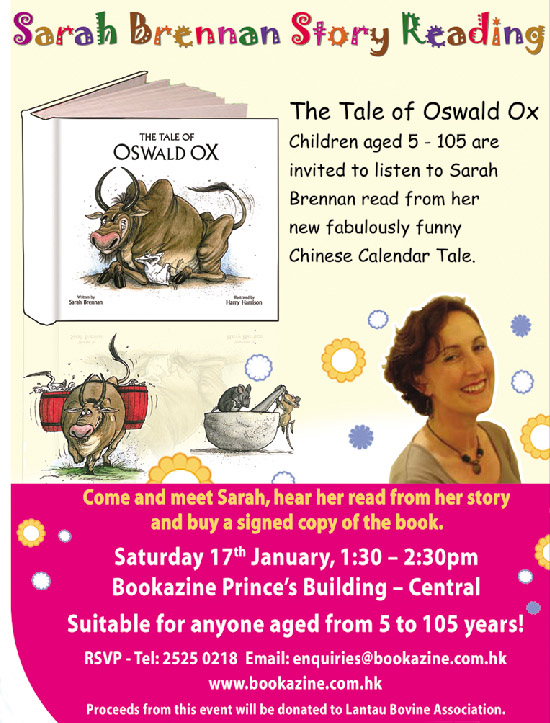 L-G made it all the way to Disneyland HK for the very first time a few days ago, transforming himself from Lamma-Gung (Lamma granddad) into Little-Gung for a few hours...
If you've ever been wondering about those strangely beautiful and skillfully balanced rock piles on Power Station Beach, their creator has been featured once again here on the Internet. His fame seems to be spreading far beyond Lamma Island and the modest pages of the Lamma-zine where he's been featured in glorious terms several times already, even being anointed as Lamma Artist of the Month last October.
A Lamma visitor, lunahky, was strolling by recently and took a few candid snapshots of Rocky Malcolm in action, catching him red-handed, so to speak, while piling up and balancing his rocky creations. She posted her photos in the DCHome.net forum and got an amazing 141 replies from forum members, almost all very positive, being impressed and praising Malcolm. See all of lunahky's photos, in addition to my little selection below (Thanks, lunahky!)
Let's hope that all this new-found fame and very positive feedback doesn't swell this very modest and unassuming artist's head too much, otherwise he might need to get a larger baseball cap soon!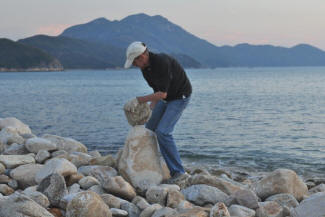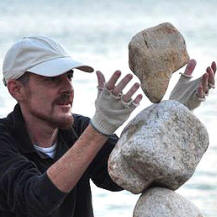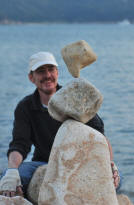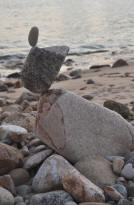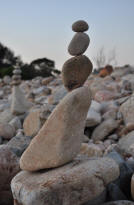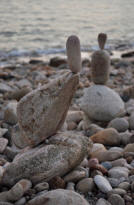 Exploring all the "official" mountainbiking trails of Lamma Island has become a recent passion of mine. But I'm not daring or crazy enough to actually bike on these very hilly, sometimes quite steep and always narrow dirt trails through our hills, valuing my life far too much. One little mistake and you might tumble down a steep hill into thorny bushes and big rocks.
So I've been walking them one by one, much safer and easier to enjoy the scenery than on my bike, which I usually leave behind at the entrances to the trails. I've been discovering new areas of Lamma Island rarely ever visited by anyone, not even locals, and have rarely ever met anyone on those trails, not even mountain bikers. These make great insider tips and some of the very best walking trails on Lamma, far from the all-too-common Family Trail from Yung Shue Wan to Sok Kwu Wan, used by probably 95% of all Lamma hikers who never venture beyond it into our amazing and ultimately much more rewarding and satisfying hills.
In progress...
Bingo will be happening tomorrow night at The Island Bar, see poster below. A lot of Lammaites might not be familiar with Bingo, so I've tried to provide a bit of background for our readers. According to Wikipedia, my #1 tool as a lazy editor and facts researcher, I quickly found this definition of the word Bingo:
"Bingo: Scenes of Money and Death is a 1973 play by English Marxist playwright Edward Bond. It depicts an aging William Shakespeare at his Warwickshire home in 1615 and 1616, suffering pangs of conscience in part because he signed a contract which protected his landholdings, on the condition that he would not interfere with an enclosure of common lands that would hurt the local peasant farmers."
Wow, Scenes of Money & Death! Doesn't that sound like quite a normal evening in The Island Bar anyway? Well, it's a play and plays mostly feature people just talking to each other, don't they? So it IS like a normal evening in this favourite local pub where people like to chat with friends about anything, including money & death, occasionally making a scene. Also, the poster below mentions "BINGO (grandma style)", where money (inheritance) and the impending death of grandma might never be too far from the audience's minds...
Or just maybe, perhaps The Island Bar referred to this other meaning of Bingo, out of quite numerous definitions of the word:
"Lotto: a game in which numbered balls are drawn at random and players cover the corresponding numbers on their cards."
YESSS! That's the correct definition, I think! Bingo!
In progress...
What better way to celebrate the start of a brand-new year than with a little hike in our hills during this sunny, dry and cool weather! On January 1, I took advantage of the absolutely glorious weather to explore the "Snake Trail"
In progress...
Despite all the noisy flocks of tourists descending on Lamma every weekend and on holidays, most of the island very rarely or never sees any tourist. For example, there are the busy public beaches just besides absolutely deserted and much more beautiful beaches. I stumbled upon one by accident, just out of curiosity the other day during another biker-hiker excursion. There's one of these govt. standard pavilions about 200 metres off the main path in the middle of the immensely popular Yung Shue Wan-Sok Kwu Wan Family Trail. Few tourists ever venture to that forest-covered pavilion.
Exploring well beyond the pavilion, I discovered quite well-trodden dirt paths all over the hillsides, some of them leading via a short, steep descent down to the beach. There's a single idyllic Chinese cottage down there with clothes lines and a small but well-tended vegetable garden. It's inhabited by a single, friendly, elderly Chinese man, the Lamma Beach Hermit as I'd like to call him. He's got the entire bay for himself and the amazing, sandy beach is just outside his front porch and the vegi patches. I explored the long, idyllic, deserted beach, waited for the sunset and took loads of pictures, of course.
Finally and quite reluctantly, I rushed back uphill, biking home to Yung Shue Wan in the twilight after sunset, a little adventure all by itself. Alternatively, it was almost warm enough to sleep on the beach. Maybe the Lamma Beach Hermit accepts paying lodgers? Well, probably not, even though he's been spotted to invite friends over for Mahjong occasionally. Pictures! Click to enlarge, as usual:

Taking stock of another great year for the Lamma-zine, I've compiled a little list of my own personal favourite stories of last year. These are only selected from my own stories, not including the many fantastic stories submitted by other writers, which might be featured in another upcoming list. Click to view stories:
| | |
| --- | --- |
| Jan 3 | |
| Jan 6 | |
| Jan 13 | |
| Jan 26 | |
| Mar 8 | |
| Apr 7 | |
| Apr 18 | |
| Apr 24 | |
| May 1 | |
| May 16 | |
| May 25 | |
| May 28 | |
| Jun 9 | |
| Jun 21 | |
| Jun 23 | |
| Jun 25 | |
| Jul 14 | |
| Jul 15 | |
| Jul 17 | |
| Jul 19 | |
| Jul 23 | |
| Aug 1 | |
| Aug 4 | |
| Aug 6 | |
| Aug 7 | |
| Aug 12 | |
| Aug 27 | |
| Sep 18 | |
| Sep 29 | |
| Oct 2 | |
| Oct 7 | |
| Oct 9 | |
| Oct 10 | |
| Oct 30 | |
| Nov 13 | |
| Nov 18 | |
| Nov 23 | |
| Nov 24 | |
| Dec 11 | |
| Dec 14 | |
| Dec 15 | |
| Dec 16 | |
| Dec 21 | |
| Dec 23 | |

Quoting from the Guardian UK/The Observer newspaper online today:
"The next day, I head for Lamma, an island a half-hour ferry from Central, and can't believe I'm just 30 minutes away from one of the financial centres of the world economy, in a hippy enclave that is one of the last vestiges of the old trans-Asian overland trail.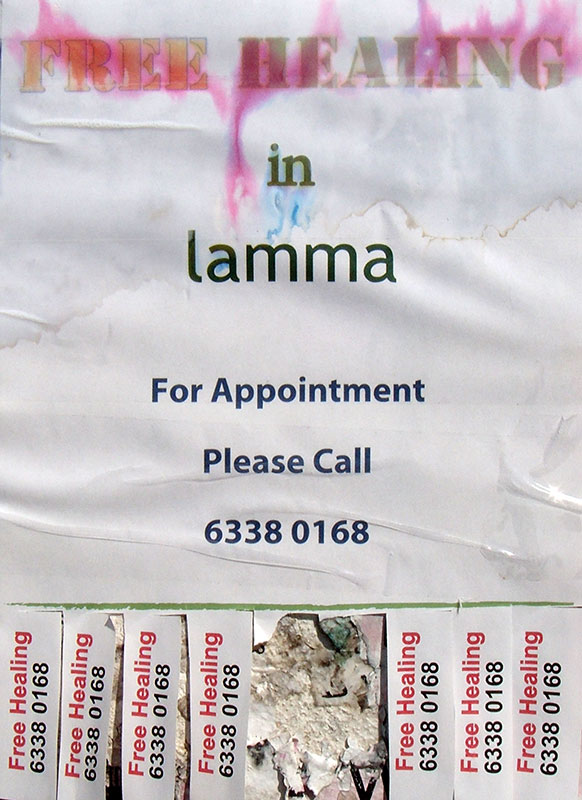 "There are no cars, just bicycles, and notices everywhere for "Free Healing" and "Psychic Massages" and little shops selling dodgy handmade tie-dyed things last in fashion around 1969....
"It's lovely, though, Lamma. Once you're past an ugly power station, and the hippy bead shops, it has endless footpaths and a rugged coastline. At a beach at the far end, there is just enough civilisation - spotless showers and changing rooms - and a slightly disconcerting notice: "Please note that we have taken down the shark nets for annual maintenance." I swim anyway but keep feeling things brush past my legs, make a quick exit, and head back to Central and the sharkless water of the rooftop pool of the Four Seasons hotel. I swim back and forth in the fading light, with the neon lights of the skyscrapers all around me, as transcendental an experience as you can have on any Lamma shroom."
Again, the same old, tired, untrue clichés about our "hippy enclave"...
But it sounds almost like features writer Carole Cadwalladr has mentioned me personally in her story? I don't recall ever communicating with her, even though I get occasional inquiries from travel writers. But doesn't she describe me so well in her story:
"And everywhere, ageing western men with greying ponytails who washed up here in the Seventies and appear not to have heard that Hong Kong has become a financial powerhouse, is part of the People's Republic, and that shrooms are now illegal."
"Everywhere"? I thought that, as an "ageing western man" myself, I was quite unusual and very rare on Lamma with my very practical, money-saving but unfashionable ponytail! Not one dollar spent on hairdressers since moving to Lamma in 2001. Do I have to get a more unique hairstyle now to stand out from the huge Lamma crowds of "ageing western men with greying ponytails"? Well, as part of a personal make-over after my huge weight loss, I might actually do that soon. I might become one of Lamma's many fashionable baldheads, maybe?
Also, I wasn't "washed up here in the Seventies", but the Eighties! But I have to admit that I've never been more than a wannabe hippy (for a few months as a teenager), failing completely and utterly to "Turn on, Tune in, Drop out", not really worthy of living in a "hippy enclave"...
I've also heard rumours that HK "has become a financial powerhouse", but as a poor sap without a *real* job and no loans, investments and credit cards this financial boom seems to have passed me by so far. Same as the "financial tsunami" so far, fortunately...
And "shrooms are now illegal"? Damn! But I like taking pictures of pretty flowers and "now illegal" mushrooms so much! Do I have to stop now?
A heated debate has started up in our forums about this clichéd story, after zep (thanks!) brought this article to our attention: More Hippies. He called it "a right load of cadswallopr". A load of codswallop from C. Cadwalladr. Amen to that...

Here's some photographic evidence of where some of the emissions from the Lamma Power Station actually come down during some of the year...on The Peak on HK Island!
The emissions from the 215 metre high chimneys are sparing Lamma Island almost all year, as the prevailing winds usually carry them out to the South China Sea.
Photos submitted by our famous photographer Bob Davis: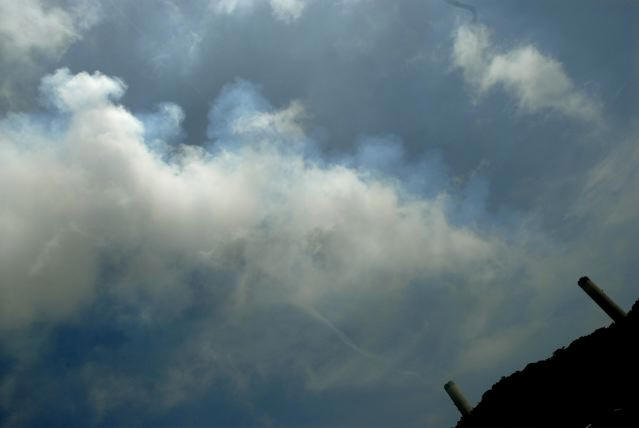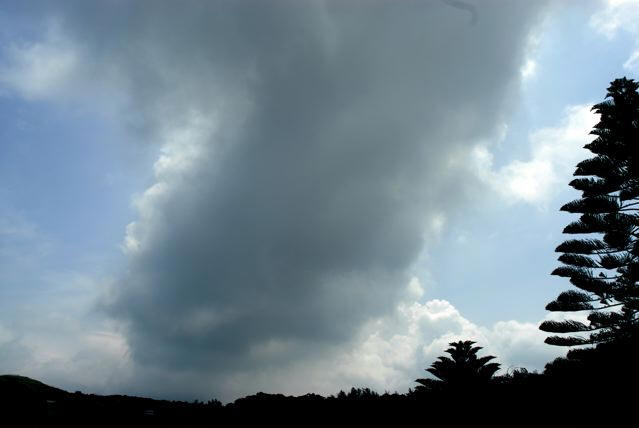 1. Lamma Chimneys -- 2. From Bob's Rooftop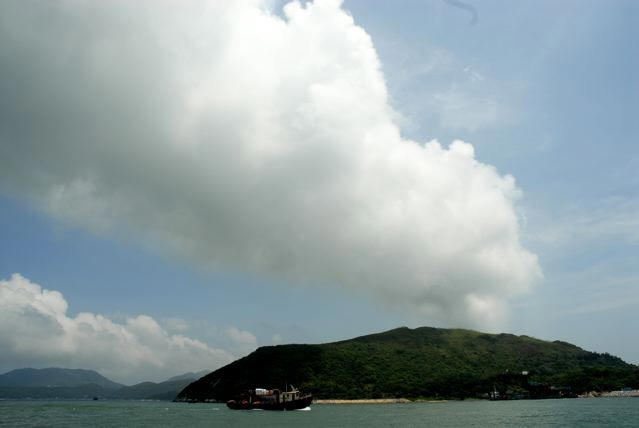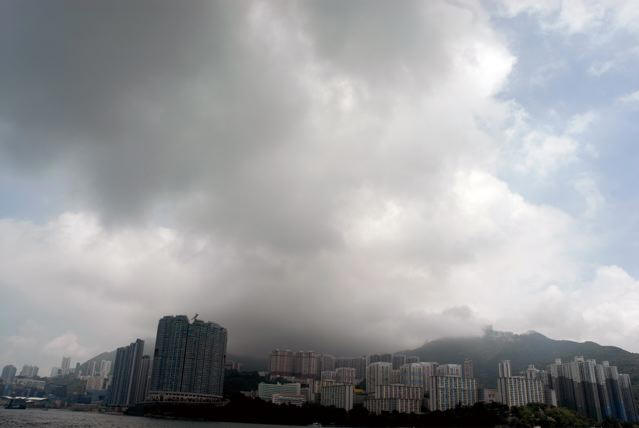 3. Across the Lamma Channel -- 4. HK Island & The Peak -- Bob Davis © 2008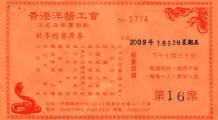 When was the last time you've had dinner with 150+ fellow Lammaites? This yearly feast, an 8-course "Snake Banquet", has become a tradition for Lamma-Por and me, attending it for the 3rd year in a row (Dec 29, 06: More Snake Wine, Please!). Always being the only Westerner so far, it's great to socialise with the "Silent Majority" of Lammaites, mainly local families.
This type of events, usually meals and excursions for families and/or elderlies are surprisingly frequent and the next event has been announced for just one week from today. Have a look at the simple Chinese-only posters on the outside of the City Hall opposite HSBC. You can enjoy an entire day/evening in the company of your neighbours, many of whom you might rarely see the rest of the year. There are trips all over HK and even occasionally to Macau and into the mainland.
These regular, open-for-all events are heavily subsidized from public and private funds and always a great deal. This particular yearly 8-course dinner - including soft drinks, beer and even a bottle of snake wine/table - cost only $130/person and was held in a specialised restaurant just below The Centre, a few minutes walk from the Lamma ferry pier in Central. More snake next year, please, as only two of the eight dishes contained any snake. Despite 20+ restaurants in Yung Shue Wan alone, we can't get ANY snake dishes here at all.
We've already reserved five tickets for next year's Snake Banquet as they usually sell out at least one month before the event. Who wants to join in? Contact Lammadonna's office besides the Lamma Gourmet shop to make a provisional reservation for next Dec or Jan.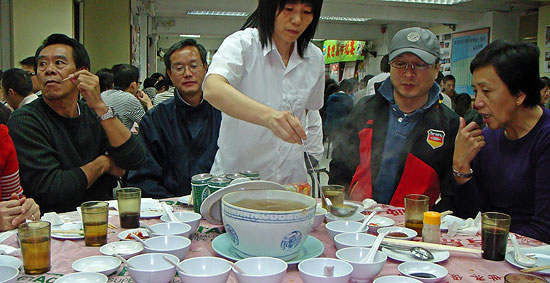 Stuffed and happy after this big meal, just a quick snapshot of the Lamma ferry pier before returning home, shot from the top of the DbAY ferry pier: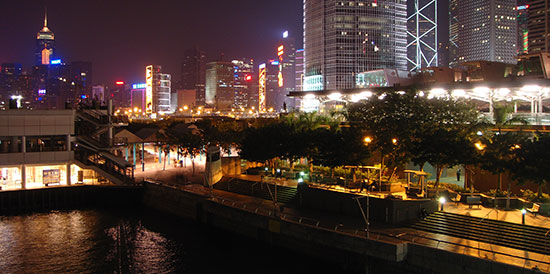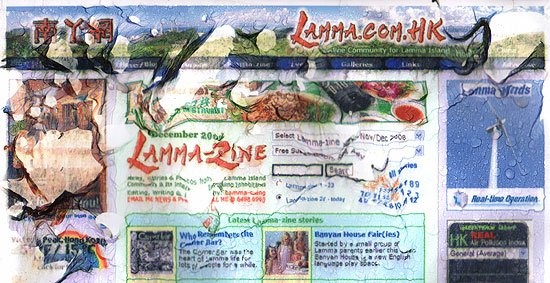 This is what happens if you leave a poster (from my recent rooftop parties) printed on costly photo paper out in the rain for a while. This struck me as kind of a suitable and adequate metaphor for the past year 2008, when a lot of lives and hopes for the future kind of melted, turning soft, less stable and more insecure...
May your lives, hopes and dreams recover this year and help you to re-focus on what's most important and precious in your life! No, it's surely not your bank balances, MPF or investment portfolios, I hope.