Lokkanat - Lammaite (add comments in the Lamma Our Shire forum)
The Fast & Furious of Lamma
Despite the tranquil and laid-back atmosphere of our Shire, Lamma has a fast and furious side not many weekend Middle Earth visitors may know.
Our number one Fast & Furious is none other than our very own Rohirrim, affectionately known by Lammayans as VVs. They are an essential and integral part of our Shire for a number of reasons. In addition to providing delivery services and noise pollution, they help us decimate our toad population by squashing toads at high speed. In fact, there is a jackpot for the highest number of squashed toads. Skinny Spike with his youthful and serious dark moody looks is the current front-runner with over 1,000 squashed toads well ahead of last year's champion Skull Face.
Unfortunately, this year may be our last year to hold the Squashed Toad Tournament as our toad population is getting dangerously low. Snakes which live on toads are now having a hard time finding food. Some snakes are even trying to put themselves up as lovable pets. They sneak into people's home looking very innocent and docile, hoping for some affection and maybe even a permanent home. Sad to say, so far no one has adopted any snake. But we do have some very kind souls who allow some snakes to at least live in their garden. Bless them for not killing or eating the snakes.
So currently our Shire Ministry Of Transport is working with the Rohirrim [ferocious attack "horses" of Middle Earth] to start a new Dog Crippling Tournament for next year. It is still in a draft stage but our VV contestants can be seen up near Tai Ping and Fire Station Path practicing already. Rumour has it that our Shire Ministry Of Transport is going to raise the minimum speed to make the new Tournament more interesting. For instance, a VV contestant must cripple a dog at high speed well above the current limit. We are not sure who might be interested to enter this Tournament. So if you notice any VVs practicing high speed manoeuvres, do let us know. Send us the VV numbers.
Lamma's Fast & Furious - you've gotta be a Lammayan to love and hate them!
(Just a reminder that this is pure fiction!)
---
Lammayan Elves
The Elves once stood alongside Man to fight against evil forces. But these days they are more interested in playing with their balls and riding their ponies.
The most powerful and elusive of them all are probably the Fire Mountain Elves. They have mastered the elements. So, naturally, when there is a fire or fallen tree, the Fire Mountain Elves are there to use their magic and might to ensure the safety of Lammayans and friends. Once they feel there is no imminent danger, they quickly retreat to their mountain enclave.
The Fire Mountain Elves follow very strict regimes to keep themselves physically and mentally fit. If you venture up to their mountain enclave, you can see them wearing their training outfits which are very skimpy, if not a bit too revealing, short shorts. They play with their balls, be it volleyball or tennis, in a friendly competitive manner to sharpen their reflexes. They also do a meditative trance-like jog back and forth. It can be quite unnerving if you are alone walking along the path and keep seeing the same near-naked elf slow-jogging past you. But don't be scared because they are really quite friendly.
The Forest Elves are an odd bunch. While some are friendly and enjoy blending in with local Lammayans, others are aloof and arrogant preferring not to be bothered by Lammayans at all. You sometimes see them riding their ponies in the Shire. Instead of mastering the elements, the Forest Elves focus their energies on illusions and persuasions. Whenever there is a dispute amongst Lammayans and friends, the Forest Elves cast their spells to confound people, making them having a hard time figuring out what the dispute is all about. Sometimes the Forest Elves simply make up a whole bunch of ridiculous disputes; till people eventually give up because it's more trouble getting the Forest Elves involved!
Occasionally, we get the High Elves from Middle Earth visiting our Shire. They are more concerned about the environment, from landscape balance to the welfare of magical and non-magical creatures. Unfortunately, they don't seem to be around lately. All these constructions have gone rampant and are really getting out of control. Some Lammayans are wondering about the future of our Shire and are worried about our environment and safety. While some believe it's all about some greedy investors trying to turn our peaceful and serene Shire into a bustling luxury holiday resort for Middle Earth, a few think the dug-up holes and trenches along the paths are just means to keep our ageing population down.
Unfortunately, none of the Elves on Lamma look anything like Legolas!

Rachel the Newbie - Lamma Newbie & Outrigger Canoe Club member
(Text & photos by Rachel, click for her photo gallery.)
The Round Island Race was the culmination of all our weeks of training. Ten of us from the Lamma Outrigger Canoe Club formed the racing team and I was lucky enough to make the cut. It was such a great time and such an adrenaline-filled experience.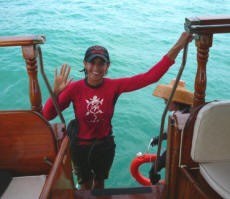 We'd paddled the two canoes over to Middle Island where the race would start. It was our last training run and also our last chance to practice sea changes and rip up my legs some more. In this event, ten people paddle around Hong Kong Island, but the boat only holds six at a time. So, every 3, 7 or 8 kilometers there is a sea change.
How it works is that the support boat draws alongside the canoe and someone shouts out the number of the seats of the people who are changing. Then the boat powers ahead and slows down so that the paddlers can get in the water about 100 metres in front of the canoe. We line up in the water and put our hands up so that the steerswoman can see us.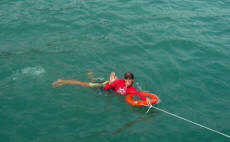 She steers so that the ama (the outrigger part) and the canoe straddle us. As they paddle at us at full power, we grab on with one hand and either lift, sling or heave ourselves into the canoe with varying levels of speed and grace. Meanwhile, as soon as we, the new paddlers, grab onto the canoe with one hand, the people in their seats dump out the other side. All people still in the canoe paddle like crazy trying to maintain momentum until everyone gets settled and can join in. It's a little stressful because if you miss the grab or don't get in smoothly it really slows the boat down. It's also painful because the only way I can do it is to throw one leg in and lever it under the seat and get in that way. So for the past month, I've had huge abrasions and bruises on the back of my right knee.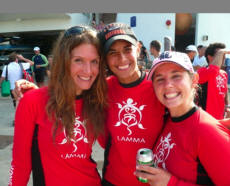 I was about as nervous as before a running race, but in a different way. When I was going to run a marathon, if I screwed up or whimped out, I'd be the only person I let down. When you have lots of team mates, it's worries about letting them down that filled my mind. What if I got too tired? What if I mess up the sea change? What if my timing is off? What if they wish that they hadn't let me in the boat? I wasn't in the boat for the start, so I had hours to wait around nervously.
But finally my chance came. My first leg was pretty short, only 3 ½ km. The sea change went really fast, so it was great for getting the butterflies out. I got out just before we turned the corner to go through the harbour. That began a couple of really long legs for the paddlers because it's much too dangerous to do sea changes in the middle of Victoria Harbour – one of the busiest harbours in the world. Some people might think that it's pretty dangerous just to be in an outrigger canoe in that harbour.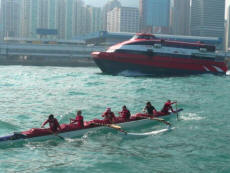 As it turns out, they're not far wrong. We were travelling along pretty close to the outrigger when we looked behind and one of the huge Macao hydrofoil ferries was bearing down full power at the girls. It is unbelievable how big it was and how fast it was coming. Gina's steering had already been awesome dealing with all the chop and wakes coming her way, but when she saw that ferry coming, she was amazing. You can see in the pictures how much strength she was putting into getting that boat out of the way. The other girls never looked up. They had their eyes in the boat like they were supposed to and kept that power up. If they had stopped paddling, there's no way Gina would've had the momentum to get them out of the way. Everyone in the junk was totally freaking out. But Gina and the other girls in the canoe were masterful.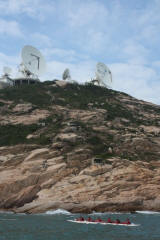 Two more ferries came pretty close to the canoe, but one slowed down a lot and the other stayed on the opposite side of the junk from the canoe.
I paddled in that leg for 11 km. We went along the north side of HK and past the Museum of Coastal Defence – I could even see the battlements on the hills. After we turned the corner to go south the wind picked up a little and the chop a lot. That side of the island is so beautiful. It was sunny and the spray and the chop were beautiful. It was really tiring of course, but when it came time for the last change, I so didn't want to get out of the boat. It was the end of my race, and the others were going to bring it home. Claire, Anna and I dumped out of the boat and cheered and screamed them on as they hopped in and took off. Then the woman from the junk threw us a life ring and hauled us back to the boat.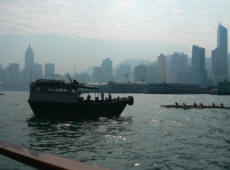 The boat was going so well as they finished. They looked so strong, like they'd only been paddling 5 or 10 km instead of 43. There was no slowing down as they powered in to the finish line. The Lamma women's OCC crew did the 46 km race in 4.49.32!!
As well as the ten of us who were actually paddling, there were about 12 other people on the support junk who got up at the crack of dawn and spent 5 hours cheering us on and helping out. There were a lot of things that had to be done on the boat. There was navigation and radioing in our position. There was organizing our sea changes and making sure we were warned in plenty of time to be ready to jump in the water. We had people bringing us our jackets and blankets and food and drinks as well as we sat dripping and exhausted between legs.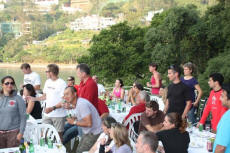 I can't imagine how it would have been without all that support. It was such a team event.
All of the Lamma OCC team and supporters were so high after that race and for days afterwards. We keep posting more about the race on Facebook and talking about it on the ferry. Everyone did so well and worked together so well. The food at the barbecue afterwards was well-deserved, and the beer too.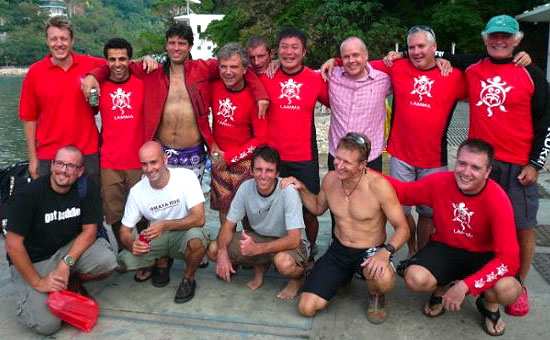 Bike Mike - Lamma visitor, Oct-Dec '08 (text & photos by Bike Mike)

The Round Hong Kong Race

Our Lamma Dragons entered this marathon event with both men's and women's teams competing. Coached by the dynamic duo of Gina & Paul both teams pre-race goals varied. Our women were contenders for the Women's Title and arrived on race day with their "game faces on" and "the eye of the tiger" in their demeanor. Our men's goals were more modest: The men's team just wanted to finish the course without "hulleying" (upsetting the outrigger) and hopefully ahead of the Lamma Women's Team.

The men's boat reached their goal! In an international race field that included teams from Hawaii, and Singapore along with other local teams, our Lamma men found themselves in a battle from start to finish with a strong Hong Kong Island Paddle Club Team. For 40 km both teams traded the lead position on each other, neither team successful at losing the other. With 1 km to go it looked like IPC was going to take 4th place with a 500 M lead on The Lamma Men. Thanks to an inspiring vociferous chant from Lamma supporters Georgie, Gaven, and Brad, and others on the support junk, our men "dug deep", closing the gap, and missing 4th place by a mere 1 m at the finish. 4th place to IPC Women, 5th to Lamma Men.

The irony of the above is that thanks to the efforts of our men, the IPC women were able to finish so strongly. Both teams had excelled with each other feeding off the energy in the rival boat. The down side of this was that our women placed 2nd in the women's category to the IPC Amazons. Our women's finish was commendable especially in light of a near race ending episode with The Kowloon Star Ferry which almost ended things prematurely.

It should be noted that our Lamma Dragons with a large contingent of supporters were the team with the greatest spirit at the event. We cheered each other. Where other teams only cheered themselves, we cheered everyone. We competed hard with no malice towards the other teams in a true celebration of sport, competition, and celebration of life. In this we were the envy of all the other teams........ the true winners by far!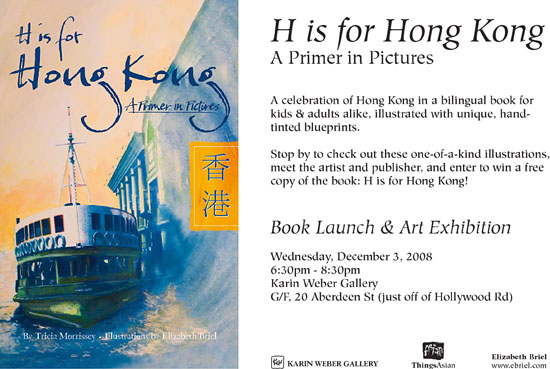 Before moving to Sydney with hubby Royal Roy end of the year, Elizabeth the Cyanotypist (of the former Lamma art gallery The Cyan Studio) is launching a new book & exhibition next Wed, Dec 3. Absolutely perfect timing as the launch party could double as my own birthday party, saving me quite a bit of money! Ahem, anyway, here's the fully illustrated and linked press release:
Elizabeth the Cyanotypist - Lamma Artist:

Elizabeth Briel at Karin Weber Gallery

G/F, 20 Aberdeen Street (off Hollywood Rd, Central), Central HK (map).
Tel. 6252 6839 / 2544 5004.

Wed, 3 Dec, 6:30-8:30PM.

Tel. 6252 6839, ebriel@thingsasian.com, http://ebriel.com, Facebook, book blog.

---

Enduring Hong Kong -
Unique Hand-Tinted Blueprints

Hong Kong is hectic in the best of times, and can be insufferable during its most turbulent. But there are urban oases here in the most unexpected places: peaceful houseboats in Aberdeen, a shrine in Tai O, a meditative game of chess in Kowloon park.

American artist Elizabeth Briel has just illustrated a new children's book with hand-tinted photos of Hong Kong, published by ThingsAsian Press. The exhibition at Karin Weber Gallery will feature original images from the book, and new work continuing this series.

Since the completion of her Painting degree in 1999, Elizabeth has worked for the Liverpool Biennale, studied sculpture in Florence, and taught photography to Cambodian street children with the Angkor Photo Festival. She now lives and works in Hong Kong, and is a board member and artist with the Hong Kong Mural Society.

At first glance, the photos look like paintings; in fact, these images are created with one of the oldest forms of photography. At the heart of Elizabeth's labour-intensive work is the cyanotype, better known as a blueprint: these blue-and-white photos are developed in the sunlight instead of a darkroom. Afterwards, she tints the images with watercolour for a vibrant effect. She is the only artist in Hong Kong - and the Delta - to specialise in blueprints.




Tamara Norris - Lamma Artist:

Hope you can make it this Sunday afternoon, Nov. 30th to the opening party for Open Space, 11am-8pm.

A full day of fun and creativity!
Dj's, live acoustic jam, jugglers, painting, fire show... much much more!

Please bring drinking water and a flashlight if you will be heading back at night.

Open Space will be hosting weekly art nights and biweekly music jam nights. The space is also open to everyone and can be booked for private events such as:

private parties, children's parties, BBQs, Vivid Vibrations Jam Your Art Out painting parties,
host a workshop or exhibition, life drawing classes, photography groups.

Please email openspacehk@gmail.com or call Tamara at 6423 1952.

---

Hong Kong has a dearth of low-cost community venues -- places that anyone can use to do anything that inspires them. Open Space is different. It is a unique and non-profit making venture, a space for everything from workshops to parties, from yoga lessons to jam nights. It is also the venue for creative events such as Jam Your Art Out painting parties hosted by Vivid Vibrations.

Groups of all sizes can enjoy the lush natural environment of Open Space -- an oasis that feels a world away from the bustle of the city. It is in fact just a 20-minute walk from the Yung Shue Wan ferry pier, itself only a 25-minute ferry ride from Central.

Open Space has a wide range of facilities including a fully functional kitchen, gas barbecue, campfire pit and bathroom, plus indoor space with Internet access and an extensive outdoor area. All this in a tree-fringed idyll where a waterfall flows through the garden.

Open Space is open to everyone -- host your own event or just come and hang out if you want. Artists are also welcome to make their mark at Open Space's revolving gallery of mural-covered interior and exterior walls and art installations. In addition, Open Space will host open-invite art and music jam nights. Most open-invite events at Open Space are free of charge, although donations are welcome. For other events and bookings fees are negotiable -- and reasonable.

Although the brainchild of Tamara Norris, founder and creative director of Hong Kong based creative events company Vivid Vibrations, Open Space is only possible through the efforts of numerous people. It is a true venue for the whole Hong Kong community where everyone can express themselves, relax and unwind.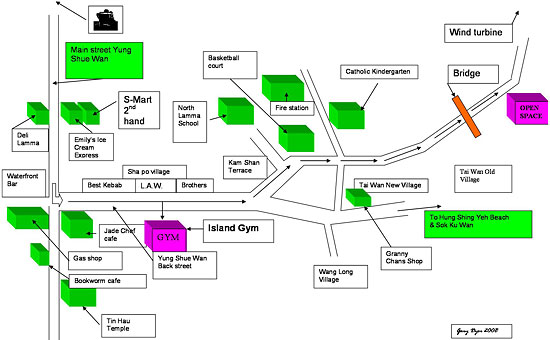 Photo gallery in progress...

Before yesterday's Lamma Enduro mountain biking race, I scrambled up to the top of Pak Kok Shan on foot for the very first time, scouting out the Project X trail which is leading over the top of this hill. Besides the magnificent 360-degree view from up there, this is what I discovered to my surprise: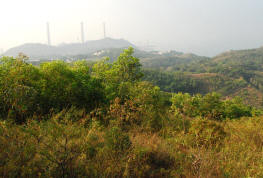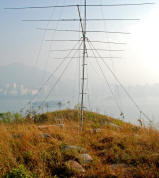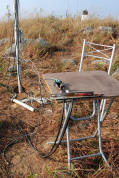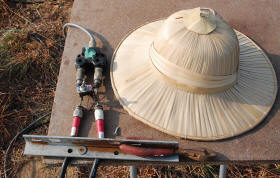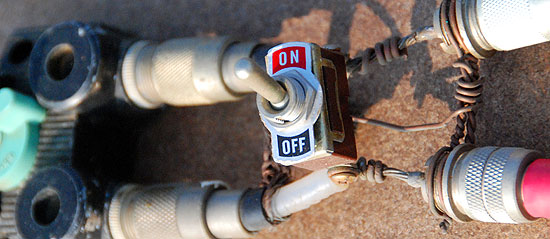 My notoriously fertile imagination ran rampant once again. What is this switch switching on or off, located on top of such a pretty high and very remote hill, overlooking most of Lamma? Could it be the fabled MASTER SWITCH for all of Lamma Island? We always suspected it to be located somewhere inside our Power Station, but this is a much less obvious and more secretive location.
Or is this the notorious single microwave antennae by PCCW which is the only Broadband Internet link to/from Lamma? Or could it be the master switch for the infamous, mysterious Gravity Pockets that some Lammaites claim to have fallen into on their way home from the pub in the wee hours of the morning?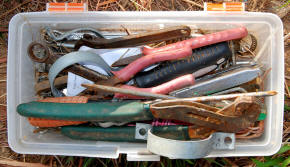 Timid coward that I am, I didn't dare to try out the switch, fearing a police SWAT team in helicopters descending on me within minutes, abseiling in full riot gear and heavily armed, taking me away to deepest DbAY (a fate worse than death itself?), never to be heard from again...
Does somebody have any idea about the function of this most mysterious, mystifying master switch??? Another baffling, bewildering, bamboozling brainteaser; I HAVE to find the answer!!! Maybe this toolbox nearby could offer some technologistically-gifted wizard or whiz kid a useful clue?

Project X trail,
Pak Kok Shan

Zooming in on a dangerous spot

Riders are being careful

Oops!

Saving himself, avoiding a tumble

This guy wasn't so lucky

Iuri's getting up,
no injuries at all

His gladiator-style armour saved him

It's fun to fix a badly bent wheel!

Almost as good as new!

Continuing the race, spirit unbroken

Never give up,
never surrender!

Submitted by the new informal "Lamma Environment Action Group".
Discuss this topic in our Dangerous Public Area forum, started by the group.


The "Lamma Forest" project on the left and right - 180-degree panorama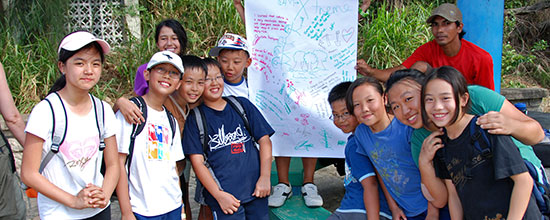 ESF school students enjoying an adventurous day out on Lamma,
an "exotic place" that only a few of them had ever visited before.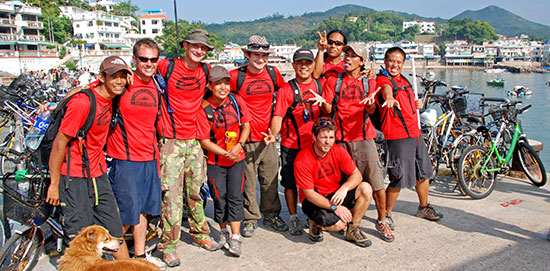 Asia Pacific Adventure's "Experiential Facilitators" after a day of guiding the students to build a trail into the Lamma Forest.

Click for L-G's extensive photo gallery of a day of serious fun in the Lamma Forest, using all of these serious-looking tools above.
Plus a musical slide show made by Gavin with Desmond's great photos.
Photo Exhibition - 14 Nov - 12 Dec 2008
2/F OMM Boutique, 36 Cochrane St (besides Mid-levels Escalator), Central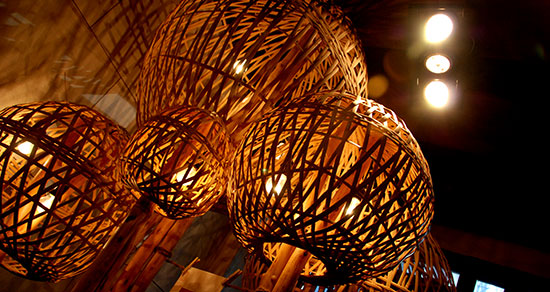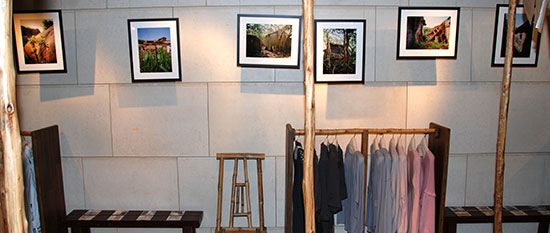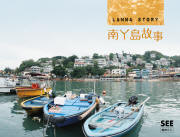 By the way, these photos by Ryan Wong are also for sale via the gallery: HK$1,200-1,500, 16"*20",
Tel. 2127 4503, email, organised by SEE Network.
(Photos above, inside the gallery, by L-G.)
The book containing most of these photos and many more, Lamma Story, is available in shops and restaurants along Main/Back Street, YSW: click for more info on this exhibition and the photographer, plus a book press release and book review.
If you're a frequent Lamma-zine contributor, you can get a free book from me, but I've only got three copies left!

Big Banana Bob - Brian's friend in Phuket

(pictures by Bob Davis - click to enlarge; video by Mr DickStock)

Earlier in the week, we had terrible rains 3 - 4 days in a row in Phuket, Thailand. We were worried that it would continue, but it broke and the sky was clear and the weather perfect. Overseas visitors started arriving on Wednesday and we all raised many toasts to Brian as well as having some good Thai food together.

A lot of us had never met each other before, so it was a good time to get to know each other and reminisce on stories from the past. As we said goodnight on Friday night, I kept reminding everyone not to be late the following day.

Marilyn arranged two vans to transport us down to Chalong pier, departing at noon, and as you may have guessed I was the last to arrive. A few worried faces as I strode in carrying flowers and a backpack full of goodies. But we got off on time and made a quick stop at our local, Montes, to pick up a few of the remaining friends.

The big van went off to the pier while we made a stop at the florist to pick up Brian's wreath. I had ordered if a few days before, but they needed time to prepare it. It wasn't exactly what I imagined, but it was fine nonetheless.

You will see a photo of the wreath on Bob Davis's email. A funny thing about the wreath was that they spelled Brian's name wrong. I wrote it out when I ordered it and didn't check it when I picked it up. When we got it back in to the van, Dave and Marilyn mentioned that they had spelled "Brian" as "Brain". They got Macnay right. Very ironic, since many of us called Brian Brain over the years. Totally accidental, but totally appropriate.

Then we all met at the pier at a local pub called the Tamarind Bar. Brian, Scott, Doug and I have had a few beers here in the past. Right on the water with a lovely view over the bay with lots of yachts moored. We all had a few more toasts while waiting for the rest to arrive who had their own transport. You can see a few photos of the gang in front of the Tamarind Bar.

One thing that unfortunately wasn't planned for the boat cruise was food (my bad). I was worried about getting seasick, so I didn't want anything, but after talking to a few of the attendees, it became apparent that everyone was a bit peckish. So we ordered sandwiches and a few appetizers for the cruise. Stupid me, but that seemed to be the quickest items on the menu, but as they say, TIT (This Is Thailand). About an hour later, the food was ready and we settled the bill and were off. I will say, however, that the food was very good and I didn't get seasick at all. A first!

We cruised out of the pier area and went due south. I don't remember much about the scenery on the way out, since I was organizing the food. The boat was a spacious 56-foot fishing boat, called the Thai 2 On, with lots of room inside. That was important because it was ultra sunny to start. Most of us chowed down for the first 1/2 hour and cracked open the beers. I packed along a few of Brian's CDs and we played these as well. He was with us in spirit.

As we cruised, we started to look for a secluded cove, but none seemed to be right. For one reason or another, we said "Nah" and kept going. Either another boat was too close or the spot didn't seem perfect enough. I think we all didn't want the day to end or to admit that it really was the end.

We settled on the northeast corner of Coral Island, which is a nearly uninhabited island southeast of Chalong pier. A quiet cove with cliffs off the waterline and forest up above. We even saw a goat up on the cliffs watching over us. I have attached a Google Earth photo.

You can see Banana Beach on the upper left hand portion of the photo. Brian went to this beach in the past and as you may know, called me Big Banana Bob, while golfing, for my straight drives off the tee (not). So it seemed appropriate in many ways.

We had a celebrant with us named Fredrik and he did a terrific job. Short and sweet as Brian would have wanted it. I'm sure he was looking down on us and grumbling, saying something like "Get on with it, you still have cold beer in Heaven."

When the time finally came to scatter Brian's ashes, Tom and I took the urn to the back of the boat and proceeded to scatter the ashes. I was afraid I was going to fall in, but Tom and I supported each other and no accidents, fortunately. Everyone had a flower that they tossed in as well. Marilyn and Steve laid the wreath on the waters and with deft skill didn't upturn it. It was quite top-heavy and I was hoping it wouldn't flip over.

This was at about 4:30 PM or so local time and just around half time of the NZ - Australia Bledisloe Cup Rugby match in Hong Kong. Had he been able, Brian would surely have been at this match. We all wished he could have seen the All Blacks one last time.

The cruise back to the pier was quieter. The sun was going down and the clouds were pinks and purples. Many of us were just looking out at the islands and remembering Brian.

Back on solid ground, we had dinner at a local seafood restaurant. I had heard about this restaurant, but it was the first time that I actually ate there. We had a long table for 20 people and ate and drank hardily. We planned to leave the restaurant about 8PM, but it seemed that nobody wanted the day to end. Eventually, the emotions of the day, the many hours out on the water, and the beer and wine did us in. We finally left the restaurant at around 10PM.

Most of us slept in on Sunday, but gathered at one of Brian's favorite restaurants for a Sunday roast lunch. In the early days, Brian went to the Tavern on the Hill as often as possible. Especially when they had Bah Lamb on the menu. Unfortunately, no lamb, but still a great last meal with friends, since everyone was off on Monday.

Sorry this email has run on so long, but I wanted you and Jack to have the complete story of the remembrance. I have also attached a Word document that includes a few words from Brian's friends that couldn't attend as well as a few pictures that I was able to gather. Thanks very much to all of you that contributed.

Riding the Central-Yung Shue Wan ferry home the other day during a full moon, I couldn't resist playing with my favourite toy once again, my trusty Nikon D80 dSLR camera. Below are a few shots from that ride, taken handheld from the outside area of the upper deck. Click to enlarge, as with most Lamma-zine photos.
There's no Photoshop or special effects/filters trickery in any of these shots. They've all been created in-camera with various standard camera settings and only minimal brightness and colour adjustments. The blurs resulting from moving, rotating and even zooming the camera during exposure are all intentional, of course. I hope you believe me or maybe I'm just trying to show off some more of my blurry, failed and ugly snapshots?
Well, anyway, these images put me more in a Christmas mood than any of the often garish, overly fancy, overtly kitschy shopping mall decorations in town. Not that these comments will stop me from shooting them soon, too.


Brite Hundvin - Lamma visitor from Norway

(text & pictures by Brite, Nov 2008)

Hey, I am Brite Hundvin from Norway, visiting this beautiful little island for the second time in my life.

I have friends: the Baskas, Stine, Roman and Caspian, living here. It's good to be back. A couple of weeks ago they had this story in my local newspaper in Oslo about Hong Kong, and they specially pointed out Lamma as a nice, car-free, amiable place with a nice atmosphere and good for walking (Norwegians need to walk!) I felt like shouting, proudly: "Hey, I know this place!" (At least a little bit...)

Well, I arrived Thursday - and felt the greatness of holidays (freedom...) - exactly when I bought the lovely little glass of red wine to bring with me on the ferry over to Lamma (I've been soooo much looking forward to that!) And when I saw the Lamma harbour, and the little pink house of my friends, it felt great.

It's so nice here; vibrant, but still not hectic. Children and dogs (lots of dogs!) are running happily around in the streets. I love all the strange fragrances swirling around me (strange for a Norwegian), often making me hungry. People say hello as we walk by. I was particularly pleased when, on my way back from the shops the other day, Katie shouted "Hello Brite!" as I went by her house, I felt like a local! And I really love the Baska's little cat (from the "cat orphanage" here) sleeping on my stomach at night. There's nothing more peaceful and reassuring than a friendly Purrrrrrrrrrr when trying to get over jetlag. When mentioning the cat, I also have to mention the dog of the house; I do love you too, Corry!

On Saturday, I was invited to a party at Katie's, and met many nice and friendly people. Suddenly my own profession back home - a bureaucrat in a ministry - seemed a tiny little bit boring, when talking to all these interesting people, coming from all over the world.

On Sunday, I walked the path from Yung Shue Wan to Sok Kwu Wan and back. It was raining the whole time - and it was lovely. I admired the views and the flora and fauna, and took lots'n'lots of pictures. I have also seen the two famous pigs and the big caribou (see right!) in the garden when taking a walk with Stine the other day. I've also admired the fire station with those small fire engines!

I've bought several dresses (and other necessary items) in the lovely, local shops - and I've had my fair share of sweet'n'sour chicken/pork (I love that!)

Now I'm leaving for Sydney, Australia, another step on my fairy tale trip. But I will always have this little green, brown, yellow and pink (!) island with me in my memories. It is sort of peacefully (stoically?) situated in the middle of chaos, not bothering much about the hectic city nearby, and the current panic in the stock market. Although I'm sure it feels the pressure, and the pollution creeping in... I wish Lamma would stay like this forever, that it would be forever young!

Until next time.
Love from Brite (growing older...)

(...who'll have a short stop-over here in December, before flying back to Norway.)

Keeping up with the many positive activities of Lammaites gets me to places I'd only rarely venture to, like places of religious worship (St. John's Cathedral, Central) and commercial worship (Cyberport Arcade, Pok Fu Lam). Case in point, Sat, Nov 8, visiting both of these places in the same afternoon, catching up with Lamma's newly awarded Earth Champions:

Bobsy (for the Lamma Forest project),
Peter Lloyd (for Holistic HK magazine.)
Sincere congratulations to both for this very prestigious honour! Check out HK Earth Champions website for more details. Eward Yau Tang-wah (Secretary for the Environment), Christine Loh, and Sir Crispin Tickell (World Expert on Climate Change) were speaking guests of honour.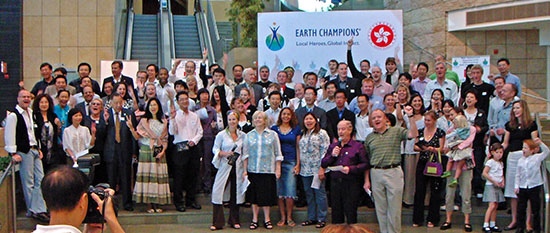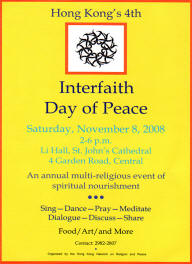 Peter Lloyd couldn't attend the award celebration as he was the MC of the Interfaith Day of Peace, being a recently appointed Interfaith Minister (interview coming soon) at the Li Hall besides St. John's Cathedral in Central. So I visited this very interesting event before the Cyberport Celebration.
This extremely peaceful "annual multi-religious event of spiritual nourishment" featured several Lammaites and invited religious people of all faiths to "Sing - Dance - Pray - Meditate - Dialogue - Discuss - Share." There were Hare Krishna and Indian dancers, Sikh, Christian, Muslim and Kirtan singers, plus Hindu, Christian, Jewish, Shamanistic and Daoist speakers. It was an all-round happy event full of extremely friendly people, appealing even to a non-religious former extreme cynic like myself, who's mellowed in "old age" and come to appreciate "Peace, Love, Lamma", the widely popular life motto of many Lammaites.


Our forums are becoming ever more international, reflecting our multicultural, multilingual island (just listen on the ferries!), extending far beyond mere bilingual into German, French, Tagalog, and now even Arabic messages. The first Arabic message has just been posted, looking for French-Arabic language exchange, teaching each other. At least that's what the Google Language Tools tell me when feeding them this message below, dated today: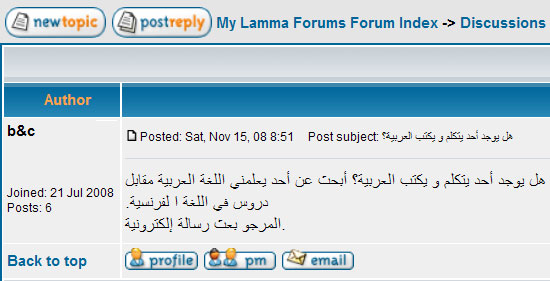 "Is there one speak and write Arabic?
"I'm looking for one informing me versus the Arabic language.
Lessons in a language of the French.
Please send an email."
---
I've tried getting regular forums in French, German and Italian going, even moderate them myself, as I can (badly) understand, read and write these languages. But it didn't succeed beyond a few messages and a few members. New startup efforts from native speakers willing to moderate would be most welcome!
If you're not already registered as a forum member (all it takes is a nickname and an email address!), click here!
Chinese remains by far the most popular language in our forums, of course. It's a friendly, supportive, good-neighbourly community and our 3 Chinese moderators Yogesh, Samson and nicole_kam are doing great jobs at keeping our extremely active Chinese forum lively and friendly, not withstanding some occasional passionate discussions with loads of different smileys.
I'd love to publish bilingual Lamma-zine stories and interview Chinese-only speaking locals, but I lack an interpreter/translator who'd be available occasionally during daytime. Any volunteers willing to work for food, barter or even (modest) pay?
---
P.S. Reply from Dr Julie, ex-Lammaite, to this story above:
Subject: for the Arab speaker on the Lamma website
As salamo Alaykam. (Hello)
Titkallem inijileeze? (Do you speak English)
Ma batkalemsh Araby Kteer (I don't speak much Arabic)
Shirkran (Thank you)

Angela Leary - Media Manager, Animals Asia Foundation
(2/F, Room 04-05, Nam Wo Hong Building 148 Wing Lok Street, Sheung Wan, Hong Kong. Tel: (852) 2791 2225. Story & pictures by Angela Leary.)
I'm sure many of the Lamma-zine readers knew Canadian David Kerr [see his eulogy], a journalist and long-time Lamma resident, who died last year. I thought they might like to know that David's spirit lives on in the form of a beautiful sun bear rescued from a bile farm in Vietnam!
When David died, his sister Barbara who lives in the US, very kindly donated a generous sum of money to Animals Asia, as were David's wishes. So we offered to name one of our rescued bears "David" in his honour. When the latest group of bears arrived at our new sanctuary near Hanoi, my colleague, Carney (also a long-time Lamma resident) emailed to say, "We have our 'David'." This ponderous, chilled-out bear, with a sweet and gentle nature, is just like his namesake. Time will tell if he also shares David's wry sense of humour.
Here's a report on our new sun bear from Animals Asia founder Jill's Blog:
"Who could resist him? Laid out on our surgery table in Vietnam, with our brilliant vet team momentarily forgetting their serious faces and clucking around him like foster mums, David slept in total oblivion, breathing rhythmically and strongly as he received his first health-check ever.
"Brown-black fur as soft as velvet and the sweetest sun-shaped crescent, which has earned him and his kin the name of sun bear, David is perfection itself.
"Slightly on the chubby side as a result of a poor diet on the farm from where he originated, and weighing in at a chunky 64kgs David could be mistaken for a largish Rottweiler -- with wrinkles! Moon bear he is not. Originally hailing from Nghe An Province, where he was confiscated from a bear farm along with one other sun bear and two moon bears between May and July this year.
"David was then transferred to a cage in a national park until our Vietnam Director Tuan was called and asked if we could help. No question there -- and after hours of a long and bumpy ride home, David was finally with the team at the sanctuary, safe and sound at last.
"Vet Jen estimated him to be around 3.5 to 4.5 years of age -- and in good health apart from a decayed pre-molar, which needed to be removed and longish claws that needed clipping. A routine castration (of course we love cubs, but with so many bears needing our help and our resources limited, it wouldn't be fair to encourage breeding) and David was soon dozing on banana leaves and sleeping off the anaesthetic. Just a couple of hours later he was happily munching on a frozen ice-pop."
Last week, Carney and I had the opportunity to visit "David" at Animals Asia's Moon Bear Rescue Centre at Tam Dao, 70 kilometres north of Hanoi. This lovely fellow is, for the time being, settled into a roomy recovery cage following surgery to remove his gall bladder, which was badly damaged through years of abuse on a bile farm.
Soon he'll be released into a den and semi-natural enclosure where he'll be able to spend his days foraging for tasty treats, wrestling with the other bears, climbing trees, swimming in a rock pool or simply snoozing away the hours with the sun on his back.
While "researching" the Lamma Enduro story yesterday, I came across this contraption at the very end of Cable Route 1, beyond Pak Kok Tsui. It constantly swivels back and forth by almost 180 degrees, surveying the totally deserted square where the electricity transmission cables dive under the Lamma East channel to feed the never-satisfied, incredibly humongous appetite of HK Island for almost all the power generated in Lamma's Power Station.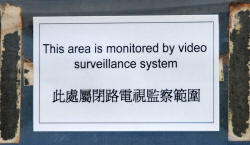 I wonder who's watching those video recordings of this desolate square. Is that an actual job in the Power Station and, if yes, it might be one of the most boring jobs in HK... What will this person make of yesterday's footage of me sneaking suspiciously around the video camera and taking close-up photos of it? An industrial spy or simply another madman with nothing better to do on such a stunningly beautiful autumn day? Will I become a "person of interest" or even a "persona non grata" for the Power Station's security force?
But next Sunday, Nov 23, that square will be filled with hordes of mountain bikers in fashionable, colourful, high-tech and very expensive gear, starting this year's Lamma Enduro race. What will the surveillance video watcher(s) make of that, especially if they don't realise that this extreme sports event will be happening? Will they be spooked by witnessing an invasion of Lamma in progress, huge swarms of bikers looking like a high-tech infiltration X-Force riding along the Cable Route, maybe all the way to the Power Station where this Route ends? Will we hear alarm sirens howl and see rotating spotlights flash in the Power Station on that Sunday, spooking the many revelers on Power Station Beach? Be forewarned!
Only time will tell and only one thing can be said for sure... that I'll be there to take the pictures for all the Lamma-zine readers, of course!

Michael Maddess - Race Director & Course Designer, Action Asia Events:

(Text & pictures by Action Asia Events)

We at Action Asia Events are organizing a mountain bike race (GP ReCyko AA MTB Enduro) on Lamma Island on Sunday, Nov 23, starting at 9:30am. It's the Project X race course in Pak Kok Shan, if you know it. There are 3 options (1.5 hour, 3 hour and 5 hour) and you can enter a Relay team of 2 where you alternate laps and have time to rest after each lap or if feeling more energetic can enter individual category in any of the race distances.

Entry fee is HK$210 each which includes unlimited Gatorade/Meko mineral water/Pure Blonde beer/Blackthorn cider and a cool sleeveless Champion System bike jersey (pockets/zipper valued at HK$400).

So find a partner and enter at our website. Don't forget that the organizers have rented an extra ferry for all the bikes departing Central at 7:30am, Sunday Nov 23.

Tel enquires: 3158-0250.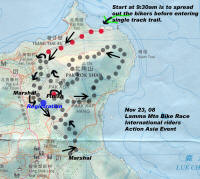 This sounded pretty intriguing to a recent convert to the joys of biking around Lamma, so I went up to the Project X course in Pak Kok Shan the other day to check it out personally.
Taking the long way round, I bicycled from Yung Shue Wan via Po Wah Yuen to Pak Kok Village and finding my way to the end of Pak Kok Tsui and the first Cable Route, where the race will start (see map). Project X course starts about half way up the Cable Road to Tai Peng, circling Pak Kok Shan hill on narrow dirt paths. These have partially been created and maintained by Lamma's very own and very active mountain biker community.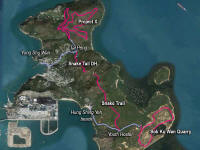 For a good preview, have a look at pictures from the 2007 Lamma Enduro, taken by several Lammaite photographers (photo below by Zep). I'll be covering the race with photos but I don't even dream of participating. These guys'n'girls are really tough and miles beyond my fitness level, circling that hill for up to an incredible 5 hours! It'll be stressful and exhausting enough just to watch them! See the HK Mountain Bike Association website for Lamma's other biking trails.
But that's a really beautiful and highly recommended hiking trail up there with simply amazing views, part of the new official Eco-Route #2. It's usually completely deserted and you'll rarely meet another soul, except rare bikers on weekends and holidays. Silence and solitude in a wild, lush, green and safe environment, except on the noisy, busy and crowded yearly Lamma Enduro day: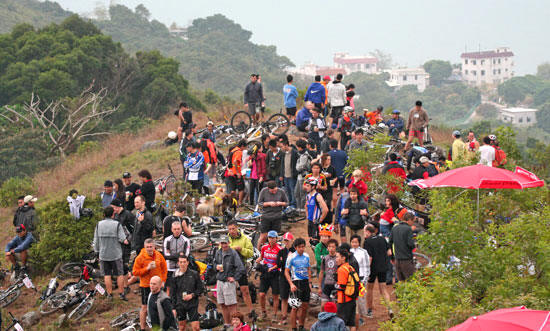 "Small islands are about self-dependency and peace. Separated from the mainland, islanders have to find ways to depend on themselves in food, play, and relationships. It is this self-reliance that gives them a character devoid of any need to create conflict with others and in turn develop a closer relationship with nature and the environment around them. This is something incredibly admirable." -- Ryan Wong, Photographer, in the Lamma Story book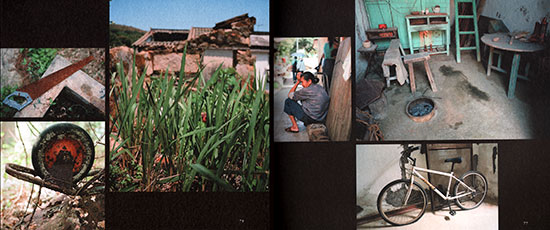 SEE Network: Press Release (abridged, full press release in Eng. and Chi.):

(Set up in 2004 with the Govt.'s Sustainable Development Fund, SEE is a cultural organization aiming to arouse our city's concerns over sustainable development through in-depth research, publication and public activities.

"SEE" stands for 3 main focuses of sustainable development:
Society, Environment and Economy: www.project-see.net.

Their services include: tailor-made publication services, consultation, organizing public engagement events, local and overseas cultural study tours.)

Imagining in the Ruins

Photo Exhibition by Ryan Wong @ SEE

On the 3/F of a renovated building with 90 years history, we found the pictures of abandoned houses in Southeast Lamma of almost the same age.

Lamma Island is well known for its exoticism. Behind the lively community near the pier, there are abandoned old communities showing how the material culture merges with nature. With concerns over the development of the community, SEE Network and photographer Ryan Wong have been researching and taking pictures on Lamma Island. From our photos, you will discover an unfamiliar Lamma. We hope the images will inspire your ideas over "Nature", "Conservation" and "Development". Some of the pictures in the exhibition have been put into Lamma Story, but some have never been publicized.

Imagining in the Ruins Photo Exhibition

Date: 14 Nov -- 14 Dec 2008.
Venue: 3/F Gallery, OMM Fashion Boutique, 36 Cochrane Street, Central.
For more details, contact us at 2127 4503.

About the Venue (see photos on right)

The venue of the photo exhibition is a pre-war heritage built in 1918. It was recently renovated and transformed into a local brand fashion boutique. With approximately the same age, the abandoned houses in South-east Lamma are having different destinies, and they are witnesses to tell the logic and changes of city planning in Hong Kong.

About Ryan Wong, Photographer

Born in Hong Kong and having lived in Seattle, New York and China, Ryan Wong is a professional photographer, cinematographer, and film/video director and has produced projects in the US and China. In 2003, he graduated from NYU's Tisch School of the Arts with a BA in Film/TV production. His photographic and film/video works have been shown at different places, e.g. the Louis Vuitton Hawaiian International Film Festival, the National Geographic Society and the HK Int'l Film Festival; most recently at the Hamptons International Film Festival with his feature documentary directorial debut The Road Ahead: The First Green Long March.

Currently based in Hong Kong, he is the now the assistant to actor and NGO leader Jet Li, working in both the entertainment and NGO fields, stateside and in Asia.


A frequent question we get from Lammaites and visitors alike is about our favourite Chinese restaurant in Yung Shue Wan. For years, Lamma-Por and I have been answering this question always the same way: Lamcombe Seafood Restaurant! Most of our friends agree and the place is doing great business with locals all week, not just with weekend visitors like some other places. Supporting numerous good causes for many years - like Dragonboating, Lamma Fun Day and many fundraisers - it's a friendly, community-minded place with amazing food, seaside/ sunset views and cheerful, efficient service: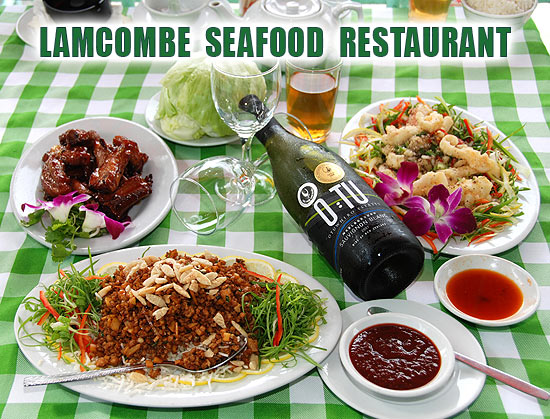 Lamma-Por's favourites:
Chicken in Soya Sauce, Steamed Scallops with Garlic and Vermicelli,
Steamed Lobster.
After a number of years as frequent guests, we've finally succeeded in signing up Lamcombe as an advertiser of this community website - see top of this page. I've also shot a photo gallery of this cozy & friendly place and the really wonderful, but very affordable food. If you haven't been there for a little while, check it out with a table full of hungry friends, ideally before or after sunset. Or become happy regular guests, like Lamma-Por and myself.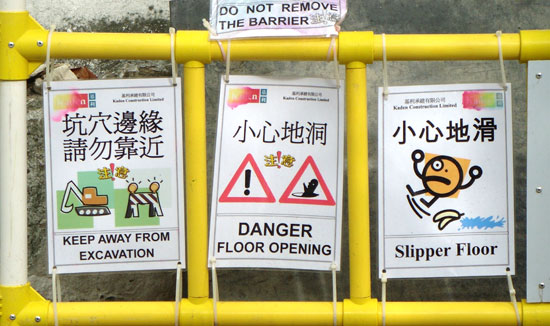 According to these posters on the path to the Northern Lamma Primary School, it definitely looks like North Lamma has become a more dangerous place these days: earthmovers, excavations and blinking lights, the floor opening up and swallowing people and dangerous banana peels and slippers lying on the floors!
Yes, even more construction works than usual seem to have started these last few weeks: new Village Houses rising rapidly, many paths being ripped open for piping works, Main and Back Street full of new holes, the rare sound of a jackhammer while having lunch in a seafront restaurant, Pak Kok ferry pier renovation starting tomorrow, a ferry pier Bike Park planned and the massive Sewerage Treatment Plant starting construction soon... Truly happy days for our local VV drivers, the construction industry and the materials providers.
Escape the construction mania and take a hike in our still green and beautiful, mostly unspoilt hills. You might even encounter Lamma-Gung up there, snapping hundreds of pictures of almost anything, like a man possessed by the shutterbug. In fact, the signage picture above was taken at the beginning of another one of my occasional early morning strolls up to Lamma Winds and beyond to the Trig Point, the highest point of North Lamma with amazing 360-degree views! Here are two little samples of the view from up there two days ago:



Lokkanat - Lammayan (as he prefers to call himself, instead of Lammaite)
(Lokkanat is a Burmese spirit who once prevented a war between Burma and Siam
by playing music to calm the two nations, according to mythology.
While Lokkanat can do a lot of good things, he's also known to be a trickster,
a bit of sweet and mean at the same time.)
Lamma Our Shire
Our Shire is on this beautiful serene island just south of Middle Earth. It is only a short half an hour ferry ride from Minas Tirith. Apart from our unique local magical and non-magical flora and fauna, we are not that different from Middle Earth. We have even our own Mordor. In fact, some Lammayans will go to the extreme to claim we have two Mordors! One which spills white dust at night and one which like the all-seeing eye keeps spinning to scramble your brains if you dare to stare at it for too long.
However, if you ask Lammayans whether they are like the hobbits, many Lammayans may take offence. While Lammayans share the same passion for good food and wine and pretty much any excuse to have a party, they do not have hairy feet like the hobbits! They may walk around barefoot and some may even clip their toe nails in public, especially on the ferry. Their feet are otherwise smooth without much hair at all. Well, there are a few exceptionally hairy feet, but they are certainly not hobbits.
What makes our Shire really interesting is how cosmopolitan and multicultural Lammayans are. You can find magical folks and muggles, both local and international, living and getting along side-by-side each other. Hardly any true secrets around amongst Lammayans. Some say if you hang around in the Shire pubs long enough, you'll achieve enlightenment with the collective experiences of all the gossips and stories. Actually there are a few pub-yogis who have attained such an amazingly high level of enlightenment that they are completely in tune with the surroundings like furniture and oblivious to what goes on around them.
Of course, as with all shires, we have our own petty squabbles and skirmishes. Name-calling, brawls, broken jaws, cat fights, and so on. Even the animals have their own squabbles and skirmishes. After all, it wouldn't be a real shire if we didn't have any. Plus we have plenty of eccentric characters and celebrities to make life in our Shire anything but dull.
At the end of the day, Lamma is our Shire with its perfect imperfections.
Boggart Boogie Nights on Lamma
Fellow Lammayans and friends, it's Boggart Boogie Nights on Lamma! For those who are not familiar with Boggart Boogie Nights, it's actually Halloween.
The seventh month of the lunar calendar is Boggart Mating Season when boggarts are out to find companions and have a bit of fun. Nobody knows what a boggart looks like because it takes on the form of what one fears most. So naturally you hear a lot of stories of people seeing ghosts around that time. But boggarts are not ghosts. Nor do they always appear as such. Every year we always get a few Lammayans so traumatized they end up drinking themselves to a silly stupor because they keep seeing their wives or ex-mistresses. I suspect not all of the sightings are really boggarts.
Anyway, Boggart Boogie Nights are when baby boggarts are born. They don't have the full strength of a grown boggart so they often appear as children in ridiculous costumes like satan, spiderman, or Bush begging for sweet treats. Grown boggarts are always nearby keeping an eye on baby boggarts. If you think they are trying to protect their baby boggarts, you are wrong. Since boggarts are naturally shy and passive, they cannot stand any loud noise and unruly behaviour. They have been known to kill the noisy ones.
Magical folks and muggles with children often disguise their children around this time of the year, thinking it is safer to blend in. Well, it does make their own children feel more at ease when surrounded by baby boggarts or other children in silly costumes. However, they are also putting their children in grave danger! You see, if parents are not responsible enough to keep their children quiet and well-behaved, boggarts have been known to strike down noisy misbehaving children. Therefore, whether you are a parent or not, if you see noisy misbehaving children, you should tell them to shut up and be quiet for their own good.
If you find yourselves surrounded by baby boggarts or children in silly costumes and you really don't want to deal with them, don't bother trying the Riddikulus charm. You will look really ridiculous screaming Riddikulus! because Lamma boggarts speak a totally different language. Simply smile and slowly walk away. Some Lammayans find the Pissoff charm useful to a certain degree. But be careful when you use it because the Pissoff charm is not very stable and has been known to backfire badly.
Happy Bubbly Boggart Boogie Night!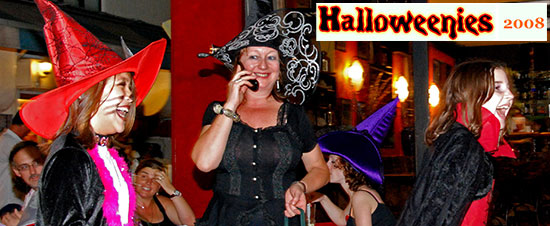 For more info and discussions on this important topic, check out the Lamma Development? Visioning our future forum.
Colette - Ex-Lammaite & HK Cutie eBay shop owner, wife of The Josh, Transnoodle's lead singer. She's also been featured repeatedly in the Lamma-zine with her blog about Molokko the Blogging Catster:

(Advertorial, text & pictures by Colette, ad below designed by L-G)

About the Birth of
Hong Kong Cutie

It was established May 28, 2008. I have always wanted to have my own brand. I have been designing my own clothes since I was ten. My mother could not be outside in the summer because she has lupus and the sunlight made her ill. Houston summers were hard for her to handle and to keep me occupied. So, she and I would go to the fabric store after the sun went down and then we would make my school clothes. I spent many nights with her in our dining room/sewing room.

Then later, as I learned techniques, I became too advanced for my mother. She sent me to my Aunt Sarah who taught me how to use more difficult fabrics, how to tailor clothing to the body, and how to make paper patterns, how to use a serger, and how to use a commercial sewing machine. I then became too advanced for Aunt Sarah. So, I had to enrol in a community college class that took while doing my regular high school work. I took that course for two years and designed a dress I wore in a teen beauty pageant.

I loved design, but I won a scholarship for a poem I wrote, so I went on to New Orleans and studied Literature and Film Production. I got a job at a production house that made short films and commercials. I attempted to write a novel and soap opera. I sold the treatment for the soap. I got a few acting, and modelling jobs. And I did not sit down and sew for a while.

Then right before New Years Eve 1999, I was frustrated when I was invited to a few balls for the holiday season. I did not have enough cash to dress myself for them. I also did not want to be seen wearing the same old frumpy formals my Aunt Deborah had sent me in a box as a graduation gift.

So, I sat down and made some very simple, very pretty silk dresses. Everyone complimented me. A woman I met at one of the parties told me that I should apply to work at a local modelling agency. I went and taught poise, etiquette, interviewing skills, basic make-up application, and how to dress appropriately. I made myself new clothes to wear to work every time I taught. I also grew close to my co-workers there. One, of them being the current Miss USA, Crystelle Stewart. That was a turning point in my life.

At the same time all of this was going on while my production jobs grew more demanding. I had to give up my modelling and being a modelling instructor. But, I never forgot how much fun it was to dress up every Saturday and teach women the basics of wearing clothes instead of letting clothes wear you.

I want to keep that in my heart forever. That is where my label was born a long time ago on a walnut table in our dining room/sewing room in Houston, Texas.

With love forever to:-
My mother Deborah Gradney, My aunt Sarah Wells, and her husband Mr. Hermann Wells (who retired from being a stevedore to be a tailor), my late grandmothers Mary Semien and Hilda Gradney, Wilma Ruth Cain, Camillia Cain, Crystelle Stewart, and High Fashion Fabrics in Houston, Texas.

About "Hong Kong Cutie":
We are about making this coming winter fun! Which is why we are featuring the Sari Wrap Dress! It can be worn many different ways. It can transition from day to night so easily. Our wraps come from Jaipur, India. Called "The Rose City" for the color of the stucco that makes up the buildings. It is the capital Rajasthan state, India. I hope that every featured item connects you to new and exotic locales.

Specialties:
Asian-inspired clothing that is feminine and flattering to women all over the world.

About Hong Kong Cuties:
I came up with name because of the great 70's Hanna Barbara Cartoon, "Hong Kong Phooey". (Which had no minorities in it unless you count the dog who sounded like a black man and the "Asian" cat.) Also, the term "lookin' cute". Which is what my friends and I would get together and aspire to before going out, going to work, or going to school.

"Cute" in my mind when applied to a woman is not an overly girly woman or a chick who longs to be a Bo Peep. (Although, I personally think that Lolitas, Bo Peeps, and Maids rock.)

A cutie is a woman who has fun with her clothes and her make up. She creates a nice shapely package. She does not dress too young or old. You can tell she has a sense of humor because she can wear anything. And she wears it well.

Remember Island Line Do or Die! And all my people who suffer on Ferry Pier Number Four! Also, this would not be possible without the Fam and Peeps in the dirty South, the Gulf Coast, and the Third Coast, Houston Texas.

Places to Find Us:

Our Website:
www.hongkongcutie.com


Click above for Dr. Marcus' photo gallery

Dr. Marcus - Executive in Residence, Visiting Adjunct Professor & Assistant Dean, EMBA Global Asia, HKU, Cyberport:
(Edited & republished from his blog, pictures added below by
L-G, except last picture by Dr. Marcus.)
Another Day in Doomed Paradise (Tue, Nov 4, 2008)
Lamma Island has made it into the ranks of many travel guides and TV reports. But like in many cases the line between a blessing and a death sentence is very thin. The diverse and tolerant village community on this Outer Island in Hong Kong waters is now flooded weekend after weekend by crowds of tourists. The rudeness and hectic lifestyle of Hong Kong has landed on Lamma. For a long time, it was amazing to see how much of this our unique island actually could absorb without losing its charm.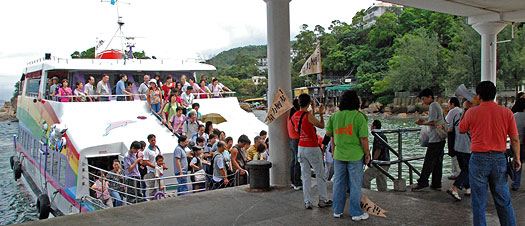 But with it also comes what is often described as "development", which means filling up the valleys with concrete and turning the villages into noisy construction sites. These "improvement works" do not stop with public efforts, but also private houses are being built into a more and more dense village structure. Now that the housing prices are still high, there is cheap construction going on everywhere to quickly sell some concrete shells - which often do not even have the quality of a garage - to be sold at high prices.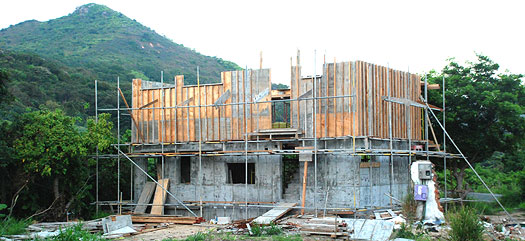 Tour guides with megaphones now push their ways though the villages. Every now and then, some visitors stop at a real estate agent to have a look. The greed of Hong Kong has reached Lamma, as now local flat owners get into public fights and disagreements, playing dirty tricks against each other: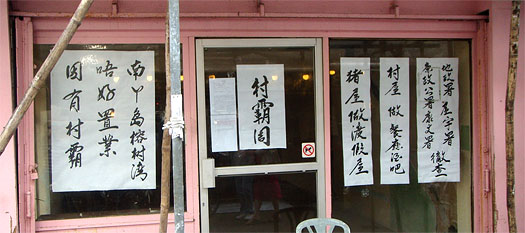 Shop owners love these busy times, because beside the rubbish the visitors toss behind them, they also drop a lot of money, giving an income to many locals. The car-free island streets get busy by village vehicles transporting construction materials and goods of all kinds. Under the eyes of the island police these small motorised carts are tuned with larger exhausts and race along the small trails for transportation as well as just for fun.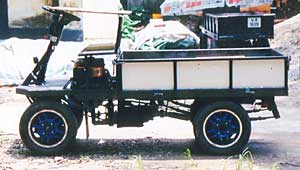 All the signs announcing "littering penalties" or anything which could prevent the piling up of rubbish have no effect and are not being implemented. Isn't it a strange place where suddenly former "hippies" ask for "law and order" in the resident's Internet forum? Well, at least it still shows that anything is possible here.
Lamma Island has become my home since for several years now and I'm having a beautiful time here. I know that if I'll leave some day in the future, I will remember the scent of ginger flowers, the fresh wind blowing over the hills in Fall and many sweet moments looking out over the island world of the South China Sea and, last but not least, the good company!

Dr. Marcus - in our new "Weekend tourists get on your nerves?" forum:
Well, I feel sympathetic for them coming out of their high rise shoe boxes to visit us. Poor creatures, they also need some fresh air. They are already looking physically dysfunctional. Perhaps they were sent by their doctors. We should actually welcome them. And the good thing is that they all stay on the so-called Family Trail not to feel lonely. This makes them predictable.
How about taking it positive and "adopt" a day tourist? Yes, we pick one up at the pier and teach him for a day, how not to bump into people, how to enjoy nature, how not to throw rubbish on the street,... and perhaps even how to speak Mandarin Chinese. They should learn it anyway, shouldn't they?
Just an idea. This could be a way, we can give back to society:
ADOPT A TOURIST
Seaview - Forum member, replying to Dr. Marcus with a conciliatory note:
(Steps on soap-box)
I think we should be a little more tolerant of weekend tourists. Without them many of the small shops/restaurants that the rest of us enjoy throughout the week would be forced to close without this weekend trade.
Yes, they are a pain and clog up Lamma's narrow thoroughfares, especially just after or before a ferry, but you can choose not to go out at those times. This is a recurring issue, but without 'visitors' Lamma could become a backwater as there is not enough business without them.
I'm sure there are those that would be happy for the return of a limited ferry service, few shops, fewer restaurants, and more isolation, but I'm guessing they are in the minority. But if that's what you want, there's always Po Toi.
Sometimes we seem to forget that many of us are guests in someone else's country and yes, that includes Lamma. This island is a great place to live and, like it or not, what makes it a great place to live is that we have the best of many worlds. And you'll have to accept that weekend tourists are part of that.
(Steps off soap-box).
Tavis the Community Gardener - Forum member, posting this simply beautiful & peaceful message in the true spirit of "Peace - Love - Lamma":
Perhaps we are 'guests' wherever we are and also caretakers and hosts at the same time.
I was born and grew up in Canada and hold a Canadian passport. But my ancestors came from other parts of the world. Some First Nations people (indigenous) might likely argue that I'm a guest in Canada and that they have a stronger claim to the place than I. Of course their ancestors immigrated as well. Where is my true home then? Shall I look to South Africa - the land of my father's ancestors - no wait - I must go back further because their ancestors originally came from Holland and France. And on my mother's side it's all English.
I think we must treat whatever place we are in as carefully as though we are guests. We are guests - we only come to stay for a while and then must leave - all of us. We only borrow our place on this Earth for a time.
And, we may choose to commit ourselves to the place we call home. We may plant trees that will shade other guests long after we are gone. We ought to tend our community (regardless of our presumed length of stay) like a plot of flowers and vegetables.
The vitality of birds, water, sky and laughing children may flourish in our community garden far into the future.
While all the passports will very soon expire...
Discuss this topic in the "Weekend tourists get on your nerves?" forum.

Zein - General Coordinator, Lamma Fun Day, Child Welfare Scheme:
(Pictures by Deebo-HK, Aaron Farr, Mel Holloway, Grahame Collins, Ajay Kumar Veeranki. Click on photos to see their great Fun Day photo galleries.)
Dear all Lamma Fun Day Friends,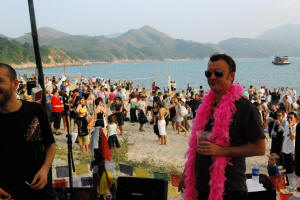 Thank you for making Lamma Fun Day 2008 a wonderful day for all! The day raised over HK$180,000 for Child Welfare Scheme Nepal (CWSN). All proceeds go directly to supporting a group of 28 teenagers to undergo the first of a 2 year course at the JYOTI Vocational Training Centre.
Through JYOTI CWSN addresses the unnecessary suffering of children who have been forced onto the streets due to the current political, social & economic climate in Nepal. It is a project which provides opportunities for destitute children and young people to gain the skills, self respect and confidence that will enable them to become independent, secure employment and to be able to reintegrate into mainstream society. The Centre opened in 2002 and now benefits 120 children every year. These young adults graduate as Plumbers, Electricians, Secretaries and Caregivers and are independent and off the streets providing for themselves and their families.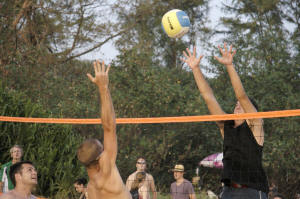 Lamma Fun Day and the Lamma Community have been supporting CWSN for 9 years now. It was initiated by a then Lamma resident, Andrew Doig (Doggy) who went to Nepal and visited CWSN's projects. The trip made a great impression on him and upon Andrew's return to Hong Kong, he felt compelled to do something. Being a guy who loves spending time with his family, having fun outdoors, listening to live music, partying with friends and helping people he came up with the idea of Lamma Fun Day -- having fun while beneficiating children in need.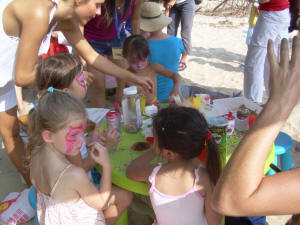 We would like to thank Doggy for the brilliant idea and for running the event for the first 4 years before his family relocated to the UK. Since then, a fantastically motivated and caring group of HK's young professionals have volunteered countless hours and months to make sure the event keeps happening. The Committee is made up of over 10 wonderful people who work extremely hard during their spare time and days off. The work starts 3 months prior to the Fun Day. These core volunteers cover the following positions: -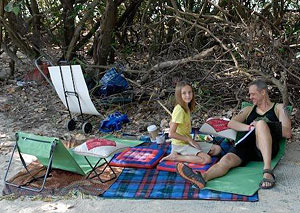 • 2 General Coordinators
• Entertainment Coordinator
• Volunteers Coordinator
• Stalls Coordinator
• Bar Coordinator
• Bric-a-Brac Coordinator
• Children's games Coordinator
• Volleyball Coordinator
• Food Coordinator -- this post needs to be filled as we lost our wonderful coordinator when she left HK last year.
• Press Coordinator
On the day, we have over 100 volunteers who make the day happen. Thank you all for your wonderful help and commitment.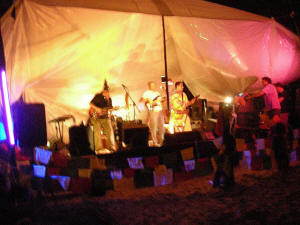 We always need help and we would love anyone who is keen to step up and get involved, not necessarily as a section head but as a new voice on the Committee. We welcome all new ideas and thoughts, both positive and negative so please join us! However, we do need dedication in terms of time and energy as this is the only way such a logistically difficult event can be put together.
Thank you again to everyone who made Lamma Fun Day possible, this year and for the last 9 years. We look forward to making the 10th year a great day out on Lamma and a great year for the children at the JYOTI Vocational Training Centre in Nepal.

For more info, there's a PowerPoint presentation from the Islands District Office in English and Chinese.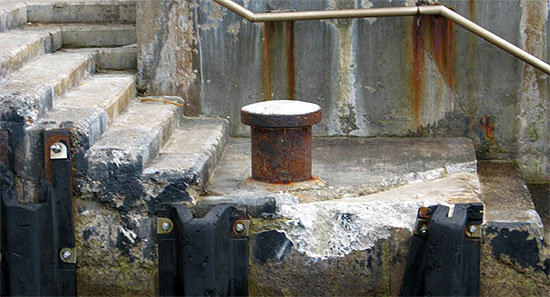 We wonder how many millions these "Repair Works" will cost? They're basically fixing the little chip off the pier (see above, the new ferry service ramming it a few months back) by inconveniencing the long-suffering Pak Kok residents for another 3.5 months to overhaul the pier's internal structure. But no major improvements to the old ferry boats and the recently massively downgraded service have been announced at all yet.

Bike Mike - Lamma Visitor till Dec '08:
(Picture of Nick & Vernon (who'll be back from hospital soon)
by Mr DickStock. Other 2 pictures by L-G.)
YES, I'M CANADIAN!
I met two ladies who have just moved back to Lamma after a few years purgatory in Hong Kong's "Mid-levels". "M", the daughter, attracted my attention by posing at the edge of their patio, saying she was a statue, like in Whistler, Canada. Now, that's a good way to capture a Canadian's attention! I said, "Oh, you're an Innu shuck."
M's mom, "D" (who looks more the part of an older sister), said: "Oh, you're a Canadian!" Finally, my only answer needed to be a proud "Yes!"
Welcome back to Lamma, M & D!
A MOVING EXPERIENCE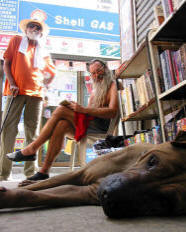 Local icon, "Nick the Book", and Jack-of-all-trades, "June", led re-installing M & D back on Lamma. Nick, part-time bookseller, part-time mover, and full-time political commentator, was in full form facilitating the actions of the moving crew. Nick brought the energy of a caged lion to the job, his mane-like beard adding to the effect.
June balanced Nick well with his calm demeanor, leading the crew by setting an example of efficiency and strong work ethic. June also multi-tasks vocationally, establishing a great Lamma reputation as a reliable carpenter and handyman.
Back to things political: Nick's advice to Barak Obama should he be elected: "Cut across party lines and hire John McCain as Secretary of Defense!" Thank you, "Nick the Visionary"!
LAMMA FUN DAY RE-VISITED - IN PRAISE OF DJs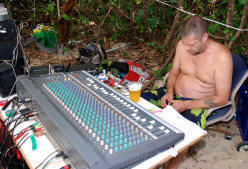 Volumes will continue to be written about what a fantastic event was experienced on the beach during Lamma Fun Day. The strength of this successful event was the participation of the full spectrum of ages from babies to seniors. The weather co-operated. Energy & enthusiasm abounded.
Music permeates the soul. The beat takes hold as your heart synchronizes with the rhythm.
The first to work at Fun Day were the DJs. Music welcomed the early arrivals as they set up and prepared the area. The DJs served all day as the bands entered and exited the stage. Their sounds lubricated the Fun Day Machine.
Long after the crowds left the beach the music continued. Sunrise on Monday morning the DJs remained and the music played on. The heart of the Fun Day beats strongly!
LAMMA ISLAND: "WHAT KEEPS YOU HERE?"
It's now one month since I've arrived on Lamma. During this time I've met many great and interesting people. Some of the first conversations have taken on a similar routine, as first conversations often do. One question I often ask is: "So, what keeps you here?"
A theme has emerged: People are on Lamma first and foremost because "it is not Hong Kong!" Proximity to Hong Kong is important. Many Lammaites depend on Hong Kong for their livelihoods. Lamma's difference from Hong Kong brings them here. Lamma's culture keeps them here!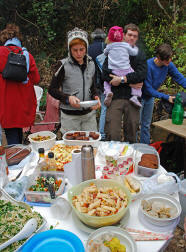 Lamma is family-friendly. Children are given the freedom to go out and play with their friends versus the parentally micro-managed agendas of their Hong Kong counterparts. Parents are often seen with their children here, contributing to healthy family relationships. A case in point was Lamma Fun Day, which also could have been called "Lamma Family Day."
"P", at The Island Bar, one evening touched on the "collegial air" here. Lamma, for him, is like a college campus where everyone who arrives "sheds their personal baggage" and re-invents themselves in a spirit of friendship and conviviality for all.
"C", a Scot, speaking to me at "O's" birthday party added: "I was tired of fighting wherever I went in Scotland. You fight your way into bars there, you fight in the bars, and you fight your way out! Lamma is so peaceful!" An often-repeated phrase sums things up very nicely:
"I come from ______, but Lamma is my home!"

| | | |
| --- | --- | --- |
| | | 2008 |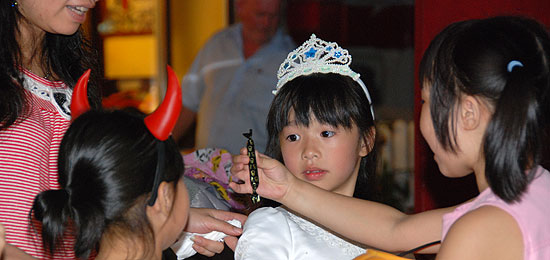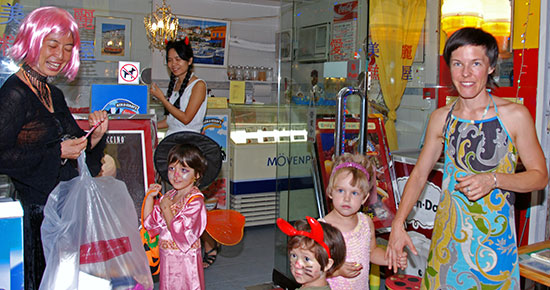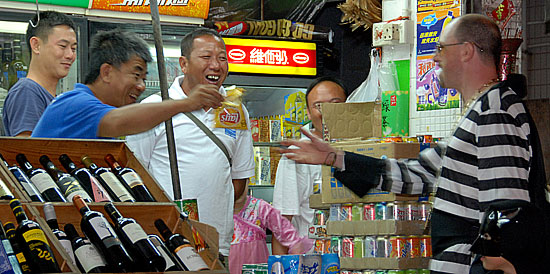 For more photos, check out my new photo gallery below: Halloweenies 2008.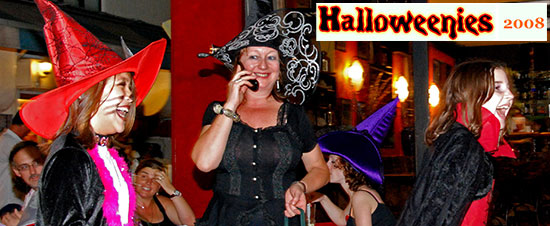 P.S. If you'd like to get some of these photos in email or print high resolution, simply email me.
Also, if you or your family member don't like to be featured in this candid photo gallery, just email me to be removed. Three ladies so far have asked to be removed, worrying about not looking pretty enough. It was HALLOWEEN, ladies, the point was to look as horrifying and UGLY as possible!

Lamma-zine Blog started on Sep 1, 2004, and will be updated frequently with anything vaguely related to Lamma
Island or its residents, be it news, stories, events, photos, videos, etc.
Contact Lamma-Gung with anything relevant to Lamma or Lammaites that you'd like to see published on this home page!

All text, photos & graphics by Lamma-Gung, if not otherwise credited. Click on button on left for Creative Commons license.

Twice a month, the Lamma-zine Blog will be promoted via an email newsletter to all registered subscribers and forum members, currently over 3,600. Free subscriptions!
All former posts are stored in the Blog Archives, see below.
All materials and photos © 2008 Lamma-Gung. Some rights reserved.
---
Top | Home | Forums | Lamma-zine | Events | Galleries | Links
About | Contact Us | Poster | Ratecard
Blog Archives 2004: Aug, Sep, Oct, Nov, Dec
2005: Jan, Feb, Mar,
Apr, May, Jun, Jul, Aug, Sep, Oct, Nov, Dec
2006: Jan, Feb, Mar, Apr, May, Jun, Jul, Aug, Sep, Oct, Nov, Dec
2007: Jan, Feb, Mar, Apr, May, Jun, Jul, Aug, Sep, Oct, Nov, Dec
2008: Jan, Feb, Mar, Apr, May, Jun, Jul, Aug, Sep, Oct, Nov,
Dec