<!-span class="postbody">
Rachel the Newbie - arrived just 4 weeks ago (I love to hear from new arrivals!)

The story below has been republished with friendly permission from her Commuting to Hong Kong blog. She writes that she'd "be delighted to have my post in the Lamma-zine as well as have my link up there" and that "Lamma is known for its weed, its artists, its seafood and its expat hippies. I haven't encountered much of any of that so far, though I do know one cool artist who lives here."

Send me links to YOUR blogs to be added to our Lamma Blogs section.

Rachel describes herself in her ABOUT ME page:

"I'm starting my second school year in Hong Kong. There have been lots of changes in my life, but still it's a lot easier than this time last year.
I'll be living on Lamma Island. Hopefully I'll be hanging out lots at the beach, on my rooftop and balcony. Come by for a beer, or a virtual beer."

With this right kind of attitude she'll fit in here just perfectly!
Happy welcome to this new member of our island community!

(Story & pictures by Rachel, click pics to enlarge them)

The Lamma Commute

I'm still taking a ferry to a bus every day even though I moved. We get up even earlier and stumble down the hill to the ferry pier. It's lined with the bicycles of all the people who converge each morning and evening for the commute. One of these pictures is of the weather before the typhoon. The other is after the typhoon cleared the air - I like typhoons not just for days off school.

The main difference in the commute this year is that it's an ugly ferry. Instead of comfortable airline-type seats we ride on vinyl in a dark box that smells like goats. The commute should be just as beautiful except the ferry line never cleans its windows. So there are many fewer opportunities to take pictures out of the windows. I get a shot every now and again, though.

The typhoon came on Tuesday last week. During the night it passed by, rattling the metal awning on my roof and making me nervous enough that I was glad a child joined me in bed. But nothing was damaged at our place and we got a day off school, but barely. The Hong Kong Observatory predicted it would lower the T8 flag between 6 and 7 a.m. That's the signal that closes schools and businesses. The timing of it was such that the Education Board cancelled school for the day rather than letting kids start the morning trip to school in a T8.

But if the typhoon had passed one hour quicker we would have had to go to school. I had to take a kid into the doctor's, so this last picture is the remnants of the storm we got to travel through on our way to Hong Kong Island. It's hard for a camera to see the darkness of menace contrasted with the luminosity of the water stirred by storm but lit by sunlight.
Many of us Lammaites try our best to recycle some of our waste. Let me give you an example of my own aluminum recycling. I try to generate as little waste as possible, but we collect a handful of diet alu drink cans per week in our tiny 33sqft kitchen. I put them in one of these thin red garbage bags that are hard to avoid when buying anything from our Main Street shops, even a pencil.
"No bag, please," is one of the most common phrases when shopping on Lamma, right after "How much?" I try to shun these red plastic bags by usually carrying a cloth bag with me. But for wet, refrigerated or frozen produce plastic bags are still hard to avoid. But they should be reused.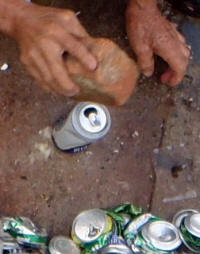 After putting the alu cans into a red shopping bag I wait for the loud banging noises from outside our flat on Monday mornings after 9am. I go to my balcony and look down to find my retired neighbours hammering away to flatten alu cans they've collected from all over Lamma all week long, getting them ready to sell to an alu recycling company. This friendly couple are major local recyclers and earn a little pocket money from collecting various waste products.

I shout down "jo san!" from my balcony 2-3 times, making them look around from where that badly pronounced greeting is coming from, till they look upwards and see me up there on the balcony shouting down at them. I show the plastic bag by lifting it up and the lady waves to me immediately to throw it down to them. I swing widely, aiming not to hit them on the head. After my biweekly target practice I've become quite good at not hitting them. The cans make a most satisfying Thump! sound hitting the concrete. This elicits a big, broad smile from the couple and two "doh tsaeh"s before they add my few cans to their efficient and well-practiced hammering work while squatting on the pavement.

It actually looks like fun to hammer those cans with a brick and I've been considering asking them to let me join in. Maybe I should do this myself on my rooftop and throw the flattened cans down like mini-frisbees? But the damage to neighbours' windows might be considerable and considerably diminish my popularity.

This little, about biweekly donation makes for some good relations with this neighbour couple and we're greeted with a smile whenever we meet them on the street or in the village. Lamma-Por often chats with them in Cantonese and it's all smiles and laughs.

Well, my neighbours have finished their work now and I can hear the noises of them scooping up the flattened cans with an old cooking pot (also recycled, obviously) into a small white bag, having reduced their volume tremendously from the former huge black garbage bag holding the original cans, ready for delivery to the recyclers.

Fostering good-neighbourly relations through getting rid of your waste, recycling without even leaving your flat, the man-made sounds of recycling outside my home office adding to all the natural sounds of birds, dogs, frogs and insects.

I just love living in this neighbourhood!

<!span class="postbody"> <!/span>

Brad - Lamma Cricket Club - email, mobile 9422 5907, click on poster above to read all of the info.

I'd like to invite you to our annual Ball - our 7th Year!

25th Oct - HK$590 - 7 hours of unlimited drinks - 3 bands - Century Hotel Buffet - Dress code Black tie / devilish - Great fun!

Email Brad at Lamma CC or call 9422 5907 for more info and tickets.

Click on poster above to view the entire poster.
---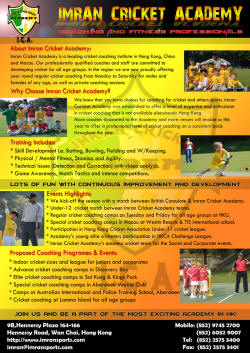 Lamma Cricket Club has joined with Imran Sports Academy to promote cricket on Lamma Island. Lamma Cricket Club has now been going for 16 years and needs new blood!! ;-)

Imran Sports Academy will help support Lamma Cricket Club and the Lamma Community by teaching Lamma Kids the skills of cricket.

We will be looking to train Kids at the Soccer Pitch on Saturday afternoon.

Can you please send out the attached poster with a few words of encouragement, and we can then see if this Academy will work please..

The cost will be about $100 each session. Lamma Cricket Club will foot the bill for the first training session. Kids will get shirts, caps, water - and 3 fully qualified Cricket Coaches. These coaches are some of the best in HK. In fact, they currently coach our Women's team who have won the league 4 years running - up against established clubs like Hong Kong Cricket Club and Kowloon Cricket Club.
Training will be for both boys and girls.

Parents can contact me, Brad (see above), if their child is interested.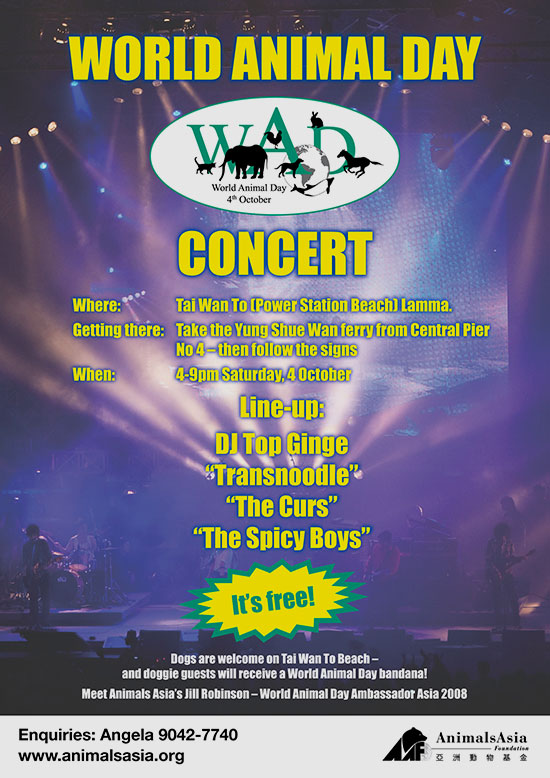 Angela Leary - Media Manager, Animals Asia Foundation:
(Pictures below by Angela, showing "Dr Baby", one of the Foundation's Dr Dog volunteers modeling the World Animal Day Bandana.
This bandana looks like becoming THE fashion statement for Lamma's dogs (and their owners?) after this concert. You'll absolutely, most definitely NEED one to walk your dog on Power Station Beach after the concert!)
World Animal Day Concert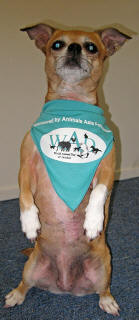 Please join Animals Asia on World Animal Day (Saturday, 4 October) for a day of sun, fun and music on Power Station Beach. Your canine friends are welcome too!
Animals Asia founder and CEO, Jill Robinson, who has been appointed World Animal Day Ambassador for Asia 2008, will be there to kick off our celebration of all creatures great and small.
The World Animal Day Concert on Tai Wan To (Power Station Beach) will start at 4pm with DJ "Top Ginge", then from 5pm, Transnoodle and two more Lamma bands, The Spicy Boys and The Yung Shue Wankers (The Curs), will play till around 9pm.
Dogs will receive a World Animal Day bandana!
Electronic Mistress - Lammaite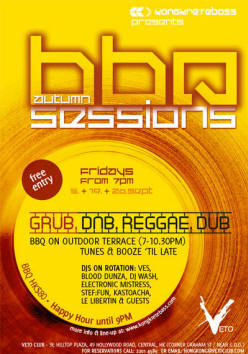 Seeing that you are regularly announcing Lamma musicians, I am writing to see whether you would be interested to put up my event flyer on your website.
The Lamma angle is, that the organisers and 3 of the DJs of the event are Lammaites. Would you agree that qualifies for the category of electronic musicians?
"Electronic Mistress and DJ Wash (long-term Lamma residents) and DJ Knack, who has recently emigrated from a big island down-under, are taking their favourite Lamma past-time to Central. BBQ-ing and spinning eclectic beats on turntables!
Join them & friends for the last in the series of after-work BBQ SESSIONS this Friday, 26th September at Veto Club & Bar in Central. With BBQ on the outdoor terrace starting at 7pm and music until 1am. (Yes, you can party for 5 hours and still make the last ferry back home! Woohooo!) Entry is free.
Venue address & more information at: www.kongkretebass.com."
There is full event information on my website.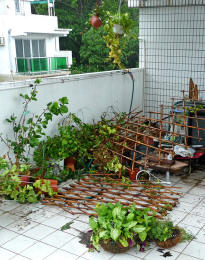 Pictures from the most devastating typhoon #8 in a long time, Hagupit, much more damaging than #9 Nuri a few weeks ago. Photos above by Grahame Collins, click here for his great photo gallery. Plus some more very impressive photos from nicole_kam and ricky.cheyng.
Plus a small picture of what happened to my rooftop garden. All my bamboo screens - tied with very tough plastic construction binders - and climbing plants ripped down by the wind. This was the first time this has ever happened; definitely my worst typhoon damage I've seen in several years living on Lamma.
Ria just emailed me that "Hagupit, in Tagalog (Filipino language) means "lashing with a whip" or being lashed with a whip. With the really strong winds we experienced, it sure felt like we got whipped! :-)"
---
P.S. More photos from Power Station Beach, submitted by the Electronic Mistress: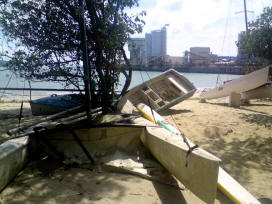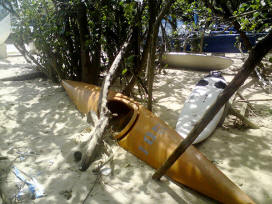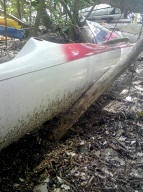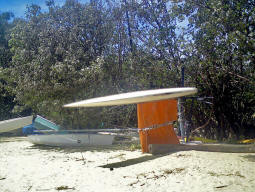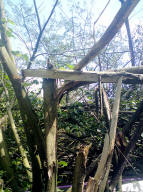 Photo gallery in progress...
Lamma Fun Day 2008 - press release:
The 9th Annual Lamma Fun Day
Sunday 26th October 2008
Ranging from great live music, a beach volleyball tournament, stalls selling arts and crafts, freshly prepared food by Jaspas & Pepperonis to children's games and a charity auction and much much more, Lamma Fun Day is a popular family event and all proceeds go directly to helping children in Nepal. For more information please visit www.lammafunday.hk.
Get involved!!!
Second hand goodies - Start clearing some space in your wardrobe and homes. Gather all your unwanted second hand books, toys, gadgets, DVDs and drop them off at our office in Central. We will sell your second hand items to raise funds for children in Nepal. We will begin collecting from 2nd October until 24th October, from 9:30am to 6pm on Monday through Friday. Our drop off address and contact details are below. If you are coming with large items please call us in advance so we can prepare space.
Volunteers – Each year the continuing success of the LFD relies heavily on the huge support of all our volunteers – without them it would not be possible! Please email us if you want to get involved!
Stall holders - Calling all entrepreneurs and freelancers! These booths are a great way to test out whether your product will be a hit in the market.
Beach Volleyball teams - the beach volleyball tournament is becoming a tradition and no Lamma Fun Day would be complete without it. Companies and individuals are invited to put a team of 5 players together and take on the best Hong Kong has to offer! Corporate teams and non corporate teams welcome!
Thank you! Please call us or email us if you have any questions or if you wish to get involved!
Lamma Fun Day Committee & Child Welfare Scheme
Child Welfare Scheme
Suite 303 St. George's Building
2 Ice House Street, Central, Hong Kong
Tel: 2526 8810; Mobile: 9231 3505; Fax: 3526 0355
As some of you might know, Lamma-Gung has become a regular visitor to the Lamma Fitness Centre. After a lifetime of shunning all gyms as alien, weird, smelly places full of disgustingly fit and obnoxiously good-looking people in designer workout apparel and ever-present water bottles, it came as a bit of a surprise to this old, fat and ugly couch potato who's actually enjoying his gym visits nowadays.
I blame my doctors, they made me do it, pushing me hard to take up regular exercise before and after my weight loss operation half a year ago. They convinced me that I wouldn't lose enough weight without regular exercise, keeping my metabolism active to keep losing weight quicker while maintaining a strict high-protein, low-carb/fat/calories, no sugar/alcohol/junk-food diet.
<!span class="postbody">
<!/span>
Well, it turns out that my doctors were right, despite my initial skepticism. 111.4 pounds lost so far in the half year since the operation, still losing 2 pounds/week. Trying very hard to lose another 55 pounds, dropping from the medical terms "Super Morbidly Obese" to merely "Overweight" in another half a year or so. Wish me luck! The weight ticker above and at the bottom of this page is being updated weekly after my weigh-in.
How about dropping a few pounds yourself and getting much fitter, stronger, faster and healthier in the process? Join the Lamma gym, just $350/month on 1-year autopay terms! Or try out a single month first at $450 yourself or give a trial 1-month membership to a loved one (see below)... or to your unfit friends to tease them and to spur them into action to take charge of their health!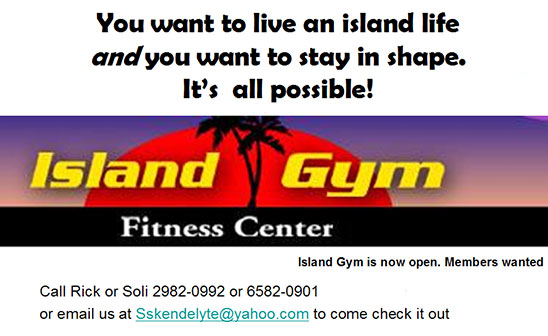 It's a membership-only gym, you'll get a key and can go there almost anytime. You might be the only one at off-peak hours and will have the entire small but well-equipped gym for yourself. To pick the best, "not so busy hours" see these charts below, courtesy of Solveiga, one of the new managers of the gym. Contact her to learn more.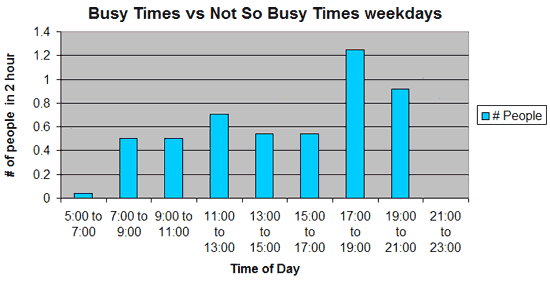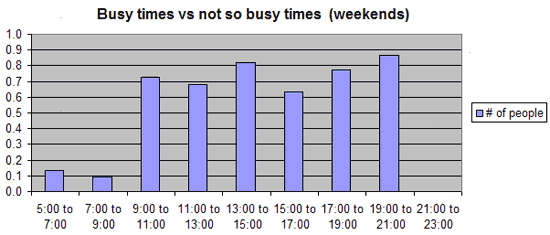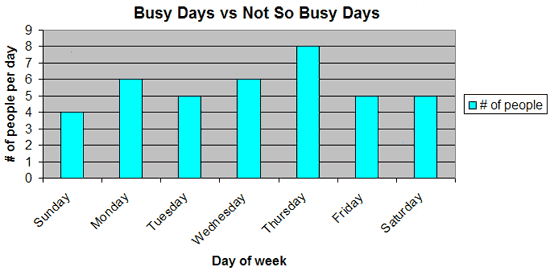 The Holistic HK website has just published a really fine article about former Lamma Artist of the Month Katie Flowers. Some quotes:
"by Catherine Macer
As the evidence amasses against us, it is easy to fall prey to the doom and gloom about planet earth and her apparent descent towards ecological demise.
(Reprinted from Positive News Hong Kong)
Impelled to act but overwhelmed by the enormity of the task ("Is my eco-footprint too big? Should I never take an airplane again?"), a sense of hopelessness can win out and invade the way we relate to the earth and the simple, everyday connections we make to nature.
Teachers have a special need to understand this psychology as they present the various issues that plague the environment, or educate our children about their relationship to nature..."
Read the full HolisticHK article here or click below to see more about Katie's wonderfully creative and amazingy multi-faceted artistic endeavours: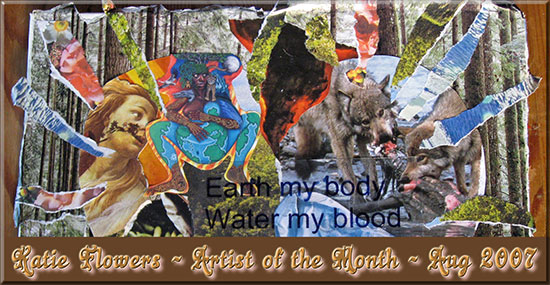 Martin Evans-Jones - ex-Lammaite:
Discovery Bay/Yung Shue Wan compared
I sternly condemn the notion of open hostility between those who struggle for a crust in Lamma and those of us luxuriating on the palm-fronded oasis that is Discovery Bay. Why, some of my best friends are Lamma-ites. But there is, shall we say, intense antithesis.
To be truthful, my wife and I used to live in Yung Shue Wan until we saw the light four years ago, partly the result of getting old enough to tire of hauling ourselves and our necessities up the steep inclines leading to Po Wah Yuen.
The real problem – and the main reason I guess for any lack of simpatico between our communities – is the fact there's no regular ferry service between us.
So this contribution to Lamma-Gung is the equivalent of sleeping with the enemy (heaven help us) and bringing news from a different galaxy. Some Lamma residents might even be tempted to switch to an infinitely less stressful life over here.
Let me list the advantages of DB. First: just getting here. Our 24-hour ferry from Central gets us into the DB pier without stress, without jostling for seats, with the passing scenes of Tsing Ma Bridge, the Western Harbour approach and Disneyland to check off the journey.
There's a strict code of no talking to strangers fiddling on their laptops and Blackberries as they enjoy the DB ferry's WiFi connection. All for 27 dollars per adult trip, only a few depreciating bucks more than an equivalent journey on Lamma's creaking service (and always assuming you guys make the "last ferry" back somewhere around midnight).
On arrival, there's no need to march amid the columns of the undead returning from work (as from Yung Shue Wan's pier) to be greeted by the pitifully decreasing number of shops, restaurants and bars. Instead, drop into a DB choice of 19 professionally-run restaurants, or travel to one of five different sports clubs including a marina, or shop at more than 26 retail outlets.
There are also two DB medical centres, two health clinics, a dental surgery and a vet. Two churches serve the religiously inclined. If it all seems too much of a choice, linger in the DB Plaza and count the number of flight crews, lawyers, bankers, journalists, artists, helpers and hordes of children from places as diverse as Argentina, Osaka and Burkina Faso. (Okay, there'll be a few less bankers now that their world has been liquidated.)
A community spirit? As Margaret Thatcher said, there's no such thing as "society". In DB, it's all about facilities. You might even make a friend, but only if you want to.
Happily fulfilled, it's time to go home. For DB's 20,000 or more residents there's a huge range of houses, town houses and apartments – so different from the faux Spanish-style accommodation that Lamma's residents have to suffer as you dodge the crazed truckers and bikers up and down the footpaths in the gathering gloom.
Now, for many Lammaites such considerations are a mere catalogue of consumerism coming from sad, deluded captives of DB Management, our all-seeing, all-knowing über-landlord. Why give up individuality, firm friends and a small community for higher rents and a few extra perks, I hear you cry.
Let's cut to the chase. Living in Hong Kong is all about being connected because, unless you have the wherewithal to retire, you have to work. There's no better place than DB for that. Besides the ferries, there's the road connecting the airport, and all places via the MTR from Tung Chung a few minutes by bus through the road tunnel. That really says it all, unless you want to be a hermit.
As for the rents, hey, it's only money! These days it becomes less and less meaningful anyway, given the way inflation is gobbling it up.
Besides which, DB is truly international in outlook. I may have less chance to practice my pathetically limited Cantonese but I'm really making progress on my Albanian. Overhearing mobile conversations in French is like catching the dialogue of a Francois Truffaut movie.
I have to admit to some downsides. We moved from a (strange but beautiful) 1,400 sq ft house in Po Wah Yuen to a series of 900 sq ft flats in DB. We cried ourselves to sleep as we struggled with hugely inappropriate furniture and three dogs in our new tiny accommodation. We dreamed of pottering about in those quaint little shops on Main Street then diving into the now dearly departed Spicy Island for a few sundowners. But we got over it.
The dogs didn't. They never really recovered their zest for exercise as they had on Lamma's winding paths. Pooper-scooping has never been more intensive than in DB, where pets get precious few rights. Conversely, it's only when you have a pet that you realise just how many "no pets" and "no fouling" notices there are surrounding DB's manicured lawns and flower beds.
Also, our daily shopping in the one and only DB supermarket has become a nightmare since its management decided to bring in major renovations while keeping the operation running. But all that should be over soon, we're told, similar to the huge renovation of the Plaza and shops a year ago.
But at least upgrades get done in DB. In Lamma, what happened to the quay-side renovation? What happened to the upgrade of the roads and facilities? Ask your local Legco representative!
Or take a deep breath and make the switch to DB. If you see me in one of the restaurants, I'll be available to be a bought a celebratory intoxicant.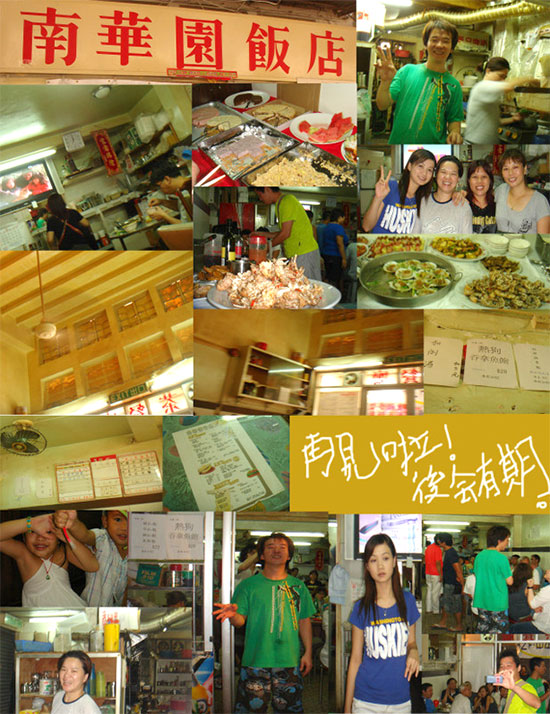 Poster by freddy law. (He lists his occupation as "dream catcher" and his interests are "teach and learn". See our Nam Wah Yuen forum for details.)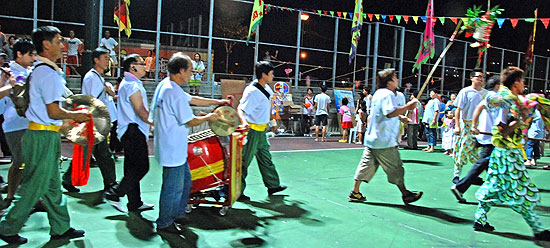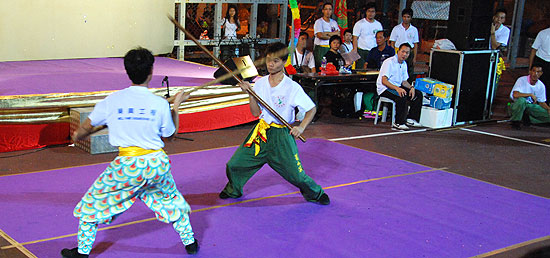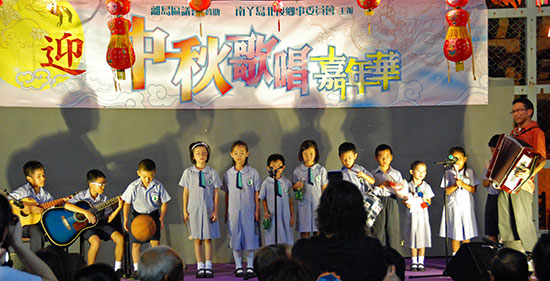 My photo galleries of former Mid-Autumn Festivals/Carnivals: 2006, 2005, 2003.
Weekend and holiday tourists are a major source of revenue for Lamma businesses. They're descending in major droves, swarming over our home island, especially on holidays like the Mid-Autumn Festival this weekend. But instead of patronising our many fine restaurants many of them come here to BBQ in several of the public BBQ areas set up specifically by the LCSD, bringing in almost everything they'll need from town. So beware of BBQ pitchforks and smelly, dripping marinated meats/seafood on the incoming ferry during weekends!

BBQing looks like great fun when watching these visitors, but the waste they leave behind is often appalling. It's taxing the patience and endurance of our Lap Sap Ladies who have to clean up afterwards. HK Electric has started a new initiative, together with Green Power, to educate people to reduce their waste while BBQing.

Volunteers actually venture out, approaching people "in the act" of BBQing and often making a big mess, trying to give them advice and trying to educate them. This bravery is admirable and we sure hope none of these Valiant Voluble Volunteers has suffered any physical violence against their person yet from any irate visitors who might not take to "education" kindly! See the press release and photos from HK Electric & Green Power below.
Don't forget to reduce your own BBQ waste in your own garden, balcony, rooftop or wherever Lammaites like to undertake their own popular BBQ activities. Otherwise some of these Valiant Voluble Volunteers might knock on your own door to "re-educate" you in acceptable BBQ Etiquette. No throwing of glowing coals, pitchforks and beer bottles, please! Inviting the volunteers to join in the BBQ is strongly encouraged!
HK Electric - Press release excerpts (see also Green Festivals website)

(story, pictures & captions by HK Electric & Green Power)

Public Urged to
Reduce Barbecue Waste

A Green Power survey shows that people are paying more attention to green packaging of moon cakes and will reuse or recycle moon cake boxes. However, the problem of discarding excessive moon cakes still needs to be addressed.

Carried out before the Mid-Autumn Festival weekend, the survey interviewed 302 households and projected that 2.7 million moon cakes would be discarded territory-wide. About 20% of these households said they would celebrate with barbecues, and 90% of them would use disposable utensils such as paper plates, paper cups and plastic forks... About half of the respondents also indicated they would not classify or recycle waste after their barbecues.

The survey results were released today at the "16th Clean-up the World in Hong Kong" held in Aberdeen Country Park, which was attended by Assistant Director (Nature Conservation & Infrastructure Planning Division), Environmental Protection Department, Mr. Vincent Tang; Legislative Councillor Ms. Audrey Eu; HK Electric's General Manager (Projects), Dr. Tso Che-wah; and President of Green Power, Prof. Ho Kin-chung...

Dr. Tso said HK Electric, which has supported the clean-up action for 13 years, is pleased to find increasing public awareness regarding reducing festival waste. He called on the use of reusable water bottles in order to cut down on disposable waste.

More than 40 volunteers from HK Electric joined the guests for the clean-up and urged people to reduce barbecue waste. They also handed out containers for picnic goers to take away leftover food. The volunteers also made the appeal to holiday-makers in Stanley and Shek O beaches.

"Clean-up the World in Hong Kong" is an international activity organised by the United Nations. Green Power has been the official organiser in Hong Kong since 1993. It is now held in more than 120 cities around the globe with more than 35 million people participating. Themed "Reducing Festival Waste and Enjoying a Green Festival", this annual campaign aims at encouraging the public to minimise waste and harm to the environment and the Earth, while celebrating a greener festival. For details, please go to Green Festival website.
Marcus - Pak Kokian (story by Marcus, pictures by L-G)
The new Yung Shue Wan-Pak Kok Village-Aberdee ferry is unsafe and too slow.
The schedule does not fit (40 mins). The 11:55 off Pak Kok to YSW misses the 12:00 Central connection, because its sits in PK for 5 minutes. The next ferry to Central is an hour later. That is just crazy.
HK is a territory of islands that prides itself on infrastructure. Why should Lamma get a ferry that was deemed as unfit for mainland tourists?
How come unprofitable bus routes run across HK?
Don't you think the ICAC would be interested in how this route was re-tendered, without consultation, with the same director and hidden behind the 08/08/08 date to announce it?
Ride the 'new' ferry if you haven't done so yet! See for yourself!
How can the same company come up with a schedule that does not connect to anything by adjusting a 30-min route to a 40-min route? Even though the rust bucket sits for 5 minutes in PK just to ensure it won't connect.
How can the Transport Dept. suggest that Pak Kokians can walk to the Pier (YSW) like those in Hung Sing Yeh do? HSY does not have a ferry. HSY is part of YSW.
Can you imagine trying to get the old and infirm to a ferry in a wheelchair up that hill? We'd win gold at the next Paralympics :)
As a SAR island community, HK (itself an island) has made transport links a priority. Bridges, tunnels, ferries, helipads, sampans, gaidos, ports, piers, planes. Why should Pak Kok be "lucky" to have a service? [See SCMP 7/9/08 for quote.]
"Safest place on the planet". Not my words. More like gravity pockets, things that bite you, hill fires, dangerous cliffs/paths, uprooted trees, burglary, death by misadventure, bad electric wiring and fucking dangerous ferries.

The fight continues, next meeting with the Transport Dept. & other govt. depts.:
"Subject: Aberdeen - Pak Kok Village - Yung Shue Wan Ferry Service
Date: 3 October 2008 (Friday)
Time: 7.00 p.m.
Venue: Room 4110B, Immigration Tower, Wan Chai, Hong Kong.
Our Commissioner and representative from the Transport and Housing Bureau will join the discussion. If you are interested to join the meeting, please let me know by 30 September.
Regards, Polly Chan, Transport Department, email."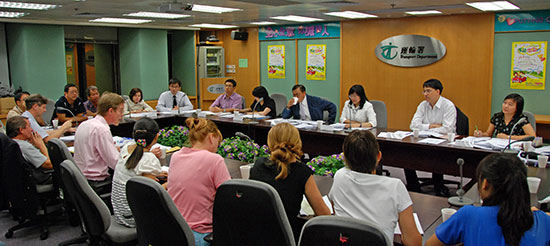 Follow & contribute to the on-going fight in our Aberdeen Ferry Updates forum.
Joyce - Pak Kokian

(story & pictures by Joyce; see her above @ Barkhor Square, Lhasa)

The first few hours you spend in a place where you have never been before but are going to live for a while are always full of expectations and disappointments.

I dreamed of Lamma Island as a little paradise in the Big City. Hoped Lamma's beaches would be like Koh Samed's white sand beaches. Moreover, I expected Yung Shue Wan to be a quaint, little fishermen's village. First impression: oh my god, is this really where I am going to live?!

Nevertheless, Lamma is slowly growing on me. I enjoy early evening walks to Hung Shing Yeh beach. I love the different culinary tastes Yung Shue Wan has to offer and, as my husband noticed just yesterday, I do not even notice the chimneys anymore.


My first hours in our previous home, Lhasa, left a bigger scar. Confused by the image of prostrating Tibetan pilgrims and Chinese noodle shops. Overwhelmed by the vast, rocky landscape, looking for trees (or just anything green). Being too curious for my own good, I immediately wanted to explore the Barkhor, but physically I could barely make it up to our new apartment on the first floor.

But I fell in love with Tibet, despite daily cold feet up to my hips that took hours to warm up, friendly offered yak butter tea I tried to swallow each time but just would not go down, frequent power cuts, people defecating on the streets and spitting on your shoes.

Because a Tibetan sky is uniquely blue. Lhasa oozes spiritual inner peace. The locals are warm and generous. The expats are drunk and fun. You name it, Lhasa has it!


And so does Lamma. Typhoons (already 'survived' two), racing miniature pick-up trucks, snakes falling from trees, people dangerously moving sand at Hung Shing Yeh beach with power tools while others are sunbathing (the question is WHY?) and public aggression about a rundown boat. I know I am just going to love Lamma.

Once I get everything settled. Moving to Lamma, this has to be said, is excruciat- ing. Full of enthusiasm we bought our furniture in Hong Kong. Getting it to the pier is not the biggest issue (depending on your relocating company I suppose) but then, after a 20-minute ferry ride you realise that you have to carry everything up hill by hand.

First a few suitcases, then a bed and a sofa; tough but no worries. A wardrobe; absolute nightmare. A few days later, we buy a dining table and chairs and luckily get some help from locals. Finally, thirteen boxes from Tibet, I then wished we had left behind.
Dr Marcus - ...

(story by Dr Marcus, pictures by Dr Marcus & Mici)

in progress...
See Lamma.com.hk/BOG...
Nick the Bookman - Official Court Music Reviewer & Official Court Main Street Correspondent - excerpts from his Beijing 2008 Olympics review story:
Chapter 1
OK, we on? Right, here are the ground rules. This story is being constructed on two levels: Mostly real-time chronology with notes written in hectic haste over a fortnight. Also, reconstruction after the event where I reserve the right to surf the timestream, dipping in and out of the eternal now.
It's being written in several sessions, starting 26-8-08. ("You pretentious git! You're just doing it to wank around with the Rules of Writing and justify sloppy research!" "Well, yes, but it's gonna be a wild and fun ride. Hang ten in there dudes and babes!")
It's four days before the start of the Beijing Olympics 2008 and a glitch has occurred, disturbing the even serenity of my countdown to entry into The Realm Of The Couch Potato. The TV and DVD have made some sort of unholy electro-suicide pact and basically, died. Yes, the Ghost has left the Machine. The Micro has cashed in its Chip. They've departed for Silicon Heaven. Bother! Cue, small rant, but I avoid the temptation to kick them to pieces so they'll work again. Time to go shopping...
Mission accomplished. Everything works, but no spare cash to upgrade to digital. So I'm restricted to lo-def tv reception on ATV World, ATV Home, TVB Pearl and TVB Jade. Plus some babble on the BBC in the morning. Research materials comprise the daily Olympics section in the SCMP and the 2001 Guinness Book of World Records. I've filled 3 notebooks with semi-incoherent gonzo scribbles which I'll now try to cobble together in some sensible manner. I think I know how it will come out...over a fortnight mashed into the couch and a chipper ending...
Chapter 2
Meanwhile, things aren't going too well in the real world. The American and Russian Presidents are in Beijing and have already had a brief chat. "Mad Vlad the Bad Cad" Putin has unveiled his new rad fad to the future former Most Powerful Man in the World. I think it went something like this..."Hey Dipshit. We're invading Georgia tomorrow. FUCK YOU! And your Missile Defence System"... Putin is quite a piece of work isn't he? Let's see...
The first week of the Olympics comprises the swimming and some of the team gymnastics. I've had a soft spot for the swimmers for a long time. I was on the fringes of the HK Olympic Swimming Squad in 1968. Trained alongside some other swimmers who made the Mexico Games. I wasn't quite good enough. My best time for the 100 metres freestyle was about 64 seconds - about 3 seconds or so outside the qualifying time. I did swim for HK in a meet against the Philippines once. Managed not to drown. When working for ATV (1974-1980) I had the privilege of interviewing Mark Spitz, the superstar of the Munich Olympics of 1972. I also interviewed Jim Montgomery, the American swimmer who set a world record of 49.99 secs for the 100 metres freestyle in Montreal 1976. Jim was a guest of honour at the soon-to-be-ended Cross-Harbour Swim from Tsim Sha Tsui to Central. What golden and innocent days they were. Imagine being able to swim in the harbour. Now, it's so built-up, you could probably cross it with a triple jump. Or a pole vault. Obviously, this is poetic license. You'd most likely bounce off all the crap in the water...
Chapter 3
In 2004, it was the ongoing saga of drug cheats. Greek athletes were prominent in getting kicked out for cheating or not attending mandatory tests. Whole weightlifting teams used to vanish overnight after testing positive. Same in 2000 when Marian Jones strutted her funky stuff in a "high" state of excitement. Denied it for years, got caught in the Balco scam, confessed, had her 5 medals seized, did six months slam time for perjury, (released today as I write) and her records were erased from the books. Her ex-husband, Tim Montgomery is facing serious jail time for dealing in smack...
Anyway, in 1984 the SovBloc decided to retaliate against the West's decision to let them win almost everything in Moscow. They cited security as the reason for pulling out, but in truth, they couldn't beat the drug tests. Hell, they probably couldn't pass the gender tests in most cases. So they stayed home and sulked and probably created three or four new sexes in the interim. Black African nations pulled out of Montreal 1976 because New Zealand had sent a rugby union team to tour South Africa, thus breaking the Cultural/Sports embargo. Rugby Union wasn't even an Olympic sport anymore. It was kicked into touch after 1928. Amusingly enough, the United States are the reigning Olympic Rugby champs, beating France (check score) in the last final to date. Then of course, there was Munich 1972...
Goodness me. This has been rather a long and meandering rant-cum-ramble. Excuse me folks. I seem to have drifted off in a haze of platitudes and hyperwaffle from the Opening Orators. It's time to get down and dirty and dish up the sports factoids you've all been patiently waiting for. At Beijing 2008, there are 28 different sports. A total of 302 Gold Medals will be awarded. Probably 302 Silver and 302 Bronze as well. I'm sure they make more in case there's a tie on time or points and no sudden death allowed, Except in Georgia. Apparently a Gold Medal contains 6 grams of gold, Not sure of the equivalent ratios in the Silver and Bronze Medals. The Equestrian events, which are being held here in Hong Kong, are the only ones with a dress code of "white tie and tails" (so to speak). They're the only events in which men and women compete together.
Princess Anne is the ONLY competitor in history who has NEVER been subject to a sex test. Probably because it might have proved her to be a centaur. Her father once famously said that she wasn't interested in anything unless it ate hay or she could ride it. That didn't dissuade her first husband, Mark "Fog" Phillips though. Their daughter, Zara, withdrew from this Olympics at a late stage, due to injury. And that's about all the Equestrian coverage that I intend to have.
P.S. For the complete first four chapters of Nick's hugest story to date, his Magnum Opus, see our forum where it'll be published chapter by chapter. Can a book be far off?
The Olympic Games, Beijing 2008 - by Nick the Bookman
Targ - Lammaite, named Confluence King of China in an SCM Post article a few years ago. This amazing guy has visited 201 Confluence points in 4 countries by now, all just for fun and without any financial incentive!

If you STILL don't know what Confluencing is - shame on you! It was first mentioned in the monthly Lamma-zine #27 in Dec 2003 - click here.

(story & pictures by Targ)

33 Confluences in 26 Days!

(visited by Targ Parsons and Zifeng Liu)

28-Jun-2008 -- After weeks of incessant rain, with a couple of typhoons thrown in for good measure, it's a good feeling to be leaving Hong Kong (香港) for a month of confluencing in more northerly, hopefully sunnier, latitudes. Knocking off work early on Friday afternoon, I take the train to Luohu (罗湖) on the mainland Chinese border. My wife Ah Feng [see right] is waiting for me on the other side, having just returned from a couple of weeks visiting her home in Guangxi (广西). We enjoy some mutongfan (木桶饭, "wooden bucket rice") for dinner before retiring to the quite affordable GS Railway Hotel (广深铁路大酒店) for the night.

The next morning, we awake to yet more rain. By the time we leave for the Shenzhen Airport (深圳宝安国际机场), the rain is torrential! We make it in time, but the absolute deluge causes major flooding on the roads, which proves problematical for Richard Jones, who is making his way to the airport separately by taxi. Check-in has already closed by the time he arrives, and he consequently misses the flight. Richard is extremely disappointed, to say the least!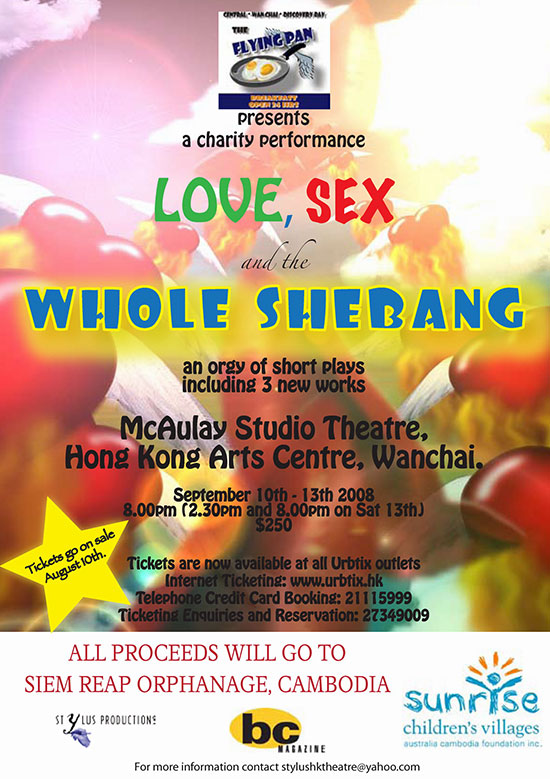 Adam West - Theatre Producer & Artistic Director
Love, Sex and the Whole Shebang
An adult evening of theatre composed of short (mostly very short) plays with all profits to a Cambodian orphanage. Some of Hong Kong's finest acting and directing talent has assembled to bring myriad stories to life. You'll see a man in love with a mermaid, a prostitute's harrowing encounter, a runaway bride, an internal crisis of confidence after a one-night stand and much much much more. The show contains violence, nudity and adult language and is for adults only.<!font face="Verdana" size="3">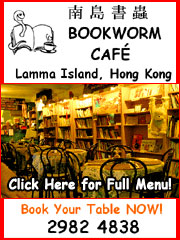 The project was conceived after a chance encounter in Lamma's Bookworm Cafe between artistic director Adam West and a Cambodian man visiting Hong Kong.
All profits from the show are going to a Cambodian orphanage in Siem Rap which is managed by an Australian foundation. I'm sure Lammaites would enjoy this night of theatre and the knowledge that the revenue is going to such a good Asian cause.

Tickets are $250 and are available at URBTIX. See flier above for details.
People coming on Wednesday or Thursday night or Saturday matinee will automatically have the chance to win 2 return flights to Phnom Penh!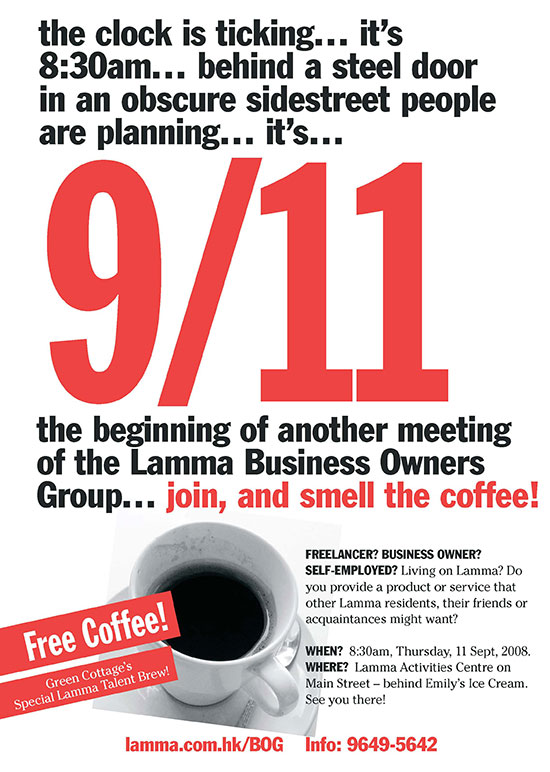 Agenda & Invitation (by Carole Lewis)

<!font face="Verdana" size="3">

Introduction: Introduce your self to the group, let us know what you kind of business you are in and how we can help you.

Exchange of Business Cards: Meet new people, make sure they have your card and you have theirs.

Presentation: 10-minute presentation by Lamma BOG member, Denis Williamson, on his multi-media pollution tracking program.

Discussion: Getting business help on Lamma. A continuation of last meeting's topic. Find out how/where to:

• Arrange transport on Lamma or in Hong Kong
• Send faxes/print documents on Lamma or in Hong Kong
• Book meeting rooms in Hong Kong
• Get administration help for your business

And ask questions about other issues freelancers/business owners have to deal with daily.
---
If you have a subject that you think will be of interest to the group, please let one of our moderators know. Our group is growing but we need people to attend regularly so that we can build up business networks. Please invite anyone else who you think might be interested.
Start time will be 8:30am.
Look for our posters around town, or check on this website.
Just a reminder: We have to pay for the space we meet in, so we are asking attendees to contribute $25 at the beginning of each meeting.
Register for the next meeting with:
| | | |
| --- | --- | --- |
| <!font size="2" face="Verdana">Carole Lewis<!/font> | <!font size="2" face="Verdana">9649-5642 | <!font size="2" face="Verdana"> carole@insightscoaching.hk |
| <!font size="2" face="Verdana">Julian Harley | <!font size="2" face="Verdana">9364 4390 | <!font size="2" face="Verdana"> julian@webhead.hk |
| <!font size="2" face="Verdana">Denis Williamson | <!font size="2" face="Verdana">2858 6910 | <!font size="2" face="Verdana"> denis@learning-on-line.com.hk |

<!font face="Verdana" size="3">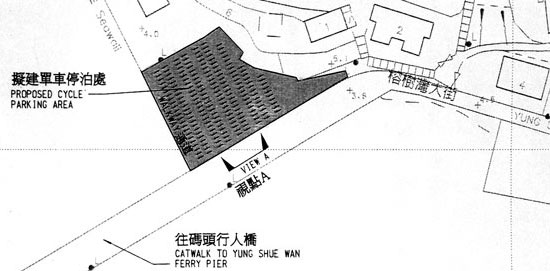 Learn more about this just announced project for HK$18 million (adding up to almost $50K/parked bicycle!) affecting all bikers of North Lamma by replacing the current, close & convenient parking along the "Catwalk to YSW Ferry Pier".
My own suggestion has fallen on deaf ears so far:
"Give me and every Lamma biker half of this $50K each, save the other half by not building the Parking Area and I'll happily sign a declaration promising NEVER to ride my bike dangerously on Lamma anymore!" This simple suggestion could definitely prevent accidents and even save lives, especially my own...
Follow the heated arguments, discuss alternatives and contribute your very own comments and opinions in our active Bike Park @ Ferry Pier forum.


Om the Amazing Shrinking Tai Penguin - Lamma Newbie

(Story & pictures by fit & healthy Om.
Note her running shoes avatar on the left.)

TAI PENGUINS have
the fitness advantage!

If you are a TAI PENGUIN like me -- living up in Tai Peng Village -- here are some useful facts about our great work-out. We surely deserve a really good treat for all our efforts! The following is calculated on a monthly basis.

From the vegi farm at the bottom up to the Lamma map in front of the benches:

Time: 8-10 minutes
Heart rate: 80-90% of your maximum heart rate = Lactate threshold (Don't ask me wazzzzzat! I've just figured out that this is more than the endurance level… I think it's in the "anaerobic zone"?)

Kcal expenditure according to your weight:
110lbs / 50kg: 88 kcal
132lbs / 60kg: 106 kcal
154lbs / 70kg: 123kcal
176lbs / 80kg: 141kcal
198lbs / 90kg (*crying* I'm still a fat penguin... but shrinking :-): 158kcal
220lbs / 100kg: 176kcal
242lbs / 110kg: 194kcal
264lbs / 120kg: 211kcal

You do that 5 times per week/month (extremely hard calculus follows):

110lbs / 50kg: 440kcal / 1760kcal
132lbs / 60kg: 530kcal / 2120kcal
154lbs / 70kg: 615kcal / 2460kcal
176lbs / 80kg: 705kcal / 2820kcal
198lbs / 90kg : 790kcal / 3160kcal
220lbs / 100kg: 880kcal / 3520kcal
242lbs / 110kg: 970kcal / 3880kcal
264lbs / 120kg: 1,055kcal / 4220kcal

I can see, on the one hand people are thinking, "Hmmm, and what is the equivalent potential body weight loss, hey?"

Well, I'll give you another piece of info:

1kg of body fat = 7716kcal… so you can calculate that by yourself, can't you?

On the other hand, I can imagine some people thinking, "Woaaaaaah, that's so cool to be a Tai Penguin, because I'll have extra reasons to drink more beer (or wine, for me.)" This is considered a vital duty of basic survival; otherwise you'll let your body die from a lack of calories (compared to non-Tai Penguins)! So, I tell you, if you wanna survive in this world, here are the figures:

Tai Penguins have to consume (results in pints of Guinness, stout), to regain the calories lost in climbing, per month:

110lbs / 50kg: 14.08pints
132lbs / 60kg: 16.96pints
154lbs / 70kg: 19.68pints
176lbs / 80kg: 22.56pints
198lbs / 90kg: 25.28pints
220lbs / 100kg: 28.16pints
242lbs / 110kg: 31.04pints
264lbs / 120kg: 33.76 pints

Disclaimer: Drinking alcohol in excess can be harmful to your body and mind! It cannot be endorsed by this august and sober publication, run by another still shrinking person (L-G, he stopped drinking alcohol after his weight loss operation.)
All this amazing Einsteinian calculus above was performed just for fun and scientific/medical education purposes. Really!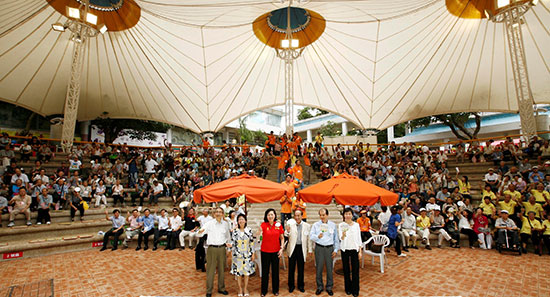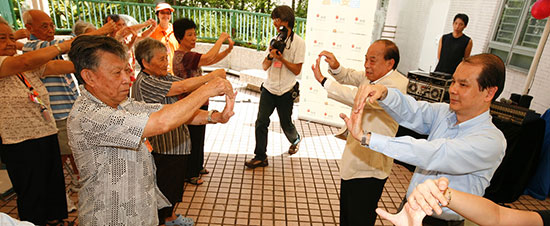 Click here to find out more about this party, launched by HK Electric...
---
Some more good news for all HK Electric customers, incl. all Lammaites!
See the lady with the fan, above left, being sooo OVERJOYED about these news:
"Regarding the Government's electricity charge subsidy, from 1 Sep 2008 onwards, all 450,000 domestic electricity accounts of HK Electric will be credited a monthly subsidy of $300 for 12 months.
"Any unused subsidy can be carried forward to pay for electricity charges up to 31 August 2014 or the closure of the account. For the convenience of customers, this balance, if any, will appear on their electricity bills from September onwards."
HK Ham - Ex-Lammaite (Republished from his blog with friendly permission. After reading his farewell story below, you're welcome to leave your own comments on his blog.)
Soon after moving to Lamma in July 2007, I wrote a story for Asia Sentinel singing the sleepy little idyll's praises. The following paragraph from that story sums up the extent of my delusion at the time:
"To step off the Yung Shue Wan ferry from Central is to be forcibly relaxed. The gentle breezes at the pier carefully brush off the stresses of the city, the waterfront seafood restaurants offer the best and freshest in the SAR and the many accessible trails take walkers and cyclists to quaint villages, pretty beaches, and summits that afford views of vast stretches of ocean and skyscrapers on Hong Kong Island."
I've come a long way since then -- all the way to Sham Shui Po, in fact, where I now live in the middle of urban cacophony, negotiating slow walkers and construction sites after I disembark the crowded MTR on my way home. For the past two months, I have been living in a place that costs twice as much to rent, is in a building with a lift, and from which, sitting here comfortably in my bed, I can hear all grinding gears and heavy wheezing of the taxis, the buses and trucks bustling along one of the city's main arteries.
Strange that I should feel such relief, then, to be free of the careless, carefree, quiet and cheap Lamma Island.
Lamma to me was like a girlfriend that was never meant to be. Things were great, as long as I saw her only on weekends. In those heady moments, we would nuzzle each other's necks, gently bite each other's soft flesh, cradle each other to sleep. We would get riotously drunk together, only to wake up in the morning and walk off our hangovers in the hills, overlooking the vast promise of the expansive blue ocean as the breeze blew soft whispers in our ears. We would canoodle by the seaside, cavort on the rocks, splash in the shallows -- and even play with puppies at the Lamma Animal Welfare Centre.
But slowly it fell apart. As the days slipped by and we became too comfortable with each other, we started to discover sides of each other we weren't so keen on.
The ferries: How disheartening is it to end your work day by boarding a slow boat with sloping-down, hard-plastic seats that only serves to take you further away from most of your friends? (Thank goodness for those who remain that this problem has been partially rectified with a more sensible ferry timetable that has cast the hard-seated ferries into oblivion.)
The age difference: Where were all my young, sprightly counterparts, full of energy and ready to embrace Lamma's natural wonders? (And no -- they weren't at the pub either.)
The drinking problem: Why should it be a matter of course that the same five men can be found snogging a pint outside the Tinhead every day after work during the week? Why is it considered normal to walk past the Spicy Island at 9am to see men drinking Skol at a table while they watch the morning ferry crowd march off to work? And shouldn't we at least once question the wisdom of the pint-plus-one rule for the homeward-bound boat every day?
The rumour mill: How can it be that in a city of 7 million, there still lives an enclave of depravity where an elbow touch can turn into a hug can turn into a kiss can turn into a fuck can turn into a full-blown affair? I grew up in a small town where everyone knew everyone and fell into the same, predictable routines while feeding off the romantic notion that it's wonderful to know your neighbour (and even more fun to know about their dirty laundry). I don't want that for adulthood. At least, not yet.
It's at this point that Lammaites can rightfully start slinging shit my way. Many on the island are still so enamoured with her many charms -- her relaxed disposition, her free, giving ways, her natural beauty (despite some fairly ugly, chimney-esque blemishes), her way with children -- that they're happily oblivious of her unbecoming side. Fair play to them. As I said, I was in love with her too, once. She just turned out to be the girlfriend who was never meant to be -- and I'm happier to be free of her.

Lamma-zine Blog started on Sep 1, 2004, and will be updated frequently with anything vaguely related to Lamma
Island or its residents, be it news, stories, events, photos, videos, etc.
Contact Lamma-Gung with anything relevant to Lamma or Lammaites that you'd like to see published on this home page!

All text, photos & graphics by Lamma-Gung, if not otherwise credited. Click on button on left for Creative Commons license.

Twice a month, the Lamma-zine Blog will be promoted via an email newsletter to all registered subscribers and forum members, currently over 3,000. Free subscriptions!
All former posts are stored in the Blog Archives, see below.
All materials and photos © 2008 Lamma-Gung. All rights reserved.
---
Top | Home | Forums | Lamma-zine | Events | Galleries | Links
About | Contact Us | Poster | Ratecard
Blog Archives 2004: Aug, Sep, Oct, Nov, Dec
2005: Jan, Feb, Mar,
Apr, May, Jun, Jul, Aug, Sep, Oct, Nov, Dec
2006: Jan, Feb, Mar, Apr, May, Jun, Jul, Aug, Sep, Oct, Nov, Dec
2007: Jan, Feb, Mar, Apr, May, Jun, Jul, Aug, Sep, Oct, Nov, Dec
2008: Jan, Feb, Mar, Apr, May, Jun, Jul, Aug, Sep, Oct, Nov