| | | | |
| --- | --- | --- | --- |
| | Dec 6 - Money raised for the Lamma Fun Day charity: tba. | | |
| | | | |
| --- | --- | --- | --- |
| | Oct 25 - "To celebrate the 2-year anniversary of The Lamma Art Collective's first ever exhibition 'Lamma On Board..." | | |
| | | | |
| --- | --- | --- | --- |
| | Oct 23 - "There is such a wonderful community here; people are friendly, kind and we look after each other..." | | Oct 19 - Lamma has been surrounded today, 41 "OC6, OC1, Surfski, Coastal Rowers..." |
| | | | |
| --- | --- | --- | --- |
| | Oct 15 - When I've answered a few questions from Facebook about local businesses... | | Oct 14 - "Lamma Island. Eccentric, independent, and removed from the Hong Kong rat race." |
| | | | |
| --- | --- | --- | --- |
| | | | Oct 1 - 7th anniversary of this traumatic accident off Pak Kok. |
<!/tr>

Dec 6: Auction's Topopo Prize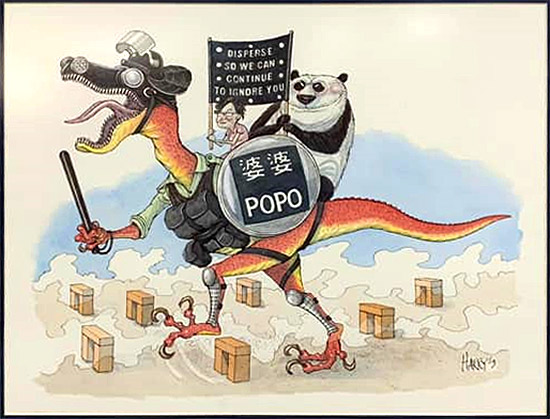 Money raised for the Lamma Fun Day charity: tba

Dec 5: Fun Day!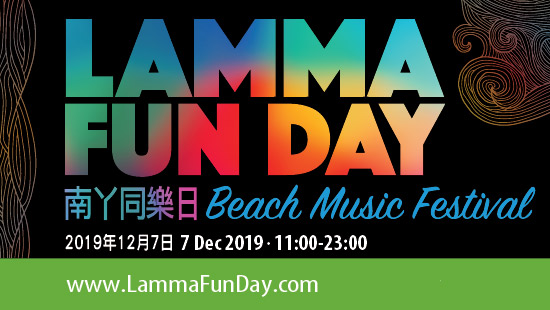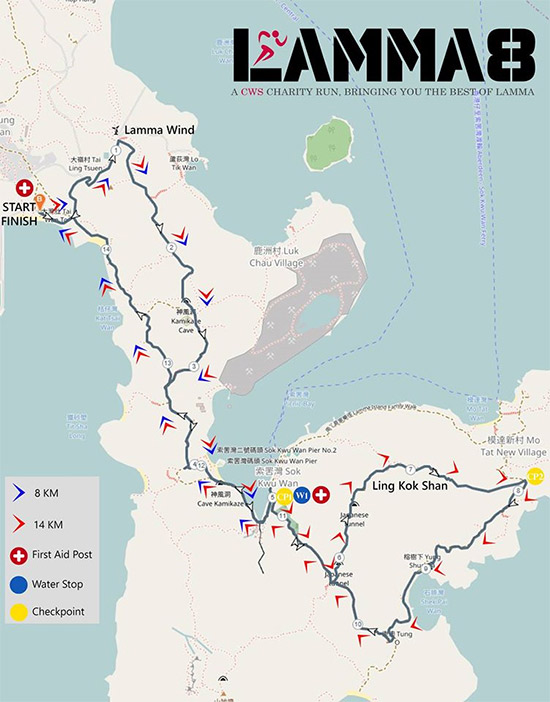 Dec 4: Carousel of Digital Obsolescence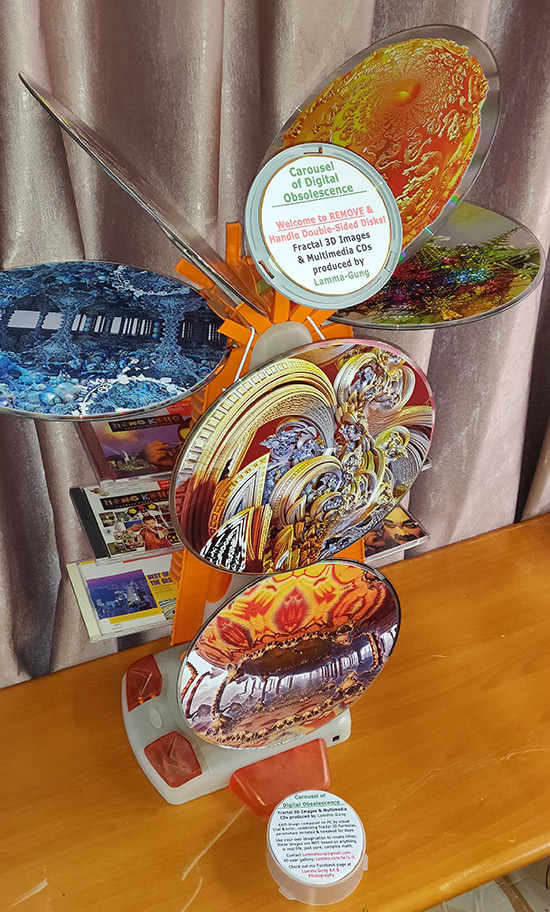 Just my ancient, electric music CD carousel, as obsolete as the LaserDiscs - plus the multimedia HK CD-ROMs I produced last millennium - decorating the carousel.
I've assembled it for the LazerArti & Party exhibition, opening this Friday, Dec 6, 7:30pm in the LAMMA ART COLLECTIVE.
To view and handle the double-sided LaserDiscs on my "Carousel of Digital Obsolescence", plus artworks by ~30 other artists - the vast majority of them Lammaites - you'll have to attend the exhibition & party afterwards in person!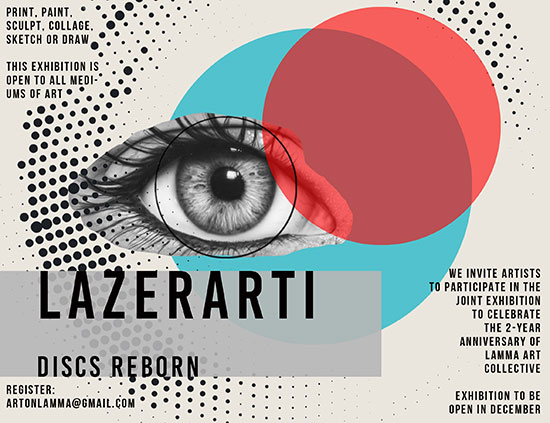 Running till end of the year, call or msg before visiting.

Nov 19: Moving to Lamma by Sampan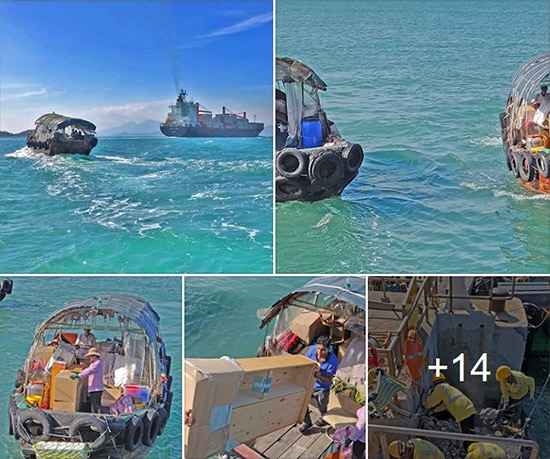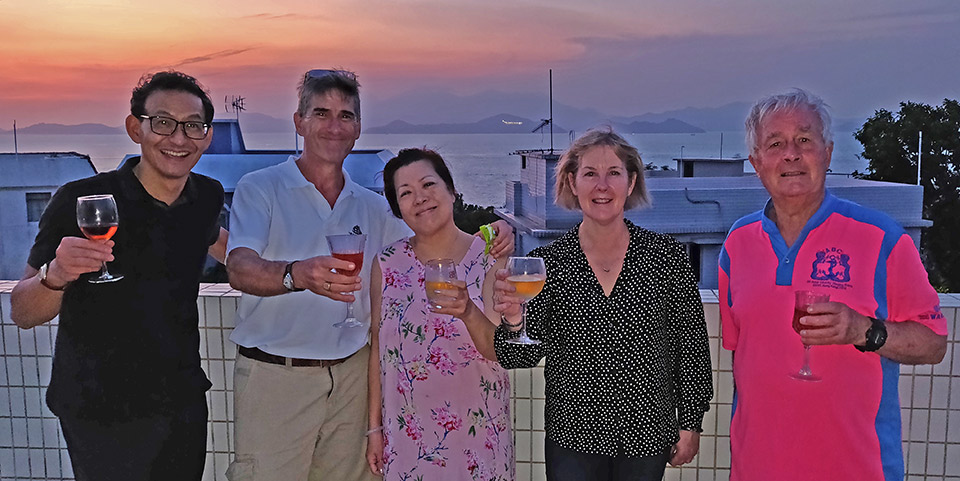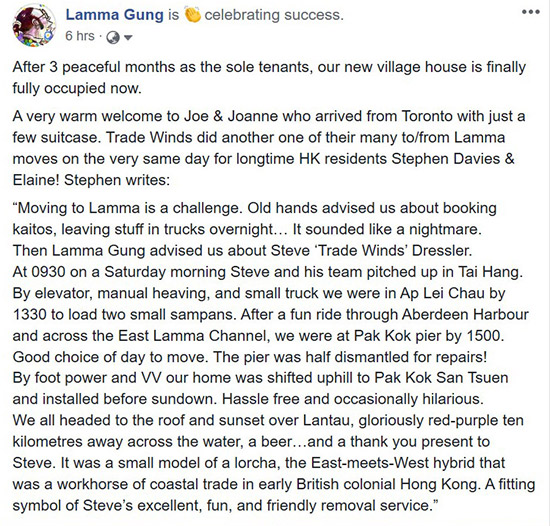 Oct 25: LazerArti Exhibition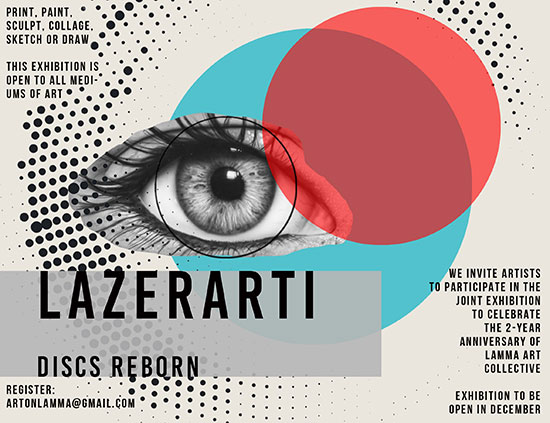 Lamma Art Community writes:
"To celebrate the 2-year anniversary of The Lamma Art Collective's first ever exhibition 'Lamma On Board' and in collaboration with Pat England's Vinyl Word exhibition. We invite you participate in our next art exhibition.
Print, paint, collage, sculpt, sketch or draw!
We invite you to take part in this joint art exhibition, open to all artists.
The exhibiting requirements encourage the artists to work on the same platform (a laser disc), using any medium they wish.
Each artist will be given 2 discs to create their work on. The final artpieces will be a diverse collection of artistic work with each piece showcasing its spectacular uniqueness.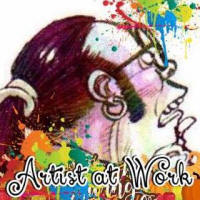 How to participate: 100 HK$ to register and receive 2 laser discs.
During the exhibition period each disc is priced at HK$450, unless listed as "Not For Sale".
The exhibition opening and anniversary celebration will be held on Friday, Dec 6th, at L.A.C in Yung Shue Wan.
Join us for this wonderful celebration of art and community spirit.
Lamma Gung Art & Photography and many fellow Lamma Artists will join this exhibition!

Oct 24: Wanted: Haunted House Volunteers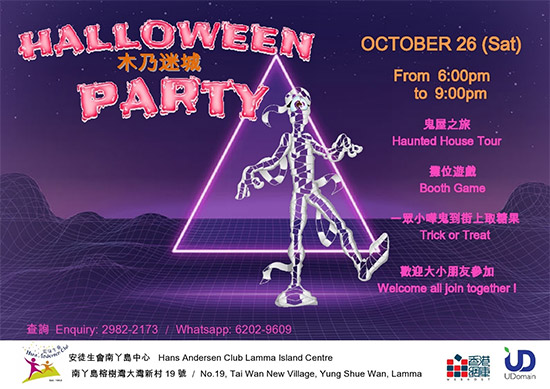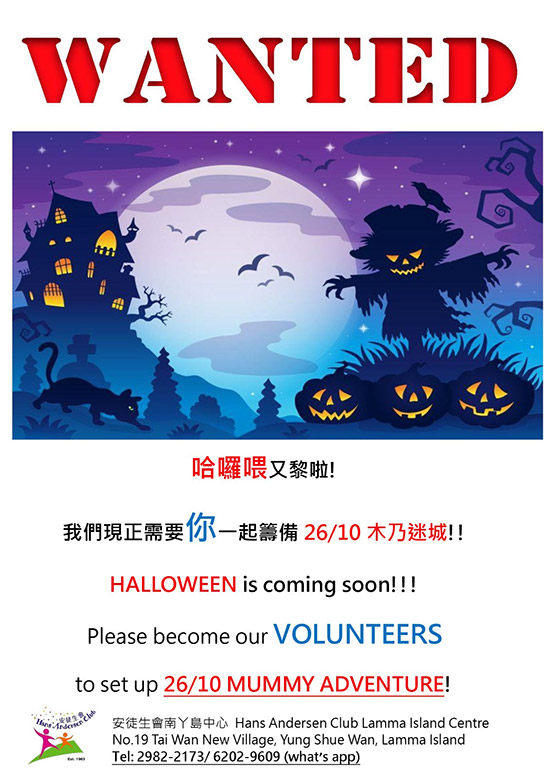 Hans Andersen Club writes:
"The booth and haunted house will be started at 6:00-9:00PM on Sat, 26 OCT.
On that day, we will have booth games, face painting, haunted house and we still looking for more volunteers for holding the booths and being inside the haunted house.
For 23 - 25 OCT, starting 9:30AM, we will have set up and decorations doing at our Centre as well, welcome the volunteers come and join us at their convenient time."

Oct 23: Street Cleaner Interview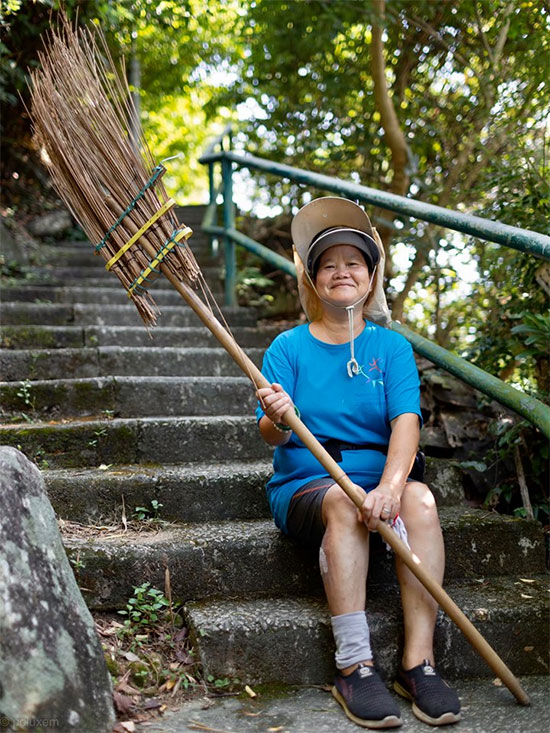 Hong Kong Shift writes:
"There is such a wonderful community here; people are friendly, kind and we look after each other..."
Read more of this 3-part interview on 'Hong Kong Shifts'...

Oct 19: Around Lamma Races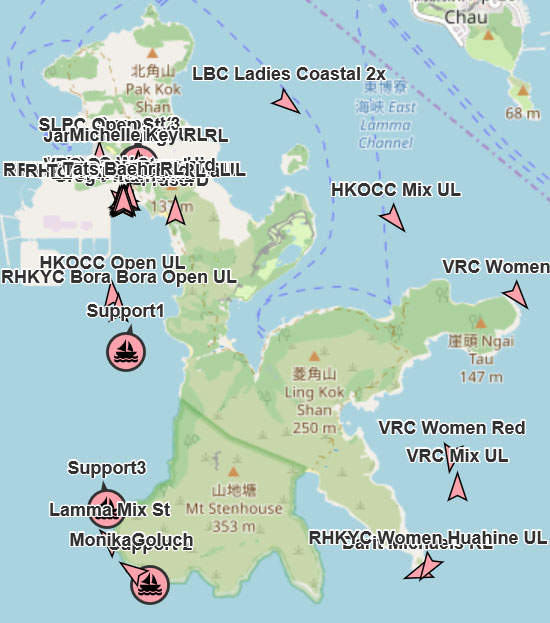 Lamma has been surrounded today, 41 "OC6, OC1, Surfski, Coastal Rowers annual race around Lamma. Morning and Afternoon races and amazing BBQ afterwards. Hosted by Lamma Outrigger Canoe Club"
Start picture from Lorraine Cushnie, plus a few more: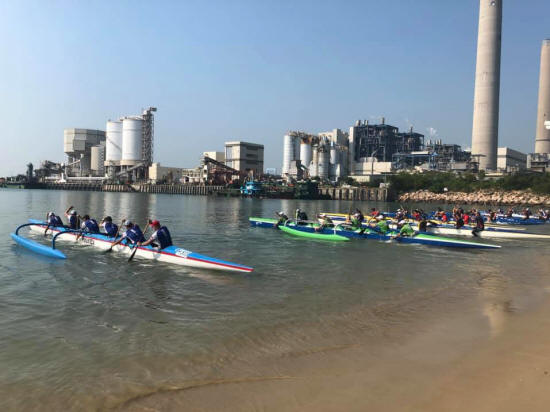 After the races, big BBQ and after party at Power Station beach! Results photo from Claudia: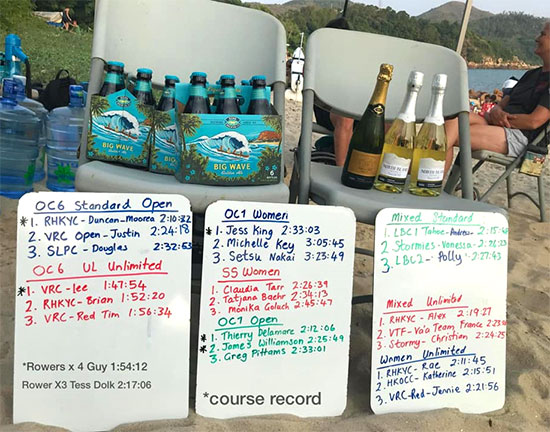 Plus my photo album from a past race when I joined in on a support boat all the way around Lamma!


Oct 15: Helping 116K People?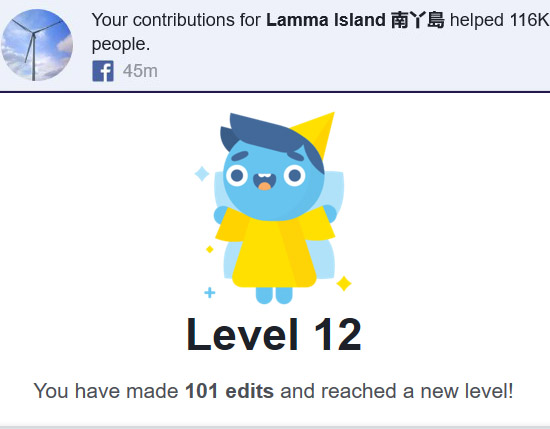 When I've answered a few questions from Facebook about local businesses over the years, I didn't realise that I was actually helping over 116,000 people!

Might Facebook's blue-faced/haired avatar exaggerate here a little bit to stroke my fragile ego, which is a major feature of most social media? Is answering questions about the cuisine and opening hours of local restaurants really "helping people"?
Well, I hope so! Supporting local businesses in various ways has always been a major aim of the Lamma-zine! How can we help yours today?
P.S. Should I aspire for more badges beyond my current 2?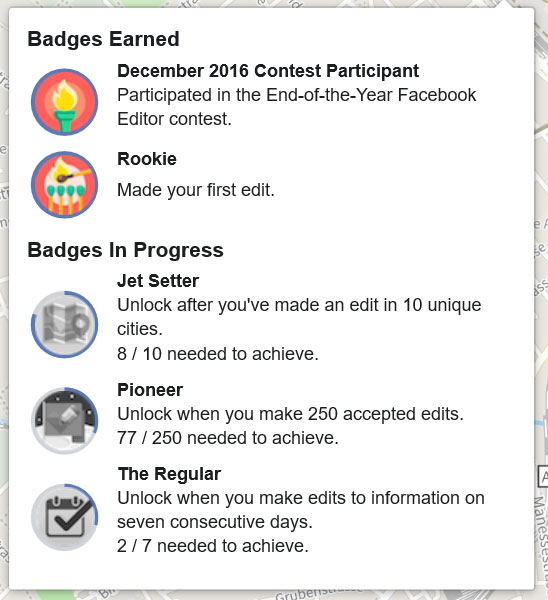 Oct 14: Lamma Phone Case
One of the businesses that started out on Lamma, spreading all over Hong Kong, becoming very successful, Yardley Brothers Beer, has some of the best designs for their bottles and marketing materials, all designed by Lamma's own Ben Appleby. One of their many fans made this phone case. I liked especially their description of Yardley's birthplace:
"Lamma Island.
Eccentric, independent, and removed from the Hong Kong rat race."
Sounds like it might fit me personally as well, escaping from the corporate rat race on HK Island to Lamma Island almost 2 decades ago.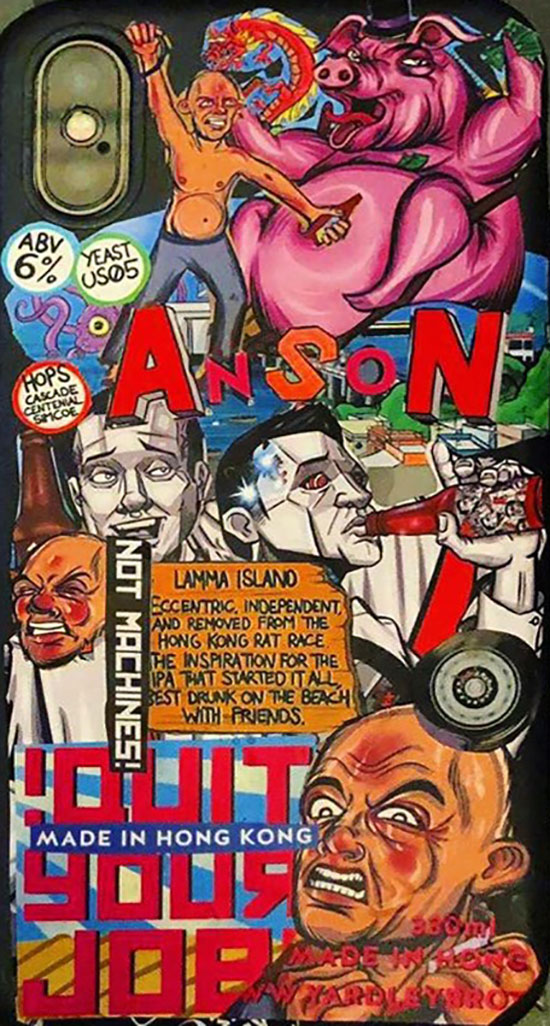 Oct 11: Most Liked Photo
My most popular photo on Facebook of 2016: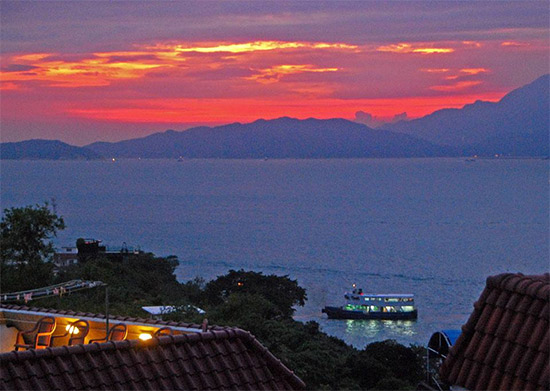 Tsui Wah ferry arriving from Aberdeen at Pak Kok ferry pier, shot from my former flat's rooftop.
There have been quite a few news about this pier recently, from small renovations to building a new, side-docking pier over the next 2 years.
Shortly before National Day, this flag has been cemented into a seabed rock, just off the pier. It seems to be planned as permanent, unlike the many national flags at the pier flying just for a few days before/after National Day.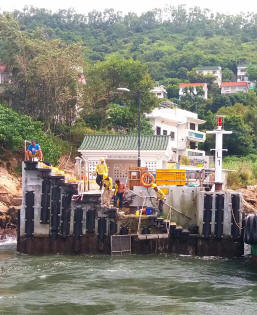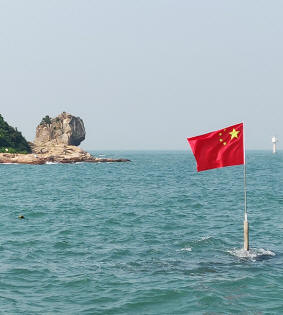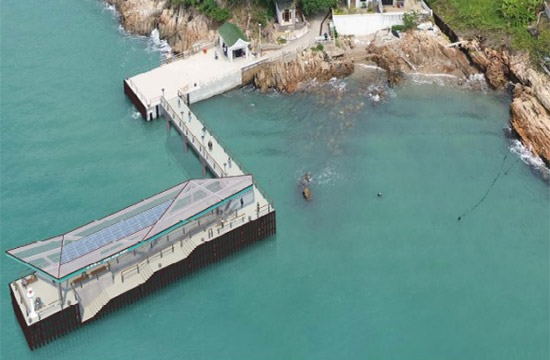 Oct 10: Feeling Creative @ Jungle Home Office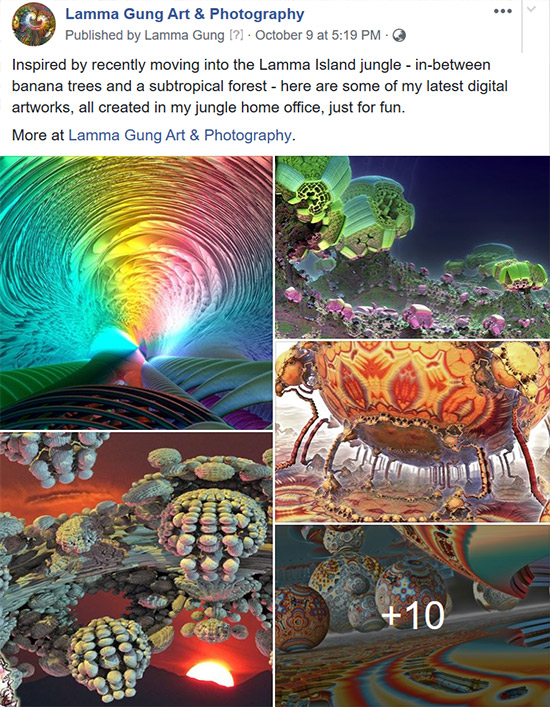 Oct 9: Getting Broadband Internet, Finally!
All of Lamma Island gets wired broadband Internet from monopoly PCCW, a maximum of 3Mbps for almost all of the island. In the last 20 years their max. broadband speed on Lamma has dropped to half and the cost has almost doubled.
Just recently, an exorbitantly pricey premium upgrade has been launched at almost $500/month, available only in a few villages in the Greater YSW Area.
In the meantime, our new village house, completed several years ago, hasn't even been connected at all yet. PCCW promise to connect us has moved from end-Sep to next year!
No wonder they're losing many Lamma customers and have only recently become more responsive when you threaten to cancel their broadband. After my long, friendly rant to their phone support the other day, finally some action! I've just met their guy today who was working on installing the broadband cable to our house.

In the meantime, this is the off-peak-hours speed on my PC, connecting to my phone's standard 4G Wifi Hotspot from a wireless PCCW competitor. I'm still pretty happy with this unlimited-data Hotspot for $196/month, cheaper than PCCW's max. 3Mbps broadband speed.
For more info and updates, see our longtime Facebook group: Faster Broadband For Lamma.

Oct 1: In Memoriam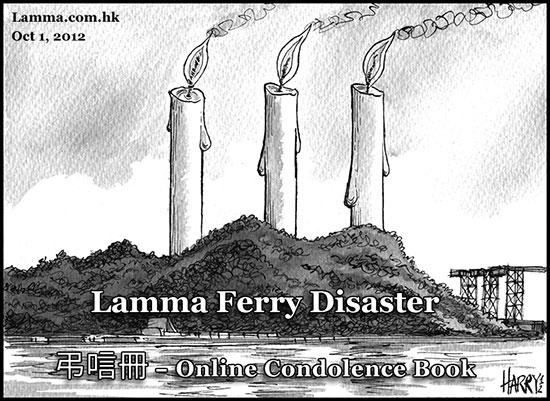 7th anniversary of this traumatic accident off Pak Kok, a HKKF regular commuter ferry shortly before arriving at the YSW ferry pier colliding with a HK Electric staff ferry, losing 39 lives.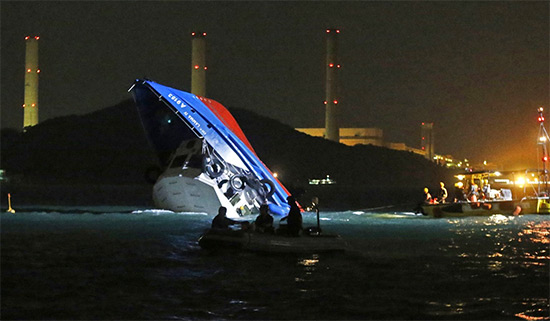 See Lamma forum's post: Ferry collision 01/10/12,
plus many Lamma-zine stories of the aftermath,
plus extensive coverage in the SCM Post:
"On October 1, 2012, 39 people were killed and 101 injured when the passenger ferry Sea Smooth and a Hong Kong Electric Company vessel, the Lamma IV, collided off the coast of Lamma Island.
The Sea Smooth had been ferrying passengers from the island to Central for the National Day fireworks when the accident occurred.
It was the deadliest boat accident in Hong Kong in 40 years, and the Lamma IV captain served nine months in jail for endangering the safety of others at sea, but was cleared of manslaughter charges.
The captain of the passenger ferry Sea Smooth, Lai Sai-ming, was sentenced to eight years in prison for manslaughter." Read more...
Rememberances were being held tonight at Lamma Ferry Pier 4 in Central and on Pak Kok Beach, near the accident location.
---