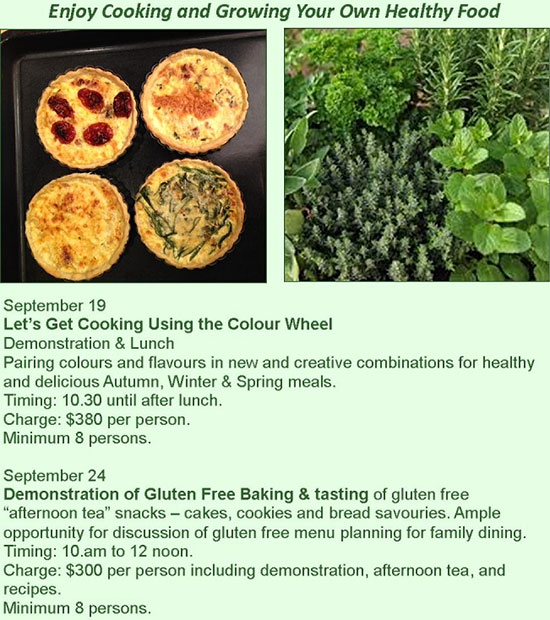 YSW Harbour's old jetty last night (my own photo), plus a fabulous HDR (High Dynamic Range) shot from our newest Lamma-zine contributor, Karlo, a 5-year Lamma veteran:
The old jetty is a major photo taking spot, especially at sunset:
Alain Jaquier - More photos...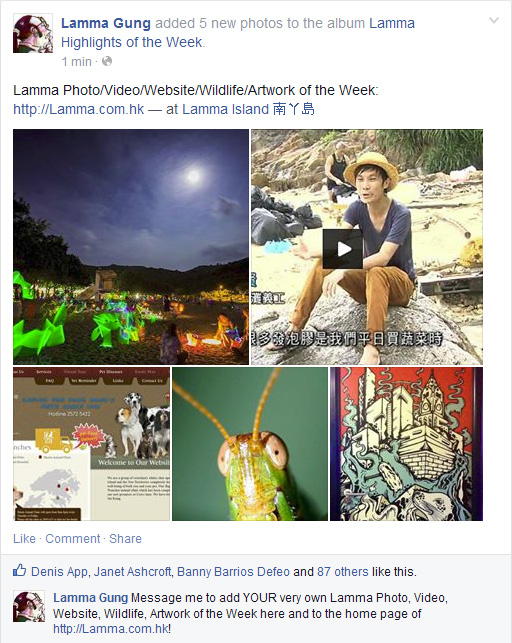 Click on the right column's Highlights to have a closer look and read the captions.


Police Corner: Mid-Autumn 2014:
Camas Tung, Inspector of Police,
Officer Commanding Lamma Island & Peng Chau:
"Mid-Autumn Festival, one of the largest festivals in Chinese culture, is coming up. If you see the posters at piers, you may have been aware of the mid-autumn carnival which will take place at Yung Shue Wan Sports Ground between 7 pm and 10:30 pm on 6th September 2014.
Are you an expert on police-related issues on Lamma? Come and take the challenge at the "Police Riddle Stall" designed by Lamma Police for the carnival and win one of the prizes below. Even if you are not an expert, come and see how many riddles you can solve."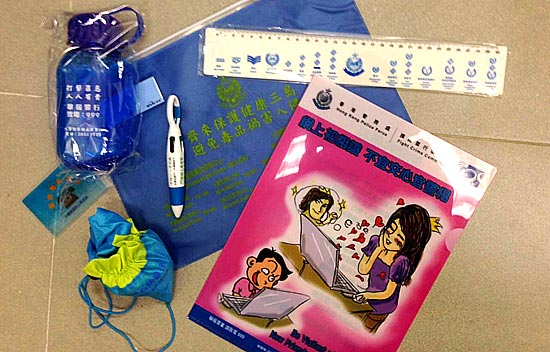 "Lamma Police's Got Talent? Take a guess? One of our officers has got talent in magic and will demonstrate it at the carnival. Lots of fun that you can't miss, or take the chance to come and just say hello!

Back to a local issue, some of you pointed out that the address numbering on Lamma is quite confusing and our officers may take time to look for any particular address during emergency. Our officers are generally conversant with the addresses on the main paths. However, we may take a longer time to locate you if you are in a rural or isolated area on the island, even with a specific address.
While we would do our best to mark rural addresses on our map, I appeal for your assistance in giving us more descriptions of your location when you call the Police for help. Descriptions may include numbers on lamp posts and slopes, the closest landmark and/or surrounding features. With more information, we will be able to reach you sooner.
For your information, the English version of the TV episode on Lamma Island will be shown on "Police Report" at 7:20 pm on TVB Pearl on 27th September 2014 and 6:50 pm on ATV World on 28th September 2014.
As a general reminder, in order maintain appropriate confidentiality; remember not to post reports relating to cases, crimes, complaints or criminal intelligence in the blog here. You can always report by phone, email, fax or in person direct to Hong Kong Police Force. Remember, if you have any information relating to crime or offences taking place on Lamma or anywhere in HK, we want to hear from you.
All contact numbers are linked below:
http://www.police.gov.hk/ppp_en/contact_us.html
Lamma Police Post Tel : 2982 1577 - Lamma Police Post Fax : 2982 1824
Lamma Police Post email : ysw_post_ccdiv@police.gov.hk"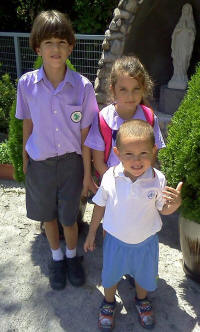 Dr James Fullwood:
"All three of my kids are going to school on Lamma (P1, P2 and K1) and the experience has been great! Lamma Island has both a kindergarten and a primary school, located on opposite sides of the basketball court up from Tai Yuen Village. The teachers and staff at Lady of Lourdes Catholic Kindergarten are all so friendly and provide the students with a very warm introductory learning atmosphere (and not too much homework).
At Northern Lamma Primary School they are a bit more strict, and I may get yelled at occasionally for forgetting to return a circular, but I like the fact that there's discipline in the school as opposed to the rowdy elementary schools back home in the U.S. (You should see how well behaved the kids are when they take a ferry ride with their classmates for a field trip.)
As nearly half of the students at Northern Lamma School are not native Cantonese speakers, I've noticed that some parents seem unhappy with the heavy emphasis on Cantonese as opposed to English.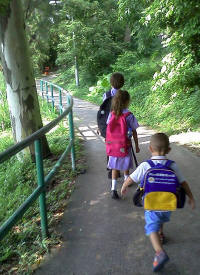 However, in my (humble) opinion the school is fundamentally structured in a way that caters to the needs of foreign students. In particular, the teachers stay after school everyday to help the non-native speakers with their Chinese homework, something that would probably not happen if they went to a school say in Causeway Bay, for instance.
But let's get realistic here, could you imagine a Chinese person moving to the U.K. and complaining to the teachers about the lack of spoken Chinese in the classroom? In any case, in a couple of years, my kids will be walking themselves to school (albeit through the jungle), and not many Hong Kongers can say that!" (Photos by Mrs. Fullwood)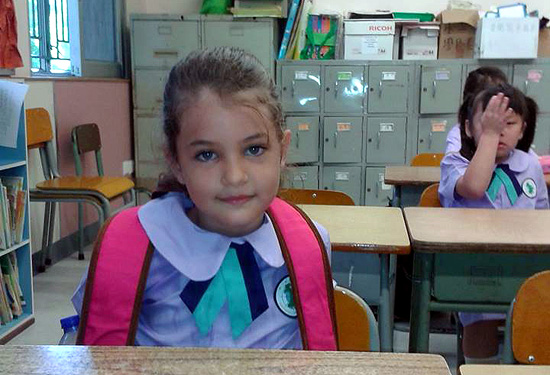 Scene from the on-going daily life-and-death struggles on Lamma Island.
Wildlife on Lamma, an ongoing horror story:
Rahat writes: "This spider just bit me, and then the orange-assed waspy thing bit the spider. I'm fine, the spider's almost dead. Here's the funeral march, going down a cliff towards lunch."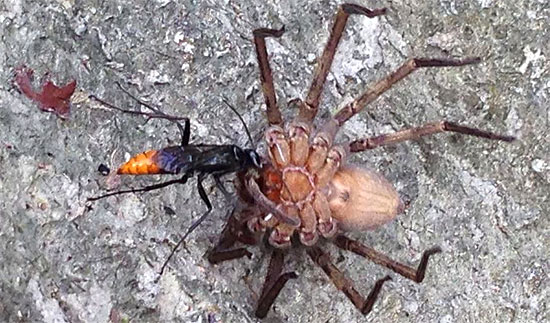 Within an hour this attracted dozens of comments, mostly by Lammaites, with loads of insect-based fear and fear-mongering:
"Is that the spider which was in your house, the one carrying a huge sac of hundreds of babies that bit you?"
"The spider is only asleep, kept alive so the wasp can lay eggs inside it. The wasp will cut of all the spider's limbs and hide the body as an incubator. Hope you can sleep after that."
"An orange arsed mega wasp killed the hairy horse sized spider that bit you??? I love you but I'm not coming back to your house unless I get my hands on a full body radiation suit...!"
"I think the spider got knocked out from the blood it sucked out of you. I wonder what special powers your blood has..."
Some of my own comments:
So the spider babies and the wasp babies might hatch from the same amputated, paralysed mama spider in a few days? Charming thought...
This looks like a worthy "Lamma Wildlife of the Week" on my home page, which might keep a few tourists away! ;-))
This wasp's bite is a LOT more painful than most spider bites, I can tell you from my own experiences!
Poor Spidey, meeting such a terrible end before giving birth to its 100 babies and giving super powers to Rahat by biting her! RIP!
Soon we'll see Rahat swinging from Village House to Village House and from Power Station chimney to chimney as the new Lamma Spiderwoman!
Rahat replied: "Lamma Gung, you are enjoying this far too much!"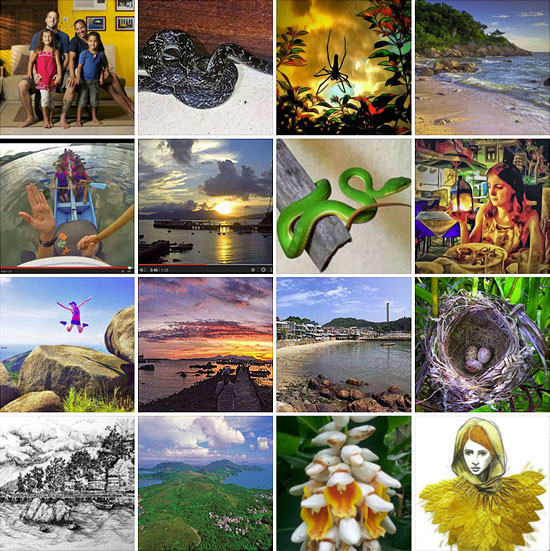 Click above for my new Facebook Album of recent Highlights of the Week, updated and featured every week on the left side of this cover page, 10*5 pictures so far.
Email me to add your very own Lamma Photo, Video, Website, Wildlife, Artwork of the Week!

A few sunrise shots from these splendidly clear August days, viewed from Lamma's "North Point" (Pak Kok), overlooking the Lamma Channel and South HK Island.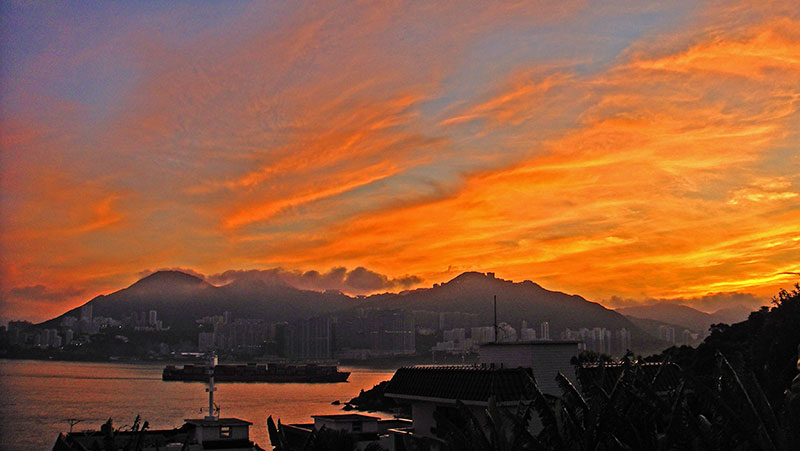 Many of us like taking smartphone pictures of their food, to the frequent major annoyance of our fellow diners. I'm definitely guilty as well, but at least I have the good excuse (?) of using my foodie pics in this Lamma-zine occasionally, promoting the small number of wonderful, amazing, fantastic Lamma restaurants that support this website by advertising (see top and left side of this page!)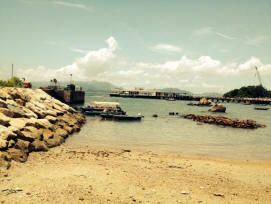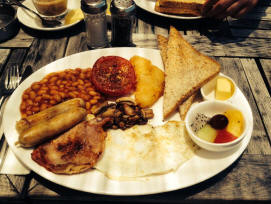 Simon Kay 9 August via iOS: "About to sample the new brunch menu at Hideout on Lamma. Can't fault the view!" — at Hideout
But beware of posting your foodie pics on Facebook, lots of potential friendly abuse and snarky comments might follow. But if you're friends with creative types like Harry Harrison, you might make it into one of his cartoons: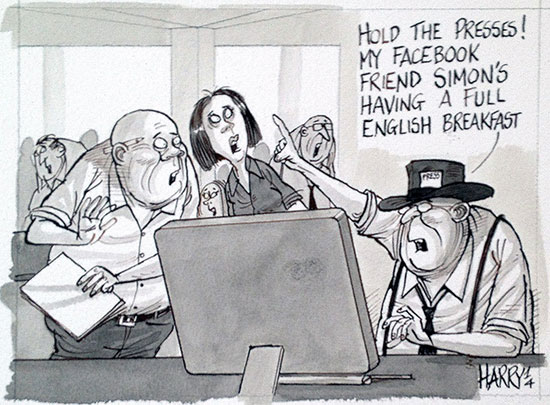 Simon Kay: "Absolutely chuffed to get the original of Friday's SCMP cartoon from Harry Harrison. A bit cheeky - albeit justified - but much appreciated. Cheers, matey."
Simon hung the original drawing in his kitchen, probably as a creative inspiration while cooking? Harry suggested the toilet...
Adding insult to injury, Simon even made it into the Lamma-zine now, being made (friendly) fun of once again, being blatantly exposed as a foodie pic taker on Facebook! And where did I hear about this "Hold the Presses!" news? Not in the SCMP, but on Facebook, of course!
---
Finally, here's one of my own restaurant view pics, taken in The Waterfront Bar & Restaurant, even more popular (more Likes) on Facebook than Simon's. Hah!
The Waterfront is also the place where Simon has been Quizmastering many a Quiz Night before! When's the next monthly one, I wonder?
The Waterfront is also one of the very best spots for a sunset drink or early dinner and great place to meet up with old and new friends!
Mission accomplished, a "wonderful, amazing, fantastic Lamma restaurant" and loyal advertiser has been promoted once again! Click below. Yes, I'm shameless...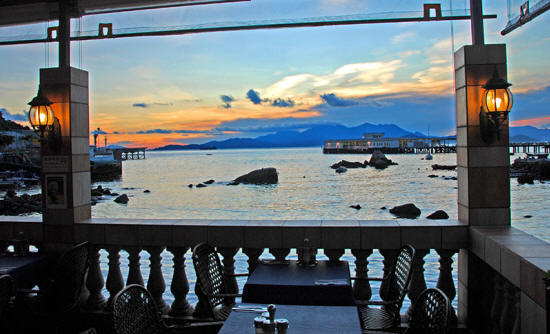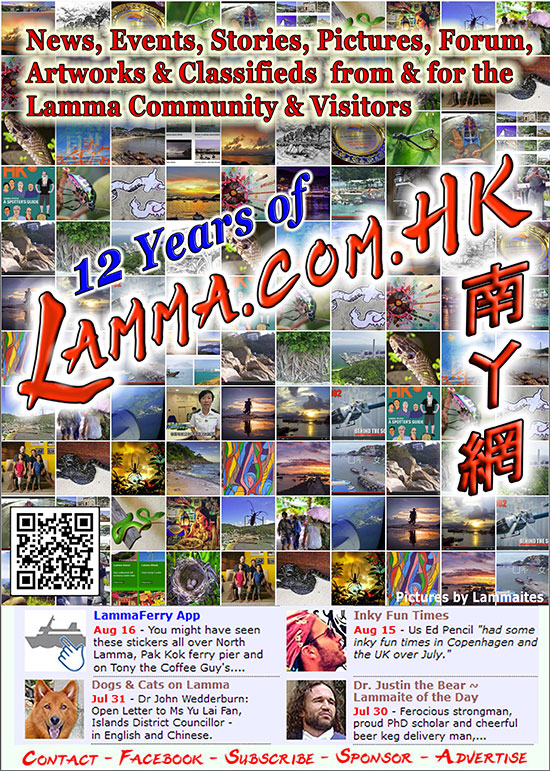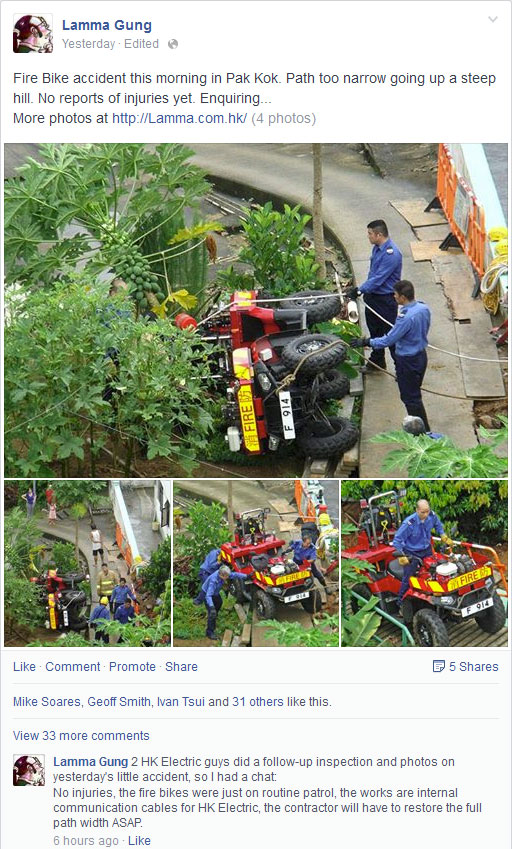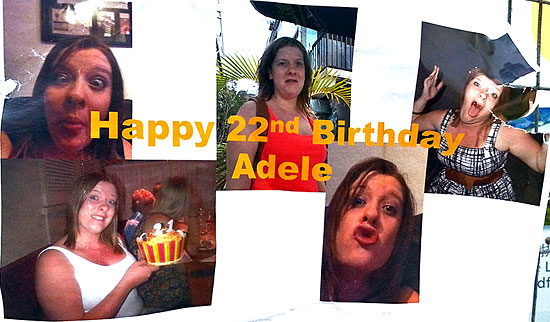 This is a poster from the Democracy Fence (just before the YSW ferry pier, opposite the former Democracy Wall, till the "tyranny" of the wall's owner triumphed and all posters are removed as soon as they appear).
I don't know Adele and there's not even a birthday date on the slightly tattered poster, but I found this public sentiment worthy of my attention. Sweet 22! I hardly remember my own sweet 22, so long ago, but they were great fun, I think.
This is a very nice and sweet gesture from Adele's friend, going to all the trouble of taking and collating these cheerful pictures, designing the poster, printing it and sticking it up on Lamma's walls. A really good friend, methinks!
So Happy Birthday, dear Adele, whoever you are and whenever your birthday was! I hope you love living here, it sure looks like it! I hope one of your friends will give you a heads-up about this Lamma-zine story, maybe even get in touch with me and tell me more about your wonderful birthday and life on Lamma.
---
P. S. Aug 22: Adele has finally heard about this Lamma-zine story, putting it onto her Facebook page: "I'm Lamma famous! Thanks to Heather for making the posters, can't wait until your birthday when you're going to pay for this."
Really, thank you, Heather! Can we hope for more funny stuff like this from you?
...and I'm eagerly looking forward to Adele's Sweet Revenge (my proposed Lamma-zine story title)!

You might have seen these stickers all over North Lamma, even at the Pak Kok ferry pier and on Tony the Coffee Guy's coffee machines on the bar counter of Prime Bar & Grill on YSW Main Street in the morning?
No wonder, this Apple-only mobile app, LammaFerry, was created by his son!
It's Robin's first app and it's free, so he gets some free promotion here. This fresh graduate (NOT in Computer Science!) is also getting a free listing on the top left of this website, under "Ferry Timetables". A Park Island ferry app will be next.
Click below or point your iPhone/iPod/iPad/iAnything camera at the QR code.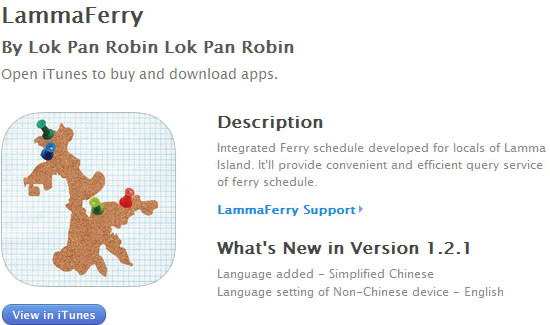 For the big majority of Android users who like much larger, less expensive and more customisable smart-phones, here's my favourite app for ferry schedules:

So many Lammaites are enjoying summer vacations all over the world these weeks. What did they get up to? Facebook knows...
For example, Us Ed Pencil "had some inky fun times in Copenhagen and the UK over July."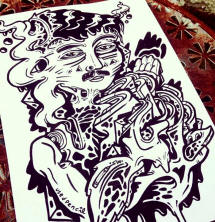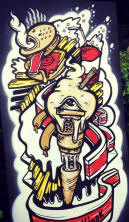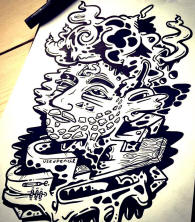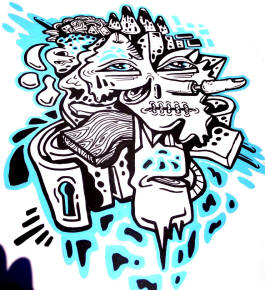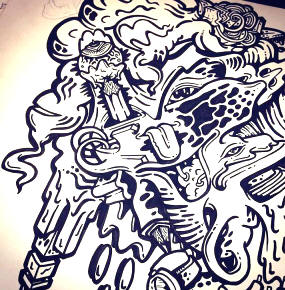 Another new guest blogger has just signed up for occasional stories in this Lamma-zine. He posted an intriguing ad in our Rent & Let Classifieds: Modern Day Myth Maker Seeks Humble Accommodation. I contacted him, one thing led to another and voila, a new guest blogger!
Modern Day Myth Maker writes:
(with some heavy-handed subediting, plus added text/photos/illus/links by L-G)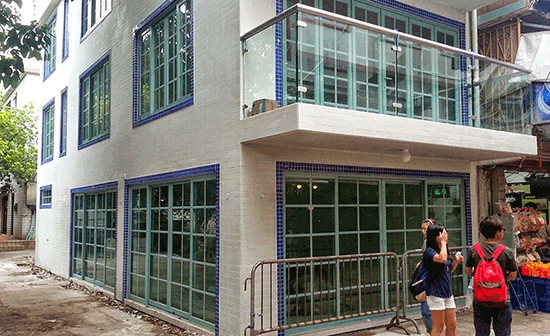 "Isn't it time Lammaites embraced the modern, 21st century, convenience-food world and got a Subway?
The grilled salmon at The Waterfront is great, the dal and fish tikka at Beer Garden is lovely (as long as you don't mind the hour wait), the ramen soup and mackerel at the Japanese place on the corner whose name I always forget is very handy [Blue Bird].
But sometime I just want to get off the ferry, order a Sub and munch it in all its over-sauced, over-pickled glory in front of the TV.
My mouth is watering as I write,

anticipating that crunchy moistness that I don't have to trek to Central for to enjoy. It's not even that unhealthy, if you tell them to go easy on the mayo.
And you can be sure, if a Subway did open, it would do a roaring trade. There'd be queues winding down Main Street, like that time when Abercrombie got all its hot, shirtless models in town for their Central store opening. Our hot, shirtless Bear Campers would surely love to volunteer for this opening!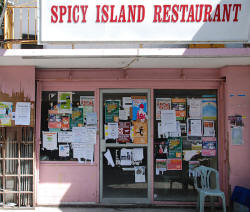 Oh, I know, I may offend all the Mackie D lovers with this post. There was a totally unsubstantiated rumour years ago that Mackie D might move into the former, now completely rebuilt Spicy Island building (see above and right). Fear not!
And I'm not at all averse to the occasional fish filet between two airy yet somehow satisfying baps. But there's something about a Subway that just feels a little less vulgar than a greasy burger outlet.
Subway is the healthy option for convenience food lovers. We could open a Subway and still feel OK about ourselves, in a way we couldn't if a McD's or even a Starbucks opened in its place.
So how about it? Who's up for volunteering to be the first Subway franchisee on Lamma?"
---
My Photoshopped picture above caused quite a stir on Facebook:
"A SUBWAY restaurant for Lamma!? http://Lamma.com.hk"
Read more about recent Lamma Bar & Restaurant News.
---
Modern Day Myth Maker is following our newest guest bloggers, our Lamma Police Chief and the returning Official Court Glutton.
Want to be next? Contact me!
How did I convince MDMM? Some excerpts from my email to him:
The themes and topics of your guest blogs would really be up to you! Anything Lamma- or Lammaite-related that gets you excited (upset, angered, frustrated, delighted, enthusiastic) enough to actually write about it!
It an be serious, satirical, funny or even cynical, anything Lamma's current and former residents, visitors and "stakeholders" might like to read about. I've got lots of topics I know little about and haven't covered yet in about 3,000 stories so far, but it's really up to you and your own experience of living here, like a blog entry.
Have a look at the Lamma-zine and the many guest writers I've featured over the years, giving them a soapbox for their well-reasoned arguments and "Letters to the Editor", but also their over-the-moon raves ("Best place to live!") and belligerent rants ("Why I hate Lamma!").
Almost anything goes, but I'm the editor, so libeling and serious personal attacks won't be allowed. But opinions very different from mine are most welcome, for example, "Start the YSW Harbour Reclamation right now!"
Suggest topics that get you really excited, good or bad! Links for feedback and to your blog, website will be provided, of course, plus a very wide and substantial worldwide readership in 100+ countries, plus an occasional free drink and/or meal.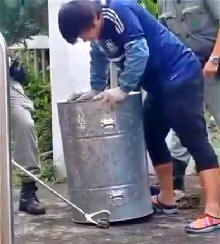 Following up on all the major publicity about the Wang Long snake catcher video - Facebook: Lamma Snake Sightings, Lamma.com.hk, SCMP, Coconut Hong Kong - Lamma's brand-new Police Chief, Camas TUNG Hei-man - "Woman Inspector of Police, Lamma Island & Peng Chau" has quickly replied in her new, regular, 2nd Lamma Police Corner, exclusively on this website:
"Welcome back to Police Corner,
Thanks for your comments to my first article. I do read your posts, however, I cannot respond to all individual posts on the blog due to practicality – I'm sure you would agree that it would not be appropriate or possible for me to do so. But no worries, I will still give general replies in this Police Corner and adopt your helpful initiatives or suggestions. Also, I will try to respond directly and as soon as I can if questions come up which relate to public safety.
I've heard some of you are concerned about the python captured in early August. In fact, someone has made an official complaint about how that particular incident was handled and an investigation will be conducted. I can't comment in detail on that case because of that.
Let me tell you more on how we generally deal with such reports. When we receive a report of snakes seen and the snake in question may endanger the public (e.g. a snake inside premises or in a place frequented by the public), we will first check out the reported location of the snake and then call individual snake catchers (mostly a snake dealer by trade) to ask whether they are willing to come to Lamma for the tasking. In the first instance, my officers will attend scene as soon as they can to place an appropriate cordon, ensure people are evacuated if appropriate and wait for the snake catcher's arrival.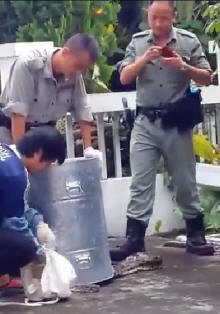 Since we also need to ensure the snake catcher's safety, we will render assistance requested by the catcher after his arrival.
All snakes captured have to be placed in a securely tied canvas sack and further locked in a snake box. They would be delivered to the Kadoorie Farm and Botanic Garden (KFBG) or to AFCD for the protected species. Many snakes may end up in KFBG.
An Important Message: If you find a snake in your house or somewhere that may pose a danger to you or others, please stay calm, get to a safe location and call police via 999 at once. Try your best to keep the snake under observation – although only if safe and practical to do so.
Remember "Public Safety" is absolutely our first priority, including you, our officers and anyone helping to deal with a case.
As a general reminder, in order maintain appropriate confidentiality; remember not to post reports relating to cases, crimes, complaints or criminal intelligence in the blog here. You can always report by phone, email, fax or in person direct to Hong Kong Police Force."
All contact numbers are linked below:
http://www.police.gov.hk/ppp_en/contact_us.html
Lamma Police Post Tel: 2982 1577 ~ Lamma Police Post Fax: 2982 1824
Lamma Police Post email: ysw_post_ccdiv@police.gov.hk"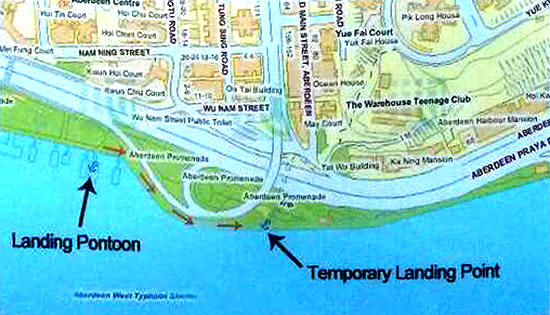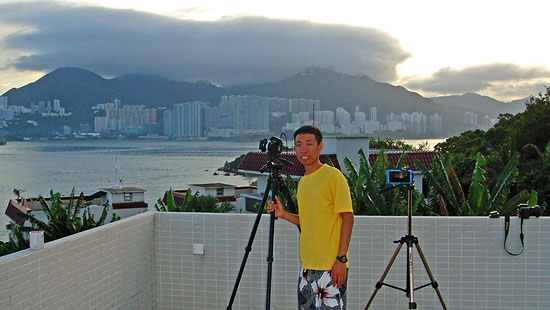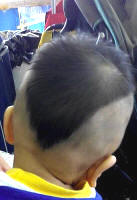 Siuyu Yeung (GreenLammaGroup) has been teaching me how to take proper sunrise photos this morning, with his heavy tripod, lens filters, light-meter and positive film (yes, analogue film!) He's got the night off his many duties as a first time dad, his wife and son (see right) visiting relatives.
We'd been discussing mountain biking to Tung O Wan (extreme South of Lamma) for the best sunrise views. But after some texting at 4:15am, we settled for my rooftop at 5:30am instead. A little bit more convenient and we could enjoy breakfast in my flat. Tung O Wan sunrise next time?
My own little cameras (above on the right) were taking amateur snapshots and time lapse video. Now I just have to learn how to edit the videos to show them here soon.
I'm looking forward to seeing Siuyu's professional-quality sunrise photographic prints soon, as soon as he gets his film developed and the photos printed. ;-)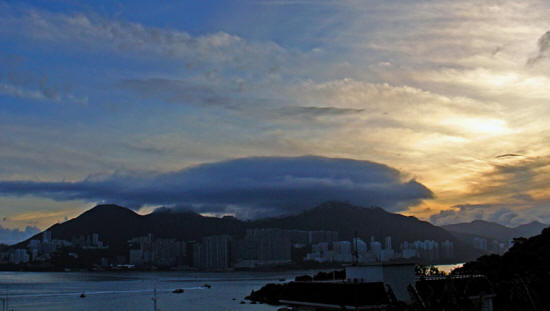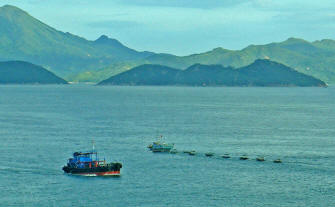 Mother duck leading her ducklings past Lantau Island to Cheung Chau:

Last, but not least, another little sunSET from last night: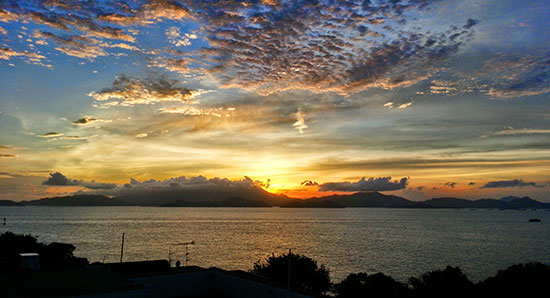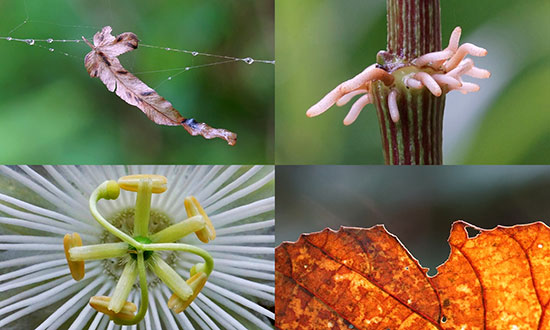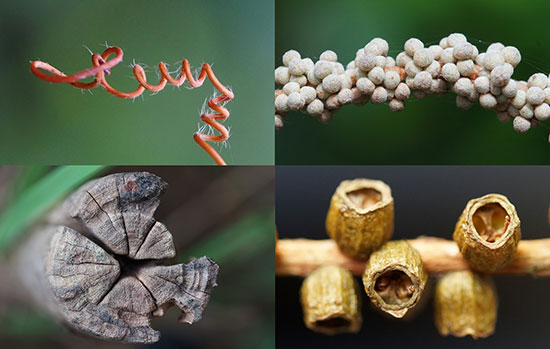 New photos from Lamma's master flora/fauna photographer, Rambler.
His Planet Pandora, err, Lamma series sports these intriguing titles from his weekend mission reports featuring his best photos of the week:
Mission reports diversity of life and abundance of water on Pandora
Pandora expedition reports: new species found
Mission to planet Pandora sends new images
Pandora mission reports new life forms
Alien creatures found on Pandora

It's a rare occasion that I come across a band with Lamma members I've never heard about before.
Today is such a day. Introducing Lamma Quintet! Performing tonight, 8/8, at Peel Fresco Music Lounge.
Not performing on Lamma yet, hopefully soon, but in the Peel Fresco Music Lounge in Central, performing tonight.
Members Andrew Collier and Jimmy Pittman live on Lamma, Pierre Veniot lives in Tuen Mun, often visiting Lamma, Tsui Chin Hung is born in HK.
Hmmmm, a quintet with only 4 members, instead of 5?

What's new in Prime Bar & Grill on Yung Shue Wan's High Street?
"Prime has a new menu with light tapas for the summer months, but we are also still serving favourites from the previous menu. See attached menu and some photos of the new tapas dishes, as follows:
Olive and Sundried Tomato Risotto, Bacon and Egg Slider, American Baby Back Ribs, Beef Brisket with Coleslaw, Vegetable Ratatouille, US Sirloin with Mustard."

New promotional poster, celebrating 12 years of this website. I used digital artworks by Yuri Malkov from Moscow (see his new Lamma fine art gallery):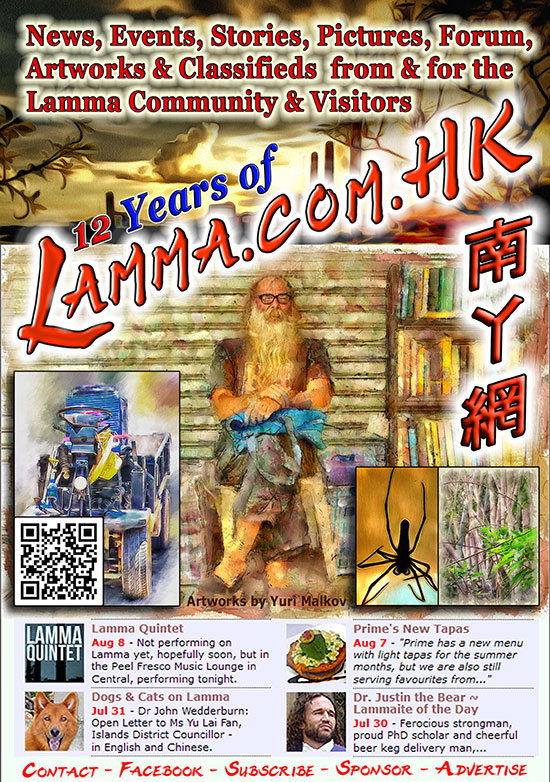 SCMP, Letters to the Editor, by Ed Stokes:
"Forget tower blocks at Lamma quarry and clean up village areas"

Introducing our newest, bilingual guest blogger, Lamma's brand-new Police Chief,
Camas TUNG Hei-man - "Woman Inspector of Police, Lamma Island & Peng Chau, Cheung Chau Division":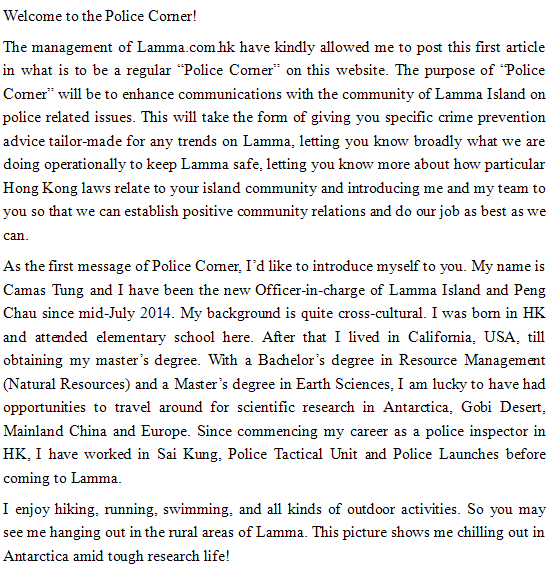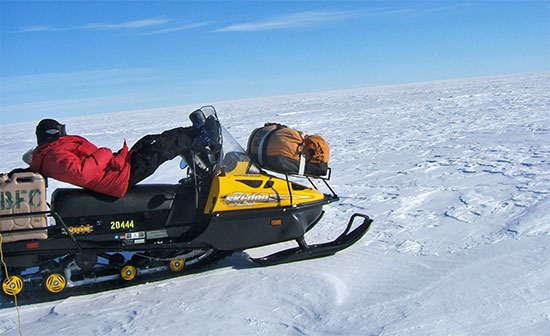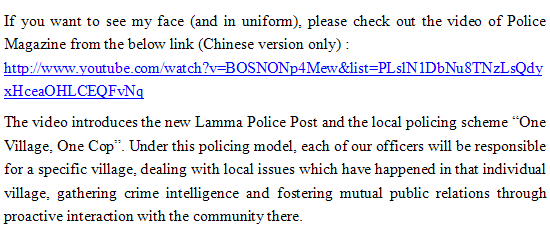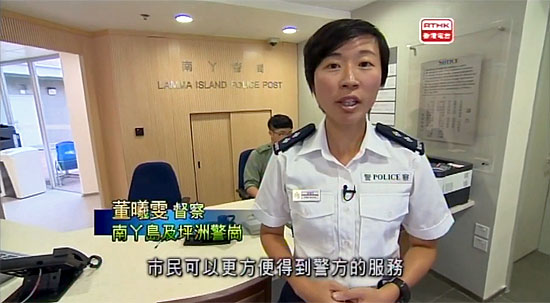 More Police Corner in Eng./Chin., plus your comments...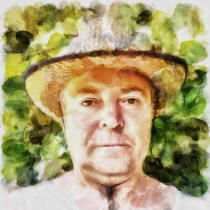 "I was looking for a quiet place close to Hong Kong with small hotel on a beach, not crowded, where I could enjoy the sea, nice view and food for a few days.
I and my wife Julia were visiting our daughter Polina [see below] who studies law and human rights at the Chinese University of Hong Kong. Hong Kong itself is great and I love it. However, I was really up to having some rest outside of the city, swimming in the sea and walking along the nature landscapes as we as small villages. I found lots of pleasant reviews about Lamma Island and I decided to try it on. And I had no regrets about my choice.
We stayed at Concerto Inn right at the [public Hung Shing Yeh] beach and this was fantastic. Friendly hotel staff and convenient location made our stay absolutely adorable. We enjoyed the sea, the beach, the people around, our walk to the village, bars and restaurants there, the big spiders and huge butterflies.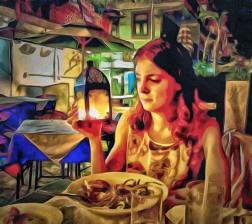 In the end, I even loved the power station which showed up so naturally in every corner of the island, and I'm sure is very needful for the local population. I also loved the truckies (my word for small trucks), which were sneering along the narrow streets and actually doing quite important work for the island.
I love taking picture at the places I visit and then convert them into digital paintings which I then post at Fine Art America web site. Sometimes, somebody even buys the prints of my art works. [Ed: click below to enlarge and buy.]
In my normal life, I work for an international telecommunications company in Moscow, my wife is a psychologist, and my daughter is a student living in Hong Kong.
When I visit Hong Kong again next time, I will definitely come over to Lamma Island. I absolutely love it and I will make much more pictures which I missed this time, especially of Nick the Bookman. :-)
Cheers Lamma, Yuri Malkov"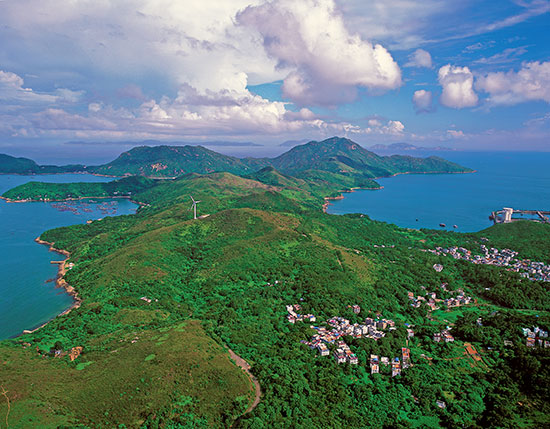 Lamma seen from a helicopter. Photo provided by Heliservices Hong Kong, who are currently offering 5-minute flights for $500 over Victoria Harbour.
Click to enlarge or contact me for a high-res print file.

Having left Switzerland half a lifetime ago, I rarely get homesick, except maybe once a year, when we visit Swiss Chalet restaurant in TST East for a real Swiss lunch on National Day, today!
It's top-quality, but very affordable for a weekday set lunch, well below $200. Once a year, this is our Swiss treat, at least till we can afford another visit to my former home. It's been 9 years, very tough to afford the air tickets these years.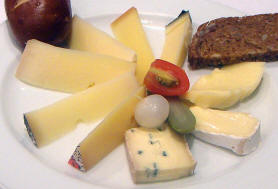 Chalet's food is not quite like my mother used to make it, but it's very original as the Swiss-German owner has been running Swiss restaurants for decades in HK. But we had no cherry tomatoes in my ancient childhood days and Swiss Chalet really LOVES their cherry tomatoes, see below. There are only two Swiss restaurants in HK I know of. The other one is inside the Peninsula Hotel, Chesa, but it's unaffordable, expect on expense account. Those were the days...
A few pics of our courses and they don't even include the Swiss cheese platter, included in the set lunch as a dessert option. For more info, check out the 188 reviews and 611 photos on OpenRice. We don't seem to be the only ones who love Swiss Chalet, at least once a year on National Day.