From our regular guest blogger, Lamma Police Chief Camas Tung, this month's Lamma Police Corner: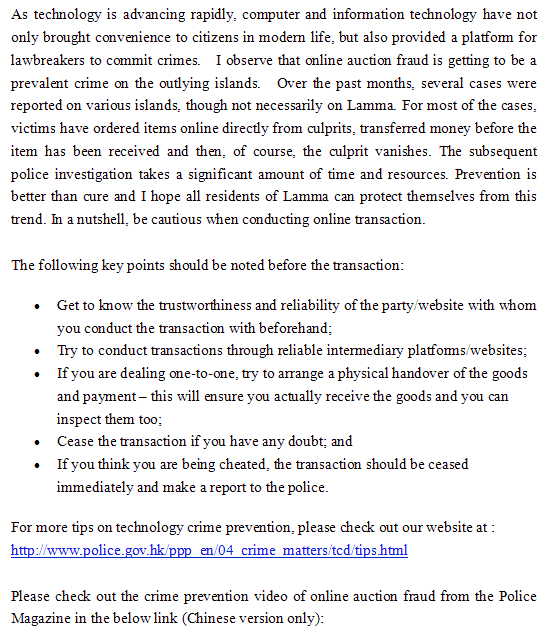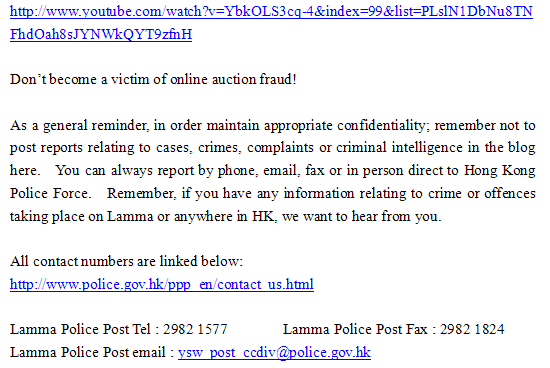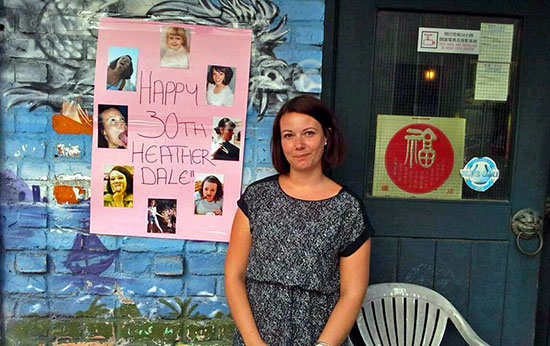 You might remember our quirky Happy Birthday to Adele! story on Aug 17. Or probably not. Anyway, Adele has recently enacted her sweet revenge on her BFF Heather, by hand-crafting the poster above - with lots of "embarrassing" pictures - and stuck them up on some walls and fences around YSW. Revenge is a dish best served cold and it's definitely cooled down a bit since Aug 17 and their friendship fully restored, we hope.
---
Meanwhile, this Dynamic Duo who loves to feud via public posters is Facebooking about this controversial story on BuzzFeed magazine:
A Field Guide To HK Basic Bitches - Lamma Basic Bitch:
Her habitat: Shares a multi-tiered townhouse with her English teacher/artist/just-arrived in Hong Kong friend, will move off once she's dated everybody within a 10 year age range on the island
Drinks: Overpriced dandelion soy latte and kombucha. Will try to convince everyone to drink at Pier 7 so it's easier for her to catch the last ferry.
Most Mystifying Behavior: Talks constantly about how community-like Lamma feels, only talks to expats.
Biggest Pet Peeve: Disco Bay, Pui O or Shek O people.
Hashtags: #ferryproblems #whenyoufindapythoninyourbedroom #everydayisabeachday, has posted a photo of the city's pollution with a caption of #globalwarming #worried
---
P.S. We agree fully with BuzzFeed's reminder below as it applies to parts of Lamma.com.hk as well, especially our free-speech, uncensored forums:
"This post was created by a user and has not been vetted or endorsed by BuzzFeed's editorial staff. BuzzFeed Community is a place where anyone can post awesome lists and creations."


I've been "strong-armed" into joining a new Bear Camp!
My long-time weight loss doctor in Queen Mary Hospital, Dr. Chan, and Dr. Urso the Bear seem to have teamed up to give me some "doctor's orders" to return to fitness ASAP!
Well, I've been hibernating, e.g. severely slacking off over these sweltering summer months, mostly remaining inside air-conditioning 24 hours/day, only venturing out of my home office to shop, eat out or meet people. My bike has gone rusty, my hiking boots moldy, my bones creaking and my muscles atrophied.
It's high time to get OUT OF HIBERNATION and get active again, me returning to being still FAT BUT FIT!
Join us Lammaites of various ages, nationalities, shapes and sizes who are all either new to or returning to fitness training this Monday, Oct 13, 8am, on the 1st Cable Road!
No ribbed abs, bear roars and no taking our shirts off in this session, unlike some of the other "strongman" Bear Camps. No need to feel intimidated, these sessions are for everybody and we have a good mix of people of various ages, nationalities and fitness levels joined up already.
Dr. Justin the Bear writes on his BEAR CAMP - OUT OF HIBERNATION Facebook events page (join up to get invitations!):
"RETURNING TO FITNESS??
Introducing:
BEAR CAMP - OUT OF HIBERNATION - Mondays, 08.00-09.00" Read more...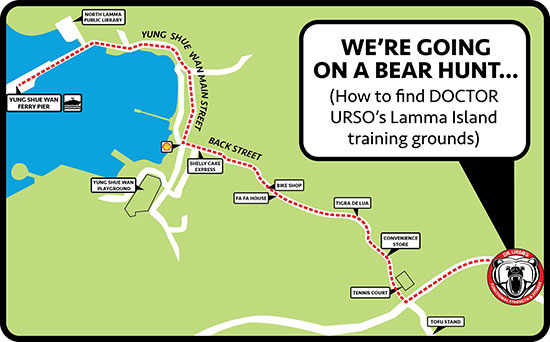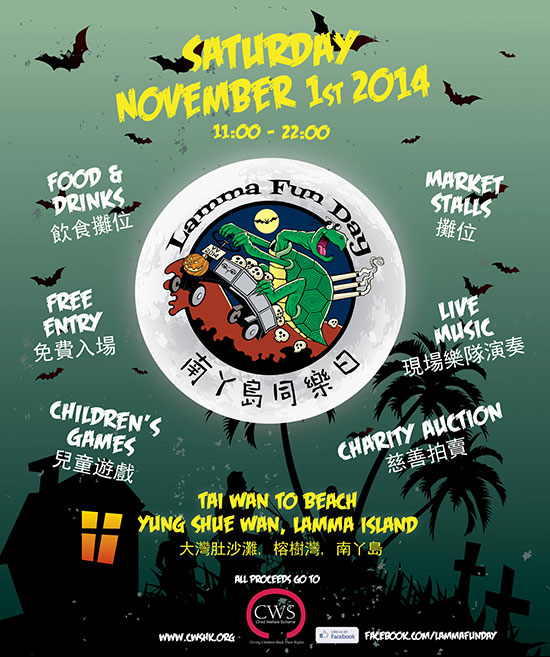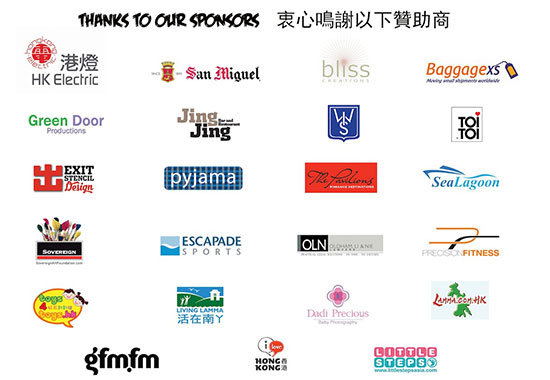 Lamma.com.hk is proud to be a Media Sponsor (right in the 2nd last row above) once again. We seem to be in great company, looking at the other logos.
Be prepared to see and hear a lot more about the Fun Day before, during and after this great, yearly community event!

Granny Chan, how is she these days?
My American neighbour is visiting her quite frequently in an "old age home" in Aberdeen. She mistook him for a priest the first few times. He writes: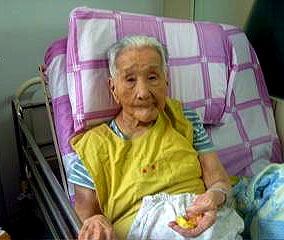 "You may know her own name is 溫. The first time I went to see her, the staff said we don't have a Granny Chan from Lamma. Finally we figured out that was her married name, not her name!
Aberdeen 護老院 - 舊大街 82號,
3/F - Tel. 2552 2000.
It's very near a small Wellcome and Tsui Wah Restaurant.
Granny Chan loves egg tarts and fruits that are easy to peel."
Within a single day this photo has become my 2nd-most popular Facebook photo, 145 Likes and 29 comments so far, lots of affectionate comments for this "Living Lamma Legend". Thanks to Bud for shooting this photo in Aberdeen the other day, upon my repeated requests. ( ;~})
Granny Chan is welcoming visitors, contact details above!
Some comments from former and current Lamma residents:
"Wonderful stuff..... Lived just round the corner from Granny Chan for over five years.... Great to see her photo......"
"Aahhh, so Granny Chan is still going strong, she is legend on Lamma and don't think she will ever be forgotten, still see her hiding behind the boards in the shop to see if you would rob her, ha ha!"
"Wow. Granny Chan was already ancient when we left Lamma in 2002. Can't believe she is still going strong. Good on her!"
"Loved the pull down ding-a-ling change bucket. The suspicion and disdain she showed when you asked for a pack of king size Rizlers......."
"She looks fantastic! Considering she must be over 150 by now! Lamma's very own living legend. x"
"OMG!! I'm so happy to finally know where she is, can we visit her? She watched me grow up...since we moved to Lamma in 1981. I miss her smile."
"Wondered what had happened to her. A fine bit of sleuthing, LG."
"Ahh! We love you, Granny Chan! Fif-if-ty cents change, whatever I bought!"
"She sold me many a Singha beer on a daily basis. Bless her. x
"A legend round the world."

What's happening with the Baroque on Lamma project in South Lamma, while the Govt. is searching for a developer for their planned 5,000-residents new town in the ex-Lamma Quarry?
No, Baroque hasn't given up after being turned by the Town Planning Board a while back, far from it. Have a look at their revised plans in their latest e-News Flash:

You might have noticed several downtimes of our web site recently. Also, the automatic email notifications from the forum have been out of order for several weeks, making our forum functional but a bit less convenient than before.
It's all been resolved now! Our normal, reliable service has resumed, we hope!
Please let me know right away if there are still any problems!
Email from our (forum-only) webhosting company of 12+ years: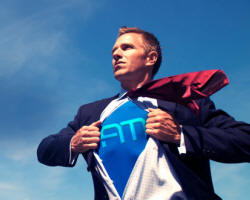 "All of the servers running our hosting customers with Plesk or cPanel are old and beginning to fail more frequently. We implemented a new web hosting platform last year when we relocated to our new data center in Tempe, Arizona. We are now moving all web sites from the old cPanel and Plesk platforms to our new web hosting cluster.
The new web hosting platform is a much more robust platform using a load-balanced cluster of 39 web servers backed by a 37TB Netapp storage device.
The web site service for lamma.com.hk was moved to the new platform.
Our administrators moved all web site and email files, all settings for the web sites and email addresses, and verified proper operation of all services. After the site was moved, our administrators used the web site to make sure that everything appeared to work properly.
However, because each web site is unique and may contain hundreds of pages, it is possible that we missed something. If you notice anything different, please let us know and our administrators will make every attempt to repair it."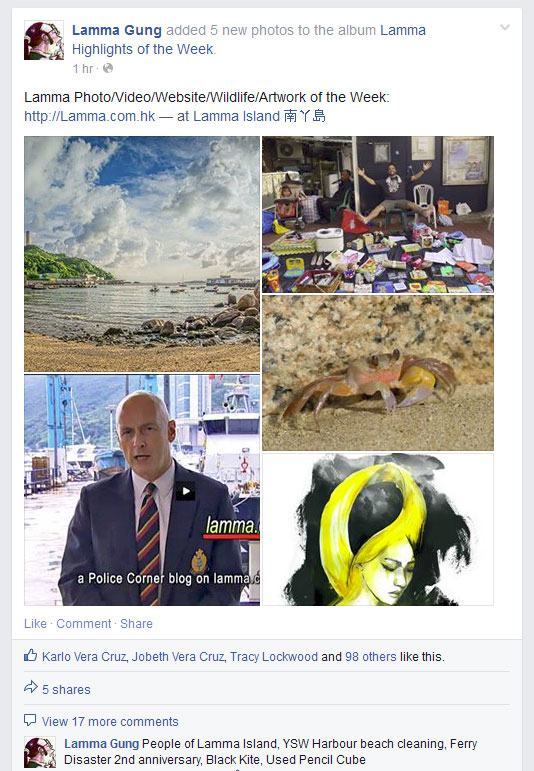 ---
This week's Lamma Spotlights:
"YSW Harbour after Living Lamma's beach cleanup, Lamma.com.hk on Police Report, AmiBongo children charity sale, Lamma Crabs, plus another Occupy logo".
With many sincere thanks to our "content contributors" Karlo Vera Cruz, RTHK TV, Alain Jaquier, Howard Sheard and Tanya Piratay;
And thank you to all my Friends who help to reach 100 Facebook Likes for my Lamma Spotlights of the week album today. This album, updated weekly, is kind of an archive of the last several months, also linked from the Spotlights of the Week column on the right side of this page.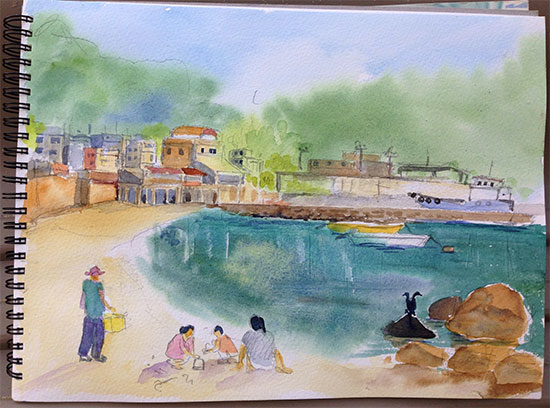 Living Lamma: "Low tide tomorrow is around 3 pm if anyone wants to get some exercise shifting construction rubble, or even just wants to walk along and see the crabs.
It's also a great place for artists, as Roz Keep showed today, see above."
More info on the YSW Harbour Beach Clean-up Marathon, started on Sep 21.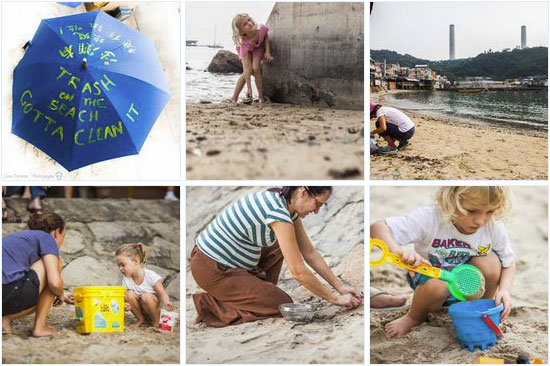 See more of the daily progress of this 42-day marathon...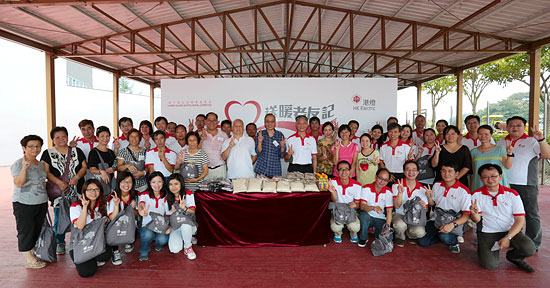 HK Electric writes:
"With "caring" as one of our core values, HK Electric recently launched Caring for the Elderly scheme at Yung Shue Wan on 18 September. About 30 HK Electric volunteers visited 25 senior citizens at Lamma North, with the support of Lamma Island (North) Rural Committee and Outlying Islands Women's Association.
To show our care, volunteers not only prepared a gift pack containing a foldable walking stick, a small packet of rice, cooking oil, dried mushroom and Chinese herbs for elderly, but also made them our friends through chatting and sharing.
Volunteers were led by the Director and General Manager (Generation), Mr. Francis Cheng, who is in charge of the Lamma Power Station (LPS). With the nickname "Lamma Mayor", Francis revealed his special relations with Lamma in the opening speech.
"You know? I lived in Yung Shue Wan Main Street until four years old. After graduation, I had taught in a school for a short time before joining the HK Electric. Since then, I have worked on Lamma for nearly 35 years." Francis said.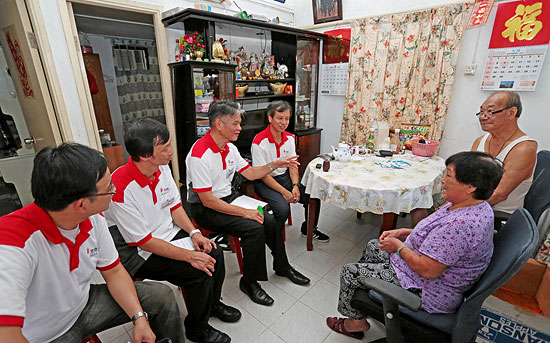 Since 1970s, a special relationship has been formed between the HK Electric and Lamma community. The development of LPS has provided many job opportunities to Lamma residents. Furthermore, electricity & running water supply were available because of the development. Last but not least, the livelihood of residents, including Mr. Chan visited by Francis, has also being significantly improved afterward.
Coincidently, Mr. Chan & Mrs. Chan also worked at LPS before their retirement. Chan said, "In 1970, the connection between urban area and Lamma was poor. It was impossible for us to work and take well care of our four kids. Luckily, the LPS and the related contractor employed hundreds of workers including me & my wife."
Caring for the Elderly is one of HK Electric's flagship community programme in community level. On top of Lamma, we have also run the scheme in the Central & Western District & Wan Chai, in partnership with the District Councils."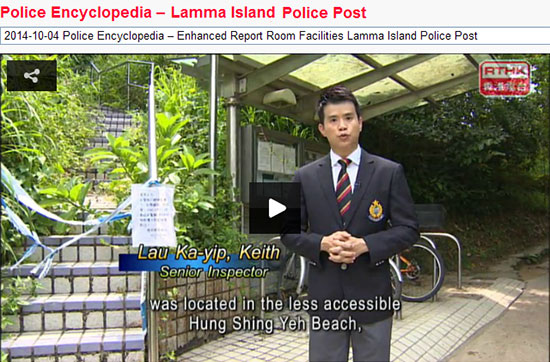 Police Report TV programme by RTHK, broadcast on TVB Pearl and ATV Jade, subtitled in English, also broadcast on the Chinese channels a few weeks ago. This website's first prominent appearance on HK TV, I think! Quotes:
"...Lamma Island is a relatively unsophisticated neighbourhood where the crime rate is low...
The Lamma Police Chief, Ms Camas Tung, has recently commenced a Police Corner blog on lamma.com.hk to give all sorts of police-related information, messages and crime-prevention advice tailor made for the island.
Please check it out on the website."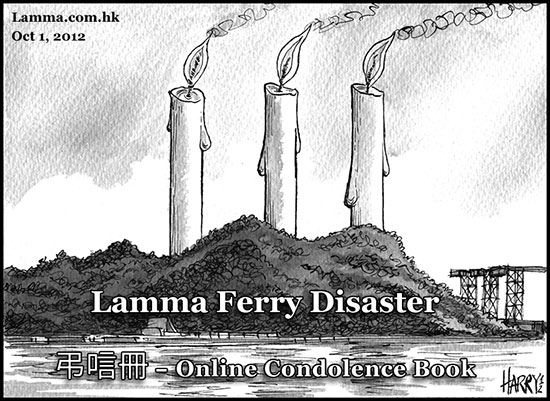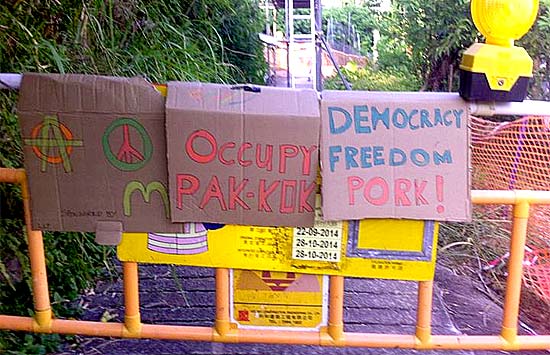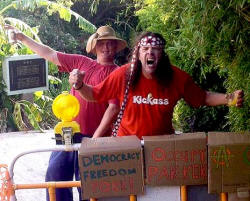 Occupy Central has spread to Admiralty, Wanchai, Causeway Bay, even Mongkok and TST. These placards went up in Pak Kok Village recently (photo by Michael P.).
But did the Govt. crack down on this spoof "Lamma protest" the very next morning?
They couldn't find any protesters at all, so they chainsawed/VVed that "dangerous tree" behind the barriers instead this morning. They removed the barriers and the cardboard placards as well, nothing left...
Might this already be the end, or just the beginning, of "DEMOCRAZY LAMMA" and #OccupyLamma?
Some residents have even asked to UnoccupyLamma on weekends, leaving more room for residents amidst the floods of visitors who OccupyLamma during these sunny summer and autumn weekends. This morning, this happened just behind the above barriers. They had been up for weeks, blocking the main thoroughfare and access to the entire village, ever since "somebody" complained about this dead "dangerous tree":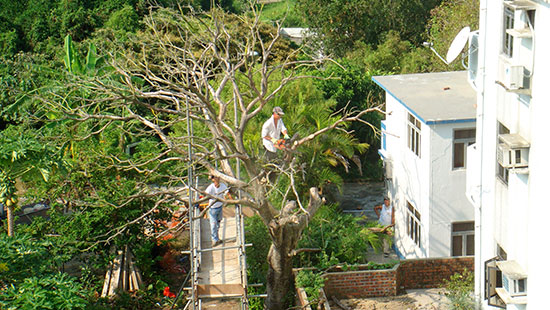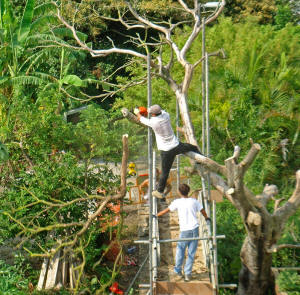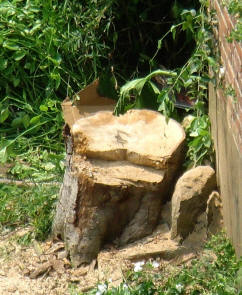 ---
Click for Nick the Bookman's "Occupy Central - some thoughts"
---
P.S.: SCMPost, Mon, Sep 29, 3.36pm: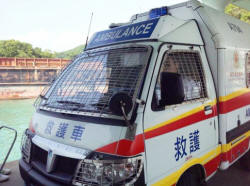 "Ambulance crews on Lamma are taking no chances - wire mesh anti-protest screens have been fitted to the island's emergency services vehicles...
Better safe than sorry? An ambulance on Lamma Island deploys riot screens in case protests spread to Outlying Islands."
P.S. II: SCMPost, Oct 1:
"Protesters around the city held a minute's silence in memory of the 39 people killed in the Lamma ferry disaster two years ago."

Click above for details and application forms to submit your photos. They might be exhibited in the Lamma Adventure Carnival on Nov 15.


Have the YSW Harbour Beach Cleanup Marathon and the Bear Camp (featured in last Tuesday's SCMP) joined forced? See Dr. Justin the Bear, recent Lammaite of the Day, join enthusiastically in the fun on YSW beach yesterday (photos by Living Lamma and Kat Carpenter).
Should we call it the Bear Camp Beach Cleanup? After "Brand on the Beach" and "Beauty on the Beach", maybe they should call it "Brawn on the Beach"?
Quoting from the Living Lamma Facebook group:
"DAY 5 of the YSW clean up marathon - oh happy day. It was like a fairy tale (Beauty and the Beach?) Big man, big muscles, large spade and particularly nasty spiky metal thing removed. LIKE!!!!"
"Here it is, the horrid metal spikey thing, being pulled, then dug, then pulled, then dug again and pulled... And out it came!! Well done Justin. We'll be down again!"
Join in, just show up at YSW Harbour beach any day at low tide in the morning or afternoon, help out and get brawny like Dr. Justin! Beach cleanups going on till Nov 1, call Jo on 9042 3241. Video:
Living Lamma's 42-Day YSW Harbour Clean-Up Marathon
by Panda Cantonese Academy
Also, help out this Sunday, Sep 28:
Brand on the Beach cleanup @ Pebbles Beach Pak Kok.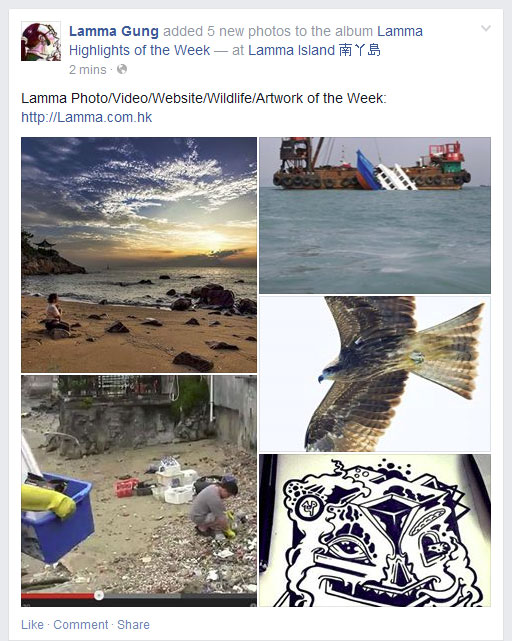 This week: "People of Lamma Island, YSW Harbour beach cleaning, Ferry Disaster 2nd anniversary, Black Kite closeup, Used Pencil Cube";
with many thanks to Sean Creamer, Panda Cantonese Academy, Anthony Dickson, Howard Sheard and Us Ed Pencil.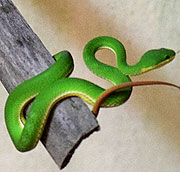 Lammaite Pascale has been bitten by a bright green Bamboo Pit Viper in the Yung Shue Long valley 4 days ago, Sep 20, 2014.
She's only just returned from Ruttonjee hospital and has agreed to share her story on Lamma.com.hk. On my request, Pascale's written a detailed account of her last 3 days. It's giving us Lammaites great advice on what to (and not to do) in case of a snake bite.
Many thanks to Kris who texted me about this serious incident and connected me to Pascale. Contact me for your Lamma stories! (Photo by Tim Bonebreak)
Pascale's Facebook Timeline: 20 September at 10:48:
"On my way to Ruttonjee Hospital. I was bitten by a bamboo snake an hour or so ago. Island police and health services have been admirably responsive."
Read Pascale's very informative story and her great advice!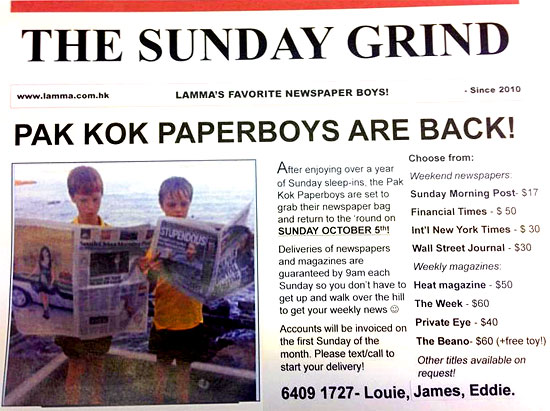 Starting Sunday, Oct 5! If you'd like them to add Tai Peng to their route, contact them right away.
If they can find at least 10 Sunday morning subscribers, they'll do it!

The Lady in the Pink Hat writes:
"DAY 2: YSW 42-DAY BEACH CLEAN UP MARATHON and we wonder what the beach would look like without the construction rubble and teeny tiny bits of polystyrene. Made soup to separate the sand from the yucky stuff. Also one of the kids who joined us wants to know why people throw their cigarette butts on the ground? Great question. Still much more work to do, so good job we made this a marathon. Also found pretty things on the beach...."
Read and see more of the daily progress of this 42-day marathon...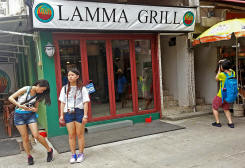 Our Official Court Glutton writes:
"Lamma Grill has been in Yung Shue Wan for quite a while, on Back Street.
A few months ago they relocated to Main Street, into the former Pizza Milano space, which was the former Deli Lamma space.
Although I wanted to do review earlier, I waited to give the owners a chance to get settled and stabilise their product and service.
As I have been unusually well-behaved, I decided I deserved a treat, thus I had a desire for ribs.
Their menu states: "BBQ ribs. Slow cooked for 24 hours and served with our own BBQ sauce". Served with fries, salad or mash.
$115 HKD for half a rack and $185 HKD for a full rack.
$115 HKD was close to my budget, but gluttony got a hold of me and I selected the full rack with mashed potatoes.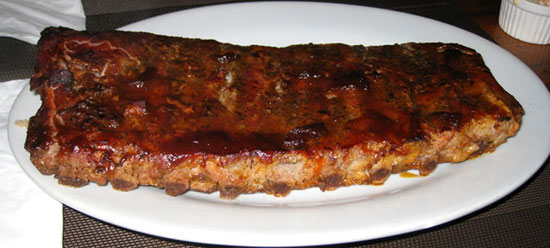 As my photo shows, the full rack covers the plate, requiring another plate for the mash.
Mash potatoes were better than average, though could have been a bit creamier, but that is a matter of preference.
The ribs were certainly large enough, cooked properly, the meat easy to remove from the bone.
The meat was not fatty, had a good mouth feel and quite satisfying.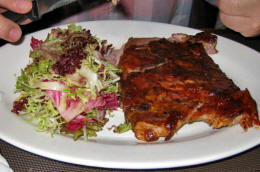 The BBQ sauce was a bit of a disappointment.
My dining partner said that there could have been more sauce on the ribs.
I don't need my ribs to drown in sauce, but I like a memorable sauce.
The BBQ sauce was boring. No tang or sharpness, completely inoffensive.
I added salt and pepper which helped considerably.
Addition of some vinegar or something would make a drastic improvement.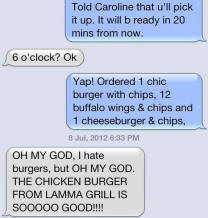 Conclusion:
A good meal. Good service. Good atmosphere and location.
I can really recommend the ribs. There have some other dishes on the menu that make me curious. A satisfying meal, though a bit pricey. Need to fix the BBQ sauce!
P.S.: In my last review, I wrote that I would try to find meals for approximately $100 HKD. It seems that as time goes on, it will be a harder task to accomplish.
I noticed some wraps being consumed at the next table. I saw that they'd fit my price point, so that will be another review."
P.S II, Oct 7: Lamma-Gung:
We finally got to try to the ribs ourselves tonight. Lamma-Por and I not being gluttons, we shared half a rack, 5 ribs, slow-cooked for 24 hours; plus a great, colourful salad, $85 + $30. The ribs being so huge, half a rack was sufficient meat to share. At $85, the ribs would make a great lunch, well below $100. But they only serve food after 5 o'clock on week days.
It was a very satisfying meal and I congratulated recovered chef James afterwards. These ribs are just so yummy, succulent, falling off the bone; best ribs we've had in years! I had a hard time to refrain from llicking my plate as the BBQ sauce is just so delicious. I disagree with our Official Court Glutton above as the sauce is just perfect, IMHO.
For a 1-glass-of-wine-per-day connoisseur like myself, this must be the only place in Yung Shue Wan that has FIVE house wines at $40/glass! Loved their rosé!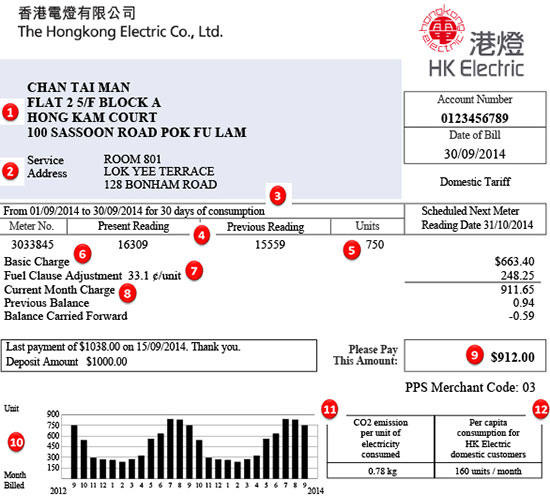 HK Electric eSubscription - HK Electric New Bill Presentation:
"Starting from September 2014, our bill has taken on a new look to give you clearer information at a glance." Click on red circles above for descriptions.
$30 Incentive - E-bill promotion:
To promote a low carbon lifestyle, the HK Electric rewards eligible customers who opt for receiving e-bills between 01/04/2014 and 31/10/2014 a one-off $30 incentive to offset electricity charges. Customers may choose to receive the reward on their first e-bill or to donate it to one of the designated green groups via HK Electric.
Please refer to the Terms and Conditions for details, FAQ, or call our e-bill promotion hotline at 8102 0123."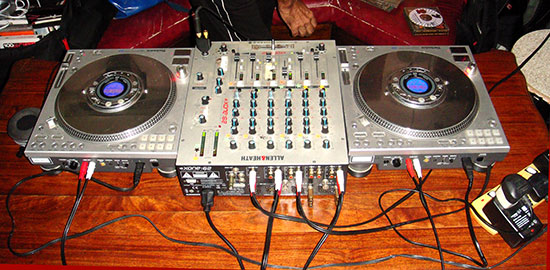 DJ gig at Lamma Grill - Sep 3, 2014
Review by DJ Nick the Bookman
"Well, there's a lot to get through now, so lets just jump right into the thick of the action. It's 1900 hours on Wednesday 3/9/2014 and Jim and I are going to be sharing the DJ duties at the sixth weekly DJ showcase at the Lamma Bar and Grill. Jim has already appeared there, but it's my debut. Jim has kindly brought his "wheels of steel" (i.e. CD decks) and a mixer so we can both go Old Skool. I don't (make that can't) DJ with e-decks and computers and UBS sticks, but I do have some interesting CD's I'm looking forward to playing. I get to start the night as Jim has gone for his dinner. Caroline and Raj, my genial hosts, have made me feel more than welcome and so, hey ho, let's go.
Lamma-Gung has come and snapped some photos of me playing to an empty room. I'm showcasing some of my most liked songs and tunes. Americana, some world music, some old folk stuff by Eric Bogle about WW1. I'm not bothered by the lack of audience. There is one. Lisa and Jim and a few other people are sitting out back where the speakers work very well. (Something, I only find out later, but, hey, they're not in my face chanting for impossible requests). Stress levels are basically nil. On with the show...."
Read more of Nick's chillaxing review of the DJ Night...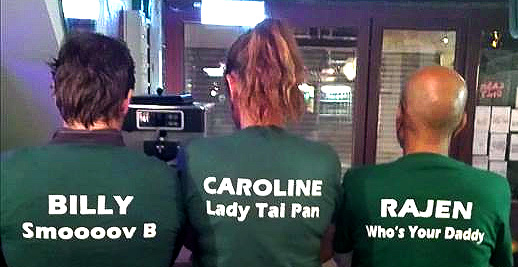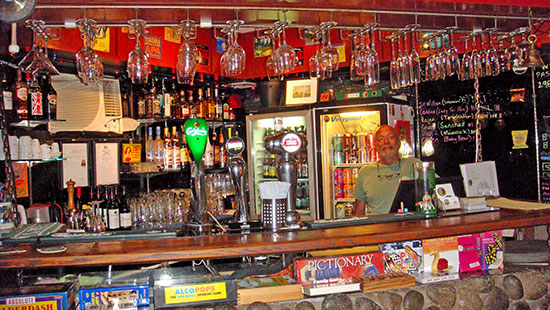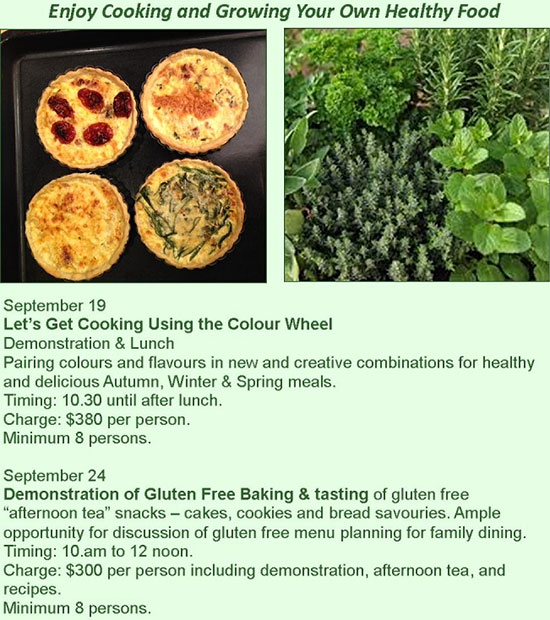 Click for more classes and demos in Oct...

YSW Harbour's old jetty last night (my own photo), plus a fabulous HDR (High Dynamic Range) shot from our newest Lamma-zine contributor, Karlo, a 5-year Lamma veteran:
The old jetty is a major photo taking spot, especially at sunset:
Alain Jaquier - More photos...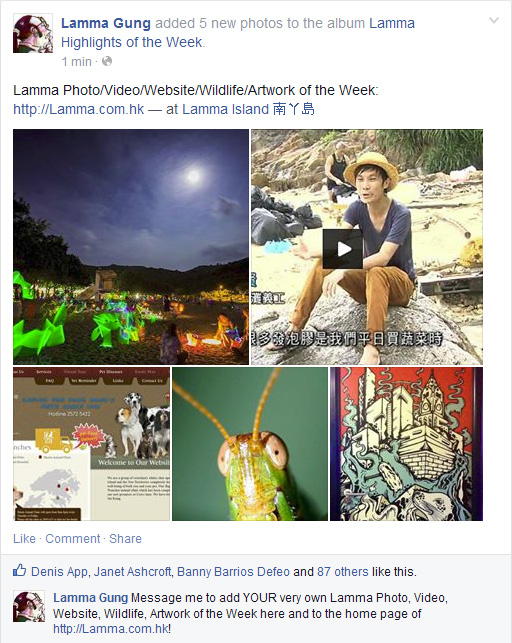 Click on the right column's Highlights to have a closer look and read the captions.


Police Corner: Mid-Autumn 2014:
Camas Tung, Inspector of Police,
Officer Commanding Lamma Island & Peng Chau:
"Mid-Autumn Festival, one of the largest festivals in Chinese culture, is coming up. If you see the posters at piers, you may have been aware of the mid-autumn carnival which will take place at Yung Shue Wan Sports Ground between 7 pm and 10:30 pm on 6th September 2014.
Are you an expert on police-related issues on Lamma? Come and take the challenge at the "Police Riddle Stall" designed by Lamma Police for the carnival and win one of the prizes below. Even if you are not an expert, come and see how many riddles you can solve."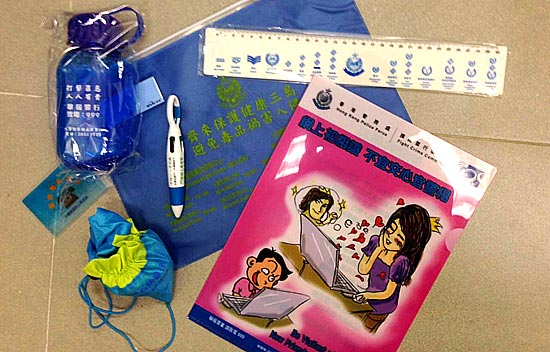 "Lamma Police's Got Talent? Take a guess? One of our officers has got talent in magic and will demonstrate it at the carnival. Lots of fun that you can't miss, or take the chance to come and just say hello!

Back to a local issue, some of you pointed out that the address numbering on Lamma is quite confusing and our officers may take time to look for any particular address during emergency. Our officers are generally conversant with the addresses on the main paths. However, we may take a longer time to locate you if you are in a rural or isolated area on the island, even with a specific address.
While we would do our best to mark rural addresses on our map, I appeal for your assistance in giving us more descriptions of your location when you call the Police for help. Descriptions may include numbers on lamp posts and slopes, the closest landmark and/or surrounding features. With more information, we will be able to reach you sooner.
For your information, the English version of the TV episode on Lamma Island will be shown on "Police Report" at 7:20 pm on TVB Pearl on 27th September 2014 and 6:50 pm on ATV World on 28th September 2014.
As a general reminder, in order maintain appropriate confidentiality; remember not to post reports relating to cases, crimes, complaints or criminal intelligence in the blog here. You can always report by phone, email, fax or in person direct to Hong Kong Police Force. Remember, if you have any information relating to crime or offences taking place on Lamma or anywhere in HK, we want to hear from you.
All contact numbers are linked below:
http://www.police.gov.hk/ppp_en/contact_us.html
Lamma Police Post Tel : 2982 1577 - Lamma Police Post Fax : 2982 1824
Lamma Police Post email : ysw_post_ccdiv@police.gov.hk"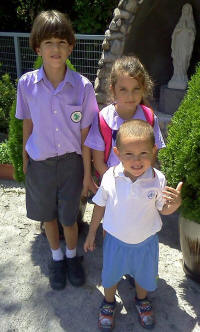 Dr James Fullwood:
"All three of my kids are going to school on Lamma (P1, P2 and K1) and the experience has been great! Lamma Island has both a kindergarten and a primary school, located on opposite sides of the basketball court up from Tai Yuen Village. The teachers and staff at Lady of Lourdes Catholic Kindergarten are all so friendly and provide the students with a very warm introductory learning atmosphere (and not too much homework).
At Northern Lamma Primary School they are a bit more strict, and I may get yelled at occasionally for forgetting to return a circular, but I like the fact that there's discipline in the school as opposed to the rowdy elementary schools back home in the U.S. (You should see how well behaved the kids are when they take a ferry ride with their classmates for a field trip.)
As nearly half of the students at Northern Lamma School are not native Cantonese speakers, I've noticed that some parents seem unhappy with the heavy emphasis on Cantonese as opposed to English.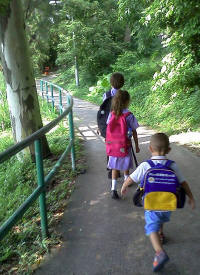 However, in my (humble) opinion the school is fundamentally structured in a way that caters to the needs of foreign students. In particular, the teachers stay after school everyday to help the non-native speakers with their Chinese homework, something that would probably not happen if they went to a school say in Causeway Bay, for instance.
But let's get realistic here, could you imagine a Chinese person moving to the U.K. and complaining to the teachers about the lack of spoken Chinese in the classroom? In any case, in a couple of years, my kids will be walking themselves to school (albeit through the jungle), and not many Hong Kongers can say that!" (Photos by Mrs. Fullwood)