Sat, Sep 16
Why are HK expats still down ... about living in the city? (SCM Post)
Thu, Sep 14
Mon, Sep 4
Restaurant/Bar News: Andy's Seafood Rest., Island Bar, The Bay, Jing Jing, Bombay Bar & Rest., Kuri Kuri, Just Kitchen, Candela
Wed, Aug 23
T10 Typhoon Hato (various sources)
==>

Email us your Lamma-related news!
News Archive - Lamma-zine stories last month:
| | | |
| --- | --- | --- |
| | | |
| | | | |
| --- | --- | --- | --- |
| | Sep 22 - Today, I've finally reached the top level of Google's hobby artists, becoming an official Deep Dreamer! | | Sep 20 - "It is 7am on Powerstation Beach. ...remains of a party from the night before...." |
| | | | |
| --- | --- | --- | --- |
| | Sep 16 - Submit up to 3 photos to Lamma Calendar by Sep 17! | | Sep 15 - Beach Cleanup, Floating Tubes, Red Star Rising, DJ Jimbrowski. |
Sep 14 - Dress code: Spacey
Launch location: TBA (open-air Spacecraft during Full Moon).

Sep 13 - Getting carried away with my creative experiments is a favourite pastime...
| | | | |
| --- | --- | --- | --- |
| | Sep 12 - 150sqft micro flats have arrived on Lamma at $5,000/ month! | | Sep 4 - My latest creative experiments with my High Tide @ Fishermen's Pier photo. |
| | | | |
| --- | --- | --- | --- |
| | Aug 21 - "Twenty families strolled around Lamma Island and unfolded the "secret" of..." | | Aug 19- "By going deeper into the dream you will discover amazing new dimensions..." |
| | | | |
| --- | --- | --- | --- |
| | Aug 14 - The frequently moving seabed investigation platform just off the Pak Kok ferry pier today. | | Aug 13- Thank you, Eco-Marine, HK Hiking Meetup, The First Penguins, Sea Kayak HK, Plastic Free Seas, Living Lamma... |
| | | | |
| --- | --- | --- | --- |
| | Aug 12 - A new favourite picture of Laudable Lamma Luminary Joyce of Jing Jing Bar & Rest., of ex-DIESEL's fame, | | Aug 11- There are almost daily volunteer beach clean ups happening nowadays on Lamma... |
<!/tr>

Today, I've finally reached the top level of Google's hobby artists, becoming an official Deep Dreamer!
Joining this community almost 2 years ago, it shouldn't have taken me so long to reach the required 300 Likes from fellow artists! But I've only become hyperactive these last few days, kind of a creative Attention Deficit Disorder, a real creative obsession.
I've been spending way too much time playing with a few of my favourite Lamma photos, some of them submitted to the Lamma Calendar 2018 (deadline closed last Sunday), like this originally all-green Cable Road photo: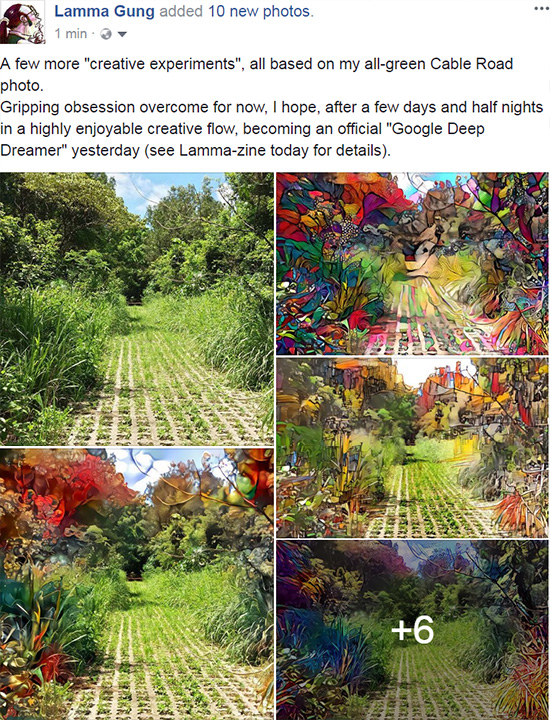 Want to have a go yourself? But beware, this stuff can be dangerously appealing visually and highly addictive creatively! Click below, join freely as a Deep Dream Newbie or get some inspiration from my other stuff: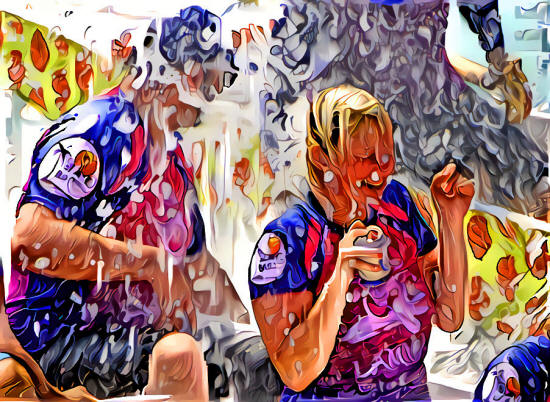 Alice Duncan (who got splashed here after the final of the YSW Dragonboat races a few months ago) outdid herself in joining the Lamma Outrigger race all around Lamma!
Her first-person tale (all illustrations by L-G, created from Alice's Facebook avatar):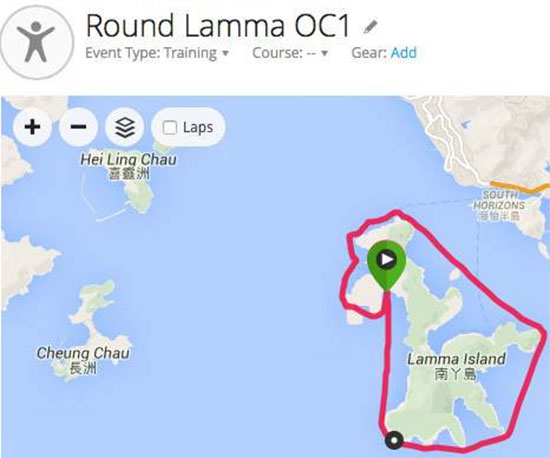 "It is 7am on Powerstation Beach. On the left side sit the remains of a party from the night before, a few revellers are still going. On the channelright, myself and five other fool-hardy Lammaites are rigging The Pure, the lightest OC6 canoe the LOCC have. Charlotte Douglas is dutifully checking that everyone has brought enough water. Brad Tarr is securing the ama. Jose is deciding how many power gels to bring and I am staring out at the ocean wondering, once again, what has possessed me to agree to this.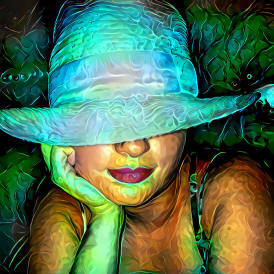 After outrigging for only a few months, I am on my first paddle all the way around Lamma, a good 23 kilometres. The furthest I have ever done before is 16 and today is already blisteringly hot at only seven o'clock, so I have a few apprehensions, but try my best not to show them. Everyone else in the boat is an old hand at the sport, so as the rookie I want to pull my weight.
Once the boat is rigged Brad, our steer, talks us through the route. "Stretch at the Powerstation, then we'll have a break when we're halfway down the channel... we have not planned a huli (capsizing the boat), but if we do the balers are here, here and here... spare paddle is tied on... take a water break if you need one". I admire Brad's talent of sounding so upbeat and motivational even when talking about banalities like lifejackets. I am in seat five which is the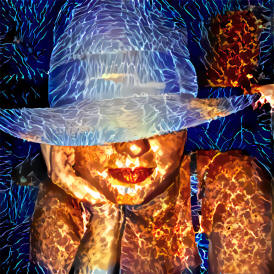 last seat before the steer. Some paddlers refer to them as a powerhouse and some as a decorative accessory. I like to think I'm the former, but we shall see how I feel at the halfway mark. We push out the boat and hop in. Brad calls "paddles up!" And we're off. Skating over the water looking like a giant insect. I can actually hear my dad's voice saying, "well, you can't go back now, girl".
Stopping to stretch at the Powerstation and all I can focus on is the heat. Even with my Pot Bellied Pigs cap on, I am having to squint, although mercifully I am dressed properly in a high necked race shirt this time, unlike at the VRC race two weeks prior where the cross strap of my sports bra left me branded with a giant X across my back.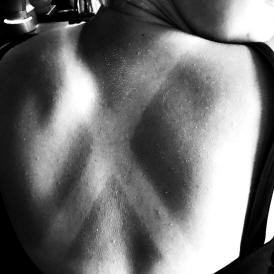 [Editor: Alice on Facebook: "The spoils from my first ever outrigger race.
#outrigger #raceday #rookie #tanlines #paddletan #xmarksthespot"
Claudia Tarr and Jess King zip past us on surf skis, making an incredibly difficult and precarious sport look utterly effortless.
Back in our own boat we have started up paddling again. Once out of the Powerstation and around Pak Kok we're in the Lamma Channel. The water is perfectly flat, save for the occasional wake coming from a passing ferry, one of which does actually cause a moment of panic when the ama pops up before being immediately forced down again by Mark in seat four. The major issue on this stretch is that the sun is directly in front of us which makes it difficult to see. A good outrigger stroke shouldn't make too much noise, so I am very reliant on watching the paddlers in front of me for keeping my stroke in time with the rest of the boat, which is not easy when there are a million megawatts being beamed directly into my eyes. And yet, I persist.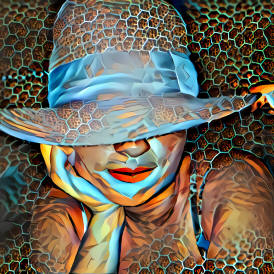 We take another short break about halfway down the channel and I have a few moments to enjoy the beauty of not just Lamma but also Hong Kong Island and Ap Lei Chau. I can even make out the sweeping lines of Ocean Park high up on the crest. From where I am it looks less like a theme park and more like the skeleton of some enormous mythical beast. I wish I had brought a camera with me.
We keep pushing ahead at a steady pace. This is a recreational paddle and our goal time is two hours and thirty minutes so we're taking it relatively easy. We continue on and on till the point where Claudia and Jess are waiting for us. We all agree that it is ridiculously hot and jump into the surprisingly cool water. "We're halfway" says Charlotte reassuringly. Halfway. Easy, I can definitely do that again, no problem!
As we round the second point and traverse along the eastern coast of the island I am struck again by the stunning vistas this island offers and it reminds me of how incredibly lucky I am. That and how life is weird. A year and a half ago I was bartending in sleepy Cambridge,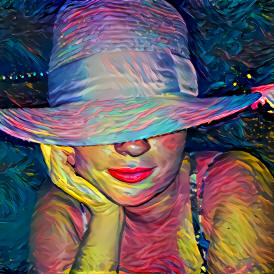 not doing an awful lot of anything. Now I am waking up early to paddle in Polynesian canoes. I remember Jess telling me on the subject of long distance paddling that every time you change direction you find yourself in new waters and think it's a rather apt metaphor for life generally.
But beautiful as this side of Lamma is, it is also cruelly deceitful as many of the bays and beaches look very similar. After this one I reckon we'll be back at Tai Tam bay. Nope, OK, the next one. The one after this. On and on. The mountains are starting to feel endless and my arms and core are aching. But energy is like toothpaste, you always have a little bit more and when Brad starts to call for some full power paddling I find it invigorating. And with the added bonus of having the sun behind us and even a little breeze my spirits feel lifted.
Eventually the Powerstation looms into view, one chimney stack at a time. This creates the very false impression that you are nearly there. In fact, you are about seven kilometres away. We take another break. I swing my legs over the ama side and dip my feet in the water and Brad very sweetly lets me have a bite of chocolate brownie.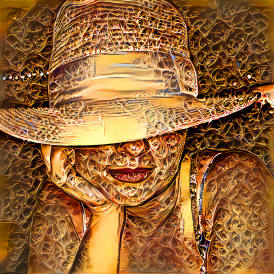 Finally, we galvanise and we focus. This is our last push. The very last stretch. It's a cruel trick your eyes play when you can see the beach you started off from and even though you are pushing as hard as you can it seems to come no closer. You are sweating and in pain, your hands hurt, your muscles are screaming, you can't see and the whole thing feels hellish. Then out of nowhere the beach arrives, Brad shouts the blessed word "let 'er run!" And you can set down your paddle and breathe.
Two angels in the form of Jenny Fulton and Megan Tanner have stayed behind after their own session to help us de-rig and put away the boat, which is lucky because after getting out the boat I realise I am walking like a newly born foal. "It was your first go-round-Lamma, right? How was it?" Jenny asks me. "Amazing" I respond, a bit dizzily.
I was too tired to respond properly at the time. All I could think of was a nap and some chicken wings from Lamma Grill with a draught of Hong Kong Bastard. So I will respond properly here.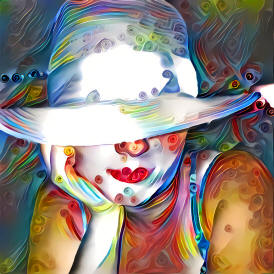 It was amazing, but it was also
Painful
Exhausting
Social
Introspective
It was a real teachable moment for me. Reminding me that I often tell myself I can't before I've even tried, but how when I don't, when I'm a little bit brace and say yes, I will get in this boat, or join this team, or fly to this place, the best things in my life have come from that. I am going round again next Sunday, hopefully faster so probably with less time for epiphanies and such, but I doubt I will forget my first paddle around Lamma for a long while.
P.S. Photos from a former "Around Lamma" race...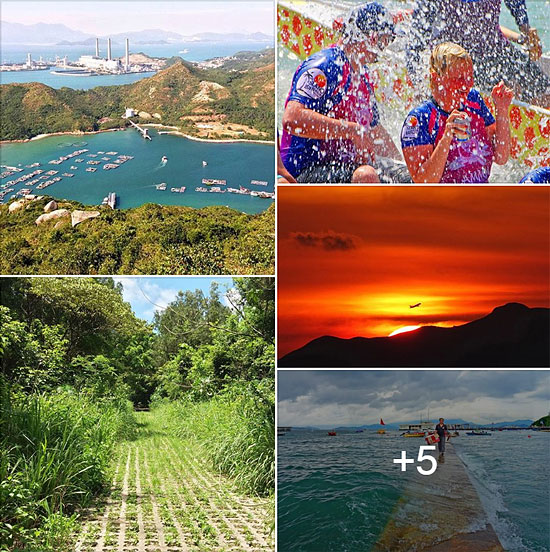 Any photo in my set above you'd like to see in the yearly, printed Lamma Calendar 2018 for charity?
Yes? No? You shot much nicer photos, we hope!
Submit up to 3 photos to Lamma Calendar 2018 by Sun, Sep 17!

Sat, Sep 16

Floating Tube Cinema @ Powerstation beach

Sat, Sep 16

D.J. Jimbrowski @ Just Kitchen Rest.

Sat, Sep 16

Beach Cleanup @ Powerstation beach

Sat, Sep 16

Red Star Rising @ Lamma Grill

More events and happenings on Lamma Island...

Lamma Book Club writes:

During the Mid-Autumn break:

SPACE STATION

A space station, also known as an orbital station or an orbital space station, is a spacecraft capable of supporting crewmembers, which is designed to remain in space for an extended period of time and for other spacecraft to dock.
A space station is distinguished from other spacecraft used for human spaceflight by lack of major propulsion or landing systems.

Orbit height: 400 km
Speed on orbit: 7.66 km/s
Call sign: Space, Station
Width: 325.5 m (1068 ft)
Pressurised volume: 931.57 m3 (32,898 cu ft)
Atmospheric pressure: 101.3 kPa (29.9 inHg; 1.0 atm)

Date: October 4th
Take-off: 10pm
Back to Earth: 6am
Music: Electronic, Techno, House

Dress code: Spacey
Collision damage: 100 HKD
Launch location: TBA (open-air Spacecraft during Full Moon)

Click above for more of my "creative experiments" and comments...

Which of these experiments should go on the "Lamma Smiles" page of the Lamma Calendar 2018? Click to vote!

And enter your own passport-size photos for this page; plus the monthly calendar pages now!

Calling all Lamma photographers! Deadline looming: Sun, Sep 17!

Peter Bolt (left in the picture) writes:

"I feel like Nick and myself have surpassed the speed of light and quantum-leaped into the infinite parallel dimension wielded by Master Lamma-Gung...
A Most Excellent Adventure!"

150sqft micro flats have arrived on Lamma (combined kitchen & bathroom, at $5,000/month!), according to this property agent window on YSW Back Street.

Click for a discussion (closed, uncensored group) and the usual long-term lament about rapidly increasing rental costs all over Lamma.

My latest creative experiments with my High Tide @ Fishermen's Pier photo (click above to enlarge).

Celebrating the approaching end of a summer full of amazing sunrises/sunsets with a few of my little creative experiments:

First T10 typhoon in HK in over 5 years today! Last time, see T1 typhoon Vicente: Lamma-zine, July 26, 2012: T10: The Great Lamma Tree Massacre.

Lamma got some of the worst of it today, so much damage all over the island, another Great Tree Massacre. Even Sok Kwu Wan Main Street was under water as the T10 storm surge coincided with a maximum tide just before lunch:

Colin Clarke, co-proprietor of the Blue Goose Tavern on the YSW harbourfront took the photos above and wrote, short and succinct:
"The way it was. We got 'splashed!'"

Not sure if he was referring to the deluges outside or the traditional typhoon party happening in his bar at the same time; note that "splashed" is in parentheses. The party lasted for 2 days, according to Colin...

But the Lamma Hero of the Day accolade goes to Jeff Toko Mango who saved a feral kitten from drowning off the YSW Ferry Pier! I shared his video above on Facebook and it became the most popular, local story of this T10 (300+ shares, almost 50k video views).

Yes, Lamma is an extremely pet-loving community and a heart-warming story like this, amidst all the destruction on our patios, balconies, rooftops, gardens and in nature all around us, really gave us pet lovers a warm and fuzzy feeling. Junior Lammaite Jeff got so many congratulations and thanks and even several free drinks for his heroic act!

Hans Andersen Club writes:

"Twenty families strolled around Lamma Island and unfolded the "secret" of green/ self-made shops on 5 Aug 2017. At the same time, they explored the history of villages. Having fresh soya milk and pineapple sticks provided in the trip were good ways to "escape" from the hot, sunny weather.

The parents shared that children from the city seldom see green environments and insects. They got the chance to experience the cozy environment on the island and talk to the inhabitants. Parents considered this was a very effective way to communicate and have fun with their children.

Lamma Treasure Hunt activities and a creative market will be held again on 4 Nov 2017. It will be open for registration in September 2017. Stay tuned!"

That Lamma Minion (a Lamminion?) photo above, inside our Hans Andersen Centre in Tai Wan New Village, was just too cute!
Here's my zoomed in and enhanced version:

Another great initiative is their Lamma Story Garden:

"Through creative stories, eco-tour and recycle activities, we facilitate parents and children to release their pressure from the city, experience the healing power of the nature, and obtain ecological and environmental knowledge.

For more details, please call 2338 8147."

I never get tired of sunsets, running up to the rooftop from my home office, setting up my pocket ultra zoom on a tripod and Wifi-connecting it to my smartphone and clicking away...

Here are a few of my favourite versions of the sunset a few days ago; Deep Styled by iteratively processing them with Google's Deep Dream Generator, which is using their in-house supercomputing capabilities:

"By going deeper into the dream you will discover amazing new dimensions and visual artifacts from the Artificial Intelligence's consciousness."

P.S. Sep 4: Going deeper...

The frequently moving seabed investigation platform just off the Pak Kok ferry pier today: The contractors are checking the feasibility and details of constructing a long, sideways-docking ferry pier (to be ready by 2021 the earliest).

Stepping and off the ferry's "nose" at the Pak Kok pier can be a treacherous adventure, especially in rocky seas. The permanent cross currents make the docking really difficult and sometimes take several attempts by the very experienced, specially qualified captains.

We learnt more re: planned upgrades of ferry piers HK-wide today:

Green tourism to get boost with renovated piers
(The Standard newspaper)

10 ferry piers HK-wide are to be upgraded or replaced, incl. Pak Kok and YSW piers! Anybody got details of the YSW ferry pier plans, as I haven't seen anything yet. I shall investigate...

Robert Lockyer writes about the palm oil spill cleanups:

"Thank you Eco-Marine, Hong Kong Hiking Meetup, The First Penguins, Sea Kayak Hong Kong, Plastic Free Seas, Living Lamma and numerous other groups and local residents for getting over 350 volunteers on Lamma today.

It's great when people, volunteers, families and NGO groups from all over Hong Kong come together as one to solve a problem."

A new favourite picture of Laudable Lamma Luminary Joyce of Jing Jing Bar & Rest., of ex-DIESEL's fame, celebrating her Big Birthday with another big Jing-Jing-a-ling party!

She was so OverJoyced to receive this fantastic collage created by Caroline Collins:

How many Lamma faces do you recognise? Click to enlarge, plus more photos!

There are almost daily volunteer clean ups happening nowadays on Lamma, with many wonderful volunteers joining from off-island. Most of the clean ups are listed here and in our Lamma Events Calendar: