| | | | |
| --- | --- | --- | --- |
| | Apr 30 - Wow, this has become my Facebook photo with the most reactions, shares and comments ever! | | Apr 29 - A history professor from a US college wrote a book about Nick the Bookman's famous great-grandfather. |
Apr 25 - "September Legco Elections
Voter Registration Stations"
| | | | |
| --- | --- | --- | --- |
| | Apr 4 - Big commotion among bird lovers the other day! An extremely rare HK visitor, a Brown Booby. | | Apr 3 - "When 'Professional and Dedicated Guardian Angel (Outsourced Cleaners)' meet 'Loving HKers'." |
| | | | |
| --- | --- | --- | --- |
| | Apr 2 - So these 5,000 free masks went in less than half an hour. | | |
<!/tr>

May 26: Lamma Wildlife Photo Contest

Online photo competition by HK Electric!
Submit your favourite photos (2-10MB) of living organisms on Lamma, from tiny to large, before May 31 to their Facebook page 44 Kennedy Road. More info:
"1) Small gift: 5 sets of electronics-pack (includes phone charger, blue-tooth speaker, etc.); plus 10 sets of green-pack (includes reusable food wrap, foldable coffee cup, etc.).
2) Copyright: photos received will be used only for our company FB pages/publications to promote World Environment Day with proper attribution to the author and the best 3-5 photos will be sent to media for promotion purposes at no extra cost/expenses.
3) Organism: animals, insects, plants or other living creatures could do. The criteria is that the photos should be taken on Lamma, that is, the organism could be found on Lamma."
4) Up to 10-15 pictures/entrant, covering different areas like animal, insect, plant and flower."
Deadline next Sunday.
Let me start off with one of my photos from our extensive Lamma Wildlife Photo of the Week collection at: http://Lamma.com.hk/forum-OK/viewforum.php?f=46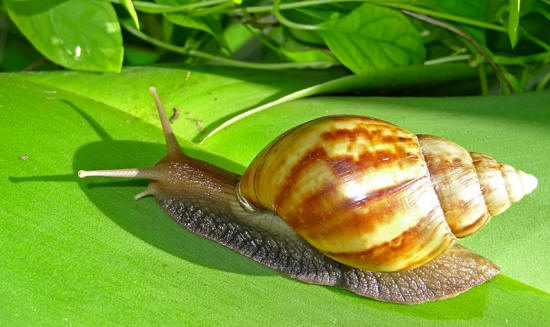 May 13: Back to Old Ferry Schedule: 20 May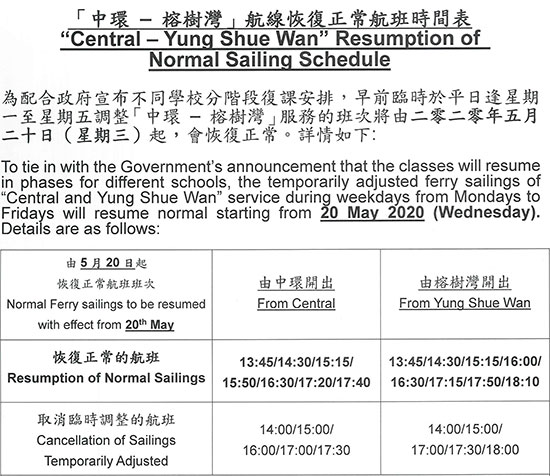 Click for more details and HKKF website
In the meantime, the long-time HK Ferry Android app has been discontinued end of April. It'll go on working fine, but no more updates.
I'll really miss it as it would let you put all 3 Lamma ferry services/4 routes onto a single smartphone screen. The only long-time app I paid yearly subscription for to avoid ads.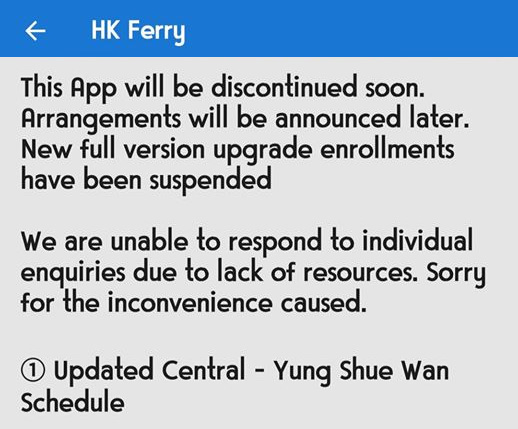 Please refer to the left column of this website for always up-to-date links to the ferry schedules.

May 12: Wild Boars + Snakes, Don't Risk It!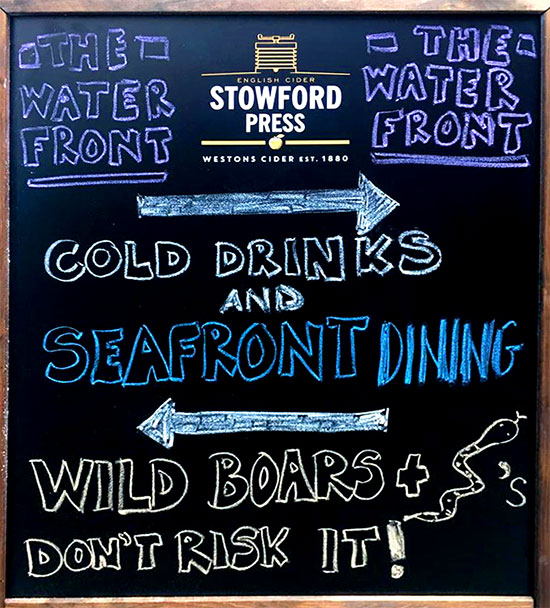 Best advertising sign for a YSW rest. I've seen recently! Turn left for the hot, exhaustive and dangerous Family Trail to Sok Kwu Wan or turn right for seafront dining + cold drinks! Easy choice! ;-}
Is this from the same person that created their professional new posters?
Click for more info and RSVP:

May 8: End of "Stay Home..."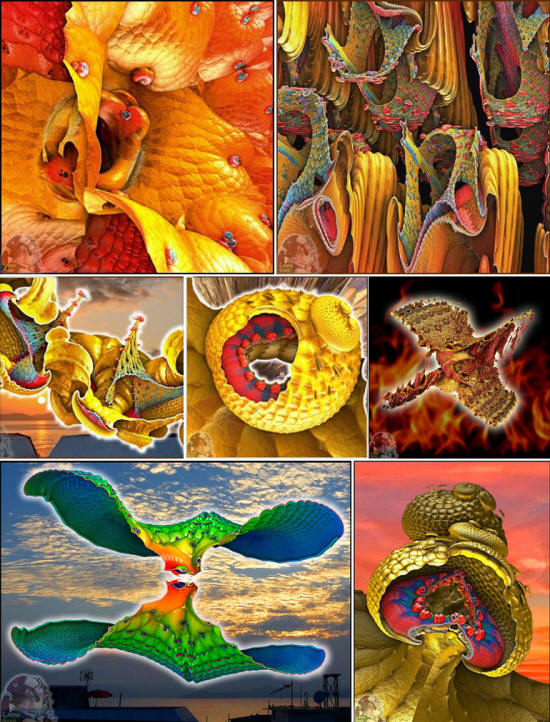 My mutations of the same set of 3D fractal formulas (original starting parameters by Sinisa Dalenjak).
Uisng this last image above as my Facebook avatar, One of this Friendversary videos that Facebook automatically generates. Love how our two avatars fit together so nicely! Mark Malby is watching me since we did a 3-person In Love with Lamma Joint Photo exhibition!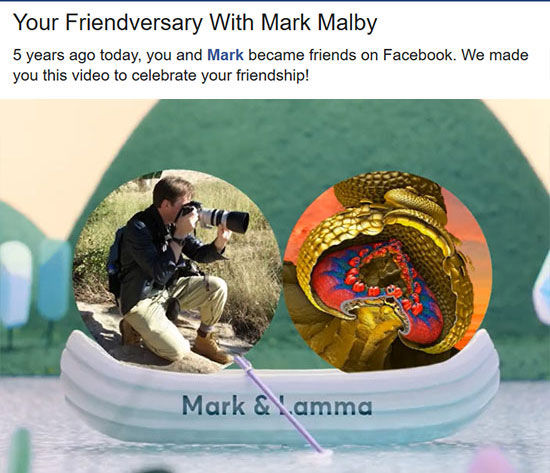 This mini-series of fractal digital 3D images is ending my Stay Home, Stay Safe, Stay Creative series of creative experiments.
Off to the cinema today!
P.S. Updating my 40-year art/photo gallery.

Apr 30: No Words Necessary...
The queue remained at almost max. density all the way into Main Street and beyond...
"Social distancing" is more kind of a recommendation in HK, never enforced or punished. Huge close-up crowds in all the never-closed shops and supermarkets, restaurants at half capacity and 6 feet distancing between tables of not more than 4 guests.
But with only 4 deaths in total so far and only 1K total infections, 0 new infections for several days now, it seems to be working astonishingly well, despite? Maybe the social-only, not-enforced pressure to wear masks almost since day 1, which almost everybody seems to be following?
Wow, this has become my Facebook photo with the most reactions, shares and comments ever, I think!
Just 1 day later, it's up to 300+ reactions, 200+ Shares. 50+ comments so far!
But these are just simple smartphone photos you could shoot yourself at almost each Lamma ferry arrival during this Buddha's Birthday/Labour Day weekend!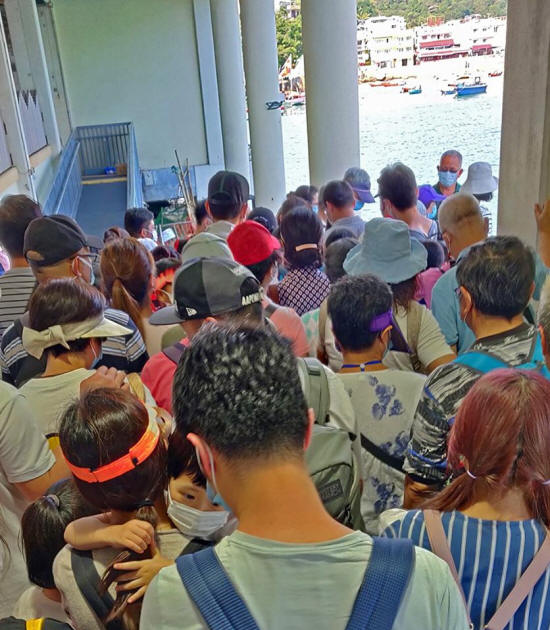 Yung Shu Wan ferry pier today at boarding time...
Best comments so far:
"What a difference a day makes!
The Govt. announces it might relax work from home, schools and leisure centres next week and POW! Let's all get out in the sunshine."
"10.30am from Central closed gate as full!!"
"Not proud of it, but it's the Hong Kong way of Social Distancing."
"Good Friday 2003: 15,000 people!"
"Nothing compared to the 400+ yrd bus queue(constant from 4-7pm) leaving Tai O tonight."
"Cheung Chau today was bonkers. Great. Close quarters. Wonderful day!
Buns et al!"
"As people aren't able to travel, I think all summer they'll be 'holidaying' on Lamma."
"OMG, this reminds me when we had SARS in 2003 and everybody invaded Lamma because we were free of SARS!"
"Not going anywhere - it's madness out there!"

Apr 29: Professors Visiting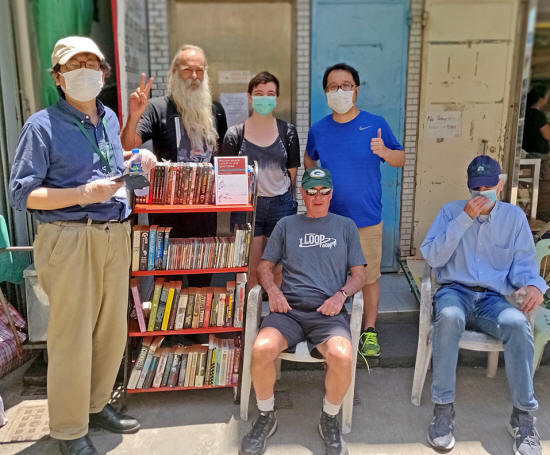 A history professor from a US college wrote a book about Nick the Bookman's famous great-grandfather.
He and his fellow lecturers have been stopping by at Nick's outdoor shop today, having an involved talk about Nick's ancestors.
Nick's sister Melle came by later as well, sharing many a story and some ancient photos of Nick's past on her iPhone family album: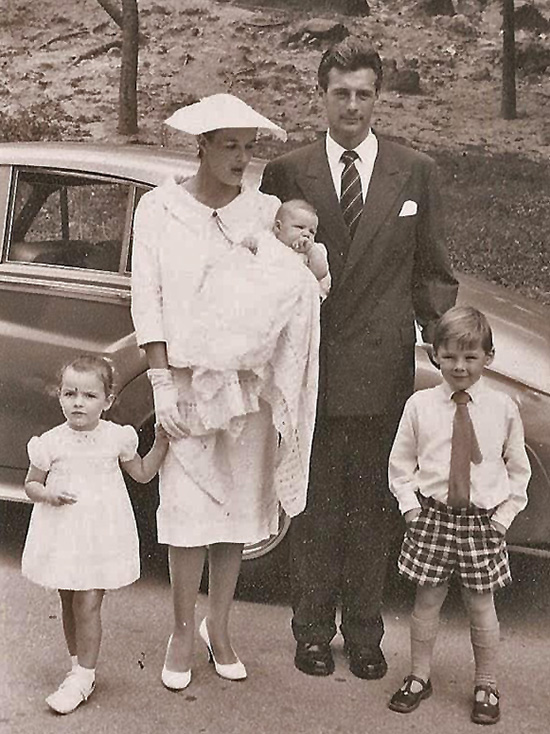 Who would have ever thought back then that their eldest child would grow up to become famous as The Original Hippie?!
More about the book and the professors' visit in the next few days.

Apr 26: Stand-up Paddleboard Graffiti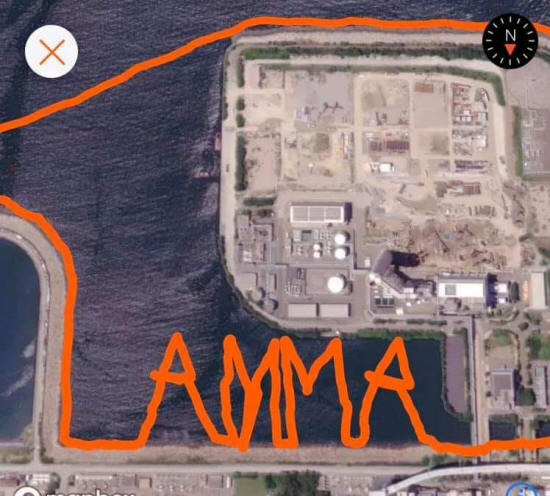 See what Brendan Sheridan did with a stand-up paddleboard and a GPS tracking app outside the Powerstation! He's been practicing his unique style of sea graffiti for quite a while before creating this masterpiece of precision and patience.
A few friends joined in with other creations, mostly swear words, but Brendan remains the master!
P.S. Brendan couldn't resist creating a Chin. version of "Lamma Island". We wonder if he takes requests for his fledgling Paddleboard Graffiti business?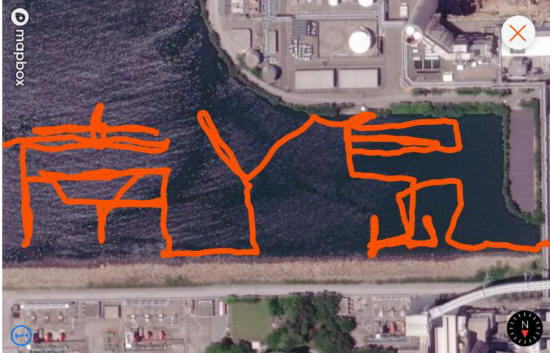 Apr 25: Register as a Voter!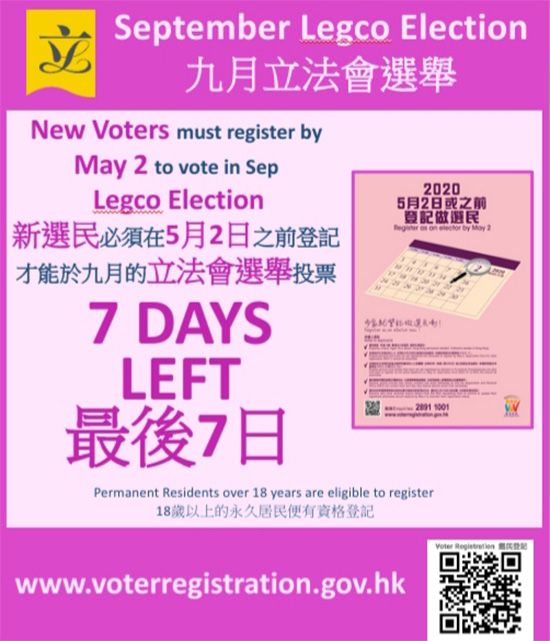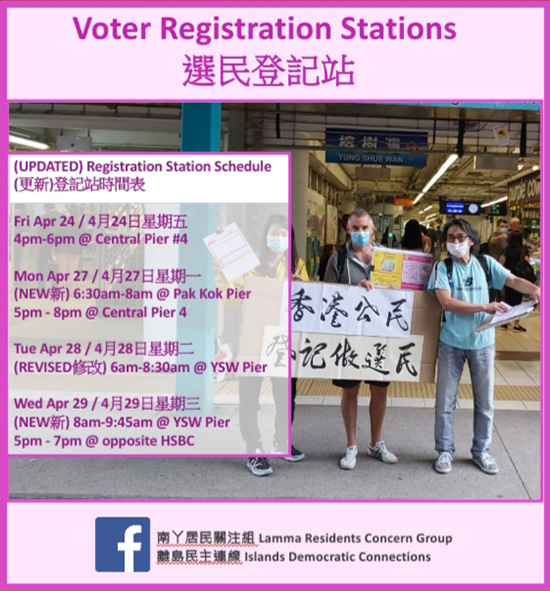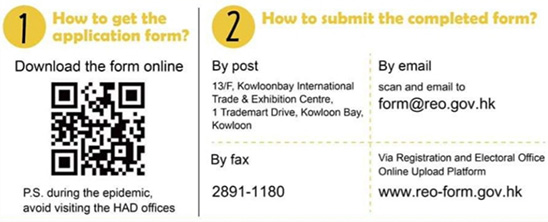 Apr 12: Happy Easter, Despite...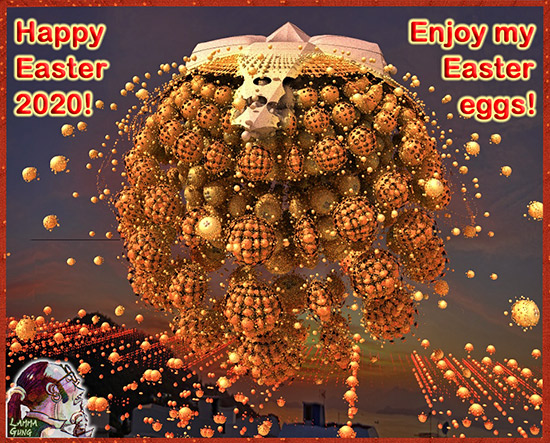 For more pictures like this, plus many other digital artworks, see my Facebook Page: Lamma Gung Art & Photography.
---
P.S. In case you're wondering about the "Despite" in the title of this story, this is why: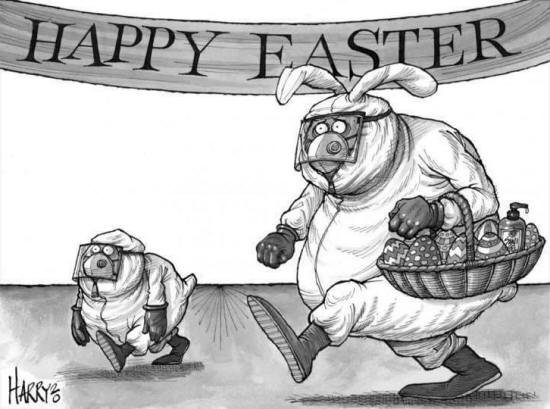 Apr 4: Brown Booby Visiting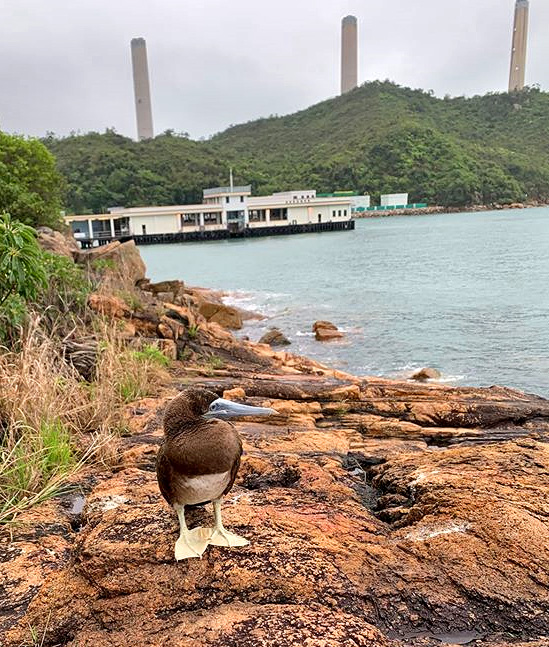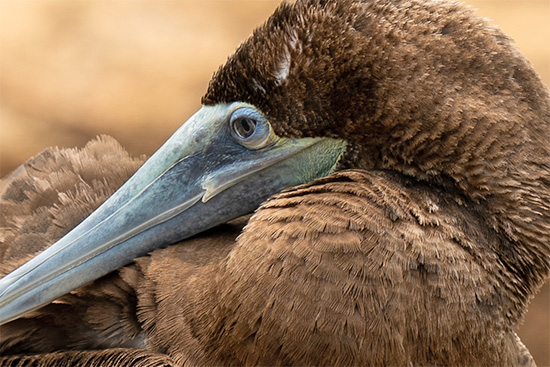 Photos by Hazel Walpole and Peter Kline.
Many more in Lamma Birds group.
Big commotion among bird lovers the other day! An extremely rare HK visitor, a Brown Booby (Sula leucogaster), made a visit to Yung Shue Wan. Hazel posted this pic above and it caused big interest among many bird photographers, flocking to the location from all over N. Lamma and even off-island.
The best photo has been taken by Peter Kline, shot from quite a distance with a very long lens. Sadly, the bird was injured somehow before resting on Lamma. It didn't survive in the Kadoorie Farm who picked it up the same day.
RIP, beautiful bird.

Apr 3: WE Love Lamma!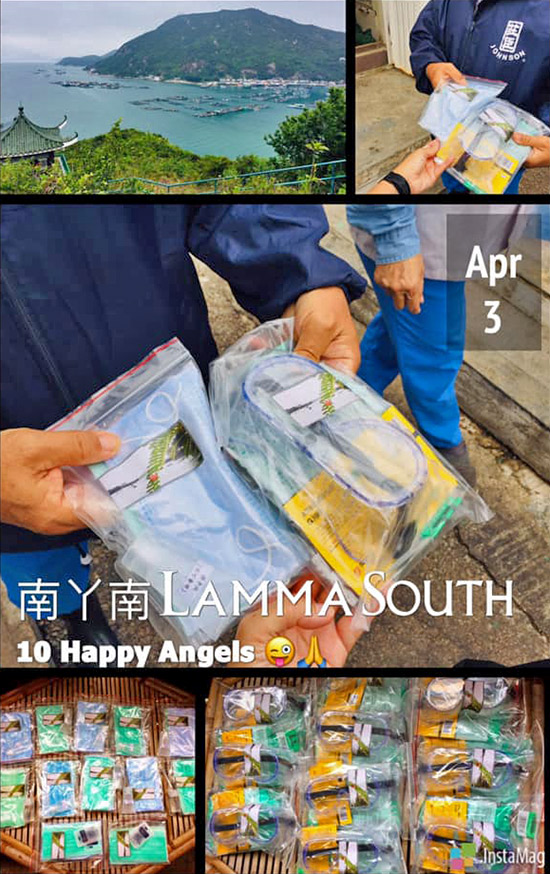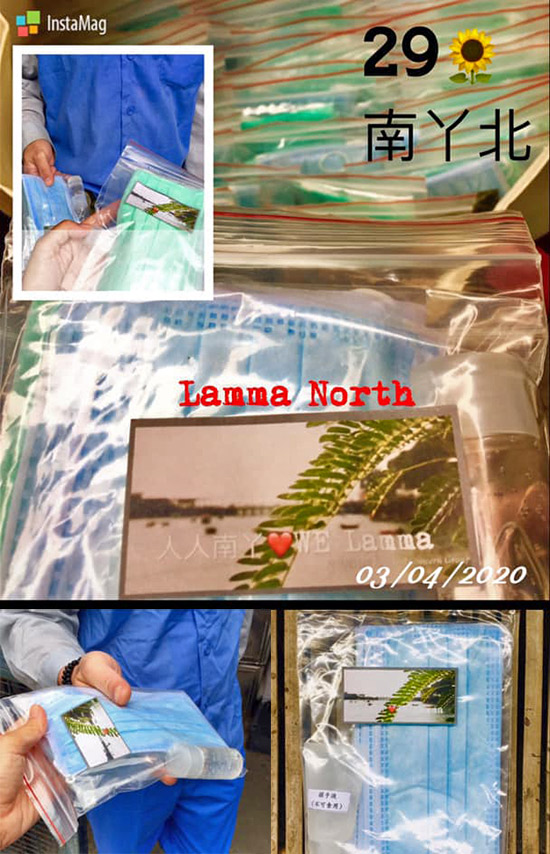 Click above for details of these free protection equipment distribution to our cleaners by Caan Chui and the WE LAMMA group:
"This organisation is a group of local islander volunteers who worked together during the 2019's Lamma and Po Toi District Council election. After which the enthusiastic group has decided to continue their contribution to Lamma by officially forming "WE Lamma" as a resident concern group."
"When 'Professional and Dedicated Guardian Angel (Outsourced Cleaners)' meet 'Loving Hongkongers'. Two words, super awesome!
Last episode (March 10):
Everyday early in the morning, a group of people have always been devoted to their duties dealing with our garbage, which also include exposing themselves to the very risky bacterial viruses we all so diligently try to avoid.
Our neighbourhood in Lamma has raised funds to come up with a little gift for the 41 outsourced frontline cleaners serving the areas of 'Lamma Island and Po Toi'. Each pack consists of a pair of 'reusable, chemical-resistant gloves and professional anti-bacterial goggles'…"

Apr 2: 5,000 Free Face Masks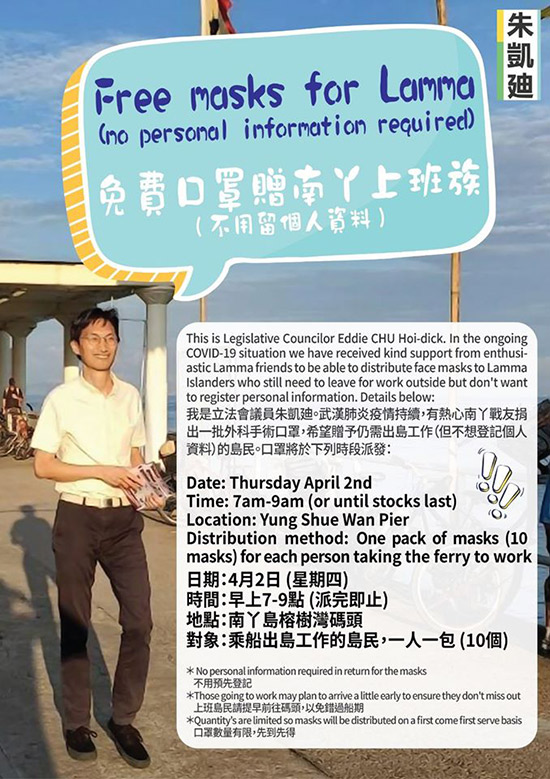 The formerly highly sought-after face masks are available in town pretty easily by now, for a price. But on an Outlying Islands under Govt. advice to "Stay Home, Stay Safe!" they're not available here at all. So these 5,000 free masks went in less than half an hour, handed by out in person by Legislative Council member Eddie Chu.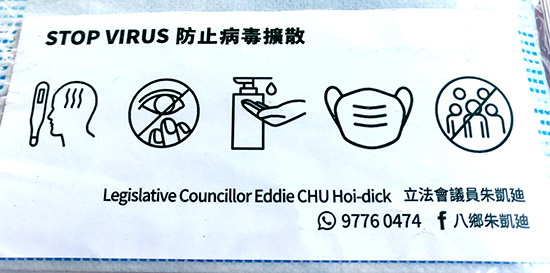 Lamma is changing over the years, no more free-wheeling Hippie Island, people becoming more orderly and so well-behaved! No mad dashes or crowds fighting over these FREE masks! Thank you, Eddie CHU!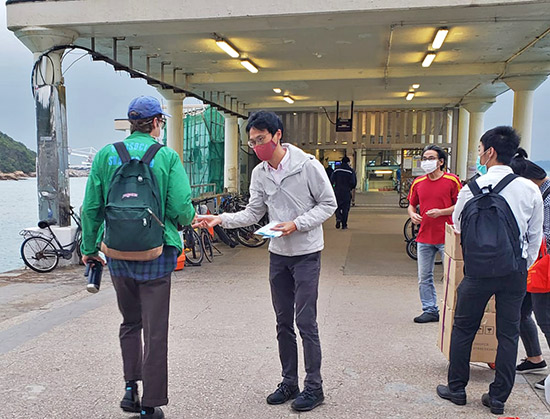 Apr 1: Lamma to Host Post-COVID-19 Triathlon
Bike Mike, ex-Lammaite Roving Reporter:
"As COVID-19 issues will wind down later this year, a still secret sponsor has announced sponsorship of Lamma Island's Post-COVID-19 Triathlon.
This major international Olympic event will feature athletes who train in three popular sporting pursuits: Swimming, Running, and Roller Sports.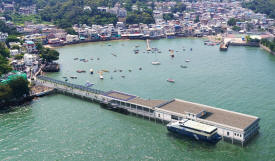 The Yung Shue Wan Ferry Pier will host the Race Start where swimmers will enter the water following inaugural speeches and the playing of China's National Anthem by Leigh & Harry, Lamma's own Bearded Ukuladies.
Swimmers will try to avoid the 4PM arrival and departures of ferries as they swim towards Kam Lo Hom, passing The Typhoon Shelter and then pass by the HK Power Station waters by Po Lo Tsui. These waters are normally off-limits to swimmers, however HK Electric has waived this restriction in the spirit of celebrating the end of COVID-19's hold on the territory. Speaking on behalf of the Australian triathletes, Brad Tarr said that the Ozzie contingent should do well in the water, particularly if there is coal freighter traffic arriving.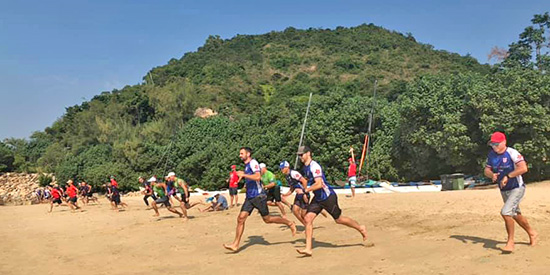 "The freighters generate wonderful waves", said Tarr, "Australians are natural surfers; their wakes will allow us to body surf through the power plant waters, while avoiding a different sort of a wake for any opposition".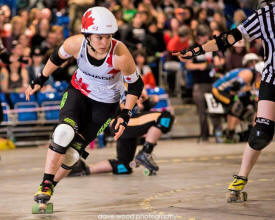 Exiting the Power Station area, swimmers will traverse the waters to the shore of Power Station Beach where they will quickly change into their running gear. Assistance on the beach will be provided by a volunteer corps of paddlers from the Lamma Dragons.
Runners will then sprint up hill to Lamma Winds for the next change. At Lamma Winds they will jump on their skateboards or don in-line skates for the race's home stretch, back to the Yung Shue Wan Ferry Pier. Johnny Canuk, Lamma's resident Canadian, expects this leg of the race to belong to the Canadian entries. "Here's where we will overtake the Australians, we Canadians rule the skating world", he said."
This part of the race is quite technical. Roller athletes will be required to leap over snakes on the downhill portion of the race and demerit points will go to any who collide with Lamma serpents.
However, bonus points will be awarded to any racer who jousts post-work pedestrians off the path as they dash for the Ferry Pier Finish Line.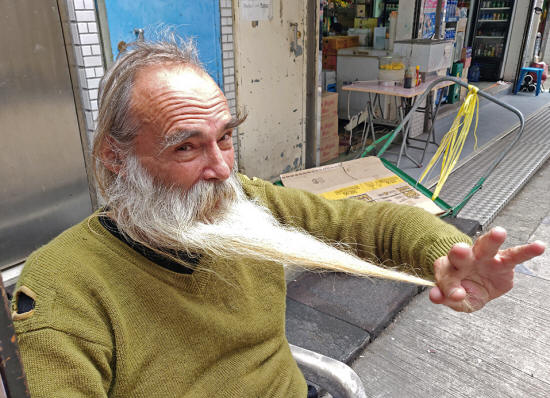 "Living Lamma Legend', Nick the Bookman, has agreed to act as the race governor. The finish line will consist of Nick's beard stretched across the entrance to the ferry pier.
The Lamma COVID-19 Triathlon will take place April 1st, 2021, well ahead of the postponed Olympic Games."