| | | | |
| --- | --- | --- | --- |
| | | | Oct 7 - Summary of this interview with Lamma's most famous artist and a real Living Lamma Legend. |
| | | | |
| --- | --- | --- | --- |
| | | | Oct 1 - For recycling 8 types of your waste you'll get free rewards from the Recycling Spots. |
| | | | |
| --- | --- | --- | --- |
| | Sep 29 - My "Stairway..." image has just become #1 in worldwide liked images on NightCafe. | | Sep 28 - "The Fun'd Raiser is for a member of the Lamma family ... huge hospital bill for her sister." |
| | | | |
| --- | --- | --- | --- |
| | | | Sep 23 - "Jane Ram is a long-time Lamma resident, a well-known broadcaster and writer..." |
| | | | |
| --- | --- | --- | --- |
| | Sep 22 - Mid-Autumn Night: Harvest Full Moon over YSW, by Peter Kline. | | Sep 21 - More Digital Dabblings of Lamma, Mid-Autumn Festival edition. |
| | | | |
| --- | --- | --- | --- |
| | Sep 20 - Mid-Autumn Festival night tomorrow, when we'll admire the full moon. | | |
| | | | |
| --- | --- | --- | --- |
| | Sep 18 - "...tell the story of Lamma Island, its people, scenery and its past." | | |
| | | | |
| --- | --- | --- | --- |
| | Sep 10 - Which flavour do you like best? | | Sep 9 - "A rare sighting of 'anti-crepuscular rays' accompanying sunrise/sunset)" |
| | | | |
| --- | --- | --- | --- |
| | | | Sep 7 - "I'm delighted to announce an acerbic alliance with political satirist Harry Harrison." |
| | | | |
| --- | --- | --- | --- |
| | Sep 2 - "Lamma's writing collective, Write or Die, will be selling their quarterly publication Ferry Brief." | | Sep 1 - Featuring Pak Kok's very own scientists, biology PhD Candidate Anna and Lou! |

Oct 9: Stay Home or Enjoy Typhoon Parties!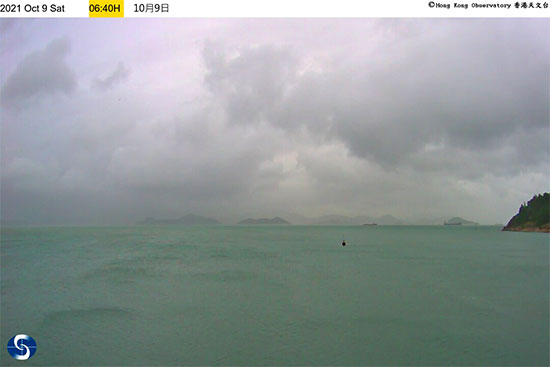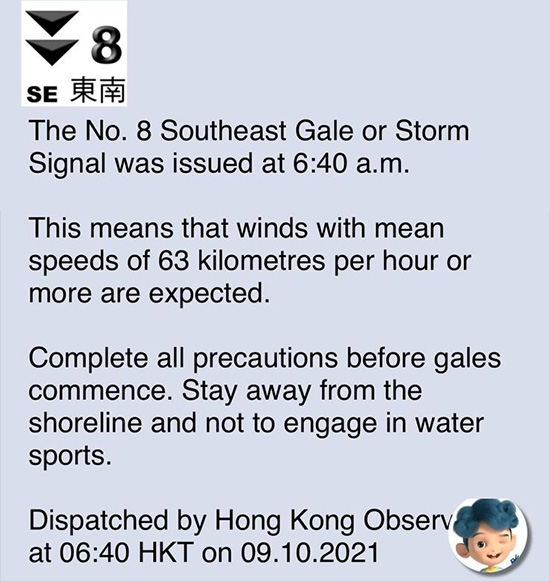 T8 typhoon Signal just went up at 6:40am this morning, so no more ferries from/to Lamma and all over HK. Most ferries still run in T1 and T3, but at T8 it all stops.
Some bars in YSW will be busy today, no swarms of tourists descending today Saturday; the locals enjoying their typhoon parties in the bars or at home.
Except the "Lamma Bored Riders" hurrying to some of our beaches to indulge in surfing. The waves rarely get high enough in HK on normal days, changing them today from usually Bored to Board Riders.

Oct 7: Harry Book Interview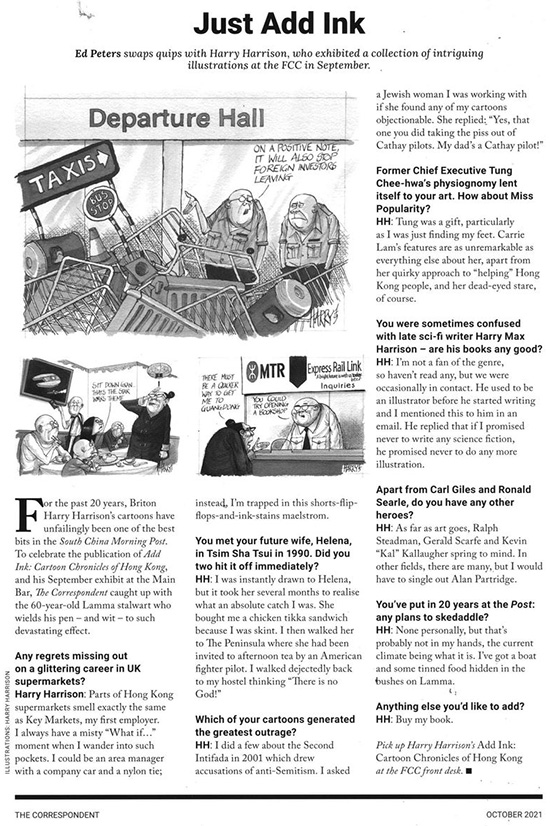 Summary of this interview with Lamma's most famous artist and a real Living Lamma Legend: "Buy My Book" ~ Overview & intro
P.S. Next book by Harry & a friend is already in the works!
Frictionary: "Frictionary is a work in progress. A satirical dictionary of modern maladies."


Oct 2: Tai Peng Social Sunday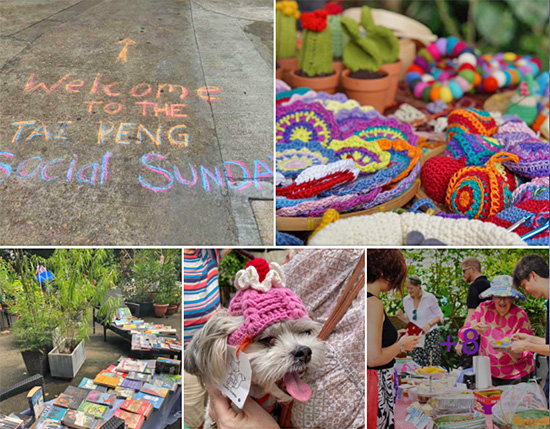 "Thanks to everyone who joined the Tai Peng Social Sunday last week, from the stallholders, bands and charity cooks, to the people who came round the venues and supported the event. We hope you all had a good time, we certainly did! We raised just over $7,000 for Child Welfare Scheme.
There's been a lot of calls for another event, so we're going to host another TP Social Sunday on the 5 Dec where you can buy your Christmas gifts and support local businesses at the same time. We'll be supporting another charity this time, Living Lamma. Anyone interested to take a stall or want to get involved in other ways (musicians! more venues!) please contact Chloe Grimmett. Feel free to contact Skye Cunningham, Jo Wilson.
Come and join Tai Peng Social Sunday - Christmas Edition"

Oct 1: Free Table Salt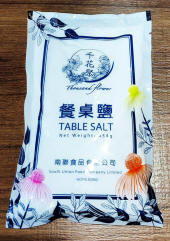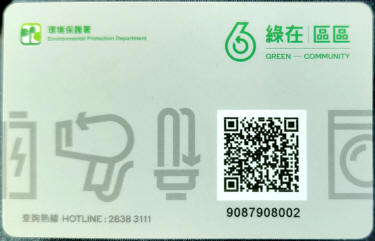 Our first recycling reward! For recycling 8 types of your waste you'll get rewards from the temp and fixed Recycling Spots of this new NGO collecting many different recyclables, even batteries and small electrical appliances. Check out http://www.6green.hk
It's just a pound of table salt, but we're going for bigger rewards soon! Every Tue morning at Aberdeen Bus Terminus, but there are 100+ Recycling Spots all over HK, incl. YSW. Check out your card online and ask for the list of rewards in person at the Recycling Spot.

Sep 29: Worldwide #1!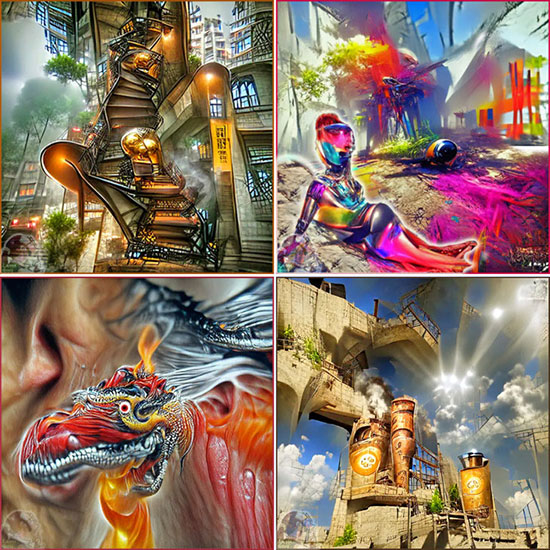 Wow, just overnight my latest digital image, first one above, titled "Stairway to Heaven in Hong Kong", became the MOST LIKED on the website I joined to create my recent images with.
("Stairway..." has just become #1 in all new, worldwide liked images in the last 24 hours! I've just won 10 free creation credits for my 67+ Likes):
Here are some of my Digital Dabblings over the last 40+ years: http://Lamma.com.hk/L-G/
P.S. My first creation to reach 103 Likes a few days later, overtaken by my "Memories of Hong Kong Street Life" with 104 Likes.

Sep 28: Wild Boars vs. Covid-19!!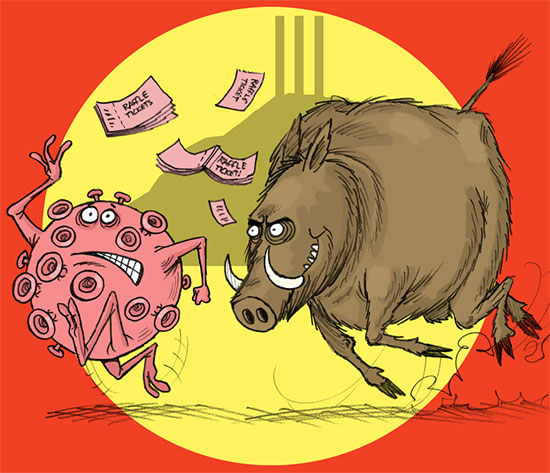 Harry Harrison creator of the cartoon above) writes: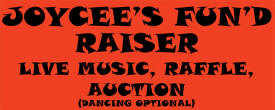 "The Fun'd Raiser is for a member of the Lamma family that has a huge hospital bill for her sister who is currently on a ventilator in the Philippines. It's a free event put on by her concerned Lamma brothers & sisters. Feel free to come along and enjoy the evening of music & fun."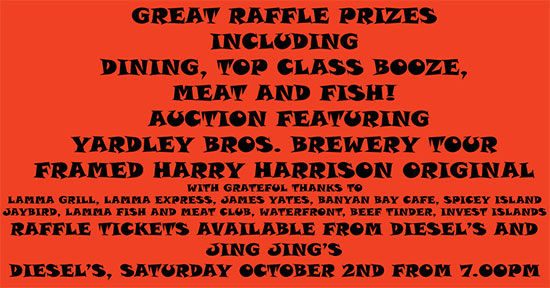 P.S. Just in, the framed original that will be auctioned off on Sun. Bid on the evening, no pre- or private bids.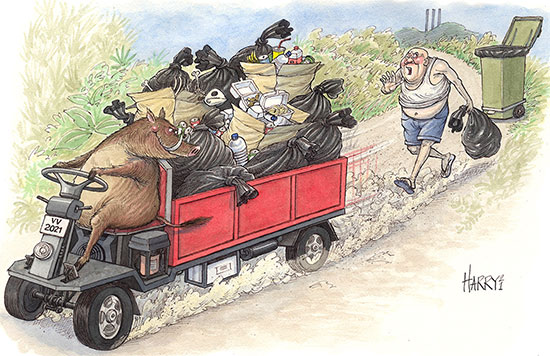 Sep 24: Juggalos?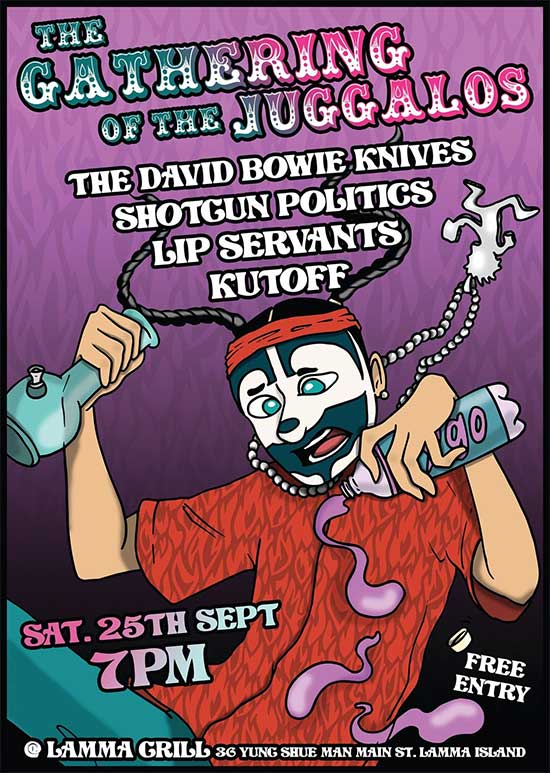 Juggalos on Lamma??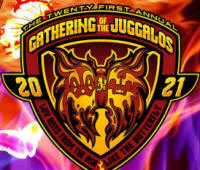 I had to Google it, confusing it at first with a Lamma wordplay of the Hawaiian-shirts-wearingg Boogaloo Boys. A wordplay about Lamma's beer JUG-loving musicians: Juggalos? But no, phew! Fortunately, it's just these much less controversial guys:
"A juggalo (feminine juggalette) is a fan of the group Insane Clown Posse or any other Psychopathic Records hip hop group. Juggalos have developed their own idioms, slang, and characteristics.
The Gathering of the Juggalos, alternatively known as just "The Gathering", is a notable annual festival held by juggalos and the artists that they support, which have included rap stars such as Busta Rhymes, Ice Cube, and MC Hammer; over its first eleven events (2000–2010), the festival drew a total attendance of a peak of 20,000 in 2010.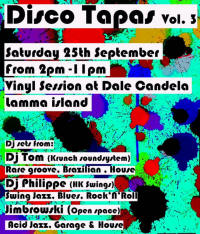 Promoted as 'the craziest show on earth' the festival has existed with no corporate sponsorships, creating an intimate atmosphere for like-minded Juggalos."
The Lamma Grill gig tomorrow night will hopefully attract a slightly smaller crowd. But "craziest show on earth" sounds very promising!
Live performances are back, but all Covid-19 pandemic restrictions apply and face masks are mandatory, even with 0 local infected cases in HK for many weeks now. Join in the fun, live music is BACK! More events this weekend: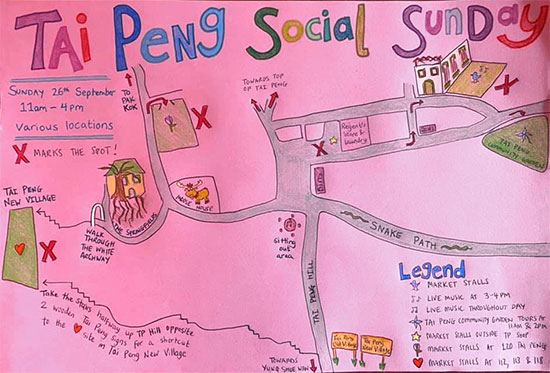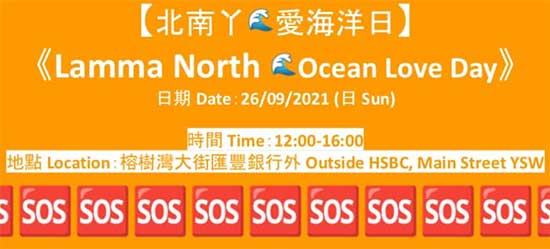 Sep 23: Master Gardener Featured
"Jane Ram is a long-time Lamma resident, the immediate past chair and long-time committee member of the Hong Kong Gardening Society and a well-known broadcaster and writer on garden-oriented topics."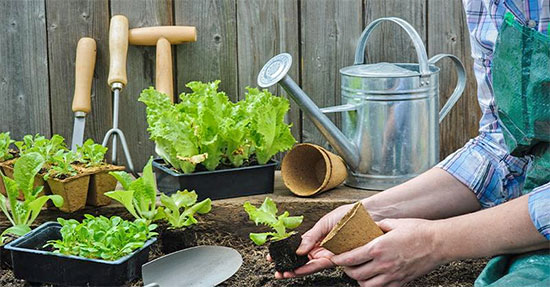 Expat Living, 22 Feb, 2021::
"The Tai Peng Community Garden on Lamma Island, where I live, is one of several similar co-operative initiatives in different parts of Hong Kong. Two or three generations ago the land was used for intensive growing of rice or vegetables.
But these days most island residents want white collar jobs in the city and idle land is available for rent at a nominal charge, if you can track down the rightful owner for negotiations."
Public, free tours in thee Tai Peng Community Garden this Sunday, 11am-2pm, during the Tai Peng Social Sunday: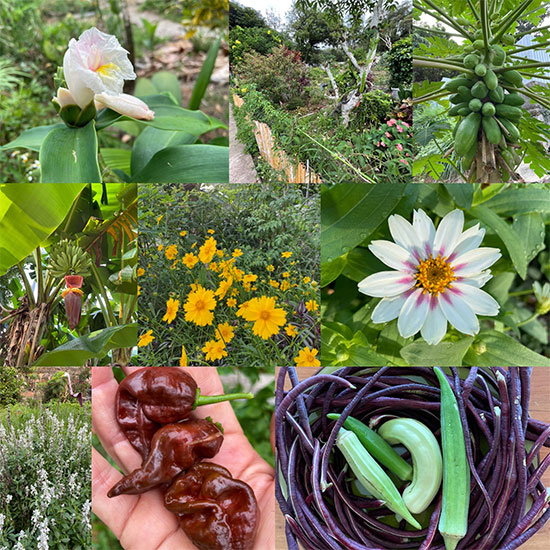 But beware of the currently endemic, aggressive and often poisonouss Bamboo Pit Vipers in the Garden and all over Lamma!

Sep 22: Mid-Autumn Full Moon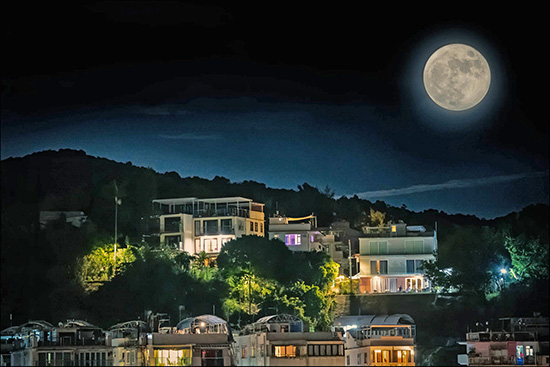 Mid-Autumn Night: Harvest Full Moon over YSW..
Courtesy of Peter Kline, Lamma's Birdographer Extraordinaire. He received a record 111+ Likes/Loves/Wows plus 29 Comments. Thank you!

Sep 21: AI Mooncakes & Lanterns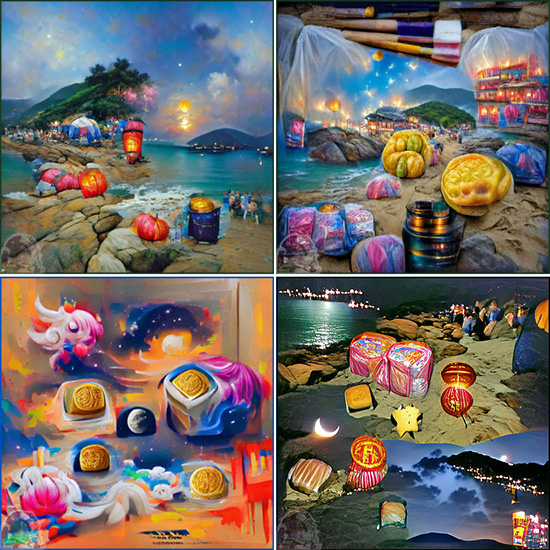 More Digital Dabblings of Lamma, Mid-Autumn Festival edition. More Dabblings in my 40+-year archive:

Sep 20: Mid-Autumn Festival Preview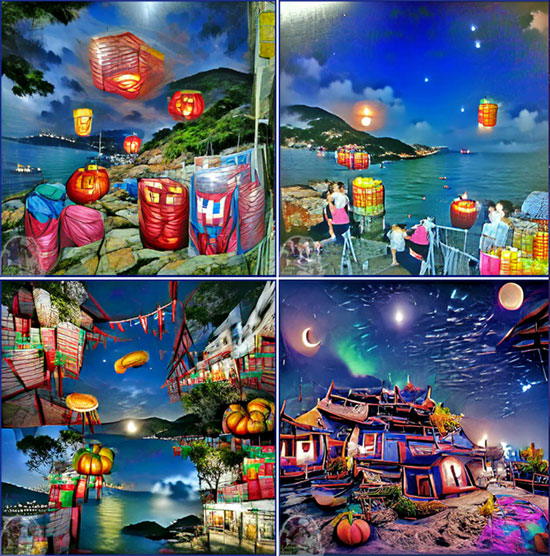 Mid-Autumn Festival night tomorrow, when we'll admire the full moon, snacking on moocakes while sitting on Lamma's beaches in the light of candle-lit lanterns! Here's a preview of how this might look like tomorrow, through the digital eyes of Artifical Intelligence machine-learning about Lamma. Just some of my most recent Digital Dabblings.

I've used no starter photos or pictures here. All of these digitally-created images have resulted straight out of the AI neural networks interacting with each other, directed by my festival-related keywords.

"Vector Quantized Generative Adversarial Network + Contrastive Language–Image Pre-training": VQGAN+CLIP) is an AI neural network architecture which finds and combines images based on descriptions."

Created & processed online via @NightCafe:


It's not free, but just a few HK$/creation and you gain free credits and badges for images voted as popular on this app/website. But I have a LONG way to go before I'll ever become as successful as this fellow digital artist:

P.S. A few more?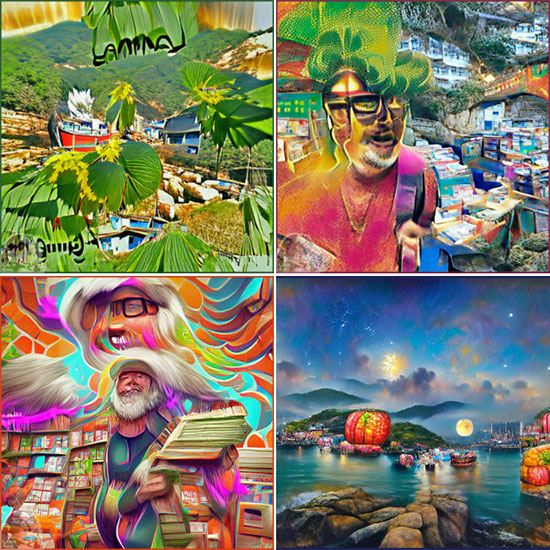 Sep 19: Crepuscular vs. Anti-Crepuscular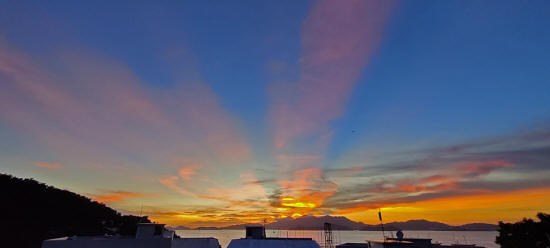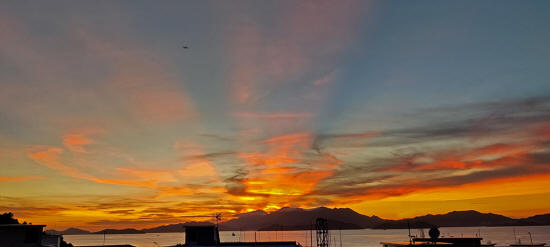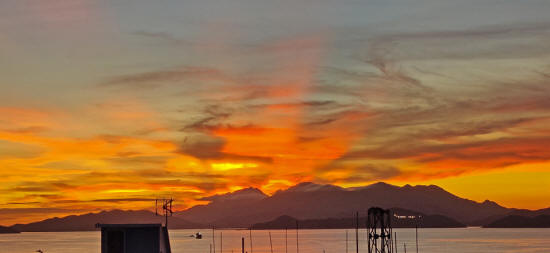 We've been blessed with some amazing sunsets this summer. I've become a regular at sunset on our house's rooftop with my smartphone. Spot the plane in the middle picture above?
Even some crepuscular rays have been showing up quite frequently,, "streaks of light that seem to radiate from the sun shortly before or after sunset when sunlight shines through a break in the clouds or a notch in the horizon line and illuminates atmospheric haze or dust particles"".
Plus the much rarer and elusive anti-crepuscular rays at sunrise, viewed in the opposite, sunset direction from atop the YSW ferry pier's automatic webcam, fixed in the sunset direction!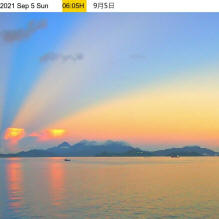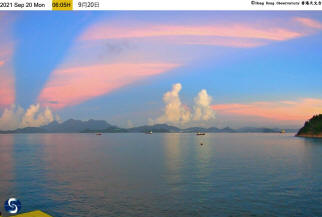 P.S. Sep 22, 6:05am: Plus one webcam photo at sunrise on Mid-Autumn holiday, showing the Harvest Full Moon: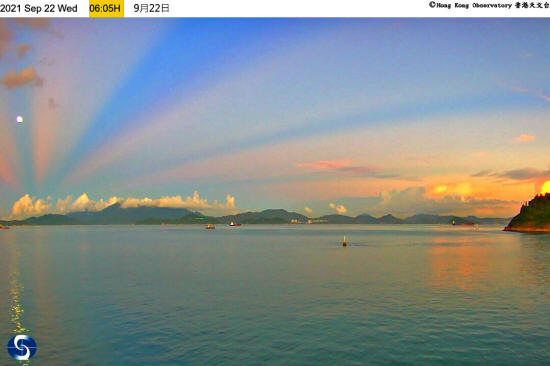 Sep 18: Lamma Mia!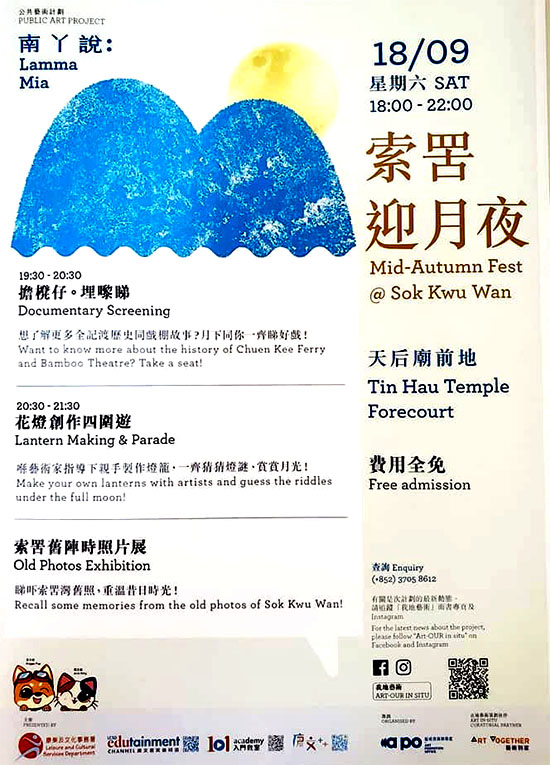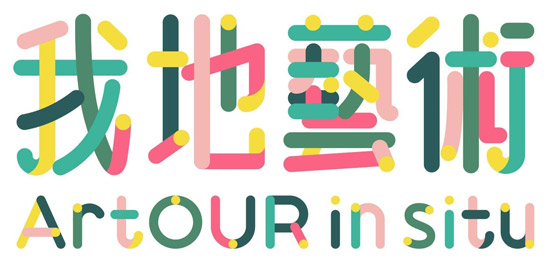 "Through this project, we hope to embark on a journey through the perspective of the islanders and tell the story of Lamma Island, its people, scenery and its past through integrated fieldwork and research with a multi-sensory artistic approach to engage the public in a close dialogue with the island. The project was officially launched during the Dragon Boat Festival.
The project was officially launched during the Dragon Boat Festival. On this important occasion, we organised a dragon boat launching ceremony that involved the artists, locals and members of the Lamma's Island Sports Association, who teamed up to row a dragon boat along the shore of Sok Kwu Wan as a kick-start event of the project!
For the latest news on 'Lamma Mia', please follow Art-OUR in situ on Facebook and Instagram!"
Lamma Mia includes a photo history of the Chuen Kee Ferry service, Sok Kwu Wan - Aberdeen: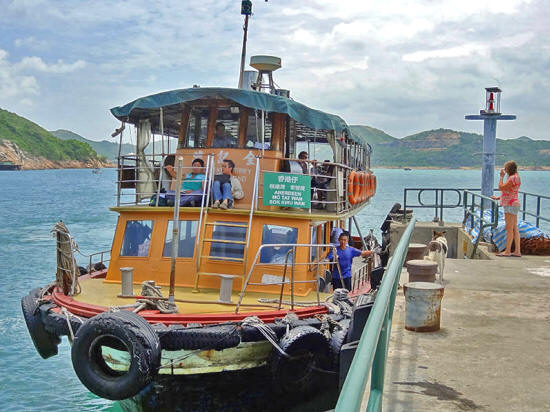 Sep 14: GREEN$ @ Aberdeen Bus Terminus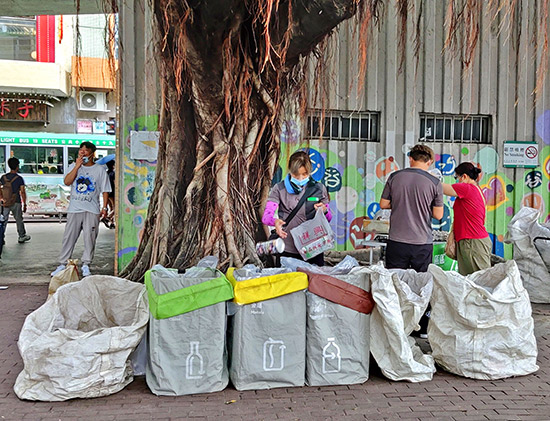 For people taking a Lamma ferry to Aberdeen::
Every Tue 10am-1pm @ Bus Terminus under the Banyan tree.
They'll weigh your recyclables and you'll get small gifts when reaching the necessary points on your (non-personalised, safe) 6GREEN card. More recycling and gifts in the 綠在田灣 Tin Wan Recycling Store, just a short walk from Aberdeen Bus Terminus.
GREEN$ Points Conversion Table

Sep 10: Fractal Donuts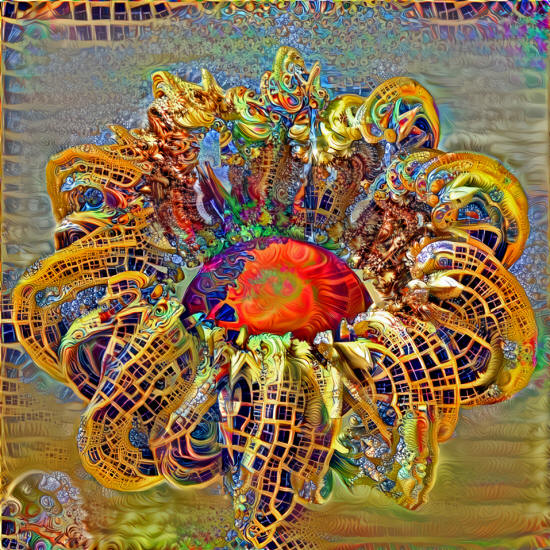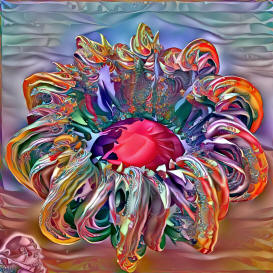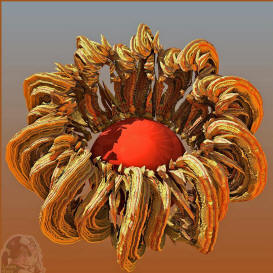 I've style-transferred & colourised a Mandelbulb 3D fractal donuts I created a few days ago (last image above). Which flavour do you like best?
How about adding some VQGAN+CLIP neural net processing instead? Way too much, perhaps?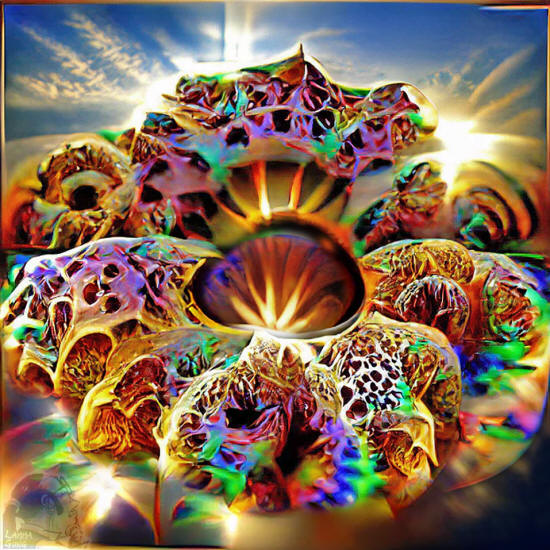 Sep 9: Anti-Crepuscular Rays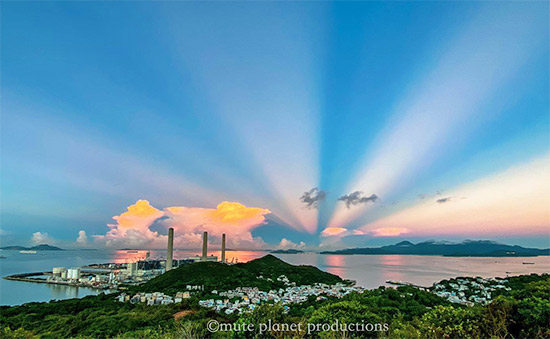 Mark Malby of Mute Planet Productions:
"A rare sighting of 'anticrepuscular rays' (rays of light that accompany sunrise or sunset - but on the opposite part of the sky) over the island village of Yung Shue Wan, Lamma Island."
This post has one of the highest numbers of hashtags we've seen on Lamma-related FB pages! #skyporn?
#landscape #landscapephotography #sunrise #sunrise_sunset_photogroup #lammaisland #hongkong #awesomehongkong #discoverhongkong #hikinghk #muteplanet #muteplanetproductions #solarrays #crepuscularrays #anticrepuscularrays #cloud #skyporn #skylovers #dawnlovers #nature #naturephotography #ilovenature #magicsky #yungshuewan #photosbymarkmalby

Sep 8: Tai Peng Community Garden History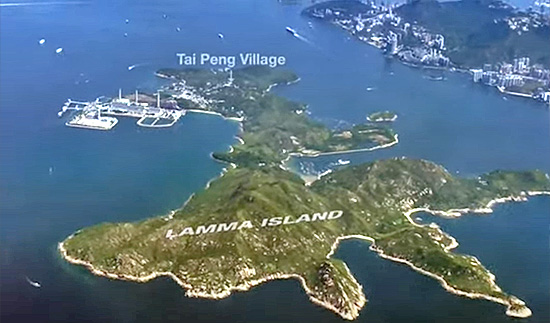 Lamma Island Legacies writes::
"This is a short video history of the Tai Peng Village Community Garden from its inception in November 2007 to August 2021."
Featuring interviews with the key people behind the garden!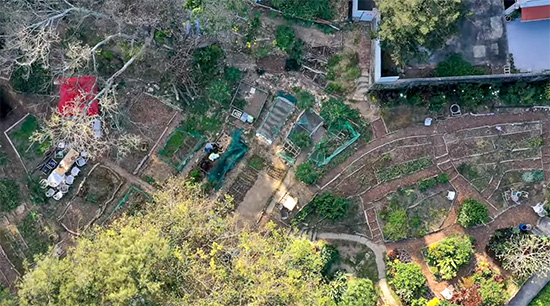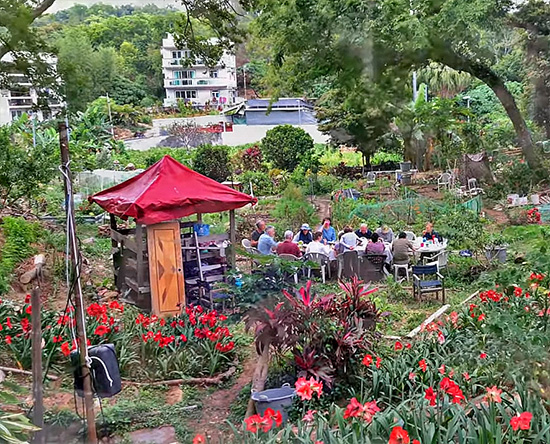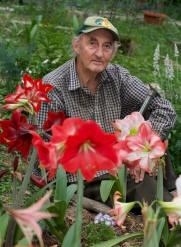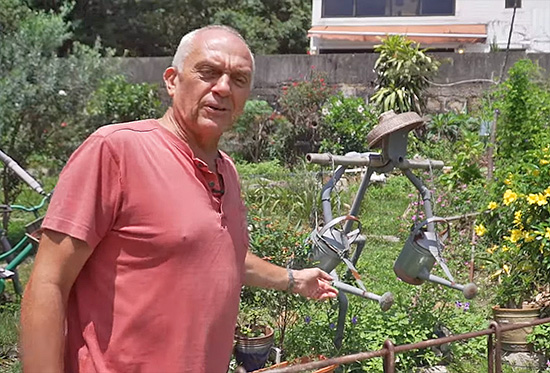 More videos from the same Tai-Penguin:
Nick the Book: Lamma Island Personality
LammaLand HK: Arrival of the Daily Guido
LammaLand HK: The Midday Ferries

Sep 7: Frictionary News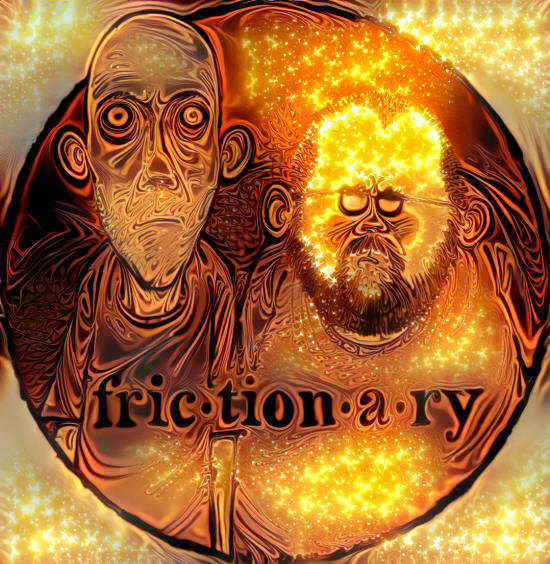 Phil Morgan (above left in Harry's cartoon avatar) writes:
"FRICTIONARY NEWS!!
I'm delighted to announce an acerbic alliance with political satirist Harry Harrison.
If you want to know the difference between a BEERIO and an ABNOGETTER, if you've ever been offended by a SNOBGOBLIN or had to work with an UNDERHOUND... read on.
The first 100 copies of 'Frictionary' will launch on Kickstarter in Jan 2022.
Details, at this stage, are incredibly vague.
A new word daily here. Please share if you like what we do."
More details will follow here as soon as available.

Sep 2: Humid Love?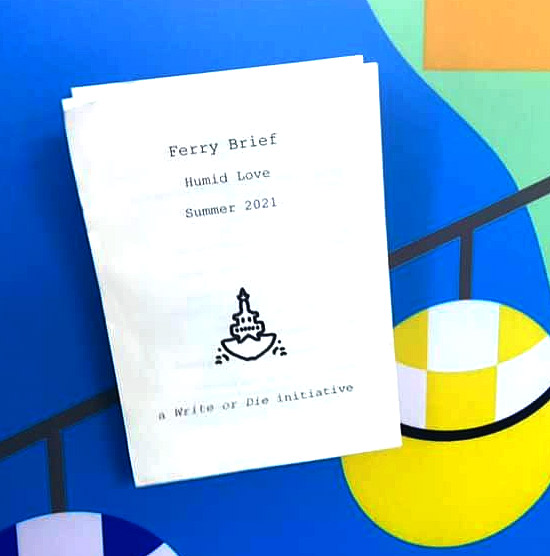 Chloe Grimmett writes:
"It's going to be a steamy one!!
Lamma's writing collective, Write or Die, will be selling the third edition of their quarterly publication Ferry Brief tomorrow!
Ferry Brief #3: Humid Love
Friday 3 Sep, 7:50-9:30am, opposite HSBC, $20
Ferry Brief is inspired by the pocket-sized Japanese accordion book style. Each edition features 8 original stories by 8 members of the collective.
The perfect length to read on your ferry journey! This edition will also be available at The Beer Shack."
Short story titles:
"The Beginning, Hot Commute, Love in the Time of Humidity, Storms, Passion Evaporates, Pretty Okay at Bikes, Roundabout, A Sickness, Therapy"

Sep 1: Pak Kokian Women in Science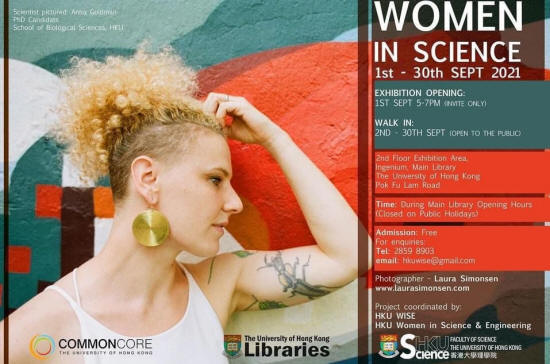 Check out this photography exhibition by Lamma-based photographer Laura Simonsen and featuring Pak Kok Village's very own scientists, biology PhD Candidate Anna (see above) and Lou!
Running from today in HK University all of Sep.