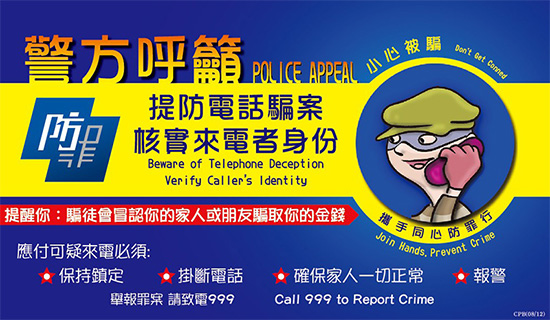 TUNG Hei-man, Camas
OC Lamma Island & Peng Chau - Cheung Chau Division:
"There is a rising trend of telephone deceptions in the past few weeks. Many residents living on the outlying islands have received phone calls from fraudsters who claim to be staff of an express courier and requested the residents to provide personal information or deposit money to claim the parcels under their names. The fraudsters often speak in Chinese (Cantonese or Mandarin).
Fortunately, our residents are smart enough not to fall into the trap and hung up the phone without believing the fraudsters.
While police are conducting investigations to try and locate the culprits, I hope all of you can protect yourselves from this kind of crime. Prevention is always better than cure. In a nutshell, be cautious when receiving phone calls from strangers, especially anyone who claims to be the staff of an express courier.
The following key points should be noted:"

Deb Lindsay writes:
"Lamma Calendar 2016 - CALLING ALL PHOTOGRAPHERS!
As the Lamma Calendar goes into its 5th year of publication, we're once again looking for photo submissions for the calendar pages. To submit your photos to the publisher for consideration, photos must be submitted by DEADLINE 31st August 2015:" More info...
Who'll replace my January photo in the last Lamma Calendar?
Quite a lot of great photographers on Lamma, submit your best photos now (even if they've been a Lamma Photo of the Week before).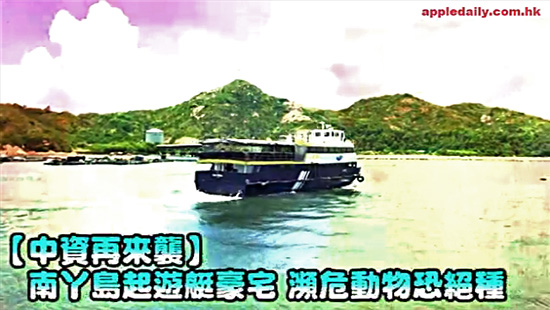 (Source: Apple Daily), WhatsApped from a Chinese relative.
Translated by HK Real News:
"Property development project 'Baroque on Lamma', rejected by Town Planning Board 3 years ago, returns!"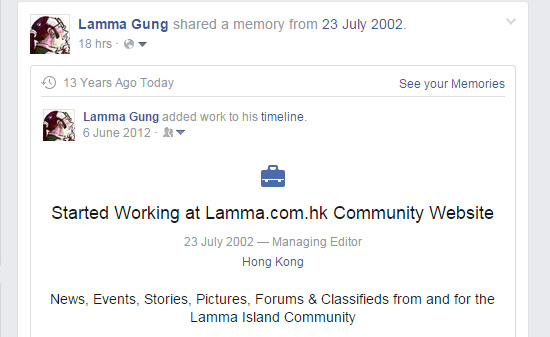 A look back in ancient history, when the Lamma-zine was still a monthly publication, 10+ years ago. Click for Lamma-zine 1-33: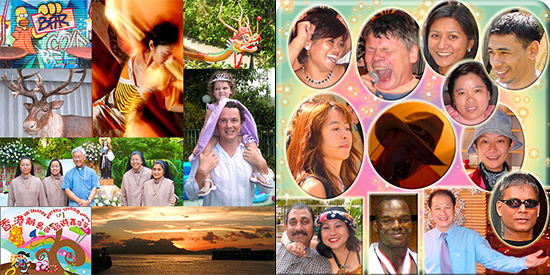 For the technically minded amongst our readers, some forum stats: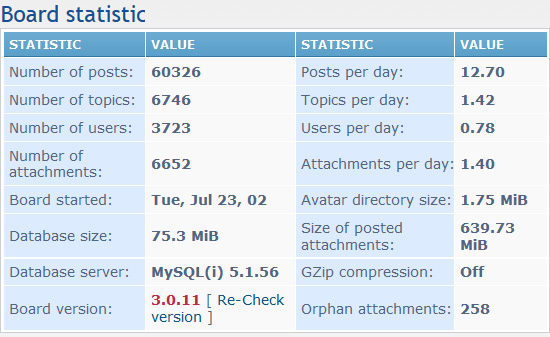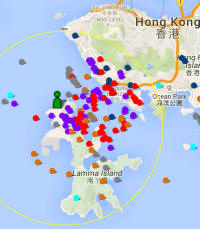 It's the rainy/typhoon season, but rarely have we seen a storm centered right over Lamma for hours, like this morning. This was the Cloud-to-Ground Lightning map of the HK Observatory this morning, just after 8am, smack middle of the commute to HK Island for many Lammaites.
Numerous modems, laptops and various other electronics were blown out (even entire flats) and sometimes destroyed, not just fuses blown. Even the 2 only ATMs on Lamma went out of order. Our only bank HSBC in YSW is closed today, open only on Tue/Thu/Fri. Our sole Octopus-add-value facility (YSW ferry pier) stopped working, too.
The commuter ferries to town were very rough, but there was only a Yellow Rainstorm warning up for all of (almost lightning-free) HK, so no chance for a day off work.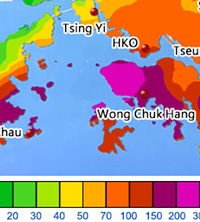 Living on Lamma has its many challenges: sometimes only mobile Internet, seasickness on ferries, no money from ATMs, no Octopus-adding-value, debris and leaves all over our paths, wet trips by foot or bike only (no public or private transport!), the occasional flat leaks and mozzies going crazy for our blood in this weather... and during most sunrises/sunsets even during great weather... ;~}
But we have a WONDERFUL, MARVELOUS Bike Park for you now, just opened at the YSW Ferry Pier! Visit soon, bring your bike(s) on the ferry, lots of space in our new park!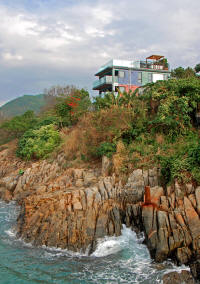 Getting your neighbours together for a chat and a few drinks is as easy as creating a Facebook Event these days and inviting them; just a few minutes online, no calls, paper stuff or anything complicated or time-consuming! For the numerous Lammaites not on Facebook, msg, call, email or face-to-face!
My comments after my own Facebook event tonight:
"Thank you to all my Pak Kok neighbours, old and brand-new, who joined us for our first Meet Your Neighbours get-together in Mrs. Chan's, lasting till after midnight!
Let's do it again after the summer break next month, expect another FB invitation from me by then."

This is a newsfeed test at the top of this website, with my up-to-date links to the latest LAMMA-RELATED NEWS all over this Lamma community website, forums, Facebook, any print media, anything, anywhere...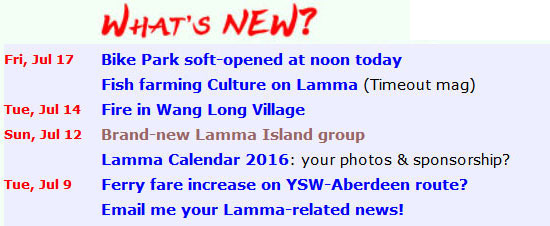 Useful? Any improvement ideas?


Exactly one year ago, Sean Creamer posted this photo on my Facebook Timeline, showing a panoramic YSW sunset and me lurking in the shadows.
The photo spread and has been selected by an Admin (not me) to become the header of the brand-new Lamma Island Hong Kong Facebook group.
It's a still small, but friendly, helpful, non-commercial and spam-free group from and for Lammaites, started and moderated only by current Lammaites.
It's kind of like a baby version of our 13-year-old Lamma forums, but on Facebook. Both co-exist happily, no competition, supporting each other, growing together.
For free Lamma classifieds, I'd recommend to use my 13 year-old, spam-free free classifieds forum or these Facebook groups:
Lamma Island Marketplace and Lamma Mama.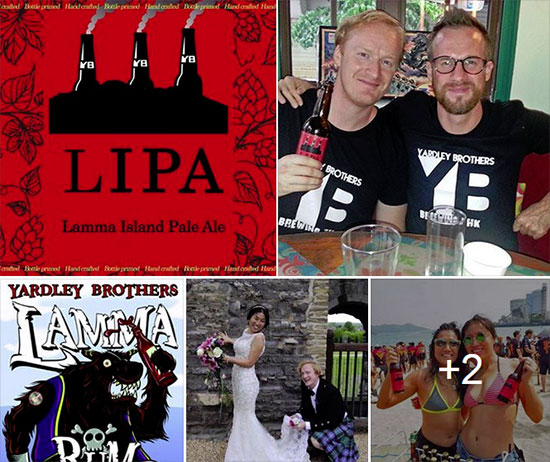 Click for more pictures and beery discussions...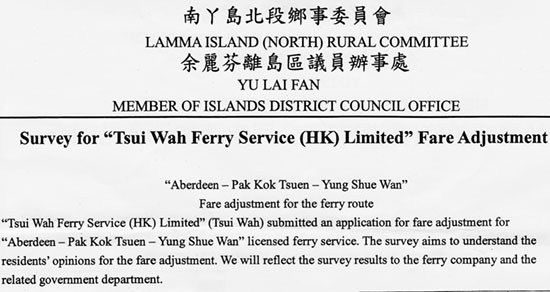 The ferry co. has applied for higher fares for this ferry route, around 8.33%. Click above for the bilingual survey by Lammadonna (Yu Lai Fan), which has also been distributed to North Lamma residents today.
Fill it in, Chin. or English, and return it, in person at her office just after Cath's Bar and Lamma Gourmet, or by fax (?!), or via email.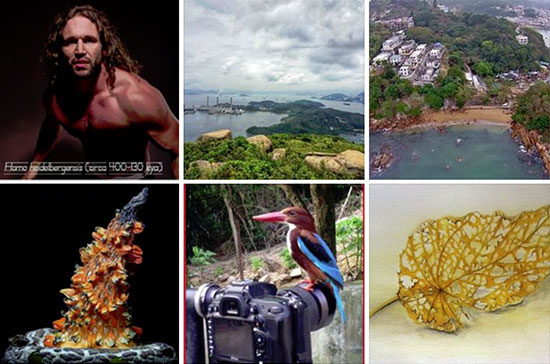 Lamma Spotlights of the Week, July 8, '15:
| | | |
| --- | --- | --- |
| PHOTO | Top of Mt. Stenhouse | by Harry |
| VIDEO | DJI Phantom 2 | by Yuriy Shamray |
| PERSON | Homo Heidelbergensis | by Theo Chalmers |
| WILDLIFE | What's This? | by Rambler |
| BIRD | White-breasted Kingfisher | by Guy R.H. Miller |
| ARTWORK | Fragile | by Debra Morris |
Our long-running Lamma Spotlights have two new categories:
Person and Bird of the Week!
Should we add a Lamma Pet of the Week? Anything else?
Tell me and send me YOUR Spotlights!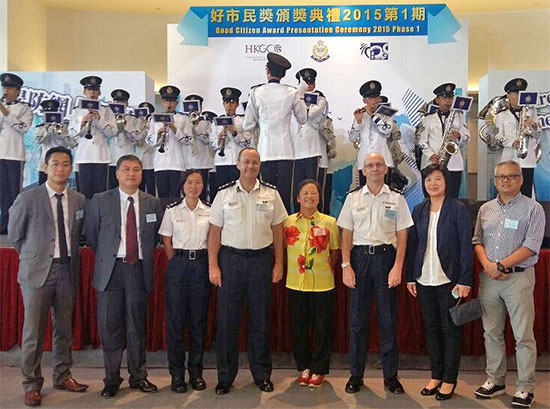 Our monthly Police Corner, written by our Police Chief, Ms. Camas TUNG (3rd from left), in English & Chinese:
The Good Citizen Award 2015 - Safe Cycling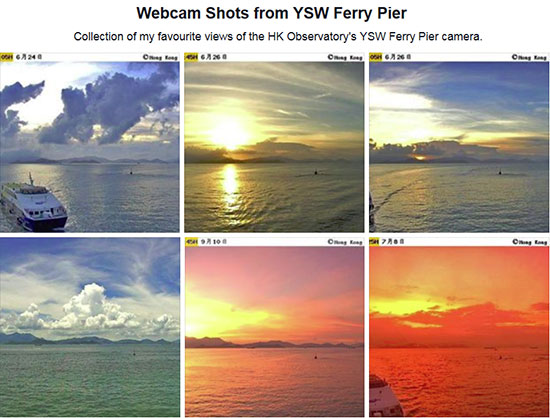 Click above to find out more...

It doesn't happen every year, but it's not the first time that two friends and frequent volunteers of this website are getting married to each other. Congratulations to photographer Grahame and face painter Abigail (it says so on their marriage license!), getting hitched today in a civil ceremony in the Beer Garden!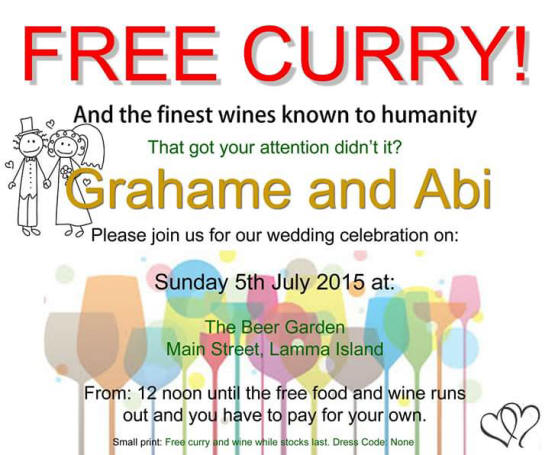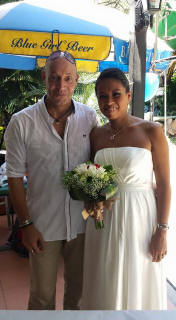 Free curry buffet and drinks attracted on- and off-islanders, including yours truly. But I was too busy chatting all afternoon to take advantage of the buffet, except the bottle of Dom Perignon 1993!
The Beer Garden is a cozy, leafy, private place to have a drink or get married; even on a Sunday afternoon almost no tourist guests, as this place is off Main Street! (Photo by Paul Bayne)
I managed to get a few WhatsApp msgs from the Civil Celebrant, not wanting to bother the happy couple before their honeymoon in Boracay. Afterwards they'll return to their "exile" on "4 swimming pools!" Park Island, the squeaky-clean anti-Lamma/Super Discovery Bay as I choose to call it.
By the way, here's a (staged) photo from Grahame's stag party a few days earlier.
---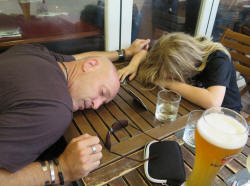 Jacky Miu - "Civil Celebrant of Marriages" - did a great, fun, cheerful and easy-going job, very appropriate for his very first Lamma wedding:
"Thank you, Lamma-Gung, for your great idea. I suggest to mention that Lamma is a very scenic place for tourists, yet a romantic place for lovers too.
This story is about a newly wedded couple who has chosen to celebrate their Marriage in Lamma - a place where they knew each other, started their romance, and now sealed their commitment to each other. For them, Lamma is exceptionally meaningful, with so many great places, cheerful friends and, most importantly, fond memories.
This is why they've chosen to celebrate their Wedding here, so every time when they visit Lamma again, they are reminded of their romantic story as well as their commitment to each other!
I am a solicitor, with 20 years of legal qualification, but I'm an in-house lawyer. So I do this Celebrant services on weekends and after office hours only, and I don't take any other legal cases, just do Celebrant Services for external clients."
Plus a few more photos? Yes? I thought you'd never ask! A few snapshots from L-G, the occasional Wedding Photographer: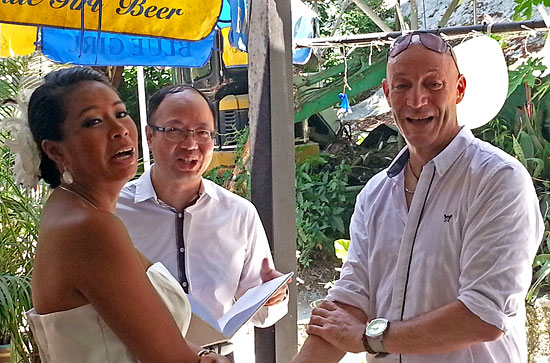 P.S. July 20: If you can see Grahame's Facebook page, here's his own Wedding - Honeymoon 2015 album
("Sincere thanks to all who made this a very special day.")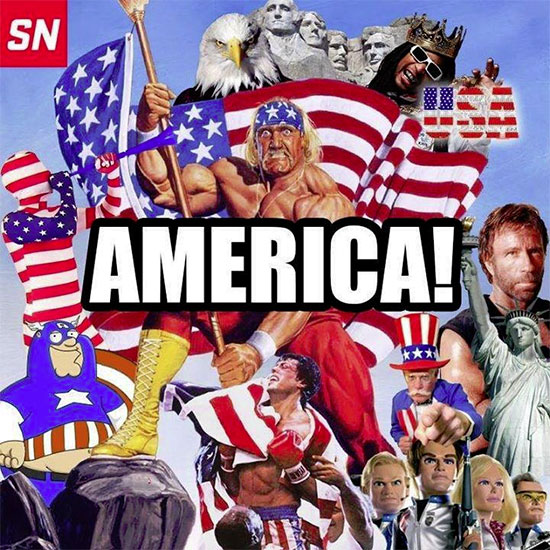 Walking through Sok Kwu Wan Main Street, on our way to look at a flat, this and similar posters on a building caught our attention. So after a guided tour of the 1/F flat (more about our Southern flat hunting here & here), we joined the July 4th party on the rooftop of the same building; invited by Megaen as a +2. She's the Lamma-zine's new South Lamma Correspondent (see Jun 23).
The YSW-Aberdeen ferry broke down completely due to "mechanical poblems", so we waited for a long time for the next scheduled (tiny backup) ferry. But the trip was free this time!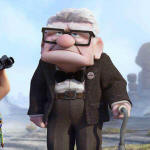 Yes, the few Americans and their good friends living in South Lamma are a cheerful and friendly bunch! Thank you for all the hospitality and cheerful company, Bill & friends!
Happy early birthday to Bill! See his new, cheerful avatar with an uncanny resemblance. He blew out his cake's candles several days early today, celebrating together with AMERICA!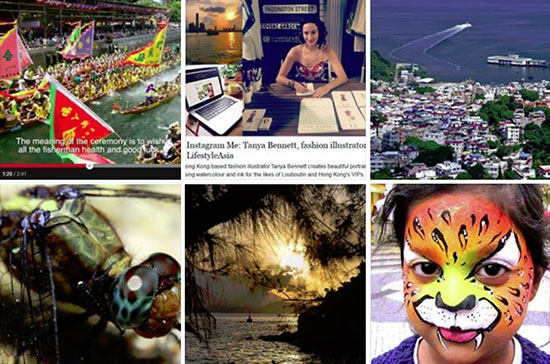 Lamma Spotlights of the Week, June 30, '15:
| | | |
| --- | --- | --- |
| PHOTO | View from the YSW Library | by Gareth Gay |
| VIDEO | Aberdeen Dragonboat Races | by DJ Clark |
| PERSON | Tanya the Pirate | by Tanya Piratay |
| WEBSITE | HK Less Traveled: Lamma | by Yip Ho Fai |
| WILDLIFE | Dragonfly | by TrashKen |
| BIRD | Black-eared Kite | by Guy R.H. Miller |
| ARTWORK | Untitled | by Abigail Wong |
Our long-running Lamma Spotlights have two new categories: Person and Bird of the Week!
Should we add a Lamma Pet of the Week???
Tell me and send me YOUR Spotlights!

Dawn Roughsedge, Lamma Dragons:
"20 years ago today..... Jeez, where did that time go... I left my hometown of Bolton, UK, and arrived in Hong Kong. It was raining and the buses all looked the same as home. Lan Kwai Fong was full of suits and I didn't think I was going to like it here.
20 years ago tomorrow, I arrived on Lamma, it was sunny and I ended up somewhere in the hills near Pak Kok playing bongos in a teepee with 20 or 30 people I had never met and, like me, most of them couldn't play the bongos either. I knew I was going to like it here. I was wrong about one and right about the other. Love Hong Kong, love Lamma. It's been a fantastic ride so far."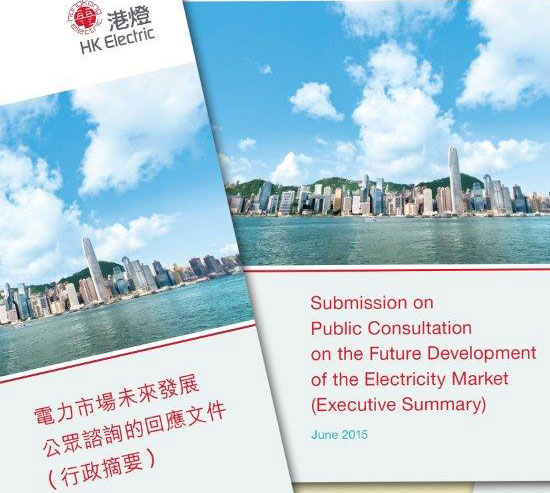 "HK Electric submitted today its views on the future development of the electricity market in Hong Kong in response to the Government's public consultation launched earlier.
It remains the company's conviction that the current Scheme of Control Agreement regime, with its clear and proven track record, continues to be the best way forward for Hong Kong.
HK Electric's submission is that the proposals contained in the Consultation Paper will only bring about uncertainties, but not benefits.
...that under the certainty provided by the cost effective Scheme of Control Agreement (SCA), Hong Kong has been enjoying world-class electricity services and has achieved the Government's four energy policy objectives of safety, reliability, affordability and environmental protection."
The Executive Summary of HK Electric's submission
(It answers the consultation's questions about Renewable Energy, future fuel mix, future tariffs...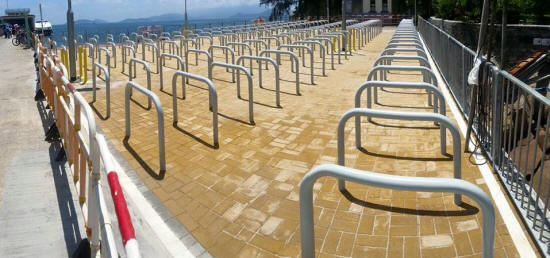 Ideas on what to do with the completed but still unopened (no opening date known!) YSW Bike Park...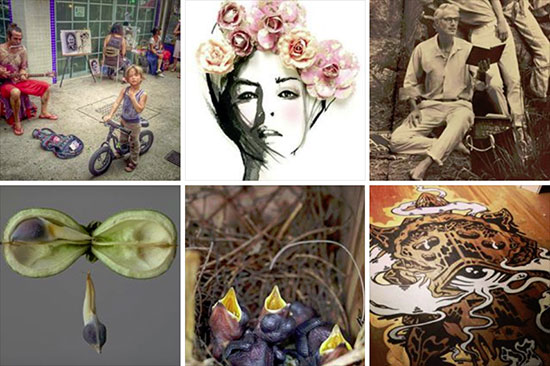 New Lamma Highlight of the Week category:
PERSON OF THE WEEK ~ June 25, '15
Jean the Photographer ~ by Olivier Yoan for SCMP Magazine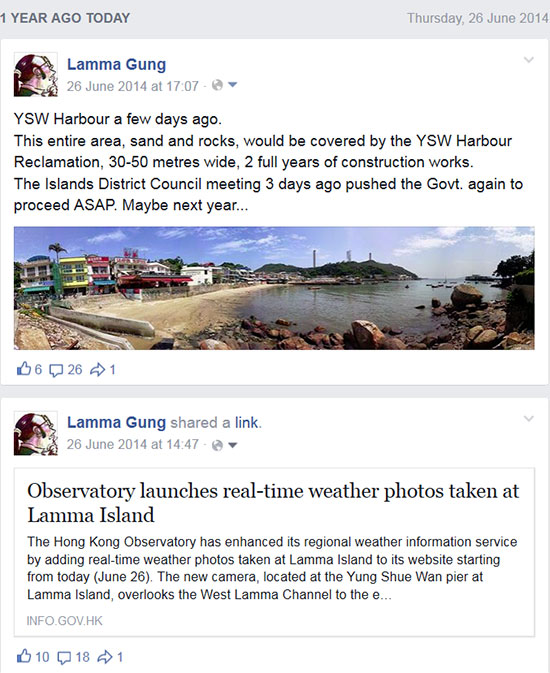 ...and what have I been posting recently? https://Facebook.com/Lamma.Gung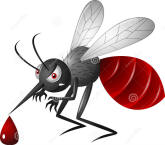 The biggest wildlife threat and major bother on Lamma are not the much-discussed many varieties of snakes who thrive here, not the feral dogs and boars, not the centipedes and other creepy crawlies breeding these weeks and climbing walls to even rooftop flats, it's mosquitoes!
It's so difficult to keep the little buggers out of our flats, preventing them from disturbing our peaceful nights with their high-pitched, whiny noises whizzing around our heads in dark bedrooms! (Illustration from www.dreamstime.com)
Here's a discussion with some great advice to keep them out:
I closed all windows and turn on the air conditioner,
still dozen of mosquitoes get into my house, help!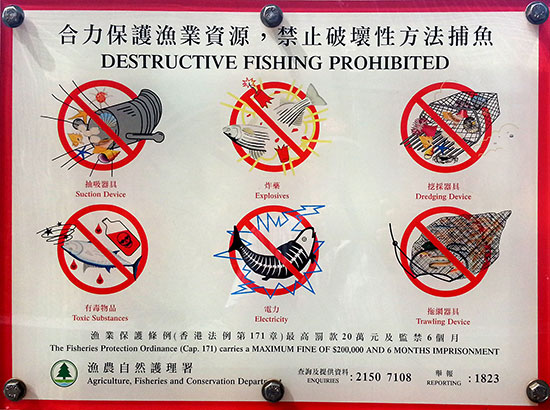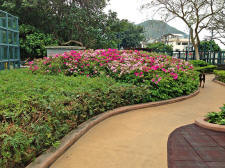 A little guide from Sok Kwu Wan resident Megaen, our new South Lamma correspondent. Welcome!
Who else wants to tell us more about their corner of the island, please? Don't let the Yung Shue Wanians dominate this community website! There are so many other fascinating and beautiful areas of Lamma to discover!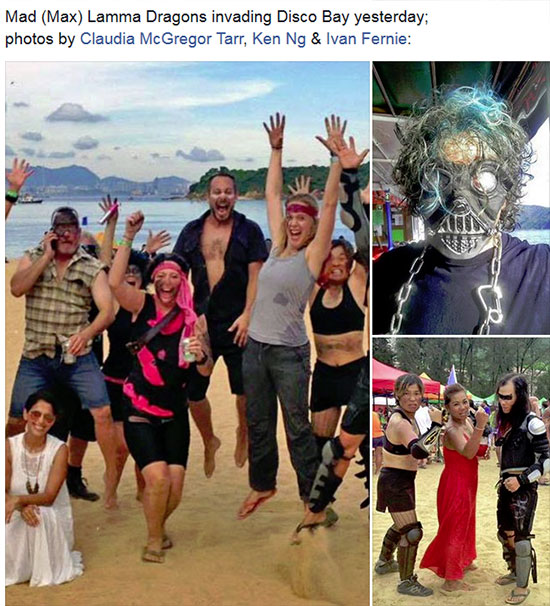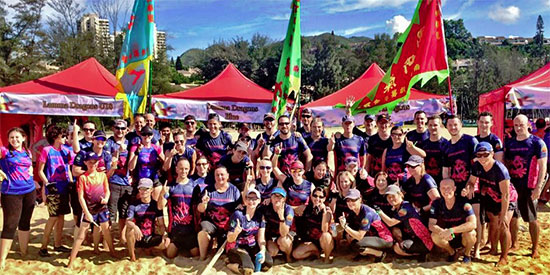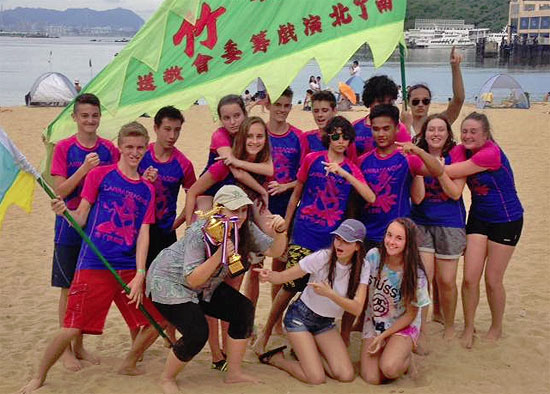 (additional photos by Nicky Jones)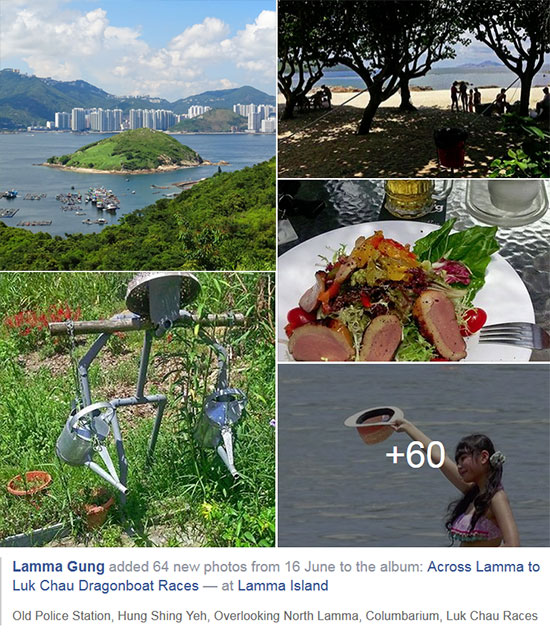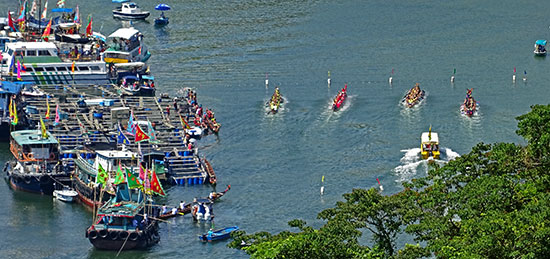 Why I still love living on Lamma, after almost 14 years, all in one photo gallery...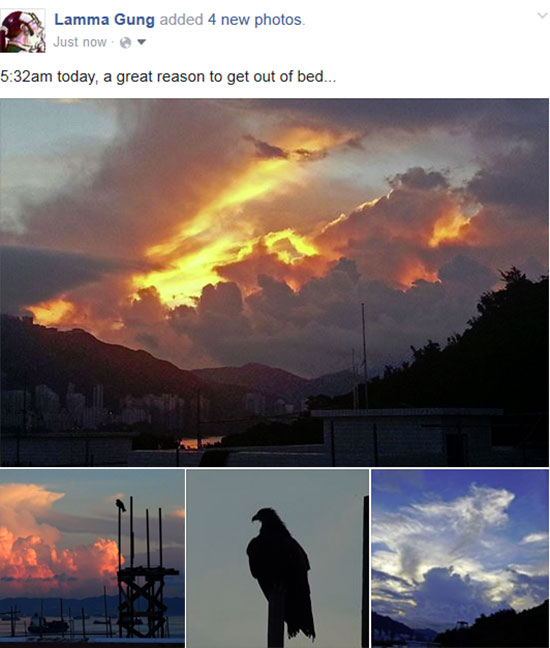 More sunrise/sunset/night views from my rooftop...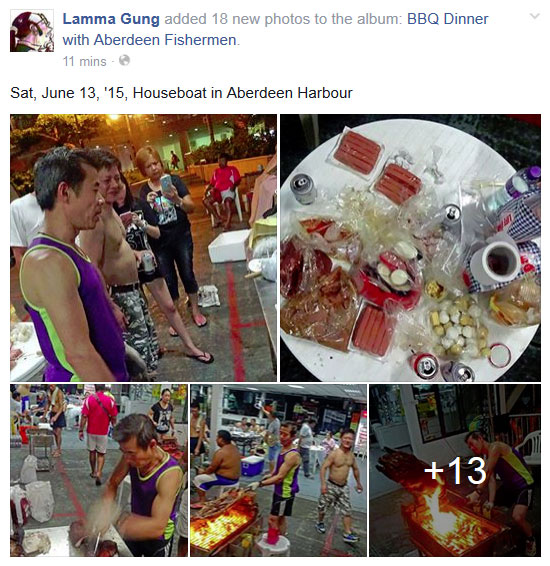 These are some of the posters on Lamma's walls (online and in the *real* world today. Let me give this beautifully designed posters some additional free publicity to the visitors from 100+ countries that this website receives, besides our (almost) daily updated Lamma Events page: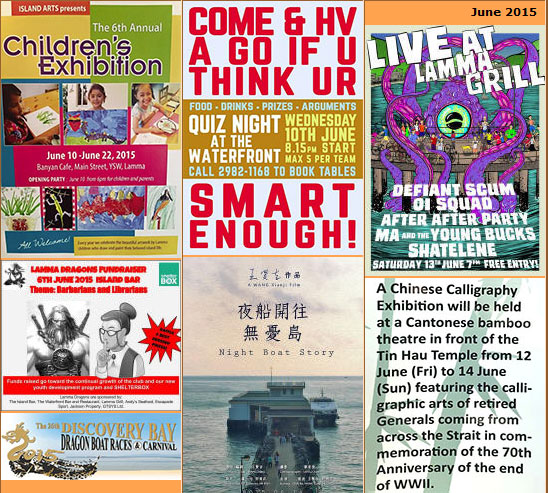 Send me YOUR posters for free publicity on this events/news website!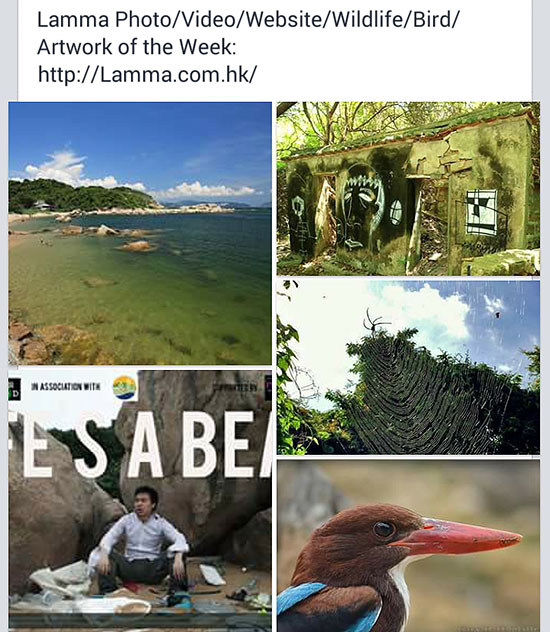 | | | |
| --- | --- | --- |
| PHOTO | Shek Pai Wan | by El Zorro |
| VIDEO | LIFE'S A BEACH | by Fallout Media |
| WEBSITE | The Other Side of Lamma | by El Zorro |
| WILDLIFE | Weavers are everywhere... | by Gisela Cheung |
| BIRD | White-Breasted Kingfisher | by Guy R.H. Miller |
| ARTWORK | She looked over the line... | by Olga Kossova |
Our long-running Lamma Spotlights have just added a new, 6th category:
Bird of the Week!

Living on an almost all natural, (almost) traffic-free, 7km long island with just 6,500+ people on 13.55 km², we residents treasure our (mostly) relaxed, peaceful and green lifestyle. So World Environment Day is not just another day in the calendar. With all our green initiatives, like recycling by type of waste, frequent beach cleanings, eco-tours, etc, what are Lamma businesses up to these days? For example, what's Lamma's biggest business doing today for this cause?
Click to find out in our almost 13-year young Environment, Politics & Development forum...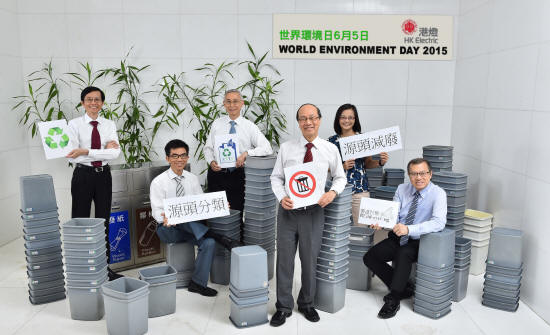 Now if only all the village house-building noise outside my home office would stop soon! It's especially noisy today and they've only just started construction!

Dig a deep trench and pour in lots of concrete.
This is located in one of the few areas of Lamma that will not be connected to the sewage treatment works (in progress for many years right now).
Notice the slowly dying art of building a cess pit first for a standard village house where all the toilets will empty into.
Concrete recipe (from my observations):
1 shovel-full of sand, 2 gravel, 1 bag Green Island cement, plus 5 buckets of water makes 1 batch of concrete.
Mix, pour into hole, repeat many times...
This complex procedure requires at least 4 people.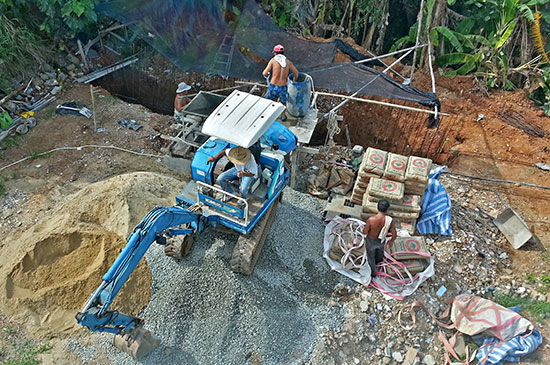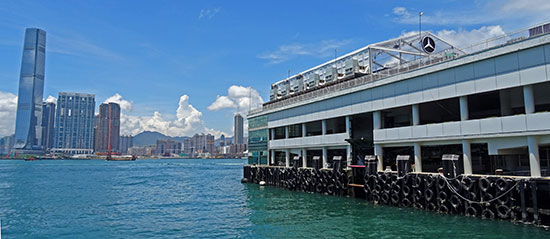 I've just passed this most unusual sight, a definite first for Ferry Pier 4 in Central HK, a Mercedes star on top of Pier 4! Quite incongruous for a car-free island!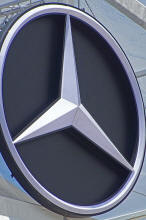 Daniel-John Housley writes:
"Maybach promotional event. Like Mercedes-Benz but more monies ;-) ... For the suckers in HK."
Zooming in on my mobile, see right. This extremely profitable promotional, short-term events on the rooftop are becoming more common these days, several per year, bringing in millions of dollars in pure profit for HKKF, the exclusive tenant of this pier.
They're permitted to keep all the profits from subletting the shops and space in this Govt.-built and maintained ferry pier. It's kind of a subsidy to keep the ferry fares from rising too much. Not a bad arrangement for us passengers and especially for HKKF!