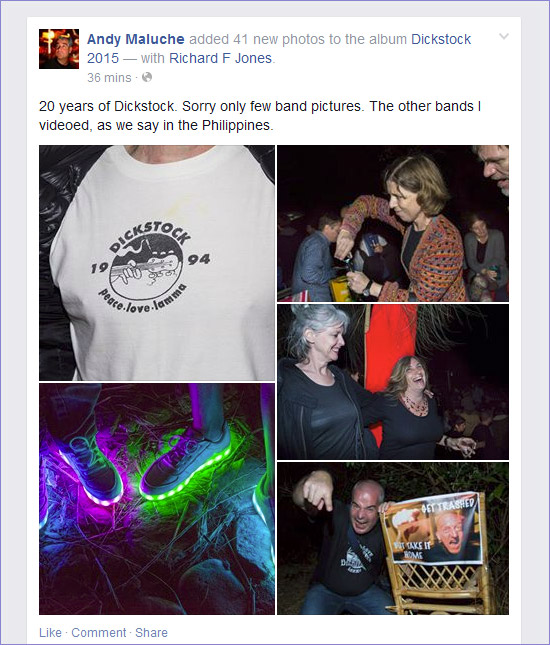 More pictures, reviews and comments...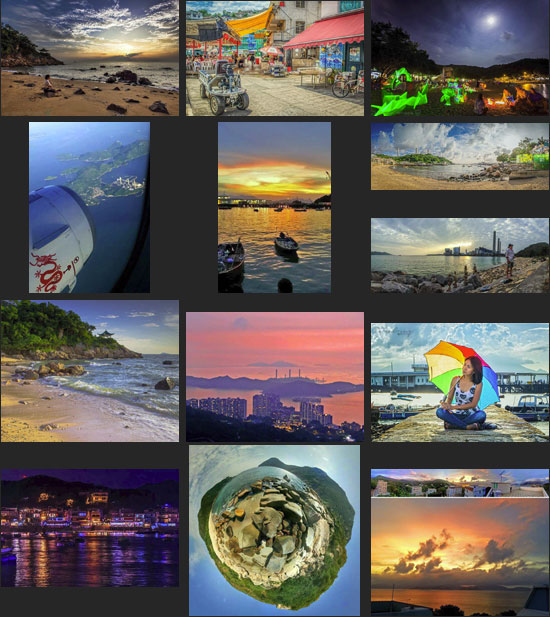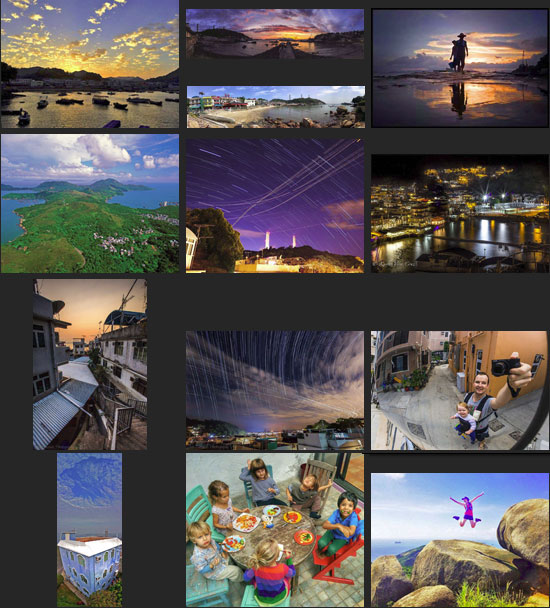 More Lamma Photos of the Week, Jan - Dec 2014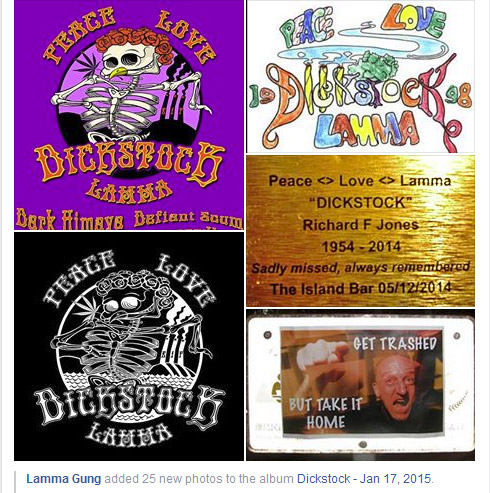 Dickstock review by Nick the Bookman:
"Man, Dick and Sue will be pissed to miss this gig."
(... and here are some of his NixMixes, new on MixCloud!)
---
Andy Maluche, our former Official Court Artist, writes about Sat, Jan 17:
"One of the 10 beers yesterday must have been bad. I feel slight pain between my ears. It was an awesome party!
Thank you Gareth Dunster, John Parks, Harry Harrison, Roz Keep, Philip Keep, those guys made it happen. There must have been more than 300 people. You could feel the love.
Donations and t-shirt sale did not only cover cost, we made a big chunk of money for charity. Videos and pictures will follow. Just like those many happy kids that danced to the music of their grandparents on Dickstock, I like to shout: "Again, again."
Dick would have had a ball, slightly misty-eyed, though.
Let's do it again!"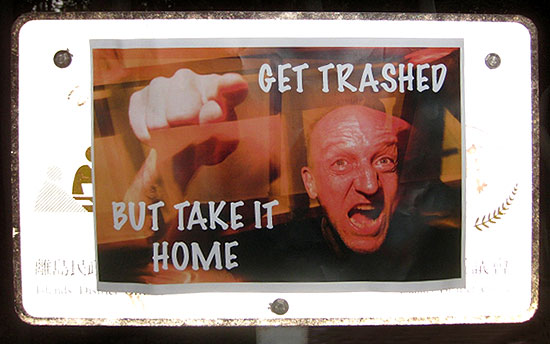 Lamma Spotlights of the Week, Jan 20, '15:
Fallstreak Hole, Lamma Mainstreet UFO Sighting, South East Asia 2015, Black-eared Kites and an Alien?
by Daniel Clarke, Alain Jaquier, Howard Sheard, Tamara Norris, and me.
If somebody's got a picture of a kite and the Police Box/TARDIS flying through a Fallstreak Hole, I'd publish that right away, with full credits! Anybody?

Is this Blue Fallstreak Hole going to swallow up Lamma's famous Blue House?
The owner has just called it "Holy Halo House" after seeing this picture.
Buy the house before it vanishes! Village House for sale in Pak Kok.
I love winter sunrises! We've been lucky to enjoy some amazing sunrises after all these cool and crystal-clear nights. I love going up to our rooftop and experiment with the Panorama mode on my Smartphone. Try it with yours!
This concludes today's Lamma-zine story. All these pictures have been taken well before breakfast; an entire sunny, lazy Monday to waste away on Facebook...
---
P.S. Jan 21: Plus one great & unique Panorama mode photo from Arnold Wing Lun Lee; he named it "An eye on the sky". Is it watching our Powerstation?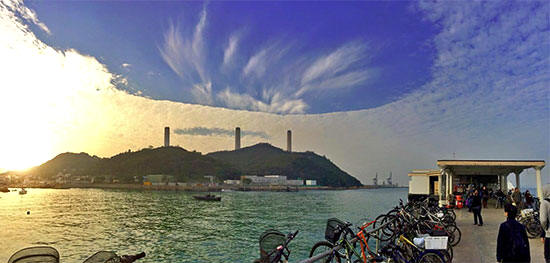 There's quite a considerable number of artists living on Lamma. Many of them have been featured at least once as Artist of the Month on this website. I'm still discovering new local artists occasionally, but rarely, as our artists are often shy and low-key, sometimes "hiding" in their forest studios and only rarely venturing to YSW High Street or meeting new people, it seems.
If you want some FREE exposure for your or your friend's artworks on this website, contact me anytime. "Art" is a very wide term here and I'm happy to feature face painters, graffiti artists, designers, computer animators, trash sculptors, etc.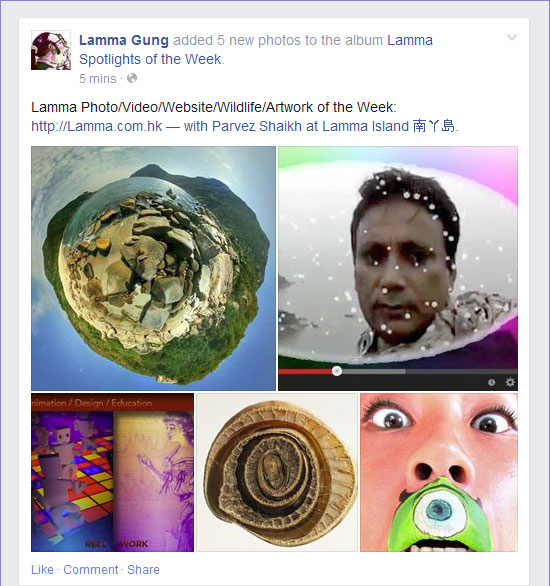 Lamma Spotlights of the Week, Jan 15, '15:
Turtle Beach, Lamma Music Video, Animation/Design/Education, Stem of Bamboo Leaf, Mike of Monsters, Inc.; by:
Ronald Sastrawan, Parvez Shaikh, Mike Robinson, Rambler, Abigail Wong.

Living Lamma writes:
"Lovely clean up and AGM today. Thank to those who came along. The Living Lamma committee for 2015 is:
Roz Keep: Chairperson - the hair with the flair!
Sheli Bowman: Vice Chair - and very surprised to be!
Jo Wilson: Secretary - happy to do the boring but necessary bits, helped by
Theresa Andrews - a welcome new addition!
Jack Wilson - Treasurer, and
Charlotte Varley and Barbara Tavernard.
We have left an experimental clean up station on the beach [before Main Street bridge over nullah] so that anyone at any time can clean up. We still have an aim to restore the beach and continued today to take off construction rubble.
If you want to help out, please make use of the clean up station. Leave construction rubble in the wicker basket, and take other rubbish/recycling to the bin and return the container for the next person.
We will leave gloves there too and wash the dirty ones for you."

Dawn writes: "Santa Sprint Amount Raised: HK$6,010!
Previous record $2,800, so over 100% more.
Thanks to everyone for being so generous and getting into the spirit of the event!
Santa Sprint Race Results:
Surfski Champion: Jean Gorguet: 45.30
OC1 Champion: Paul Collins: 51.52
OC1 Runner up: Andrew Shields: 55.29
OC1 Rookie* Champion: Alex Miranda: 49.29
OC1 Rookie* Runner-Up: Steve Stanton: 50.19
OC6 Champions: Paul D, Pirate John, Pascale, Steve, Kyle: 53.32
OC6 Runners-up: Fraser, Jim, Christine, Theresa, Daniele, Louise: 53.35
*Rookie: anyone who has not done the race before.
Well done and HUGE thanks again for everyone who took part and for making this such a fun event. We had 31 paddlers (which is also a record) and hope to make this even bigger and better next year!
Here's to a fabulous new year for everyone and lots of awesome paddling!"

Text messages from Marcus & Jane, expedition leaders:
"Update for Resolution Walk on New Year's Day, 1/1/15:
The departure points will be:
Pak Kok, 11:00am on main path heading towards our house.
Tai Peng: 11:25 on Cable Road at junction to Tai Peng swamp and gardens.
YSW/Hung Sing Yeh: 11:50 at public BBQ pits.
Weather outlook is 'cool and dry', so we'd suggest a pac-a-mac and fleecy plus good grip footwear.
Please bring a picnic lunch and fruit as well as your own thermos/water bottle/hip flask etc.
Bring your own vices that you want to leave at the trig point and come down the mountain a new man/woman!"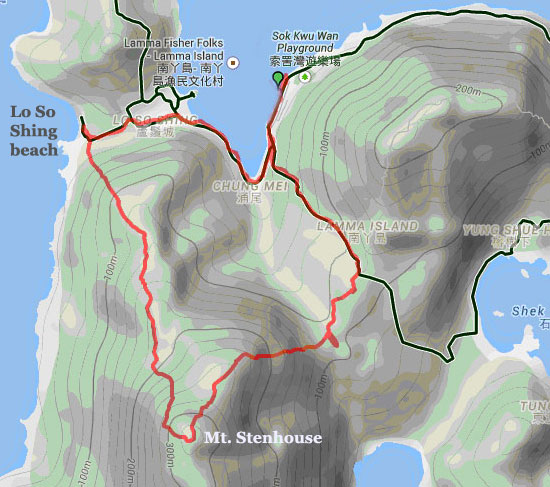 The hike was extremely straining, definitely not for tourists, 5 hours for the red round-trip above, according to my mobile phone GPS. Just a few people dropped out along the way to Sok Kwu Wan.
One tough lady made it to the top with a fever of 38.8 degrees, as she found out only afterwards. But she's got a "private doctor" in her home, so she'll recover soon, we hope. ;-)
Another Lammaite partied till 5am, a few hours before the hike, imbibing more than would probably kill me, but he still made it to the top! Marcus writes:
"Bad news for the Lamma bars, my straw poll was that most 'Resolution Walkers' were leaving boozing on the trig point for 2015:
Resolutions that I heard:
"Give up the booze and the one night stands and forget about everything"
"Just get a bit healthier, really"
"Giving up cigarettes the day before Resolution Walk, so that there is nothing to give up for the rest of the year"
"Do my homework on time and not get told off by Dad"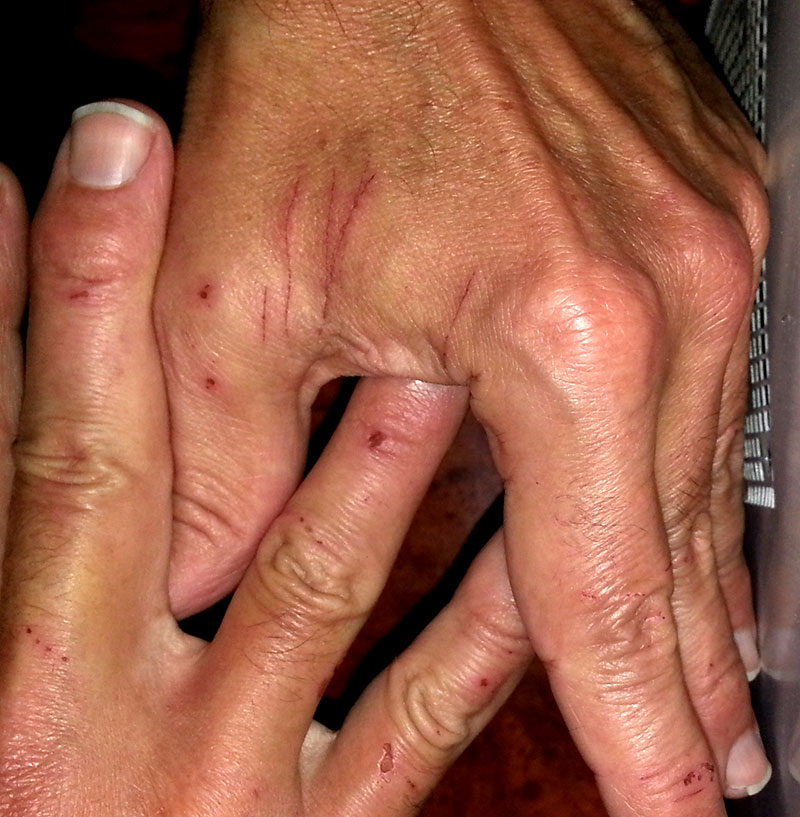 "Steal your new TV and PlayStation!"
"Run Pak Kok loop twice a week"
As probably the oldest hiker in our large group (no seniors), I've succeeded in my yearly fitness self-assessment: making it up to Mt. Stenhouse at least once a year! That was my own, not very ambitious, but realistic resolution.
My thighs and knees were very sore for a few days, but all my many scratches healed within a week. Which Lamma peak is next to be conquered once again?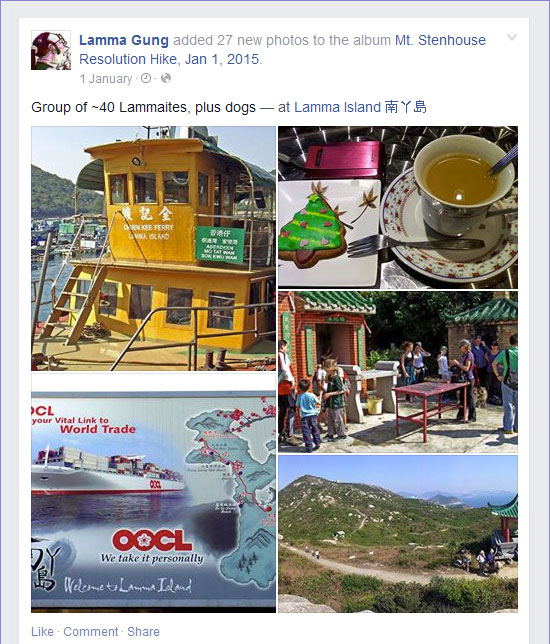 P.S. Jan 16: I just got a question from one of our hikers about the distances:
According to my GPS map of our similar hike last year, with distance markers in km, walking all the way from Pak Kok and back to North Lamma:
From Hung Shing Yeh it's about a 5km hike up to Mt. Stenhouse via Sok Kwu Wan; and 4 km down back to Hung Shing Yeh beach, via Lo So Shing beach.
It took me about 4.5 hours this year, including breaks, just for the loop mapped above, starting and ending in Sok Kwu Wan.