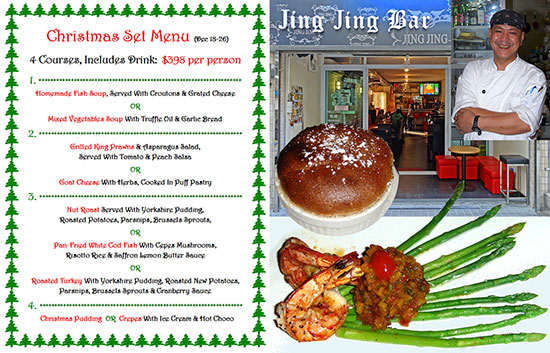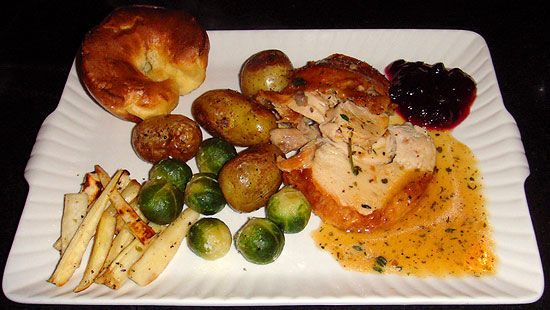 Jing Jing means "Perfect Essence" in Chinese, often used as a girl's name. It's a fitting description for this Christmas Set above we enjoyed there this evening. I helped Joyce, our cheerful host, to proofread, format and print the Christmas menu above, so Lamma-Por and I were eager to try it as soon as it became available, (Dec 18-26).
For my little review (in progress), see my frequently updated Bar & Restaurants News.

Last night in Banyan Bay Cafe (Cath's Bar):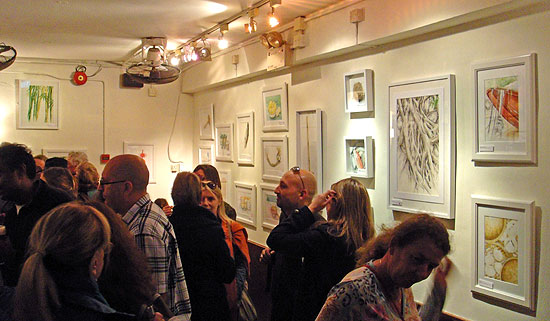 Debra Morris is a former Artist of the Month ("My Lamma Monthly E-zine" #21 - Mon, Apr 28, 2003) and a long-time, frequent Lamma Artwork of the Week contributor. More info and how to contact her, maybe even buy one of her amazing paintings:

Good news for us HK Electric customers!
"HK Electric announced today that the net tariff would be frozen for another year. All 560,000 HK Electric customers will enjoy the same net tariff in 2015 as in 2013, averaging at 134.9 cents per unit of electricity.
Addressing a meeting of the Legislative Council's Economic Development Panel, Mr. Wan Chi-tin, Managing Director of HK Electric said he is delighted to have honoured the pledge of freezing the tariff for another year. He remarked that last year when HK Electric announced the 2014-2018 Five Year Development Plan, the net tariffs were forecast to remain unchanged for five years...
Mr. Wan stressed that HK Electric will strive to keep costs under control as it continues to provide customers with a highly reliable electricity supply and world-class services."
---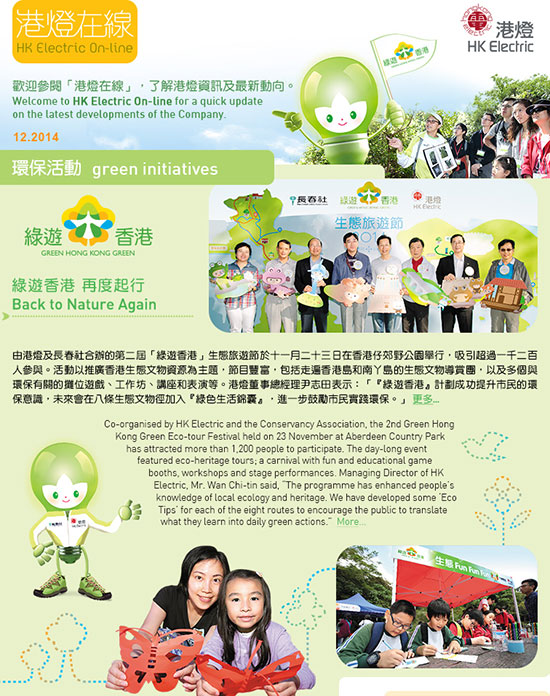 Click to enlarge and view the whole e-newsletter.
"The "Green Hong Kong Green" (GHKG) programme, jointly organised by HK Electric and The Conservancy Association (CA), has raised public awareness on eco-friendliness, and has deepened people's understanding and appreciation of local eco-heritage resources. We are happy to see that the eight eco-heritage routes launched last year have attracted nearly 3,000 participants for some 200 tours organised...
"Under the GHKG programme, eight eco-heritage routes have been developed for Hong Kong and Lamma Islands with education panels installed en-route. Eco-maps and a "Green HK Green App" featuring the major characteristics and access information of the routes have been produced for free.
"More than 150 eco-leaders have been trained to conduct monthly tours. Interested parties can sign up with CA for the tours, or they can make use of the tools developed to plan their own tours. For details, simply download the "Green HK Green App", browse CA's website at www.cahk.org.hk or call 2728 6781."
View more HK Electric press releases, videos, newsletters, publications...

The next next major development project, sometime after completion of the YSW Ferry Pier Bike Park, is gazetted on the notice board right now for the mandatory 14-day period, till Dec 18:
It's basically tearing down and rebuilding of the Bike Park-adjacent YSW Library as a 3*1,000 sqft building. It's already approved and budgeted by the Islands District Council. It's even got a very catchy and pretty short name already:
"The Yung Shue Wan Library cum Heritage and Cultural Showroom"

This will obviously be a much larger, much more expensive and much more time-consuming project than the little bike platform they've been building for most of this year. And despite the new name, it'll still be (mostly) a library on the upper two floors.
What should be displayed to Lamma visitors inside the future Heritage and Cultural Showroom? What special, even unique aspects of Lamma's Heritage and Culture would you like to see displayed to the arriving tourists, just off the ferry pier? The planned photos of Ye Olde Lamma won't be enough.
Any good (and bad) ideas? Post them in our forum!
P.S. Dec 16: Artist's Impression of the future library (note the bike-free ferry pier and the Bike Park platform in the background, currently under construction):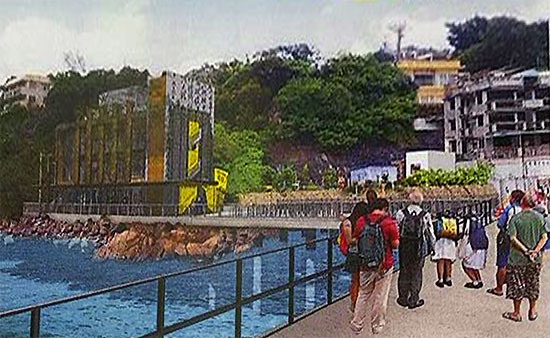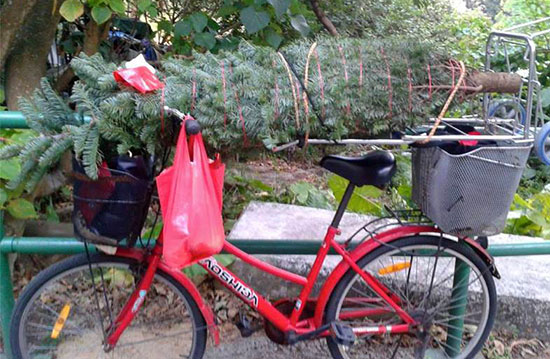 Helena Harrison: "Transporting Christmas trees Lamma style"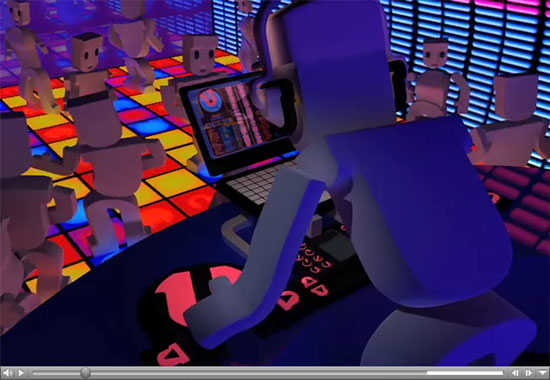 Lamma event promotions are getting more and more professional. See these TWO professional posters, plus extensive social media promos, even a DJ computer animation, all for this Friday's DJ Night and fundraiser for Sue Shearman's current cancer treatment.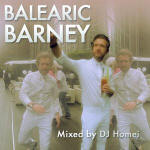 Both posters were done by professional artists, Harry Harrison and 3D animator/professor Mike Robinson.
There's even a "new DJ mix uploaded! A taste of what I might play this Friday night at Lamma Grill" on MixCloud, a kind of homage to DJ Homei's friend, famous Lamma DJ Barnaby Bruce:
Balearic Barney - Mixed by DJ Homei. I'm listening to this "cloudcast" right now while typing these words and like it a lot! It's #41 in their charts now, Top Ten soon?

"Yung Shue Wan is one of the most prosperous areas on Lamma Island. It is famous for European and seafood cuisine. The day and night scenes of Yung Shue Wan are spectacular."
No Lamma Calendar this year, so where to get a calendar with at least a few Lamma images, ideally for free? I've got a tip for you:
Pick up this wall calendar above from the table outside Lammadonna's, err, District Councilor Yu Lai Fan's office (just beyond Lamma Gourmet and Cath's Bar). It's produced by the Outlying Islands District Council and features touristy photos of HK's islands, including Lamma.
Some of the photos are the same as last year's and their quality is not quite up to professional wall calendar (or Lamma Photo of the Week) standards, but hey, it's free and has some Feng Shui advice thrown in!
Plus it comes with a little Cantonese soup recipe booklet, produced by the DAB, with a foreword by Lammadonna! A sure collector's item!?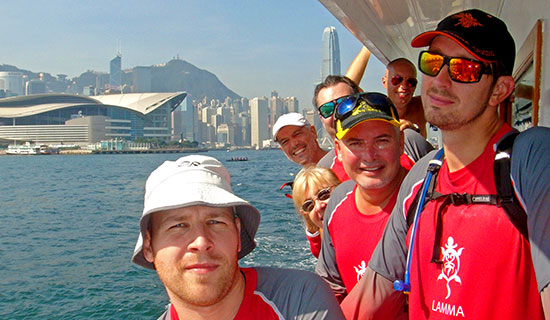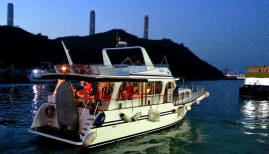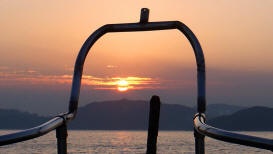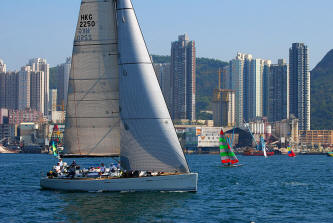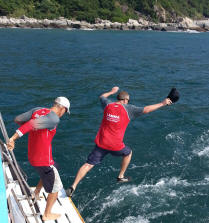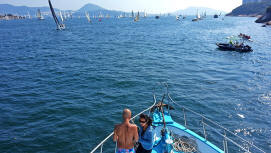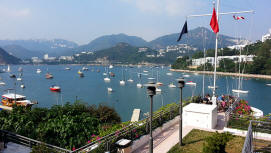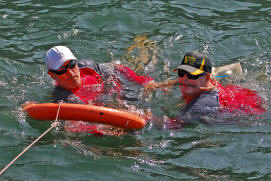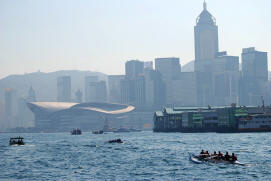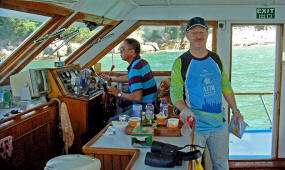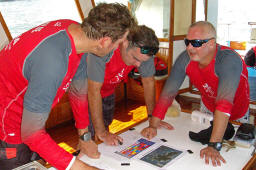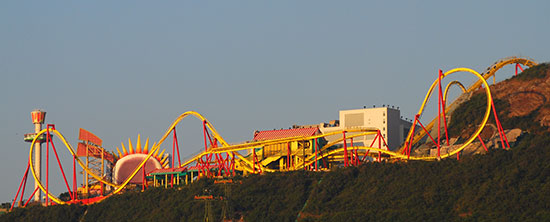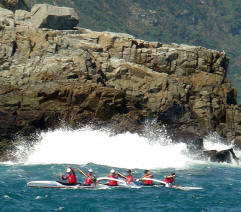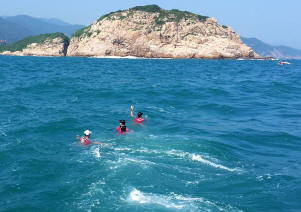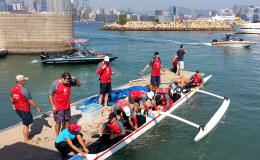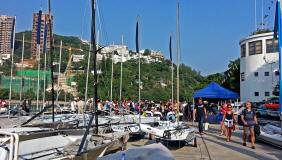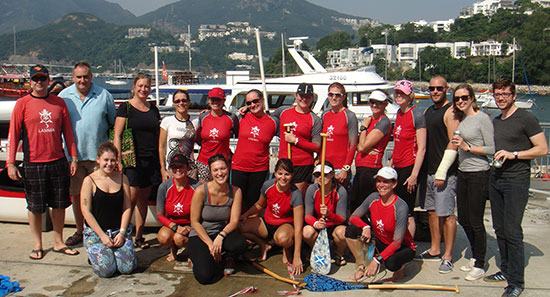 Click for Around HK Island Race, Nov 16, 2014 photo album
Many thanks to fellow Nikonian Jean Gorguet for lending me his long bird watching lens, err, Lamma Outrigger watching lens for the day!
Here's my most popular long-distance photo (most Facebook Likes), a "sea change": 3 paddlers swimming up to the canoe after jumping off the support boat, replacing 3 exhausted paddlers. Click to enlarge, Like or Comment: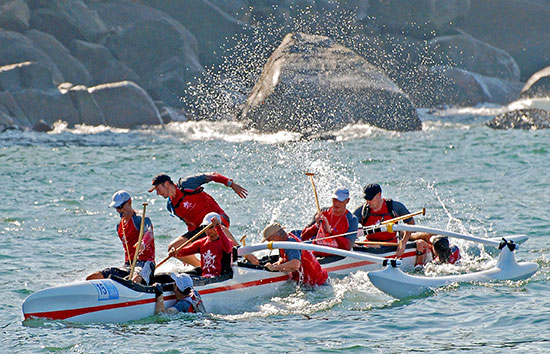 Lamma Spotlights of the Week, Dec 8:
Lunchtime, Night at the Beach, Wendy's Musings, Fighting for a Snail, R.I.P. Mr. DickStock by: Ronald Sastrawan, Simon Kay, Wendy, Rambler, Lamma Gung.
Lamma Spotlights Archive Gallery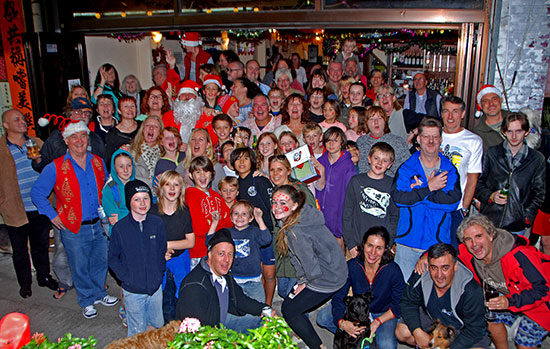 16 years of Lamma Treasure Hunt, Sun, Dec 7, The Island Bar;
for Operation Santa Claus HK
Plus a picture by Frazer of the (almost) first Treasure Hunt in 2000!
Many of these Lammaites still live here or have spread around the world.
Click above to locate some of your friends & acquaintances, 14 years ago.
For more my photos of the last 10 years,
you can search for "Treasure Hunt" at the top of this website.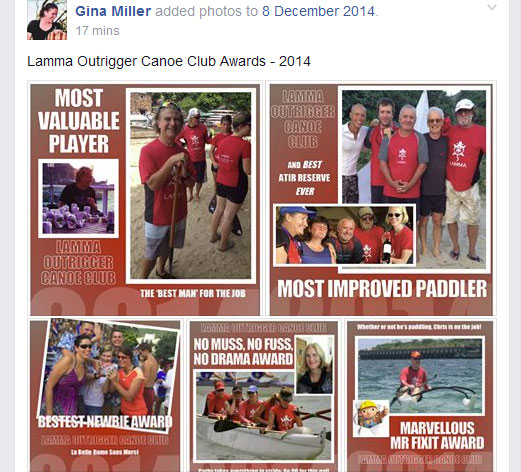 Awarded by the Lamma Outrigger Canoe Club! Click above for details.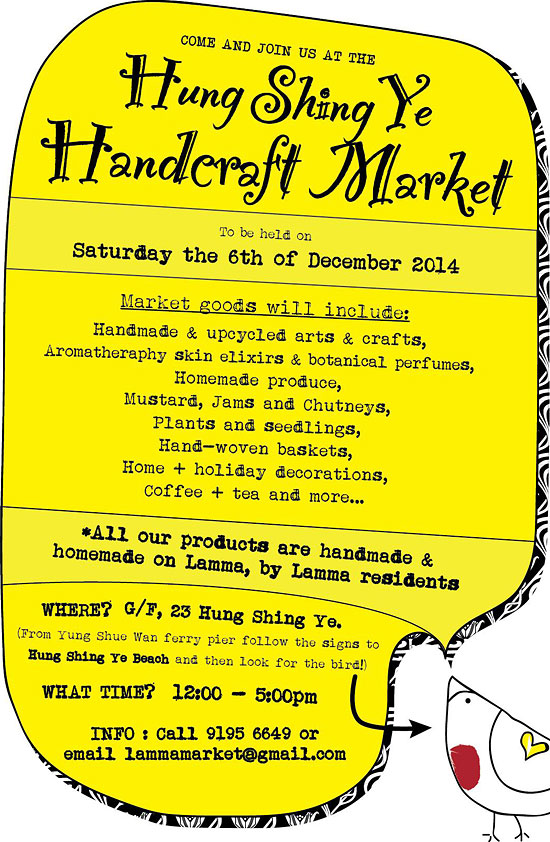 Megan Tanner will host this market in her family's flat and garden. She writes:
"We love Lamma's creative community, and getting folks together for coffee and some craft-appreciation in the December sunshine is always gonna be a great idea. With this in mind, we are very happy to announce that the next Hung Shing Ye Handcraft market will be held on Saturday December the 6th, from 12noon until 5pm.
Watch this space for updates on the stalls and artists we'll have joining us this time around, and please do get in touch if you'd like to contribute your craftiness to the afternoon!"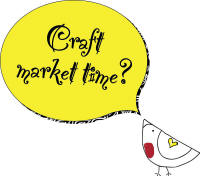 Signed on so far: Hand Made Market
Acts Of Kindness
Lynne the Storyteller's Over the Moon
Catchasa scarves; Stephanie Mae's upcycling
Artsy Party Faces, Abigail Wong's artworks, Grahame Collins Photography
Sam Chun's upcycled jewelry
MicroGardens/new book 'My Garden-My Friend'
Donations for Medecins Sans Frontieres, etc.
Plus loads of food and drinks:
"Mincepies! Jams! Chutneys! Yoghurt Cheese Balls! Vanilla Sugar! Dukkah! Pesto! Lemon Curd! Almond Butter!" ... plus Tony the Coffee Guy!
More details, links and info...

Posters above and below submitted by Harry Harrison
What Is the Lamma Island Treasure Hunt? (Website)
Plus my photo galleries of most former Treasure Hunts: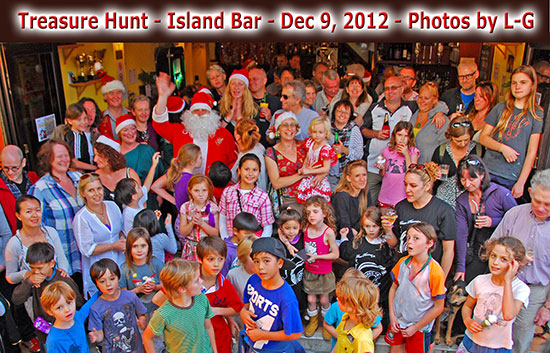 HKMBA website:
"Upon arrival at Lamma's Yung Shue Wan ferry pier, a quick dodgem ride through the bustling narrow streets will lead you up the hill to our first stop at Tai Peng Village. Here we will split into two groups. The more hardcore riders will tackle Project X while the leisurely group will enjoy the 'Cable' Roads and village paths looping back eventually to Yung Shue Wan Main Street.
Project X can be ridden in a few variations, the most popular starts with undulating technical singletrack resulting in a difficult climb of rock gardens and switchbacks. A short breather at the top and then a 4 minute adrenaline rush of steep boulder fields and dusty singletrack. Choose your line wisely, the obvious route just may be the most difficult.
Some of the local riders will be on hand to support the ride and offer advice on how to approach specific sections."
Find out more about mountainbiking and its dangers on Lamma and why I won't be joining this Sunday's, Dec 7, Rock up 'n' Ride. ;-)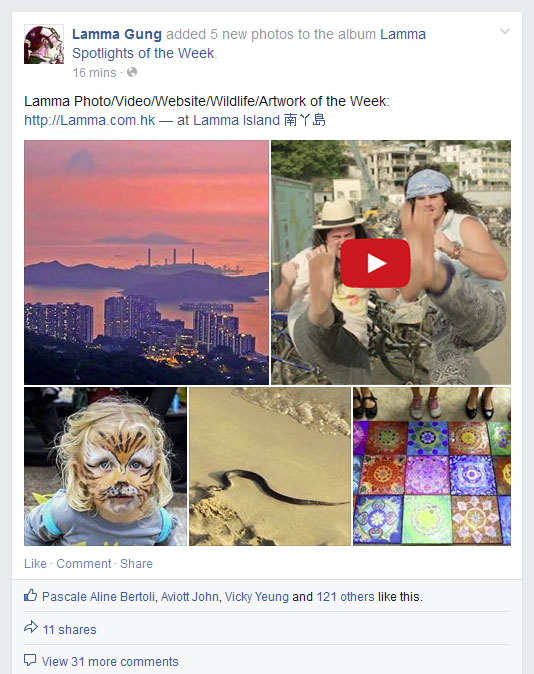 Lamma Spotlights of the Week, Dec 1:
View from The Peak, The Lamma Islanders' Message to Criminals! Clockenflap 2014 photo galleries, Lamma Fun Day Cobra, Wild at Art Mandala Workshop;
by: Yumiko Ueno, The Expats, Clockenflap, Mike Middleton, Katie Flowers

One of us 3 Lamma-zine freeloaders, errr, Media representatives at Clockenflap, became a center of attraction. This scene even appeared on the live YouTube feed of the festival!
I'm looking forward to Nick's review and the full story behind this picture... (Twitter photo submitted by Heather)
What we know so far, from Heather:
"This was at Dan Deacon on the Replay stage on Sunday.
Dan picked two random audience members to start a dance-off and one just happened to be Nick (who was trying to write it all down at the same time).
He called them 'Guy in the shiny pants' and 'Older version of guy in the shiny pants with long beard'. (It was a great set - ask Nick about it!)"


From our monthly Police Corner guest blogger, Lamma Police Chief Camas Tung:
"Further to my previous article on online auction fraud, I would like to talk about email scam this time. Nowadays, email is a common form of communication channel for liaising with relatives and friends as well as commercial partners.
Many folks on Lamma are expatriates and you may use email as a primary channel for overseas communications. There is a trend for criminal gangs to hack email accounts and try all sorts of ways to cheat victims to make remittances.
The most common scenario is the fraudster pretending to be your overseas relatives or friends who need immediate money remittance from you for some kind of emergency reason. After hacking into your friend or relative's personal email account, fraudsters send out deceptive emails to all persons, including you, on the contact list of the account. The email purported that the sender had encountered an accident overseas and requested you to transfer money to accounts designated by the fraudsters as a matter of urgency."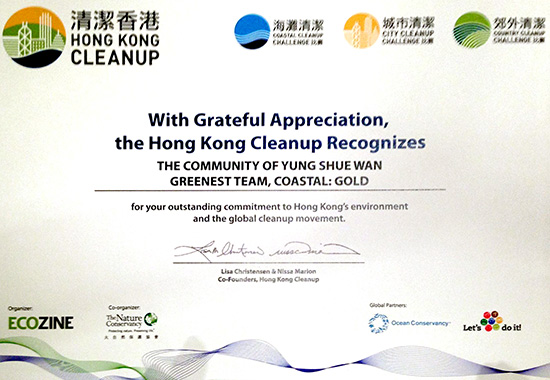 Click above to find out more...


This is the "impressive" sight greeting visitors and residents at the YSW Ferry Pier these days. It's like a showcase of some of the most massive crane ships in HK over the last few months, some almost as long as the ferry pier, all for building a little 300+ bikes platform...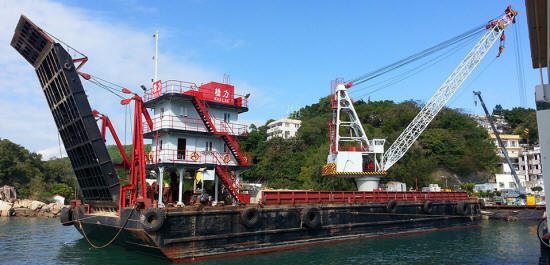 See more of these crane ships...
or join our heated YSW Bike Park discussions...

SCMP story today, featuring our frequent Lamma Artist of the Week, Tanya!
It talks about the many best and worst aspects of running on Lamma, from sunrise runs to spider face plants!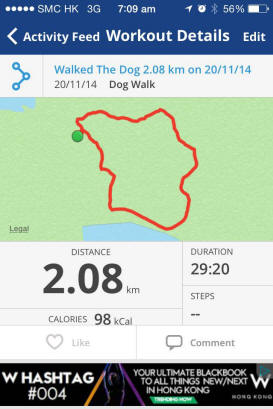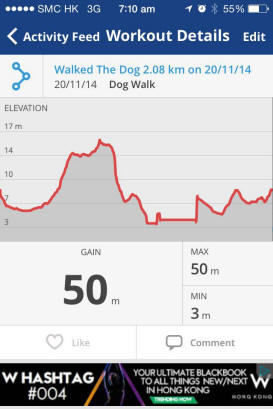 Many Lammaites love their dogs and love their gadgets, so why not combine these two passions?
See Banny the GPS Montainbiker's latest GPS Dog Walking above.
The app even measured how many calories he used. Only 98 kCalories used on a 2 km dog walk! But no info on how many calories the dog used. Should Banny be running or biking while exercising his dog?
A GPS on a dog collar might reveal some really interesting, meandering, erratic trails! Some people already put GoPro videocams on dog collars, for example on Power Station Beach.

Have a look when you have more than a few minutes left before boarding a Lamma ferry in Central! It's free and pretty interesting, high fashion over the decades, opening today with a glitzy, high-society, invitation-only Pradasphere party on the rooftop of Central Ferry Pier 4. (All photos above by Prada.)
It's such a major contrast, almost a direct opposite to what living on Lamma is all about for so many residents, what we have often turned our backs on gladly when moving here from all over the world:
Luxury, status, wealth, high society, social ambitions, high aspirations, personal image, brand awareness,...
This exhibition is a nice reminder of what most Lammaites do NOT miss.

Click above for details of these 4 major events in YSW today.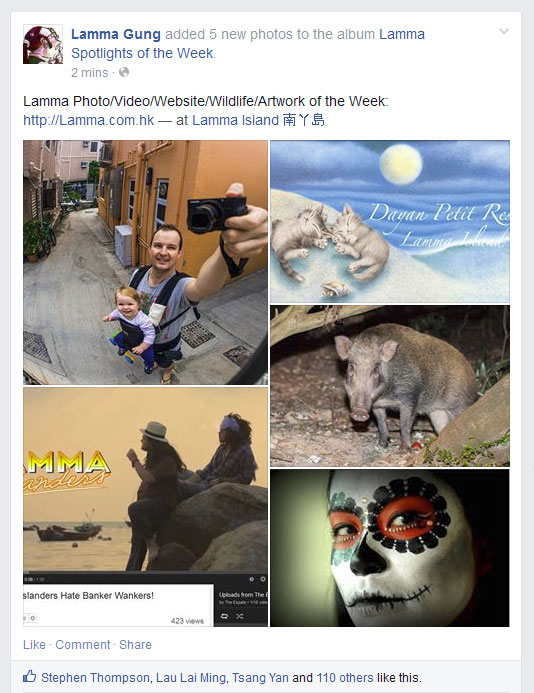 New Lamma Spotlights of the Week (see right column of home page):
"Showing off my new camera..., The Lamma Islanders video, Dayan Petit Resort website, Wild Boar Family, Face Painting #1", featuring the talents of:
Sean Creamer, The Expats, Wachifield, Howard Sheard and Abigail Wong!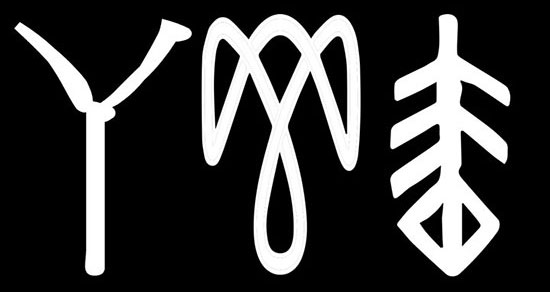 Get a free drink from me if you figure out the meaning of these 3 symbols!
Posters with these mysterious symbols have been popping up all over N. Lamma: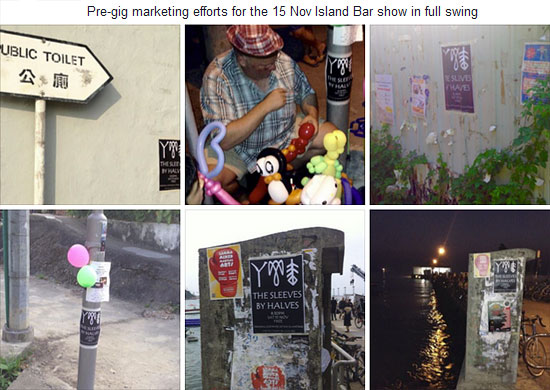 If you're not affiliated with the two bands and guess the meaning of all 3 symbols correctly on Sat night, the first 3 people will get a free drink, courtesy of the Lamma-zine!
Part of the challenge will be finding me behind my camera before or during the concert, as there are still a few people left who don't know me, it seems?!
Check out my cartoon avatar or ask your friends!
P.S. Who are "By Halves"? It's a question that The Sleeves are getting asked too often these days. They are formerly Helium!
"No musical slouches despite their name, By Halves, (formerly Helium) serve up an eclectic blend of crunchy electro-acoustic guitar riffs, soulful funky keys and original songwriting flair, creating a groovy, uplifting sound.
You won't be able to sit still."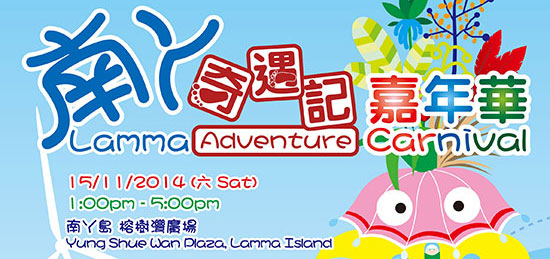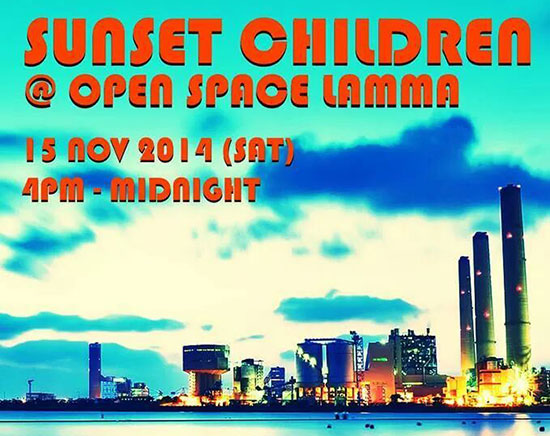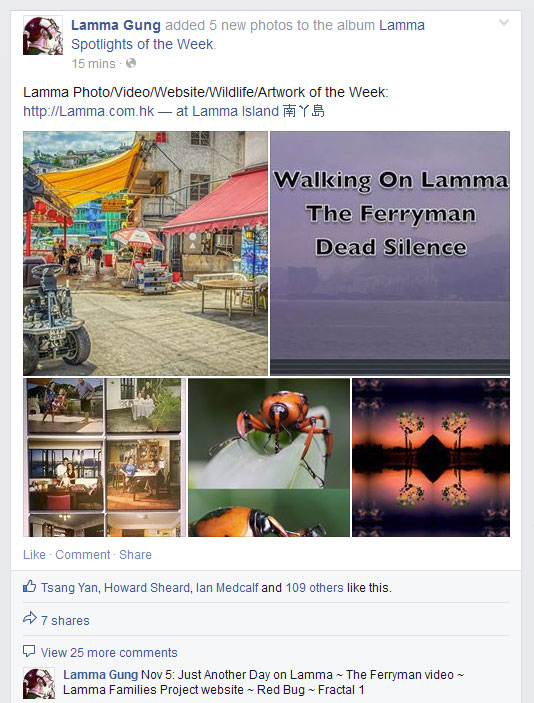 a

Review by Nick the Bookman, photos by Howard Sheard
(plus find out about the "The Perception Deception" and if it's
"all tied in to The Illuminati, The Trilateral Commission, The Bilderbergers,
The Council for Foreign Relations and The Rothchild Zionist Conspiracy.")