R.I.P. YSW Library @ Ferry Pier. Click above for my large photo and a heated Facebook discussion I started.

The Library will be torn down and rebuilt as 3,000(?) sqft, $50 million glass-palace "Library cum Heritage and Cultural Showroom" will start any day now, even though the exact date (delayed several times already) remains a mystery, even to our Rural and District Councils, it seems.
Another Home Affairs project, starting this year, perhaps.
Expect massive impacts on the neighbouring, already overflowing, new Bike Park for the long construction period. Library rebuilding forum:
Pictures and the story so far...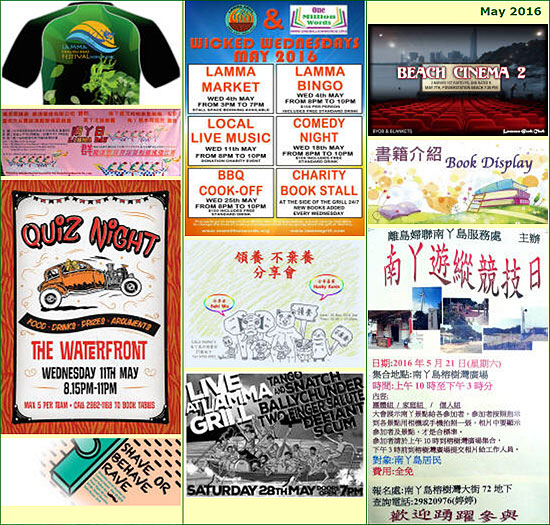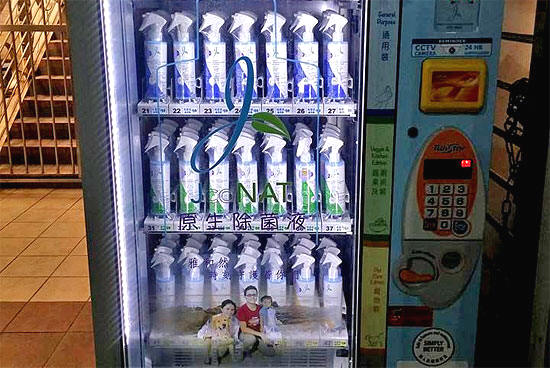 New disinfectant vending machine appearing at Central Ferry Pier 4 to Lamma. Nick Berriff writes:
"I fear that's probably not enough disinfectant to kill all that dreadful scary "nature stuff" on Lamma, which - as we all know - is just dripping in dangerous germs and dirt.
And at $59 for disinfectant and $47.40 for the ferry, it would be far cheaper and safer to spend the day in a more relaxing, natural setting for humans like the IFC or Festival Walk or Tai Koo Shing... with air con and hourly sterilisation by professional cleaning crews and a proper level floor."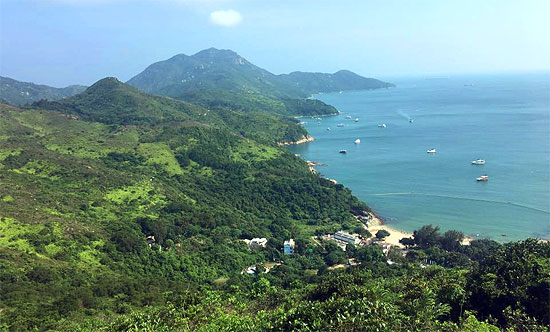 by Sharon A. Birkett, Official Court Poet
Lamma is amazing,
a great place for lazing.
Hiking, swimming, sailing too,
Calming and beautiful, how delightful is this view.
Lamma with your hills of green
Where there's no path, few men have been.
Enjoy this place, enjoy your home
Get outdoors, explore and roam.
Smile at tourists, remember that
We don't live in their built-up, sky-rise flat.
P.S. A record 205 Facebook Likes, 16 Shares & 20 Comments for this poem which is speaking from the hearts of most Lammaites.
PS. 2: That view is the Hung Shing Yeh beach, the backside of the view from the Trig Point, from where this website's panoramic header, from Power Station to windturbine, has been shot. Best view of N. Lamma!
---
P.S. 3: In the interest of an editorially balanced view, here's a slightly different opinion: from a recent tourist, one of only 15 Terrible ratings amongst these 1,000+ mostly positive TripAdvisor reviews:
"There are no attractions, horrible local food, quite dull ambience....
Don't go to Lamma, waste of your time; there is no fun, no nice scenery, not-nice locals and just an abysmal area."
---
P.S. 4, May 23: Sharon Birkett: "Thank you very very much all you Lamma lovers - over 200 likes is so awesome.... :-)"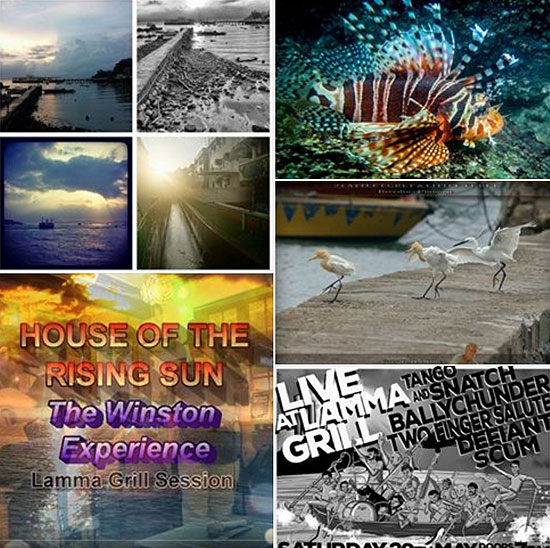 Lamma Spotlights of the Week, May 16, '16:
| | | |
| --- | --- | --- |
| PHOTO | | by Trey Menefee |
| VIDEO | | by Ginko707 |
| WILDLIFE | | by Krzysztof Kazala |
| BIRD | | by Guy R.H. Miller |
| ARTWORK | | by Ben Appleby |
See former Spotlights - Send me YOURS!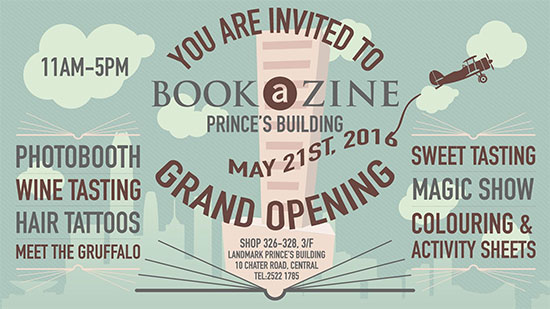 The Bookazine shop closed down in the ifc mall (the so-called YSW Shopping Mall, just off the Lamma ferry).
Reopening in Prince's Bldg., this former advertiser gets a free plug here and I might be attending, making a rare trip off-island.
Dead-tree books, umm, who cares, meh? I just want to to find out what a "Hair Tattoo" is and to meet the famous Gruffalo to share some "Wine & Sweet Tasting", making him (and me?) less gruff and more cheerful, I hope!
See you there?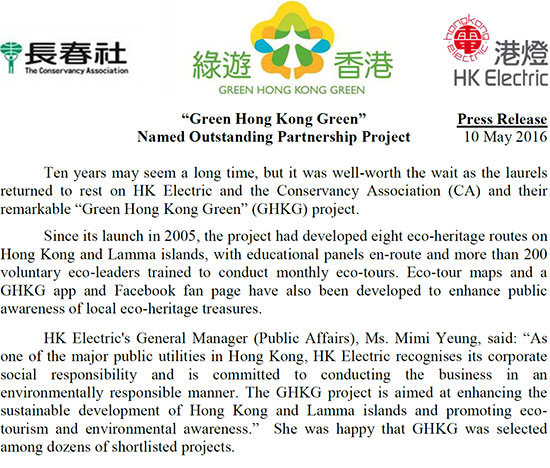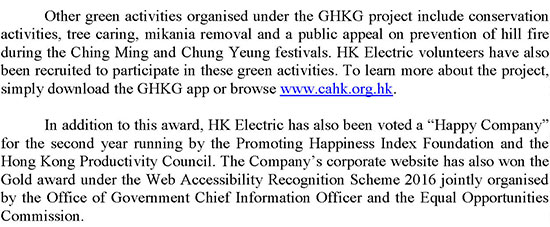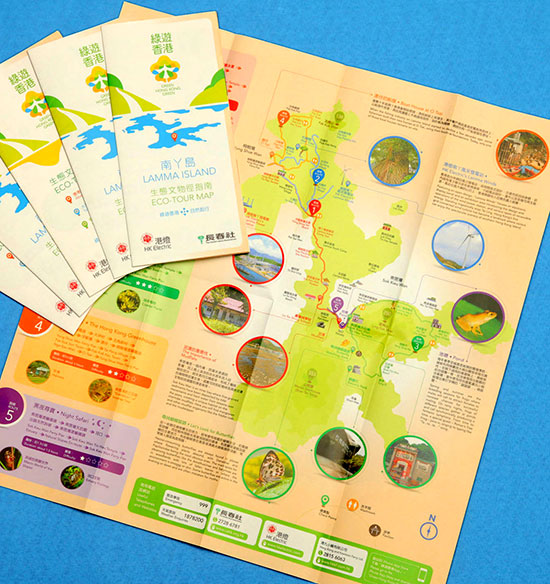 Click on Lamma Eco-Tour Map above for digital version.
See the full press release & pictures.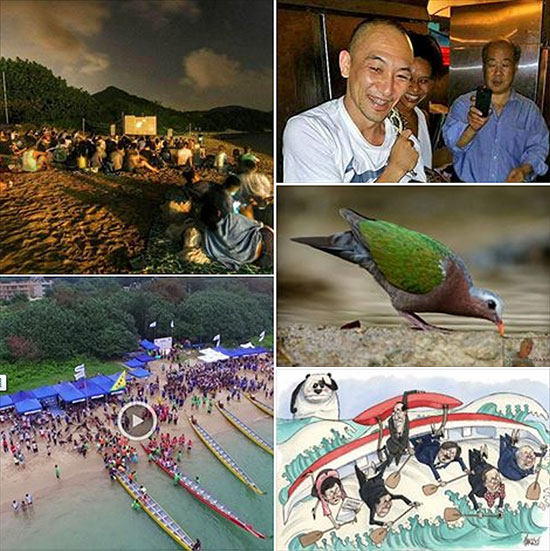 Lamma Spotlights of the Week, May 9, '16:
| | | |
| --- | --- | --- |
| PHOTO | | by Ronald Sastrawan |
| VIDEO | | by Donna Foreman |
| WILDLIFE | | by Christian Enk |
| BIRD | | by Guy R.H. Miller |
| ARTWORK | | by Harry Harrison |
See former Spotlights - Send me YOURS!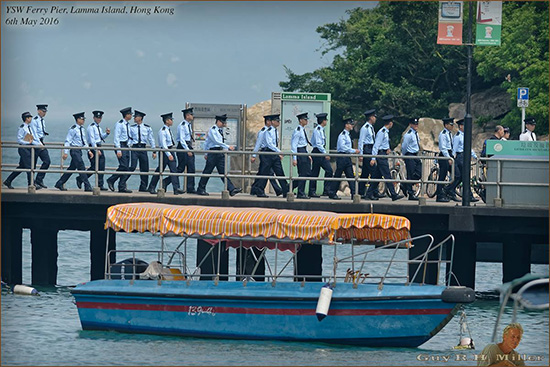 Lamma is such a low-crime area (0 burglaries in 2014, 1 so far this year, 1 murder in 10 years) with so little visible, but friendly policing. A large group of obviously off-island police arriving on the ferry and strolling down the YSW ferry pier can send our imaginations and local social media alight.
When our regular contributor Guy R.H. Miller spotted them with his long lens this morning, the wild speculations began right away in our quite new Lamma Island Hong Kong Facebook group:
Who are these guys? What are they doing here?
Chasing more incense tree smugglers?

Reinforcements for even more restaurant/bar license checks?

Providing security for a wild birthday bash?

Protecting our District Councilor from more Tin Hau bamboo scaffolding ties dumped outside her office (when she called the police)?

Trying to find the vile perpetrators stealing chairs and tables from the Blue Goose recently?

Dunkin' Donuts opening on Lamma (a police favourite in some countries overseas)?
Afterwards, the cadets were observed having a nice lunch in Andy's Seafood rest., (where Chow Yun-fat has been spotted again quite recently).
In the end, even our new police chief, Solid Kwan, joined into the discussion and set our confused records straight, throwing cold (YSW harbour) water at our overheating imaginations:
"This batch of young fellows have all just passed the Police College after an intensive training. They chose to join the Marine Region rather than the Land Divisions."
---
Awww, so after all this commotion, there was no major crime story here at all, no big headline, no story at all??
But hey, wait a minute, maybe on such a low-crime island, the overheating reactions of residents to a routine, standard police familiarisation visit ARE actually a story! As I'm the sole editor of this daily Lamma news magazine, I decide what's worthy of a story! And this is, IMHO! It tells a lot about our peaceful Life on Lamma...
Thanks to Annie Knibb for coming up with the perfect title for this "breaking-news, headline" Lamma-zine story! I think she was making fun of our over-eagerness and me chasing a non-story, but I loved and used her title anyway!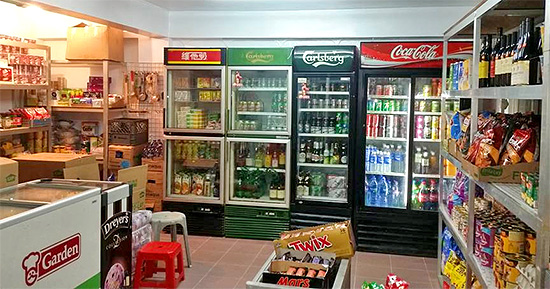 Great news for the Tai Peng community: the only shop up in the remote, verdant hilltop community of Tai Peng, a long, arduous, sweaty and tiredness/fitness-inducing walk uphill from Yung Shue Wan has reopened, after being closed by Mr. Chow & Family just a few months ago!
More photos and a talk with the new proprietors Nancy Kam & Ah-Kam will be published soon! In the meantime, visit and shop till you drop (or you might have dropped already after the uphill struggle to Tai Peng, in severe need for your personal choice of refreshments which they'll provide happily).

If you don't get today's headline, you're probably in good company, amongst non-nerds. Read the headline aloud and you might get it, the meaning of today's big, worldwide, special day for millions of nerds out there.
Just some more May Day pictures today, a few from the 960 photos I shot with 3 cameras during the Tin Hau Festival/Lamma500 last Sunday. First, happenings in and around YSW Harbour: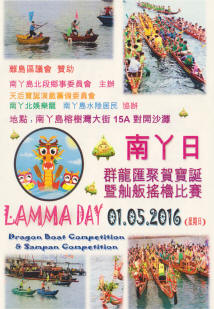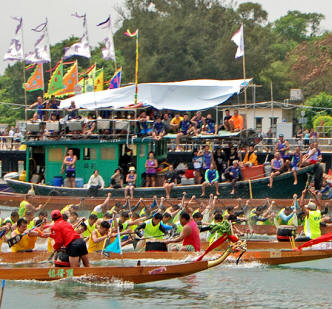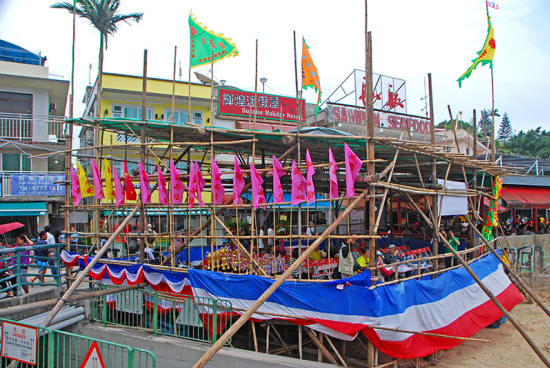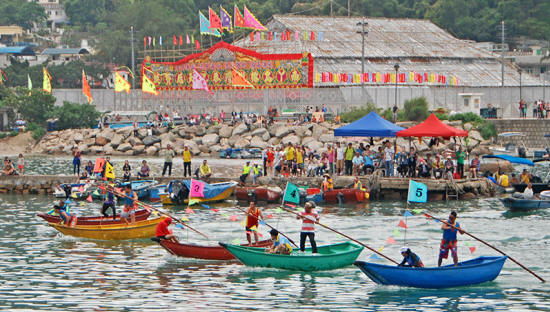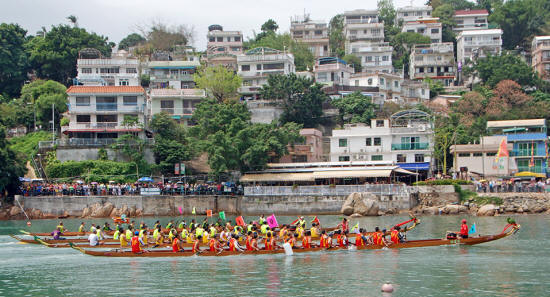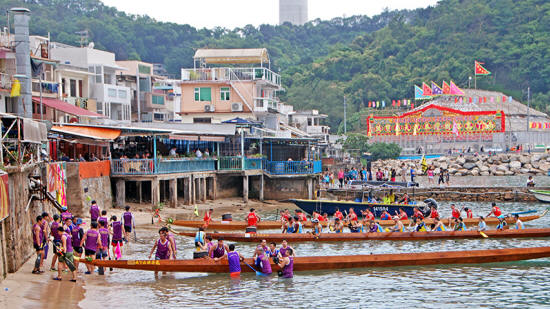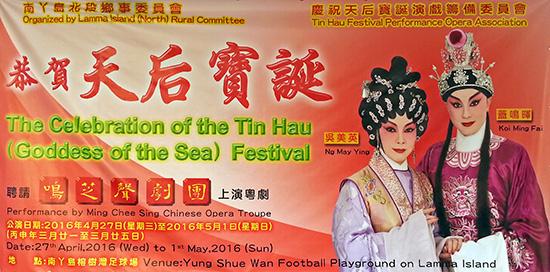 More photos coming soon, including Lamma 500.

Lamma.com.hk has been asked to publicize this academic survey. I'm always happy to oblige, if asked nicely (and if it's relevant to Lamma or Lammaites). ;~)

"This study is being conducted by researchers from the School of Hotel and Tourism Management at The Hong Kong Polytechnic University and the Institute for Tourism Studies (IFT) Macau, to gain a better understanding of pleasure travel by westerners who live in Hong Kong.
We would be most grateful if you could spare a few minutes to answer the questions to the best of your ability. Results will be aggregated, ensuring anonymity and confidentiality. Thank you."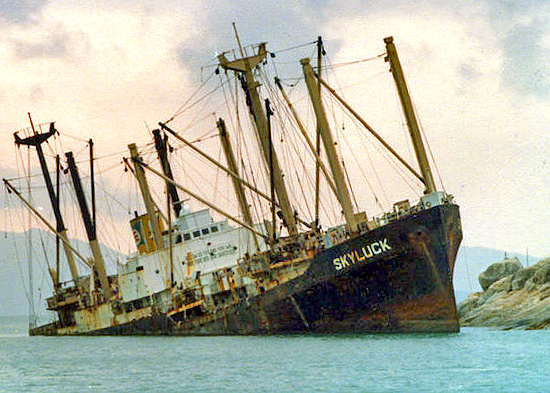 HK history story on HK Free Press, by Hong Wrong:

"The freighter was towed to the south of Lamma Island where it was anchored several hundred yards off-shore..."

"100 refugees jumped overboard and tried to swim towards the shore. The 50 who made it to Lamma Island were arrested, with the rest picked up by launches and returned to the freighter..."

"

...when refugees cut the anchor chain and the Skyluck drifted onto the rocks at Lamma Island, causing it to sink."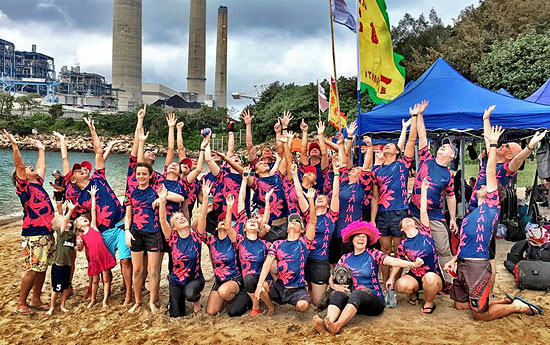 Photo by Nicky Jones, taken this morning.
Here's one of my former Lamma 500 photos (I've photographed all 9 years so far), just published on Localiiz: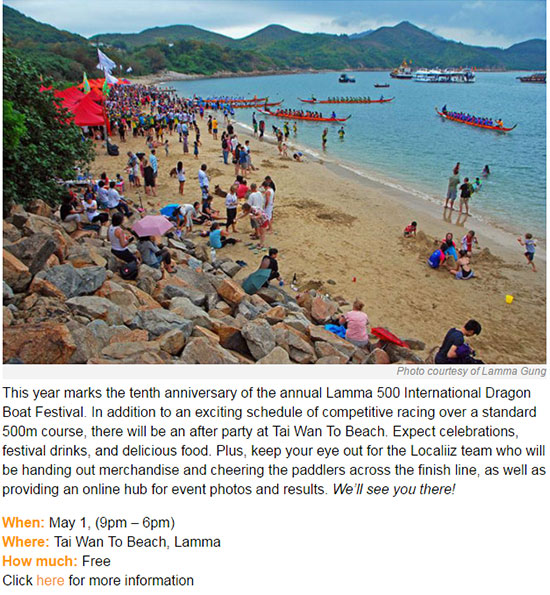 More photos & results coming in as Tweets!

We're proud to be again an official Event Partner and one of just 2 Media Partners of the Lamma500!
For new photos and up-to-date info, check Facebook's #Lamma500, plus Instagram's #Lamma500 and the Photo Competition entries.

---