| | | | |
| --- | --- | --- | --- |
| | Dec 2 - Christmassy decorations are popping up all over Lamma, ... | | Dec 1 - Christmas/NY season on Lamma: public concerts and events are finally back. |
| | | | |
| --- | --- | --- | --- |
| | | | Nov 25 - This nice poster is using my "Snowy Christmas @ YSW Main Street" image. |
| | | | |
| --- | --- | --- | --- |
| | Nov 19 - Google translation needs a lot more work to ... | | Nov 14 - In case you're wondering how much the new pier cost. |
| | | | |
| --- | --- | --- | --- |
| | Nov 13 - An AI artist who engages in an utterly bollocks waste of time. | | Nov 11 - Discovering some brand-new, fascinating sights. |
| | | | |
| --- | --- | --- | --- |
| | Nov 4 - First-ever ferry trial-berthing on the inside and outside of the new Pak Kok pier. | | Nov 2 - The new Pak Kok ferry pier under a T3 signal. |
| | | | |
| --- | --- | --- | --- |
| | Oct 31 - Soft opening (no event) mid-Nov, date tbc. Interviewing a CEDD Asst. Engineer: | | Oct 30 - My Halloweenified transformations of Lamma visitor Naomi's photo. |
| | | | |
| --- | --- | --- | --- |
| | Oct 14 - So little has changed on Lamma in my photos from 9 years ago. | | |
| | | | |
| --- | --- | --- | --- |
| | Sep 12 - New, safer pier to be completed by end of this year. | | Sep 11 - AI-created impressions of the festival last night. |
| | | | |
| --- | --- | --- | --- |
| | | | Aug 29 - "It's a real saddening news that yesterday was Green Cottage's last day." |
| | | | |
| --- | --- | --- | --- |
| | Aug 28 - ... showcase the works created by the participants during the pandemic. | | Aug 24 - Last ferry from Central - YSW and YSW - Central both at 8:30pm. |
| | | | |
| --- | --- | --- | --- |
| | Aug 18 - Colourful exotic birds are very popular on Lamma and much beloved by their owners. | | Aug 17 - Busy Yung Shue Wan ferry pier the other night with crepuscular rays. |

Dec 2: A Car-Free Island?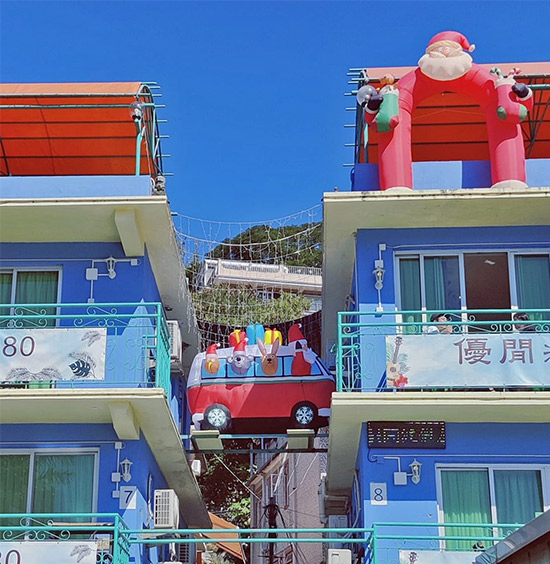 Christmassy decorations are popping up all over Lamma, even on 2/F and rooftops on YSW Main Street!
So that's how you get into the neighbouring building on 2/F, no need to go down and then up again! Is this the Lamma version of a bridge between skyscrapers in other countries?
Best Facebook comment came from Yogesh:
"Lamma is no longer car-free."

Dec 1: Tours & Festivals Reborn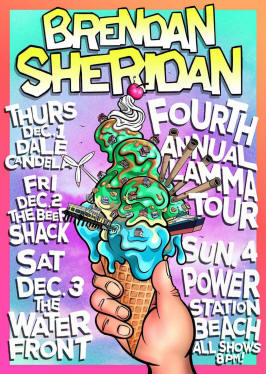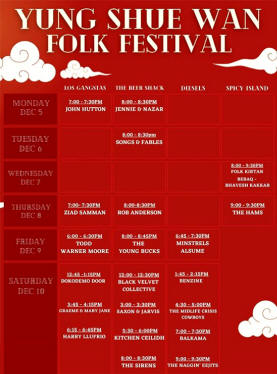 Christmas/NY season on Lamma: public concerts and events are finally back, obeying the many pandemic restrictions still in place

, like face masks everywhere in public, even on the beach or while hiking.

Numerous Lammaites have recently been slapped with HK$5,000 fines for not wearing their face mask outside. No end in sight for the masks-everwhere mandate (only exception is inside your home and during eating/drinking in a restaurant, after scanning your vaccine pass).

Nov 28: Electricity Tariff Increase
2023 Tariff Adjustments of 5.5%, due to massive fuel price increases in gas and oil worldwide:
"HK Electric announced today the Average Net Tariff for January 2023 will be adjusted to 197 cents per unit of electricity, up by 10.2 cents, an increase of 5.5% compared to November 2022.
To alleviate the tariff burden of small and medium enterprises and underprivileged families, HK Electric will set aside $95 million to provide a series of relief measures and energy efficiency promotion, including a 'Special Electricity Subsidy' benefitting around half of HK Electric's residential customers."

Nov 27: Live Music Amidst the Veggies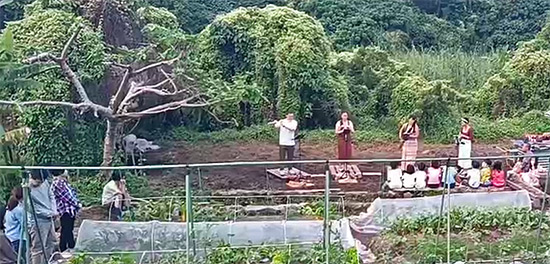 This is Piacere Winds' first performance here on Lamma. Let's make it the beginning of many more! Click above for a video of their performance.
Organised by Seven Foot Six And A Half & Lok Yin Farm.
We should all support these community events, as they're all volunteers! From 5pm today.
Contact them at Instagram (@piacerewinds) if you want one in your area, they want more collaboration with farms. Appreciative audiences on the path and in the field in the Yung Shue Long valley, below Tai Peng: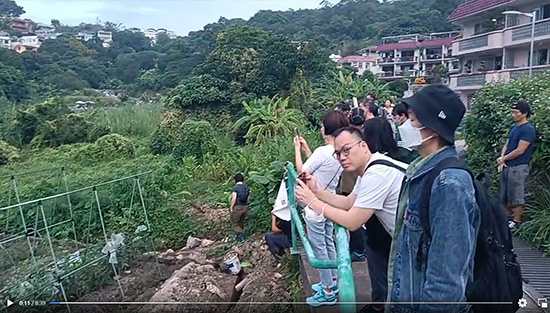 Nov 26: Moths & Insects of Lamma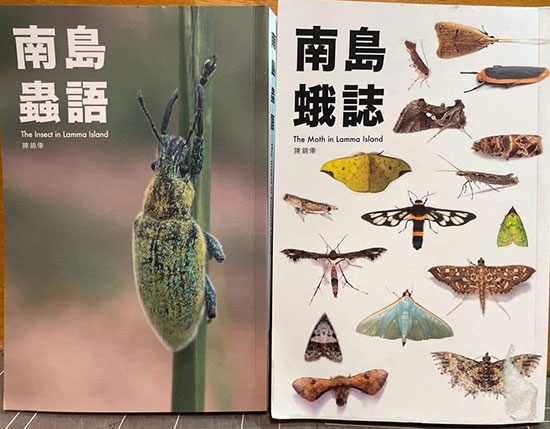 Stanley Chan's (Living Lamma) latest 2 books about the moths and insects of Lamma covers more than 700 different species!
You can buy the books from the shop 南丫部落 Lamma Corner Enjoy the beauty of Lamma's biodiversity!

Nov 25: Snowy YSW Village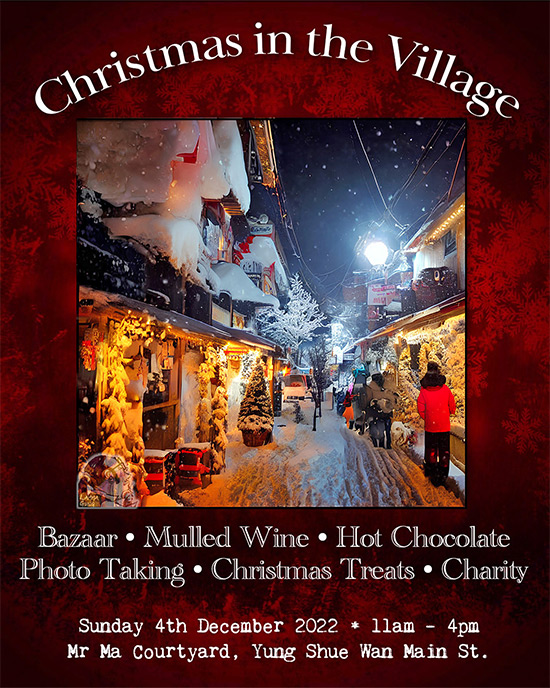 This nice poster is using my "Snowy Christmas @ YSW Main Street" image. I've created it AI-assisted just yesterday, no photo has been used at all.
It might also be featured in my Lamma 2023 printed calendar-in-progress.
Here's the first AI-assisted version of my image without snow: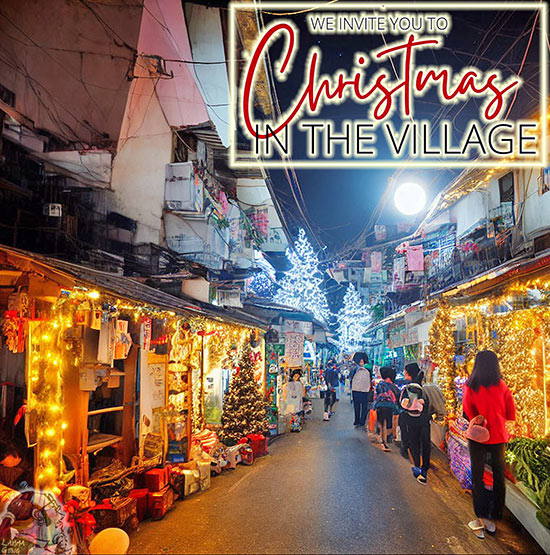 Nov 19: Minami Island?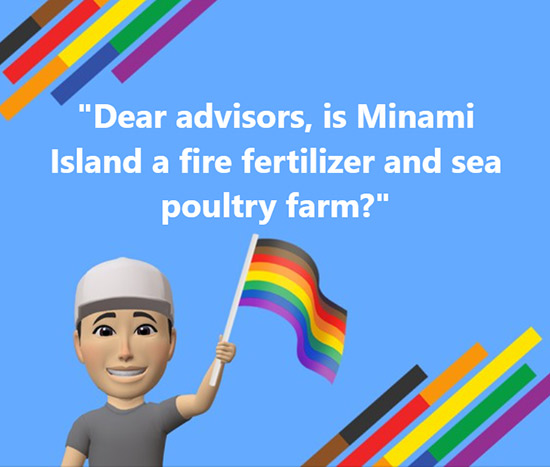 Google translation needs a lot more work to become at least reasonably accurate! Translation from a Chinese post in the Lamma Island Community Sharing Group 南丫島社區分享組:
"請問各位大大, 南丫島有否火鍋料及海鮮類賣?"
My wife Lamma-Por translates so much better!
"Want to ask everyone, can we get on Lamma hot pot materials/food and seafood?"

Nov 14: Pier Opening Day!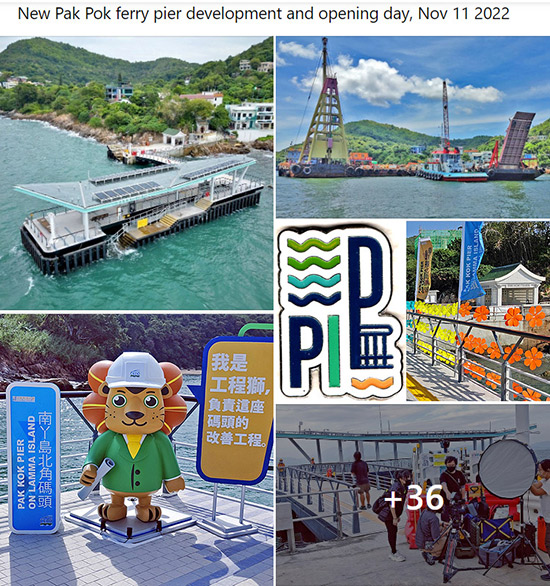 In case you're wondering how much the new pier cost. Budget below: HK$72.4 million.
P.S. Local visitors are flocking to the ferry to see the new pier this week! I'v never seen so many people on the Pak Kok pier! It's even hard to get a good seat on the ferry, which is unheard of!
The pier has also become very popular with fishermen. Sometime there are quite a few more using the pier than actual ferry passengers waiting!
Some ferries are still docking nose-first on the new pier (like at the old pier) as there are some teething problems with getting passengers safely on/off the ferries.
A few days later, for the first time ever (to my knowledge), the ferry was full and some people had to be turned away, having to take a sampan for their visit to Pak Kok, avoiding a 2.5-hour wait for the next ferry. Ferry boats and schedules will not change, as this mad rush this week is probably very temporary.
More pictures of this historic day?
David Ogg Photography ~ Transit Jam

Nov 13: Where On Lamma?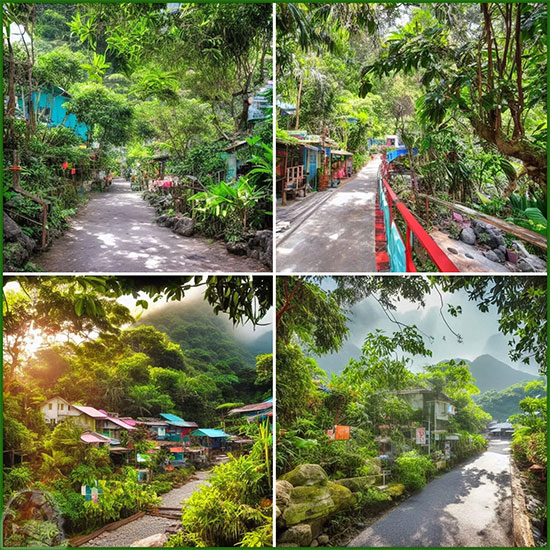 Starting a new series of letting people guess where some of my Lamma pictures have been taken, starting with the tunnel photo below.

But these 4 photos caused a record lot of reactions (50!), plus 63 comments! I even put up a reward, but it still took a few days to get the correct answer.

The best, but angry comment I received was from Lamma Fermenter:

"So an utterly bollocks waste of time, prescient of the coming destruction of truth, freedom and democracy in the world with deep fake videos."

Why such a strong reaction? Well, these 4 pictures are completely artificial, generated by an AI text-to-image generator from a quite simple text prompt, no photos used!

Lamma Fermenter's comment caused me to use his text verbatim as a prompt for my favourite amongst the rapidly growing number of AI text-to-image art generators online, prefixing it with "An AI artist who engages in an utterly bollocks waste of time, ..." Describes me quite well, I think?

These are the 'best' 4 results

I got. As always, you can click to enlarge any of my images or photos in this Lamma-zine: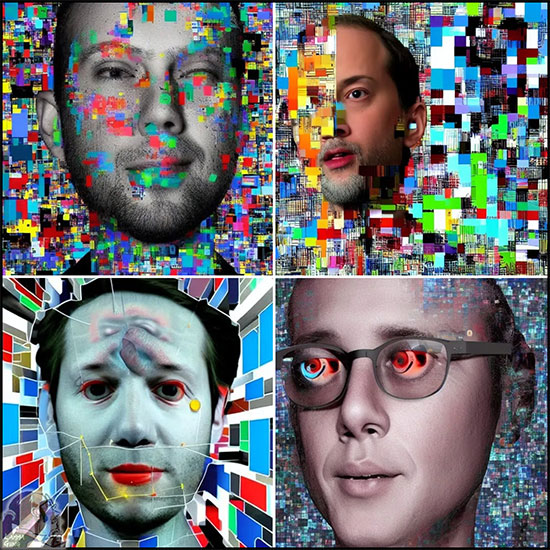 Nov 11: Afternoon Stroll Discoveries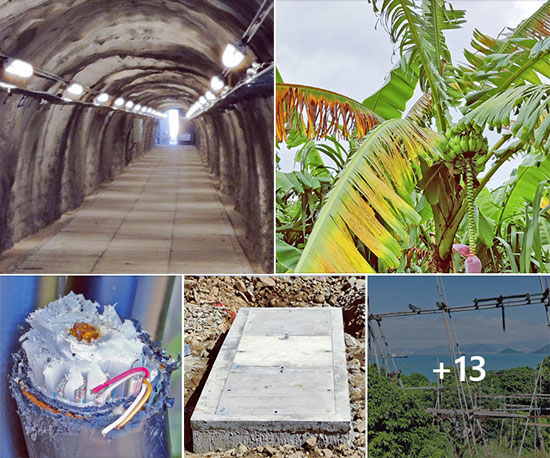 Exploring my Pak Kok Village neighbourhood a few days ago, discovering some brand-new, fascinating sights.

Nov 4: First Trial of New Pier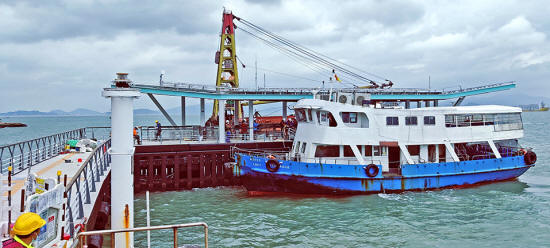 First-ever ferry trial-berthing on the inside and outside of the new Pak Kok pier, after 10am this morning!
Thank you, Tsui Wah Ferry, for informing me.
It'll start operation in mid-Nov, date tbc.
Same ferry schedule and boats. More pics ...

Nov 2: Typhoon Nalgae: T8 Raised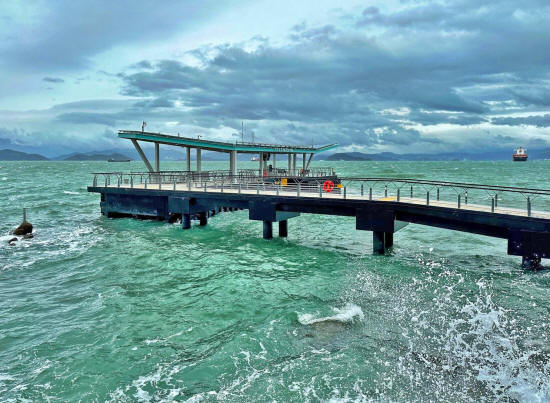 The new Pak Kok ferry pier under a T3 signal (photo by DJ Clark)
Tsui Wah Ferry: "Aberdeen to Pak Kok to Yung Shue Wan,
last sailings from:
Aberdeen: 1:45pm - Yung Shue Wan: 2:20pm"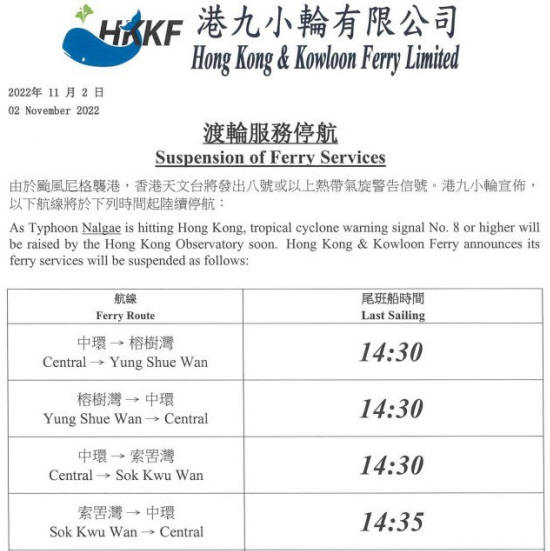 "Chuen Kee Ferry Ltd, due to the approaching typhoon, the last ferry schedule will be as follows: Aberdeen - Sok Kwu Wan 12:30pm Sok Kwu Wan - Aberdeen 1:15pm"
Typhoon day! T8 signal just went up at 1:40pm. Lamma's famous typhoon parties in bars and homes can commence now!

Oct 31: Filming @ New Pak Kok Pier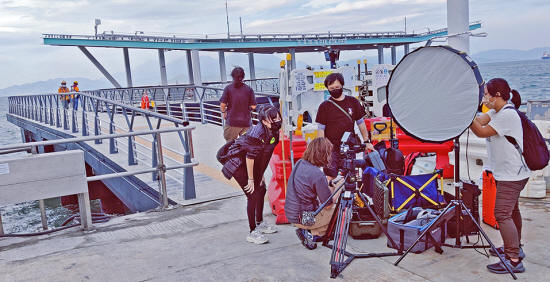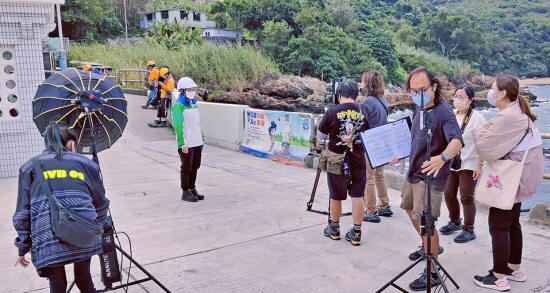 Filming a new Pak Kok pier video today for CEDD Dept. with interviews of staff of CEDD and the construction co., plus some residents.
Soft opening (no event) mid-Nov, date tbc.
I've just interviewed a CEDD Asst. Engineer:
PIER FACILITIES: Free Wi-fi in pier area,
5G cell tower covering much of Pak Kok,
TV screens with ferry time table and up-to-date weather info, like typhoon warnings, including last ferry time before typhoon hits,
water fountain, USB charging ports,
TV playing a pier info/construction/animation video,
solar cells on rooftop, with battery storage,
decorative wooden trellis under roof.
Only the very best for HK$72+ million for 200 passenger trips/day!
Ferry schedule and boats will remain exactly the same for the time being and no fare increases, according to Tsui Wah ferry.
PK pier is the first one to be completed in the CEDD's Pier Improvement Programme of 10 piers HK-wide, Phase 1 (includes YSW pier renovation-in-progress).
Sok Kwu Wan main pier will be renovated in Phase 2: 13 more piers.
The YSW pier gangway will be torn down & rebuilt: no schedule yet.

Oct 30: Nick & Naomi @ Halloween
My Halloweenified transformations of Lamma visitor Naomi's photo at Nick the Bookman's new regular spot (opposite the YSW bike shop)

Oct 14: Best Lamma-zine Photos?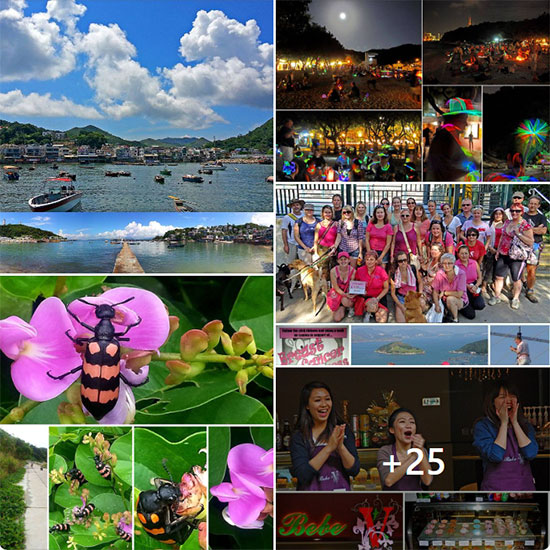 Click for 1 year of my best Lamma-zine picture collages (Oct '12-Oct '13, © Lamma-Gung.
So little has changed in my photos of Lamma from 9 years ago. Just a few of them are outdated by now, mainly people photos.

Oct 1: 10 Years Since Lamma Ferry Disaster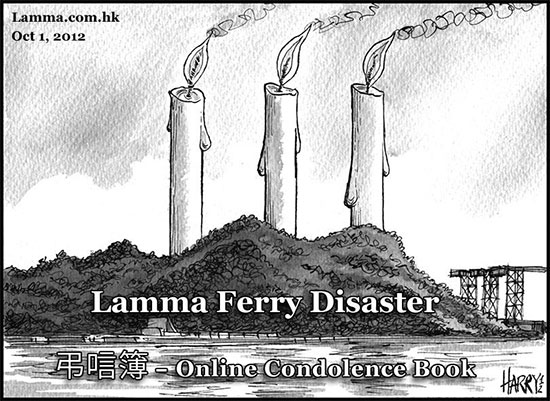 10 years today since the deadly crash, killing 39 passengers, but still no release of the complete report for the victims' families: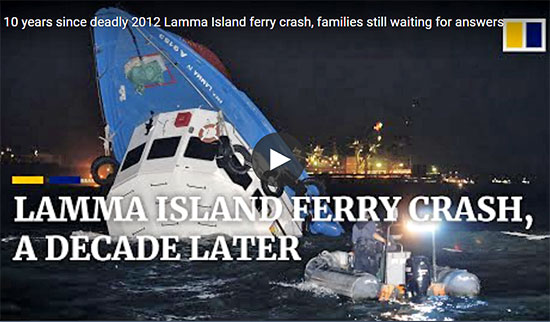 Original story from Oct 1, 2012

Sep 20: 'HK Electric Sweeps Top Awards for Building a Greener HK'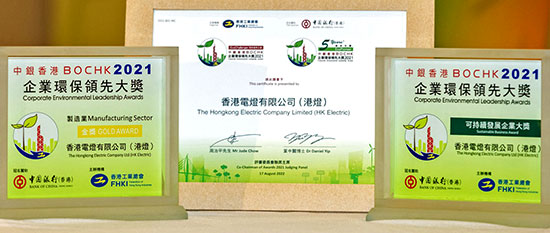 "The 'Gold Award' in the manufacturing sector and the 'Sustainable Business Award' recognise HK Electric's performance in utilising green energy, promoting decarbonisation and assisting Hong Kong to achieve its carbon neutrality target."
"In support of Hong Kong's goals of achieving carbon neutrality by 2050, HK Electric has been taking a three-pronged approach - increasing the use of natural gas, promoting renewable energy, and assisting the community to decarbonise through a series of schemes."
"To increase the proportion of gas-fired generation, the company has been building new gas-fired units to replace coal-fired units, and also developing an offshore liquefied natural gas terminal to ensure a stable natural gas supply. Both projects are progressing according to schedule."
"At the same time. HK Electric has been planning for the development of an offshore wind farm southwest of Lamma Island. If approved by the Government, the offshore wind farm would be capable of generating around 4% of the company's total electricity output when it is commissioned, avoiding about 284,000 tonnes of carbon dioxide emission annually."
"HK Electric has also put into practice various green management policies in its daily operation. These include rainwater and wastewater recycling at the workplace, solid waste and food waste reduction, and reusing ash produced during power generation for the production of cement, concrete and other building materials.
Also, in collaboration with a consultancy, HK Electric has successfully developed a sea-mud recycling treatment solution for the materials produced in the dredging improvement project for the Lamma Power Station navigation channel. All this has won the adjudicators' recognition."

Sep 16: 'Survived in a Tight Corner'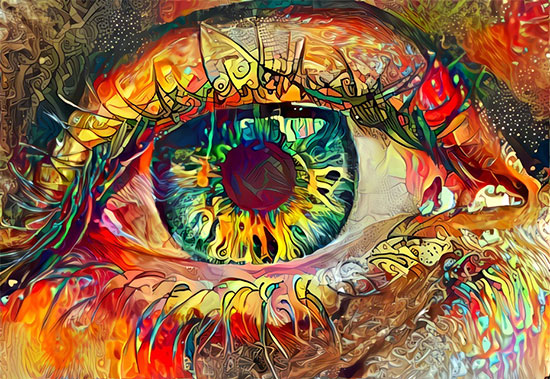 Just 3 years ago, another little creative experiment with DeepDreamGenerator above, based on AI neural styling. It was requested by an artistic neighbor sending me the original photo.
So much has happened in the world of AI since then, comparable to the invention and advent of photography.
The latest development, Stable Diffusion AI, it's just been a few weeks ago that this revolutionary system has become widely available.
I've experimented with it and other systems in our current physical joint exhibition in the LAMMA ART COLLECTIVE till Sep 25:
Survived in a tight corner | Joint Art & Photo Exhibition.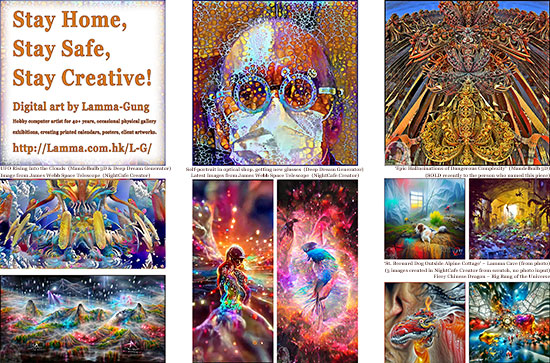 Sep 12: Pak Kok Ferry Pier @ Sunset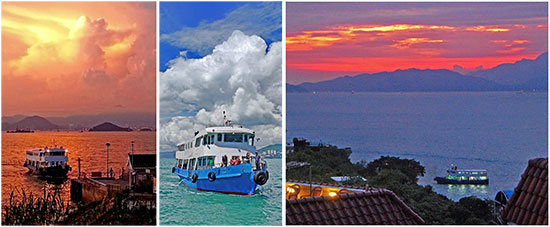 Happy Birthday to Monita Tsui Wah Ferry!
Thank you for all your work from your happy passengers!
A few of my favourite photos I took of their ferry arriving at the current, 'adventurous' Pak Kok pier.
New, safer pier to be completed by end of this year, according to the construction co.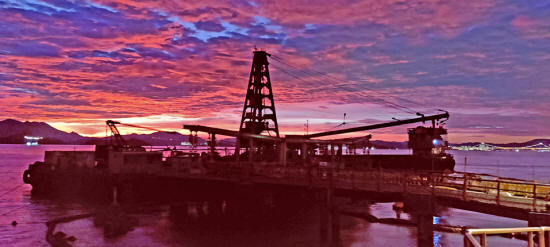 Sep 11: Mid-Autumn Night on PS Beach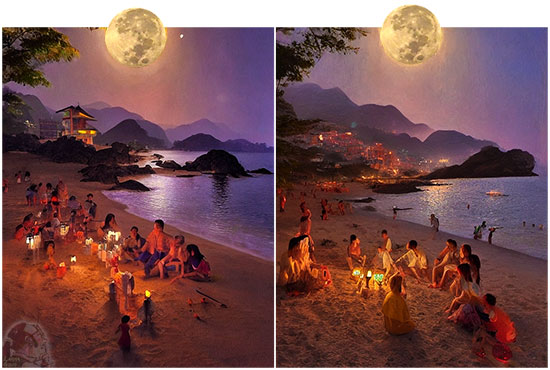 AI-created impressions of the Mid-Autumn Festival on Power Station Beach last night. Did it look something like that, I wonder? Anybody's got real photos, please?
I've replaced the bad-quality AI moon with a photo I took this early morning with my smartphone.
P.S. James Durston took an actual photo last night. Thank you!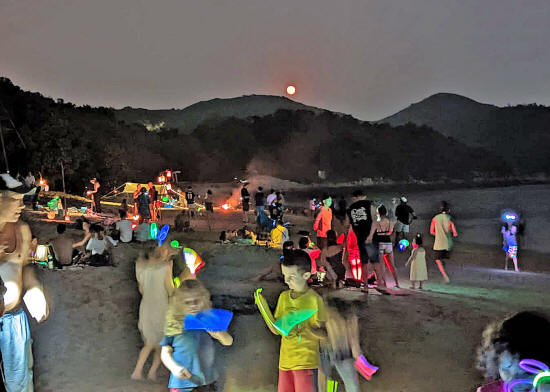 Aug 30: Mount Stenhouse Village News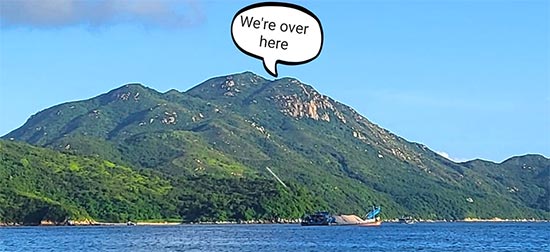 10 reasons to live in Mount Stenhouse Village:
It's to 3 degrees cooler all year round.
The views.
The breeze. Goodbye high electricity bills.
There's no bicycles up here. (Pedestrians against Cyclists - Lamma Island Chapter)
Or residents only policy makes you one of our V.I.P.s. (Mount Stenhouse Community Store)
You get your very own V.I.P. card.
It's not Yung Shue Wan.
People pay money to see the Dinosaurs around here. (Lamma Island Dino Park)
The commute ... is ... good for you.
You live a life of mystery.
Learn more about their 'Amusement & Theme Park', planned to launch next year (maybe):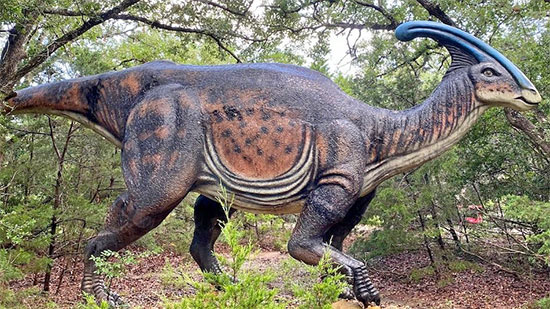 Aug 29: More Restaurants Closing
Very sad news from Chui Caan (plus many farewell good wishes):
"It's a real saddening news that, after
Lala Mama's Cafe & Grocery
,
The Blue Goose Tavern
, yesterday was
Green Cottage
's last day.
I can't put words in my gratitude to all that you guys have done for our HOME and been taking care of us for the past 25 years, and not to mention all the contributions made to our community.
Love and miss you guys, no matter where you are."

Aug 28: L-G's Next Group Exhibition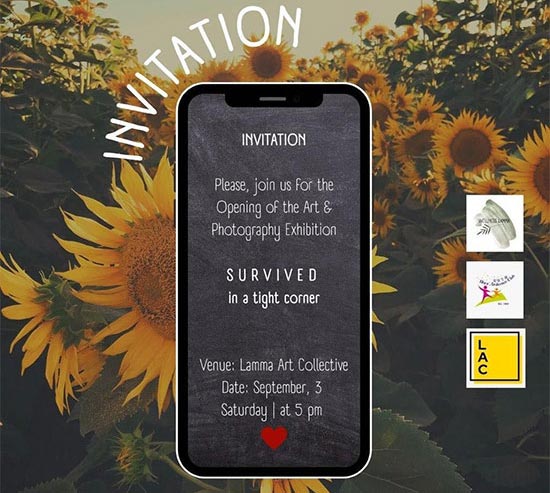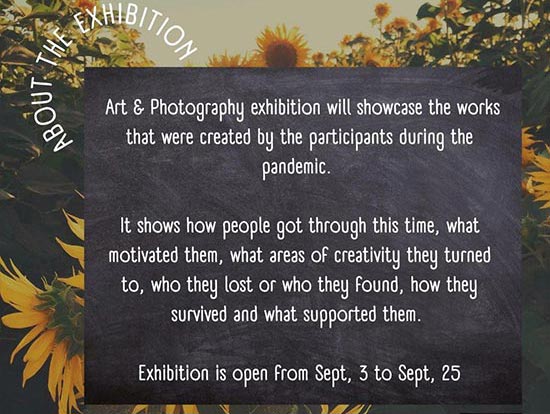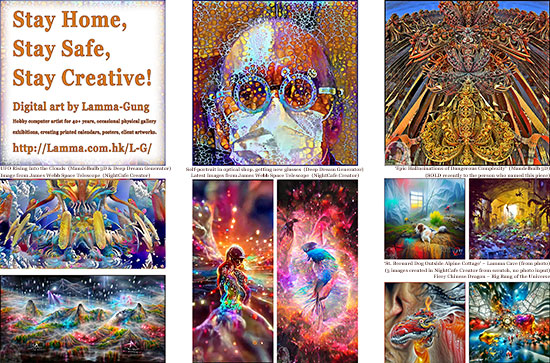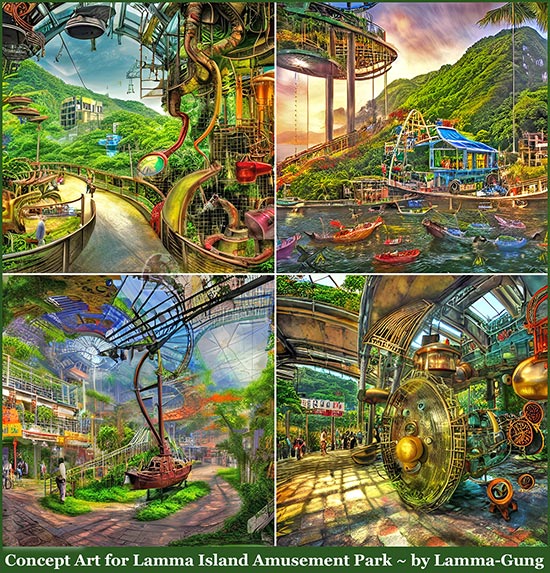 Aug 24: Closest Typhoon This Year!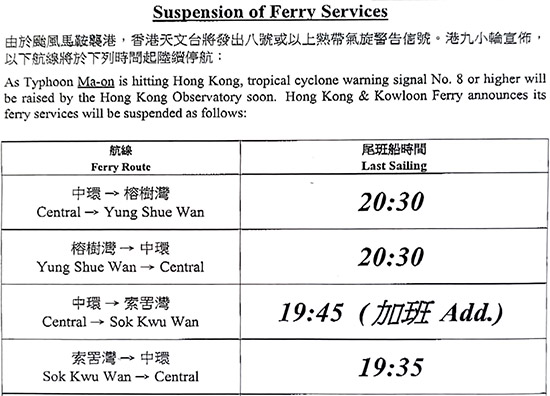 Last ferry Aberdeen - Mo Tat Wan - So Kwu Wan at 4:30pm.
Last ferry Aberdeen - Pak Kok - YSW at 7:15pm.
YSW - Pak Kok - Aberdeen at 8pm.
Last ferry from Central - YSW and YSW - Central both at 8:30pm.
Photo of the last ferry from Aberdeen at 7:15pm, a few minutes ago, just sent to me by a friend living high up in Aberdeen. Thank you, Yogesh!
The images below are my AI-assisted previews of the T8 as seen from Lamma: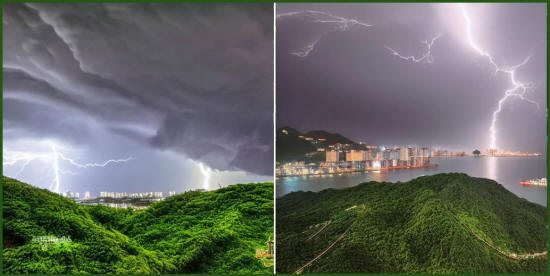 Aug 18: A Pet-Loving Community
Urgent message from Nicky, asking us to spread it via our widely-read Lamma-zine:
But the only 'human companions' with their own Facebook group are Lamma Dog Owners: