| | |
| --- | --- |
| Dec 31 | |
| 6 | |
| Nov 20 | |
| 12 | |
| 7 | |
| Oct 30 | |
| 21 | |
| 12 | |
| Sep 25 | |
| 22 | |
| 7 | |
| Aug 30 | |
| 19 | |
| Jul 23 | |
| 5 | |
| Jun 23 | |
| 16 | |
| 10 | |
| May 15 | |
| | |
| | |
| 3 | |
| | |
| | |
| Feb 27 | |
| 22 | |
| 14 | |
| 8 | |
| Jan 31 | |
| 16 | |
| 2 | |
More stories in our 13-year story archive...

See what I encountered recently on my usual, pastoral, beautiful, people-free way home from the ferry pier? YSW's Philippe Colin, the "Landscape Artist" (it says so on his namecard).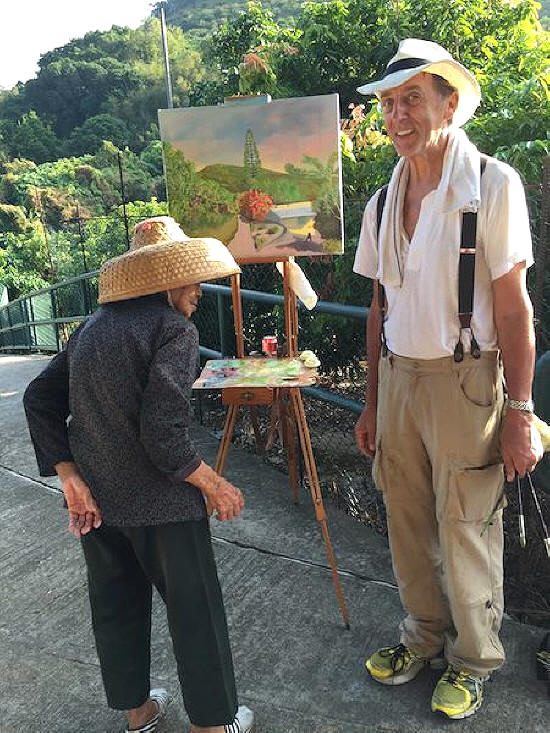 Philippe Colin with one of his many fans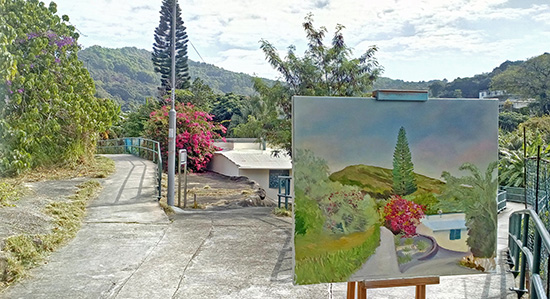 The finished painting in its birthplace, close to the Pak Kok Ferry Pier. Notice the careful removal of the pole, sign and railings... Idealised nature?
One more painting by Philippe (who also supplied these photos)?
The farm off the elevated path from Ah-Por Dau-Foo-Fa to Power Station Beach: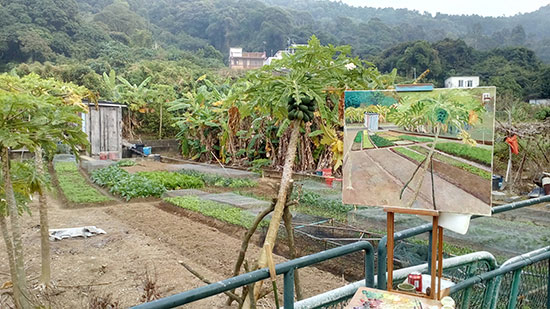 Even more paintings by Philippe? His Blogspot!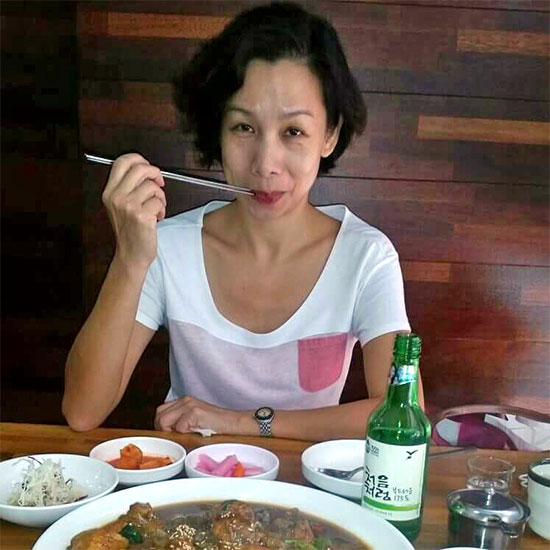 "What a wonderful place!!" My impression when I first "landed" on Lamma Island on 16th December 2015.
Hi all! I'm Solid KWAN, Woman Senior Inspector of Police. I just assumed the post as the officer-in-charge of Lamma Island from my predecessor, Camas TUNG. I have been in the Police Force for over 25 years and have been posted in both crime units and uniformed branch. I was in Marine West Division before coming here.
Although I have been on the island as a "visitor" previously, I am still impressed by the environment and, more importantly, the nice people around. Some may already have a chit-chat with me and don't be surprised if you saw a "lady look" person running around in shorts, cos I'm a regular runner and love all kind of outdoor activities. It's my honour to be part of this community and would like to know all of you very soon.
Now, I would like to update you on a burglary that has recently taken place at a residential premises on Lamma with a number of items stolen. The culprit gained entry to the house by prising open a ground floor window. While police investigations are still ongoing, please do maintain your alertness on security measures for household safety. It's the nature of burglars to take the easy way. Thus please secure your home, including locking up your windows, doors, balcony, setting your alarm system, turning on your CCTV, etc. before you leave home.
Let's work together to keep Lamma a secure living place! If you see anything suspicious or have any information, please either call the 999 Emergency number or make a direct call to the Lamma Police Post on 3661 1714.
Happy New Year to you all!!
P.S. See the lots of feedback on this 'Police Corner'!

Frequent but temporary Outrigging Canoe Club member and Honorary Lammaite Bike Mike writes (and supplied all photos & captions!):
"BREAKING NEWS: SANTA SIGHTINGS ON LAMMA
Global Warming and the ever decreasing Polar Ice Pack are not going to stop Santa Claus. Old St Nick has given up his sleigh in favour of an Outrigger Canoe. The jolly elf has been seen on Lamma with his reindeer, practicing for their marathon paddle, Christmas Eve."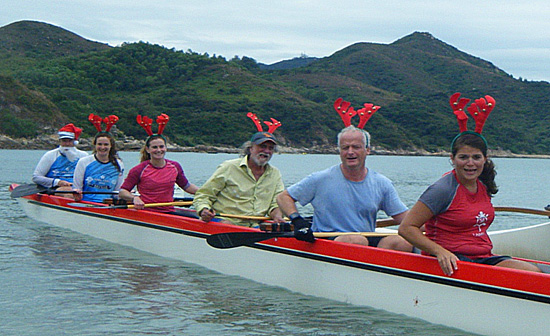 Santa has enlisted many local Lammaites to help him prepare for Christmas: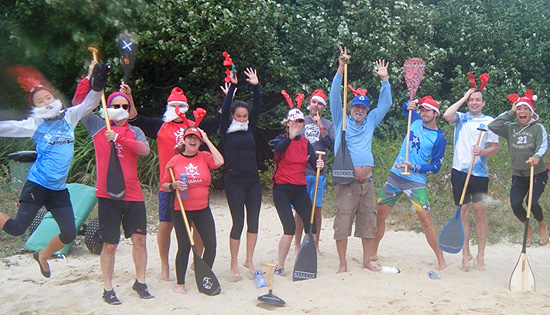 Here is the sight of Santa's secret workshop where coal will be supplied to give to naughty boys and girls: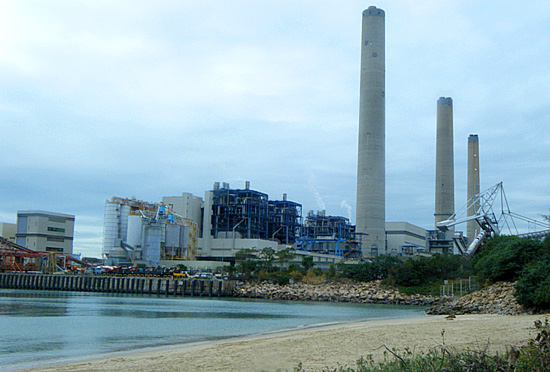 This looks like a naughty little reindeer (left photo)
Your beard is slipping, Santa! (middle)
Santa takes many forms (right)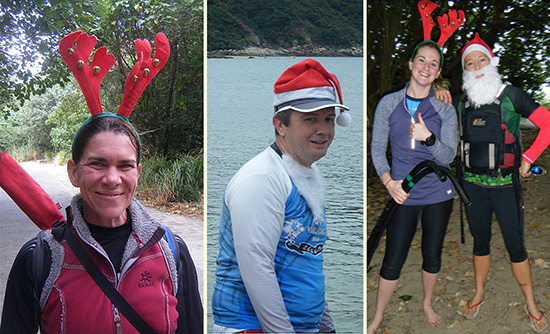 Everyone knows that Santa is Canadian! Here Santa has decided to shop locally at Tigra Da Lua, on Lamma Island: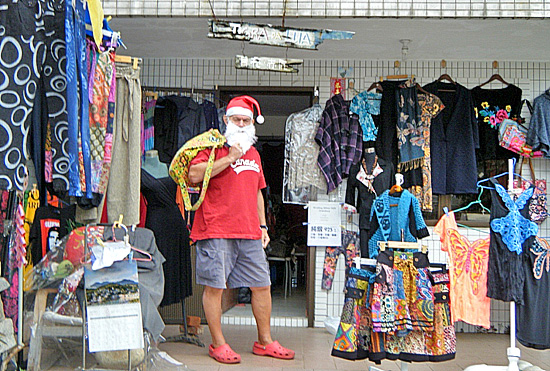 Lamma's "Real St Nick":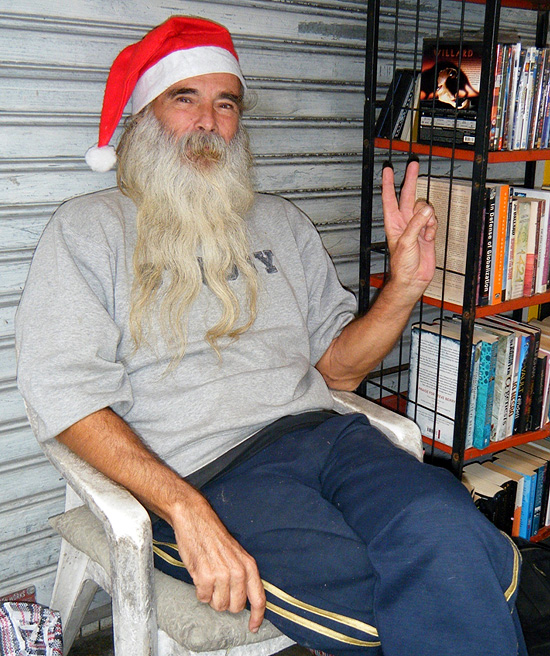 Igor The Elf ~ Dan The Bas-deer ~ An Albert-elf: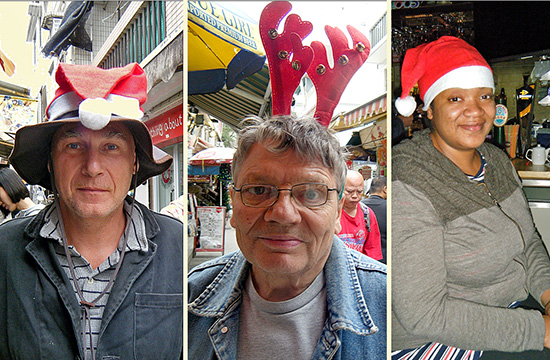 A gathering of Santa's helpers at The Waterfront Bar: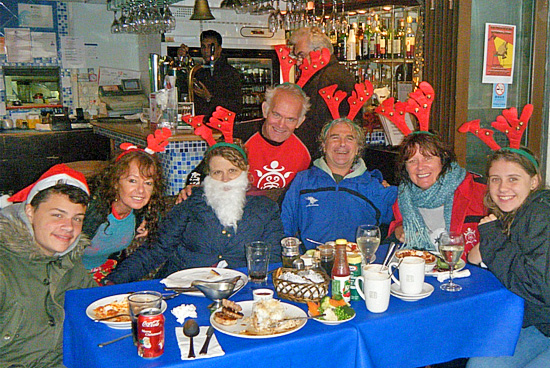 San-Tarr and his Merry Elves: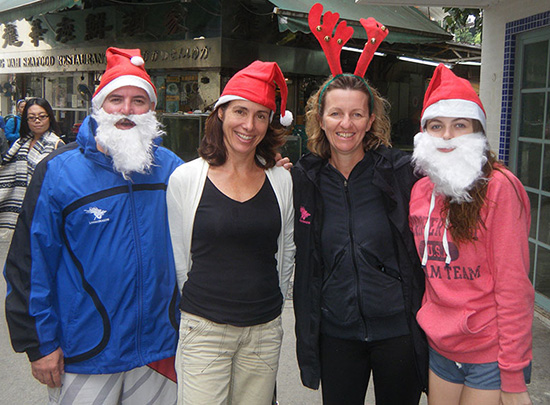 Naughty or Nice? ~ The Coffee Elf!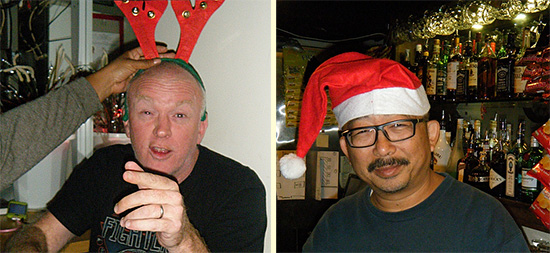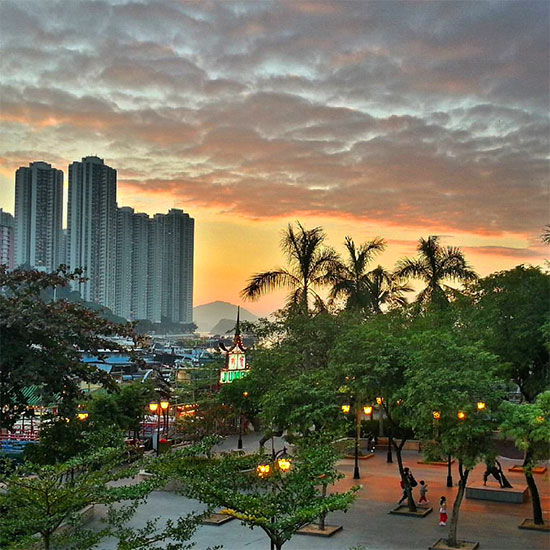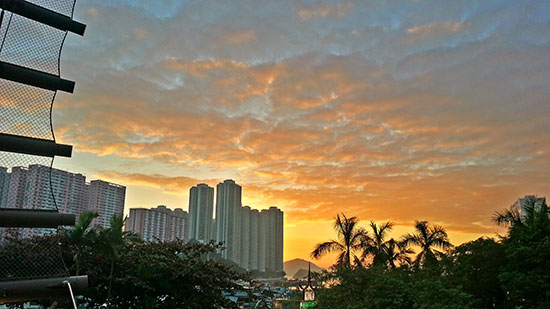 View today from highway flyover over Aberdeen Harbourfront Park, Lamma peak at the horizon.
P.S. Two more shots of the same sunset, taken by the automatic webcam atop the YSW ferry pier: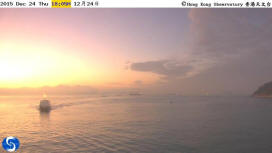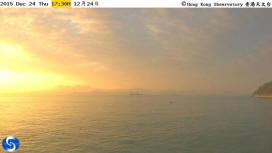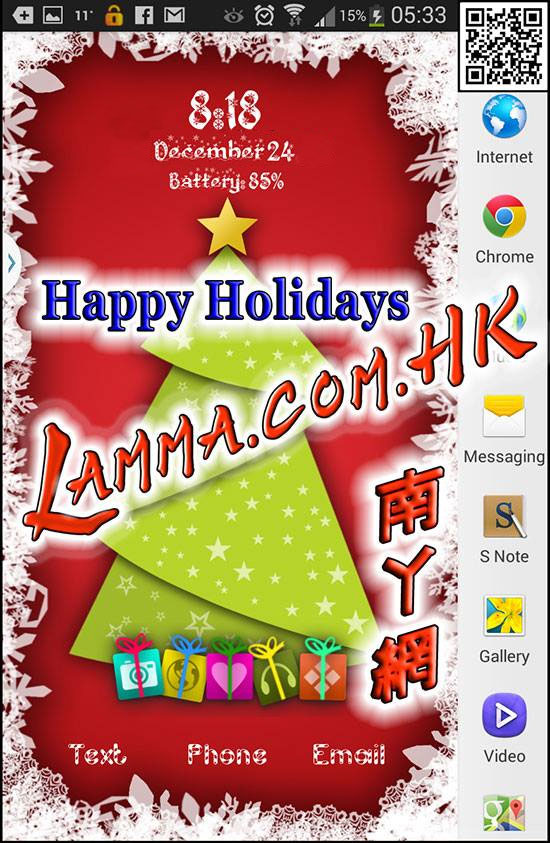 Best greeting I've received this year, e-card via text message:
"I don't want much for Christmas. I just want the person who is reading this to be healthy, happy and loved."
My thoughts exactly!

The publisher of my neighbours, Dave & Bing Sanders, just managed to get his latest book onto Amazon, as Dave told me yesterday, quite a time-consuming feat!
I was guiding Dave's "Microgarden successor", Max CL Wong, to my and their home. I was buying a custom-designed @ home-delivered Microgarden planter from Max for our balcony.
Contact Max for your own Microgarden!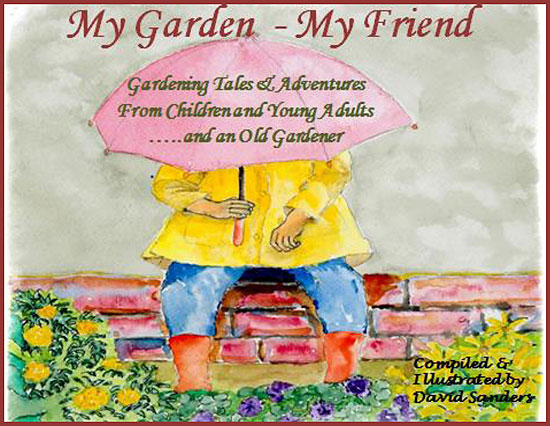 "David Sanders' background in sustainable agriculture dates back to 1975 when he was engaged as an agricultural extension worker in South India. He has lived in Hong Kong since 1993 on Lamma Island and The New Territories, where he and his wife, Bing, have co-managed community farms."

"In 2006 they established The Green Patch Microgardens, supplying organic micro-gardening products and services to schools, care homes and residents. He regularly provides talks and gardening educational workshops at schools, groups and organizations within the Hong Kong community."
Here's my farewell story and story index about our former Lamma-Gung's Rooftop JungleTM in Sha Po Village, built mostly with Microgardens. Our current, cover-less, illegal-structure-free rooftop remains void, sadly, but what a view...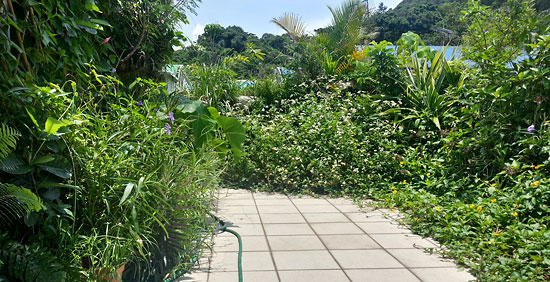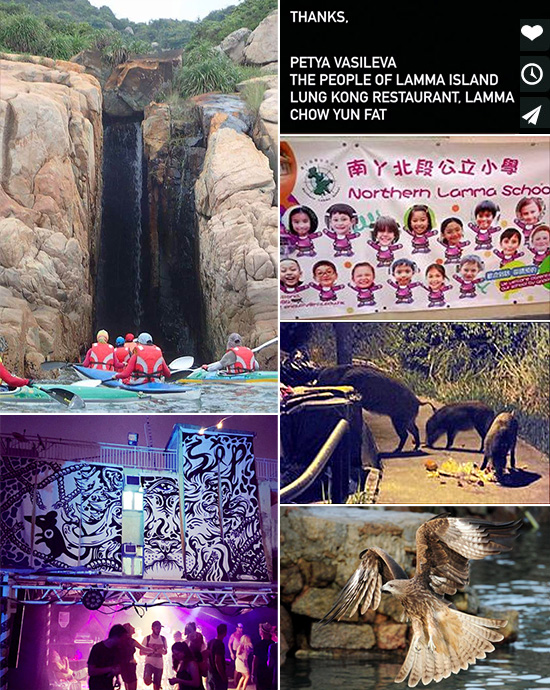 Lamma Spotlights of the Week, Dec 21, '15:
| | | |
| --- | --- | --- |
| PHOTO | | by Kong Dickson |
| VIDEO | | by Radoslav Sharapanov |
| PERSONS | | by anon |
| WILDLIFE | | by Katie Flowers |
| BIRD | | by Lew |
| ARTWORK | | by Us Ed Pencil |

A first in my time on Lamma, electric bills are getting lower!
To their customers' great surprise and delight, HK Electric and CLP announced lower tariffs today. Less 1.1% doesn't sound like very much, but in summertime, that's several free coffees per month to enjoy in my air-conditioned home office. And it's the thought that counts and the pleasant, unexpected surprise.
Here are the full details:
HK Electric to Reduce Tariff [15 Dec 2015]
Even more details in this presentation: 2016 Tariff Review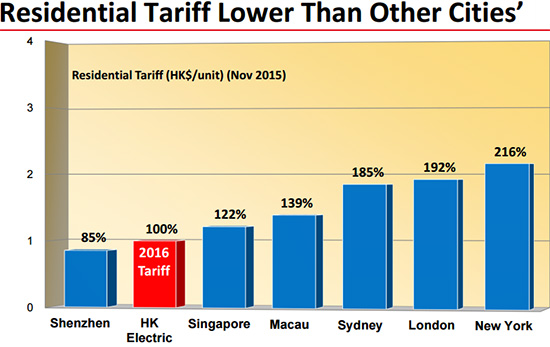 Farewell blog from our Lamma Police Chief, Ms. Camas TUNG Hei-man:

"I heard many of you are concerning about the driving manner of the Village Vehicles in Lamma. The Village Vehicle has formed part of Lamma people's life as it is the only transportation mode on the island. With the vehicles' frequent passages through the Main Street and other crowded area, the driving manner may cause a concern to public safety.
We, the Police, do have the same concern as you do. While we would conduct enforcement at restricted zones during restricted hours, we also appeal for your assistance to report to us any inappropriate driving manner of the Village Vehicles. If you can recall the license plate of the vehicles and are willing to give statements to Police as a witness, your information would be forwarded to our Traffic branch for further investigation. The officers in our Traffic branch are well trained to investigate vehicle related complaints. Hope with our concerted effort, there would be no accident caused by the Village Vehicles.
Finally, it has come to the end of my tour as the officer-in-charge of Lamma Island. Yes, I have to say 'Goodbye' to all of you while I will be rotated to another post in Admiralty in late-Dec and I will move out of Lamma at the same time. I do enjoy being a Lamma person and I am sure I would often come back to Lamma for the lovely nature. It has been so memorable to work with you all to maintain Lamma a happy place.
My successor would introduce herself to you later. Already given you a hint that a female officer is taking charge of the island again. Now, let's recap some of the happy moments during my time in Lamma."
Have a look at our Survey below, please! Very important!
Should we continue the Police Corner with the next Police Chief in January 2016?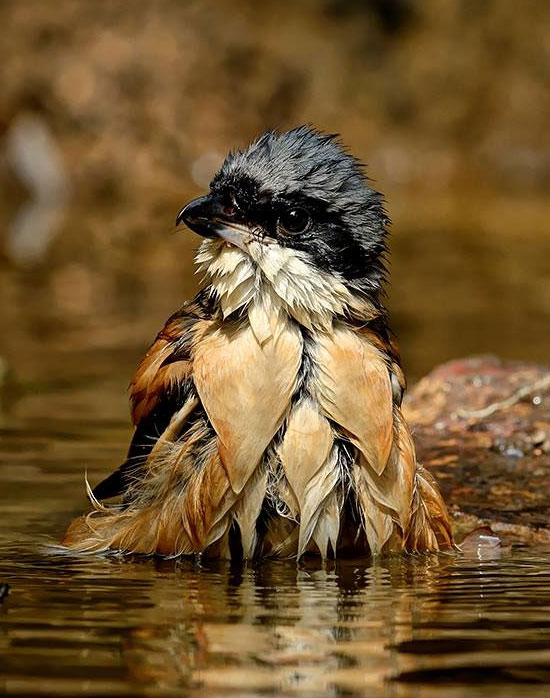 A Long-tailed Shrike, bathing and posing in Guy Miller's new bird pond, a close-up shot from his well-hidden lair: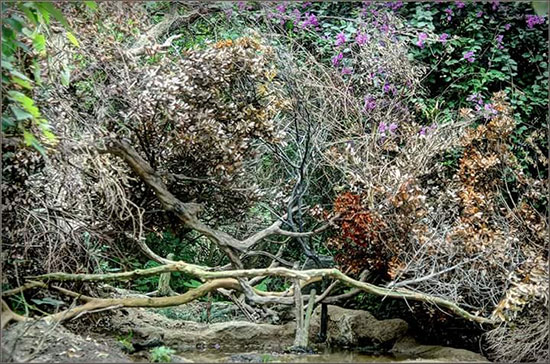 Who else is being showcased in the Lamma Island Bird World? Check it out?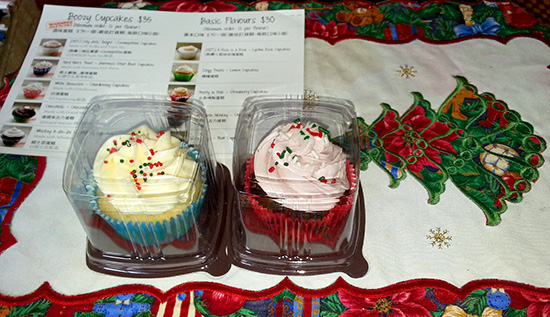 See what I got home-delivered the other day as a pre-Christmas treat for myself: Boozy Cupcakes, the new mini versions! Delivered with a smile by Karen the Cupcake Lady to my home in Pak Kok, all the way from Yung Shue Wan, and it was free delivery with a minimum order!
VerYummy, they were! More, more!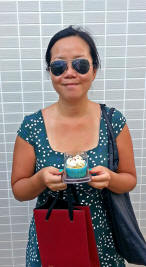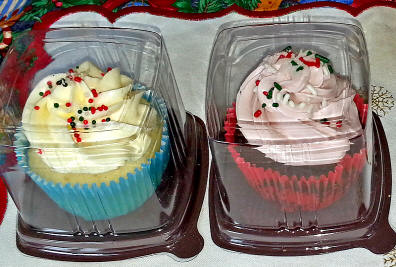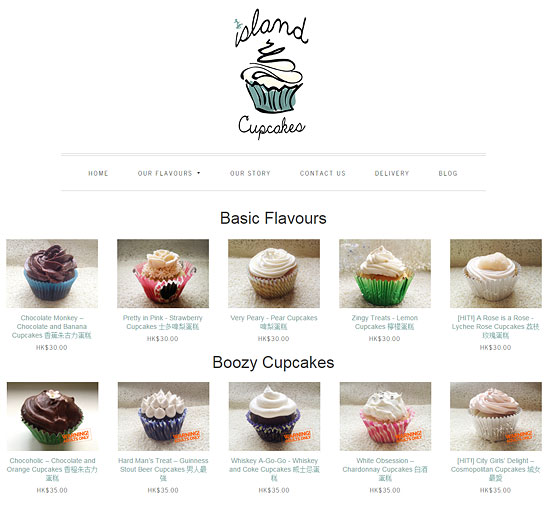 Please join the survey about our monthly Police Corner blog, created by Ms. Camas Tung, Lamma Police Chief who's leaving Lamma in mid-Dec:
"Since August 2014 Lamma Police have regularly published a 'Police Corner' blog on Lamma.com.hk to bring you relevant crime prevention advice or police related news tailor-made for Lamma residents.
We would like to know what you think of the blog and whether you have any suggestions for improvements. Please take a couple of minutes to fill in the below questionnaire and press the send button. You can either put your name on the form or sent it in anonymously. Either way we value your opinion and feedback."
Have a look at former Police Corner blogs...
Scroll down inside window below:
Create your own user feedback survey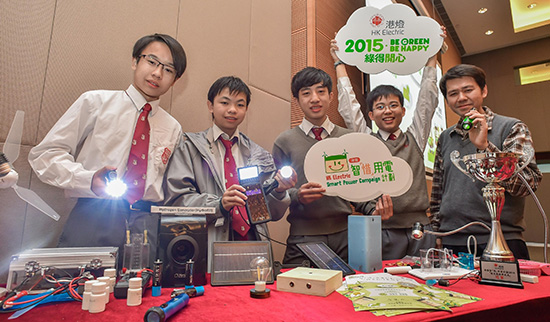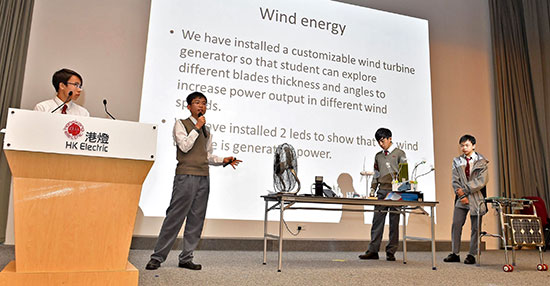 Green Energy Dreams Come True, backed by HK Electric (8 Dec 2015)
"Those who think out of the box have returned with their visions, and versions, of how to make their dreams of greener energy come true.
It all started in February this year, when HK Electric's Smart Power Campaign invited secondary school students, through its "Green Energy Dreams Come True" programme, to submit proposals on how they would utilise and promote green energy.
With proposals submitted by the students, twelve teams were short-listed and spent the past few months implementing their projects. They had been allotted seed money of up to HK$50,000 by HK Electric and were each assigned a young engineer from the Company to act as their mentor and guide.
At the final presentation and award ceremony held on 5 December, all 12 teams had their chance to present their results, months of hard work and efforts that showed what they had learned from the projects."
---
"Go Green, Go Low Carbon" is Latest Focus (29 Nov 2015)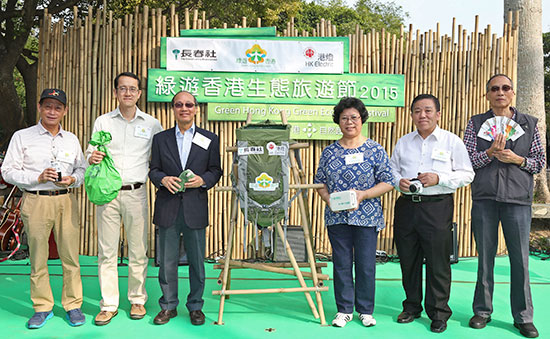 HK Electric MD Wan Chi-tin (third from left); the Conservancy Association Chairperson Ms. Lucy Woo (3. from right); Assistant Director (Country & Marine Parks) (Acting) of AFCD Dept. Patrick Lai (2. from left); Southern District Council Vice-chairman Chan Fu-ming (2. from right);
Lamma Island (South) Rural Committee Chairman Chow Yuk-tong (1. from left);
Lamma Island (North) Rural Committee Chairman Chan Lin-wai (1. from right)
officiating at the third Green Hong Kong Green Eco-tour Festival.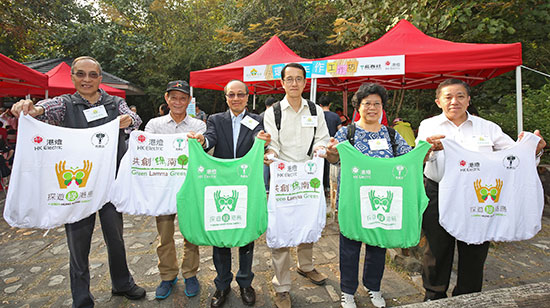 "As hiking and eco-tours gain popularity among urban dwellers, HK Electric and the Conservancy Association (CA) call on hikers to "Go Green, Go Low Carbon" when they visit the countryside.
The appeal was the theme of this year's Green Hong Kong Green (GHKG) Eco-tour Festival, an annual event jointly organised by HK Electric and the Conservancy Association to promote eco-tourism and environmental awareness.
Speaking at today's (29 November) opening ceremony, HK Electric's Managing Director, Mr. Wan Chi-tin said the company had conducted a simple survey with CA to understand the habits of the public when they are out enjoying nature and have collected more than 230 responses.
Results show that out of nine good hiking habits, most respondents brought their own recycled water bottles (95%) and took public transport (91%). Some 88% also indicated that they would respect local culture and lifestyle, especially when they were in the vicinity of local villages.
However, only 55% of respondents said they brought their own lunch boxes and cutlery, or would prepare low carbon refreshments (53%) for their trips. Some people also tended to neglect the adverse impact of chemically-based products, such as sun blocks or mosquito repellents, on the environment as only 53% avoided using them when hiking."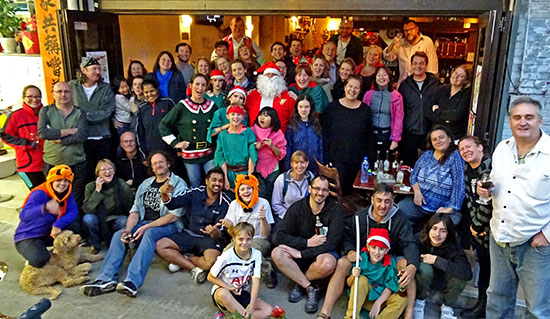 Many congratulations to all prize winners, thanks to all participants and great thank-yous to all the generous sponsors of the 17th annual Treasure Hunt for Operation Santa Claus in The Island Bar yesterday!!