Free Big Bowl feast (Poon Choy) for Lamma's 65+ residents in the YSW Plaza on YSW Plaza Road, just behind the Football Pitch, the former location of this yearly event. Probably the only Gwailo at this event was the Chin. God of Good Fortune (Choy Sum) who was entertaining the guests, doing Tai Chi on stage and handing out goodies, with his personal photographer/body guard/cheerleader/wife.


The Bike Park at the YSW ferry pier is finally getting close to completion, after almost 1 year of construction works. Seven cement trucks, using "Green Island" brand cement as usual (photo by Angela Leary), today on a massive barge (video by Liz Gower) to pour the deck of the platform, causing another round of Bike Park comments: Platform.
---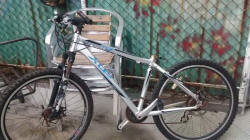 In the meantime, the cases of bike theft and vandalism seem to be mounting. A new Facebook group is talking about it, trying to recover stolen bikes and scooters. Even saddles and handle bar grips have gone missing:
Lamma Stolen Bikes and Scooters
I'm rarely parking my own bike at the pier anymore. When I left mine overnight before, items that were easily removable (saddle bag, anything in the basket) would be stolen overnight (photo by Lisa Stella). The new YSW Bike Park off the pier might make it even more convenient for the thieves, less witnesses...
Anyway, construction is nearing the end. But the major and on-going challenge will be to get us bikers to use it instead of the closer, more convenient ferry pier. Experience from other ferry piers has not been encouraging.
Will we face regular,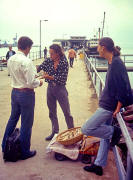 persistent enforcement, policing, fines, even more confiscations?
The last confiscated bikes and trolleys are rusting away, overgrown by tall weeds, just off the Cable Road, close to the windturbine, at least the ones that haven't been "repossessed" by their owners or scavengers. There doesn't seem to be one that even has a usable tire left. Useful parts seem to have been "harvested", some of them repaired and used to fix other bikes. Recycling/Upcycling Lamma-style...
P.S. One last, historic photo by David Chappell (click to enlarge): "A reminder of the extent of the bike parking problem on the pier in 1993."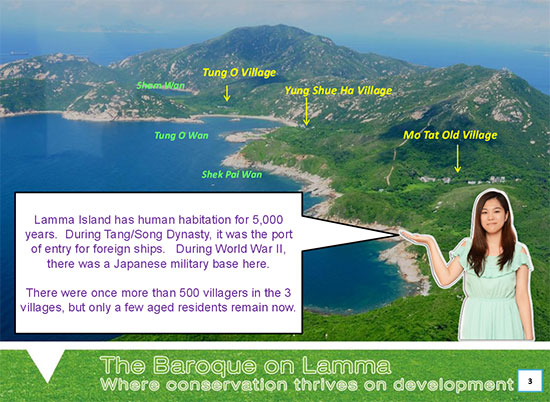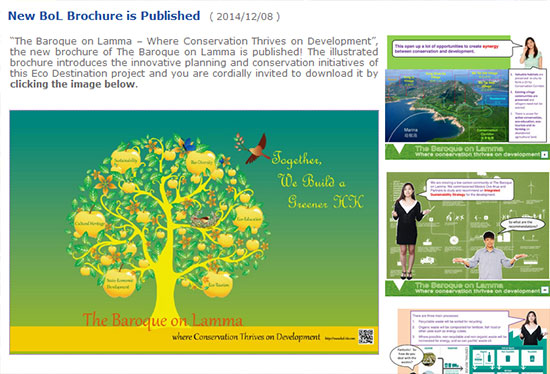 Click above for a brand-new brochure with BoL's revised ideas for South Lamma.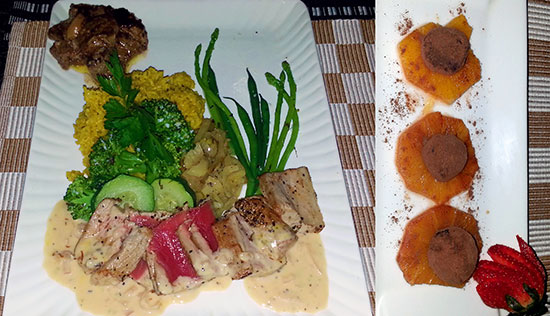 For the full story of our latest Valentine's Day dinner ever, click here.

Camas TUNG Hei-man - OC Lamma Island & Peng Chau - writes: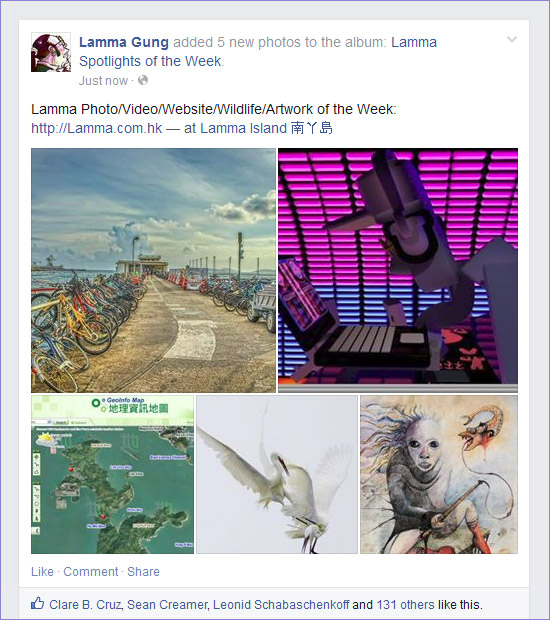 Lamma Spotlights of the Week, Feb 23, '15:
YSW Ferry Pier, Computer Animation Showreel, Interactive HK Maps, White Egrets, Fish, by:
Karlo Vera Cruz; Mike Robinson; Lands Dept, HK Govt.; Howard Sheard;
Olga Kossova.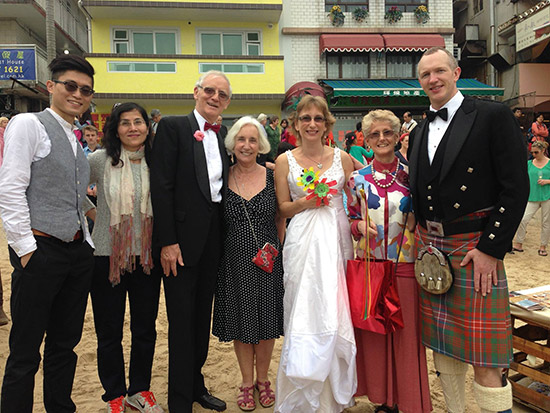 Jo Wilson writes:
"BIG THANK YOUs to everyone who attended our "wedding" yesterday. It was so lovely - what a celebration of 20 years together, we look forward to the next 20!
I'd especially like to that Jacky Chan - our superstar MC, darling Bob Bunker for being my father of the bride for the day, Roz, Rose and Violaine for the sweet tunes on the ukuleles, Jane the master cake maker, all the folk that came to help clean the beach in the morning - especially Dana and Megan, who couldn't make the festivities but came to clean the beach anyway, Roz and Ah Nam for the art on the beach, Chris and Matt for playing with Jack in the band, Nicky and Kay the belles of the Island Bar, Charlie and William who cleaned and helped us get ready, Romel the transporter who stayed watch over the beach while we ran home for a quick wash and change, Kelly for doing the bride's make up and our 3 little bridesmaids Kate, Mae and Zoe and Max the best, best man. And not forgetting Grannie Annie - my wonderful mother, who took the kids for the night so we could enjoy our 4th honeymoon!
And to all our friends old and new (and all those miscellaneous people lining the path, whoever you were) - it was so great to share the day with you. Thank you very, very much for coming!
Just a few snaps from my iPhone - I didn't take many (no iPhones at any of our previous weddings!)"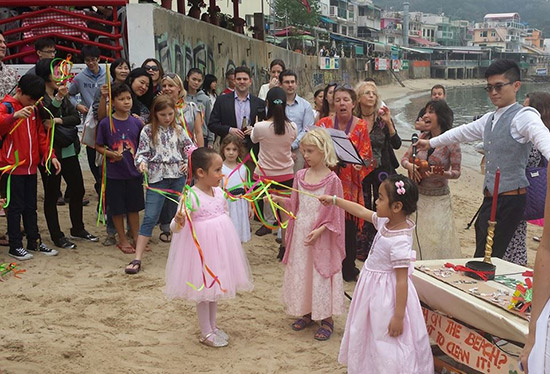 Taking time off the Lamma-zine while attending daily rooftop and beach parties.
Sorry, private parties, no public photos...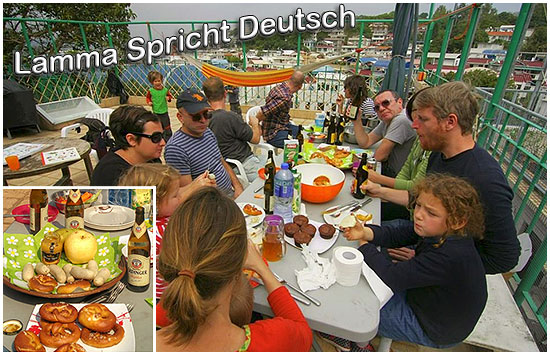 If you can understand the headline above and can converse in this language, you're welcome to join the occasional "Weisswurstfrühstück mit selbstgebackenen Brezeln und Weissbier" on a Ko Long Village rooftop, first time on Valentine's Day!
Nationality not important! Click on the photo to view this new Facebook group, started by Ronald Sastrawan, who provided the Frühstück and the two photos.

Climbing onto the roof of our Pak Kok rooftop cabin was totally worth it, spending an hour snapping too many photos of the most amazing sunset of the year so far, Feb 12. Facebook became alight with at least ten of my Friends posting pictures, often within minutes. It took me a while longer (4 days!) to post mine here...
Yes, all these photos below are from ONE single sunset, but with different camera Scene settings and clip-on lenses. The lines are contrails left by high-flying fighter planes creating their own clouds through condensation.
All photos were shot handheld with my smartphone, I admit, even though most of my (semi-)professional photographer friends might ridicule me severely.
Plus some experiments with a new cheapo smartphone clip-on fisheye lens,
plus a wide angle panorama stitch app (using 9 photos, before automatic processing into one seamless picture). My Photosphere and "Tiny Planet" experiments are not worth showing here yet... still experimenting...

Sea Smooth skipper convicted of manslaughter
as Lamma ferry captain cleared of same charges
SCMP, Sun, Feb 15:
"After almost four days of deliberation a High Court jury returned to find Lai Sai-ming - captain of the Sea Smooth ferry - guilty of 39 counts of manslaughter."
The HKKF ferry captain was found guilty of manslaughter; he and the HK Electric captain were found guilty of endangering the safety of others at sea.
Sentencing will happen on Monday. (SCMP story)
There are many stories and pictures about this deadliest boat accident in Hong Kong in 40 years on this website, but the SCMP's "Lamma ferry disaster" section does a fine job of providing the facts and comments.
P.S. 8 years jail for the HKKF captain, 9 months for the HK Electric captain.

So how did Lamma-Gung and Lamma-Por celebrate Valentine's Day?
We were tempted by the many special menu offerings in YSW today, but instead we opted for... chicken wings and a sandwich for a few dollars in a new YSW Back Street restaurant just opening today: Tak Restaurant.
Maybe it was all the congratulatory flowers and our curiosity that attracted us to this new place, replacing the former Chinese bakery/cafe in the same location with a similar low-cost, one-page menu.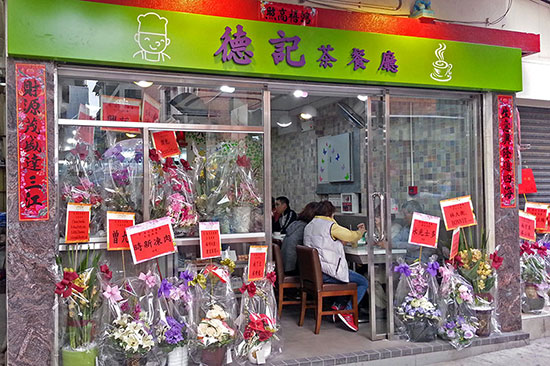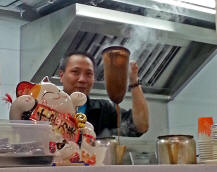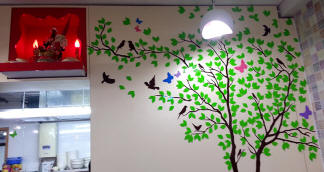 Afterwards, we couldn't resist a Tiramisu and a chat with the Lee family in Lee Ocarina Cafe (besides the former Esso (now Sinopec) gas shop just off Main Street, just behind the Turkish Pizza Palace: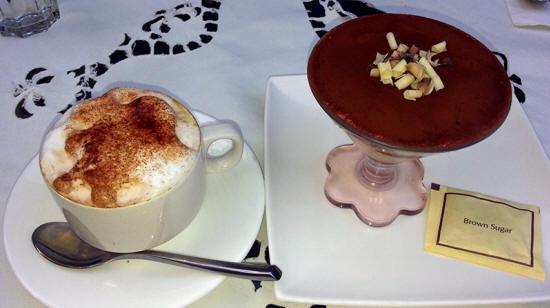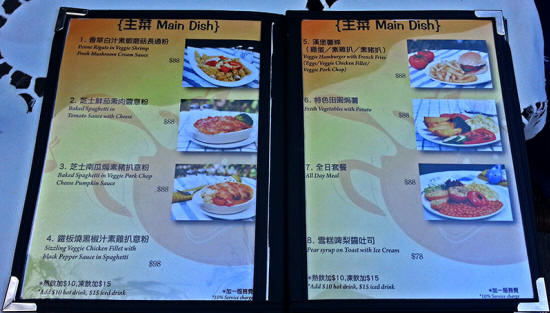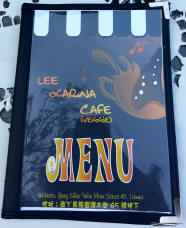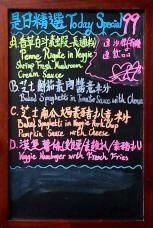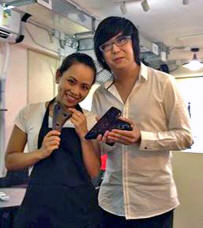 P.S. Just in: The Bay Restaurant, Mo Tat Wan, South Lamma

Walking over two hills from Pak Kok Village to Yung Shue Wan frequently (no ferries for up to 2h 40m in the morning and afternoon), I come across many pretty or intriguing sights, most of them natural, but also some curious man-made ones.
These notes are stuck up streetside in Po Wah Yuen, on the main path down to YSW. Not having had the pleasure yet of meeting Mr. "Kaytoe" in person, I was intrigued (click to enlarge):



While we're awaiting the Govt. building an entire new city for 5,000 people inside the ex-Lamma Quarry opposite Sok Kwu Wan, the YMCA has exclusive use of the entire huge area for now. They make really great use of it with so many camps and activities for parents & children.
Let's hope they can continue for a few more years, but also let us hikers and bikers use this beautiful, natural area when there's no camp happening and this huge area is devoid of people. No details on the promised admission scheme yet...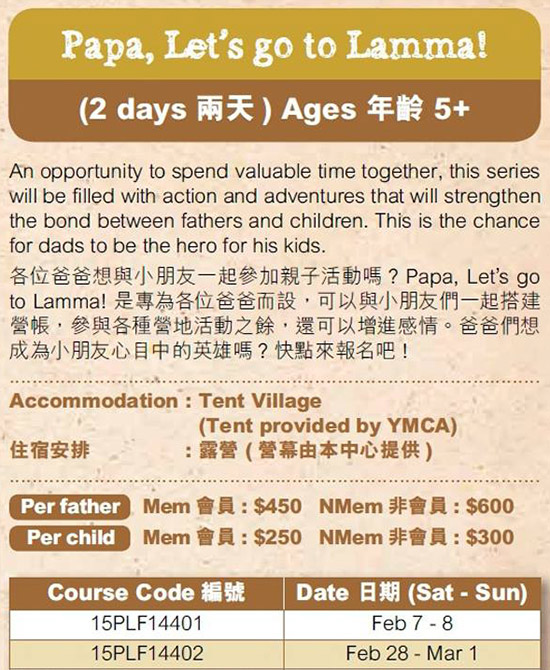 "Lamma's Got Talent", "Lamma Amazing Race", and more camps...

"This year's Shrove Tuesday coincides with Chinese New Year Eve. So, in keeping with the Catholic tradition of Anticipated Mass, this year's supper will be 10th February, the Tuesday before the actual day.
For the hale and hearty: The Western footpath walk from Yung Shue Wan to Pak Kok takes about 20 minutes.
Please, Please, Please do not bring any food! If you feel you must bring something please confine it to wine or juice.
Your R.S.V.P before Saturday, 7th February would be greatly appreciated. Bud"
Li Suk Woon took the photos below. She writes:
"It's was such a cosy and lovely Shrove Tuesday Pancake gathering that held at your home this evening. I enjoyed the pancakes, drinks and meeting new friends immensely tonight."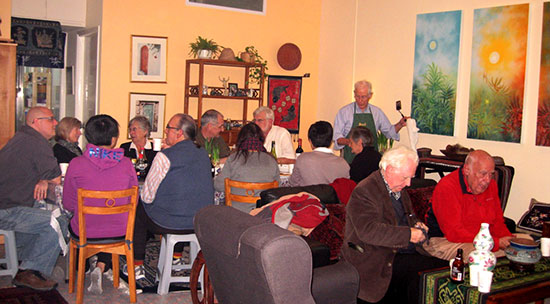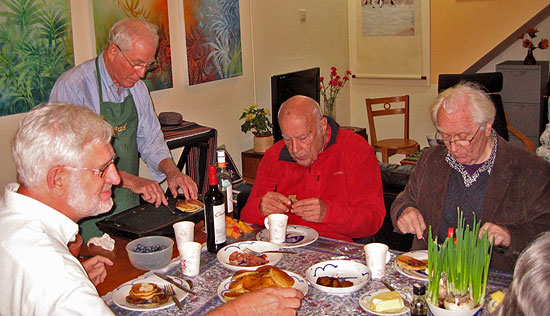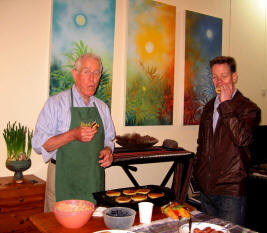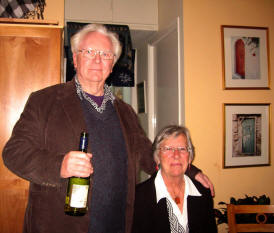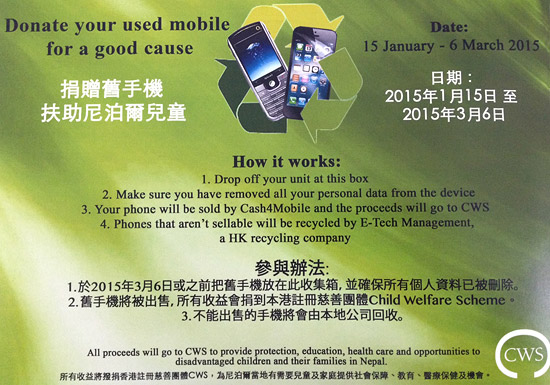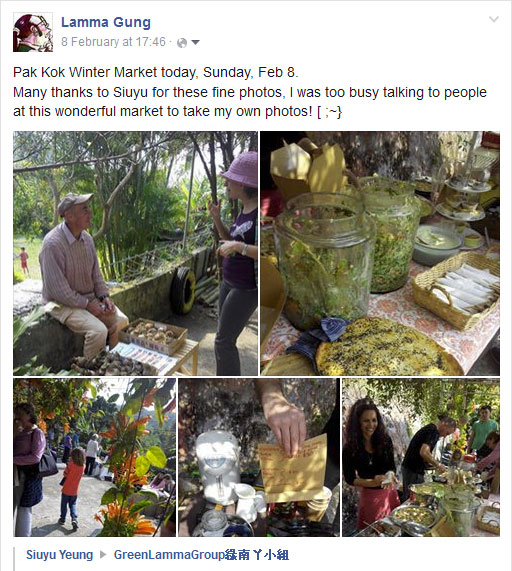 Plus more photos submitted by Ayelet the Veggie Chef, the market's host & organiser & a Middle Eastern cook & cooking teacher extraordinaire: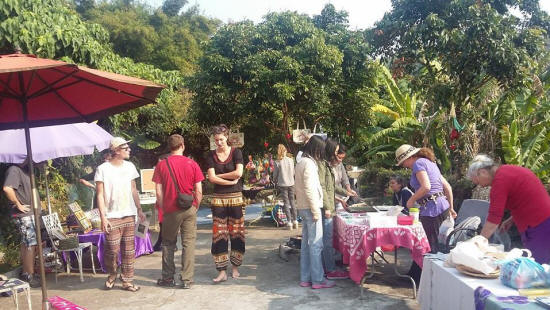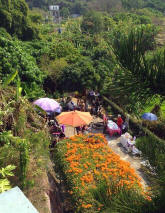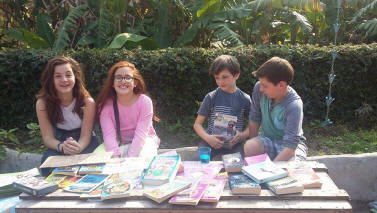 Plus even more photos by famous Lamma Artist/Art Teacher Katie Flowers.
A new neighbour of the Pak Kok Market is Flowers Towers; you couldn't miss the extensive Christmas lightings.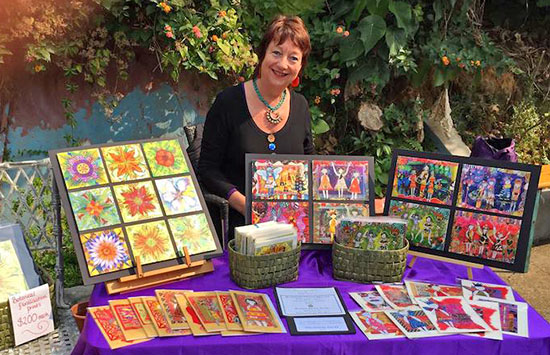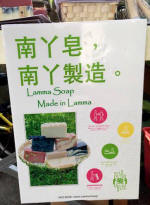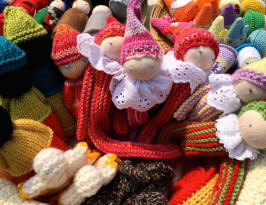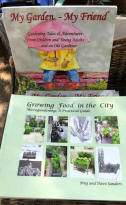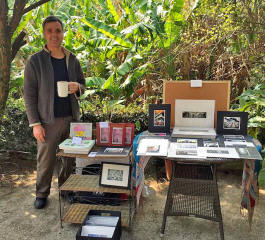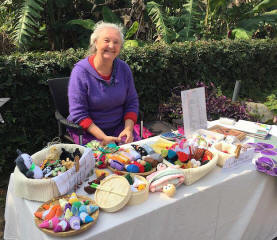 "My family is travelling to HK for Chinese New Year. Part of our itinerary is to do a day trip to Lamma Island on February 20. I would like to inquire from your perspective the following questions:
1. Will restaurants, boats and shops be open on Feb. 20 in Lamma Island?
I'm not sure if they will be closed because of New Year.
2. Is Lamma Island child-friendly? Are there activities they can do?
We will be bringing 4 kids with us.
3. What is the best seafood restaurant we can dine at in Lamma Island?
4. Is there any undiscovered cafe's or shops or areas in Lamma that
you would recommend for us to visit?

Long-time Lammaite Brett (and my former great neighbour) has a lot of good advice for Chin. New Year. Click below for more advice and news: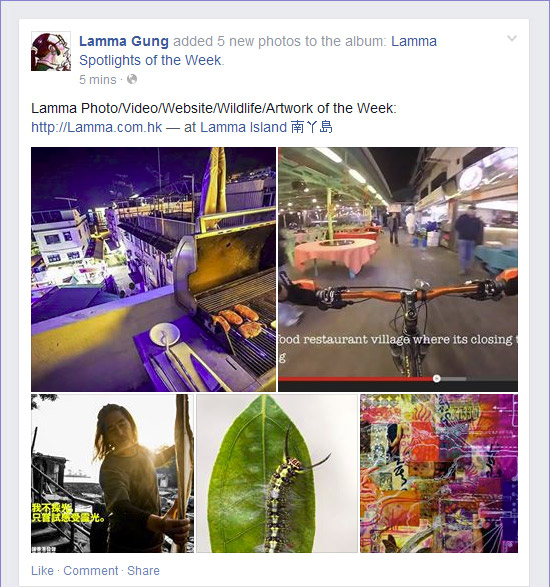 Lamma Spotlights of the Week, Feb 3, '15:
Live from my BBQ... Lamma Life! - Night ride from Yung Shue Wan to Tung O, Lamma Island - HK Trilogy (feat. Lamma Artist Miso in the YSW Fisherman Village) - Caterpillar - Call of the Wild Soul
by Adam Weirick, Robert Hope-Jones, Christopher Doyle, Rambler, Katie Flowers.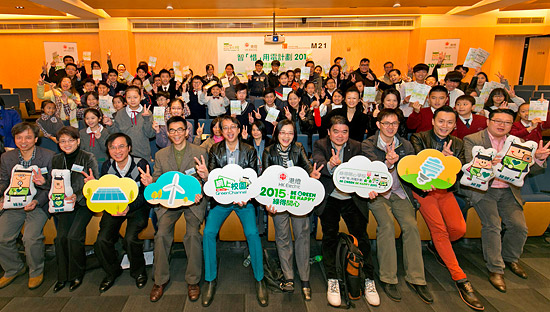 HK Electric writes:
Smart Power Campaign Realises Dreams the Green Way [2 February 2015]
"Just like how Martin Luther King's famous saying of "I have a dream" has changed the course of American history, many scientists and inventors actually started their quest for greatness with a simple idea or a dream.
Local secondary school students are now encouraged to think big and create green projects under a new initiative of HK Electric's Smart Power Campaign this year - the "Green Energy Dreams Come True", which provides funding and support to help students bring their projects to life....
There is no limit to the kind of green energy projects submitted. Possible deliverables may include installations, models, art pieces, computer games, short movies, exhibitions or other promotional activities. All secondary school students are welcome to form teams and to submit their proposals by 13 April 2015.
Members of the advisory committee of HK Electric's Education Fund will then select not more than 10 teams with the best proposals, who will each receive seed money of up to $50,000 for implementing the projects. Engineers from the Hong Kong Institute of Engineers will also provide technical advice to the shortlisted teams. On completion of the projects, these teams are required to present and report on their work done and the four best-performing teams will be further awarded with scholarships...."

"Dear Customer,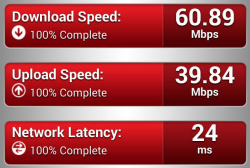 According to our record, the aggregate local data usage of your mobile no. +852 6151 5408 has reached / exceeded the Fair Usage Data Threshold of your subscribed data services.
Your data access speed (upload and download) will be reduced and restricted to not less than 128 kbps 4 hours later until next monthly billing cycle. Please note that the actual data access speed may vary depending on extraneous factors...
Yours Sincerely, 3 Hong Kong Customer Services"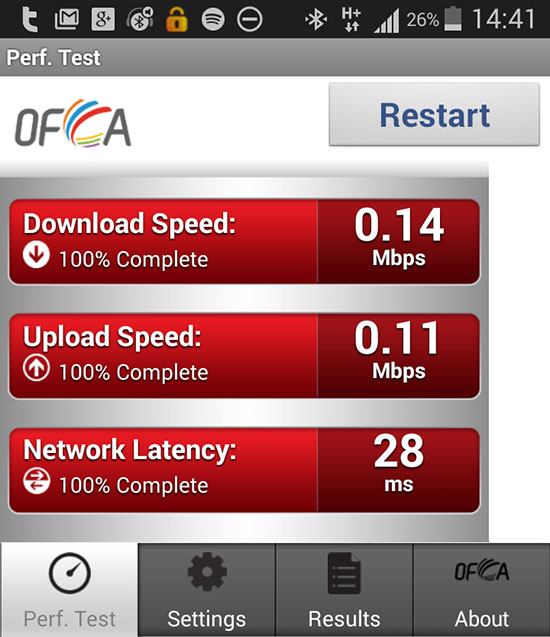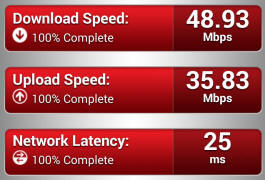 One entire week at less than 1% of my former mobile Internet speed, sheer torture! No more streaming music or radio, websites loading like stuck in mud...
The downgrading was full-time and all over HK, including anywhere on Lamma.
Time to switch service providers? My 2-year contract is almost up...
P.S. Feb 23: Speed is back to normal... for now, at least (see right). Time to switch as my contract ends in April?