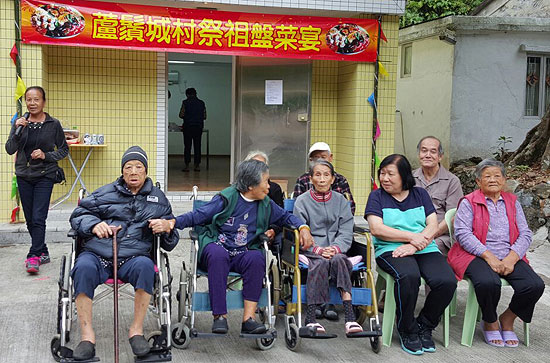 Lo So Resident writes (translated from Chinese):
"A rare and exciting event happened in Lo So Shing Village on Oct 11 2015. Around 200 attendees enjoyed a Big Bowl Feast!
Old people who were walking-impaired walking, encouraged brothers who already moved elsewhere to come back and altogether enjoyed the unforgettable feast.
Ancestor worship is one of these traditions among many Chinese, especially those who came from villages. They believe that they should honor their parents and ancestors not only when they're alive, but also after their death. According to the Lunar Calendar, there are two big festivals that are dedicated to visit ancestral tombs and worship ancestors in an elaborate way. One is on the 7th day of the 2nd month (Ching Ming, Apr 5 this year); the other is on the 9th day of the 9th month that is in Oct. (Chung Yeung, Oct 21 this year).
Prior to 1970, many people lived in the villages of the Outlying Islands in HK. Villagers earned their living by farming, fishing or gathering. Starting from the 70s, many young people left their villages and sought their fortune in the city of HK or Kowloon. Some of them even migrated overseas.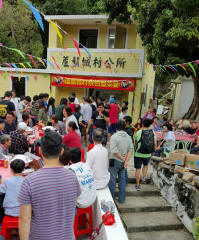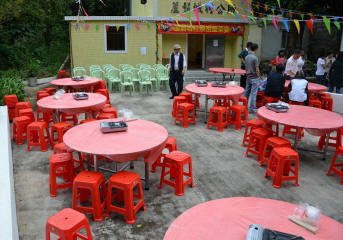 Gradually only seniors were left in the villages. When these seniors passed away, the village houses were left vacant and many of them became ruins.
Every year, a week or two prior to the 9th day of the 9th month (Chung Yeung), Lo So Shing villagers return to their village and visit their ancestral tombs together. However, their ancestral tomb visits were not as enthusiastic as before; participants usually numbered less than twenty.
A few hundred years ago, two brothers left their ancestral home in Mainland China and settled in Lamma Island. One brother's descendants formed Lo So Shing Village while the other became a founder of Tai Wan Village. Although in the Western point of view people of the two villages are distant cousins, they see each other as brothers because they bear the same family name "Chan" and their ancestors were brothers.
Some former villagers would like to rebuild their village "brothers" to visit their ancestral tombs together and dine in the terrace of their village office (the yellow house in the picture above) afterwards.
Due to their efforts, this year almost 200 former villagers from Lo So Shing returned to their village for ancestral tomb visit and feasted together in the terrace of their village office. They were very happy to see each other and catch up with their lives over their meal."
Lo So Resident also sent me all the photos in this story. Thank you!
I asked for more and got flooded with many great photos of Lo So Shing, all WhatsApped to my mobile. DingDing! for each photo, for almost an hour!
I've been pushing them to my PC to edit & publish them. They're showing the secretive, still underrated great beauty of Lo So Shing Village, home of the best public beach on Lamma! Preview, more to follow soon: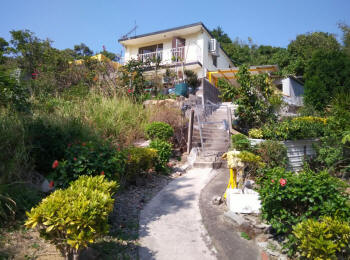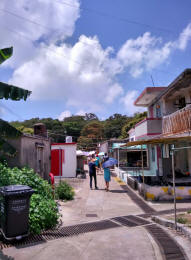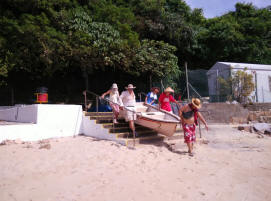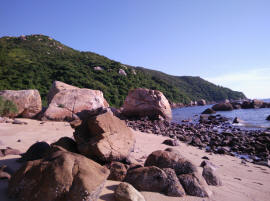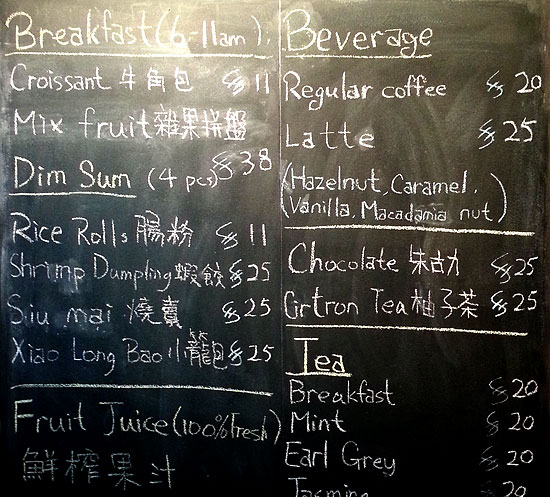 New takeaway in one of the two new village houses rebuilt by Jackson Property at the start of Main Street, formerly LaLa mama, formerly Green Cottage. One of my former favourite sunset watching spots, it's just a takeaway now, not a sitout-and-linger anymore. They've got about 10 types of tea and the tiniest bottles of freshly pressed orange, carrot and other juices, 2dl at $20.
Opening well before the first ferry at 6:20am, they'll compete for the same customers like reliable stalwarts Green Cottage and Tropicana, plus Blue Goose's new breakfast takeaways and several little places along Main and Back Street, all eager to attract the morning ferry commuter crowd.
There's been some discussions about the name (meaning babble in Cantonese?), so I asked the very nice proprietor. It's her husband's nickname for her, Baby-la! She changed it a bit and it looks now reminiscent of the former LaLa mama in the same spot.
Gotta try her Dim Sum soon, maybe with Green Cottage's fine takeaway coffee.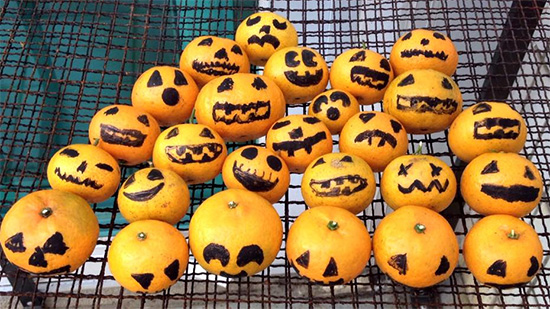 Tonight in Lamma Grill, apple-bobbing for hand-painted Jack-O-Mandarins, plus loads more of very early Halloween fun. Click below to find out more how to be the first ones to have fun, Lamma Halloween-style: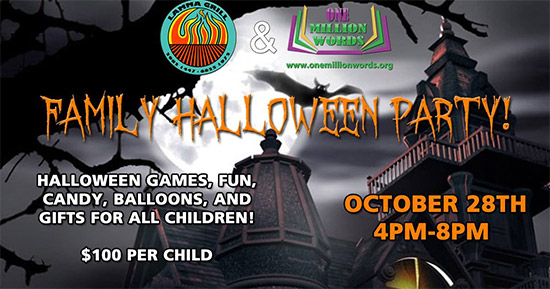 What's happening on Halloween, this Saturday?
Submitted by our Hans Andersen Centre, behind the Tennis Court in Tai Wan Old Village: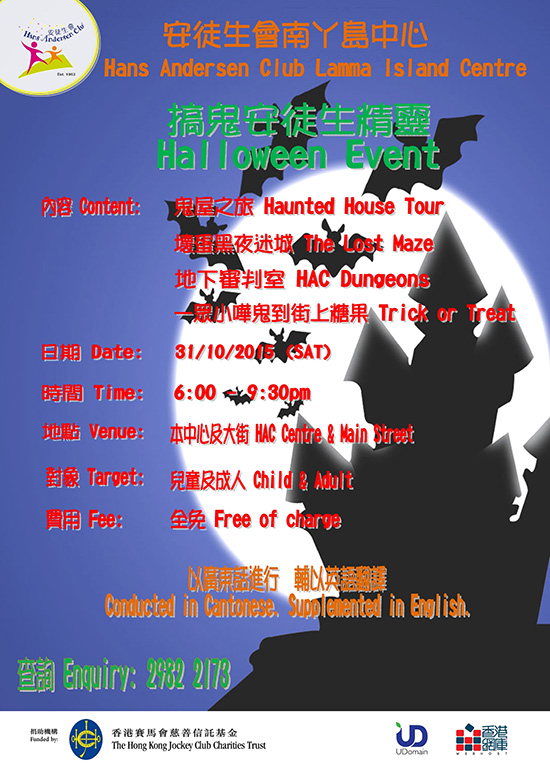 P.S. Photos of Lamma Grill party, by Lin Zhang & Guy R.H. Miller.
P.S. 2: Scariest photo of yesterday, by Guy R.H. Miller, a Lamma VIP with no props, no mask, no add-ons: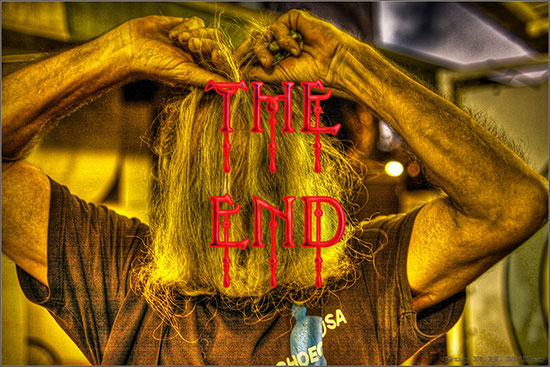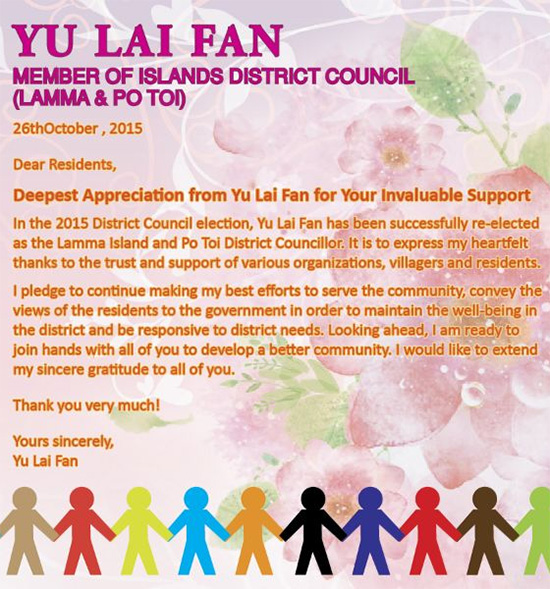 Click for details, especially why the 2 opponents (with no party support) have been disqualified after the registration deadline.
4 more years of DAB rule, without any of the other political parties taking a big interest in our little Lamma's activities, events and development projects...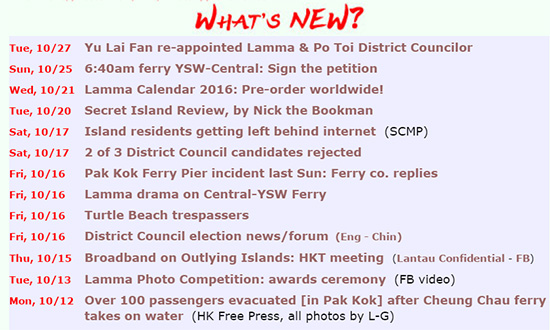 For more daily sunset photos, have a look at he HK Observatory's webcam mounted atop the YSW Ferry Pier, facing the sunset.
Check out their every-5-minutes photos, saved for the last day, in this format: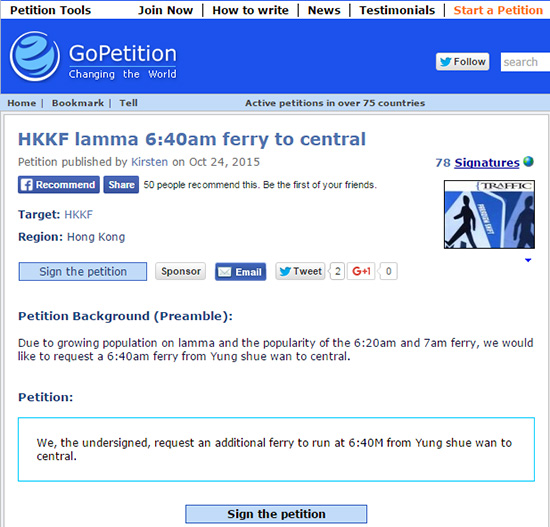 78 Signatures in less than 24 hours! Let's make it a lot more, even if it would take a long time for HKKF to change their permanent weekday schedules.
Some of you might remember the years of petitions, discussions, trials and appeals on all levels that it took to get a 2:30am ferry on Sat/Sun mornings.
But it happened in the end, so let's start with a petition...
Discussion about a 6:40am ferry...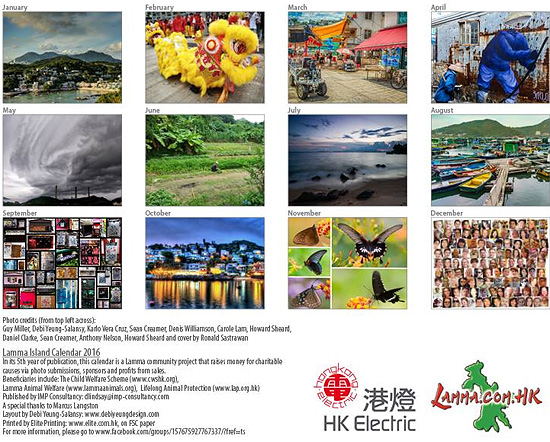 Deb Lindsay writes:
"Want to buy a Lamma Calendar?
We're doing a discount this year on any pre-orders - for collection on Lamma Fun Day. Thereafter will be the regular sales price from distributors on Lamma.
Pre-orders: HK$65 - anyone ordering via this page prior to Fun Day (7 Nov). Please place your order under this post. Calendars must be collected on Fun Day.
Regular sales price on and after Fun Day: HK$80 for 1 / $150 for 2.
Overseas orders: Regular sales price + postage
(Please contact Lamma-Gung (FB, email) directly to place overseas orders.)"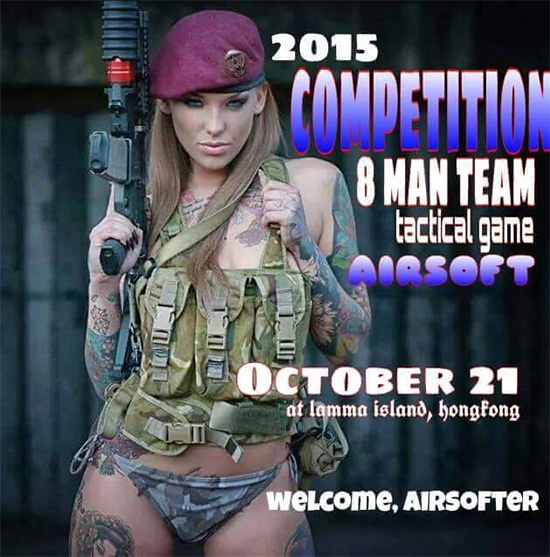 What's been happening inside the former cement factory in the ex-Lamma Quarry? Very few Lammaites knew about it, as it was all tourists, in camouflage military attire trying their very best to shoot each other?
They were spotted (around 60 of them!?) on the ferry to SKW, taking sampans over from the SKW ferry pier to the ex-Cement Factory inside the ex-Lamma Quarry. My spy called them mostly "Filipinos sporting guns, shirts and gear"...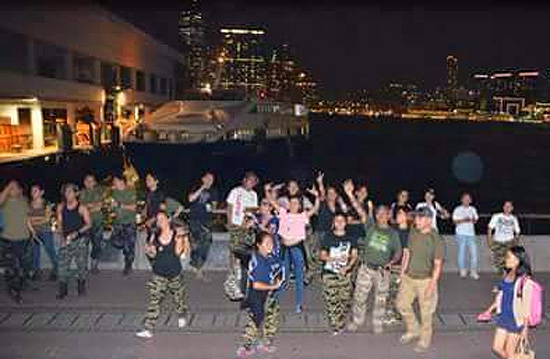 AIRSOFT..TITANIUM Commando Airsoft Society Intl. HK
The lady on the event poster atop this article was not part of the games, but a lot of ladies were. All photos by my new Facebook Friend Shayne Diesel.
Maybe I should tag along next time (and being "tagged" very quickly by these ferocious-looking ladies)?
Some of them work as mild-mannered and ever-so-patient domestic helpers 6 days a week, but on the weekends they can vent and relieve some of their many frustrations...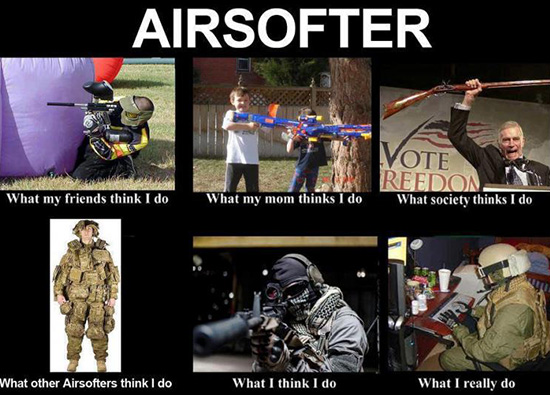 2nd amazing sunset in 2 days, yesterday on my rooftop, a welcome break from my home office, clipping a cheapo fish-eye lens (7-11) onto my smartphone: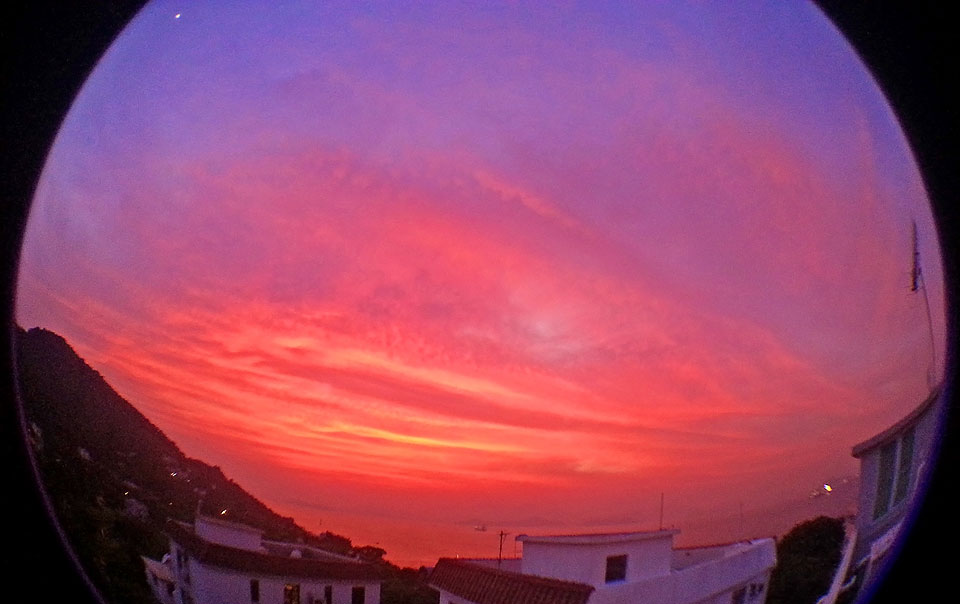 Nature's beauty is most generous these days, this morning:


Despite (or because of) some friends' disparaging remarks, I can't stop playing around with generating "computer art" occasionally. No solo exhibitions in art galleries for a few years, but I'm still experimenting with new ways of making my photos look more interesting.
Case in point, a simple photo of our often blue sky, shot from my rooftop with a cheapo fisheye lens from 7-11, clipped onto my smartphone.
Running it repeatedly through Google's Deep Dream Generator, and a bit of Photoshopping, the artificial-intelligence, pattern-finding algorithms came up with this fascinating result:
Wikipedia: "DeepDream is a computer vision program created by Google which uses a convolutional neural network to find and enhance patterns in images via algorithmic pareidolia, thus creating a dreamlike hallucinogenic appearance in the deliberately over-processed images."
Applying unsuccessfully to Google as a "power user" (permitted very computing-intensive "Rare Deep Dreams"), they seem to have opened up the free generator recently to user registrations. They're now offering different, additional Deep Dreams.
All of these have been generated from the same simple blue sky photo above!
Click to enlarge (name of Dream Type below images, all Deep Inception):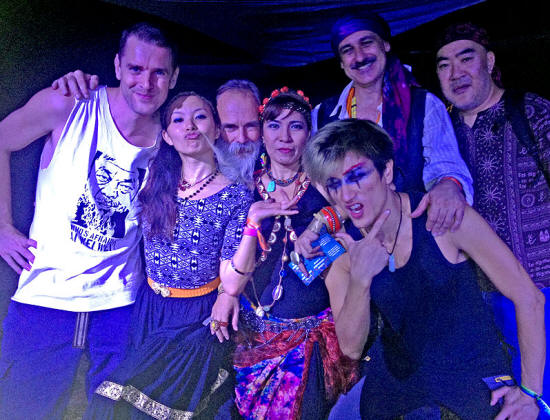 Nick the Bookman writes:
"And how was your weekend my devoted fans and readers? Mine was pretty much a mega-bender, starting about 0300 Thursday morning (15/10/2015) and finishing about midnight Sunday (18/10/2015) and that's roughly, er...I've run out of digits... 93 hours or so. Let me explain...
It was the 3rd Secret Island Party held at Dai Lo Wong on Lantau. A good sneak warm up for both the Lamma Fun Day in mid-November and Clockenflap 2015 later that same month. All of which I'll endeavour to compress into pithy prose for your delectation and amusement. But that's later down the road...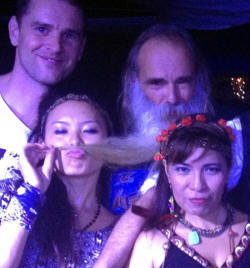 So what is SIP (Part 3)? To quote from the brochure it's "...a private little heaven where you're able to free your mind and spirit from the shackles of everyday monotony to play in our secret island world". Over 100 live acts and performances in five different areas.
Arts and crafts activities tailored to the kids. Good food and booze, Silent Disco on the beach crammed with tents. Yoga sessions. Live drums. Live bands. Live DJ's. All brought to you by Hushup Events who "...are at the forefront of Creative Event hosting." As they say "we don't do run of the mill and definitely don't do boring." Well. I'll buy that for a buck!
I really must thank Tamara & Jim (and beautiful baby Gemma) for inviting me to come along with my limited set of DJ skills to do my bit. I guess my DJ sets up at Open Space were a good enough marker to get an invite to the party..."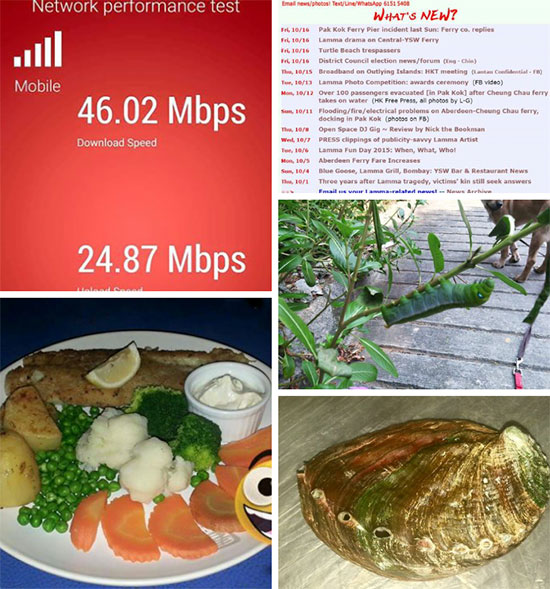 Click above to check out what else I've been up to on Facebook these days, an integrated part of my online activities...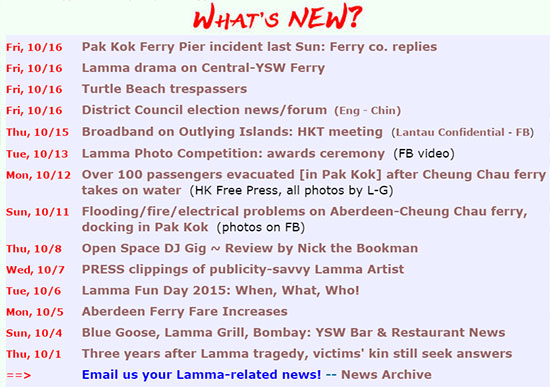 Click for more Lamma/Lammaite-related news.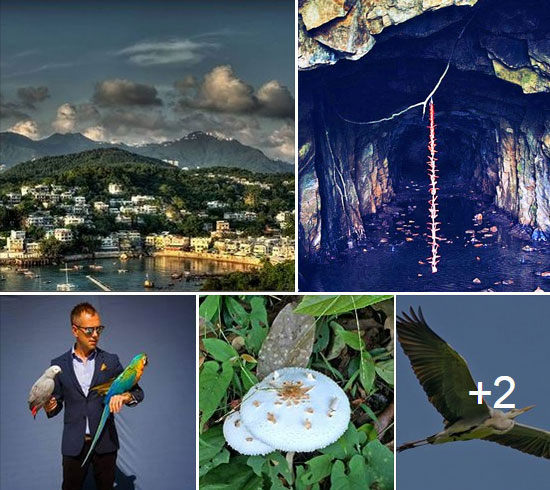 Lamma Spotlights of the Week, Oct 15, '15:
| | | |
| --- | --- | --- |
| PHOTO | | by Guy R.H. Miller |
| VIDEO | | by LammaRainbow |
| PERSON | | by unknown |
| WILDLIFE | | by Megaen Kelly |
| BIRD | | by Howard Sheard |
| ARTWORK | | by Jade Richards-Butler |


Click above to read the full article.
All photos and captions by "Lamma-Gung, Lamma.com.hk"
For more eyewitness info and all my photos...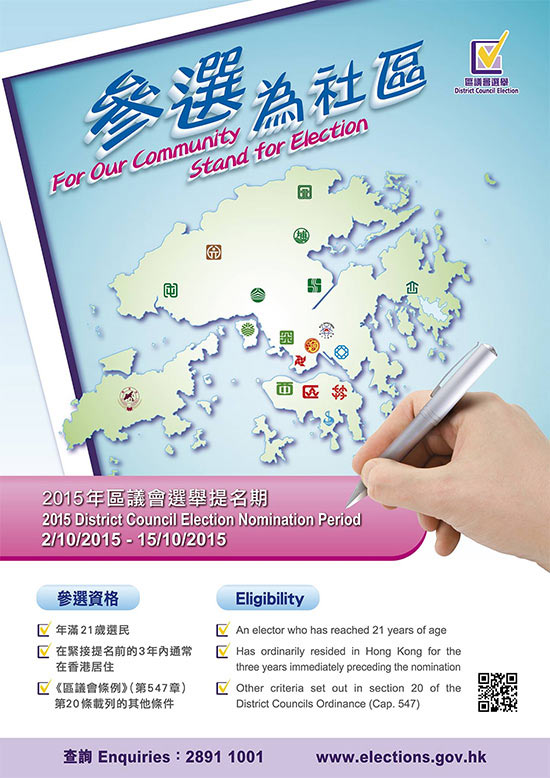 Our long-serving District Councilor Yu Lai Fan (Lammadonna) has just officially declared again for re-election. She's also recently stopped

her formerly frequent Facebook updates till after the election.
Anybody else standing? What about YOU? Deadline next Thu, Oct 15!
It might be a boring one-candidate election campaign otherwise! Last time, 2011, there were 2 more candidates and it was pretty lively campaign with many photos, stories and interviews!
Discuss in our District Council Elections 2015 forum and on Facebook.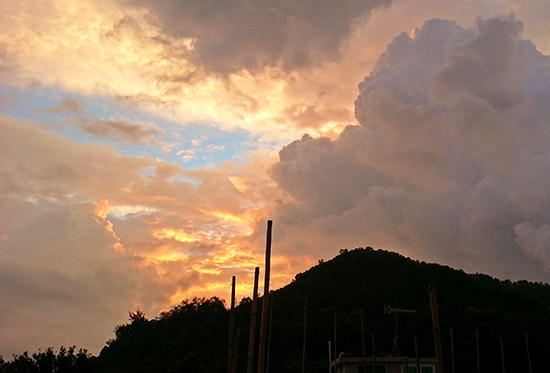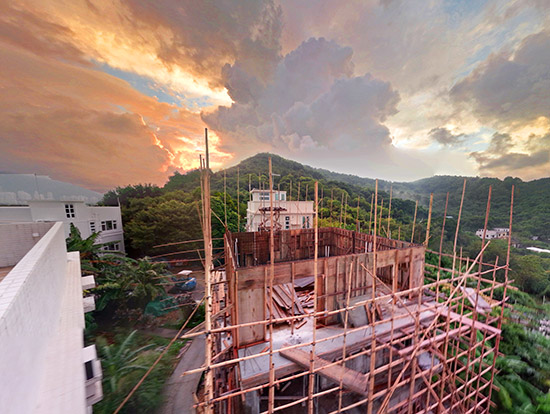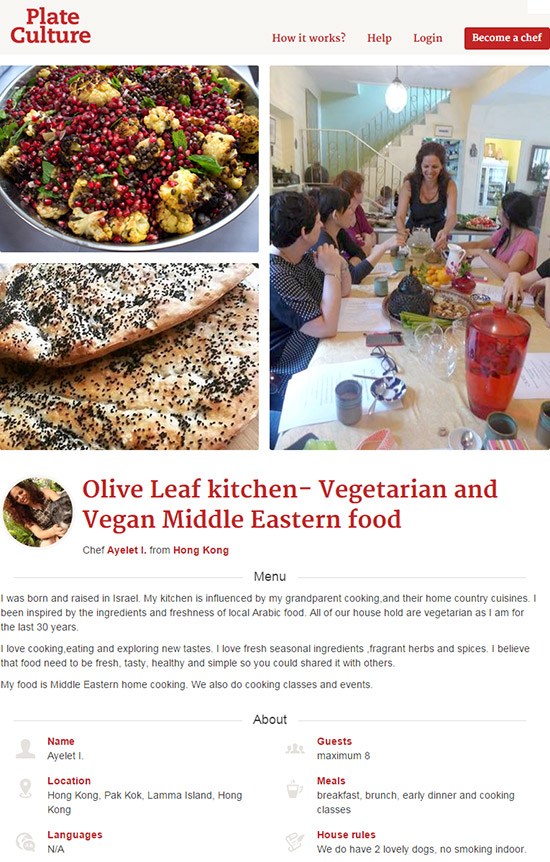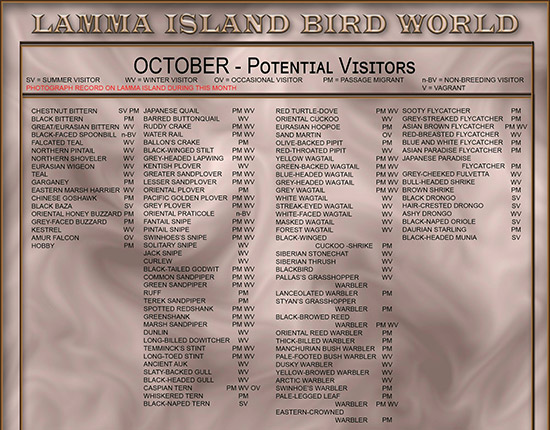 Click for our Ferry collision 01/10/12 forum.