Jul 31: Summer Splash @ Hung Shing Yeh Beach
Big waves yesterday at Hung Shing Yeh beach! This was shot in Panorama mode, no Photoshopping tricks or filters. Maybe my favourite Lamma Mamma cocktail from Concerto Inn Hotel made me a bit unstable-but-cheerful on the sand while I was sweeping this panorama photo?
So what's happening in Concerto Inn this summer anyway?
For more info, click above or check out our advertiser's fun website or their very active Facebook page.
Jul 30: Food Tasting @ Jing Jing
Jing Jing (opposite Diesel's Bar) is now open for dinner as well, in addition to their popular breakfast and lunch choices. Check out the new dinner menu by Master Chef Marlon, plus more photos of their dishes in our Bar & Restaurant News.
Jul 24: Indian Specials @ The Waterfront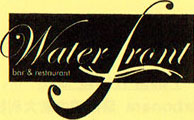 We got an very pleasant surprise at lunchtime in The Waterfront Bar & Rest. yesterday, see above.
This was the very best Indian food we've enjoyed on Lamma in a long time.
Everything was so tasty, even the simple dal, all dishes so well-balanced and exploding with a wealth of spices and many flavours, without being too hot.

Jul 23: 11th Anniversary of the 'Lamma Website'
11 years today since this website started up, very hard to believe! Thousands of almost daily Lamma-zine stories, tens of thousands of Lamma-related photos, a forum with 9,088 registered members, 13,500+ discussion topics and 77,000+ posts made; not bad for a little local website for an island of just 6,000 people.
Just a little, zero-income hobby for the first 3 years, it's turned into the longest-running "job" of my life. It still hardly pays for its own upkeep and maintenance these days, but it's still a labour of love. Two semi-retired people can survive on a very modest income on Lamma, as long as you don't do anything "fancy" and unaffordable, like traveling or leaving the island more often than necessary....

11 years also marks a new beginning for us, after 12 years of living in 3 different flats in Sha Po Old Village, we've been forced out by the massively increasing rents in the entire YSW area, moving to a remote Lamma village in 2 weeks. We'll become very frequent visitors to YSW and hopefully see our home island with fresh, less jaded eyes.
Celebrating this anniversary, how about getting up before 5am and riding my bike up to the Lamma Winds Pavilion to watch the sunrise at 5:52am? Done.
Lamma visitors enjoying the sunrise even earlier than me -
Meeting our neighbours at the same pavilion last Sunday morning.

This cool strobe effect might happen while you shoot panoramas, sweeping the camera over fast-moving items, like windturbines or people moving.
Try it, switch to Panorama mode on your smartphone or pocket camera!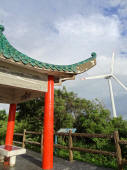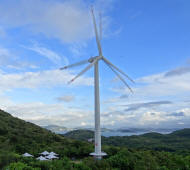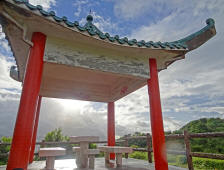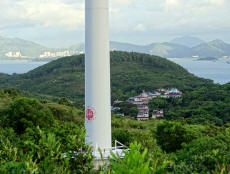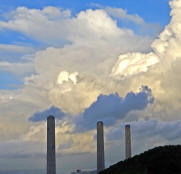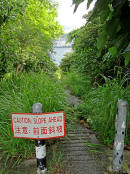 Then the weather turned within minutes into a sudden, almost horizontal downpour, followed by a rare rainbow over Mt. Panorama! Maybe a good omen for the future of the 'Lamma Website'?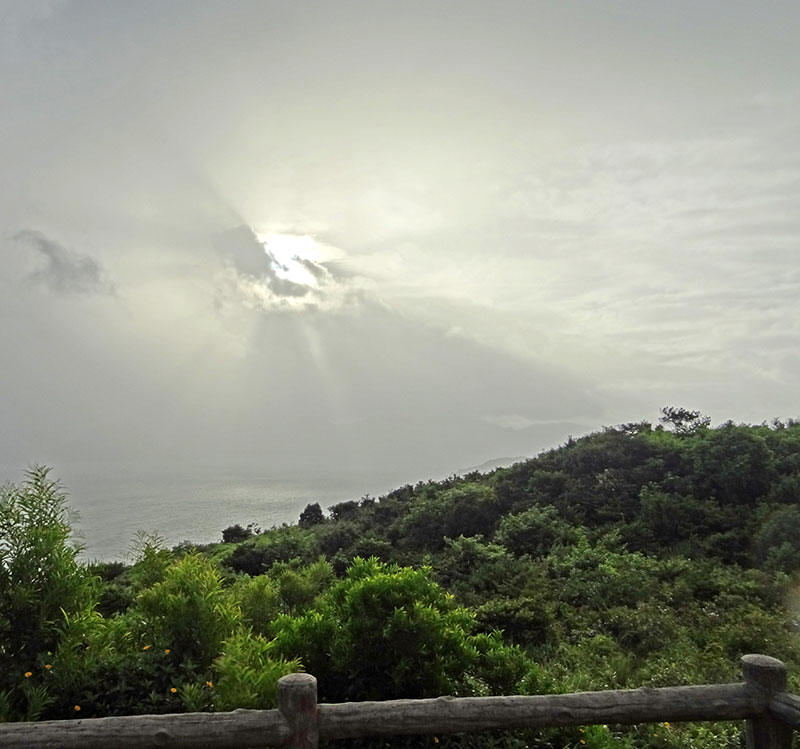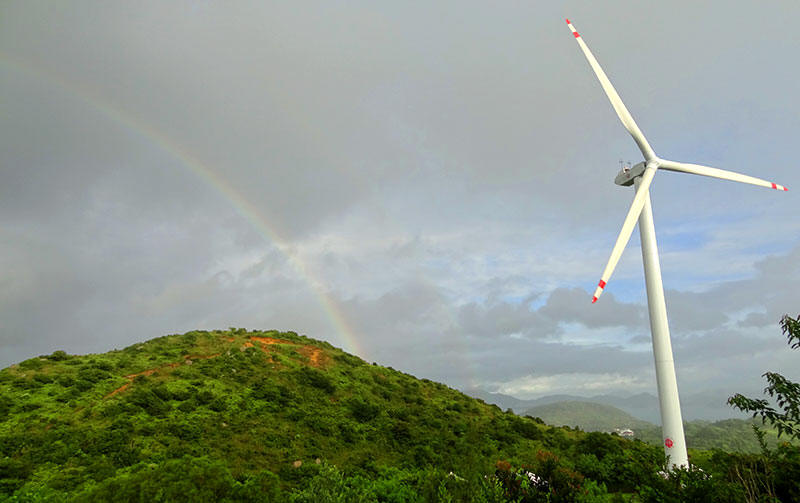 Jul 22: Yung Shue Long Farmers Retires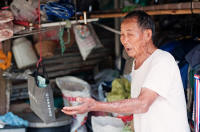 The Old Farmer in the YSL Valley, Ah-Po (photo by vcilli) and his wife have retired a few weeks ago, their lease expiring. The former veggie fields are lying barren now and their customers are feeling nostalgic and a bit sad. The YSL valley is being slowly prepared for some big changes and developments, concreted over and walls erected. A few more photos before this subtropical valley five minutes from the YSW ferry pier will change forever, maybe to be covered with Village Houses.
More photos in this 4+ years-old, still hot topic (281 msgs, 27,500+ views), progressing from outrage over the destruction of the iconic Lily Pond to the current lament for an (almost) lost cause:
Yung Shue Long Valley Development
Jul 21: Sunday Sunset Roasts @ Prime
A very warm welcome to our new Lamma-zine advertiser, Prime Bar & Grill in YSW. We'll be hearing a lot more good news from this classy venue soon as they'll introduce new dishes and feature foodie events.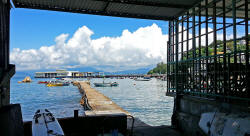 Our favourite time to enjoy dinner in Prime is sunset. So we're rushing sometimes to grab one of their harbourfront tables, preferably on their exclusive downstairs terrace with sweeping sunset and harbour views, set right on top of the beach, just besides the old jetty watching fishermen, locals and tourists alike admiring the often stunning sunsets these days.
On Sundays, starting at 3pm, Prime is now offering traditional chicken, lamb and beef roasts. Their popular chicken roast was sold out already at sunset-time, so we opted for beef instead. It was a great choice, especially as we hadn't eaten any traditional Sunday roast since Diesel's used to offer them years ago.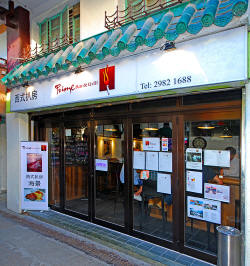 We really liked the Yorkshire puddings and the succulent, perfectly seasoned, very generous three slices of beef.
Tips: Order extra gravy and a glass of beer or house wine (or a bottle shared with friends) for maximum enjoyment.
Share the roasts which, surprisingly, are priced at only slightly above $100.
Check their blackboards or ask for their Specials of the Day as they're new dishes, ever-changing and often very good value for money.
The only dessert was a heavy, dense New York cheesecake and it wasn't a favourite with either of us. Come on, Prime, after such a nice meal we deserve a reasonable choice of luxurious & colourful desserts!
Two daily specials from last week, often the best deals:
Roast chicken & Fillet Mignon, highly recommended by Lamma-Gung & -Por.

"Prime Bar and Grill, in association with CWS and Kedington wines would like to invite you to a fund raising wine and 3 course dinner evening on the 1st of August. There are limited seats available at $500 each and $100 of each ticket sold will be donated to CWS. Read more...
Download menu. Book now by emailing Leslie Knight or call 6041 3744."
Jul 20: Varial Kickflip, Feebie Grind & Bigspin Boardslide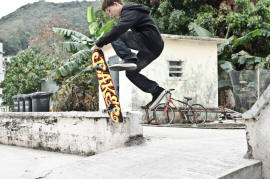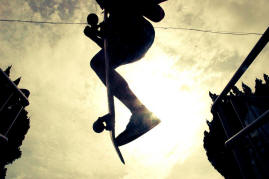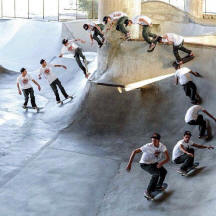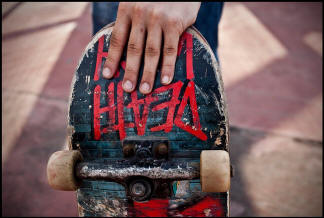 (All photos by Skate Lamma)
Skate Lamma on Facebook - Sports League:
"For all skateboarders, cruisers and long boarders on Lamma Island.
Please also feel free to upload your own videos and photos. Twitter."
These local guys are pretty amazing to watch in the YSW Football Pitch and around the village. The daring moves they're performing have these mysteriously cool names, even their boards feature names like "Death Wish". I've collected some of their best moves' names from their public FB page:
"Kickflips, Varial Kick over a Gap, Half Cab kickflip, Feebie grind, Varial kick over the rail, Varial kickflip on a slope, Varial kick over fire, 180 Ollie into a Nose Crook, Indie Grab over a Gap, FS Boardslide, Bigspin over the HA 4 set".
Jul 19: R.I.P. My Rooftop Jungle
Before and after the big cleanup, the sad ending of L-G's Rooftop Jungle.
We have to move very soon, driven out of YSW by the recent massive rent increases. I was hoping that the next tenant would like to take over my rooftop garden, for free. But our landlord, who's always been very nice to us, insisted on us getting rid of everything, making a clean slate. The next tenant will be expected to pay almost twice our rent from two years ago.
With the help of several fearless (see below) and hard-working gardening friends, we cleared the rooftop in 5 hours. They found new good homes for many of my plants, some will hopefully take root in the swampy area besides our house, and a few will accompany us to our future balcony.
Rolling up my floor-covering of Wedelias like a carpet into bushels
(Sphagneticola Trilobata, yellow flowers, endemic besides Lamma's paths):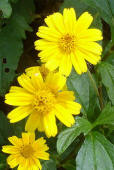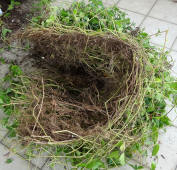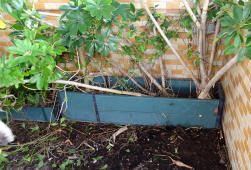 2+ metre tall bushes in planters made by David & Bing the MicroGardeners.
I didn't realise that I had a zoo and a spider habitat on my rooftop! Some of them were huge, like the Huntsman spider on the left, some I've never seen before. My friend gently picked this very poisonous 4-inch Huntsman up with a chopper and "relocated" it to the swampy area just beside our building. Then she told us that her granddad was killed by a spider....
We didn't find any snakes and centipedes, to my disappointment, as they'd have made for even more interesting pictures. Many creepy crawlies have been made homeless now, unfortunately. They rarely bothered me while enjoying my rooftop (except the stinging wasps last year).
While cleaning up on this wet day, some cockroaches got tangled up in my hair and I even found a live one inside my underpants hours later!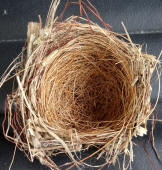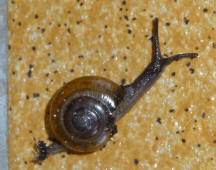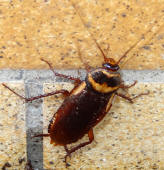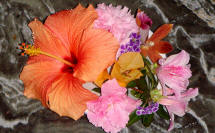 The Red-Whiskered Bulbuls fledged from this nest just a few days ago; hidden so deep in my jungle's bushes, we never saw them. But their agitated parents stood their ground, chirping wildly and constantly when I came close to the bushes a few days ago. A little souvenir nest.
In memoriam, some of my best stories, plus flowers from my former garden. I'll be missing my 6-year old personal Rooftop Jungle....
Gardeners of Lamma, Unite! - Oct 7, 2007
Seedy Activities - Oct 23, 2007
Rooftop Gardening Update - Dec 23, 2007
'Congratulations on Your Successful Social Events!' - Dec 27, 2007
Lamma.com.hk Rooftop Jungle Party - Dec 9, 2008
The End of L-G's Rooftop Pond? - July 20, 2009
Farewell to L-G's Rooftop Jungle & Pond - Aug 10, 2009
Rooftop Jungle & Pond in Bloom - May 26, 2010
Rainy-Snaily Monday - June 28, 2010
There Are No Weeds! - June 13, 2011
Dangers & Delights of a Rooftop Jungle - Nov 12, 2012
Rooftop Jungle Home Office - May 17, 2013
LammaHippies @ Gmail.com - April 3, 2016
Are You a Lamma Gardener? - April 17, 2017
Bloomin' Hippies - Apr 20, 2018
Jul 18: Breakfast @ Shelly's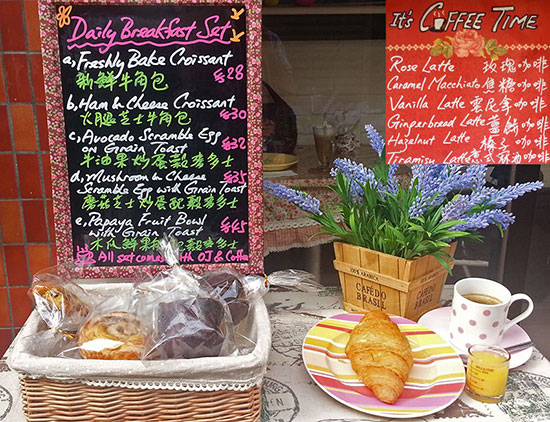 Shelly's on YSW Back Street is only selling (cheese)cakes, right? Wrong! She's just started offering breakfasts from 7pm, Mon-Fri. We tested some today: yummy, crispy croissant or grain toast, including fruit juice and her famous coffee, a great deal! We'll be back very soon.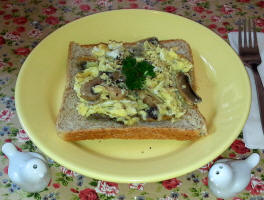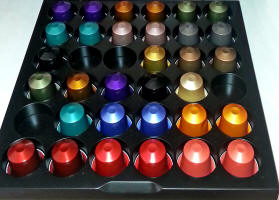 Mushroom & cheese scrambled eggs on toast - Nespresso fans, take your pick.
Jul 17: Blind Leading the Blind?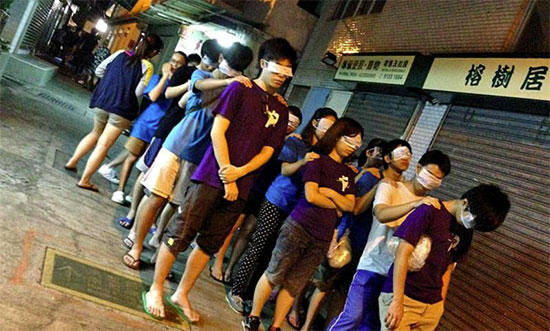 Lamma Gung posting on Facebook, July 16 (photo by Robert Hope-Jones):
What's going on here? Tonight in the middle of YSW Main Street, opposite Banyan Bay Cafe. Comments:
Hide and seek game soon!
They don't want to see any snakes.
Reenactment of how Lamma came to be.
Classic comment about political system in HK? But there's no cliff to fall off.
"What? You've stopped selling chicken wings"
These are mouth and nose masks, right?
Outbreak of severely infectious eye flu (I1I2 strain).
I've seen groups of students doing this before. Leading the 'blind' as it were. One of them told me it is an exercise in 'trust' (being led by someone) and using your other instincts.
You never know what our youngsters think.
Civil servants from various departments District Islands Office, EPD, etc on a fact-finding trip to Lamma to see what can be improved or beautified.
Zombies...
Is this a sign of even odder behaviours to come soon from Lamma visitors?
We finally got fed up of the staring tourists and made them wear these!
Trust exercises. This photo does not show it, but each blindfolded group had a sighted leader.
Jul 16: 'I Love My Licence Plate!'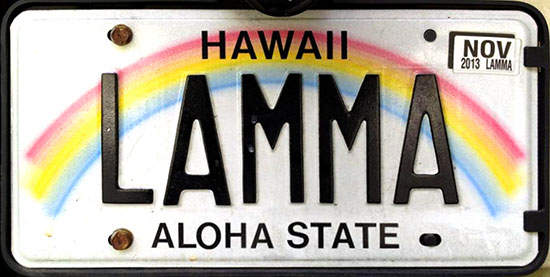 Ex-Lammaite Frazer McGilvray, living on a not-car-free island now, writes:
"I love my licence plate!!
When I moved to Hawaii I bought a Jeep. There's lots of Jeeps here, and the soft-top ones are generally hire cars. So to make mine a little more obviously local, I got a personal plate.
What else would I have chosen?!"
Jul 15: Learn How to Do the Spider Dance
Feedbacks to Lamma Gung's post on Facebook (macro photos by Gap Hung):
Lamma for Arachnophobia sufferers?
Dan emailed me:
"I am thinking about moving to Lamma Island, but I have an extreme case of arachnophobia. What are the odds one of the large spiders I've seen along the trails ends up inside of my apartment?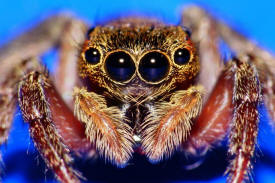 Is this a regular part of island life?"
What would YOUR reply be?
100% within a year.
No large ones inside in my experience. Lamma cured my arachnophobia in large part, but I was left with a ridiculous fear of centipedes. I still have nightmares about those creepers 2 months on.
We've had two massive huntsmen spiders in the house in the last 12 months... get used to it!!
Large woodland spiders may be what he means; very unlikely in house. Big fast huntsmen, yes; maybe don't mention the centipedes! Or chance a venomous snake could get in... (this based on Cheung Chau; know of a couple of cobras into flats).
If nature creeps you out, this is NOT the place for you.
There are many therapies out there that can clear up your fears in a few sessions, deal with your fears.
Yeah, Lamma is a great place to pick up a new collection of phobias.
Tell him: "The arachnids in one's home on Lamma are not toxic to humans and they keep the deadly brain eating butterfly numbers down."
See if that helps!
I came to Lamma with pretty bad arachnophobia. It has abated strangely. I have only twice had spiders actually in my place. Both times I have had to get a nice friend to come around and get rid of them. I have been on Lamma for 15 years.
Oh, and tell him not to rent a flat with trees around.
Spiders are the least of your worries on Lamma. Centipedes now that is a nasty nasty, and yes they come in your apartment and bite you when you are sleeping... just for fun...
Not the least of your worries if you have extreme arachnophobia...
Yes, I would suggest that this fellow look at life on Lamma as a radical way to combat his phobia. The spiders here are enormous, but at least the Golden Orb weavers are relatively harmless.
After living amongst them, he will never be nervous about common (small) spiders again. I know that my life on Lamma has surprisingly and forever cured me of any anxiety I once felt about spiders or snakes.
In 17.5 yrs on Lamma, I have never had large spider in my house, just the cute little ones that jump. Don't get a ground floor rural flat and it should be all good.
Me too, in four years on Lamma, I just had the small jumping ones with spinning heads. In my flats on Lantau and in the NT though, I've had huntsmen and wood spiders.
I'm not afraid of spiders, but... Last fall I noticed sudden insect-like movement behind my wife on the stairwell above me. It was something big, and at the exact the moment I realized it was a spider - it jumped off the wall, hurtling towards my face, legs outstretched!! That made me scared of spiders!!! Or at least that one.
I saw another one again a month ago, but is was on the ground, safely away me, and best of all, jumping away from my feet.
My favourite visiting house spiders are huntsman spiders who dance on the walls. They are not web spinners and they move electrically fast (as they are hunters). I absolutely adore spiders - but if an arachnophobe bumped into one of my house guests, it might end in tears. I've also have seen lovely wolf spiders outside my house...
Why can't we treat those little spiders or big spiders as our visitors only. They can come and go. I agree with Liz Gower, they are absolutely adorable spiders.
You will learn how to do the 'Spider Dance'... (my name for it purely). That is when you walk into a big web strewn across the paths early in the morning, and you do the 'jig' as you are wondering where the hell the spider is!! However, Lamma could be a good place to get over 'your fear'. I've named quite a few in the past ;-) (the ones that inhabited my home for a short while).
Dan replied: "Thanks all. I've decided I'll try living there for one month and face my fear head on. If you see a skinny, middle-eastern guy walking down a path, waving a stick in front of his face, feel free to say hello."
Forum: Lamma for Arachnophobia sufferers?
P.S. If you're eager to learn how to do a 'Spider Dance' or a 'Snake Dance', visit the "Dancing With Snakes" exhibition, July 8-21, organised by the Kadoorie Farm, in the Creative Arts Centre, Kowloon.
Jul 14: Pink & Orange & Black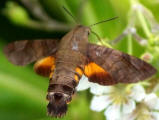 Cable Road along Power Station Beach early last Sunday morning.
For much better shots of this beetle, including amazing flying shots - Name? Anybody? - check out Rambler's recent photos in our Strange Bug forum, incl. his "Furry Bug" and the Hawk Moth:
Jul 13: R.I.P. Sugar
Emily Ho the ex-Ice Cream Lady: Sugar's Human Companion:
(Photos by Emily Ho)
Farewell to Sugar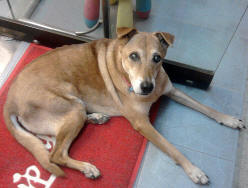 That morning, I had watched the clock on our wall since 10:30, nearly an hour before the veterinarian had promised to arrive. To me, each tick of passing time sounded like a fire alarm. Although I sensed an emergency, any fire-alarm warning calls for running away to safety, but in this case I felt compelled to stay with Sugar, our aging and ailing dog.
Finally going outside, I told my partner, "Time to bring Sugar inside, Gary." He had taken the dog outdoors for some sunlight and fresh air.
Jul 12: Juxtapose Thai Magic & Paper Airplanes

Jul 11: Volcano or Sunset?
Sun setting behind huge sand piles @ Gaido Pier, YSW
Sun setting yesterday, July 10, while sipping a glass of cold white wine in Andy's Seafood Rest., a fine and ever-popular way to end another leisurely day...
Jul 8: Constructive Development or Destructive Disaster?
Jul 7: Family Trail People Watching
A friendly hiker on the Family Trail. Love the walking stick!
Most weekends, the Family Trail between Yung Shue Wan and Sok Kwu Wan is severely crowded with Lamma visitors. Instead of avoiding them like most fellow Lammaites, I enjoy people-watching from a nice vantage point; a bit like bird-watching but a lot more fun. The multitudes of often astoundingly weird or hilariously baffling human specimens strolling, prancing, skipping, marching or crawling by can be most entertaining, especially when you're sitting comfortable with a cool drink, without being a part of the maddening, slow-moving crowds. My recommendations for some of the best visitor viewing spots:
Island Bar sitting-out area, Green Cottage, Diesel's, Ah Por Dau Foo Fa, Concerto Inn beachside, Family Trail Pavilions, Snake Trail, LoSo Shop, Sok Kwu Wan restaurants streetside,...

On a sunny day, everybody in this group, including the guys, carried an umbrella.
Jul 6: Livin' the Dream in Sleepy South Lamma!
Building a Cantonese Opera Tent outside the Tin Hau Temple,
Sok Kwu Wan, May 24, '13
Lo So Bill writes (all photos by L-G):
"Things are certainly happening here in the Greater Lo So region of Lamma!
Friday (May 24) had a carnival type atmosphere as hundreds of local residents and guests converged on a tin hut at the Tin Hau. The event? The time? The occasion? Not a clue as there were no translations available. Apparently, special ferry service was extended beyond our sleepy 10:40 curfew, but, again, that must have been another secret, too.
Saturday (May 25) brought rain and the rhythmic beat of drums going across the Greater Lo So regional bay. There was a sign for that, I think. At least something with a dragon boat and "25-5" on the advert:

I'd like to think the weather kept the throngs of YSW residents from coming over the Great Lamma Duel Carriageway / Family Trail. Lord knows the popularity of dragon boat racing could really bring in both locals and tourists alike.
This evening is stacking up to be another fun night in the Lo So area. What exactly will occur? Not sure. I'd write the Mayor, but don't have the address.
Just livin' the dream here in sleepy South Lamma!"
Livin' the Dream in Sleepy South Lamma...
Remember Flickr? You know, where people posted their best photos well before Facebook Albums became so pervasive? I found a little Lamma time capsule up there, my best photos from 2006, when I was still updating my Flickr account. Click above to see many Lammaites 7 years ago.
Be patient as Flickr has become pretty slow, even though they offer now an amazing 1TB (1,024 GB!) of free space for your photos.
For some better and more up-to-date Lamma photos from other photographers, click here...
Bilingual details of the new collection points...
Hans Andersen Club Lamma Island Centre, 19, Tai Wan New Village, YSW,
Sat, Jun 29, 10am - 5pm
"Love Painting, Painting Love"
"Sponsored by Aedas, cooperate with Society of Boys' Centre and Architectural Project Unit Ltd, we are delighted to inform you that we will renovate our outdoor wall by mural painting. You are sincerely invited to attend the program to share this memorable and joyful moment with us."