Apr 30: Adventure Summit
Just found this chart in the summer brochure of an NGO who's very active on Lamma all year round. Guess which one?
Let's hope they can live up to, more than just aspire to these lofty ideals!
From what we've seen so far, they really do!
Click below to learn more about their family & children adventures: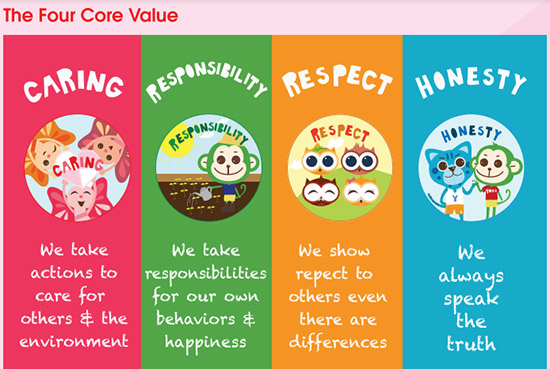 I like their inspirational intro! It reminds me of my own goals 10 years ago to lose half of my massive body weight, get (moderately) fit and hopefully get rid of all my related health problems, like diabetes. So far, so good, succeeding beyond my own goals: http://Lamma.com.hk/lose175.
"Everyone has a mountain we want to reach. Be it a 5000m mountain, an exercise goal, a dream scholarship, an extreme marathon, or the ability to influence our neighbours and change the world. Reaching our own summits require both physical and mental endurance. It takes endless practices, sacrifices, balanced fitness and most importantly the willingness to challenge ourselves to the top.
In our Adventure Summit Series, we wish to gather adventurers like you to explore our inner limits & obstacles and to discover the many wonders around Hong Kong and the world together. We promise things will not be easy. In fact, there may even be dirt, blisters and bruises along the way.
If you are ready to take on a challenge, to climb your mountain top to see the world and your potential for tomorrow, whether you are 6 or 60 years old, call us to find out your next opportunities."

Apr 29: Leave These Harmless Birds Alone!!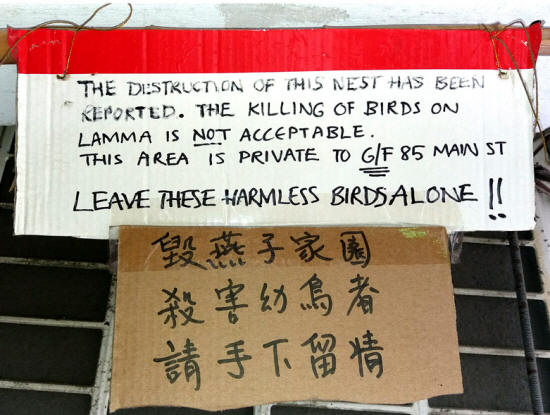 We're excluding the many non-venomous snake species on Lamma, like these very common rat snakes, mid-mating, videoed by Ed Williams in his garden. Click for a very wriggly video! Take note, not a single negative reaction to this video!
Click all species below that you have spotted personally, or add more species (this list is by no means complete):
As expected, bamboo pit vipers are most common (52 sightings in this poll so far). They are also responsible for over 90% of all snake bites in HK. Nobody has died in recent years, but their severe effects can be very nasty and long-lasting.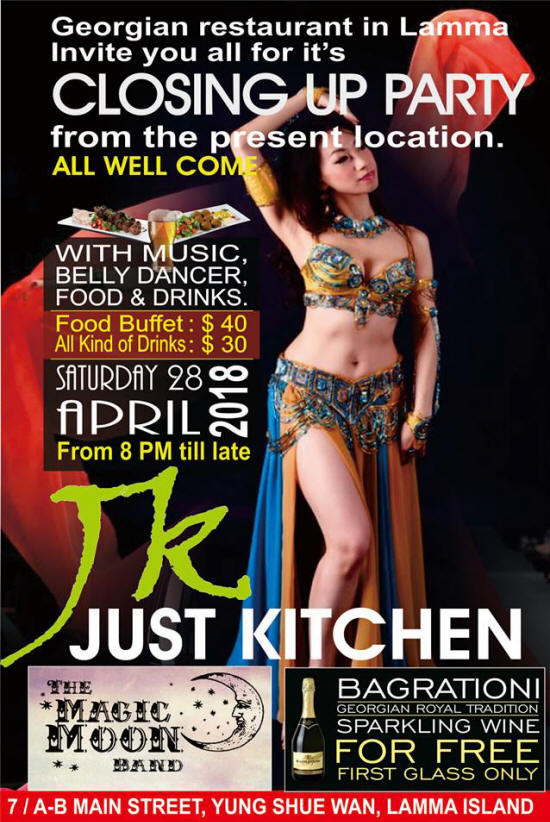 Free Drink! ~ Low-cost buffet ~
MAGIC MOON BAND Live ~ BELLY DANCER ~ FUN!
Starting at 8pm until late! All are welcome!
New location in Yung Shue Wan to be confirmed in a few weeks!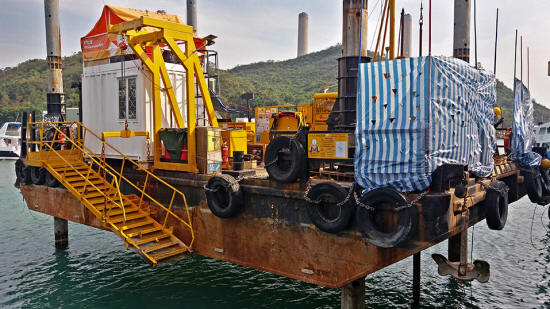 This ship/raised-investigation platform has appeared adjacent the YSW ferry pier recently. It looks very similar (same?) to the platform outside the Pak Kok ferry pier last year. Many people have been wondering what it's investigating.
One full day of my investigations, with help from Iris and Matthew (thank you both!), resulted in these detailed plans for the YSW ferry pier:
See our "Environment, Politics & Development" forum...

This spring, our balcony looks so luscious once again right now, without me doing anything besides watering and weeding regularly since last year. Lamma Hippies (botanical term: Hippeastrum) keep on regrowing and blooming again every year!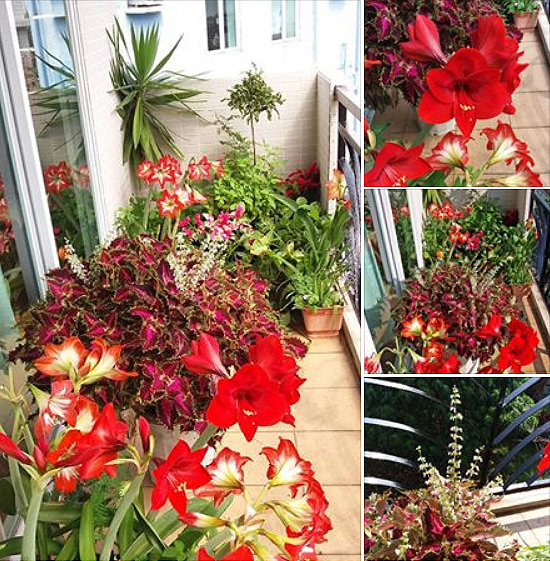 Click above for more photos, incl. some close-ups of my favourites, shot today.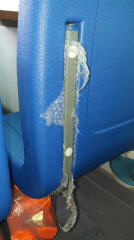 It's quite unusual for me to sing the praises of a ferry company, but in this case I must! Give credit where credit is due! It's really refreshing to be a frequent passenger of such a responsive, friendly and helpful ferry company! Let me elaborate:
On our way to Aberdeen recently, we noticed that some of the plastic wrapping of the brand-new ferry seats hadn't been removed since their installation a little while ago. So I WhatsApped the manager of Tsui Wah about it:
"We love the new Pak Kok ferry seats! But we hope that they'll remove the left-over packaging soon?"
Right away, the manager texted the crew to remove the left-over wrappings. On our return trip less than two hours later, this was the most surprising sight: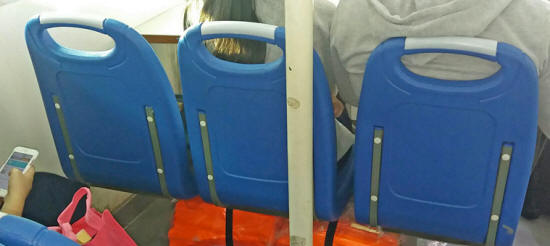 It might be quite a small matter, but such amazingly quick feedback and remedial ACTION is really rare and most praise-worthy in HK, just one of the many reasons we almost daily passengers are really very happy about Tsui Wah's service!
I've been their ardent fan ever since the ferry actually RETURNED to the Pak Kok pier after already sailing away a few metres, when I missed boarding by just a few seconds! Unthinkable, even unimaginable with any other ferry I know in HK.
Whenever I hear my fellow Pak Kokians talk about the Tsui Wah ferry and manager Monita, it's pretty always positive and full of compliments. We love our "small company" and its super-friendly staff!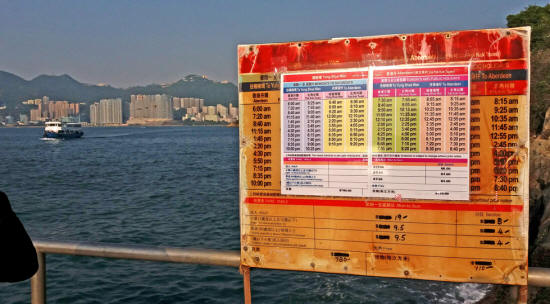 Pak Kok ferry pier, our trusted, very reliable Tsui Wah ferry coming in straight from Aberdeen. Click above for ferry schedule or click on Tsui Wah and Aberdeen ferry links in the left column of any Lamma-zine page.
P.S. By the way, try the new Lammaferry app, it includes Tsui Wah's route and is free & ad-free (search for Lammaferry in the Apple store or on Google PLAY).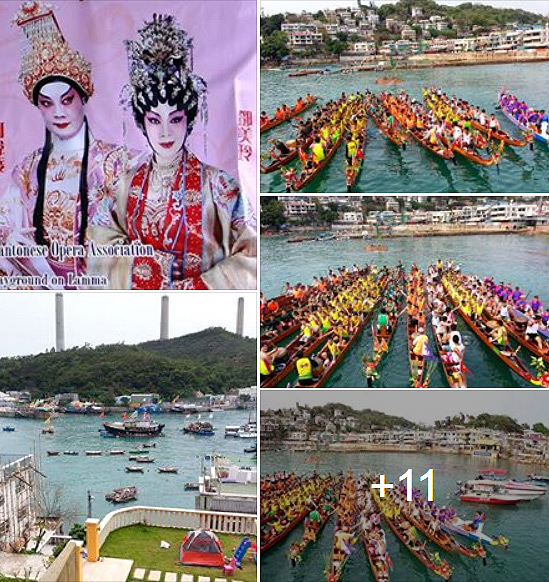 For a few of my photos of a former "Lamma Day", click above.
If you'd like to join the paddling, hurry up and sign up at The Island Bar/strong>!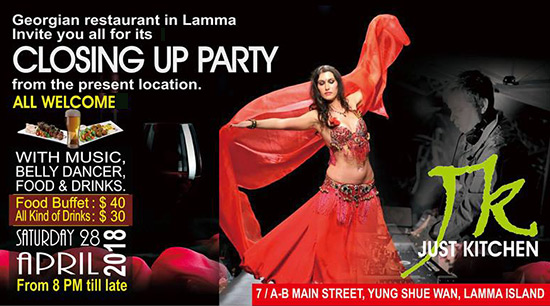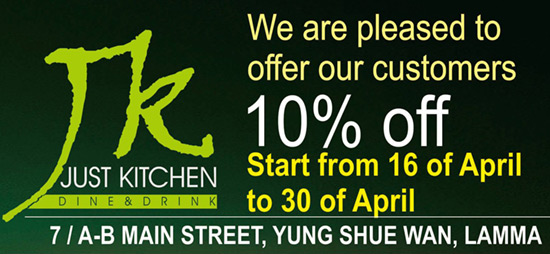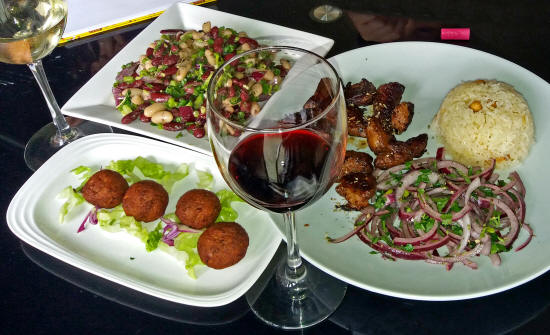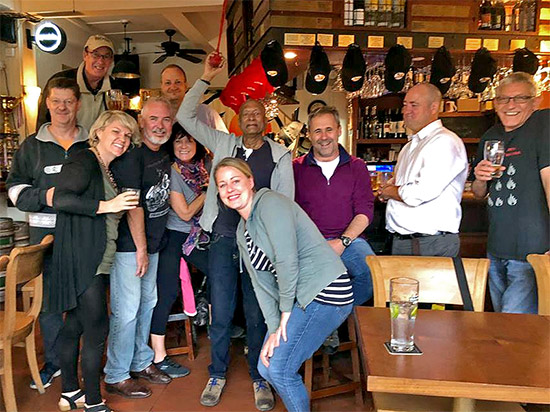 The Island Bar's farewell to Rajen I Gohel, leaving Lamma & HK, after DECADES of living here and being a very well-known Lammaite and man-about-town. He even was a candidate for Lamma District Councilor a few years back!
Rajen rang the bell, see above! It's a historic tradition dating back to the former long-time owners; if you've got something to celebrate/commemorate and are buying a round for everybody present, you'll be immortalized with your own brass plaque with custom inscription! What are you waiting for?
An actual photo of this pretty rare occurence (buying a round for everybody) might be an actual first in the 15-year history of the Lamma-zine!
Thank you to Sophie Pyott for this historic photo!
The Island Bar is definitely a happy, hospitable place, full of "unforgettable Happitality", a home away from home for many regulars and a welcoming place for the streams of tourists flooding to and from the YSW ferry on weekends and public holidays. It's truly "The bar closest to the ferry pier" (just 100 metres or so) as many non-Lammaites can attest to while trying to find their way back to the ferry after many hours of Cheerful Carousing & Inebriative Imbibing (if you can pronounce this phrase out loud you need another drink!)
For more pictures, good wishes and comments on this farewell...
P.S. Any suggestions welcome for what Rajen's brass plaque should read? It's to be affixed above the bar, as bar tradition demands after a bell ring!
Suggestions to Rajen, The Island Bar or me, please!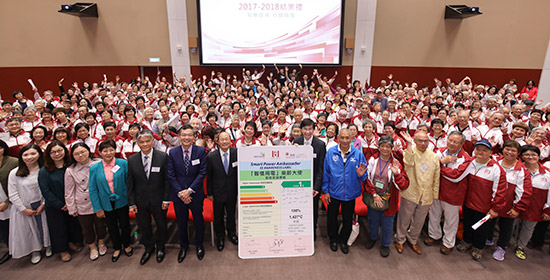 Officiating guests in a group photo with more than 300 U3A centre representatives
Some more good news from HK Electric who supplies Lamma and HK Island with extremely reliable power for all our lights, devices, aircons, etc. As by far the largest employer on Lamma, we're watching closely what's happening in their Lamma Power Station "city" and their numerous charitable activities across town:
"U3A Launches Smart Power Education for the Elderly"
"The U3A ('University of 3rd Age') Network of Hong Kong, co-founded by HK Electric and the Hong Kong Council of Social Service (HKCSS) in 2006, today launches the 'Smart Power Ambassadors Training Programme' for local retirees, encouraging them to promote environmental protection and energy efficiency in the community.
"Speaking at today's U3A 2017-2018 Completion Ceremony, Managing Director of HK Electric, Mr. Wan Chi-tin, said: 'With increasing public interest in environmental protection and issues arising from climate change, we decided to tap on and share our expertise in the electricity industry to groom local retirees to be 'Smart Power Ambassadors'. They will help spread green messages through their own networks and contribute to building a greener and more sustainable Hong Kong...
"Enrolment will be open to all 51 self-learning centres under the U3A Network from now till mid-May, with training starting in October. Interested U3A students will take part in workshops and site visits covering global climate changes, green electricity generation, energy conservation and energy-saving tips. Ambassadors who complete the training programme will volunteer in promotional campaigns and activities commencing end of the year."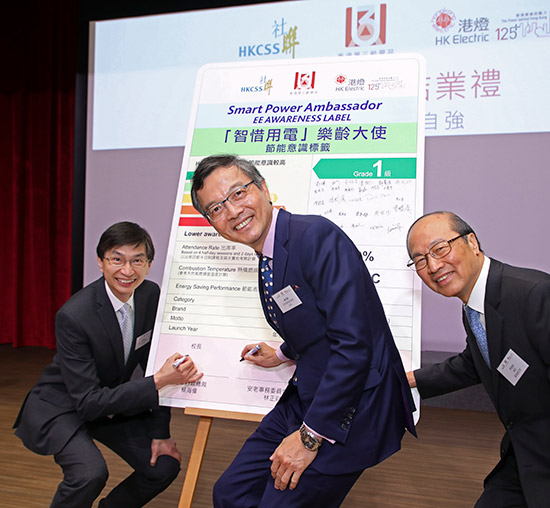 Mr. Chua Hoi-wai (L), Dr. Lam Ching-choi (C) and Mr. Wan Chi-tin (R) sign on the Energy Efficiency Awareness Label to roll out the "Smart Power Ambassadors Training Programme".
U3A Launches Smart Power Education for the Elderly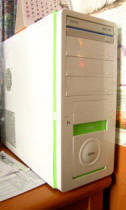 After almost 12 (!) years of mostly faithful and reliable service, plus many HW and SW upgrades, my home office PC (custom-built by Computer Andy, my local PC goto guy) has finally died of a stroke, or motherboard malfunction, as you more technically inclined readers might call it.
Goodbye, Green Mean Machine, as I named my trusty, almost daily companion, we had some good days and virtual adventures together: thousands of Lamma-zine stories and tens of thousands of photos processed...
All that's left now - after the electronics recycling by Lamma's wandering minstrel, err, used electrics collection guy trolling the villages frequently & noisily - are the HD and the Solid State Drive, both removed for data security reasons: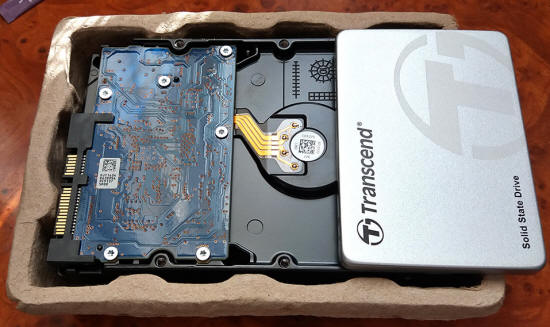 Keeping the cover with lots of Lamma-related stickers, for sentimental reasons: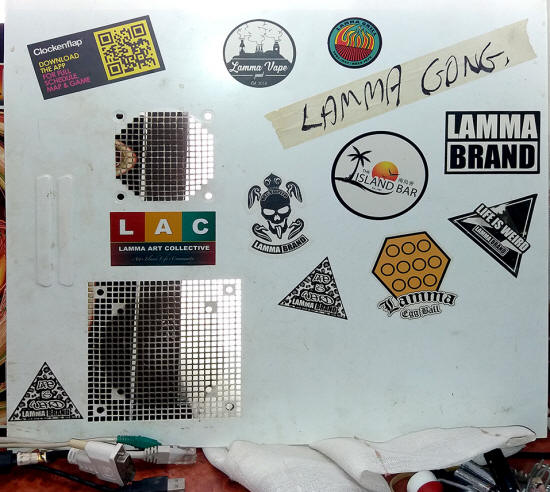 I'm working on Lamma-Por's almost as ancient, much slower, secretarial PC for now, saving up for Green Mean Machine II. Maybe something like this?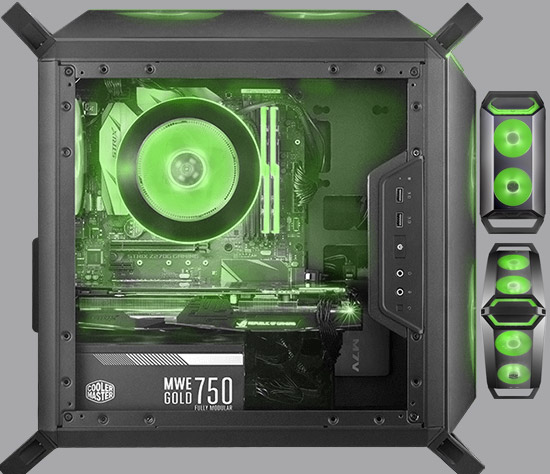 Got $10K to spare to sponsor the Lamma-zine's future production & publication?
One is still allowed to dream, I hope...
Brand-new Lamma ferries app for Android users, programmed by Robin, Tony the Coffee Guy's son. The iPhone version has been up for a while already. Highly recommended, as basic as possible, just today's and tomorrow's 4 Lamma ferry lines from 3 companies; nothing else, free and no ads!

Out and about with my smartphone, rambling around aimlessly and shooting pics of whatever interesting catches my eye. Another installment in my long-running photo series of Stumbling Randomly all over Lamma.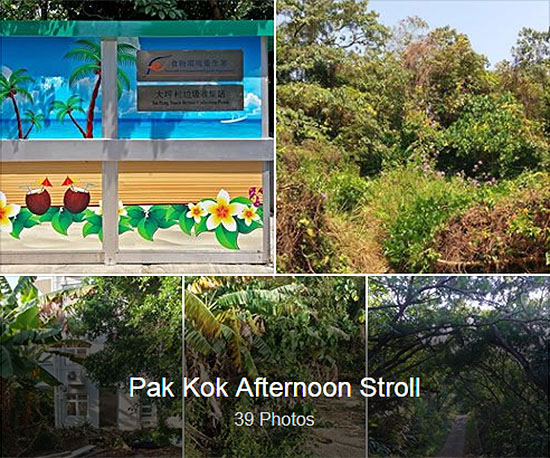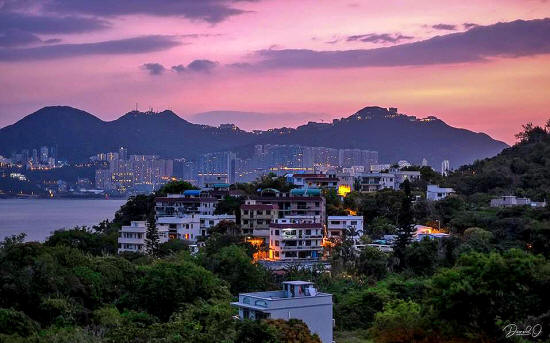 Pak Kok Village dawn ~ by David Ogg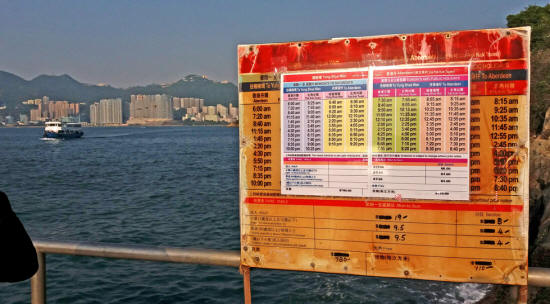 Pak Kok ferry pier, ferry arriving from Aberdeen ~ by L-G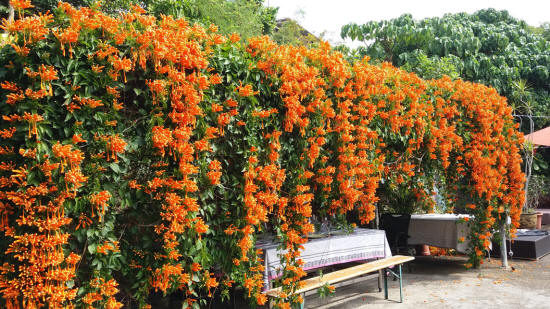 Getting ready for another Olive Leaf brunch ~ by L-G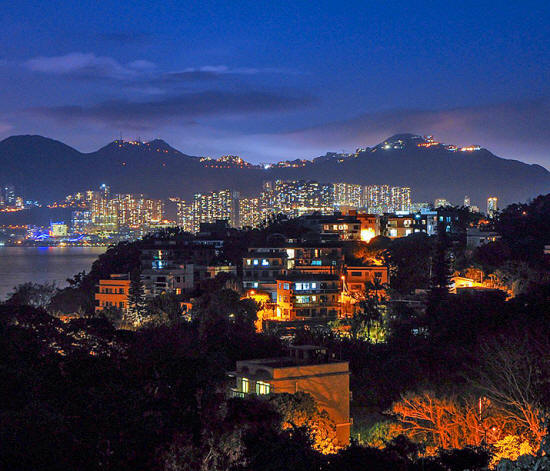 Plus one more from local master photographer David Ogg. Where's our house?

Some of my recent snapshots about a happy, peaceful life on the North side of Lamma, far away from the massive, frustrating Easter crowds of the Greater Yung Shue Wan Area.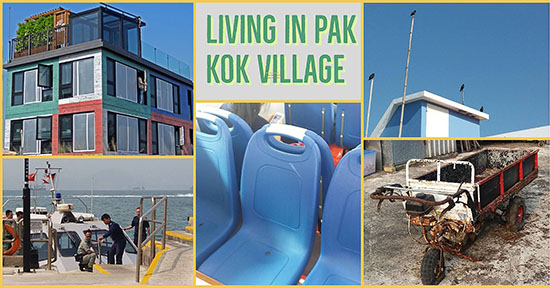 View some photos of today's ferry crowds going to the Yung Shue Wan in the Lamma Island Uncensored FB group (Closed group, join first).
One more photo, showing the Pak Kok ferry today, leaving our pier at sunset: