Leaflet:
"Connections to Sewers, Eng - Page 1" - Who Will Pay?
"Connections to Sewers, Eng - Page 2" - Why Connect? How to Connect?
More info and my comments from the Mini-exhibition above...
Jethro Tull in HK - June 24, 2013, Asia Arena, HK Airport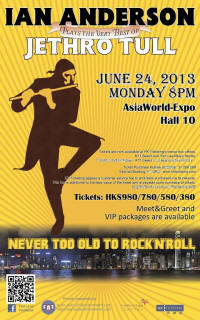 Review by Nick the Bookman
This review includes Nick's usual passionate commentary about local events and world politics,
including "Lamma's recently demised resident mendicant" and how Jethro Tull saved his life. Plus a lot more vitriol about about "Ozymandias Obama, Mad Vlad the Bad Cad, Poodle The Bliar", and the "Global Megacorpocracy, the wanker bankers and high-level sleazy politicos who are Too Big To Fail and are running/ruining The Big Blue Marble In Space that we all call home."
P.S. This review reminded me of the almost giddy delight of a Jethro Tull fan who'd been looking for some of their original songs from decades ago. We were sitting in the Lamma Winds Pavilion recently, I took out my Samsung, located most of the complete Jethro Tull albums in seconds on Spotify, including the cover artwork, and played some songs via 4G for my very excited and delighted friend.
Poster for Lamma's Catholics: I think this is the first time I've seen an explicit dress code, describing proper and improper attire in detail, for any event or venue on Lamma. No caps, sandos, shorts, and razorbacks! A sign of things to come, after spotting more suits on the ferries?
I posted this into our Philosophy, Religion & Spirituality forum and it started a discussion, before veering off into the usual creative silliness, like "market demand for topless church services", "Proper Attire designer condoms", a jogging nun in full habit, "banquet with our King and the heavenly beings", and a "sentient cockroach projecting a hologram of a human being".
You're always welcome to add your own creative sillinesses: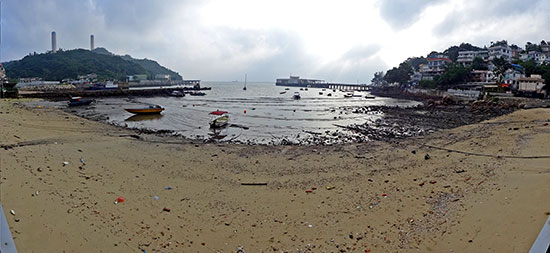 Yung Shue Wan harbour yesterday, 6pm, lowest tide level of 2013, close to the minimum sea level of 0 m.
These are obviously not the most photogenic snapshots, but it's fascinating to see what's usually hidden below the sea.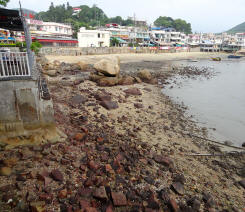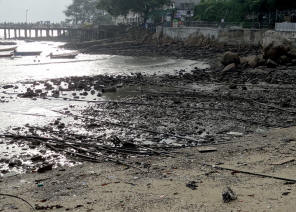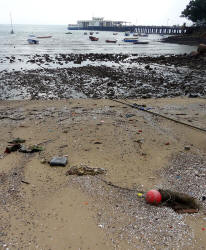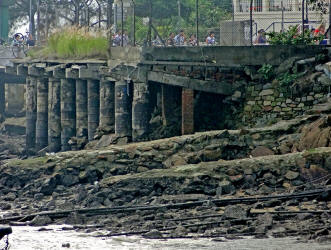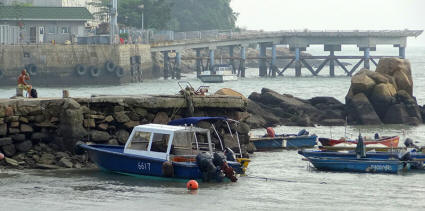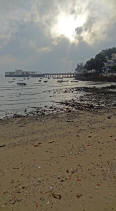 ...and this is what happens if you're rotating your camera clockwise and counterclockwise while shooting a sweeping 180-degree panorama: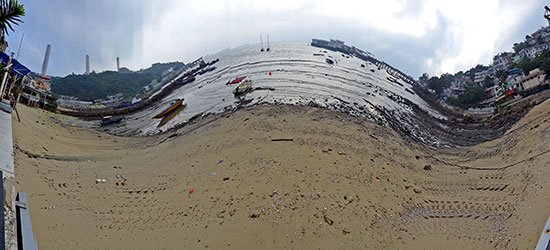 "Your caption for this photo, taken in Sok Kwu Wan by Sophia Long, please?"
This photo on my Timeline received some great captions from my Friends within a few hours, with some really funny and creative replies! Thanks to all of you! Here they are, more to come soon: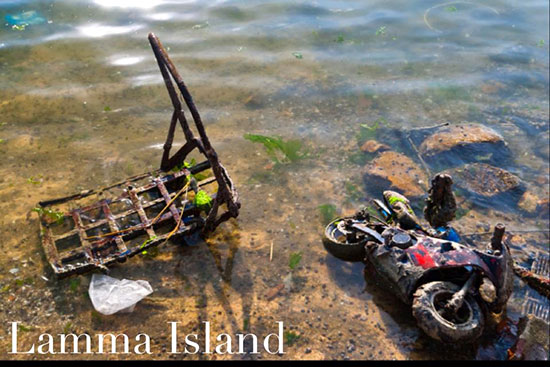 Evel Knievel's last jump
Evel Knemo's last jump
My bike~
Upgraded to a V.V.
Locals Create Artificial Coral Reefs
Just a short ride from the Rainbow restaurant
Someone forgot to tell those boy racers, the Aberdeen to Sok Kwu Wan bridge is only in the idea stage!
Hong Kong has one of the world's most advanced transportation systems
The sea is NOT a dumping ground!
Born to be wild!
Aliens talking to each other: "We have found signs of primitive life forms, captain"
A motor pike and push carp disagreement.....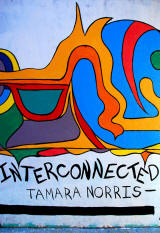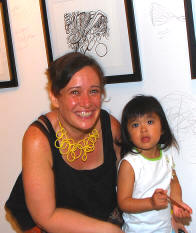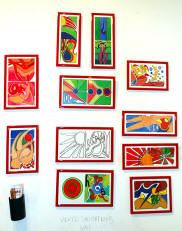 Interconnected and Intertwined: Fri, Jun 21, 6:30-11:30pm:
Part-of gallery, G/F 16 Sik On St, Wanchai:
Feat. Lamma artists & musicians. Details.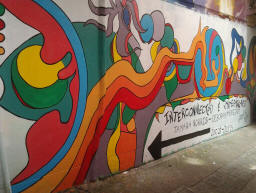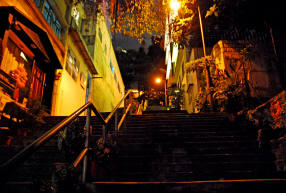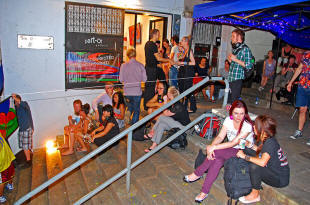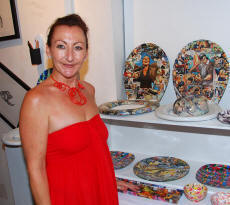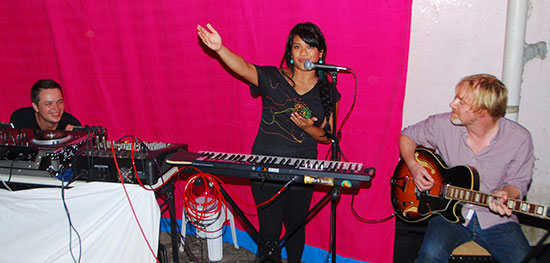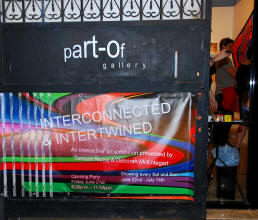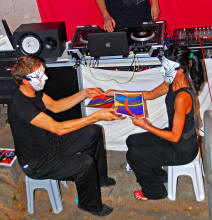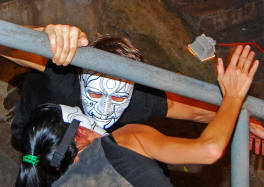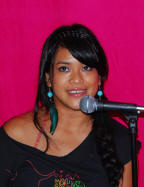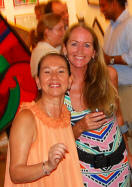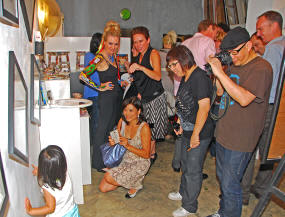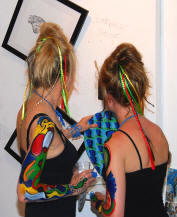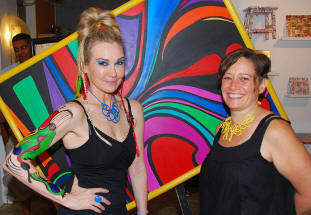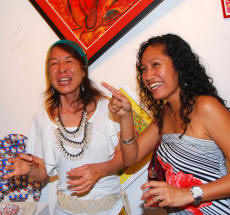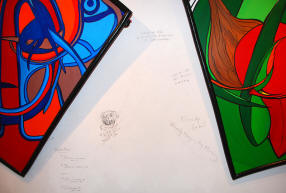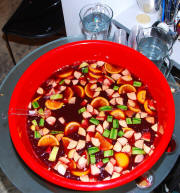 Check out Roz Keep's art classes and the exhibition of the children's recent artworks, still running in Cath's Bar, Banyan Bay Cafe on YSW Main Street, till June 30. Art classes will start again in Sep. Contact Roz at 9348 8726.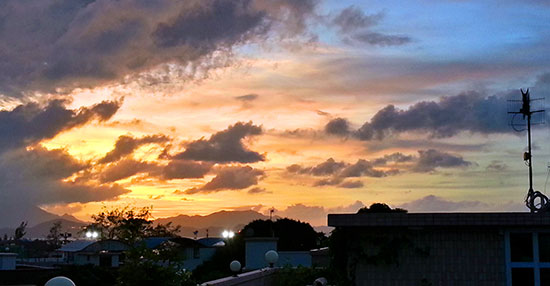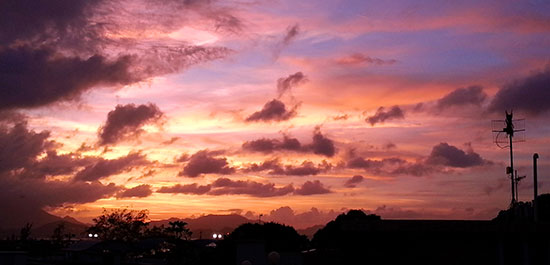 I'll miss these epic, long-lasting sunsets over Yung Shue Wan harbour, watched from our Sha Po Village rooftop for the last 5 years, after our pending move.
For example: today's sunset on the very first day of summer...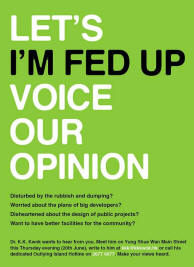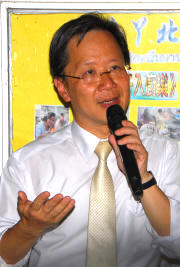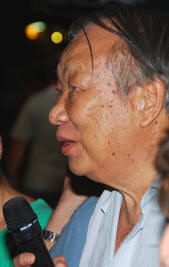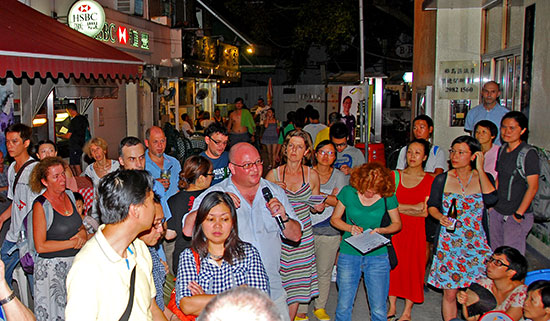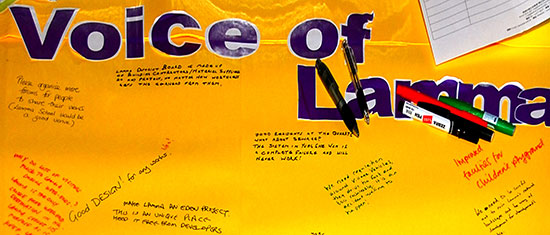 Legislator Council member Kwok Ka Ki, Civic Party, has visited Yung Shue Wan tonight, listening to the concerns of Lamma residents about local planning issues, focusing on the Govt.'s housing plans for the ex-Lamma Quarry.
Meeting review & more photos...

The exhibition by Roz Keep, featuring her children classes' artworks, will be running from today till June 30, in Banyan Bay Cafe on Yung Shue Wan Main Street. Have a look and a drink!
Photos below by Katie Flowers. Many thanks!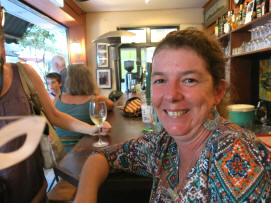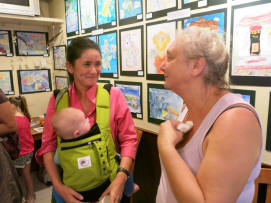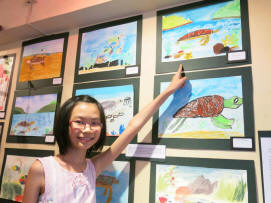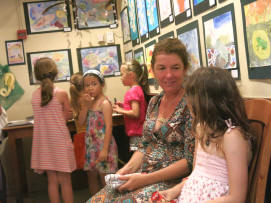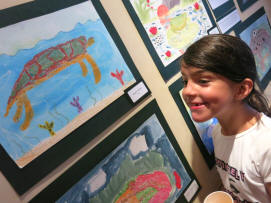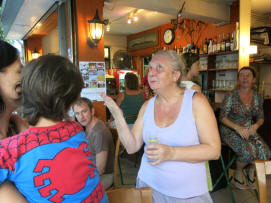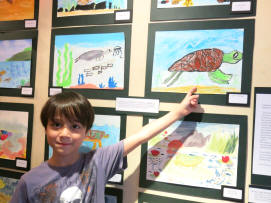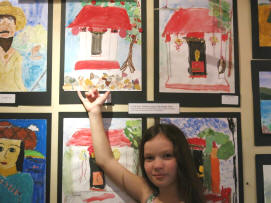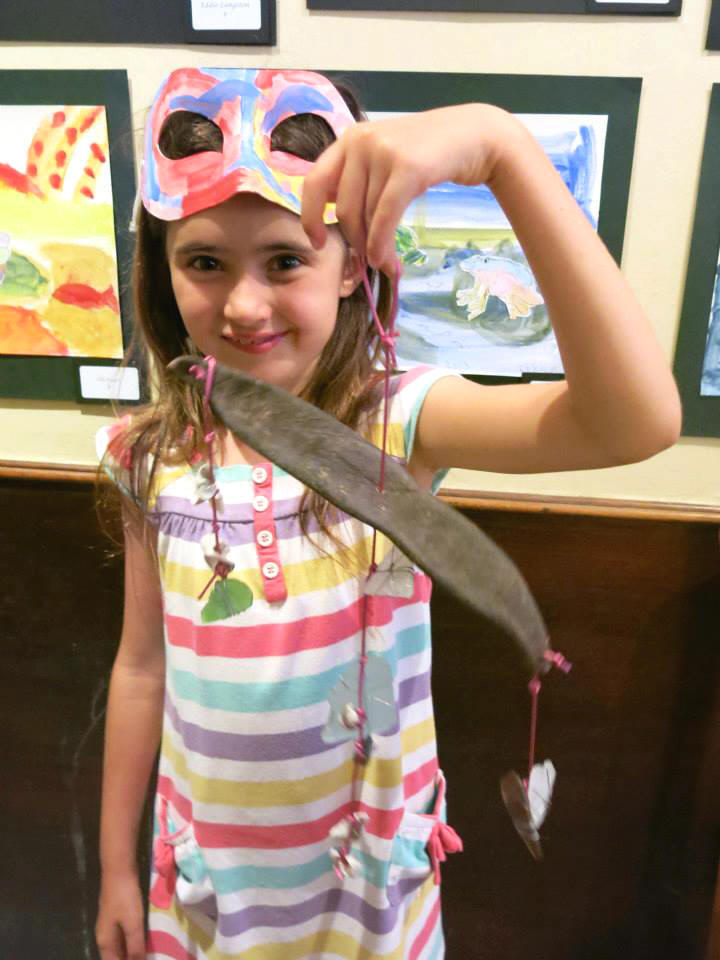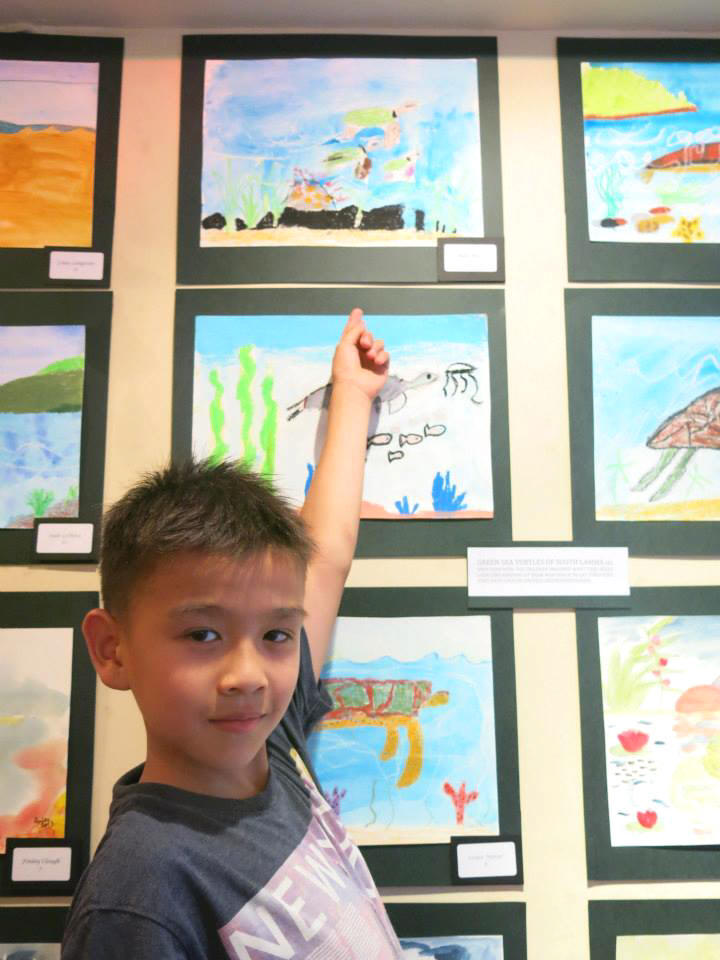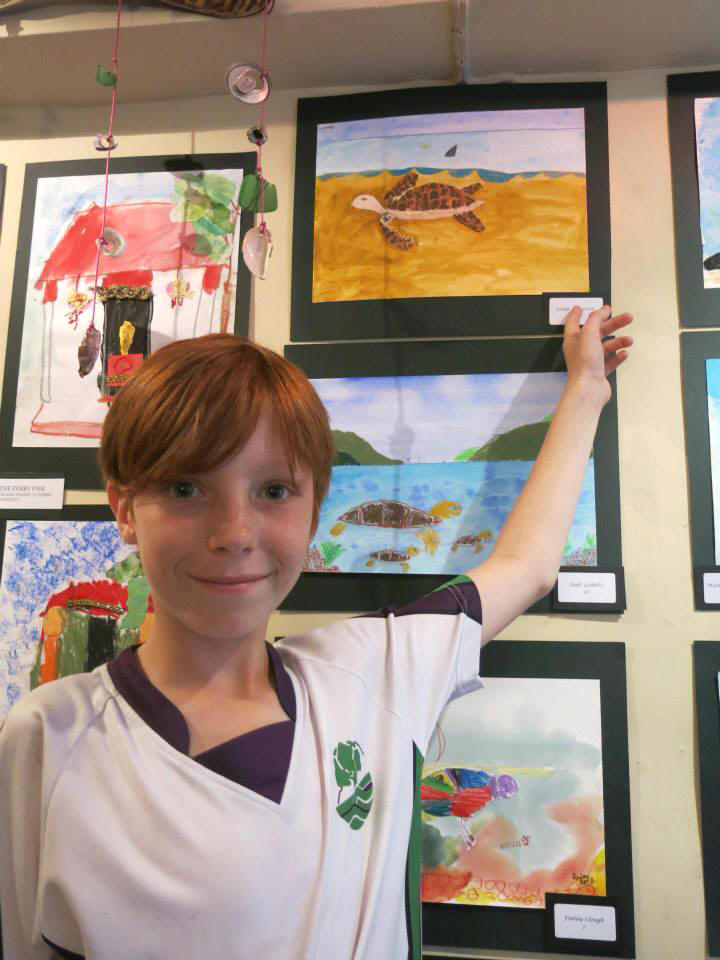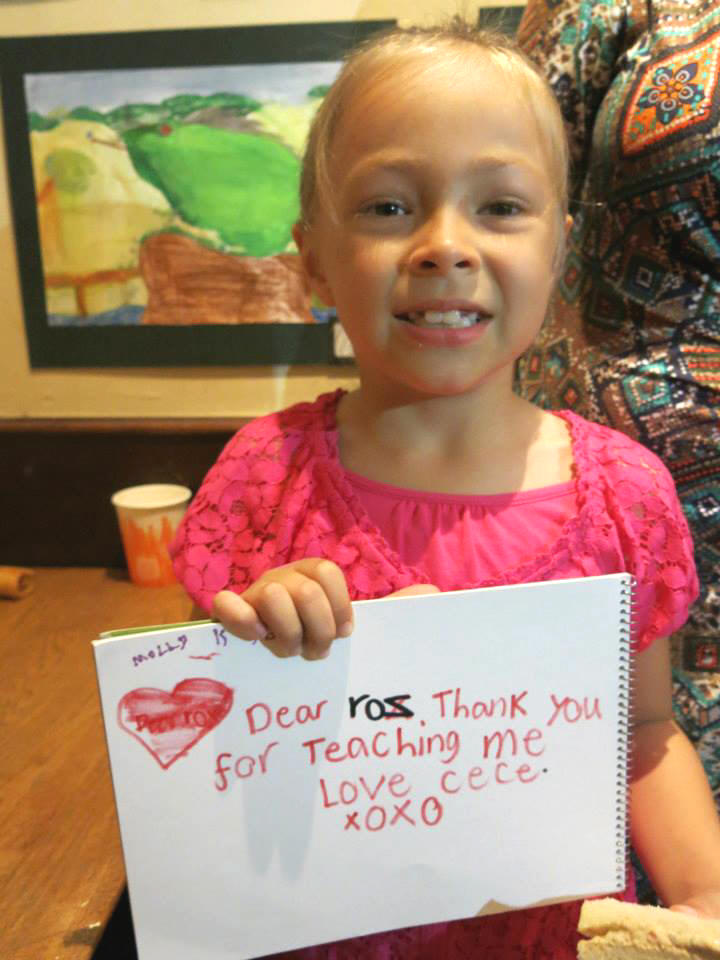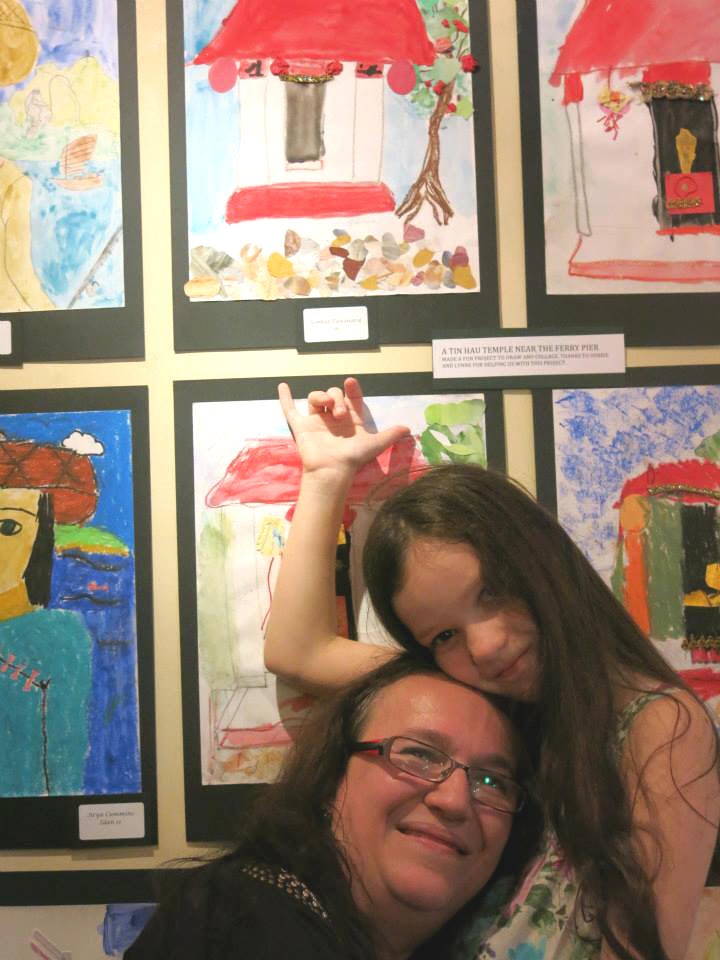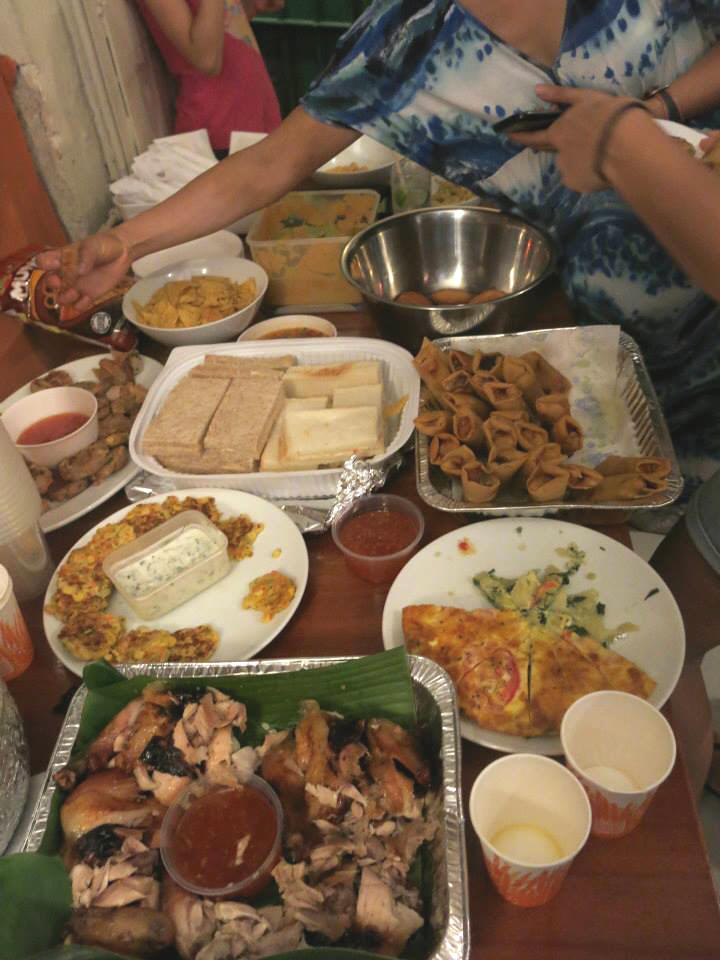 One more regular beach cleaning today on Pebbles Beach at the far end of the Cable Road #1, Pak Kok Shan, organised by Living Lamma today, with a Very Hot weather warning in effect.
Most unusually, they got Goldman Sachs staff to volunteer, one of the most vilified of all investment banks, famously calling their clients "muppets" internally. I was quite surprised that all these multi-millionaires (their average salary US$400,000 in 2012) didn't come to Lamma on some of their own private yachts, maybe checking out any of the two future marina locations in South Lamma? Seeing these buff but baking (Hot Weather Warning!) Masters of the Universe picking up trash was kind of cute, but it'll hardly atone for any of their company's actions before/during/after the last worldwide financial crash. But everybody is most welcome to clean up Lamma's beaches and we're most grateful to all volunteers.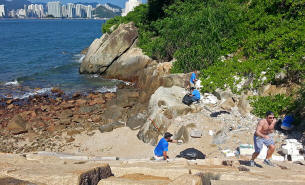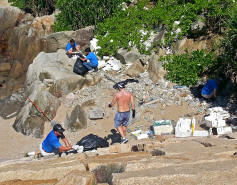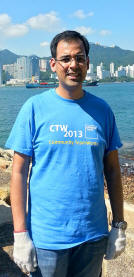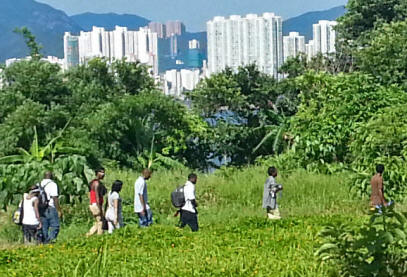 While I was rushing for the Pak Kok ferry, I encountered the 2nd half of the beach cleaners, refugees from Christian Action, a colourful, friendly, dark-skinned group who had missed the earlier ferry. Seeing these two groups cleaning the beach together, some of the richest and some of the poorest HK residents, would have been priceless. But my beach cleaning correspondent's iPhoto has crashed, leaving her unable to download or access the photos...
Communication with Lamma shopkeepers can be challenging, especially if your Cantonese is not up to much more than ordering dim sum, directing taxi drivers and rude swear words. But help is at hand, or at the swipe of a finger, as I found out the other day. I was unable to tell the hardware shop opposite Best Kebab that I was looking for "plant food" and all my explanations and hand gestures proved fruitless, even though the shopkeeper was most patient with me.
So I whipped out my Google Translate app and typed in "plant food". It gave me the Chinese characters in full screen size and even spoke the Chinese words to the surprised shopkeeper! His reply was, almost as expected, "We don't have!"
But then he kindly directed me to a nearby shop that sells fei liao...
Besides all the standard free apps for Lamma ferry schedules, cinema trailers & seats, SCMP headlines, RTHK Radio 3 and MyObservatory's "rain coming in your location" alerts, see a few of my other favourite apps below:
Spotify streaming from their cloud-based, millions-of-songs jukebox while I'm out and about all over Lamma, including a good selection of Chin. favourites.
Maps with GPS and directions, tracking my hill hiking paths, even talking to me how many kilometres I've done, how fast I'm going and how many calories I've burnt.
Animated wallpaper that shows me the weather day and night, including rain, wildly flashing lightning and even gently falling snow (one of the few things a Swiss misses in HK).
Plus a dim sum app with photos, Chin. characters and spoken pronunciation, great for ordering all your favourite dishes even from a Chin.-only menu.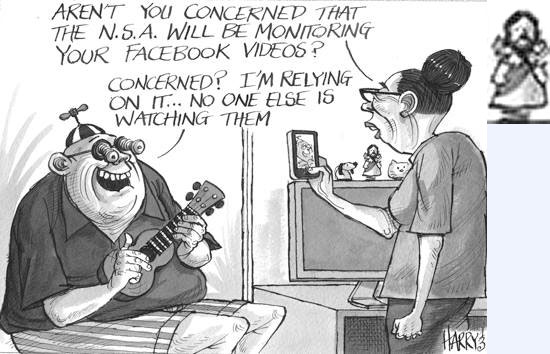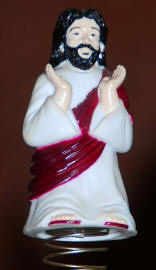 Remember Kelly's Plastic Jesus story from June 11? It ended with "We're awaiting the day when it makes a cameo appearance in the background of a Harry cartoon somewhere..." This was actually a sentence I came up with myself and I added it to Kelly's story (with her approval). I thought it might make a good open ending.
So imagine my great surprise and delight when Kelly told me excitedly that it had just happened, in today's SCMP newspaper, Jun 17! I missed it myself. Wow, that's probably the first-ever time that one of my ideas made it into a Harry Harrison cartoon, albeit just as a tiny background prop. Congrats to Kelly for her inspirational story!
By the way, the B.U.E.T.T. Facebook group Bearded Ukuladies Expeditionary Triumphs and Travesties has just been renamed by Harry to B.U.T.T., dropping the Expeditionary part. The group has been alight with "creative wordplay" ever since. This fine group was obviously the inspiration behind the cartoon, as it's all about a guy posting videos of himself playing the ukulele. Lamma's B.U.T.T. has gone public!
(C) SCMP, June 16, 1996, from Backbites (Courtesy of Scott Fink)
This wasn't the only time a Lamma Dragons boat went diving, see April 2011,
also in YSW harbour:

Photo by Lydia C. She titled it "Loch Ness Monster visits Lamma".
Practice session for the future Olympic discipline of Submarine Dragon Boating?
Lamma Dragons checking out the seabed for the announced YSW Harbour Reclamation, Phase II?
Click for more photos and my full review...
Click for the latest news of the sewerage pipe works and
the N. and S. Lamma Sewage Treatment Plants...
So many Lammaites have been selling & buying stuff, advertising their services and finding & letting flats via our free classifieds over the years, it would be great to make them community-supported.
Our forum is totally advertising-free and I'd prefer to keep it this way. I've been paying all the running costs myself, mainly the yearly webhosting of HK$1,440, but also various other smaller expenses. This forum is the most labour-intensive and by far the most troublesome part of this entire website (spam attacks, registrations, hosting problems, backups, maintenance, etc.), but it generates absolutely no revenue...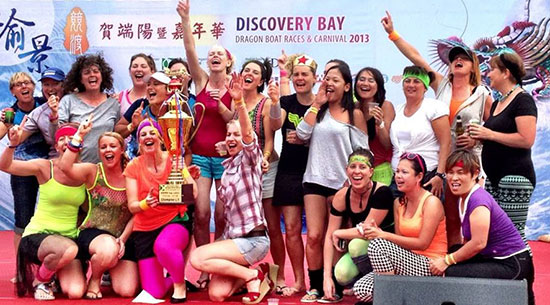 Lamma Dragons, Ladies team, champions once again!
#1 in Discovery Bay on Dragonboating holiday today,
June 12, 2013! Congratulations!
Frazer & The McGilvrays in The Island Bar, Apr 13, '13
Kelly Morgan: Groupie, err, ardent fan of this band:
(Photos by Lamma-Gung)
"I don't care if it rains or freezes
'Long as I got my plastic Jesus
Riding on the dashboard of my car
Through my trials and tribulations
And my travels through the nations
With my plastic Jesus I'll go far…"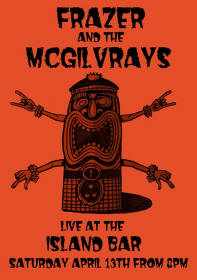 How far, through how many nations?

One day a few years back in St Kilda, Australia, I happened upon a piece of plastic statuary in a gift shop. 16,383 kilometres away, in Washington DC, was the desk of Frazer McGilvray. There the little Lord duly arrived, packaged up with some Vegemite and Tim Tams.

Fast forward a few years, and an uncannily familiar spring-mounted savior appeared on the bookshelf in my spare room on Lamma, 13,128 kilometres from DC. Under questioning, Leigh Eggins admitted to ownership, and told him Frazer had given him the dashboard deity, little suspecting it would make its way back into my world, as Leigh and I had yet to even meet at that point.

In the intervening years the frequently airborne Almighty had made the journey from DC to Hawaii, a mere 8,954 kilometres, before journeying the 8,923 k's between Hong Kong and Honolulu.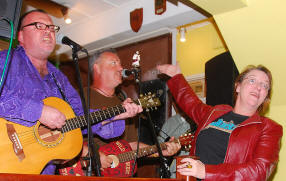 And now, our back-packing bobble head is homeward bound again, returned to Frazer's tender mercies, and a home on the dashboard of an electric car in Honolulu. (Or is he?) Frazer's currently en-route to Bali 3,248 kilometres in the wrong direction. So I have to wonder, did the Lord actually make it into the luggage?
A quick addendum...
The blasted thing is now back at my flat, having enjoyed a brief sojourn behind the bar in the Island Bar. Its journey will, however, continue. Just trying to figure out which Cur gets it next.
Maybe Harry. We're awaiting the day when it makes a cameo appearance in the background of a Harry cartoon somewhere...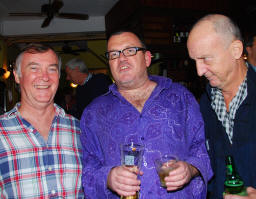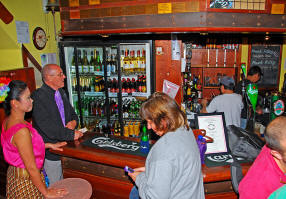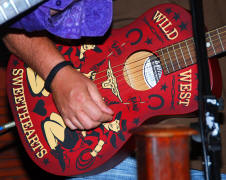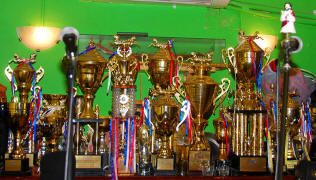 There are a small, but growing number of Lamma-specific groups on Facebook these days. For example the new open group above, with some of these members, so far mostly fine specimens of the endangered species Homo Lammapiens, with Living Lamma Legend Harry Harrison as their valiant and fearless (to embarrass himself) (cheer)leader, or should we call him their cute'n'cuddly mascot?
Wouldn't you want to belong to a great group that describes itself this way:
"Members are encouraged to post videos of themselves mastering or murdering their favourite songs to the strum of a ukulele."
Click here to check it out (ukulele optional)
Click for story and more pictures...

Smile, the in-flight magazine of Cebu Pacific Airline, The Philippines
(recommended by Honourary Lammaite Andy Maluche):
In search of an escape from the high-energy exuding city, Mark Parren Taylor hops on a boat for a welcoming change of pace, and explores Hong Kong's rustic islands....
Yung Shue Wan is a busy little village. Its muddle of harborfront restaurants, expat pubs and an assortment of shops and stalls selling everything from local crafts to kitchen sinks, line Main Street. As it's a car-free island, the awkward meeting of a waiter carrying a basket of fish and an elderly lady with a shopping trolley is considered a traffic jam. Other than that, the odd tinkling of a bicycle bell is the nearest thing to road rage...
Many of the village's eateries have terraces that overlook Banyan Bay. Andy's Seafood Sau Kee, for instance, prepares some fine dishes, including steamed garlic prawns that go well alongside the ginger fried rice...
Hidden from the beach by shrubs and grasses, Herboland is a tranquil herb-stuffed garden with a shady cafe serving refreshing teas and snacks made from homegrown fruit and veggies. Owners Gary and Gavin moved here in 2003 to escape the rat race on Hong Kong Island, joining the island's small but active organic scene...
Back in Yung Shue Wan, for instance, there's a handy everything-under-one-roof organic store called Just Green and nearby Bookworm Cafe serves a good cappuccino alongside an eclectic vegetarian and vegan menu..."
"May I know if Lamma Island is open whole year?"
I've just received this email at info@Lamma.com.hk. What do YOU suggest I should reply? — feeling amused at Lamma Island, Hong Kong.
---
This post on my Timeline received over 20 replies from my Friends within a few hours, with some really funny and very creative replies! I'll forward most of them to this future Lamma visitor!
It closes daily at 12:30 at night...
It's closed for a month in October to allow for the breeding season.
Any time is possible, but you need a written invitation from a resident.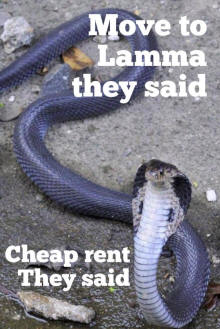 Currently closed for renovations.
Only accessible to the public during off-peak hours.
Was it from a mainland tour guide?
Did she apply for a Lamma visa?
Maybe, what did you have in mind?
May I know if you will remember to pack your brain with your sandals?
Ask someone to slap your...
Only open during February.
Feb 29th...
Members only, pls.
Open to all nationalities.
Just reply 'No' and hope she doesn't pursue further information.
My three favourite replies:
Yes, definitely open all year round; and did you know about our many lethal snakes?
Non-residents must ring the bell in The Island Bar to signify their arrival.
Mandatory donation of $100 per visitor to the Lamma website.
I'd be very happy with $1 per visitor! Maybe my HK-Chinese wife and I should set up a multilingual Lamma Visitors Info Centre, charging for answers, or be financed through the local authorities or local businesses relying on visitors?
Just another crazy dream...
But I've been doing part of this job for free for years already, replying to almost all visitor enquiries received on this website. Being the top search result for "Lamma Island" on most major search engines, curious visitors find this site very easily...
P.S. Poster by Julie Hannaford and HK Memes, a very poisonous cobra in her front yard.
The "Cheap rent" line is totally out-of-date. It still applies to some remote parts of Lamma, but not at all anymore to Yung Shue Wan and neighbouring villages.
June weather over Yung Shue Wan, taken from the ferry pier, this is the view greeting ferry passengers arriving. This might be my most Liked and Shared photo on Facebook so far...
Same day, a 180-degree from the center of the first photo, showing the ferry pier in the very center.
Has ANYBODY EVER seen a dog use one of these Dog Latrines?
These faux-wood & broken-tiles designer sandboxes have been pooping, err, popping up all over Lamma Island. There must be several dozens of them by now, even in some of the most remote locations. But I've never seen a dog use one, or even saw a poop in there. So I posted this question above in the active Lamma Dog Owners Facebook group, getting some great, "Typically Lamma!" replies:
I think they're used by non-dogs late at night
I put my kids in them. They love it.
Lamma Gung: Your kids do their business in there? ;-)))
Are they wearing some of these China-style, open-at-the-bottom pants, so they can do their business anywhere?
They make poo castles.
No self-respecting dog would use such thing. Dog experts advise against training your dog to use one as they can be a source of infection (if used by other dogs!)
Lamma Gung: They look a bit like Poo Castles, with the walls around them and the towers and turrets. Let's nickname these overdesigned latrines "Dog Poo Castles".
I saw one dog use one!! Once.
They are just another excuse for 'jobs for the boys' i.e. they give the local contractors something to do.
My little dog pees on the faux wood railing sometimes...
I was once caught short!
My poppy managed to balance a very large pile of poo on the very decorative mosaic tile edge. She thought that the sand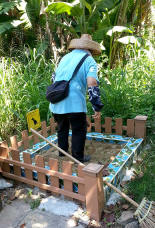 means beach and she knows that she can't poo on the beach.
Never.
A human concept for dogs - it's never going to work.
Maybe the dogs are so impressed, they don't want to mess them up.
My last dog used one once out of the blue, there was a very impressed gaggle of tourists. I didn't tell them it was her one and only time. I think that was before they added the fences and tiles, though.
My Laisee likes to use the one near us, because it's nice clean sand, untouched by dog.
This photo from today doesn't show a human caught short, using the wrong public toilet, but one of our wonderful FEHD cleaning ladies raking the sandbox.
Finally, after 3 days of searching, I found 3, only 3 people who admitted to their dogs using these fancy, expensive, public conveniences more than once!
New Dog Latrines: Any dog ever use them?