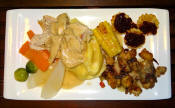 How about free dinner for two in the new Prime Bar & Rest. in YSW? Send me your best Halloween photos, all taken on Lamma between today and Sun, Nov 3. Anything goes, creativity is strongly encouraged! My favourite photo(s) will be rewarded with a sumptuous Thanksgiving set dinner for two, Nov 28, courtesy of the Lamma-zine!
Deadline: Sunday, Nov 10.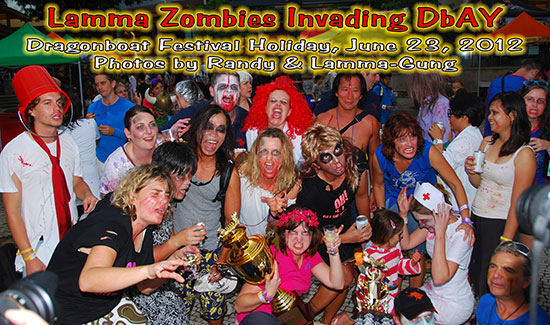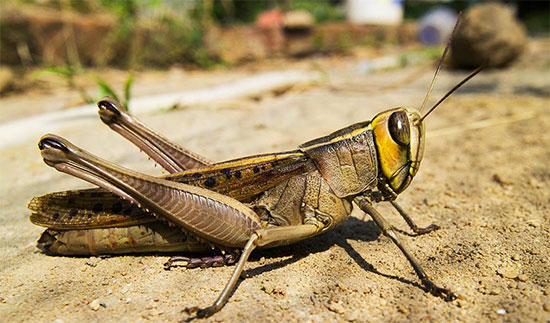 "Biggest Grasshopper I've ever seen! About 10cm long.
Tai Peng Community Garden" - by Howard Sheard
More recent photos from Lamma's master nature photographer: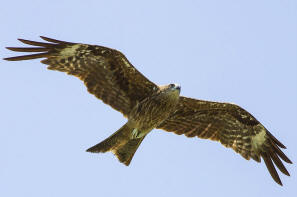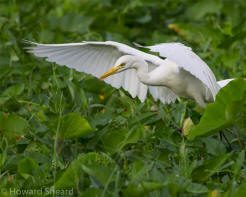 Black Kite - Cattle Egret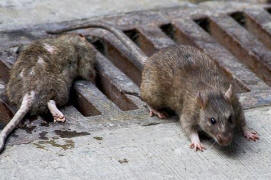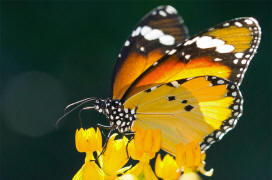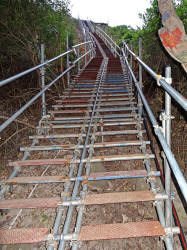 Some of the very best feedback I ever get on my Lamma-zine photos or stories is via Facebook. For example my photos from Oct 20, New Observation Platform Above Power Station Beach? I asked my very creative and imaginative Friends:
What's going on up there, high above Power Station Beach?
"Wow that's pretty cool! Is it open to public? Or maybe a sneaky sunrise shoot?"
"What are they planning? I went up there with my kids and it's very awesome up there."
"Escalator link to more village houses?"
"Preparing Queen E. official visit to Lamma people in two weeks."
"Ski slope, water slide, skateboard ramp?"
"It's a spotting site for illegal structures!"
"Is it a a new ski slope on grass? Or a giant slide into the sea? Or even a concrete hiking path?"
"I thought they were just working out whether the entire area at the foot of the slope could be developed or not - or whether they could cover it with spray-on concrete."
"Where have you been, L-G?? It's been going on for weeks!!
Get yourself down to PS beach, and watch them work. Watched four poor blokes carting something really heavy yesterday... They pulled up those steps with military position. Was amazing.
Bloody steep!!! Hoping it's some form of communication antenna to give Lamma some decent internet!! Or maybe it's a UFO landing site (This is Lamma after all, and we are the most intelligent beings.)"
---
For more Lamma-themed news, photos and "mini-surveys", you're most welcome to Follow me, Lamma Gung, on Facebook. I've just reached 50 groupies, err, acolytes, err, Followers, in addition to my still small and exclusive number of 571 Friends so far. You need to be at least a Friend of one of my real-life friends to be approved as my Facebook Friend,... or be famous, or good-looking, or at least "interesting" in some way...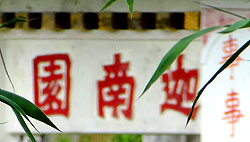 Maybe I should start a cult of the Gracious Gregarious Gung in a Lamma forest? My 50 Followers so far would be more than enough to get started, I think! There are several local, forest-recluse, secretive-religion examples I could follow, like Canaan Garden in Shek Li (see right), Zheng De temple above Sok Kwu Wan, plus that genial Taoist monk who set up his home/temple off the Family Trail.
Look what I discovered at sunset today, walking to Power Station beach, looking up the tall hill between YSW and the Power Station: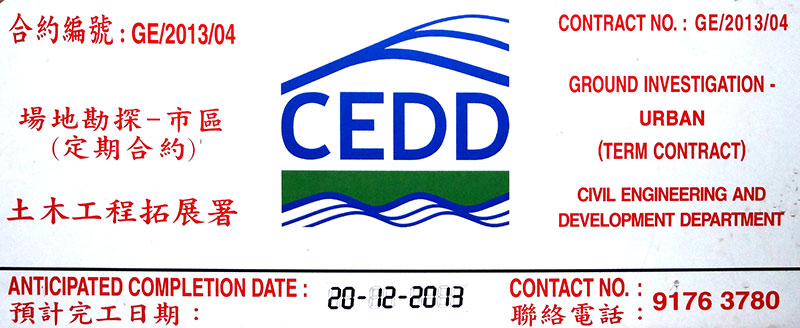 Ground investigation works in progress, checking out the hillside for potential future landslips. This temporary steel staircase is for workers' use only and still under construction, with major parts of the staircase and the safety handrails still missing. It's also completely unlit at night.
So it's pretty dangerous and definitely not intended for uninsured interlopers like myself, snooping around up there after sunset. Once again, I failed to curb my notorious curiosity... but what a view!
More photos and comments in my Facebook album.

"522 plastic bottles collected on September 29th (see, we count them!) How many next time?
Join us next Saturday 26th October when Brand on the Beach contributes to the Hong Kong Clean Up!
Time: 9.05am at Pak Kok ferry pier or at the beach at 9.30am.
Please RSVP to livinglamma@yahoo.com or call Jo on 9042 3241." More info...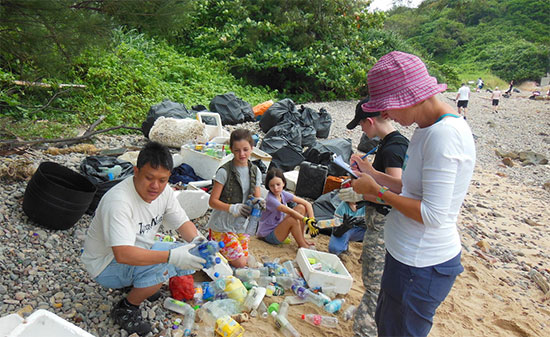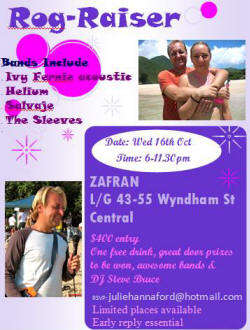 Julie Hannaford writes:
"See you all tonight at Rog Raiser! Great prizes to be won, awesome holidays to bid on, fab bands, wicked DJ, Tapas food, cheap drinks and loads of fun to be had.
Thanks to the Aqua group and all those involved, 100% of the money raised goes to the Searls.
Entrance to Zafran is down the stairs on the left of Tivo (as you're facing it), off Wyndham Street. Spaces still available, so come along!"
---
Loads of silent auction holidays in fancy hotels in HK and overseas available for those who can't make it tonight.
See the Facebook Event page.
For more info on what happened to Roger and how to help...
P.S. After the event, Julie writes:
"Huge thanks to the Lamma community and to our Hong Kong friends!
Last night at Rog Raiser we raised $128,850 for the Searls. Thanks to everyone who helped, Ivan Fernie, Ivy Fernie, Gareth Dunster, Steve Bruce the fabulous bands and all who donated prizes and holidays for auction.
We love you Donna Searl and Roger Searl. Fight the good fight, Roger, and get better soon! May the force be with you!! xxx" Read more...
1 year of my best Lamma-zine picture collages (Oct '12-Oct '13, © Lamma-Gung) in a Facebook Public Album, including links to the stories: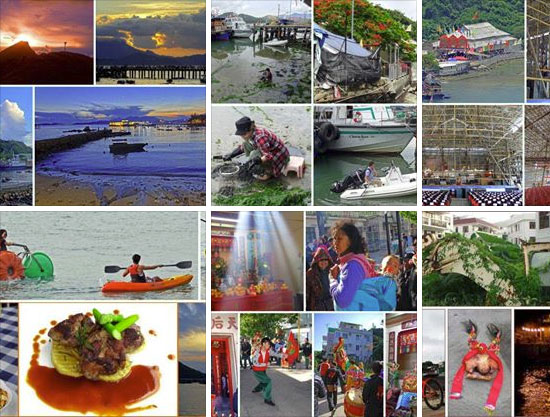 Yung Shue Wan Ferry Pier, 1 year after the Lamma Ferry Disaster...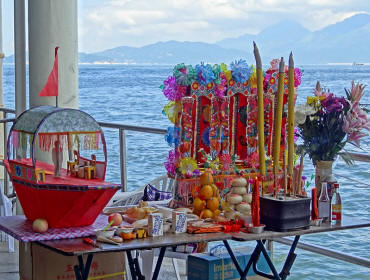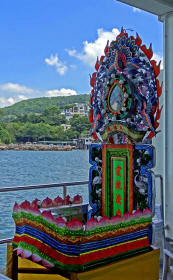 Oct 1: A tiny boat paying respects at the exact location of the ferry disaster

Foreign Body: "Where is the Yan Yan store?
I need to replace a thermostat guard that came off when
I defrosted my fridge. Thanks a lot!"
Alan: "The general store opposite Chow Yun Fat's trees,
if that makes sense. Or next to the couch murder house.
Addresses here may be cryptic, but they are colourful."
More about how to fix your fridge...
One of the numerous challenges and "surprises" of living in the remote wilderness of Pak Kok Village for 2 months now is receiving snail mail!
I'm not referring to "snail mail", the quaint term used for postal mail in this age of free and high-speed electronified communications. I mean that my letters seem to be delivered by tiny snails crawling all over the envelopes inside my letterbox! They seem to take a liking and licking to the seemingly delicious paper and had started nibbling through them. They especially seemed to like the green envelope of my tax return forms.
Typhoon Usagi had waterlogged our mailbox, so the snails felt really comfortable, making their home in there and seemed most reluctant to leave, crawling back in after being gently evicted.
Our flat came without aircons included but at least it's got a nice shiny metal mailbox! But before the snails started moving in, it was a fertile breeding ground for cockroaches, smallish spiders and other creepy crawlies, leaving parts of their sticky, whitish nests and even some of their deceased family members behind.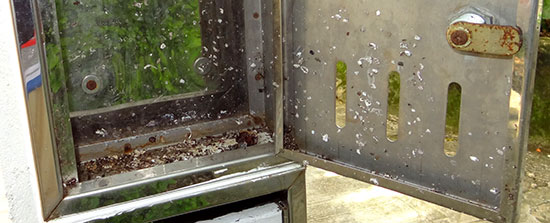 Our very kind and wonderful landlady (she might read this blog occasionally) had sympathy with her bugged and snail-mailed tenants, promising us a new mailbox; ordered by mail order, of course. It turned out to be made of paper, but supposedly "waterproof and suitable for outdoor use", according to the vendor. Not quite believing this claim, our frugal, indigenous landlady kept the old mailbox, cleaning it up, draining and de-snailing it, plus sticky-taping a plastic flap over the mail slot. She's quite an experienced handywoman, painting the flat and balcony railings herself before we moved in.
After another little surprise - a large frog jumping out of the mailbox while I was emptying it - she even added bright-red magnetic strips to keep the mail slot flap tightly closed. I had a good, cheerful laugh the first time I noticed it. So it's safe again to send "snail mail" to our shiny, clean mailbox, preferably cheques, please!
Yes, DIY is alive and well on Lamma! We've got to bug- and critter-proof our flats, protecting them from nature and various wildlife trying to intrude and join our quite safe, comfortable and well-fed lives indoors. So far, we've had no poisonous cobras, centipedes or Huntsmen spiders in our stairwell or flat yet, luckier than quite a few of our rural neighbours.
P.S. One of my new neighbours WhatsApped me:
"Read your snail mail story. I did find a huntsman in our snailbox once..."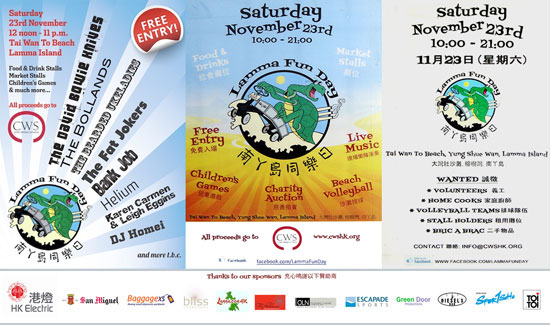 Moving to Lamma or merely visiting, most people seem surprised by our total lack of any motorised transportation to get around on the island, neither private nor public. Anything motorised, even electric bicycles are not permitted. So it's pretty convenient for hiking, jogging, biking, skating, skateboarding and whatever other means of non-motorised transportation have been invented. The one-seater Village Vehicles are only licensed for goods transport and the only cars or quad bikes you might see are small-sized ambulances or Fire Dept. vehicles, or belong to the Power Station on their own 2 private roads, the so-called Cable Roads, the only proper, standard-width roads on all of Lamma Islands.
But to get TO or FROM Lamma, there's a variety of options, besides the public ferries (see top left of all Lamma-zine pages for schedules). Here are a few of the more unusual ones, photographed on Oct 1. The first one you wouldn't want to ride in (medical emergency evacuation); and the bigger boats are kind of pricey: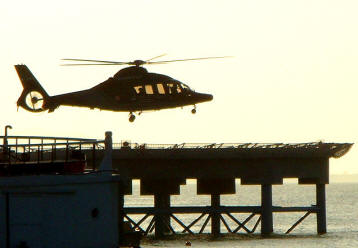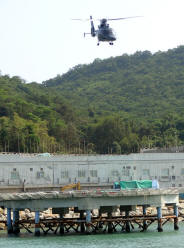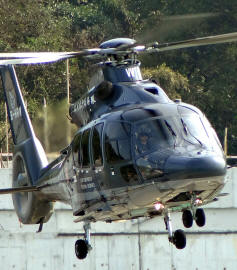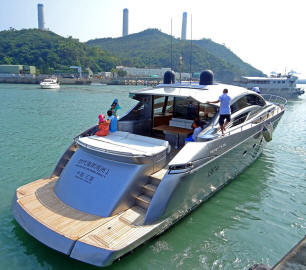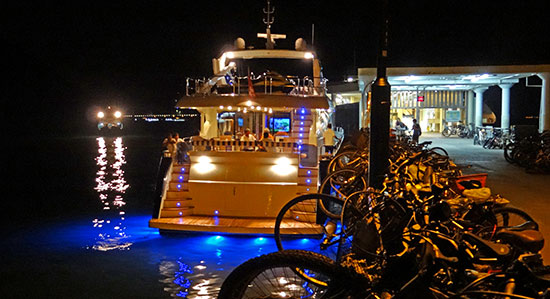 Mainland tycoon's yachting ostentatiousness vs. Lammaites' biking frugality.