How to get YOUR photo(s) into the Lamma Calendar 2014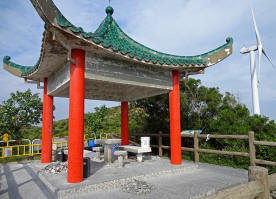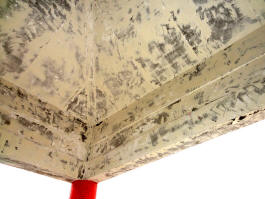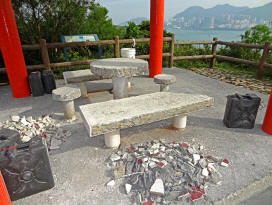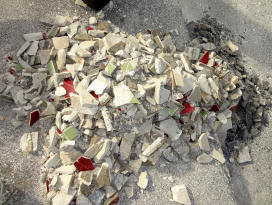 Sunday mornings, 8am, our regular get-together with dogwalking friends at the pavilion above our popular landmark, the Lamma windturbine:
This is the scene of utter devastation that greeted us this morning! All the seats and tables destroyed, all the colourful tiles scraped off and smashed to bits!
What had happened??
Closer inspection of the area yielded these notices below: Closed till Nov 4!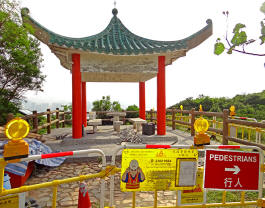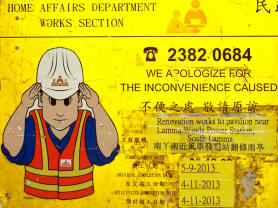 So we had to relocate our get-togethers, all the way to the famous and recently renovated 3 Chairs w/Rock Table on Snake Trail. It's high above Lo Tik Wan with a sweeping view of South HK Island, fish farms, Luk Chau Island and Luk Chau Village, including their pier, Tin Hau temple and dragonboating area: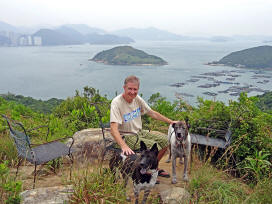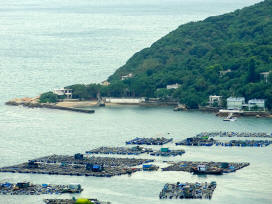 A surprising number of young Lammaites seem to be fans of boy wonder Justin Bieber. To the utter bewilderment of this old fogey here, who's almost illiterate in today's hottest music, these devoted fans are eagerly anticipating Bieber's repeat performance in Macau on Sat, Oct 12. We've even got a "guest blogger" today with some interesting fan news for all true believers, err, Beliebers:
A True Belieber: Guest music blogger: (Photo from a ticketing website)
Justin Bieber Fever
It was not so long ago that Justin Bieber was just like any other guy, one that loved music, but another teenager after all. Of course this feels like ages ago, especially to him, but it was only in the year 2007 that Scooter Braun casually found his YouTube channel and decided to stop and listen to his songs.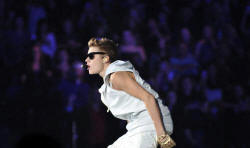 Who would have thought millions of girls all around the world would be dying to go to one of his concerts and pay a fortune for the very best tickets. By the way, if you want to make sure you don't miss any of his concerts go to Ticketbis.com.hk to stay tuned.
Justin owes a lot to YouTube, since that is where he started to promote his music and what made him famous at first. Comes to show how important social networks have become these days. Six years later, that very same YouTube channel is about to hit 4 million subscribers and already has billions of views.
This may sound like a lot, but you will be surprised if you compare it to his Twitter account (which will soon reach 45 millions of followers), and his Facebook profile (which is getting closer to 57 millions of "likes" every day). This is Bieber's strongest marketing strategy, since all social networks make it easy to stay connected to his fans, gaining popularity. And of course it is another way for the media to keep up with him.
Because he wants his fans to feel closer to him, there are now tickets available for people to not only go to his concert, but also take a picture with him. The price is obviously quite higher and not everybody can afford it, but it sure is being successful. There isn't one concert where these Premium tickets are not sold out.
P.S. Nick, our Official Court Music Reviewer, is eagerly gearing up for the 3-day Clockenflap Festival and will soon return with another unique & inimitable review!
I'm always interested in more guest bloggers. Contact me!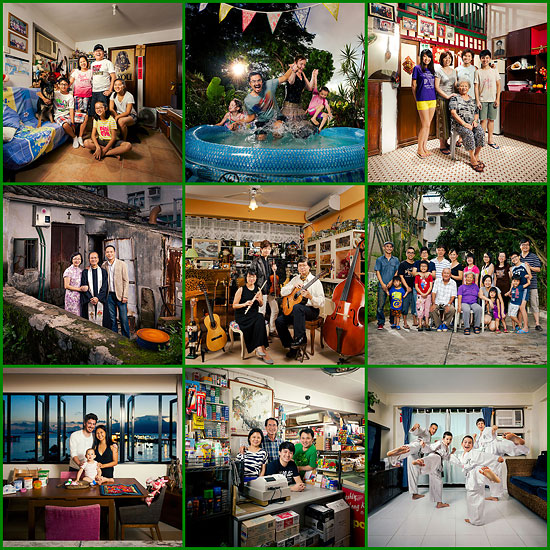 Click photos to enlarge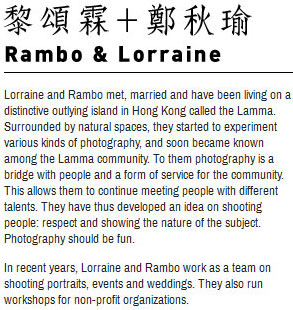 Well-known Lamma photographers couple Rambo Lai & Lorraine Cultfish are participating in the Families 300 group exhibition in the HK Design Institute, from tomorrow, Sep 28 - Nov 3, part of the HK International Photo Festival.
They've been hounding, eh, friendly persuading Lamma families to sit for portraits over the last months, including Lamma-Por & -Gung to be portrayed in our former Rooftop Jungle, but we're too bashful and low-key for such publicity. Looking at their absolutely professional and beautiful portraits above, they're a fine representation of typical, local families. How many of them do you know personally? Learn more...
P.S. In the meantime, check out Rambo's artistic Lamma photo galleries!
Malcolm writes:
"I wish to make a formal public apology. A couple of days ago in my foolishness I posted a comment "Cats, meh" - for which I am deeply and sincerely sorry.
While our own cat tenants have accepted and forgiven my ignorant dismissal of their superiority, it appears the neighbourhood felines are not so lenient.
This morning, as penance, I was up at 5.30 cleaning bits of blood, fluffy fur tufts, and hundreds of razor sharp glass fragments off our stairs, while breathing in a truly awful miasma of cat piss.
You win. I, for one, acknowledge and welcome our feline overlords."

This public apology has been republished here with Malcolm's magnanimous permission. We seem to share 164 mutual FB friends and he's definitely one of my most "interesting" and big-headed, err, big-brained friends, see above.
The comments on this Facebook post above shed some light on his public apology:
"Don't insult cats ever ever again. You bad Malcolm!"
Malcolm: "A glass candleholder got involved in the cat rumble, trod on it myself but got off lightly... I'd closed the roof door last night so they had a confined space for their disagreements."
"'tis the natural order restored so it is... I was going to call you out on the last posting but decided cats can look after themselves very well."
"Your gracious apology is accepted by Tabbyboy, my current guest-cat, who spends all day in my garden and house, or on the bed, wherever he chooses, until returning to his "owner" at night."
Having an occasional look at the village noticeboards can be most interesting. This week there were 4 individual notices posted for new Village Houses to be built at the beginning of YSW Main Street. They'll be located right behind Jackson's property agency and holiday resort, which is currently being rebuilt as two Village Houses as well. I've superimposed and coloured photos of the 4 notices to give you a complete picture. More top-priced houses just 2 minutes from the ferry pier; Yung Shue Wan is changing fast, becoming more suburbanised.
Sometime next year, we'll likely have 6 brand-new houses completed in a single tiny area, which was just a green jungle with a natural stream a few years ago (Do Pink Dragonflies Like Drainage Channels). Within just a few dozen metres of this busy corner above, at least another 3 new village houses will be going up this and next year. A few new photos: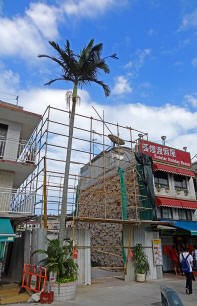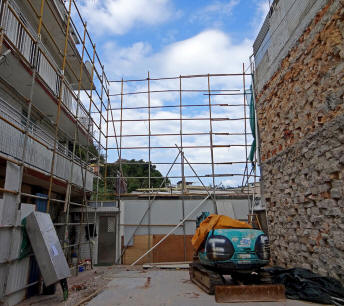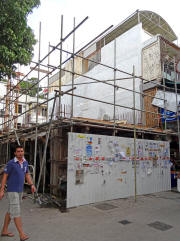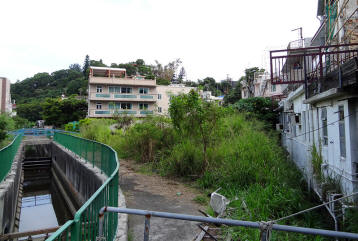 Rebuilding the former Mr Kebab/Spicy Island building - 4 new village houses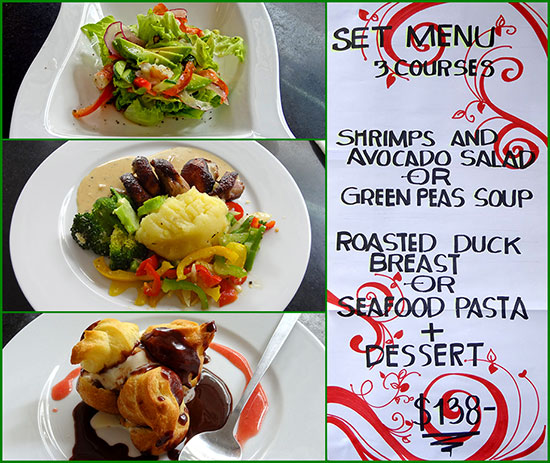 Typhoon Usagi - announced as the largest typhoon to hit HK in 34 years, fizzled out within a few hours last night, without causing major damage and flooding locally. It also didn't knock down more than a handful of trees all over Lamma, unlike the massive tree damage of Typhoon 10 Vicente. Usagi, meaning rabbit in Japanese, lived up to its meek reputation, never surpassing a T8 signal, very fortunately missing HK by about 100km and causing no local deaths or major injuries. Other areas and countries in its path were not so lucky...
Here are a few fine pictures from Robert Hope-Jones and the Langstons: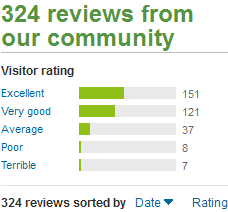 We've published so many mostly positive reviews from Lamma visitors over the last 11 years, maybe it's time to counterbalance? Checking out what's probably the travel site with the most reviews of Lamma Island, TripAdvisor, there are actually 7 reviews rating Lamma as "Terrible" (as opposed to 151 Excellent and 121 Very good ratings).
But might these few but honest opinions remind us maybe a bit how Lamma's been changing over the last ten years and what aspects we could help to improve?
Click here for these 7 Terrible & 6 Poor reviews (Click on the ratings).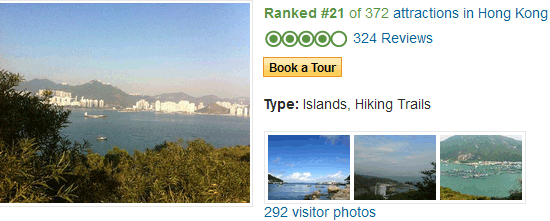 To discuss this topic, see our Development, Environment & Politics forum.
Families & friends enjoying the clear full-moon night of the Mid-Autumn Festival.
Pete Gable writes:
"Faster Broadband For Lamma Island.
NO, sadly, this is not an announcement that finally we will get a decent service. But rather a call for ALL residents to join this action group on Facebook (and petition PCCW and the HK authorities for the service that PCCW declare is their minimum and for what we already pay for.)
PCCW declare that the minimum speed is 8 Mbps. We get at best 3 Mbps on a good day, often much worse. We also suffer countless cuts in the service on a weekly basis.
Elsewhere in HK and on Lantau customers get up to 1 Gbps, that's over 300 TIMES faster than what we're allowed on Lamma.
Lastly, and this is the kick in the pants… We pay the same price as everyone else for what is a 3rd rate service!
Numerous calls for improvements over the last 5+ years have been met with a "We have no plans to upgrade the service on the island."
Why not even a plan?
There is a Facebook group called Faster Broadband For Lamma. We are asking everyone on FB to join the group! Just click here for Faster Broadband For Lamma and join us in fighting for what we are already paying for!
Stop the rip off of Lamma residents!"
---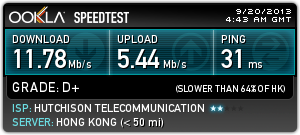 P.S. by L-G: In the meantime, I'd recommend using your smartphone as a Wifi hotspot for short but intensive up/downloads to your PC.
It has serious drawbacks (Cost of 4G LTE mobile and subscription, network availability & speed, not simple setup, mobile overheating, "fair use" policy), but it's by far the fastest Internet option available for now on Lamma. See my test results from today, connecting my desktop PC via Wifi USB antennae to my Samsung Note II hotspot, using Hutchison 3's 4G LTE service. iPhones have been reported to overheat severely doing this, but my large-size Android phone can download for hours at this speed, getting warm but not overheating so far.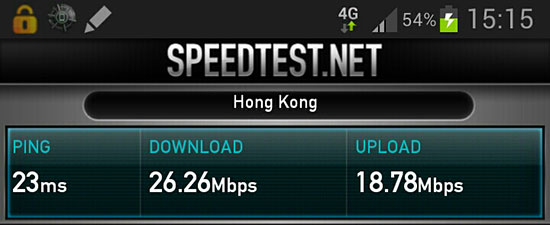 Learn more via Lamma Gung's discussion in the Facebook group above.
For the very fastest up- and downloads, you could use your smartphone's local storage, but the same drawbacks as above apply.
4G speed test a few weeks ago:
(Photos by Howard Sheard & Rambler)
Nancy the Frog Lady, temporary Lammaite (formerly full-time, now only staying here during summertime research at HKU):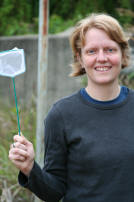 "Greetings from the U.S.!
That one is the brown tree frog (Polypedates megacephalus)
They are the cousins of the flying frogs of Borneo; distant cousins, but in the same family. A single female makes the foam nest and she is about 50% larger than the males. As she extrudes about 300-700 eggs and a lot of mucous, anywhere from 1-5 males are hanging onto her trying to fertilize them. She kicks her legs back and forth during this process, whipping the eggs, mucous, and sperm into a big meringue-like foam that attaches to vegetation above a pond or on the edge of the pond. Within about 8 hours the outer surface of the foam nest hardens a bit and that helps to retain the moisture inside as the embryos develop.
Nice pictures all! That is a male sitting on the foam nest at the pond edge in the picture. It looks like the nest is quite a few hours old (that he can sit on it) and it may not be his. Looks like a nice soft chair, though."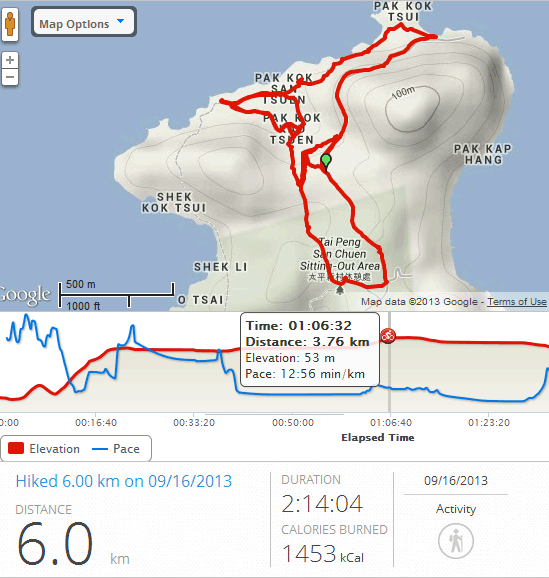 Moving to the remote wilderness of Pak Kok Village seems to be great for my health, weight and fitness so far. To do ANY shopping or eating, you have to either walk or bike a long way, or even take a ferry. Above is the route of my shopping run to the Tai Peng Regent store this morning. I seem to have burnt off a lot more calories (1,435) getting there than the smallish lunch I prepared at home afterwards. 2 kgs lost since moving to Pak Kok 1 month ago, 9 kgs more to lose to return to my "ideal" weight, by year's end, hopefully.
Bike-hiking is a lot more fun (and a lot sweatier) than spending time on the treadmill, I think. The fresh boar tracks, huge hornets, colourful spiders, smallish snake, cheerful dog walkers and the friendly shopkeeper/Village Rep made the ride even more adventurous and entertaining.
Pushing my mountain bike up Heart Attack Hill is slowly getting easier, despite today's 35 degrees; pulse rate well below 200! Well, this trip today was a lot easier than yesterday's early Sunday morning bike ride: Pak Kok to Lamma Winds, Power Station beach, YSW for breakfast and back to Pak Kok via Po Wah Yuen. Any destination tips for tomorrow? Luk Chau or Tung O Wan perhaps?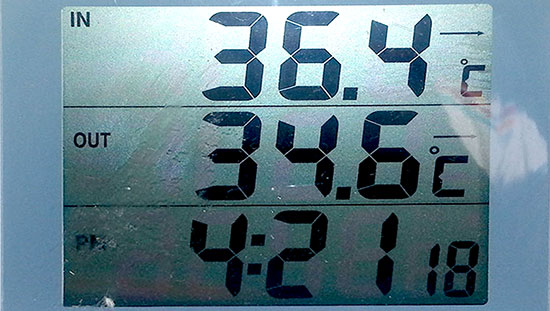 Yes, that's a shot of the inside-outside thermometer in my home office. Hotter inside than outside, thanks to my toaster-oven, err, PC. South-facing and aircon-less, the temperature remains above 30 degrees all day and most of the night as well; despite curtains and a tabletop fan trying unsuccessfully to blow all this hot air into the (weakly) air-conditioned living room.
Simplifying and downsizing our lives after the move meant downgrading from 5 aircons before to just 2 (which we had to buy from the former tenant). Installing a new one is just too expensive for just a few more weeks of summer heat. Mid-autumn Festival and the cooler months can't arrive soon enough!
Part of the excessive lot of hot air might be generated by what I'm writing here in the Lamma-zine... I apologise in advance if my writings these days sound even more feverish, muddle-headed and confused than usual.
Big windows in Village Houses seem to be quite a hazard to some of our local birds. Occasionally we might hear a mild thump of a bird not noticing these transparent panes of glass. For example this morning, 8:42am on our balcony, a major thump got our undivided attention: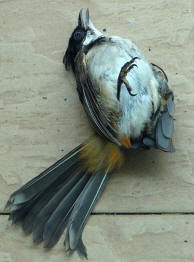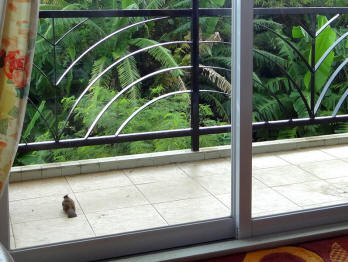 The impact was so hard that this Red-Whiskered Bulbul dropped and lay on its side on our balcony. It was still alive but obviously suffered a severe concussion. It was unconscious for over 5 minutes, breathing heavily and rapidly, while we were worried and wondering what to do.
Then it got onto its feet, rested another few minutes, regaining its strength. Then it quickly jumped off our balcony and flew away, nothing broken and undamaged, it seemed. These little guys are so tough! But it had left behind a little souvenir for us to clean up, without complaints as we were just glad that it was OK.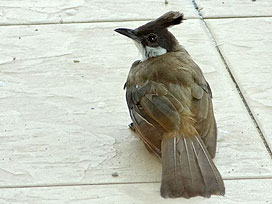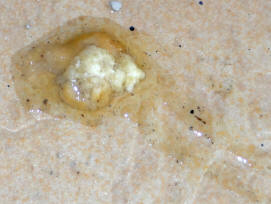 For more photos of these very common and playful birds with the mohawk and red "makeup", see our Official Court Birdographer's latest fanciful pictures, including one shot that caused our Bird forum senior moderator Zep to complain:
"LG, can you please devise an opt-in filter so that upright forum members can avoid having to view this kind of scatological content?"
Plus a few more of Rambler's candid bulbul photos: