Discover local gardens as you discover your own hidden talents
Albert Einstein said, "I have no special talents, I am only passionately curious." And that is all you require once you decide to go out and draw the world.
Do you ever think of putting aside your camera and picking up a pencil or paintbrush to capture what you see around you?
Painter and art educator Roz Keep says everyone can draw. And she has proven it over and over again with student groups of all ages. "Drawing is just like writing but the shapes are different," she says. "Like any other skill it requires help and practice, but you will soon discover that it is all a question of looking in a certain way and carefully recording things with a pencil, a brush or a crayon."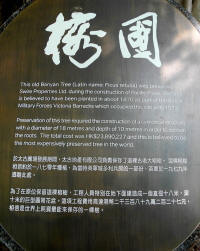 A long-time Hong Kong resident, Roz has had many years of experience helping people of all ages master the basic skills of drawing and painting. She has worked with the YWCA, The Island School Evening Institute and private groups. She initiated the popular Lamma group, Island Arts, which takes local children out to draw and paint their natural environment.
Basic materials are provided; instruction and guidance gets you started and If you think you can't draw or are not in the least creative, Roz will soon challenge that belief.
If you are already an experienced artist, maybe you would enjoy some like-minded and stimulating company? In small groups we plan to discover some of Hong Kong's many wonderfully paint-o-genic places -- private gardens, wild landscapes and seascapes and lush, green parks.
Next Session: Thu Sep 6, when we will spend the morning drawing and painting in a beautiful private home and garden on The Peak: more details on registration.
Time: 9.30-noon approximately.
Cost: HK$250 per person per session
Sign up asap: janetaipeng@gmail.com
Looking further ahead, we plan another session on Thu Sep 13.
From late October we will schedule regular Wednesday and Saturday art mornings.
Comments from participants in our first sample session on August 31:
Alex Chapman: "Really enjoyed the Roz Keep experience intro to art!
Lovely morning."
Barbara Park: "I so enjoyed the morning, and long to do more. I look at my work book and think, "What a mess!" But her assurances keep me going."
Astrid Van Delft: "I very much enjoyed the introduction drawing session with Roz yesterday. I did find it difficult though because the whole technique is so different from what I was doing 25 years ago. Mind you, I have not touched pen and paper for a few years. But being all together with such a nice group and with Roz, made it an interesting morning.
I started doing research already on the internet about it. Very interesting what Dr Betty Edwards and others say about right and left sides of the brain."
Jeannie Hau: "The drawing was fun & I drew better than I expected!!!!
Thank you for arranging the event. It was really enjoyable."