We recently added a range of authentic Indian dishes to our menu to complement the Western dishes, including our terrific breakfasts.
Come and chill out, enjoy the food, the ambiance and a refreshing drink or two, in a delightful al fresco environment watching dramatic sunsets over Cheung Chau, Lantau Island and the South China Sea.
You will find us through the village from the ferry pier, turn right at the end of Main Street and you'll see The Waterfront (overlooking Banyan Bay).
OUR MENU (from Jan 1, 2013 - click below to enlarge takeaway menu)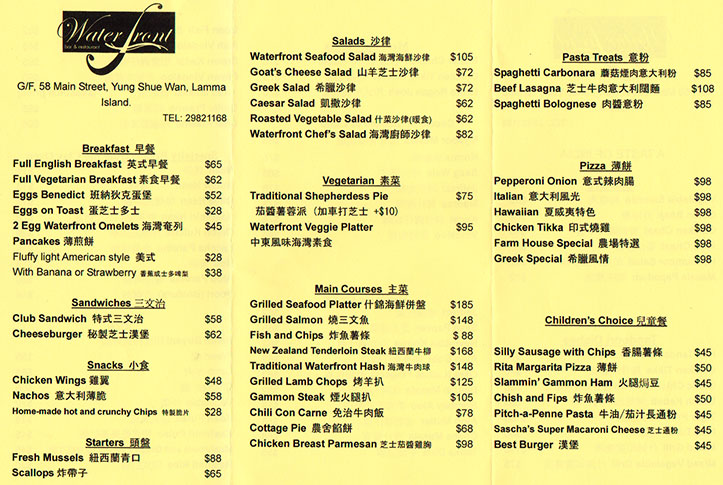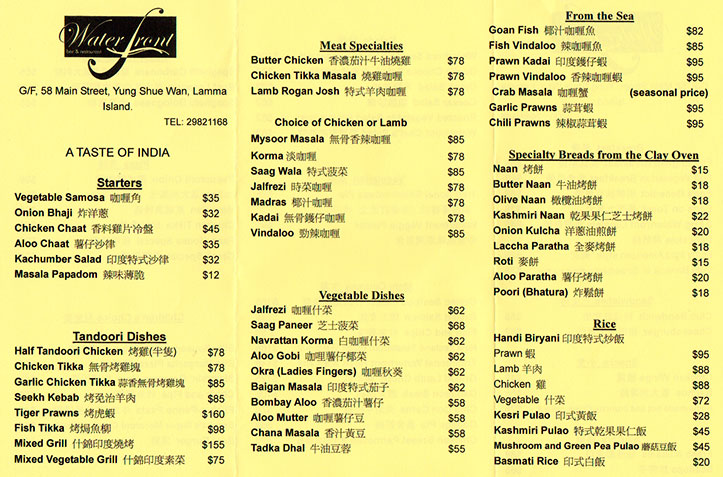 Where to Find Us …
Simply walk through the Main Street of Yung Shue Wan and turn right at the junction for Hung Shing Yeh Beach. The Waterfront sign will lead you to us on the harbourfront. You will enjoy our gentle breezes and wonderful views in a very relaxed and comfortable setting, far from the madding crowd and with all the special pleasures of eating outside.
We hope you will enjoy yourselves in our hostelry. We are pleased to offer you a carefully selected menu and an extensive drinks list, with daily specials and desserts which you will see posted on the board.
Please feel free to specify if you have certain requirements. We understand, for instance, that you might like your steak rare or well done, your eggs hard or soft, or your toast dark or simply warm bread!
Enjoy the panoramic view, the cool sea breeze and, of course the fine food and drinks. We hope you will find something to your liking on every visit.
---
(Updated: January 07, 2015)
---
To send comments, get more info, or to publish your own Lamma-related photo & art galleries
on Lamma.com.hk, email Lamma-Gung.

All pictures and text may be freely reproduced for non-commercial purposes only,
but only with explicit permission from the author, photographer or artist.

Commercial enquiries are most welcome! Last update: January 07, 2015 10:20 AM

© 2013 Lamma-Gung, Compunicate! Web Publishing, e-Marketing & Photography. All rights reserved.

<!/td><!/tr><!/table>