Linda Kernan - New Lamma Resident & Pak-Kokian (photos by Linda):
Dear Lamma-Gung,
I have just moved to Lamma and was asked by Steve Dressler to write a short testimonial for his company about the move. I am more than happy to oblige and maybe you could put my comments on the Lamma.com.hk website.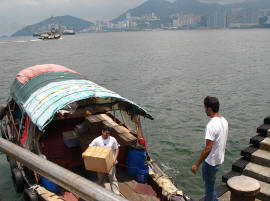 The first telephone contact was with Maria, Steve's receptionist [and business partner] and she is efficient.
I thought the move would be much more expensive than it was as it was to Pak Kok. Steve explained the breakdown very clearly beforehand on the phone and it seemed reasonable (far cheaper than moving the same things from Sheung Wan to Kwai Chung by a local delivery company 6 months ago).
In the end I paid Steve HK$400 LESS than his initial estimate and it was all over much quicker than I anticipated. (Also, the price I paid Steve was just half the quotation given to me by another removal company for the same move whose boss was not that interested in moving me to Pak Kok.)
His 3 men were very polite, efficient and cheerful. They went to my storage company in Kwai Chung and removed my 36 boxes from the lock-up. I had no hesitation in entrusting them with my keys and smart card and code and they handled all that with no problems.
They then took the boxes to Aberdeen by van and arranged a sampan (2 trips needed). They arrived at Pak Kok pier and phoned me as planned so that I could meet them there. Then we all went to Mrs Chan's shop and had a cold drink while Trade Winds arranged a Village Vehicle to take the boxes up to my new flat which is quite high up. (I paid the VV directly in cash)
Steve told me that many of his clients like to accompany the crew and oversee the move and participate in the 'joy' of moving and the fun of a sampan ride. Well, I thought I would forgo the joy of participating this time having not found the experience particularly joyful in the past. It was nice just to join in the fun bit at the end and watch my belongings coming off the sampan at Pak Kok (see photos attached).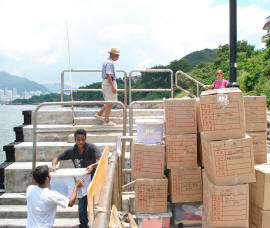 Anyway, when my friend and I got to his office, Steve went over all the details again and we got a private unicycle performance and a cold drink. He sent us on our way with a frozen marathon bar each.
Anyone moving to or from Lamma should use Trade Winds because they have the contacts over here and know how to arrange the sampan without the hassle of ferries.
P.S. Thanks for the welcome. I really enjoy reading your helpful website and am glad to contribute to it. Actually, I found my Pak Kok flat thru the forum.
[L-G: like my own new flat, no agency fee!] I hope it gets good publicity for Steve.

"Captain" Steve Dressler - Unicyclist, Adventurer and Mover -

www.trade-windstransport.com - 9489-9979 (photos provided by Steve)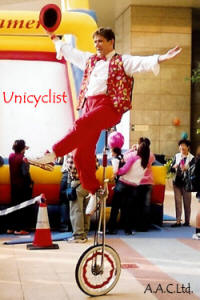 Dear Linda,

I'm impressed and I'm humbled by your praise for Trade Winds' services. Indeed we have strived since opening our doors in 1991 to provide each and every client with good value and good cheer in a move! It's just that the moves to Lamma Island provide more glaring opportunity for BOTH!

The reason the "other movers" charge so much for moves to Lamma is simply because they are not really interested in these "adventurous" jobs, and therefore quote high prices just to scare you off, or to reap "unreasonable" gains on the jobs they DO get!

As a unicyclist (see right, catch me on stage this Christmas at Tai Koo Shing, 26 shows as "The Amazing Uni Santa!") in my spare time, I actually CRAVE the "Lamma Adventure," and wish to share the same with my client. Normally, after each successful move, we wind up sharing a nice lunch or dinner in a new and interesting seaside restaurant with the client! This caps the day and makes each move a sort of "mini- vacation" for our usually Hong Kong - based teams!

Your cost for any Lamma move follows the same "value for money" strategy that we employ so busily on Hong Kong & Kowloon. We just add an hour of overtime for the return journey, plus the added costs of VVs, sampans or gaidos at cost. Also, most Lamma jobs attract "stair fees" which acknowledge the "extra fun" our team experiences in carrying/hoisting washing machines and pot plants to 2nd floor flats, or to rooftops! :0)


So I echo Lamma-Gung's warm welcome to you to Lamma Island, and particularly to the "tranquil" entertainer's village of Pak Kok! Say Hi to the resident unicyclist there, Mr. Francois "Zani" Zanini :0)--/=======O

At short notice, Zani could provide a colorful unicycle show in your living room on THAT end! See photos from his recent move below!

WELCOME to Lamma, and THANKS so much for choosing to sail with the Trade Winds ................... Where Moving's a Breeze!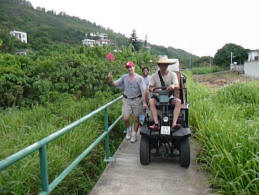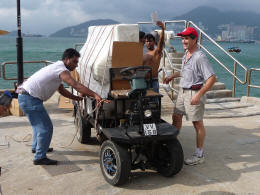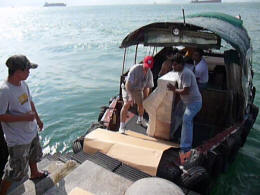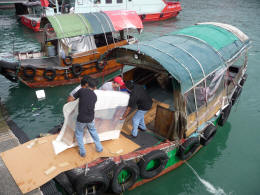 P.S. by Lamma-Gung:
Trade Winds has just signed up as a new prime advertiser on this website, replacing Links Moving (who's just dropped out for unknown reasons after several years of being our exclusive moving advertiser). Steve was willing to barter my own move on Lamma 4 weeks ago for advertising, no cash involved, Lamma-style.
You'll hear more about my own great fun move with Trade Winds soon. But I chose to publish this testimonial above first, from one of their many other happy Lamma clients, someone without any business relationship with them.
A warm welcome to our new advertiser, Great Wall BBQ Place, just on the right side of Hung Shing Yeh beach and online at the bilingual www.LammaBBQ.com. It's basically a DIY or catered BBQ place that will get you anything you need for a relaxed, fun BBQ with your friends or colleagues, much more convenient than the govt.-provided BBQ pits. They even get their own Lamma honey made in their bee hive nearby, for BBQ sauce!
Check out their bilingual set menus or call 2982 2384.
Regular Set, Seafood BBQ Set and "Rent BBQ Grill Only", also in Chinese.

A few of my own photos I took last Saturday: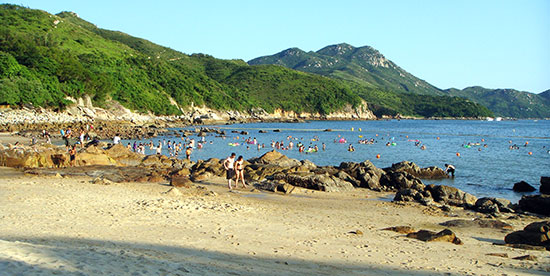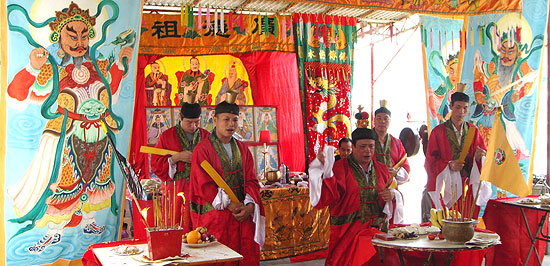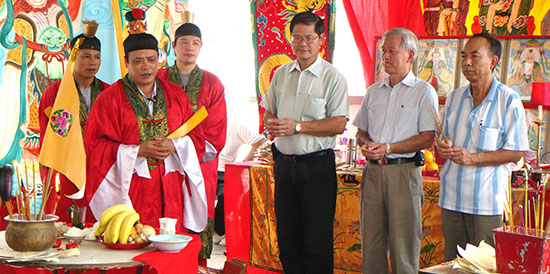 Aug 24: Dan Is Going to Be Grown Up!
Sharon - Co-owner of The Island Bar & The Waterfront:

"A little song, a little dance, a little seltzer down your pants!"
– Chuckles the Clown.

(photos by L-G, click to zoom):

Dan is going to be grown up!

Greetings all, from semi-idyllic Lamma Island!

Just to let you know that Dan will be 60 on 24th August (Monday), in case you would like to send best wishes. Email him!

We are planning a small celebration at The Island Bar, Yung Shue Wan, Lamma on Monday evening. A few drinks, a few snacks, a few memories (for those us who are not completely senile). Please do join us if you are able. We are only 25 minutes from Central by ferry. Of course that is not much help if you are in say Canada or Timbuktu, sorry la!

I would appreciate if you could let me know if you do plan to drop by, just for numbers (and to let the Police know there might be what looks like a demonstration at the time – a rather sensitive issue at times in HK!)

I have raided Dan's email list so this is a mass email of necessity. I'm very sorry if there is any duplication. Some of you may know Dan through work, ice-hockey, Canadians and other friends. And, of course, The Island Bar and The Waterfront. Some of you might even know him through me!

Then again, some of you may not know Dan at all, in which case kindly disregard this email and have a nice day!
Early morning in Sha Po Village, taken shortly after sunrise:
A canopy-less Village House (with not a single window on the North side) dreaming of having a canopy? A canopy-less Village House is like a guy without hair...
Wouldn't this make a great screen for outdoor movie shows?! As there's no cinema on Lamma, this could be a nice addition to the local cultural scene!
Does somebody have a really strong projector, so we could use this wall to screen the Lamma premiere of the award-winning Masks movie - "A Film Set on Lamma Directed by a Lamma Resident"? Masks will be shown in September as part of the housewarming party of our new rooftop flat, also the high-ceilinged "worldwide HQ" of Lamma.com.hk.
A private guided tour of the Lamma-1 luxury property development in Nga Kau Wan, organised upon my request by developer King Wong's GM Paul and new-kid-on-the-block Kevin. Thanks, guys!

The development consists of 11 houses in 3 sizes, up to 3,000 sqft each, 2-3 floors tall, some of them considerably taller than standard Village Houses.
The interior decorations are in full progress right now, with over a dozen people working in several houses every day.
Target date: Nov 2009 to complete the interior design and fitting, then work on the outside will continue and be completed next year.
The flats will become available for rent at first and for sale whenever the property market will pick up again significantly. Sales price is still hoped to be $8,000+/sqft, meaning over $25 million for the biggest houses. Trying to sell the houses to international companies, for use by their senior expat executives' families, not targeting chiefly mainlanders for investment anymore.
The Fung Shui cotton tree is doing great now, after it was saved from termites by a tree doctor, fruiting right now and sprouting loads of new branches and leaves: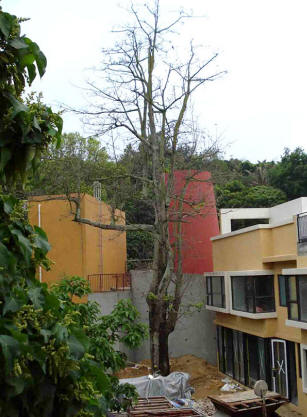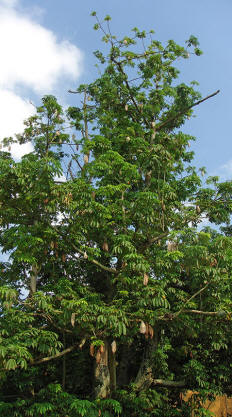 Some of the original trees will be replaced soon as they didn't like the soil, and many more will be planted soon.
A 24-hour private, residents-only ferry service will be offered, not to Cyberport anymore but mostly to Aberdeen. Ferry pick-ups on demand for Lamma-1 residents can be arranged almost anywhere on HK Island.
A private infinity pool, a well-equipped gym and full security for the residents will be offered, but the originally planned jacuzzis on some rooftops have been cancelled. The govt.'s ambulance service does not run in that area! Not even a helipad (unlike the one planned for the Tung O Wan Lamma-Marina's) for emergency medevacs. There's also a 2,000 litre emergency fire services tank in the basement, kept full.
The pier and beach will remain public and there's a public path, parallel to the private path, down to the beach. Local fishermen are enjoying the location now: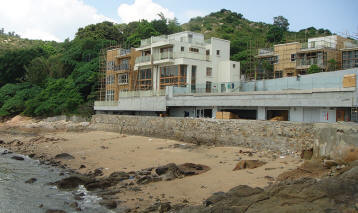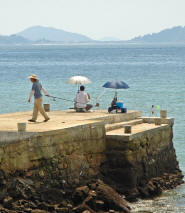 Most of the rooms are HUGE by Lamma standards, with some kitchens bigger than most living rooms in Village Houses. Some G/F living rooms are 2 or even 3 floors high, sporting a rooftop skylight. First show flat hopefully ready before end of this year? Double-glazing on the harbourside windows; only one on Lamma?
They've got their own HK$1.5 million Sewage Treatment Plant in there, as that entire area will not be connected to the future YSW Sewage Treatment. Their plant features a biological cleaning stage that even the future YSW Sewage Treatment Plant might not include. The hidden infrastructure is impressive, massive pipes for water recycling and A/C running invisibly between the walls, plus wardrobe-size, central aircons on the rooftops.
Po Wah Yuen graves are visible from all the houses, except one, being a concern for some potential residents. Anti-flooding measures (hillside!) have been installed.
I've taken a lot of inside photos but didn't get the permission to publish them yet, as they want to wait till it's all ready for occupation. Here are a few "artist's impressions" of Lamma-1, targeted to be completed next year: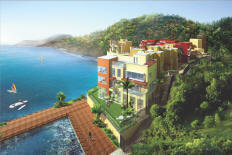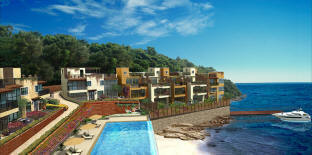 HK Electric has recently published a very informative and colourful bilingual booklet, their 2008 Social and Environmental Report. It makes for some very interesting and highly recommended reading, especially for Lammaites as our home island is mentioned so frequently and always in a positive light.
Here are some Lamma-related excerpts I've selected, with my own highlights added, giving HK Electric all the do- gooder credits they really deserve:
"At HK Electric, we integrate sustainable, harmonious and caring practices into our daily operations. The kite on the cover symbolises our commitment and determination to keep this principle flying high as we continue to partner with our stakeholders to provide steady support for a brighter and greener future....
A Trusted Member of the Local Community:
As a core member of the Lamma community, HK Electric continued to support a wide range of recreational and cultural projects organised by local groups, including the Lamma International Dragon Boat Festival 2008, Tin Hau Festival, Lunar New Year Carnival, and more.
We remained a platinum sponsor of Lamma Fun Day, and the performance by the HK Electric band at the party in Tai Wan To Beach helped to round out a wonderful day for all involved....
An eco-tour map was published and we trained 60 eco-leaders (including Lamma residents, HK Electric volunteers and secondary school students) to introduce the many treasures of Lamma Island to the public. Monthly tours are conducted attracting hundreds of people who gain greater appreciation for Lamma's ecological resources and value. To build on the success of Green Lamma Green, we are looking at plans to expand the project to Hong Kong Island....
[Click for] Awards/Recognition and Statistics of Environment and Society.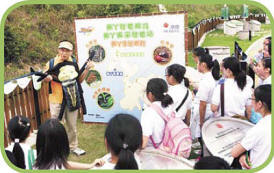 An eco-leader introduces the rich ecological resources on Lamma Island at Lamma Power Station Open Day:
...installing solar heaters, solar street lights and micro wind turbines at Lamma Power Station....
...save water resources by collecting rainwater and recycling wastewater at Lamma Power Station. In 2008, 138,000 cubic metres of water were recycled and reused....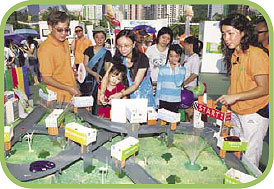 E&M Safety Carnival:
This creative model is made from reusable eco-friendly materials from Lamma Power Station....
As part of the "Green Lamma Green" project, HK Electric and The Conservancy Association jointly launch three eco-trails to encourage the public to explore Lamma's ecological resources...with 20 educational stands en route to encourage the public to explore and appreciate Lamma's ecological resources, and cultural and historical relics....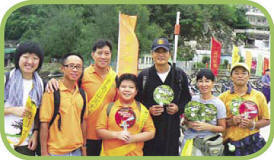 Volunteers pose with Lamma's beloved son, Chow Yun-fat, during The Conservancy Association's Zero Hill Fire Campaign activity....
During the year, we arranged about 70 corporate & school visits to Lamma Power Station and Lamma Winds....
About 30 volunteers and their families help collect more than 200 kg of coastal rubbish at Ngar Kau Wan on Lamma Island:"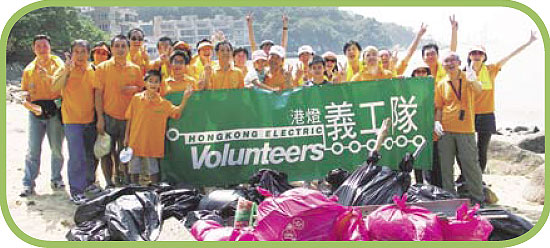 Targets Preview 2009:
To control SO2, NOX & particulate emissions and effluent discharge from Lamma Power Station within licence requirements.

To commission the Low NOX System and FGD Plant for Unit L5 at Lamma Power Station.

To complete the site installation work for the Low NOX System and FGD Plant for Unit L4 at Lamma Power Station.

To complete the site installation work for the FGD Plant for Unit L2 at Lamma Power Station.

To complete the EIA study for the proposed offshore wind farm.

To award contracts for the Boiler Start-up Low Sulphur Fuel Conversion projects for Units L1 to L6 at Lamma Power Station.

To install one more food-waste eliminator at Lamma Power Station.

To add environmentally friendly vehicles to the Company's fleet.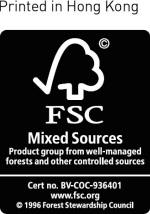 Share your ideas and opinions with us!
At HK Electric, we believe our performance in the vital areas of environmental protection and social responsibility is as important as our balance sheet. Consequently, we would very much like to hear your feedback on our performance in 2008. To share your comments, please contact us at:
Environmental Affairs Department
Projects Division
The Hongkong Electric Co., Ltd.
44 Kennedy Road, Hong Kong
Fax: 2537 1013; Email: mail@hec.com.hk
Website: www.heh.com"
Some of us Lammaites not working in town rarely venture off our semi-idyllic island, only leaving Lamma when we need to shop something we can't get locally, meet friends, eat out, party or get entertained. But those excursions seem to get shorter and less frequent the longer we live here. The hectic bustle of the crowds and the sheer weirdness of HK city life loses its appeal, after enjoying it, living on HK Island, for so many years myself.
Case in point, my trip to town today to catch a movie in The Grand Cinema 12-screen multiplex in the Elements shopping mall. As a movie nut, I enjoy a wide range of movies, even blockbusters like the terminally hectic, visual-cortex-overloading, testosterone-dripping SFX showcase that is Transformers: Revenge of The Fallen. But what possessed me today to watch Kungfu Cyborg: Metal Attraction I'll never know, besides being a sucker for punishment occasionally.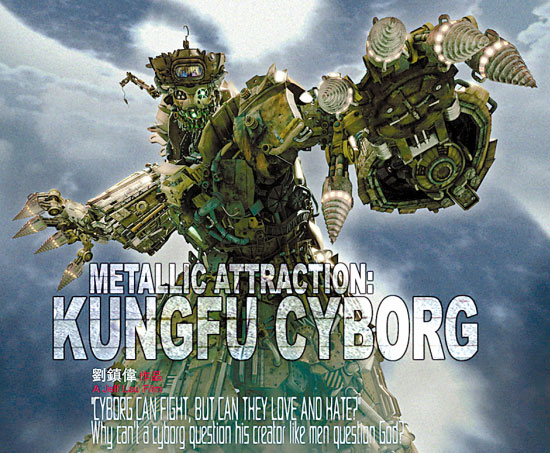 It's a single movie showcasing all that's ailing the HK movie industry and the reasons for its massive decline. It's a cheap, low-class, quickie rip-off of Transformers, featuring really bad acting, cameo appearances by local stars & starlets, a soppy, predictable boy-meets-girl-but-he's-a-cyborg storyline, plus a few random special effects gags (by local 3D animation powerhouse Centro Digital) often not really connected to the storyline.
Would you believe a tedious, boring, annoying story of a policewoman in a mainland village unwittingly attracted to two guys who are both Transformer-style cyborgs (Metal Attraction, geddit?) The weirdly high-minded motto of the movie - "Why can't a cyborg question his creator like men question God?" - is never even addressed in the entire extremely low-minded movie, of course. It would have been fascinating for these cyborgs to question their creator, the moviemaker, about why, oh why this movie is so bad!
One of the totally unconvincing cyborgs was "acted" by local heartthrob Alex Fong who can't make up his mind if he's channelling either Elvis, Star Trek's android Data or the Tin Man without a heart, or all of them. An abridged version of the entire movie, showcasing just the total of 2-3 minutes of acceptable SFX scenes, would have been way more enjoyable and time-saving, especially the cyborgs slugging it out Kungfu-style with Nunchakus. All in all, a really weird, Hong Kongesque experience and one of the many reasons even a movie geek like myself is rarely watching a HK-made movie anymore these days.
Shopping in the Elements shopping mall afterwards, browsing Threesixty for La Rose Noire's excellent Swiss-style breads, is full of more weird experiences. Besides marveling at the often simply stunningly high prices, there's an entire wall of dozens of designer waters, even something called "Organic Water" from New Zealand. It comes in a fancy designer glass bottle at a price you could buy a decent bottle of wine for. WTF? I was obviously mistaken thinking that all clean, pure water is organic? How silly and organically un-enlightened of me!
Returning home to my quiet, semi-idyllic life on Lamma was such a relief... till my next foray into the wild & weird world of HK city life, as soon as I'll get tired of all that "Peace, Love, Lamma"....
Sorry, I got carried away a bit with the amazing views from this restaurant, but this story is actually not about pretty sunsets, even though that's the best time of day to enjoy eating in The Waterfront!
So what about the actual FOOD at the Indian Curry Night in The Waterfront? They've got a new Indian Curry Night every Wednesday, so I went to try it, of course. Well, it definitely looks good: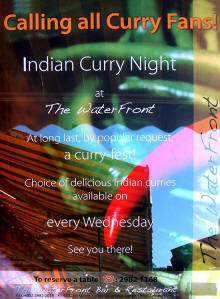 But it doesn't just look great, it also tastes great and really authentic. Indian chef, I suspect? I loved it all, very well balanced spices, not too fiery, very yummy and mouth-watering. Great prices of below $100 for their Indian set dinners, highly recommended and definitely worth another visit next Wednesday!
But I have to admit to be very partial to The Waterfront, my favourite Western rest. in Yung Shue Wan. I'm not just saying that because they're an advertiser supporting this website!
I've enjoyed my last-ever regular-size, wonderful meal in this place, just before the surgeons reduced my stomach permanently to the size of a small rice bowl, never able to stuff myself ever again with "normal" restaurant meal portions or ever indulge in a buffet again.
This smaller stomach made me actually enjoy my meals even more, not less, as I had to focus more on the quality than the quantity of my meals and all its ingredients. I now concentrate on the best stuff only, taste it, savour it, chew it very well and and appreciate it all even more consciously. Focusing on seafood, meats, veggies, fruits doesn't leave much space for fillers like rice, noodles, potatoes, snacks or anything rich, high-fat, calorie-rich or unhealthy.
I lost all this weight without severe dieting, no restricting and

frustrating myself, no getting all hungry and cranky, but changing my culinary outlook and preferences relating to food. Only being able to eat really small portions forces you to eat more often and to focus on enjoying every morsel. I started to try to make healthy but tasty choices when shopping, cooking or ordering in a restaurant. It became second nature over time and my tastes changed along with it. Most junk food has actually become repulsive to me nowadays, while I used to love some of it before.
This fine and tasty food above, a glass of wine and good company (and these views!) is all I need to be completely happy for an hour or more. And the portion size was more than big enough to take the rest home and have another great Indian meal at home the next day.
It's Alanikali's last summer on Lamma. He sounds sad to be leaving, so he's put together his favourite photos of his home in a Last-Summer-In-Lamma-Series. He loves shooting with old, even historic analog cameras and achieves very unusual colours and effects with them. He writes in his Flickr photo comments:
"I like the human voices from vinyl records, I like the chemical smell of film rolls, and also the strings of acoustic guitar. Some time I feel like myself was flashed back to 70's. But I was born in 70's indeed."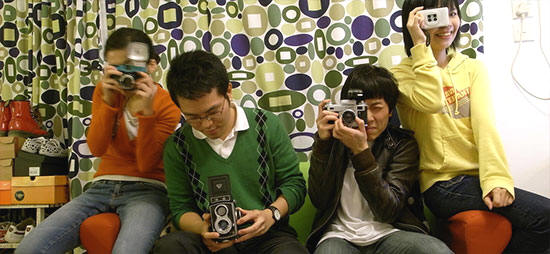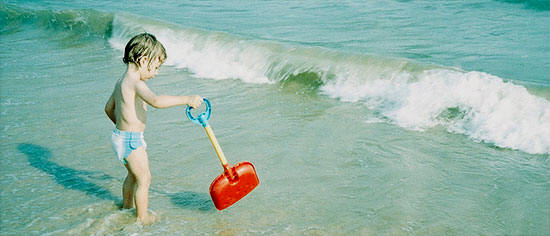 My favourite picture in his series: Our popular Bike Lady in the Nam Fung Bike Shop who fixes and maintains most local bikes, including mine, plus renting bikes to Lamma visitors by the hour: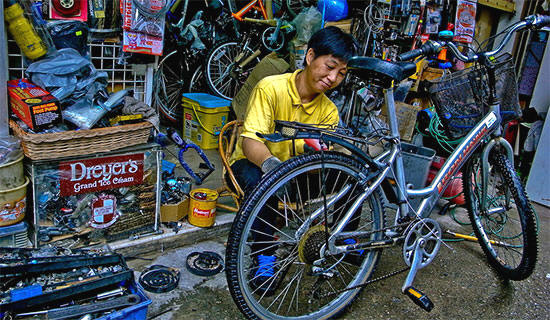 Alanikali: "This is the only bike shop in Lamma Island, all of the Lamma bikers must know this lady. She is a very professional bike technician; every time when my bike has some unknown problems, she can help me to fix them!"
"When I moved to Lamma in 2004, I loved this place very much and thought I will stay here till the day I die. But now I just wanna get the hell out of there, find me and my girlfriend a new paradise. Lamma is still a good place, but just for tourist, not for dweller."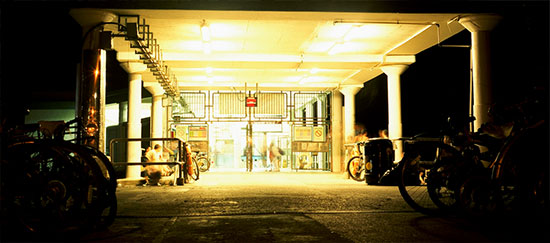 "I'll miss everything here in Lamma Island, including the pier. Also, it's the last photo in my Last-Summer-In-Lamma series."
Farewell, Alanikali, we know that you'll be back someday very soon....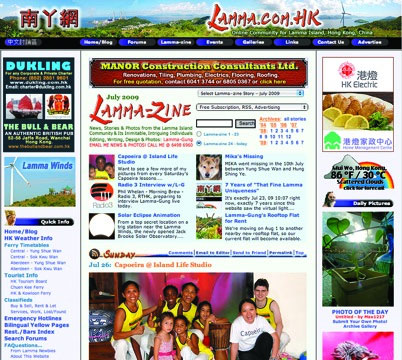 The weekly Time Out Hong Kong magazine has just published their list of HK's Top Websites. They awarded this website in the top 3 of their NGO & Community section, even illustrating it with a screenshot of this home page (see right)! They wrote:
An eclectic island deserves an eclectic online community, which is probably why this site just celebrated its 7th anniversary.
There's a bit of information about everything, from the ferry schedule (oh the ferries!) to the weather report and dining options, with a series of useful links (and some not so useful) for much, much more."
Thank you, Time Out Hong Kong magazine, for this fine honour from this proud-to-be-called "eclectic online community" on an "eclectic island"! But which ones are the "not so useful links"?

P.S. Congratulations to our friends at www.LAP.org.hk who were selected as another one of the top 3 HK NGO & Community websites, but only in the print edition of the magazine. For mysterious editorial reasons, they were replaced by www.SPCA.org.hk on the Time Out HK website!? LAP has recently been renamed from "Lamma Animal Protection" to "Lifelong Animal Protection" to highlight their new focus beyond only Lamma. The print edition of Timeout HK wrote - just in case you don't want to shell out $18 to buy the dead-tree version of the mag:
"The Lamma-based Lifelong Animal Protection charity's site offers a chance to get involved in the rescuing, rehabilitating and re-housing of our furry friends. Go online to pick a pooch, make a donation, or see how you can help."
Could you imagine me, Lamma-Gung, doing a handstand, balancing on a beach ball for over a minute, skipping rope 24 times in a row, doing 10 T.R.X. pull-ups or running around the entire Football Pitch 3 times without stopping even once (thanks to Miss Alison chasing me)? I could never have imagined that myself even a year ago! But that's how far I've come, from an embarrassing, almost pathetic level of unfitness before. Well, it's easier to improve quickly when you start so low! This transformation only happened thanks to my classes in the Island Life Studio 3-4 times a week, including Bootcamp, Pilates, Yoga and T.R.X., plus my customary speed walking/hiking and biking.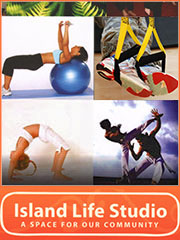 Attending the 2-hour Bootcamp every Sunday morning, never missing it, almost like Sunday mass, was the very core and centre of my fitness routine. It has shown really surprising fitness results, far exceeding my modest expectations of simply losing a few pounds (over 9 pounds in the last 6 weeks.)
I've been going to the Island Gym, the other fitness place, for almost a year now, working out, usually on my own, at the machines for one hour each time. But I never saw any real, significant improvements in my strength and stamina, stagnating at an OK level of cardio fitness. It's also really difficult for me to stay motivated working out at home or on my own.
I need a structured class at fixed times and a tough but friendly trainer to kick my lazy ass to work harder and improve faster. That's probably why the classes in the Island Life Studio work so well for me. Congrats to the Studio, you've done an almost miraculous transformation job on this former couch potato who doesn't even eat potato fries or chips any more as he's still on a 1,500 calories/day diet, for over 1.5 years now. 5 more pounds and I'll have finally reached my weight loss target, having arrived in Onederland (1xx pounds)! BIG party with a BIG buffet?
Check the classes out for yourself or sign up a loved one (preferable telling him/her first, but it would definitely make a real surprise gift!)
Next step up, sports! Could you imagine me doing those fancy Capoeira martial arts dance moves? Saturdays, also in the Island Life Studio, starting soon? Keep tuned to this award-winning community blog. ;-)
Full disclosure: The Island Life Studio has agreed to a no-cash, barter-only deal (promotion for free classes), so you can expect more Lamma-zine stories from me and other fitness devotees about their many great activities, especially the community-related ones, like the Mandarin Orange Sale today, Sunday:
By the way, this great community center, just behind the Tin Hau Temple, can be available for YOUR events as well. Contact them!
Yes, technology is moving fast and the advances especially in communications have been astonishing in the last few decades, especially in mobile and wireless communications, touting "The Age of Wireless Communications" in the media.
All fine and well, but why does the backside of my PC still look like a thick jungle full of of cables of all sizes and myriads of weird plugs, all quite similar to when I started using my very first PC almost 30 years ago?
I just moved my entire, complex, multi-device computer setup to our new flat and the cable salad wasn't pretty. Quite a little challenge to get it all working again in the new place, even for a former Regional IT/Telecom Manager and former techno/gadget geek like myself. Well, there's a bit of Wifi in the setup, of course, but "The Age of Wireless"? Give me a break!
J Aaron Farr - from the Peregrinari blog, republished with friendly permission.
Check out his amazing "photo set that creates a simple walking tour around Lamma Island":

Lamma Island: A Tour
I have to say, Lamma Island is one of my favorite places in the world.
I'm back here today after two weeks or so in China and I'll be going back to Guangzhou this weekend. But in the meantime I have a few quiet days on Lamma Island and I have to say, I really love this place.
Sure, sure, not everyone shares that sentiment. If Hong Kong were New York, then Lamma Island might be New Jersey. It's most prominent feature is the giant coal power station whose three smoke stacks turn Yung Shue Wan into some Springfield caricature. Doesn't help that the public beach is located practically in their shadow.
The island feels down right rural compared to the futuristic metropolitan areas of Hong Kong Central. There's no McDonald's on the island. Heck, there isn't even a 7-11! You heard me. No 7-11. In fact, the only "chain" store on Lamma Island is the HSBC branch and that's only open for three days of the week. And that's not the mention the giant man-eating centipedes, the huge spiders, the snakes and all the other nasty horror stories we tell people to keep them off our island sanctuary.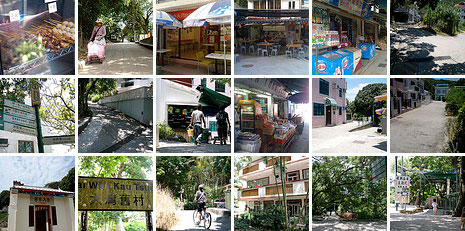 But despite all of that, or perhaps partly because of it, I've still fallen in love with Lamma Island. I've yet to find such a lovely place to live so close to a world class city. What are the advantages? A short list would include: great restaurants, a public beach in walking distance, no cars, great trails for hiking or biking, lots of open, green space, a vibrant (and sometimes eccentric) diverse community, and cheap rent. On any day, I could take a swim in the sea or grab a ferry into central Hong Kong. Everything is accessible.
And it's been an absolutely fantastic place for Maeli to grow up these last two years. She has more friends on the island than I can count. She has a safe place for her to run round and explore and play. Banyan House has been a wonderful school for her and its right here on the island.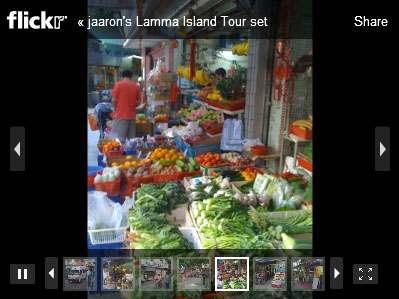 So despite the exciting adventures ahead for our family, in China and in the United States, I know we're all looking back at Lamma fondly. The future being what it is, we're still hopeful to be back here next year, with an addition, but these sort of things are difficult to divine.
In any case, for those interested in exploring this island retreat of ours, I've collected photos from our time here and put them into a sort of tour of the island. In particular, I wanted to include the snake path which can be difficult to find if you don't know about it. And don't forget to check out the ever-resourceful Lamma-zine for the latest island happenings.
What many Lammaites worried about has finally happened this morning. After the recent destruction of the popular Lily Pond by construction waste dumping, a small pipe was laid to replace part of the natural stream running down from the Tai Peng hills into the sea. As expected, the small pipe wasn't able to handle the torrential rains this morning, while the natural river up- and downstream and the new drainage channel downstream running into the sea had no problems at all.
The farmland in the Yung Shue Long valley got flooded, destroying many of the vegetables, likely as a result of the undersized and/or blocked pipe acting as a bottleneck. Living Lamma ("a newly established group, which acts as a watchdog on sustainable development and community projects on Lamma") and other concerned Lammaites might consider following up to prevent this in the future? Join our long-running forum, Yung Shue Long Valley Development.
Miss Alison - Survivor of Island Life Studio's Bootcamp: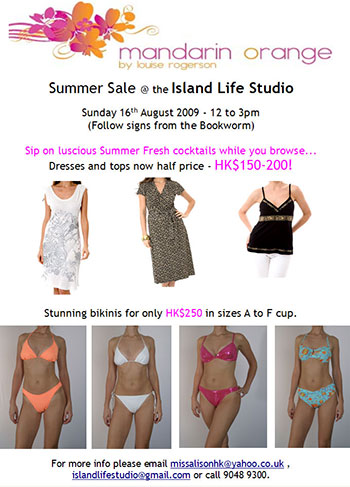 Some of you will know of Mandarin Orange already, so will welcome the news of another sale on Lamma. For those of you unfamiliar with ex-Lammaite Louise Rogerson's resort wear collection, you are in for a treat!
Mandarin Orange offers great quality, sensibly priced western sized clothing that suits all body types from elfin Natalie Portmans to rubenesque Kate Winslets. It is her End of Summer Sale next Sunday, 16th August at the great new Island Life Studio where they make bodies look and feel great. Whether you want to show off your sexy body or flatter your form - Mandarin Orange has a style to suit you.
There will be over 50 styles of bikini ranging from the halter neck to the bandeau, the thong to the brief, in sparkling cerises or traditional blacks. There will also be kaftans in differing lengths, cuts and colours, alongside tops in lightweight cottons. All these items are easy to wear and easy to pack, coordinating perfectly with your existing wardrobe. The styles are versatile so can be worn at the spa, having drinks at the Hyatt or mooching along Power Station Beach.
Mandarin Orange is only currently available at the store in Lan Kwai Fong and in various spas across Asia, Australia, USA and UAE.
So come down to the Island Life Studio at noon next Sunday.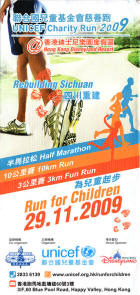 Follow the pink and orange balloons from the Bookworm. Try some clothes and bikinis to combat the crazy heat of Hong Kong or to wear on your late summer holidays.
We'll be on hand to pour you sultry summer cocktails and tell you more about this great community space - so you can come away looking and feeling great, inside and out.
More info can be found at the Mandarin Orange website or on this Facebook page. Or you can speak to Alison on missalisonhk@yahoo.co.uk / 9048 9300 or islandlifestudio@gmail.com / 9286 9111. Map!
---
P.S. We're trying to get form a Lamma group for Unicef Charity Run for Children 2009. Contact us! Facebook.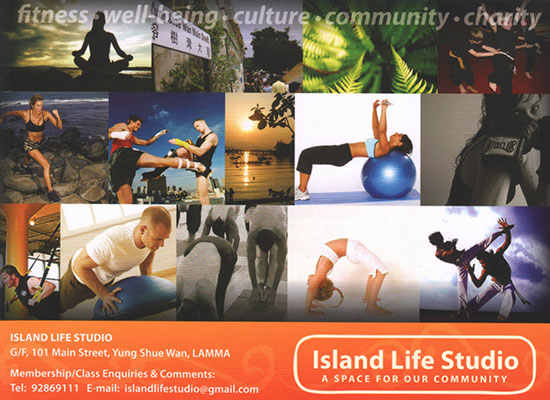 What else is happening this busy weekend? Click below to enlarge:
Having to leave my old, fixed pond behind on my former rooftop, Lamma-Por & I ventured off-Lamma to "Fish Street" in Mongkok. It's obviously mandatory for Fung Shui believers like Lamma-Por that pet fish have to come along on any flat move and cannot be left behind or abandoned. As I had to leave my old, unmovable rooftop pond behind we had to get a new pond for our fishes, a movable one this time, planning forward for our next move.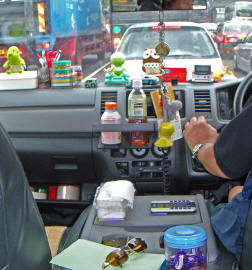 The fishes are just simple but hardy, swift, easily-multiplying rainbow-coloured guppies and bright orange mollies. They cost just a few dollars each, but a new pond and fountain can cost thousands. So I decided to build it myself this time, using a ready-made fiberglass fountain from Fish Street with lights and a water pump built-in. Adding a wooden table, bricks and loads of plants, it'll take a while to develop.
After a long search in several gardening/ fountain shops we found something we liked (see below). But how to get it home? The shop wouldn't deliver to Lamma, just to the ferry pier, like most HK shops. So we simply grabbed the display model and tried to get it home ourselves. Instead of a taxi, the shop called a freelance van driver who made his vehicle into his fully-equipped second home (see above), even offering us free cookies, chocolate and cheery banter!
Arriving back on Lamma without umbrellas, we were greeted by a massive, long-lasting downpour. After a wait and a dash to Green Cottage rest. they borrowed us a trolley and an umbrella and we made it home, finally. All in all, a nice, little adventure off-island....
OK, but where to plug in the new fountain? So many lights on our new rooftop, but no outdoor power point! Well, it took a few more days to get that installed by our friendly-neighbourhood electricians, tipping them generously to facilitate future jobs. In the meantime, our fishes seem happy enough in our small but cozy rooftop storage room, in a new pond with some of the old pond plants, awaiting their return to the outdoors where they've all been growing up in.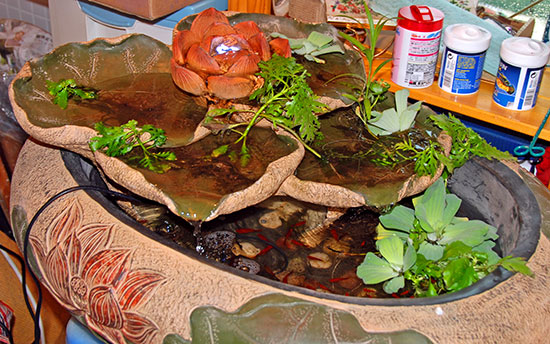 I've called my rooftop garden a "low-cost, all-year source of joy, relaxation, education, fitness & happiness....", so I feel a bit melancholic about its demise, not finding anybody in time who wanted to "adopt" it for free.
A new garden and pond have been started on my new rooftop, using plants from the old garden, all set in MicroGardens (the Lamma-made planter boxes above).
It's a new beginning, based on a solid foundation, I hope. New pictures coming in a few weeks, after my old plants have settled in....
2009 Interim Results Highlights -- 2009 Interim Results
The Chairman's Statement about HK Electric's Interim Results explains that "The lower Hong Kong earnings were primarily due to The Hongkong Electric Company, Limited (HEC) lower rate of permitted return and lower Hongkong Electric Holdings Limited deposit interest income." About their Hong Kong Operations:
"HEC unit sales of electricity for the first six months of 2009 were marginally lower (-0.6%) than that recorded for the first six months of 2008. The lower unit sales were primarily due to warmer weather in January as compared with January last year and to the effect of various energy saving initiatives.
"Emission reduction work at the Lamma power station continued during the first half of 2009. The Unit 5 flue gas desulphurisation (FGD) unit has been completed and commenced commercial operation at the beginning of July. Work on the Unit 4 FGD is well underway while civil work for the Unit 2 FGD has been completed. Retrofit of the low nitrogen oxide burner for Unit 5 has been completed while site modification and retrofit work for the Unit 4 burner is expected to start in September.
The last of the FGD and low nitrogen oxide burner works is expected to be completed in the second quarter of 2010 by which time over 95% of the electricity generated at the Lamma power station will be either generated by gas or by coal fired units fitted with FGD's and low nitrogen oxide burners."
---
Today, 8/8, is the 1st anniversary of the start of the Beijing Olympics 2008, the main reason we upgraded from the old analogue TV channels (TVB/ATV) to the new digital ones. So how does the TV situation look now, one year later?
One of the few drawbacks of living on Lamma Island is the severely limited choice of TV channels available. An astonishing number of us have made the smart and conscientious decision to forego TV altogether, but what are the majority of us TV addicts to do? Watching only TVB Pearl and ATV Home is just so...underwhelming for us non-Chinese speakers. The severely restricted "island versions via satellite" of NOW Broadband TV, Cable TV and others carry just a handful of English channels each, all at exorbitant monthly charges.
Read the fine-print subtitles above to describe my own TV complexities & confusions & frustrations on my new flat's rooftop.
For a detailed description of most of the currently available TV options on Lamma, see our new and very popular forum, New box for Filipino satellite.
We're moving to another nearby rooftop flat starting today. This will take up most of my time for several days. The Lamma-zine will go on a moving summer break till I'm all set up and operational in my new home office and till I can find most of my way too much stuff again. Wish us luck for this usually highly traumatic and frustrating experience ahead!
It actually turned into a very professional, easy-going, friendly and even entertaining adventure with our movers from Trade Winds - Where Moving's a Breeze - No Job too Small. See their jovial boss Steve Dressler, ex-banker & publicly performing unicyclist, delivering a box in his own unique moving style: