These last few months, I wasn't aware of a single regular local yoga class happening anywhere in Yung Shue Wan. All the places I had occasionally tried out - purely for my health & fitness, not for spiritual reasons - either have closed down or went on extended summer hiatus.
Now the walls are full with posters advertising yoga classes for all levels, more than I've ever noticed before in my 9 years of living here, plus a few more classes I know about that don't even advertise. What's going on, is Lamma returning to its more spiritual, meditative, alternative past? Let's hope so! To find out more, click on the posters below which I shot straight from the walls today.
(None of these places has advertised on this website so far, so these home page placements are freebies to promote these new start-up businesses, hopefully helping them to survive, grow and prosper. The Lamma-zine, an 8-year old, moderately successful, local start-up itself, loves to support local start-ups!
If your new (or old) business, product or service - targeting Lamma residents or visitors - could use a little bit of free or low-cost promotion, let me know.)

After finally resolving the picture attachment problem in our forum, not losing any attachments, we're still struggling with occasional spam attacks on our forum. These have occasionally caused this entire website to go down with a mysterious "501 Not Extended HTTP Error code", taking hours to recover each time.
Our long-time US webhosting company has finally admitted to shutting down our entire website whenever there's a short peak in forum traffic. This is usually caused by spammers who are trying to get into our forum, always unsuccessfully, as I found out myself after some time-intensive research.
But there's no advance warning of shutting the site down, no notification afterwards, no explanations and no automatic site recovery from the webhosting co., leaving the site dead till I shout (by email) at the tech support. They are completely unapologetic and tell me to get my own, very expensive web server, even though we only use about 10% of the monthly permitted maximum traffic in our current plan. Time to look for alternative, reliable webhosting....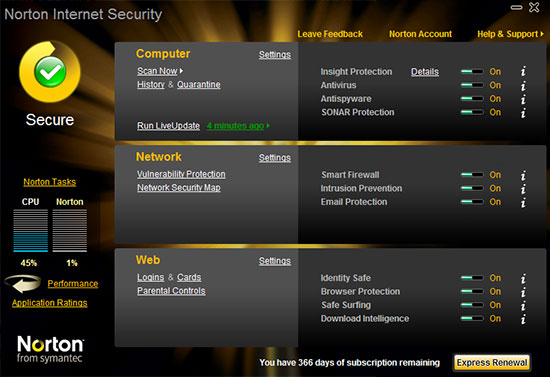 I've just extended the latest Norton Internet Security 2010 for one year on the PC used to maintain this entire website, see above; making sure that there are no viruses, worms, Trojans, Spyware, Adware, phishing attacks, malicious downloads, backdoors, info stealers or any other security threats. Yes, it's a pretty dangerous world out there on the World Wild Web....
Together with my automatic, multiple backups of all files, photos and websites onto several external hard disks - including a 1 Terabyte (1,000 GB or 1,000,000 MB) hard disk - this website should remain in pretty good shape. See the latest website report below for an exhaustive list of current potential threats to any website - including yours!

It's been exactly one year now since I've reached my "ideal weight" of below 200 pounds (88kg +- 2 kg), remaining at this weight for a full year now. I remember well the day, the elation and joy, when my weight FINALLY dropped below that magical limit, my long-term goal, reached after 2 years of intense dieting before and after my stomach reduction surgery 2.5 years ago.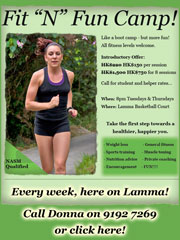 Thanks to careful and healthy eating habits (no more dieting!) and on-going exercise, I'm now at my lowest weight in decades and, more importantly, becoming healthy and reasonably fit, getting rid of all my former medications and health problems.
So, how did I celebrate? Well, by having a nice, colourful salad for lunch, a celebratory single glass of white wine from Wayne's Chateau Lamma, plus struggling through another intensive, high-impact Boostcamp session in the Basketball Court tonight. Yes, I'm a real party animal these days, not!
Well, one year of maintaining my new weight and New Body, a few more decades to go (hopefully). For more details on my "Weight Loss Journey":
May 25, 2010: Only Half the Man I Used to Be

A single, lonely poster on the former "Democracy Wall" (photo submitted by Ria)
After the recent resurfacing and grey repainting of the YSW "Democracy Wall" near the ferry pier, this poster appeared just for a few hours. It was quickly removed by the cleaners, but not before Ria snapped it on her camera phone.
The sentiment expressed in this poster is shared by many Lammaites. So I've preserved the poster for posterity on Lamma's virtual Poster Wall, the Lamma-zine, where your posters will remain forever and nobody can rip them down. Over time, these posters form kind of a visual, pictorial history of our island community.
This Poster Wall has been formerly used as a public bulletin board by the entire community, full of usually home-made interesting, informative and often whimsical, entertaining posters, greeting Lamma visitors by introducing them to our unique island spirit and community. The former "Democracy Wall" has also inspired many Lamma-zine stories over the last 8+ years and I'm sorely missing it: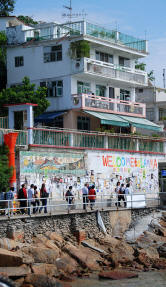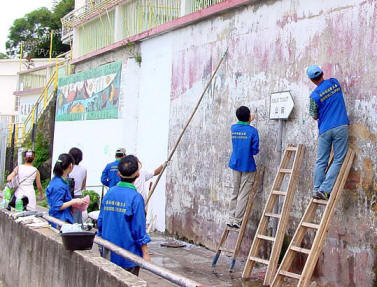 Now it's just a boring, steel-grey, totally empty wall, kept clean by the FEHD workers, ripping down every poster soon after it appears, a sad fate for this formerly so vibrant and always interesting wall. The posters have moved to a temporary fence opposite the Post Office, far smaller, less effective and visible.
Is the former Democracy Wall supposed to remain so dull and lifeless, or could we convince the local powers-that-be to beautify or decorate the wall, maybe plant it, or even restore it to its former poster-filled state, just nicer-looking? They considered the Wall as "too dirty" and kind of a disgrace for arriving visitors. Repaintings and no-posters-policy seem to happen sporadically (Struggle for Democracy).
Chairman Chan, the indigenous District Councilor and Rural Committee Chairman is actually encouraging Lammaites to come forward with new ideas for the wall, he told me and Living Lamma in a meeting. Please submit ideas directly, or, even better, channel them through Living Lamma.
The first suggestion has already come in, a sketch of a proposed Welcome sign for the Wall from one of the artists behind the Fountainhead bar's graffiti paintings:


All photos submitted by Claudia Tarr. Many thanks! Click to enlarge.
See more Facebook photos of the Round Lamma Outrigger Race 2010.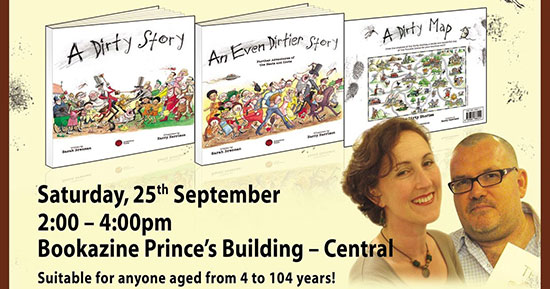 There'll be a public book launch party this afternoon, see above, click for more details. Wine & snacks provided! RSVP on Facebook or their website.
To give you an idea of the amazing, full-colour, large-size illustrations by Laudable Lamma Luminary Harry Harrison in this book series, click below. Get your Dirty books signed by Harry and Sarah. Don't these illustrations below look so much like Yung Shue Wan Main Street on a weekend?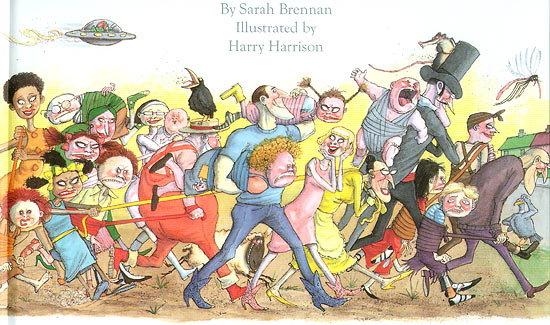 Concerto Inn Hotel in Hung Shing Yeh is relaunching their beachside restaurant, renaming it Palm Tree, with an all-new menu and a new chef, throwing a little party tomorrow, Friday night from 7pm, with free food & wine. See you there?
Mid-Autumn Festival coming up next week, there'll be the yearly govt.-sponsored party in the Football Pitch, Saturday, Sep 18, 7-10:30pm (click to enlarge):



Jay Scott Kanes - Official Court Pet Correspondent - Cairns Media:

(Pictures and story by Jay Scott Kanes)

Impressive Pup Puts
Three Best Feet Forward

LAMMA ISLAND, Hong Kong – An enthusiastic newcomer has started a noble task – to set an example that shows Hong Kong residents, both two-legged and four-legged ones, that a physical handicap need not diminish joie de vivre. Meet Terry, a mongrel dog with four legs, only three paws and an irrepressible can-do-anything attitude.

Five-month-old Terry's paw-less right-rear leg ends abruptly several inches above the ground. Even so, he uses his three normal limbs to walk and run across much of northern Lamma, often keeping pace with older, bigger and able-bodied canines.

Impressively nimble, Terry oozes youthful exuberance and appears reluctant even to acknowledge a physical impediment. Like other dogs, he's always eager to go for walks.

"He's a happy, little dog with a really strong will," said Fiona Sham, a 32-year-old journalist and Terry's human guardian. Recently, Fiona, Terry and another dog, three-year-old Buddy, moved to Lamma to live in the home of Fiona's late grandparents, who were long-time residents of Yung Shue Wan, the island's biggest village.

"Terry is missing a paw, but it doesn't bother him that much," said Fiona, who previously lived in Discovery Bay. "He runs really fast, and he's very energetic and playful. Bigger dogs don't frighten him at all. I don't believe he considers himself different from other dogs."

Judging by appearances, Terry probably has some Doberman in his blood. He and the Labrador-like Buddy have become popular regulars among the local dogs who gather to frolic and play at Power Station Beach.

Although fast on his three feet, Terry has a slight problem with balance. When grappling with Buddy or other pals, he often tips and tumbles, but invariably rises, unhurt, ready for more. "Terry has a small body, but he still considers himself a big dog," Fiona said. "Actually, he's better at running than walking."

Terry maneuvers easily enough that most people fail to immediately notice his "problem". When they do notice, Fiona usually hears one question: "What happened to your dog's leg?" Actually, she doesn't know the answer.

Fiona's sister, Popsy, who often feeds stray dogs near her home in Yuen Long, first noticed Terry. Then he was a tiny guy, already short a paw, living with his mom and four siblings in a New Territories parking lot. Theories about the cause of his deformity vary from attack by another four-legged creature to human cruelty.

"Terry's mom is a stray dog who hangs around in that parking lot," Fiona said. "The people working there fed her, but not the puppies. Security guards at a lot of Hong Kong car-parks like to keep big dogs, but they don't care about puppies."

When Terry's siblings all died, allegedly run over by a big truck, Popsy knew the lone survivor desperately needed a proper home. Taking the "adorable" tiny dog, she delivered him to Fiona, who initially planned to act only as a "foster parent" until someone else adopted him. Now she concedes that he's part of "her family", a lovable guy whose company she'll never surrender.

The young dog is named after Terry Fox (1958-1981), a big-hearted human who lost a leg to cancer, but then launched a 1980 Marathon of Hope, trying to run across his native Canada while raising money and awareness against the disease. Tragically, Fox's cancer returned, cutting short the marathon, and he soon died. Canadians and others still organize annual Terry Fox Runs to fund anti-cancer work.

"Like Terry Fox, my dog is missing part of his leg, but has really strong willpower," Fiona said. "He's smart too. Even at two months old, he could understand my moods and know if I was happy or sad. He always learns things really fast."

Fiona has done research about artificial legs for dogs. Although her Terry moves well now, he may lose some mobility later. "I talked to the veterinarian who told me to wait and see," Fiona said. "He said the most important thing is to keep Terry lean and fit, never overweight."

Sometimes Fiona places "a little sock" on Terry's deficient leg to help him avoid scratches or scrapes when leaning on it for balance. "But the sock is pink," she said. "I'd like to find a different color for him."

Do dogs really care about clothing colors? "No," Fiona said. "But I do. He's a boy and he's black so wearing a pink sock is much too obvious."

This small dog looks ready to instruct nearly everyone he meets. "Terry reminds me that people never should look down on anyone with disabilities," Fiona said. "You can't imagine how powerful they are until you live with them or know them well."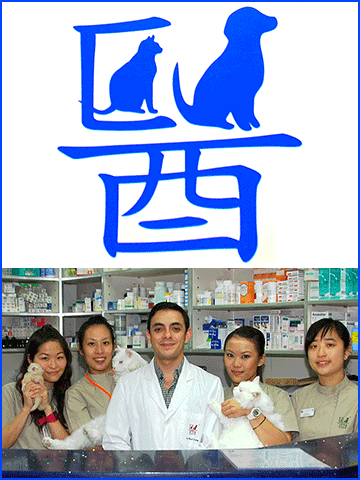 P.S. Staying with this "pets & vets" theme for now, let me welcome our newest advertiser, HK Vet Services!
They've started their ad yesterday, see on the right and top left of this page.
We'll hear more from them very soon, after our lunch with some of the doctors and their very charming nurses later this week.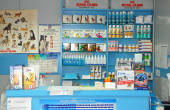 In the meantime, here's a little photo shoot I just did for them to create this "little" animated ad banner to promote their Animal Clinics in different parts of HK, notably in Wanchai and Mid-Levels, attracting many Lamma patients:
Wanchai Animal Clinic, Sep 2, 2010

Ferry Heading Towards Sunset - Photo by YatMan,
Monday, Sep 13, 2010, 6:18pm, Canon EOS 500D
YatMan writes: "I took this photo this evening from the ferry from Central to Lamma. I don't know if it would work for Photo of the Day."
Oh, such great modesty...
More Lamma Photos of the Day...

Yes, that's Lamma-Gung's foot, packed in ice, after a huge, yellow hornet stung me yesterday night, through my mesh-covered sneaker and two pairs of socks! It's been so many years since my last serious sting, but this sneaky beast, several times the size of a bee or wasp, about 1 inch long, really got me good this time.
My Frankenfoot - as Lamma-Por called it while grinning at my misfortune - burned like fire for two days and nights and no painkiller or medication from the Lamma Clinic worked at all. But constant ice packs eased the pain completely. But getting up every 1.5 hours all night long to replenish the ice wasn't fun, the burning, stinging pain returned immediately when the ice had thawed.
Well, all good now, back to my hiking, biking and outdoor exercises. A mere hornet won't stop me from staying fit and healthy; it's just another one of the "little challenges" of living on Lamma. I've still never been bitten by a snake so far, cross my fingers. ;-)