Rocky Malcolm's fame is increasing week after week! After several stories in the Lamma-zine - inc. an Artist of the Month art gallery - his story of overcoming leukemia and piling rocks at Power Station Beach has been picked up and spread throughout the HK Media, from a Chinese discussion forum (160 messages!) to Ming Pao Daily and an HK Magazine interview this week.
Malcolm got quite a bit of feedback, inc. an email from the HK Christian Service charity for children of parents with chronic illnesses. They asked to meet him as part of their Project Life Mutual Support Network. He most generously agreed and HKCS also convinced me to play the tour guide for this Saturday afternoon, showing them, their "handlers" and volunteers around Yung Shue Wan. Then I suggested walking up to Lamma Winds, before meeting up with Malcolm at Power Station Beach.
So Rocky Malcolm's story has returned from other HK media to the Lamma-zine for one more round! This was one of my favourite photo shoots ever as the children were a real pleasure to guide and so happy to be on Lamma for a fun and inspirational day, see my photo gallery. Each of the children has parents with chronic illnesses, often problems like addiction or depression. They were so eager to meet leukemia survivor Malcolm and hear his very inspirational story.
I do quite a bit of free promotion and marketing for local charities, but this little volunteering gig was really hands-on and even more fun and very fulfilling for me personally. I'll be looking for more opportunities soon.... More photos in HKCS volunteer Paul's photo gallery.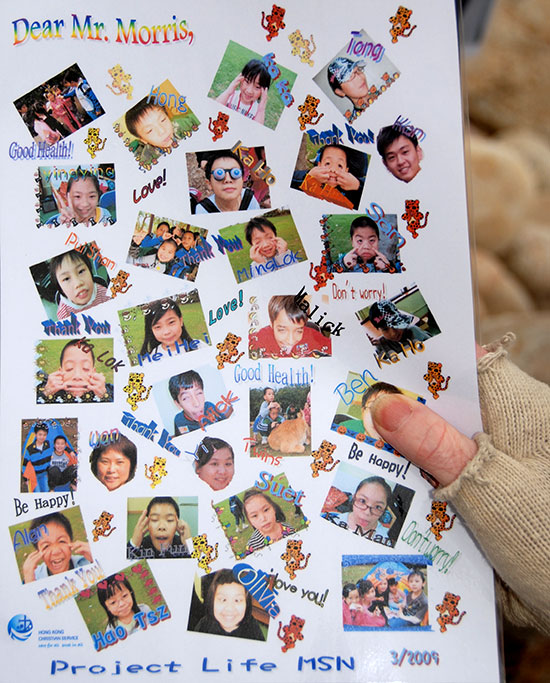 Nick the Bookman - Official Court Music Reviewer:

(Edited & abridged by L-G; full, unedited version in our Music forum.
Photos by Dan Peterson.)

BEATS AND SCORES:
A weekend of roots and rugby
(27-29/03/2009)

Astrophonix @ The Island Bar;
Transnoodle & El Destroyo @ Grappa's

Whine-ssprtz-crackle...Nick, where the bloody hell are you? I can't believe you'd be missing this for a Friday night at the Sevens. Big mistake, huge! Click! (a phone message from Kelly, Friday 2126 hrs.)

I've just caught the 2130 ferry home from Central, after attending most of the opening night of the 2009 HK Rugby Sevens at the Government Stadium. My streak is intact. I've been to every tournament since the Sevens kicked off in 1976. Don't want to stop now....

Anyway, I've left early to make sure I can get the 2130 ferry home. That's because an Italian rockabilly/punk band Astrophonix are making their debut in The Island Bar tonight. The gig is co-organised by Dean from El Destroyo as a little teaser for a big event in Grappa's Bar tomorrow night – Saturday, 28th of March. That show comprises Lamma favourites, Transnoodle, El Destroyo, a Hawaiian surf/soul/reggae band called Go Jimmy Go and Astrophonix.

The Island Bar is buzzing as I walk by. Kelly grabs me and tells me about the above message on my answerphone. Astrophonix are on a short break, but will perform a second set before catching the last ferry to Central. Kelly thinks they're the best band to play the Island Bar in any of her lifetimes. Most of the other usual suspects concur. I spot Frasier the Cur in the crowd. He's had the Gaelic Gall to fly in for this show at the last moment. Good to see you again, mate! I'm going to tomorrow's gig at Grappa's, thanks to John Transnoodle who's sorted me out a ticket. But it's good to get a sniff of their set tonight.

Astrophonix are a power trio. Lead guitar, double bass and drums with all members contributing vocals. The band mine some of the same sonic terrain as El Destroyo, but there's a slightly more loungepunk appeal in their performance. A fine surfadelic version of "Let's Go" invoking the spirit of Buddy Holly. A searing version of "Summertime Blues" which recalls Eddie Cochrane, The Who and the grungy feedback of Blue Cheer. There are detours into the works of Cab Calloway and a fine call-and-response segment rousing some of the audience from their torpor…. There's a blast of "Smoke On The Water", a re-worked "Pipeline" and hints of a spaghetti western version of "Ghost Riders".

Astrophonix shift effortlessly between speeds, styles and tempos and I'm really hoping I'll get a chance to see them tomorrow night. And from what I overhear, there's going to be a full Island Bar outing at Grappa's. Not even the fetid blasts of Frank's stinky stogies can dampen the joy and enthusiasm on display tonight. (Note to myself: must learn their names by tomorrow.) Right now I'm knackered and there's a big weekend to get through….

It's been a couple of years since I've gone to any gigs at Grappa's…. Anyway, I'm here and there's a large crowd, about half from Lamma. Big hi's to Dave & Eva. Clive & Annie and Annie & Vicky. Ciaran & Ellen. Jill. Kelly (of course). Barnaby Bruce (twin bro Sam is DJing at a corporate gig in Beijing). Mike & Marcus. Simon Pinder on a rare outing... I'll tell you what. I'll just leave a gap so anyone else who was there and wants to gatecrash this story can feel free to do so. Just tell Lamma-Gung to slot you in. But hurry, because I'm sure that in a few years in the rosy glow of nostalgia, the audience will be enormous. John has my ticket and Transnoodle are on in about 15 minutes. Jamie is doing a fine job of spinning the plastic platters. He used to live on Lamma and is the drummer for Bone Table, the other group that Maggie from El Destroyo plays in.

I've got a good drink and a place front and centre stage. The 'noodle are an eight-piece tonight. From left to right across the stage there's Matt (keyboards), John (guitar and vox), Josh (mainvox), Magnus (drums), Kevin (bass), Andrew (second guitar), Sarah (sax) and Orlando (trombone). I've missed their last few performances, but it all comes right back. A joyful familiarity like pulling on an old and cherished pair of crushed velvet/suede jeans that still fit from the 60's. A big grin of delight like sitting on an electronically warmed toilet seat when it's -50 degrees outside and you're in Antarctica.

The sound is crisp and punchy. Drums and bass mesh well. John keeps the rhythms tight and Andrew weaves the melodies in and out. I said before he reminds me of Neil Schon of Journey with his fancy fretwork. Sarah and Orlando are a horny duo unleashing the funk. Josh prowls the stage, sweating easily in the heat, and telling the tales. Briefly, a beguiling mix of ska-folk and r'n'b taking in elements of The Pogues, Oingo Boingo and The Beat. Now and then, Matt goes cyberdelic, jabbing out the keyboard riffs.

Quite a lot of people are pretending to dance. The 45-minute set includes "Port Royale", "Bambi", "Deli Lamma", "Spicy Island" (which is in a new state of possibly temporary non-being) and "Po Wah Yuen". It's Andrew's last performance with Transnoodle for the immediate future. He's off to do other things. Anyway, it's been a damn fine swan song, Jamie whacks on some Clash and El Destroyo begin to set up.

The band is a teensy bit more formally dressed than at their recent Island Bar gig. Maggie has the phwoar-factor times ten in a knee-length black floral cheongsham. Hair pinned up. No omnipresent cowboy straw hat tonight. Dean's a bit more formal in jacket and shirt and Tjunde obviously prefers Charlie Watts as a fashion icon than the sock-on-the-cock attire of the Red Hot Chili Peppers. Their set is louder and cleaner than at the Island Bar, but it's pretty much the same show.

Maggie enchants with her brief screams on "Vampire" and rocksteady thumping bass. Dean rips through a grab-bag of spacey licks, augmented by his FX pedals. There are cybertwangs, Link Wray rumble runs, a few hints of prog-rock. Big crashing chords careen into time changes…. Most of the tunes are instrumental and seem to get better with each performance. I've seen them five times now and each show is an event. (And why isn't Steve Cray here tonight? They're his "drug of choice" after all). And let's not forget, it was Dean and El Destroyo who put this show together tonight. A massive thank you for that and here's to the next one.

Both bands have played about 45 minutes each to allow the two headliners more time to entertain us. It's looking like I'm not going to see much of Astrophonix who are going to close the show. I don't want to do a sampan back to Lamma. Nor do I want to get the first ferry only to rush home, collect my ticket and try and get to the Stadium in time for Sunday's action. So, it's the last ferry to Lamma for me….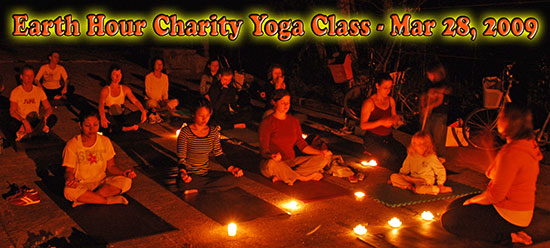 How did some Lammaites observe Earth Hour today from 8:30-9:30 besides switching off their lights? Heading out to the First Cable Route with their yoga mats, lighting candles, donating to the WWF and showing off their extremely flexible, limber bodies in the most amazingly contorted poses to the astonished passersby on foot or bikes. Yes, that's Lamma Island for you, turning into a HK-wide centre of health & fitness these days!?
The various contorted pretzel and knot shapes of the participants were truly impressive and made my aging, crackling bones ache just from watching their advanced yoga poses. With all these long-time exposure photos below (click to enlarge them) I've been trying to capture not just the activities but also the mood of this beautiful event demonstrating what living on Lamma can be all about. Maybe I should join in myself next time...
These devoted yoga practitioners withstood the extreme humidity, a short shower and attacks by mosquitoes and even a centipede during the class. Not deterred by nature's little challenges, they toughened it out, laughed in the face of adversity and continued their very peaceful & cheerful charity yoga class without stopping. Led by smiling-but-tough Pink Dora the Fitness Trainer, it was a class full of light-hearted but firm encouragement to stretch further and push harder.
By the way, there are still two pretty & practical Lululemon-donated yoga mats up for charity auction. Submit your bids now!
P.S. More photos in Rambo Lai's blog and Jenny & Maeli's blog.
You can rarely guess in advance what topic will get people heated up in our forums, besides the obviously passionate pet issues flaring up occasionally. A discussion about whether Lammaites would like a public swimming pool or not has recently caused a little firestorm of a heated debate, 88 messages in only 9 days! Well, it's all theoretical as we have almost no real chance of ever getting one built here for many reasons.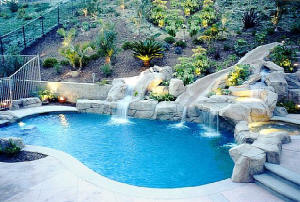 But this currently hot topic has also triggered another outburst of creativity from long-time forum maverick tjungararyi, inspiring him to not one, not two, but four forum posts with swimming-pool-related flights of fancy full of touristy ideas, from an in-restaurant pool & canine reiki to diving & Miss Lamma contests. Maybe one of our local enterprising business people might actually realise one of his very entertaining & tongue-in-cheek ideas?
Tjungarayi - Lammaite (image above from LaraPools.com)
Perhaps one of our enterprising food merchants can incorporate one of those pools that lie above the restaurant seating. You could even put a few fish in there as well, maybe even a green turtle. Sort of free range fish.
I think it's a good idea and someone should look into it. Tourists would love it. Gawking at shimmering pale forms gliding through the aqua as they chow down to a yummy stir fry picking succulent morsels of reef fish from their plates. Have a swim, then eat, or for those weight-conscious among us, eat, strip off, then do a few circuits.
This would be a Cantonese first. Where else will you find cheap eats with the option of exercise and entertainment - all in the same breath. It's a money spinner, guys!
---
I would definitely only swim where there is a shark net because I want no chance of being eaten.
A pool on Lamma would be great, but it could not pay for itself. But the thought of it is fun, like playing with oneself.
A dog pool on the other hand would generate profit like nothing else. Someone should set up a a boutique dog spa. Especially for those dogs from the mainland and HK isle who suffer stress in the modern, frenetic, cosmopolitan world that is Hong Kong. The owners could bring them over for the weekend - a kind of retreat. By Monday, they are ready to face the rigors of the corporate fast lane. Special package deals can be offered, weight loss programs, weekend beauty therapy treatments and canine reiki sessions.
---
You know, it might just work! Imagine it:
Strolling along Main St at night. Not too many revelers about. The sound of gentle waves crashing on the sand caresses you ears. You forsake the new Starbucks that has opened where once stood the old colonial SPICY ISLAND joint.
Have any of you been to Cairns, Australia? They have this huge shallow pool betwixt ocean and land. Gorgeous guys and gals clad only with wisps of cotton lounge about. Across the road there are neon-lit eateries where more gorgeous guys and gals mill.
Just get the sewage facilities up to scratch, a little landfill, cement, landscaping, a hint of chlorine, palm trees, tons of salt and Bob's your uncle, Yung Shue Wan is a tourist gem!
And what a scene as you come home, disembarking and walking the pier - it's still light and you can see down to the new pool, the guys and babes are frolicking, sunbathing or reading in and by the pool. A family can be seen sitting, smiling, eating their cheeseburgers, McNuggets with sweet and sour sauce, cokes and fries, happy. A game of volleyball with incredibly good-looking men and women can be seen being played in the distance. The sun is setting and there's more reason to love Lamma.
---
Let's fool around a bit more:
Not only could you picnic at the new pool but hold birthday parties as well, catered for by McDonalds, KFC or any of those marvelous American eateries or one of the local fry shops.
In the deep end you could have an annual Lamma diving contest. The diving can't be from too high as I estimate the deep end will only be about 6 ft deep. It's for all age groups, too. We could host the first over 40s and 50s swimming carnival in Hong Kong, probably in the whole of Guangdong even.
Not forgetting the reason Lamma Island is so popular among tourists. What can your dog do with seeming impunity on Lamma that it can't do back home? That's right, shit.
Imagine, though, the furor and excitement if news were announced of a Lamma dog show. What an opportunity for dog lovers to showcase the objects of their fondest love. The new pool would be the backdrop for a sophisticated international standard canine event.
The business that would be created by the simple addition of a pool could lead to further refinements of local Lamma culture. The unique architectural forefront design of the houses facing Yung Shue Wan bay will only be enhanced if the view included scantily-clad guys and gals bathing in clear water below. Real estate prices would go through the roof.
What are we waiting for? This is the chance Lamma residents have been waiting for.
Around June or July we could have a Miss Lamma contest. And what a venue for all those groovy Hong Kong bands. The possibilities are endless. A pool would revolutionize the place. It would be sending a message to those in Discovery Bay who criticize Lamma islanders as drugged-out, lethargic hippies resigned to lives of journalism, teaching and selling medicinal herbs. Well, the Lamma public pool would show them, turning the relaxed, laid-back nonchalance of Yung Shue Wan into a sort of baby Wanchai, except with a new beachfront.
So guys, lets not fight. Instead lets join hands as it were and figure out how to build a pool that has fresh clean water coming in and out, that is salt-based, filtered, analysed daily, and trendy-looking!
To discuss this topic, maybe even add your own ideas, see our Pool forum.
Smart Power Campaign 2009 Promotes Energy Saving Culture
[3 Mar 2009]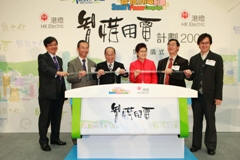 HK Electric today launched a new series of community education activities encouraging the public to embrace energy saving as a shared value and to conserve energy in daily life.
This year's Smart Power Campaign aims at consolidating community efforts in smart energy usage with year-round activities heightening public awareness in energy conservation and galvanising people into action.
The campaign was launched at a ceremony officiated by Under Secretary for the Environment, Dr. Kitty Poon Kit, and HK Electric Managing Director, Mr. Tso Kai-sum, and attended by 160 guests and students.
Speaking at the ceremony, Dr. Poon urged young people to use electricity wisely and that they should foster green habits while they were young. She added that young people were green crusaders and could help shape the future of Hong Kong.
Mr. Tso hoped the campaign would motivate people to give extra thought to protecting the environment. "We want to foster a culture that instills energy consciousness and bring change to people's mindset and behaviour, such as reducing wastage, treasuring electricity and practising energy efficiency," he said.... "Seven essential things they should do to save energy," he added:
save energy together;

never leave a computer on all the time

foster energy saving habits when young

waste no electricity

maintain optimal temperature of air-conditioners

launder only when there is a full-load

check energy efficiency labels before buying electrical appliances.
"Lamma Power Station (LPS) has received the 'Energywi$e Label' (Class of Excellence) from the Environmental Campaign Committee recognising our efforts which include saving 300,000 units of electricity by controlling usage of lighting systems and air-conditioners."
Other activities include a roving exhibition at Taikoo MTR station from 23 to 25 March, Open Days at Lamma Power Station and Lamma Winds, school talks on energy saving, and a competition to share and reward outstanding energy saving practices.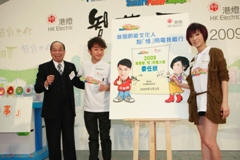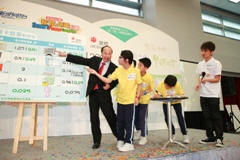 Power Station Beach rarely fails to surprise and delight the amateur and professional photographers alike with its variety and diversity of life and moods, changing constantly depending on the season, the weather, the time of day. Browse a few of my most recent candid shots from many different angles and viewpoints (click to enlarge):
Plus a few more pictures, taken very close to PS beach, INSIDE the Power Station. Sanctioned by the Power Station, Dr John, a VV driver & I released over a dozen of the feral "Power Station Cats" roaming in there. They had been trapped and neutered by LAWC recently, part of their TNR program to help control the local feral cat colonies.
A really fun afternoon! Thanks, John, for letting me tag along and help out!
(Photo by Vivian Lam, design & animation by L-G)
Radio Televison HK broadcast a great Chinese documentary about Lamma's Young People on ATV Home last Sunday, March 22, 7:30-8pm, the very first episode of their new "Hong Kong Stories" series about "island people". You can still watch it on RTHK's website, like all their old TV and radio broadcasts.
Seeing your friends on TV is always a fascinating experience. In some ways they're the same as in real life, but in so many ways NOT, looking much larger and much more important. They featured wonderful little personal portraits of Siuyu of GreenLammaGroup, Pink Dora the Fitness Trainer, Cheesecake Shelly and the couple from the "egg roll & food shop" on Main Street (see RTHK's photos above). Dora also had her own large centrefold solo interview in the free Chin. newspaper Metro HK on Mar 19 (page 1, page 2).
I'll have to ask them how sudden, HK-wide fame has affected them. But I'd better hurry, as their "15 minutes of fame" will be over all too quickly, as other Lammaites on TV in the recent past can tell you... Oops, too late, 15 minutes are over...
I met the documentary producer and interviewer, Tom Chan, from the "Educational TV Centre" of RTHK, during their filming at the Lamma Enduro and the CNY Carnival in the Football Pitch, where a local dignitary introduced him to me, "Mr Lamma-zine". We exchanged name cards and I encouraged him to contact me for any more info he might need about our community. But the focus of all these documentaries about the islands seems strictly on the Chinese-speaking residents, even though they might subtitle them for ATV World later, like their former, also excellent "Hong Kong Stories" series.
We've got a Chinese and an English forum about this Young Lammaites episode; and here's a translation of the summary RTHK web page, including the full-size versions of the fine photos above.
Dr Andy Cornish - Director - Conservation, WWF HK, Lammaite:

(text, poster & animation courtesy of WWF HK)

Please find attached information about Earth Hour - the call to action for individuals and companies. The event is gaining serious momentum in Hong Kong and around the world and it would be great if Lamma takes part.


In essence, all we are asking is for people to turn their lights out for one hour at 8.30pm on Saturday 28 March 2009 to show they care about climate change.

WWF's Earth Hour started in 2007 in Sydney where 2.2 million people and 2000 businesses turned their lights out. In 2008, Earth Hour went global, with 50 million people in 350 cities in 35 countries turned their lights out to show they care about climate change, and that small actions every day can make a difference to the future of our planet.


In 2009, WWF is calling on 1 billion people in 1000 cities to be part of Earth Hour. So far, 700 cities have committed to Earth Hour, which will be the world's largest social movement for climate change ever.

In Hong Kong, we aim for 1 million people to take part, and support so far has been fantastic. Over 300 companies, hundreds of community groups, restaurants, schools and universities, and thousands of people have already pledged their support. People on Lamma can show their support for Earth Hour by:-

turning off their lights, and non-essential appliances, for one hour at 8.30pm on Saturday 28 March

tell all their friends and family to do the same

sign up to Earth Hour at www.earthhour.org/hongkong, add the Earth Hour Hong Kong event to their Facebook page, join Earth Hour on Twitter, and many other social networking sites

host an Earth Hour event (candle light dinner, meditation in the dark, night time walk, story telling, unplugged music session etc)

promote Earth Hour through their own networks - downloads, screen savers, logos, videos etc are all available for download on www.earthhour.org/hongkong


I have also attached bilingual flyer (see right, pdf) that explains a lot more....

If you would like to know more,
or if anyone would like posters, postcards, stickers etc, they can contact us by email.
SSGT CHIK - Lamma Police, AOC LI, tel. 2982 1577: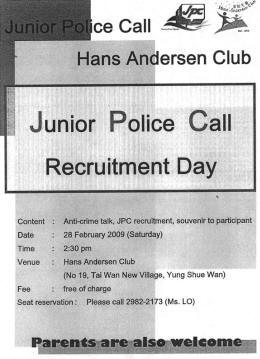 We'd be grateful if you would disseminate the following message. In addition, I would like to invite you and your friend who have the child over 9 years old to join our Junior Police Call recruitment exercise on 2009-02-28, Saturday, at 1430 hrs, outside Hans Andersen Centre.
In the course of recruitment exercise, officers of Police Community Relation Officer of Marine Port District will be giving about half an hour presentation regarding the topic of Junior Police Call. We will also encourage them to join to become members of JPC.
I am looking forward to hearing the great responses for this exercise.
By the way, to attract more recruitment of Junior Police Call members from Lamma Island, we'd be grateful if you would put our poster in your front page again and further appeal their invitation.
Any child who is over 9 years old is most welcome to join the Junior Police Call. They also could take the enrolment form either from me or the Hans Andersen Club, Tai Wan Village, Lamma Island [or download it here].
Your assistance in this matter is highly appreciated.
These are some of the police souvenirs handed out to youngsters at the Junior Police Call event:
a friendly neighbourhood policeman rubber keychain,
a machine-gun-toting (but smiling) toughie figurine,
a Robocop pencil sharpener.
For contrast, a real-life Lamma policeman, SSGT Chik, co-presenting the show.

Rachel LO - Center-in-charge (Lamma Center) -
Hans Andersen Club
19 Tai Wan New Village, Yung Shue Wan, Lamma Island
Tel: 2982-2173, Fax: 2982-2193,
Website: www.hac.org.hk
Cherish our Children, Cultivate our Community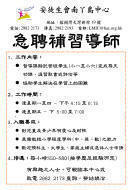 It's nice meeting you in last JPC recruitment day.
As per our conversation, our center will hold different kinds of activities for children and parents on Lamma Island from time to time. Via your channel, I hope that more people can assess information about our service. Here are some information I would like to disseminate:
1. Program list of our center (April to June)
2. Recruitment advertisement for tutor in our center.
Do you think if there is any room in your website to post this information for us (pdf format)?
Thanks for your kind assistance in advance.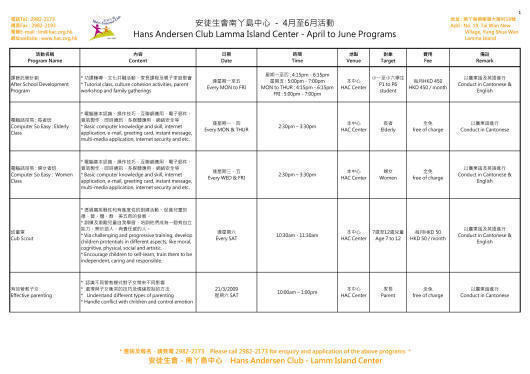 Vivien Jones - Banyan House - Early Learning on Lamma Island:

(Photos by Marcus Oleniuk, a parent. Click to enlarge)

Banyan House, the early learning centre which opened in Yung Shue Wan last summer, is having an open day on Sunday 29th March to enrol children in the kindy for the academic year 2009/10. Group sizes are small but there will be a number of places available when the older children move on to primary school in September.

Since opening last year, Banyan House has grown steadily. The teacher, Lynne, is a Lamma resident with more than 25 years' experience of teaching young children. Finding a place on Lamma that was dedicated to educating young children in the gentle Waldorf style was a wonderful opportunity for Lynne. "I was very happy to find a place in my own community that shared my commitment to creating a genuine love of learning in the children," she says.

Based on the teachings of Rudolf Steiner, the Waldorf method of early learning is a distinctive approach to educating with an emphasis on early learning through play. There are more than 900 Waldorf schools in 70 countries around the world, including most European countries, Australia, New Zealand and North America.

Lamma's Banyan House is located in an airy bungalow in the Yung Shue Long valley, with a spacious outdoor area for games and gardening activities. Inside, the children have plenty to play with - from dolls hand-made by parents and friends and simple wooden toys made in the UK and Vietnam, to a complete kitchen play area and a large dressing up box which inspires much imaginative play.

A dedicated art room houses a large wooden table around which the children sit to paint, draw and create. It is also the place they come together to enjoy their daily snack – fresh bread and honey, vegetable soups or fruit salad homemade by the teacher with the help of the children.

While the emphasis is on learning through creative play, storytelling and singing songs are also an important part of the children's day at Banyan House. Ring time is when the children come together to listen to Lynne, whose stories are often inspired by her beautiful "storytelling apron". Regular Cantonese sessions are also included and the children learn simple vocabulary and traditional Chinese songs.

"My daughter's language skills have really improved at Banyan House," says Jenny Farr, mother of Maeli, 4. "The Waldorf style means lots of fun language repetition through creative storytelling and songs." Says Carolyn Lau, whose son Hayden attends the Parent and Child group each week: "Banyan House provides a structured environment in which our children really learn to socialise and play in a calm, caring and respectful way."

Since opening, Banyan House has hosted several community events, including a successful Christmas Fair last December. The children have also enjoyed many festivals at the school, including the Lantern Festival, Chinese New Year and Christmas, when they staged their own Nativity Play.
After quite a few long articles with many words and few pictures recently...
today just a few blossoms from Lamma-Gung's Rooftop Jungle & PondTM,
a low-cost, all-year source of joy, relaxation, education, fitness & happiness...
Share your own gardening experiences & questions in our Gardening forum.
Jay Scott Kanes - Official Court Pet Correspondent and author:
As my dog Gail and I started our evening walk on March 18, we wandered past the Lamma Animal Welfare Charity Shop. A village vehicle had stopped in front of the shop and a crowd of people gathered around it. In the back of the VV lay a young-looking female dog (light brown, considerably smaller than Gail) convulsing so violently that she bounced. A Chinese woman, presumably the dog's owner, tried to hold her steady, but it didn't help.
Dr John (a physician for humans), an LAWC volunteer, was there. He knows us and spoke to me. Judging by the "typical symptoms", the dog was yet another poisoning victim, he said. She'd convulsed steadily for more than half an hour. If she didn't stop soon, her heart would collapse from strain. Already, he'd given her several injections of medicine, but it made little difference.
On Lamma, the vet's office opens only part time. The vet was elsewhere, but Dr John had him on the telephone and they discussed what to do next. (There was nothing they could do really.)
Shamefully, I confess that one of my strongest emotions was gratitude that my own dog still stood beside me and wasn't the one fighting and clawing at death's door.
Several times, the dog's spasms did seem to stop, but only for a few seconds (just long enough for me to think, "Oh, good"), but then they'd resume as violently as ever.
After a few minutes, I started to wonder what Gail must think of this scene. The two of us couldn't do anything to help, so I took her away and we continued our walk.
When we returned an hour later, the village vehicle and dog were gone. So were most of the people.
But I stopped at the shop to ask if the dog was still alive. The woman working inside shook her head. "Dead already."
I wanted to know where the dog had found the poison. Maybe there's an area we need to avoid. Of course, no one had a definite answer, except "probably Pak Kok". Evidently, that's where the dog had lived.
As sometimes happens, I then spent much of the evening tightly holding Gail.
Dr John - "Ordinary volunteer" & co-founder of LAWC:
[I asked Dr John for comments, an update on dog poisonings & recommendations]
Yes, a traumatic afternoon for us all, especially for the poisoned dog.
Poisoning of unwanted animals has long been the traditional New Territories method of controlling the population of unwanted animals. Pesticides and herbicides are readily available for sale and are used regularly on the small farms.
Lamma used to have one or two dog and cat poisonings each week. Cat poisonings are not so obvious as cats tend to hide themselves when sick; dogs convulse in full view. Bowen Road got all the publicity but we had a much bigger problem.
Six years ago we held a big village meeting in Yung Shue Wan at which we explained that we were going to start a programme of spay and neuter for the stray cats and dogs and we asked could the poisoners please hold off their work in order to give our programme a chance. For spay and neuter programmes to work, at least 70% of the animal population have to be neutered. So every desexed animal that is killed by poison sets our project back. The villagers agreed and we got to work.
Now the cat population is under control - the numbers are down from about 750 to under 200 (from natural attrition without replacement from breeding), and these are happy healthy cats living in colonies looked after by designated carers. The stray dog population has gone down to zero. There are still some feral dogs living above Hung Shing Ye beach but that is another story. The dogs you see in the streets are not strays, they are irresponsibly owned.
Those who had been doing the routine poisoning have largely kept their word. There is still the occasional dispute amongst neighbours which results in a targeted poisoning. And if a dog wanders into a farmer's field and starts eating stuff, it is likely to be poisoned. But generally, poisoning is much less common. Often when a dog dies suddenly, poisoning is assumed whereas another cause may be more likely (eg, tick fever, heart worm, ordinary gastro-intestinal diseases, etc).
Having said that though, this is the second Pak Kok organo-phosphate poisoning this year. The previous one fortunately responded well to the antidote and the dog made a full recovery. In the current case, the antidote was working but the heart gave out from exhaustion.
Recommendations for dog owners:
Never allow your dog to be a nuisance. Control the barking and pick up the poo.

Keep him on a lead and/or muzzled in all built-up and farmed areas.
Wendy Teasdill - Yoga Teacher, ex-Lammaite:
Break, break, break ,
On thy cold grey stones, O Sea!
And I would that my tongue could utter
The thoughts that arise in me ....
(Alfred, Lord Tennyson)
'Why are you going to Hong Kong, Mummy?' asked my daughters.
'Because it's my home.'
'No it's not, Mummy! Here is your home! This is where your job and your family are!'
Their eyes shone - really, Mum was losing it. England, rain, red-brick houses, camping and festivals in the summer, fires in the winter - this is their world and Mum holds it together. How could they be expected to know that nearly every night for ten years I'd deserted them and gone back to Lamma in my dreams? They see their parents drinking coffee with evaporated milk every morning - but how could they know that this is in honour of the Lamma ferry coffee? Of course, human memory is selective, and we skip the polystyrene cups and the noodles - but the evaporated milk reminds me that Lamma is still there.
And now I was here. I'd left the children playing in the snow, and finally taken a plane with Hong Kong as its destination. Sally was due to meet me at the airport. I first met Sally in the British Council staff-room in Wanchai, circa 1987. She was 'just visiting' Peter Ackroyd, who was also working at the Council, and we immediately hit it off. She had a dancing way of walking, and soon she was dancing back to the Yellow House with me. Carrying her off-beat world view with a dignity and confidence, backed by a work-ethic which I found inspiring, she moved into the Yellow House when I went to Tibet that summer and in time was training teachers at the British Council.
I couldn't see Sally at first, and I was slightly worried: I hadn't seen Sally for nearly ten years. Perhaps she would have aged so much that I wouldn't recognise her? It had happened last year with another friend, and it had only been two years ...... No, no. I'd know Sally when I saw her. I basked in the optimistic scent of Hong Kong, floated in sunlight by a bank of yellow chrysanthemums in an up-drift of star-fruits - and suddenly there was Sally's distinctive gait, dancing decisively through the loose crowds. She hadn't changed in the slightest.
We took the train to Central, chattering all the way. I had taken the train before, but was slightly distracted and disorientated by the phallic imposition of the IFC tower where once there had been sea - but Sally acted as my tour-guide to the new additions, and the Lamma ferry was suddenly there. The nifty little wasp-like vehicle with its plastic seats, high-pitched engine, indecent haste and regularity lacks the shabby freedom of the old Yau Ma Tei ferries, but Lamma rose up to greet me with as much generosity and love as if I'd just nipped into Central for a few hours.
The pier was adorned with lanterns and flags from the New Year's celebrations and amplified the sense of jubilation as I stepped again onto the enchanted land just as I had done, night after night, all those years ago when the 11.20 ferry deposited us British Council workers on the island at midnight. Democracy Wall advertised Sally's yoga studio, flats for rent and Dora's new boot-camp. Dora - was that the young girl Sally used to teach? The crowd swept away stray questions as we oozed en masse past the usual tanks of crabs - the likes of which I'd only seen in museum cases in the last ten years - trying with rubbled claws to escape back to the sea. I sympathised, but walked on.
At the first shop on the corner, Ivy and her family - who, sixteen years ago, had gone through a brief spell of recognising and speaking to me when we had babies at the same time - reverted now to professional efficiency and served me just like any other Gweilo. Like Sally, they did not seem to have aged a day. But - something was missing. It was the smell of shrimp paste at the corner. I do not regret the absence of those nasty blue plastic barrels. Whew!
And there was Nick the Book, sitting just around the corner from where I last saw him, reading a book with dogs sprawled at his feet. Of course I have read Nick's reviews in the Lamma-zine. His descriptions of the gigs at the Island Bar have saved me the trouble of actually going there many a time, and his image on the home page has acquired iconic status. His Nix Mix tapes have accompanied me as I thundered up the motorways of the Mother Country to various Yoga days and splashed my brain-cells with psychedelia. And here he was, friendly, unassuming, apparently laid back, but as full of words and acerbic observances as he ever was. He'd do me a new Nix Mix CD. Wow. CDs scarcely existed last time I was here. So it wasn't all a dream, then.
Having celebrated the absence of fish paste, it was the odours which really carried me back, which assured me these people were alive - if preserved in aspic - and that the plants had roots in the sacred earth of Lamma. As we wandered up the path I felt increasingly overwhelmed by a wash of flourishing vegetation, top-notes of citrus, sea-spray and the dry, odourless crackle of the bougainvillaea. A new, very concrete grave presided over a curve in the path, but Granny Chan sat in her usual place opposite her shop, meeting my greeting by raising her hand and presenting a sweet smile, just as if it were only yesterday I was popping in for Vitasoy. Presently Sally led me up to the Yoga studio, where I was to stay, under the flat she shares with her husband, Hugh. Hugh was sitting out on a balcony populated by dozens of ceramic pots full of vigorous flowers, and the view was pure banana leaves. Inside, on a table, was a card which said: 'Welcome home to Lamma.'
Hugh has no time for sentiment. As soon as I'd shown them the front pages of the Telegraph and the Times - both of which exhibited large white photographs of Central London whitened and chastened to silence by snow - he suggested a swim. Within minutes we were sauntering across the fields to Power Station Beach, and were all three swimming in the South China afternoon sea.
The strangest thing was waking up every day and realising that I didn't have to leave Lamma when I woke up - I was here. The only problem was that I enjoyed myself so much that by the end, I hardly liked to waste time sleeping ...... why sleep, when I was living the dream? (To be continued ........)
Click above or below for L-G's photo gallery
plus a few photos by Dan Peterson:
Kelly Morgan - Lammaite: (all photos by L-G)

Thursday night's chilly thunderstorms did nothing to deter the largest crowd yet for Canadian James' BBQ at the Banyan Bay Cafe. It was standing room only, or sharing a table with other carnivorous strangers.
Before I arrived I had every intention of ordering the sashimi-grade tuna loin with baked potato and vegetable, (which I've tasted in the past – scrumptious) but my plans went awry when I saw James' latest menu. Cath came to take my order and I said, "I don't know, I want one of everything!"
I must have had an inkling even then though that the fish was slipping from contention, because I ordered red, rather than white wine, while I studied my options and waited for a space to sit and eat.
BBQ'd baby back pork ribs or the US Black Angus rib eye steak? I knew for a fact that the steak was superb, because I'd eaten it before, and any steak you can cut with a butter knife has got to be pretty damned good.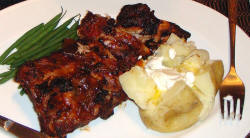 I'm usually not a fan of BBQ'd ribs but I thought I'd ask around – the unanimous verdict was that the ribs were tender, delicious and not sweet. (I just have a problem with sweet meat, not to mention sweetmeats, but that's another story.)
So, further confusion ensued, because both the steak and the ribs were served with a smoked duck breast and spicy sausage jambalaya, and that was a far too tempting prospect to pass up, except, perhaps for a Wagyu burger. If the Japanese know tuna, they also know beef, and maybe the sashimi grade tuna finally did influence my decision here, because I just had to have the burger. And the beef was so delicious and flavoursome that I could not eat it inside the bun, so my apologies to James, I ate the burger as a salad roll and ate the beef separately, savouring every mouthful.
Streetman, meanwhile, was at another table, polishing off his food. When I asked him what he thought of his steak he replied, "Are you kidding? Look at this plate. The only thing left on it is the knife and fork, and I didn't eat them because they were under-cooked."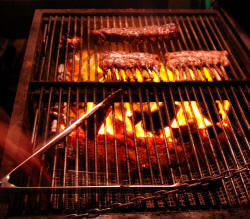 A pity he didn't have his camera with him. Donna did, but the food was disappearing too fast for anyone to think to take a photo of it.
With prices from $90 to $135 the Thursday night ritual is good value. This is not a barbie like your dad and your uncle used to make, "Just scrape off that burnt bit, and wash it down with a beer, she'll be right." This is a dining experience, with top quality ingredients cooked by an excellent chef.
This week, I've just got to get some of those ribs. But oh, the decisions, will I opt for a full rack or settle for a half?
The diet starts again next week I guess. That'll be the week for tuna.
Official Court Glutton:
After a couple of years of living on Lamma, it becomes apparent that there are only a few restaurants, so there is not a wide scope of options for gluttony.
Occasionally something different happens. In this case it is having a one-night-only-per-week special grill night held at the Banyan Bay Cafe. Banyan Bay Cafe closes the kitchen at 4 PM. For the grill nights, Canadian James (without plaid shirt) is the guest grill master.
Lamma-Gung had reserved a table as it was an anniversary night of 1 year since embarking on his epic weight loss/lifestyle change. Good job, for 100+ pounds lost !
After arriving slightly late, I enquired as to what L-G has ordered. Salmon was his choice. Salmon would certainly not be mine. I was here for BBQ ribs and I would not be swayed by some fish. I placed my order for a pint of beer and was asked,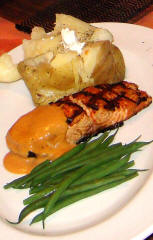 "If I wanted half or a whole rack of ribs". A whole rack please! I am a carnivorous glutton.
Not too long later L-G's fish arrived (see right). Looked good, but was not what I had set my sights on. Good thing that a few minutes later my order arrived.
First impressions: Excellent choice! Did a small survey of my greens, my potato and my slabs of ribs.
First step, attack the greens. Crunchy and nice. Need a bit more zap, reach into my bag and add my own rock/sea salt and ground black pepper. (Doesn't everyone carry their own?) Vanquish the greens.
Baked potato looked very good, not burned, properly done. Virtually perfect, which is not so easy on a grill.
Add butter. I must admit I can find nothing wrong with it. A perfect spud.
Finally, the real thing: ribs. Two sections. Not burned. Looks good so far. Slice off some meat and start to enjoy and savour. Superior result! High quality meat, properly prepared and then grilled. The way it should be and rarely is. No cartilage. Not too fatty. Good mouth feel. Meaty flavour with BBQ sauce not just coating the meat, but actually soaking in. A delight to finish off all the ribs and then pick up the ribs by hand to completely strip them.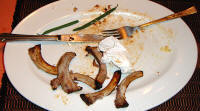 Conclusion: 2 thumbs up. Highly recommended and I would order it again. (though my curiosity might get diverted by the Wagyu burger or a steak of some sort.)
I predict that the Thursday night grill special may become a fixture on the Yung Shue Wan eating trail, based on the many satisfied faces around me. Good job, James! Hope you have great success in conjuring up other dishes to satisfy the villagers.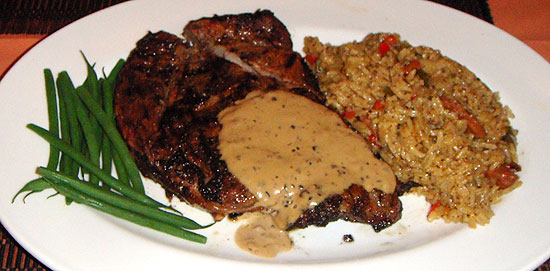 P.S. by L-G: Lamma-Por and I have returned and this time we enjoyed the "US Black Angus Rib Eye Steak with Smoked Duck Breast and Spicy Sausage Jambalaya" (see above).
We absolutely loved it, just a perfect steak with amazing mustard sauce.
The portion was definitely big enough to share. Excellent value for money, two meals for the price of one!
To add your own review, check out the Banyan Bay Cafe forum.
By the way, ALL Lamma restaurants have their very own topic with reviews & ratings in our Bars & Restaurants forum.
There's a restaurant on Yung Shue Wan Main Street that you've probably never visited, where you'll almost never ever see a tourist or a non-Chinese person. A place with just a Chinese name chop on the door, but no sign, no menu, no price list, no name card, no pictures or decorations! But it's got probably the best Dim Sum in Yung Shue Wan and is packed on most mornings!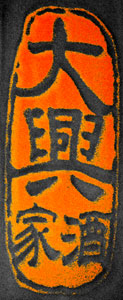 It's called Tai Hing, vis-a-vis Diesel's Bar and close to Lamcombe Rest. In over 7 years of living in Yung Shue Wan, this was our very first visit. This was one of very few places Lamma-Por and I had never visited before, despite being adventurous and curious gourmets who love to check out all local restaurants at least once. "Where for dinner?" is an almost daily question for us.

It's a very friendly place, with some patrons exclaiming proudly that they're coming here almost EVERY DAY, some of them for DECADES! It must be cheap and as there's no price list or menu nobody seems to worry about the price of dishes. They don't even open for lunch and dinner is offered only by reservation for sizable parties. Favourite local son & international movie star Ah-fat (Chow Yun-fat) has been spotted numerous times in there, enjoying dinner with family & friends on the upper floor. Two Lamma.com.hk forum moderators, besides myself, have been spotted in there.

No English spoken here, but gwailos are always welcome. Just squeeze in and share a big round table with your fellow Lammaites; strangers before the meal, friendly acquaintances afterwards. Lamma-Por interpreted for me and I found out that even some little old Chinese ladies have been watching my weight loss progress, giving me the thumbs up sign and enquiring from Lamma-Por how I did it. Eek! I seem to have become a very minor local celebrity...

We'll be returning to enjoy Tai Hing Dim Sum next Sunday!

Mar 14: Drug-Free!

I've just returned from another regular follow-up specialist consultation in the public Queen Mary Hospital's S Block. It takes about half a day to get there and back, plus waiting for up to 3 hours each time, but it's really affordable at HK$60/visit.

Why am I telling you this? Because they finally took me off my very last prescribed medication (acid reflux/GERD)!

Within one year, my health has progressed from 6 different daily medications for various health problems to zero pills! Another major milestone in my journey to health & fitness, started just one year ago with a permanent stomach-reduction operation, losing 138 pounds so far! But losing even more weight has become really tough now. Another 20 pounds at least, but it'll take a lot more frequent hiking, biking, yoga and Island Gym sessions to get there, in addition to a strict diet, with occasional exceptions (see last story below).

I'm now 100% Drug-Free! Actually, no drugs of any kind: no alcohol, no tobacco and no illegal drugs either. Well, daily copious amounts of home-ground, French-pressed coffee don't really count as a drug, do they?

Official Court Glutton: (text & photo)

Mini Review of Ribs at B&B Bar & Restaurant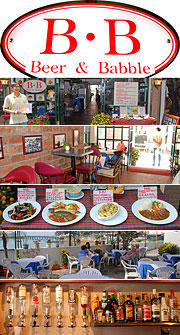 After many months of sloth and laziness, I was unexpected cajoled into writing a review of the ribs at B&B by Lamma-Gung.
I was not really planning to have the ribs nor do a review, but Lamma-Gung seemed unusually spry because it was his wife's birthday which they celebrated by going to Macau (good idea). L-G deciding to fling himself off the Macau Tower attached by a thin cable (not so sure that is a good idea).
Anyway, it is difficult to refuse joining them on such an auspicious and death-defying day.
Back to the the food:
Ok, I admit that everytime I walk through the village my curiousity is piqued by the oysters and the ribs being displayed. Being a bit of a glutton, I like to eat interesting stuff, with gusto. So It was time to satisfy my curiousity.
Order was placed.
Soup arrived. Chinese version of a cream soup. Not memorable.
Main dish arrived, looking very good.
Tried the veggies and other bits with decent result.
As for the ribs, my impressions in order they occurred:
Fair size.
Smells good.
Initial tang of BBQ sauce was nice surprise.
Not too fatty.
Meaty flavour and texture, but BBQ flavour "not all the way through the meat".
BBQ sauce was on top and not really sinking through.
Did lick my fingers at the end, mostly because of the BBQ sauce.
Conclusion: good value for money, happy with my choice.
Rating: one thumb up (good, but not great.) Curiousity satisfied.
---
P.S. I: I returned to B&B the other night and had their seriously excellent lamb shanks!
My mini-Nikon's flash has died and not able to take a shot.
Will get another camera and will re-order and do a full review.
(B&B is a Lamma-zine advertiser, but this article is NOT an advertorial,
but an independent review.)
L-G's half portion of delicious & juicy grilled duck breast vs. the whole rack of ribs polished off completely by the Official Court Glutton.
Hard to believe that L-G was a much bigger guy than the Glutton one year ago.
Siuyu Yeung: Founder of GreenLammaGroup (Facebook group, email):

8th March 2009, Tung O Beach Clean-up, Lamma Island South
Although this may not be the spot you pass by everyday…
and this is not the beach that your dog roams…
it is nevertheless a part of our beautiful Lamma Island.
Tung O Shek Pai Wan is on the south coast of Lamma Island, with a really spectacular coastline.
Large amounts of rubbish were brought on the beach by the tidal waves and the earlier typhoon, ruining the coastal environment, causing sanitation problems and endangering the ecosystem.
To further the public's awareness of Lamma Island's ecology and environment, Green Lamma Group together with The Conservancy Association and the Hongkong Electric Company's Volunteers Team will co-organise a clean-up of Tung O Shek Pai Wan Beach.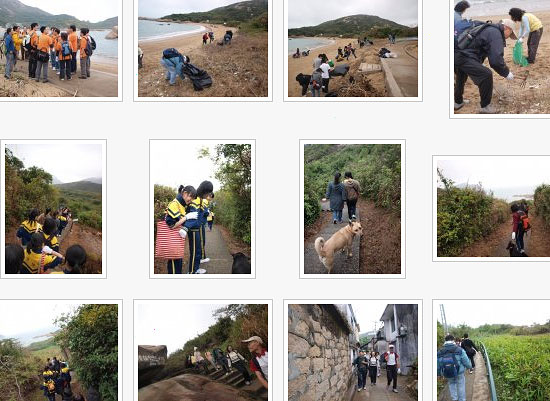 Click above for Siuyu's photo gallery,
plus watch his professional-looking, music-supported slide show video!
Power Station Beach, as an open, non-regulated, unrestricted beach (unlike the nearby, heavily regulated "public beach" of Hung Shing Yeh) is being used for many fun activities. Dog-walking, beach parties, beach volleyball, dragonboating, outriggering, even occasional yoga classes and pagan events are all welcome. But this is the first time, I've ever heard of a "Beach Hymns Party", instead of the quite common beach parties featuring slightly more modern sounds, audible all the way up to the Youth Hostel.
The very active and cheerful Christians of the Lamma Church are getting together this Sunday to regale and surprise our diverse, multi-ethnic, multi-culti beach crowd this Sunday afternoon. Stop by, listen in and maybe even participate in the singing! Some of the many beach-happy dogs cajoling in the sea, surf and sand might do so, too...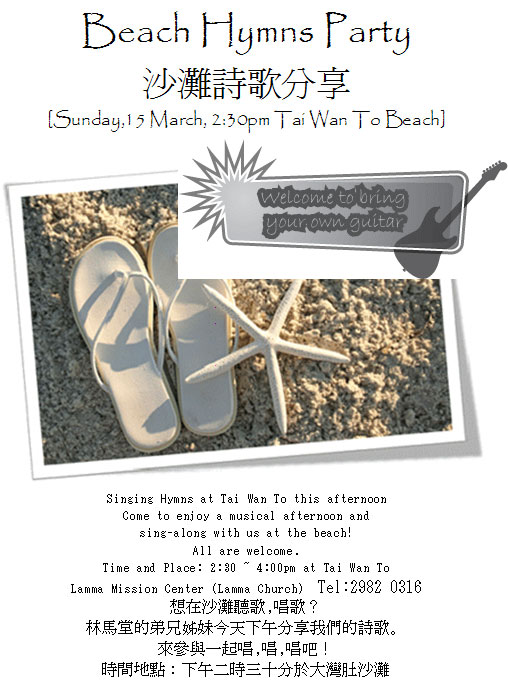 Nick the Bookman - Official Court Music Correspondent:

("not-too-brilliant-but-ever-so-much-fun photos" & captions by Dan Peterson)

El Destroyo at The Island Bar:
March 6 2009.

"They're my drug of choice".
Steve Cray. (Red Star Rising's main man.)

It's a cold, grey evening on Lamma, but one that's about to warm up with some red-hot licks and scorching percussion. Yes, I'm on the way to The Island Bar for an evening with The Curs and special guest headliners El Destroyo. This psycho-grooveabilly powerpunk trio has been creating big waves on the local music scene for about 18 months now. They made their Lamma debut at last year's Fun Day to a receptive crowd. And now they're back. I saw them twice last year. Missed the Fun Day gig though. It's been about nine months now, so the show will still sound fresh. Oops, almost forgot about Roy Stark, who's sitting in with everyone tonight on slide guitar, sort of played sitting down like a pedal steel guitar (hopefully covered myself there). Anyway, it's got to be better than watching "Baby Ballroom Dancing" on TVB Pearl.

It's about 20:15 and I've snagged my front-row seat to watch as assorted Curs and El Destroyo's drummer Tjunde do all the boring roadie shit. "Test, test, test". "Twang, yodel, etc". Gradually, more band members are on stage and the fiddling with wires becomes fiddling with strings. Davy starts a soft version of "Dueling Banjos" as John, Harry, Gareth and Ollie become more involved. Tjunde is guest drummer with The Curs tonight. So, he's on double drum duties which should cut deeply into his beer-swigging breaks. It's a tough job, but drummers are different. Dave clears up a minor mystery for me, saying that Tjunde is named after African drummer Babatjunde. And there I was thinking he's Eastern European or somewhere close.

The crowd is swelling. In no particular order I can see Rajan and John Fox at the bar. Marcus and Vivian about five feet behind me. A couple of Sarahs and Sharons. Serena, crowding forward. Jenny, on the jukebox. Abel, right in front of me. Fred who kicks off the modern rhythmic dancing part of the show. Reminded me a bit of the Rocky Horror chorus line. Dean's chatting at the bar and Maggie has just sidled in with her omni-present (to me) straw hat on. Don from Pak Kok, Dan the Barman and Dan the Bastard, milling around, Steve Cray's been and gone, but promises to do a Dougie MacArthur....

"Awesome bass". Fred (shouting at Gareth)

Right, John Hutton's talking. "Good evening, we're here to back up El Destroyo, who'll be on in about 25 minutes, so we'll warm you up with a couple of country songs". Roy gets the first solo on "Folsom Prison Blues" and conjures up a neat meld of Sneaky Pete Kleinow and Glen Campbell. The Misunderstood were a late Sixties US r n' b/blues band before embracing freakadelia. Discovered and championed by John Peel, who brought them to England. Only for the band to ripped apart by the U.S. draft board. The survivors stayed on in England and mutated into Juicy Lucy in the early Seventies. Both bands covered "Who Do You Love". The Misunderstood did it way better.

OK, The Curs are finishing "F P B" and semi-segue into "Hear That Train A Rolling". All the main Curs are present. Ollie (not quite so bald and with a fine jazzster's chinwig) is semi-obscured, but lets loose some banjo licks. Most of this set is familiar to long time fans. Harry takes the lead vocal on "I Saw The Light" with lurching but not drunken participation by the audience. There's a couple of Louis Jourdan numbers, a rollicking romp through "Fixing-To-Die" by The Fish. There's a cover of U2's "Still Haven't Found..." and one new song. Apparently written by John while down in the dumps or having a dump, it's a hillbilly C n' W sad song of cheating hearts and gold shafts and never-ending bar bills versus always empty bottles.

John is a marvelously oily and seductive crooner. All he's missing is a pair of lurid neon Groucho Marx eyebrows to wiggle for the full surreal effect. Lastly, there's a tribute to Terry the hard working barman. A jaunty ditty called "Cowboy Love" sees Terry sharing the stage, completely unembarrassed. Davy uncorks a gorgeous minor chord change just before the chorus. A brief attack of "the dismals" in among the relentless loping cheer. I was hoping to hear "Surfing Bird" which the band haven't played since the last DickStock. No joy. This tune, and John's unhinged vocal scatting is becoming more mythical to me in its absence. It's like Deadheads waiting for The Grateful Dead to play "Dark Star". Tjunde has slotted in so well behind the drum kit, he's nearly invisible. In a good way, of course.

"How wonderful to dance. More please".
Sarah, (on El Destroyo)

There's a bit more re-wiring and tweaking before El Destroyo kick things off. The sound is crunchy, driving, twangy and clear. Fortunately, there's not many vocals, because I can't clearly understand Dean's patter, when he names the tunes. The trio are meshing perfectly. Maggie's bass is thumping, propelling the song forward and anchoring it as Tjunde speeds up, slows down, rattles and hums around his kit. Dean has a smash and grab bag of saucy licks and throbbing lines, sucked up from the last 40 years of music. He's also got five FX pedals to wreak havoc on. Not to mention the space sounds that Roy is conjuring up as well. El Destroyo do range around the rock and roll clock, using mixes of rumble riffs, surf punk. Spaghetti western twang and nods to early Beach Boys and Buddy Holly. The first few tunes soar past at breakneck speed.

"Blame John Hutton for everything. Simplifies things". Davy, (on his frontman)

It's about an hour into the set and John comes back on. He says "We're going to do a song for Lux Interior, a singer who died a few weeks ago." Lux, born Erick Purkhiser in Akron, Ohio in 1948, was the vocalist and co-leader of The Cramps with his wife Poison Ivy Rorschach. She was born Kirsty Wallace and the two of them first met in California, 1972. They bonded over their love of mutual obscure r' n' r, horror and grindcore movies, a disdain for hippies and the political system. While most rock dalliances were of a I-promise-not-to-come-in-your-mouth.-Oops! nature, Lux and Ivy were sonic soulmates for life. Lux was considered by many to be one of the most out-there frontmen in this solar system. Dressed in gold lame PVC hipsters and high heels, he spent as much time offstage as on. Bending over, hands on thighs, he regarded the audience like a dyspeptic Terminator ready to puke on maladroits. Or wank on them. Chunny once told me he saw The Cramps in Glasgow when Lux spent considerable time demolishing the stage and plunging into the bowels of the building at the show's end. In the early Eighties film, "Uurgh! A Music War", The Cramps do a searing version of "Tear It Up". At one point, there's a subtle, exquisite lip curl from Ivy. It's fleeting. A micro-sneer, but brilliant. Lux also used to rival Iggy Pop for letting it all hang out on stage. Never got busted though. Remember, this is only a decade after Jim Morrison got hounded for maybe flashing the audience in Miami. Of course, Miami had to worry more about cocaine cowboys ambushing each other on the freeways rather than willie waggers in concert during this time.

"You guys are TOO good". Fred, again (gobsmacking Dean for a moment).

Anyway, the band and John have launched into "GooGoo Man". It's the closest I'm going to get to hearing "Surfing Bird" tonight. John has captured Lux's movements to a tee and prowls and growls his way through "The Way I Walk". I'm missing pages in my notebook while scrawling and I'm not sure of some remark about spacyecho guitar runs through the forbidden Outer Limits of the Twilight Zone where a Phantom Menace is subjugating us to Plan Nine in asteroidal stereo. Meanwhile, John is mixing Johnny Rotten with Roky Erickson to open up the lyrics while the Sharon who isn't with Dan/Jim has her moment on the floor. She's slinky. Moving like a cat in heat, purring at having her tail stroked. Weaving slow arabesques in front of Dean and then retreating. The show has rated a "not bad" from both Steve Cray and Kelly so far. Steve also tells me he'd love to hear their version of "Shopping Malls". He's also happy to be here as El Destroyo have backed Red Star Rising in the past and it's time to return the favour.

"You're doing a lot of scribbling". Dean, (to me).

Dean's sung a couple of bawdy numbers that seem to channel his inner Kevin "Bloody" Wilson. A famous Antipodean, he's the folk music equivalent of Billy Connolly. Example. "I saw her snatch - her purse from the windowsill. She blew me - a great big kiss" etc. All done in the style of early vaudeville or The Bonzo Dog Doo-dah Band. Apparently, Dean was in a romantic mood (single) when he wrote that. It's nearly 23:00 hrs and the band do one last tune before packing up and catching the last ferry to Central. It's "Pipeline" and the only tune I know from the start. Dick Dale does a wonderful version with a twin guitar duel against Stevie Ray Vaughn. Don't know if Dean knows it, but he sounds like he's playing both parts. Totally tubular.

For those who enjoyed/missed the show and want to see more, El Destroyo are playing at Grappa's Cellar on 28/3/2009. They're joined by Lamma's Transnoodle. Go Jimmy Go who are are soul/surfpunks from Hawaii and the Italian rockabilly rhythms of Italian band The Astrophonix. Good gig for those not doing the HK Seven's or another chance to add to a week of sporting mayhem. Tickets are $220. Check Grappa's or maybe Johnny Transnoodle for details.

"Please allow me to introduce myself..."

No need really. It's Dan the Bastard leading a motley gang of Curs, and Steve Cray on accoustic guitar, through "Sympathy For The Devil". Davy's fiddle soars, tingeing the mostly drum-free performance with a Baroque and roll feel. Similar to The Animals at their breakout performance at Monterey. John eventually does a Bonzo imitation, playing the drums quietly with his hands. Roy is back on slide. Dave the Bastard is on bass. There's a quick swing through "Little Red Rooster" and Dan calls it a night. The final part of the show is The Brown Stripes (yet, another Lamma collective) revisiting Louis Jourdan. The query "Is You Is Or Is You Ain't My Baby" is a tad ramshackle. Like a Peaches Geldof marriage. Too much for me right now. Time to go home and pester Marilena. She knows about these things. Til the next time.
We've had actual "bean-sized hail" in several locations in HK last Friday and a chilling, freezing, bitterly cold weekend, at least by HK weather standards, down to 13 degrees Celsius ABOVE zero last night. Brrrr! Some parts of the US and Europe are still suffering snow storms. So this little story by our Official Court Pet Correspondent is very timely, featuring an ex-Lammaite doggie celebrity, eh, Canine Companion:
Jay Scott Kanes - Official Court Pet Correspondent and author:

(story & photo captions by Jay;
photos courtesy of Eric's Human Companions, click to enlarge)

Former Lamma Dog Feels the Chills on 'Death Strip'

BERLIN, Germany – No longer a Lamma Islander, Eric the Beagle must take precautions to avoid freezing his tail bone. Winter weather in Berlin can chill even a durable dog right from his droopy ears to the tip of his tail. Burr!

Now five-year-old Eric lives in a 130-year-old, five-storey building in the former East Berlin only 50 metres from where the now-demolished Berlin Wall once stood. Often, he strolls past a square where a watch tower long loomed and across the "death strip" where unlucky East German dissidents died in storms of gunfire when trying to escape to the West.

Berlin has redeveloped the death strip into a recreational area called Wall Park. Eric enjoys recreation, and he never formally studied German history, but a dog with such a powerful snout can sniff out a lot. Some of the neighborhood's history can give anyone a few chills, even in warm weather.

Like many ex-Lamma residents (mostly the people, mind you), Eric uses the Internet to stay in touch with old friends. He poses for photos, often in the snow, and his humans email the images, including to Gail, a dog at the home of Lamma-zine's Official Court Pet Correspondent.

Originally from Germany, Eric lived on Lamma circa 2006-08. A fast learner, he soon adjusted to the tropics and loved to frolic at Power Station Beach. At other times, he trekked along hilltop trails, sniffing every inch of the way.

Before long, he ranked among Lamma's best-known residents. People of the same name sometimes introduced themselves by saying: "You've heard of Eric, the Beagle. Well, I'm Eric, the human."

Admittedly, Eric held mixed feelings when he and his family returned to Europe. On Lamma, life's a beach. In Berlin, sometimes it's a blizzard. Burr!
Do you want to learn about Muscle Response Testing?
Or how to balance your Vision, Chakra Emotion or even your Brain Integration?
Or how to balance Your Hypertonic Muscles or even your own Belief System?
Check out these courses by a friend, fellow Sha-Ponian (Sha Po Village resident) and long-time, loyal Lamma-zine advertiser:
Brett Scott - Kinesiology Asia (Advertorial):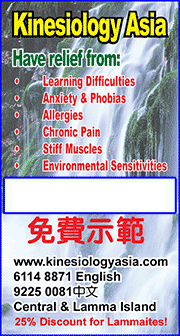 Kinesiology Asia presents
Kinergetics Courses 1, 2 & 3
Kinesiology & Energy Healing
Thursday evenings, March 12th -
April 9th 2009, 6:30pm - 9.30pm
Instructor: Brett Scott
Venue: Hong Kong Kinesiology Centre
201 Ivy House, 18 Wyndham St, Central, HK
Course content: This is an experiential course where you will learn muscle response testing. How to use muscle response testing locate and balance.
Stress - Pain - TMJ & Pain - Sensitivities -
Dehydration - Brain Integration balance.
No previous experience is required.
All corrections are done with healing energy.
$2,700.00 for each level, workshop manual included in all levels. Free for repeat students.
Numbers are limited, please book early to avoid disappointment.
Call 6114 8871 or email kinesiologyasia@gmail.com.
For more info: www.kinesiologyasia.com - www.kinergetics.com.au
---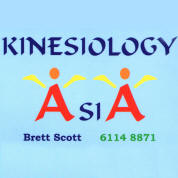 Kinergetics Level 2

Thursday evenings April 16th – May 14th 2009 - 6:30pm – 9:30pm
What's in it?
Emotions - TMJ Suppression -
Spheniod balance - Coccyx balance -
Hypertonic Muscle balance - Chakra Emotion balance - Belief System balance -
Vision balance - Very powerful with anatomical and metaphysical balances.
---
Kinergetics Level 3

Thursday evenings June 11th – July 9th 2009 - 6:30pm – 9:30pm
Numbers are limited, please book early to avoid disappointment.
Call 6114 8871 or email kinesiologyasia@gmail.com
For more info: www.kinesiologyasia.com - www.kinergetics.com.au
Electronic Mistress - One half of Lamma's Kongkretebass duo: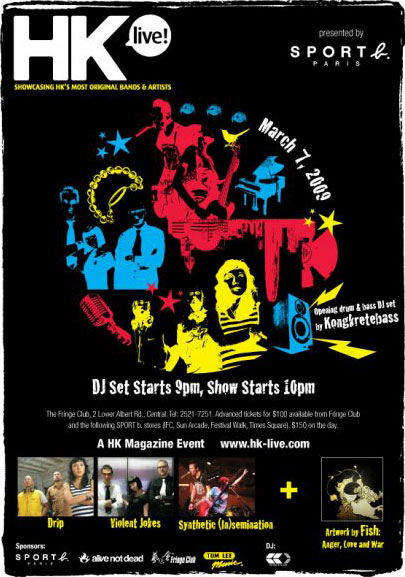 Kongkretebass have been invited by HK Live! to open the special Electronica showcase this March. Headlining the show will be guest band DRIP from Manila, alongside 2 local bands - both of whom have previously been involved with club events we organise.
What all performing acts this Saturday have in common is a mutual appreciation of the electronic dance music called "drum and bass" as well as great accomplishments in their own areas.
DJ Wash and I (aka Electronic Mistress) have been running the successful KONGKAST music podcast for about 3 years, organise events, perform as DJs across the region and produce music. The KONGKAST has grown to become Asia's biggest drum and bass podcast with thousands of listeners downloading the episodes every week!
Also, all four acts (see above) who perform this Saturday are fronted by female power. (Woot! A big shout out to all women all over the world! May the forces of power, courage and beauty be with you always!). We love live electronica and look forward to performing alongside Drip, Synthetic Insemination and Violent Jokes.
The Kongkretebass DJ set starts 9pm today and finishes at 10.30pm at the Fringe Club in Central. before the bands take to the stage. See you there!
This Sunday, March 8, 10am, Tung O beach. Click above to enlarge.
Email the GreenLammaGroup to register.
You can walk there together with them, starting in Yung Shue Wan.
Another great and fun way of getting there is by bicycle,
via Sok Kwu Wan and Mo Tat Wan Village, less than one hour.
Another little masterpiece of an eye-catching, funny, effective and deceptively simple concert poster by Lamma's Master Cartoonist Harry Harrison. It made me ROTFLMAO (Google it!) when seeing it for the first time and that's quite a rare feat, I can tell you!
Is this another one of those very macabre anti-smoking ads, Death himself embracing these 3 cigarettes, cheering to welcome the many more smokers dying soon, if they don't quit right now?
Harry's trademark mascot above has been featuring on several of his Lamma posters in recent years. Is it climbing Lamma's three iconic landmark chimneys triumphantly (something I'd love to do!), hugging them closely or trying to strangle them to stop them from smoking so much? It almost looks like the mascot is welcoming Lamma visitors cheerfully with a big grin and a raised arm!
As this mascot has been around for a little while gracing our walls on several concert posters (see below), we might consider declaring it as the Official Mascot for Lamma! For now at least, let's call it the Official Court Mascot of the Lamma-zine for now, if Harry doesn't object and would accept this great honour? So, does this mascot have an actual name, Harry?
Well, we'll have to find out by asking Harry in person, before or after his gig playing with The Curs this Friday after 8pm in The Island Bar. It's still THE happening place in YSW with so many events going on frequently and the only place with frequent live concerts. I hope that this cute mascot will make a personal appearance, climbing all over the bar and maybe even give autographs? Here are four more quite recent posters featuring him/her/it?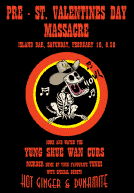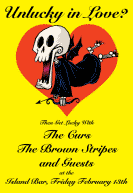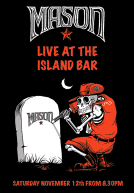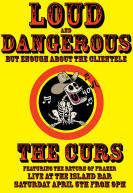 See more of Harry's Lamma-only posters in our art gallery, check out Harry's website, his frequent editorial cartoons in the SCM Post, his latest book The Tale of Oswald Ox, one of five bestseller children's books he's illustrated for author Sarah Brennan, now in bookshops all over HK [end of free promo].