P.S. An Alert Reader has come forward to tell me that this funny, bright green seed pod above is actually a Goat's Horns (Strophanthus divaricatus), one of the four most toxic plants in HK! An unusual and rare discovery in the Lamma Forest! Click for more info.
Sitting in Lamcombe Rest. for dinner, who's passing by on his trademark racing mountain bike, heavy tripod and full camera/lenses gear, ready and eager at any time of day or night to take more magnificent panoramic "long photos" for our viewing pleasure? Yes, it's Siuyu, one of the very best mountain bikers of Lamma, RTHK TV documentary subject, founder of GreenLammaGroup and all-round nice guy. See more shots by him and his friends in the long photo forum.
Submitted by Rachel Lo, Hans Andersen Club: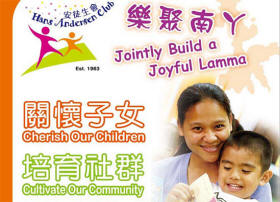 "Attached please find our latest newsletter for your kind posting on Lamma.com.hk.
I attach the time table for our summer programs as well. Our center will be open from 9:00am – 5:00pm in July and August. All of our summer programs will be hold as scheduled. Yet, in order to prevent Swine Flu, all participants are required to wear face mask when entering our center. Thanks a lot,
Rachel LO - Center-in-charge (Lamma Center) - Hans Andersen Club
No. 19, Tai Wan New Village, Yung Shue Wan, Lamma Island
Tel: 2982-2173 - Fax: 2982-2193 - Website: www.hac.org.hk
Hans Andersen Club Newsletter (Jul-Sep '09, pdf, 2.4 MB)
Summer '09 Program Table (pdf, 412 KB)
Is this a catchy headline or what? It's a bit different from the usual positive-news feel of the Lamma-zine, but expressing some of the more extreme minority views of our very diverse community. Far from being just the "Peace, Love, Lamma" island many of us like it to be, there are some local topics getting many Lammaites riled up and upset quite frequently. Especially dog-related issues are at the top of the list for occasionally very heated debates in our forums, sometimes escalating into personal verbal attacks and hurt feelings, but no fisticuffs and physicalities yet as far as I know!
If you're looking for evergreen local hot issues and flame wars, check out these recent topics which have been steaming up the forum in some form since the start of this website seven years ago and which have basically remained unchanged and unresolved during all this time:
Ban bikes
Dog Poo Poo everywhere
Lamma Ferry Service
Have you ever visited Lamma Island's very own island, located inside a man-made lake in the former Lamma Quarry, opposite Sok Kwu Wan (Picnic Bay)? Whoever is missing a swimming pool on Lamma, here it is - huge, empty, beautiful, no chlorine and no life guards. It could be a great way to cool down after the 1-hour hike or bike ride from Yung Shue Wan or Sok Kwu Wan, using the sole entrance close to Luk Chau Village, beyond the Youth Hostel. Lazy people could get a sampan from Sok Kwu Wan, but that's missing out on the great fun of getting to this sweet water lake with its swarms of very people-shy egrets.
The Lamma Quarry is also beautiful, mostly flat biking territory and a visit to the overgrowing, decaying-gracefully, former Cement Factory is already worthy the price of the (free) admission. Say hello to the factory guardian from me, a chatty, cheerful and fully bilingual fellow. As some of the factory area is zoned for future commercial development, go to see it before it'll change dramatically...
Some photos really speak for themselves, like the one above, and not many words of commentary are needed. Just two words from me: "Typically Lamma!"
Want to see a few more of my pictures from every Saturday's Capoeira (Brazilian martial arts dance, click for more info) lessons for adults and kids in the Island Life Studio with C. Mestre Jo Oliveira (email, website)?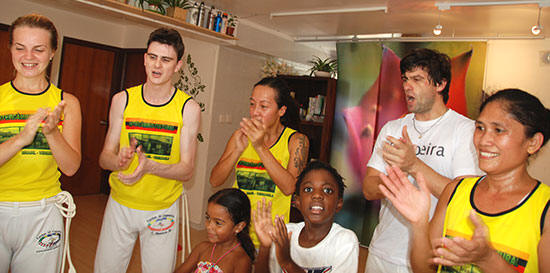 Stop by for a Capoeira trial lesson on Saturdays or simply have a look-in or sign up for yourself and/or your kid(s)! It looks like so much fun, I might even dare to try it myself someday soon!?
See the busy Island Life Studio schedule below for some more of the many activities happening in this wonderful, inspiring and already very successful community center. It's still just a baby, less than one year old, but see above how high it can kick already!
Disclaimer: As part of my current 6-days-per-week "Health & Fitness Nut" schedule I've recently become a "wellbeing member" of the Island Life Studio, I've been attending Quite a few of the general (white or black) classes below myself and enjoying them a lot, so I might sound a bit like an over-zealous fanboy occasionally. To get info or enroll in any of these classes, call the number listed below each class, or email the Studio.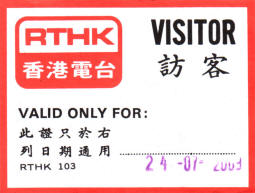 Quite a few people working in Radio Television HK are subscribers to my biweekly Lamma-zine email. Seeing the "7 Years, 2000 Stories, 5000 Messages" headline I was invited to be interviewed today on Radio 3's Morning Brew talk show moderated by Phil Whelan. I've done two RTHK phone-in interviews in the last few years, but this was my first time in their studio in Broadcast Drive, Kowloon Tong.
Kowloon Tong is well over 1.5 hours away from Lamma via at least 3 different forms of transport, so it was a big excursion for somebody leaving his Lamma idyll only for special reasons and not on a daily basis.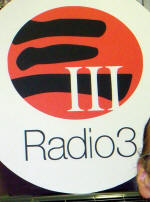 I got off the minibus too early as there are several RTHK buildings along Broadcast Drive and had to march up the rest of the hill in sweltering summer heat and humidity.
A fascinating experience for somebody like me who's listening to Radio 3 streaming over the Internet much of the day while working on this Lamma-zine and website.
Here's the archived interview, staying online for 1 year:
Windows Media Player - Realplayer
It's exactly Jul 23, 09 10:07 right now, exactly 7 years since this website saw the virtual light of day in Cyberspace when the forum went officially started up. The forum was the first section to go live, started up by webdog, followed just weeks later, Sep 4, 2002, by the very first issue of this Lamma-zine.
It was initially nothing more than a short weekly e-newsletter (My Lamma e-zine) to 56 registered forum members, updating them on what's new in the fledgling forum struggling through its baby steps, still very unsure of its survival but optimistic enough to aspire to "become THE most influential media for the island."
Here's the intro of last week's biweekly Lamma-zine e-newsletter I sent out to 3,600+ registered forum members and subscribers last week:
"Dear Lamma-zine reader,
"Seven years of Lamma.com.hk, anniversary on July 23, so hard to believe! What started as only a little forum for the residents has miraculously grown into this website with 4.5+ million hits/month, #1 in Google & Yahoo for all things Lamma-Island-related. If you've ever helped, supported or contributed in any way to the fine success of this Lamma community effort, let me thank you here personally and from the bottom of my heart.
"I've published just above 2,000 Lamma-zine stories from so many writers, artists and photographers in the last 7 years and I've just posted my own 5,000th message in the forums the other day. My little hobby, my labour of love has truly grown up now and gotten almost too big to handle for what is basically still a (grossly underpaid) full-time, one-man band...
"Hey, any good ideas on how to celebrate this anniversary would be most appreciated! Your (positive or negative) emails to the editor about 7 years of Lamma.com.hk will be published on July 23. Please email me!"
The feedback to this email has been very interesting and wonderful:
Dawn - Dragon Ladies Captain:
Absolutely fair to say that without your dedication Lamma-zine would never have made 7 years. It's a fantastic site, you are vastly under-appreciated for what you do and deserve many many big thank-yous from all us Lammaites.
The Lamma-zine is a great site, used internationally (my folks and friends back home use it to keep track of me and the rest of the dragonboat girls) and it has that fine Lamma uniqueness about it - quirky, laidback, creative, inclusive and just goes with the Lamma flow. Keep up the great work and I hope you keep cajoling, begging, insisting and coercing us ungrateful slops into contributing to the 'zine.
A huge thank you from me for all hard-work and keeping this going for so long! It's a great achievement of which you can quite rightly be hugely proud of.
Thank you, Dawn.
Island Bar & Waterfront Staff & Management & Customers:
Congratulations on your 7th Anniversary! You do a great job keeping the site interesting and up-to-date!
We really appreciate the effort you put in. Both The Island Bar and The Waterfront thank you for our regular coverage on the Lamma.com.hk site.
So, from The Island Bar & The Waterfront - a HUGE CONGRATULATIONS!
Keep up the good work, keep the funny side up and keep on updating.
Randy Zdrojewski - Director of Education - Specs Howard School of Broadcast Arts - Southfield, MI, USA
Congratulations from Detroit, Michigan, USA!
I read your 'zine every time you update, and the unique island of Lamma occupies a corner of my mind always. I make a point to visit whenever I'm in HK. My daughter joined me there last year and she fell in love with Lamma as well.
Thanks for bringing a little bit of Lamma to my workplace every few weeks, for letting me live there vicariously, and for publishing one of my photos that I sent you a couple years ago (I know that you're a fellow Nikon user).
I'll be passing by in October, would love to buy you a drink!
Natalie - ex-Links Moving:
I believe that you do a fantastic job with the website and I find it extremely useful and informative, as do many others.
I thought that the advertorial was great and thank you again for including it on the website and making the necessary updates.
Anonymous ex-Lammaite:
As long as you can't get out of hypcrisy, ignoring all those dirty crimes in Lamma Island, no one reads your magazine.
Bike Mike:
I feel honored to have contributed to Lamma-zine, and I continue to visit the web-page as my way of not letting go of that wonderful "life raft" found floating off the HK shore. My regards to all!
Jax:
It's been 7 years already?!?! Time just flies! Congratulations and thank you for all the great work making Lamma.com.hk so popular and fun!
I would suggest to have a party at one of the pubs, like Diesel's, Waterfront, Deli or Cath's, etc....or even at all of them to celebrate the big event, though you would have to do the pub crawl then ;)
I am sure Joyce, Kumar, Praful & Cath would not mind putting the canapés out for the occasion. Marketing-worthy for their business & the website!
I've also been invited to do another live interview tomorrow, Friday, in RTHK's Radio 3 studio, 11:40am, with Phil Whelan.
A total solar eclipse was visible in large parts of China today, including Shanghai. We only saw a 75% eclipse in Hong Kong, so some Lammaites made the long overnight train trip into the Mainland, hopefully reporting their experiences back to the Lamma-zine soon.
On Lamma, some of our very best photo- graphers were out in action with their professional equipment to get their best
shots, especially local celebrity Siuyu (Facebook, Green Lamma Group) on Mt. Panorama (see right.) I couldn't resist to make a little animation from a series of 5 photos he took.
Lisa Stella - Chief Assistant/In-house Photographer & P.R. Executive for the Astronomer General of the Jack Brooke Solar Observatory:
From a top secret location on a trig station near the Lamma Winds, the newly opened Jack Brooke Solar Observatory made a series of observations using a telescope and a piece of state of the art paper.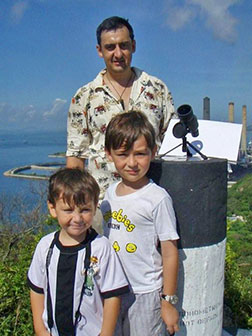 They proved, as the photos show, that there was indeed a partial eclipse over Lamma today. Using an elegantly engineered hood to keep shadows off the paper, the Astronomer General and his Assistant kept two small children engrossed for over an hour and a half. A feat rarely replicated by other bigger, better funded observatories.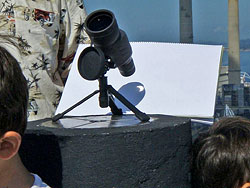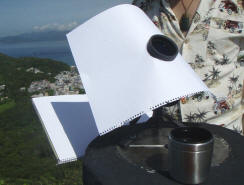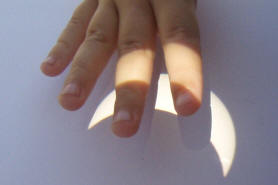 Top of the range hood -- Touching the Eclipse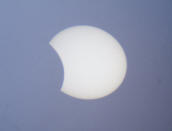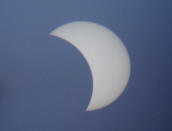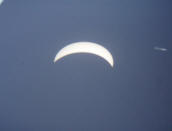 We're moving on Aug 1 to another nearby new rooftop flat, so our current flat will become available for rent. Interested?
It's in Sha Po Old Village, 9 minutes by foot from the ferry, 2/F with rooftop, 600 sqft (same length as a normal Village House, but 1 metre narrower, 2 bedrooms plus rooftop study w/aircon. Great open views over the valley and even a bit of a harbour view, very sunny living room as wide as the building, so you get sun most of the day, from sunrise to sunset. Shot from living room: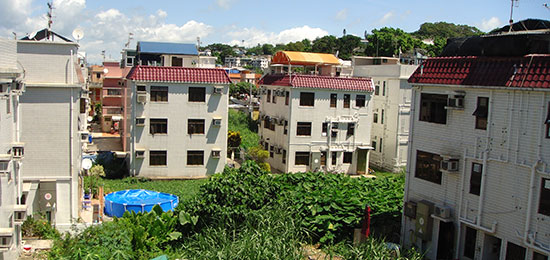 Lamma-Gung's Rooftop Jungle & PondTM (see below, photographed today) could be wholly or partially included for a small fee for anybody interested in a bit of gardening and a rooftop fish pond. We'll move all the plants and flowers with us if not wanted. See more photos.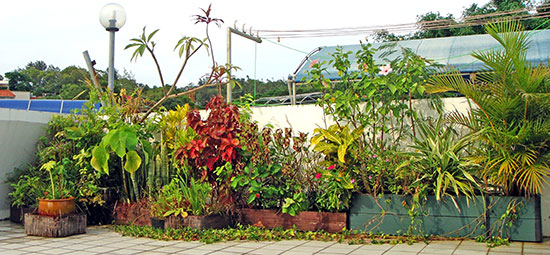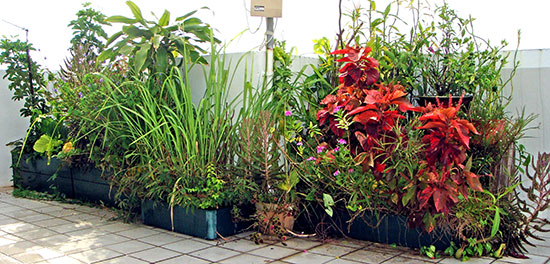 If you or a friend might be interested in renting our rooftop flat at only $6,500 and would like more details, please read more....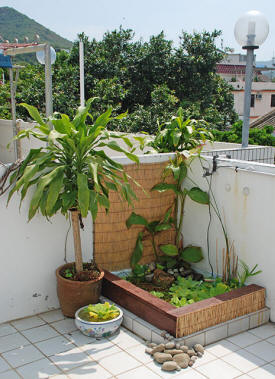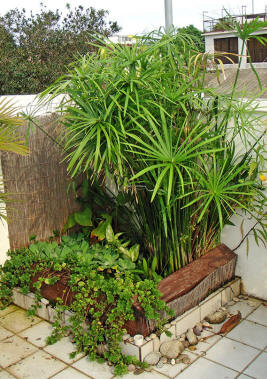 A fellow forum moderator asked me about my outdoor rooftop pond and problems she's had setting up her own. I emailed her in detail and then thought that this might be of interest to more Lammaites who might want to start their own.
Our rooftop pool has been doing very well over the last two years, see pictures before and after, on the right. The fish are all very cheap bright orange mollies and rainbow-coloured guppies, up to 1.5 inches long, no expensive goldfishes. They seem to like the pond and multiply happily and prodigiously; there are always tiny pin-size babies in there.
The pool was set up by Keren the Pig Lady, just a piece of plastic cloth inside an existing little basin with brick side walls added and surrounded by a bit of painted wood and bamboo blinds, plus some stones and pots inside the pond.
The trick to keeping the fish from overheating is plants for shadow, under and over the water.
I also run a little cheap water pump circulating the water and dripping it from a few inches above the water surface, so there's enough oxygen for the fish to thrive. The pump is running 24-7, but even if it's switched off for a few days the fish seem to have no problem at all.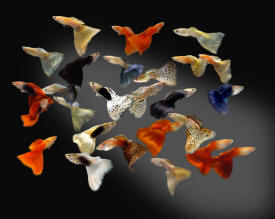 The only problem I ever had was most of the guppies (see right) dying during Chin. New Year last year when the temperature dropped to 11 degrees for several days and nights, the coldest in HK for many years. The mollies could stand the cold, no problem, but guppies are more temperature-sensitive.
It's all natural, I never clean it, no chemicals or additives of any kind and the plants grow freely, plus just a cheap few plants added from aquarium shops in Fish Street, Mongkok. 1 or 2 of the same species is enough as they grow very quickly in an outdoor pond.
As the water evaporates, especially in the summer heat, you need to add water every few days or week. It can be simply tap water from a watering hose, the same one I use for watering the plants, or a bucket. I've got a tap above the pool and just let it drip all the time a little bit, just enough to keep the pond at the same water level at all times. So no need to top up the pond, except after a few really hot summer days when evaporation is higher than usual. But the shade from the plants above the pond also reduces the evaporation.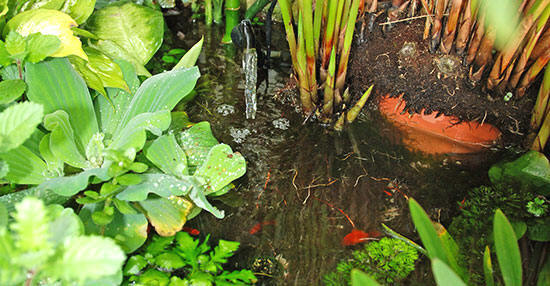 Feeding once a day or less, standard fish flakes and occasionally dried bloodworms, cheap and available in all fish supply stores. Not feeding them when you're away for a week or so has no bad effect as there's so much stuff growing in the pond that they can and love to eat. And they love mosquito eggs and larvae as well, so no mosquito can ever breed in the pond as their laid eggs will be eaten right away.
That's all I do in the fish pond, no additional care of any kind, besides a bit of weeding out the fast-growing water plants every few months to avoid the pond from growing over completely. It's a natural eco-system and balances itself.
I'll move the fish and just a few of the plants to start a new pool on my new rooftop. I really hope the next tenant of my flat will keep this pond going, so little work, almost no expense and so much satisfaction....
Lamma-Gung - Forum message #5,000.
(It's an interesting but hardly surprising coincidence that it was posted in our currently hyper-active But & Sell, Rent & Let forum, helping out a forum member - for free, of course - to post photos of their stuff for sale.)
Here are the photos from Vene's sale, resized and quality-improved.

By the way, I just noticed that this is my 5,000th message in this forum!
That's not even counting all the ones that got deleted over the last 7 years, for example in forums that expire after 1 month like these classifieds.
A representative was quoted as saying that his company "...will continue serving Hong Kong and our customers the way we have always been – consistent, committed, caring and always striving for continuous improvement to achieve total customer satisfaction." For which Lamma-affiliated company did he speak?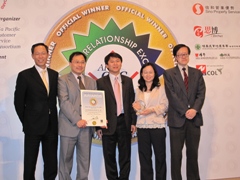 Too easy? Which is the only Lamma-affiliated company with such professionally-sounding P.R. people who'd be proud to express publicly their "striving for continuous improvement to achieve total customer satisfaction"?
Yes, of course, it must be HK Electric! They won several more top public service awards recently, including "Public Service of the Year 2008" (Public Utility) in the Customer Relationship Excellence (CRE) Awards 2008. They are rightfully proud of them and want to tell the world in a press release. Their call centre service also won 5 more individual awards. This is actually the 4th consecutive year they won CRE awards in recognition of their outstanding performance in customer services.
Congratulations! Let's hope HK Electric's shining example is inspiring the sometimes lax, laid-back, lackluster and lackadaisical customer service in some Lamma shops and restaurants with a "consistent, committed, caring" attitude!
HK Electric Receives Top Public Service Awards [14 July 2009]
Exclusive party: Friday, July 17, 10pm-4am:
Open Space, Tai Ling (half-way up to Lamma Winds on the Snake Path below the Kindergarten, just after the bridge under the 1st Cable Road; or follow your ears and go up via the 1st and 2nd Cable Road, Yung Shue Wan):
DJ party with Lamma's DJ Nipper. $100 entry (includes 1 drink & Mix CD).
Website, Facebook, MySpace, email, poster.
Nick the Bookman - Official Court Music Reviewer:
DJ Nipper plays Open Space - June 19, 2009

It's coming up to 22:00 and I'm puffing up the Cable Road towards Open Space - the small village house and garden near the wind fan [Lamma Winds]. DJ Nipper and Oz are struggling with a trolley load of gear that keeps getting caught in the ruts on the road - the part that looks like a concrete waffle overgrown with weeds. Music fills the air, getting louder as we combine forces and achieve a sweaty final thrust to the summit. This road never gets any easier. Be slow, my beating heart. There's an overnight party to get through.

Open Space has been the site of numerous gigs in the past decade. Early performances with Beat Suite and Oz on percussion. Kumi lived there for a while and hosted many drum jams. Occasional DJs have shown their trickery on the wheels of steel. Now it's Nipper's turn to showcase a set celebrating the launch of his Punk Pussy Records internet label. About 40-50 people should be coming. Nipper's been doing the biz for nigh on two decades. His career has embraced various styles and genres from rap/hip-hop to deep house to minimal electro and a side order of indie rock and funk. Keep it varied. Keep it interesting. He's done a few of the beach parties and brought Peter Hook here for his second DJ gig in 2007. That was the last time I saw a full set by him and it's time to refresh my memory.

Tamara (ex-dreads) has taken over Open Space and the plan is for community-based activities to occur at regular intervals. Jim, her beau, is the warm-up DJ. He's using a laptop with several thousand songs to choose from and playing a wide-ranging set. The "performance area" is inside the house adjacent to an unused drum kit. Oz has his percussion on the patio opposite. I've got a small table to the left to write in comfort. Almost everyone is chatting outside where the sound is bouncy and crystal clear. Jim has a small Korg Kaoss pad which is touch sensitive and emits strange and wonderful electronic noises and belches over the tunes that he seems to be mixing through two CD decks. The set wanders through sweet trance, trip-hop, seventies chart pop, drums, some scratching and videogame soundtrack freak-outs. There's various vocals and soundbites dotted through the mix. Not to mention a brief KK workout from me, so I won't. (But it was fun.)

Who's here? I can see Tamara, Clivus Nondog, Dave (the gutted zombie from Isle Be Damned), Oz, Phil and Al and especially Cassie who deserves her very own sentence. She's pretty much a full partner with Nipper in the design and running of the PPR site. She handles the graphics, flyers, invites to the show etc. All the unheralded donkey work to keep things flowing behind the scenes (that's three sentences, but she's worth it.) Meanwhile, Phil's soundbite of the night is "Vivid vibrations in Tamara's Open Space with the Punk Pussy". There's Lloyd (who's the last DJ on the bill) and his lovely anonymous other half. Plus Swiss Charles who wrote something memorably incomprehensible in my notebook. Probably due to the "Rumple" cocktail (white rum and apple juice) that I've made him drink.

It's about 23:45 and a brief hiatus occurs as Nipper switches the CD players to two "digital vinyl" records. They look like 12" records, but are linked to the computer to enable Nipper to scratch and stutter and jump-hop throughout his set. At one point he sounds like a one-man band version of the trio, The Scratch Perverts. There are soaring beatific breakdowns studded throughout his four-hour showcase. There's old classics like "Ride on Time" by Black Box, "Superstyling" by Groove Armada, and a storming remix of "Sweet Dreams" by the Eurhythmics. New Order (and Peter Hook) get a look in now and then. Some teasing hints of "Blue Monday" mashed into other stuff and the stunning Lee Coombs remix of "Crystal". There's some fiery rock and some soppy a cappella vocals. Someone called "Rick Rude" weighs in quite often with some blinding hard-cum-minimal-cum-melodic deep-electro that would have given Timo Maas pause for thought.
The Canadian producer/remixer DeadMau5 engages my attention with a new version of "Tiny Dancer". Basically, the highs just kept getting stratospheric and the lows ripped my innards apart. Deep bass in Open Space and... Dave Parker has finally arrived with fresh supplies.

The lacunae are drifting apart and it's suddenly about 04:00. Lloyd is on the attack. His arms are weaving like an ecstatic octopus. The minutiae of knob-twiddling and sliding faders is enthralling. It's like watching a possessed Candace Hilligoss freaking out on the church pipe organ in the seminal twisted thriller "Carnival of Souls" (1964). It inspired segments of George Romero's NOTLD among other films and is a cult classic must-see. It will haunt your dreams. Nipper's unwinding with Pat and I ask him how much of the set was pre-programmed. He says it was all free-form. Just winged it. Bloody well played, mate. You win the Man of the Mix and Match Award.
As for me, I contributed some electronic sounds, banged some drums quietly, mixed some cocktails, finished Roy Keane's biography and wrote some notes. A superb musical night. For those who missed it, there's some good news. The next show is on 17/7/09. Leave now and remember to drink plenty of fresh oxygen for the hill climb. See you wheezers there. ntb.
Management and Staff - THE WATERFRONT:

As many will know, The Waterfront now has a nice new kitchen after a total refit.
Up and running fully now, the kitchen is able to prepare and serve the full menu whilst test running a few new ideas to be incorporated into the menu shortly.
During the period of weeks whilst the kitchen was being renovated Kumar and the kitchen staff came up with some great ideas to keep the restaurant open. With the aid of a BBQ, new recipes were tested and subsequently served as a limited menu.
Salmon steaks, rib eye and other steaks, lamb chops, ribs and even chicken in goat's cheese sauce were featured alongside melanzane parmigiana for the vegetarians amongst us. Accompanied by a salad and great crunchy potatoes they made quite a feast. And for those die-hards there were the ever-popular all-day breakfasts also prepared on the BBQ.
Feedback has been very good so by popular demand we plan to run a BBQ evening on the first Monday of August. That's Monday August 3rd, by the way. Watch this space for a list of what will be presented.
Oh yes, finally and MOST importantly, a BIG THANK YOU to those of you who gave your support by coming to The Waterfront during what was a very trying time for all of us!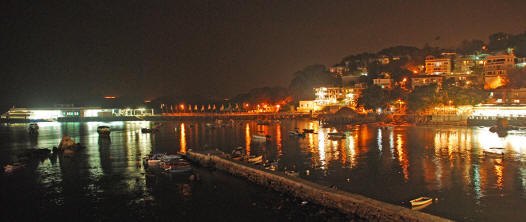 Lammaites Steve Cray (Red Star Rising) & Sue Shearman play bc Magazine's unplugged night, tomorrow, Thu, July 16, along with Joey and Jingan Young. Show starts at 9.30pm. The Wanch, 54 Jaffe Rd, Wanchai. Website, poster.
Click for RTHK interview with Sue Shearman & Steve Cray.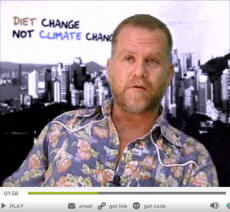 Sincere congratulations to Bobsy and co. for just winning I Shot Hong Kong's "South China Morning Post Documentary Award" for their short film, Save the Human! Don't Eat the Planet! (YouTube video), featuring numerous talented Lammaites. There's a very informative video interview with Bobsy on the SCMP website (Save the Human!) and a blog story as well, Cafe owner's documentary targets carnivores.
I was watching this professionally produced video promoting vegetarianism in The Grand Cinema in the Elements shopping mall as part of the screening of "I Shot Hong Kong" finalists, together with another Lamma movie featuring the total opposite of vegetarianism: cannibalism! Unfortunately, the Lamma zombie movie, "Isle Be Damned" (click for Nick's review w/screen shots), didn't win in its category, even though I voted for it after the screening.
Isle Be Damned: Part 1 (7:23min) & Part 2 (7.28 min).
---
My photo gallery of Save the Human! campaign launch:

These usernames and many similar ones have been trying to register in our forums recently, dozens of them per day. As they're very unlikely to be real, new user names, linked to "promotional" websites and had suspicious info in the registration forms (for example, *cheap Viagra!*), it was obvious that a new wave of spam registrations has hit our forum recently.
The anti-spam measures I programmed into the registration program a few months ago have obviously stopped working and it's another round in the never-ending war on spammers, hackers, worms, viruses and other Internet attacks that are part of life as a Site Administrator running an open and public forum like ours. I'm already approving all new registrations manually, activating them only if I suspect them to be no spam. None of the attackers ever got a chance to post any spam in our forums and I've deleted all of them.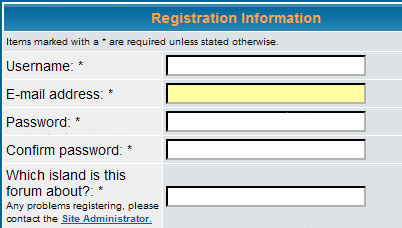 Our forums remain completely spam-free against all the odds, thanks to the daily vigilance of our moderators reading all posted messages, detecting potential spam or offensive messages usually within hours and then taking action. Most other forums suffer from infestations of spam and are often disabled or killed off by it, kind of like Mikania (Mile-a-minute weed) strangling and overwhelming some of Lamma's vegetation during these hot and wet days of rapid growth.
I need to program (PHP language) a new simple registration question that only a human interested in Lamma could answer, but not a spam robot program. The current question, "Which island is this forum about?", has worked for a surprisingly long time. Any suggestions for a new, easy-enough Lamma-related question? Click on the blinking "Comments" in the weekday headline ("MONDAY") above!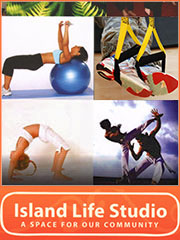 Today, Sunday morning, 7:30am, in the Football Pitch, you could have witnessed a really strange and unusual sight:
Lamma-Gung working out hard in the weekly Bootcamp 2 session, organised by the Island Life Studio. It includes a wide range of physical exercises pushing most of the physical limits of the handful of participants who sweat buckets, before continuing in the air-conditioned Studio.
A strange & surprising transformation is taking place in the life of the Lamma-zine editor. I'm a former couch potato spending up to ten hours a day on his (still big) butt in front of his computer and have never ever worked out regularly since my schooldays before my recent massive weight loss. This former Biggest Guy of Lamma has turned into the Biggest Loser of Lamma, weight-wise, and has started to work out every single day, becoming a regular in the Island Gym and also in the community space of the Island Life Studio. He can also be spotted frequently on Lamma's hills speed hiking and biking, but usually before 7am during these hot'n'humid days.
What's going on? Have I finally gone crazy? Maybe... Doggedly determined to get into the best shape and reach my lowest weight in decades (16 pounds to go), I've embarked on a comprehensive health and fitness programme, with daily 1+ hours of exercise, 7 days per week. Yes, I've become one of those people that I was making fun of just a year ago, those health & fitness-obsessed people who fuss over their strict nutrition, frequent hydration and varying their daily fitness regiments, being able to name their major muscles.
I've been trying to perform exercises with scary names like supine & prone sequences, glute side-kicks, hamstring curls, speed ladders, jumping jacks & burpees, volleyball vertical jump drills, skip rope and plank position wheelbarrows, with initially very mixed results and streams of sweat. But I've actually started to enjoy the Endorphin highs afterwards, despite often totally exhausting and tiring myself, feeling sore for days in muscle groups I couldn't even name just a few months ago. But the improvements in my fitness, strength and energy levels have been quite astonishing and worth all the efforts so far.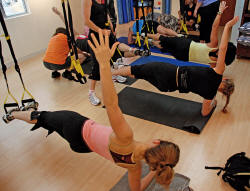 Well, quite a number of the tough activities in the Island Life Studio are actually kind of fun, like Pilates on the Ball and T.R.X. (see right). The other (mostly female) class members are all lighter, younger, prettier and fitter than me. Well, I may still be FOGLY (fat, old & ugly) but at least I'm slowly becoming fitter & healthier and that's more than enough to make me very happy! I plan to start yoga and swimming next. And you're most welcome to call me a Health & Fitness Nut to my face, even a FOGLY Health & Fitness Nut!
Today, I've been biking the first Cable Road from the upper Power Station gate (see above) all the way to the farthest end of Pak Kok Village where the massive power cables below the Cable Road dive under the Lamma East Channel to power up all of HK Island. Thanks to HK Electric who built and maintains this road and planted trees along most of its length.
This is THE most beautiful road on Lamma, IMHO, just stunning to bike or hike right now; so green and luscious, partially overgrown due to almost no traffic of any kind. It's mostly shaded by trees and you'll rarely meet another human, even on a Saturday morning like today. It's all paved or grasscreted (see below right), so not too much to worry about in terms of dangerous wildlife.
The small, non-threatening wildlife is just spectacular to watch while you walk or bike by. Occasionally you might even pick up a little, harmless hitchhiker, a flying bug or one of these 1-inch-long, bright-green, cute caterpillars that are seen abseiling on their own silk threads from low-hanging tree branches these days.
Some great news from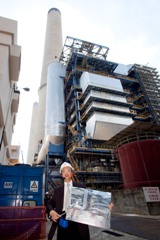 Lamma's #1 "icon", HK Electric's Power Station:
"HK Electric has marked the completion of the first of a two-phase emission reduction programme at Lamma Power Station with the commissioning of a flue gas desulphurization (FGD) plant and a low Nitrogen Oxides (NOx) System for its coal-fired generation Unit 5 earlier this month.
"With the commissioning of all of the additional installations and the increased use of natural gas, it is expected that in 2010, over 95% of the electricity generated at the Lamma Power Station will be by gas and coal-fired units fitted with FGD and low NOx burners."
Read the SCMP story, Lamma Island power station cleans up its act to meet pollution reduction targets (copied from the subscription-only SCMP website) and HKE's own press release: HK Electric Completes First Stage of Emission Control Programme [6 July 2009]
Lamma movie Masks has won the BEST SHORT INTERNATIONAL Tammie Award at the Heart of England International Film Festival in Tamworth, England, June 8-13! All the best congratulations from the Lamma-zine and myself to Director & Lammaite Alba Rayton and her many on- and off-Lamma friends & family who created this movie together! Read more about this fine movie and its premiere in these former Lamma-zine stories:

Feb 19: Masks -- Lamma Stars in a Movie (by Jay Scott Kanes)
Jun 2: Further Fun in Filmland: Masks Premiere
(by Nick the Bookman)
Alba submitted the pictures below from the festival's Gala Awards night. By the way, the Lamma premiere of Masks will be the highlight of Lamma-Gung's & Lamma-Por's housewarming party in our new rooftop flat next month.
Submitted by JAX:
"Attached photos of the python found outside my neighbour's lawn. It had half of a cat in its mouth when found. But I didn't get the photo though, but the cat was saved at the end.
"The Police arrived & they are waiting for the experts from Lantau to capture the beautiful creature.
"Post the photos on Lamma website if you like."
bicolor writes: "A Burmese Python - probably Hong Kong's largest native snake and apparently quite widely distributed locally."
A blast from the past, submitted by Mark Burns:
"Dear All,
"Only 14 and a bit years years late, attached for your delight and delectation, is the December 1994 edition of The Lamma Bugle featuring:
* the most recent exploits of the new Lamma Cricket team,
* the infamous DickStock Chili of 1994,
* yours truly and other 'Lamma Loonies' who did the Macau Marathon,
* latest from the Lamma Ladies Dragon Boaters,
"as penned by Bob Biro, aka John Fox. Enjoy the trip!"
P.S. For an even more historic relic, check out the Lamma Gazette #1, 1988.
Click above for comprehensive photo gallery!
Jay Scott Kanes - Lamma Author/Publisher:

(Photos & captions by Jay)

A new book, A Stray Cat on Lamma (Susanna Ng, 2009, Chinese, English and Japanese, 112 pages, HK$88) boosts Lamma Island's reputation as a haven for animals and their human admirers.

Author and publisher Susanna Ng, one of the island's most-adoring pet-owners, has written the story of Bobo, a multi-colored stray cat whom she adopted from the roadside near her home in Tai Ping. The theme revolves around how greatly Bobo and Bobby, Susanna's previous cat, enriched her life.

The two felines placed Susanna in a "happy together" family of three. "Everyday my two children would wait for me to come back from work. Bobo slept next to me, rain or shine, while Bobby would only join us in the cold weather. Bobo was my alarm clock. If I failed to wake up in the mornings, she would pat on my face. However, once she got the message that I did not want to get up at that time, she would jump down from bed, do her business, play a little and then keep an eye on me from the door. She was my guardian angel."

Such human-animal kinship leads to good and bad times, the latter often involving veterinarians. Sincerely and eagerly, Susanna shares the moments of quiet satisfaction, camaraderie, laughter and tears that most pet-owners experience. "Right, Bobo is the best and the most precious gift I received from God!"

Ultimately, Bobo falls gravely ill, but that's part of having pets too. In Susanna's case, grief inspired the book. She honors Bobo by writing about their treasured nine years together.

Few readers will complete the final pages without shedding tears too. As for the author, she must have needed windshield wipers for her eyes to see properly when writing.

Susanna says she loves children, animals and nature. Her previous books include My Student Life in Japan, Interesting Cantonese and My First Teardrop.

As much as Susanna adores cats, she appreciates Lamma similarly. "I moved to Lamma from Hong Kong Island back in 1992," she said. "Almost immediately, I fell deeply in love with its natural environment, every flower, every twig, each view and each happenstance."

A Stray Cat on Lamma mixes formidable strength with a few weaknesses. Most impressively, Susanna's passion for her pets punctuates every paragraph and page. For this labor of love, she used quality paper and many color photos of the cats and Lamma.

Surprisingly, the book is trilingual. Rosalind Lee translated into English and Takehara San into Japanese. Susanna wanted three languages because her research suggested that Bobo came from "a Japanese tri-color breed".

Unfortunately, the English translation has grammar problems, which may explain why the book will sell mostly in Chinese bookshops. Also, some photos, especially of the cats, have focus problems. But with Susanna's motives being so pure and admirable, who wants to complain?

As a bonus, the awkward English adds some welcome (albeit probably unintentional) humor. "My home sweet home is situated upon a slope in Lamma Island, with as many foreigners residing here as cats and dogs of all sizes, running free in the open without any worries of the city traffic." Gosh! Why are the foreigners allowed to "run free"? That sounds dangerous.

The book benefits from strong design work and an eye-catching cover by Alex Ng, one of Susanna's neighbors on that Lamma hillside. Alex has done outstanding work before, and his reputation continues to grow.

Sentiments in A Stray Cat on Lamma suggest that some of the locals prefer the company of pets over people. Contrary to what a few surly critics may say, there's nothing wrong with that.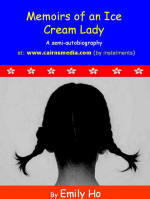 New chapters in the serialisation of Emily the Ice-Cream Lady's memoirs have been published! Life on Main Street as told by a true insider running her shop in the midst of it all, granting her unique insights into Lamma life & people:
Anything Goes on This Tropical Isle - #16 - Jul 6, 2009
Serious Shivers in a Money Chill - #15 -Jun 29, 2009
Will Powers Prevail? - #14 - Jun 22, 2009
Tiny Tot Hides Behind the Soap - #13 - Jun 15, 2009
Foul Language Wrong Flavor - #12 - Jun 8, 2009
Village Gossip Runs Rampant - #11 - Jun 1, 2009
---
Here's a little, quite controversial excerpt from chapter #16 of "Memoirs of an Ice-Cream Lady - A Semi-Autobiography":
Illegal Island
"Emily isn't sure if Lamma Island is another "home of the free, land of the brave", but it's certainly an island of irregularities.
"Most Hong Kong people consider Lamma too remote as a place to live. Maybe the government of the Hong Kong Special Administrative Region (so named since the British handover to China in 1997) agrees. Its policies hardly reach the place.
"Some people operate unlicensed food stalls for decades. Patrons smoke in restaurants where smoking is banned. Illegal immigrants work at construction sites. Landlords dump industrial waste on government land. Southeast Asian domestic helpers work in bars. Chinese housewives gamble at illegal mah-jong parlors. Western residents do drugs with their friends at beach parties. No one worries until troubles erupt.
"Emily wonders: If all the irregularities were cleaned up, would half the residents then be unwilling to live on Lamma?
"Most civilized places have regularities on nearly everything -- from haircuts to pedicures. There, people have more protection, but lose some freedoms to do what they want, even / especially harmful things.
"Maybe Lamma is too civilized for regularities."
Angela Leary - Media Manager, AnimalsAsia:

(Photos by Angela. This is NOT an advertorial but a free review.
To review YOUR shop, restaurant or business, contact L-G the Editor.)

Maybe it's an innate wanderlust mixed with her fierce independence that's seen Lamma's Maria Soares live much of her life on the road.

Even since "setting up shop" on Lamma 13 and a half years ago, Maria has moved locations four times. She started selling her wares from a simple stall at the crossroads, and most recently moving 12 months ago to her recently named boutique, Tigra da Lua (Tigress of the Moon) at Tai Wan To. (The shop was formerly called "Jax" and Maria still sells some of the former proprietor's stock, including some great havaianas and bikinis).

Maria grew up in Happy Valley, speaking Cantonese and English. Her dad was Macanese and her mum of Scottish/ Irish/ English descent. Maria took to travelling from an early age. She backpacked around South America, the Caribbean and Southeast Asia in the seventies and eighties, paying her way by making and selling jewellery, mostly intricate beadwork.

Now settled on Lamma, Maria still likes to live life at her own steam. She travels regularly to Thailand, scouring wholesale showrooms for unusual, interesting pieces to bring back to sell. Mainly, she's hoping to tempt the hordes of visitors that descend on the island at weekends.

"Price and quality are obviously important, but what I'm really looking for is something a little edgy and unusual," Maria says. Tigra da Lua stocks an array of items from beaded flip-flops and funky tops to delicate silverware and hand-painted sarongs.

So what is it that keeps Maria on our little island? "We've got the whole world right here! Lamma is such a melting pot of cultures," Maria says. "I've heard that at one point there were more than 60 nationalities living on Lamma. Maybe that's why it's such an accepting, tolerant place."

But Maria admits she'll probably never truly lose the travel bug. While she loves living the Lamma life, she still enjoys her frequent buying trips!
Andy Maluche - Official Court Photographer (Photos by anonymous guy):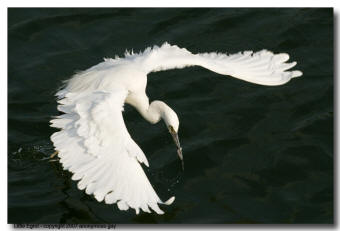 The early morning sun casts its golden rays over Yung Shue Wan bay.
A large White Egret slowly glides in from the west and joins a few other Egrets sitting on various small fishing boats calmly anchored in the middle of the bay.
A majestic Black-eared Kite slowly circles high above the whole scenery observing his kingdom.
Closer by me, near the beach, a tall Grey Egret stalks between the crustacean-covered rocks keeping a watchful eye on the Anchovies in the shallow water.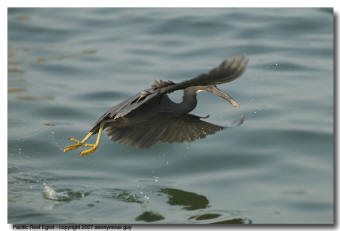 Tiny brown Sparrows hop between tables and chairs, picking up crumbs of food dropped by the early breakfast crowd.
Mynas fly in from all directions, annoying the large Egret who gracefully takes off to a more relaxed fishing ground.
A beautiful Spotted Dove has landed on the beach and started picking through the gravel. The Mynas, ten by now, gang up on the Dove like a bunch of juvenile thugs. A small grey bird landed on a big rock and hops all over it seemingly without aim or purpose.
Swift as an arrow, a small Swallow darts by and almost instantaneously cuts back again to where it came from. Then the harassed Dove retreats with loudly flapping wings as the big Kite dives down like a comet to pick an unsuspecting fish out of the water. The Mynas are bored now because they had nobody left to stress out, flew off in pairs into every direction of the wind.
Damned, what is it with this place!? I came here to eat breakfast and not visit a fucking zoo. I didn't know that dim sum now comes with the bird watcher's special, didn't I?
Give me a break!
P.S. If you think that the title of this story has a typo then you're wrong.
But to find out what "romanitical" really means, you'll have to ask the artist, maybe even join one of his Lamma-based, low-cost wildlife photo workshops.
Best way to find him would be in a bar, via Mr. DickStock or email him.
Many of us have seen the photo galleries that Lamma visitors put up after their usually one-and-only trip to our fair isle. You know, the "Hiked the Family Trail - had great seafood - isn't my gfriend/bfriend cute? - look at those funny expats! - hope to return but probably never will" type of repetitive and none-too-impressive photo galleries of amateur snapshots all over the Internet?
What would happen if a truly professional photographer would do exactly the same thing, take the same route, shoot the same old views so familiar to us residents? How much more attractive and impressive would the results be? Check out the "Lamma Album" by Swapan Mukherjee to see how to breathe new life in these familiar scenes and how to wait for just the perfect moment and find the best viewpoint, angle and lighting for each shot. I still have a lot to learn....
More photos from this professional photographer of many years, see his website. Thanks for submitting your photos to the Lamma-zine, Swapan!
---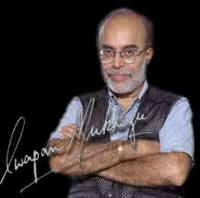 P.S. After seeing this story above, Swapan emailed me back:
"WOW!!! Never thought you would do something like this - a full fledged feature! Thank you so much for those kind words about my pictures.
"Those few hours spent in November 2007 were enough to make me fall in love with the island. Hopefully in September/October this year I shall be there for a longer period.
"Many thanks once again to showcase my work in such a splendid fashion."