Aug 31: The Smoke-Free, Health-Conscious, Spooky, Romantic, Feline-Dominated, Ferry-Riding and Artistic Chinese Forum!
Samson - "Official Court Moderator of All Chinese Forums":
Another month has quickly gone by, and it's time for another update of the smoke-free, health-conscious, spooky, romantic, feline-dominated, ferry-riding and artistic Chinese Forum!
That's the latest from the Chinese Forum!

Aug 30: Guess the Gadget Game
This is the first in a new occasional series of games for this blog:
Guess the Gadget!
Quoting from the ads, brochures, website, manuals or any other stuff included when getting a new gadget, you'll have to guess what the product is. Simple!
First one up, from the introduction of a 86-page manual of a new gadget Lamma-Por just bought (highlights below are my own):
"Reach out and touch the lives around you with the new X. Graced with true classic elegance, it's a striking reflection of our distinctive character. Ever so dependable, its intuitive features are crafted for total ease of use, making every moment simply pleasurable...There's so much you can do with X. So reach out and uncover the possibilities."
Close to the end of the manual, the tone has definitely changed dramatically:
"The consumer shall have no coverage or benefits under this limited warranty if any of the following conditions are applicable:
The Product has been subject to abnormal use, abnormal condition, improper storage, exposure to moisture or dampness, exposure to excessive temperature or other such environmental conditions, unauthorized modifications, unauthorized connections, unauthorized repair including but not limited to use of unauthorized spare parts in repairs, misuse, neglect, abuse, accident, alteration, improper installation, Acts of God, spill of foods or liquids, maladjustment of customer controls or other acts which are beyond of reasonable control of X, including deficiencies in consumable parts such as fuses and breakage or damage to antennas, unless caused directly by defects in materials or workmanship, and normal wear and tear of the Product.
ANY IMPLIED WARRANTY OF MECHANTABILITY, OR FITNESS FOR A PARTICULAR PURPOSE OR USE, SHALL BE LIMITED TO THE DURATION OF THE FOREGOING WRITTEN WARRANTY. OTHERWISE, THE FOREGOING WARRANTY IS THE PURCHASER'S SOLE AND EXCLUSIVE REMEDY AND IS IN LIEU OF ALL OTHER WARRANTIES, EXPRESS OR IMPLIED..."
Pheww, that about covers every possibility and impossibility of ever getting it fixed for free under this extremely & severely limited "Limited Warranty"...
So, what is this gadget? Easy! Click here to find out!

Aug 29: 'Ministers of Sausage/Ant Husbandry'
Our thriving forums are, besides great info sources on anything Lamma-related, sometimes a surprising source of the weird & wonderful. Without much prodding or provocation a sequence of "Magical Realism"-like stories suddenly burst from the creative minds of some long-time forum members last week.
Where? Of all places, in our Buy & Sell forum, ignited by a mocking message from volley, looking for a Decoy Duck after his own was "shot to pieces":
Fortune Chan: "...we were strafed by what looked like a PLA-AF Sukhoi Su-27. It came out of the sun, west of the Power Station, and strafed us with its cannon on the first sweep and then returned to attempt to strike with its air-to-surface missile. I brought the twat down with a rock the size of a small pomelo..."
Beanburglar: "...The sausage flew into the air and brought down a Government service helicopter that was collecting ants for Donald Tsang's goldfish...Donald Tsang was so happy that he's made them ministers of sausage/ant husbandry."
Chuckm: "...The dragon boat teams are assembling in Vancouver harbour as I write this, ready to hand-carry said duck across the Pacific in a squadron of 120 boats, each one assigned its segment of the trip. They are carrying a huge radar-reflecting sign that proclaims "Lamma or Bust" to ward off wayward ships..."

It even includes a new Lamma song by our Official Court Poet & Tourism Ambassador, Mr Fortune Chan! Click on TALKBACK! for the full story so far. You're most welcome to join in and compose the next paragraph of this shared Lamma story!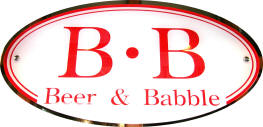 Aug 28: Beer & Babble Bar
It's finally been revealed what B & B stands for in the name of this restaurant & bar. See their brand-new signs!
Yes, copious consumption of beer causes a lot of babble to be generated! Beer & Babble belong together...like Bread & Butter...like Baloney & Bollocks...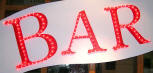 B & B has just joined the number of bars opening late on weekends (2am). What, another bar, you might say? None of them is making any real money, and another one joining the fight for the long-term shrinking number of regular drunkards, eh, patrons! Good luck to them!
B & B has been quite a favorite of Lamma-Por and myself for quite some time now. Below are some of the great & tasty dishes we've enjoyed there just in the last few weeks. I've been served some really badly burnt meals in B&B over the years, but their cook in the last few months was really excellent! The cooking, the spices, the presentation were really great value for money, at least during lunchtime on weekdays ($30-50). On weekend evenings, the prices for the same dishes almost double. Friendly service, nice & rustic atmosphere, colourful bar, great location, cozy decoration with antique Lamma photos, beach-side dining.
But recently, Lamma-Por and I were very disappointed with our lunches - Bland & Boring - extremely under-spiced, like so many Western-style HK cafes. We asked what happened: a new chef had taken over the same day, the old one leaving for a better salary in town. More than once I had sent special compliments to the chef for a great lunch. The old chef's food was so good & exceptionally tasty, the difference to the new average chef was really dramatic and unexpected. But other people's tastebuds might disagree with both of us...
We've never returned so far, waiting out this severe change in quality - from great to average - till the cooking improves or the chef changes once again. Cooks, managers and even staff in B&B seem to turn over every few months, sometimes every few weeks, hard to keep up with the names. Maybe that's why they're almost the only place wearing name tags?
Here's my photo gallery of fine B&B dishes, in memoriam, waiting for better times: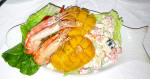 Mango Prawn appetizer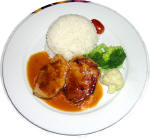 Pork Fillet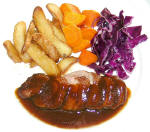 Smoked Duck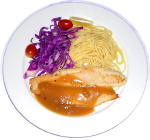 Sole Fillet w/red cabbage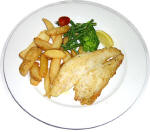 Sole Fillet w/potato wedges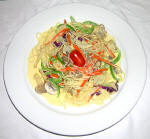 Vegi Pasta
P.S. B&B management: If you read this, PLEASE let me know when it's safe to return and write another, more positive review! You've never been a Lamma-zine advertiser (and probably never will be), but I still like your place...

Aug 27: Power Station Chimney #4 Rising

Alert Reader & ex-Lammaite Lily sent in this photo taken from a friend's rooftop in Tai Peng. He's "the last surviving SaveLamma member still living on Lamma. ;-)". They're quite worried about how much higher this 4th chimney of the Power Station will rise. It's just been capped off with a huge, mushroom-like "hat". You can see it well from the arriving/departing ferry and from some of our hills, but not from anywhere around Yung Shue Wan or even the ferry pier.
Checking with HK Electric, they told me that "the height of the new chimney for the new combined-cycle gas turbine at Lamma Power Extension is 104m, about half of those of our existing chimneys (209m). It has a diameter of 19m.
The No. 4 Chimney is designed to contain three internal flues and one of them will be used for the new unit scheduled for commissioning in 2006. The construction of the chimney's concrete windshield has been completed and installation of the steel flue will soon commence, in line with the project schedule.
We don't have any firm plans for Chimney No. 5 at yet because we are only talking about Chimney No. 4 at the moment, which will partly be used for the new gas turbine unit. The construction of chimney hinges on future expansion plans which will be subject to Government approval."

Please refer to the latest press release on Lamma Power Station Extension and here's the latest monthly Environmental Monitoring & Audit report for July 2005, for more details on what exactly they're building right now over there.
P.S. Our Alert Reader has just added a great explanation for the 4th chimney to her own blog: "To break the bad

'three incense sticks' Fung Shui, HK Electric Company decided to erect a fourth chimney on Lamma Island."
Discuss Power Station Fung Shui by clicking on TALKBACK!

Aug 26: 'Who Are You Cowards?'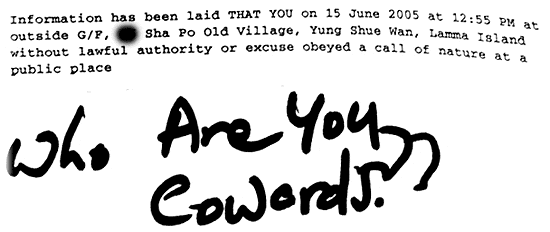 A poster from Diesel's blackboard on Main Street. Click to read the entire "Court Summons to Defendant" addressed to somebody charged with "obeying a call of nature at a public place". He's looking for whoever "coward" turned him in. Of course, this poster generated quite a few messages in our forums. Only on Lamma...

Aug 20: Plot Thickens Around Lamma Island Novel!
Jay Scott Kanes - Lamma Island author (18 August 2005)
A new plot suddenly swirls around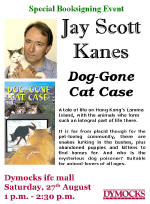 the recent Lamma Island animal novel, Dog-Gone Cat Case.
On August 16th when I visited RTHK Radio 3 for an interview with Phil Whelan on the Morning Brew show, strong suggestions emerged that my novel must hold powerful symbolic meanings in the style of George Orwell's best book, Animal Farm.
How preposterous! Dog-Gone Cat Case is a lighthearted story about animals pursuing island adventures. As the author, I refute the existence of potent symbolism. Even if such symbolism formed the story's core, I still would deny it.
For example:
By no stretch of the imagination do the fictional Lamma cats and dogs in search of freedom and safety represent millions of harassed Hong Kong people in need of political emancipation.

Bumbling police in Dog-Gone Cat Case do not symbolize Hong Kong's inept local government.

The novel's villain, the Lamma Poisoner, bears no relationship to tycoons, anti-democrats and the elite who poison social conditions.

Nor do various snakes in the story represent the Chinese mainland authorities, forever menacing Hong Kong people.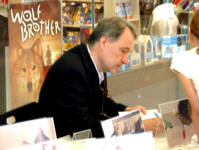 As mere animals, fictional ones at that, the book's main characters can't possibly defend the interests of Hong Kong people while Donald Tsang and his henchmen dismally fail.
The suggested parallels hold no validity. Or do they?
Either way, folks are invited to a book-signing session at 1 p.m. on Saturday, August 27, at Dymocks in the IFC Mall, Central.

Aug 19: Lammaite Forever!

(from her French blog, translated by L-G. Lamma photos by Alexandra):

End of July, I've celebrated 6 months living on Lamma. I've really made a good choice to come living on this island, because for 6 months now I've enjoyed a real quality of life. Today, I wouldn't be able to live anywhere else anymore.

I've even managed to get accustomed to all the strange insects here, more or less. But every evening I check under my bed, just in case...

Within 6 months, I've had a dozen geckos in the flat, but since my cats like to chase them, the geckos are savagely assaulted and left for dead in the middle of the living room, or in front of my bedroom door (it makes a great alarm clock for me).

Spiders: I have encountered several large specimens (10 cms in diameter) in the staircase leading to my flat's entrance, and 2 very small ones in my bedroom which I have succeeded in killing with my can of Raid.

That's all the critters I've had for the moment, so all is well for now (hoping that it'll last...).

Otherwise, waking up on weekends under a splendid sun and the songs of the birds, that's priceless. To take breakfast on the rooftop with nature being the only background noise, that's so special. That's happiness!

7 minutes are separating my home from the ferry pier. It's a route that I appreciate every morning, because there are always singing birds, everywhere lots of vegetation full of fresh smells, the same cats and dogs every day, by now almost used to see me walking by. The neighbors always greet me.

These 7 minutes turn into 15 when the rain pours down on Lamma, because then it becomes an adventure. You have to leave home in flip flops and shorts and then get dressed properly on the ferry. You slosh through 10 centimetres of water, the paths become rivers, your umbrella doesn't serve any useful purpose anymore, except protecting your hair a little bit, and then... you arrive at the ferry SOAKED, and everyone is in the same state as you. Some arrive in boots, other in bathing suits; in short, Lamma is funny when it rains, but I prefer Lamma in the sunshine.

Lamma is developing, and that worries us. Indeed, they are constructing a luxury complex at the beach with a marina. This complex will have 4 floors (Not good!! Normally Lamma has only 2 upper floors per house). 2 extra floors, that's a lot and if they continue like that, we'll end up having another IFC tower close to the pier...

(Editor: This is incorrect, same height and # of floors as typical Village Houses: G/F, 1/F, 2/F.)

Some Lammaites have had the brilliant idea of opening a Kebab shop... Saturday evenings it stays open till 2am.

And the news of news, from mid-August, we'll have a NIGHT ferry! Departure from Central at 2:30am, so no more need to risk your life in a Sampan to return home to sleep... That's really super-good news.

We'll also get a new ferry Lamma-Central at 5am. For those taking airplanes early in the morning that'll come in handy; likewise for those going to beach parties on weekends, as they can return home early.

And then, on Saturday night, I've spent the evening at Superman's. He lives on the mountain - in the middle of nature in Tai Peng - with exceptional views and a well-appointed rooftop... One can admire the sunset from his rooftop:

On the other side, the mountains and heights of the island:

Have a great week,

Alexandra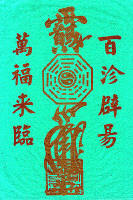 Aug 18: Beware of Hungry Ghosts!
No, I'm not talking about always hungry Gwailos (ghost men), like our new Official Court Glutton or myself. Today is the main day of the Hungry Ghosts Festival, the most dangerous day of the year to go outside at night, according to local beliefs. Lamma-Por insisted on me wearing a Jade amulet today to protect me from being devoured by a Hungry Ghost! Living in HK means honouring and celebrating local customs for me, and they're fascinating & great fun for the most part. Except today! Stay out of the bars after sundown! You have been warned!
Guides.Hotelbook.com
(photos of the YSW Tin Hau temple celebrations earlier this month, thanks to Gilman.
Click on the photos to enlarge them. This works on MOST photos in this blog!):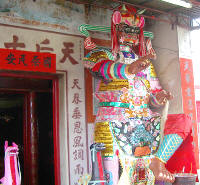 "The climax to this spooky festival (Yue Lan in Chinese) is on the 14th day of the seventh moon, the full moon. During this month, according to ancient Chinese tradition, the gates of Hades burst open, unleashing the spirits of the restless dead, or the Hungry Ghosts. Strange fires speckle the island and operas or concerts are performed for the pleasure of these departed souls.
One of the strangest manifestations of the Yue Lan Festival are the offerings that adorn the streets, graveyards and beaches. These take the shape of intricate paper models of worldly possessions and status symbols such as high-tech household goods or sometimes entire wardrobes and musical instruments. Paper money is also a very popular offering - these are called "hell banknotes" and are only valid in the underworld.
On the 14th day of the seventh month (the full moon) these offerings are burnt and fires and bonfires are visible all over Hong Kong,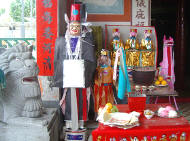 creating a truly eerie and wondrous spectacle. Kids generally love this part as they get to burn things without getting in trouble.
In Chinese culture the dead are often celebrated and rarely forgotten. It is considered a duty in Chinese life to honour them through a series of offerings, ceremonies and festivals. But when proper funeral rites have not been performed, then the trouble starts.
It is believed the mischievous ghosts of these unfortunates vengefully roam the mortal world looking to satisfy the afterlife needs which were not afforded them in death.
On the nights of the seventh month, the Chinese are often afraid to go out for fear of encountering these ghosts. It is a brave Chinese person who ventures to the beach, for he may be lured into the water and drowned by the spirits of those lost at sea. The phenomenon of the Hungry Ghosts is said to explain the high level of catastrophes which are believed to occur in the seventh month of the Chinese year."
Here's my own photo gallery of the 2003 Yu Lan festival on Lamma Island.

Aug 18: www. Graffiti Creator .net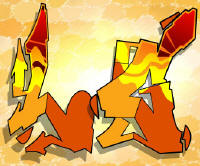 Isn't the Internet the most marvelous & amazing time-wasting system ever invented? While researching the article above, I stupidly clicked on one of these ubiquitous Goooogle Ads, cluttering their search results. A few hours later I emerged from the website it linked to with several new Lamma-zine logos. See my "best" results below.
But beware and be warned! Don't go there! It's dangerously addictive! Forget I ever told you about it!!! You've never heard of it!



DISCLAIMER: www.GraffititCreator.net is not a Lamma-zine advertiser and this blog accepts no responsibility for any losses of massive & irreplaceable chunks of your time you might suffer by visiting the above site. You've been warned! "We're sorry for any inconvenience caused."
P.S. HELLLLLP! I can't stop! New "LAMMA ISLAND" logotypes keep popping up and up and up...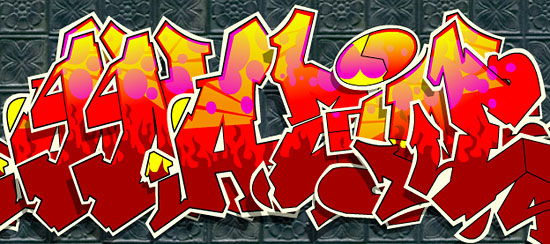 Aug 17: Late Ferries Postponed to Sep 1st

The 2-month trial-run of 3 additional late ferries was supposed to start yesterday, Aug 16, as informed by Lammadonna in July and reconfirmed by her to me and my interpreter on Aug 5.
No eagerly anticipated late ferries yet so far, so I did a bit of research today: The ferry staff and manager at the pier had absolutely no idea about any new late ferries, not today, not ever. No printed announcements could be found anywhere. Checking with HKKF's PR Manager, the start of the 2-month trial run has been postponed to Sep 1 the earliest!
The questionnaires by the Transport Dept. received several comments which HKKF has to answer first, before the Transport Dept. will confirm the trial run and starting date.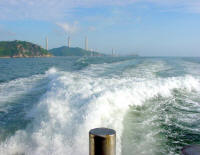 The overwhelming feedback seems to have been positive. The PR Manager promised to inform me directly and all of us ferry passengers at least one week in advance before the actual start of the trial run. Watch this space for further news!
But I'll have to have another word with Lammadonna about this premature announcement, causing several people to query me today! Next time I'll have to double-check the info with other sources, as a good blogger should always do...

Aug 16: Official Court Glutton: Best Wonton Noodles?
I've been looking for a resident food critic for this blog for a while now and I finally got lucky! Welcome to our new "Official Court Glutton", a welcome new addition to our growing team of "Official" collaborators, from "Official Court Artist" & "Official Court Tourism Ambassador" to "Official Court Monthly Ferry Ticket Reminderer".
Here's the first restaurant review of what will hopefully become a regular bimonthly feature, written by a long-term Lamma resident and a lover of food, but not a foodie, who lets his tummy be his guide. Our shy Official Court Gourmet describes himself as the exact opposite of this photo: "not female, not thin, not fit & trim, not low-fat, has no highly-defined six-pack, doesn't like to wear sexy, white bikinis, but likes to look at ladies in sexy, white bikinis!"
Official Court Glutton - Restaurant Review #1: Lau Yo Gei ("Old Friends"), Back Street, across from Dollarfull Realty & Shelly's Cake Express, below Kiwi Cafe):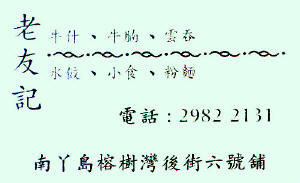 Whilst waddling about the village, my empty stomach sent me a clear message for re-fuelling.
After some thought about what and how much to eat, I decided on the noodle shop called Yo Lau Gei ("Old Friends").
After parting the see-through plastic sheet, my face feels the coolness of air con and my nose gets assailed by the aroma of steaming broth.
Look around and select a cool spot as the hot and humid day was making me grumpy.
I see no menu in English, but staff are friendly and speak some English.
Order one dish of Won Ton Mien, dumplings with noodles.
As the dish is cooking up - all dishes are made to order - I look around to see a relatively clean place, tables not sticky and the required TV in the ceiling corner blasting out some local Cantonese program that can be easily ignored unless too loud.
A few minutes later the dish arrives.
Let's see what we have.... 5 fresh wontons, 3 shreds of lettuce, small bits of green onion type thing.
Play with the broth, no slime and floaty stuff means relatively fresh.
Try the lettuce, crisp and crunchy.
Try a wonton, nice mix of shrimp and probably pork, wrapper good.
Try the noodles, complete with green onion type, also good.
Try a spoon of broth, tasty but I do not drink it all, because I am paranoid about soups and MSG.
Before going for the rest of wontons, I decide to add some zip. I reach for the chilli sauce. I always inspect the spoon.
For me, when I see that the chilli sauce is corroding the end of the stainless steel spoon, I know it has power.
Spoon end is not corroded, maybe a new spoon?
Anyway, add a drop of chilli on each wonton and I vapourise the dish.
In the interest of science, I decide to have another bowl to make sure of consistent production.
Second bowl as good as the first and with my slight addition of vinegar to crispen the flavour of the noodle, I am pleased.
Total bill comes to HK$34, without a drink.
I think that one bowl would be good for most people.
It is a somewhat humble place, fluorescent lighting, ceramic flooring, glass walls,
Straightforward , honest fresh wonton and noodle for HK$17 seems about right.
With my urge to snack completely satisfied, I waddle off to do my other tasks.
Definitely would consider to go back, as one of my most important criteria takes place about an hour after I eat: How do I feel? My stomach was settled and no rumbling in the gut. This means decent quality of ingredients and preparation. Definite thumbs up!
Checking out "Old Friends" myself today and taking a photo of the dish, I also got their name card. Yes, they've got an English menu, but only available on request! Canned drinks at only $6. I can personally confirm the tastiness and deliciousness of their wonton noodles. I'd say probably the best

ones in the village, and they can be found in such a little-known place. Check it out!
For more reviews & ratings of almost all restaurants on Lamma, click on TALKBACK! on the right.
P.S. "Old Friends" is NOT a Lamma-zine advertiser and will probably never become one. These restaurant reviews will be done impartially and independent of advertiser status.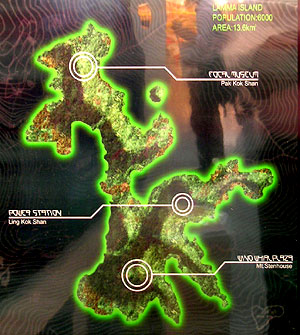 Aug 15: Wind Whirl Plaza on Mt Stenhouse?
Mystery of the Day:
Have a look at this poster, found in the Designfirst exhibition inside the pedestrian tunnel from the YSW Shopping Mall (also known as IFC Mall to non-Lammaites) to the Central MTR station. The poster (click to enlarge) says:
"LAMMA ISLAND: Population: 6,000
Area: 13.6 km2
Power Station - Ling Kok Shan
Focal Museum - Pak Kok Shan
Wind Whirl Plaza - Mt. Stenhouse"
Designfirst is an educational design company promoting their business via this exhibition. This poster is part of their "Windgathering" displays. The guy manning the exhibition didn't speak much English and told me to email them. But they did not respond to my repeated enquiries about this poster...
This is supposedly part of a fictitious www.Windgathering.com website - which doesn't exist (anymore?). A search via various Internet search engines cannot find a SINGLE hit on the mysterious term of "windgathering"! A secret code?

Is this a secret govt. plan unwittingly revealed or just a designer's flight of fancy? Another Power Station for Lamma, on Ling Kok Shan (between Sok Kwu Wan and Mo Tat Wan)? I can smell a secretive conspiracy and multiple cover-ups brewing & steaming! The very stuff of a Lamma-based political thriller in the making! This matter has just been escalated to HK Electric's publicity dept. for an official feedback! Let's see what they come up with, if they've got a sense of humour?
HK Electric's windturbine up in Tai Ling - basically a "windgathering" machine - has just completed foundation work; electrical & mechanical work is starting this very month. Is this mysterious

"Wind Whirl Plaza" on Mt. Stenhouse (very windy up on the highest peak of Lamma!) a rival project by CLP or even a second, yet unannounced windturbine? The citizens of PIRL (The People's Independent Republic of Lamma) demand to know!!!
---
P.S. I: For a monthly update on the progress of HK's first windturbine - our very own Magical Spinney Thing - check out the reports on its very own website at lammawindturbine.hec.com.hk. The home page even sports a cute spinning animation of how it'll look like when finished by end of this year. HK Electric seems so proud of this windturbine that it got its own website already and gets mentioned in almost every one of their press releases.
---
P.S. II: I received a reply from HK Electric already and they're spoiling all my intriguing conspiracy theories above:
"Btw, we heard that the poster is just one of the many creative pieces by new graduates of the design institute, which is developed out of imagination and not hinting on anything real."
Well, I like my conspiracy theories above much better. Harrumph! I still think it must all be a sinister cover-up! The truth will prevail and be revealed some day!

Aug 14: Honoured & Honourable Contributors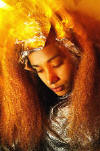 Content contributions to this blog keep on pouring in, to my sheer delight & utter relief. The more contributions of text & pictures I get, the easier it is for me to put up an article every single day, including weekends.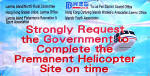 The width and depth of some contributions is often amazing and wonderful, from promotions for worthy causes (Lamma Fun Day) over Sunset Photo contest entries to fun & unusual submissions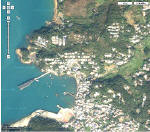 (cat's diary, National Lammagraphic), plus the steady stream of local news from so many sources. There's really a great wealth of creative talent living on our fantasy island, plus a lot of creative talent (ex- & future Lammaites, tourists, people around the world interested in Lamma) reading & contributing to this blog.


My dream for the future would be to write just an occasional story, do a bit of editing & formatting, but otherwise hand over this free-speech soapbox, this community platform, this daily local newsletter completely to all contributors to air YOUR views, publicise YOUR causes, publish YOUR news, promote YOUR events, display YOUR artworks, tell YOUR stories, show off YOUR photos & videos! It might take a while to reach my long-term goal, but I'm not going anywhere. Thanks to the advertisers & sponsors at the top of this page and in the Lamma-zine, this website is self-financing and its future secured for the time being.
Honours List of Lamma-zine Blog - July 2005

Contributor

Story title

Date

New Holiday Mood

July 1

Katherine

July 2

Samson

July 2

Alex - Garoupa

July 3

Ron - Green Cottage

July 4

Duderino

July 9

HK Electric

July 10

Andy Maluche

July 11

Deirdre Butler

July 12

Deirdre Butler

July 13

bbChris - Shazza Music

July 15

Lammadonna

July 16

anonymous source

July 18

Sonya Yeung

July 21

Charlotte

July 22

Chuckm

July 23

Guy Miller

National Lammagraphic: Asian Killer Hornets Tamed by Technology

July 24

various

July 25

Sam Bruce, bbChris

July 26

Patrick Chan

July 28

Molokko - Colette's kitty

July 29

Alert Reader

July 31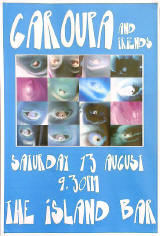 Aug 13: Garoupa & Friends @ Island Bar
It's been quite some time since the last local concert by any Lamma band. Some of them have gone to bigger, better things, performing in town in larger venues or even got into the HK finals of the World Battle of the Bands (NUDE, Sep 7, Hard Rock Cafe). So, do we have to wait till the next Lamma Fun Day on Sun, Nov 20, to hear Lamma bands perform on Lamma again?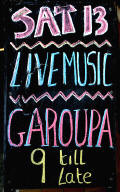 No! Garoupa has come to our musical rescue and will be performing in the Island Bar tonight, to a fully packed house, eh, bar. To celebrate lead singer Alex's facial contortions, this blog is looking for photos of audience members with the best facial contortions! "Make a face like a Garoupa! Click!" should be the motto of the night! Email me your shots!
More news from other Lamma bands come from music organiser bbChris, also founder of new band "Guitars & Panties", debuting at Underground 11 on July 28:
"Thanks, L-G, for keeping up interest in bands Lamma related.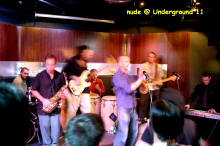 Nude were outstanding at Underground 11, a great way to start the night off - never seen so many people in a club at 9pm on a Thursday night and you would have thought the band was actually performing in the nude what with SO MANY PHOTOGRAPHERS fighting for photos of the band!! Hahahahahaa! As you can see from the Underground 11 page, they performed with PASSION!
Some people might be interested in my new band called "Guitars and Panties"? With a name like that, I couldn't find any guys to join so it's myself and 3 gorgeous Chinese ladies! Girls with guitars playing pop always seems to do well.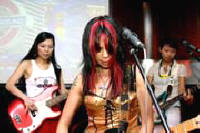 Two more bands played that night but I know your male readers only want to know if Guitars and Panties were wearing any?
Well, a pair of red panties went missing that night! (Don't know if Garoupa had anything to do with that - they were spotted at Underground11 in the audience!)
Hope some more Lammarites will attend future Underground events and no doubt there will be more Lamma bands playing too!"

© PHOTOS Copyright 2005 Willem Van der Merwe.

Aug 12: The Cancer Diaries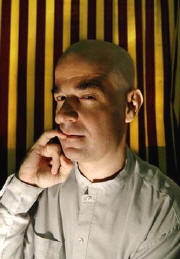 I've just found out why our Official Court Artist, Andy Maluche, has been so uncharacteristically quiet these last few months. After "dropping the ball", he's battling testicular cancer and has just started chemotherapy!

In his usual life-affirming & ironical attitude to life and its problems, he decided to "write about my personal experience with the only thing that scares people more than George Bush' propaganda.".

His Cancer Diaries offer a day-by-day account of his chemotherapy treatment. Just two weeks so far and he's already shedding his trademark blue hair. It's fascinating but heart-rending to read his chronicles, so far removed from morbidity and depression, still full of self-deprecating, great humour. All the very best, my friend, keep up your daily blog as it surely can be considered great therapy!

Aug 11: Bishop Zen & the Poor Clare Nuns of Lamma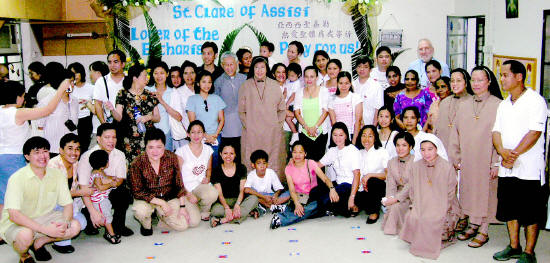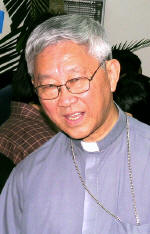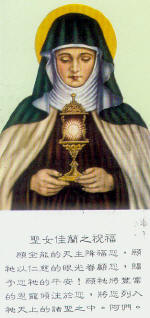 Did you know that today is the Feast Day of St Clare, who died on today's date, 752 years ago? "Saint Clare of Assisi: Virgin, Foundress of the Poor Clares. Patron of: Embroiderers, eye disease, eyes, goldsmiths & gold workers, good weather, laundry workers, telegraphs, telephones, television & television writers"
Lamma's Portiuncula Monastery, just above the Lady of Lourdes Kindergarten, home of Lamma's Poor Clares Sisters, was hosting Bishop Zen last Sunday. As the spiritual leader of all Catholics in Hong Kong, he held a mass to celebrate the anniversary of St Clare's death, as he did last year (Bishop Zen Visiting Lamma feature story & photo gallery).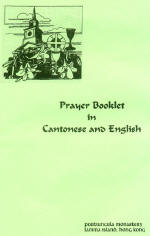 A Filipina friend alerted me to this year's event one day before. I joined in the bilingual mass given by Bishop Zen and a group of Franciscan priests inside the Catholic Kindergarten. This was my first Catholic mass in over 3 decades and it was much less formal and more cheerful than I remembered. None of the dressing up in suit & tie, kneeling on wooden benches, separated by sexes and age, endlessly patronising & moralising sermons, getting bored and sick from the stench of myrrh & incense in Latin-language Sunday mass - as I remember unfondly from my own childhood. There were over 200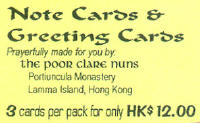 locals from many nationalities, but mostly Chinese and Filipino, with less than a handful of Westerners.
There was even a free buffet after the mass and a kind of cheerful carnival atmosphere all around the celebration. Have a look at my captioned photo gallery! Amen!

Aug 10: Rachel Ip - Chinese Artist of the Month
Rachel Ip - Lamma Artist and Chinese Forum Regular (translated by Samson):
Do you remember the joy of sketching with pencil and paper when you were a child?
Do you recall the last time you did that as a grown-up?
Have we lost that ability? Have we forgotten this simply joy?
Or have we lost our imagination?
When people see my work, their first reaction is usually asking if I had studied art or learned to draw.
Not that I disapprove of formal training, but I think the creative impulse to draw is much more important than its technical skills.
I believe that anyone who feels the urge to draw should go for it.
There's no need for comparisons or competitions,
Just satisfy yourself and your audience.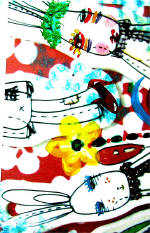 I have filled my sketchbook with the collection of whatever drawing came to mind between 2001 and 2004.
My collection of work has no real causes, no intended effects, no particular purposes.
I simply try to break the formal boundaries and mix together various materials and methods - water colours, acrylic colours, colour pencils, markers, cutting-and-pasting, photography, digital special effects, printing and even using different types of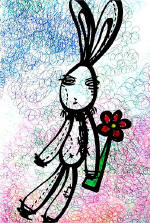 papers - for my work, hoping to find an alternative space from the perimeters of our day-to-day reality.
Sometimes, I would review my work and get the urge to add a few touches.
That's why my work is seemingly alive and always evolving.
While the artist is happy,
he (or she) also hopes the audience would feel the same.
Like an icy-cold drink in the scorching summer heat,
Like flowers blossoming in their minds.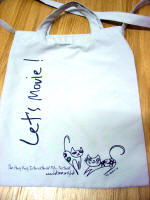 Self introduction: Rachel Ip
A locally born and bred 20-something who has a passion for life, culture and art.
She is tertiary educated and currently working in the films and culture industry.
Though she isn't formally trained in art, she draws and sketches during her free time.
She has completed a series of works and designed a bag for the 29th Hong Kong International Films Festival under the name of racworkshop.
Her aspirations are to become a painter and travel the world as an artist.

racworkshop
Rachel: "Welcome here to visit my works and hope you enjoy them"

Aug 9: Best of the Chinese Forum - July 2005
Samson - Official Royal Court Translator:

Aug 8: Lammadonna Hugging a New Tree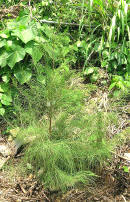 You'd like some good news on a Monday morning? You've come to the right place! Remember my story (Population Baffled by Felling of Trees) about the pretty flowering trees being cut down behind the Library? Two new pine trees have been planted to replace them already!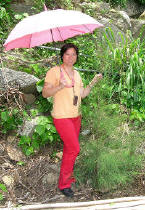 Lammadonna (right) called me personally to make sure I spread the good news to all of you, including a little photo shoot with her touching the young sapling. Such a quick reaction! Could my naughty little story have helped to speed up these tree plantings? I might hope so, but I'm probably deluding myself again. Anyway, Lammadonna's "face" is saved now and she's redeemed herself this time, I think. Thanks for doing a good job!
By the way, there are some more notices on the boards about planned tree fellings in Tai Peng and beyond the Clinic. So we're getting informed in advance now and can complain before the fact, if necessary. Great!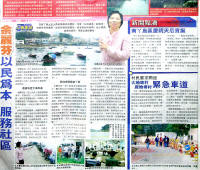 Last but not least, doesn't she look really fetching with her flaming-red trousers, accessorised with her mobile and a hot-pink umbrella during another steaming-hot'n'humid Lamma summer day? Imagine her strutting down our local catwalk, the ferry pier, waving her umbrella to the audience of incoming tourists...

Plus a nice story from the Ming Pao Chin. newspaper, from April 16, featuring Fun Tse!

Aug 7: 'Lamma Island – Where East Meets West'
Quite a number of TV crews have been traipsing around Lamma these last few weeks & months, startling & amusing the locals by filming TV soap operas, documentaries and even property-related programs. Tonight, TWO of these programs will be shown on local terrestrial TV, the Chinese-language ATV Home: a history of Yung Shue Wan and a feature on our 2 Herbolads, Gary & Gavin!
Our diligent "Official Court Translator" has once again offered his more and more indispensable services and translated the summaries from the Chinese ATV Home website. Samson has become so helpful for the forums and this blog, I might have to promote him soon ("Official ROYAL Court Translator", maybe?). But don't let him know yet, please!
There's a consistent & sustained stream of interesting & fun messages in the Chinese forum - still many more per day than in all English forums combined. Great! I'd love to make this Blog much more bilingual. Chinese contributions are most welcome and will be published as received! We'll also have them translated for the Lammaites of many races & nationalities who can't read Chinese; even though English might not be their mother tongue. It's not mine, either.
Hong Kong Beats - ATV Home, today, Sunday, Aug 7, 9:30pm:

An ATV Home production, "Hong Kong Beats" is a documentary series that brings out the interesting-yet-lesser-known facts about Hong Kong, and examines the past, present and future of each of the district council areas, with the Islands District under the spotlight in this week's episode – "Lamma Island – where East meets West".
Hong Kong's third-largest island, Lamma Island – with no cars (except village vehicles), no large-scale chain stores, no shopping malls and no large estates to house the 5,500 Lammaites – has largely kept a mysterious and rural presence. In fact, the island only came to be known officially as 南丫島, or Lamma Island, in 1964, after much controversy.
The largely agricultural Yung Shue Wan in North Lamma also began changing since regular ferry services commenced in 1964 and the power station was completed in 1982 – especially with the increasing population of expatriates on the island. How has this mixture of east and west changed the Yung Shue Wan community, especially after Hong Kong reverted back to Chinese rule in 1997?
Chinese summaries: www.hkatv.com/... & www.hkatv.com/info...
(Banner above from ATV website. Thanks!)
Under the Same Sky - ATV Home, today, Sunday, Aug 7, 7:30pm: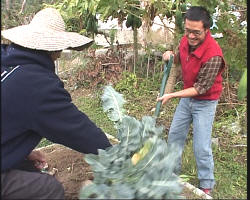 "Under the Same Sky" – a documentary series jointly produced by RTHK, Shanghai Television Station and Taiwan Public Television – is aimed at delivering to audiences a fresh and alternative view on life in these fast-paced cities. This week, the program looks at the kinds of life that today's city dwellers find "enjoyable".
To many people, it is a shock to learn that in this day and age, two people have chosen to fulfill their aspirations and interests in becoming full-time farmers in Hong Kong – one of the most materialistic cities in the world. Two young former designers – Gary and Gavin – left behind their comfortable, air-conditioned offices and stable incomes two years ago to pursue their shared dream – to run a herb garden on Lamma Island.
After two years of hard work, some disappointing failures and people's ridicule, Gary and Gavin said they have no regrets at all – despite earning less than half of their previous jobs. "We have really enjoyed this journey where our interests become our work and then a part of our lives," said Gary and Gavin, whose smiles expressed their enormous sense of satisfaction and achievement.
Chinese summary: www.rthk.org.hk/rthk/tv/...
Watch live over Internet:
網上直播完畢稍後提供節目重溫
(Archive available later after live webcast.)
(Photo and video links above from RTHK website. Thanks!)

Aug 6: Roadshow Launch Photo Gallery
in preparation...

Aug 5: Home Security & Anti-Burglary Roadshow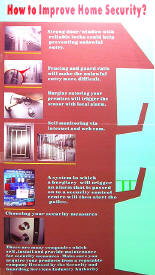 This Roadshow is coming to Lamma, from today till Sunday, Aug 7, 10am-4pm in our City Hall (Lamma North Rural Committee Office) on YSW Main Street, besides the Policebox. The show is coming from Cheung Chau and will move to Peng Chau after the weekend.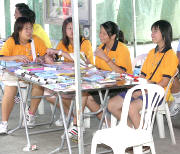 This is a very timely event, as recently there's been a new spate of local burglaries in Tai Shan (behind the Clinic), after it's been quiet for many months. Official police statistics list only 16 burglaries in all of Lamma last year - all of them violence-free - but quite a number remain unreported.
I've seen this Roadshow in Cheung Chau already and it's really worth your time. There was some

really helpful and practical info there, hands-on, not just theoretical. The show includes companies with stands selling affordable home security products. Plus lots of souvenirs and handouts! Stop by before or after a weekend meal in Main Street!
Cheung Chau Division Officers (includes Lamma Police):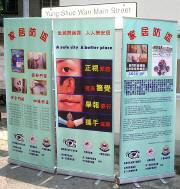 This roadshow is designed to enhance general home security standards, and to improve the overall crime awareness of Islands residents. The following organisations will take part:
(1) Marine Police Port District;
(2) The Islands District Council;
(3) The Islands District Fight Crime Committee;
(4) The Rural Committees of the various islands;
(5) Some renowned security companies.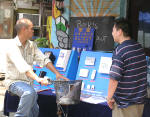 The "Home Security Roadshow" will be run between 30th July and 14th August this year. In addition to the exhibition of a variety of home security devices, police officers and home security professionals will also advise on home security issues. Please watch out for our displays and exhibitions in your area as per the following schedule, and come along at your leisure.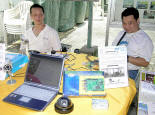 Many simple devices are available for window and balcony fittings. When residents are out, or asleep, the single greatest improvement to security, can be achieved, by residents properly locking their house and windows.
Roadshow Schedule
Venue

Date

Time

Lamma

Lamma North Rural Committee Office

5th Aug 2005 (Fri)

11am - 4pm

Lamma North Rural Committee Office

6th Aug 2005 (Sat)

10am - 4pm

Lamma North Rural Committee Office

7th Aug 2005 (Sun)

10am - 4pm

Useful Telephone Numbers:
Cheung Chau Police Station: 2986 0200; Yung Shue Wan Police Post: 2982 0251
Chinese version of this leaflet: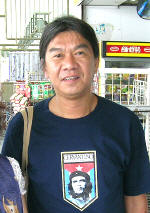 Aug 4: Celebrity Sighting of the Day: Long Hair
At the ferry pier, on Tuesday afternoon, we met Long Hair (Leung Kwok Hung), famous and most unruly Legislative Council member, just arriving on Lamma. He was nice enough to stop for a photo. Notice the new style of his trademark Che Guevara T-shirt (click to enlarge).

He also left me his contacts, including his email address (for the Lamma-zine!) and his own, very interesting blog (in Chinese): www.longhair.hk
He said that he was on Lamma not on business but just to visit friends. Will he be attending the Roadshow? ;-)

Aug 3: Chopping Down Incense Trees
We've got another new contributor for this community blog where everybody is welcome to tell their stories! This is a really fascinating story about a new crime trend on Lamma. Our new contributor claims to be a shy and retiring type, but I really hope to hear more about Lamma police-related matters from him very soon, maybe even some more general Lamma stories? Enjoy!
Charles Mitchell - District Commander, Marine Port District
A new crime trend emerged on Lamma in late May, in that there were a total of seven cases in a space of four weeks. It seems that having decimated the Buddha pine (Podocarpus macrophylla) population, two-way permit holders from China have taken to chopping lumps off a kind of tree called Aquilaria sinensis. This tree has medicinal value and is protected in mainland China due to over-logging there. Mainlanders have, therefore, turned to HK where there are plenty of them spread over the hills across the territory. Many of the trees here were planted by AFCD to prevent soil erosion. The estimated value of the wood in the Mainland is about 800 RMB per Kg.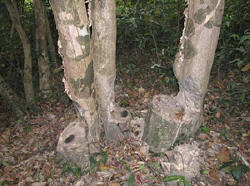 The first case surfaced when three Two-Way Permit (TWP) holders were arrested outside the ferry pier in Central in possession of lumps of incense tree.
Upon questioning they said they had chopped the lumps off trees on Lamma and had just come off the ferry. This was the first such case ever to my knowledge. The next day a second arrest was made. In the following three weeks, Cheung Chau and Lamma duties, in a number of joint operations, arrested five TWPs in four separate cases for theft of the incense trees.
Hong Kong Island made a third arrest in this period. All the arrested persons in these seven cases were TWP holders and had come to HK legally.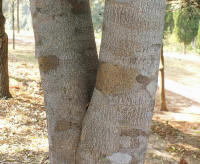 Aquilaria sinensis, commonly called the 'Heung' or Incense tree, is an ever-green tree native to south China. Its trunk is smooth and light grey, leaves are oval-shaped and with fine veins, and the flowers are small and yellowish green. In summer, lots of oval-shaped green fruits can be seen hanging on it. Resin extracted from the wood can be used for making incense and Chinese medicine, its wood for joss sticks, and its bark for paper. It has been listed as a Wild Plant under State Protection (Category II) in China owing to the decline in its distribution. However, Aquilaria sinensis is common in Hong Kong.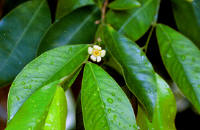 The relationship between this handsome tree and the name of the place we live in? Despite various explanations for the origin of the name of Hong Kong, the most popular belief is that Hong Kong derives its name from 'Fragrant Harbour' or 'Incense Harbour'.
According to a book written by Professor Lo Hsiang-lin, "Hong Kong and Its External Communication before 1842", Heung trees were planted in large numbers in Tung Koon (Dongguan) District and the New Territories of Hong Kong, particularly at Lik Yuen (Shatin) and Sha Lo Wan (the west of Lantau Island) during the Sung Dynasty (619-970 A.D).

The products of Heung tree, pieces of resin a bit like amber, were transported along land routes from the production areas to Tsim Sha Tau (now Tsim Sha Tsui) and then by sampan to Shek Pai Wan (an area in Aberdeen), where the incense products were produced and finally exported to destinations in the Chinese mainland, Southeast Asia and places as far as Arabia. Shek Pai Wan, the harbour exporting incense, was therefore named 'Fragrant Harbour' ('Heung' fragrant, 'Gong' harbour: in Cantonese Aberdeen is called Heung Gong Jai - little fragrant harbour), and the whole island was later known as Hong Kong Island.
During the early Ching (Qing) Dynasty (1662 –1720 A.D.), in order to counter coastal attacks by pirates,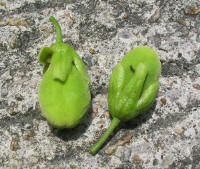 all coastal habitants were evacuated inland and the Heung tree industry was seriously affected and never resumed its former importance.
The legitimate harvesting of Heung trees for economical uses has now disappeared in Hong Kong, however, as the climate and soil condition in Hong Kong are suitable for the growth of Heung tree, it has become a common tree species found in the countryside.
(Pictures from hktree.com, hkherbarium.net and herb.damo-qigong.net)


Aug 2: Sunset Photo Contest: 2 Winners!
A tie of 2 first-prize winners in our little contest: The Lamma.com.hk forum members online voting resulted in a tie:
Congratulations to Ingmar & zep!
I hope that moderator Guy has 2 of his sponsored "toilet & bathroom set" prizes left over? The winners can contact him directly for pickup instructions! If there's only one set left, they might have to fight it out for the prize.
Non-violently, of course, maybe in our Fight Club forum?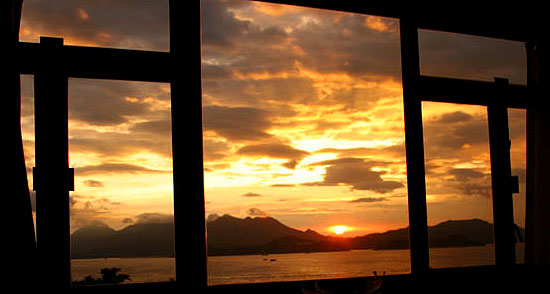 One of the winning photos above demonstrates how easy it is for the truly talented amongst us to shoot prize-winning photos. Some of us amateur photographers (like myself) climb to rooftops in the 97%-humidity, 33-degree heat, set up our tripods, fiddle with the manual camera settings & lenses and use a timer to get a decent,

shake-free shot. Meanwhile, natural talents like Ingmar just shoot hand-held in automatic mode from their couch at home and win first prize (see the window frame in the photo above)!
You can see all the entries, including the winners: Blog, July 25

Aug 1: National Lammagraphic: What You See Is What You Take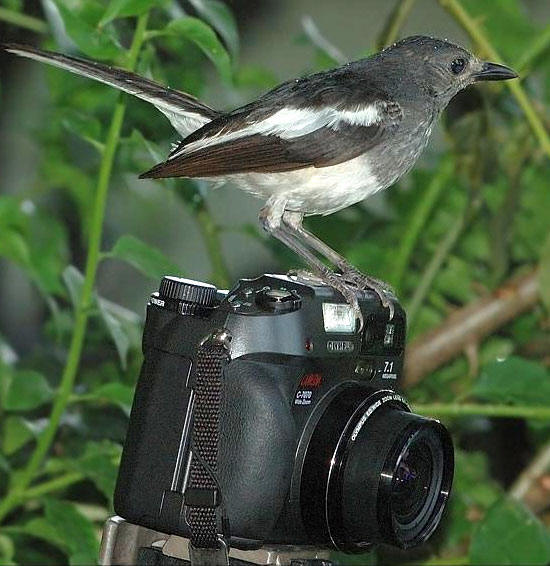 Continuation of our new National Lammagraphic series, about the frequent Trials, Tribulations & Triumphs of a wildlife photographer on Lamma, our intrepid Pictures forum moderator Guy Miller:
"
Now, lets see what the new & just released "Bontempi Polyagamut Eyeglasses" can really do...
With its built-in "straight corner" software it takes those pictures you thought you could only take by registering with the "My Satellite Co. Ltd" at huge expense.
But now all you do is press the shutter button, sit back & relax, and, hey presto, what you see is what you take!"
Our Vancouver correspondent, chuckm, joined in, in his ever-ironical way:
"This is getting very interesting! What I see is either a damn fine bit of work with Photoshop (but no!), or one

fine camera whose owner was perhaps a bit worried about avian 'calling cards' at the time."
Click on the curious Magpie Robin or the female Orange-headed Thrush (Zoothera citrinus) for more great Lamma bird photos!