Lamma Dragons Bric-à-Brac Sale @ Island Bar (May 15, 2004)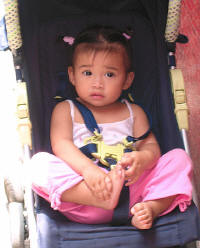 Did you hear about the Maternal & Child Health Centre inside the Lamma Clinic closing down (see announcement below)? They were providing twice-monthly pre- and postnatal services to Lamma's mothers. But they closed it on May 15, due to the government's cost-cutting measures and too few customers, they claimed. Who are they kidding? Mothers might be THE fastest-growing segment of the population on this "Fertility Island"!
To prove this, just have a look at any social gathering of the Lamma Dragons women's team! I took some photos at their recent Bric-à-Brac sale to raise racing money, focusing on the toddlers: Lamma Dragons Bric-à-Brac sale.
Lammadonna has taken up the issue, posting bilingual posters on the walls and starting a signature campaign in places like Emily's and other shops along High Street. This is a shared issue that Chinese and English speakers agree fully: This Maternal & Child Health Centre needs to reopen ASAP!
(click to enlarge)
---
---
To send comments, get more info, get high-res files for printing, or to publish your own Lamma-related photos & galleries on Lamma.com.hk or in the Lamma-zine: email Lamma-Gung.

All pictures and text may be freely reproduced for non-commercial purposes only,
but only with explicit permission from the author, photographer or artist.

Commercial enquiries are most welcome! Last update: September 29, 2019 11:12 AM

© 2018 Lamma-Gung, Compunicate! Web Publishing, e-Marketing & Photography.
All rights reserved.

<!/td><!/tr><!/table>