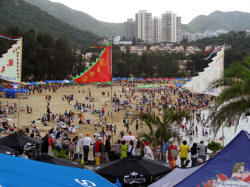 Comments on the DBay Dragon Boat Festival
A perspective from a person
who likes girls in swim suits
Last Saturday, I had the opportunity to attend the Dragon Boat Festival held in Discovery Bay. Being an indoors type of person - who likes neither sweating nor moving too much since the age of 15 - watching a dragon boat race in person was one of the many items to complete on my bucket list of "Things to watch people do while I choose not to participate", which is right after "Old people playing Bingo".
Lamma-Gung and I arrived rather late that day, around 3pm. There was already a crowd in the area and most of the beach was reserved for the event. I've only been to D-Bay once, if my memory hasn't failed me, and that was really a long time ago. D-Bay is so much more of a "high-class, developed, gated community", especially when compared to Lamma Island's YSW; well-paved roads, lots more restaurant and bar choices, not to mention the AC at the Central D-Bay Ferry Pier. Lots of small shops have opened that day for a good one-day business, from clothing to PCCW selling high-speed internet and charity organisations hoping for the rich to pass down some of their wealth.
The Dragon Boat races were fast and energetic, with around 8(?) boats racing per race, I believe. The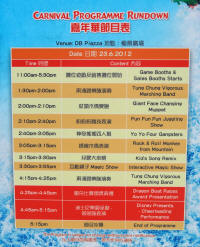 organisers had everything under good control, and the event went swiftly overall, without any problems or "surprises". There were so many teams, I wasn't able to keep track of all of them, not to mention all the different races by Women's, Men's and Mixed. There were also dancing or performance competitions happening in the DB Plaza stage most of the time.
When all the races were done, we moved on to the trophy-giving ceremony, but first were the memorabilia handed out to the dear and precious sponsors. I choose not to mention any names or organizations here since:-
1. I'm not paid to do so, and
2. I didn't even bother to remember their names to begin with (though I did use a voice recorder during the whole event).
The weather that day wasn't great, though the rain didn't last long and most people were well prepared (not to mention already wet from their own sweat and the very humid air).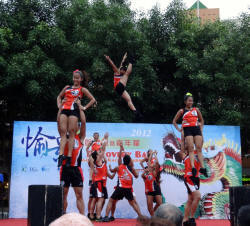 Lamma Dragons winning stats can be found here: 3 more trophies to be displayed in The Island Bar:
The event finally ended with good performances and dances (with a heavy taste of royal/ political overtones) from "Team England"; and really great dances from "Team Jump Up and Down", with great aerobatic performances and actual girls with great dance moves.
How would next year be like? I wonder, but I won't find out since I've already completed this item on my bucket list of "Things to watch people do while I choose not to participate".