Rescue From the Windturbine
Aug 31

The entire Lamma Winds area was closed off, so I had to do a bit of fast talking to get in....

Has Lamma Island Become Crezy? - Aug 30

What's becoming "crezy" here, besides our rents? The weather? The people? The bars?

Eating Smoke on Lamma
Aug 29

"Eating Smoke, One Man's Descent into Drug Psychosis in Hong Kong's Triad Heartland."

Drum & Dance @ The Beach
Aug 28

Lammaite Makha & friends performing for free at this Lamma Fun Day-style event.

Quadrocopter Over Lamma
Aug 27

Have you ever seen this funky, alien object hovering above your head at night?

Stumbling Randomly
Aug 26

What's happening in a typical day of the Lamma-zine writer/editor/ photographer?

Just Green Lamma Soap
Aug 25

Look what I found in Just Green, the "Organic Convenience Store" opposite Bookworm Café:

Lamma-Gung Has Dog-Ears
Aug 24

Having recovered from my exile in the Special Care Unit of Tung Wah Hospital....

Congrats on NOT Moving!
Aug 23

We came within just a few days of having to move out of our rented flat a few days ago!

Winning Sand Sculptures
Aug 22

Over 150 volunteers participated in the event, both from the local community and foreign countries.

Why Do You Like Living on Lamma? - Aug 21

A Lammaite was recently bitten in Bali by one of those bright-green Bamboo Pit Vipers....

Countess Lamma-Por the Shrewd - Aug 20

See what happens when I get distracted on a lazy Saturday morning on my PC,....

Helicoptering Feedback
Aug 19

My photo gallery of Helicoptering Over Lamma got more feedback than any other recent story,....

A Failed Sunset Photo Shoot
Aug 18

The sky last evening looked ready for another spectacular display of sunset colours....

Trig Point Hike & Photo Shoot
Aug 17

Let's go for another pre-breakfast hike today, via Lamma Winds and the Snake Trail to the Trig Point.

CRAZY BUNCH on Dolphin Quest - Aug 16

Congratulations to the Lamma Outrigger Club for completing the "Dolphin Quest".

If You Lived on Lamma...
Aug 15

Artist Debra Morris writes in her beautifully illustrated virtual booklet:

Helicoptering Over Lamma
Aug 14

I've just enjoyed the good fortune of tagging along on a helicopter....

Social Capital Carnival @
PS Beach - Aug 13

Care and Inclusion Sand Sculpturing Competition &
Social Capital Carnival.

The Curs & Friends
Aug 12

In The Island Bar tonight:
They promised that "It'll be a riot" on their poster, but this looks....

Trojans Detected & Quarantined - Aug 11

Thanks to Norton Internet Security for keeping the Lamma.com.hk PC safe.

Lamma Gets Steamed & Builds Sand Sculptures
Aug 10

While London Burns....
It'll be a riot.

Electricity E-Bills
Aug 9

... customers who opt for receiving e-bills can get $30 tariff rebate or donate the amount....

Getting Back in Shape
Aug 8

So you can expect to see a lot more photos from Lamma's more remote & quaint areas soon.

Lamma Lasers! Beware!
Aug 7

... something ... that makes you sit up and take notice, capturing your imagination and making....

Infrared North Lamma
Aug 6

Infrared aerial view of Pak Kok Village, Po Wah Yuen and Yung Shue Wan.

Banny the GPS Mountainbiker
Aug 5

Well-known Lammaite Banny and his GPS-enabled personal trainer and cycle computer,...

Thank You, Purple Cow!
Aug 4

Today, let me relate another one of my little misadventures in my daily Stumbling RandomlyTM.

Prevent Burglaries With Police Premiums - Aug 3

Yearly Burglary Prevention talk today in the G/F of the Lamma (North) Rural Committee bldg.

Unfulfilled Aspiration for Ten Years - Aug 2

You might have noticed this new banner on the YSW Main Street fence opposite Lung Kong?

Shimmering Sunset Ferry Ride - Aug 1

Today, a brand-new, beautiful and serene music video by Lamma Composer Adam Gill.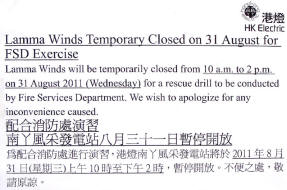 It all started with this little notice on the YSW City Hall. Curious about this "temporary closure", I decided to check it out, mountain-biking to Lamma Winds after 10am today. The entire Lamma Winds area was closed off alright, so I had to do a bit of fast talking to several uniformed people to be allowed to take close-up pictures, in addition to my panoramic shots from both the hills surrounding Lamma's eco-landmark and premier tourist attraction.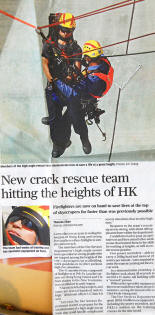 I tried to volunteer as a "victim" to be saved from atop Lamma Winds, but even my (true) story of jumping off the Macau Tower didn't impress these truly tough guys from the just recently (Aug 12) established High Angle Rescue Team (HART) of the Fire Services Dept.
Lamma Winds could be such a great location for mountaineering, abseiling, even a bungee jump attraction and I'd be the first in line to experience that!
HK Electric had invited the team for this unique and most unusual "high angle" rescue drill, even hiring a photographer and a videographer to cover it, but for their internal purposes only as no media was invited, not even the Lamma-zine. But it's quite rare for something like this to happen on Lamma without me hearing about it. Our local firefighters stopped by as well to have a good look, maybe even learn a thing or two, just in case they have to rescue any of us Lammaites from the top (3rd) floor of our Village Houses.
Chatting with senior team member Leung Wai-kong, he took pictures with his iPhone, uploading them straight to Facebook, so his e-publishing was faster than my own! He told impressive stories of training this new Fire Services elite team and rescuing people from the Ngong Ping 360 cable cars when they broke down mid-air a few years ago. Compared to that, this drill was a fun day out and these fit & cheerful guys made the most of it, going up and down solo or in tandem (with a "victim") quite a number of times, from the side and even over the front of the (stopped) windturbine.
OK, Lamma Winds: done! Next week these lads (no ladies in the team) will be dangling from the outside of the new ICC's 87th floor for another rescue drill.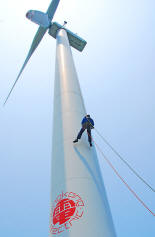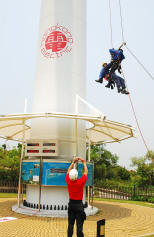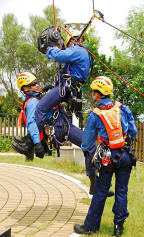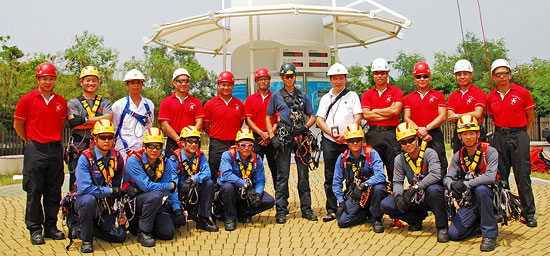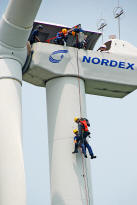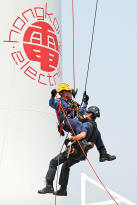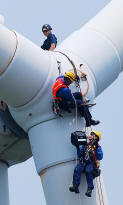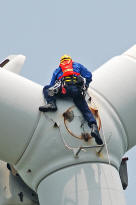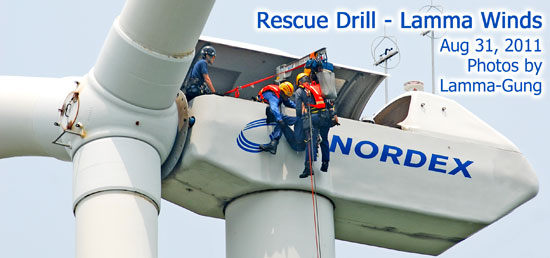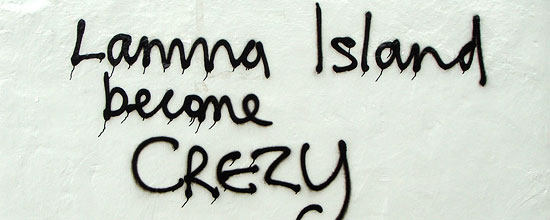 What's becoming "crezy" here, besides our rents?
The weather? The people? The bars? The environment? The graffiti?
To find out, join our Crezy forum discussion...
And if this would become true, Is it time to leave Lamma?

Jay Scott Kanes - Official Court Book Reviewer - Cairns Media:
FOR DRUGS, AUTHOR FAVORS
CHUNGKING MANSIONS AND LAMMA
Once a British military man, then a Hong Kong drug addict and now an author, Chris Thrall tells an enthralling and delusional story in Eating Smoke, One Man's Descent into Drug Psychosis in Hong Kong's Triad Heartland (2011, Blacksmith Books, 418 pages). It's an autobiographical tale of addiction, paranoia and near-tragedy for a 25-year-old gweilo who comes to Asia in 1995.
Early on, readers learn of two prime destinations to buy and consume illicit drugs. One is Chungking Mansions, a towering, run-down complex of almost-everything on Nathan Road in teeming Tsim Sha Tsui. "Ordinarily, the smell of curry and garlic would have been inviting, but mixed with that of hair ointment, cheap aftershave and body odour, as well as urine, faeces, rotting food and pest life, it created a miasma of suffocating proportions."
The second place -- for a better-smelling, more out-of-the-way version of the "high life" – is Lamma Island. " 'Fuck it, Pepi! I was dying for a smoke.' I punched the mattress.
Pepi tilted his head back and chuckled. Then, bringing his gracious laughter lines and deep tan closer, he said. 'Well, you know what this means, don't you?'
'Nope. What does this mean, Pepi?'
'This means we're gonna have to take a trip to Lamma Island."
What's Lamma like? "Together with a sprinkling of locals, it's mainly members of the Hippy Trail, artistic types and other free-spirited gweilos who inhabit the tiny island – most working in the city but wanting to withdraw from its chaotic environment and relax during their evenings and weekends. With its fair share of dope smokers, Lamma has a bad name with the Chinese community, whose cultural identity, I would learn, sees them despise drugs and the people who do them."
So many Lamma Islanders must be drug-users? "I saw people disappearing off up the hill inland towards smart three-storey maisonettes – three floors being the maximum build allowed on Lamma – and wondered if they were nipping off home for a smoke."
Initially, Thrall moves to Hong Kong for an ill-advised business venture. "I definitely thought I was right. I belonged elsewhere… in Hong Kong, the business capital of the world."
As always, Hong Kong makes a powerful impression. "The sights, sounds and smells of Cantonese culture and exchange bombarded my senses as elaborate facades sold everything from Rolex watches to dried tiger penis, steam poured out of noodle shops and a cacophony of traffic noise complemented the vivid clashing colours of signs…."
Some products that Thrall tries to sell have flaws. "…the Quorum Bicycle Alarm that everyone hoped would set off firecrackers in the Chinese market cost eight times more to buy there than a bicycle itself."
In the tropical heat, business prospects evaporate. "Without the proper merchandise, Quorum had as much chance of success as a Siamese twin in a game of hide-and-seek."
Almost as fast, Thrall falls prey to crystal-meth despite knowing its dangers. "As I stood there on the platform at Tsim Sha Tsui for the third time in a week, unable to stop myself going to buy meth and not wanting to stop anyway, I knew I was addicted."
When under the influence of drugs, some routine Hong Kong activities turn extraordinary. On the Mass Transit Railway, "My fellow passengers slowly began to morph like some bizarre mutation from passive commuters conversing in subdued Cantonese tones into chattering chimpanzees. It wasn't so much strange as intriguing. I found myself staring at the couple across from me, wondering if the shape-shifting would continue and how it'd be if they started screeching, beating their chests and rampaging up and down the carriage, swinging off the handrails and chucking bananas at me."
Addiction and disorientation create problems for Thrall to hold jobs. Always soon dismissed, he works as a salesman, night-club doorman, disc jockey and school teacher. At work, he spends much of his time "sorting out jack shit from bugger all".
A transient resident of different neighborhoods (Admiralty, Mongkok and Wan Chai), Thrall descends into delusions and erratic behavior. "Living in the Not-So-Fragrant Harbour really spun your melon at times."
Soon readers too must struggle to decide what really happens and what wafts from drug-induced illusions. Even the book's title has puzzling origins. " 'Sik yin! Yat gun ho lok!' came that bizarre shout down the stairs of the club, again, as I sat behind the lectern enjoying a busy evening.
I'd been hearing it for days in both English and Chinese accents. I knew what it meant. I just couldn't see from down the stairwell who kept shouting it from the street above.
Sik yin, literally, means 'eating smoke' – 'smoking' as in cigarettes. Yat gun ho lok means 'one can of coke'. But why people were shouting it at me, I had no idea."
Maybe the exact dimensions of reality hardly matter. More importantly, sometimes the drugs deliver jolts of courage. Often they don't. "By fuck, I was scared… absolutely fucking terrified."
Fascinating, disturbing and even revolting, Eating Smoke won't please anyone squeamish about Hong Kong's nasty side or about illegal, self-destructive behavior. "Sitting on the filthy concrete, I convulsed occasionally and whimpered like a sick dog. I hadn't slept for days, the crystal meth pulsing through my veins denying all refuge from the madness enveloping me."
Despite Thrall's flights of fancy, the book also has a rich candor that makes a powerful anecdote for tourism-promotion videos. Here's the real Hong Kong: "…I decided to (scoot) up a back alley – a dark stinking shortcut that crawled with fat rats thriving on scraps thrown out of the back doors of restaurants. They weren't ordinary rodents, either. These dirt-matted mutants only scurried out of the way so they could watch with contempt as you passed through their patch, jeering as stale water dripped down from antiquated air conditioners."
Partial credit for the book's strong points goes to its editor, Alan Sargent, a veteran prose-repairman who handles many of the best English books written in or about Hong Kong. By coincidence, he lives on Lamma Island.
Readers familiar with Hong Kong will recognize much, including the types of triad-infested nightclubs where Thrall works. Even so, many of the events come as surprises, as do the contents of backrooms: "Tucked in next to the electricity cables on the conduit overhead were two sawn-off iron bars – about three inches long and perfect for holding in your fist to add to the punch you'd give an unwelcome guest. I found a length of metal rod on top of the air-conditioning unit, a heavy chain behind the refrigerator and a rusty meat cleaver underneath it.
'Wow! It's like something from a Bruce Lee film'."
Most visitors to Hong Kong, and even many residents, never have experienced the city's sinister core more closely than they will in Eating Smoke. Thank goodness!
Born in Kent, England, Thrall joined the Royal Marine Commandoes at age 18. During a seven-year military stint, he served in Northern Ireland and trained in Arctic warfare, the latter being of limited value in sweltering Hong Kong.
The author remembers enough from his Hong Kong days-of-haze to fill this memorable, slightly disturbing book. Curious readers may wonder if he can write equally well on drug-free topics.
For more information:
http://www.blacksmithbooks.com/9789881900296.htm


The highlights of the recent Social Carnival Capital @ Power Station Beach were, in my humble opinion, the West African drummers and dancers: Lammaite Makha & friends performing for free at this Lamma Fun Day-style event. They got the surprisingly international crowd clapping, singing along and even got Lammadonna dancing, see below:
More pictures in the Social Capital Carnival photo gallery...
Now you can learn these infectious moves and drum beats yourself every Sunday on Cable Road close to Power Station Beach. Show up and get a Free Trial Class!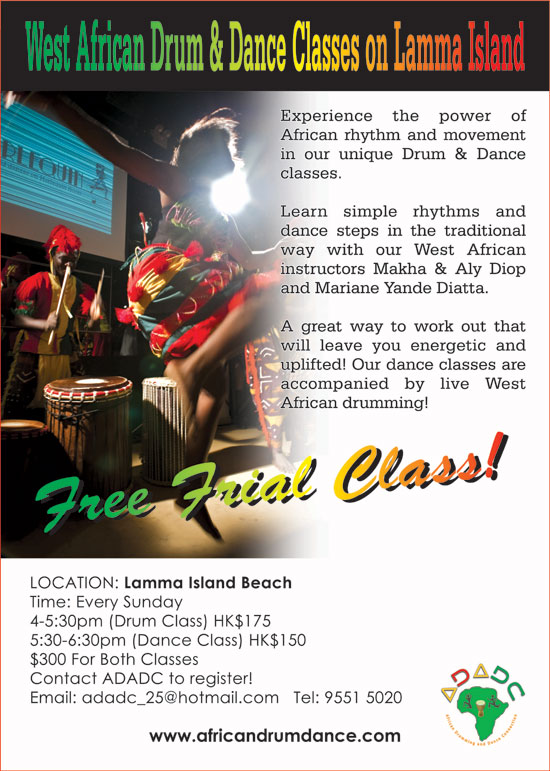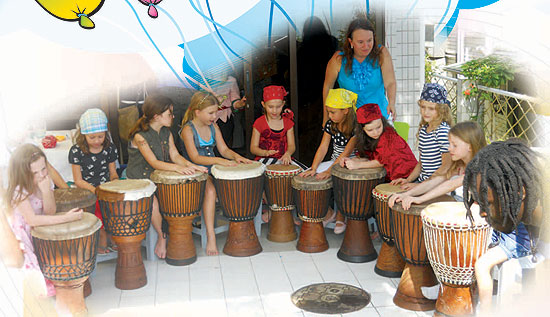 Children's Birthday Drum Jam - a unique experience for your children!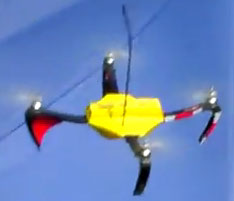 Have you ever seen this funky, alien object hovering above your head at night, moving around UFO-like, emitting whirring, humming noises? No? You might have seen it if you live in Tung O Wan, the new centre for quadrocopter enthusiasts. This is how this thing looks like in daylight, a quadrocopter with 4 turbines. Pretty cool, eh? I want one! What a nice tool for taking secretive photos and videos, ideal for investigative journalism and uncovering some well-hidden aspects of island life?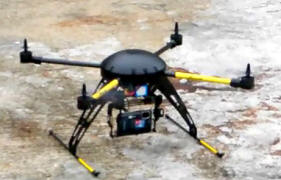 They even mount video cameras on their quadrocopters and upload the results to YouTube! It all started with a reply email to my "Helicoptering Over Lamma" biweekly e-newsletter (click for free subscription) on Aug 15, sent to 4,500+ recipients worldwide. The mysterious feedback email from LammaJoeYu contained no words, just a single YouTube link. Spam? I almost deleted it, but after checking the link quality, I opened it up.
Like "Open Sesame!" I entered a little wonderland full of short videos shot automatically by a model quadrocopter (see above, click for close-up video) taking off from various parts of Lamma, rising high, looking around and then landing again. It took me a while to explore and watch it all, seeing Lamma in a way that you could only see when flying low above our island. A quadrocopter is probably (?) cheaper than one hour in a Heliservices helicopter (HK$25,000)!
Below are the best videos I found, sorted by starting/landing points. I had to figure out some of the more unusual locations myself as there are no descriptions, titles or keywords; so no chance of finding these videos by searching. The wildest ones are filmed with a remote-controlled camera and a fisheye lens:
Lamma Winds -- Concerto Inn, Hung Shing Yeh beach
Ling Kok Shan helipad, above Sok Kwu Wan -- Tung O Wan, South Lamma
(just uploaded by lammajoeyu, only 2 views so far!)

What's happening in a typical day of the Lamma-zine writer/editor/photographer while I'm Stumbling RandomlyTM all over Lamma? Well, let's use today as a good example, another unplanned day without any appointments or schedules: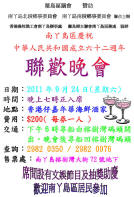 1. Alerted by this banner on the fence vis-a-vis Deli Lamma and a poster (all Chin. only) at the Rural Committee Bldg. opposite HSBC, I got it translated by my "summer intern", Lamma-Por. Picking up two tickets in Lammadonna's office for one of the oldest Lamma events, the National Day dinner, we learn that it's probably the biggest, not-free, yearly event for Lammaites.
About 500 of us will take special ferries to Aberdeen on Sep 24, 6pm. We'll be on table #37, just in case you might like to join us on our very first-ever National Day dinner, including some tbc VIPs, performances, Lucky Draws. Another great opportunity for a photo gallery, titled something like "Patriotic Lammaites at Play"?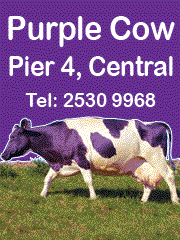 2. After several months of being neglected outdoors - due to my two skin surgeries within less than three months - my slowly rusting mountain bike is in desperate need of some professional, loving care and attention by our reliable & cheerful Bike Lady.
Within two hours - she even refused my tip - I can ride my bike again through YSW for the first time in months. It's so convenient for exploring what's happening all over Lamma, North and South, looking for Lamma-zine news. Mo Tat Wan and Tung O Wan, here comes the Roving Bike Reporter ... next week.
3. Depositing a mailed cheque from Bookazine who'll continue their occasional advertising banner on this home page till the Christmas season. Expect to hear more from Bookazine in the next 4 months.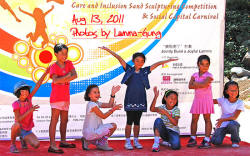 4. Hiking via the Snake Path to Hans Andersen Club in Tai Wan Village, dropping of a DVD with all the high-resolution photos I took of their Social Capital Carnival. Their PR lady liked them, requesting them for their own use. Always happy to oblige.
Judging from their extremely well-organised Carnival, HAC and their 150 (!) volunteers would be most qualified to organise Lamma Fun Day in the future, after its cancellation this year, lacking organisers.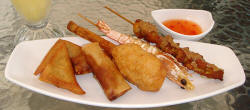 5. While waiting for my bike maintenance, why not spontaneously walk over to Hung Shing Yeh beach to enjoy one of Concerto Inn's fabulous Afternoon Tea Sets?!
Raymond the Master Chef, Carl the Coffee Master and ex-B&B's Danny all come over to my table to chat. When one of them misunderstands my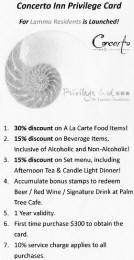 left-over takeaway request and dumps my left-overs by mistake, Raymond fries up some additional fresh samosas and spring rolls for me to take home, without any problems. Great!
I'm getting the 15-30% Discount for Lamma Residents, tipping generously. A really classy place with great service!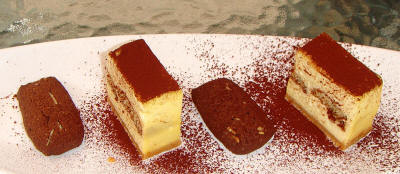 They've got a brand-new website, new logo, and a wide selection of Specials and Packages available now.
6. On my hike back from the beach, I encounter our off-duty-casual Police Chief, Philip Kwok, on Back Street. He greets me and we start chatting:
After a little encouragement from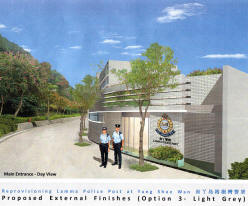 his boss (whom I've met at the recent Public Forum about the New Police Station), he promised to write some advice for Lamma-zine readers on how to avoid burglaries (received the next day!)
New Police Station on the first phase of the YSW harbour reclamation, just behind the future Activity Room besides the Gaido Pier: tendering right now, construction to start before end of this year, replacing the Police Station above Hung Shing Yeh.
Murder case: no confession from suspect, no major news, in Eastern Magistracy now, to be referred to High Court for jury trial.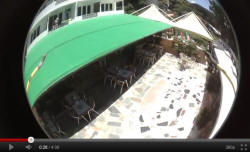 7. Returning home, I notice an email from LammaJoeYu, no words, just a link. Checking it out, I find YouTube videos shot from a model helicopter lifting off various spots all over Lamma. One of the videos takes off inside the courtyard of Concerto Inn, literally a few feet away from where I was sitting this afternoon. See separate story tomorrow....
8. Calling a yard sale number, after seeing their poster plastered in dozens of places all. Tomorrow, I'll pick up a Canon Pixma MG5270 color inkjet scanner/ copier/printer,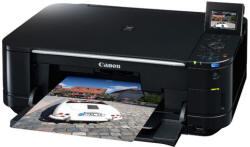 replacing my 10+ year old and dying HP printer which can barely print black text anymore.
I'll be connecting it to my Wifi router so Lamma-Por can print from her gaming laptop. The Canon machine is only 5 months old, 60+% off at only $500; another great bargain in a Lamma yard sale from a couple leaving for Bahrain. They might stay in touch with what's happening on Lamma via this website.

Look what I found in Just Green the "Organic Convenience Store" opposite Bookworm Café: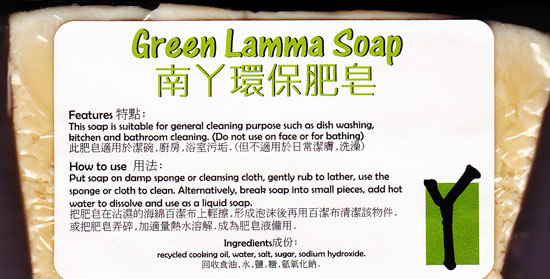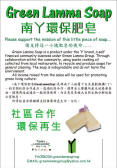 After closer inspection, it turns out that this is a product from the Green Lamma Group, using waste cooking oil from local restaurants, recycling it to create biodegradable soap for charity. Wow, a most commendable initiative and so easy to support at only $12/soap bar! More details on this flyer.

When buying for my little purchases - most items in just Green are not available anywhere else on Lamma - I noticed on the sales receipt below that there's a 3rd location of just GREEN? Checking out their website at home revealed that Helen the Just Greenie is opening up a 3rd store this month in Wanchai: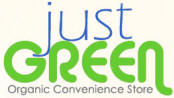 Oh, you haven't heard yet of the 2nd store in Soho either? It's been open for quite a while now (1 year or so) on 52 Graham Street, pretty close to Life Café whose co-owner/head honcho Moosa (pictured below) is also the investor behind the just GREEN chain. This is Helen's neat, pretty and comfy Soho store filled with colourful Organic Convenience food & healthy things:
P.S. By the way, just GREEN is not a Lamma-zine advertiser, but they have advertised back in the modest start-up days when they had only one shop, on Lamma. Have you/your friends visited the new Wanchai store yet? Any pictures?

We came within just a few days of having to move out of our rented flat a few days ago!
Our landlord insisted on a much higher rent to renew our contract. We tried to negotiate but to no avail. Pay up or move out, we'll easily find some well-off professionals from town with two salaries who can afford this new rent, seemed to be the implicit assumption.
He might be right, as there's very little rental property on the market right now, agents' windows displaying just a single handful of FOR RENT ads. Most landlords realise that it's the very top of a property bubble and are eager to sell right now at maximum profit before prices will retreat to saner levels, hopefully soon. In the currently craziest sale and rental prices Lamma has EVER seen, the get-rich-quick mentality is becoming starkly visible once more, demonstrating HK as the most capitalistic place on Earth (or the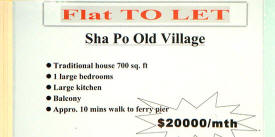 World's Freest Economy as our Govt. loves to flaunt this dubious yearly accolade.)
Friends who bought two floors in a new village house two years ago for $4 million got offered $8 million by Mainland investors, but didn't sell as their family loves the place. Strange, but then they're not HK locals, valuing other things higher than money. Such weird people!
We have a pretty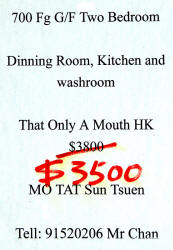 good off-island Chin. landlord, who pays for everything that needs some fixing or maintenance, from cleaning aircons to replacing the canopy. Lamma-Por and I and our friends really, really like this place. It's also my comfy home office seven days a week, and we spend a lot of time in here, sometimes not leaving our home all day.
So we relented in the end, remembering all the massive hassle, cost and inconveniences of moving all our big furniture and stuff two years ago, accumulated in almost 24 years in HK, plus my unmovable Rooftop Jungle, and extended our lease. But it's high time to clean out, simplify and minimise our worldly possessions dramatically. Then we could maybe move into a smaller, much cheaper place next year. Lamma-Por just becoming unemployed again recently adds to the bad timing of this drastic rent increase. Well, I'll muddle through with some rare, hard-to-find freelance projects like photo shoots and Internet consulting, we're survivors....
A good friend who has just moved and found it a very tough, time-consuming, frustrating and expensive ordeal congratulated us on NOT moving. Thanks!
P.S. The two rental ads above are from now and less than 2 years ago.


500 Volunteers and Families
Enjoy Social Inclusion on Lamma Island
"In the past three years, Hans Andersen Club was glad to be funded by Community Investment and Inclusion Fund, providing social inclusion events and after school care programmes for children and inhabitants living on Lamma Island. The Care and Inclusion Sand Sculpturing Competition & Social Capital Carnival was held on 13 August 2011 on the Power Station Beach to conclude the success of this project. It was aimed that via the competition, communication among people from different walks of lives can be enhanced.
"... witness over 150 volunteers participated in the event, both from the local community and foreign countries, which was a good sample of social inclusion and mutual help....
"Performances on African drumming, ocarina, teenagers' band, karatedo and dance are included. 14 game booths provided various creative activities on storytelling, face drawing, balloon twisting and snacking. To promote the culture of environmental protection, recycle dream houses created by primary school students were exhibited on the beach. These students joined the "Fairy Green Home" project earlier this year, which included an eco-tour around Lamma Island. On their way, they collected garbage and made use of the materials to create their dream homes."
Winner of Open Group (C12, Carson & Friends Volunteer Group) --
Most Popular Award (C17, Northern Lamma School)
Winner of Family Group (C2, Ma Man Choi Group) - Tracy & Ewan - Andy & Chloe
(all photos above by Hans Andersen Club Lamma Island, below by L-G)
Careful, dedicated & meticulous, Andy @ work --
It looks like Andy entered a Beach Fashion Contest? --
Sand sculpture C3, the Great Wall of China's Badaling Gateway, inspired by a trip.
Jointly Build a Joyful Lamma - HAC leaflet, page 1, page 2
Finally, a little story from the Hans Andersen Club's newsletter about the Windebank Family and their sand sculpture above
(translated from Chin. and updated by HAC, thank you!):
"Tracy Windebank and her family started living on Lamma Island twenty years
ago. Tracy considered that learning the Chinese culture was essential in
Hong Kong. Therefore she sent Ewan, her elder son, to Lamma Island Centre of
Hans Andersen Club to join the after-school care programme. In the class,
Ewan got to know many friends from different nations, his Chinese language
also improved a lot. In the past, Ewan was a bit self-centered, but now,
with the long-term company of other kids, he is capable of taking care of
others and is more cheerful and outgoing.
"On 13 Aug 2011, Andrew, Tracy's husband brought Ewan and Chloe, his younger
daughter, to join the Social Capital Carnival organized by HAC. Andrew
enjoyed the cheerful atmosphere in the carnival; children and adults,
regardless of their race, working hard together for the Sand Sculpturing
Competition. The Windebank family chose to make the Great Wall of China, as
Andy had just been to Beijing this April. The family was impressed by the
Great Wall as it contained a lot of history."

I have just been reminded again by another patronising Govt. TV announcement that I seem to be doing almost everything wrong when I go hiking. I usually hike alone, don't wear long-sleeved, light-coloured clothing, rarely carry water or snacks, never wear sunscreen or mosquito spray, don't stay away from scrubby areas, and usually don't even wear a sun-protective hat. But I haven't had any serious problems in many years so far, no sunburn, heat stroke, twisted ankle or snake bite yet and hardly any mosquito stings. Well, one (harmless) centipede bite and one (very painful) wasp sting so far, but they both didn't happen during hiking. Ah yes, a few stitches inside one eyebrow from stumbling down a "Lamma Forest" path a few years back, nothing serious....
Well, all of this probably shows my stupendous stupidity and my sheer dumb luck so far? Or is it because Lamma is relatively small and pretty safe for hiking and exploring? It's almost impossible to get truly lost or get into serious trouble, as you're always close enough to get help in any emergency. Our subtropical flora & fauna is generally pretty benign and harmless. There's (almost) nothing that wants to chase, hurt or even eat you, as long as you remain reasonably careful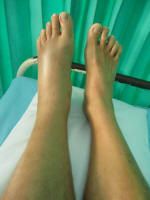 (for example, don't step on any snakes). So even carefree and footloose hikers like me survive relatively unscathed while stumbling randomly through Lamma's beautiful hills.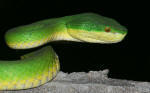 But talking of snakes, there have been quite a number of local sightings these last few weeks and months. Check out the pics, including a Lammaite who was recently bitten in Bali by one of those bright-green Bamboo Pit Vipers which are not uncommon on Lamma (photos by Nancy the Frog Lady & Katie Flowers):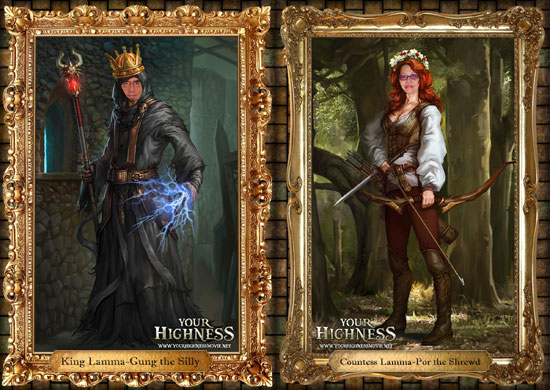 See what happens when I get distracted on a lazy Saturday morning on my PC, not in the diligent & creative mood yet for another Lamma-zine story? After updating my Firefox browser and the Flash plug-in, I followed Adobe's Flash Site of the Day recommendation (won't work if you're using an i-something). It's a beautifully animated and interactive movie site promoting the upcoming medieval romp, "Your Highness".
Like on some e-card sites you can upload your photo into a scene and customise it, changing clothes and accessories. "King Lamma-Gung the Silly" couldn't resist a test and His Highness came up with this couple's portrait which has become the wallpaper on my PC and Lamma-Por's laptop now. She choose the title herself from a list of options, "Countess Lamma-Por the Shrewd". So apt!
OK, enough goofing off, back to real work now, finishing some Lamma-related stories and photo shoot, plus collecting loads of input from many people for future stories. In the meantime, you're most welcome to...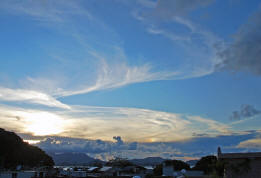 The sky last evening looked ready for another spectacular display of sunset colours and shapes. So I grabbed my camera and tripod and climbed to the top of my rooftop with a ladder, setting up the tripod for a series of photos to create an "animated" sunset. Patiently taking the pictures one by one every few minutes for half an hour, the sunset never really developed into something colourful and worthy of showing in the Lamma-zine, beyond this early photo.
When I was all ready to pack up and enjoy Lamma-Por's dinner downstairs, the long afterglow of the sunset caught my attention. I took a few snaps - timer, several seconds of exposure time, standard Sunset/Night programme - and was quite happy with the results! So the failed sunset shoot turned into a pretty successful night photo shoot. If life gives you lemons, make lemonade.
Then I rotated my camera on the tripod, taking a few more pics in different directions. But my dinner got cold in the meantime....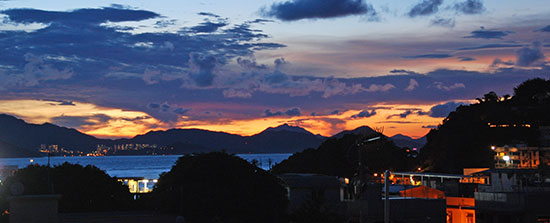 YSW Ferry Pier -- YSW, Po Wah Yuen in the distance
Sha Po New Village - Plane, several seconds of exposure

Tai Shan Village
Tai Shan close-up -- Sha Po Old Village

Flying in a helicopter around Lamma a few weeks ago has dramatically increased my appetite and eagerness for more high-and-above sightseeing during our current, incredible spell of amazing weather and fantastic visibility.
Let's go for another pre-breakfast hike today, via Lamma Winds and the Snake Trail to the Trig Point, the highest point of North Lamma with the absolute best 360-degree views over all of Lamma, my favourite sightseeing spot.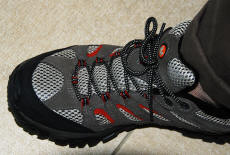 After having had to stitch up my falling-apart, profile-less hiking boots recently, it was time to check out Final Sales. After a lot of trying-on, I settled for a comfy pair of "Moab Ventilator Grey/Rust Merrell Performance Footwear" with "Air-cushion Vibram" and "OrthoLite Comfort Foam Insoles" for just a few hundred bucks. They should serve me well for several years of walking, hiking & biking. Today will be the first performance test for my new Performance Footwear, Made in China.
In one of my former lives, as the Regional MIS/Telecom Manager for Reebok, I'd visit "athletic shoe" factories all over Asia. Occasionally, I'd get free, just-finished, latest models of Reeboks to wear, directly from the assembly line, sometimes before they'd even become available in shops worldwide.
Of course, I wouldn't go anywhere as beautiful as my favourite sightseeing spot without my old but reliable camera. As usual, you can "click to enlarge" most photos in the Lamma-zine.
Get your behind up to our windturbine landmark first; it's less than 15 minutes hike from Back Street via the concreted Snake Path past the Kindergarten. Just before Lamma Winds, before the staircase to the Pavilion, turn right into the Snake Trail.
My favourite trail runs almost parallel to the Family Trail far below, but with much better views and usually devoid of any people. It's a nature trail running along the hills' ridge lines all the way to the Youth Hostel above the Lamma Quarry. Maybe a good half hour of leisurely walk, or much faster when jogging or mountainbiking; quite a few Lammaites love to do this, usually on weekends.
From there you could rejoin the concreted paths in all directions, to Sok Kwu Wan, Luk Chau, the Lamma Quarry, or back onto the Family Trail to Hung Shing Yeh beach and Yung Shue Wan. Today, we'll only walk for about ten minutes on the Snake Trail, till we reach this little plateau with sweeping views over the bays (Wan) of Lo Tik and Luk Chau:
Plateau overlooking Luk Chau Island and the fish farms --
a friendly Lammaites left two chairs for us to rest and enjoy the view
(great spot for sunrise watching!) -- Lo Tik Wan pier (no ferries)
Turning right on the viewing plateau, let's walk uphill, not continuing downhill along the Snake Trail, through a little, quiet Eucalyptus forest up the nearest hill.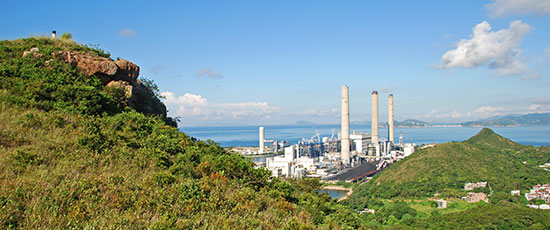 Trig Point on the left, marked by a geographical marker, a black/white pillar:
150m above sea level, but the Power Station chimneys are 215m tall --
NOT a Gatorade ad! It's filled with (boiled) tap water -- Views to Lantau Island

Fantastic 360-degree views (see the header of this website,
also shot from the Trig Point)
Mobile phones do work up here, like almost everywhere on Lamma, even atop Mt. Stenhouse. So I called Lamma-Por at home and asked her to wave at me from our rooftop, a god test for my old zoom lens (Nikkor 18-200mm DX VR). Zooming into the confusing maze of Sha Po Old Village, look there, she's waving!
Tai Peng Old Village -- Hung Shing Yeh beach
Zooming in on Hung Shing Yeh beach -- Zooming in even more... --
Anybody home in this solitary forest home of a famous artist? It's so secluded it won't even be connected to our Sewerage Works-in-progress.
Ko Long Village -- Po Wah Yuen and "Lamma Forest"
(Lantau and Green Island in the distance)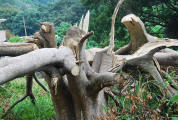 This area above, between Cable Road #1 and #2, directly adjacent to Power Station Beach on the left, has recently been crudely deforested. It's zoned for up to 100 Village Houses in the coming years. The free-standing house and the brown block of houses on the right side have recently been completed and sold/rented out at record prices. In a decade or so this area might look like the centre of YSW....

Lamma Winds and the Trig Point on the right edge of the picture,
shot from my rooftop, right after the hike.

Wrapping up this photo shoot, how about a 360-degree panorama,
stitched together from 8 photos: placing the camera onto the flat top of the Trig Point for stability, pressing the trigger, rotating it 45 degrees, pressing again,...
This is only the 5,000 pixel wide panorama, the full size is 20,308 pixels wide!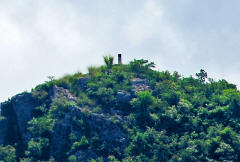 After watering my Rooftop Jungle & Pond, descending on the inside staircase, my new hiking boots, sole still wet, slipped and I landed on my ass on the stairs, sliding down. Ouch, another black, blue & yellow bruise!
Ascending safely to the highest point of N. Lamma, no problem ... descending a staircase in my flat, big problem! Most accidents occur inside a home, not outside. Don't worry about getting hurt while exploring Lamma's nature, worry about getting hurt inside your home!

Sincere congratulations to the Lamma Outrigger Club completing a 75-km (!) paddling "Dolphin Quest - Round Lantau" on Aug 13. That's an amazing, mind- blowing achievement on such a hot & sun-drenched Saturday!
OCCCaptain Claudia writes via Facebook:
"Just to let you know what's going on in Outrigger World.. We have all gone mad. Yesterday, 10 members of our team joined with Lantau Boat Club to take 2 outriggers with a support junk round Lantau on a Dolphin Quest.
Changing crews in and out of boats it took 7 hours and 30 mins to cover the 70km distance. The experience was amazing - planes roaring overhead when we approached the airport, beautiful scenery and pink dolphins everywhere!!
Another 3 members of our team are doing the same trip today but yesterday they covered another 75km from Stanley to Clearwater Bay, through the harbour and to Lantau. Photos to follow."
This seems to confirm that "Dragonboating is for wimps - 500m-only races! - really tough guys go outrigging!" (quote from anonymous who doesn't want to get into trouble with the also very tough dragonboaters; many Lammaites are members of both clubs, being double-super-tough!)
Anyway, I was asking the OCC "Why would ANYBODY in their right mind do a 75km paddle on such a hot day instead of sitting in the aircon with a cool drink?"
I got this proud and defiant answer from Julie Yao:
"[It's a noble] quest to preserve the origin of outrigging & its spirits, paddling along the beautiful coastlines & be mindful of the environment.
OR simply because there're no better days than now to venture into the wild when there are enough of us CRAZY BUNCH!"
Well said, Julie! We'll keep an eye out for your CRAZY BUNCH paddling off our coast, circling not just Lantau, but also Lamma and all of HK Island in races every year! Ayeeah! Chee seen! But we'll do the cheering (and maybe even watching the CRAZY BUNCH with binoculars) from within our nicely air-conditioned flats while sipping a cool drink.... (Pictures by OCCCaptain Claudia, click to enlarge.)
Jamie and Leo ready for a sea change -- Near the airport 2
Getting ready for a sea change -- Near the airport -- China ferry
Lantau and Lamma's outrigger quest to find dolphins -- Lamma crew after
More pictures & videos by Leo Chung... and Liocc.

Artist Debra Morris writes in her beautifully illustrated virtual sketchbook above:
"If you lived here...
you could go for a morning SWIM and collect shells ...
you might see a LANTERN BUG ... you could eat MOON CAKES ...
you'd see dancing DRAGONS ... and eat DRAGON FRUITS ...
you might see a PRAYING MANTIS on the balcony ... or a COBRA downstairs.
you might see a JUGGLER ... you'd see DJEMBE ...
you'd see KITES in the sky ... you'd see SPIDERS in the trees ...
you'd see GECKOS on the walls ... and the ceiling ...
you wouldn't see any CARS ...
you'd have to get a ferry to get to work ...
you'd be happy to get home and ...
we could have a drink at sundown."
Flickr slide show
(view it full-screen by clicking the enlarge square in the lower right)
Debra's blog post (with 24 comments!) about the sketchbook cover.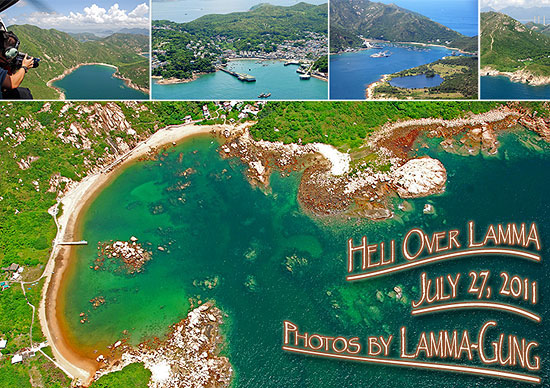 I've just enjoyed the good fortune of tagging along with a famous photographer on a helicopter photo shoot over HK Island and Lamma Island on a beautiful summer morning. Heliservices even agreed to remove the doors for us two photographers for the best views, letting us hang in our 5-point seatbelts while shooting straight downwards. Starting atop the Peninsula Hotel in TST, after completing the photo shoot assignment, on my special request we circled Lamma Island 1.5 times, giving us the very best and clearest views. From the air, I fell in love with Lamma Island all over again, after my last Heli Over Lamma experience in 2005.
If you'd like some high-resolution/print-quality files of some of my photos, or get me to zoom in on your home or favourite locations, or see many more of these "Heli Over Lamma" photos, or select from my extensive 10-year archive of Lamma- related photos, contact me. It's free for our advertisers, sponsors & occasional Lamma- zine content contributors, but modest stock photo fees apply for anybody else and any commercial uses, of course. Click for the subtitled photo gallery!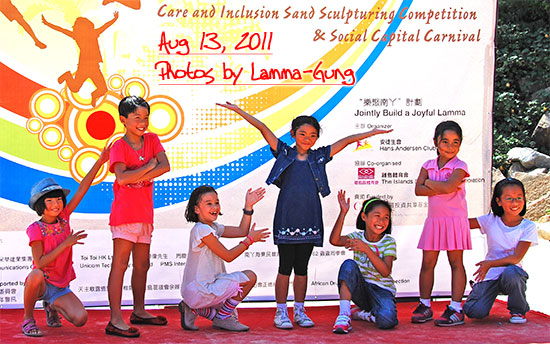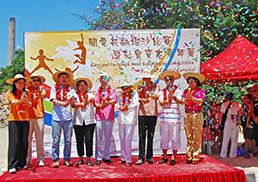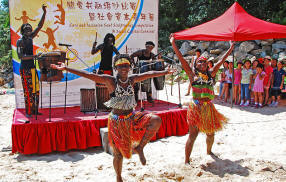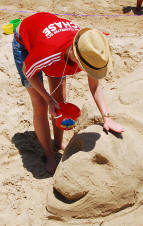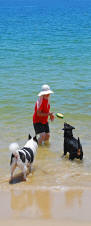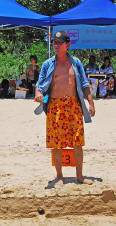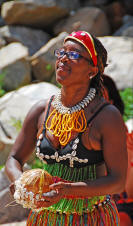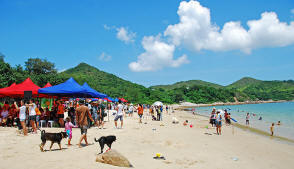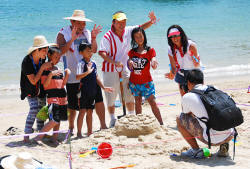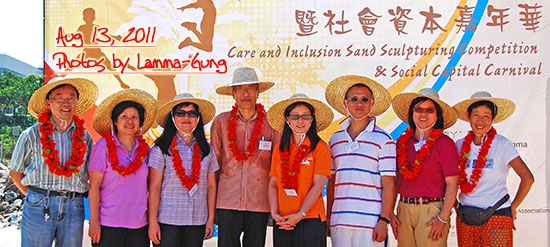 Click above for subtitled photo gallery!

---
P.S. I've finally figured out, being a bit slow sometimes, the name of that skeletonised dog, the mascot in so many of Harry Harrison's wonderful posters (see below) for The Curs, the ever-popular, fantastic, rockin'-da-house, de facto "house band" of The Island Bar:
The mascot is named Lobert, in fond memory of this late, widely beloved, elderly dog who was a regular at neighbouring Man Fung Rest. and The Island Bar. You'll surely remember him (see Lamma-zine eulogy for Lobert):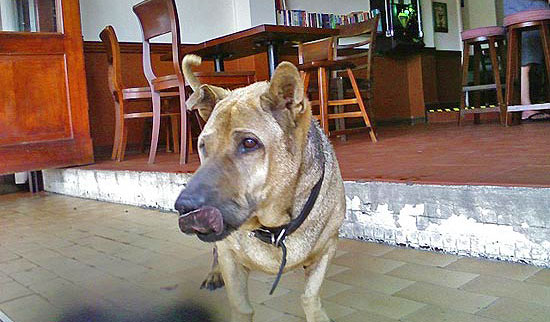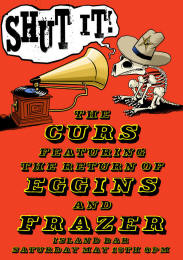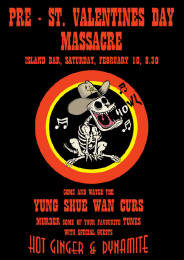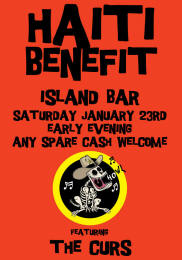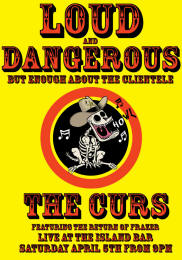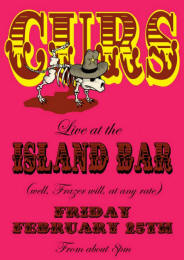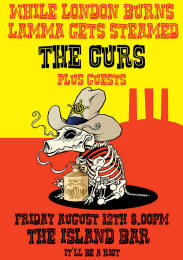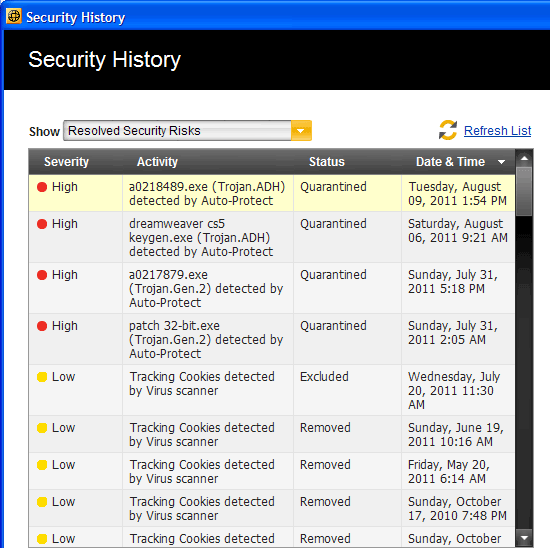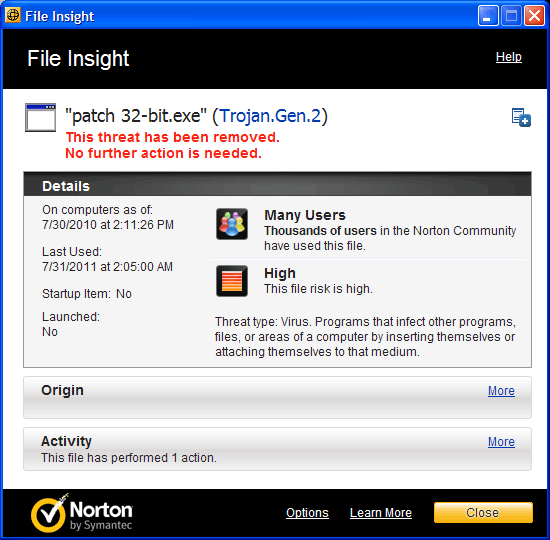 Thanks to Norton Internet Security for keeping the Lamma.com.hk's "Green Mean Machine" PC safe and secure from all those nasty would-be invaders - trojans, viruses, worms, tracking cookies, firewall attacks, spam email, etc - without worrying or inconveniencing me in any way, automatically detecting, removing and quarantining any potential and real threats!
Just once a month the program likes to inform me via a Security History reminder of what a good job it's been doing and bragging about how many times it has saved my bacon this month by quietly and reliably protecting me from any virtual harm befalling my trusty, hard-working, but vulnerable PC.
Thank you, Norton Internet Security, I'll gladly extend your modest yearly charge for constantly keeping up with the very latest, new threats emerging from Cyberspace, marking several years free of any infections or virus problems.
Let me keep my fingers crossed and my protection always active and up-to-date.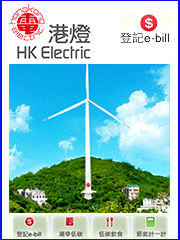 A nice promotion from HK Electric:
From now until 31 October 2011, customers who opt for receiving e-bills can get $30 tariff rebate or donate the amount to designated green groups in Hong Kong (The Conservancy Association, Friends of the Earth, Green Power, WWF). Customer can register through the HK Electric website or their Low Carbon App anytime, anywhere.
So far, around 27,000 customers have registered for e-bill and don't receive monthly bills by mail anymore. Each customer switching to e-bills can help reduce their carbon dioxide emissions by about 620 grams a year.

More information about the e-bill promotion can be found at this link:
I've just registered our own electricity e-bill - a quick and easy 1-minute online procedure - and will donate the amount, of course!
For all you iPhone, iPod Touch & iPad fans out there, there's a "HK Electric Low Carbon App" to promote a "Green Lifestyle", available for free in the Apple iTunes store. It features "E-bill Registration", "Low Carbon Classroom", "Low Carbon" recipes" and an "Energy Calculator" to estimate your electricity consumption and carbon footprint. HK Electric promotes this App in the iTunes store with this slogan: "Be cool, go low carbon. HK Electric Low Carbon App brings you interesting ideas and smart tips to adopt a low carbon lifestyle. Be a green citizen, download it now!"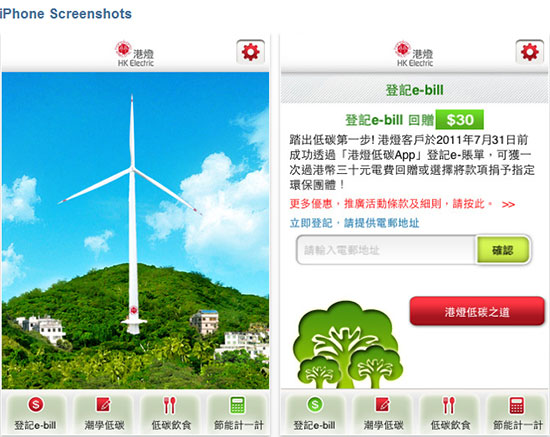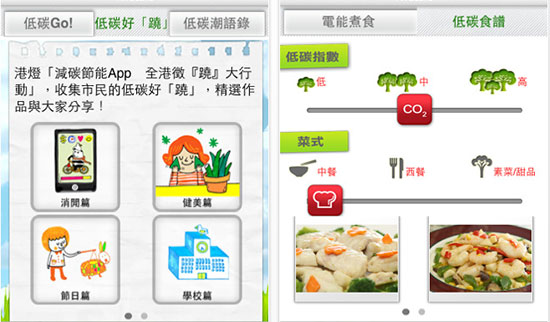 It's been almost 6 weeks since my 2nd (successful this time) tummy skin removal surgery in public QM hospital. My surgeon just gave me the all-clear to return to moderate exercise, finally! No BoostCamps yet, but hiking and biking is permitted and strongly encouraged, trying to get me back in shape ASAP. Starting from today - on the auspicious date of 8/8 - you might encounter me up in Lamma's hills, but usually well before breakfast, when the temperature is still bearable for outdoor exercise.
So you can expect to see a lot more photos from Lamma's more remote & quaint areas soon. For example today: the wild blue yonder of the remote tall hills of Tai Peng Village where only Lammaites who actually dare to live up there in Snake Central ever venture. Plus intrepid me who's always looking for new sights to photograph while I'm Stumbling RandomlyTM all over Lamma, getting lost not infrequently, but deliberately. It's just one of my ways of making new discoveries, even after almost ten years of living here.

Occasionally but rarely, you read something in the newspapers (traditional or online) that makes you sit up and take notice, capturing your imagination and making you wonder what's behind the catchy, intriguing headline. Case in point:
Lamma lasers to shoot winds
by Samson Lee
The Standard - Friday, August 05, 2011
Wow, what could that story be about? Over-active minds boggle and fertile imaginations run rampant, dreaming up wild imaginings of what this headline could possibly mean! Let me come up with just a few myself, before you'll actually read the story and get the explanations, the real, but probably more mundane story behind these mysterious devices:
Lamma Lasers? Light show of a wild rave party on a secret beach, lighting up the sky and clouds till the secret beach is not so secret anymore?
Lamma Lasers? "To shoot winds", meaning somebody (WHO?) might use lasers to shoot Lamma Winds, our beloved, cute, little windturbine up on the hill, the 2nd major landmark of our home island? That could be an unmitigated disaster for our local tourism-dependent economy!
Lamma Lasers? Low-powered hidden lasers used by some annoyed Lammaites to zap obnoxious tourists, tour groups, pedestrians and bikers on Main Street?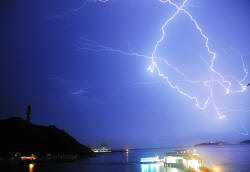 Lamma Lasers? A clandestine police initiative to secretly measure from a distance the alcohol levels in the breath of patrons exiting Main Street bars after midnight?
Lamma Lasers? A new meteorological test project by the HK Observatory, using lasers to test wind patterns during severe thunderstorms and typhoons?
Lamma Lasers? Just another promotional gimmick by Lamma.com.hk to promote the Lamma Fun Day calendar which features "Lamma Lasers" over YSW harbour on its August 2011 page (photo by K. Liu)?
OK, now you're welcome to click on the headline below to read the full story: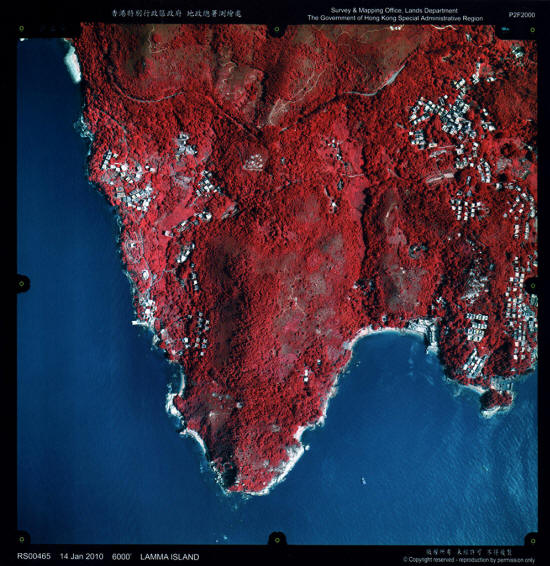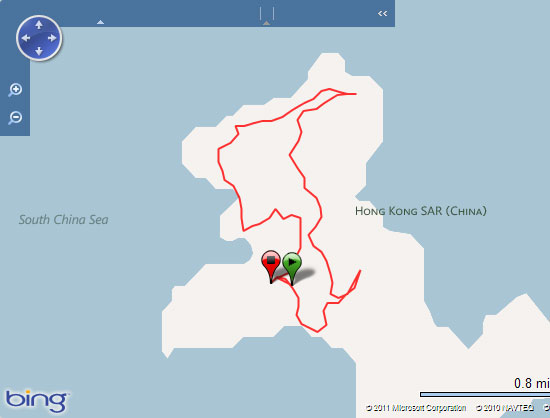 Lamma is still a very popular mountainbiking destination, despite the recent cancellation of the yearly Lamma Enduro races on the Project X course around and over Pak Kok Shan hill. Many of the very best mountainbikers are Lammaites - Siuyu of Green Lamma Group, Andy the Computer Guy, Tom, Mitch,... - and some are using the latest technologies to assist their expensive hobby: speedometer, GPS, heart rate monitor, all linked up to Google Earth, generating charts of their rides around Lamma like this automatically.
As a great example: well-known Lammaite Banny the Basketball Champ and his Garmin Edge 305, a GPS-enabled personal trainer and cycle computer, showing timing, distance, speed, elevation, even his heart rate reaching 182 beats/min during this exhausting ride starting at 6:06am on Tue, Jun 21, 2011, covering 5.61 miles on the "Pak Kok Light House-Wind Turbine Loop" in 47.13 minutes, achieving a maximum speed of 24.8 mph, burning 606 Calories in total. It's all been recorded in exhaustive detail and uploaded for all the world to see and admire at this website of the cycle computer maker. Very well done, Banny, most impressive, congratulations!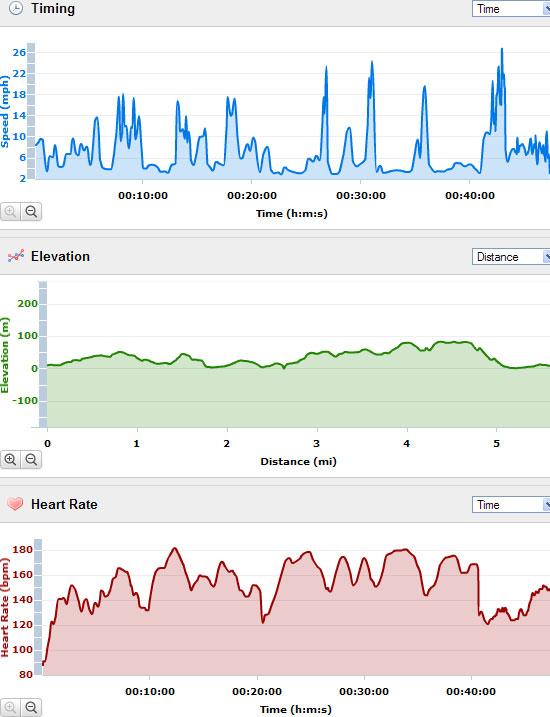 It's time to dust off, pump up and oil-change my own, long-neglected (Doctor's orders!) mountainbike! But I'll definitely refrain from borrowing one of these fancy cycle computers. It would surely be very embarrassing to record and upload my own Stumbling RandomlyTM cycling adventures, my heart rate going through the roof while slowly pushing my bike uphill....

Today, let me relate another one of my little misadventures in my daily Stumbling RandomlyTM on- and off-island:

Returning home from a shopping trip for my favourite coffee beans and an early morning, half-price cinema show (HP 7.2), I made my customary stop at Central Ferry Pier 4's Purple Cow coffee/wine/frozen yogurt/snacks/books/ newspapers/etc. shop for my favourite double-shot medium Americano. Getting my customer loyalty card chop (8 chops and you get a free coffee or frozen yogurt!), I was accosted by a loyal Lamma-zine reader and friend. We chatted happily, entered the turnstiles and boarded the ferry together. Only when the ferry arrived in Yung Shue Wan did I notice that I had left my shopping bag in the Central Pier!
Without my fresh coffee bean supply, the future of the Lamma-zine would be in serious trouble! What to do but to return to Central on the next ferry back, hoping that somebody had turned in my bag to the ferry staff? Arriving back after my 3rd ferry ride of the day, I rushed to the Purple Cow shop first, retracing my steps. Approaching the shop, the saleslady immediately recognised me and pointed out my bag which she had saved for me inside the shop! With a big smile she returned it to me and after many thanks I rushed to catch the return ferry 2 minutes later.
A big thank you to Purple Cow and their very friendly and helpful staff! Here's a little free advertising for their latest promotion, even though they're currently not an advertiser: Half price coffee before 11am! Their coffee is way better than Starbucks, In My Humble Opinion. Stop by on your way to the office, just take a right turn after exiting Central Ferry Pier 4, recharge with 1-2 additional shots of caffeine and get ready for that morning meeting.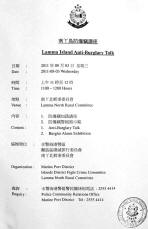 Yearly Burglary Prevention talk today in the G/F of the Lamma (North) Rural Committee bldg on YSW Main St. (opposite HSBC). As it was only announced 1 day in advance on the building, no other promotion and they didn't inform the Lamma Events Calendar, few people knew about it; so only a few elderly ladies attended, plus Lamma-Por & -Gung. They even got an interpreter for the only non-Chinese attendee (thank you, Francis from the Marine Police Community Relations Office!)
Interviewing my interpreter, he mentioned only 4 burglaries on Lamma this year so far, 1 non-local burglar caught, no robberies or any other violent crime (besides the recent homicide: nothing new to report about that). They warned the present ladies of phone scam cases, even though none has happened on extremely-low-crime Lamma yet. The Cheung Chau police division (to which Lamma belongs) is proud of their far-above average success of solving police cases (60+% as opposed to 40+% SAR-wide). But there were 20+ officers from off- island tactical police units patrolling Yung Shue Wan today, as they seem to do frequently, checking especially bar patrons on weekend nights.
The youthful speaker gave us some good and well-intentioned advice on how to prevent burglaries in our home and what to do when spotting a suspect: Don't confront them, but look close at their faces, clothes and shoes and take note of where they're escaping to! The advice is nicely summarised in the leaflet below.
But what really impressed me was the range of cutesy police souvenirs, handouts and premiums they were giving out to us eager attendees who had sacrificed half of a very hot weekday morning to listen to this talk:
We got loads of leaflets, "Lock up - Protect from Burglary" fridge magnet and a mini-burglary alarm with a very loud siren (see above, batteries included) and a too-cute, strawberry-shaped "We Serve With Pride and Care" shopping bag):
Presenter of the burglary prevention talk -- Freebies! --
a big strawberry unfolding into a plastic shopping bag: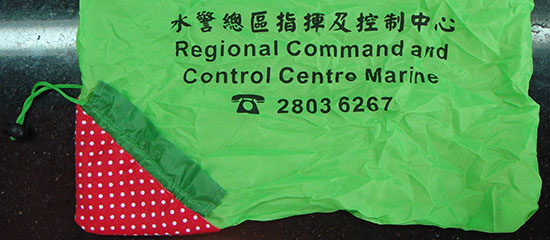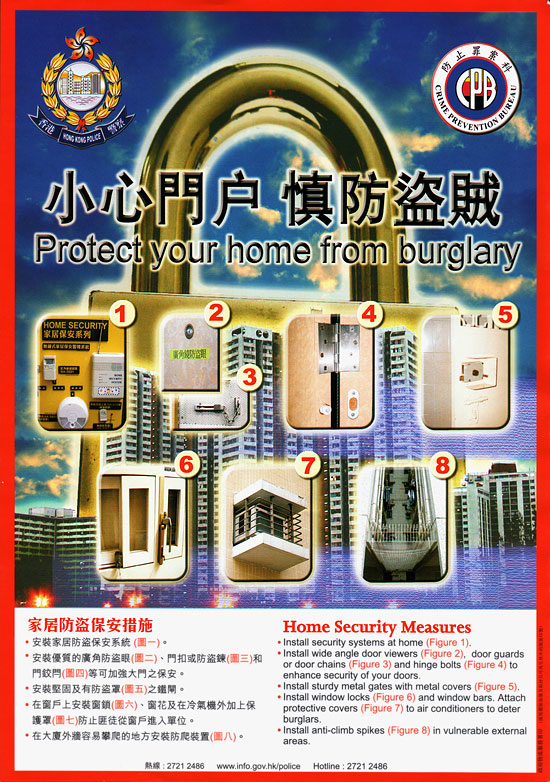 P.S. In case you haven't update your Police Hotline no. yet, it changed a few months ago to 3661 1714. For top-urgent emergency matters, use 999.
For more emergency phone numbers on Lamma: Emergency Hotlines
(also linked from the left side of all Lamma-zine pages, Quick Info section).

You might have noticed this new banner above on the YSW Main Street fence opposite Lung Kong, the Szechuan rest.? It's featuring Lammadonna trying to lift off the ferry pier "runway" like a plane (remote-controlled by the DAB?). The poster seems to address the ferry pier bikes issue? But as it's in Chinese only, I asked the District Council office to email me a soft copy for translation. To my big surprise, they already had a full English version, but haven't published it yet:

The campaigning for the District Council elections in Nov is starting early this year. There was no opposition at the last election, but it looks like there might be 1-2 candidates standing against Lammadonna this time, but not declared yet. One of them might be from the People Power party who split off from the Pan-Democrats. They've become known for their much more "aggressive" approach to politics and campaigning. Will we see colourful, noisy protest marches and bananas flying in Main Street soon?
Surprisingly, the provisional political platform of the People Power party for Lamma is pretty close to the DAB's, for example they also promise to fight for the Bike Park between the Library and the Ferry Pier! One of the rare examples where the DAB and People Power seem to agree. So enjoy this rocky foreshore till it might finally be covered by a bike platform on pillars, similar to the current walkway.
Looking at an ancient "YSW Layout Plan" from 1993 below, this area was originally planned as a Parking Area for VVs on reclaimed land. This fascinating historic plan (click to enlarge), just recently provided by the Planning Dept. to Living Lamma, also shows the Library to be relocated and merged with the Policebox and an Activity Room and the originally planned, much larger harbour reclamation. These plans have changed dramatically now and finally, 18 years later, the new Policestation and Activity Room are starting construction pretty soon on the existing 1st phase of the harbour reclamation. But the "existing library to be relocated" below is still there and no new location has been found yet.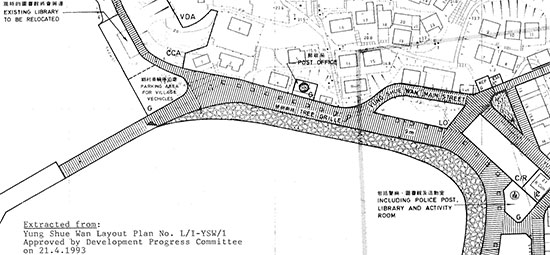 P.S. Responding to this story, Alan has posted a comprehensive summary of the Bike Park opposition, including photos and figures:
Politicising the "Cycle Parking Platform"

Today, a brand-new, beautiful and serene music video by Lamma Composer Adam Gill, uploaded to YouTube on Jul 31, 2011 (17 views so far):
"An experimental video combining one of my compositions with video footage of sea and distant hill horizon with setting sun. The hill and islands in the distance are Lantau Island, Hong Kong.
The video was taken on 24 July 2011 on the 18:20 Aberdeen to Yung Shue Wan (Lamma Island) Ferry. The music has a relaxing mood to it and the instruments are piano and flute."
---