Back-Room Bickering Keeps Basketball Bouncing
Will the LIPBL forbid 'foreigners' again?
YUNG SHUE WAN, Lamma Island, Hong Kong -- Despite Banny Defeo's status as commissioner of the well-run, colorful and competitive Lamma Island Pinoy Basketball League (LIPBL), his fellow organizers seldom go along quietly with his wishes. Arguments and disputes erupt long before players hit the court.
"Actually we argue a lot," Banny said. "We brainstorm on different ideas, argue and get really hot-headed. Often we need to disagree before we can agree, but after debate and discussion, we normally vote and get things finalized."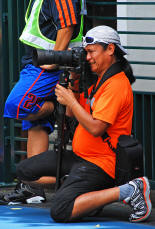 A 10-member committee, including a leader from each team, meets regularly to operate the league, now in its second season at Yung Shue Wan's outdoor basketball court. As the only committee member not also a player, Banny has the impartiality for the top job.