It happened at the major intersection on Main Street.
You know the spot. A butcher shop opens up there for just a few hours a day selling pork that is so fresh, witnesses have claimed to see the occasional three legged pig making a break out the back door sprinting (or at the very least, a brisk hopping) in a vain attempt to escape their doomed fate.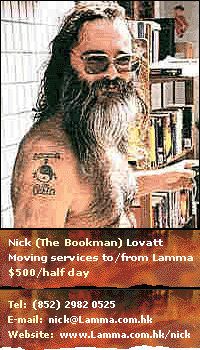 Maybe you know the spot as Nick the Bookman's office, where you can buy for a penny, well fingered books and DVDs… a currency that Nick is paid in for helping people move house. In turn, he sells these to buy dog food for his little shaggy beasts beside his shaggy feet - who sit close lest they lose a paw from a rampant VV driver doped up on diesel fumes.
Nick's "office" is much better than the Fonz's office which was situated in a toilet. Of course, the Fonz had a great haircut and a leatherjacket, lots of girls and could make things happen with a click of his fingers. So I guess it all balances out in the end.
So it happened at this very spot, on the very same day as the Lamma Cultural Melting Pot Festival. Nick had inexplicably left his office and it was quickly occupied by a gaggle of expat pre-teens (I apologize now if any of these budding entrepreneurs have reached that age where their pre-teens has been left behind in their fast moving shadows).
Displaying the type of entrepreneurial spirit invented by the Chinese and cruelly mastered by the Americans, our ambitious girls quickly assembled their table and displayed their wares. Homemade lemonade. Yum. There was a standard option and a sugar free option. The sugar free option a testament that our budding millionaires had the foresight belying their youth... A foresight that recognized this market shift to health conscious beverages. Coca Cola had reached the same conclusion recently, the stark difference being it took them 100 years, 357 focus groups, 620 million in R&D and a 3.5 billion dollar, ten year marketing campaign.
5 dollars. 5 dollars for homemade lemonade. Such a bargain that 5 nearby storekeepers simultaneously broke into a cold sweat. As I rushed past, I swore I would circle back and purchase one of these delicious and personable thirst quencher.
Five minutes later, as I came back through the packed street, I was too late. The dreaded, roaming hawker police had turned up. The party was over. Our young heroines, crestfallen, were shutting up shop and folding up banners. Their short-lived beverage empire suddenly silenced by the heavy hand of the law.
I do hope to see our young spirited, inspired entrepreneurs again. They have learned a rich person lesson. Next time, location, location, location. Pick your spot well. Instead of all six of you standing around waiting for the riches to be poured into your pockets as the lemonade is poured into glasses....perhaps you can post sentries and police spotters. When the law comes, you can cover up your 5 dollar sign and replace it with a "Free lemonade tasting on behalf of the youth of Lamma".
I do hope that this will be their plan as opposed to our six lasses bitterly downing too many sour lemonades and mourning their lost millions.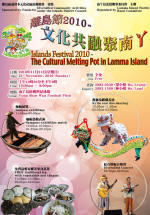 P.S. I spotted the "lasses" later that day, after lunch when we arrived at the Football Pitch for the Cultural Melting Pot Festival. They had set up shop just outside the Pitch entrance, obviously not disheartened at all by their recent setback above. The had found another perfect location, location, location, the main entrance to a very busy festival on a hot'n'sunny afternoon.
Camera-shy after their recent encounter with THE LAW, they displayed a "No Photos!" sign which I honoured, even though I shot over 1,200 photos that afternoon inside the festival. So, alas! No photos for this fine story by our brand-newest Lamma-zine correspondent. Encourage him to submit more stories by giving Stash some feedback via this email address. Or become a Lamma-zine correspondent, guest blogger or contributor yourself!
I hope these entrepreneurial young ladies made some great profits that Sunday and will dare to venture out soon again to quench our often ravenous thirsts.

Mrs. Santa Claus - Co-owner of Island Bar and The Waterfront: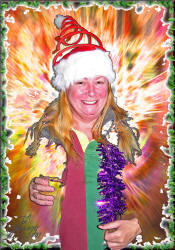 Operation Santa Claus 2010
at THE ISLAND BAR
Yung Shue Wan, Lamma Island
The folks on Lamma are quite big on raising money for charity. We might not raise a huge amount but throughout the year, whether it be a children's charity, a response to an earthquake, flood or other disaster, people dig into their pockets. Rest assured though, at Christmas our focus is always on Operation Santa Claus! We have some great sponsors for great prizes including a luxury night in The Concerto Inn complete with dinner and more donations on the way.
Here's a look at the first few events...
---
The Annual Christmas Quiz – Sat 4th December
With the first event on the Island Bar agenda, The Christmas Quiz to be held on Saturday 4th December, we are gearing up to make this year's collection as high as possible. Teams of 5 are invited to pay $500 for Op Santa to pit themselves against some seriously strong contenders for the best prizes.
The Annual Treasure Hunt – Sun 5th December
Tally Ho! It's off we go! The following day, Sunday 5th December, will see teams of four setting off on a walk from The Island Bar and heading into the hills as part of our Annual Treasure Hunt. Following cleverly worded clues to an unknown destination, our intrepid travelers will traverse vast and hitherto barely discovered parts of Lamma in search of the big bootie, or at least a glass or two of beer. Their contribution of $500 per team will also go straight into the Op Santa boxes along with a series of 'fines' for not completing the course properly!
And we have had a secret - we understand that Father Christmas is planning a surprise visit on his sleigh that day to see the children in the village!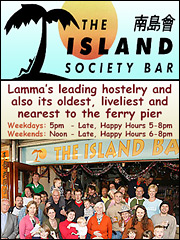 On a yearly basis, the customers and management of The Island Bar contribute huge wedges of their time (and ultimately contents of their wallets) in pursuit of these fun activities to raise money for Op Santa.
This year, in addition to the 'Annual Favourites' we are planning a Darts tournament, Bingo Night, Elvis Karaoke and more. A second and much different Christmas Quiz will also be held in our sister restaurant, The Waterfront, also in Yung Shue Wan.
Fun lovers unite! Pop over to Lamma to add your contribution to our contribution to the Operation Santa Claus appeal 2010.
Everyone is welcome to every event. We'll even give you FREE membership to the Island Society Bar, 6 Main Street, Yung Shue Wan. Whether you want to get your glad rags on to have a go at sounding like a Hound Dog, walk till you drop (not literally) in search of treasure, or join in any of our activities, you can expect a warm welcome in true Lamma style!
CONTACT:
Sharon Chandler - Tel: 2982 2800 (or Dan 9030 2888) - dashansa1@yahoo.com

Catherine Macer - Banyan House Kindergarten:
(Sponsored Feature)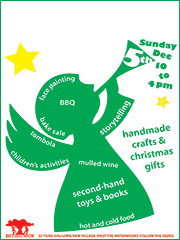 The annual Banyan House Christmas Fair is now a regular event in the run-up to Christmas Festivities on Lamma.
With craft stalls selling handmade cards, books, toys, gifts and all sorts of little stocking fillers there is plenty to keep the Christmas shopper happy.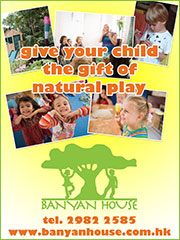 For children, there is face-painting, Lynne and her now famous 'story-telling apron', and many great Christmas-themed craft activities.
With a cake stall selling freshly baked homemade goodies, others selling hot and cold food and the all-important mulled wine, the Fair is a real festive family fun day for the community.
Ten percent of profits raised are donated to a local children's charity, whilst the rest is used to develop Banyan House for the benefit of the Lamma community.
Check out L-G's photos from last year (also below) and the Lamma-zine
story Banyan House Fair(ies) from Dec 4, 2008.
Banyan House: Christmas Fair (Sun, Dec 6, 2009):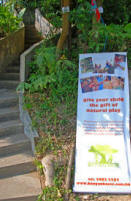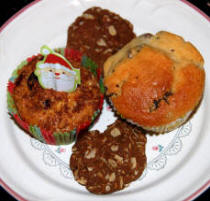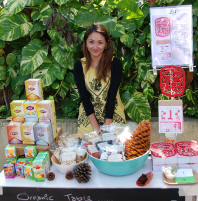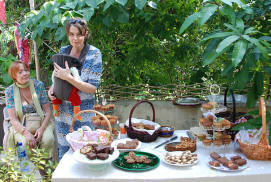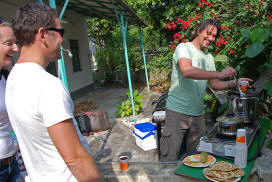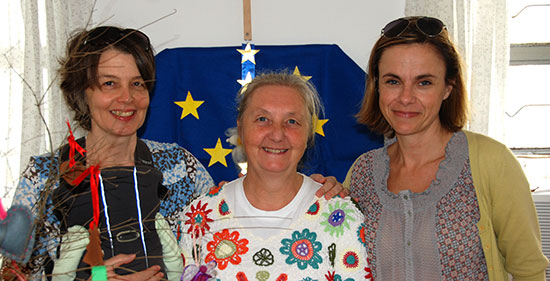 Click to enlarge: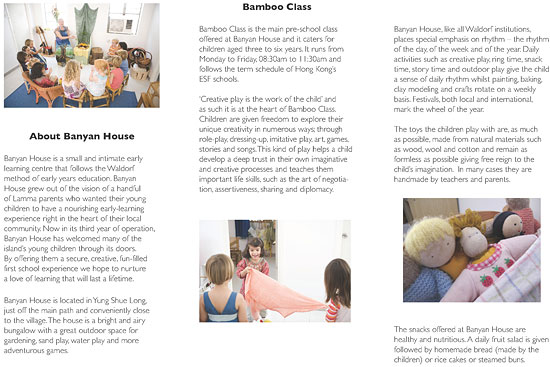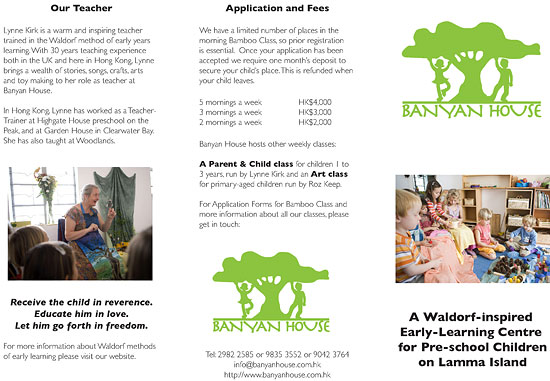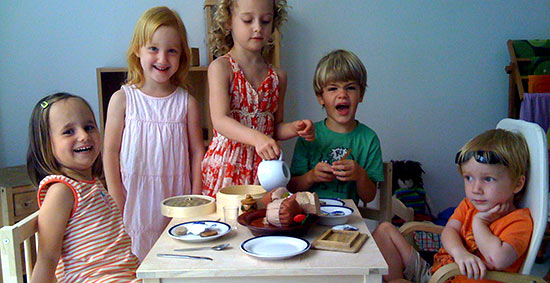 Tamara Norris - Creativity Director, Open Space, VividVibrations.com:
"Inspiring a happy and creative planet" (Sponsored Feature)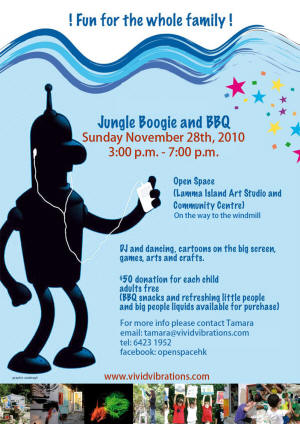 This Sunday, Nov 28, 3-7pm:
Family Jungle Boogie at Open Space.
It is gonna be a lot of fun for both the big kids and little kids!
A chance to get messy and have a boogie with the kids.
Only $50 per child - adults are free.
Food and beverages will be for sale:
Drinks: beer, wine, punch...
Food: meat and vegetarian options.
Arts and crafts begin at 3:30.
- DJ and disco lights
- movies on the big screen
- camp fire as the sun goes
down.
Hope to see you all there.
---
It's not exactly winter yet, but the weather is certainly cooling which means that it's a great time of year to get outside and enjoy yourself. There are many ways to have fun in the Autumn sun and one great way to do this is by releasing your creative force into the world!
There is nothing as satisfying as creating something from scratch, especially when you didn't know you even had it in you to begin with.
Have you ever thought about releasing your inner artist? We all have one inside of us! So if you have thought about it then now is the perfect time to do something about it!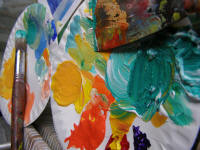 Picture lazy, hazy afternoons in the sun with your family or friends, surrounded by lush greenery and a beautiful waterfall. Picture a hideaway in the middle of the jungle where you can paint freely and create your own work of art in an incredible natural setting. Well this jungle hideaway exists and it is called Open Space, brought to you by Vivid Vibrations, and situated in the beautiful hills of Lamma Island.
At Open Space you will find a range of different programs from Vivid Vibrations on offer to get your inner artist up and running - no matter what age you are. And if you are sitting there thinking 'well I can't paint', stop that right away. At Open Space, we don't 'teach' you how to paint, but instead encourage a free-styling approach. There is no right or wrong way to be an artist so at Open Space you can create your masterpieces in whatever way you wish.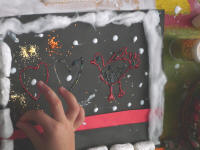 So, whether you are planning a birthday party, hen night, engagement, baby or wedding celebration; whether you fancy giving your kids a different kind of day out; or whether you just feel like doing something different for the hell of it then we are here ready and waiting for you. Why not give it a try?
Contact Tamara Norris at tamara@vividvibrations.com for more details or visit www.vividvibrations.com.
Programs can be held at Open Space or any location of your choice in Hong Kong. All programs are led by qualified program facilitators and currently include: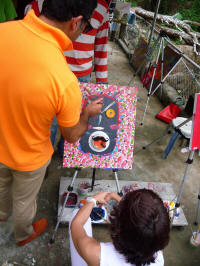 For Kids:
Little Crafters (3-6 years)
Weekly arts and crafts sessions designed to promote creativity and to enhance fine motor skills, self-confidence and social skills.
Mondays 2.30 - 3.45pm
---
Crafty Kids (6-9 years)
Weekly arty sessions designed to promote creativity and to enhance basic artistic ability, creative thinking, organization and self-confidence.
Mondays 4.15 - 5.30pm
---
Fun With Drama
(7-10 years / 11-14 years)
Weekly drama workshops focusing on acting skills, story development, prop design, live performance and social skills.
After School / Saturdays - Performance at the end of each 12 week program.
---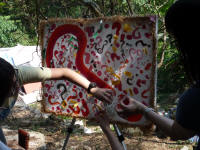 T-Shirt Painting
Create your very own colorful designer t-shirt! Vivid Vibrations can facilitate a structured project (everyone with the same design) or one which is free form and individually created! High quality cotton T-shirt provided.
Sessions range from 1.5 hours to 3 hours.
Private Bookings.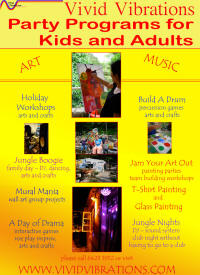 For All Ages:
Art Jams
Not Just Painting! Dance, eat, drink and create your very own masterpiece with a wide variety of materials such as magazines, ribbon, paper, glue, sparkles, photos and many, many more! Free form or project based activity. No artistic experience necessary! Catering services available.
Sessions range from 1.5 hours to 4 hours.
Open Invite and Private Bookings.
---
Glass Painting
Design and paint your very own flower vase, sun catcher or decorative bottle! Vivid Vibrations will show you how to turn a plain piece of glass into something beautiful!
Sessions range from 1.5 hours to 3 hours. Private Bookings.
---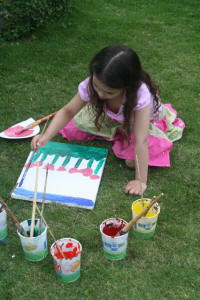 Mural Mania
Work together as a group to create a wonderfully colorful and unique wall mural! A great way to unify your group and create a memento marking the date of such memorable occasions as birthdays, weddings, job promotions, new babies and anniversaries to name but a few. If you don't have a wall we can paint on, Vivid Vibrations will bring along a large platform for painting which can be hung or placed in a location of your choice after completion.
Sessions range from 1.5 hours to 2 hours.
Private Bookings.
---
Family Jungle Boogie
Fun for the whole family! Put on your painting clothes and prepare to get messy. Vivid Vibrations will provide an entire afternoon or morning of fun and interactive entertainment – parties include cartoons on the big screen, informal arts and crafts activities and drumming and dancing – complete with a live DJ!
Vivid Vibrations can host your party anywhere but are best held at our event facility Open Space, located on Lamma Island. Make your day a complete jungle adventure by adding a toured walk to Open Space. A Vivid Vibrations team member will meet your group at the ferry pier in Yung Shue Wan (Lamma side) and lead you over the hills and through the beautiful natural environment of Lamma Island.
Sessions range from 2 hours to 6 hours. Open Invite and Private Bookings.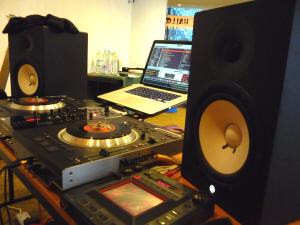 For Adults Only:
Jungle Nights
Want to have a 'club' night without having to go out to a club? Vivid Vibrations has just the experience for you. We provide the DJ and music style of your choice, sound equipment, lights and even make sure nobody goes hungry or thirsty! Our event facility Open Space situated in the hills of Lamma Island is the perfect venue for your group to come and let loose – the adventure awaits you. Open for bookings for parties all year round.
Contact Tamara Norris at tamara@vividvibrations.com for more details or visit www.vividvibrations.com.

(Click above for the complete bilingual notice,
submitted by Lammadonna's office to the Lamma-zine.)
---
P.S. A photo taken in the afternoon of Nov 26, Clearance Day. It's been a long time (2+ years?) since we've seen the ferry pier so devoid of bikes.
Also, check out our long-running, reactivated "Clearance of Abandoned Bicycle and Miscellaneous Items" forum topic.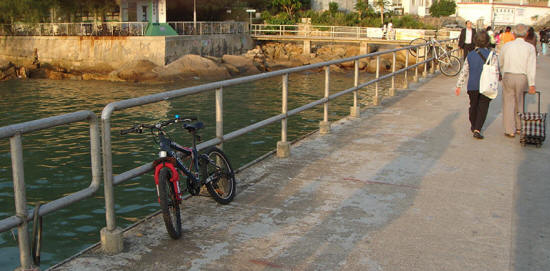 P.S. II: If you've lost your nice bicycle in this operation, because you went on a business trip or vacation for a few days and didn't even see the notices in time, no luck in getting it back, ever, according to the Islands District Office:
"The joint operation on clearance of bicycles on the catwalk of Yung Shue Wan Ferry Pier is responsed by the Islands Lands Office, Hong Kong Police Force, Food and Environment Hygiene Department and Islands District Office.
"The details you can refer to Ken Cheng: 2852 4334 (Islands District Office)"

Photos by Sean Baylis on Facebook and Hong Kong Photographer: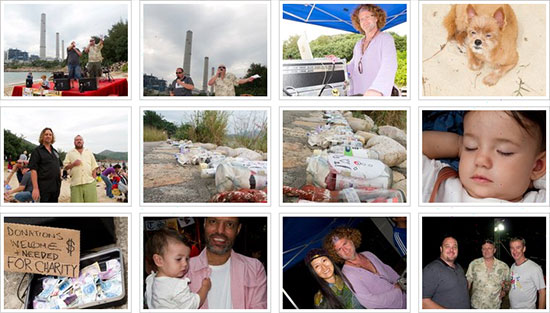 11th Annual Lamma Fun Day – 13th Nov 2010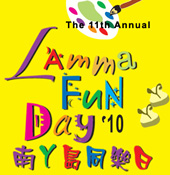 Lamma Fun Day Organisation Committee writes:
"Thank you for making the 2010 Lamma Fun Day a huge success! The day generated a gross income of over HK$210,000 for Child Welfare Scheme Nepal (CWSN). All proceeds go directly to supporting a group of teenagers in training at the JYOTI Vocational Training Centre.
"Through JYOTI, CWSN addresses the unnecessary suffering of children who have been forced onto the streets due to the current political, social and economic climate in Nepal. The JYOTI vocational training program enables young people to learn to regain their self respect and confidence to hold a job down. Each year 120 young people benefit from the centre, graduating as plumbers, electricians, secretaries and care-givers, ready to embark on their new found journey in life.
"Lamma Fun Day and the Lamma Community have been supporting CWSN for 11 years now. During this time your generosity has helped over 600 young people to change their lives as well as construct and establish a Day Care Health Centre to reduce the child mortality rate in under 5 year olds in remote mountain villages in Nepal. Thank you!"
Plus just a few of my own photos:

The wonderful Cultural Melting Pot Festival yesterday was the most fun, most multicultural event I've ever witnessed in the YSW Football Pitch (photos in progress). Many of the participants and organisers were wearing very nice, long-sleeved, comfortable polo shirts printed with this new Lamma Island logo above, first seen on the poster below. I had a closer look at it and was just wondering:
Did you notice the THREE windturbines? Does the Rural Committee want to tell us something? Future expansion plans or simply "creative license" of the poster designer??

There's a chicken running free in the center! I thought that keeping chicken is "illegal" nowadays in HK after all the bird flu scaremongering?
These 2 cartoon characters on top of the title, are they representing our 2 District Councilors, Chairman Chan & Lammadonna?
I asked their very nice assistants in person, but they didn't confirm it, even after they had finished laughing out loud.
For more background on these 2 characters and the entire campaign, "Islands Footprints" exhibition (Nov 9-29) and the "Islands Go Go Go" game, plus the other similar Islands Festivals initiated by the Home Affairs Dept., promoted by Metro Radio and the official Exploring Islands website: (all links in Chin. only)
http://www.metroradio.com.hk/Campaign997/IslandDistrict/2010/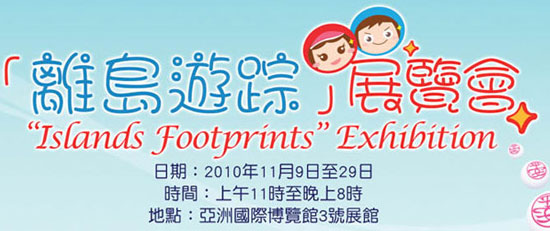 Do you recognise Harry Harrison & John Hutton above, their first-ever appearance of these (in)famous Lamma Celebrities on a Rural Committee/Islands District Council poster.
Click on poster details to enlarge them.
More Diversified Details of the "Diversified Concert", about this biggest-ever show featuring multinational Lamma talent for as long as we've lived on Lamma:
This is to announce a free community event this coming Sunday at the YSW Football Pitch.

A couple of months ago the N. Lamma Rural Committee approached the Island Bar to see if we could put together a day which would showcase the many different nationalities living in harmony on Lamma. This has resulted in:

The Cultural Melting Pot in Lamma Island

Sun, 21 Nov, 2010 - Football Pitch, YSW

It is a first-of-a-kind event and we hope to provide entertainment which will appeal to all of us, young or old, including a Lion Dance. There will be no charge for any of the events during the whole day.

The morning is being organized by the local Chinese community and the afternoon by a broad range of the people known through the Island Bar. Altogether it involves a multicultural mix of groups and individuals who are donating their time to entertain us, and who together make Lamma so special.

The provisional run-down for the afternoon is as follows and you will recognise some of our favourite performers:
| | |
| --- | --- |
| 3.15-3.45 | Bahouki (Scotland) |
| 3.55-4.15 | Marcus Swetnam |
| 4.20-4.30 | Louie Wada (Japan) |
| 4.30-4.40 | Northern Lamma School Choir (Mixed) |
| 4.40-4.50 | Sri Lankan Dance (Sri Lanka) |
| 5.00-5.20 | Shekeleg |
| 5.30-6.00 | Transnoodle (USA/Japan/UK) |
| 6.10-6.40 | Sri Shadows (Sri Lanka) |
| 6.50-7.15 | Children's orchestra |
| 7.30-8.00 | The Curs (UK/Denmark) |
| 8.10-8.30 | Sue Shearman (England) |
| 8.35-close | The Bastards (England) |
3.00-6.00pm:
Children's face painting courtesy of Katie Flowers & Roz Keep.
Hey, and there might even be a face painting competition!
Please come along and support this activity. Pass the word out to friends on HK as well. It is provided by our community and for our community.
What else is happening during this festival on Sunday?
11am - 8pm

Sampan exhibition

12noon -12:30pm
1:45 - 2:30pm

Sampans exhibition match

11:30am - 12:30pm
3:15 - 4:30pm

FREE traditional tea with vegetables and chaguo

10:30 - 11:30am
2:35 - 3:15pm

Kylin and lion dancing
More last-minute update and details in our Lamma Events forum.

Many thanks to this funny guy with his big guitar for inspiring my new forum avatar, changed and uploaded just today!

Well, actually, I borrowed the avatar from another one of his recent SCMP editorial cartoons this week, commenting on a story about bacterias found in baby shampoos, see below.
This is the second appearance of this unnamed advertising agency guy in Harry's fantastic cartoons, as far as I know. My former avatar was borrowed from the guy's first appearance in the SCMP last year. Harry approved me using it. Well, kind of. Actually, he did not DISAPPROVE it, even though I told him about it. Not disapproving is kind of like approving, no?

I've also added "Lamma-Gung" in Traditional Chinese characters, using it now as my new "official" forum avatar. Need help with yours?
This cartoon is not quite a likeness, but close enough. I just got my free, yearly, 1-minute haircut: Lamma-Por grabbing a pair of scissors and cutting my ponytail shorter, once a year.
But maybe I should also consider getting an earring to fit my new avatar better... and rounder glasses... and suspenders... and a bowtie... Well, maybe not...
© Nov 2010, SCMP, by Harry Harrison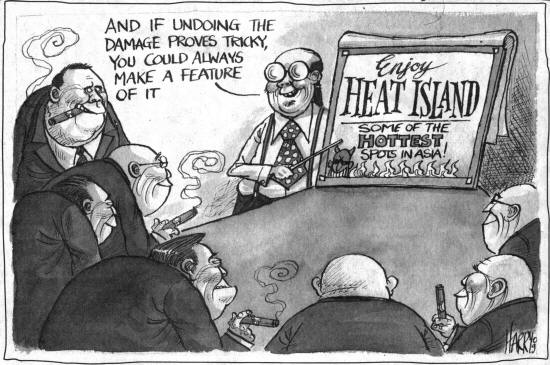 © 2009, SCMP, by Harry Harrison

Last Friday morning, Nov 12, Tavis the Official Court Philosopher and Yours Truly made the long trek out to RTHK's studios in Kowloon Tong.

I was invited for a live interview by Peter King on the Morning Brew Radio 3 show, following up my last "What Is the Lamma Spirit?" email blast. I asked to bring along Tavis as an "expert witness" to help me out.
It was my 4th time on Radio 3, but Tavis's 1st time on live HK radio. As a well-spoken and mild-mannered NET teacher used to addressing an audience in public, he obviously did a much better, more fluent job than me in defining the Lamma Spirit Contest, promoting the Fun Day happening the next day, and introducing the monthly Lamma Philosophy Cafe he's running.
Next time, they might invite Tavis only, methinks. ;-)
Radio 3 archive, Morning Brew, Lamma Fun Day interview.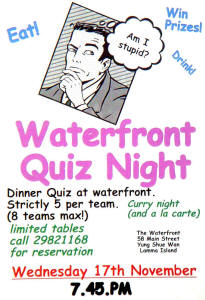 I've been promoting these Quiz Nights - a Lamma institution since before our moving here - for years, but I have to admit I never actually participated myself in one. Till today.
Quizmeister Jason challenged us with his latest poster (see right) to prove that we're not stupid. But after coming in 2nd last with our team, the "Tai Ping Errors" (Typing errors, geddit?) I have to admit that I might not actually BE stupid, but it surely made me FEEL stupid!
The questions were "challenging", demanding and sometimes really esoteric, but most of the other teams of up to 5 participants, many of them regulars, rose to the challenge! Well, I knew that "Ceres" is a Dwarf Planet, that a Lamma Burger costs $30 in Best Kebab and that the umbrella in Emily's says "Movenpick" (my favourite Swiss ice-cream). But not very much else...
I blame my not being British (questions about TV series, music and UK trivia), the delicious curry (every Wed is Curry Night in the Waterfront) and the fine wine for my serious underperformance. Me not stoopid!
Well, the next Quiz Night, Music-themed, benefitting Operation Santa Claus, will be happening in the Island Bar on Sat, Dec 4, 8:30-11:30pm. The "winning" motto above was "borrowed" from this poster (created by Harry). C U there?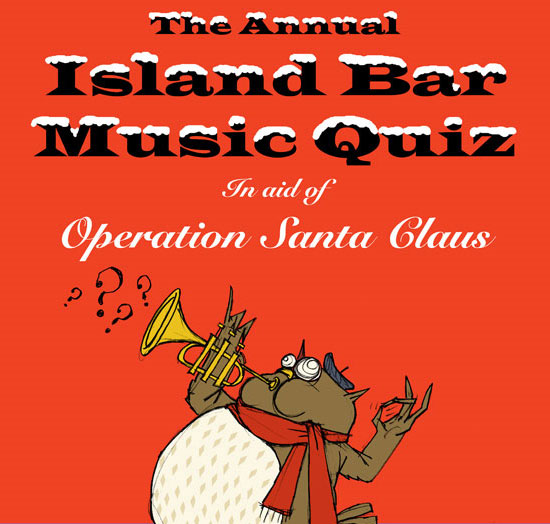 P.S. Here are some more great, historic Lamma Gig Posters by Harry Harrison.
Letter to the Editor: Quizmeister Jason liked this story above, but commented on my comment above that it would help to be British to get many answers correct. He even went to the trouble of counting the number of "UK-centric" questions, counting 9% out of 80 questions in the 8 rounds (Sport, Picture, 11+ Math, Out and about, Retro TV, Random, Music, Tipples).
Now that's a really great and amazingly detailed feedback (as you'd expect from a Quizmeister). I really appreciate his efforts to set me straight. I fully recant my "British" comments above! But what else can you expect from a stupid first-time quiz night participant searching hard for petty excuses for his pitiful "serious underperformance"!
Jason is threatening to use the Lamma-zine as a reference for one of the rounds in the December Quiz Night in the Waterfront (not the Music Quiz in the Island Bar above). I might join in again - as a real sucker for more punishment - counting the UK-centric questions....

Katie Hazelton had the most amazing day napping on the beach, eating fresh seafood, and laughing hysterically on lamma island.
5 days ago
Janice Ryan Mazur Joe's World Trip Update:
The boys will leave Shanghai today headed for Lamma Island (also know as "the island of the ghost teachers" or "hippie island") which is just off the coast of Hong Kong Island and where their next host lives. The people there are known as hedonists and lotus eaters!
6 days ago
Loso_shop Woo~Lots of FUN today~~ Thanks for loving LoSo Shop stuffs and hope to see you all @ Lamma Island soon~Peace :)
3 days ago via Facebook
VoiceExpert We have Sundays off so going to Lamma Island by ferry for fresh air, walking and seafood lunch.
4 days ago via SocialOomph
NoelYagami @kitmeow I like lamma island, I wanna live there but it's not convenient to my work place.
4 days ago via TweetDeck
ruslanev Ppl, save ur time! lamma island is so ugly and dirty!!!
4 days ago via Twitter for BlackBerry®
Dennis Go Been here for ages but never been to Lamma Island.
1 week ago
Tan Roy 陈靖凱 Bumped into Zhang Ziyi at lamma island :)
1 week ago
Ross Geraghty Lamma Island hasn't changed a bit.
2 weeks ago
Ben Leong Wandering around lamma island is like doing a 2.4 but... Uphill is all I can see. Where's my wind turbine station!!!!!!!!!???!?!?
2 weeks ago
Jo Williamson has had a great day. Lamma Fun day, sea, sand and sun, what a great island to live on. Well done to everyone involved.
2 weeks ago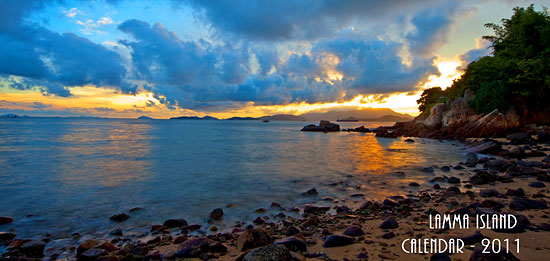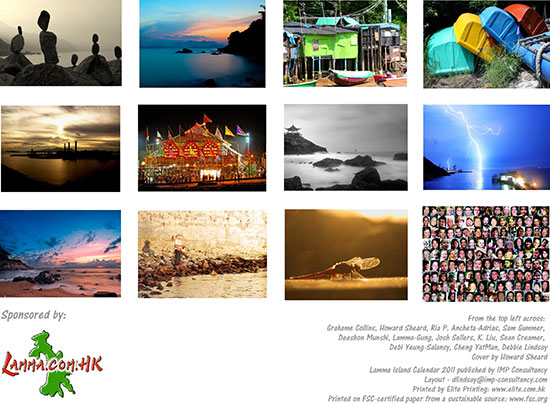 The calendar raised HK$5,152 this year, from all the photographers entering our contest and contributing their photos, and also from all the Lamma faces on the Dec page, see below.
Guess which photo above is mine? Yes, the one subtitled "June - Bamboo Arena for Cantonese Opera, Yung Shue Wan Football Pitch." I'll be mailing quite a few of these to family and friends overseas, showing them in what a (still) beautiful and fascinating place we're living these days.
The calendars are available either by contacting Debbie on 9747 5508, or at this email address. $60 for one, $100 for two.
They're also available at Maria's Tigra da Lua shop, Diesel's Bar and the shop opposite Brothers. They will also be available at the LAWC thrift shop - the money raised there will be donated to LAWC.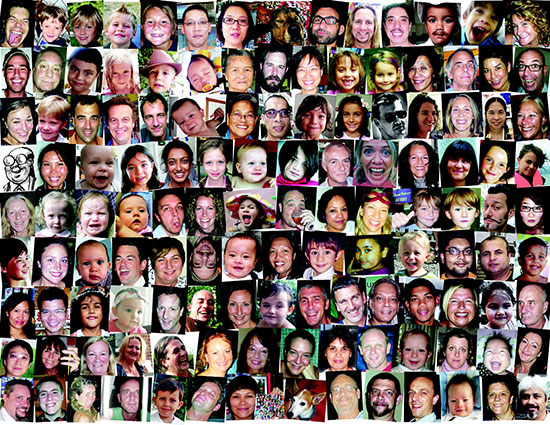 How many Lammaites do you know? Lamma Calendar, Dec 2011, click to enlarge.

BE GREEN
This year, we want to try to be as green as possible. We are urging all involved and people who attend the event to help promote re-using or minimizing waste.
* We have a water station to refill water bottles - $5/litre
* Degradable cups and utensils have been donated
* Plastic cups and pitchers will be used for beer but will have a re-use discount
* The pull up banners are all recyclable
* Recycling bins will be out as usual
SCHEDULE (provisional)
| | | |
| --- | --- | --- |
| 12pm | Welcome by Douglas of CWS | Opening of Event |
| 12:15pm | Auction Lot #1 | |
| 12:45pm | | DJ Bobsy |
| 1pm | Auction Lot #2 | |
| 2pm | Band #1 | Transnoodle |
| 3pm | Auction Lot#3 | |
| 3:45pm | Band #2 | HK Electric Band |
| 4:15pm | Havaianas Lucky Draw | |
| 4:30pm | Band #3 | Happy Rainbows |
| 5pm | Auction Lot #4 | |
| 6pm | Band #4 | New Tonic Press |
| 7pm | Band #5 | Black Mariah |
| 8pm | Band #6 | Bank Job |
BRIC A BRAC

We need more Bric a Brac so please spread the word and tell people to drop stuff off at Diesel's anytime by Friday or bring down on the day.

FOOD

We are recruiting people to bring down an aluminum tray with goodies sweet or savory to add to the food stall.

WEATHER

We have decided to go ahead as planned if it rains. The stage is covered, we have 4 tents, and other measures can be taken if necessary.

BANDS

Transnoodle - Mikel & Karen - HK Electric Band - New Tonic Press -
Black Mariah - Bank Job. Performance times tba.

LAMMA CALENDAR 2011

One for $60, 2 for $100. It has raised over $5,000 for the CWS charity (from the photographers and the Lamma Faces page)!


A great present for off-island & overseas friends and family!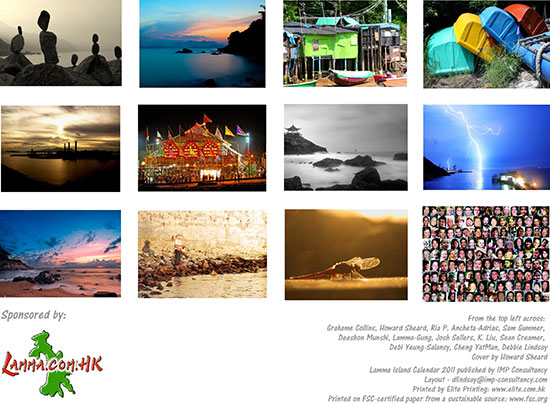 Rising early today, 5:30am, after a strong coffee I went up to my rooftop, just for some stargazing. The scenery inspired me spontaneously to grab my Nikon, tripod and ladder, climbing to the roof of that little room atop the rooftop; my best and most panoramic views over Yung Shue Wan.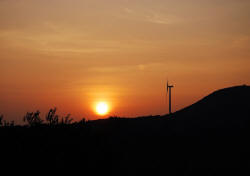 I took some long-exposure photos in standard Twilight Mode while holding on to the antennas; there's no railing up there to protect me from a pretty high fall. Well, just a small risk well worth an unusually quick and easy Lamma-zine story, much less time-consuming than my usual stories which can often take half a day or more.
The sun's rising behind our landmark windturbine (photo by Chris Hall, taken a few days ago). It's time to feed the fishes in my rooftop pond, water my rooftop jungle, and listen to radio news while putting together and publishing this story.
Now it's finally time to prepare breakfast for Lamma-Por who's still sleeping.
Another great start to another great day of living on Lamma Island....

Ken the Bookworm and Wayne of Chateau Lamma have teamed up to launch a "Nite Cafe & Wine Bar" last Saturday, just opposite the Bookworm Cafe. It'll be open every night till 11:30pm, except Thursdays. They serve a selection of fine wines by the glass and even organic beer. I've taste-tested one of their organic whites yesterday - while taking a few pictures with my free hand - and it was excellent; highly recommended.
This is a very different type of bar with a cozy atmosphere & comfy environment, different from other bars, no sports or noisy TV, no drunks, dogs welcome. This Nite Cafe & Wine Bar is definitely a most welcome addition to our very lively and growing nightlife scene. Stop by on your way home with friends and check it out.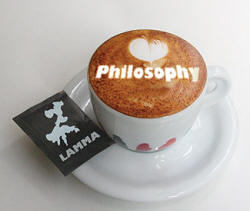 There's so much creative talent living on Lamma, but many of them are pretty shy and serious. So it's great to see one of them letting her hair down and doing a silly project just for the heck of it.
Very talented local photographer, designer and community activist Cindy Poon has been having fun with photos of herself, fiancé Tavis the Philosopher and his two boys, Avi & Tristan, putting up a Silly Pictures Facebook photo album.
Cindy's been creating quite a number of professionally designed posters and logos around the village, including my recent favourites, several designs for the Lamma Spirit Branch of the HK Philosophy Cafe. You're welcome to contact Cindy for great design & photography work, far above and beyond mere Silly Pictures.

Josh the Transnoodlian has been holding court at his birthday bash on Thu, Oct 28, in Diesel's Bar, entertained by many musician friends. He writes:
"Bob Davis should have some tasty shots of the proceedings.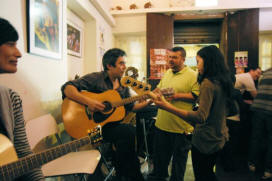 Food was provided by Joyce, prepared and delivered by, I think Nat and Geng, and the guy who works at Lamma Gourmet. I needn't have worried [chasing L-G for the Lamma Gourmet's phone number] as the Ladies of Lamma had provided for everything with aplomb.
Police came around 110am which is shockingly late by HK/Lamma standards and we really were making a lot of noise with the amps. But this bodes well for Diesel's as Lamma's next (acoustic) music venue! They don't serve coffee, so I guess coffeehouse would be wrong.
Performers were:
Rie & Louie Wada (Rie also baked the delicious chocolate fudge cake)
Harry, John and Gareth of The Curs/Bahouki/Swapp Things
Dan the Bastard (in fine form on 'Red House', 'The Young Ones', and other classics)
Sue Shearman - Scottish Gary - Clive Nondog
John, Matt and Josh from Transnoodle
Overheard: 'I like your birthday parties. You should have a birthday every week!'"

Wetland Park Tour for Lammaites, Sunday, Nov 7. Four full buses with almost 200 Lamma people, including only one Gwailo.
Pictures in progress...

Oh no! It's yet another story about health & fitness! You all must be getting tired and fed up by now about me going on and on about this topic? A former passive, total couch potato with failing health seeing the light of reason, losing half his total body weight and converting into a health & fitness nutter, trying to attract more disciples with his quasi-religious zeal, singing (badly) the gospel of a (boring) life, free of all drugs, full of healthy foods and with lots of exercise?
Well, sorry, but I can't help it, it just feels too damn good to be healthy, (moderately) fit and enjoy all this extra energy!
But instead of listening to me rambling on, let's hear from some of the growing army of fit'n'trim Lammaites engaging in lots of sporty and healthy activities, who are usually much fitter than I'll ever be. The number of Hobby Athletes, Personal Trainers, Yoga Teachers and Health Professionals living on Lamma Island is truly astounding and surprising. They're usually not shy about blowing their own horns, promoting their sports, services and products. Let's start with my great gym, The Island Gym, where I'm working out frequently, but still not often enough: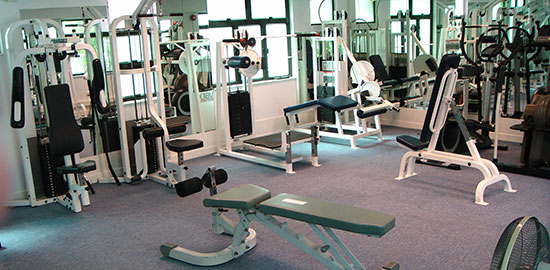 Rick & Sol - Co-managers - The Island Gym:
The Island Gym, our local community fitness center (Sha Po Old Village, behind the Bike Shop) is now taking on new members. This is great news for all you islanders who are looking to get back or stay in shape for the holidays.
Ours is a fully functional gym with all the key weight and aerobic machines, including 3 treadmills, 2 rowing machines, stationary bike, stepper and an elliptical machine. If you're looking to increase your strength, there are 6 weight machines to cover all the muscle groups. In addition, there are plenty of free weights, fitness balls and even hula hoops that allow you to tailor your own workout.
Like any large gym, it is clean, bright, has a bathroom, shower, towels, lockers and water provided. But this is not like any large gym. Our members have the freedom to workout whenever the can, create the workout environment they want, play their own music on our systems, even adjust the lights, windows and aircons to their own liking (you might be the only one working out at one time!) All that is asked in return is to be a responsible and helpful member.
---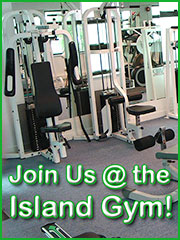 The rates are simple (non-negotiable) and easy to understand:
Monthly: $450 per month
6 month membership: $400 per month
(can be upfront, or auto-pay with last month's payment as a deposit.)
Full Year membership: $350 per month
(can be upfront, or auto-pay with last month's payment as a deposit.)
As a bonus, we will offer you a free training session upon joining. This will focus on how to use the machines, and to put you on a workout that achieves your goals.
So all newbies are welcome!
So give us a call to sign up today:
Rick: 6768-0730, Sol 9463-2163 or 2982-0992, or email us at sskendelyte@yahoo.com!

Tavis - Presenter, Lamma Spirit Branch - HK Philosophy Cafe:
2nd meeting of the Lamma Spirit Branch of the HK Philosophy Café:
Sunday, Nov 7, 7pm; G/F, 13 Sha Po Old Village.
Admission: Free (pay for any food or drink you order).
Topic: What is the role of money in the search for a meaningful life?
Presenter: Tavis du Preez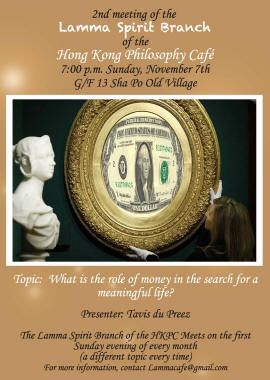 "If you want to take the true measure of someone, observe how he handles sex, time, and money." This advice prompted American philosopher, Jacob Needleman to write his great exploration of the meaning of money in our lives: Money and the Meaning of Life. This book inspires our Nov 7 topic.
The Lamma Spirit Branch of the Hong Kong Philosophy Cafe will provide a friendly place for the exploration of ideas, where we may question our own assumptions and the assumptions of the various circles of culture within which all of us struggle to find our own 'right path'. It will not always be comfortable, but as we learn to embrace our differences and celebrate our commonalities, we will build a community of sharing where we will learn it's safe to be ourselves - to be different.
The Lamma Spirit Branch of the HKPC meets on the first Sunday evening of every month (a different topic every time).
For more information, contact lammacafe@gmail.com.
---
What is the "Lamma Spirit'?
We often hear it referred to, but what does it mean? Is it something about Lamma being a 'hippie haven'? Is it something to do with freedom and creativity? Does it necessarily involve wearing socks with sandals?
Lamma Island is home to a hugely diverse community in terms of ethnic / cultural background, profession, disposition, temperament, etc. An informal poll on the community internet forums numbered Lamma residents as hailing from at least 60 different countries. This cosmopolitanism within the context of a bounded village community definitely gives rise to a special ethos, which we are calling the 'Lamma Spirit'.
But in defining it we must be careful not to fall into the trap of stereotyping Lamma in habitual terms such as assuming it to be a 'hippie haven'. The Lamma Spirit, while distinct, is also many faceted.
It is expected that this Philosophy Cafe will reflect the Lamma ethos of diversity by providing a venue through which diverse elements of the community, whether reflecting some particular & identifiable religious position or a secular worldview, will build greater mutual understanding through dialogue.
---
The new name of the Lamma Island branch of the Hong Kong Philosophy Cafe is The Lamma Spirit Branch of the HKPC. Without doubt, 'Lamma Spirit' means different things to different people. We want to know what you all think so we're opening up a little competition.
Respond to this message with a posting of any length as an entry. We intend to

incorporate ideas from entries to build a composite definition of the ethos of our beautiful Island community - 'The Lamma Spirit' - to be used to help explain the name of this new Philosophy Cafe branch.
Entry Deadline: November 30th
The 3 winning entries will receive books authored by Hong Kong's very own resident philosopher: Prof. Stephen Palmquist (龐思奮), Dept. of Religion and Philosophy - Hong Kong Baptist University - Kowloon, HK. Names of book prizes will be announced later and decisions of judges will be final.

Anonymous_Guy - Official Court Wildlife Photographer:
(I've asked A_Guy to tell us more about The Making Of..., including technical specs. Then he won Macro Image of the Week on NatureScapes.Net,
which is one of the largest nature photography websites worldwide.
A really great and prestigious honour, sincere congratulations!)
And this one should be the Vespa Tropica... the one you didn't get stung by... [L-G getting stung by a Vespa Affinis, resulting in 26 posts in our Flora & Fauna forum so far.]
My technique for shooting photos like this?
Imagine a tubby gweilo sitting in an easychair swilling coffee & smoking cigarettes next to a tripod with a mounted camera with an opaque Tupperware box stuck on the end of the lens and his finger resting on the shutter release button......... waiting for something to happen and hoping nobody is watching!
| | |
| --- | --- |
| Nikon D3 w/Nikkor VR 105mm F/2.8G | 2010/10/29 12:46:04 |
| Focus Mode: Manual | AF-Area Mode: Single |
| VR: ON -- Aperture: F/32 | ISO Sensitivity: ISO 500 |
| Shutter Speed: 1/250s | Metering: Matrix |
| Exposure Mode: Manual | Exposure Comp.: 0EV |
| Flash Sync Mode: Front Curtain | Flash Mode: Commander |
| Flash Exposure Comp.: | |
| Group A: TTL +0.7EV | Group B: TTL +0.7EV |
The technical equipment:
Camera w/Macro Lens

Flash Commander & 2 or more Slave Flash units

Opaque Tupperware Box 6" high x 6" wide x 9" long

1 ltr Soft Drink Bottle (empty) (to fit 105mm lens)

2 * Satay Sticks

Big Green Leaf (preferred)

Water - Banana - Honey

1 x 1" high Jelly Shot Cup

Coffee & Cigarettes
How to:
* Remove lid from Tupperware box & keep lid to one side.
* Cut hole slightly larger than lens diameter at one end of box about 2" from base of box (I used an electric Bosch Grinder w/metal cutting disc attached)
* Cut both ends from soft drinks bottle so you have about a 4" long cylinder.
* Fit one end of plastic cylinder on non-camera end of 105mm lens.
* Set tripod at comfortable seated height.
* Put camera on tripod & affix lens to camera.
* Put open end of bottle into hole cut in Tupperware box.
* Rest Tupperware box on solid surface.
* Fill Tupperware box 1" deep in water.
* Mix banana with honey 1:1 enough to fill jelly shot cup.
* Put banana/honey mix into jelly shot cup.
* Place Jelly shot cup in Tupperware box in the water as close to end of lens cylinder as possible.
* Fix Flash Commander to top of camera.
* Place remote flash units outside Tupperware box - set desired flash strength
* Retrieve your Tupperware box lid.
* Measure 8" from one end of Tupperware lid or 1" from the other end.
* Measure 1.5" in from both edges of Tupperware lid at yr 8" mark & mark.
* Poke Satay sticks 6" thru Tupperware lid at the marks you made.
* Rest Tupperware lid on Tupperware box with poked Satay sticks at non-camera end of Tupperware box & leaving 4" open space at non-camera end of Tupperware box.
* Affix big green leaf against non-camera inside end of Tupperware box (to form nice background).
* Set focus distance at Satay stick markers.
* Set Camera Shutter Speed & Depth of Field.
* Make Coffee.
* Light cigarette.
The why of it:
* Lens cylinder is to give distance & extra DoF.
* Slave flashes coz camera top fitted flash is too high up to illuminate wasp in close proximity.
* Wasps are attracted to banana/honey mix.
* Wasps fly into Tupperware box thru open section of lid & descend slowly(ish)
* Wasps fly to banana/honey mix avoiding water & channeled by Satay sticks... otherwise they cheat & walk to banana/honey mix... this would not be good.
* Do not look thru eyepiece.. if you see the wasp in focus it'll be too late.
* Watch from side of Tupperware box with finger on camera shutter release button.
* As wasps approach Satay stick "markers" click camera shutter release button.
* If they stay feeding too long.... blow cigarette smoke thru the gap left around lens hole in Tupperware box to agitate them.
* If more than one wasp lands on you at one time & in close proximity of each other .... panic!
* Otherwise.....keep sipping coffee.................... is really boring....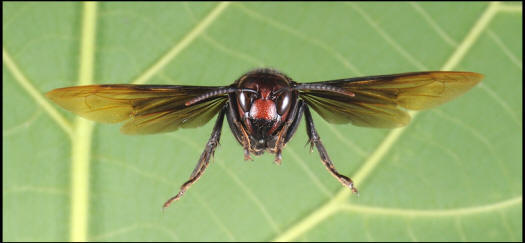 P.S. This description of the simply unbelievable amount of dedication and patience it takes to get shots like these is a great demonstration of why A_Guy's honorary title as Lamma's Best Wildlife Photographer is still undisputed & unchallenged.
All this effort, time and money spent to get one single great shot, just as a hobby and totally non-commercial, A_Guy really lives up to The Lamma Spirit!

The Hong Kong Cricket Sixes 2010 will be held at the Kowloon Cricket Club during the weekend of 6-7 November 2010. Check out all the information about the Hong Kong Cricket Sixes by clicking the links below:
Big-hitting Warner to boost Aussie quest at Hong Kong Cricket Sixes
First-timer Styris ready to bloom for New Zealand
Kumble leads India in hunt for Hong Kong Sixes glory
Pakistan look to Shoaib to revive glory days
Hometown heroes eye Hong Kong Sixes jackpot
Sri Lanka bank on experience to win Hong Kong Sixes
Defending champions South Africa hungry for more
England aim for six-up at Hong Kong Sixes
China's long march begins at Hong Kong Cricket Sixes
Jet Away with Jet Airways this holiday season on "Sixes" bargain deals!
Tickets - Teams - Schedule, Results, Points Tables & Statistics
P.S. A recently appointed Official Court Cricket Correspondent and a photographer will be enjoying themselves this weekend in the Kowloon Cricket Club. They'll try to report back to the Lamma-zine - if they stay sober enough - thanks to Media Passes provided by the organiser, a Lamma-zine advertiser. Many thanks!

Upon request, I got the following detailed maps from the Senior Resident Engineer of Scott Wilson CDM. They're working on Phase 1 of the Village Sewerage (3.3 km of pipes, completion end of 2010, they promised) and the Sewage Treatment Works in the old helipad area (planned completion Feb 2014.)
Phase 2, in pink below, will be assigned to another co. and will take several more years to complete, 15.5 km of more pipes. So we can look forward to several more years of major, disruptive, noisy construction works opening up most paths around Yung Shue Wan and Sok Kwu Wan.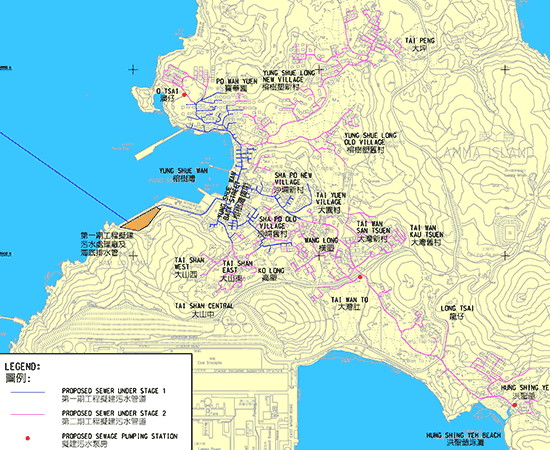 Neil Wong - Senior Resident Engineer - Scott Wilson CDM:
The works to be executed under Contract No. DC/2009/13 comprise the construction of the following major items:

(a) Construction of a sewage treatment works at Yung Shue Wan on Lamma Island with a capacity of 2,850m3/day (ADWF) to provide secondary treatment with degritting, screening, grease removal and nutrient removal, including civil, E&M works and all other ancillary building services, architectural, landscape and establishment works;

(b) Construction of a submarine outfall of approximately 500m long at Yung Shue Wan of which a minimum 400m of submarine outfall from the coastline will be constructed by Horizontal Directional Drilling;

(c) Construction of a sewage treatment works at Sok Kwu Wan on Lamma Island with a capacity of 1,430m3/day (ADWF) to provide secondary treatment with degritting, screening, grease removal and nutrient removal, including civil, E&M works and all other ancillary building services, architectural, landscape and establishment works and approximately 600m rising main from Sok Kwu Wan Sewage Treatment Works to the outfall chamber;

(d) Construction of a submarine outfall of approximately 750m long at Sok Kwu Wan of which a minimum 650m of submarine outfall from the coastline will be constructed by Horizontal Directional Drilling;

(e) Construction of two pumping stations at Sok Kwu Wan and approximately 500m rising main from Pumping Station to Sok Kwu Wan Sewage Treatment Works.

Two plans showing the above works at Yung Shue Wan and Sok Kwu Wan are attached for your easy reference.
---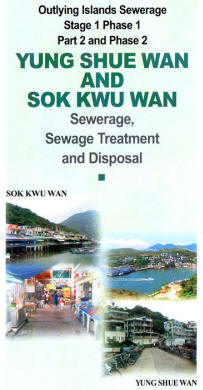 I also append a layout plan showing the extent of the Village Sewerage Works at Yung Shue Wan, both Stages 1 & 2, for your information.
For the Village Sewerage Stage 1 Works under Contract No. DC/2007/18, the works are nearing completion. All the major pipe works in So Kwu Wan have been completed. Only a few sections of pipe in Yung Shue Wan remain outstanding. The pipe connections in the outstanding works areas were previously in hiatus owing to some unexpected reactions from the house owners. All the issues have now been basically resolved.
For the scope of Phase 2 works, as advised by DSD, it includes the following:

(i) About 15.5 km of sewers extended to unsewered areas at Yung Shue Wan;

(ii) Three sewage pumping stations and the associated rising mains.

Should you require more information on Stage 2 Works of Village Sewerage, please contact the project engineer of DSD, Mr. C.K. Au, at tel. 2159 3409.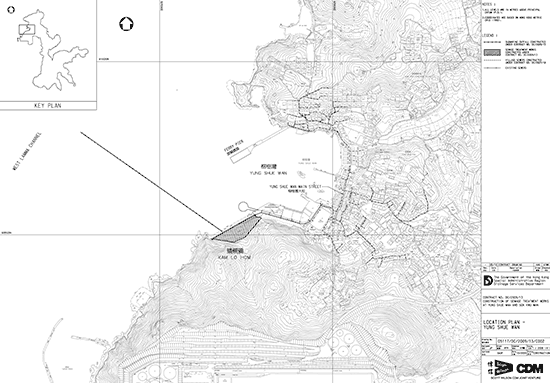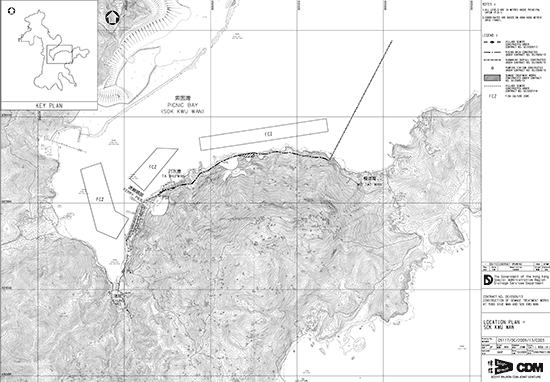 Click above for double-sized plans. For huge and very detailed maps, email me.

Jo Wilson - Secretary, Living Lamma:
(poster by Debi of Virgo 68 Advertising)
Dear All,
Living Lamma is organising a beach clean up this Saturday at Tannery Bay. Everyone is welcome. You can come along with your gloves and your bags anytime from 10 am. If you can't make it, please mention it to your friends.
We hope this will be the first in a series of clean ups that we can do now the cooler weather is here. This will be part of our campaign to clean up Lamma. We hope to make more progress with the help of more volunteers. We have, therefore, set up a distribution list to communicate our activities (don't worry we will not bombard you with emails. We just hope to communicate without creating waste).
We have a major community garden project on the horizon (volunteers needed for that too) and are making headway with our lobbying efforts. Much of our work has been targeted at getting government departments to work together to clean up areas and to improve the design of projects.
We have also set up an on-line discussion forum, which you are welcome to join. This does generate more email traffic, but allows you to take part in debates and share your ideas and experience with other Living Lamma members. Go to Living Lamma's Yahoo Group, follow the instructions to join.
The poster for this weekend's clean up is attached. We hope you can come along. If you have any questions, please call Jo on 2982 0920 / 9042 3241.
For more info and pictures, see our Beach Clean Up forum on this website.