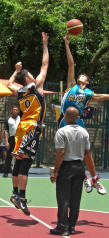 TOP TEAMS THRIVE, WIN TOUGH TILTS
YUNG SHUE WAN, Lamma Island, Hong Kong -
A crucial foul shot by the Brown Lions centre Makha Diop that took a week to shoot finally swished through a net at Yung Shue Wan's outdoor basketball court. Even so, the rival Purple Vipers remained undefeated by holding off the Lions 83-79 in Lamma Island Pinoy Basketball League (LIPBL) action that began on May 20, but didn't end until May 27.
Another unbeaten team, the Golden Dragons, then kept pace by outlasting the Aqua Sharks 81-75. That entire game and the closing 1:48 of the Vipers-Lions contest originally had been scheduled for a week earlier, but a sudden downpour of rain forced postponement.